Holy Basil (Los Angeles, CA)
Holy Basil DTLA at Santee Passage
718 S Los Angeles St, Los Angeles, CA 90014
213.559.4994
www.holybasildtla.com
Sun 01/02/2022, 07:45p-09:20p

It turns out that it's been years since I last reported on a Thai restaurant, so I recently decided that I wanted to change that. After considering a few options, I ended up getting takeout from Holy Basil, which seems like the most bandied about Thai eatery as of late. Situated on the edge of the Fashion District, adjacent to Downtown's Historic Core, the stall is located in a sort of proto-food court and specializes in Bangkok-style street food. Meanwhile, the people behind this place are Chef Wedchayan "Deau" Arpapornnopparat and Tongkamal "Joy" Yuon, as well as Methawee Greebmalai.
A bit of history
: The story of Holy Basil begins with Wedchayan Arpapornnopparat, a Bangkok native from a food-loving family who relocated to Bangalore, India in 6th grade. He attended high school at The International School Bangalore from 2002 to 2006, and after finishing up there, soon found his way to the United States. After settling in Southern California, he quickly began working part-time at Chan Dara, a now-departed Thai eatery in Sawtelle, which is where he first met fellow Bangkokian Tongkamal Yuon. He started out as a busboy, while she was the bartender, but they slowly made their way up the ranks; the pair were there for roughly eight years. During this time, Arpapornnopparat also studied fine arts at Santa Monica City College, but later transferred to ArtCenter College of Design in Pasadena in 2014, where he majored in graphic design (c/o 2017). Around this period, he and Yuon attempted to sell various Thai food products at festivals, but were not successful in their endeavors.
However, they eventually founded
The Base Co
, a natural sweetener brand (its design/packaging was actually one of Arpapornnopparat's school projects), which later spawned its own ready-to-drink beverage pop-up called
Happiness Capsule
. The Base Co started out at Smorgasburg LA before spreading to other events, and its success allowed the Chef to quit his design job at Snap Inc. In 2019, the duo began serving Thai drinking food next to Chinese Laundry in Highland Park (having known Chinese Laundry's owners from Smorgasburg). After deciding to locate The Base Co's headquarters in the Santee Court complex, they moved their operation there, and during the pandemic, commenced cooking in an alley next to their future restaurant space (Sundays only, for three hours). By late 2020, Arpapornnopparat was able to move his kitchen indoors, and Holy Basil finally grand-opened in early 2021; it also joined the line-up at Smorgasburg in July. In November last year, the place was deemed one of the
LA Times
' "
101 Best Restaurants
," while not long after,
The Infatuation
named it one of "
LA's Best New Restaurants of 2021
."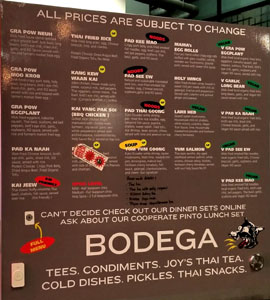 Pictured above is Holy Basil's refreshingly compact menu, which is focused on Arpapornnopparat's interpretations of central Thailand street food and other staple dishes. Click for a larger version.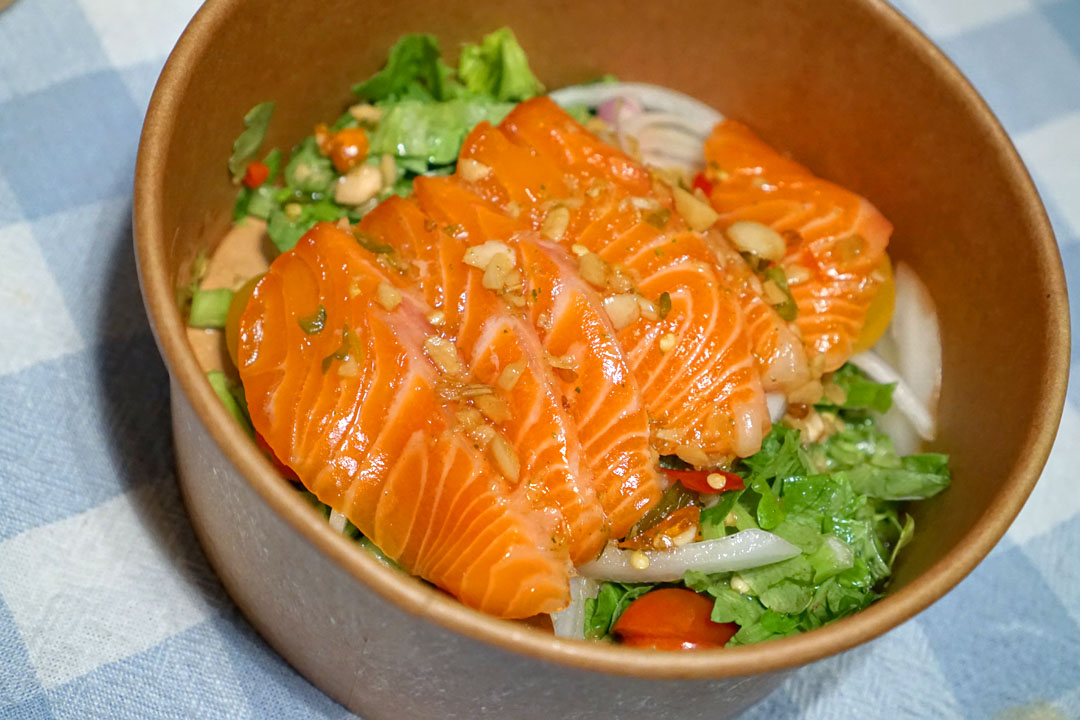 Yum Salmon [$18.00]
| Thai style ceviche, dry-aged steelhead salmon sashimi, white onions, chinese celery, shallots, heirloom cherry tomatoes, served with our Holy Sauce No.01
Cuts of salmon showed off a smooth, silky consistency, while the fish's lush, fatty flavors worked just about perfectly with the sting of the dish's acidity and multipronged spice. Of particular note was the astringency of the celery-onion combination, and I also enjoyed the contrast in texture provided by the veggies. A fantastic start to the meal, and one that really acted as a statement of purpose.
Tom Yum Goong [$16.00]
| 6 pcs Ecuador white shrimp, oyster mushrooms, fresh lime, roasted chili jam, lemongrass, makrut leaf, heirloom cherry tomatoes, fish sauce, galangal, cilantro/culantro, and cream. Our signature!
In the Chef's take on the iconic tom yum soup, we had a wonderfully fragrant, heady broth that was simultaneously powerful yet elegant, balancing its sweetness with both heat and an herbaceous pungency. As for the shrimp, they were a bit more cooked than I would've liked, though they did deliver a blast of saline that really did meld with the potency of the soup.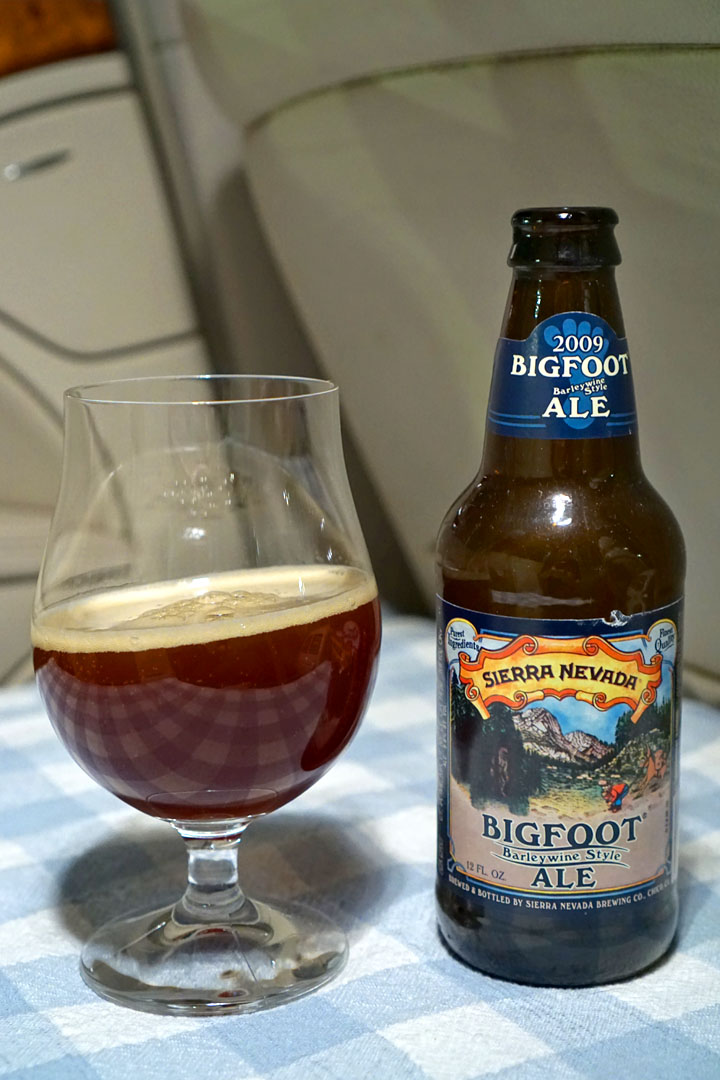 Beverage-wise tonight, I wanted to drink something old and something new, and for the former, I opted for the
2009 Sierra Nevada Bigfoot Barleywine Style Ale
. The beer smelled of robust dried dark fruit commingled with malt and toffee, with a tinge of metallic in there. In terms of taste, I got tangy prunes up front, leading to flavors of brown sugar and chocolate-y malt, while the finish was unexpectedly hoppy. I found this pretty easy-drinking overall, and I'd say that it's held up rather well over the years.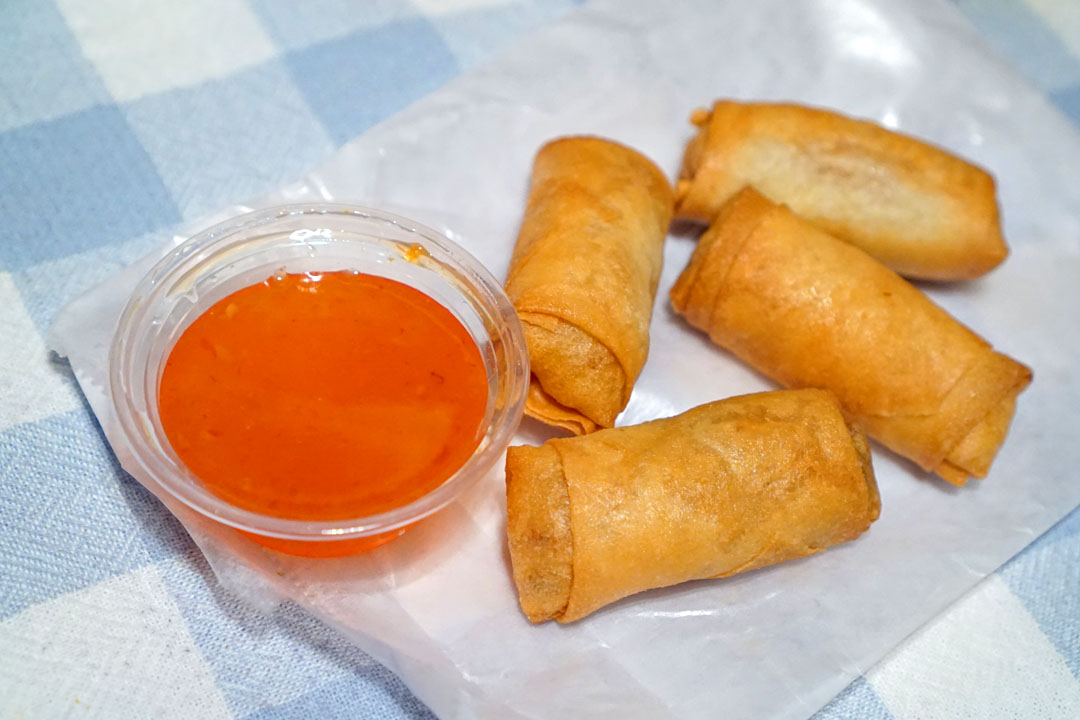 Mama's Egg Rolls [$6.00]
| Four pcs Hand-rolled crispy egg rolls stuffed with glass noodles, carrots, wooden ear mushrooms, ground pork, served with sweet chili sauce
Egg rolls featured surprisingly thick, substantial wrappers, while the filling did a nice job playing glass noodles against wood ear and pork, though unfortunately, it was also drier than I wanted. Thus, the included sweet chili condiment was absolutely key, adding another dimension that really enlivened the dish.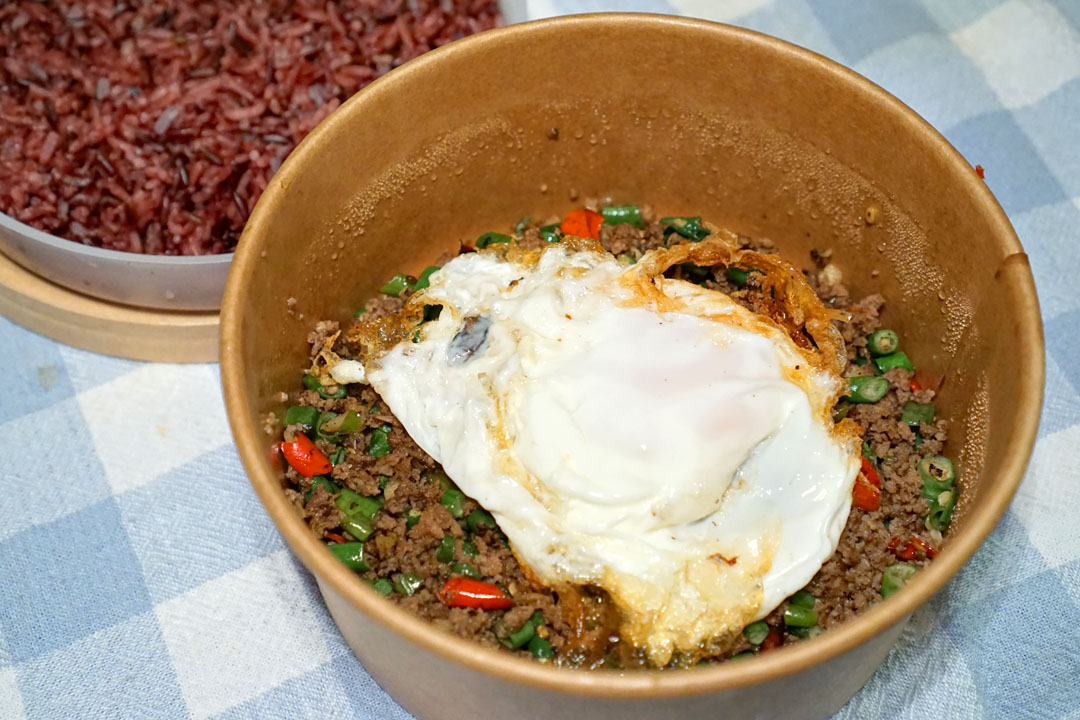 Gra Pow Neuh [$15.00]
| Wok-fired house blend certified angus ground beef, holy basil, long beans, bird's eye chili, dried chili, garlic, and XO sauce, served with rice and farmer's market fried egg
The
kaphrao
was one of the most intense dishes of the night. The heat was real, and it was a piercing, vegetal one that combined beautifully with overarching aromatics of holy basil and the depth of XO. Given the robustness of everything going on here, the runny egg and nutty, purple-tinted rice were absolutely crucial to keep things in check.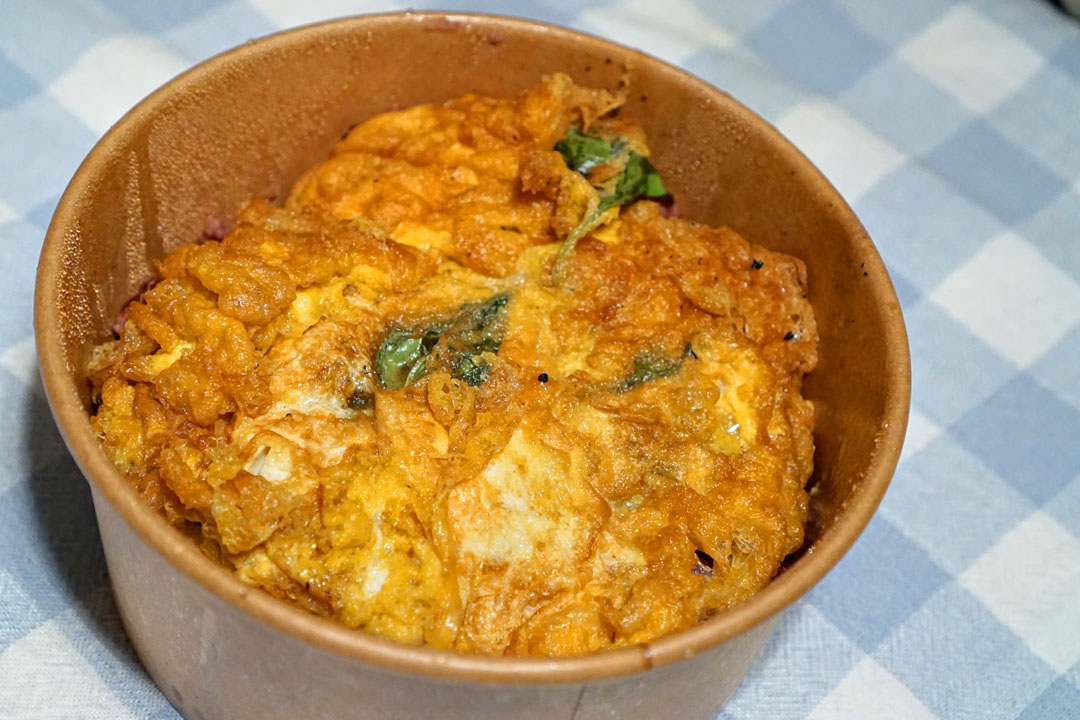 Kai Jeew [$12.00]
| Thai classic fluffy omelette, Thai basil, shallots, fish sauce, served over rice.
The
khai chiao
was something that I could just eat all the time. The omelet was indeed as fluffy as advertised, and had a fish sauce-fueled savoriness that meshed flawlessly with the Thai basil folded in.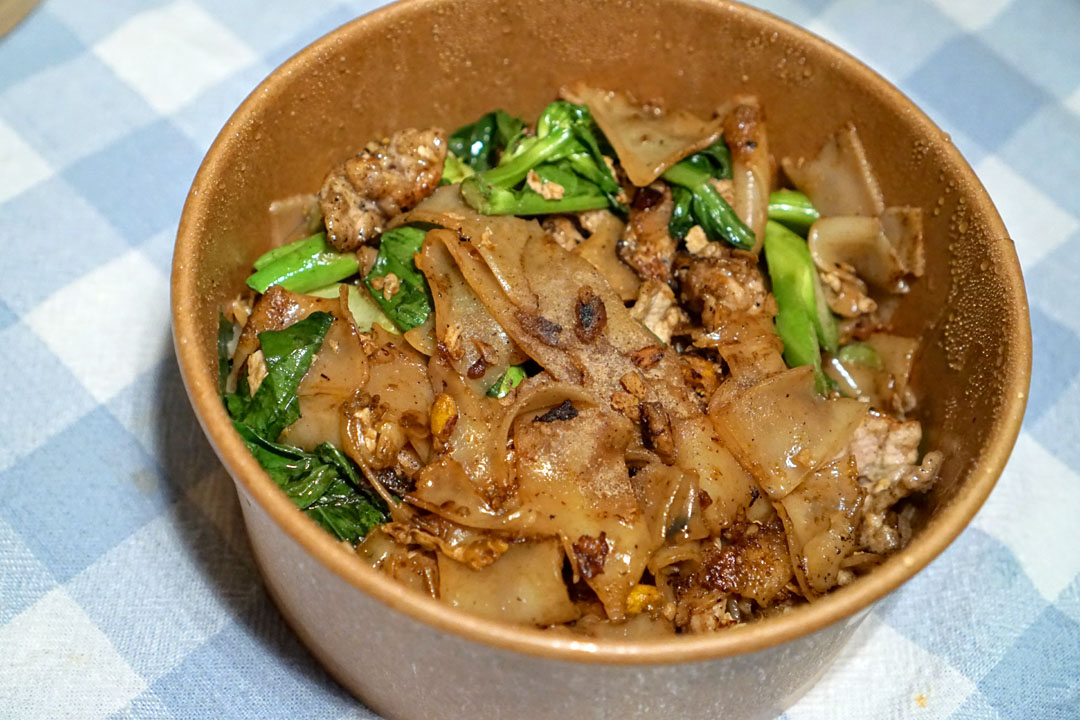 Pad See Ew [$15.00]
| Natural and sustainable marinated pork loin, wok-fried smoked flat noodles, egg, Chinese broccoli, soybeans, garlic and XO sauce
Our first noodle dish was certainly a crowd pleaser. The
kuaitiao sen yai
had a slick, slightly chewy texture that I enjoyed, while the pork ate properly tender, and displayed a touch of sweetness that married easily with the crunchy, bitter greens and the boatloads of savory depth from the soy. My favorite part? All the charring and caramelization going on from the effective use of
wok hei
. It's hard to go too wrong with this one.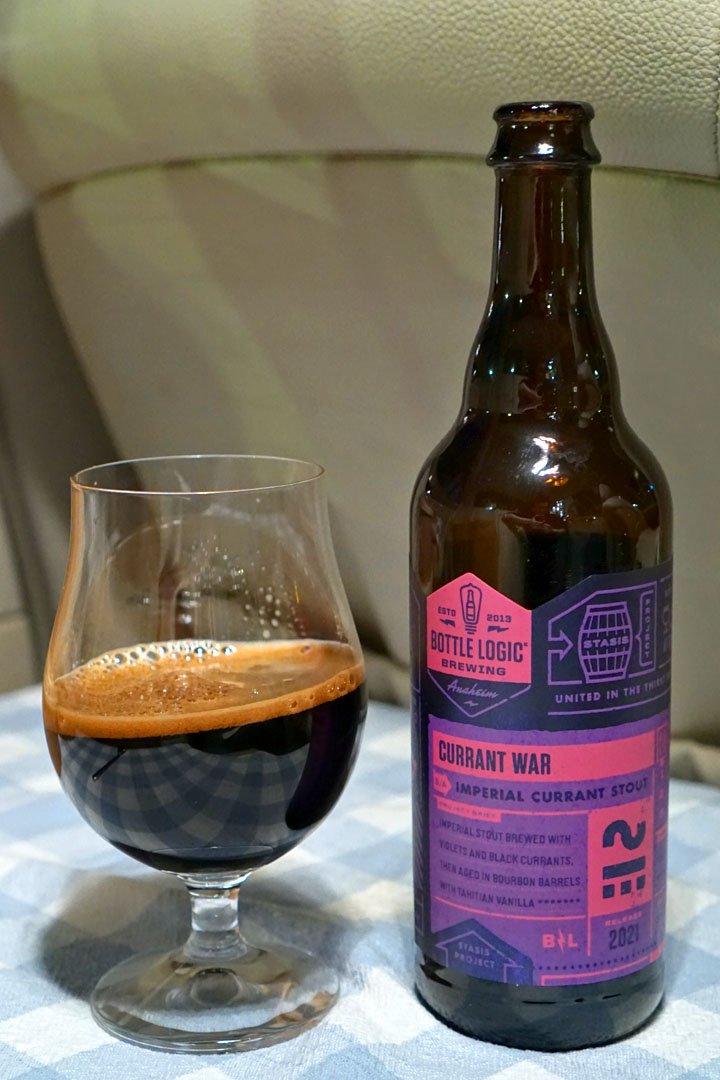 And now for something new: the
2021 Bottle Logic Currant War
. Created in collaboration with Homage Brewing, this was an imperial stout brewed with violets and black currants, then aged in bourbon barrels with Tahitian vanilla. Nose here was huge chocolate and jammy berries. On the palate, I found more robust dark fruit combined with a distinct floral character, set over a base of cocoa, light oak, and a trace of heat. The beer was ostensibly inspired by French macarons, and I got the reference for sure.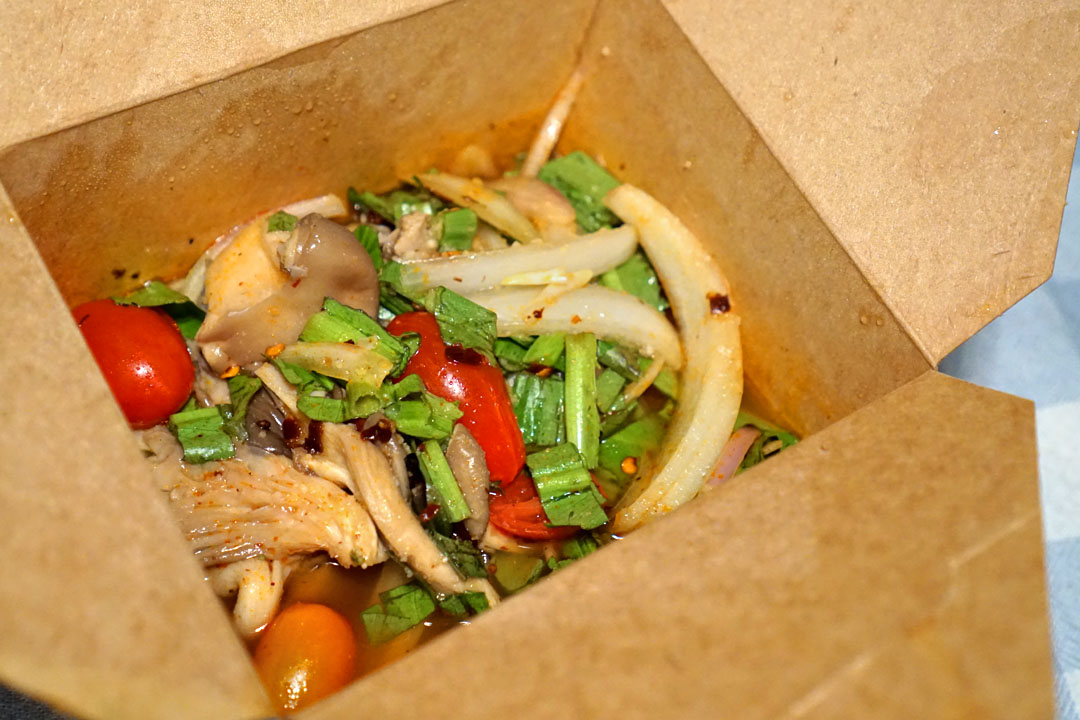 Larb Hed [$12.00]
| Seared oyster mushrooms, Housemade chili oil, shallots, white onions, culantro, Vegan Yum Sauce, lime, housemade roasted rice powder and heirloom cherry tomatoes
This next dish may have been vegan, but it certainly didn't leave me wanting. In fact, this was probably the spiciest dish of the night; it actually hurt a bit, but I kept going back for more. Fortunately, the juiciness of those tomatoes and the 'shrooms especially helped temper the flavors at play, and I liked the bitter crunch from those raw onions, too.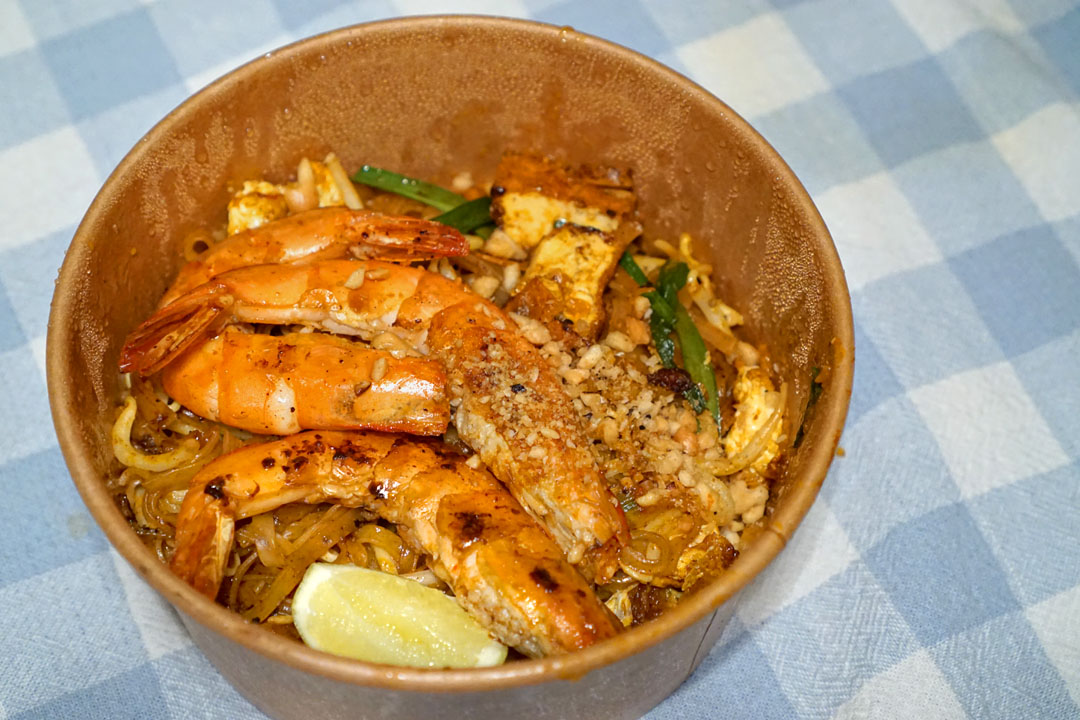 Pad Thai Goong [$15.00]
| 3 pcs Ecuador white shrimp, pan-fried thin rice noodles, egg, tamarind fish sauce, paprika, shallots, sweet radish, fried tofu, rice shrimps, bean sprouts, chives, served with lime and peanuts on top
I typically don't eat too much pad thai, as I often find the dish's general sweetness a bit overwhelming. Fortunately, that simply wasn't the case with Arpapornnopparat's. What struck me first here was the dish's intensely nutty, briny aroma; this continued on to the taste, which was multifaceted in its presentation of sour, savory, saline, and yes, sweet flavors. As for the noodles themselves, they were nicely springy, and I also liked the textural contribution from the tofu and egg, not to mention the crunch of those sprouts. My one concern was that I wanted more aggressive seasoning on the shrimp.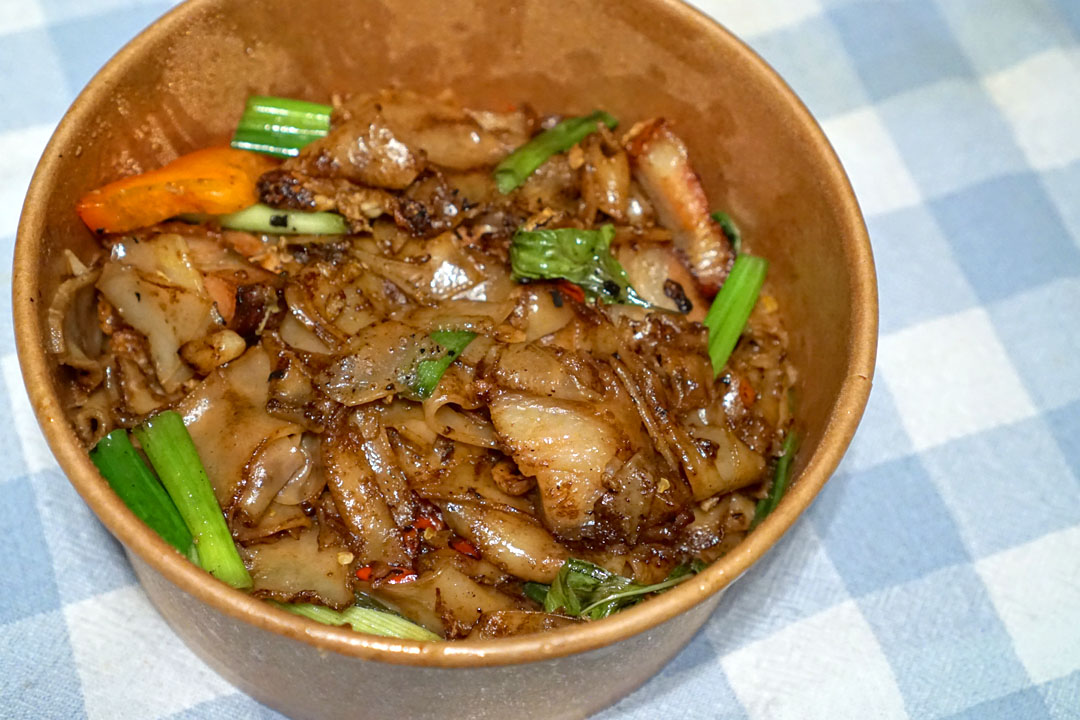 Pad Kee Mao [$16.00]
| Crispy pork belly, wok-fired smoked flat noodles, egg, bird's eye chili, red bell peppers, scallions, Thai basil, garlic, and XO sauce
The drunken noodles were a must-try for me, since it's one of the most common dishes I order at Thai restaurants. The sole complaint I had here was that the pork belly, though advertised as crispy, was far from it. However, the taste was there, and I loved how all those fatty, porcine flavors combined with the basil and veggies, as well as the dish's creeping heat and XO-sourced depth. Meanwhile, the actual noodles had a welcomed "bounce" to them, and I also enjoyed the moderating effect of the egg.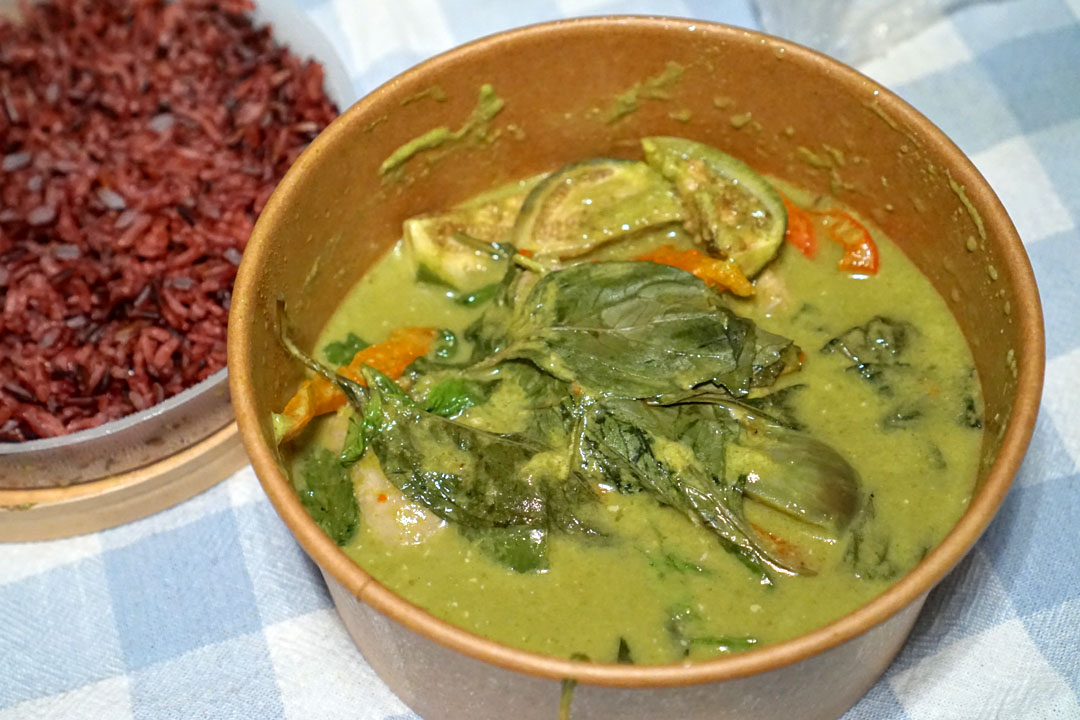 Kang Kew Waan Kai [$16.00]
| Jidori chicken, house-made curry paste, coconut milk, bell peppers, Thai eggplant, winter melon, Thai basil, bird's eye chili, served with rice (Contains Shellfish / Cilantro)
Last up was the Chef's version of
kaeng khiao wan
, or green curry. The dish showed off a spot-on balance of sweetness and pungent, punchy herbs, and the curry paired well with the super tender cuts of chicken utilized. I also appreciated the Thai eggplants and how they interacted with all the flavors happening here, while again, the chewy purple rice was key as a counterpoint.
Holy Basil was my first real meal of 2022, and it was a great way to kick off the year, as Arpapornnopparat and his team served me some of the tastiest Thai I've had in a while. The cooking is largely familiar at its core, but there's just an extra level of goodness that you don't typically find, and I'm looking forward to what the Chef has in store for us next. Speaking of which, he's already started this pop-up series called Yum, which apparently happens a couple times a month and is focused on the drinking food that Holy Basil first started out with; I may just have to check it out. There's also an upcoming expansion to Atwater Village, but potentially more exciting, though, is a project called "
700dtla
," which looks to be a new restaurant that's in the works. I don't even know what it's going to be, but I'm keeping an eye on it.