Little Fish (Philadelphia, PA)
Little Fish BYOB
746 S 6th St, Philadelphia, PA 19147
267.455.0172
www.littlefishbyob.com
Mon 06/06/2022, 08:15p-10:15p

On my previous trips to Philly, I made it a point to ask the staff of any restaurant I tried for recommendations on other places to dine. One of the names that came up the most often was undoubtedly the seafood-centric Little Fish in the Bella Vista/Queen Village neighborhood, so I definitely wanted to check out the spot on my latest visit.
The restaurant actually has more of a history than I'd initially thought, and originally opened in 1995 at 600 Catharine St. It's not clear to me who the initial owner was, but by September 2002, it was run by one John Tiplitz. In 2007, the business was purchased by Mike Stollenwerk, and in 2008, Chadd Jenkins started working there as sous. Stollenwerk's priorities shifted with the opening of his second eatery, Fish, in September 2009, and the kitchen at Little Fish was largely handed over to Jenkins. In April 2010, issues with the building housing Little Fish forced the restaurant to shutter, and then move to its current, slightly larger location in early 2011 (the former home of Salt & Pepper). Jenkins was still running the kitchen, and by September that year, he had purchased the operation from Stollenwerk. However, Jenkins himself would end up selling Little Fish in November 2016 to its current Chef/Owner: Alex Yoon.
About the Chef
: Alexander Yoon was born in February 1991, and spent his early years in Olney (a North Philadelphia neighborhood with a high concentration of Koreans), though his immigrant family did eventually move to the suburb of Plymouth Meeting. He picked up cooking as a youngster, helping out in the kitchen, while his parents actually ran an eatery called Yoon's 2010 Deli in Templetown. After trying out college in Ohio for a couple years, he returned to Philadelphia and enrolled at The Restaurant School at Walnut Hill College in 2011. In the summer of 2012, Yoon interned at the iconic Le Bec-Fin under Steven Eckerd, though following completion of his studies in 2013, he took a far less glamorous position at Coconut Cove in Wildwood, NJ (i.e. the Jersey Shore).
However, he did eventually make his way to Peter Serpico's eponymous Serpico by early 2014, after some persistence. He then transitioned over to a position at Little Fish, and in November that year, competed in the
Ment'or Young Chef competition
. Yoon's second place finish allowed him to
stage
at Mauro Colagreco's highly-regarded Mirazur in Menton, France, and he was there for two months starting in September 2015; he also visited Italy and Spain on the same trip. He returned to Little Fish for a brief period, but soon moved to Colorado for a post at The Tavern at The Arrabelle at Vail Square. However, by April 2016, he was in San Francisco working for Corey Lee at
Benu
.
In November 2016, Yoon returned to Philly to take the reins at Little Fish, and under his leadership, the restaurant was able to thrive. The spot received "Best Seafood" honors from
Philadelphia
magazine in July 2018, while a three-bell review from the
Philadelphia Inquirer
came just a few months later. All seemed to be going well until the pandemic struck, and in March 2020, the Chef was forced to send his staff home. He started selling bentos, bowls, hoagies, and chicken sandwiches, then quickly pivoted to a raw bar concept and implemented outdoor seating. Yoon got engaged to girlfriend Emily Turturici in August 2021, and they got married in February this year. Not long after, on April 18th, Little Fish finally re-opened its doors again for proper indoor dinner service.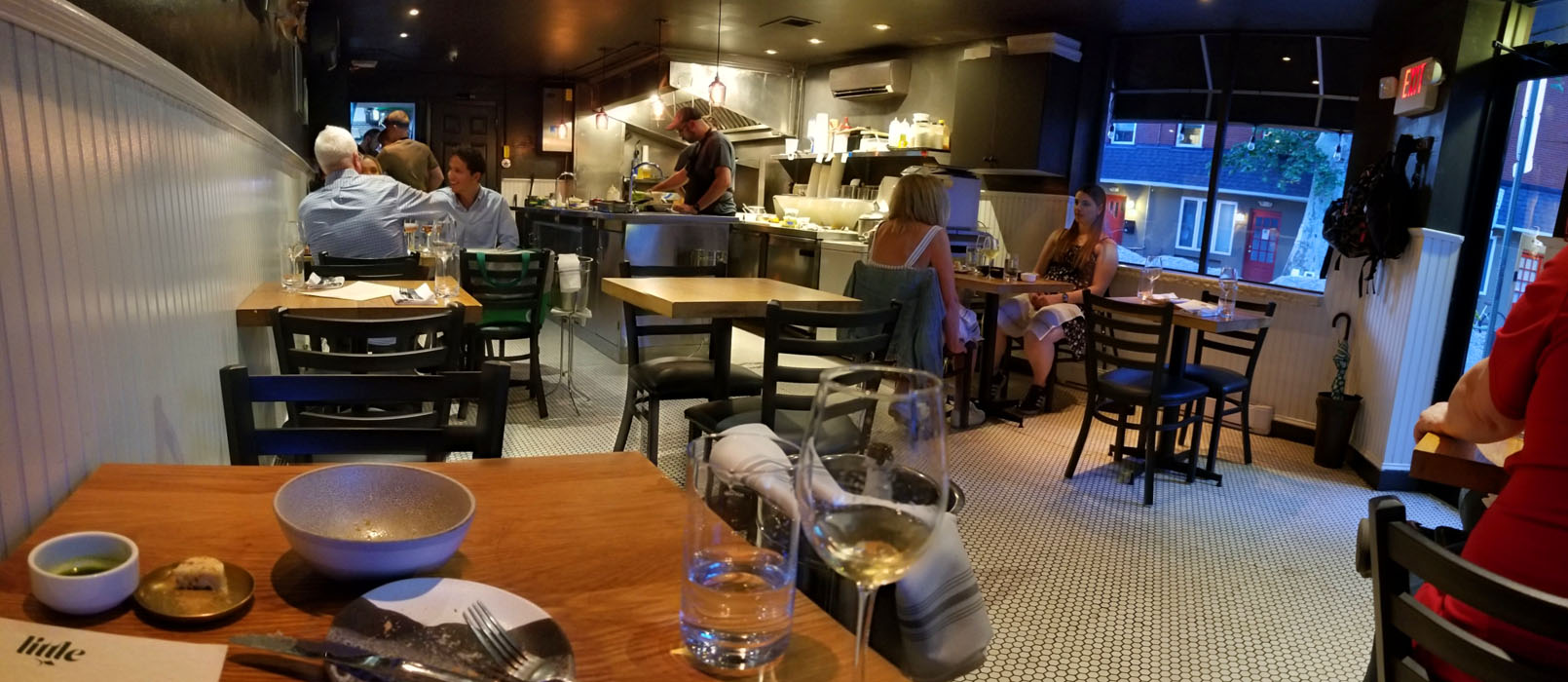 Pictured above is Little Fish's famously small interior, which seats about 20.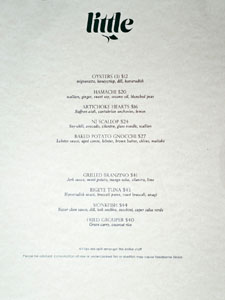 Though Yoon used to serve a $135 tasting menu, since re-opening, diners now choose from a refreshingly compact à la carte selection. Also, keep in mind that this is a BYOB establishment, so no alcohol is offered, and there's no corkage fee. Click for a larger version.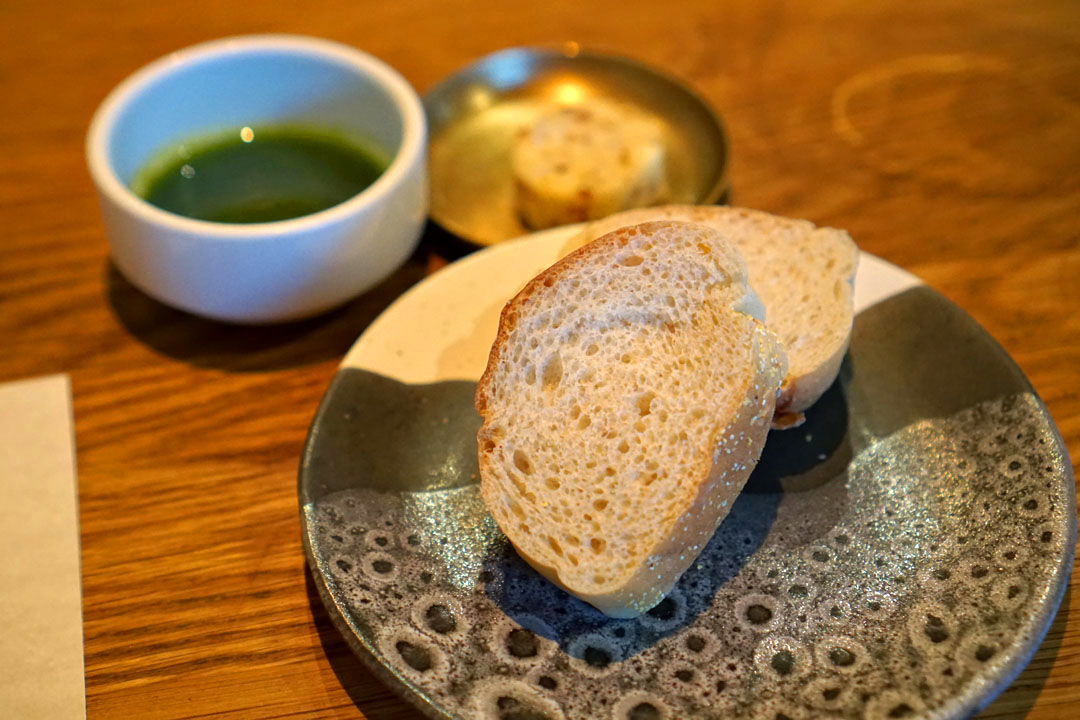 Bread service comprised a crusty, mildly flavored sourdough sourced from a local bakery, while accoutrements were an herbaceous, olive oil-forward chimichurri and a wonderfully sweet, luscious honey-date butter.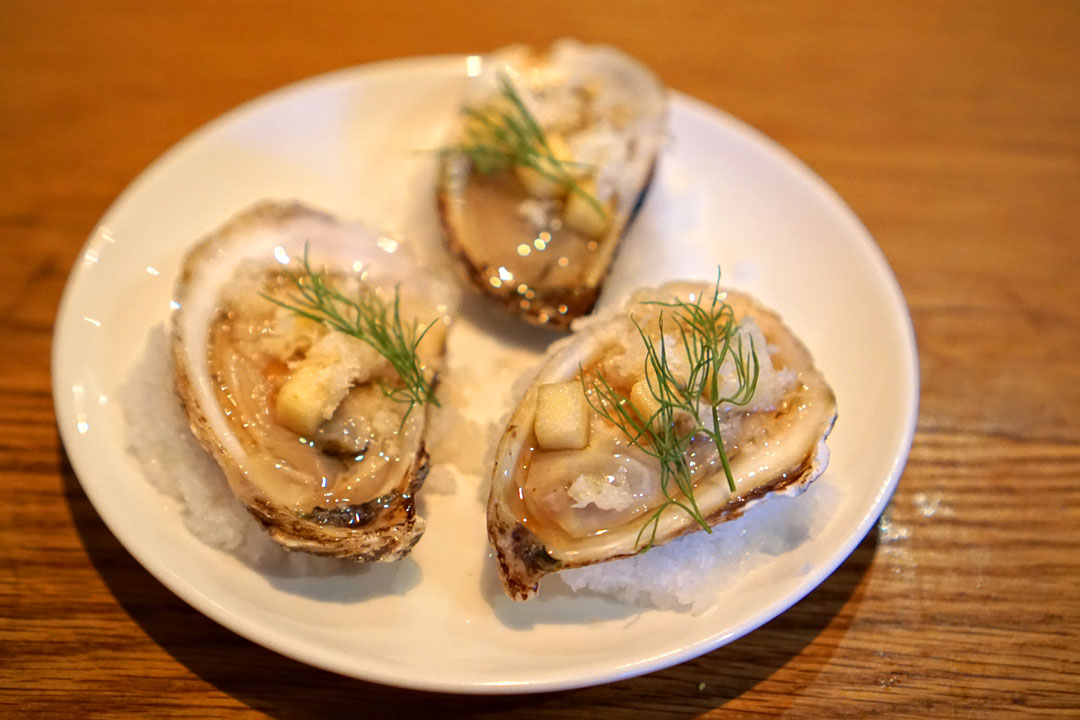 Oysters (3) [$12.00]
| mignonette, honeycrisp, dill, horseradish
My first course managed to be one of the best raw oyster preparations I'd ever tasted. This was largely thanks to how utterly harmonious the dish's elements of heat, herb, and fruit were presented over a backdrop of brine. Just perfect.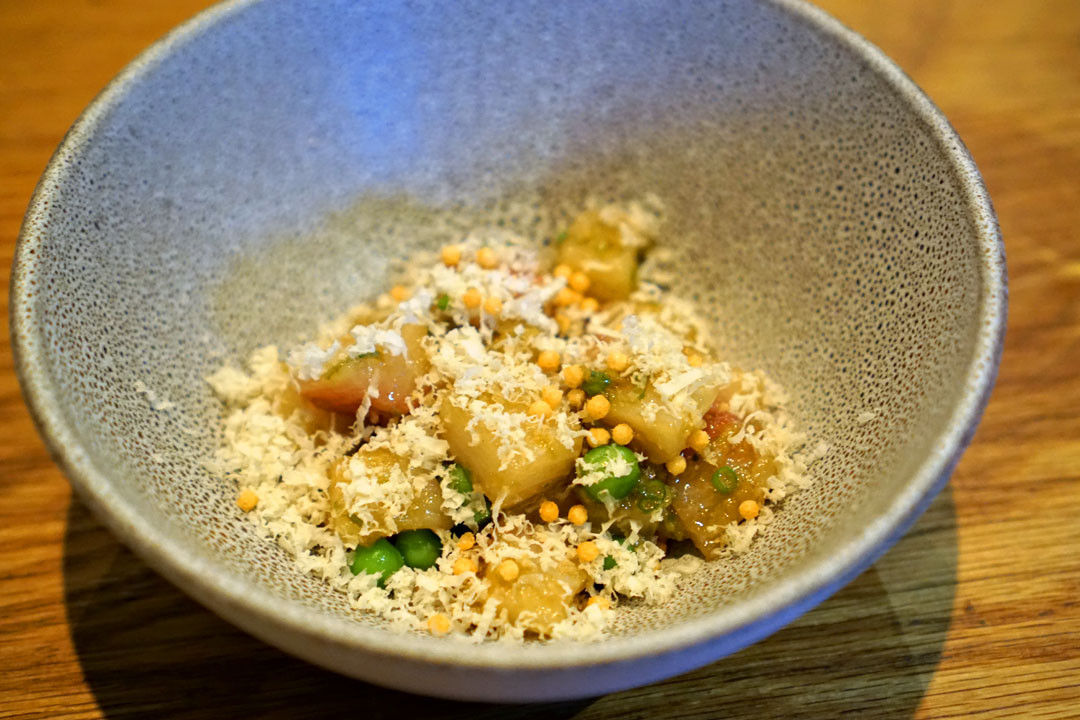 Hamachi [$20.00]
| scallion, ginger, sweet soy, sesame oil, blanched peas
I was a big fan of the yellowtail due to how well the fish's fat and saline were juxtaposed against ginger and soy, all while peas brightened the interaction. Also crucial was the dish's underlying, almost wasabi-esque heat--which seemed to manifest as a slight burn on the tip of my tongue--as well as the crunch of the
arare
. Very cool.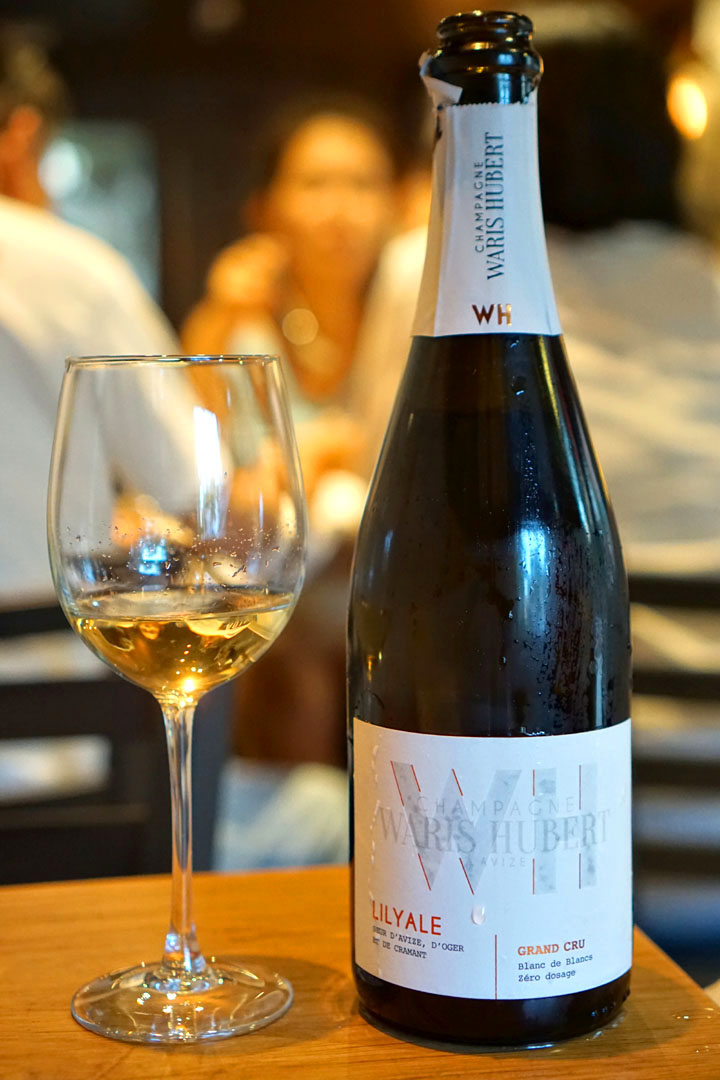 Given that this is a BYO joint, I brought along a bottle of the
NV Waris-Hubert Champagne Grand Cru Lilyale Blanc de Blanc Zero Dosage
, which I'd purchased right before the meal at a nearby Fine Wine & Good Spirits (Pennsylvania's state-run chain of liquor stores). The wine showed off an intense bouquet that veered in a bready, funky direction, with a backing of juicy orchard fruits. On the palate, I found the sparkler zesty and acidic, its flavors of yellow fruit and light toast coming off as very balanced, while notes reminiscent of
fènglísū
kept things interesting.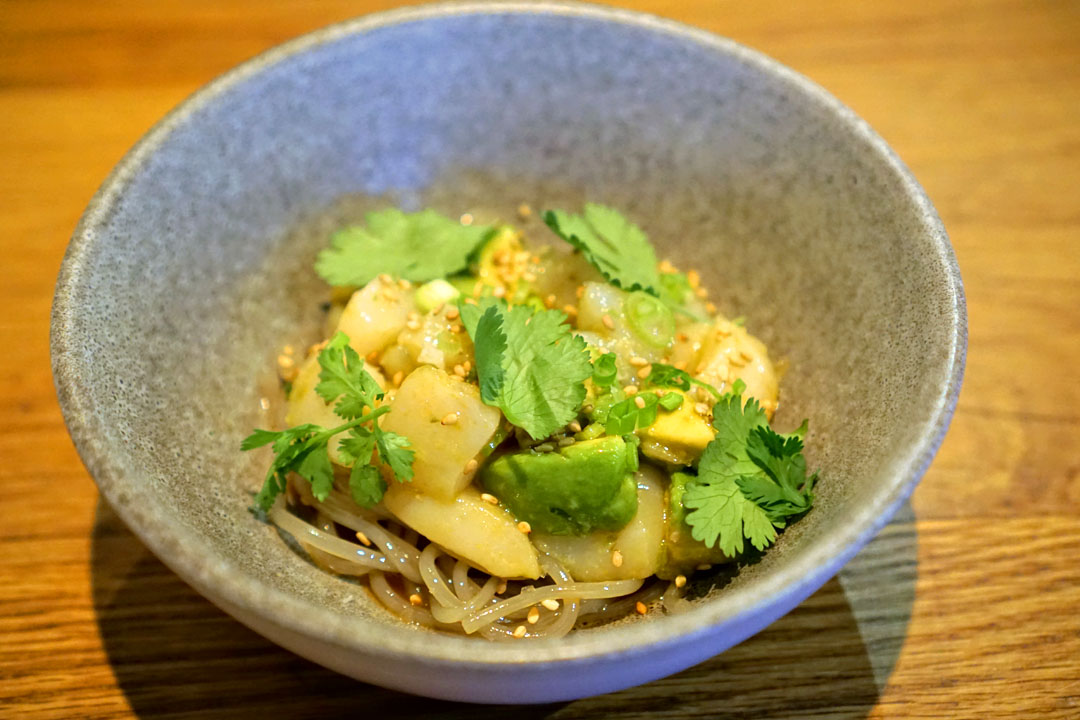 NJ Scallop [$24.00]
| Soy-chili, avocado, cilantro, glass noodle, scallion
Scallops arrived sticky and supple, their sweetness deftly accented by perky cilantro and the sheer lushness of avocado, while the soy-chili imparted depth, heat, and perhaps even a bit of
málà
. I really enjoyed the textural contribution from those firm glass noodles too, and overall, I found this familiar yet novel, and another standout.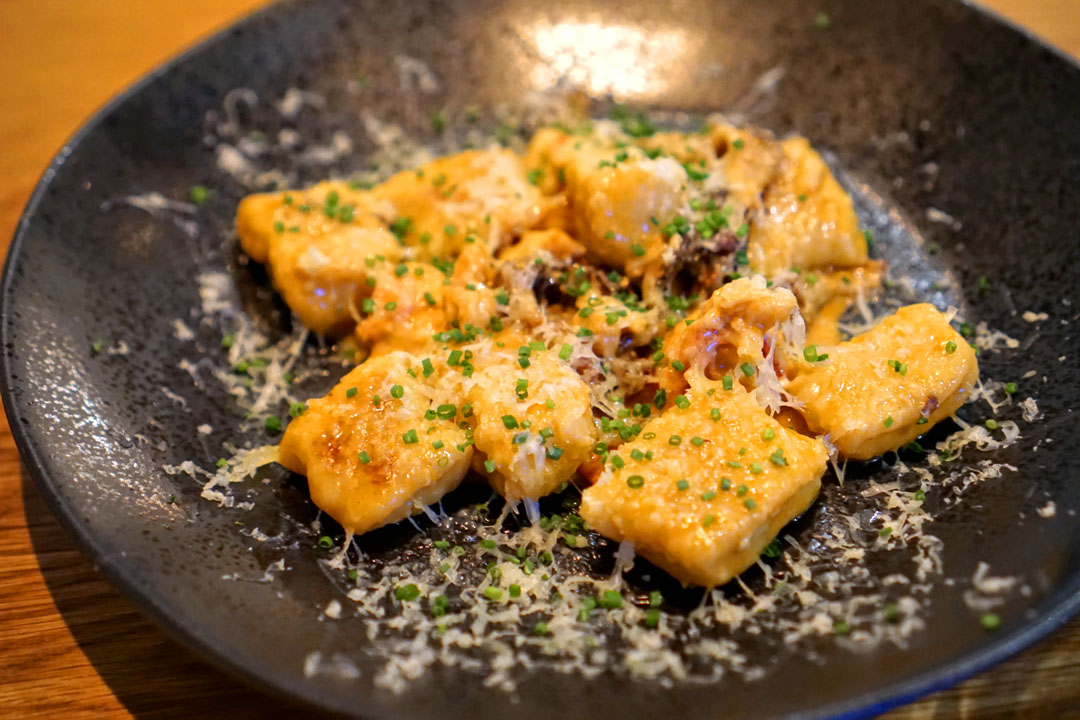 Baked Potato Gnocchi [$27.00]
| Lobster sauce, aged comte, lobster, brown butter, chives, maitake
Gnocchi were well textured, coming out supple but substantial, and worked easily as a stage for the sweet-earthy interplay of lobster and maitake, all while the brown butter-lobster sauce combo helped bind everything together.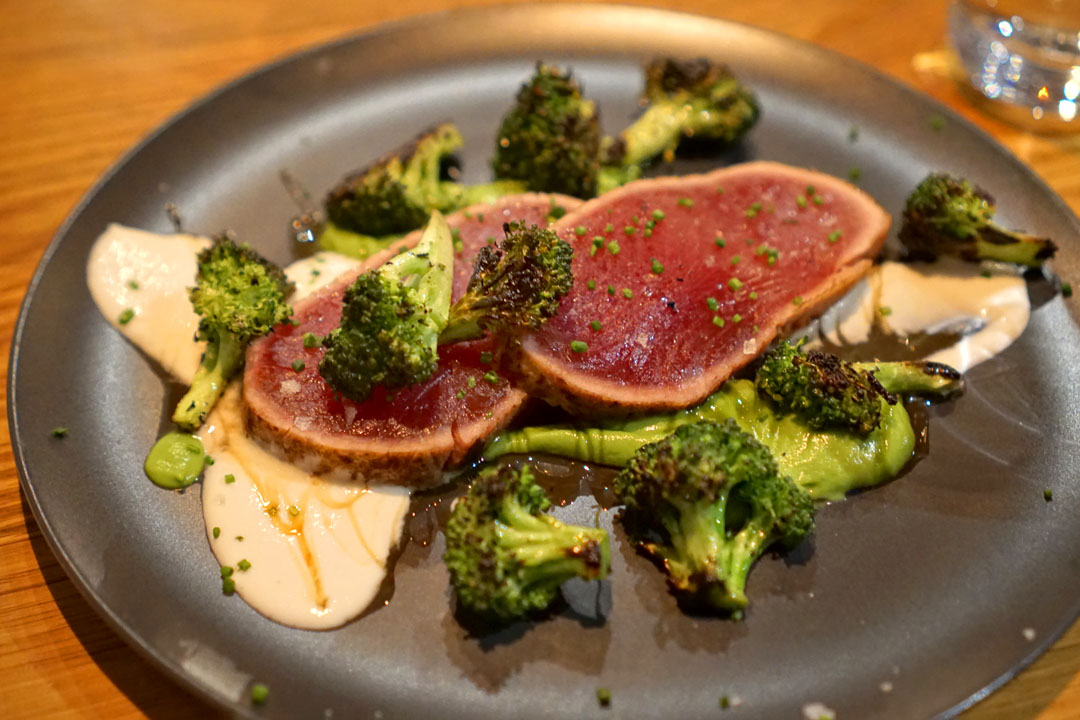 Bigeye Tuna [$43.00]
| Horseradish sauce, broccoli puree, roast broccoli, unagi
Tuna was seared properly rare, and displayed a marked sweetness that contrasted swimmingly with the smoky, bitter broccoli and zingy horseradish. My complaint here was that I wanted thicker cuts of the fish, in order to better appreciate its texture.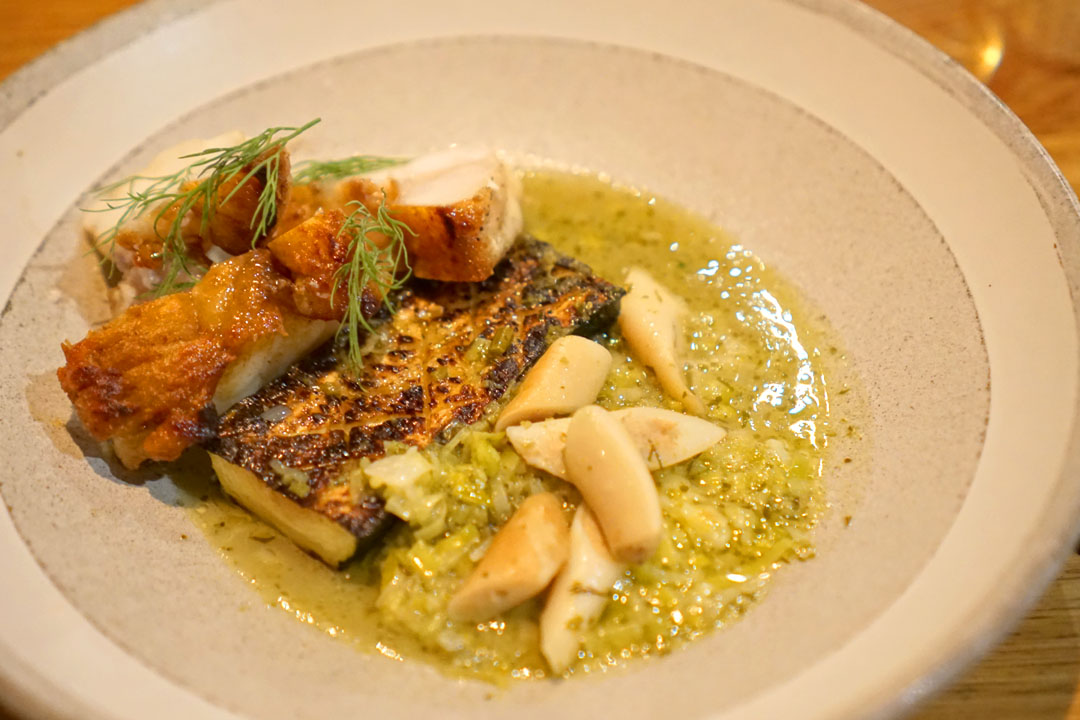 Monkfish [$44.00]
| Razor clam sauce, dill, leek soubise, zucchini, caper salsa verde
The monkfish was also a winner, since I was pretty enamored with its firm, spongy, delicately sweet flesh and crispy, savory crust. The zippiness of the leek worked great as a counterbalance, but even better was the smoke and bitterness from the zucchini. I got some welcomed grassy touches from the dill, too.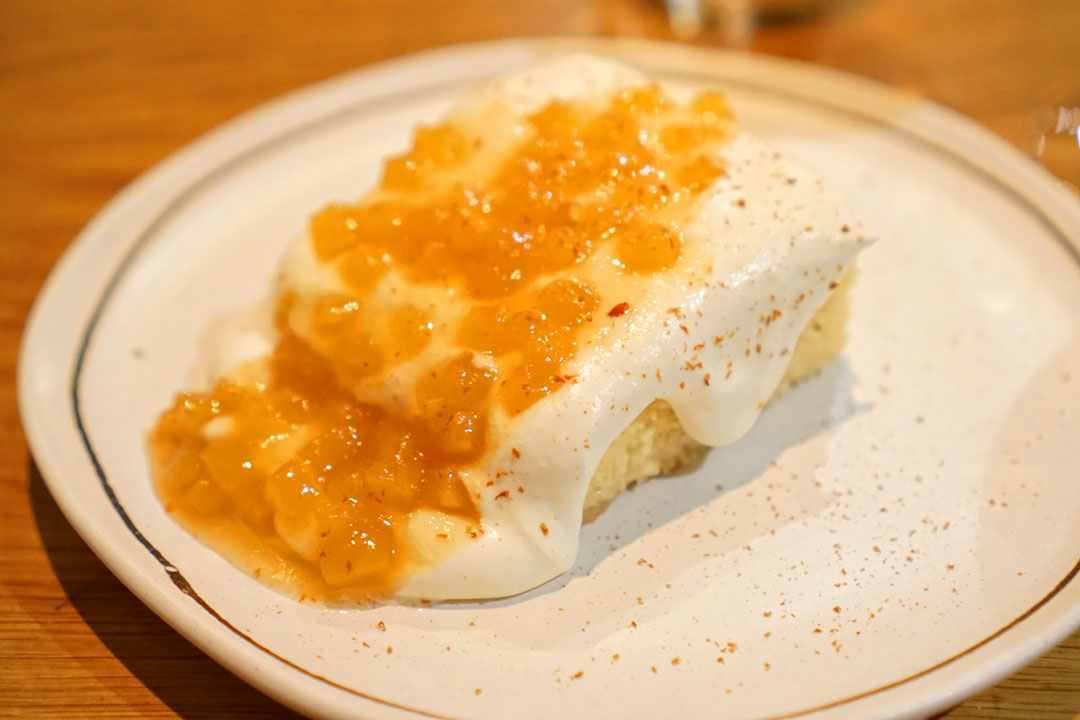 Tres Leches Cake
| whipped cream, pineapple compote
Given my penchant for tres leches, I felt compelled to order Little Fish's sole dessert option for the night. I found the cake sugary and saturated, and a sheer joy to eat. It paired beautifully with its creamy topping, imbued with sweet spice, while the pineapple provided a tanginess that really took things over the top.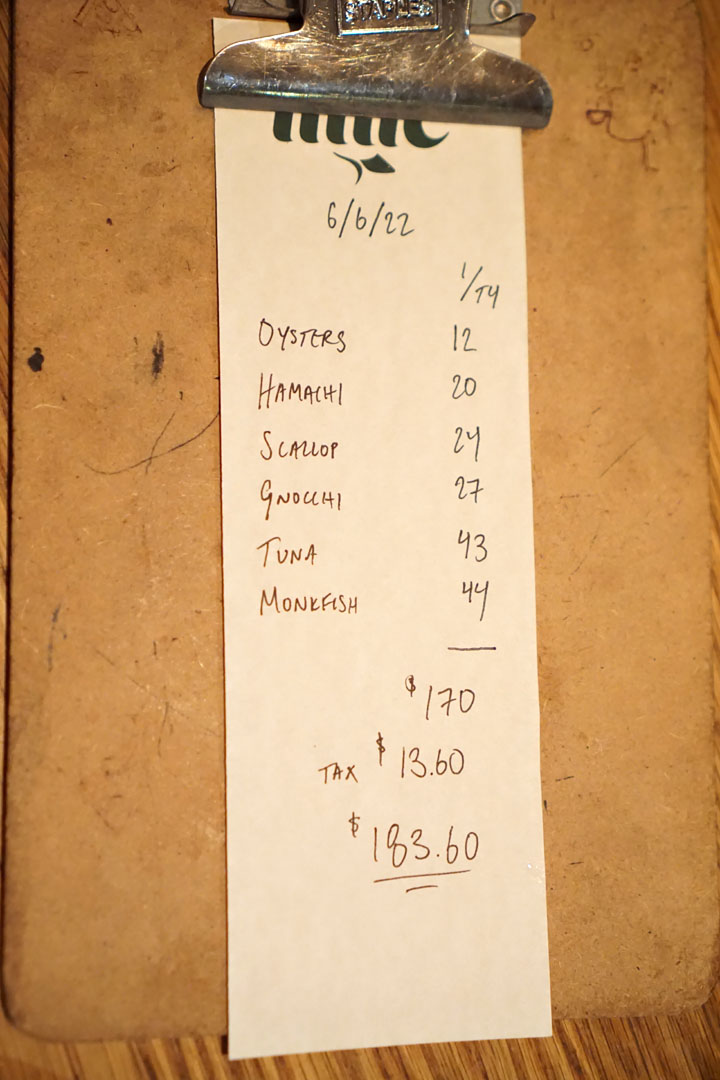 The hand-written bill was a homey touch that I appreciated. Note that the tres leches ended up being comped.
This was a strong meal at Little Fish, and I can see why a number of industry people I talked to recommended the place to me. Yoon's cooking speaks to both his classical training and his Asian background, and represents a largely successful blend of the fresh and the familiar, rendered in seafood format. Now, the Chef just wrapped up a residency at Jose Garces' Volver (it ran May 4th to June 12th), and apparently, his goal there was to hopefully reach a clientele that can help him open his next restaurant. From what I understand, he's planning to go more overtly Korean for this next project, so it's something to watch out for.