Mes Amis (Los Angeles, CA)
Mes Amis Restaurant at Thompson Hollywood
1541 Wilcox Ave, Los Angeles, CA 90028
323.410.6200
www.mesamisla.com
Fri 05/27/2022, 08:30p-12:30a

I last checked in with Lincoln Carson back in August 2019, not too long after the opening of
Bon Temps
. I was quite a fan of the Chef's first solo project, so I was definitely bummed when I found out about its pandemic-induced closure at the end of April 2020 (note: the location has since been taken over by
Yangban Society
, which is pretty great as well). Ironically, just days after the shutter, Carson was deemed an "Outstanding Pastry Chef" finalist by James Beard for his work at the Arts District restaurant.
Carson began working with
Crave Hospitality Group
that November, creating a short-lived delivery-only bakery concept called Mérité located outside of Boise, Idaho. Next, he partnered up with the likes of Anthony Carron (
Top Round
, 800 Degrees, Mina Group), Steven Fretz (Top Round, Nic's on Beverly,
The Church Key
,
XIV
), and wine maestro Rajat Parr to open Vaquero Bar (April 2021) and Coast Range (September 2021) up in Solvang.
Meanwhile, in June last year, it was revealed that Carson would been joining the team at
Ten Five Hospitality
and developing the F&B program at the Thompson Hotel in Hollywood. The property's French Riviera-inspired rooftop lounge, Bar Lis, debuted first back in August, while the bistro-ish Mes Amis ("my friends") dropped on March 27th. So yes, this is an opening night dining report, in classic kevinEats fashion.

Mes Amis resides on the ground floor of the Thompson, and features an old school Hollywood-meets-Parisian bistrot sort of aesthetic penned by
Martin Brudnizki Design Studio
(
The Pendry
). There's also a private dining room as well as a more relaxed patio out front.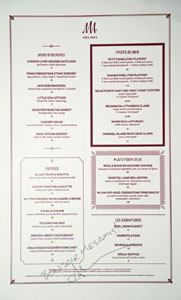 Pictured above is Mes Amis' menu, a moderately-sized affair with a definite Cal-inflected brasserie bent, and the cocktail list. Click for larger versions.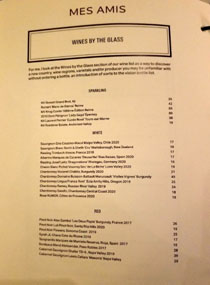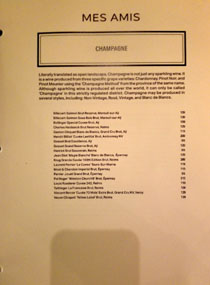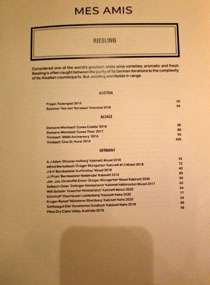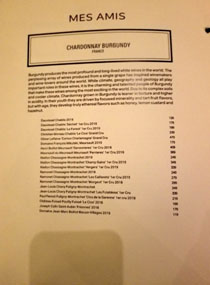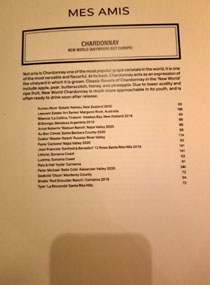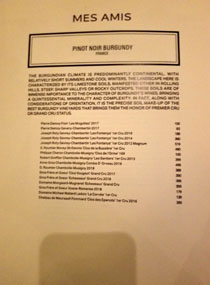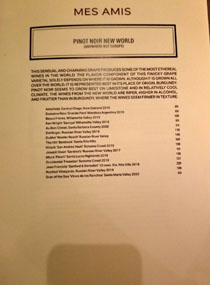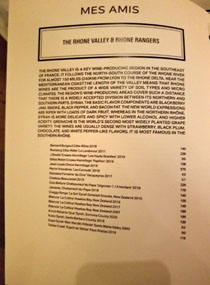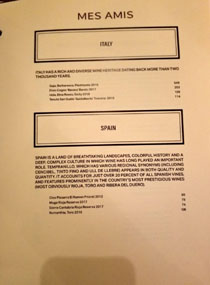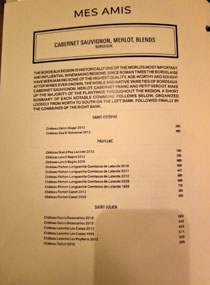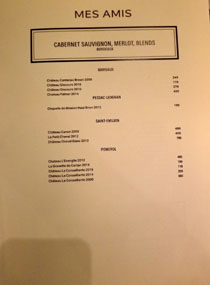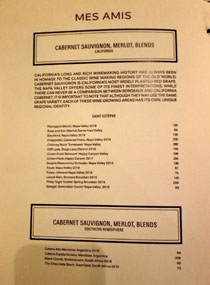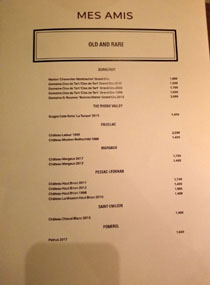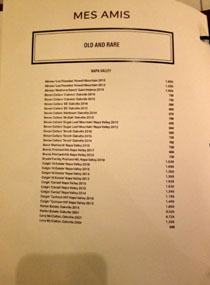 And here we see the restaurant's complete wine list, which actually has some good bargains. For example take a look at that 2018 Roumier Bonnes Mares, which is basically priced at retail, or the 2017 Pétrus, which is at half retail(!). Click for larger versions.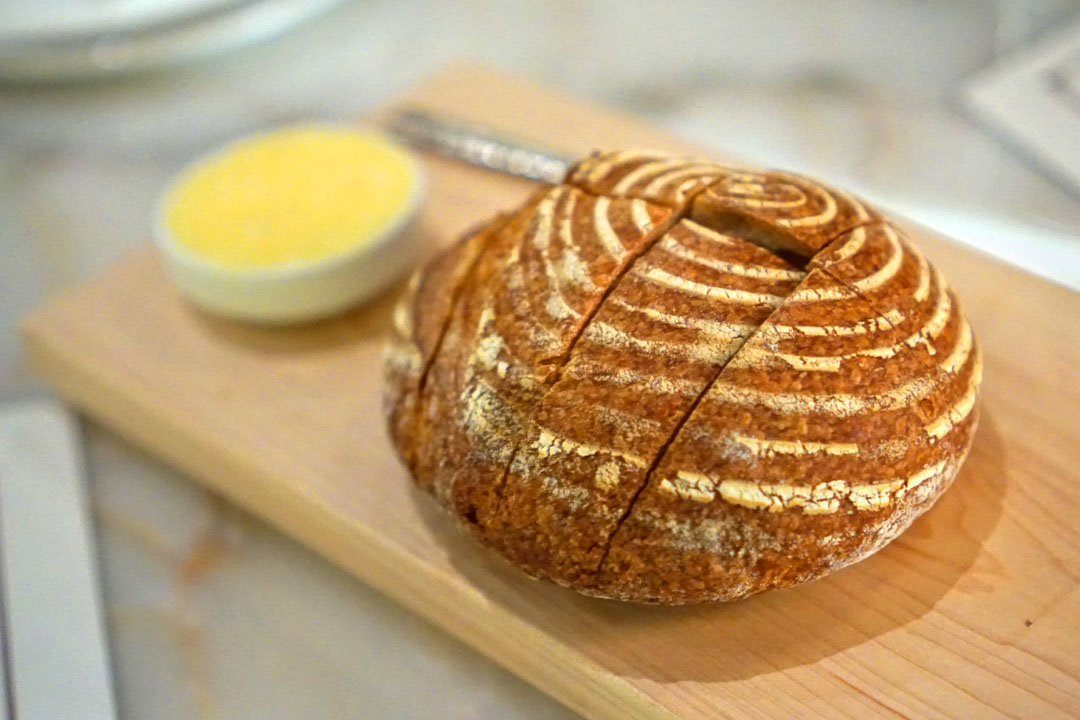 Bread Service [$8.00]
| house levain with bordier butter
We began with some bread. Sourdough displayed the familiar lactic tang I was looking for, though I would've liked it crustier. The Le Bordier butter, meanwhile, was a fantastic pairing thanks to its delightfully smooth, silky consistency and subtle sweetness.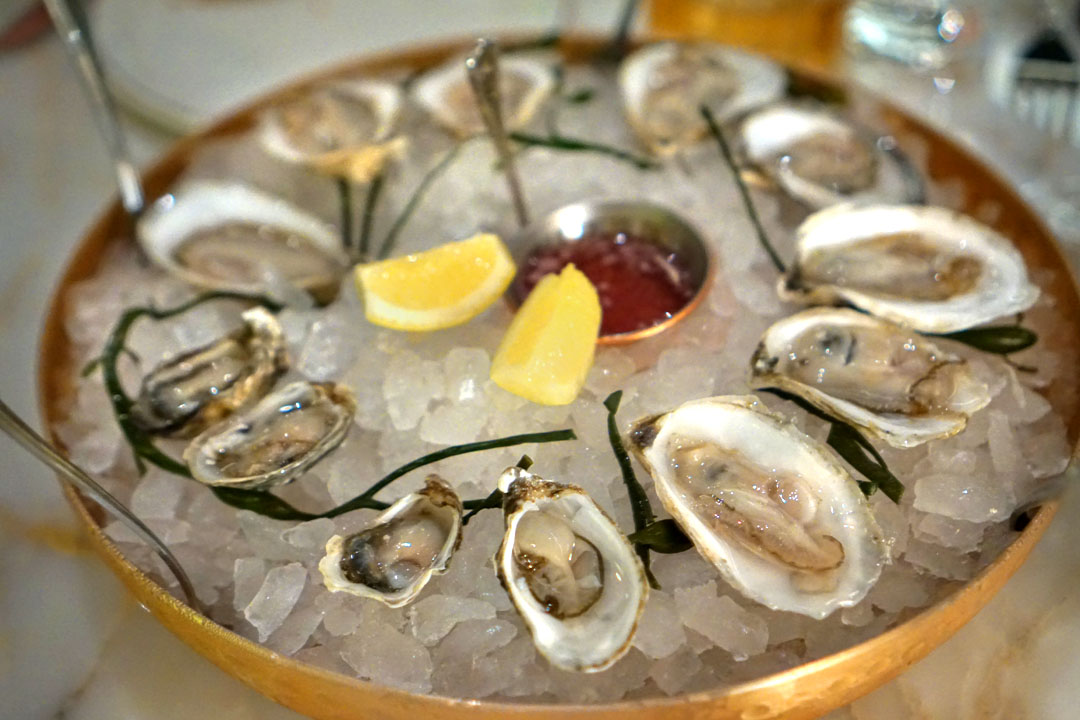 Selection of East and West Coast Oysters [$44.00]
| verjus mignonette
It made sense to start with some oysters, and they were actually some of the best I've had in a while. Counter-clockwise from bottom-left:
Island Petites from Washington – These might've been the smallest oysters I've ever seen. Think super clean brine, with a distinctly melon-y finish.
Cape Smalls from Maine – A definite step up in salinity, but crisp, fresh, and oh so agreeable.
Mere Points from Maine – The saltiest and prickliest of the bunch, yet utterly balanced, almost elegant.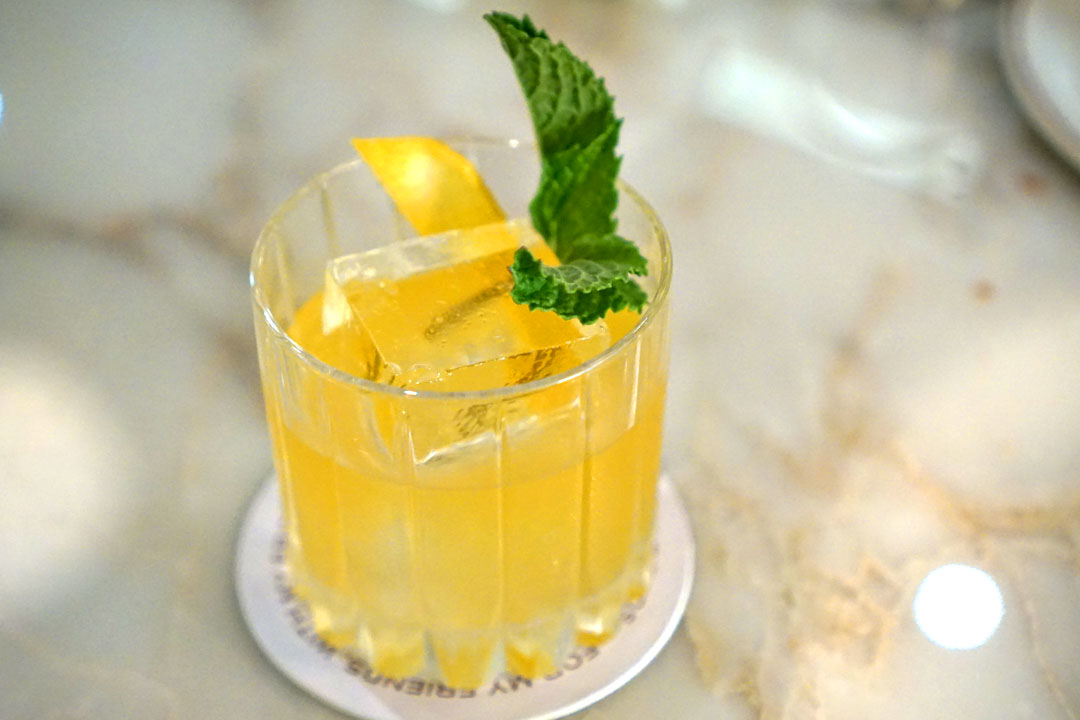 Miles Smiles [$18.00]
| Chateau Arton Fine Blanche Armagnac, Elijah Craig Small Batch, Passionfruit, Lime Oleo Saccharum, Mint
Libation-wise, we opted to begin with some cocktails, and this first one was the most interesting of the group. I detected a very noticeable orange juice-like character up front, commingled with herbaceous notes and the tropical sweetness of the passion fruit, all while the bourbon peeked through just a tad.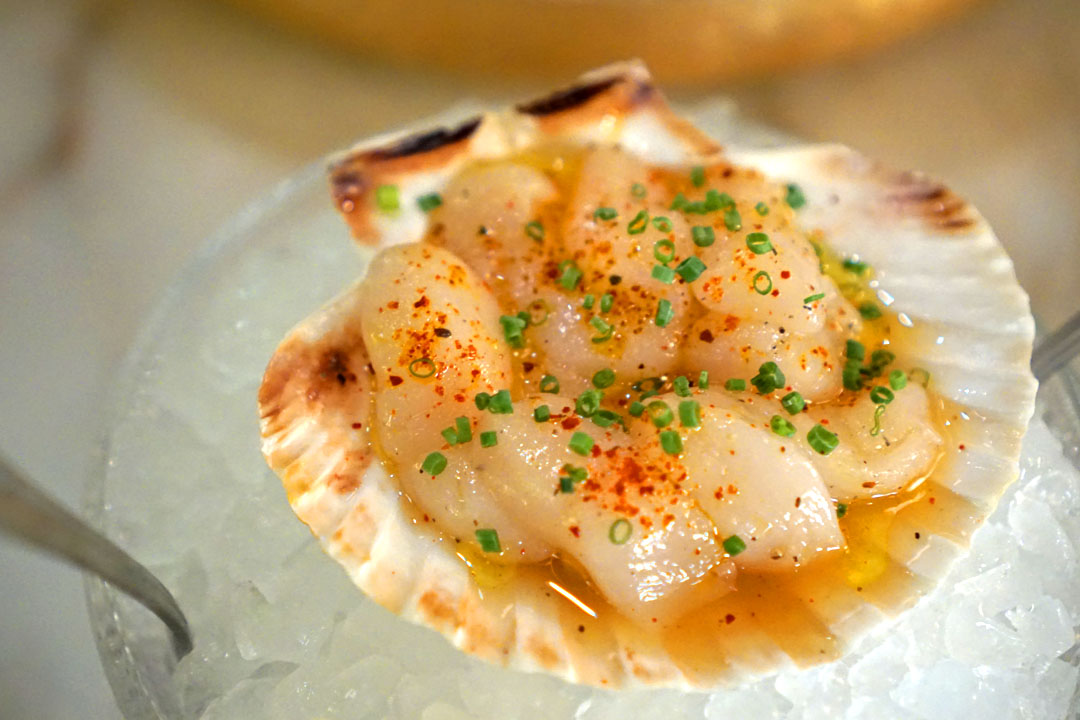 Maine Scallop Crudo [$16.00]
| white tamari, calamansi
Supple, sticky cuts of scallop were satisfying to the bite, and had their inherent sweetness well matched by the savory qualities of the soy sauce. I got a nice bit of heat here, too.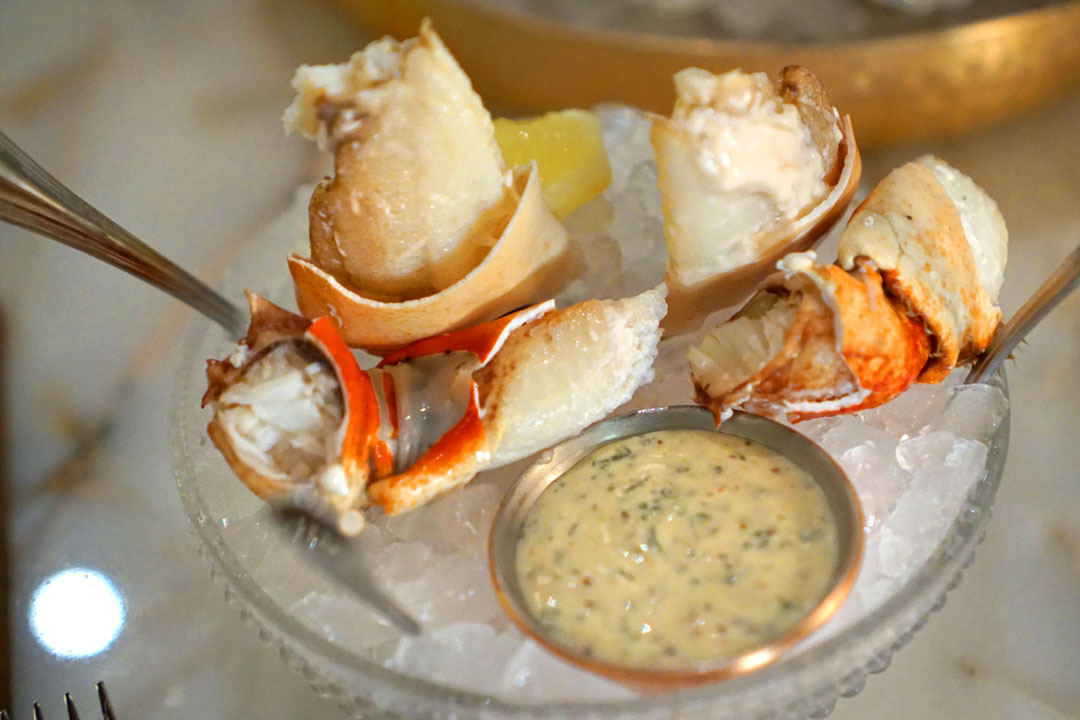 Channel Island Rock Crab Claws [$22.00]
| sauce rémoulade
The crab was spot-on in terms of both sweetness and texture. I found the claws super enjoyable alone, but the zippy remoulade did a great job enhancing the meat without overwhelming its delicate nature.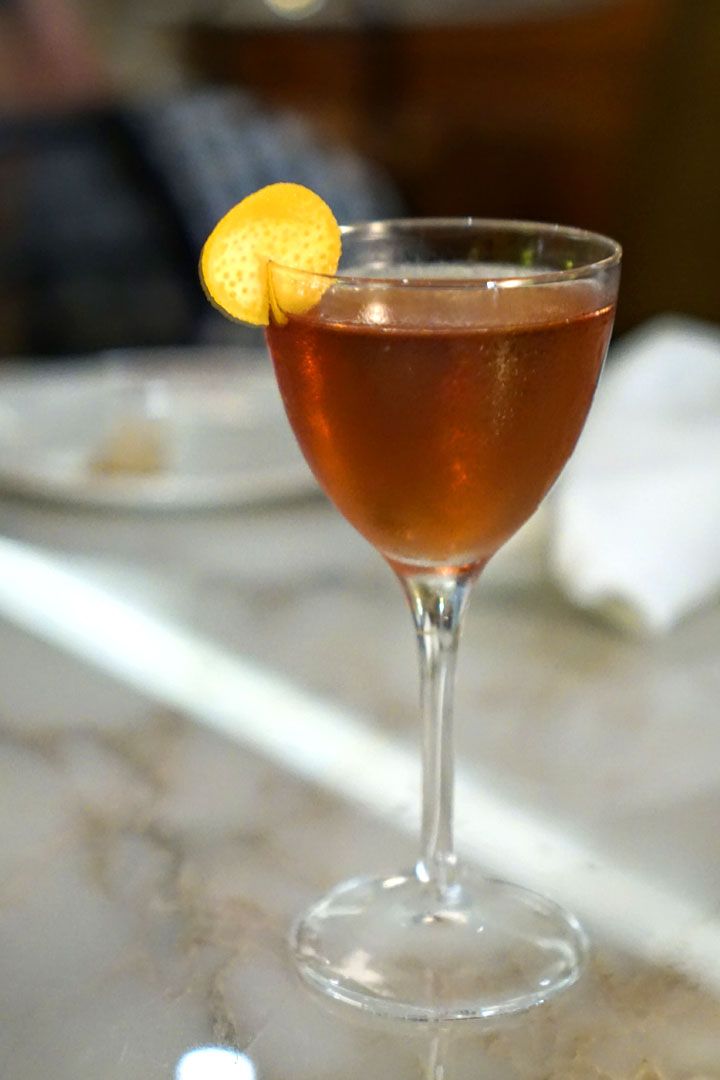 Happy Birthday No. 35 [$18.00]
| Rittenhouse Rye, Dubonnet Rouge, Herbes de Provence, Bitters
Next to drink was a smart, viscous variation on the Manhattan, one of my go-to classic cocktails these days. I think the crux here was the incorporation of herbes de Provence, which provided aromatics that linked up with the fruitiness of the Dubonnet.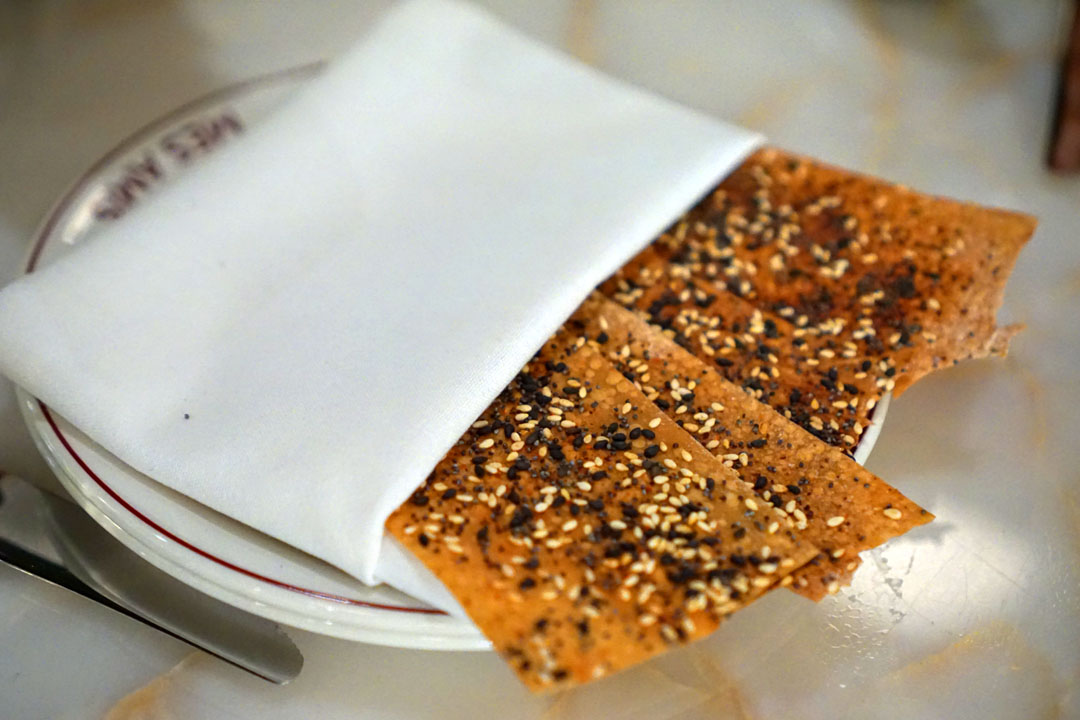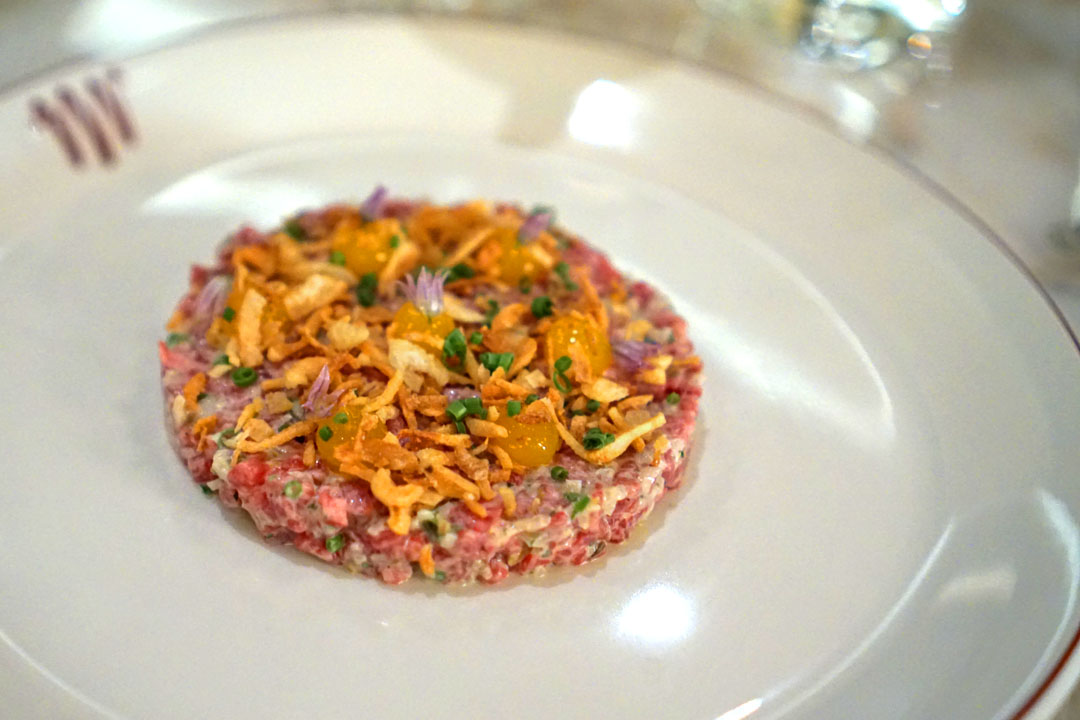 Prime Creekstone Steak Tartare [$22.00]
| egg yolk, jam, crispy shallot, "everything" lavash
I'm a sucker for a good tartar, and this was a good tartar. The beef itself was just what I wanted texturally, and was imbued with some mustard-y, nutty components that I really enjoyed. I was also a fan of the paired flatbread, which had a sweetness to it and also imparted some crunch.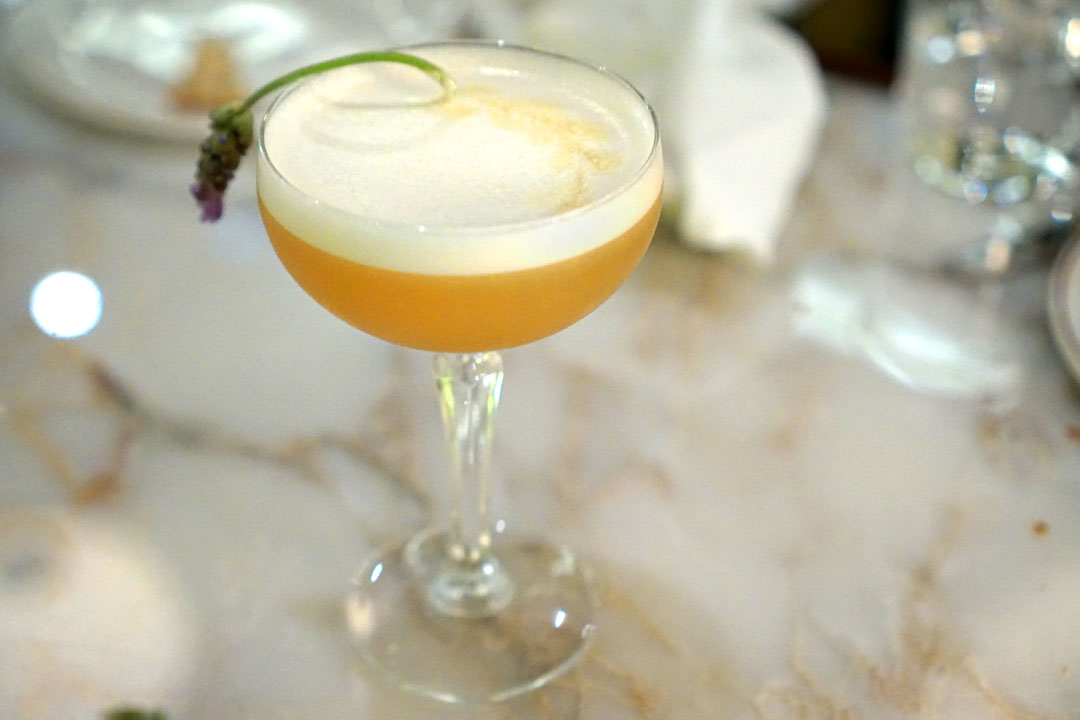 Lilies of the Field [$18.00]
| Dickel Bourbon, Lemon, Honey, Benedictine, Egg White, Lavender Bitters
This cocktail also delivered with its balance of herby, astringent, and bitter notes, set against citrus and a distinct honeyed sweetness. Nice fluffiness from the egg white, too.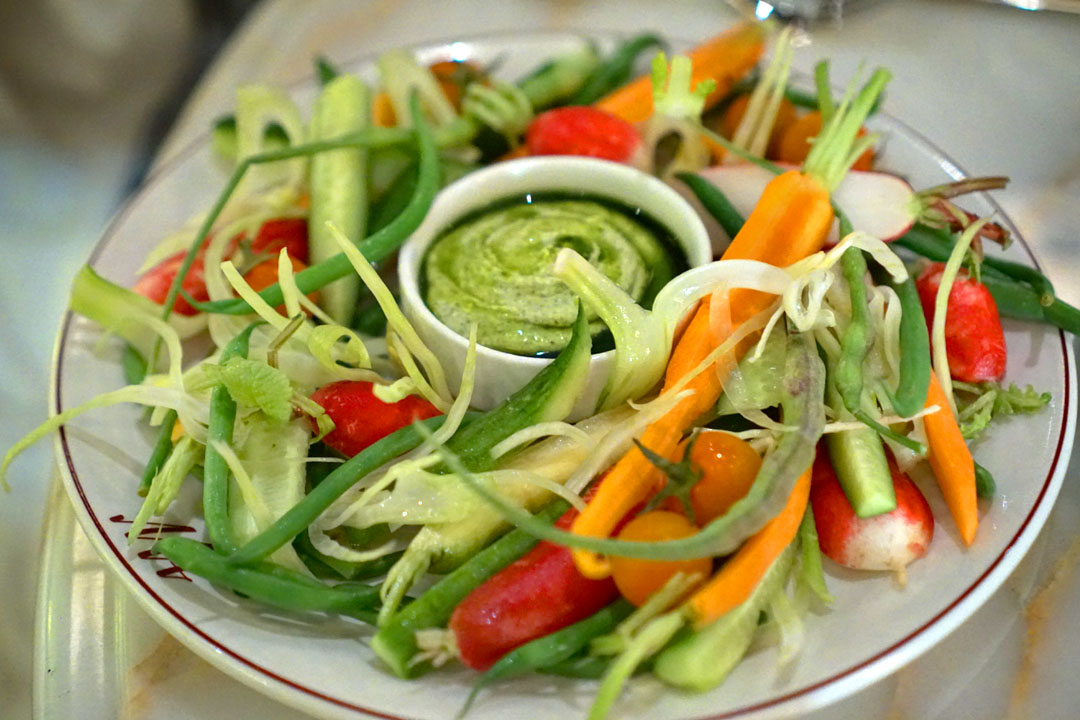 Crudités from the Market [$18.00]
| fromage blanc dip, lovage
A bright, refreshing, lovage-boosted fromage blanc was a joy, and the dish worked as a welcomed respite from all the heavier foods we were having. I will say, though, that I wanted some more substantial (less limp) veggie pieces to make it easier to get at the dip.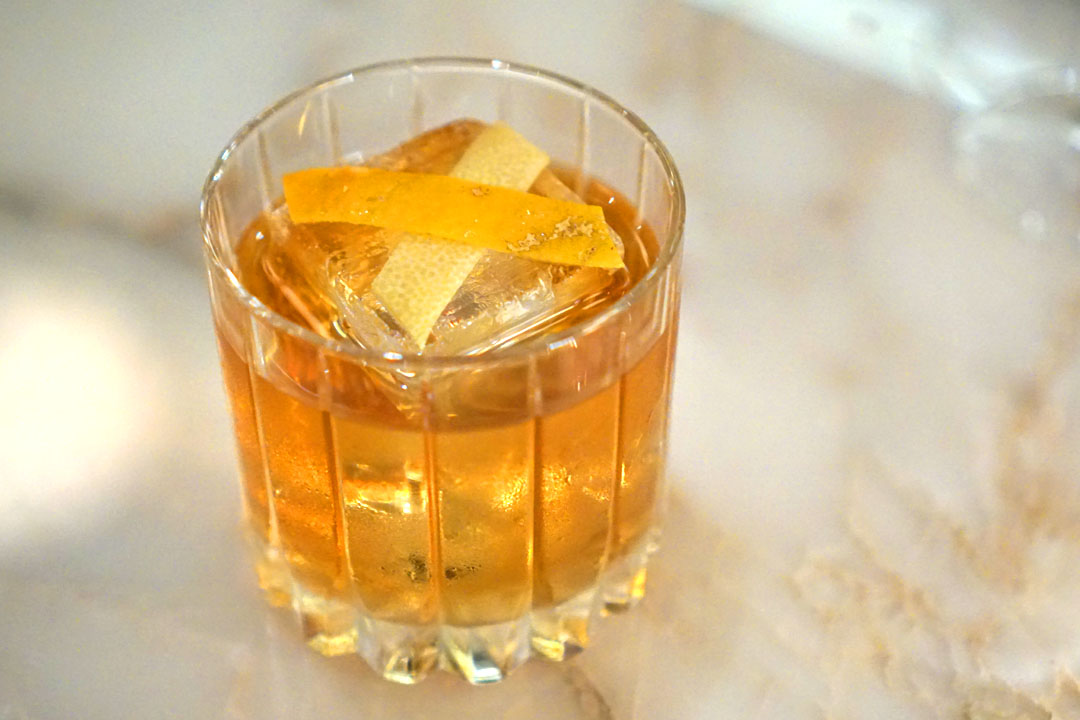 Démodé [$18.00]
| Woodford Reserve Bourbon, Demerara, House Bitters
Mes Amis' take on the old fashioned was certainly one of the boozier cocktails of the night. It was a pretty straightforward rendition, actually, emphasizing the caramel-y nature of the brown sugar, along with a very noticeable herbiness on the back end.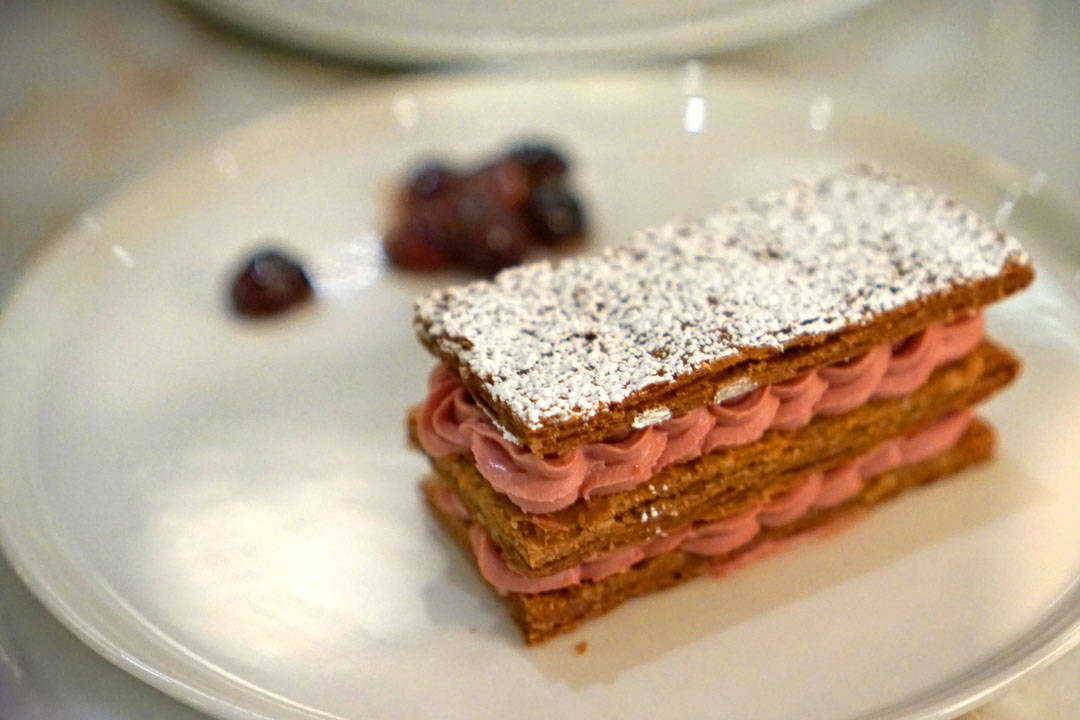 Chicken Liver Mousse Napoleon [$17.00]
| puff pastry, cherry gastrique
I don't think I'd ever had foie of any form in the guise of a mille-feuille, which is a shame, since it was pretty damn good. The mousse itself was light, airy, yet thoroughly imbued with the offal-y qualities of the liver. The hero here, though, was that crisp, flaky, slightly bitter puff pastry, which functioned as an apt counter, both in terms of taste and texture. I appreciated the additional sweetness imparted by those cherries to boot.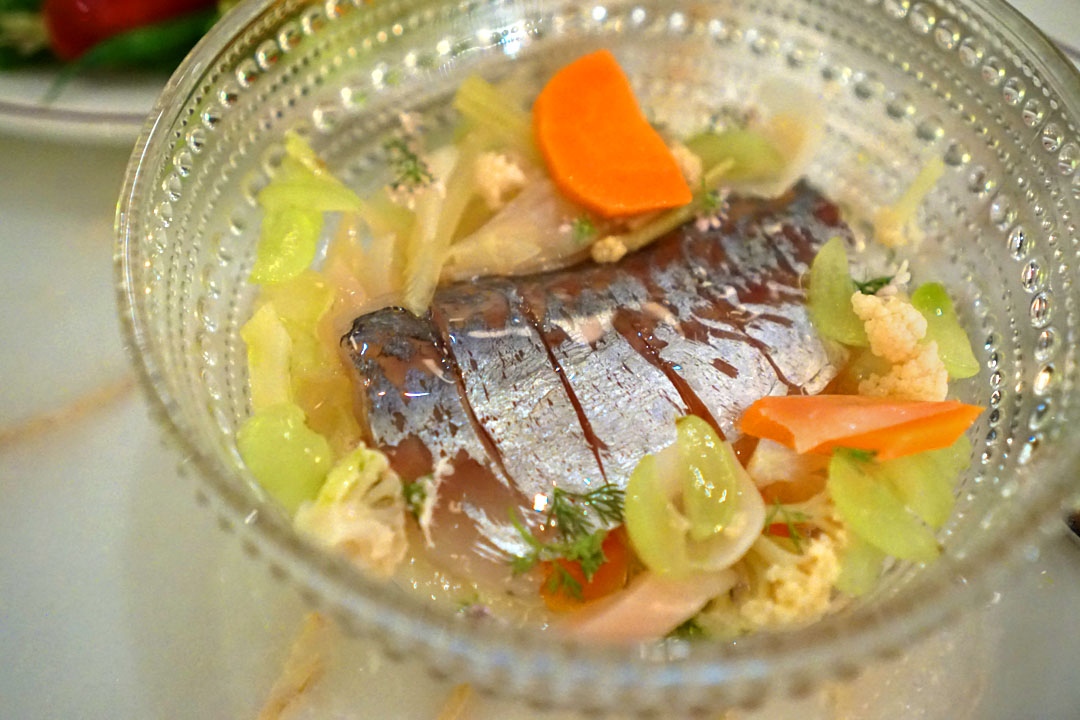 Japanese Mackerel [$18.00]
| market baby vegetables escabèche, coriander
Silver-skinned cuts of mackerel displayed a polished-yet-palpable salinity that was just what I was looking for, juxtaposed against the crunch and acidity of those veggies.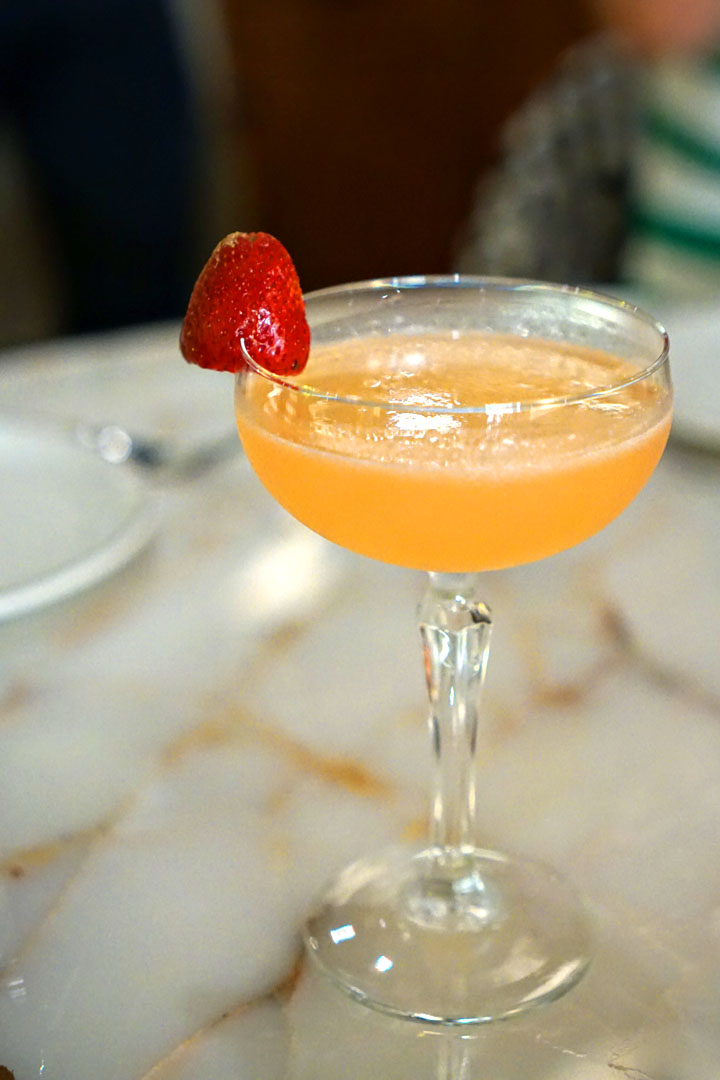 Some Like It Hot [$18.00]
| Bombay Sapphire London Dry Gin, Lemon, Strawberry, Lo-Fi Dry
This next cocktail was definitely the sweetest of the bunch, veering almost candied at times, but fortunately, there was just enough citrus and spice to even things out.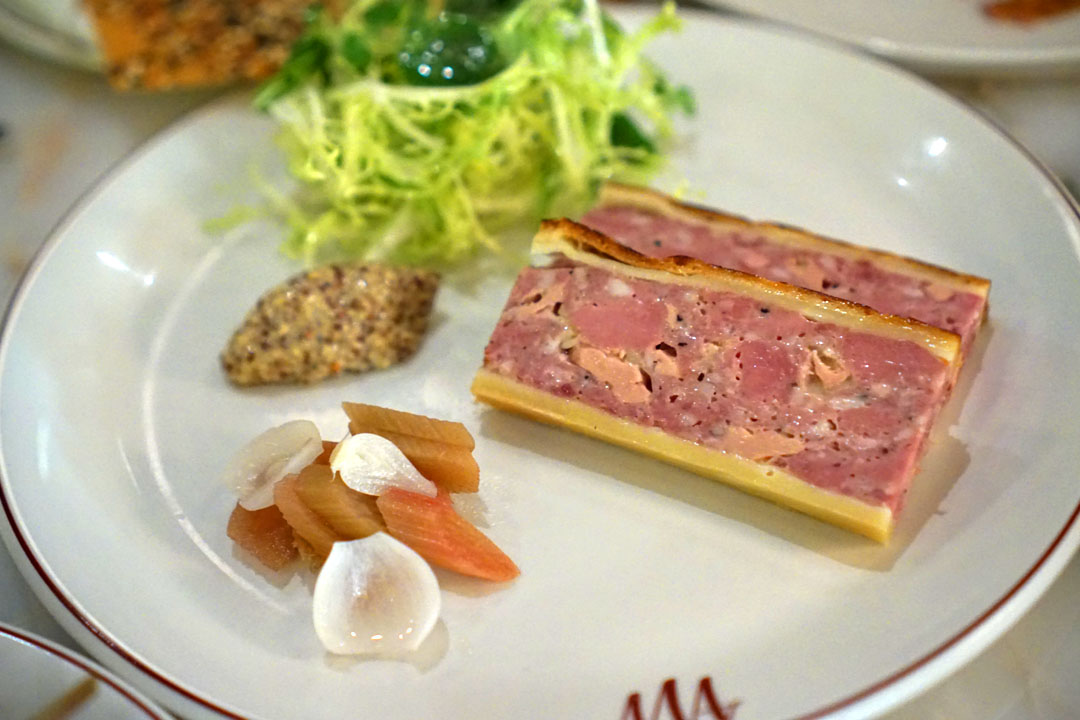 Duck Pâté en Croûte [$22.00]
| black truffle, frisée, pickled rhubarb
I was a big fan of the pâté, which ate earthy and homey, yet sophisticated, and I liked how the combo of mustard/pickles/greens helped lighten the mood. I could've used more truffle, but still found this very satisfying.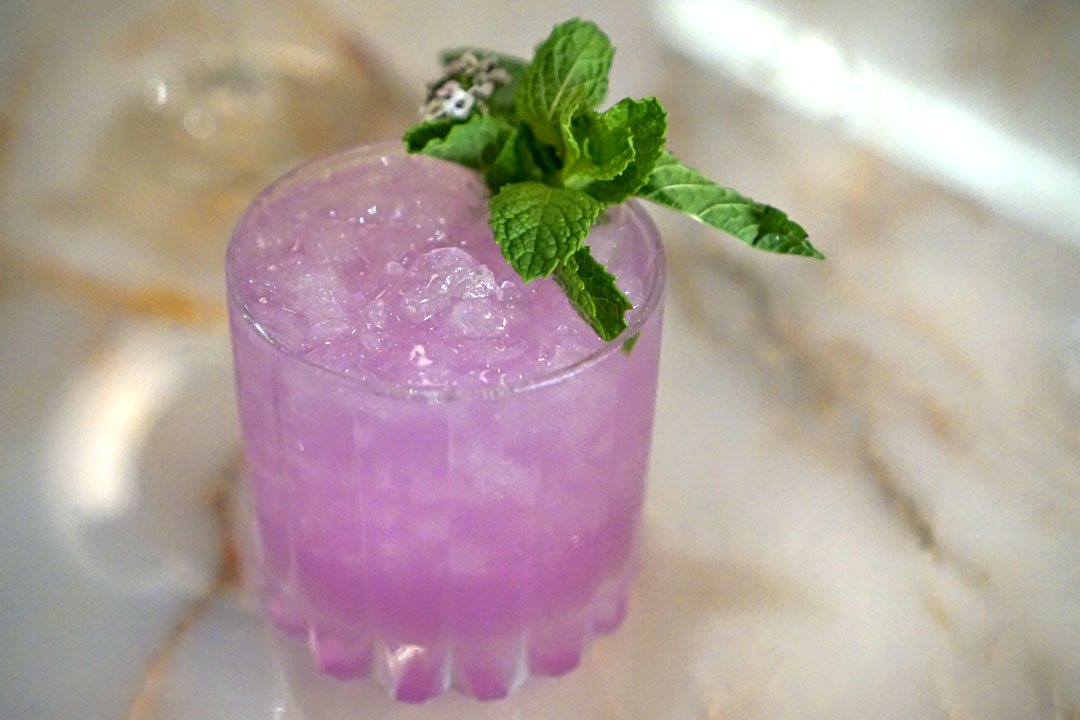 Lucky Lady [$18.00]
| Del Maguey Vida Mezcal, Clément Blanc Rhum Agricole, Lime, Orgeat, Cointreau
I'm curious as to what gave this cocktail its unique hue, since none of the listed ingredients are inherently purple. In any case, the mezcal was a bit too subtle here, as I wanted more smoke, more punch from the spirit. Overall, the drink was just lacking something, and didn't seem to go anywhere.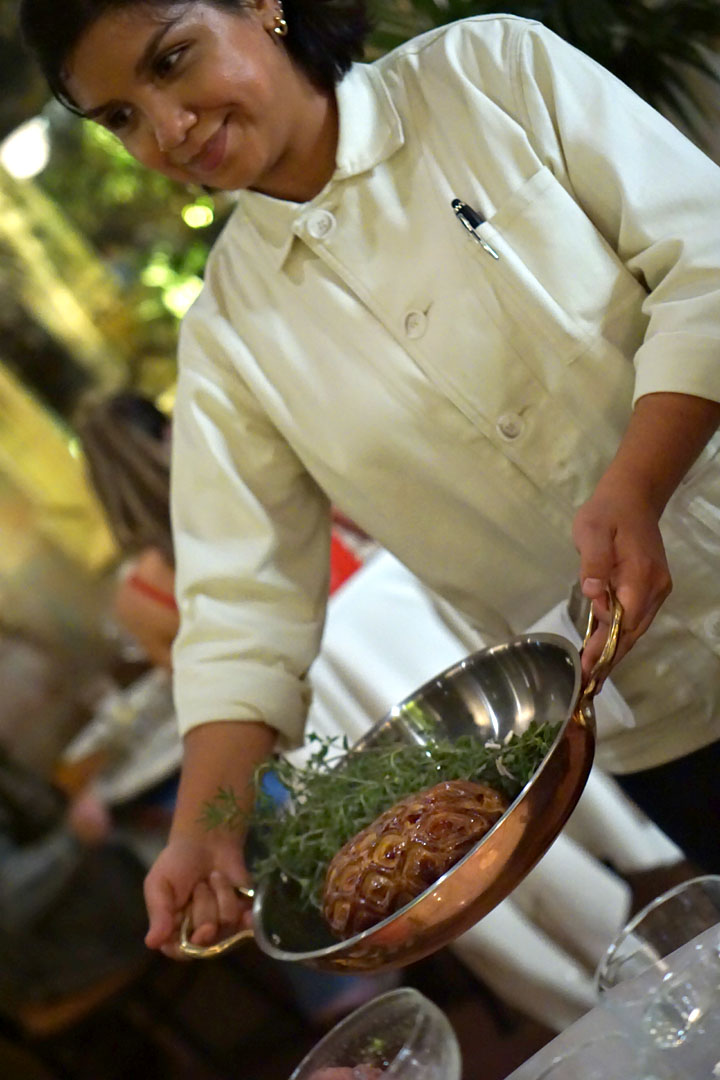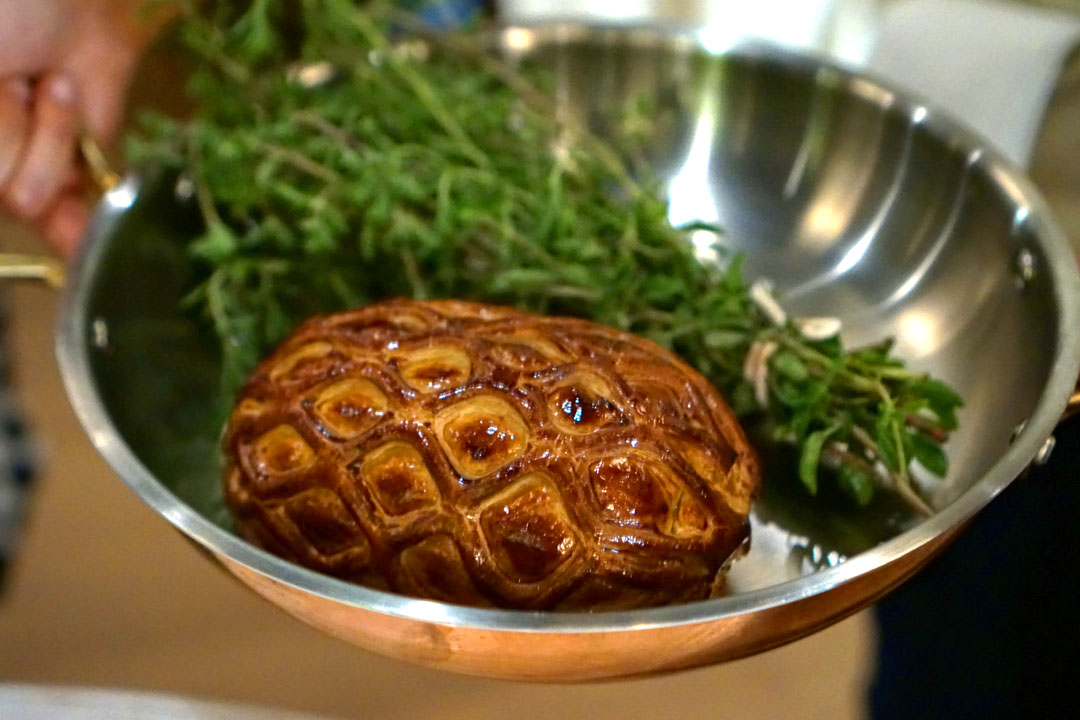 At this point, it was time to get into our main dishes, and one of the cooks came out and proudly showed off our Wellington. Note the beautiful lattice work on the puff pastry.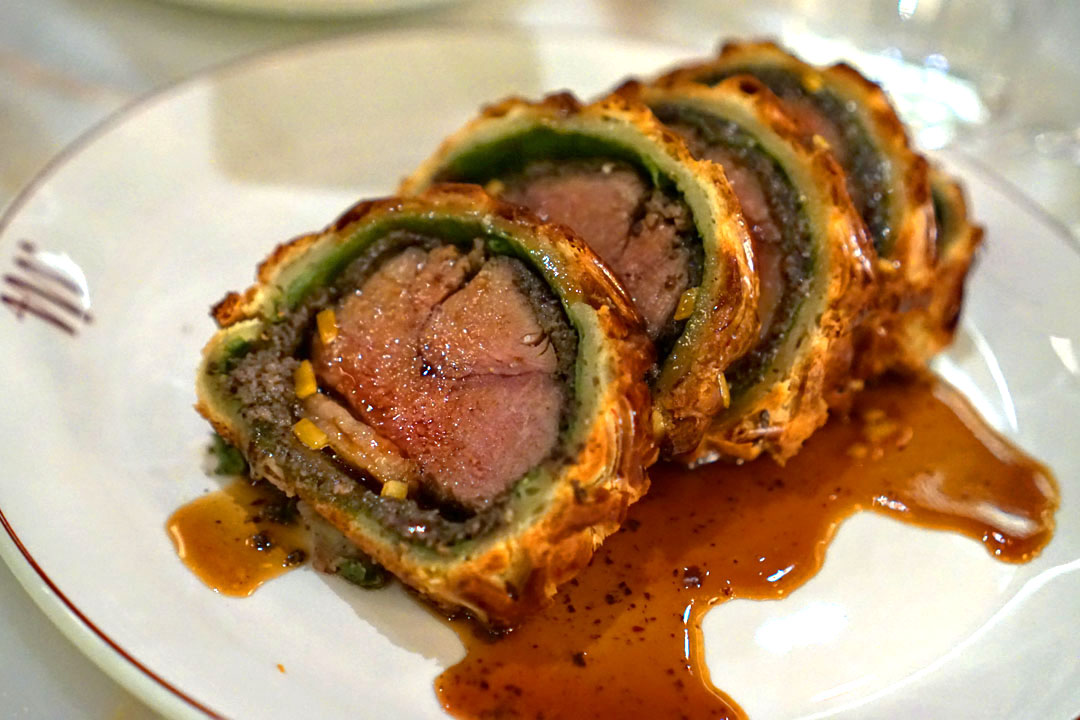 Roasted Lamb Wellington [$90.00]
| pastry crusted lamb loin, thumbelina carrots, shell bean ragoût
It'd been years since I'd last eaten any sort of Wellington, so it was great to be able to enjoy one tonight. The lamb was cooked more than I would've liked, though it was still very agreeable in terms of texture, while the loin's delicately ovine flavor profile meshed easily with the olive-y duxelles. Fab counterpoint from the pastry crust, too.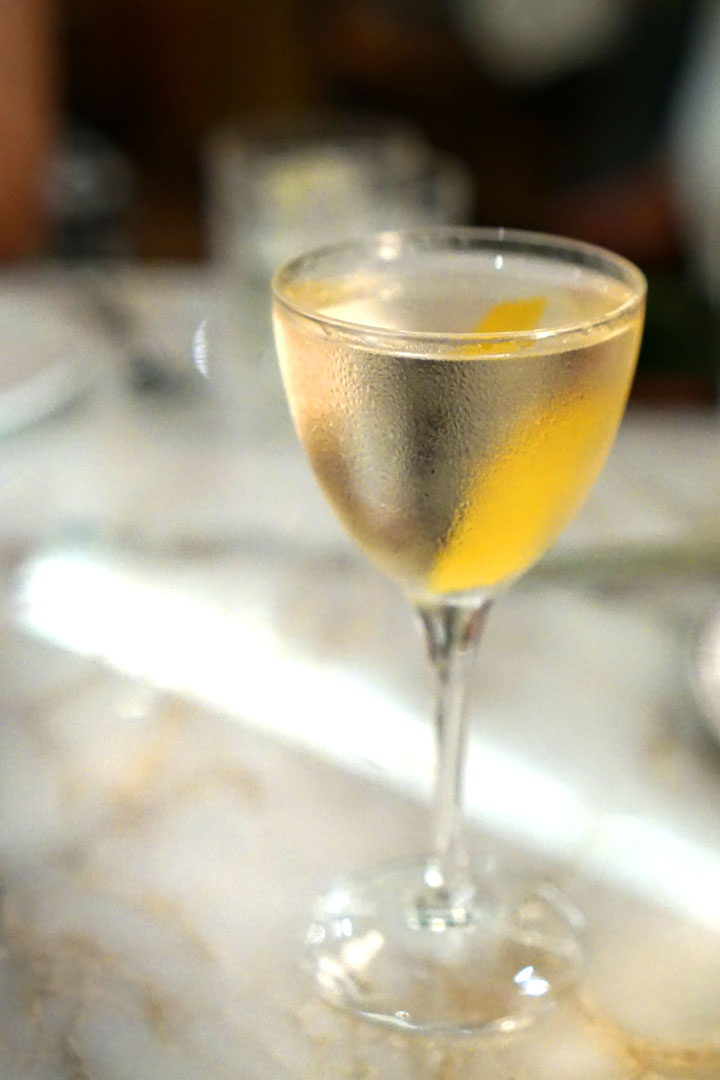 Dear Brigitte [$18.00]
| Haku Vodka, Roku Gin, Dolin Dry, Maurin Quina with a Lemon Twist
Mes Ami's version of the Vesper managed to be a demonstration in both power and finesse, and I think the secret was the use of Quina, which gave the drink a subtly sweet, fruity undertone.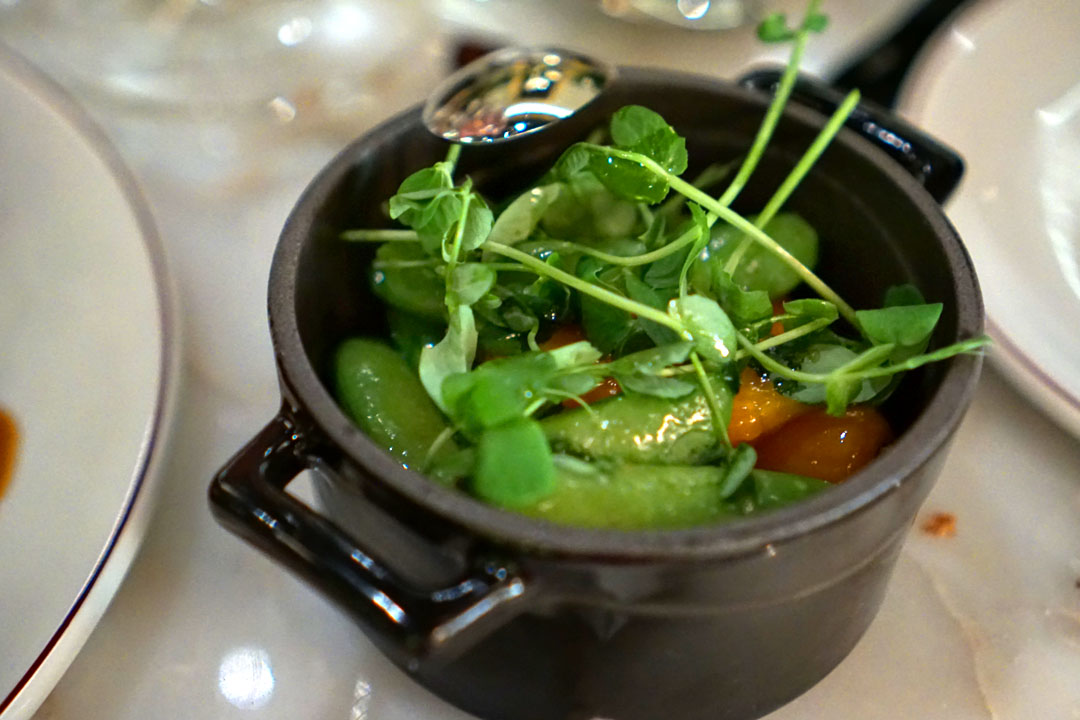 Our Wellington arrived with some expertly prepared carrots and peas, which worked to offset the heft of the meat.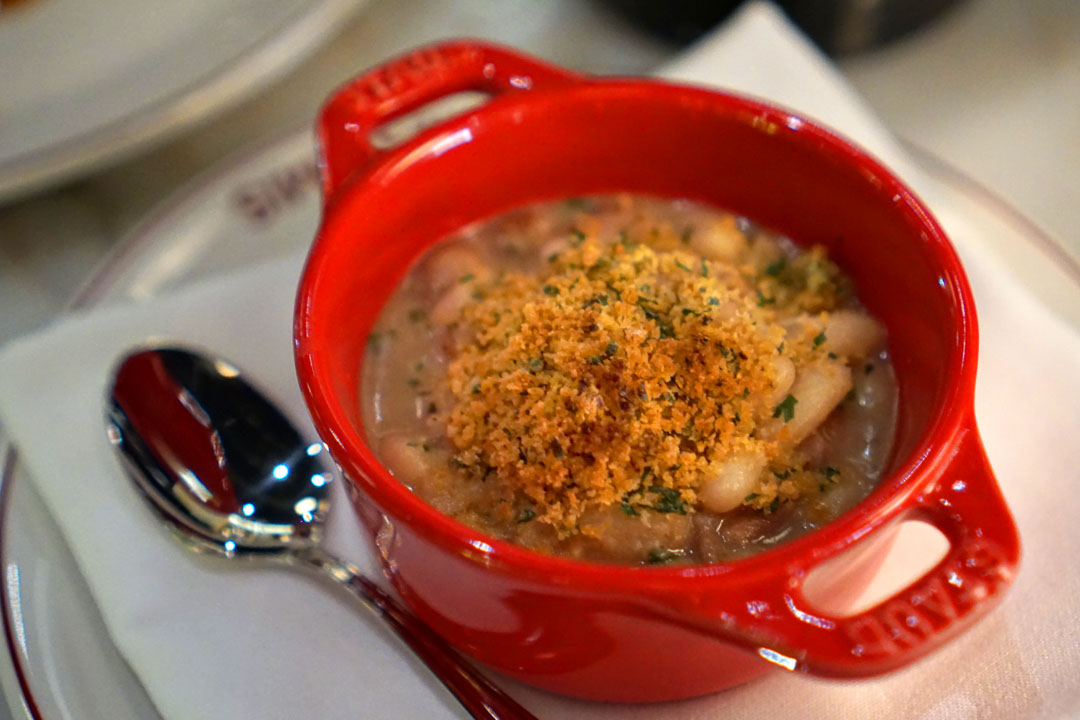 Even better were the accompanying shelling beans, which ate hearty and homey.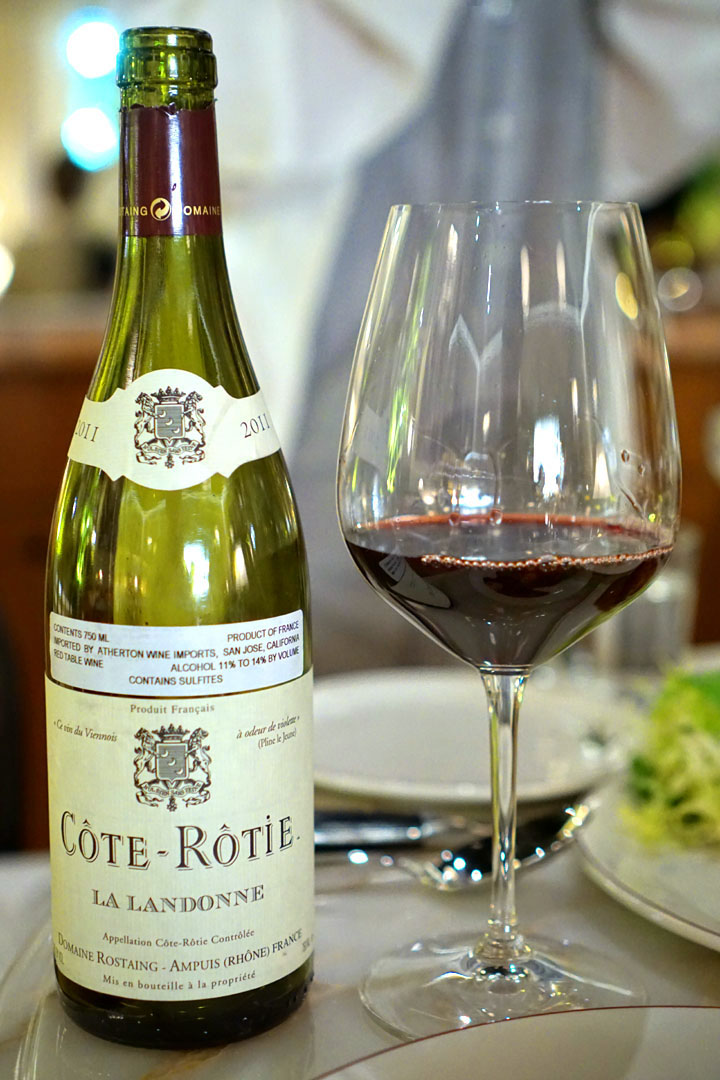 We then ordered a bottle of the
Rostaing Côte-Rôtie 'La Landonne' 2011 [$239]
. The Northern Rhône wine featured an inviting nose that was decidedly meaty, with supporting notes of spice and berries. Tasting it, I found a very harmonious drinking experience, one with loads of ripe, dark-toned fruit and flowers commingled with minerals and herb. Overall, a rather pleasant surprise.
Steamed Halibut [$39.00]
| hakurei turnip, yellow chive, clam broth
Halibut showcased the firm-ish, substantial texture that I wanted, while its clean, slightly sweet flavor profile took well to the additional depth from the clams. Even better was the use of yellow chive, which gave the dish a subtle Chinese-y character that I really enjoyed.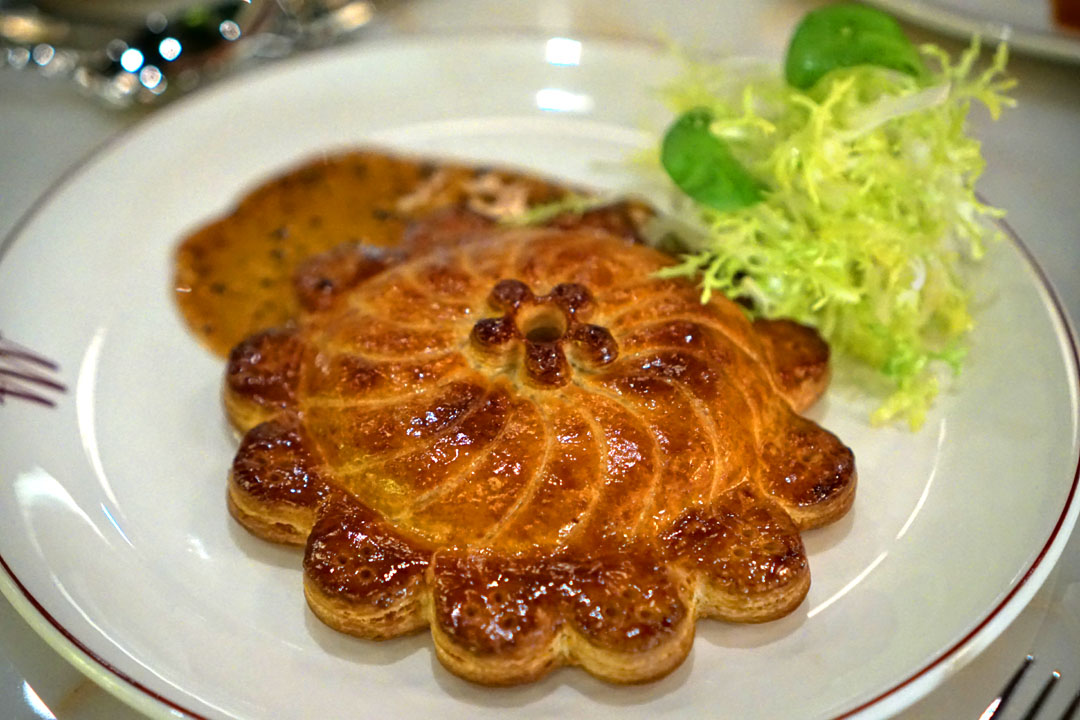 Savory Vegetable Galette [$27.00]
| celery root, leeks, madeira sauce
I really appreciated the design work and general flakiness of the pastry crust here, which worked as a complement to the galette's filling of leek and celeriac. I would've liked to have seen some potato (or even better, truffle) utilized for a bit more oomph, though that Madeira sauce did impart a lovely robustness to the dish.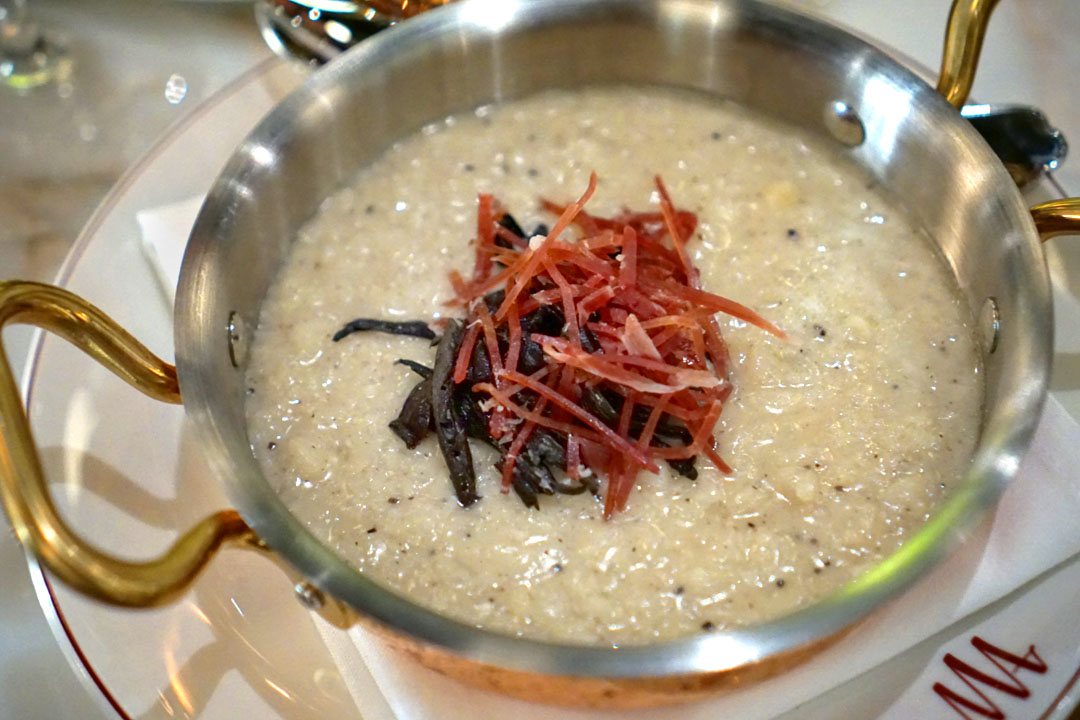 Black Truffle Risotto [$32.00]
| ibérico ham, black trumpets, preserved truffle
I have a hard time turning down risotto, and tonight was no deviation from that rule. Texturally, the rice was what I was looking for, but what really made this sing was the ham/mushroom combo, which boosted the umami factor of the dish while mixing things up in terms of mouthfeel.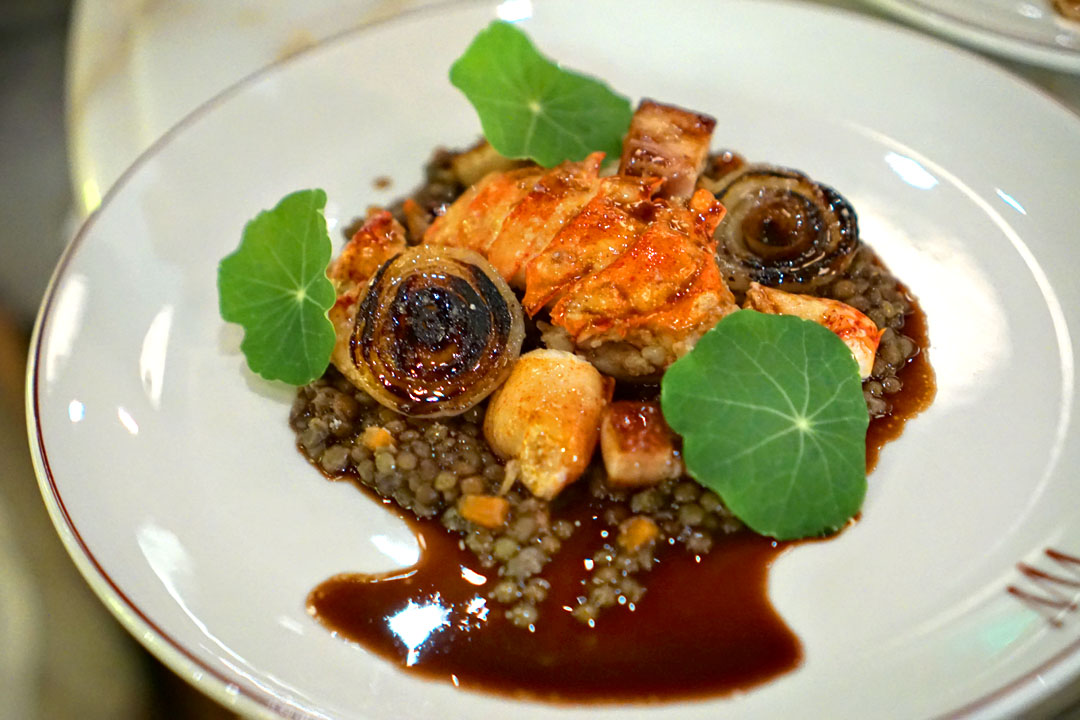 Butter Poached Whole Maine Lobster [$68.00]
| puy lentils, bacon, red wine sauce
Lobster arrived beautifully textured, its signature sweetness proudly displayed, yet smartly contrasted by the sheer saltiness of the bacon. However, my favorite thing here just might've been the lentils, which were wonderfully rich and nutty.

Given Carson's background in pastry, desserts were an absolute must. Click for a larger version.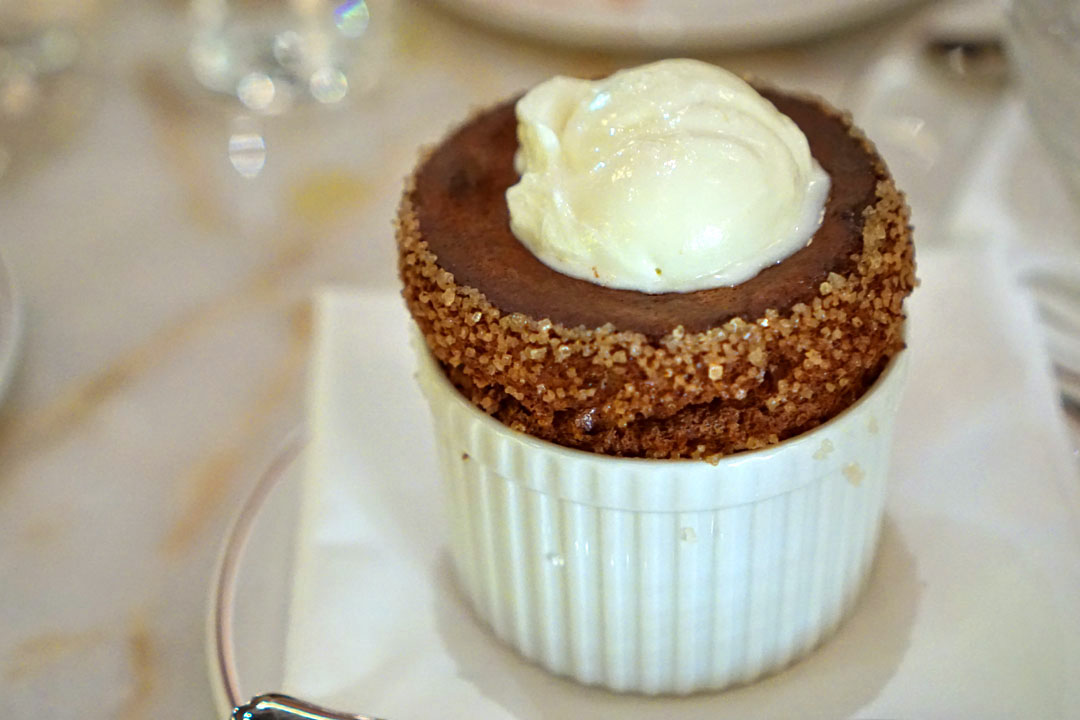 Chocolate Soufflé [$19.00]
| valrhona chocolate, green chartreuse, génépy gelato
We ordered the soufflé well in advance, and it came out prototypically puffy, it classic, chocolate-y goodness well-paired with a delightfully herby ice cream.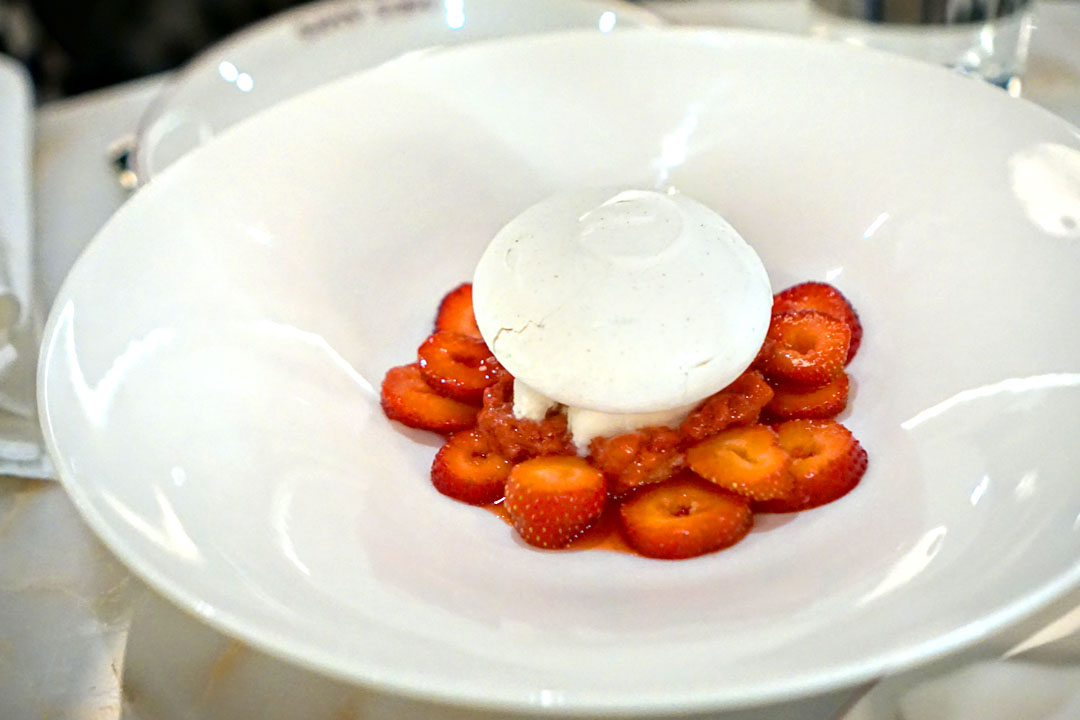 Strawberry Pavlova [$16.00]
| rose geranium, harry's berries, crème fraîche sorbet
The pavlova was definitely a winner. I loved the back-and-forth between the juicy, sweet-tart, slightly floral fruit and the otherwise creamy nature of the dessert. Superb textures here as well, particularly with that meringue.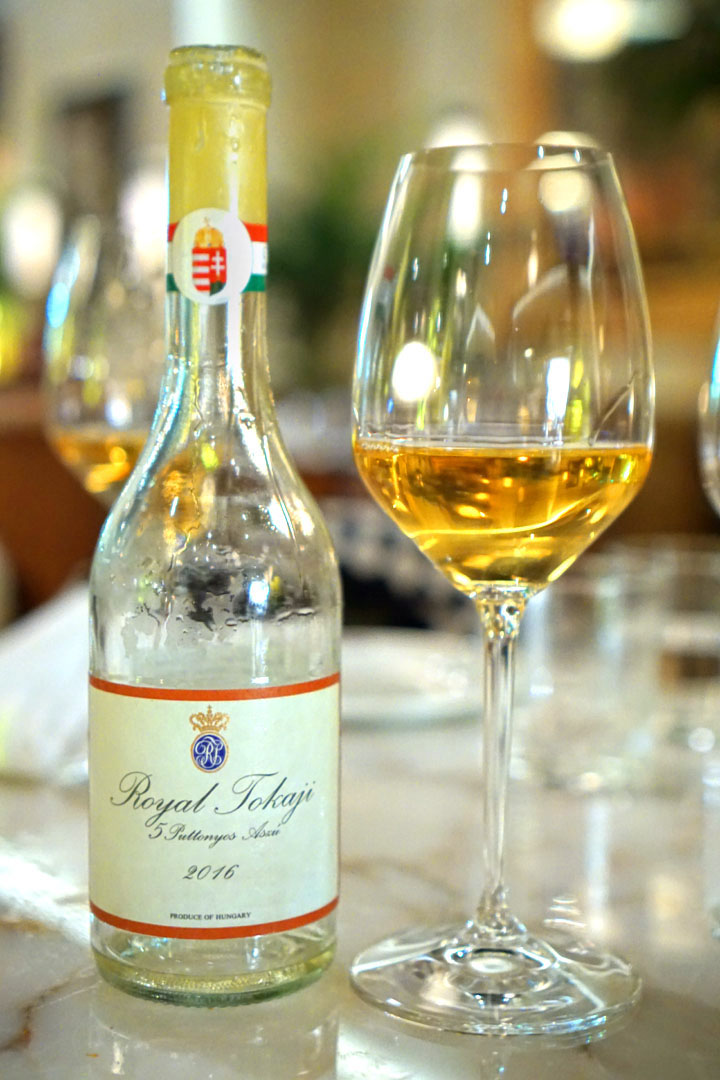 To go with dessert, we were given pours of the
Royal Tokaji Wine Co. Tokaji Aszú 5 Puttonyos 2016
, which was pretty terrific. While drinking the wine, I couldn't help but think of pineapple upside-down cake. Fortunately though, its sweetness never got out of hand, as there was just enough acidity to keep it all in check. An especially excellent pairing with the baba below.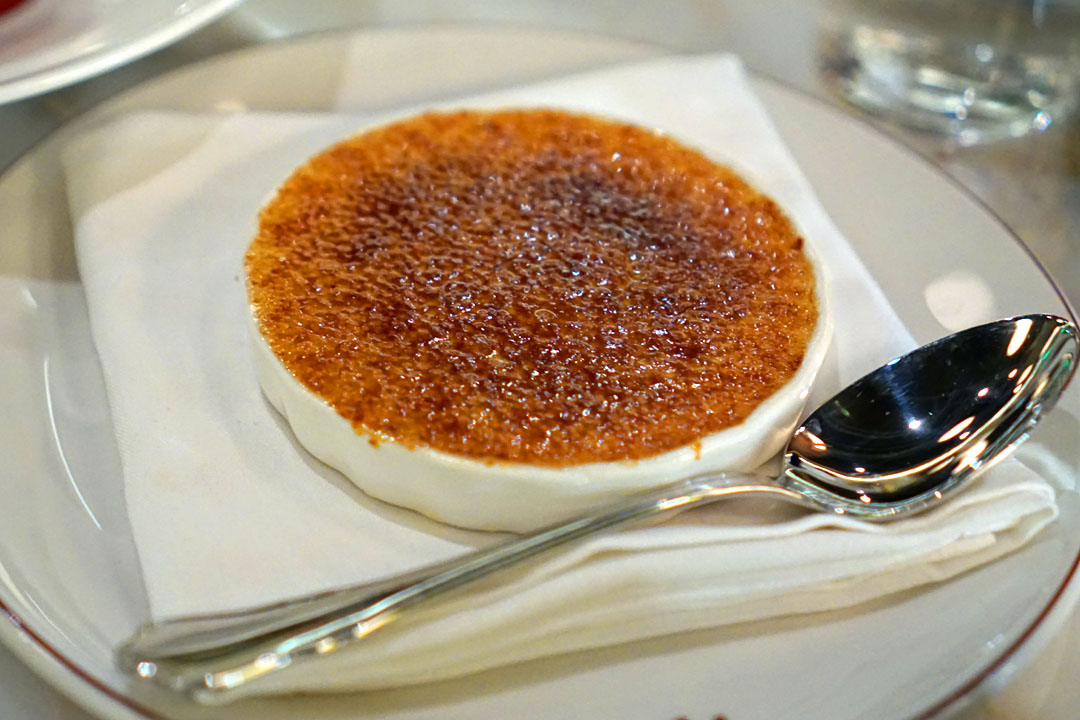 Vanilla Brûlée [$15.00]
| traditional crème brûlée, madagascar vanilla
The crème brûlée was one of the richest, thickest examples I've had, with loads of fragrant vanilla that recalled the countless Danish butter cookies of my childhood. The caramelized top was also smokier than most, and helped even out the potency of the custard.
Baba au Rhum [$16.00]
| chantilly, matusalem gran reserva 15 year rum
A canelé-shaped rum baba showed off a gratifying, "gritty" consistency, along with a sweetness that really stood up to the booze. I found the cake delicious by itself, but the Chantilly really did serve as the perfect finishing touch, smoothing things out even more.
St. Honoré [$16.00]
| pecan mousseline, pâte feuilletée, caramel
I was a huge fan of Carson's St. Honoré back at Bon Temps, so I had to try it again tonight, and no surprise: it was our favorite of the desserts. I loved the interplay between the puff pastry, pastry cream, and that nutty mousseline, with the caramel adding an extra kick of sugar. Also crucial were those marvelously airy profiteroles, while the candied pecans provided some crunch. An absolute must-order.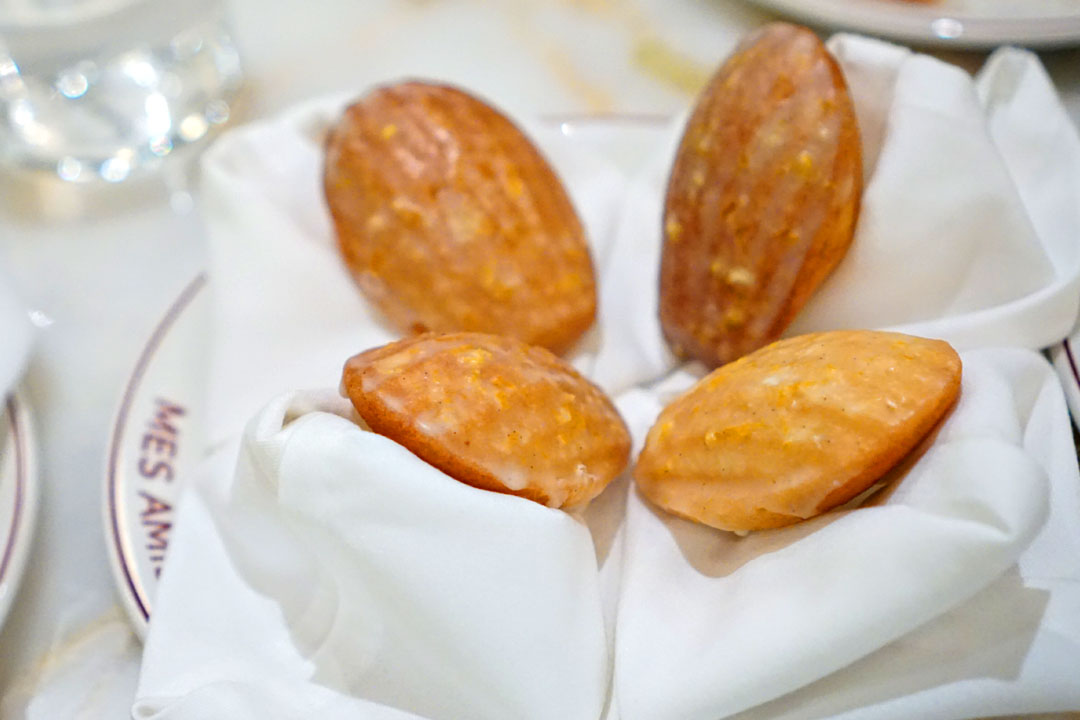 Petit four duties were handled by these orange-vanilla madeleines, which were likely the best version of the cake I've ever had. They were perfect texturally, but I think the key really was the glaze, which I don't see all that often.
This was only opening night at Mes Amis, but it looks like Carson and his team are off to a strong start, right out the gate. I think the kitchen is doing an admirable job presenting the best of brasserie-style cooking, but also infusing it with just enough of an Angeleno sensibility to keep things interesting. I'm still saddened by the loss of Bon Temps, but this place is a worthwhile consolation, and I'll definitely be keeping the restaurant in mind for future Hollywood outings.