Saffy's (Los Angeles, CA)
Saffy's Restaurant
4845 Fountain Ave, Los Angeles, CA 90029
424.699.4845
www.saffysla.com
Wed 06/01/2022, 08:00p-10:25p

Bestia
and
Bavel
are two of the most consistently busy (and consistently tasty) restaurants in town, so it should come as no surprise that the people behind them have had expansion on their minds. Thus, Ori Menashe, Genevieve Gergis, and Director of Operations Leah Bunch had actually been working discreetly on Saffy's for over two years, though their plans were only publicly revealed back in April. Named after the Chefs' daughter Saffron, the East Hollywood eatery offers up Middle Eastern fare in an all-day setting that's more casual than their other spots. Saffy's grand-opened on June 1st, so yes, this is another old school kevinEats-style opening night dining report (
two in a row!
).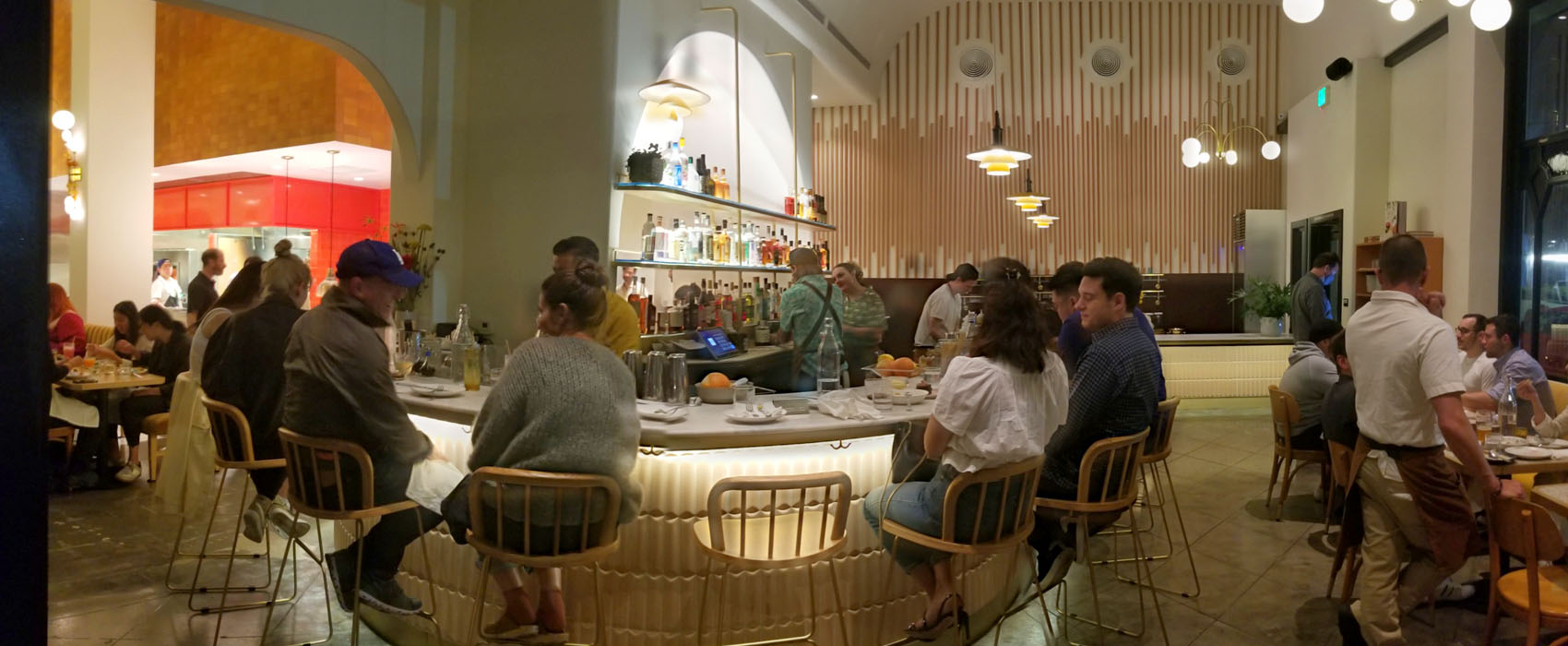 Saffy's resides in the 1930-era, Art Deco-ish Merrick Building, at an address that was previously home to the short-lived Five Leaves, which shuttered in February 2020 after a mere nine months of operation. The space comprises three separate storefronts that were combined for Five Leaves; before that, they were home to the likes of clothing store Mayme, Heaven on Earth Healing, and Fernando de Manila tailoring. The same basic layout remains from the previous restaurant tenant, though it's been given a sandy-toned makeover by
Nicky Kaplan Interiors
, who actually teased the spot
on her Instagram account
all the way back in July 2020. Per ownership, the aesthetic is meant to evoke "late 1960s early 1970s Morocco," and I can see it. Pay special attention to the sixteen-seater bar, and there's even a sidewalk patio coming soon.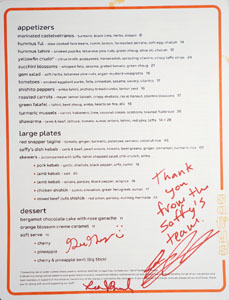 The opening menu highlights Menashe's take on multiple Mideast cuisine favorites, but definitely reads homier compared to what he's putting out at Bavel, and don't forget about desserts from Gergis as well. As for beverages, given who's behind this place, cocktails are obviously an option, and there's also a compact wine list with some pretty interesting, mostly Mediterranean selections. Corkage is $40, limit 2. Click for larger versions.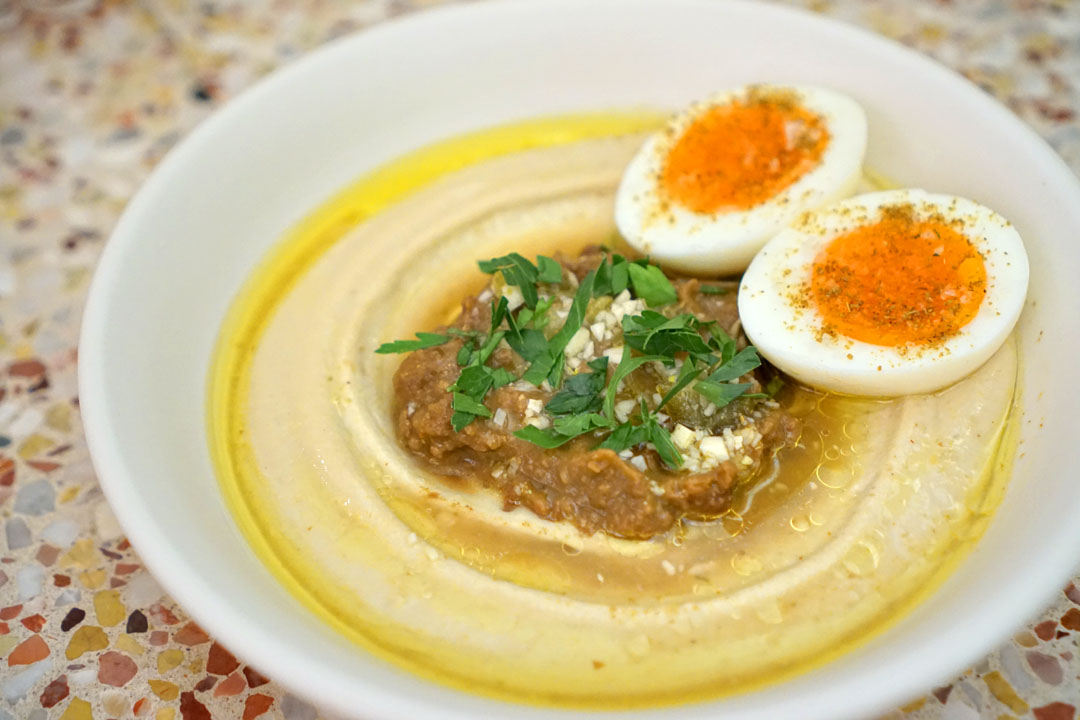 hummus ful [$14.00]
| slow cooked fava beans, cumin, lemon, fermented serrano, soft egg, challah
Menashe probably served me the best hummus of my life over at Bavel, so it was no surprise that tonight's meal got off to a strong start. The chickpea mash was great texturally, and I loved the bit of floral character here, as well as the heat on the back end, though my favorite thing just might've been that wonderfully soft, luscious egg, which was as perfect as any I've tasted. The paired challah was also superb, and quite enjoyable just by itself thanks to its fluffy, feathery crumb, light toast, and topping of sesame and poppy seeds.
paloma spritz [$13.00]
| MEZCAL, bianco vermouth, grapefruit, prosecco, pinch of maldon
We also made sure to sample some cocktails, naturally, and this paloma was the most complex version of the drink I'd ever experienced. The key was the bitter, herby, even nutty properties of the vermouth, and how that interacted with the citrus, all set against a backdrop of astringent smoke, while the finish presented a marked saltiness.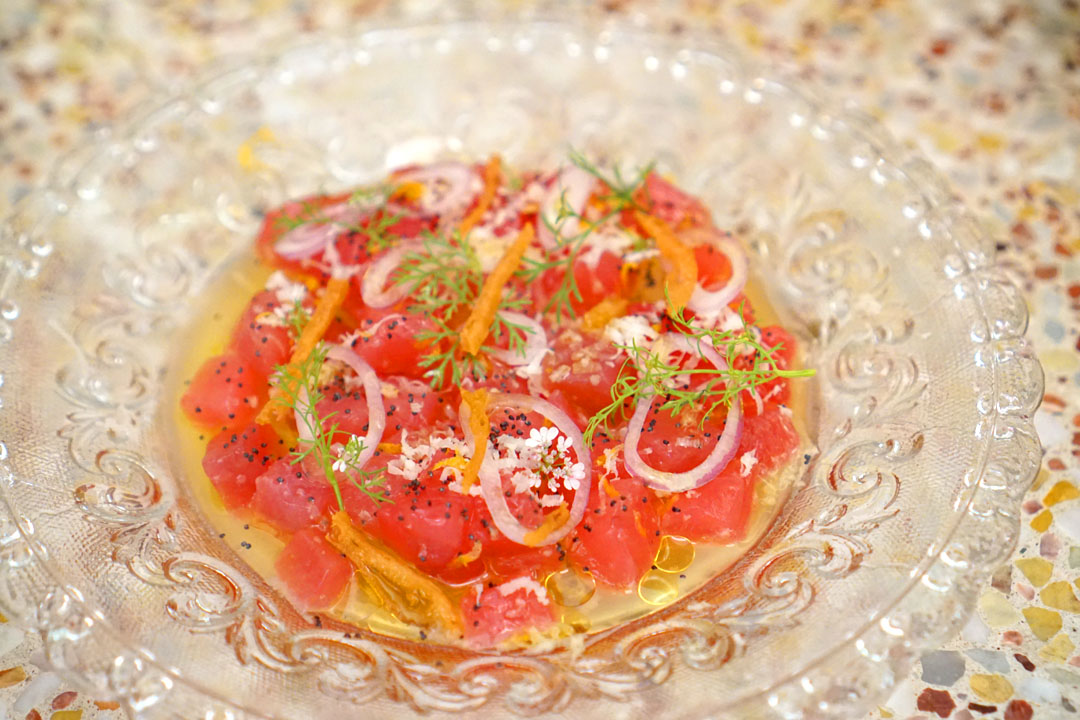 yellowfin crudo [$24.00]
| citrus broth, poppyseed, horseradish, sprouting cilantro, crispy laffa strips
I was a big fan of the crudo as well. The tuna was pretty much flawless in terms of texture, and took well to its olive oil-y marinade, infused with a palpable sweetness. However, what really took this over the top for me was the fried flatbread, which imparted both crunch and savor.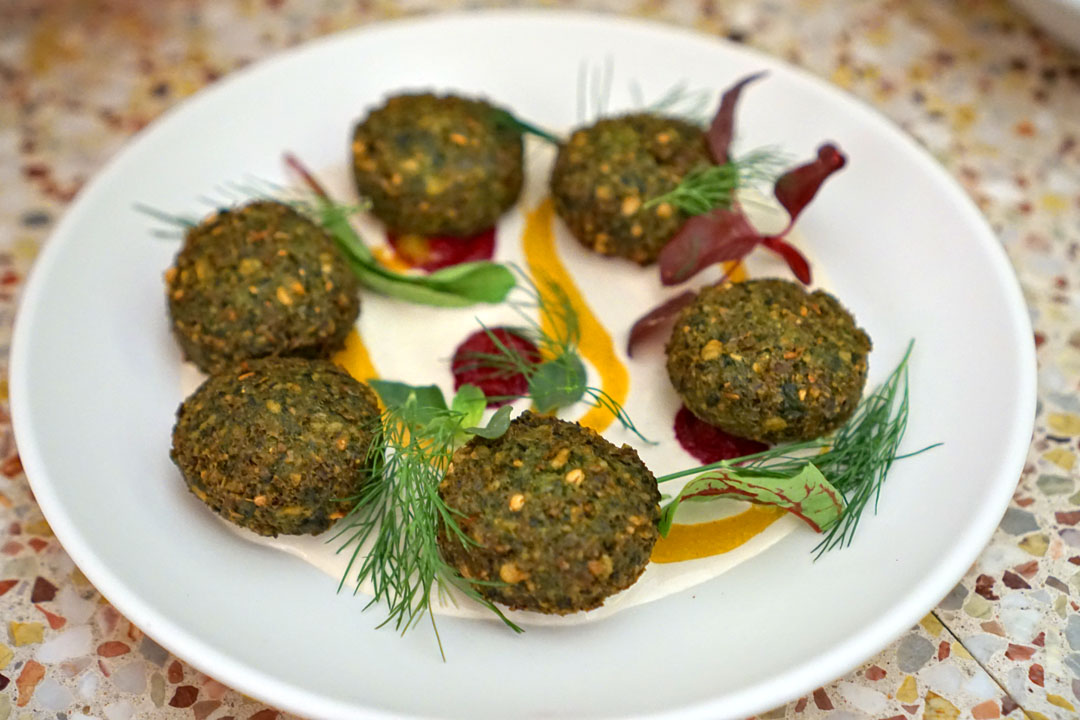 green falafel [$15.00]
| tahini, beet zhoug, amba, hearts on fire, dill
The falafel was also a favorite, and possibly the best I've had. The fritters had that gritty, rustic, yet moist consistency I wanted, with a nutty, savory, herbaceous flavor profile that meshed perfectly with the refreshing greens, South Asian-esque spices, and pinpoints of heat in the dish.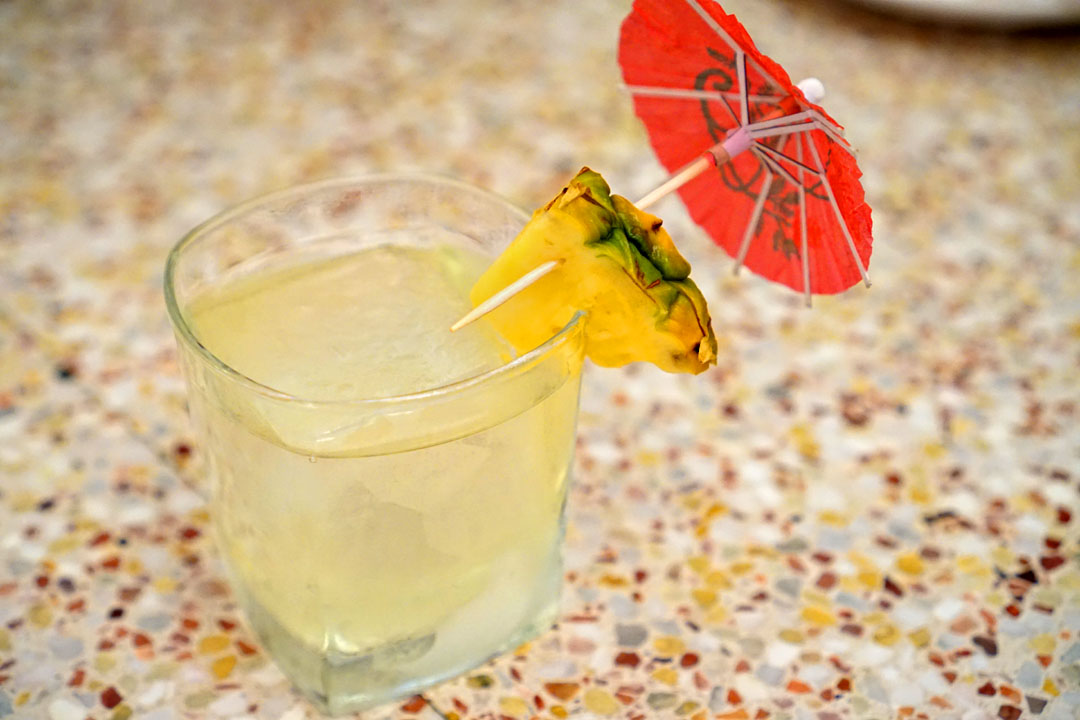 clarified milk punch [$16.00]
| RUM & COGNAC, pineapple, lemon, cinnamon, umbrella
I'm a sucker for a milk punch, so this was a must-try for me. The cocktail was smooth, silky on the palate, and featured a sweet-n-spicy quality that almost reminded me of a scented candle, while the pineapple provided an overarching tropical tartness that kept things in check.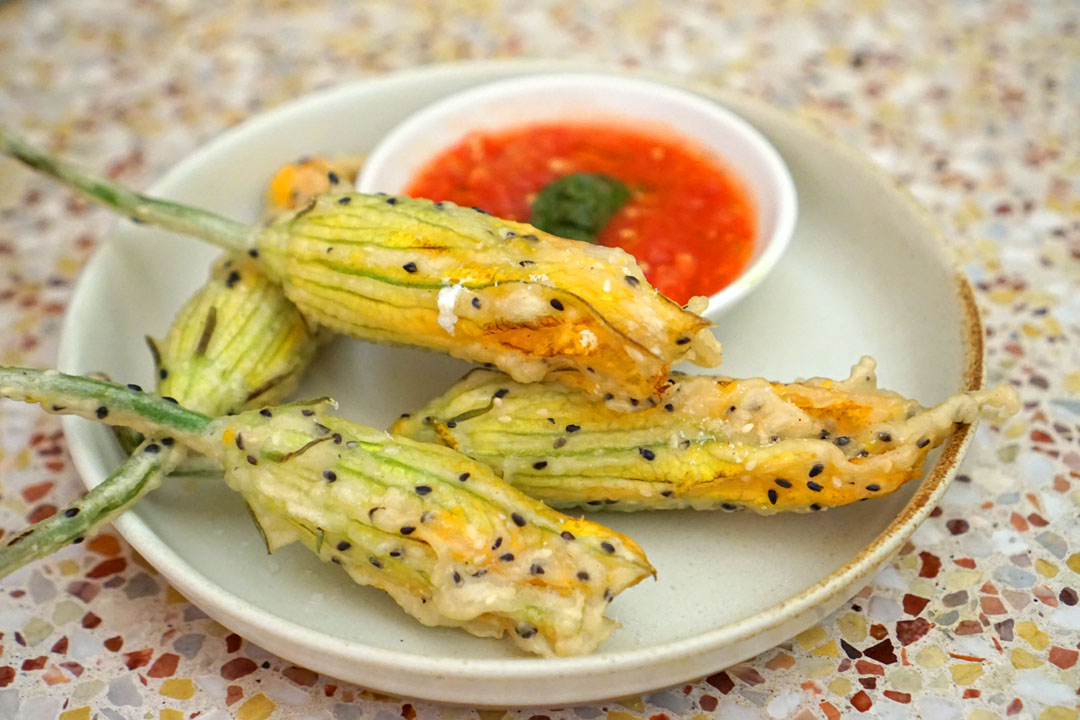 zucchini blossoms [$21.00]
| whipped feta, sesame, grated tomato, green zhoug
Squash blossoms showed off a much more substantial, satisfying crunch than most, and were stuffed with a delightfully lactic, almost buttery filling that really contrasted well with the tangy tomato-zhoug combination.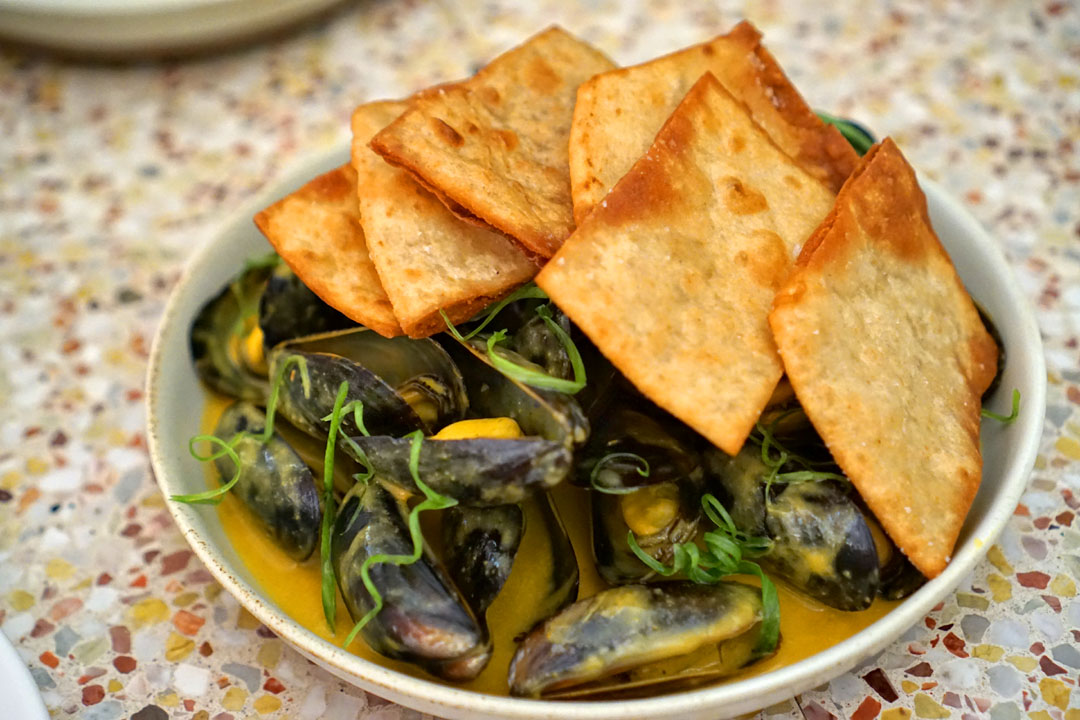 turmeric mussels [$26.00]
| carrot, habanero, lime, coconut cream, scallions, toasted flatbread
Mussels came out perfectly plump, their delicate brine matched by the earthy sweetness of turmeric, while the coconut made itself known in the background. I quite liked the crunch provided by those squares of toasty flatbread, too.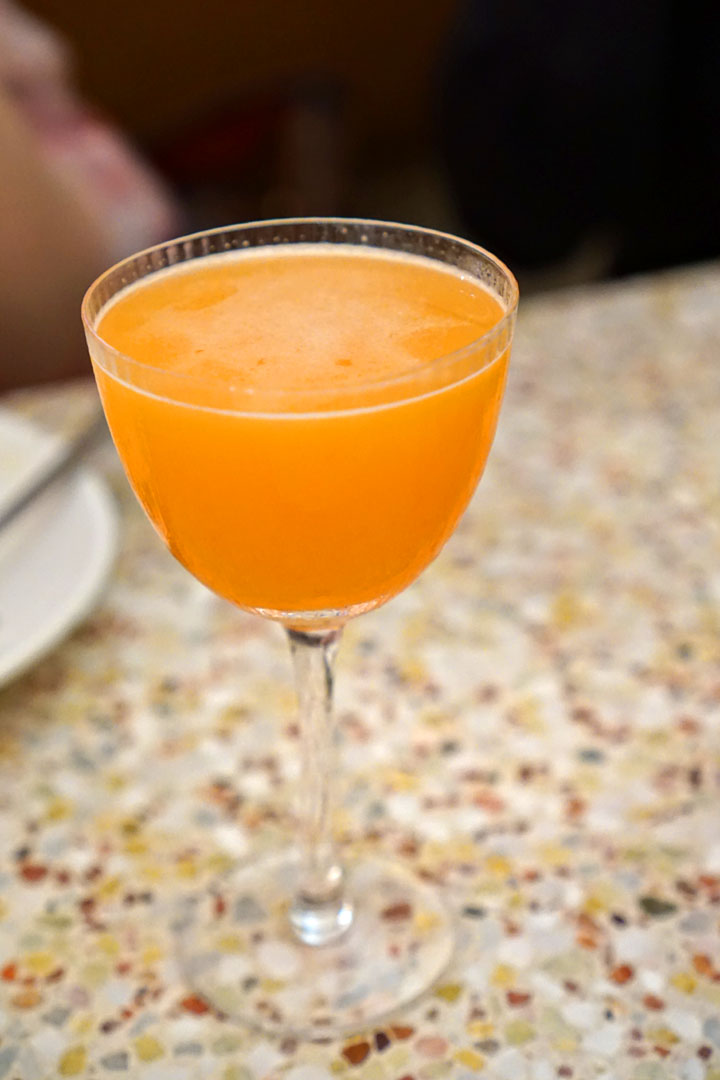 sour [$16.00]
| MEZCAL, passionfruit, carrot, pineapple, lime, habanero
My next cocktail demonstrated a piquant, multifaceted spice set against an enveloping sort of carrot-y sweetness, the mezcal peeking through just a tad.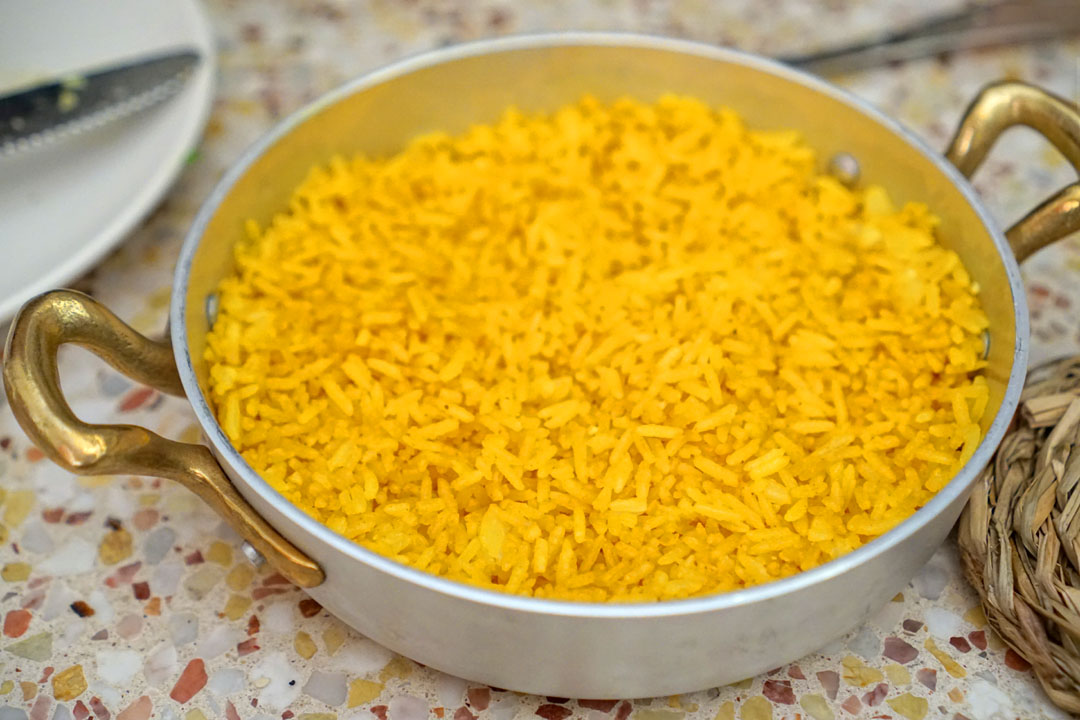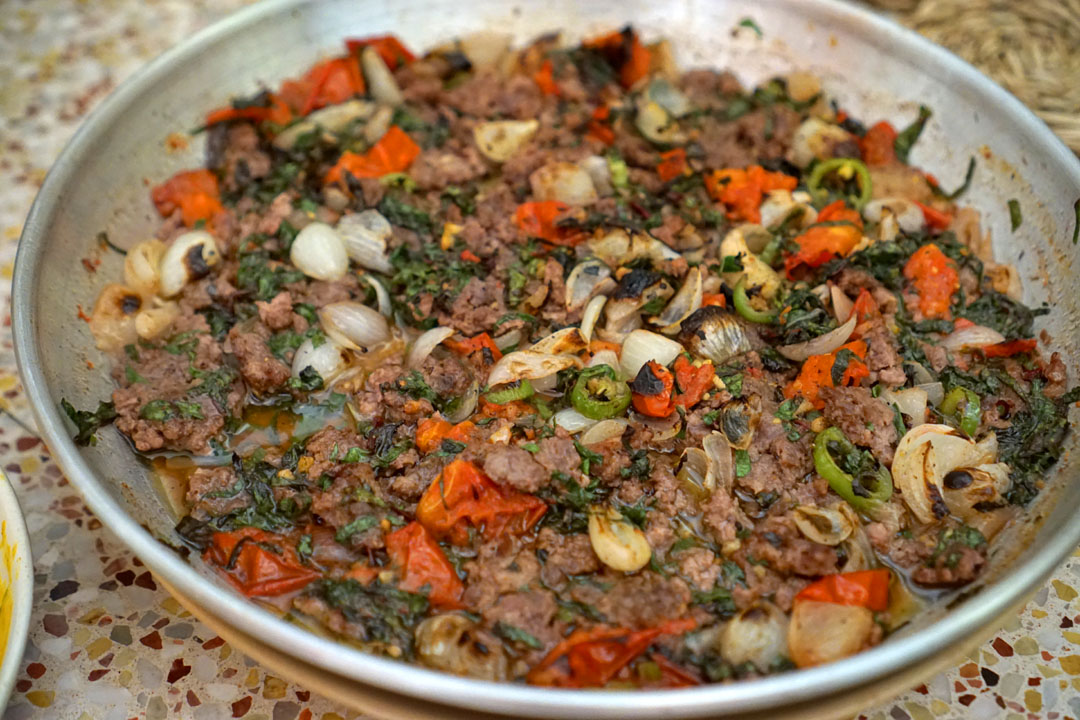 saffy's dish kebab [$65.00]
| lamb & beef, pearl onions, tomato, beet greens, ginger, cinnamon, turmeric rice
I'd never heard of a "dish kebab" before, but what came out was pretty much what I'd envisioned in my mind. The meat arrived springy and succulent, as well as beautifully spiced, with just enough heat. It paired easily with the accompanying rice, and was something that I just wanted to keep eating.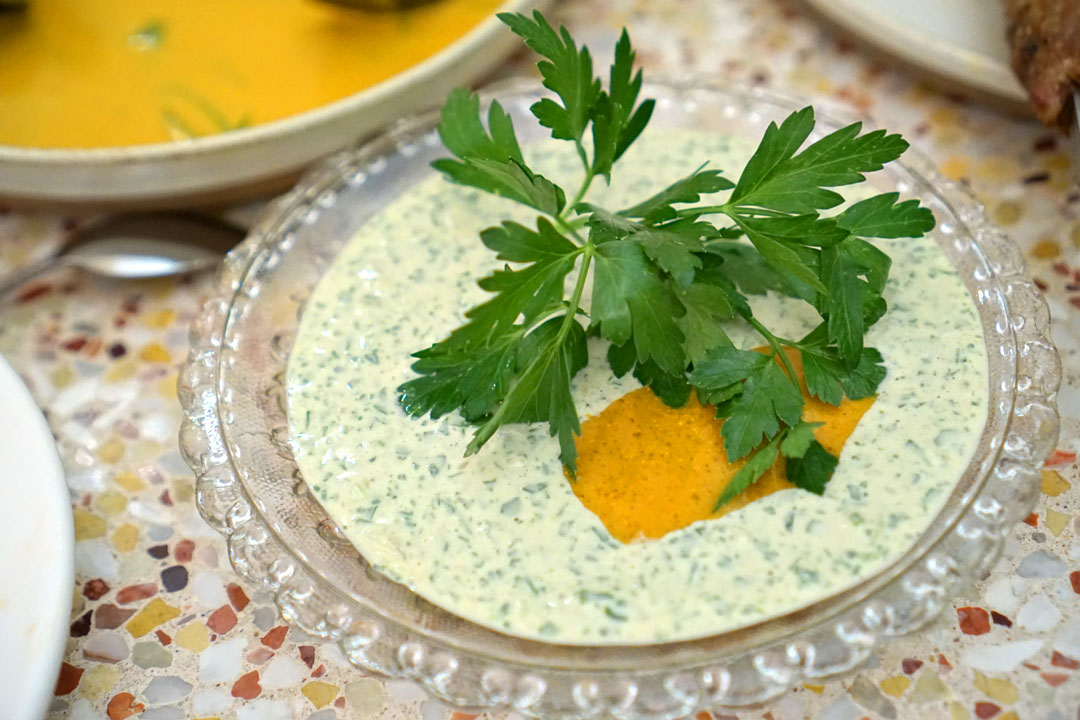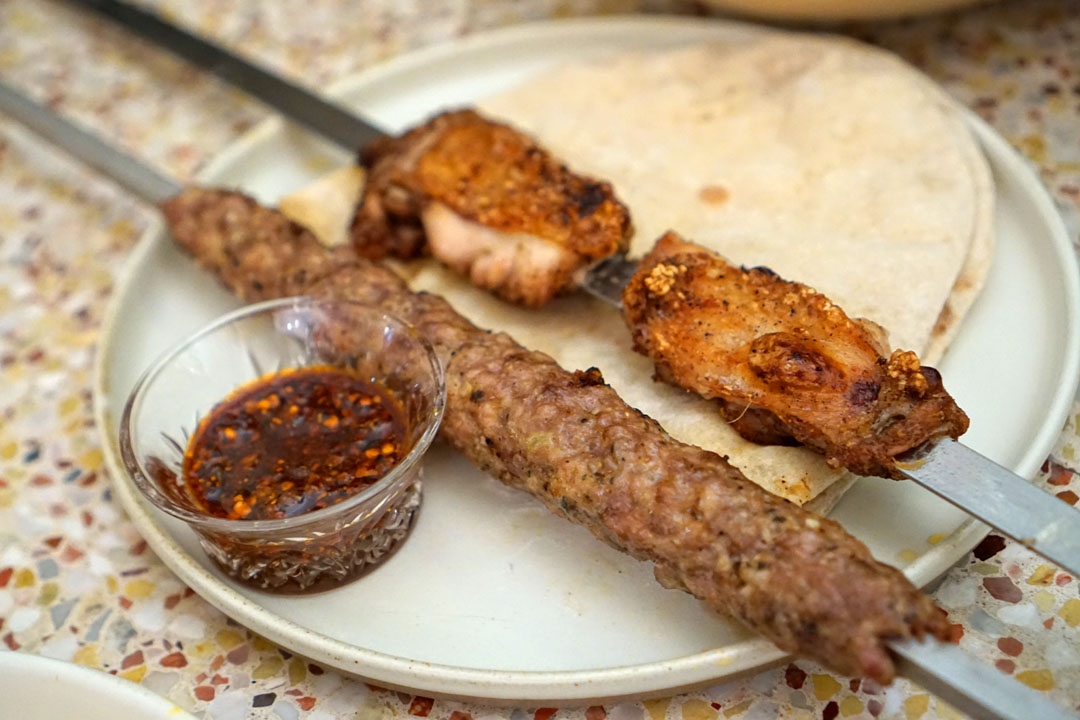 skewers
| accompanied with laffa, tahini chopped salad, chili crunch, amba
pork kebab [$18.00]
| garlic, shallots, black pepper, urfa, cumin
chicken shishlik [$17.00]
| cumin, cinnamon, green fenugreek, sumac
We made sure to try some skewers as well, of course. Now pork is a protein that I don't see in kabob form too often, so I was definitely more curious about it. The meat worked just swimmingly in this application though, showcasing a bouncy, juicy consistency and spot-on seasoning. Taken with the flatbread, tahini, and chili sauce, it made for a pretty magical eating experience. That being said, I liked the chicken (thigh I believe) even better, mostly due to how the bird's crispy skin was so positively imbued with the smoke from the grilling process.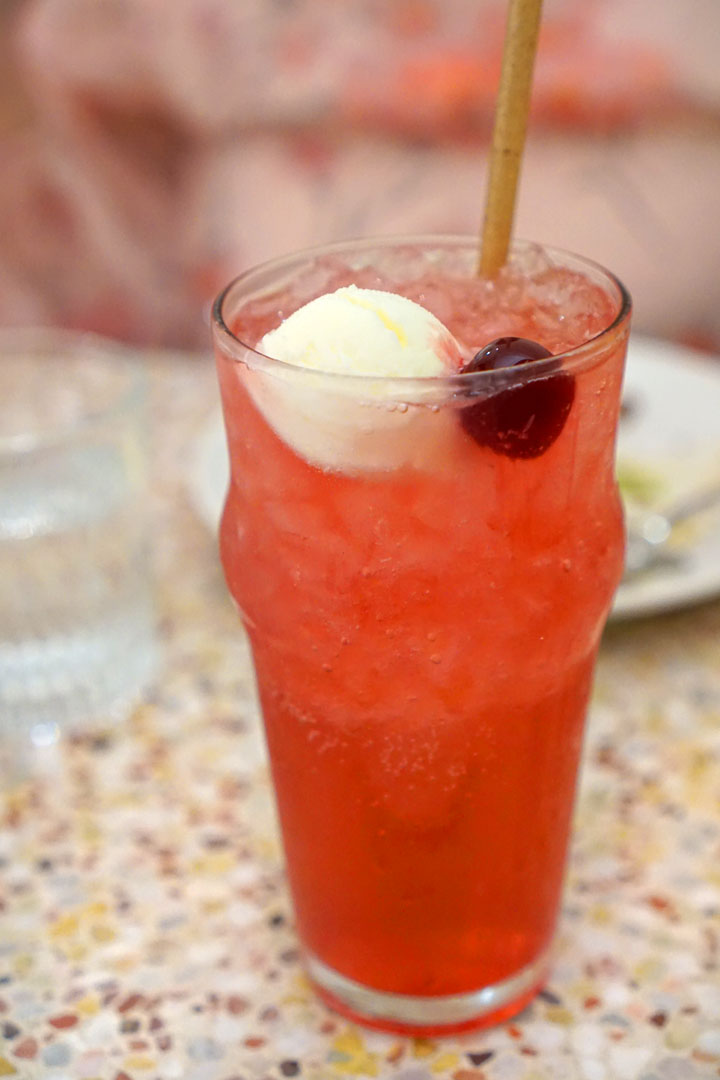 cherry limeade [$16.00]
| TEQUILA, calamansi, cherry-lime soda, lime sherbet, cherry on top
Next came one of the funnest cocktails I've had in a while. What I appreciated here was the drink's deep, very familiar cherry flavors, and my dining companions even remarked that they were reminded of an Icee.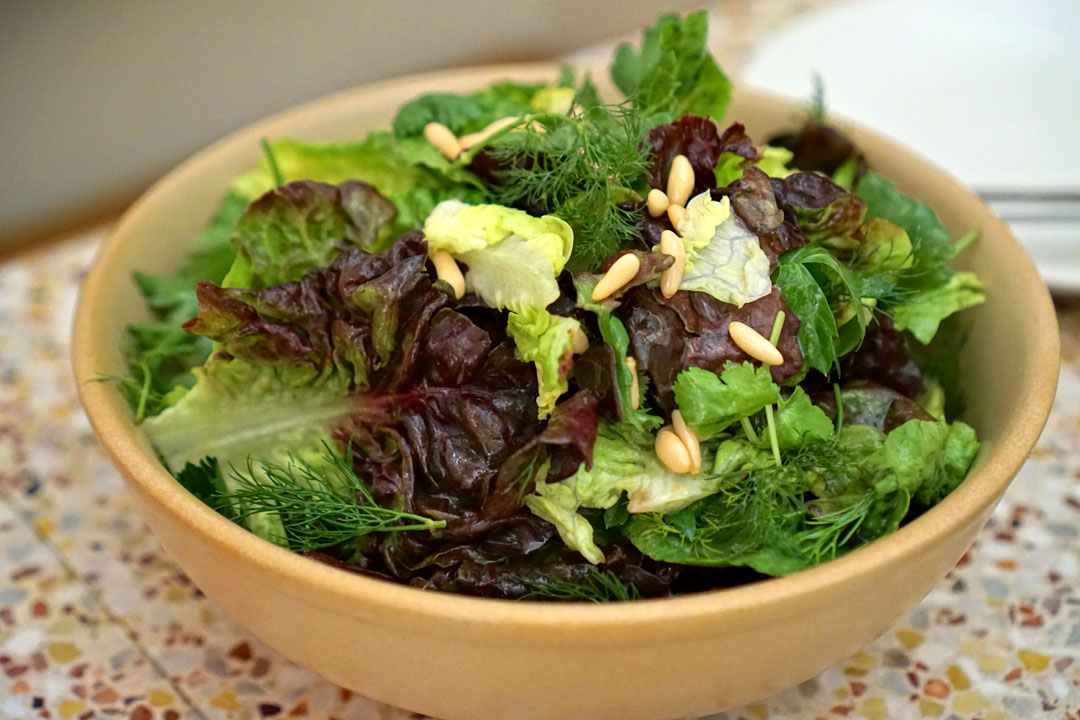 gem salad [$16.00]
| soft herbs, lebanese pine nuts, argan-mustard vinaigrette
The salad served as a welcomed respite from the heavier dishes we were having, and what really stood out to me here was the fresh, zippy, grassy nature of the dill, and how that played with the tanginess of the vinaigrette. Nice crunch from those pine nuts, too.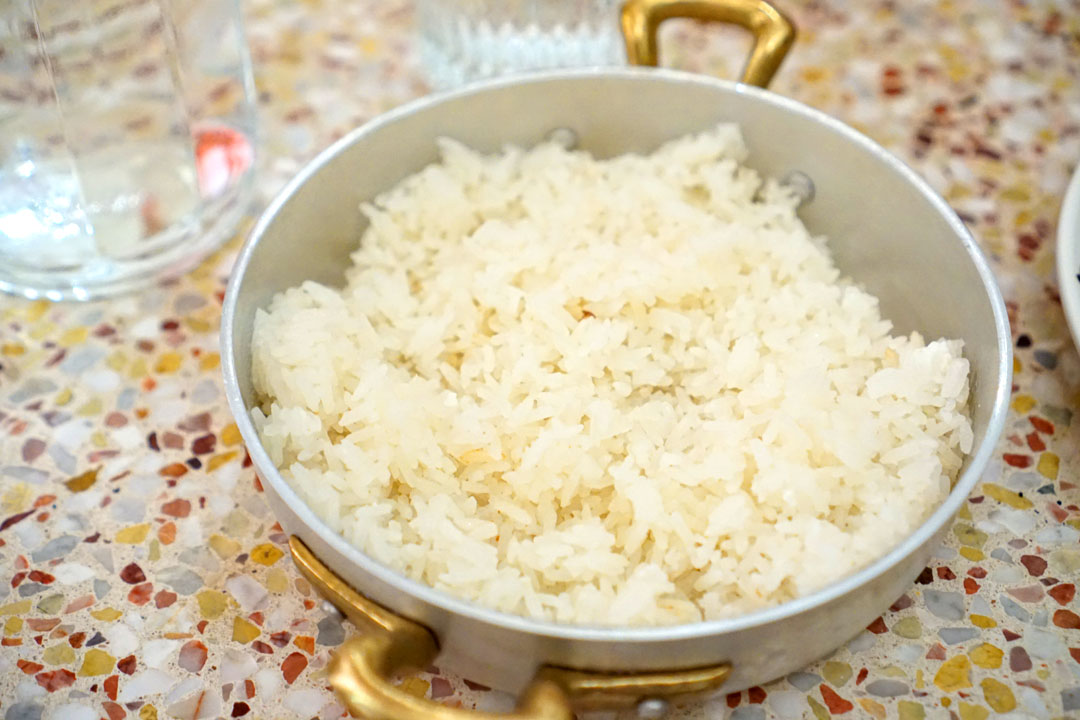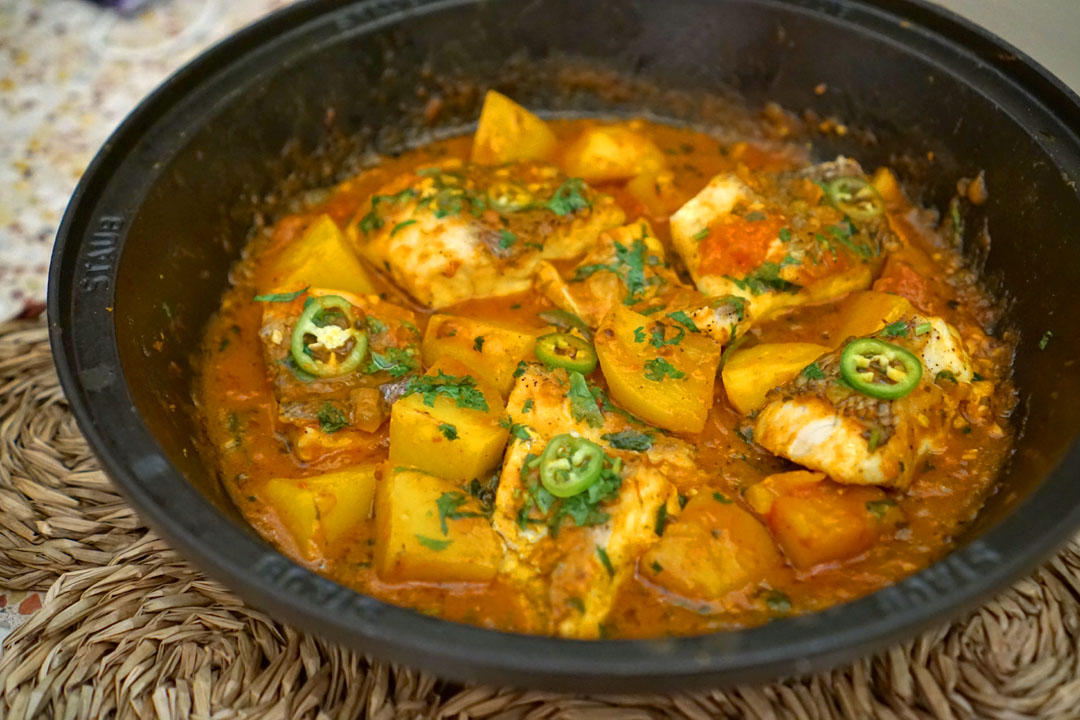 red snapper tagine [$45.00]
| tomato, ginger, turmeric, potatoes, serrano, coconut rice
The snapper was another favorite. I really appreciated the fish's firm, hearty consistency, while its subtle sweetness matched up marvelously with its spicing, which presented itself as both cozy and refined. The potatoes amped up the comfort factor further, and the stew was even better when paired with that super fragrant coconut rice.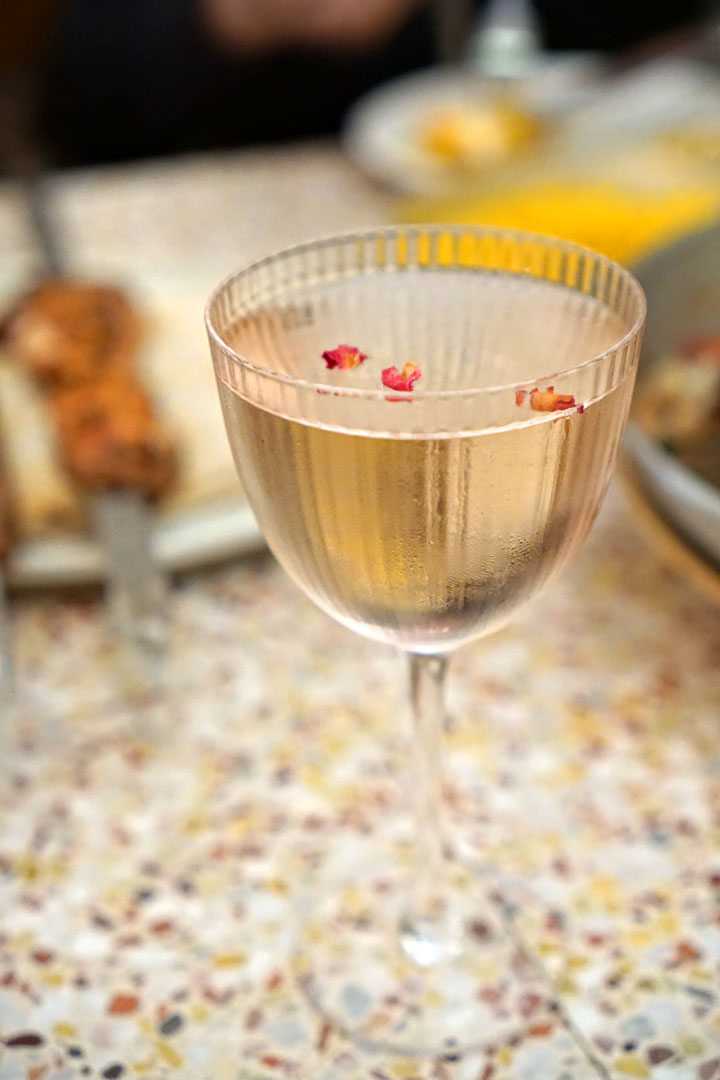 vesper [$17.00]
| GIN & VODKA, rose, raspberry, lemon oil
My last libation was also the stiffest of the bunch, by a mile. It was also eminently balanced though. The crux here was the rose, which imparted a super floral quality to the drink that smoothed out the potency of the booze in such an effortless manner. I'm pretty confident that this was the best version of the cocktail that I've tried.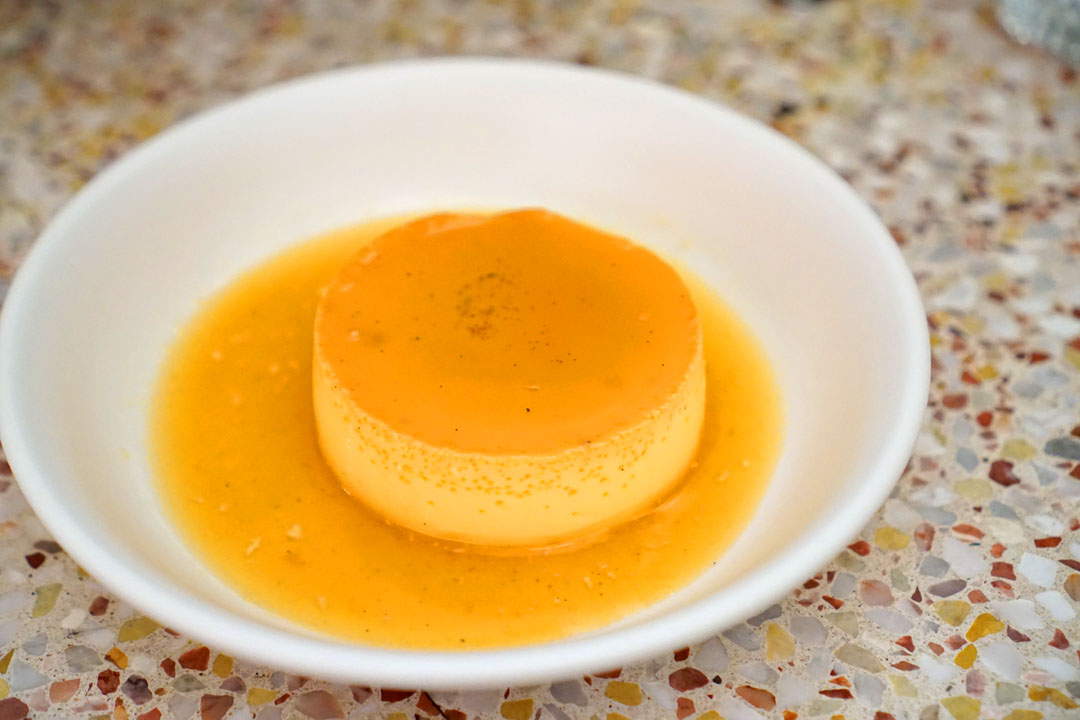 orange blossom creme caramel [$11.00]
We made sure to sample all three of Gergis' desserts, and this first one was a very smart take on your classic crème caramel. The custard was flawless texturally, and I loved how the fragrant orange blossom offset the sugariness of the caramel. Delish.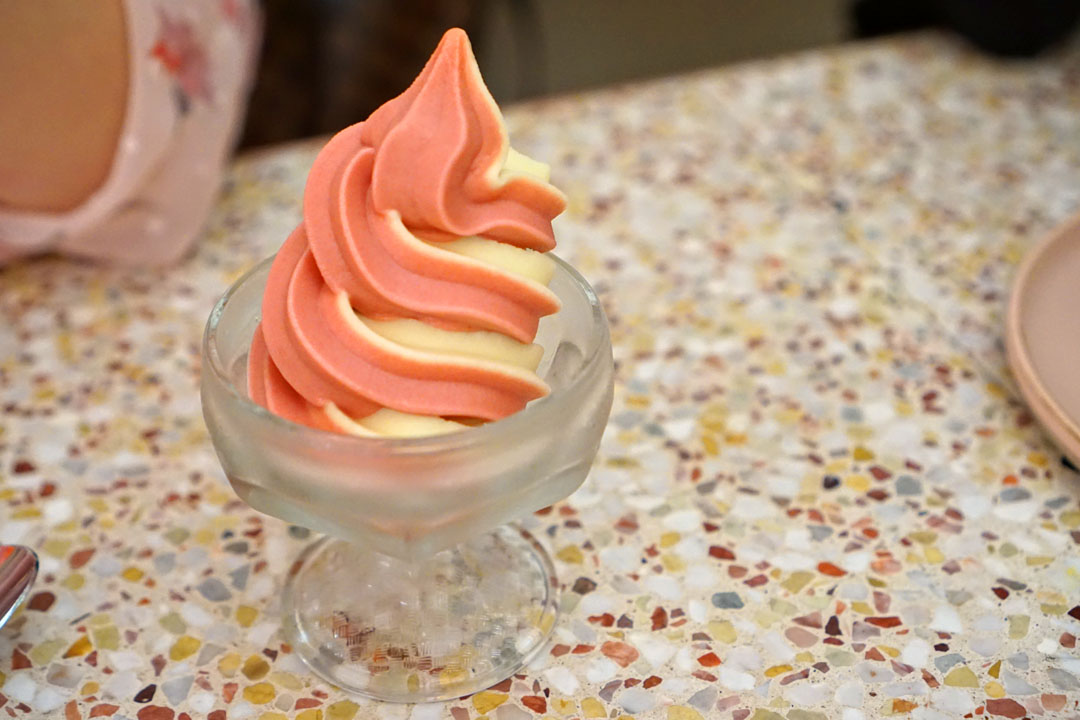 soft serve [$10.00]
| cherry & pineapple swirl (Big Stick)
This Big Stick-inspired soft serve wasn't shy about its cherry-pineapple flavors, and really did recall the ice cream truck staple of my childhood.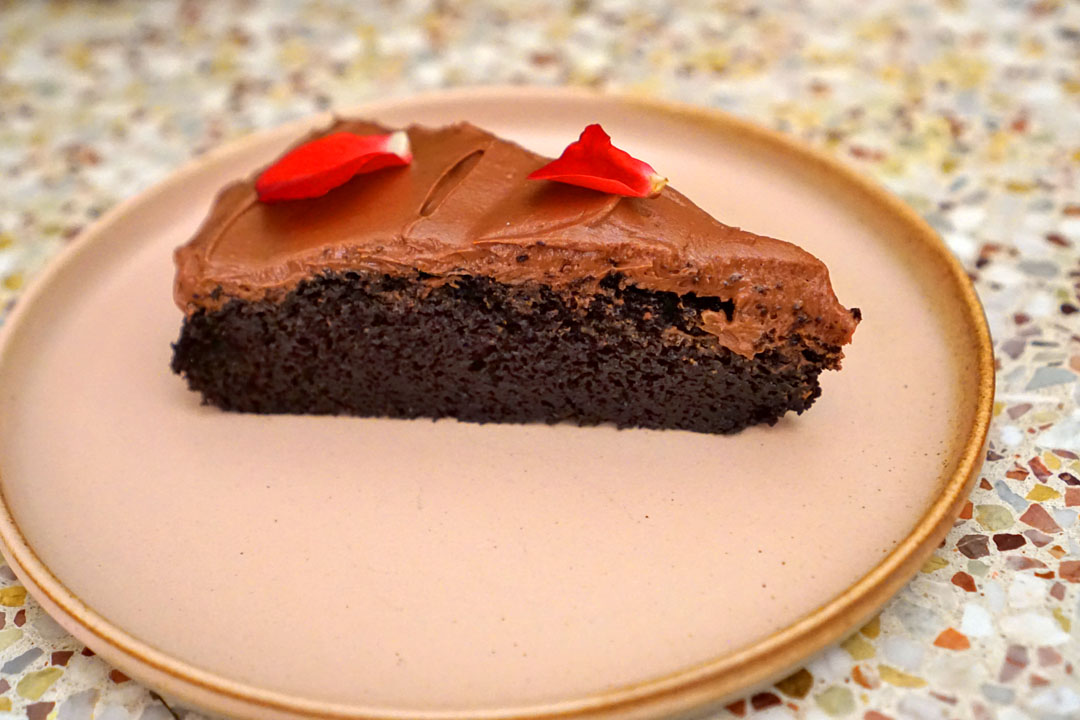 bergamot chocolate cake with rose ganache [$11.00]
Last up was the chocolate cake, an intense, decadent example, but one deftly lightened up by the perfume-y nature of the rose and bergamot.
I'm not sure how Menashe and company do it, but it looks like they've got another home run on their hands, right off the bat. The food does a commendable job combining traditional cookery with just enough modernity, to delicious results, and the overall feel of the place is certainly more "neighborhoody" compared to the likes of Bavel. Given how good everything was, the next day I was literally thinking about coming back soon to sample the dishes that I didn't get to try this time around--I might just have to walk-in and sit at the bar sometime. And don't forget: the team is also opening up a café next door (in the old Desperate LA/Goforth Chiropractic space) called Saffy's Coffee & Tea Shop, which will feature pastries/breads in addition to coffees and teas, all served during the day.