Grandmaster Recorders (Los Angeles, CA)
Grandmaster Recorders Restaurant
1518 N Cahuenga Blvd, Los Angeles, CA 90028
323.963.7800
www.grandmasterrecorders.com
Fri 05/13/2022, 06:05p-10:50p

One of the latest entrants to the burgeoning Hollywood dining scene is the curiously-monikered Grandmaster Recorders, which dropped on December 9th last year. The name of the place comes from the previous tenant of the building: Grandmaster Recorders, a rather prolific recording studio. The restaurant is operated by David Combes and Grant Smillie's
Botanical Group
, the company behind the likes of WeHo's E.P. & L.P. and S.O.L (Strings of Life). GMR's menu can be described as non-traditional Italian, and is the work of the husband-and-wife team of Culinary Director Monty Koludrovic and Pastry Chef Jaci Koludrovic.
About the Chefs
: Aussie native Monty Koludrovic was born in August 1983 and grew up in Byron Bay and Lismore, New South Wales. As a child, he often visited Sydney with his aunt, and a meal at The Boathouse on Blackwattle Bay when he was 12 was the spark that eventually made him pursue a career in the culinary field. He attended Lismore High School, but moved to Sydney at age 16 to further his education and start cooking professionally. Koludrovic eventually decided not to continue on to university, but instead worked at both Café Sydney as well as The Boathouse (where it all began). Following, he spent four years in London, where he secured employment at La Trompette and The Grill at The Dorchester.
After returning to Australia in 2007, he joined the team at Justin North's Bécasse, where he rose to the rank of head chef in just two years. The restaurant wound up shuttering in June 2012 though, which sent Koludrovic looking for new work. In 2014, he moved over to Icebergs Dining Room and Bar in Bondi Beach, and subsequently led the kitchens at Maurice Terzini's other properties, which included The Dolphin Hotel in Surry Hills (open June 2016), Bondi Beach Public Bar (open December 2017), and CicciaBella (open October 2019), also in Bondi Beach.
Meanwhile, Jaclyn Koludrovic (née Nichols) was born and raised on Lord Howe Island, off the coast of New South Wales. At age 12, she made her way to the mainland to attend Hurlstone Agricultural High School in the Sydney suburb of Glenfield. Following secondary school, she began apprenticing at Matt Moran's eponymous Moran's Restaurant and Café in Sydney, but decamped half way through her stint there. After working in various bars for a couple years, she decided to give cooking another chance, and was able to land a gig at The Light Brigade in Woollahra, under Emma Woods.
A couple years later, Koludrovic switched over to Damien Pignolet's nearby Bistro Moncur, where she spent three years. Then, she moved to St Kilda (a suburb of Melbourne) and worked for Philippa Sibley for 18 months at Circa at The Prince; it was during this period where she decided that she wanted to pursue pastry. Upon her return to Sydney, she started running the pastry program at Becassé, where she met her future husband Monty, and in July 2014, she would follow him to Icebergs.
The Koludrovics left their posts at Icebergs in December 2019, ostensibly in order to move to Byron Bay and be closer to Monty's family and spend more time with their two sons. That, apparently, didn't last too long though, as, after being recruited by the Botanical folks, the couple relocated to Southern California in early 2020, right before the onset of the pandemic. Now in LA, the two helped open Strings of Life (S.O.L) Café in June that year, and also worked on the menus for both E.P. and GMR (which was originally slated to debut in late summer 2020). Do note that the day-to-day here is run by Blake Shailes, another Lismore native who also worked at Bécasse.

GMR resides in a building that was built in 1920 and started its life as a silent movie house called Bijou Theater. The structure was eventually purchased by musician Alan Dickson, who, in 1971, turned it into Hollywood Bijou Studio, which was subsequently renamed to Grandmaster Recorders circa 1989. Recording studio activities ceased in 2016 upon Dickson's death, and the property was sold in 2017 for $6.1 million. Pictured above is the sizeable main dining room.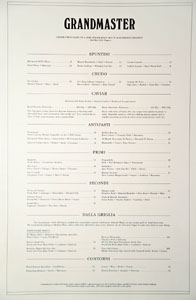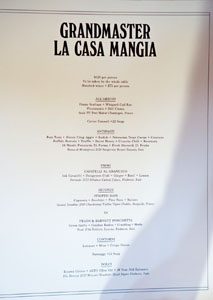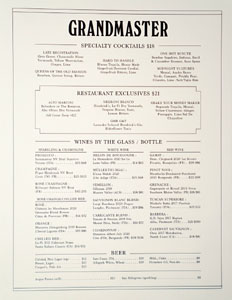 Here we see the menu, which combines the ubiquitous coastal Italian fare of recent years with the Chefs' Aussie backgrounds. Beverage-wise, there are cocktails by Milosz Cieslak, while wines (including a pretty comprehensive list that's not pictured) are the charge of Devon D'Arcangelo, whom we last saw over at
Bicyclette
. Click for larger versions.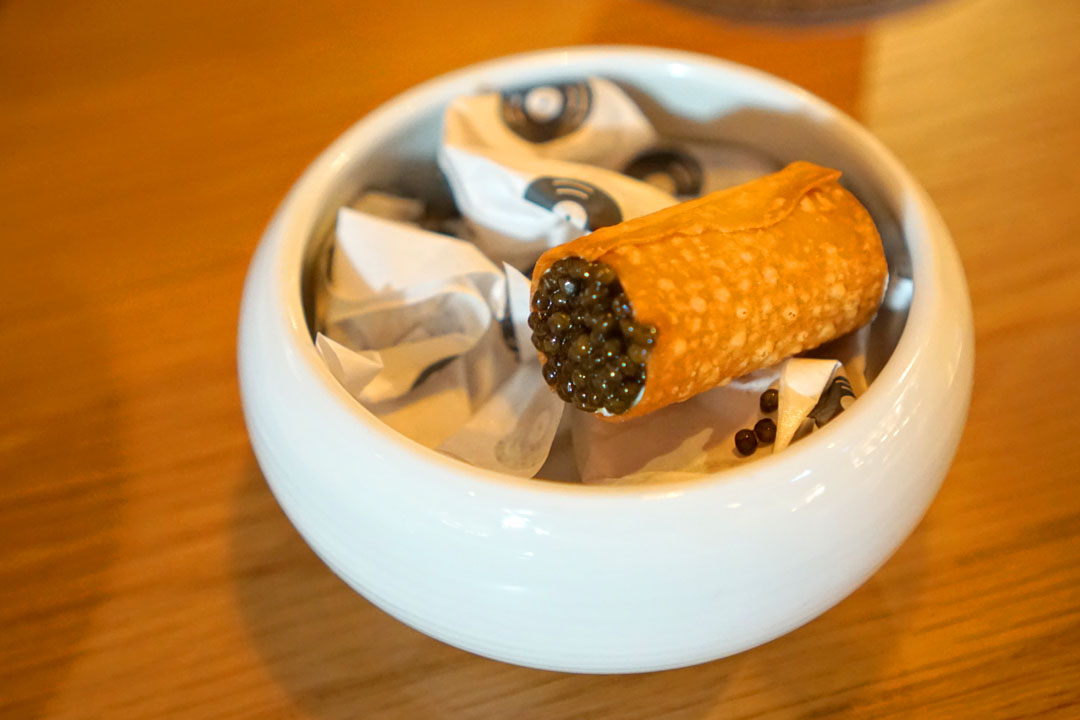 Caviar Cannoli [$22.00]
This rejiggered Sicilian staple made for a fun start to the meal thanks to its interaction between the caviar and the cannolo's sweet, velvety filling, all punctuated by the savory crunch of the fried pastry tube.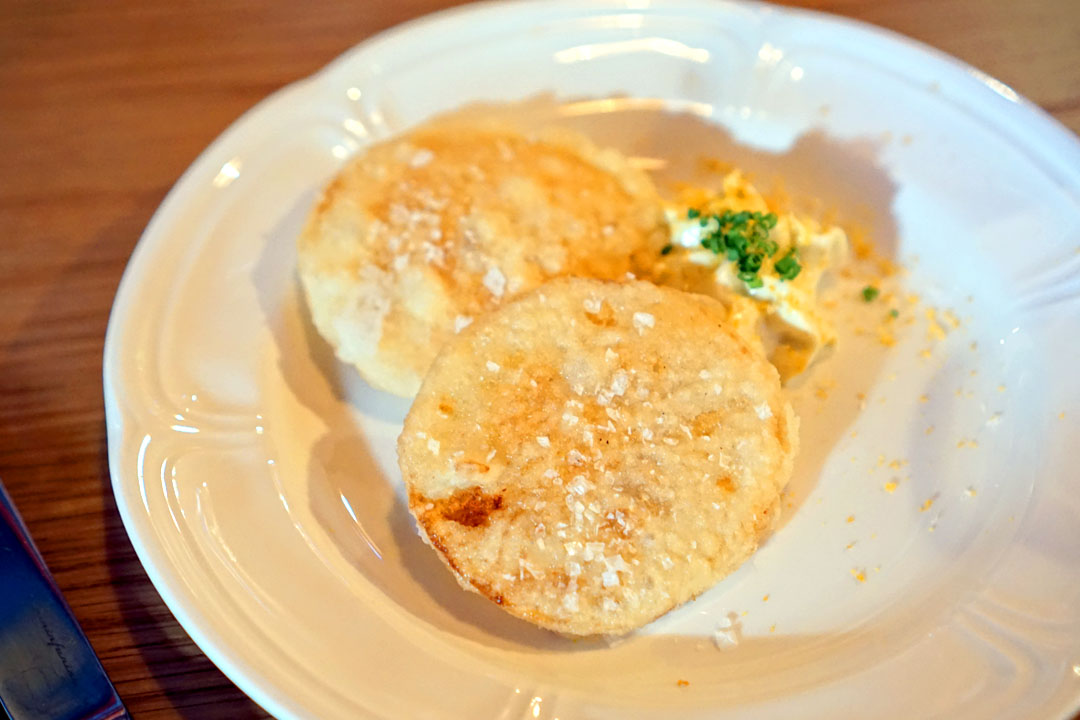 Potato Scallops + Whipped Cod Roe [$10.00]
Potato medallions came out delightfully crisp and salty, and worked hand-in-hand with the creamy, briny qualities of that cod roe dip.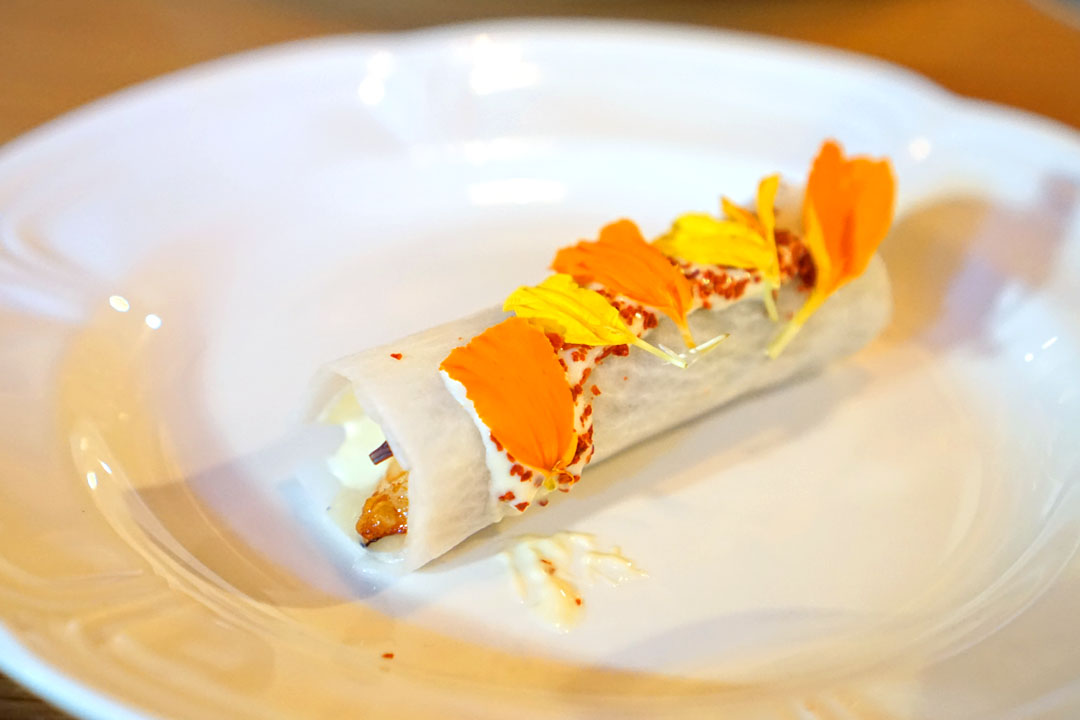 Grilled Scampi + Basil 'Hand Roll' [$16.00]
A thoroughly reimagined hand roll did a good job both presenting the sweet-saline nature of the shrimp and augmenting it with the unmistakable aromatics of basil.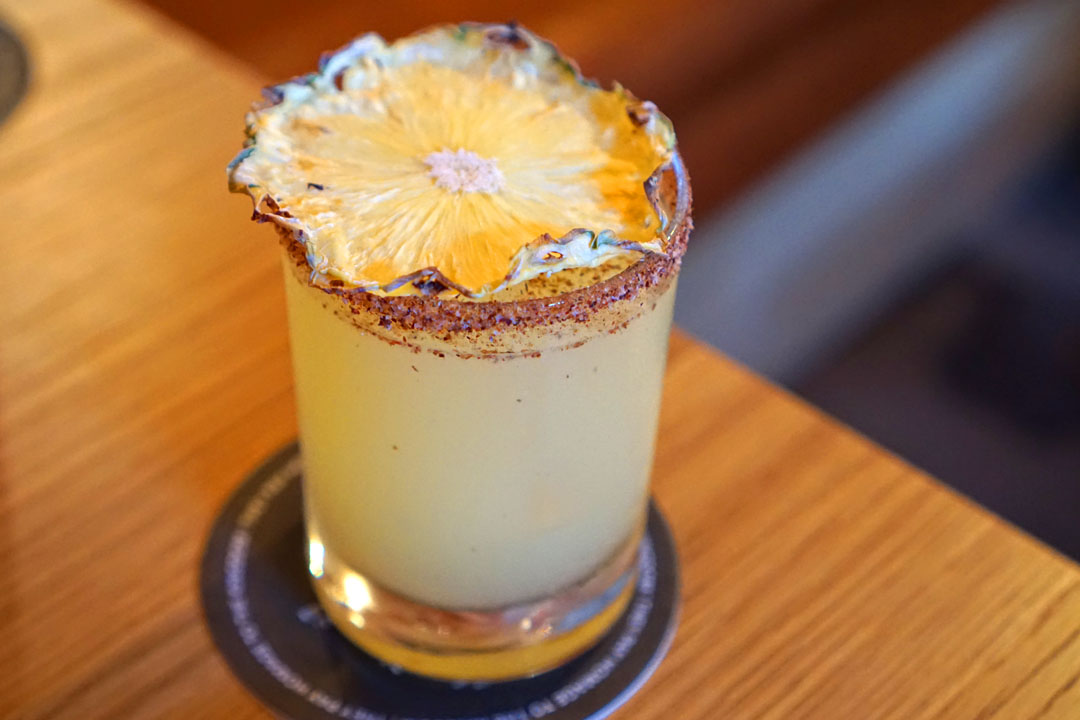 Shake Your Money Maker [$21.00]
| Reposado Tequila, Mezcal, Yellow Chartreuse, Ginger, Pineapple, Lime/Sal De Chapuline
Our first cocktail showcased smoke plus spice up front, commingled with omnipresent pineapple and just a smidgen of ginger.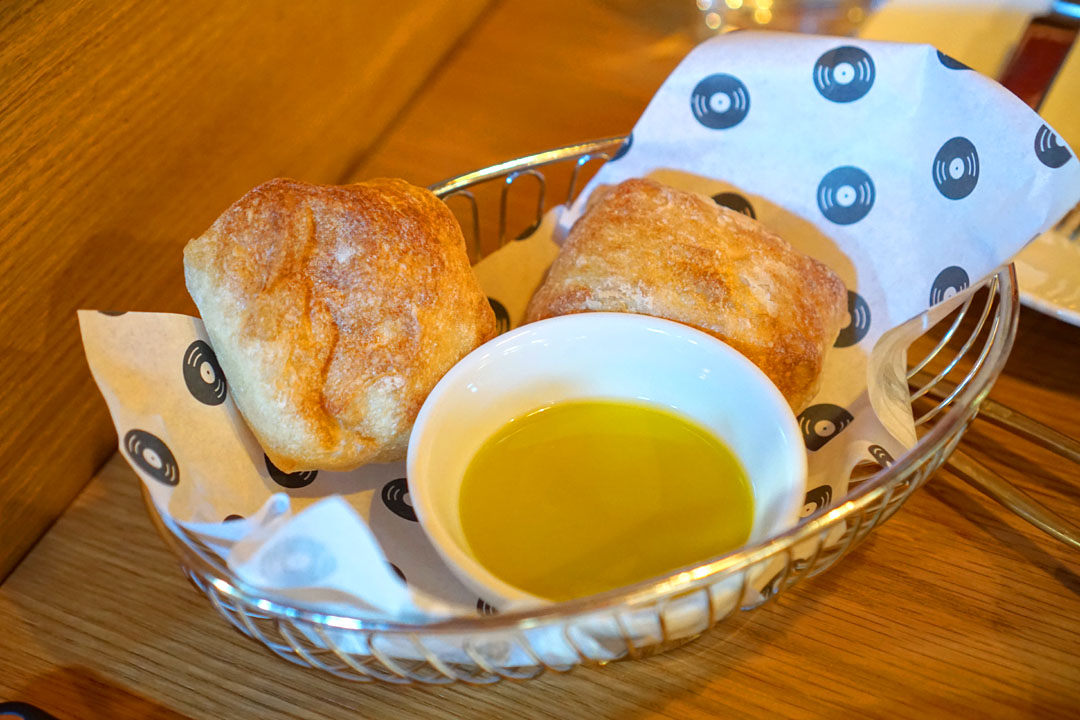 Complimentary ciabatta bread was paired with a seemingly extra fruity olive oil.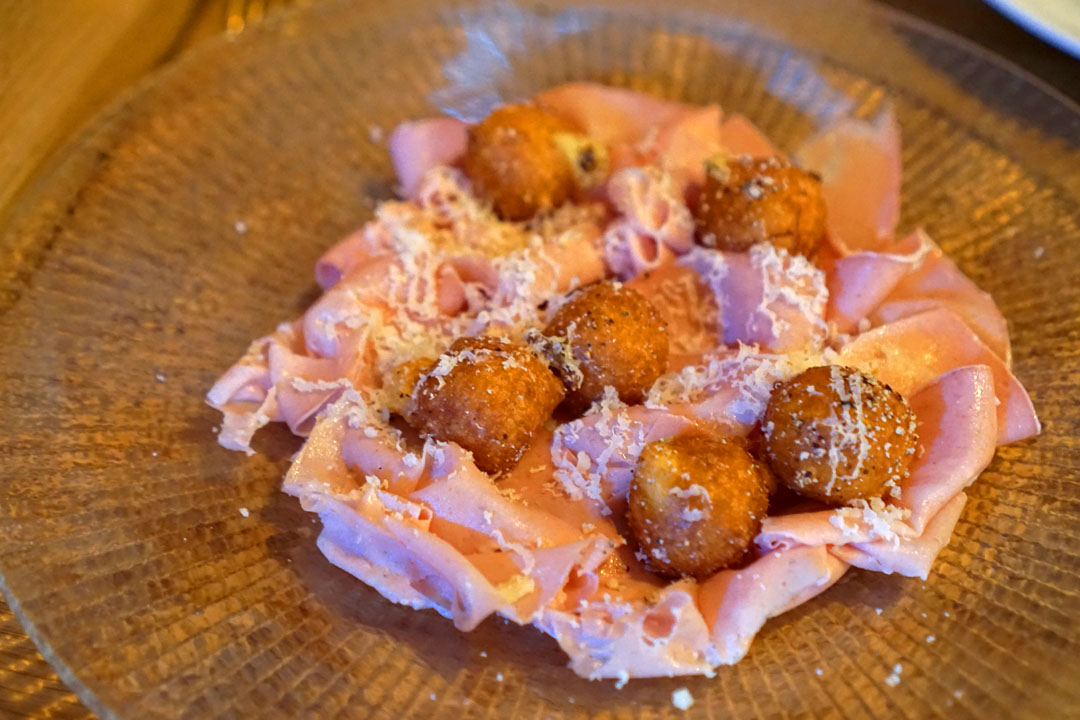 Mortadella + Cacio e Pepe Churros [$24.00]
An unusual combination of silky mortadella and fluffy churros worked out surprisingly well, representing a smart juxtaposition of both sweet and salty and hot and cold.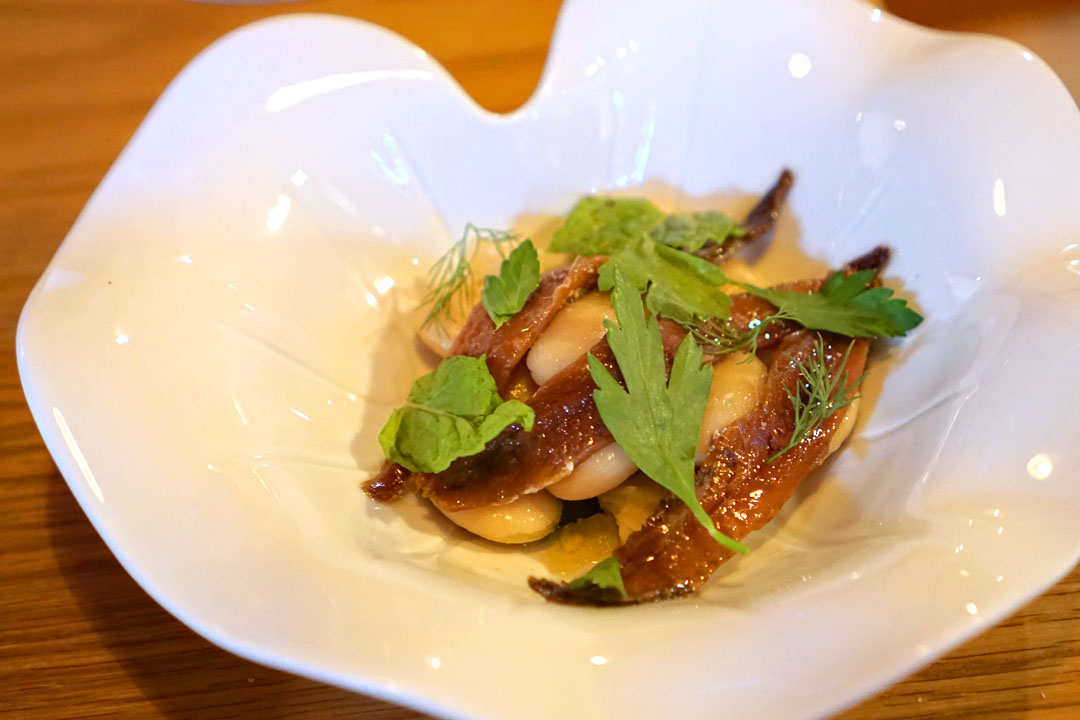 Marinated White Beans + Salsa Verde + De L'escala Anchovies [$18.00]
A marriage of hearty beans, zesty salsa, and the unabashedly oceany character of tinned anchovies was much to my liking.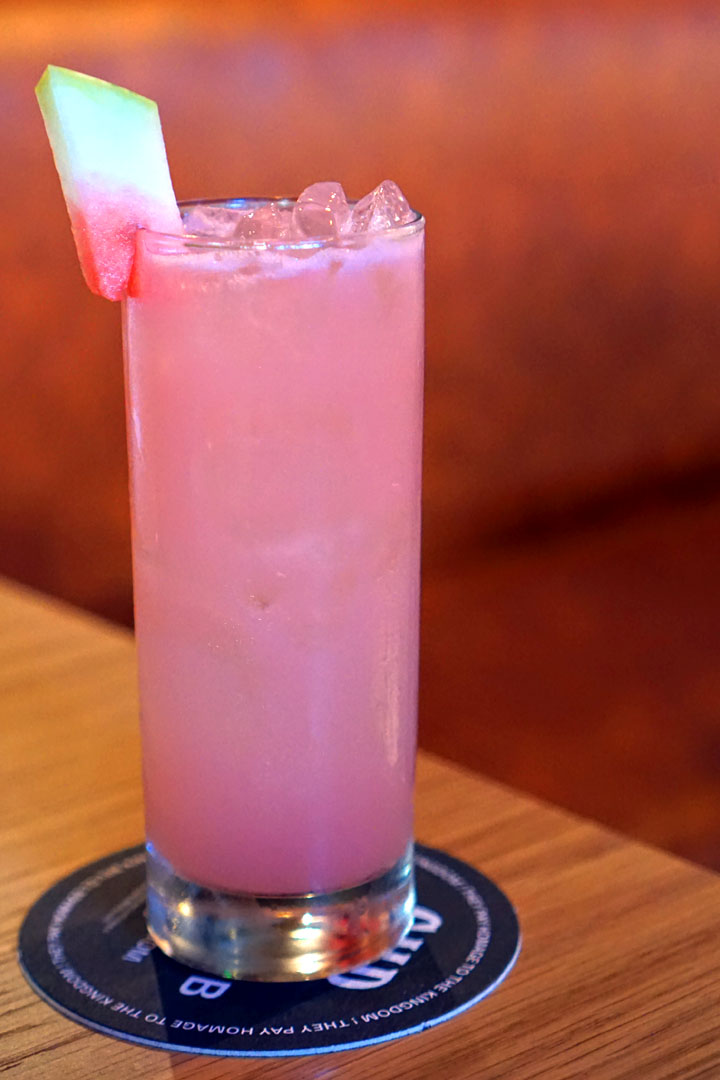 Late Registration [$18.00]
| Grey Goose, Chamomile Blanc Vermouth, Yellow Watermelon, Ginger, Lime
This pink-hued, ostensibly Kanye-inspired cocktail showed off loads of juicy, refreshing watermelon right off the bat, backed by a distinctly herbal counterpoint and plenty of ginger.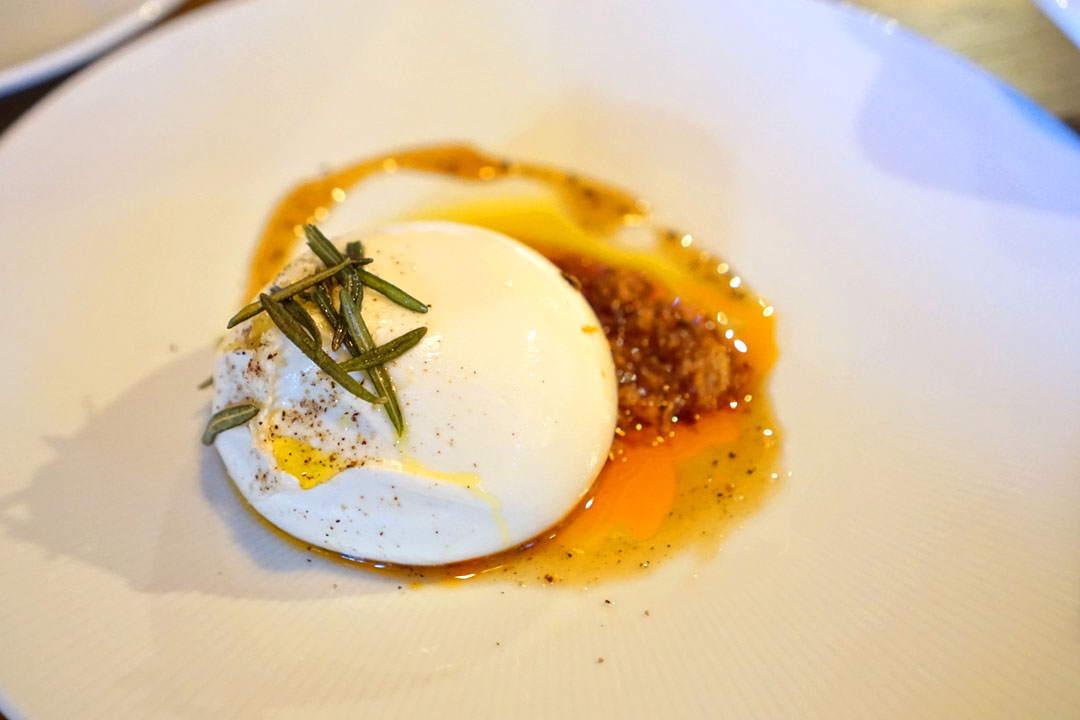 Buffalo Burrata [$24.00]
| Burnt Honey + Crunchy Chili + Rosemary
A luscious, runny pouch of burrata was just what I expected. Now what I didn't expect, but rather enjoyed, was the sweet, Chinese-y heat from the chili.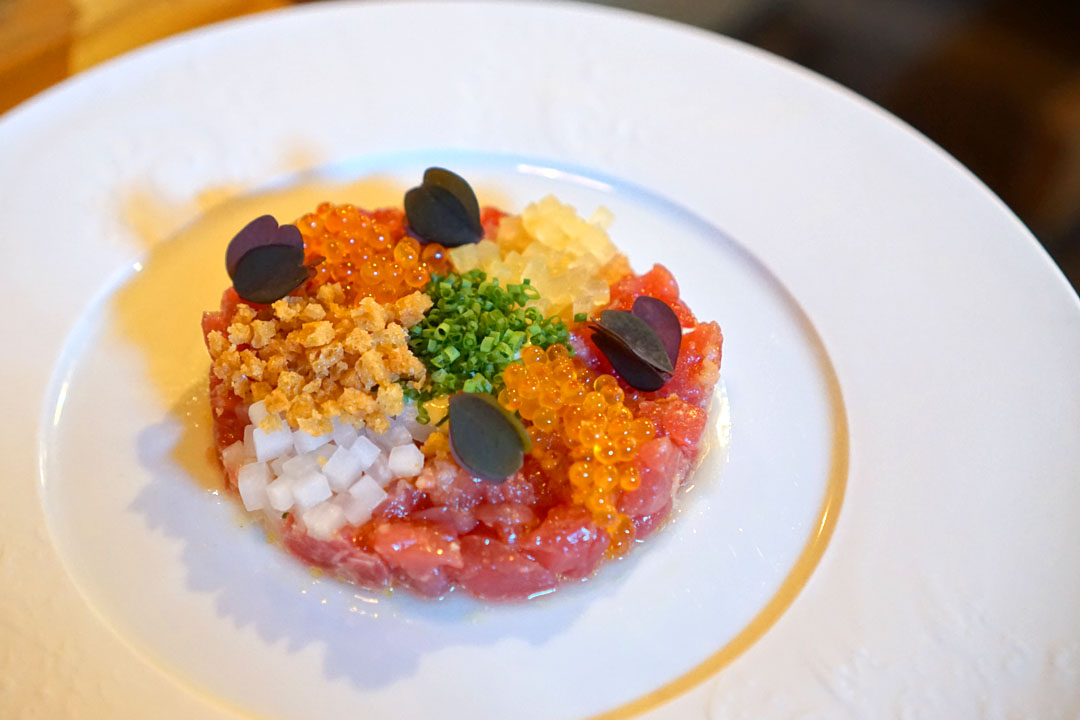 Insalata Di Pesce [$32.00]
| Baja Tuna + Radish + Trout Roe + Croutons
This next dish wasn't only visually pleasing, but managed to be a favorite as well. The tuna ate clean and lean, and meshed like clockwork with the soy-like savory notes present, as well as the smokiness from the trout roe. The ginger functioned beautifully as a counterweight, and I really appreciated the textural component from all the crispy bits, too.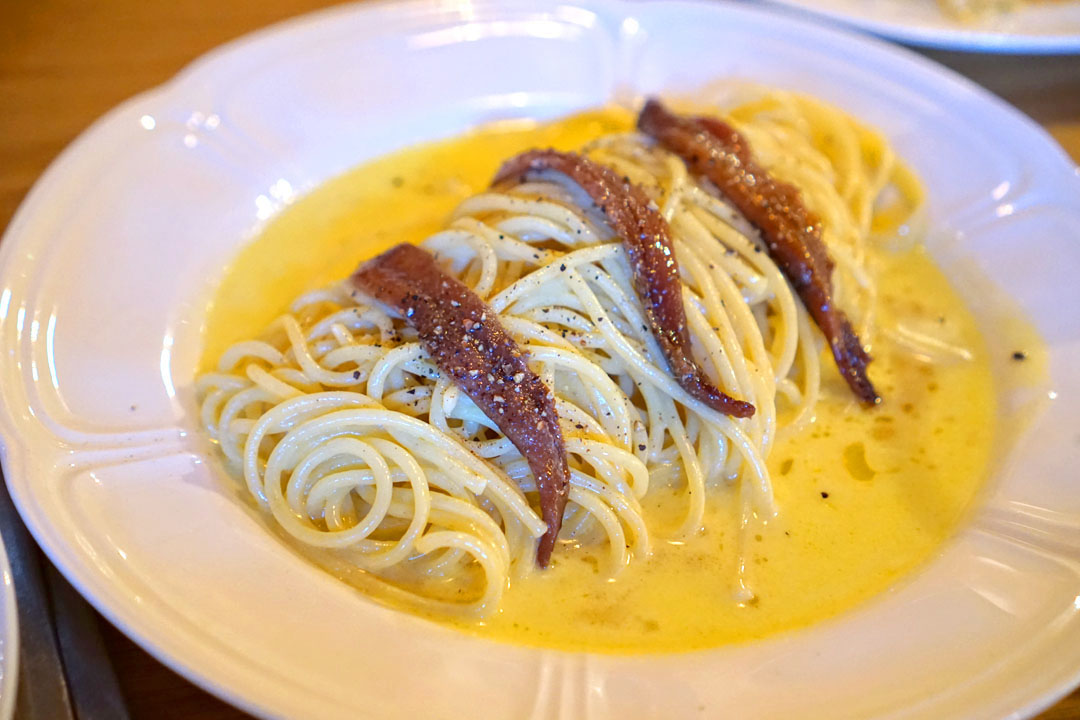 Spaghetti [$24.00]
| Dashi Butter + Cantabrian Anchovy
The first of three pasta courses brought out properly al dente strands of spaghetti, enriched with a healthy dose of umami from that dashi-boosted butter and further accented by the sharp salinity of anchovy.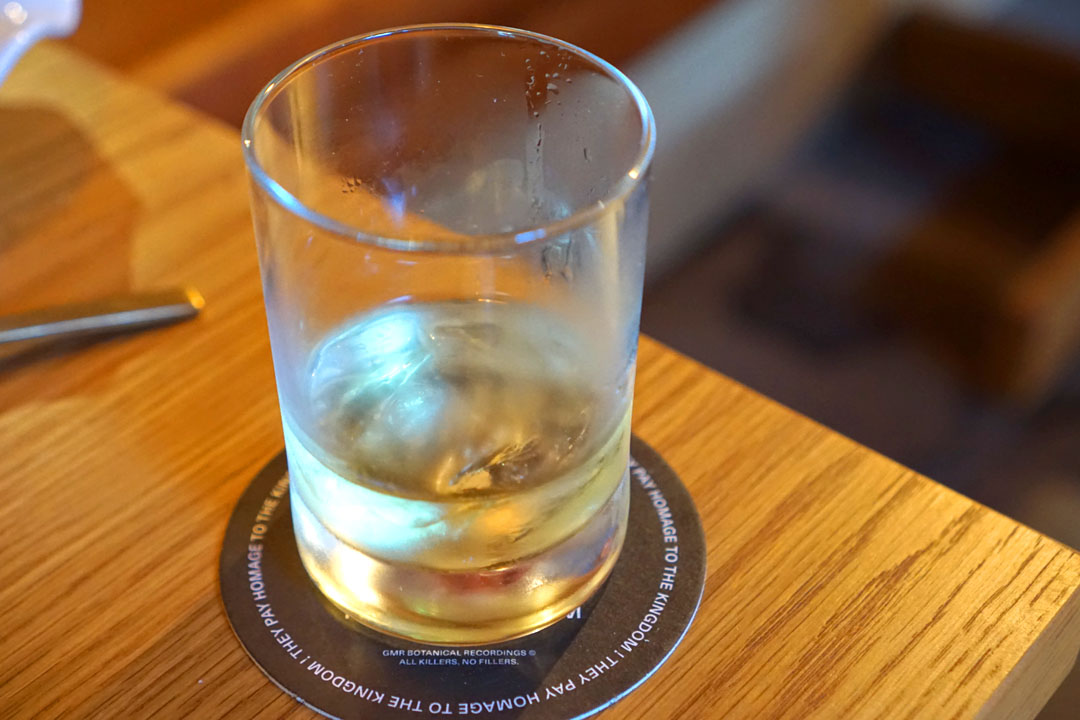 Negroni Bianco
| Hendrick's, Lo-Fi Dry Vermouth, Vergano Bianco, Suze, Lemon Bitters
I was provided a sample of GMR's riff on the Negroni. The drink was pretty great, its refreshing apple-like nose leading to a palate brimming with bittersweet, herbaceous depth and complexity. A smart take on a cocktail classic.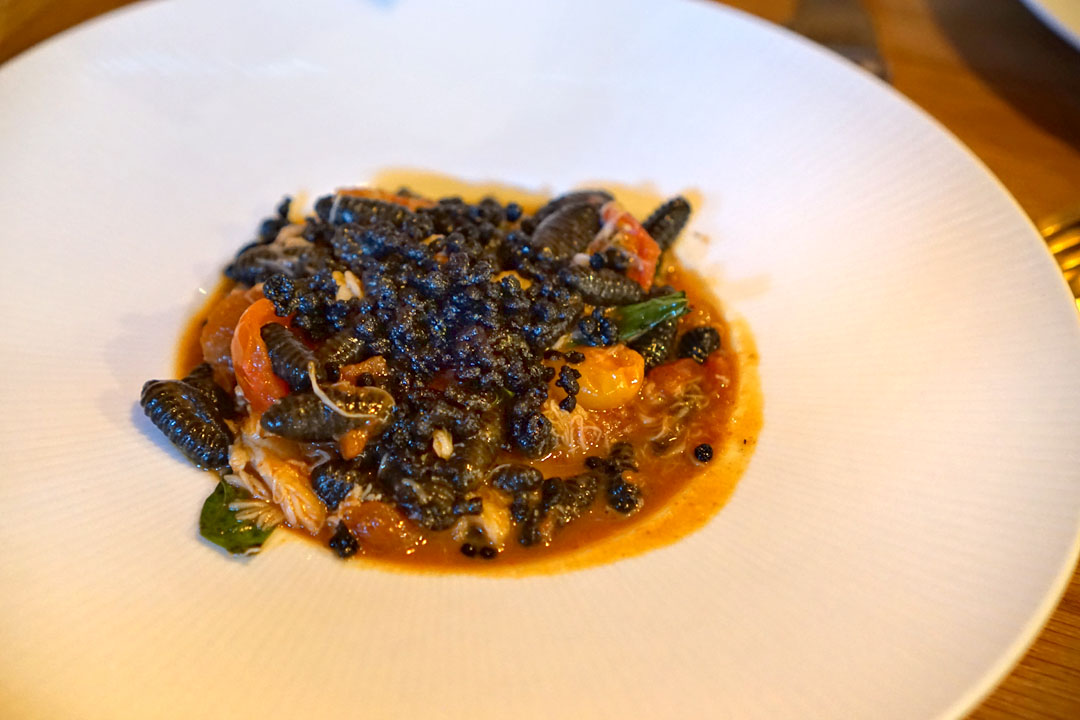 Ink Cavatelli [$32.00]
| Dungeness Crab + Ginger + Basil + Lemon
The cavatelli was also a standout. The pasta had a gratifying chew, and served as a great stage for the back-and-forth between the deeply saline crabmeat, tangy tomatoes, and zippy basil. I loved all the crunchy bits tossed in, too.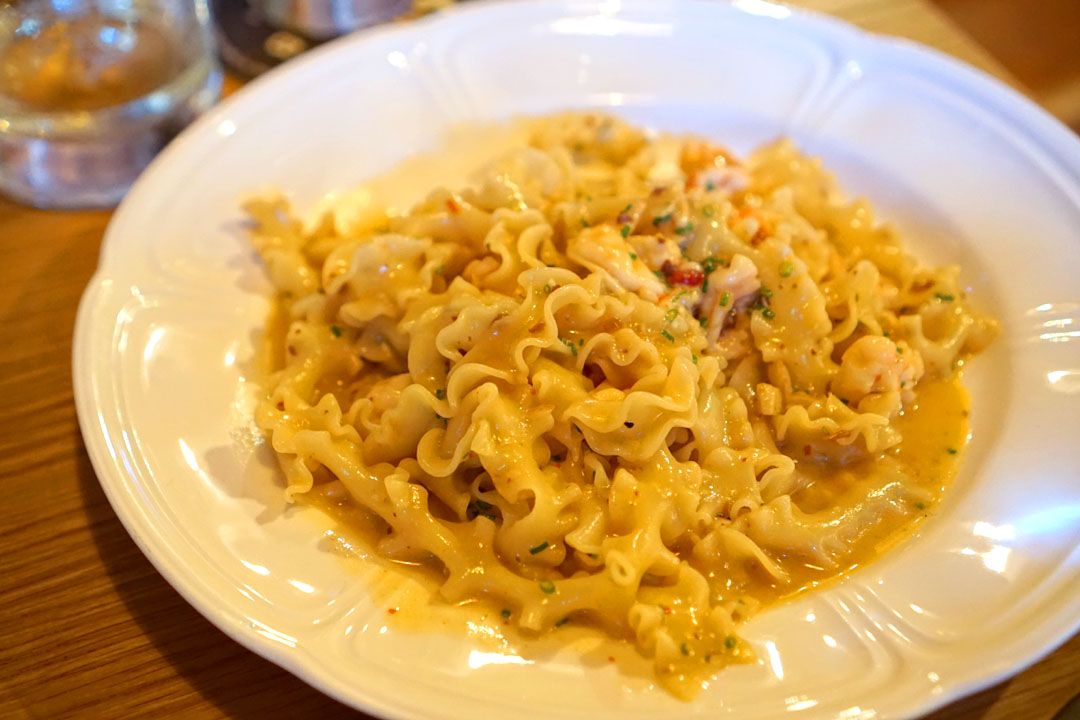 Mafaldine [$32.00]
| Spot Prawns + Salt Cod XO + Chili + Chives
The ribbed edges of our third and final pasta made for some very satisfying textures. However, the hero here was clearly the prawn, which had its sweetness and brine well conveyed, while both the XO and chili were relatively subdued, probably a bit too much so. Nevertheless, everything came together nicely, making for a dish that was certainly easy to enjoy.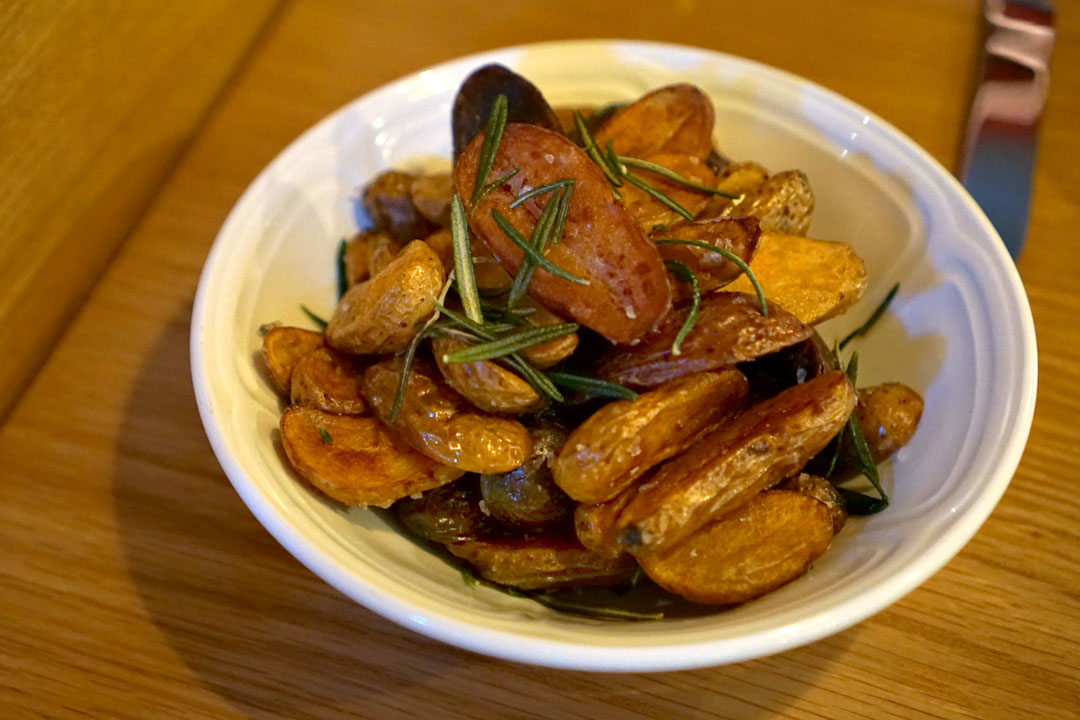 Fingerling Potatoes + Garlic + Rosemary [$12.00]
Roasted potatoes were hefty and homey, and took well to classic accoutrements of rosemary and garlic.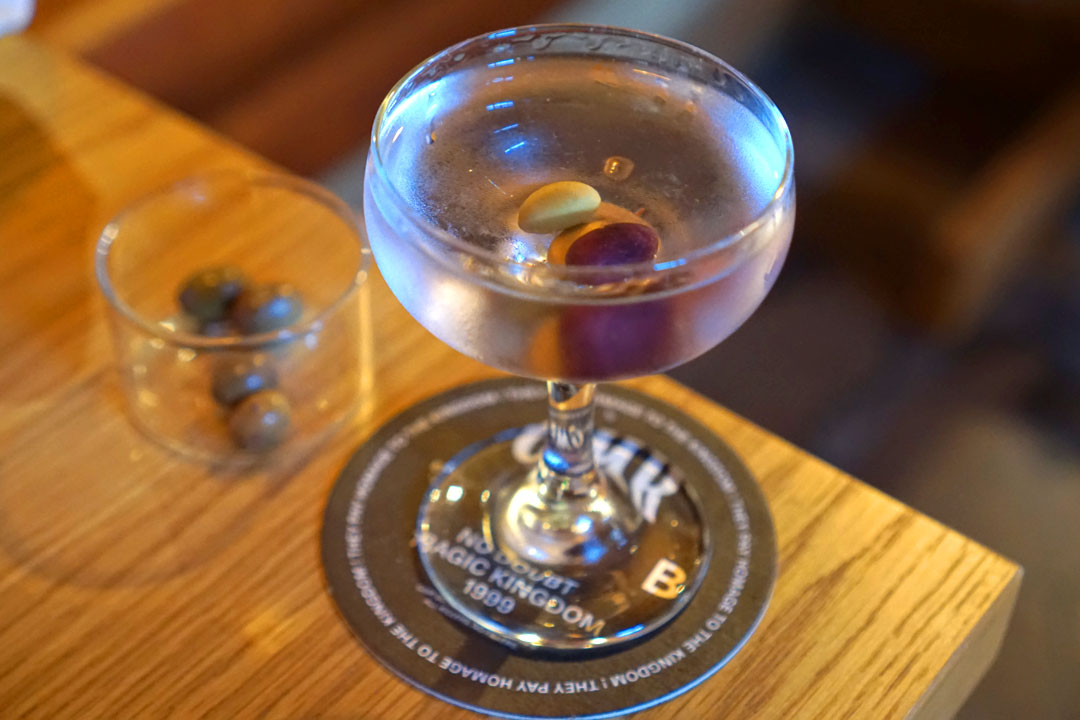 Alto Martini [$21.00]
| The Botanist, Alto Olives, Dry Vermouth
GMR's martini was a commendable take on the iconic cocktail that showed off some particularly well-integrated olive-y notes that linked up swimmingly with the drink's stronger-than-usual floral character.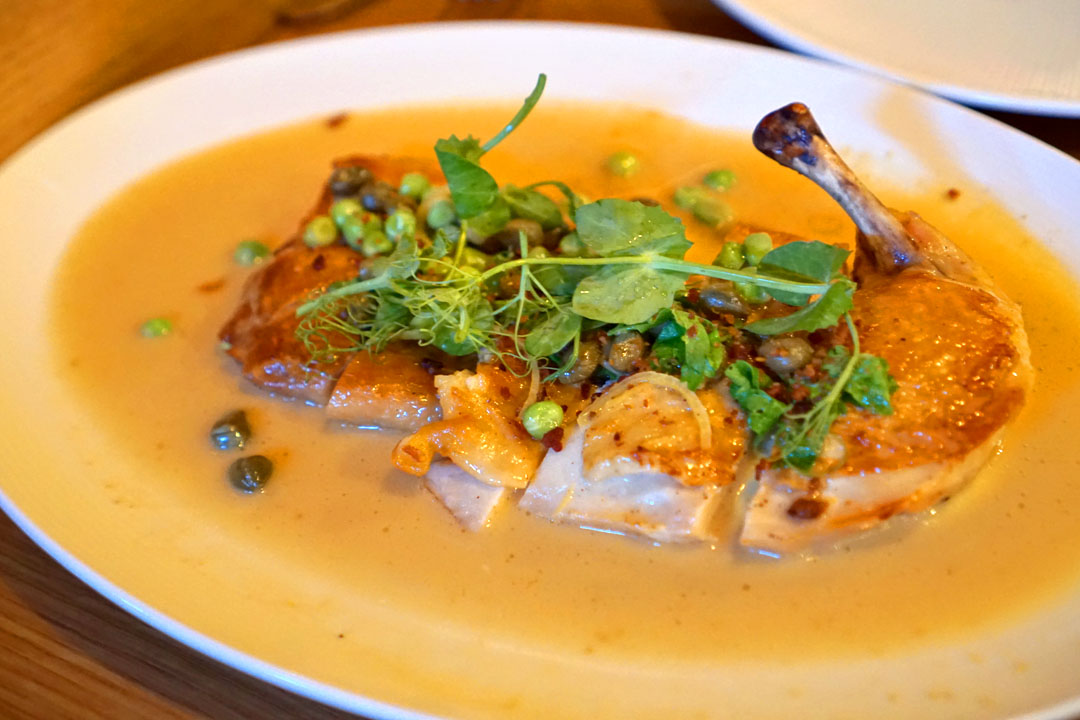 Chicken Piccata [$38.00]
| Spring Peas + Guanciale + Citrus Brown Butter + Capers
I've never been a huge fan of chicken piccata, but I will say that this was probably the best version I've had. I found the bird especially tender and exceptionally succulent, with a cozy savor that melded well with contrasting forces of capers and peas.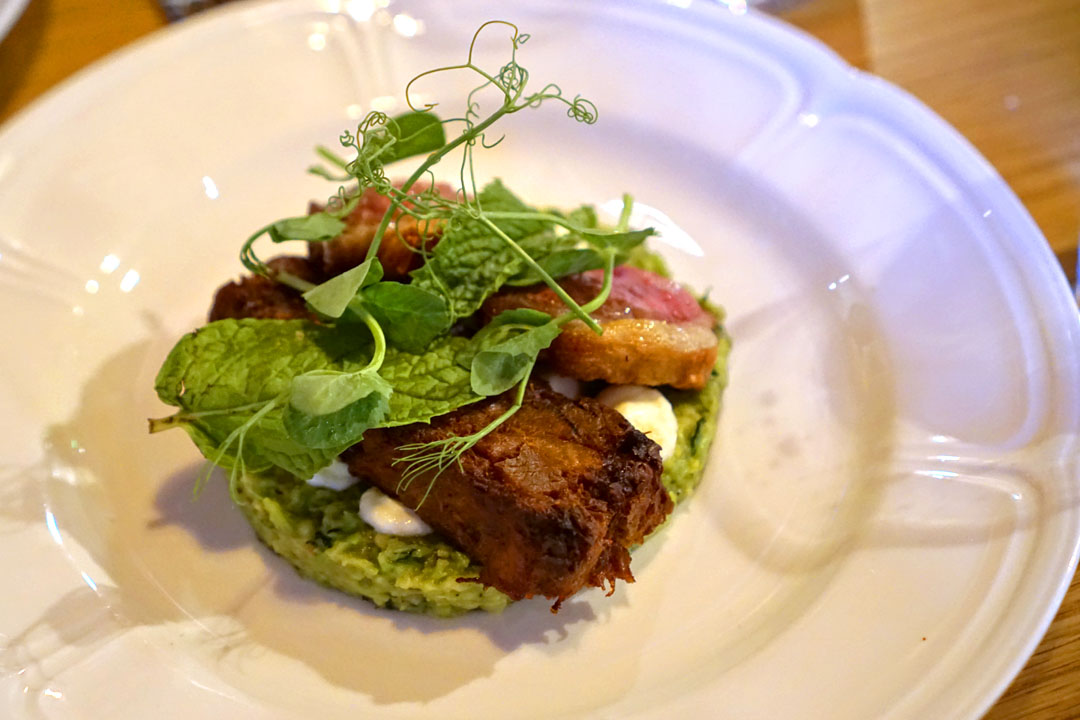 Margra Lamb [$42.00]
| Boneless Rack + Braised Shoulder + Fava Bean + Ricotta + Mint
Next came a duet of lamb. The long-cooked shoulder displayed the tenderness and dark-toned flavors you'd want and expect, though it could've been juicier. The star of the show was the rack, which was imbued with a sweet spice that worked wonderfully with the fine-spun, yet unmistakably ovine flavors of the meat. I got a lovely crispiness on that rendered fat, too, while the favas imparted a levity to the dish.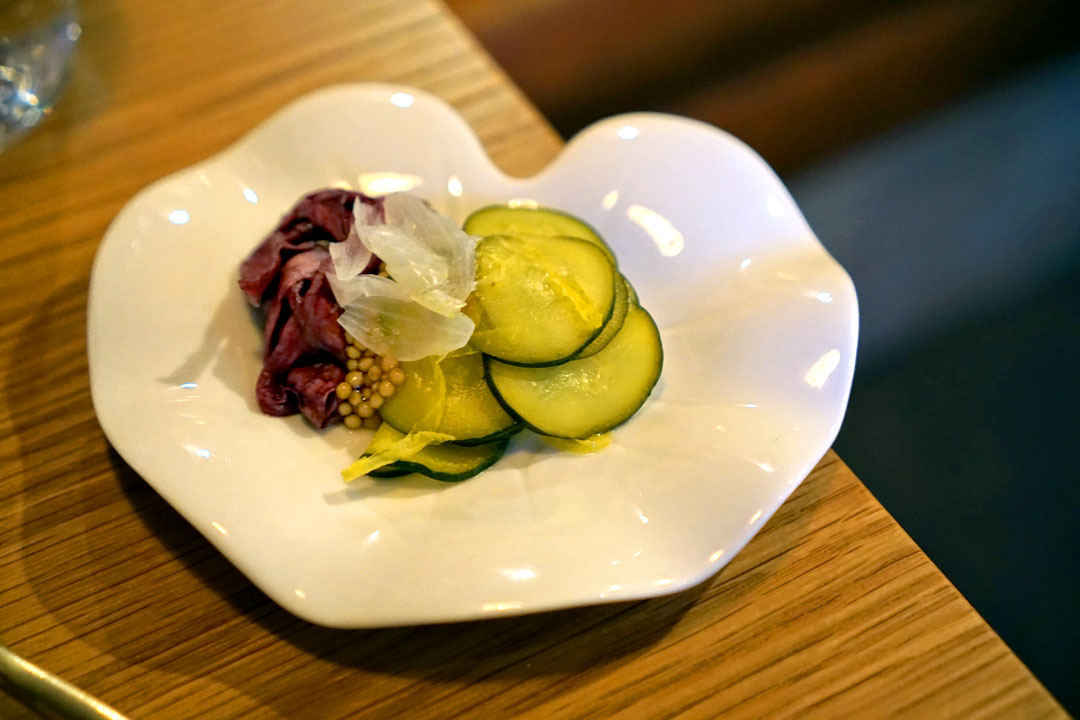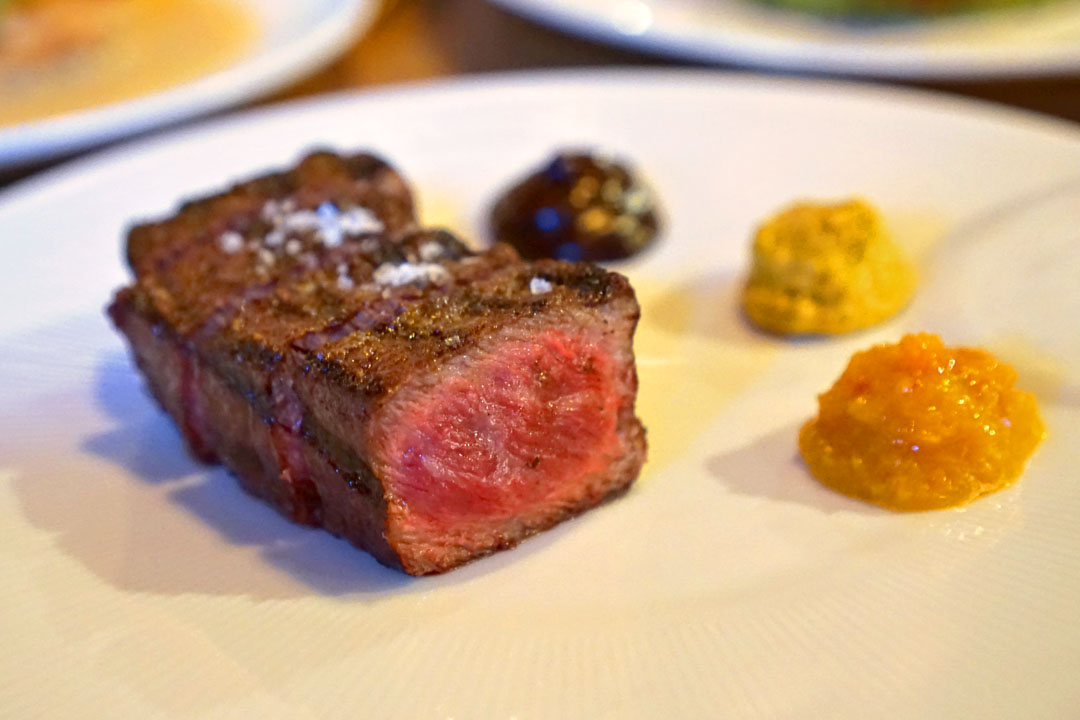 Denver Steak 10oz [$44.00]
| Served with House Made Pickles + Condiments + Radicchio
The Denver steak isn't a cut that I have all that often, but I was happy with it tonight. I found it pretty tender, with a marked beefiness that certainly worked for me. The steak was enjoyable alone, but also made a lot of sense with the mustard and BBQ-esque sauces on the side, though the mostarda-like condiment veered too sugary for my liking.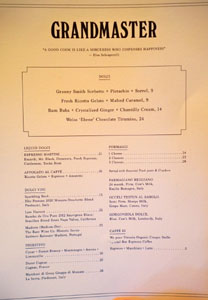 Above we see GMR's dessert menu, replete with fromage and after dinner beverages. Click for a larger version.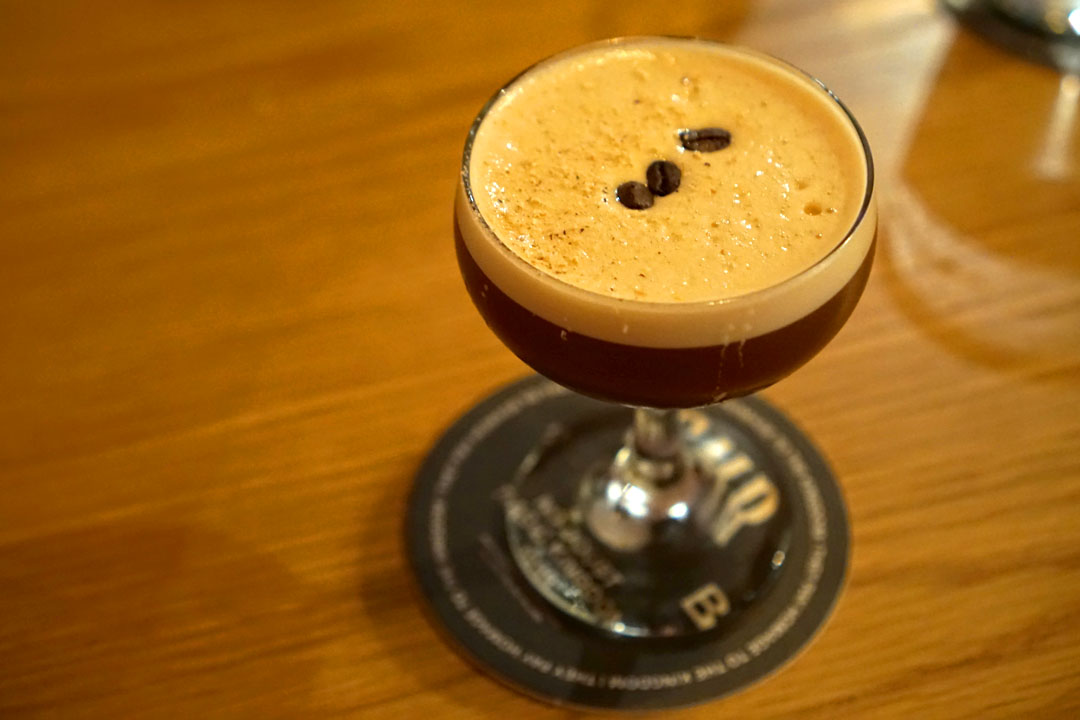 Espresso Martini [$21.00]
| Bacardi, Mr. Black, Demerara, Fresh Espresso, Cardamom, Tonka Bean
At this point, a dessert-y cocktail was called for, and this one definitely fit the bill. I liked the drink's bittersweet coffee flavors, blended with some sweet-n-spicy notes and elements that recalled fragrant vanilla.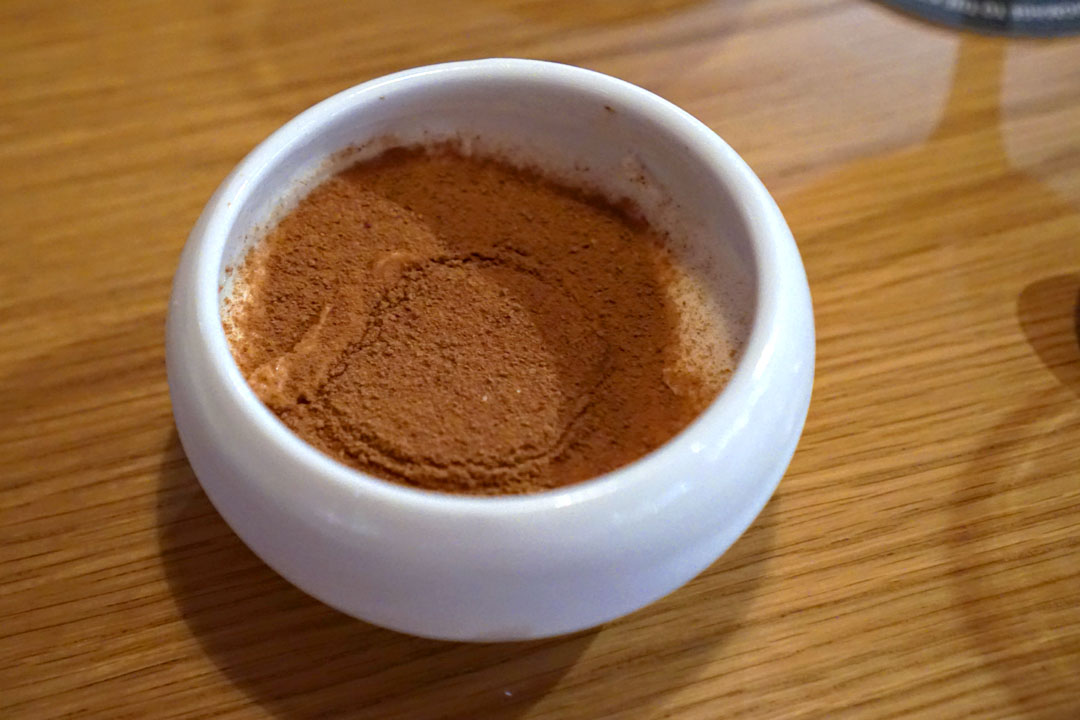 Fresh Ricotta Gelato + Malted Caramel [$9.00]
A ricotta ice cream was on point, conveying a cheesy funk that really spoke to me, while the caramel contributed the necessary oomph.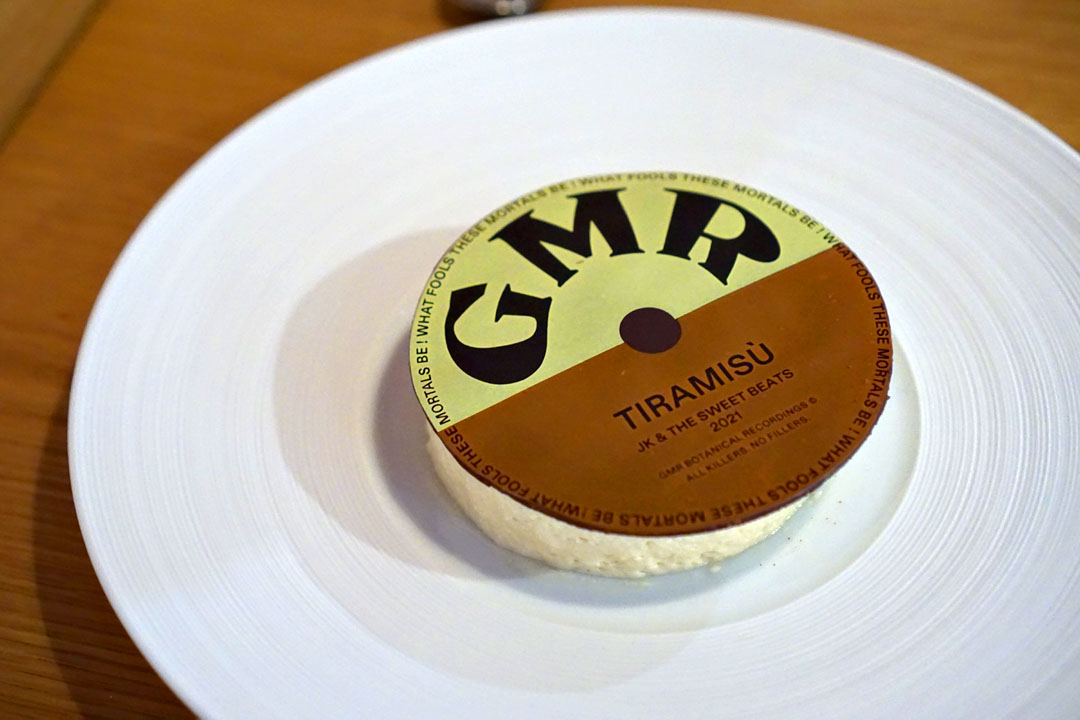 Weiss 'Ebene' Chocolate Tiramisu [$24.00]
GMR's signature dessert was a fanciful affair that undoubtedly played to the theme of the restaurant. The expected chocolate and coffee flavors were there, but what made this unique was that the cake was much fruitier than usual, and even contained what I believe was honey.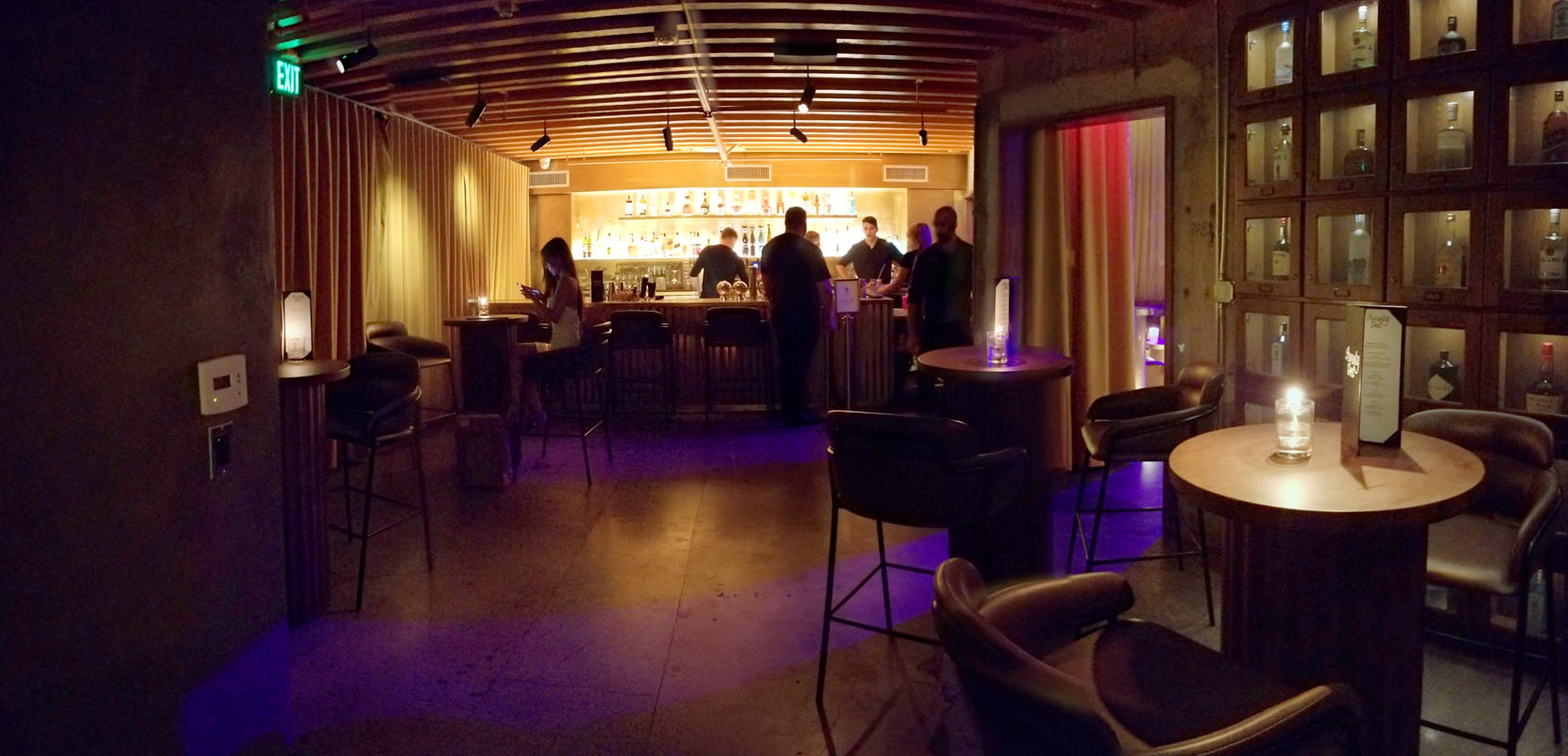 With dinner proper dispensed with, we headed over to 71 Studio Bar, which occupies the space that actually held the previous tenant's recording studio. It's a pretty intimate space, though there's also an adjoining room (not pictured) with lounge seating, a dance floor, and even a disco ball.


And here we see the 71 Studio Bar menu, which is certainly straightforward. Click for larger versions.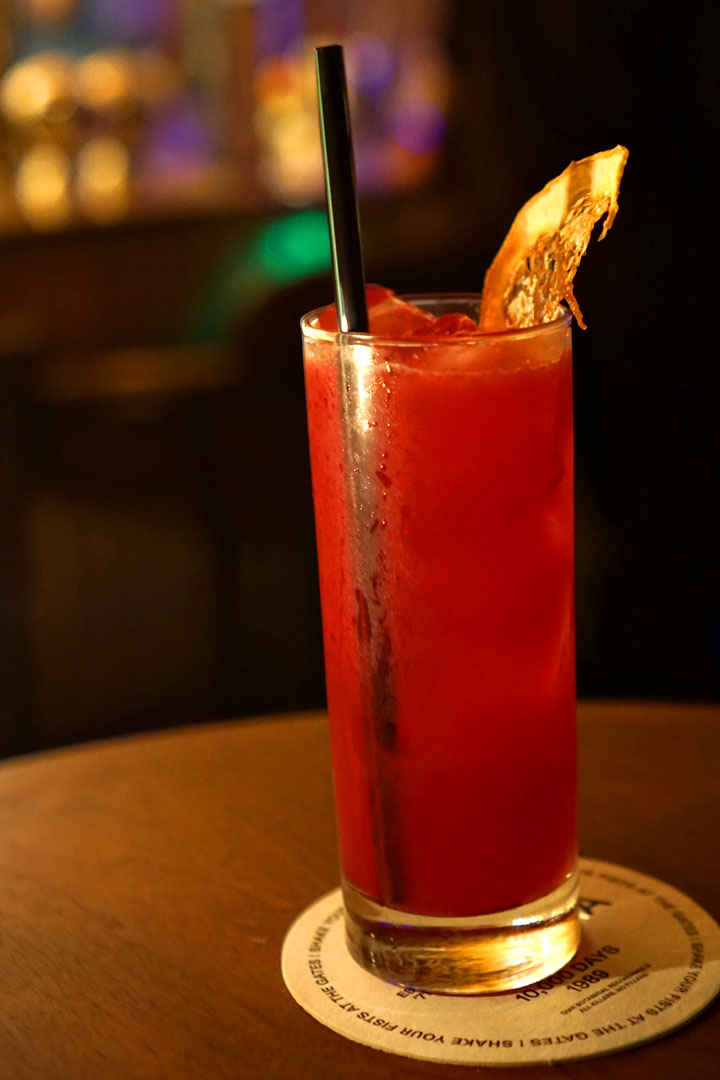 Hard to Handle [$18.00]
| Blanco Tequila, Grapefruit/Beetroot Cordial, Grapefruit Bitters, Lime
I ended up sampling a couple cocktails here, and this first one offered up a bevy of smoky, bitter nuances right up front, mixed with robust red fruits and traces of citrus.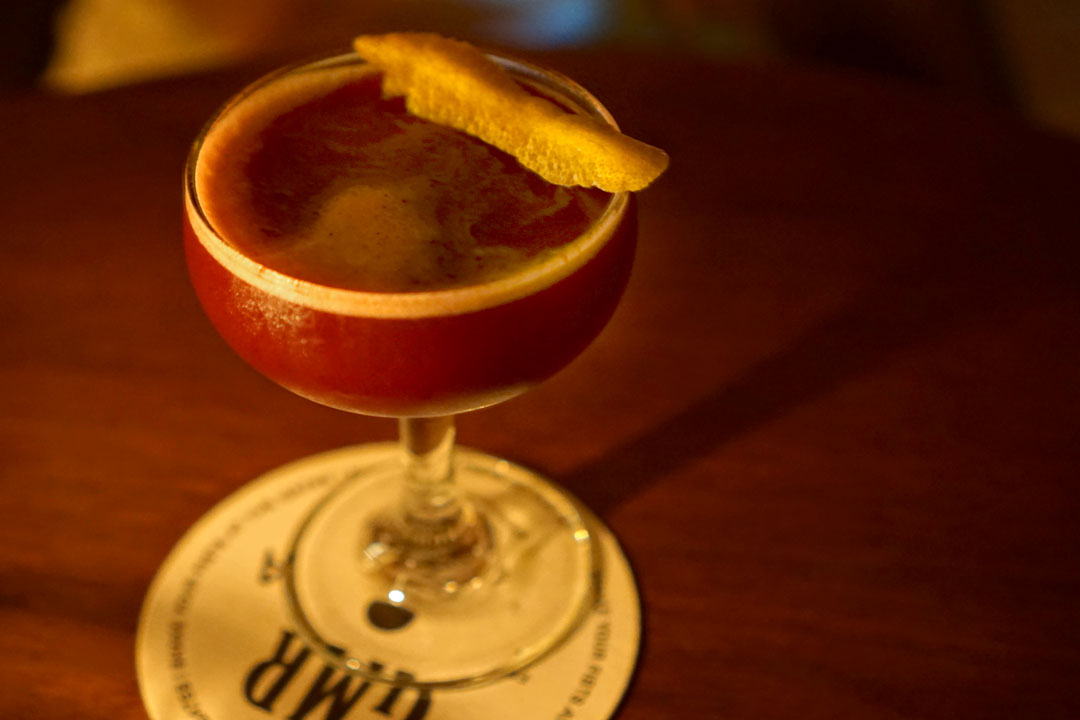 Call the Guy [$18.00]
| Maker's Mark Bourbon, Fernet Branca, Blackberry, Sugar Cane Cola Syrup, Lime, Bitters
The other cocktail was slightly more contemplative, giving up lots of berry flavors interlaced with the mintiness of fernet and the zing of lime.

We then moseyed up to GMR's surprisingly capacious rooftop, which was unexpectedly relaxed (a good thing in my book).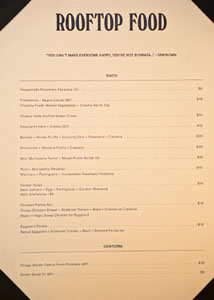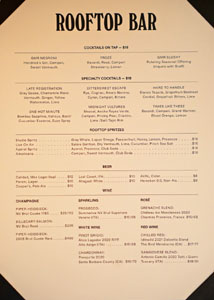 The rooftop menu is on the easier-going side, both in terms of food and drink. Click for larger versions.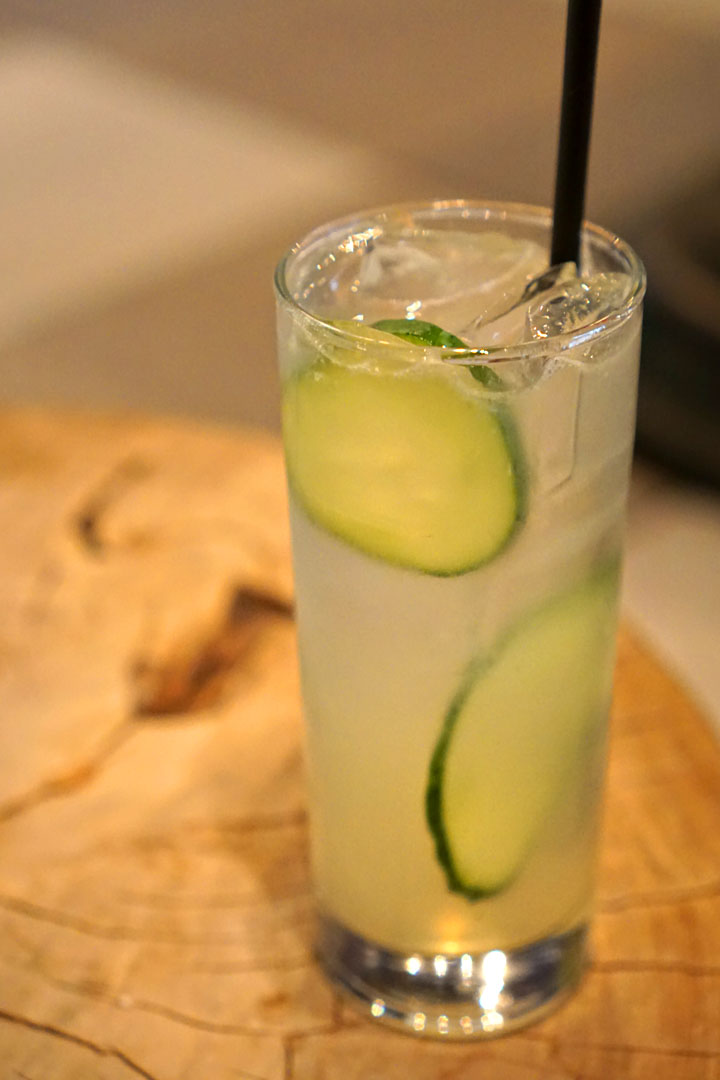 Live On Air [$16.00]
| Salers Gentian, Dry Vermouth, Lime, Cucumber, Pinch Sea Salt
We decided to go with lighter cocktails, and thus opted for two selections from the spritzes section of the menu. The cucumber was quite in-your-face here, and made itself known despite the drink's bitter, dry, herby base.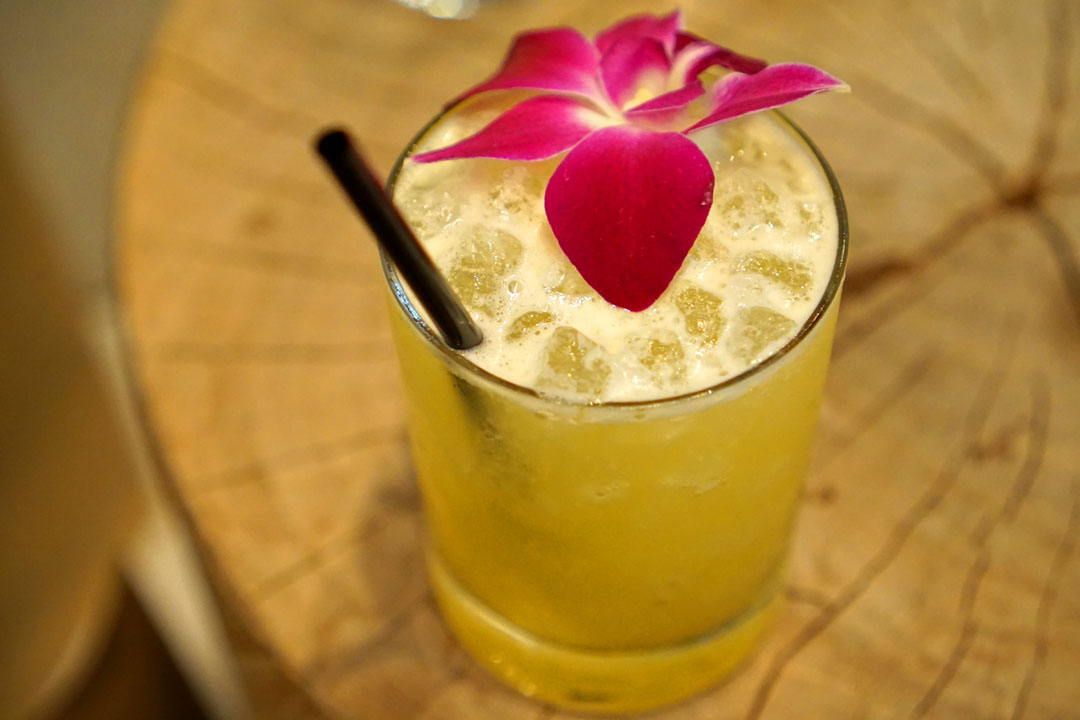 Studio Spritz [$16.00]
| Gray Whale, Liquor Strega, Passionfruit, Honey, Lemon, Prosecco
The final cocktail of the night combined plenty of tropical passion fruit with a palpable honeyed quality and the sweet-herby nature of the Strega, all while Prosecco imparted the requisite spritziness.
I wasn't sure what to expect when I first heard about the Cal-Aussie-Italian fare Koludrovic and company were doing here, but after sampling a decent amount of it, I will say that it mostly works. The food definitely has an Italian core to it that's recognizable, and pervades the cooking, and keep things grounded, but there's a whimsy and irreverence that makes it all rather fresh and fun. Also, I think the one-two-three punch of restaurant-studio bar-rooftop adds to the experience, and makes for better replay value, so I wouldn't be surprised to find myself back here in the future.