Manzke (Los Angeles, CA)
Manzke Restaurant
9575 W Pico Blvd, Los Angeles, CA 90035
424.500.9575
www.manzkerestaurant.com
Sat 04/09/2022, 07:00p-11:00p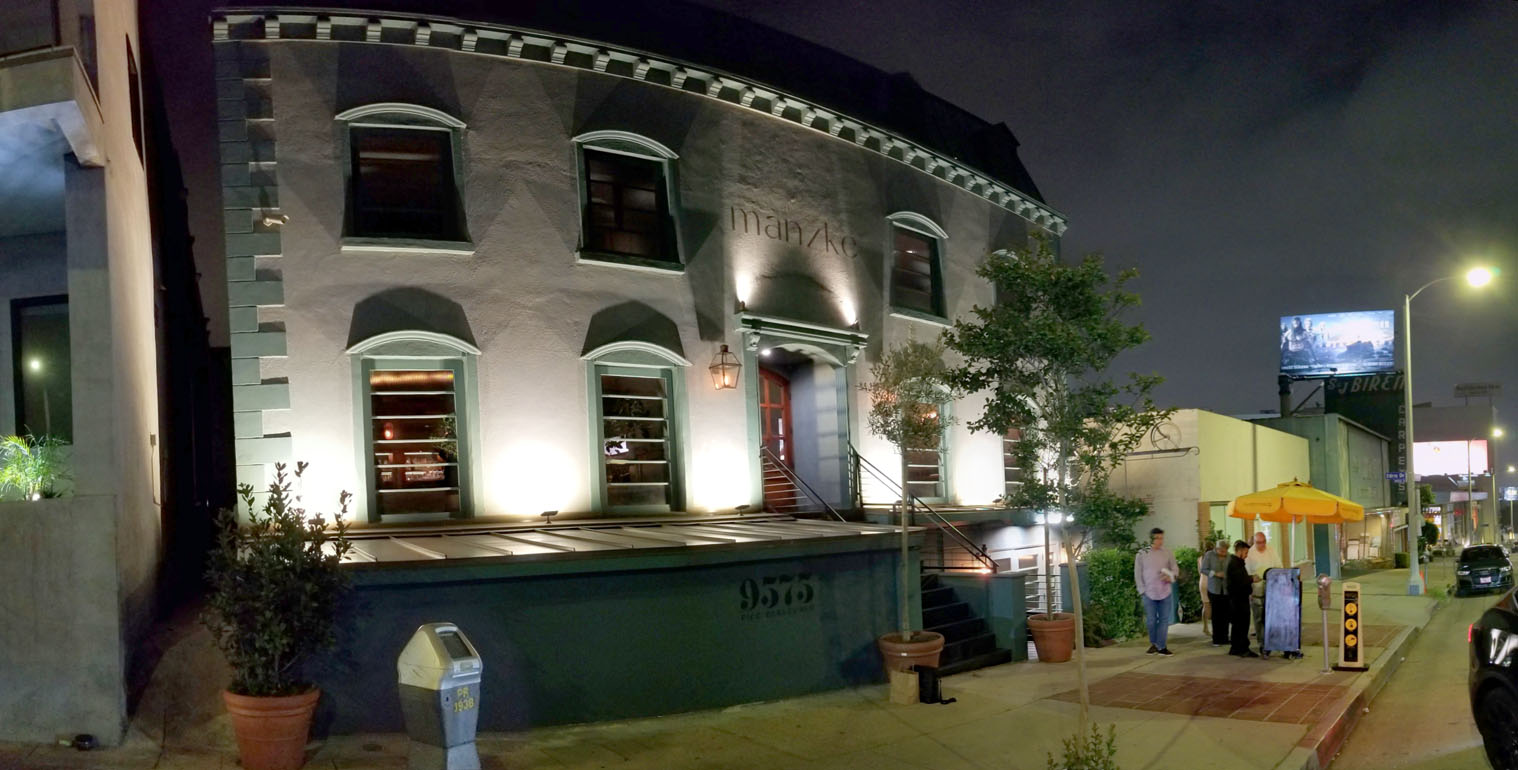 Back in July last year, I reported on a meal I enjoyed at Margarita and Walter Manzke's
Bicyclette
, the couple's contemporary bistro set in the former subterranean home of
Sotto
. Now Bicyclette was only one half of the equation, as it was always slated to be joined by a much more formal eatery upstairs (working title: "Bicyclette Restaurant"). This tasting menu-only spot was originally scheduled to launch in September, but not surprisingly, its debut ended up being pushed back, and the place, now simply called Manzke, eventually grand-opened on March 9th, and I was eager to give it a try.
As for the rest of the team, the Manzkes are joined in the kitchen by CdC Joe Garcia (Bicyclette,
The French Laundry
,
Bouchon
), who's assisted by sous chefs Vince Flores (
Le Bernardin
, Benoit, Le Jules Verne) and Luca Dai Pra (
Somni
,
Saison
,
Atelier Crenn
). Meanwhile, the front-of-the-house is led by General Manager Patrick Freitas, an alum of
Per Se
, ABC Kitchen,
Jean-Georges
, and Nougatine. Thus, there are certainly some impressive résumés in play here.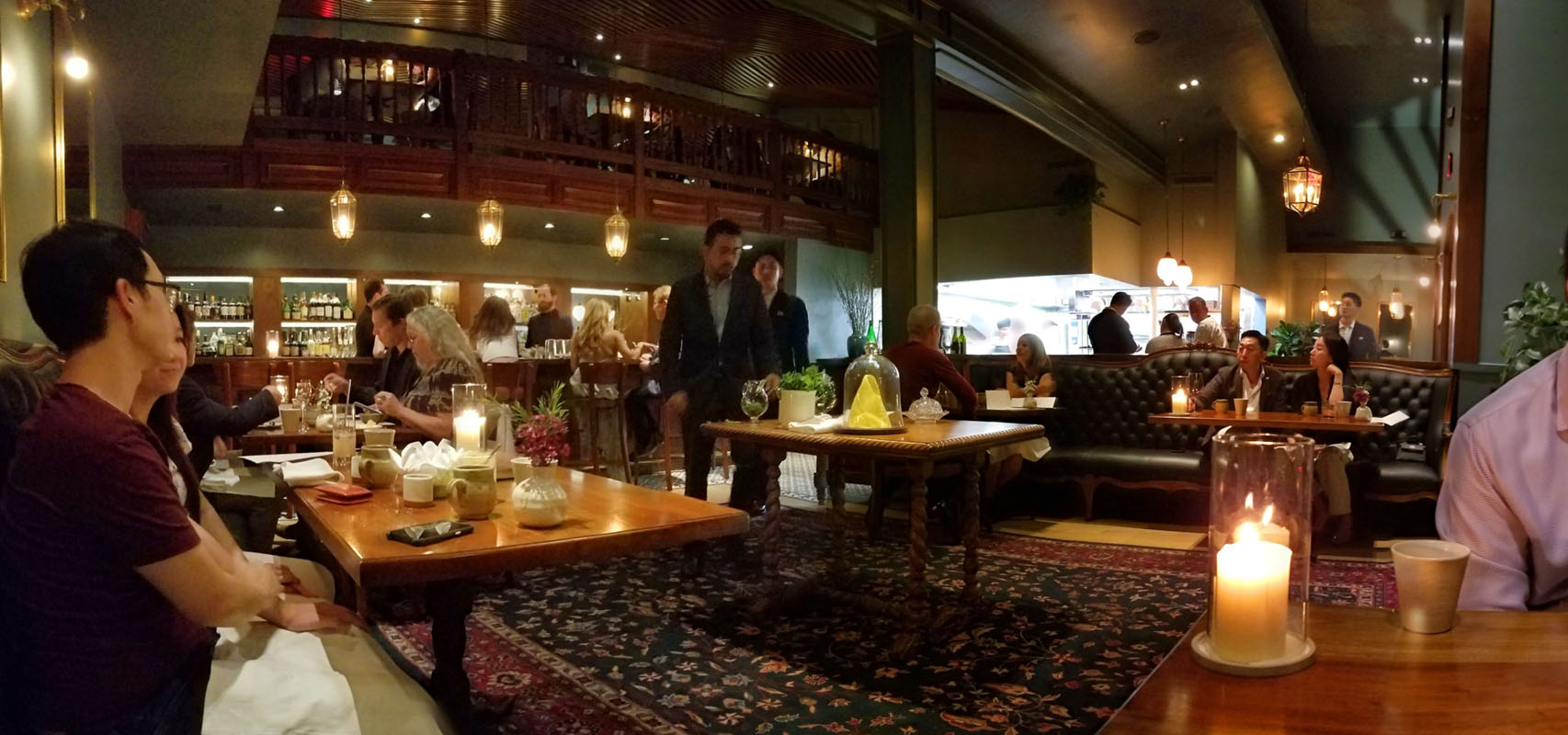 Manzke resides in the old Pico-Robertson digs of
Picca
. The same basic layout remains, but the decor has been gussied up substantially (note the tufted leather banquettes and Persian rugs), and even includes furniture built by the Chef himself, utilizing Philippine wood. There's also a mezzanine dining area, replete with a 10-seater private room, and total restaurant capacity is around 50.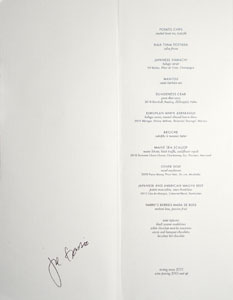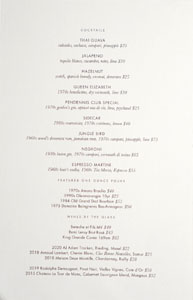 Pictured above is the evening's menu, comprising a dozen courses and priced at $225 a head. There's a wine pairing offered at $165 (or more), and corkage is $75, limit one, though the fee can be waived if you purchase a bottle off the wine list, which is shared with Bicyclette and managed by Sarah Clarke (
Republique
, Antico Nuovo,
Mozza
,
Church & State
). We also see the cocktail selection, the work of Shawn Lickliter (Republique, Bouchon, The Jonathan Cub), and it's unique for its focus on aged spirits. Click for larger versions.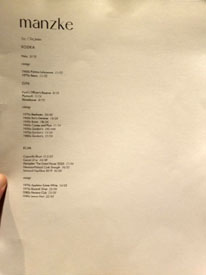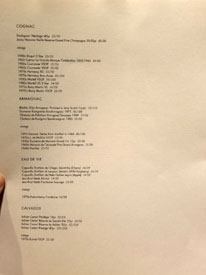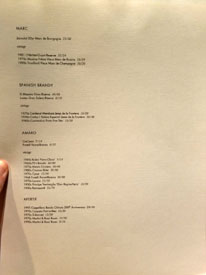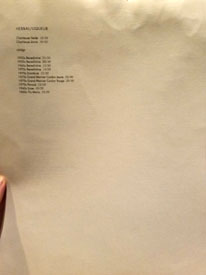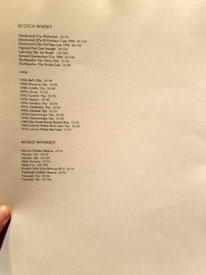 And speaking of those aged spirits, here we see Manzke's liquor selection, which lists plenty of vintage bottles from the last century. Click for larger versions.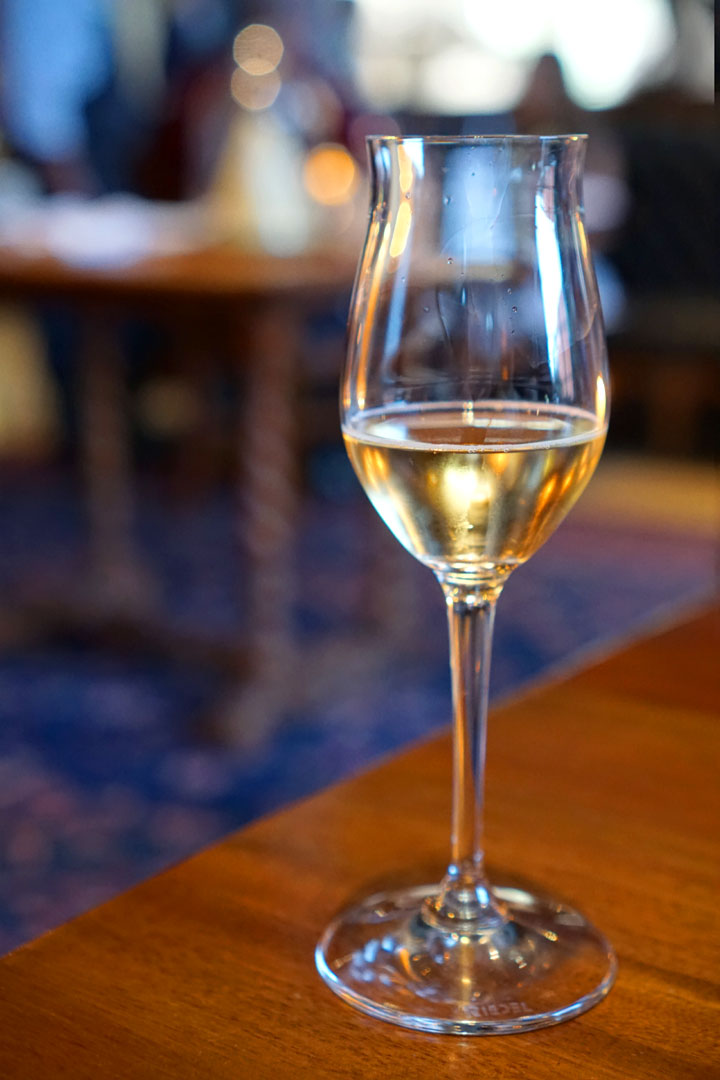 To begin, we were provided complimentary glasses of
2020 Eric Bordelet Sidre
from Normandy. The cider made for a fitting apéritif thanks to its harmonious balance of fruit, funk, and mineral, all in a dry, refreshing package.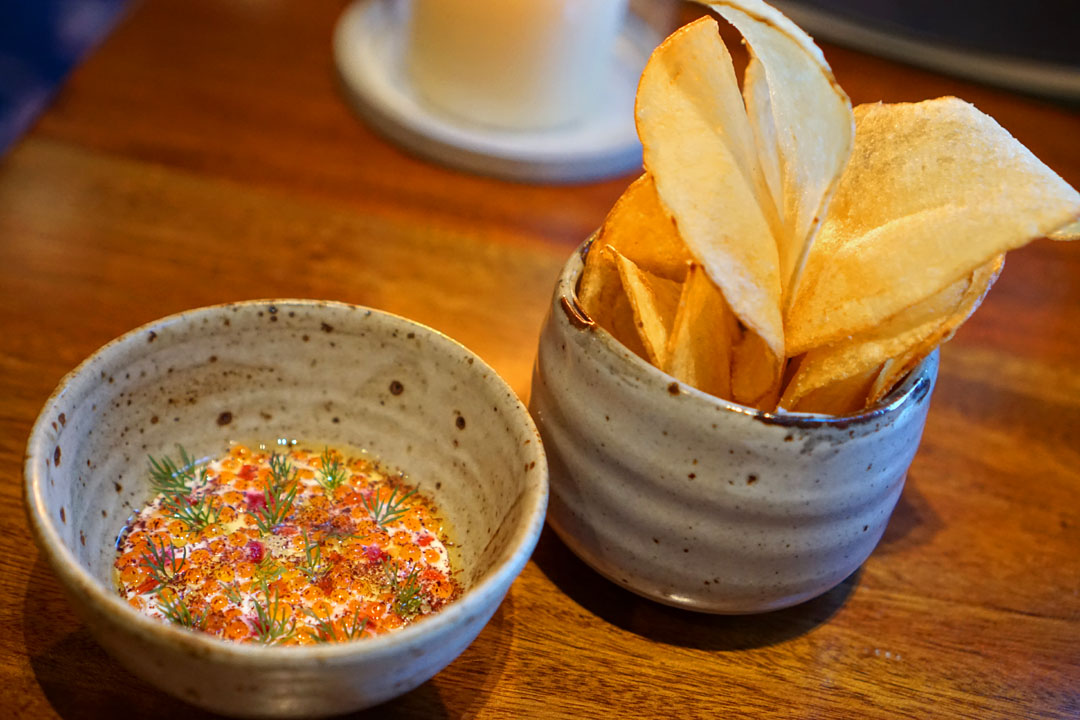 1: Potato Chips
| smoked trout roe, tzatziki
Potato chips were crisp and salty, and quite tasty on their own, but really sang when paired with that fresh, creamy yogurt, perked up by pricks of salinity from the roe. A fun snack to start with.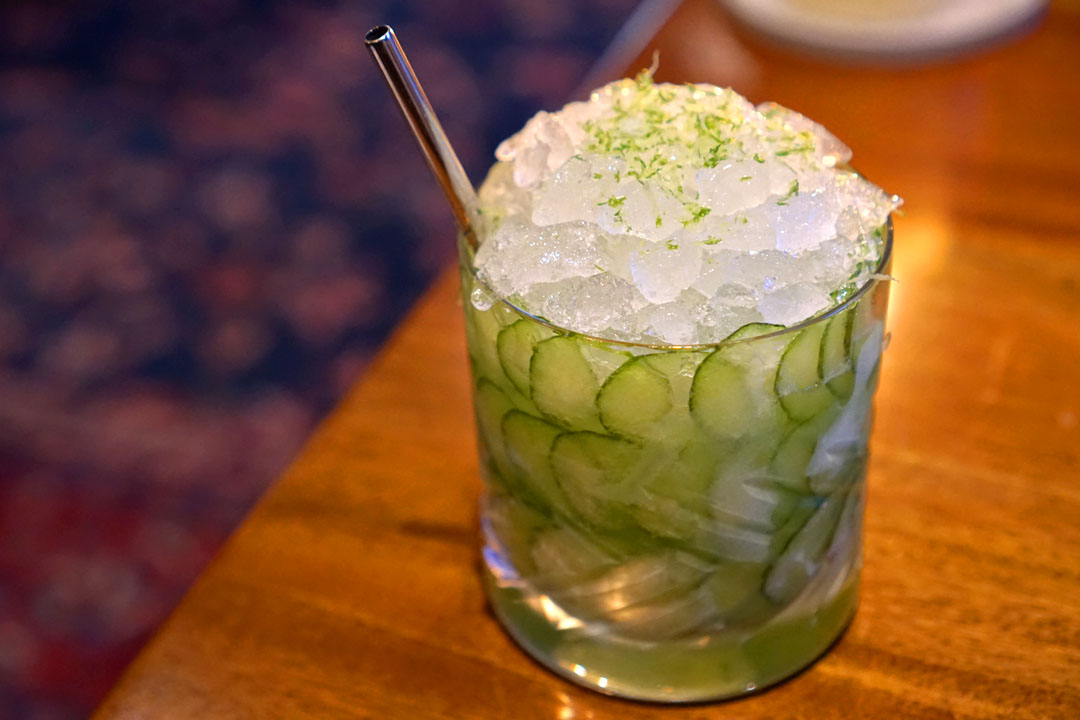 Jalapeno [$30.00]
| tequila blanco, cucumber, mint, lime
We ended up trying most of the cocktails, and this first one presented itself in a very balanced manner, with a great core of bright, vegetal cucumber commingled with citrus, mint, and an undercurrent of jalapeño heat.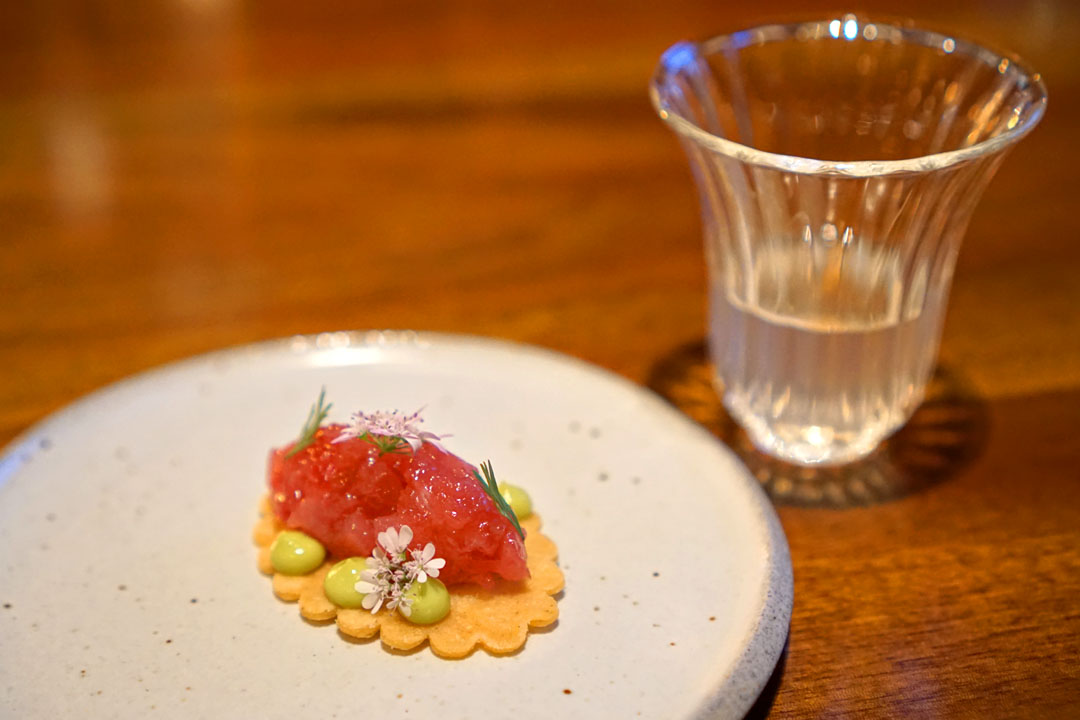 2: Baja Tuna Tostada
| salsa fresca
Next came a progression of three one-biters. Here we had a ruby-toned quenelle of tuna, one with a surprisingly potent, yet refined flavor profile that transitioned to a long-lasting finish imbued with plenty of herb, all while a chaser of pico de gallo distillate contributed an invigorating jolt on the back end.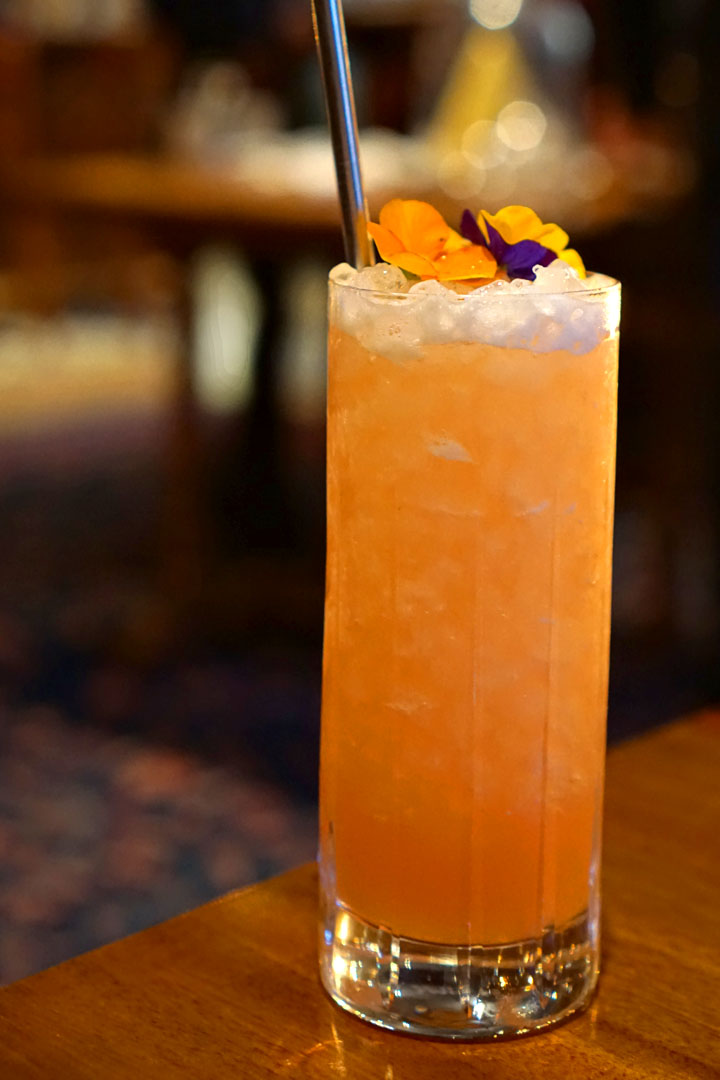 Thai Guava [$25.00]
| calvados, cachaca, campari, pineapple
Our lone long cocktail did a commendable job expressing both the richness of the tropical fruit and a countervailing bitter, boozy edge.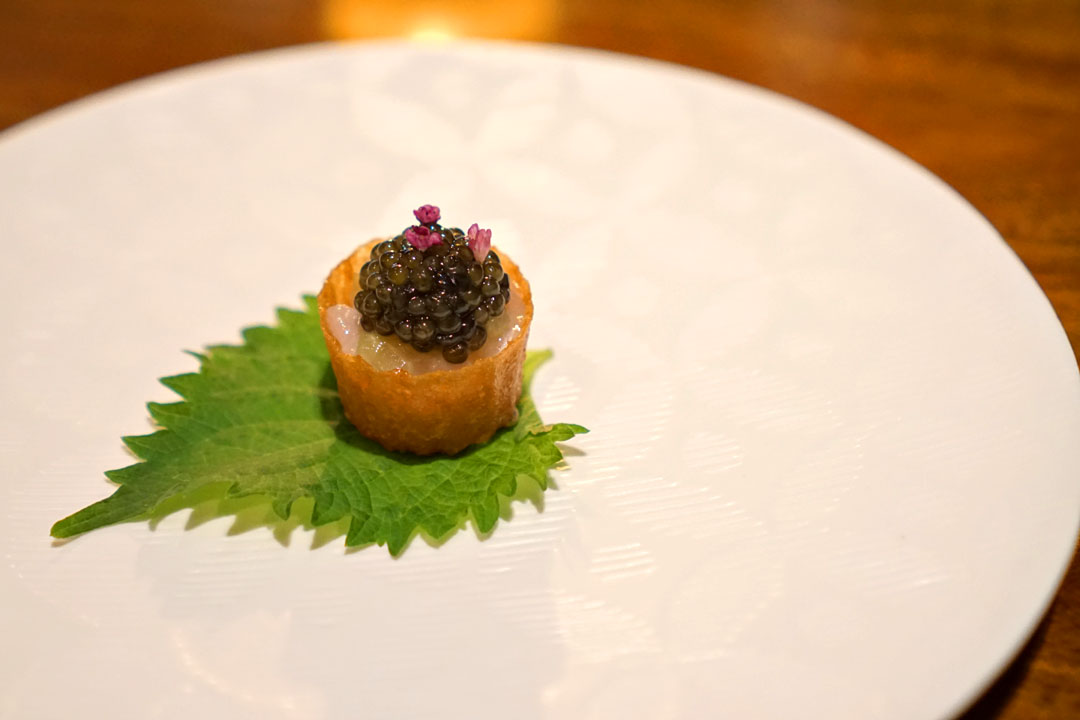 3: Japanese Hamachi
| kaluga caviar
Yellowtail displayed a forceful, yet finessed brine that was only intensified by the application of caviar, while the pastry shell offered up a crispy, savory counterpoint. I got a nice contrasting mintiness from the shiso, too.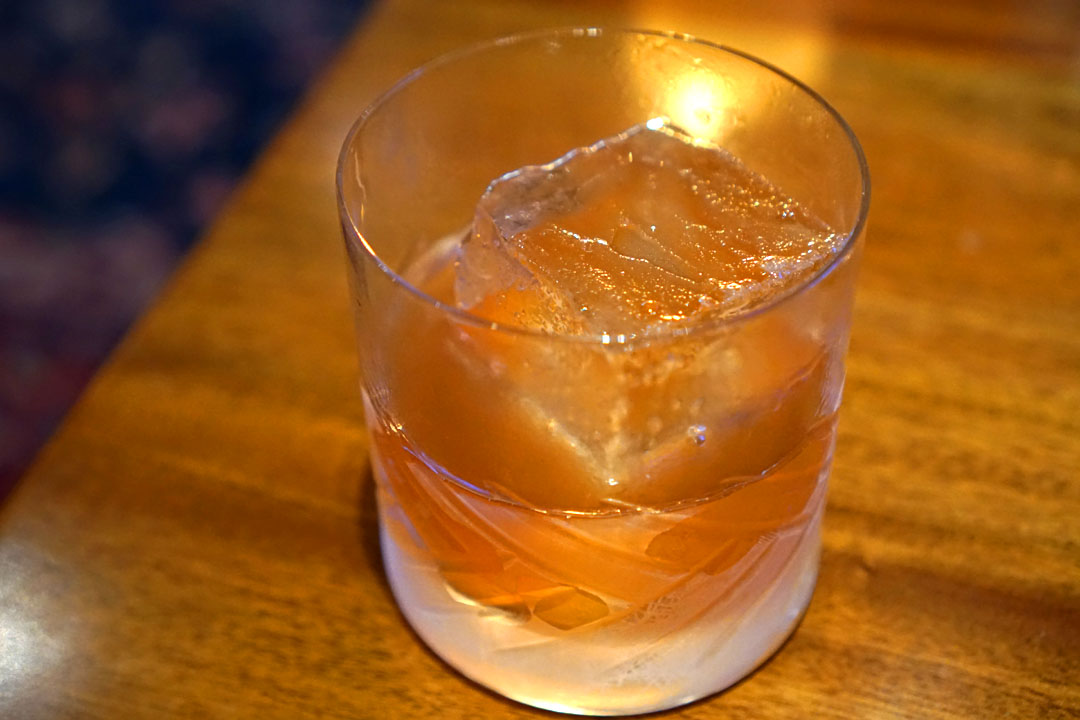 Hazelnut [$25.00]
| scotch, spanish brandy, coconut, demerara
This next cocktail was the heftiest of the bunch, with its unabashedly sugary, nutty flavors working hand in hand with the boozy depth of the whisky-brandy combo. Try this one at the end of your meal.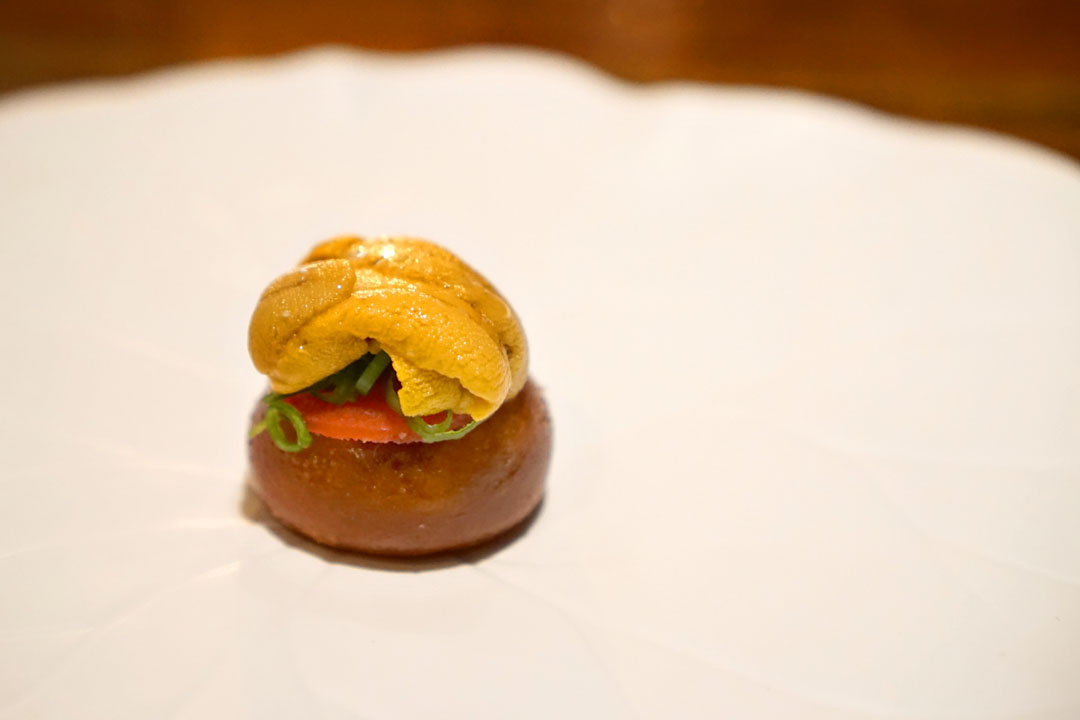 4: Mantou
| santa barbara uni
This miniature steamed bun was a delight. I loved its simultaneously crisp-yet-fluffy consistency, while its gently savory nature paired seamlessly with the sweet, cool tongues of sea urchin. I could've easily popped a few more of these.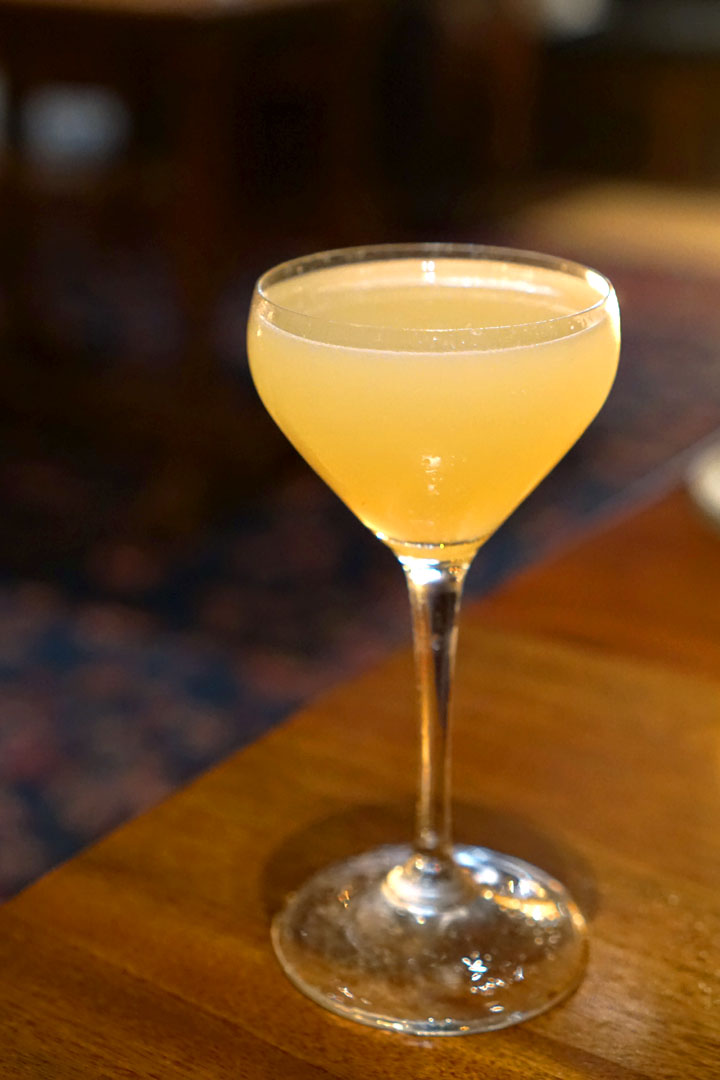 Queen Elizabeth [$30.00]
| 1970s benedictine, dry vermouth, lime
At this point, we got into some of Manzke's aged cocktails. Bénédictine was the star here, its herbaceous character playing foil to some palpably bitter, cacao-like notes and healthy dosing of citrus. Vibrant, yet mature, and eminently balanced.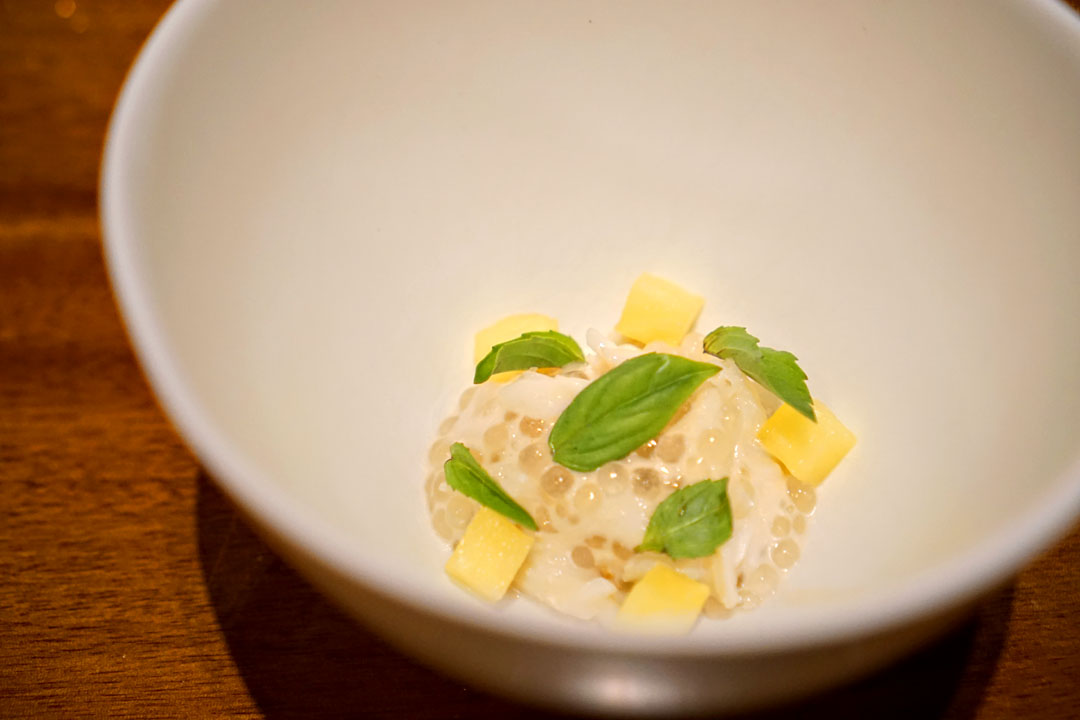 5: Dungeness Crab
| green thai curry
This Thai-inflected dish managed to highlight the spicy, pungent, lemongrass-infused qualities of a coconut curry without overwhelming the sweet, delicate nature of the crab. I really appreciated the juicy, fruity finish imparted by the pineapple as well, not to mention the great textural component from the tapioca pearls.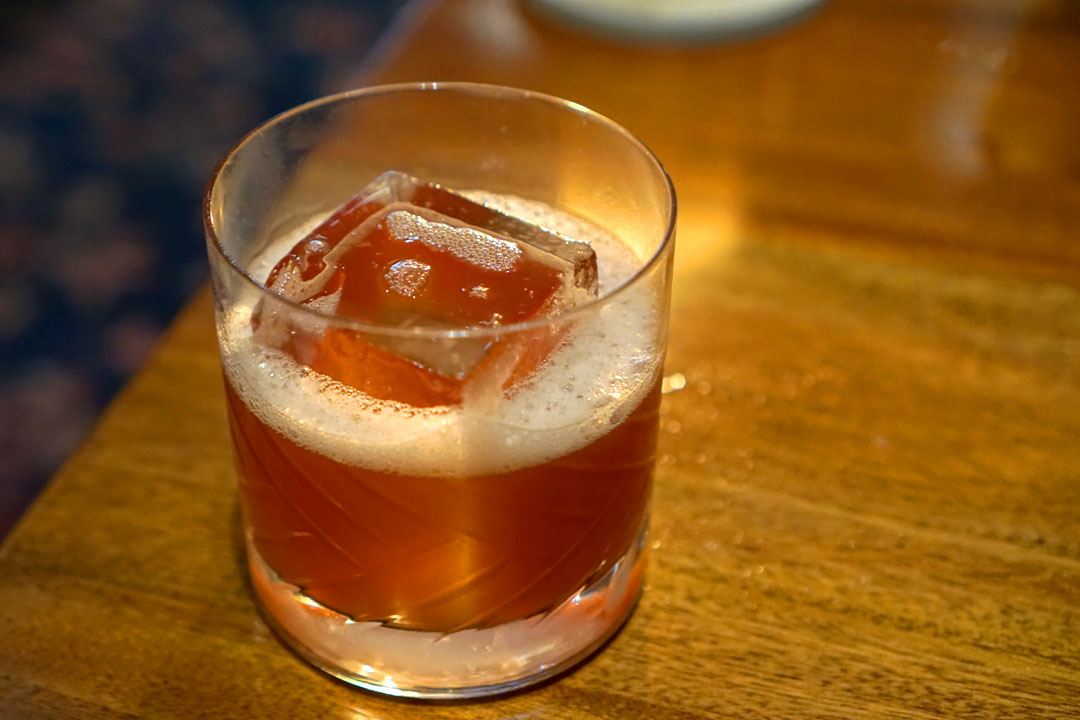 Jungle Bird [$75.00]
| 1960s wood's demerara rum, jamaican rum, 1970s campari, pineapple, lime
This tiki cocktail staple offered up a bevy of funky, vegetal, oxidative nuances, tempered just enough by the fruit, and really recalled the time period of its conception. I could really see myself sipping on this at some hotel bar in the 70s.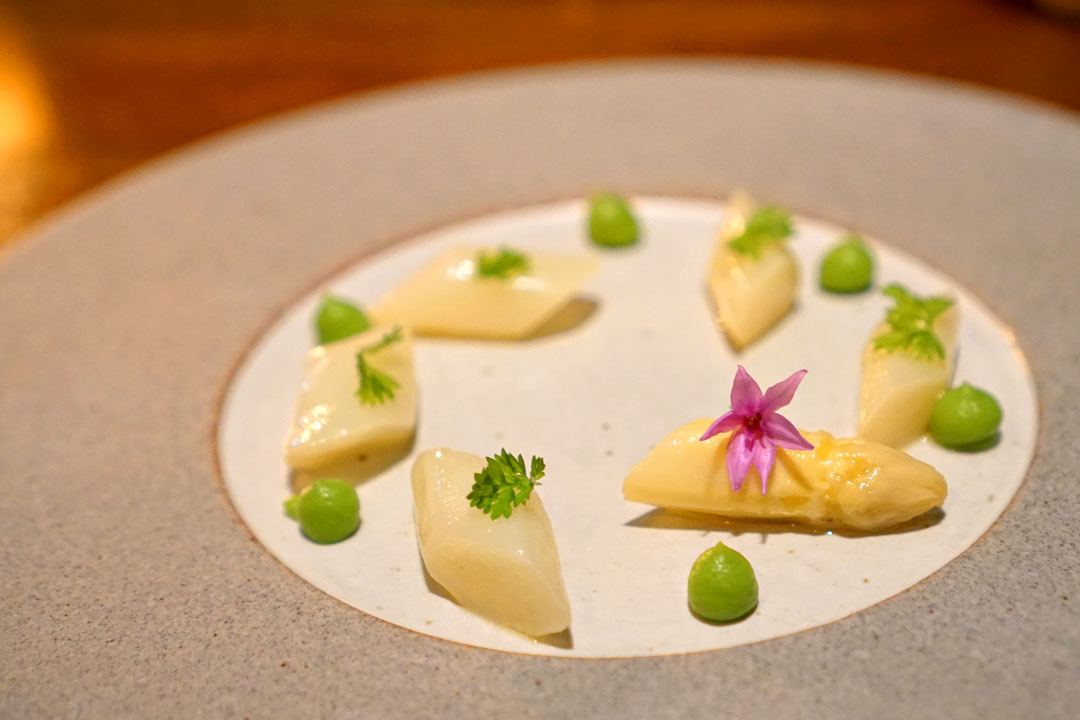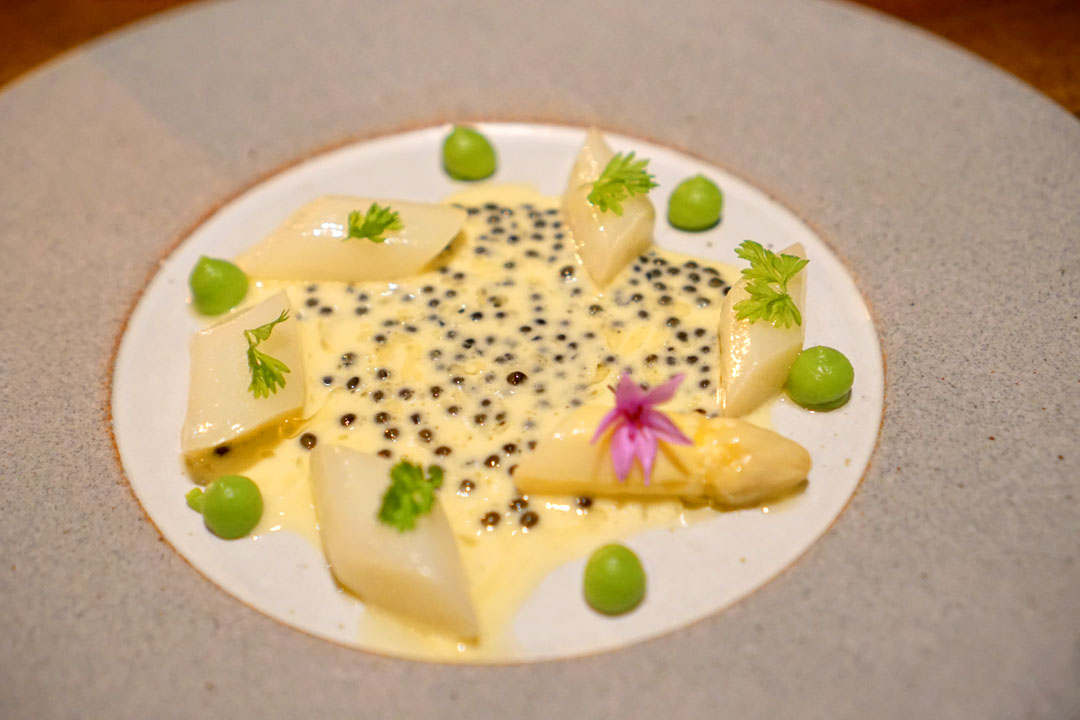 6: European White Asparagus
| kaluga caviar, roasted almond beurre blanc
It was the beginning of the season, so it was a treat to see white asparagus on the menu tonight. The spears had a super supple, juicy consistency along with a delicate taste that paired beautifully with the caviar-studded beurre blanc, which seemed to emphasize the natural sweetness of the veggie.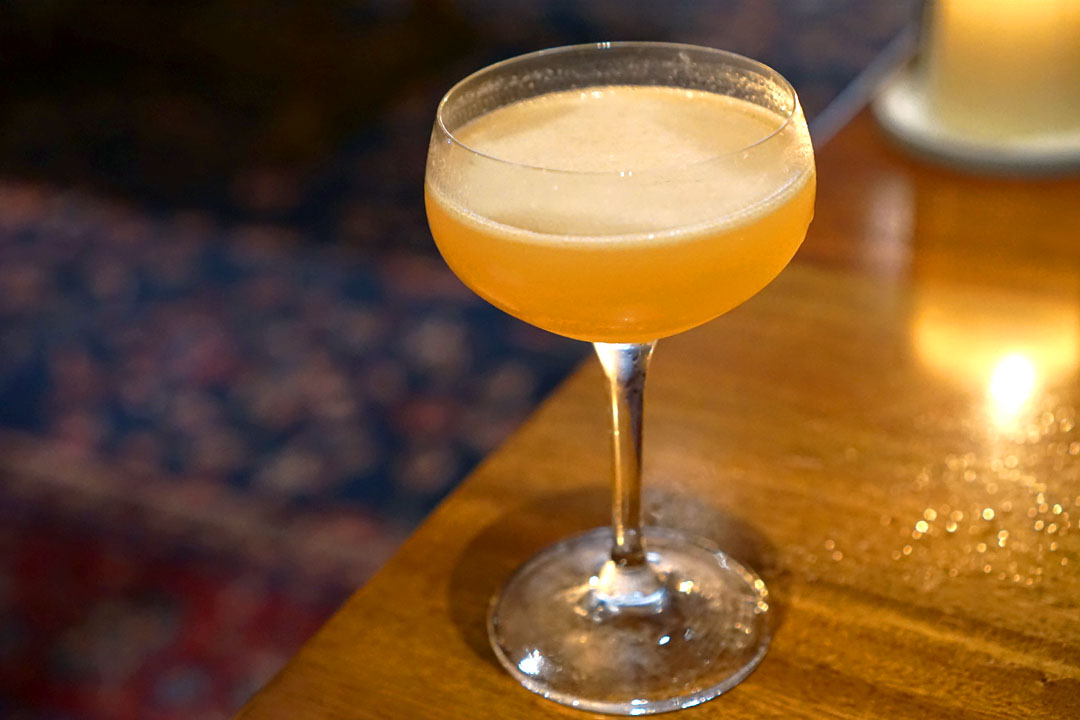 Sidecar [$40.00]
| 1980s courvoisier, 1970s cointreau, lemon
Our final cocktail was this version of the classic sidecar, which was the best I've ever had. I just found the drink so utterly balanced, its meshing of super bright citrus with the almost chocolate-y notes of the cognac in perfect harmony. There was an unusually high level of sophistication here, which I'd like to attribute to the old booze utilized in the drink, but that could be my confirmation bias speaking.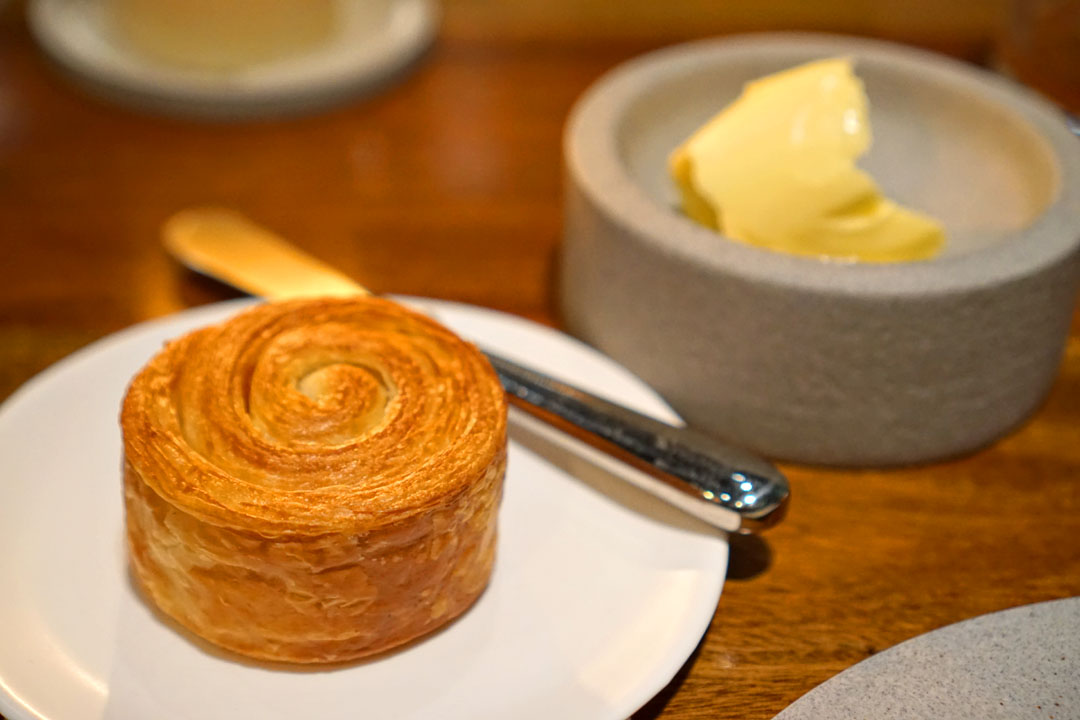 7: Brioche
| rodolphe le meunier butter
I'd been hearing great things about Marge's laminated brioche, and it didn't let me down. In fact, it was some of the best I've ever had, and flawless in its flaky, buttery presentation. Strictly speaking, the bread didn't even need the butter (which itself was fantastic), but was indeed improved with it.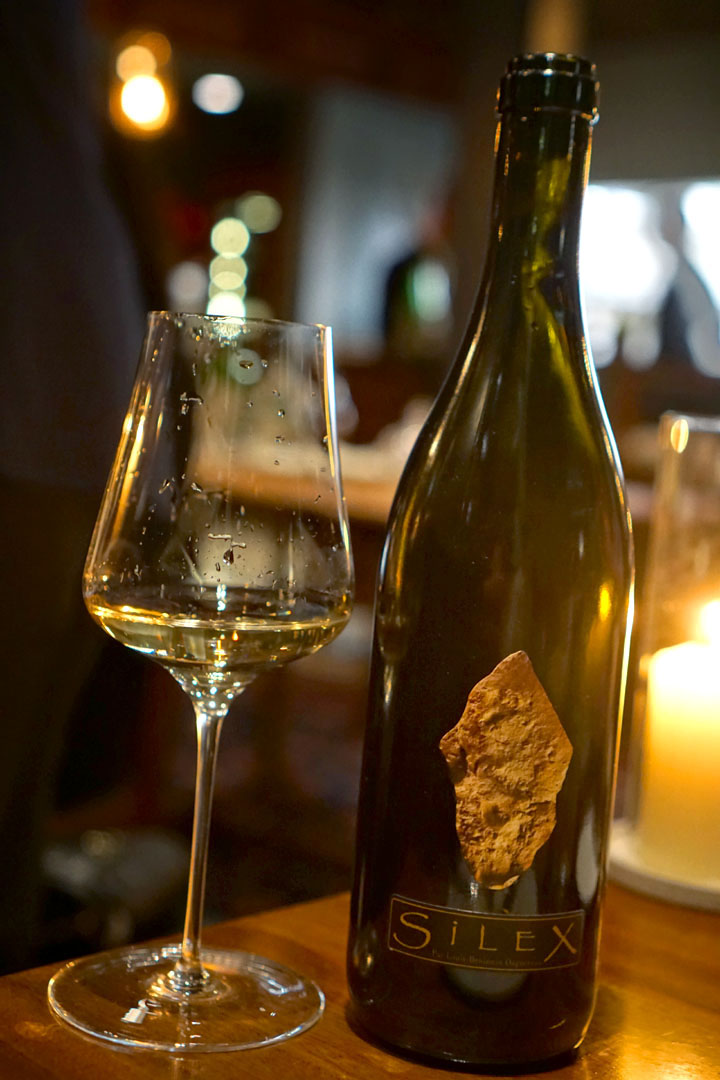 With the cocktails done with, we moved on to the
Didier Dagueneau « Silex » 2015 Pouilly-Fumé [$252]
. At first blush, I got a nose that was intensely oxidative, nutty, and musty, with distinct brown butter notes. The palate went in a similar direction, with additional caramel, barnyard, and vegetal elements. It was very different than the last bottle of this I had (a 2003 vintage at
Providence
), and we were all left wondering if it was compromised. However, after giving the wine some time (along with a change in glassware), the Silex did open up beautifully, with funky, tropical aromas giving way to flavors of fresh pome fruits and stone, all layered over an earthy, grassy backbone--lovely.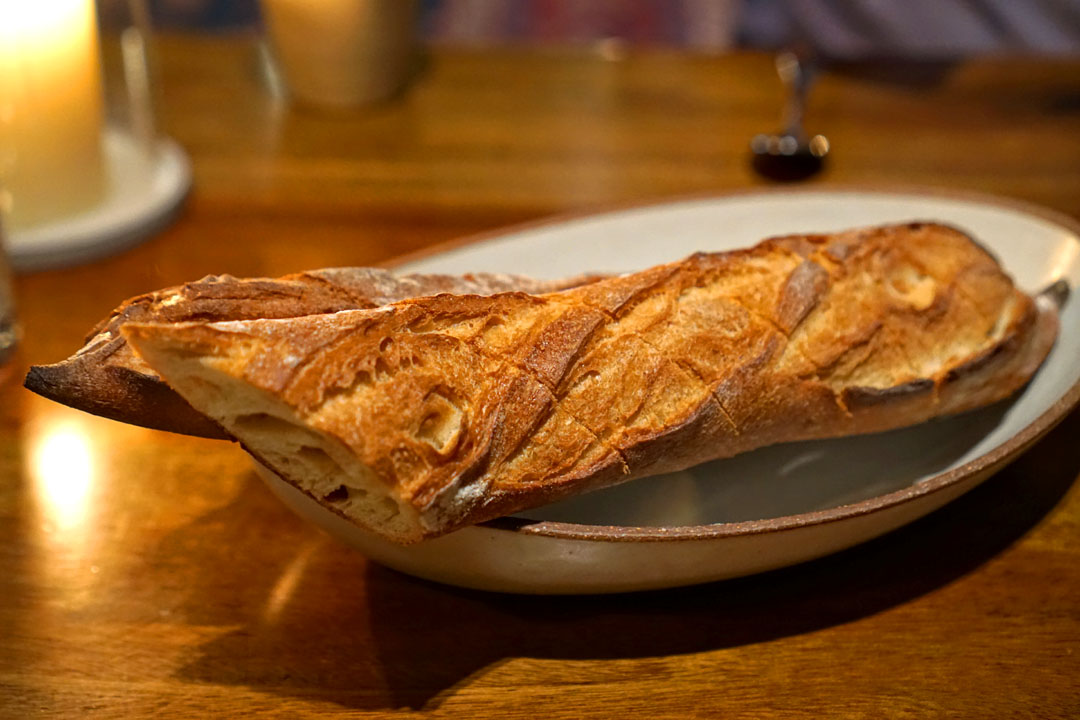 We requested some more bread, and were provided with these craggy, crusty loaves of baguette.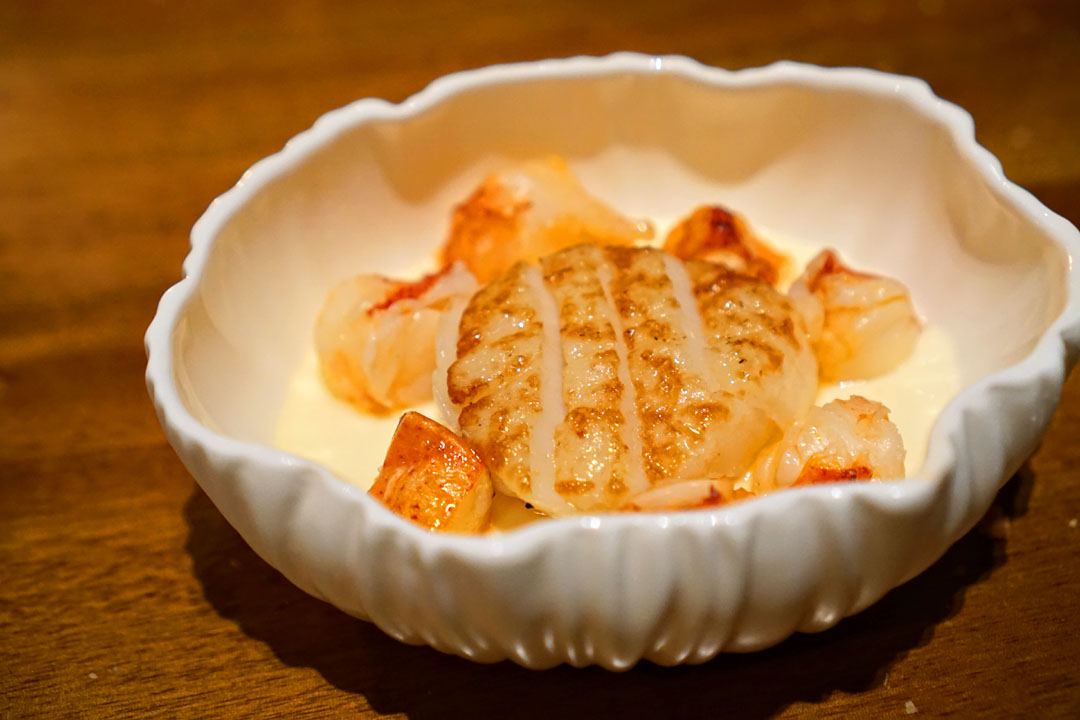 8: Maine Sea Scallop
| maine lobster, black truffle, cauliflower royale
Pictured above is my favorite course of the evening, and one of the best things I've eaten all year. I loved the marriage of slick cuts of scallop with those crunchy shards of lobster, the pair representing two different interpretations of sweet and saline. It was just a wonderful juxtaposition of tastes and textures, and I was also a big fan of the contrast from the light, creamy cauliflower and the unmistakable musk of black truffle.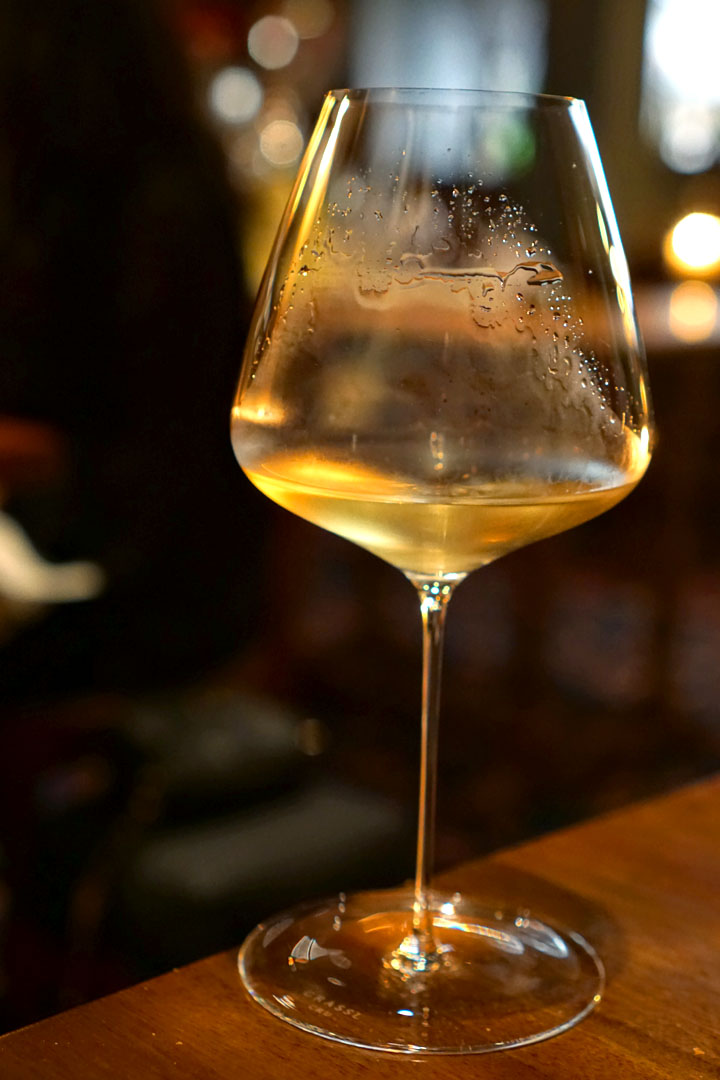 To pair with our seafood courses, we were graciously provided with complimentary pours of Chablis (unfortunately, I forgot to note which specific one). The wine smelled great, with an unusually tropical bouquet filled with banana, while the taste went in a soft, fresh direction, with more of those fruity notes undergirded by just enough minerality.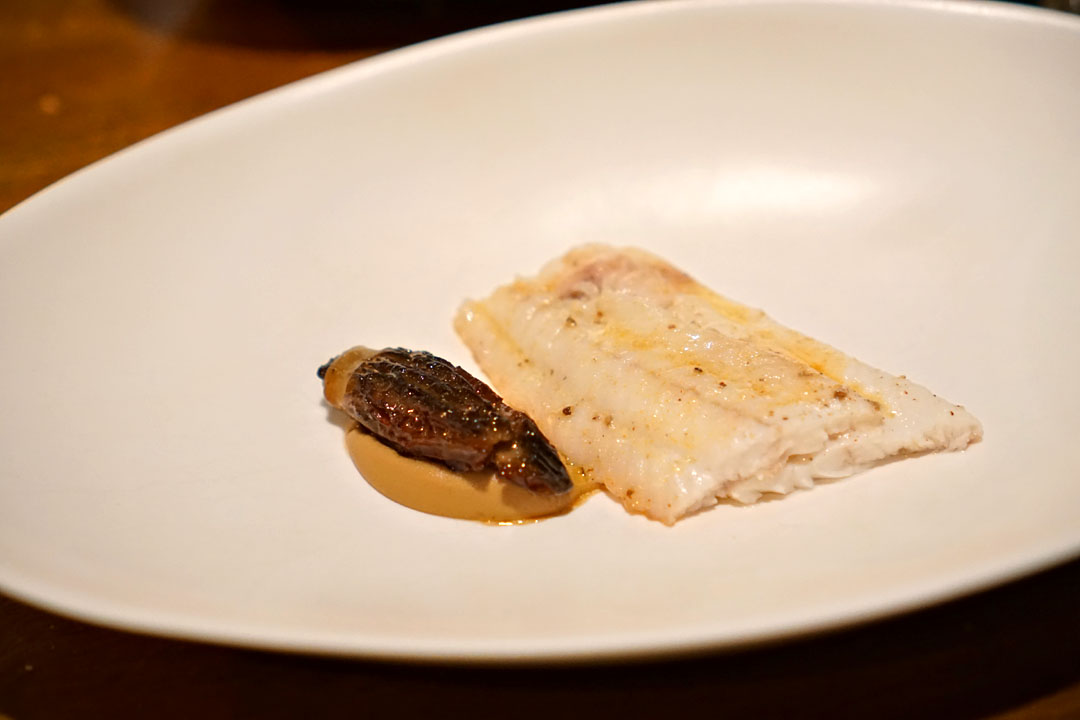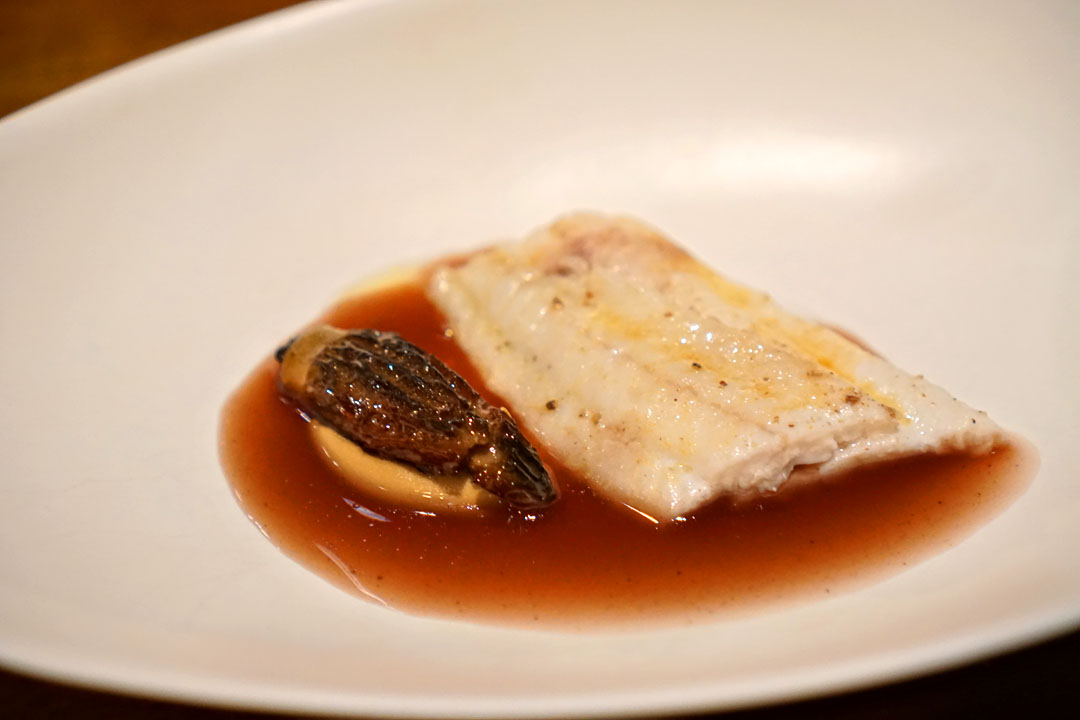 9: Dover Sole
| morel mushroom
The sole was a winner as well. Taken alone, the fish showed off a firm, substantial consistency along with a sweetly elegant taste profile. It stood up well to the concentration of the duxelles-stuffed morels (atop porcini purée) and the incredibly robust, woodsy red wine sauce. Interestingly, when everything was taken together, I actually detected a very familiar sensation of pepperoni.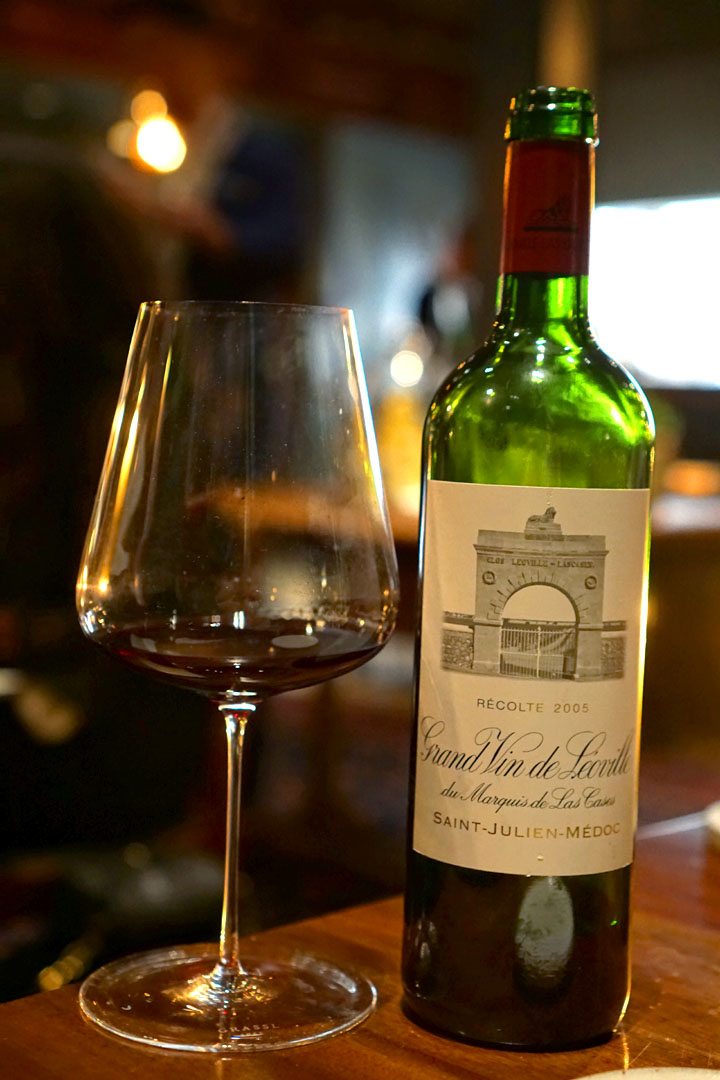 Our second bottle of the night was the
2005 Château Léoville Las Cases
, which I'd brought from home and had decanted shortly after we sat down. Initially, the Bordeaux had a decidedly meaty nose that recalled bloody steak, with some minty notes to boot, while its palate was surprisingly muted, showing restrained berries, spice, and herb. We gave the wine more time, and the bouquet began demonstrating boatloads of petrichor and wet stone. The flavors did eventually open up as well, and I started getting more bramble fruits, mint, and earth. Overall, the wine wasn't quite what I was expecting, and the presence of cork taint was even suggested.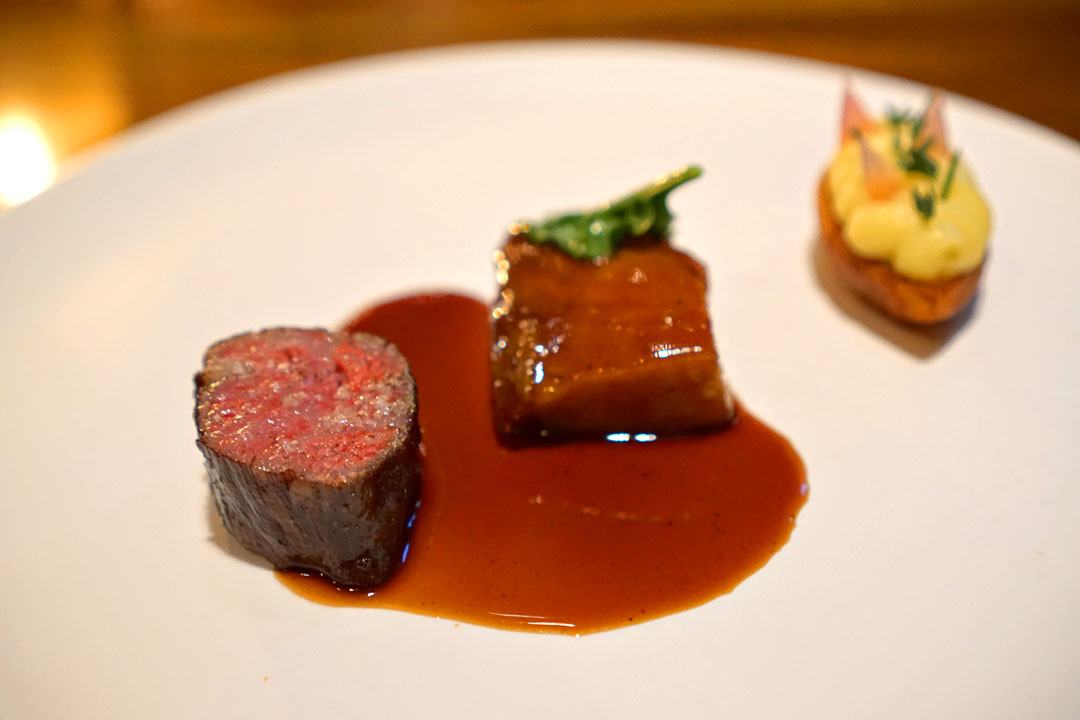 10: Japanese and American Wagyu Beef
| potato mousseline, sauce bordelaise
Our final savory course comprised two preparations of steak. The Snake River Farms ribeye cap was a prototypical representation of the style, with its fat, lean, smoke, and sear all in total balance. The Miyazaki wagyu short rib, meanwhile, was another story altogether, a near gelatinous incarnation of beef that was quite unlike anything I've had--it might've actually been
too
rich. Given the heft of the meat, something was needed for contrast, and the mousseline-topped golden potato stuffed with caramelized onion fit the bill nicely thanks to its delightfully onion-y zing and smoke.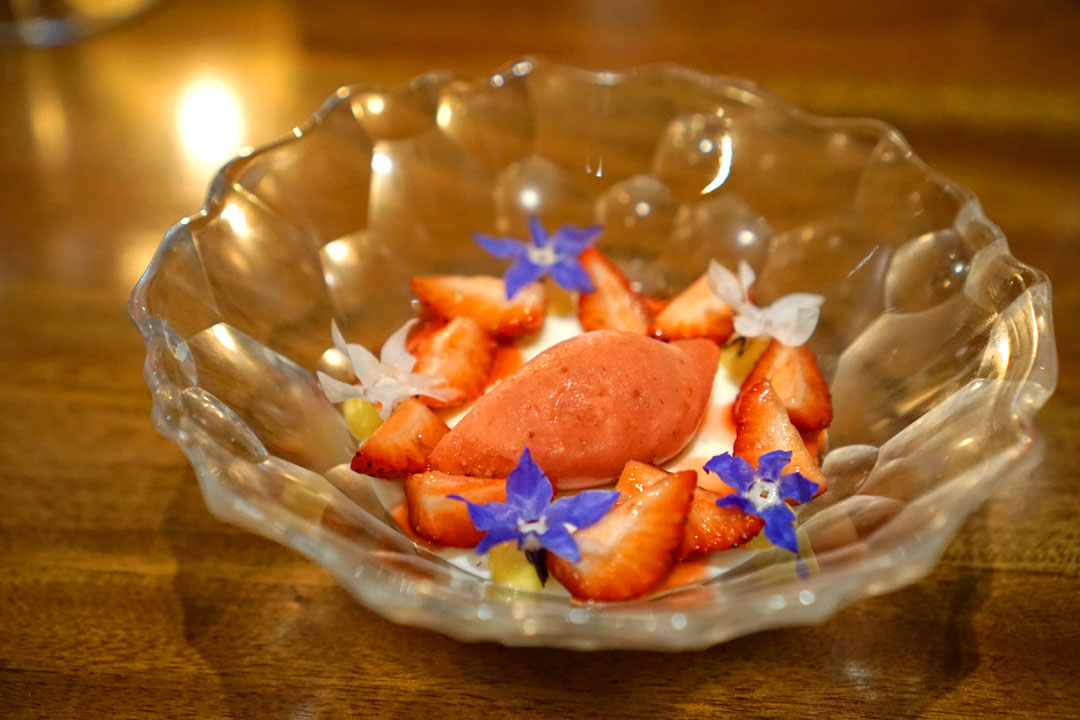 11: Harry's Berries Mara de Bois
| makrut lime, passion fruit
We then moved into desserts, which of course are the work of Margarita Manzke (who, coincidentally, was actually just deemed an "Outstanding Pastry Chef" finalist by James Beard). There was a spot-on interplay here between the tart, juicy nature of the strawberries and the herby lime panna cotta, and it all made for a welcomed change of pace given the aggressive flavors we'd been enjoying throughout the evening.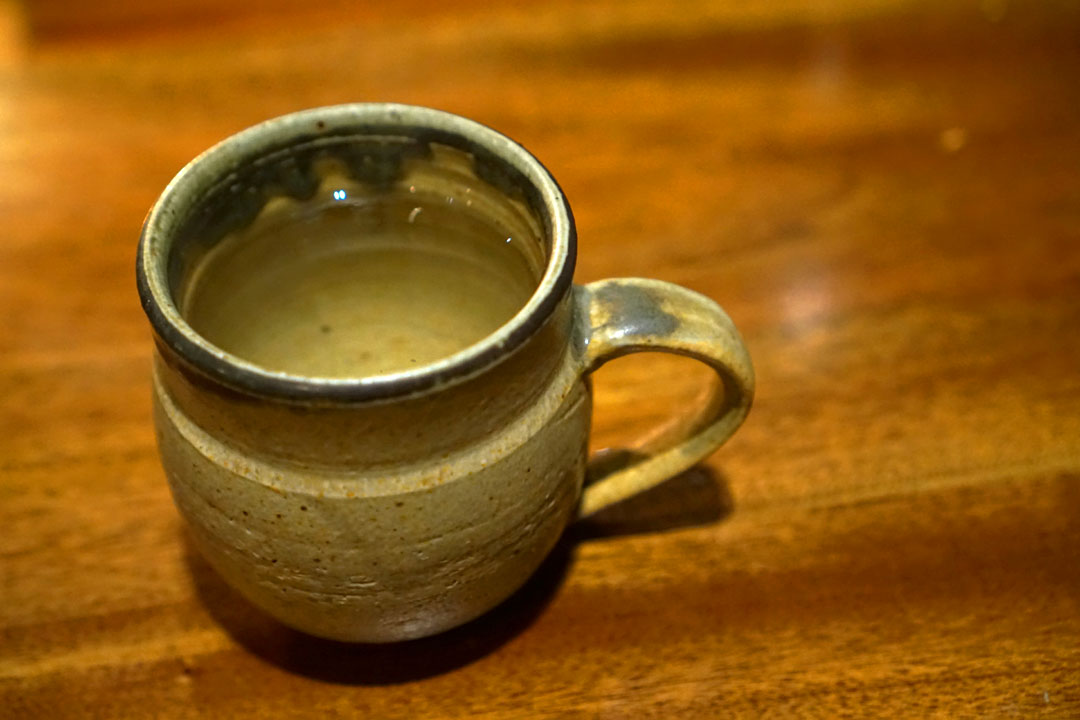 A mint infusion drank hot and homey, and actually served as a bit of a palate cleanser.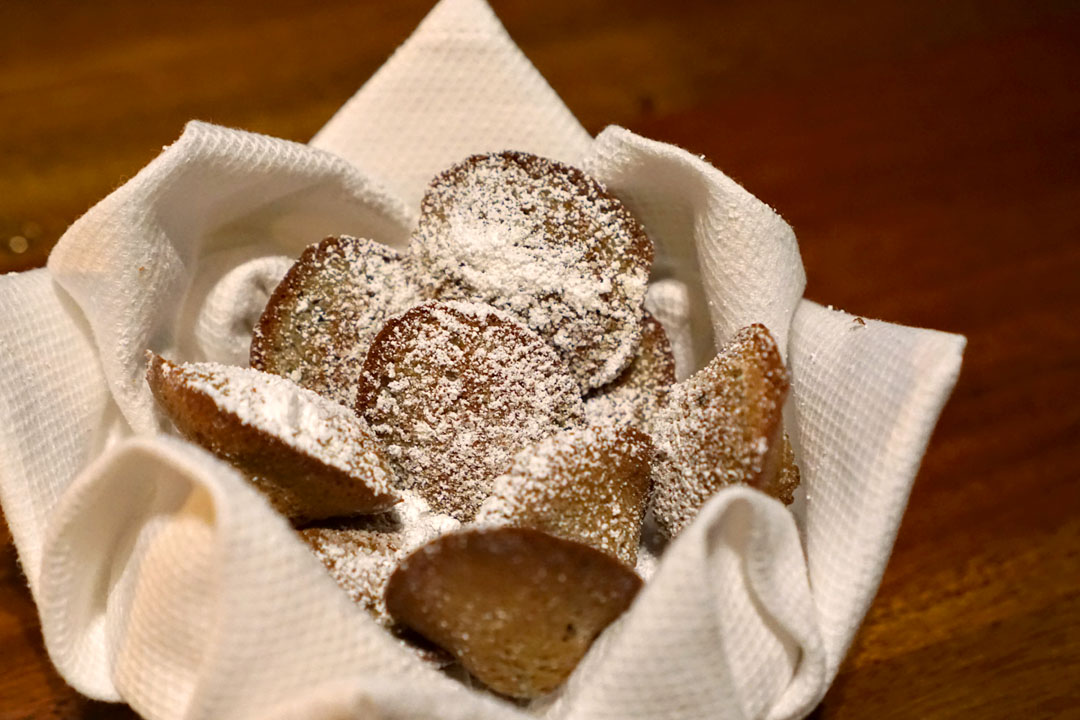 Next came the mignardise portion of the dinner, though I would've liked to have seen an additional composed dessert. In any case, black sesame madeleines did a great job conveying the sweet, nutty character of the benne seeds, and I very much liked their slightly crisp edges.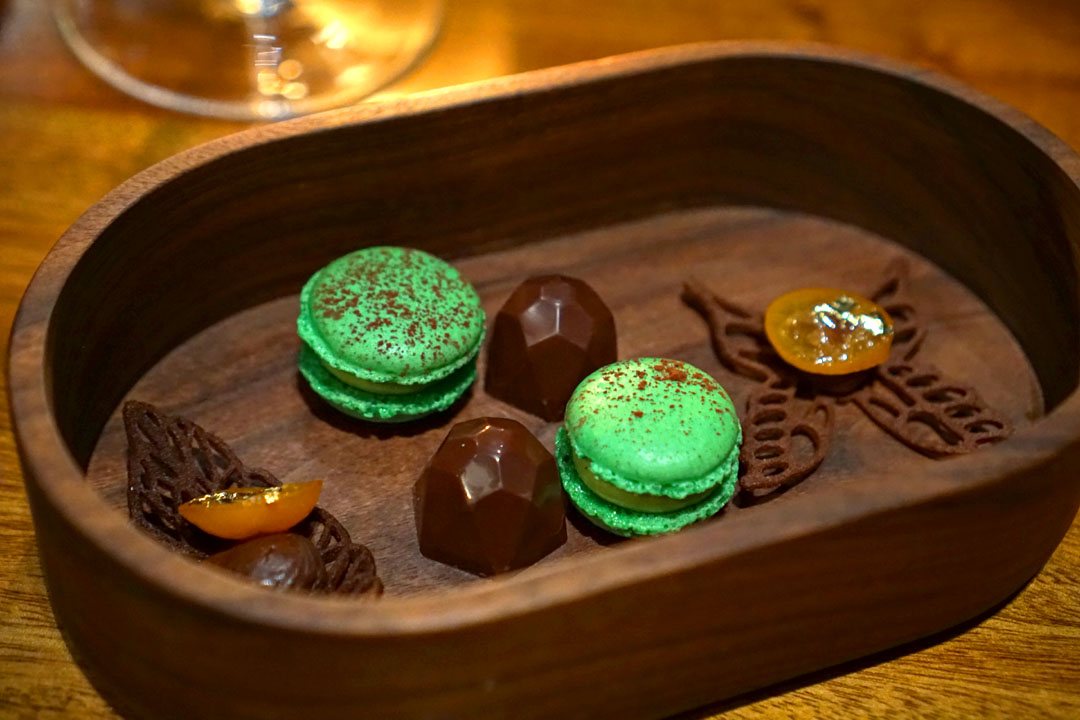 Vibrantly-hued white chocolate-matcha macarons effectively showcased the green tea's bitterness, set against the creaminess of cacao. Meanwhile, the cassis chocolates were brazenly fruity, almost boozy in fact, and the kumquat chocolates demonstrated true-to-life flavors of the citrus.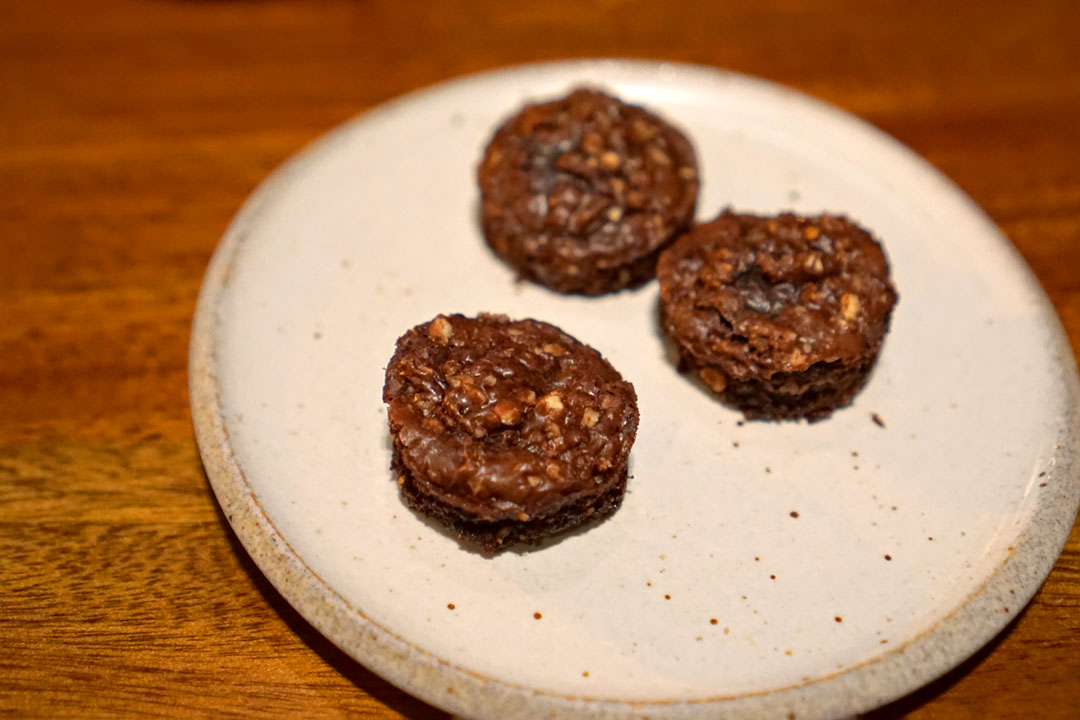 We were also given some chocolates that were left unidentified on the menu. They had a lovely nuttiness to them, and their texture was a nice balance of both chewy and crunchy.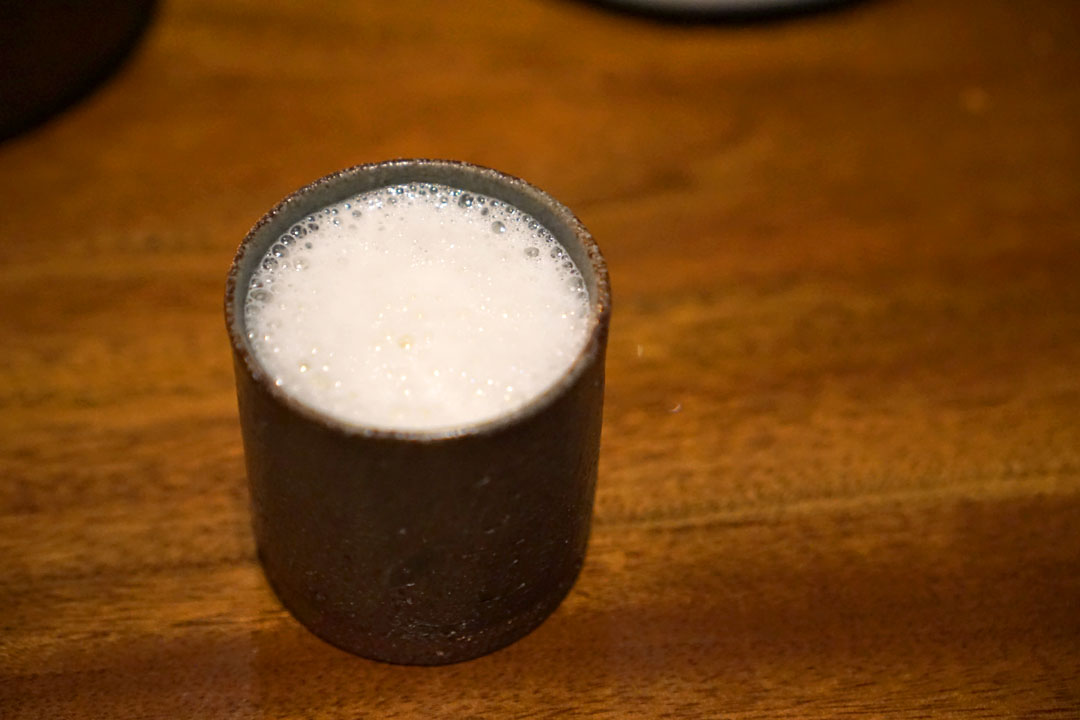 A small cup of hazelnut hot chocolate remined me of the Nesquik of my childhood, but taken up a big notch in terms of depth and concentration. I could've used a whole mug of the stuff.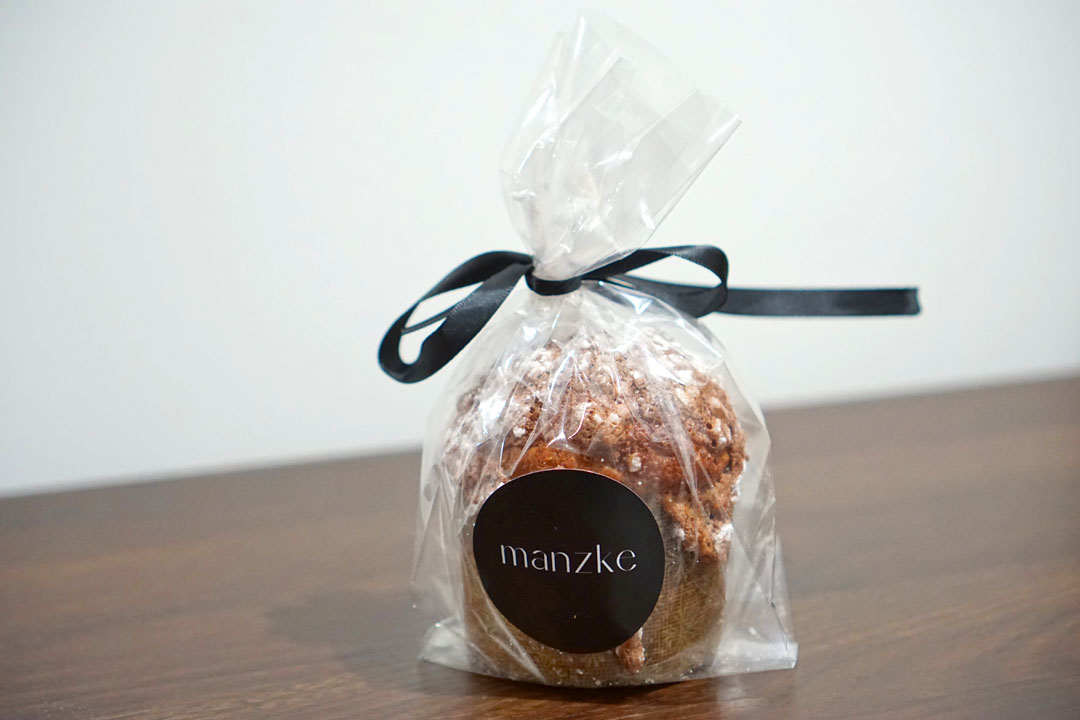 Chocolate brioche served as a final parting gift, one that I ate the following day.
I've been having Manzke's food since the late 2000s, and I feel pretty confident saying that he's doing the best cooking of his career here. If you've had the back room tasting menus at Republique, it's sort of like that, but elevated. The restaurant feels like a culmination of the Chef's time spent in the kitchen, blending his French background with just enough of an Angeleno touch. The service was also at a level consistent with the cuisine--combining just the right about of friendliness with formality--and overall, I do look forward to Manzke taking its place among the pantheon of LA fine dining spots.