n/soto (Los Angeles, CA)
n/soto Restaurant
4566 W Washington Blvd, Los Angeles, CA 90016
323.879.9455
www.n-soto.com
Thu 04/21/2022, 08:30p-10:45p

Last September, I attended a
preview dinner
at the Japanese American Cultural and Community Center for n/soto, the new izakaya project from
n/naka
's Niki Nakayama and Carole Iida. The pop-up series was supposed to run until November, but ended up continuing through early this year, when it ceased so that the team could focus on n/soto proper. The restaurant thus grand-opened on April 16th, with Yoji Tajima still at the helm (see my
previous post
for the Chef's background).

n/soto takes over the old Mid-City home of James Kim's Ondal 2, a Korean eatery that'd been at the location since 2006, but closed in fall 2020. Inside, things have been thoroughly reworked by the team at
Bells & Whistles
(
Broken Spanish
,
Jeune et Jolie
), and there's also a patio seating area that should open in the near future.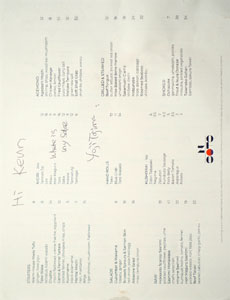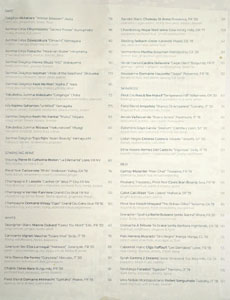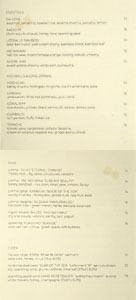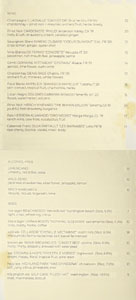 Pictured above is n/soto's menu, which is pretty broad-based and features many of your classic izakaya staples as well a number of more untraditional dishes. Beverage-wise, think wines, sakes, beers, ciders, and cocktails by Jason Lee. Click for larger versions.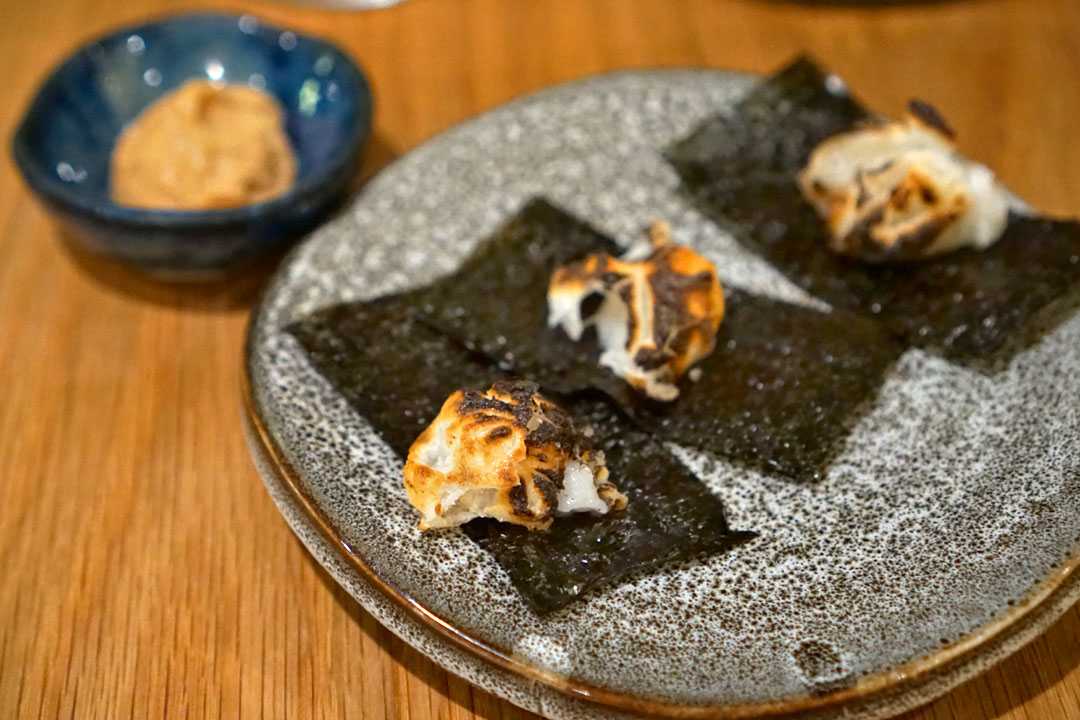 Mentai Mochi [$7.00]
| nori, mentaiko
The meal began with a presentation of sweet, chewy, mentaiko-boosted mochi. The rice cakes paired easily with the familiar taste of the seaweed, but the star here was the accompanying garbanzo-miso dip, which possessed a spicy, funky intensity with an almost cheese-like richness.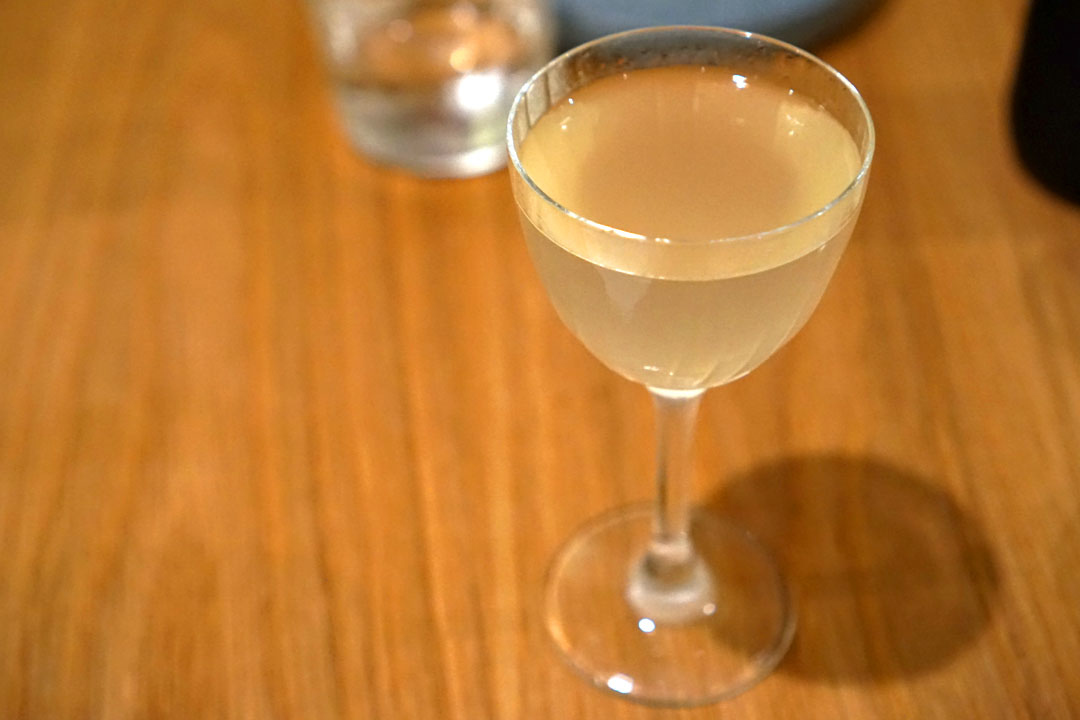 Literally Bamboo [$14.00]
| sake 'bermutto', pale cream sherry, bamboo shoot, bamboo leaf
My first drink was this riff on the classic Bamboo cocktail, which swapped out the standard dry vermouth for a version made from sake. A fitting apéritif, it showed off a deft sweet-savory interplay leading to a botanical, ricey finish.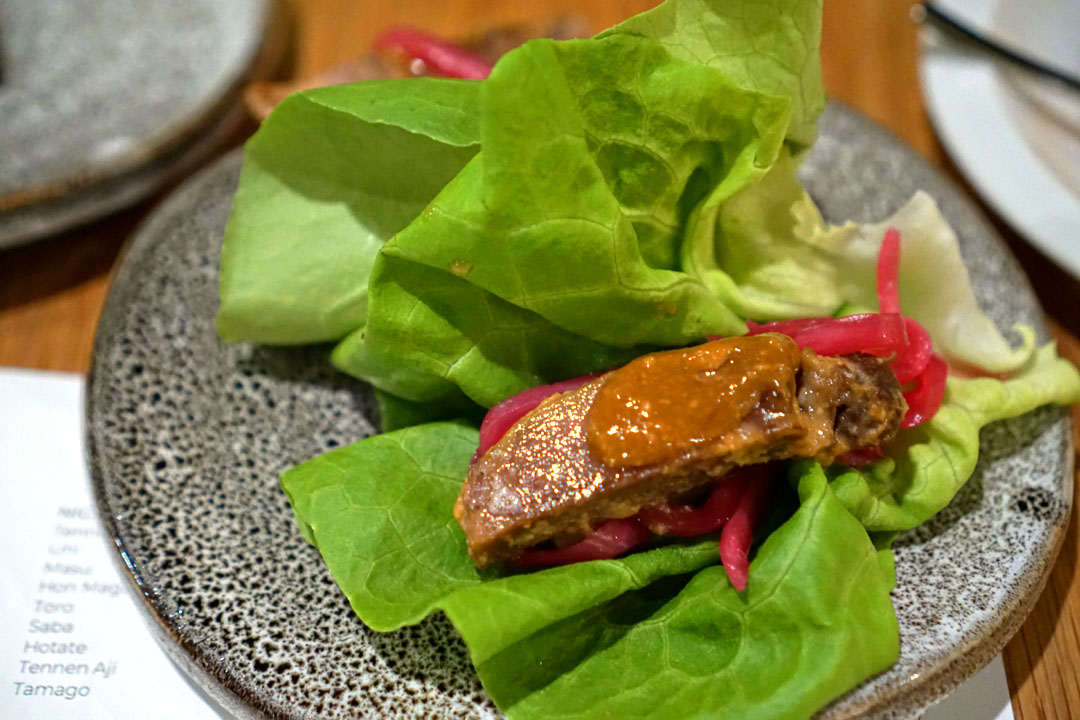 Beef Tongue [$12.00]
| butter lettuce, pickled red onion
Gyutan
ate super tender, and had a sweetness to it that matched up nicely with the tangy pickled onions and silky leaves of lettuce. A crowd pleaser.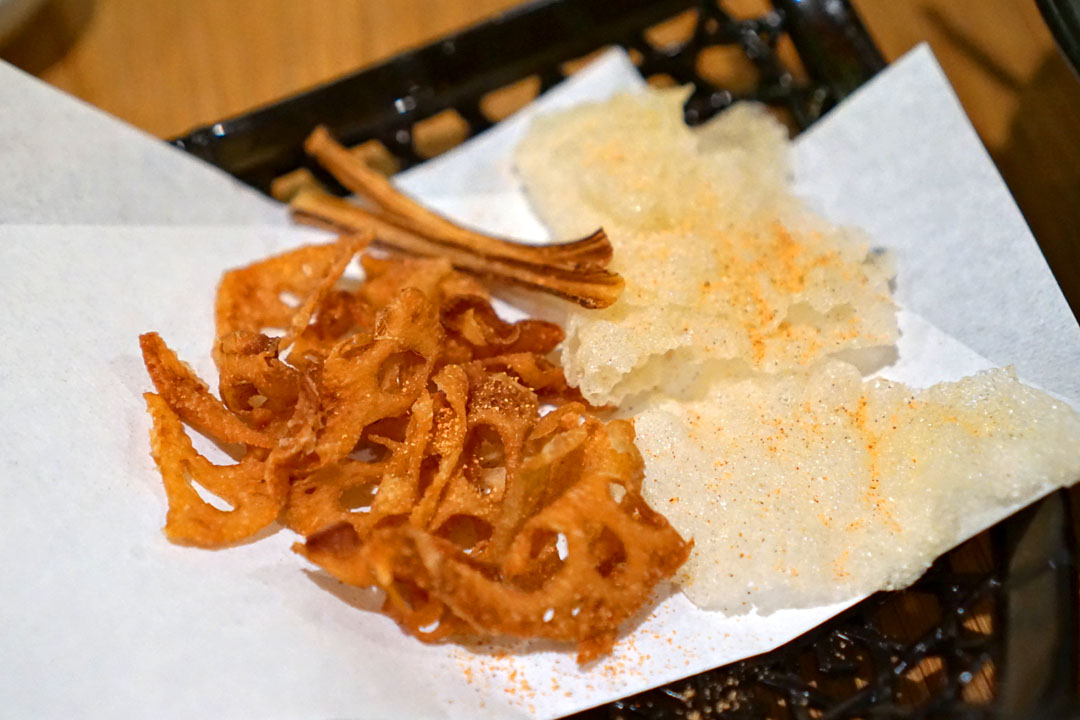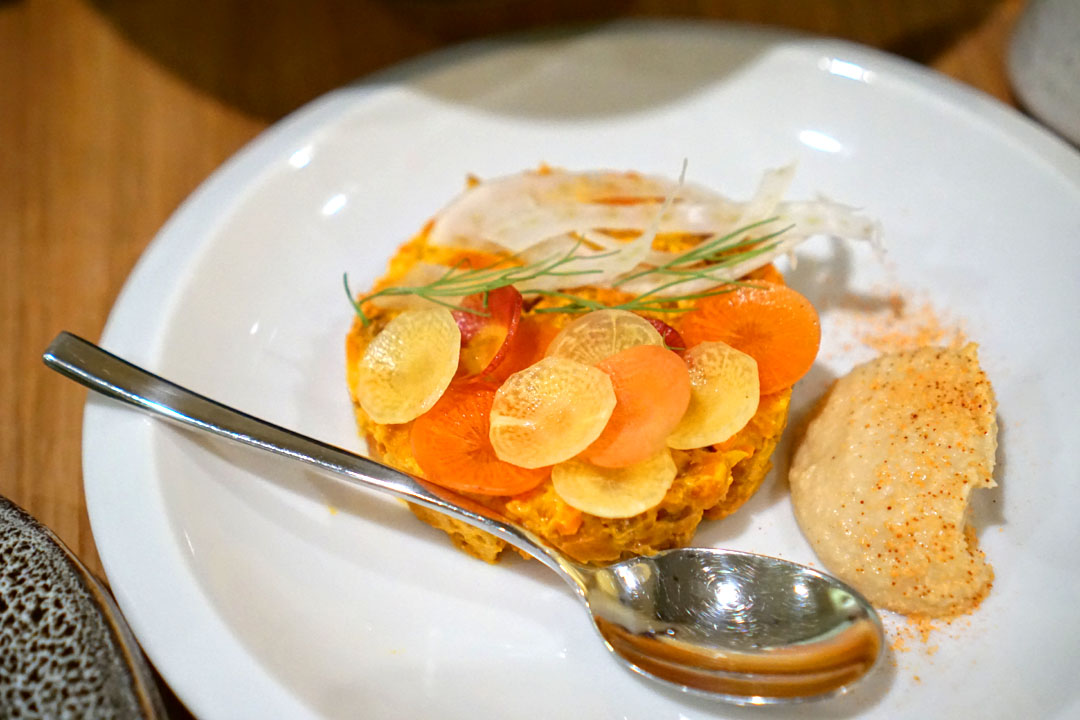 Carrot & Fennel Tartare [$12.00]
| pickled fennel, chickpea miso, chips
This was certainly one of the more intriguing tartares I've had, and did a great job conveying the vegetal sweetness of carrot, juxtaposed against the fennel's zing. However, the dish really came together when the accompanying chickpea miso (the same as above?) was mixed in, since the condiment really amped up the depth and umami factor. I quite liked the crunch imparted by the various fried bits on the side, too.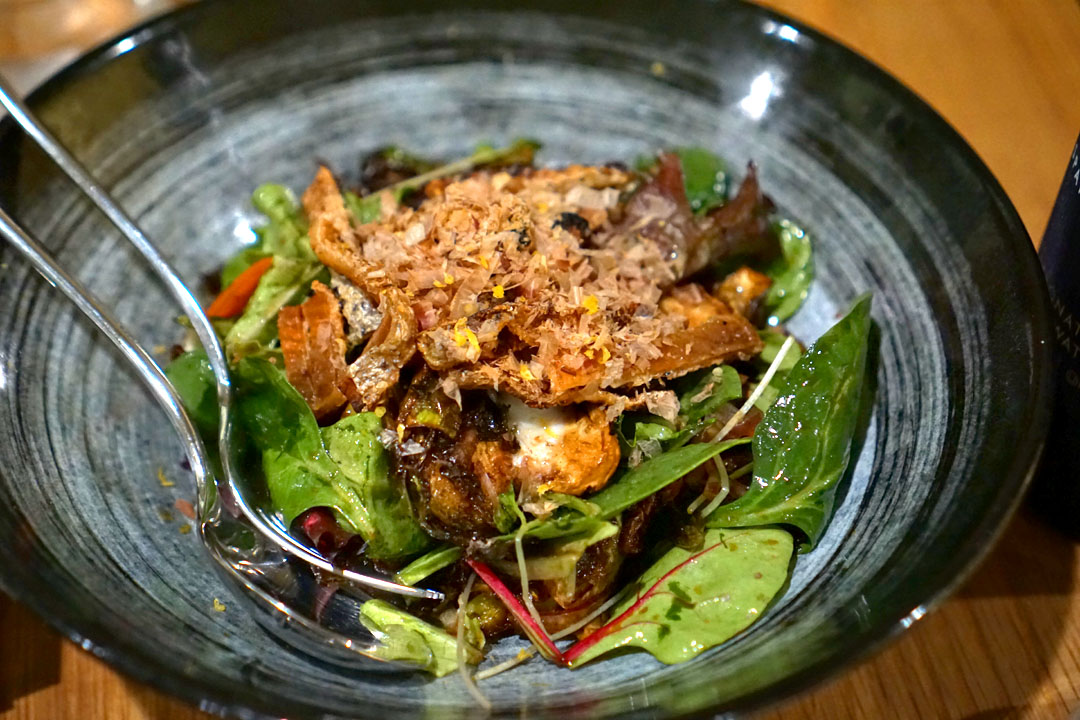 Brussels Sprouts & Salmon Skin [$16.00]
| red onion, poached egg
I'm a sucker for Brussels, and this was one of the best presentations of the veggie I've had in recent times. I was a fan of the sprouts' robust smoke and savor, and how they meshed with the tangy onions and blast of brine from the salmon skin, all while a runny egg helped bind everything together.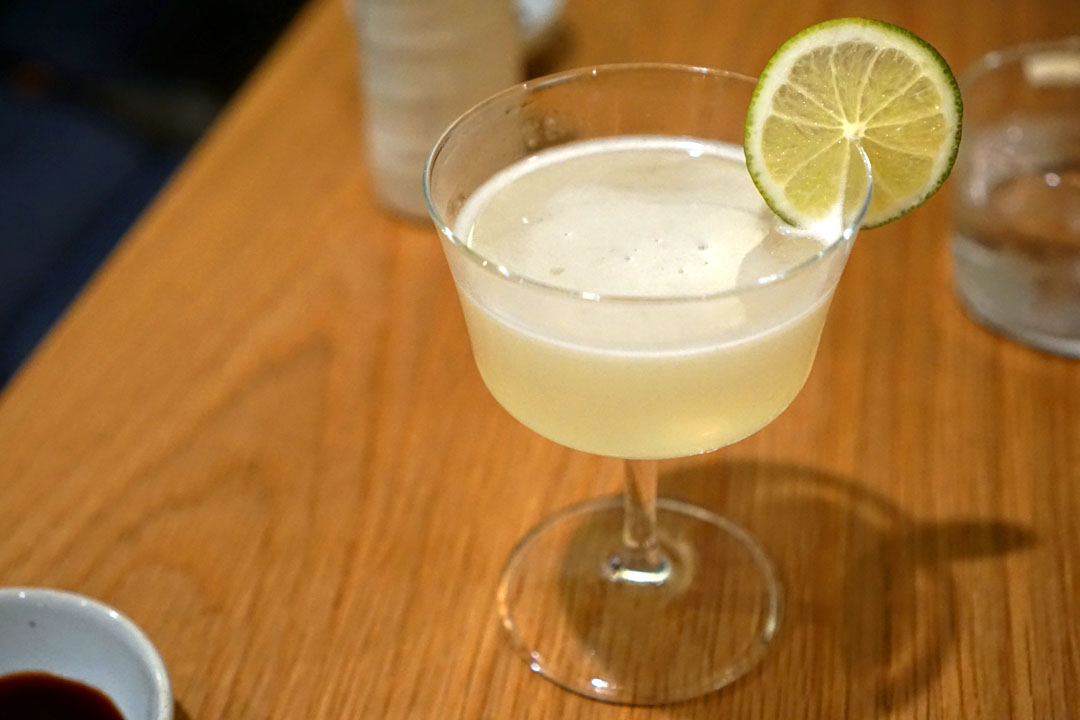 Radio 55 [$16.00]
| plum soju, kumquat, honey, lime, sparkling sake
This next cocktail was on the quaffable side thanks to its balance of honeyed and citrus flavors, all rendered in a fizzy package that went down easy.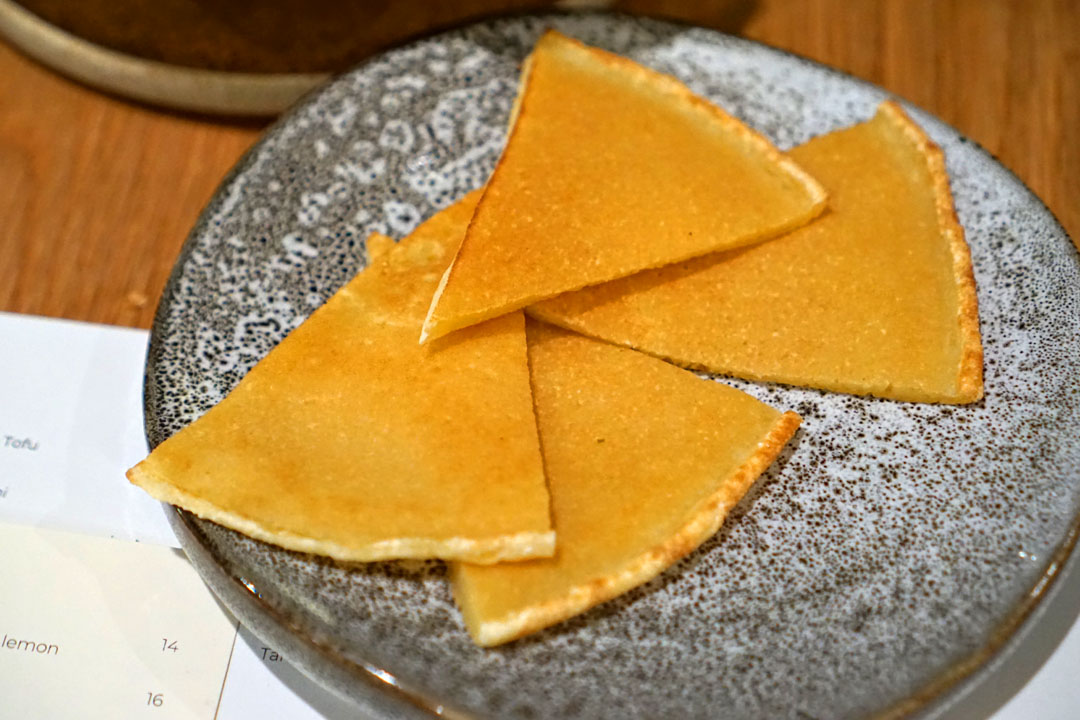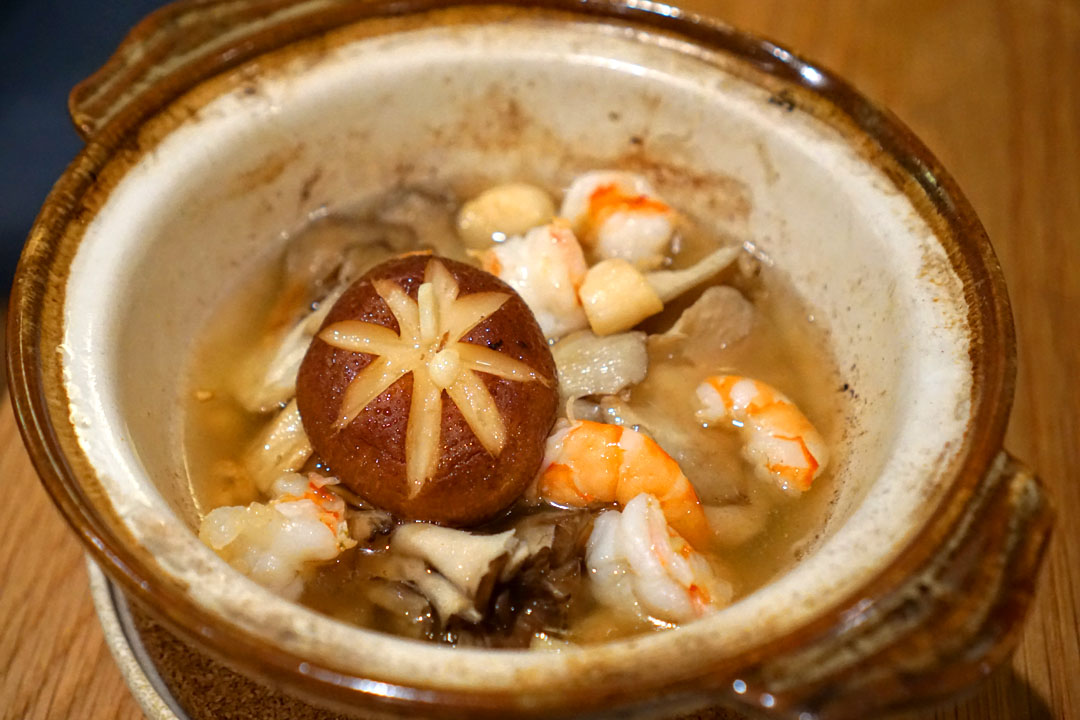 Ahijo [$15.00]
| tiger shrimp, mushroom, flatbread
This was my first time having this Japanese take on the Spanish staple of
gambas al ajillo
, which is a shame, since it was a standout. The shrimp were perfectly textured, with a delectable brine, while the mushrooms represented earthy, woodsy flavors in an array of textures, but the crux of the dish was that garlicky, buttery oil. Said oil also worked as a dip for the included flatbread, which was just so slightly crisp, with a mochi-like chew.
Hokkaido Scallop Sashimi [$18.00]
| pickled cauliflower, pepitas, ume
Here we had perhaps the most beautiful presentation of scallop sashimi I've encountered. The
hotate
ate clean and sweet, but what made this special was how they married with the nuttiness of those pumpkin seeds, all while the veggies imparted a necessary levity.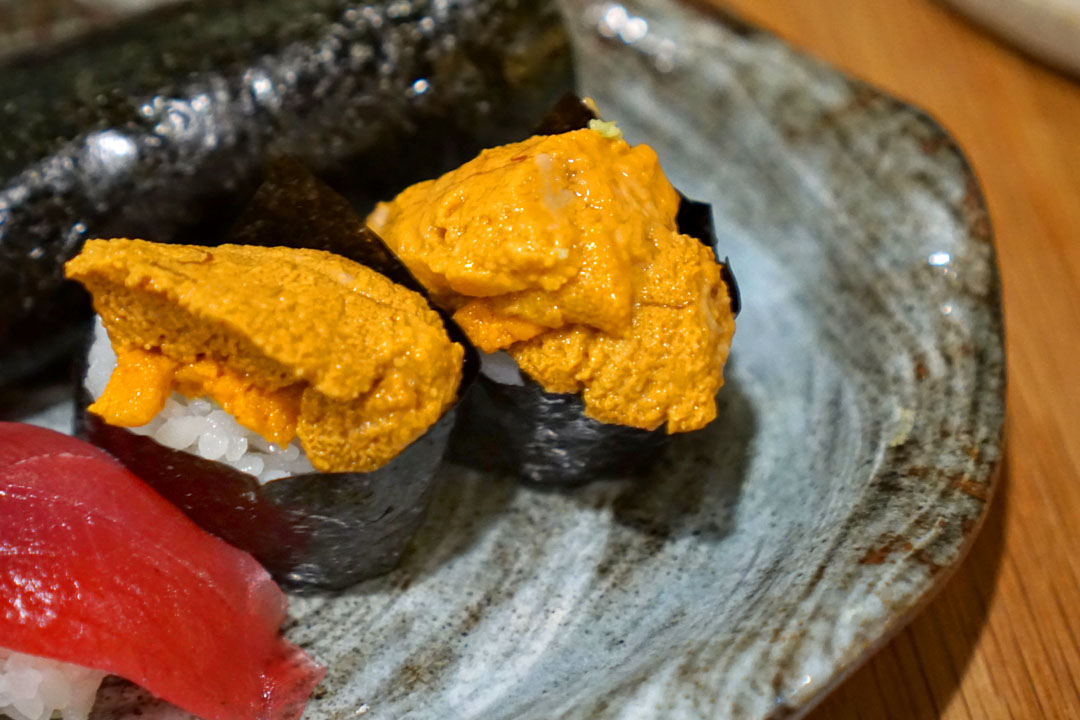 Uni [$16.00]
At this point, we got into a few bites of sushi. Sea urchin from Santa Barbara was especially substantial tonight, with a concentrated sweetness that really called for the nori to even things out.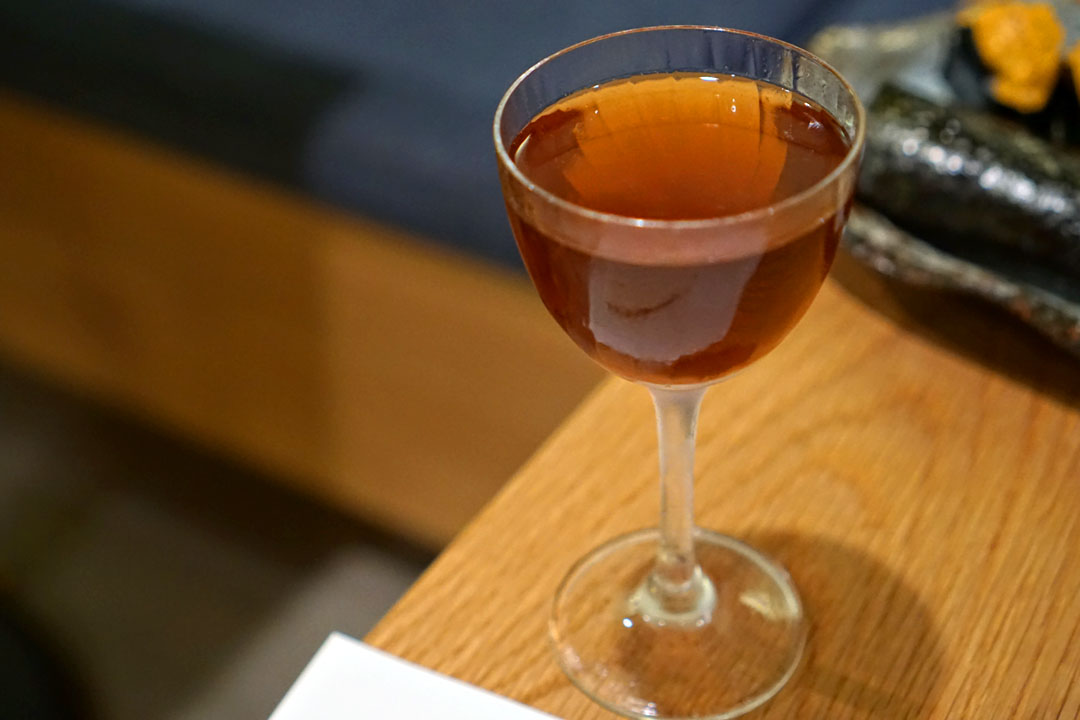 Ine Mankai [$15.00]
| red rice sake, mommenpop orange, oolong, kokuto umeshu
My next cocktail was also a winner, and was actually a bit reminiscent of a Manhattan due to its potency and strong notes of dark fruits, which led to a ricey, slightly savory finish.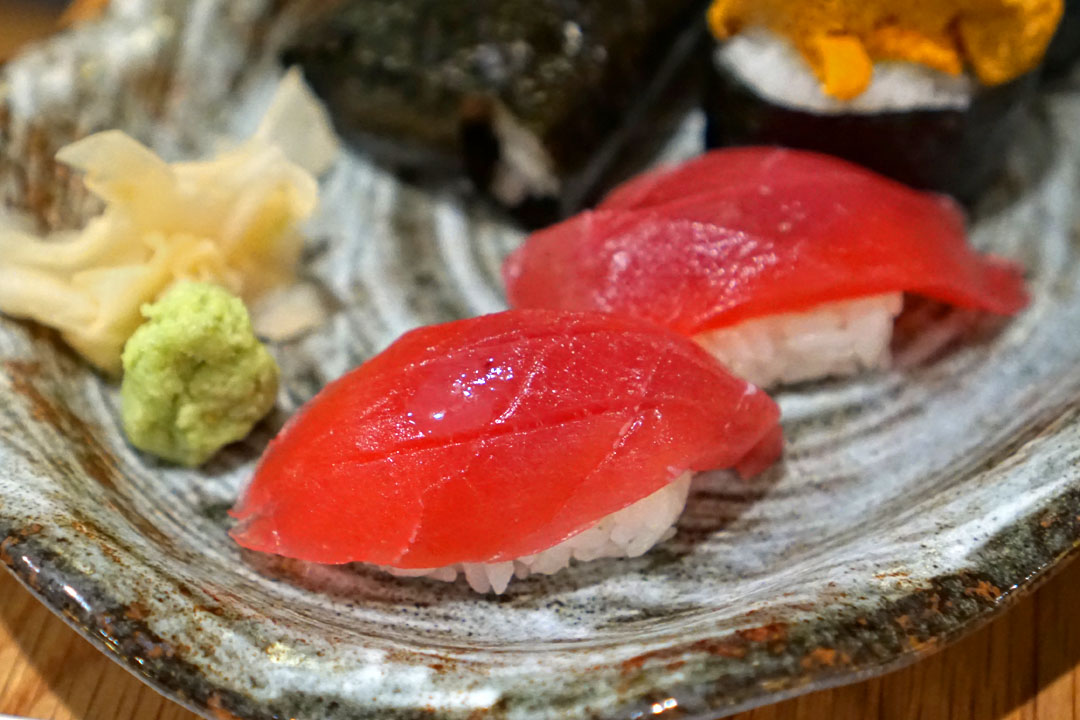 Hon Maguro [$9.00]
Ruby-hued slices of bluefin tuna were easy on the eyes, and also showcased an elegant flavor profile that took well to a dab of wasabi.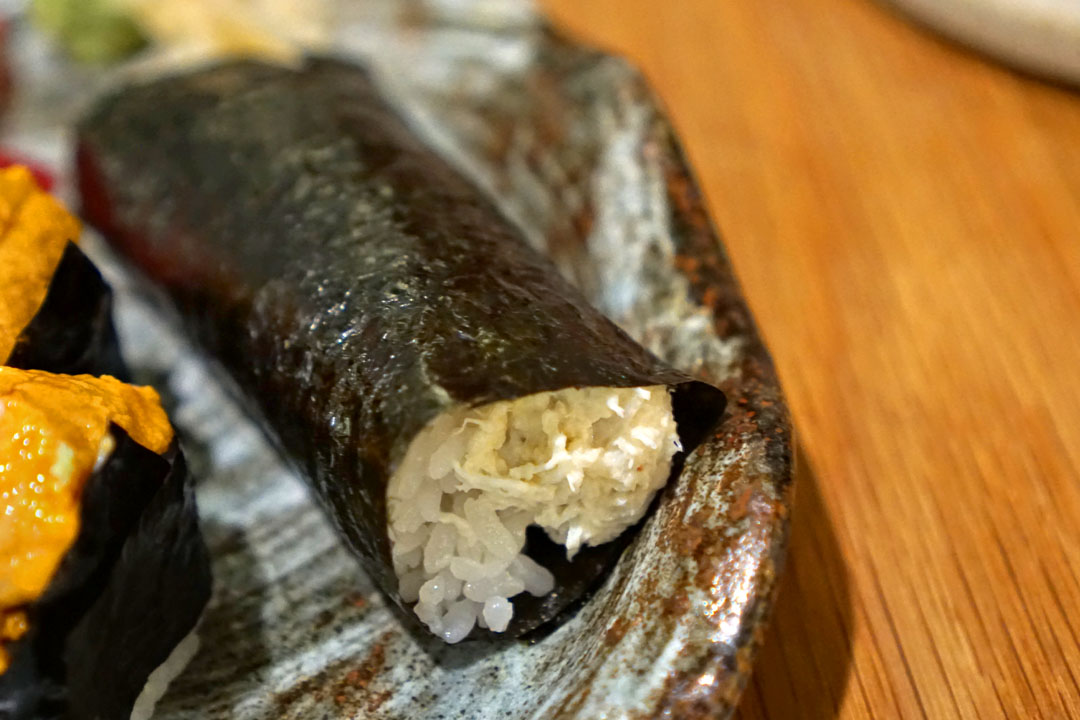 Blue Crab [$11.00]
The ubiquitous blue crab hand roll was classic at its core, blending sweet and saline in creamy fashion, with rice and nori serving as the requisite counterpoints.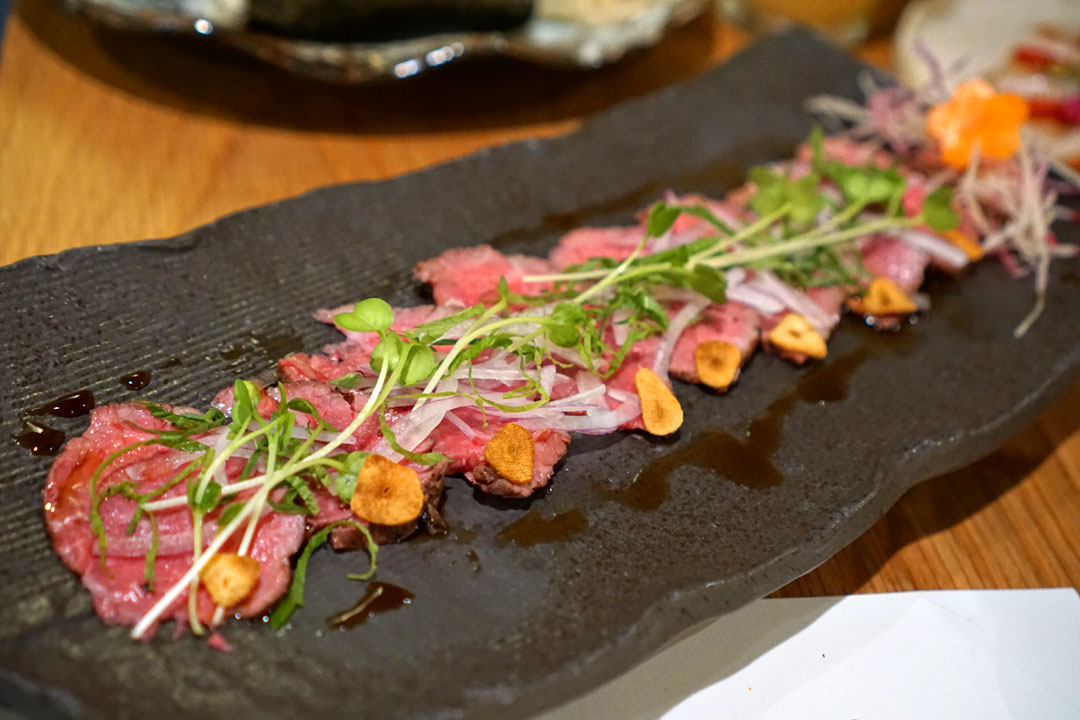 Beef Tataki [$22.00]
| seared zabuton, crispy garlic, ponzu
Lightly-seared slices of beef ate very familiarly, the meat combining effortlessly with savory garlic chips and the zestiness of raw onions and greens.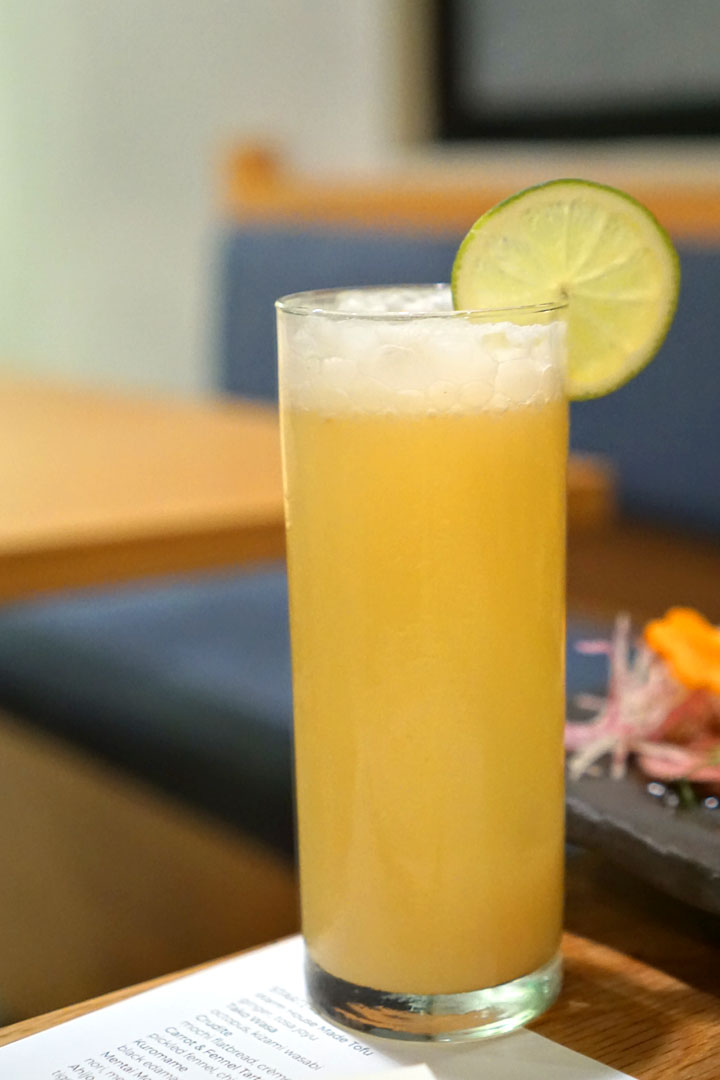 Tepache [$15.00]
| kimoto sake, cardamaro, cellador tepache, cream of coconut, roasted koji, ginger-ponzu shrub
Our first long cocktail displayed a healthy amount of tropical fruit, but there was a surprising complexity, herby spice, and ricey depth behind it that I was rather fond of.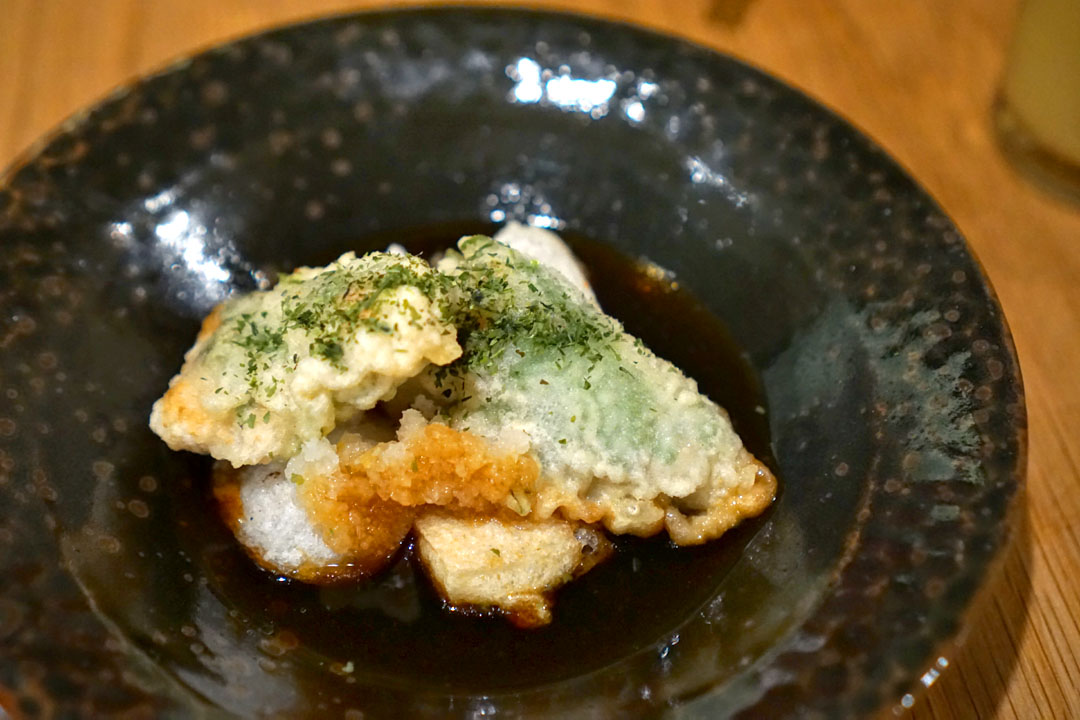 Agedashi Mochi [$12.00]
| shrimp, shiso, wood ear mushrooms
Mochi balls demonstrated a deft balance of chewy and fried textures, but even more satisfying were the shrimp and wood ear fritters, which represented a lovely mélange of tastes and textures. I could've easily popped a few more of them.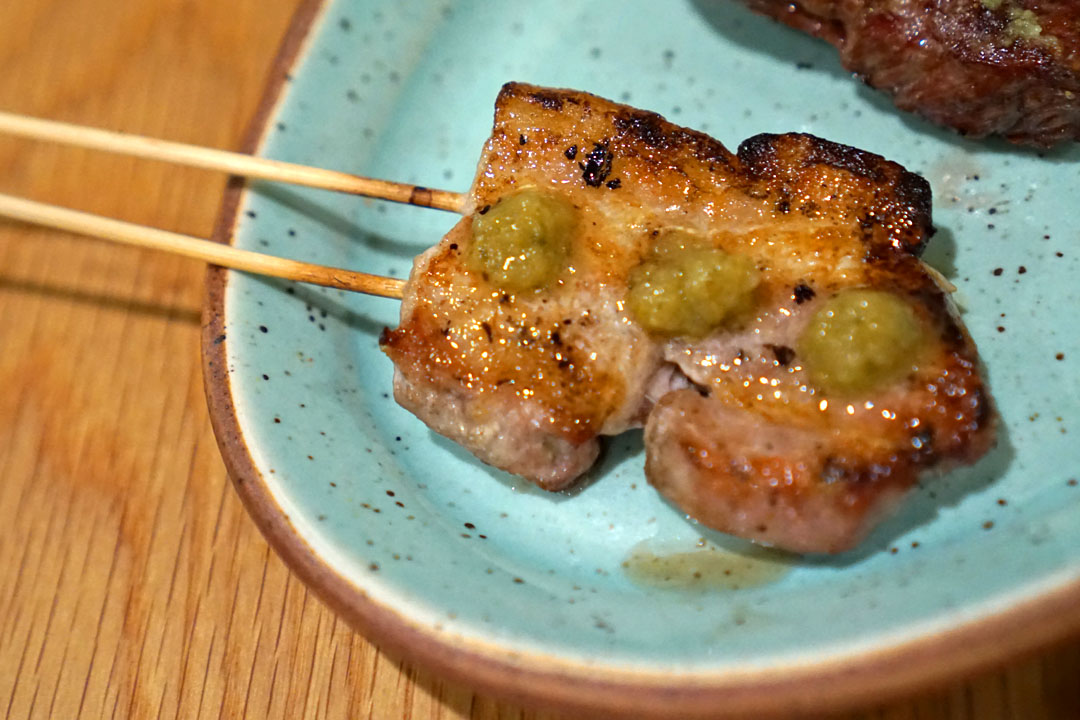 Pork Belly [$5.00]
We now got into the skewers portion of our meal. I was a fan of the
butabara
's charred, crispy edges and how the meat's smoky, fatty flavors melded with the unmistakable bite of
yuzukosho
.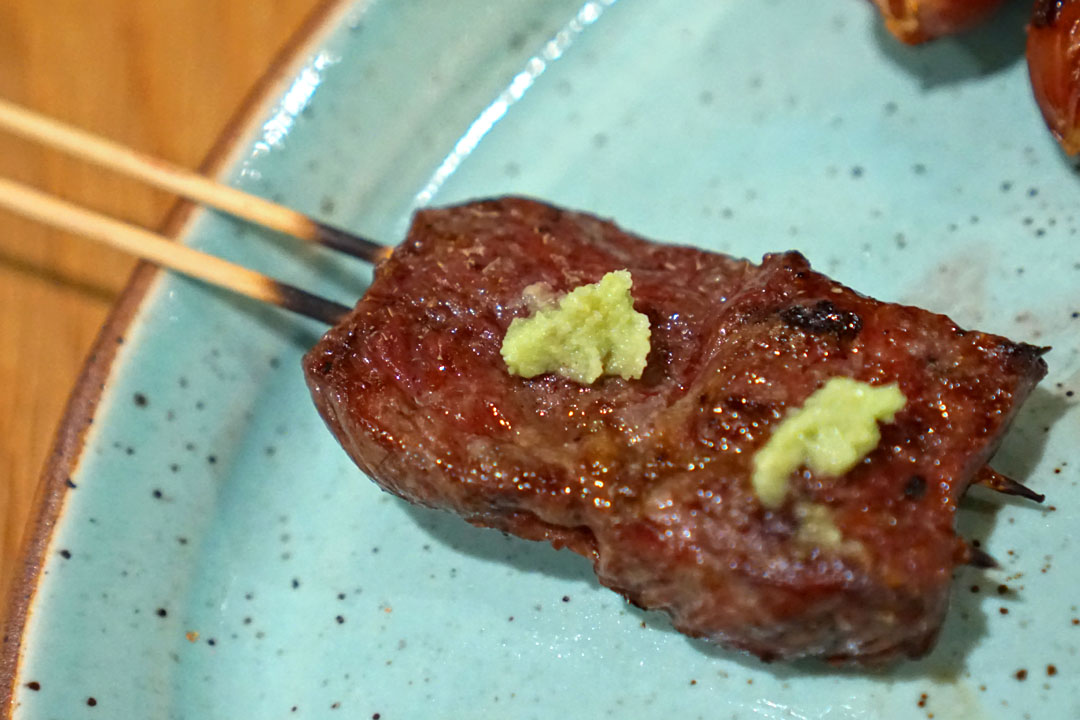 Zabuton [$7.00]
Denver cut steak had a tender, satisfying bite, while its full-throated beefiness worked hand-in-hand with the burn of that wasabi.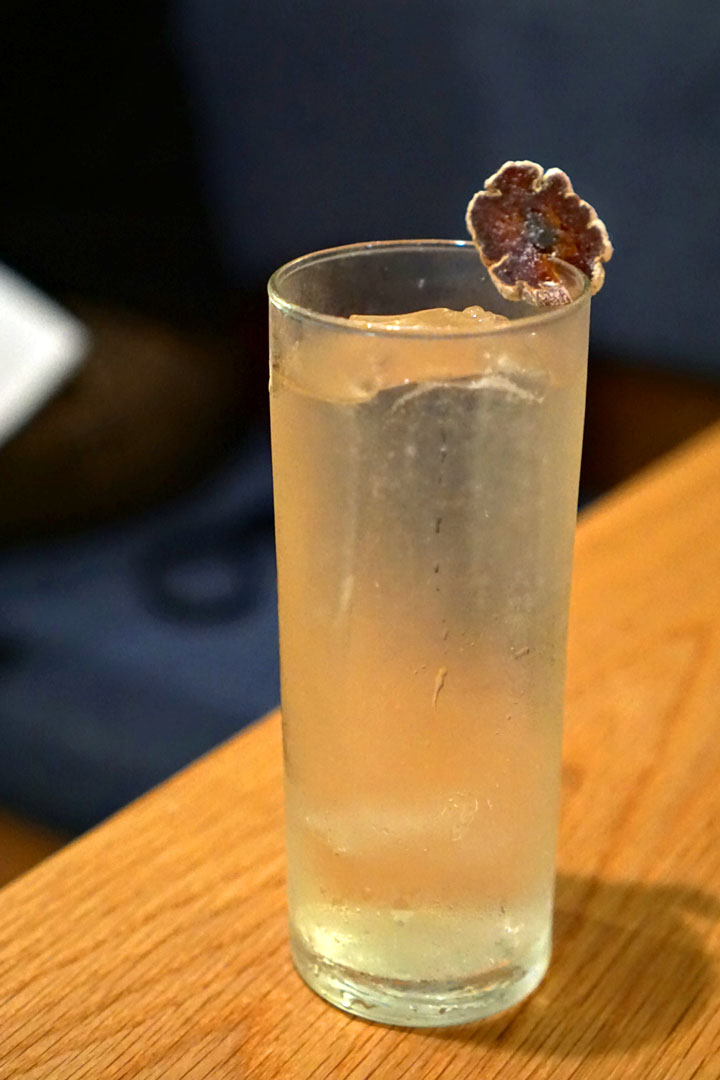 Hoshigaki [$14.00]
| barley shochu, hoshigaki, mugicha, cocchi americano, soda
This cocktail was probably the most pleasantly surprising. What struck me was the drink's taste of bubble gum--but with a bitter edge--and its overarching notes of cinnamon spice.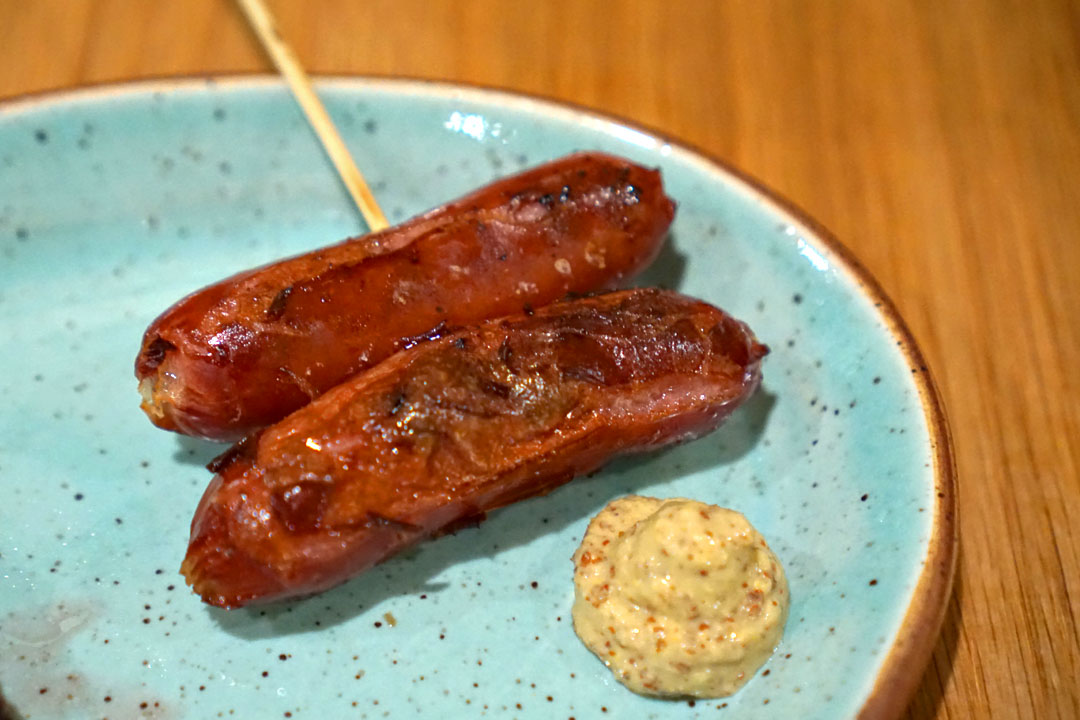 Kurobuta Sausage [$4.50]
I have a hard time turning down tubed meat, and was this was a prime example. I loved the sausage's smoke and snap, and its immensely savory, succulent insides matched up like clockwork with the kick of that mustard.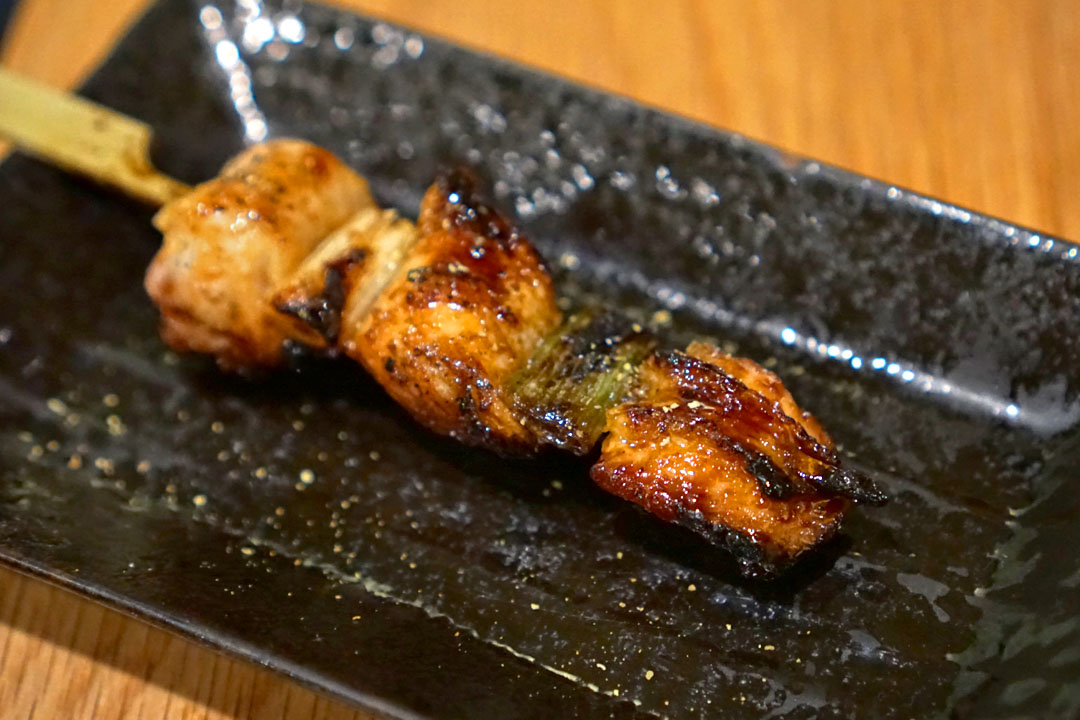 Negima [$3.50]
Chicken thigh was juicier than most, and ate smoky and savory, with a welcomed touch of astringency from the charred onion.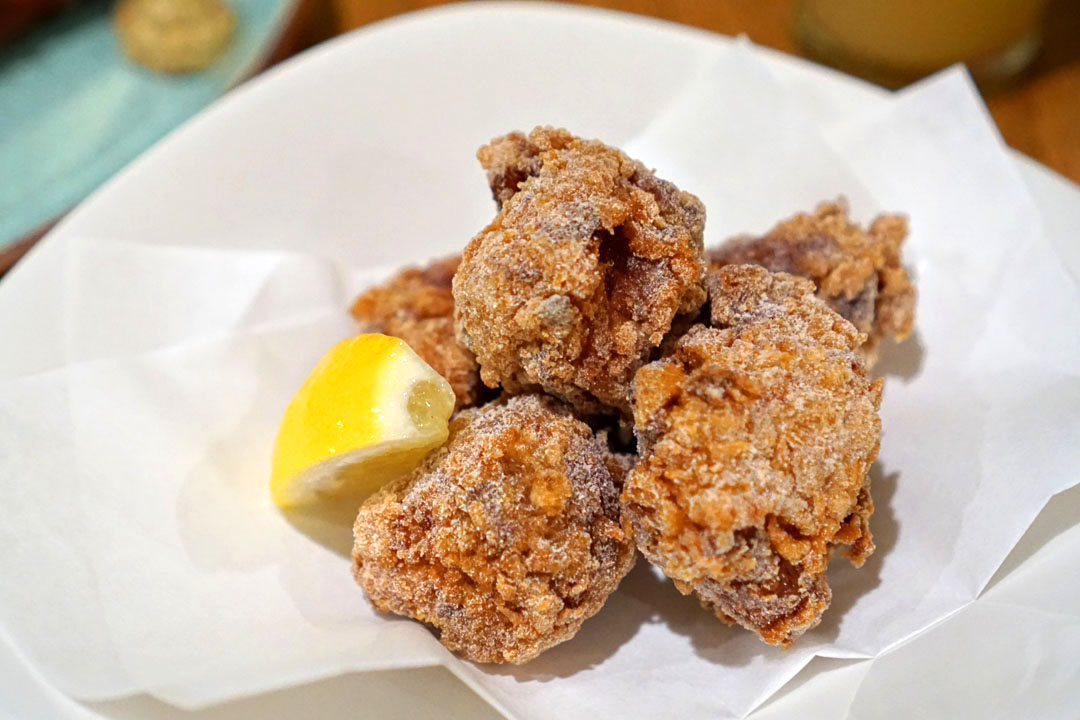 Chicken Karaage [$8.00]
| panko, lemon
The fried chicken was much more delicate than most I've had, I'm assuming due to its panko coating and more restrained marinade. Like with the thigh above, the bird was also quite juicy, and really opened up with a squirt of lemon.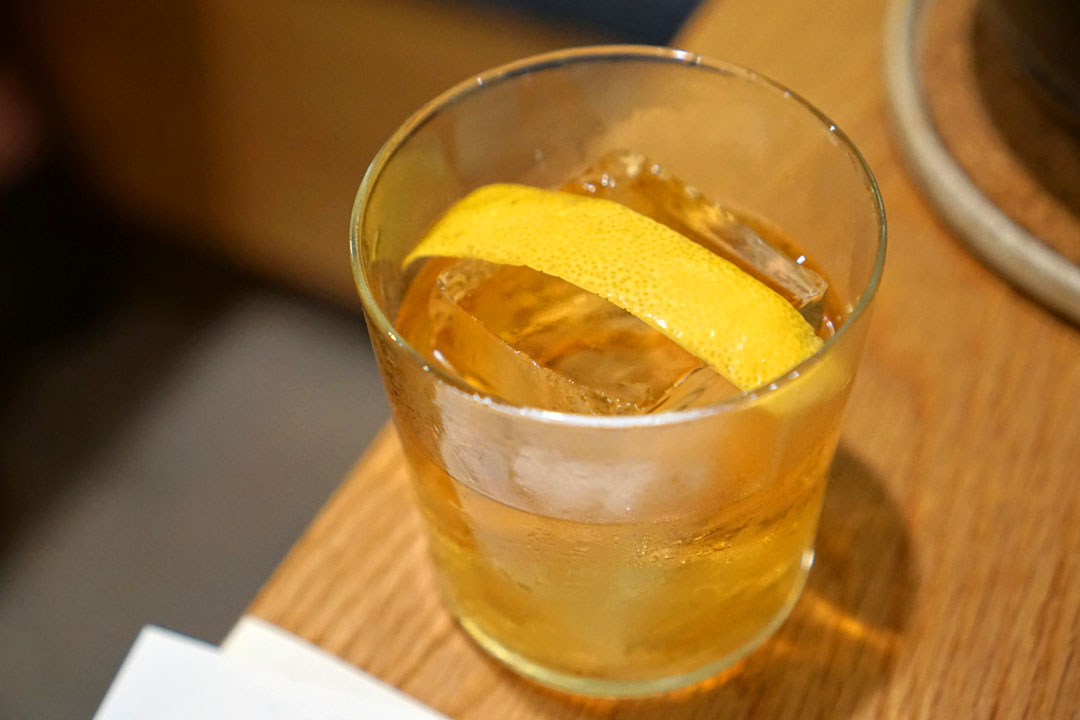 Amere-Imo [$14.00]
| sweet potato shochu, white port, quinquina
My penultimate cocktail was the heftiest of the bunch, boasting a bittersweet, oxidative character and the kick of shochu on the back end.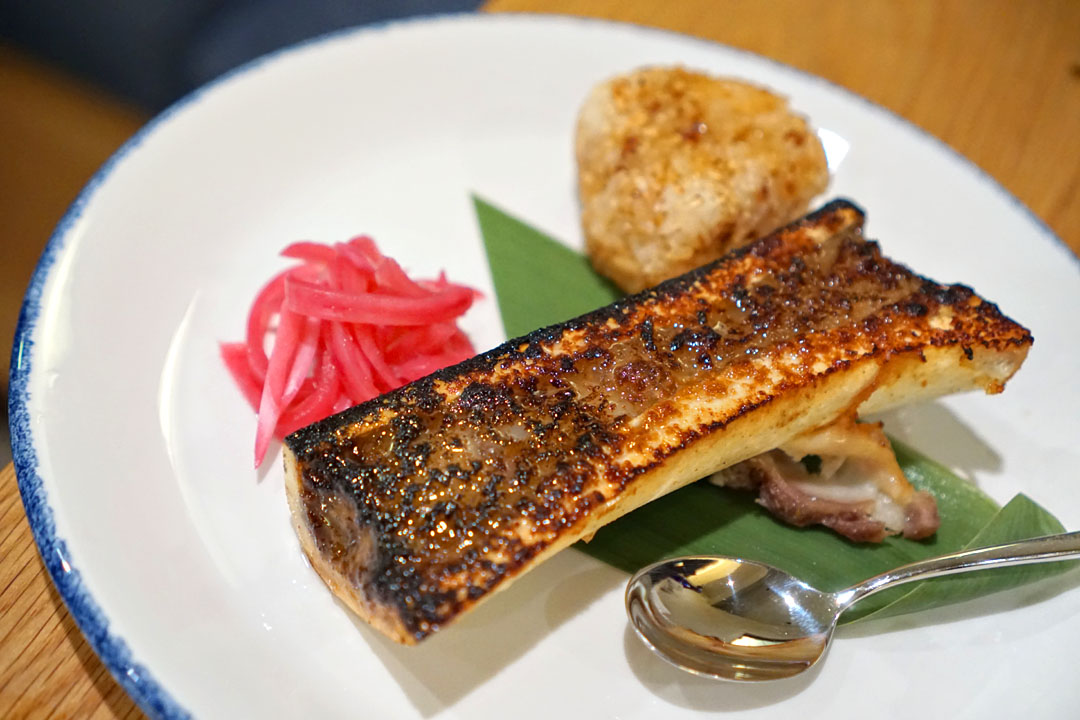 Miso Baked Bone Marrow [$16.00]
| umeboshi onigiri
Bone marrow was as oily and lush as expected, but with an additional boost from the miso, and had a good amount of smokiness to boot. Pickles worked to offset the richness of the dish, but even better was that toasted onigiri.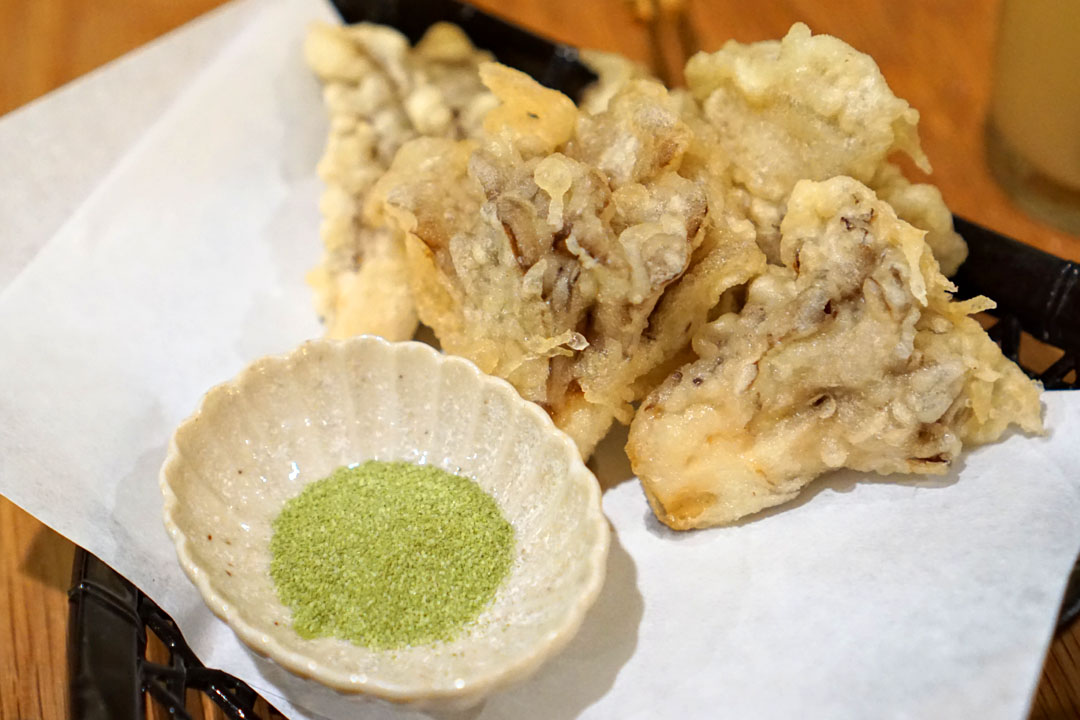 Maitake Tempura [$12.00]
| green tea salt
A spot-on maitake tempura combined dainty fried exteriors with the mushroom's satisfying chew, while the salt did an admirable job communicating the bitterness of green tea.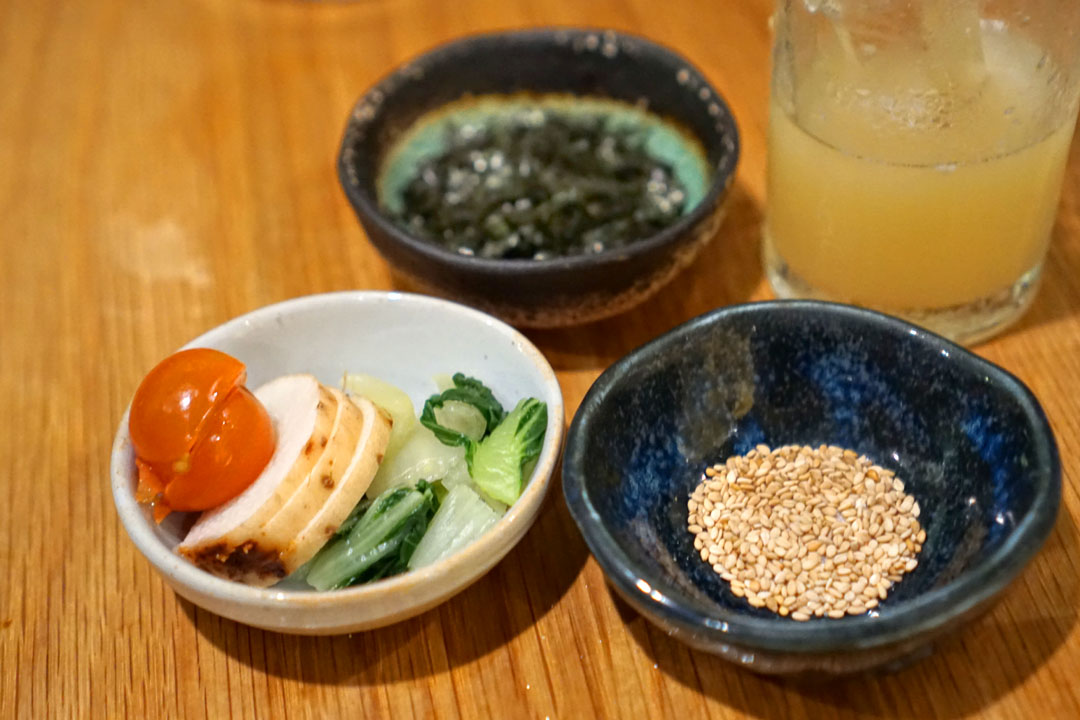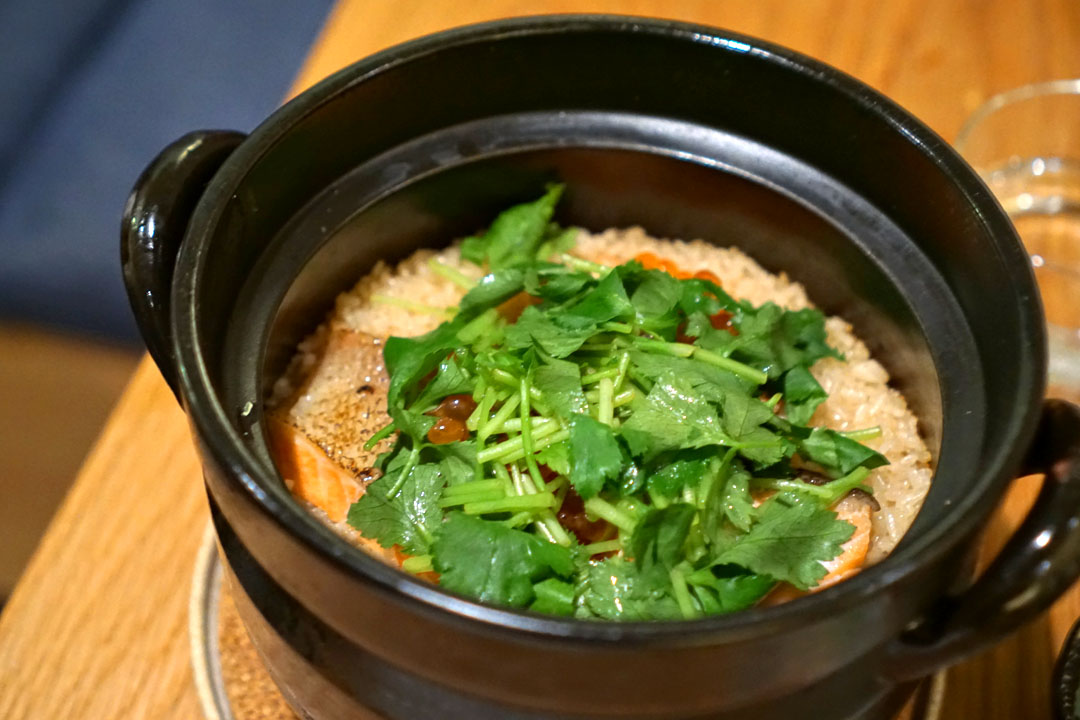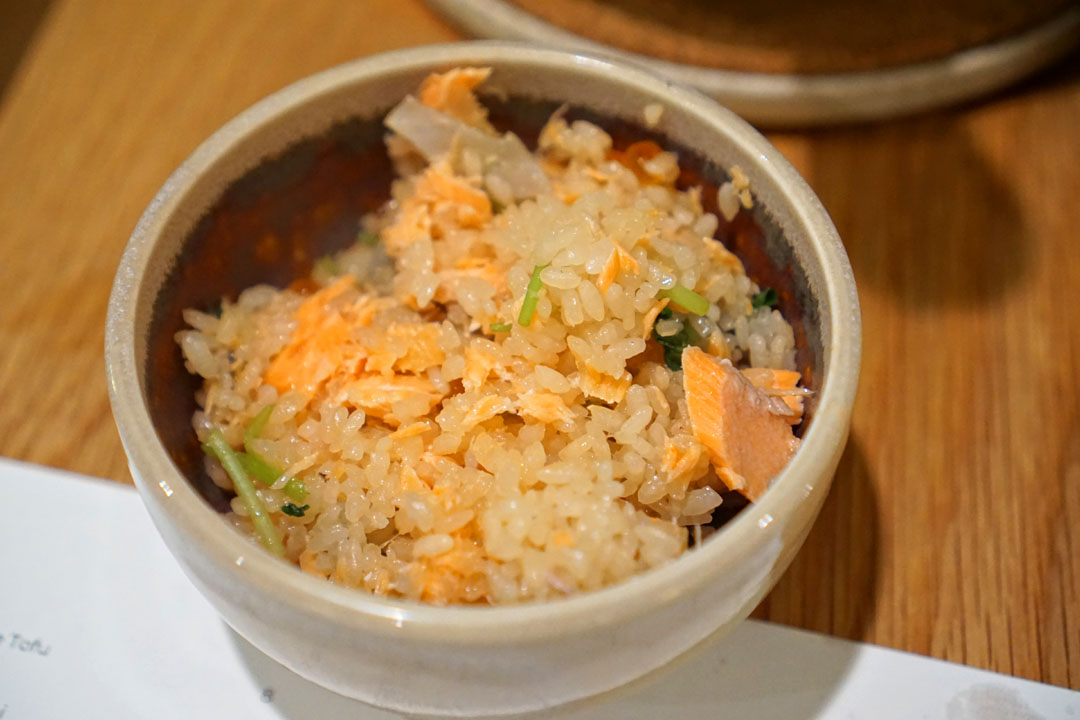 Trout & Ikura Donabe [$38.00]
| mitsuba, pickled vegetables
Clay pot rice served as the perfect closer to the savory portion of our meal. The rice itself was pretty great, and worked as a base for the juicy, briny shards of trout, perked up by pricks of salinity from the ikura. The greens and pickles offered up a refreshing counterpoint, and be sure to mix in some sesame and nori for added goodness, too.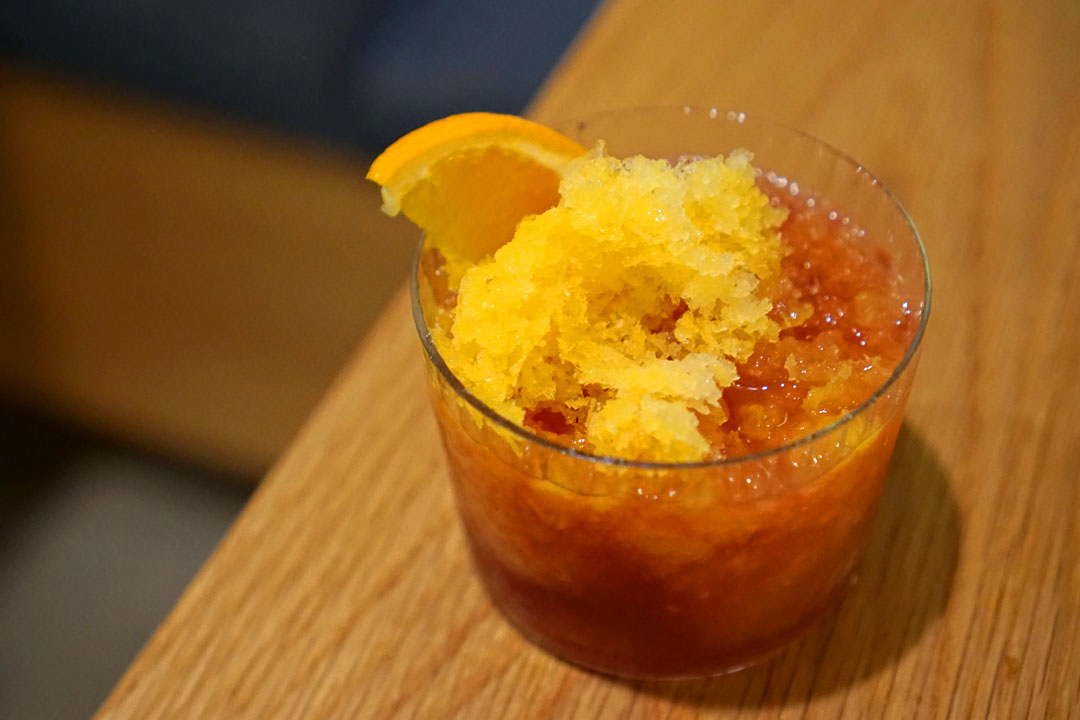 Garibaldi [$15.00]
| lo fi gentian, fluffy mikan ice
My final cocktail commingled the bittersweet, semi-spicy nature of gentian with loads of super fresh citrus, while the shaved ice provided some textural play.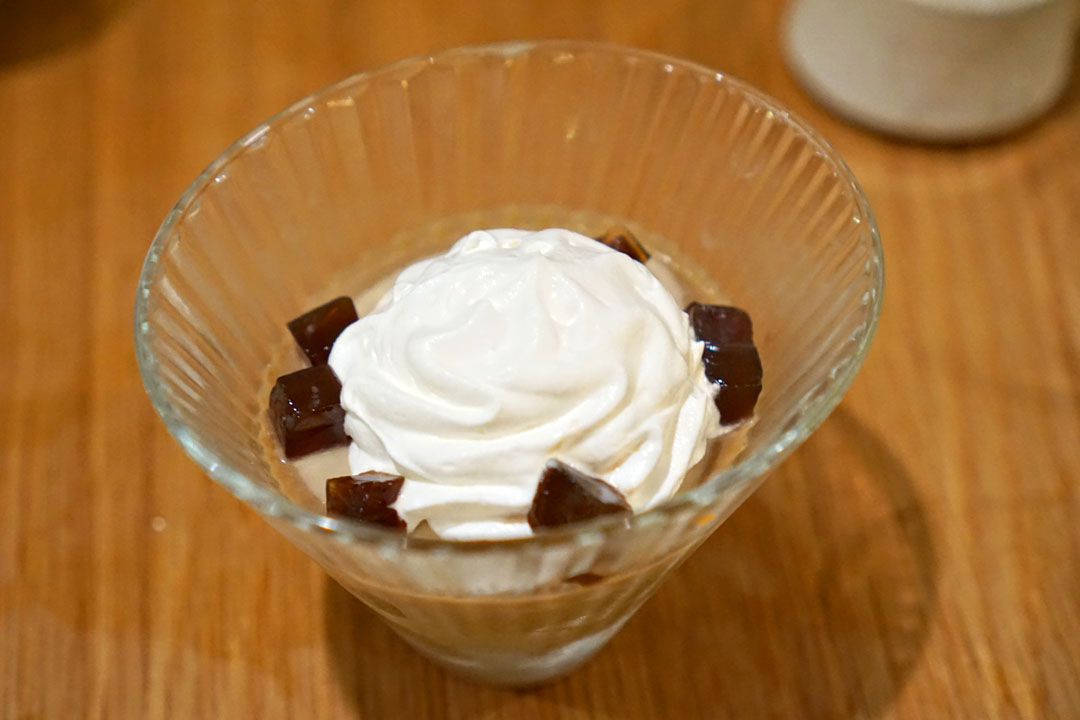 Coffee Budino
| coffee pudding, coffee jello, miso butterscotch, non-dairy whipped cream
Given that we'd ordered so much, dessert ended up being comped. Now the sweet stuff doesn't have its own dedicated menu, and the options were instead recited verbally by our server. This pudding was his favorite, and really did recall the true-to-life flavors of roasted coffee, but with an added depth courtesy of that miso-enriched butterscotch.
Purple Okinawan Yam Pudding
| okinawan kokuto syrup, kinako powder, caramelized mochi, non-dairy whipped cream
The "house favorite" dessert was also very enjoyable. I liked the back-and-forth between the yams and the dark sugar syrup here, while the roasted soybean flour imparted a lovely, moderating nuttiness. At the same time, the mochi mixed things up texturally, which was appreciated. Now if you're wondering about the other dessert options, they were a green melon float and two types of ice cream from Ginger's in Culver City: boysenberry and mango dairy-free.
n/soto has been a long time coming, and thankfully, did not disappoint, especially given that the spot had just opened. The kitchen did a good job showing off its considerable range, and the Cal-izakaya fare served had a certain ease to it, but there was still an obvious gravity to the cooking as well. The place speaks to its location here in SoCal, as intended, and is a deserving addition to LA's Japanese cuisine conservation. Hopefully reservations in the future will be easier to come by than those for n/naka!