Ryla (Hermosa Beach, CA)
Ryla Restaurant
1220 Hermosa Ave, Hermosa Beach, CA 90254
424.247.9881
www.eatryla.com
Sun 05/01/2022, 07:40p-10:25p

I don't usually find myself in Hermosa Beach, but made an exception recently to try out Ryla, which actually grand-opened on Valentine's Day. The place is surely one of the more ambitious concepts to hit the South Bay in a while, and features a menu of contemporary Cal-Japanese fare that definitely piqued my interest. The restaurant comes to us from the husband-and-wife team of Ray Hayashi and Cynthia Hetlinger, in partnership with Mike Simms and David LeFevre (of
Simms Restaurants
fame).
About the Chefs
: Born in the US to a family with roots in Kyoto, Ray Hayashi grew up in Gardena, where his parents operated a Japanese restaurant. He attended the California Culinary Academy up in San Francisco, and during his time there, worked at a local sushi bar. After graduating in 2005, he returned to Southern California and found employment at Michi Takahashi's eponymous Michi in Manhattan Beach, then transitioned to Maison Akira in March 2006. Hayashi's next move was all the way to Kyoto, where he cooked under Takao Omizo at his French-inspired spot Bordeaux. He was back in the US by 2008, and was eventually able to secure a line cook position at
Providence
.
He stayed at Michael Cimarusti's seafood standard-bearer until February 2011, at which point he decided to switch over to David LeFevre's
MB Post
as sous. When
Fishing with Dynamite
opened in April 2013, Hayashi was tapped to become its CdC given his facility with seafood. In 2016, he went back to Japan to further his cooking knowledge, and ended up apprenticing at both Aji Fukushima and Hyotei Honten in Kyoto; he also explored Europe during this period. He returned to SoCal in 2017, and was later promoted to R&D Chef for all of LeFevre's restaurants, but after a decade with the group, soon decided that he wanted to venture out on his own.
Meanwhile, Chef de Cuisine Cynthia Hetlinger was born in Taipei, and is half-Taiwanese. After graduating from Morrison Academy (an international school) in 2006, she moved to New York for college. She studied journalism and psychology at NYU, and attained her bachelor's degree in 2010. Following, she relocated to Los Angeles and was able to land a marketing gig at Dedicated Media in El Segundo, where she stayed until February 2013. However, Hetlinger then decided to pursue a career in cooking, and was able to become garde manger at Fishing with Dynamite, which is where she first met Hayashi. From there, she joined Providence as a sous chef in March 2017, and that was her last post prior to Ryla.



Ryla resides at an address that was previously home to the likes of Laurel Tavern (which closed during the pandemic), Game Changers, and Sharks Cove. The space has been redone by the team over at
Bells & Whistles
(
n/soto
,
Broken Spanish
,
Jeune et Jolie
), and now features a considerably more upscale, dimly lit aesthetic.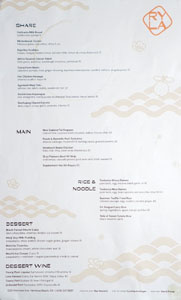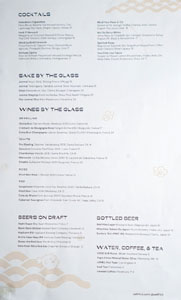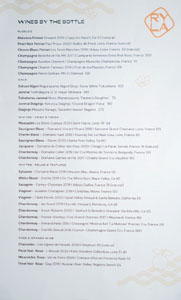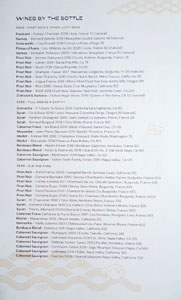 The menu is fairly tight, and features cuisine taking inspiration from Hayashi's Japanese-Angeleno roots. Drink-wise, there are some pretty interesting cocktails, sakes and beers, and a better-than-expected wine list. Click for larger versions.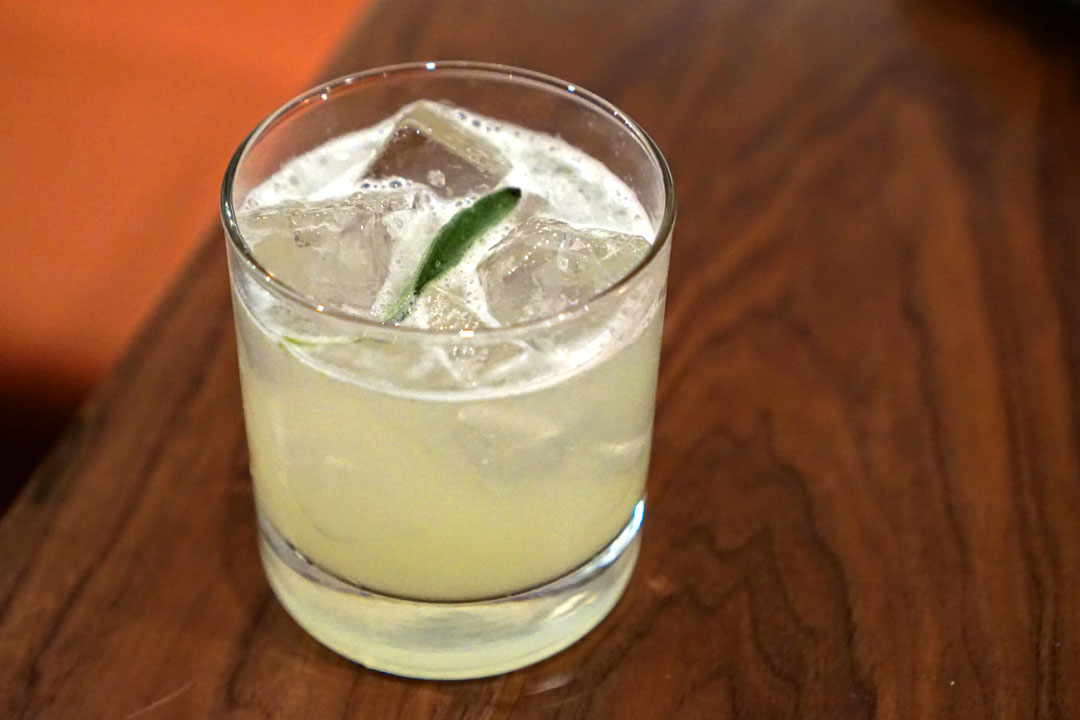 Wind Up Bird Chronicle [$17.00]
| Pisco Punch w/ Capurro Pisco, Clement Rhum Agricole, Pineapple Gomme, Strega, Lime
Cocktails at Ryla riff on classics, and our first was this easy-going Californian concoction, one with its primary interplay of pineapple and lime moderated by the requisite bitter, boozy notes.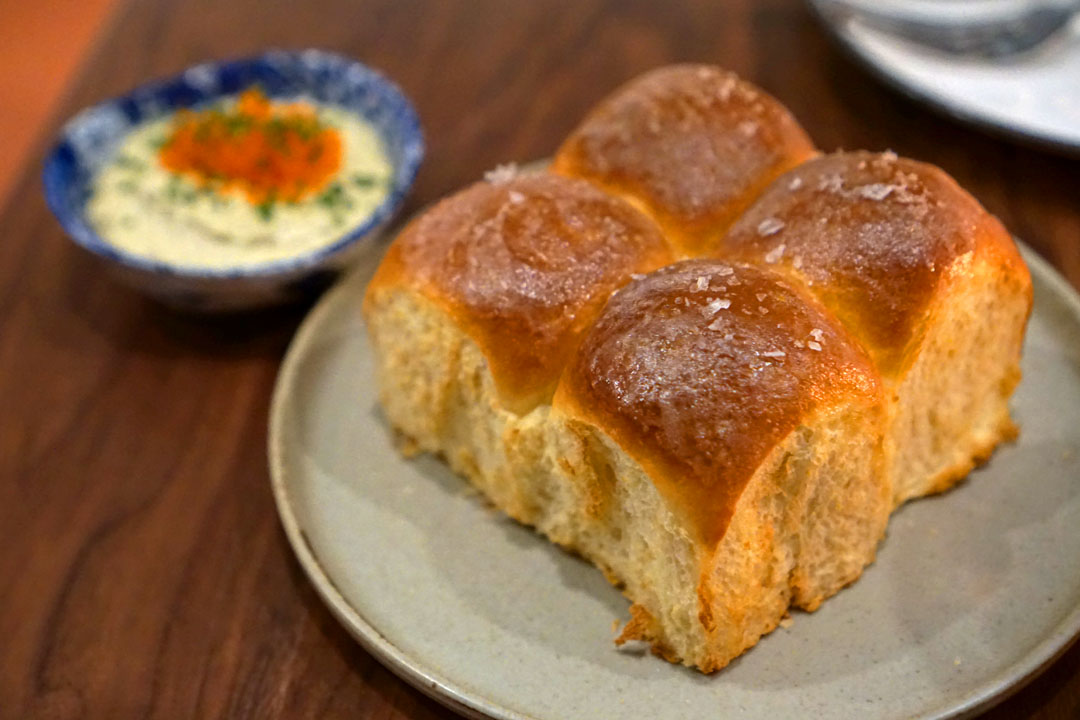 Hokkaido Milk Bread [$8.00]
| tobiko nori spread
We started out with the restaurant's version of
shokupan
, and it definitely met the mark with its fluffy, feathery, slightly-crisp-on-the-outside consistency and sweet, buttery taste, perked up by pinpoints of salt. The bread was very enjoyable alone, but a smear of that umami-laden spread served as the perfect finishing touch.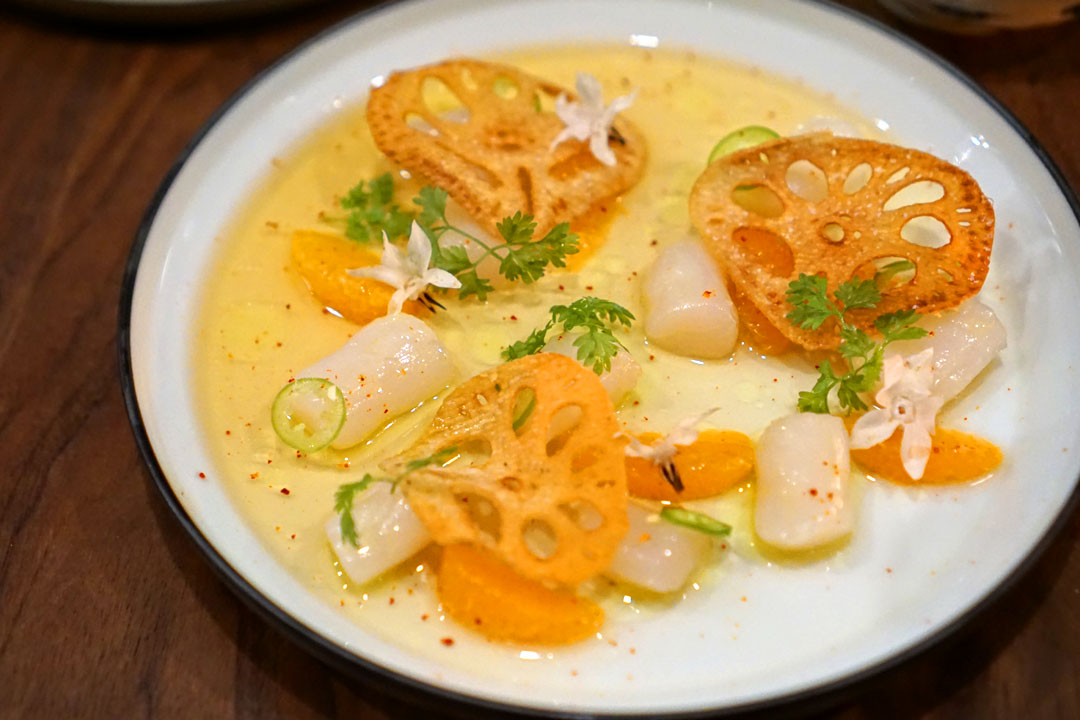 Baja Bay Scallops [$21.00]
| tosazu vinegar, market citrus, serrano chile, citrus oil, crispy lotus root
Scallops showed off a cool, sweet brine that linked up well with the dish's prickly heat, juicy suprêmes of citrus, and the herbiness of cilantro. I got a nice texture and savor from the fried lotus root, too.
Hot Chicken Karaage [$14.00]
| charred scallion mayo
It's hard to go too wrong with fried chicken, and Ryla's Japanese take certainly delivered with its tender, juicy cuts of thigh, imbued with just enough Nashville-esque seasoning to keep things interesting. I appreciated the included mayo as well, which was actually surprisingly refreshing.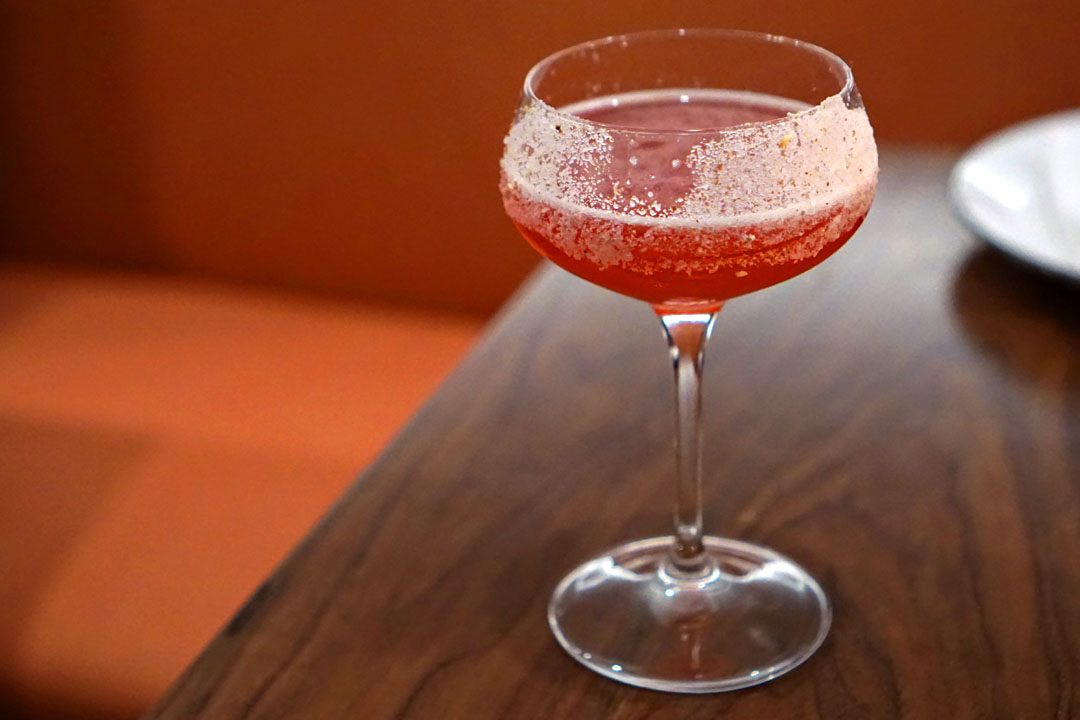 Sichuan Opera [$17.00]
| Sour w/ Sichuan Peppercorn Infused Domingo Mezcal, Falernum Bitters, Grenadine, Pomegranate
This next cocktail was my favorite of the bunch thanks to its back-and-forth between the potent smoke of mezcal and an omnipresent peppery spice, all layered over a backbone of red fruits.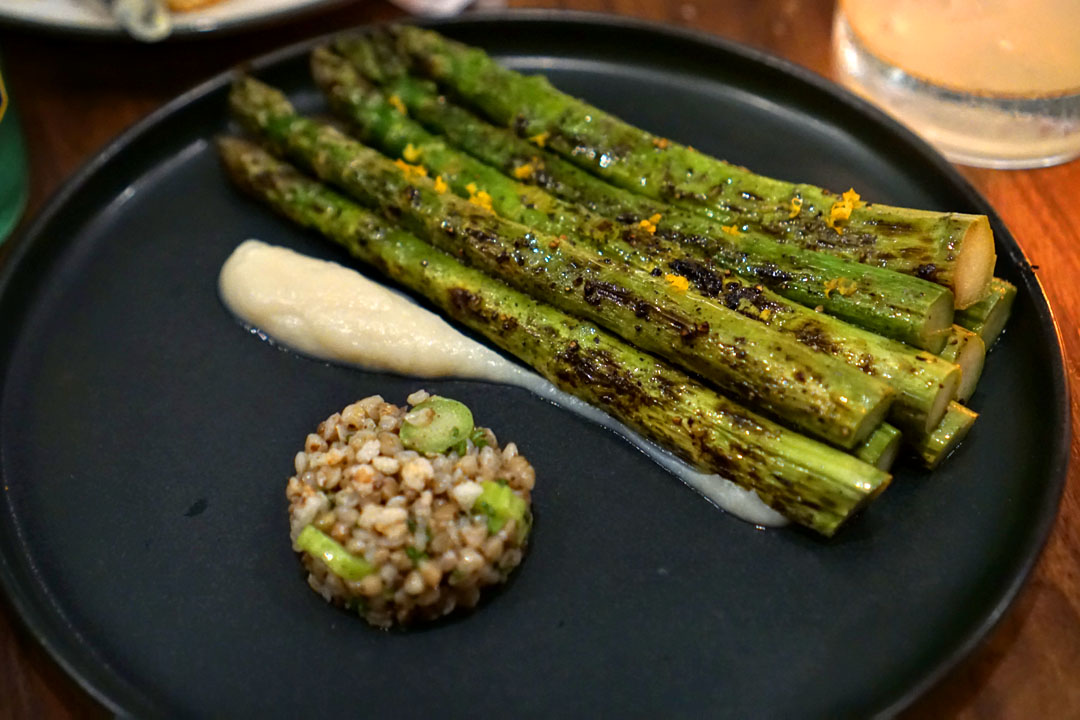 Zuckerman Asparagus [$18.00]
| nori vinaigrette, turnip puree, buckwheat, fava beans, meyer lemon
Thick spears of asparagus managed to be a favorite of mine. The stalks ate succulent and bittersweet, with a delightful char, and I really enjoyed the refreshing quality of the buckwheat-fava combination to boot.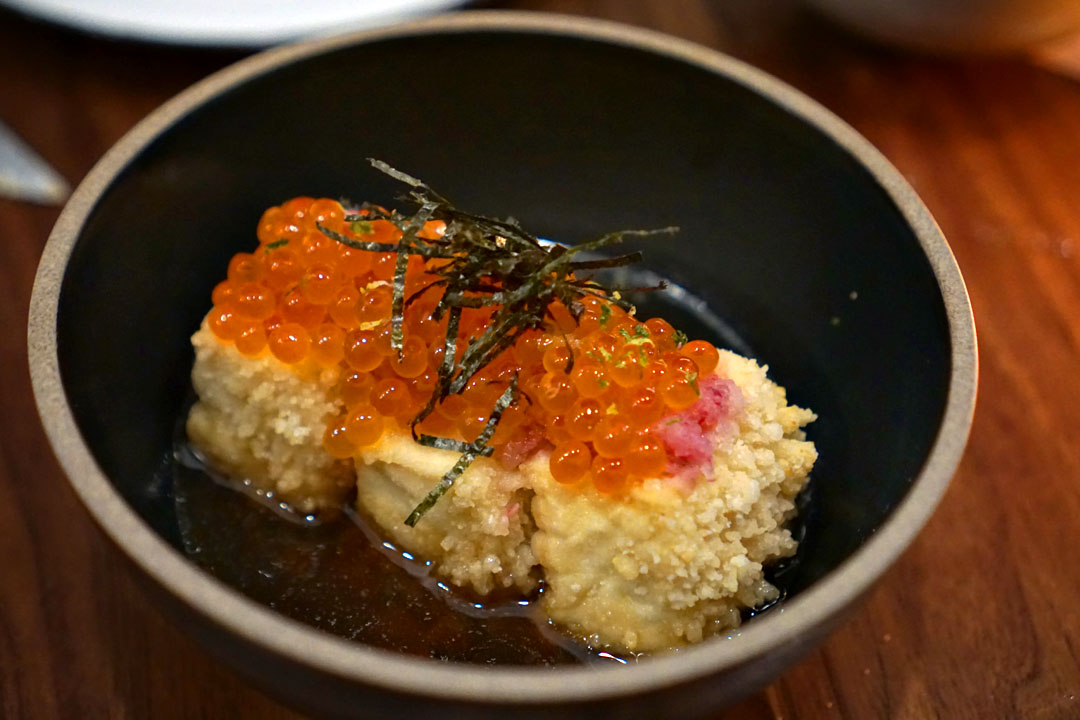 Agedashi Meiji Tofu [$22.00]
| salmon roe, dashi, radish, wasabi oil, nori
Ryla's version of this Japanese staple was a winner. The fried tofu married both firm and silky textures with a crispy exterior, while the broth imparted plenty of smoky umami, augmented even further by pops of salinity from the ikura.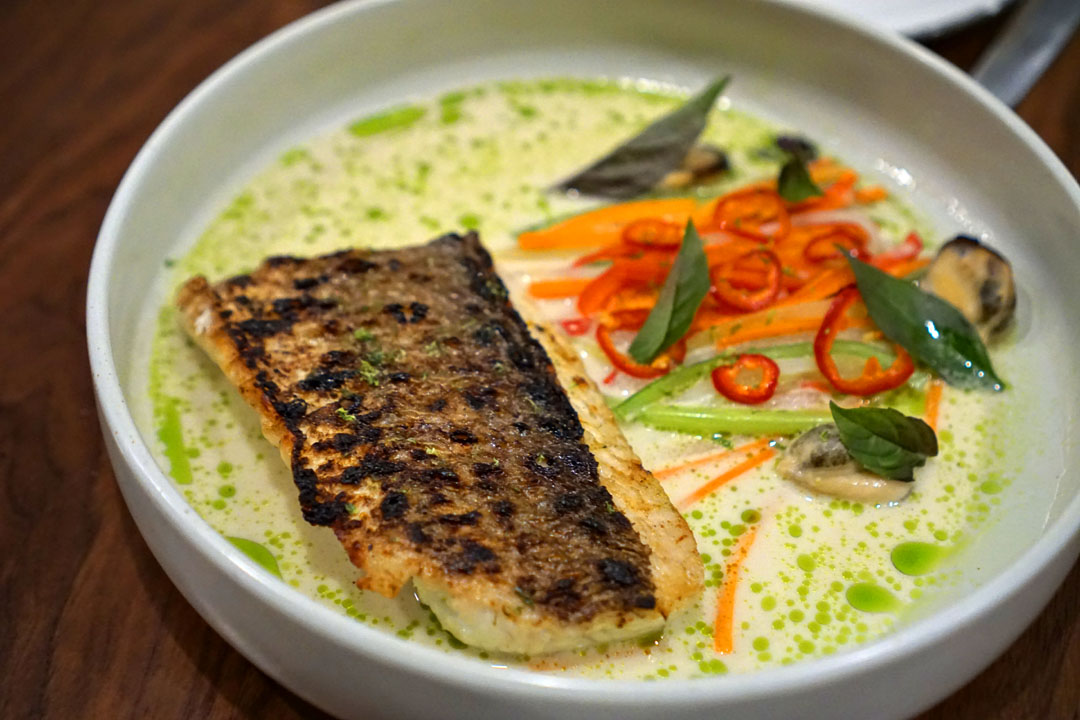 New Zealand Tai Snapper [$54.00]
| makrut lime coconut broth, mussels, daikon, fresno chile
The kitchen gifted us this next dish, perhaps to make up for some complications involving an extremely wobbly high top earlier in the evening (we ended up switching tables). The fish came out wonderfully juicy and flavorful, with a delectably salty-savory skin, but the key here was the broth, which represented a deft combination of coconut sweetness, herb, and heat that really completed the package. My lone quibble was that I would've liked an even crispier skin.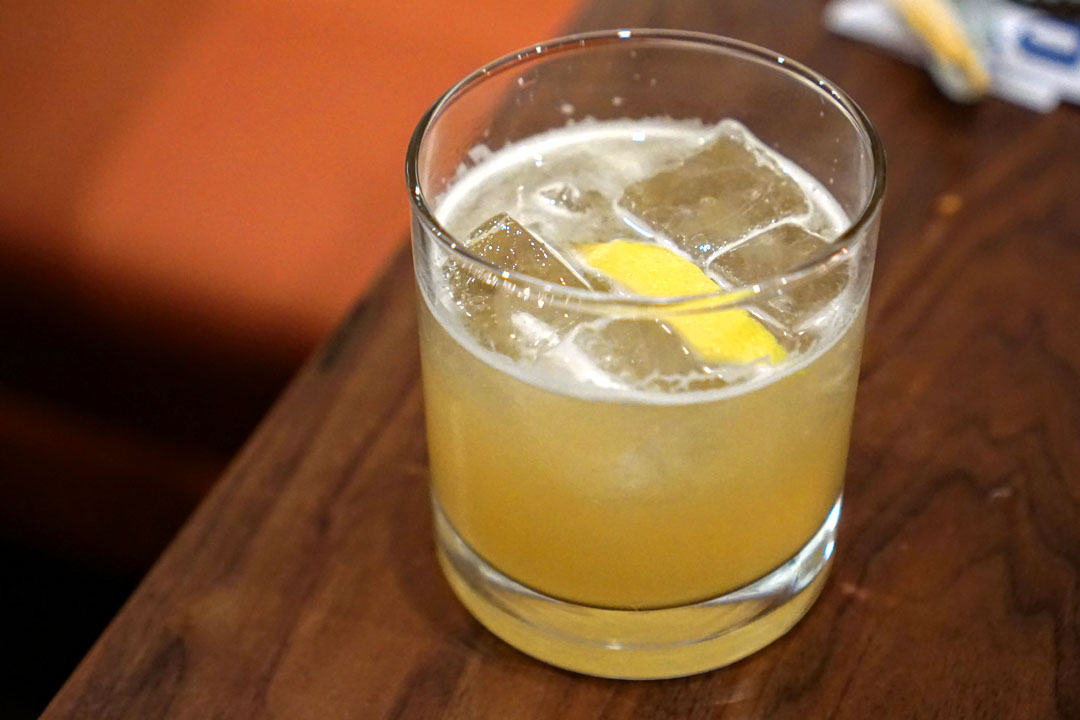 Grandma's Cigarettes [$16.00]
| Penicillin w/ Bancha Tea Infused Suntory Toki, Laphroaig 10yr Haze, Ginger Liqueur, Honey
This version of the Penicillin incorporated green tea sourced from
Ippodo
, a Kyoto-based purveyor reportedly favored by Chef Hayashi's family. The earthy, smoky character of the
bancha
linked up with the inherent peatiness of the Laphroaig in a subdued manner, and worked as a counterpoint to the drink's otherwise fruity, almost apple-y nature. What I found most surprising was actually the distinct mintiness on the finish.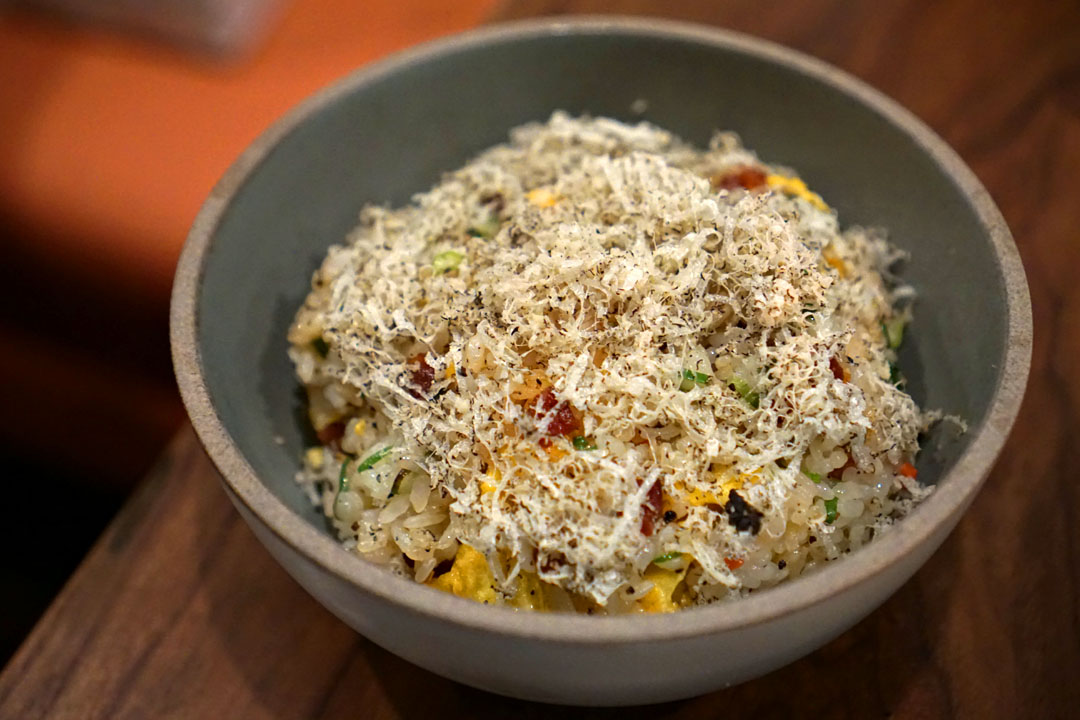 Summer Truffle Fried Rice [$40.00]
| chinese sausage, egg, scallion, pickled ginger
Fried rice is usually a crowd pleaser, and Ryla's version tonight was no exception. What really stood out was the familiar sweet-savoriness of the sausage, and how that meshed with the fluffy egg and zippiness of the green onions, all while the truffle made itself known on the back end. Lovely texture on the actual rice, too. This was something that I just wanted to keep eating.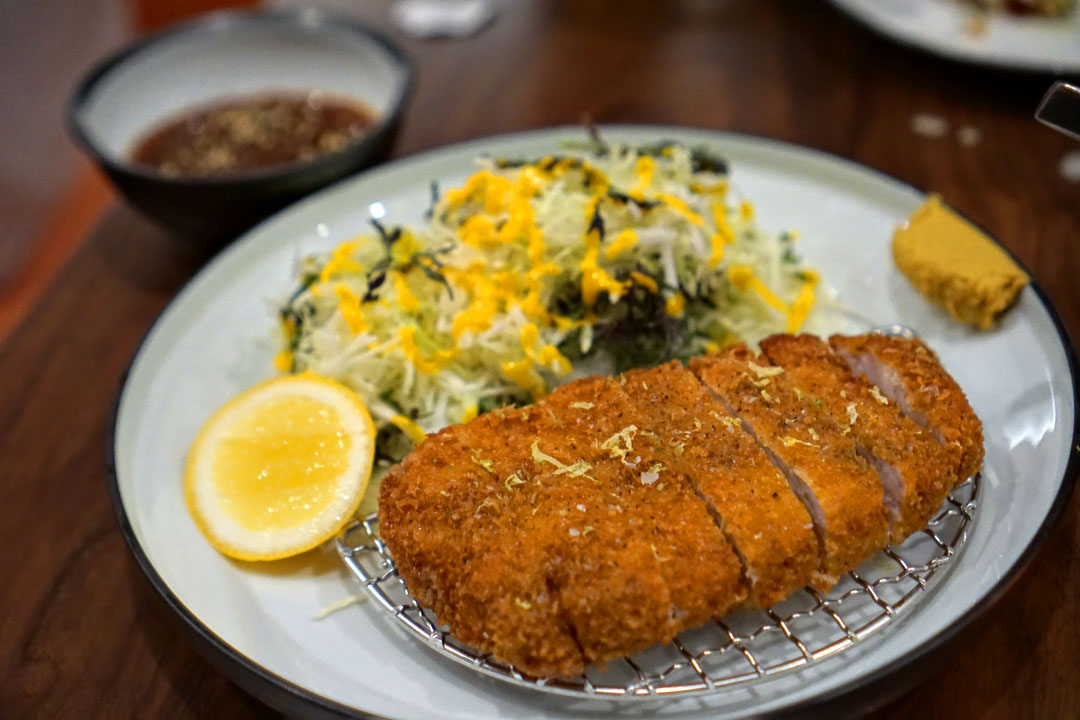 Peads & Barnetts Pork Tonkatsu [$29.00]
| shaved cabbage, mustard frill, bulldog sauce, ground sesame
I'm a sucker for katsu, so this was a must-try. The dish didn't disappoint, since the pork came out super moist and properly crispy, with a dense, satisfying bite and a robust flavor profile that matched up swimmingly with the piquancy of the
sosu
. However, I liked the cutlet even better when paired with the heady burn of the
karashi
, while shredded cabbage provided a necessary levity.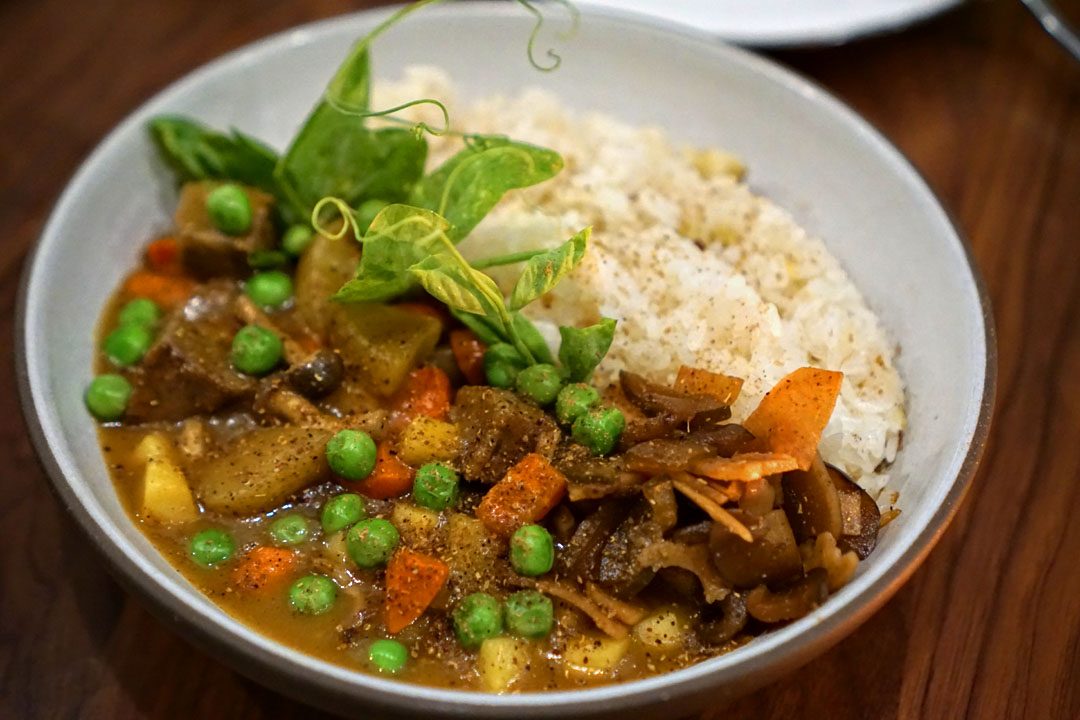 Ox Tongue Curry Rice [$26.00]
| spring vegetables, apple, fukujin pickles
A cozy bowl of Japanese curry made for a fitting end to the savory portion of our meal. I appreciated the utterly tender texture on the beef tongue here, as well as the heartiness of all the potato, but what I liked the most was the assertive spicing on the curry, which seemed more overtly Indian-inspired compared to most. I also have to give the team credit for the rice itself, which was pretty much perfect, with just the right amount of stickiness. My only gripe was that I could've used less apple.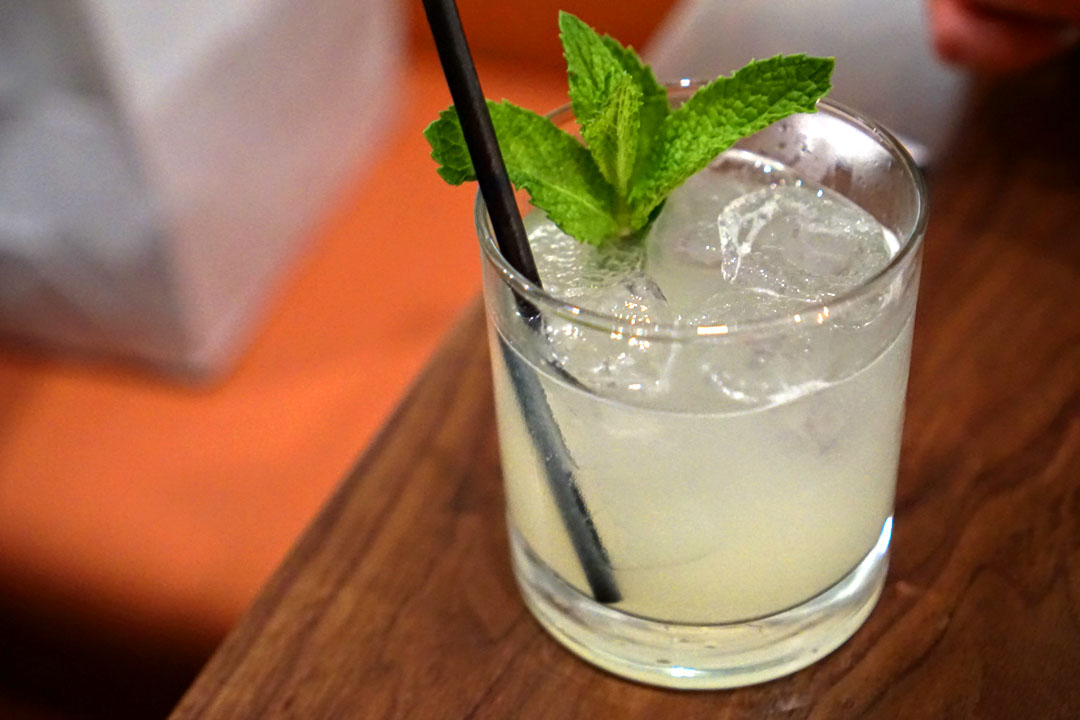 Herb Y Hancock [$16.00]
| Margarita w/ Coconut Washed El Pintor Blanco, Thai Chili Tincture, Dolin Génépy, Lemongrass
A variation on the iconic margarita, our final cocktail was unexpectedly viscous, and conveyed the classic drink's smoky, agave-fueled flavors, but commingled with the herbaceous qualities of génépi.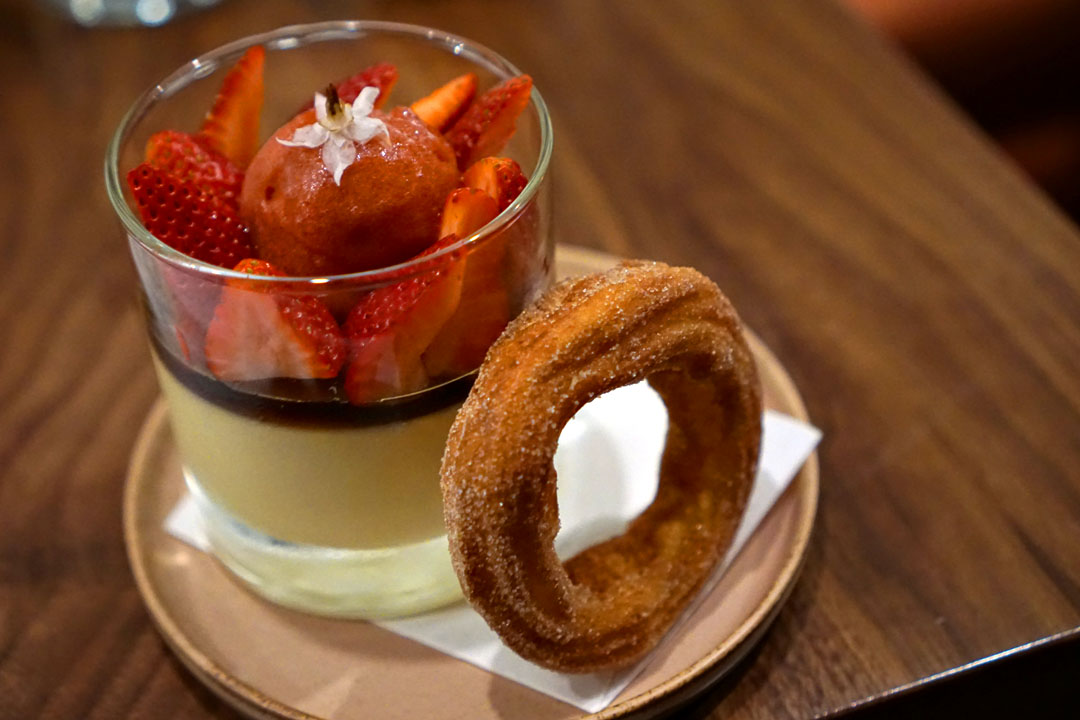 Meiji Soy Milk Pudding [$15.00]
| strawberry shiso sorbet, brown sugar gelee, ginger churro
Our first dessert also ended up being comped, and was a silky soy pudding with a sweet, nutty character somewhat reminiscent of
douhua
. It worked well as a contrast to the brown sugar and tart berries, while the churro imparted sweet spice and also mixed things up texturally.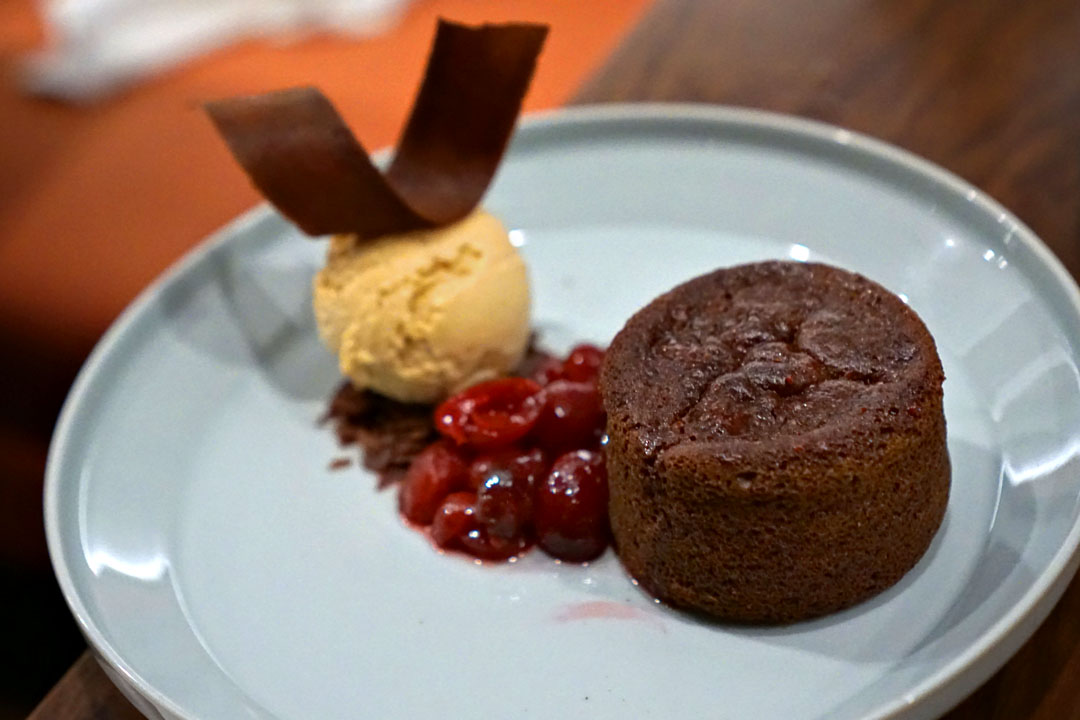 Black Forest Mochi Cake [$15.00]
| dark chocolate, cherries, kinako ice cream
A Black Forest-inspired cake ate dense and chewy on account of the mochi, and its chocolatey flavors melded seamlessly with all the dark-toned fruit. However, what took this over the top for me was the soybean flour ice cream, its savory, nutty facets really juxtaposing well with the richness of the dessert.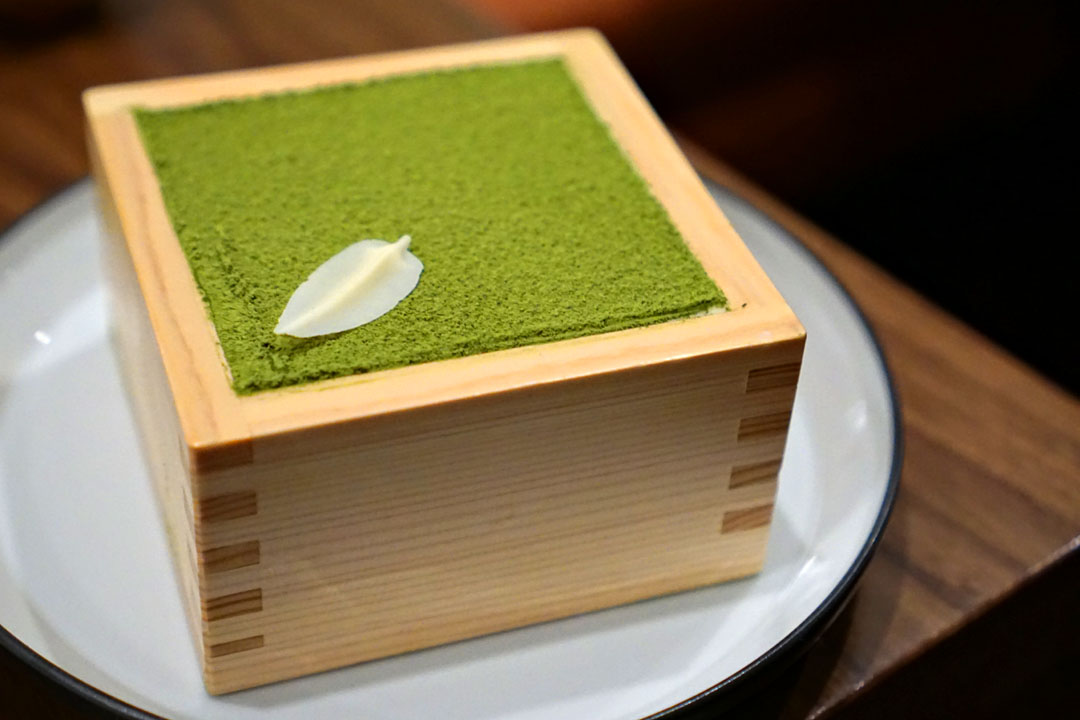 Matcha Tiramisu [$16.00]
| mascarpone cream, white chocolate leaf
Presented in a cypress wood
masu
, the tiramisu was rather visually striking in its minimalism, but also delivered in the taste department. The bitterness of the green tea was forcefully conveyed, both in powdered and chiffon form, while the mascarpone evened out those flavors, making for a relatively light, not-too-sweet ending to the meal.
I typically don't find the Hermosa Beach dining scene all that engaging, which is why I haven't had a proper dinner here since 2015. Notwithstanding, I'm very glad that I made it a point to check out Ryla, which managed to give me the best meal I've had in the city. Hayashi and his team did a commendable job blending Asian (well, mostly Japanese) cookery with a SoCal sensibility, and the results were largely delicious, demonstrating a contemporary, izakaya-esque flair. This just might be the most exciting place to eat in the South Bay these days.