Asterid (Los Angeles, CA)
Asterid Restaurant
141 S Grand Ave, Los Angeles, CA 90012
213.972.3535
www.asteridla.com
Sat 05/07/2022, 07:45p-10:45p

The last time I caught up with Ray Garcia was at the start of 2019, at
B.S. Taqueria
. Sadly, the spot closed just three months after my visit, ostensibly due to lease issues, and never re-opened elsewhere as was originally planned. Following the shutter, the Chef was in talks with launching a new Financial District restaurant called Trademark in concert with
Beau Laughlin
, but the deal ultimately fell through. However, a far greater loss was that of
Broken Spanish
, which shut down in early August 2020 as a result of the pandemic.
Garcia subsequently experimented with a delivery-only concept called MILA ("Made in Los Angeles"), but that never ended up really going anywhere. Rather, he pivoted to a Broken Spanish residency at Hollywood's NeueHouse, which started at the end of February 2021 and ran for about five months. At the same time, he was also working on the debut of ¡Viva! at Resorts World Las Vegas, which opened at the end of June last year.
Garcia, however, wasn't done with Downtown LA, and in September, it was announced that
Levy Restaurants
had tapped him to take over the former Walt Disney Concert Hall home of
Patina
, which had closed in the summer of 2020. Asterid (named after a group of flowering plants) thus grand-opened on March 23rd this year, serving a menu that's very different than what the Chef presented at Broken Spanish.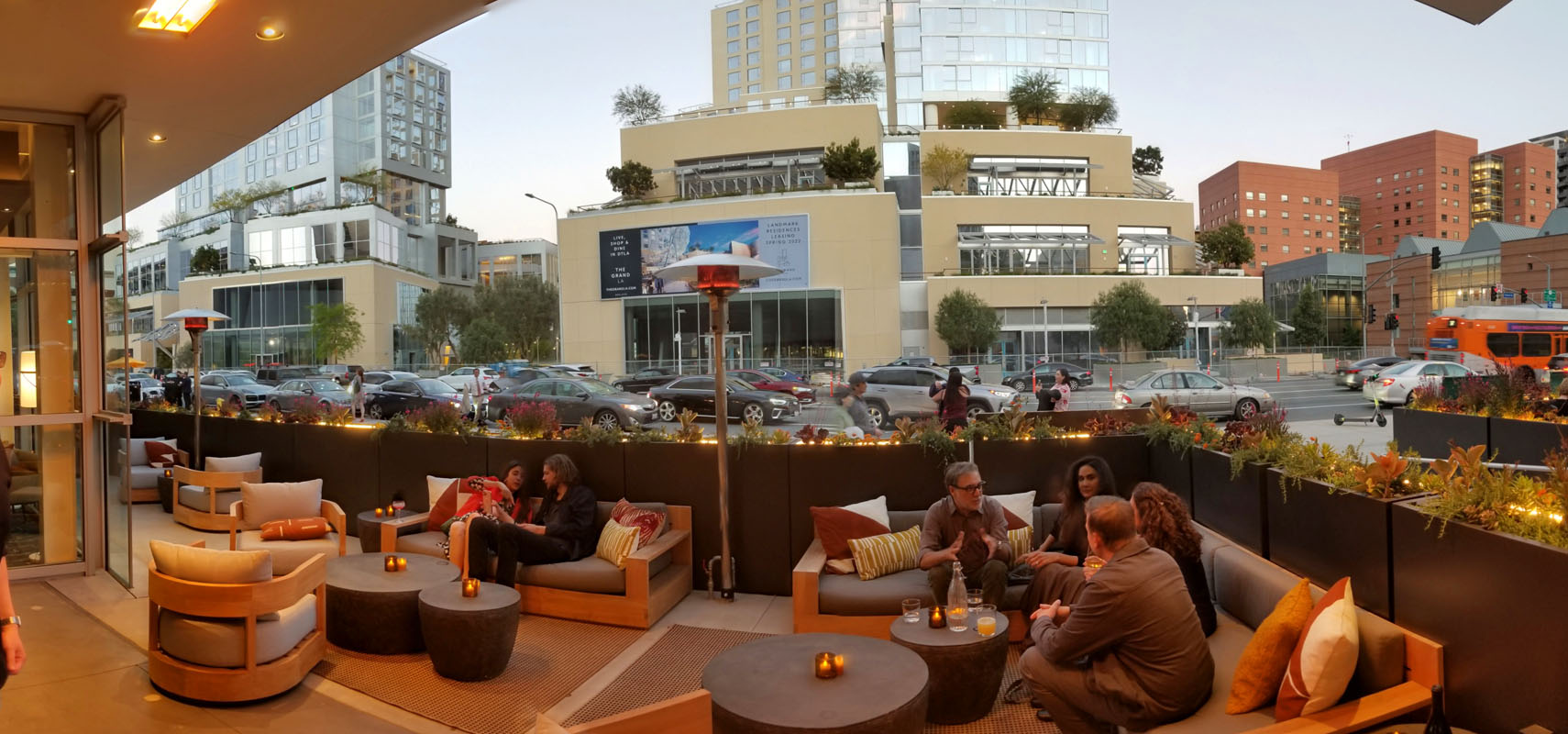 Patina's former digs have been redone by
Belzberg Architects
, the firm that designed the space originally. They've greatly expanded the patio out front, and even relocated the entrance to the restaurant.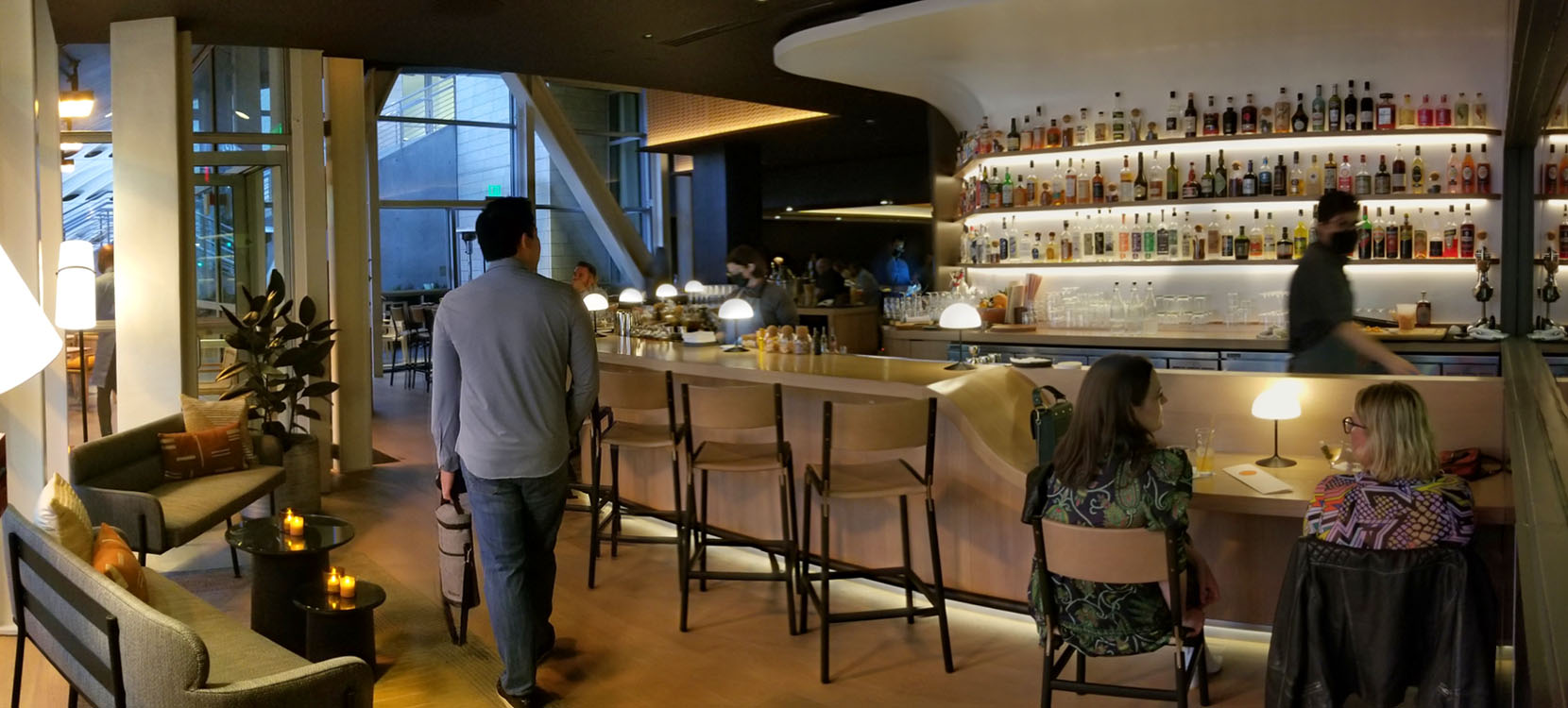 Inside, the same basic layout remains, but there's much more of a focus on the (significantly expanded) bar, while the dining room has been refreshed as well.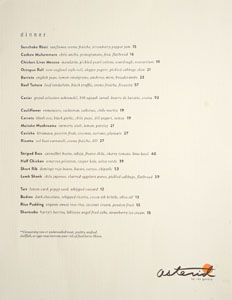 As for Asterid's menu, it's relatively compact, and could be described as contemporary Californian, with the requisite multicultural touches. Beverage-wise, Chris Chernock (Broken Spanish,
Lono
, B.S. Taqueria, The Rose, Grandpa Johnson's, The Wellesbourne) is in charge, and he's put together a tight wine and beer selection, along with an array of cocktails. Click for larger versions.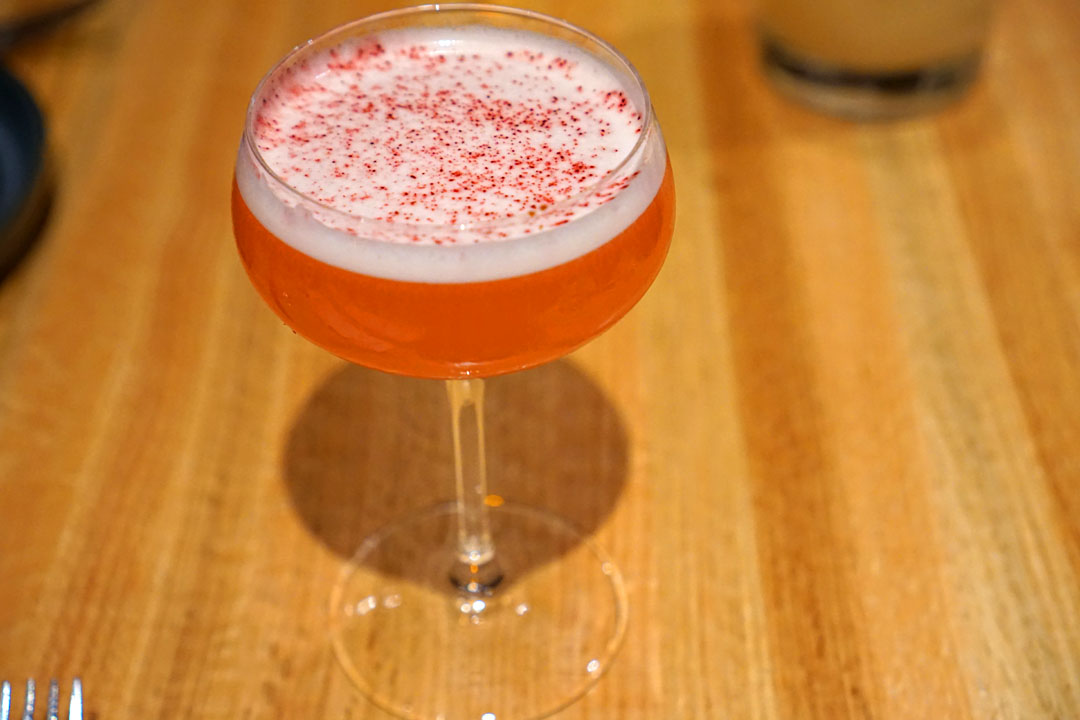 Tequila & Passion Fruit [$19.00]
| lalo tequila blanco, pineapple, passion fruit, hibiscus, falernum
Speaking of those cocktails, we got started with this crimson-toned concoction, which arrived positively teeming with tropical fruits, offset by an undercurrent of vegetal burn.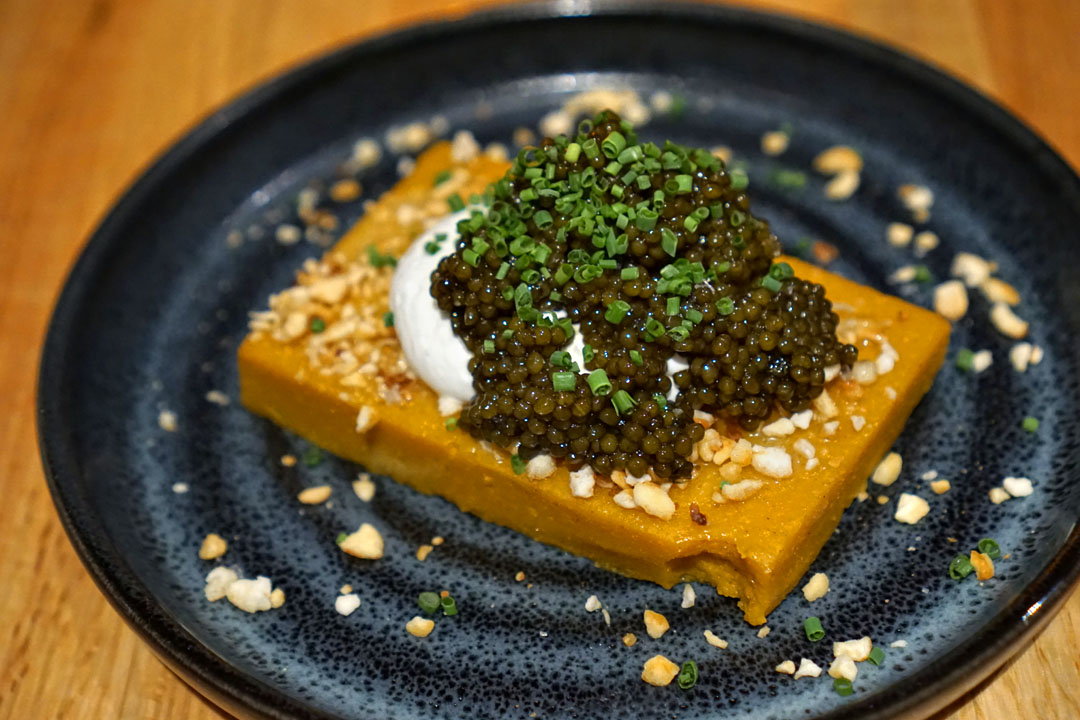 Caviar [$93.00]
| grand selection schrenckii, 898 squash tamal, beurre de baratte, crema
A surprisingly hefty dollop of roe showed off the briny notes you'd expect, but also a richness that linked up beautifully with the nutty, sugary, cozy flavors from the tamal. The crema worked to lighten things up a tad, and I appreciated the textural play from all the crunchy corn nut-like bits. A deft marriage of sweet and salty overall--I'd never had caviar nor a tamale presented like this before.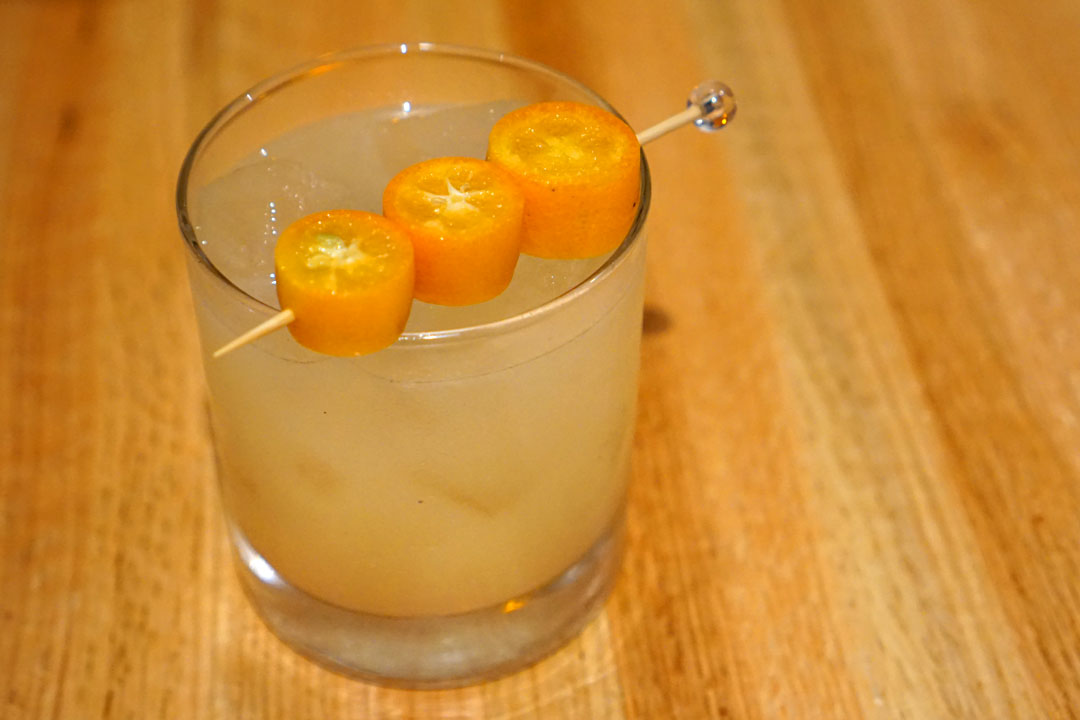 Mezcal & Rice [$17.00]
| legendario domingo mezcal, toasted rice, kumquat-vermouth, cacao
This ended being my favorite cocktail of the night, largely due to its fascinating mash-up of sweet, smoky, ricey, and acerbic components, all furnished in a relatively easy-drinking package.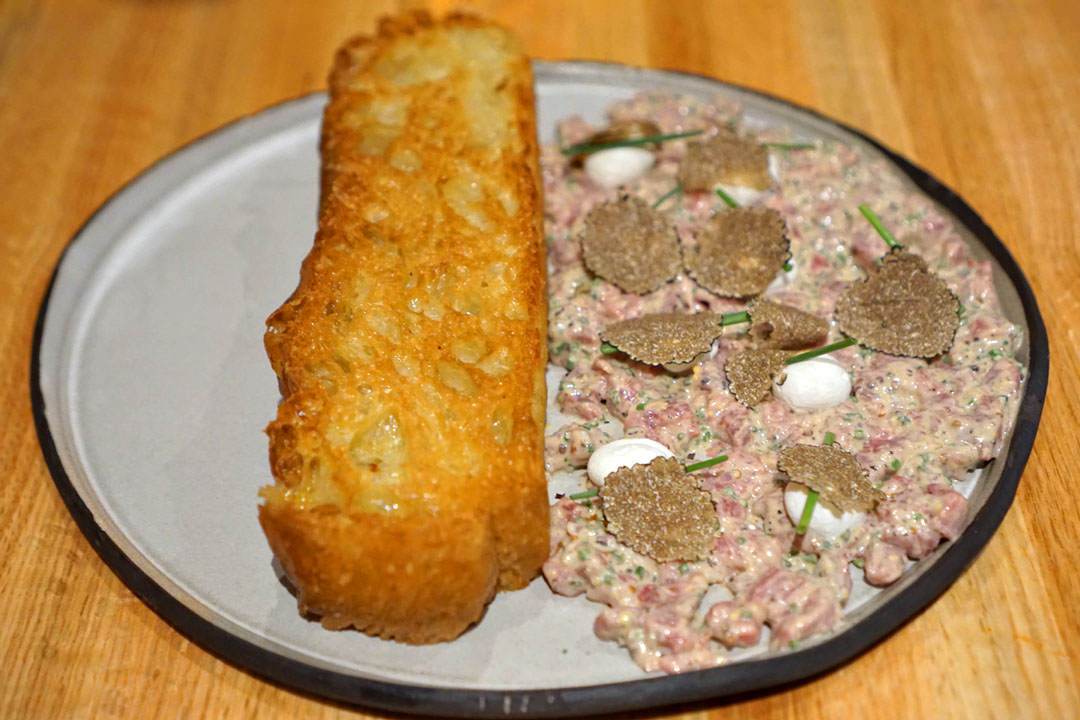 Beef Tartare [$57.00]
| beef tenderloin, black truffle, creme fraiche, focaccia
The tartar was another favorite, and one of the best I've had in recent memory. The steak itself was spot-on texturally, and I loved how the dish's creamy, mustard-y elements utterly enveloped the beef, all while truffles imparted a super inviting musk. Perhaps the most interesting thing here, though, was the focaccia, an especially crispy preparation that actually recalled the Chinese breakfast staple of
youtiao
.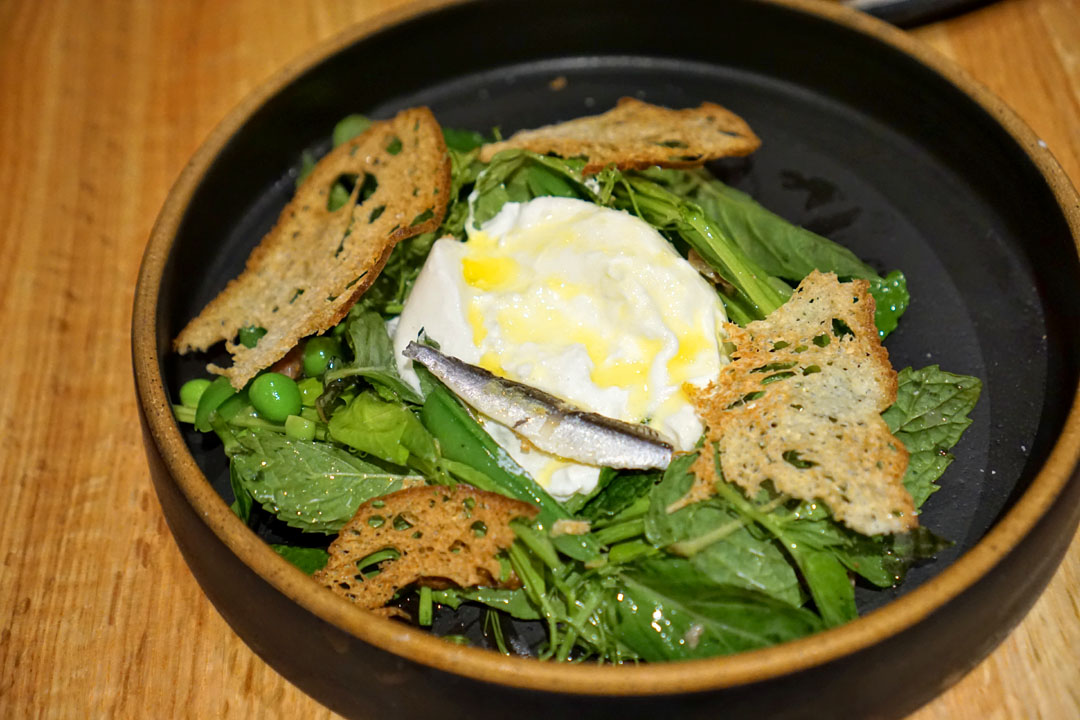 Burrata [$23.00]
| english peas, lemon vinaigrette, anchovy, mint, breadcrumbs
The burrata turned out to be a surprise standout. The cheese was as lush and as creamy as I wanted and expected, and worked seamlessly with the fresh, herbaceous flavors in the dish. Anchovy gave us a wonderful hit of salt, and I got a nice crunch from the toasted bread to boot. Everything just came together so well.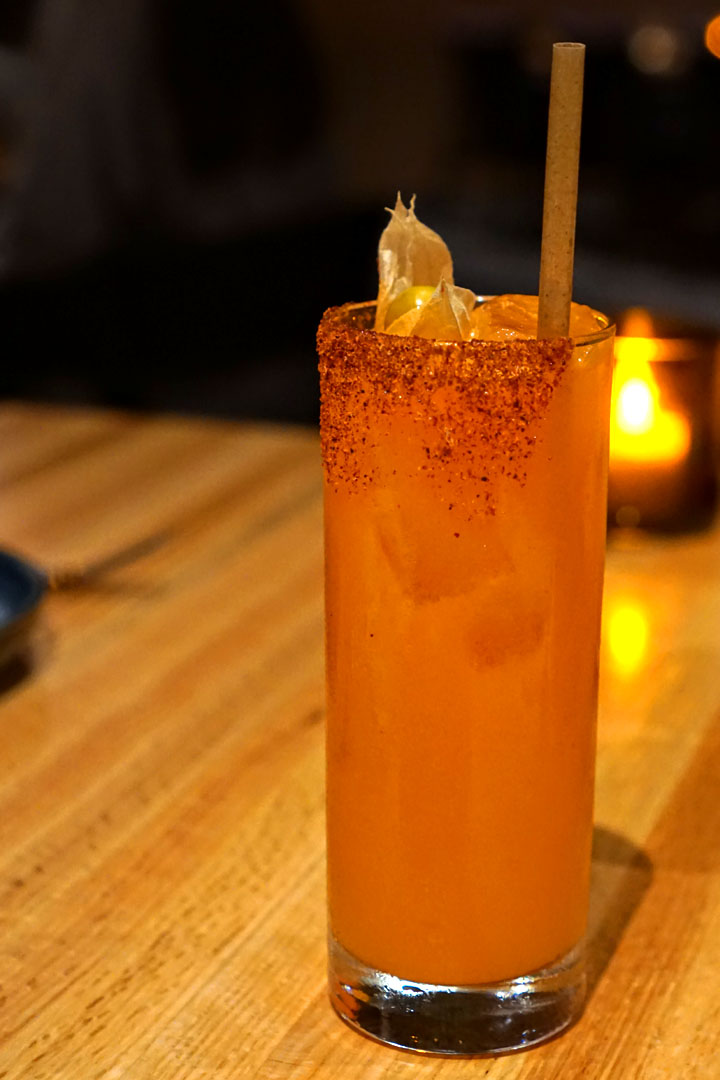 Vodka & Chile [$18.00]
| vapid vodka, carrot, green apple, orange, ginger, chile
I couldn't really taste the vodka in this next cocktail, which wasn't necessary a bad thing. Rather, I got loads of astringent heat, all commingled with sweet spice, while the chili reappeared during a long, lingering finish.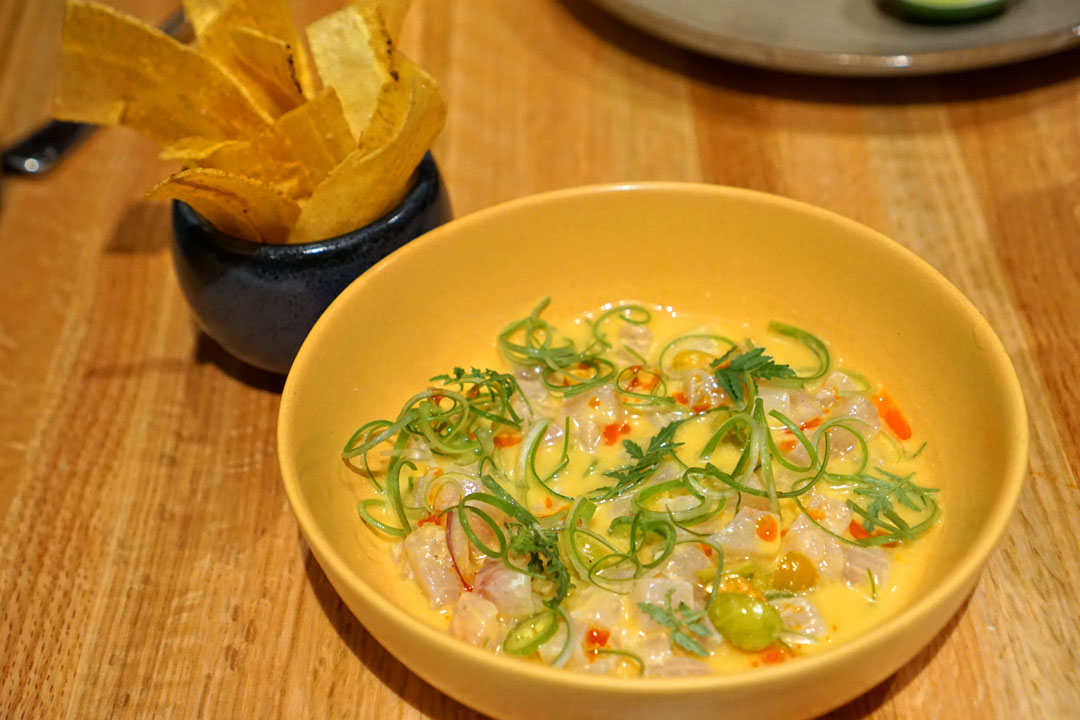 Ceviche [$27.00]
| hiramasa, passion fruit, coconut, serrano, plantain
I seemingly can't resist ordering ceviche on a menu, and tonight was no exception. The hiramasa was pretty great texturally, while its clean, subtly sweet taste wasn't overwhelmed by the overtly tropical nature of the passion fruit-coconut combo, while the serranos provided a delightfully prickly heat. As for the included plantain chips, they offered up a nice crunch, along with a bit of a sweet-n-savory facet.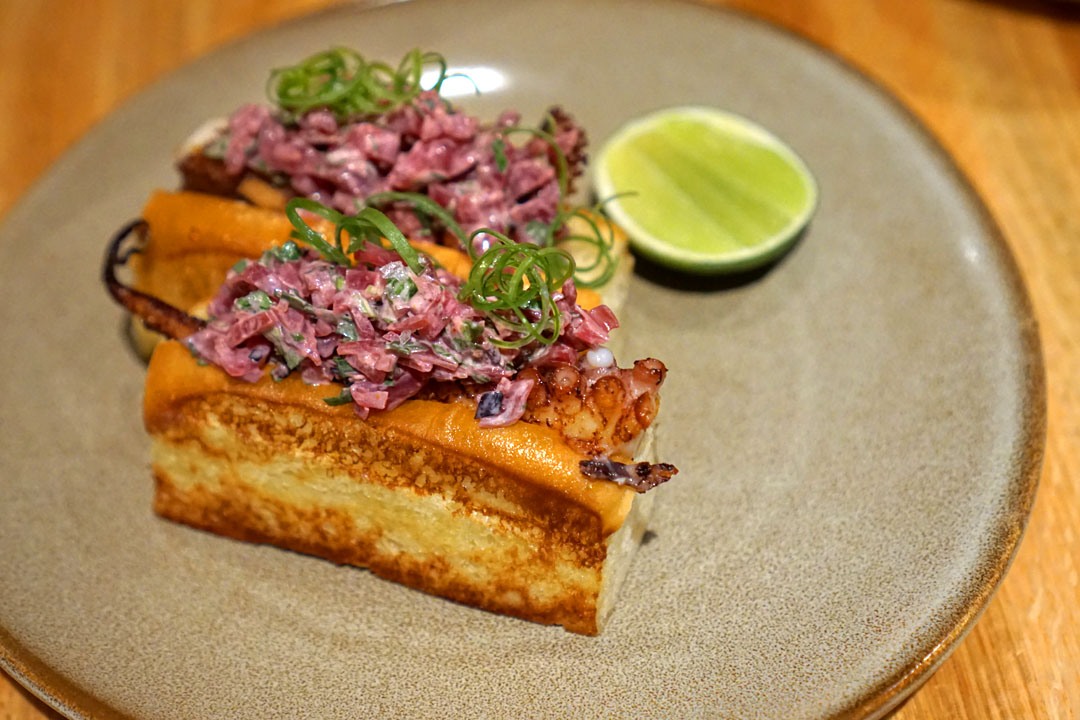 Octopus Roll [$21.00]
| new england style roll, aleppo yogurt, pickled cabbage slaw
Octo displayed all the sear and savor I was looking for, but there wasn't quite enough of it, as it tended to be overshadowed by the slaw. As for the brioche, think nice and toasty and slightly sweet, and just what I wanted in this application.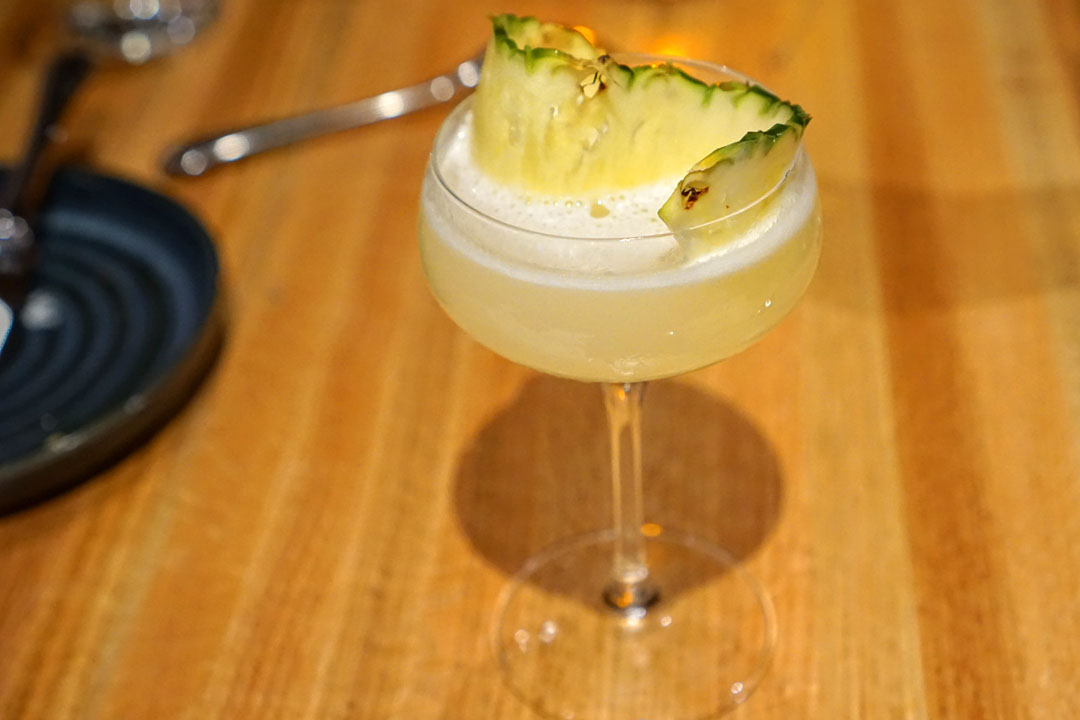 Daiquiri [$18.00]
| paranubes oaxacan rum, saison rum, pineapple, demerara
This pineapple-boosted daiquiri was a crowd pleaser for sure, showcasing plenty of tropical fruit balanced out by a layer of herbaceous, bitter notes.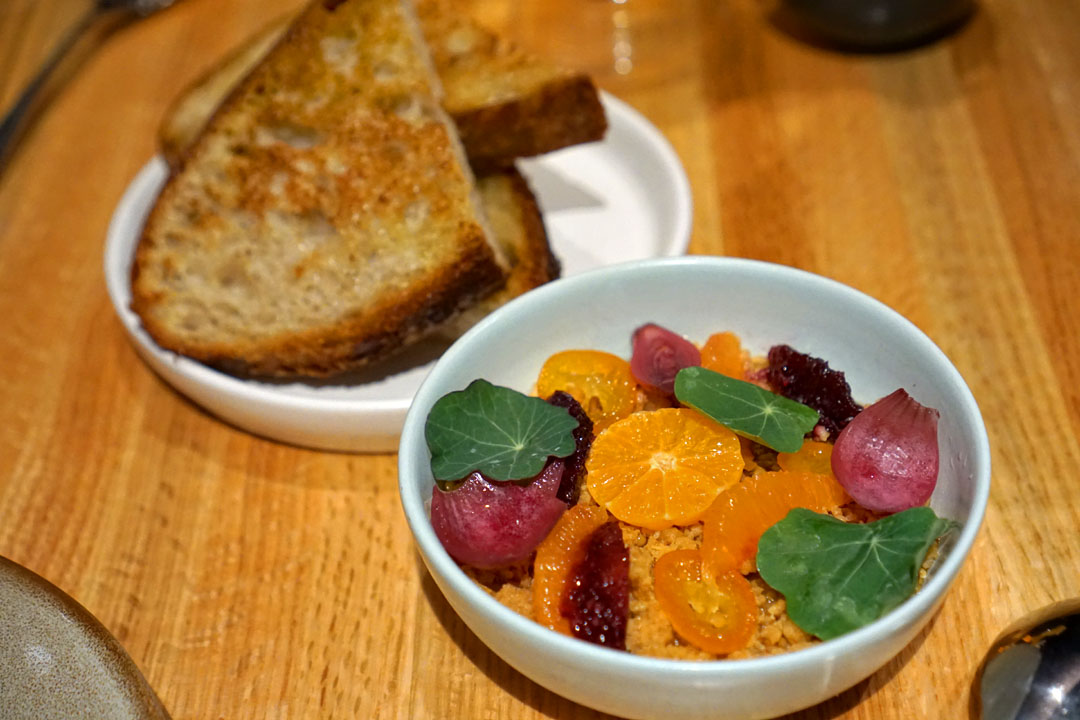 Chicken Liver Mousse [$19.00]
| mandarin, pickled pearl onions, sourdough, nasturtium
The chicken liver also delivered thanks to the offal's refined-yet-robust flavors, evened out by the piquancy of citrus and pickles. The sourdough on the side, meanwhile, just plain made sense.
Maitake Mushrooms [$21.00]
| turmeric aioli, lemon, parsley
I was hoping for something like a maitake tempura here, but instead, these were more like maitake chips, with the unique texture of the mushrooms lost. Now the turmeric did contribute a spicy, earthy element that I enjoyed, and I liked the zestiness provided by the parsley, but overall, I don't think the 'shrooms were highlighted all that well.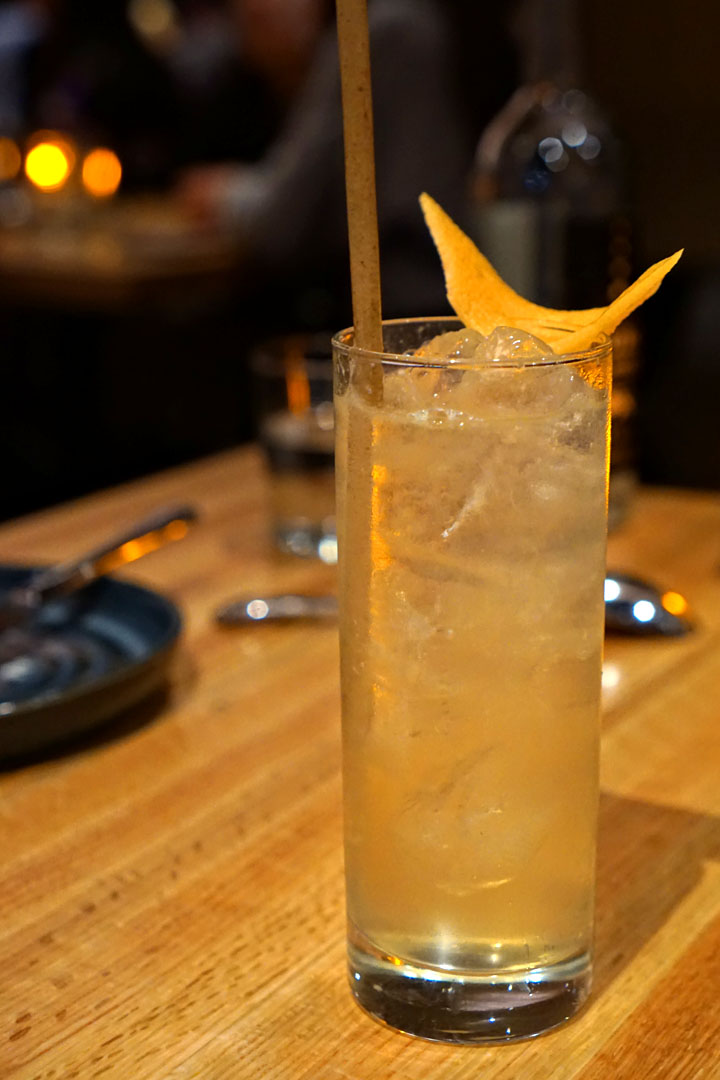 Highball [$18.00]
| mezcal mal bien, amaro angeleno, soda, grapefruit
And now we come to the most polarizing cocktail of the evening. I found it generally fizzy, and a bit bracing, with a bittersweet, herbal, faintly sweet flavor that was vaguely reminiscent of ginseng. It wasn't my favorite, but my dining companions were quite vehemently turned off by it.
Striped Bass [$40.00]
| cannellini beans, nduja, fresno chile, cherry tomato, lime basil
The bass showed off a firm-ish, flaky flesh, while flavors were full-throated, yet delicate, standing up well to the sugary tomatoes and persistent heat. I rather liked how the beans grounded the dish as well, and my only quibble was that I would've liked a crispier skin.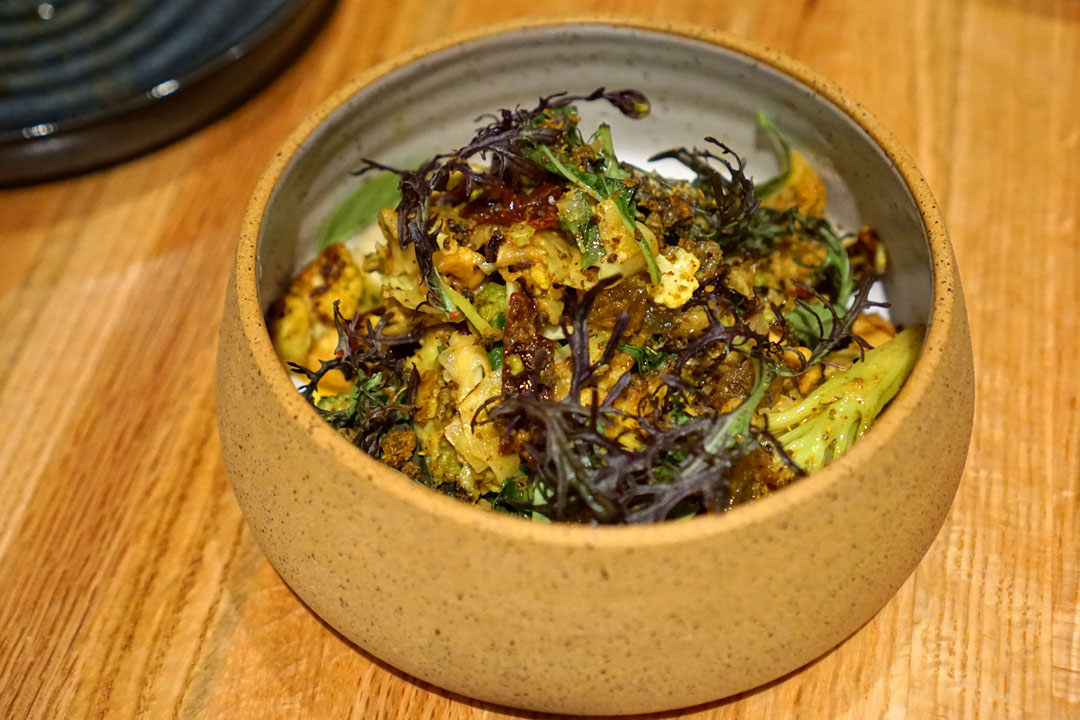 Cauliflower [$19.00]
| romanesco, vadouvan, sultanas, chile morita
Cauliflower came out well-textured and aggressively seasoned. The liberal use of vadouvan, fruit, and nuts actually gave the dish a very Indian-inspired feel.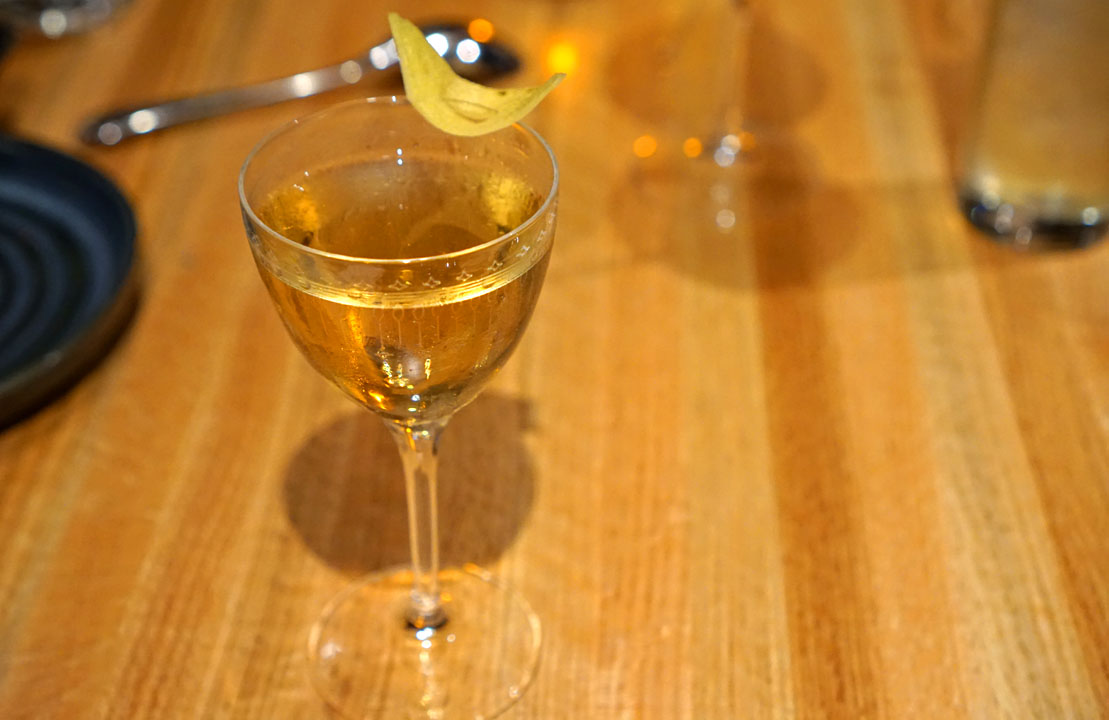 Martini #2 [$18.00]
| sipsmith gin, carpano bianco, china china
Our final cocktail was a smart take on the iconic martini. The star here was clearly the China China, which imparted an overarching citrusy character that melded well with the drink's notes of sweet, warm spice.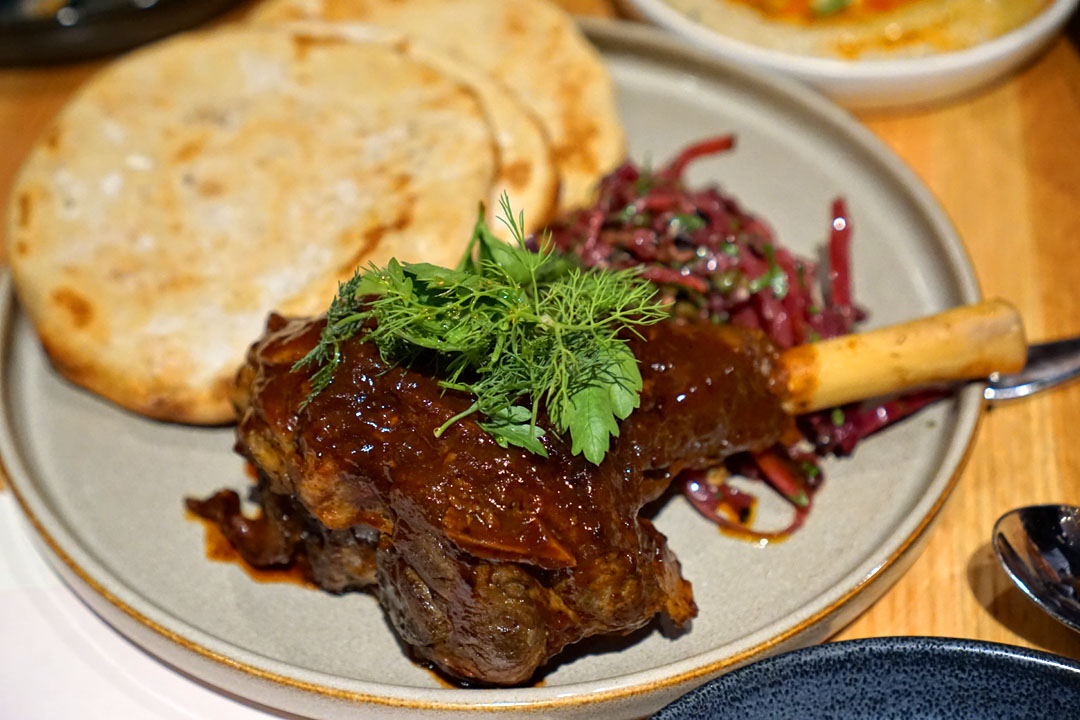 Lamb Shank [$59.00]
| chile japones, charred eggplant puree, pickled cabbage, flatbread
The most substantial dish of the night featured a juicy, falling-off-the-bone tender preparation of lamb shank. The meat was distinctly ovine at first blush, but this then gave way to a very noticeable heat and the tartness of the pickled cabbage.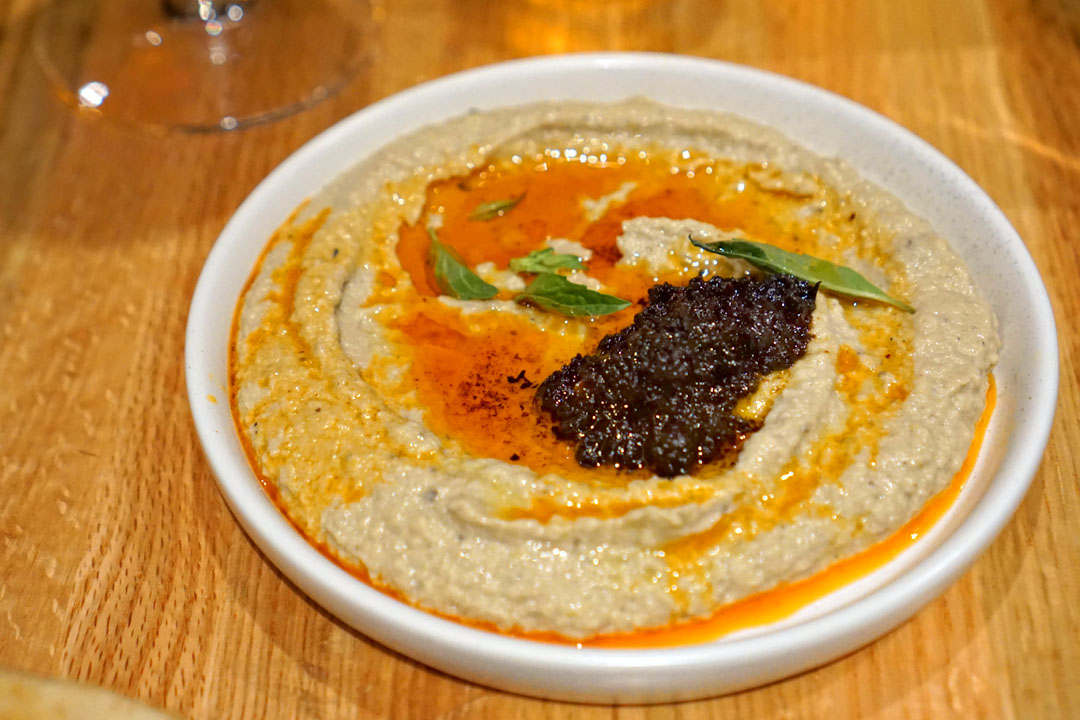 The lamb was accompanied by a side of charred eggplant purée, which had a smoky-sweet heat that worked hand-in-hand with the fluffy flatbread.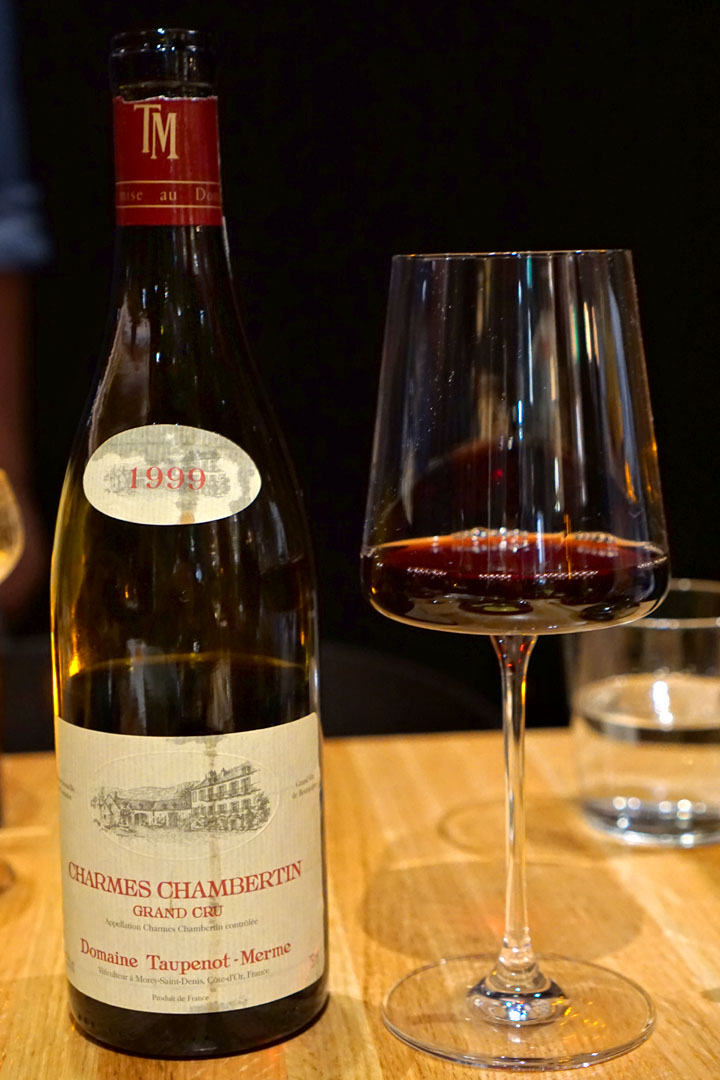 We also brought along a bottle of wine (corkage was $30): the
1999 Domaine Taupenot-Merme Charmes-Chambertin
, which we opened not too long after we sat down. A Grand Cru Burgundy, it smelled of bloody meat fused with red fruits, with supporting notes of tobacco. On the palate, I found the wine semi-silky, yet surprisingly forthright with its tannins, while strawberries, cherries, herbs, and earth were finished with a forceful mintiness. Overall, I'd say that the wine was definitely mature, but never old, and in fact, I suspect it'd be even better in a few years.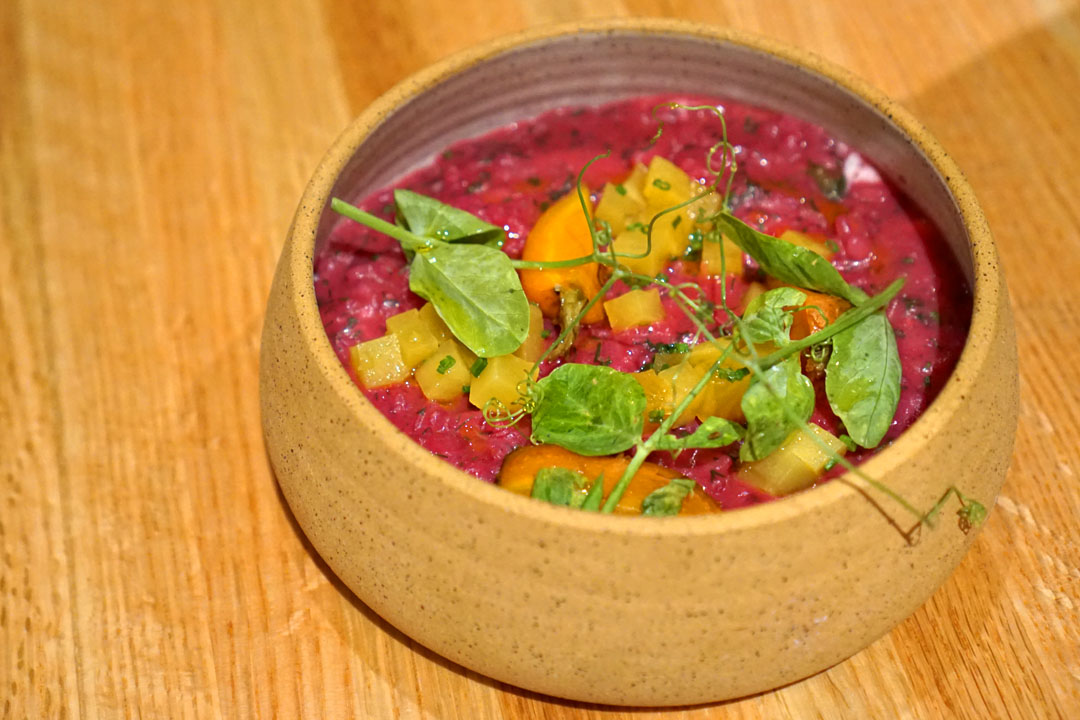 Risotto [$27.00]
| red beet carnaroli, creme fraiche, dill
I couldn't resist ordering the risotto, of course, and Asterid's version was quite unlike any I'd had before. Besides the color, the most striking thing here was the sheer amount of dill used, which offered up a grassiness that helped soften the earthy sweetness of the beets. At the same time, the rice itself was pretty on point texturally.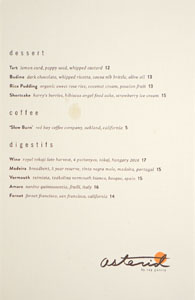 Here we see Asterid's dessert menu and brief selection of after-dinner beverages. Click for a larger version.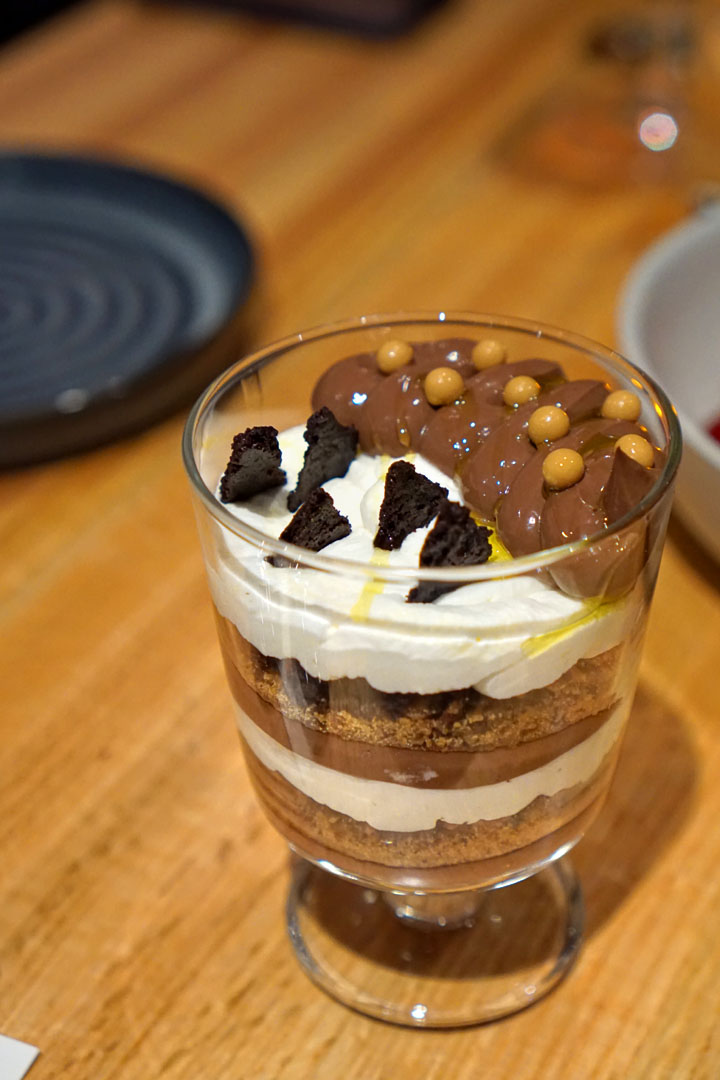 Budino [$13.00]
| dark chocolate, whipped ricotta, cocoa nib brittle, olive oil
Our first dessert came highly recommended by our server, and it turns out he knew what he was talking about, since this was simply a great mish-mash of disparate tastes and textures, all rendered in an approachable package.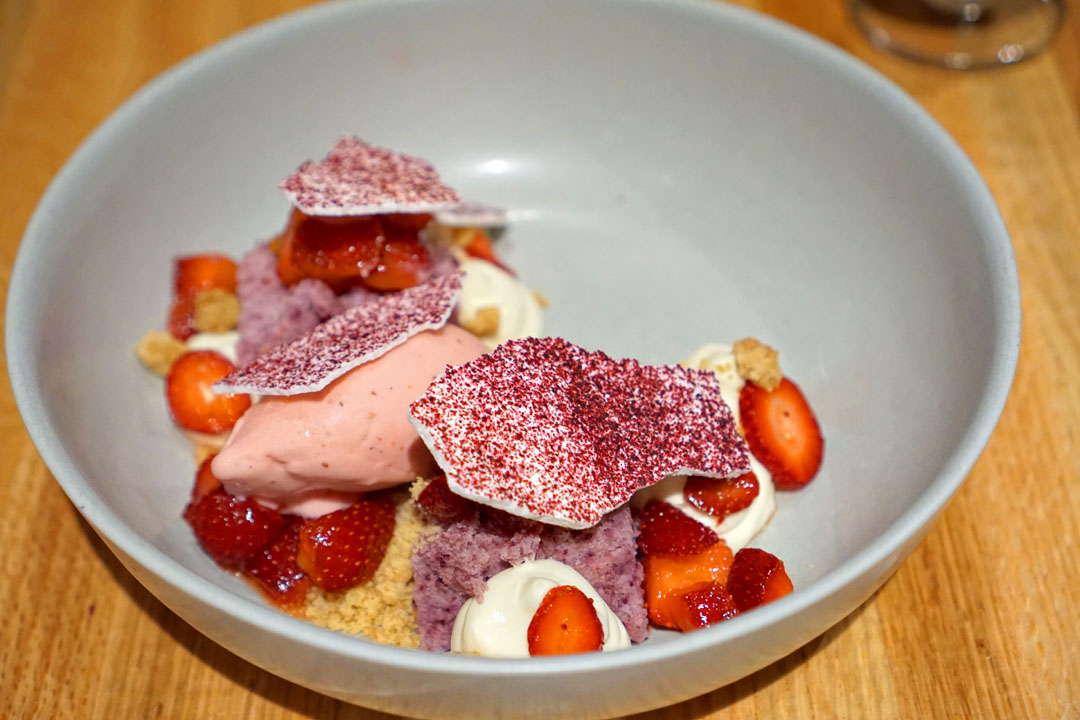 Shortcake [$15.00]
| harry's berries, hibiscus angel food cake, strawberry ice cream
This reimagined strawberry shortcake also delivered thanks to its delectable back-and-forth between the berries and the sponge, perked up by hits of salt and some crunch from the meringues.
I was saddened by the closures of Broken Spanish and Patina, so it was heartening to see both the Chef and the space back in action. The food here has a brashness to it, but also a certain elegance, and does feel pretty of-the-moment. It's a style of novel-yet-familiar cooking that represents a side of Garcia that I'm not accustomed to seeing, but which I was glad to experience, so hopefully the kitchen is able to keep it up. That being said, I still do miss Broken Spanish, and I am looking forward to its return at some point down the road.