Beale's Texas BBQ (Huntington Beach, CA)
Beale's Texas Barbecue
16400 E Pacific Coast Hwy, Huntington Beach, CA 92649
562.588.3070
www.bealestexasbbq.com
Fri 08/19/2022, 07:20p-08:10p

I had to head down to the Huntington Beach area a little while back to get some work done on my car, and thus was looking for a spot to dine at in the vicinity. After considering a few options, I settled on Beale's Texas BBQ, as it'd been a while since I last had some 'cue. Named after Chef/Owner Brett Beale, the place opened a bit more than two years ago, and has already made a name for itself as one of the go-to barbeque options in the northern stretches of Orange County.
About the Chef
: Brett Dominique Beal was born in May 1970 and is a Southern California local, having grown up in Santa Ana in a single mother household. He got interested in cooking at an early age thanks to his family, particularly his grandmother and his mom, who hail from Natchez, Mississippi (his grandfather was from Baton Rouge). He worked for a number of years in the mortgage industry, and during much of this period, would barbeque for fun in his backyard. Beal upped his game circa the early 2010s, when he began learning from Bill Cannon and John Zeigler of the
Texas BBQ Rub
competition team out near Houston. Also in that same circle was Compton native Dane Florence (a.k.a. Bigg Dane from West Coast Customs), and the two soon partnered up and launched Bigg Dane & Beale's Texas BBQ in Fontana in August 2015. The place proved to be successful, but shuttered in February 2020. However, by that time, Beale had already decided to strike out on his own, and plans for the HB eatery were already well underway. Beale's Texas BBQ thus opened at the start of May 2020, a pretty unfortunate environment for restaurant debuts I have to say.

Beale's is located in the Peter's Landing complex in Sunset Beach, though interestingly, it's already moved from its original location at storefront #117 to #130 a couple doors down. The switchover happened on May 8th this year, and was apparently driven by the desire to have a larger dining room. In any case, the new space is pictured above and is indeed pretty capacious, and even opens out to some outdoor seating along the marina.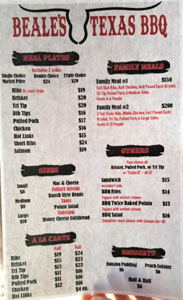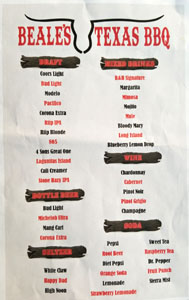 As for Beale's' menu, it's about what you'd expect from a BBQ joint, which isn't a bad thing. The beverage selection, meanwhile, features a wider range than most. Click for larger versions.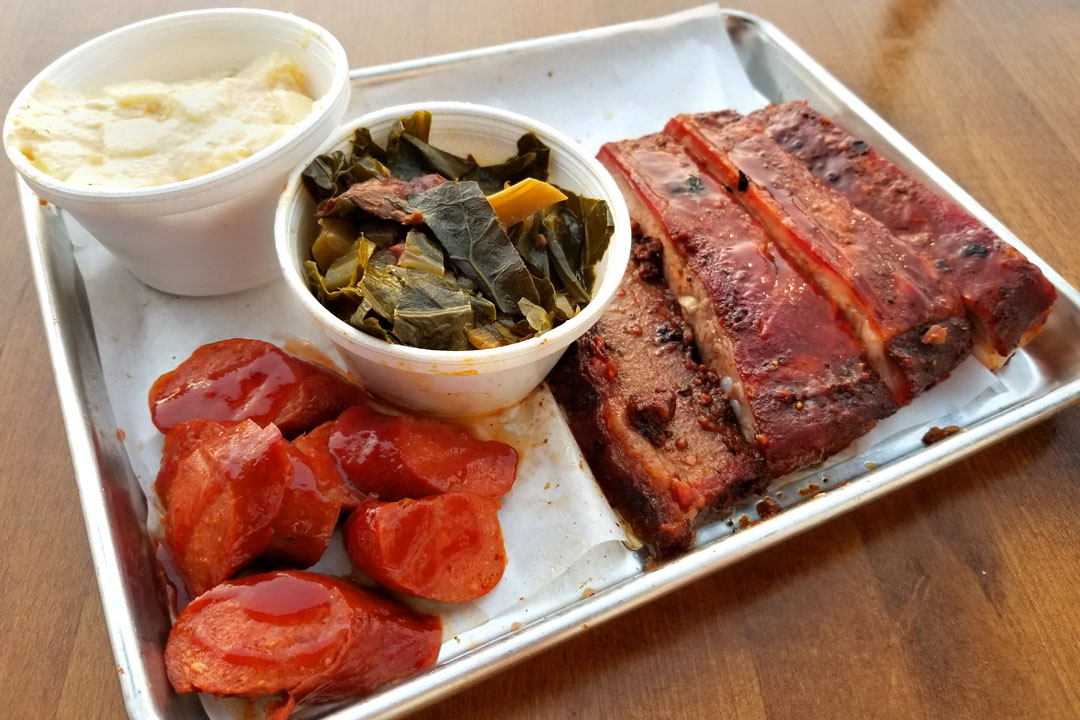 Triple Choice [$29.00]
| Hot Links, Brisket, Ribs + Potato Salad, Collard Greens
Not surprisingly, I opted for combo plates in order to sample as many meats as possible, and my first is shown above.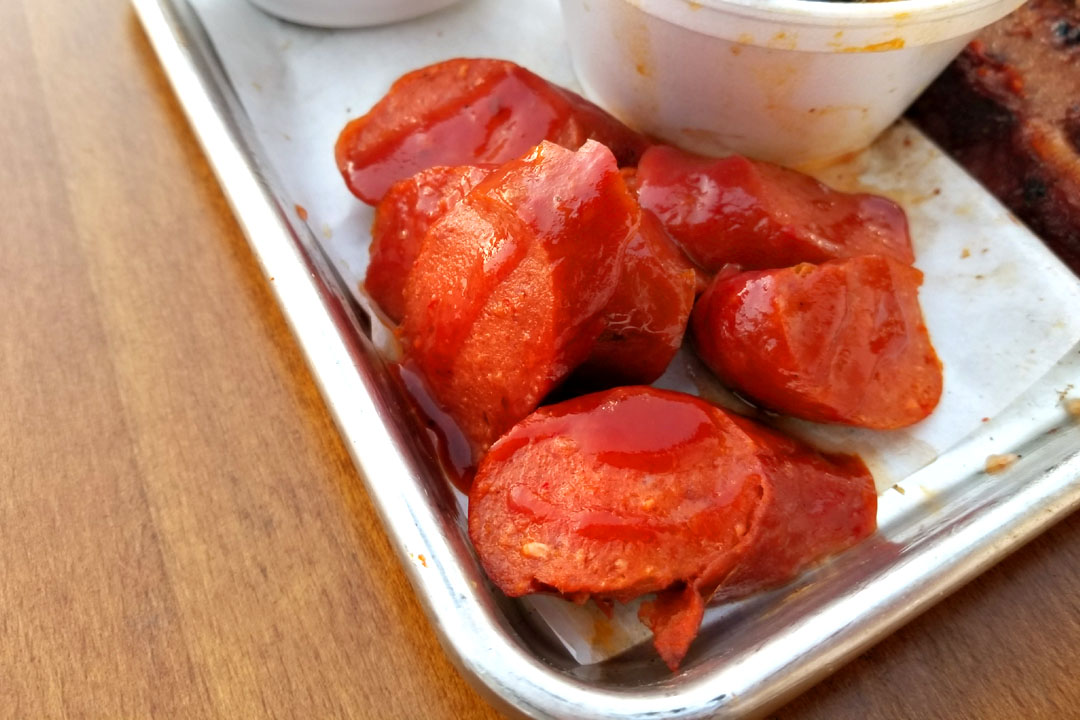 Hot Links
As regular readers will know, I have quite a penchant for sausage, and this was a fine example. I liked the snap on the casings here, while-taste wise, I detected flashes of almost Chinese-y barbeque at first blush, but finished with your classic hot link savoriness and spice. Yum.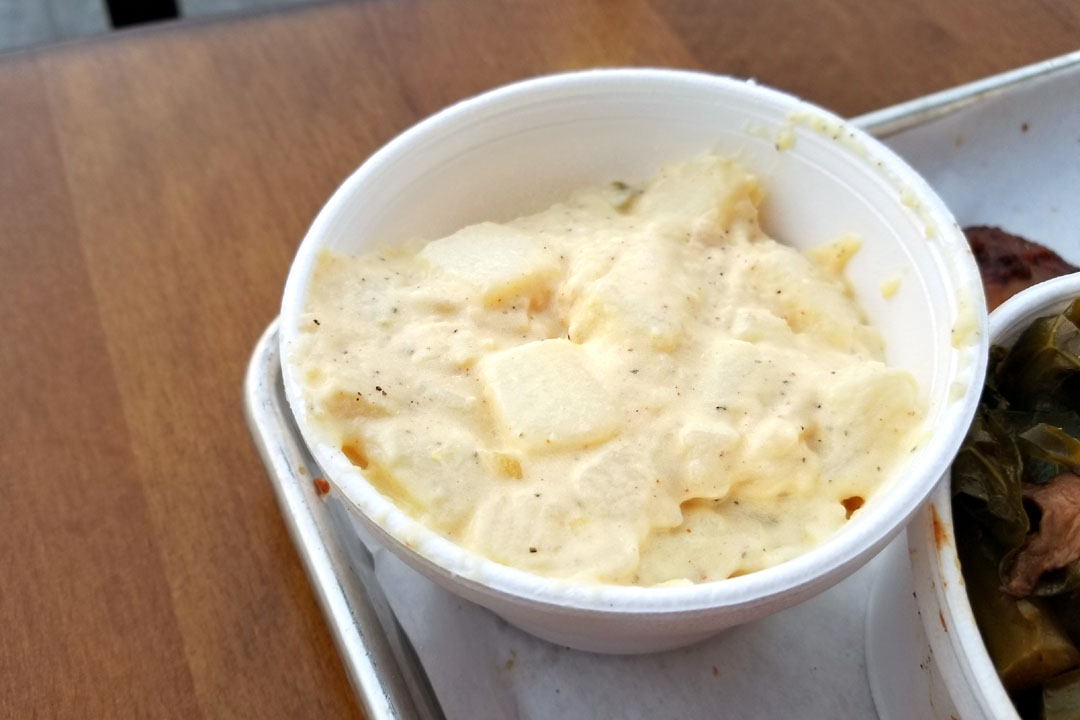 Potato Salad
Potato salad is generally my side of choice when it comes to barbecue, and Beale's example featured hearty chunks of tater in a creamy, sweet-ish dressing perked up by tart pickle-y bits.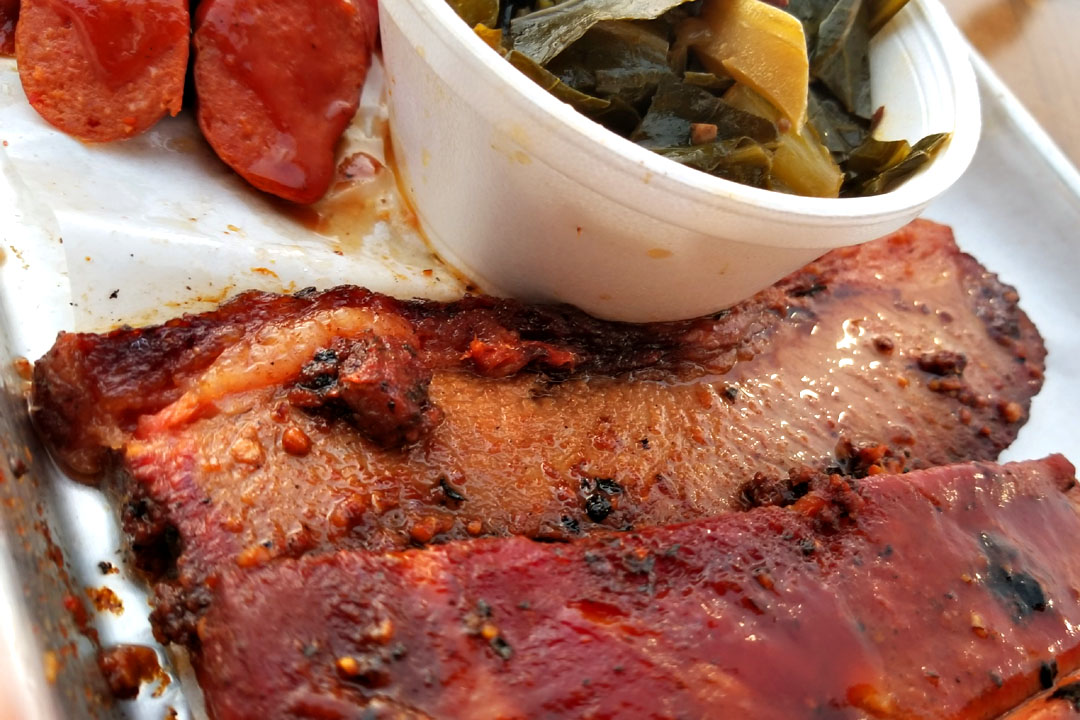 Brisket
Beef brisket showed off a dense, slightly chewy sort of consistency, and could've been juicier. In terms of flavor, I got a jerky-like spicy-sweetness transitioning to strong notes of pepper on the back end, but on the whole, I wanted to taste more smoke character.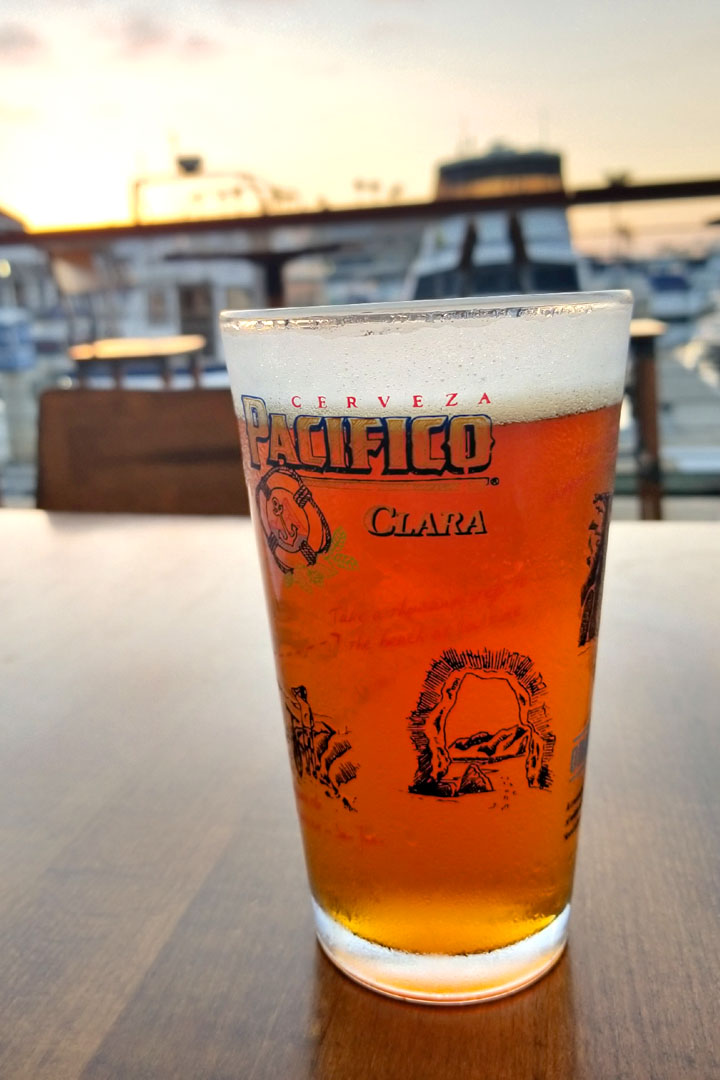 It made sense to have some beer with my 'cue, and I went with the
4 Sons Great One [$10]
to start. An imperial IPA, this one had a very palpable hop presence, but its citrusy, bitter, piney notes were evened out by a backbone of sweet, almost caramel-like malt.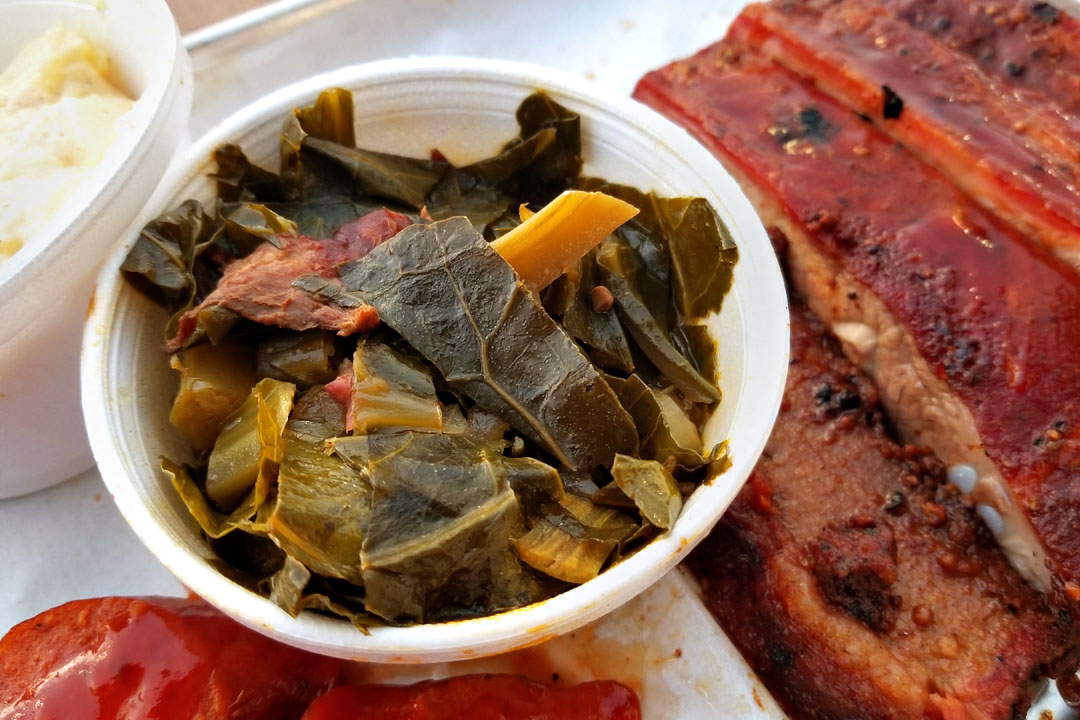 Collard Greens
Collards were some of the best I've had in a while. I really appreciated the greens' deep, earthy, bitter flavors, accented by the salt and savor of the meat, all leading to a long, lingering, homey finish.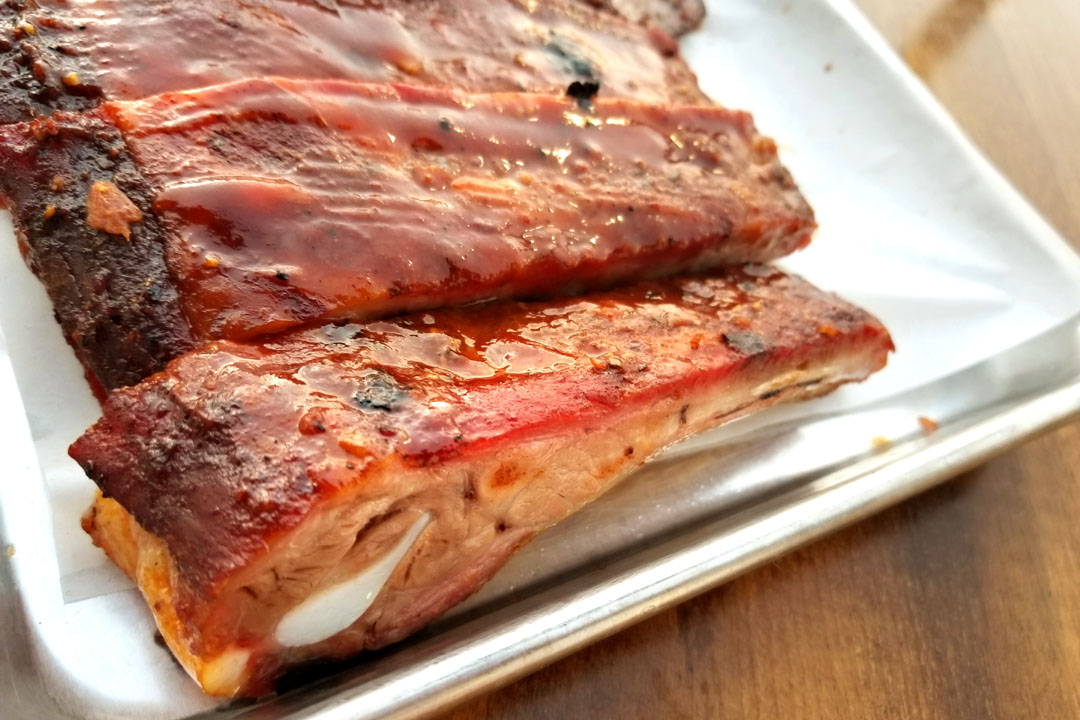 Ribs
| St. Louis Style
Pork spare ribs were of course a must-try, but didn't quite have the texture I was looking for. I also would've liked the sweetness toned down a notch, and overall, the flavors called for more depth, more punch.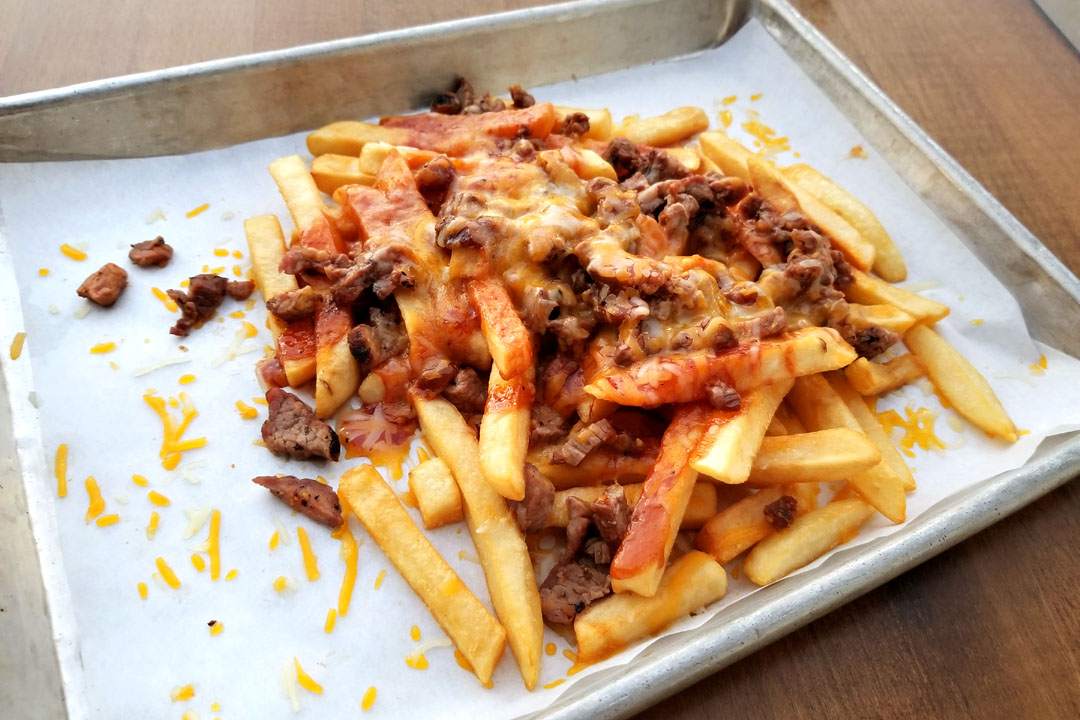 BBQ Fries – Tri Tip [$14.00]
| Topped with melted cheese
Barbecue fries sounded like a good idea, and I went with tri-tip as my protein of choice, given that I didn't have it in either of my combos. The meat was straightforwardly beefy and reasonably tender, and actually reminded me a bit of carne asada. Meanwhile, the thicker-cut fries were just what I was looking for, and the sweetness of the sauce actually worked well to tie everything together.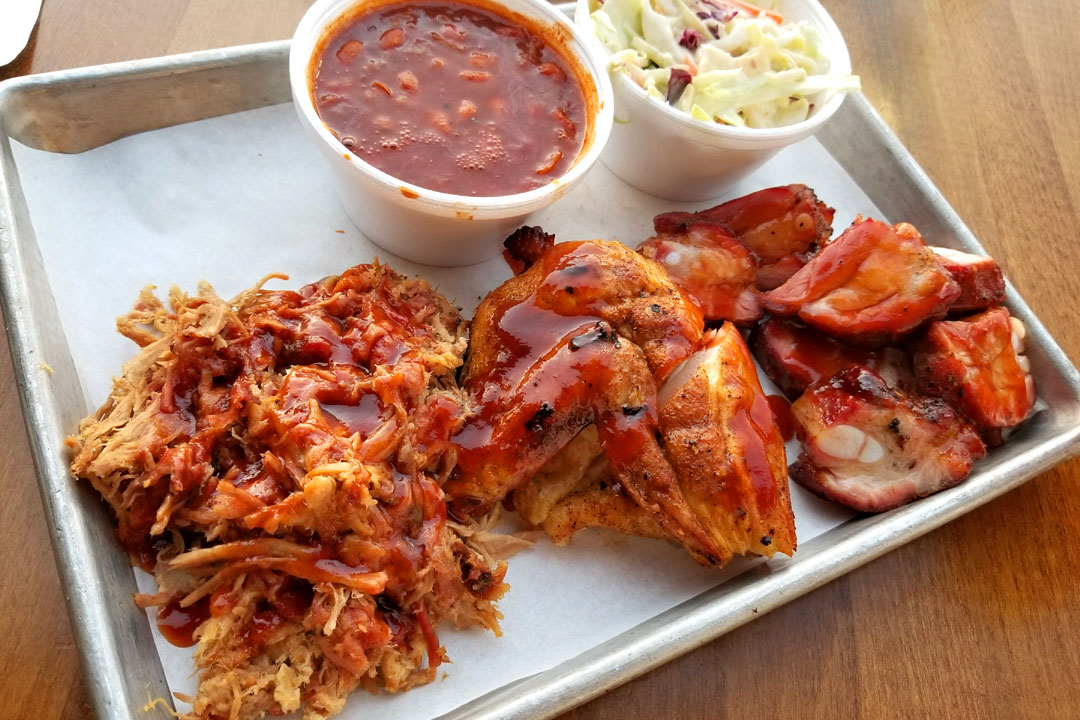 Triple Choice [$29.00]
| Pulled Pork, Chicken, Rib Tips + Ranch Style Beans, Coleslaw
And here we see my second combination plate.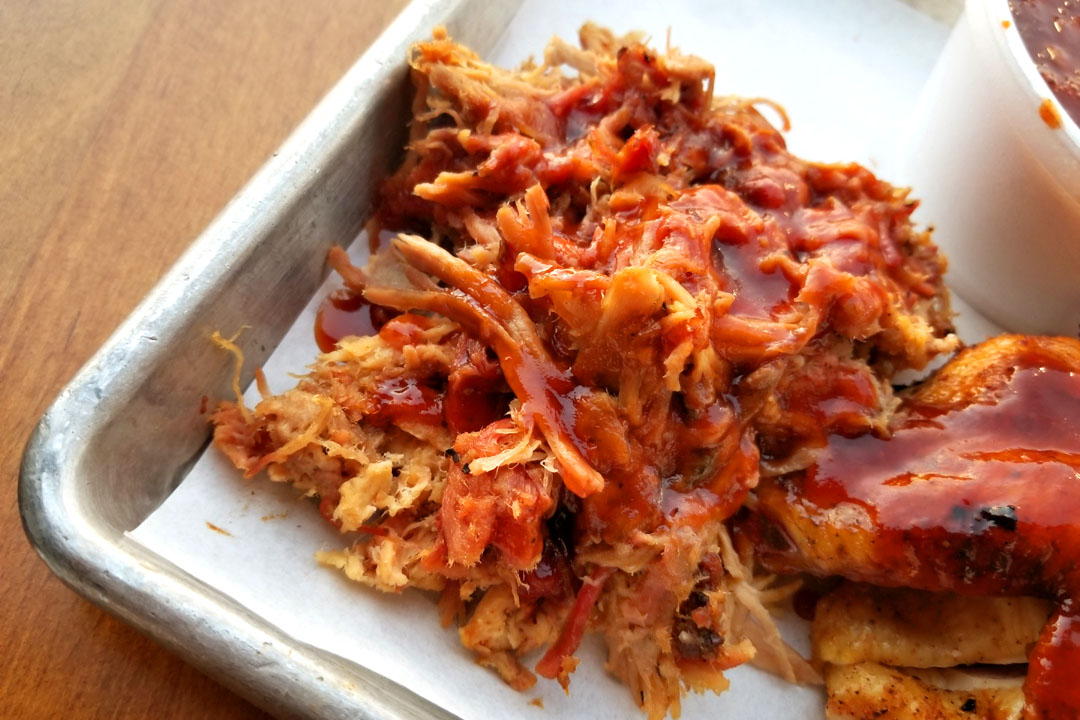 Pulled Pork
Shredded pork displayed a decent succulence and suppleness, though I wanted some crispy charred bits mixed in there. Taste-wise, the meat had this marked porcine funk to it, which was then balanced out by the sweetness of the accompanying sauce.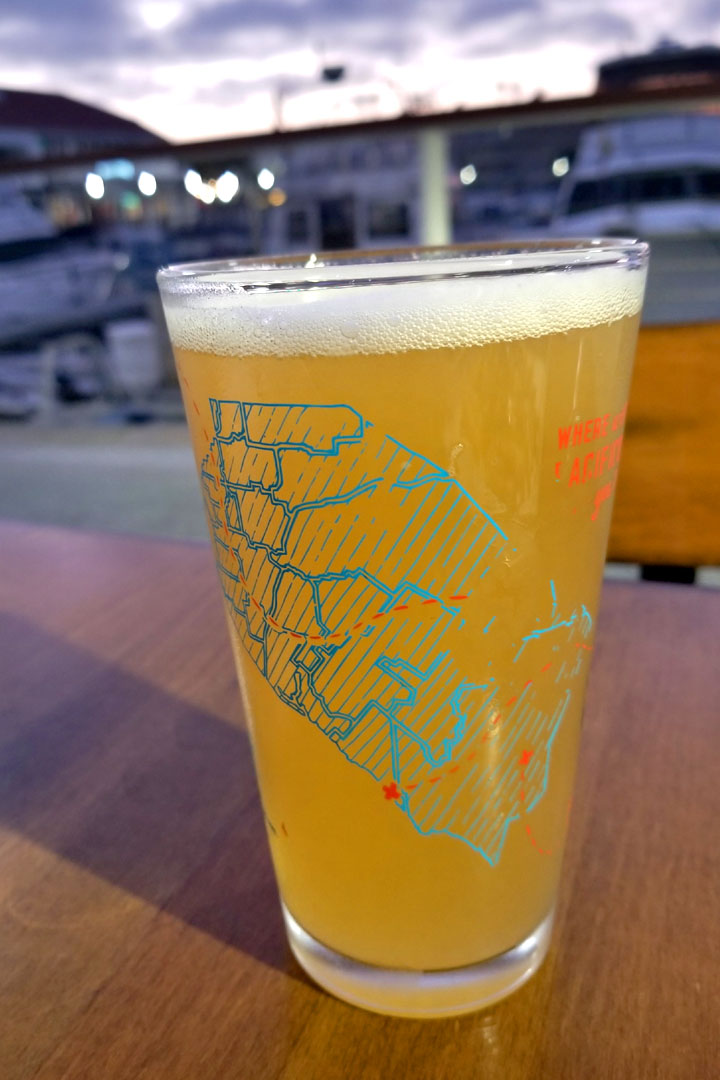 My second beer was another IPA, the
Lagunitas Island Beats [$8]
. This one showed off loads of tart citric notes commingled with a healthy dosing of tropical fruits, making it rather refreshing and easy-drinking, and a good counterpoint to all the meat I was having.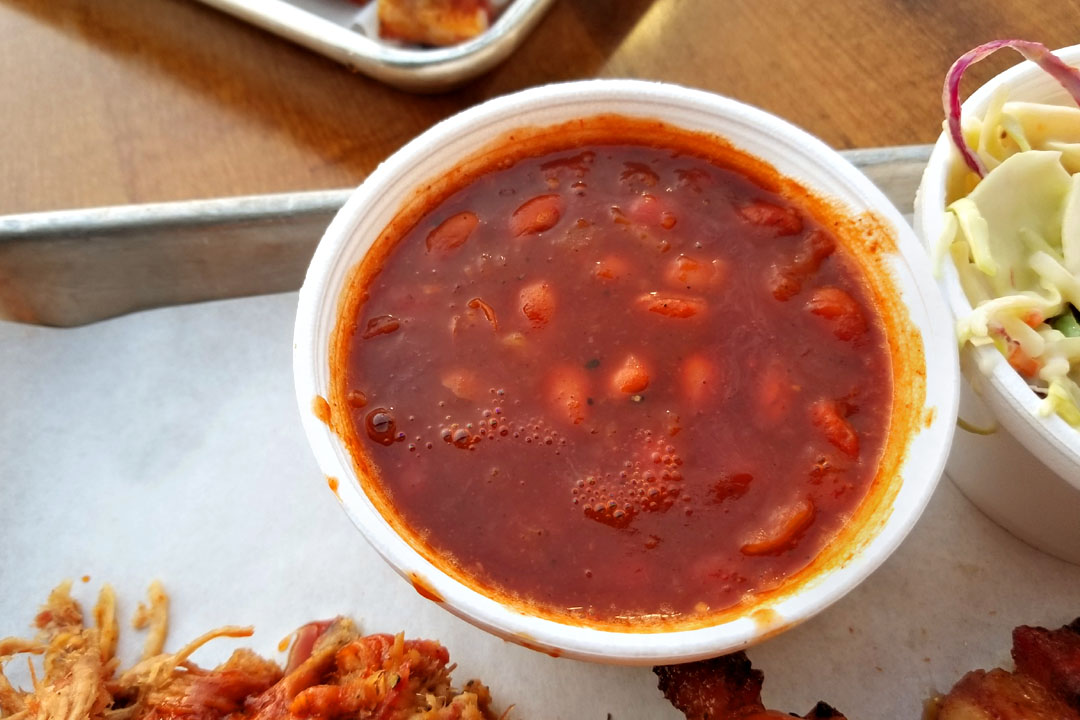 Ranch Style Beans
The beans also made a good showing. They were spot-on texturally, and I definitely liked how their sugariness was so deftly moderated by the spicing in the dish.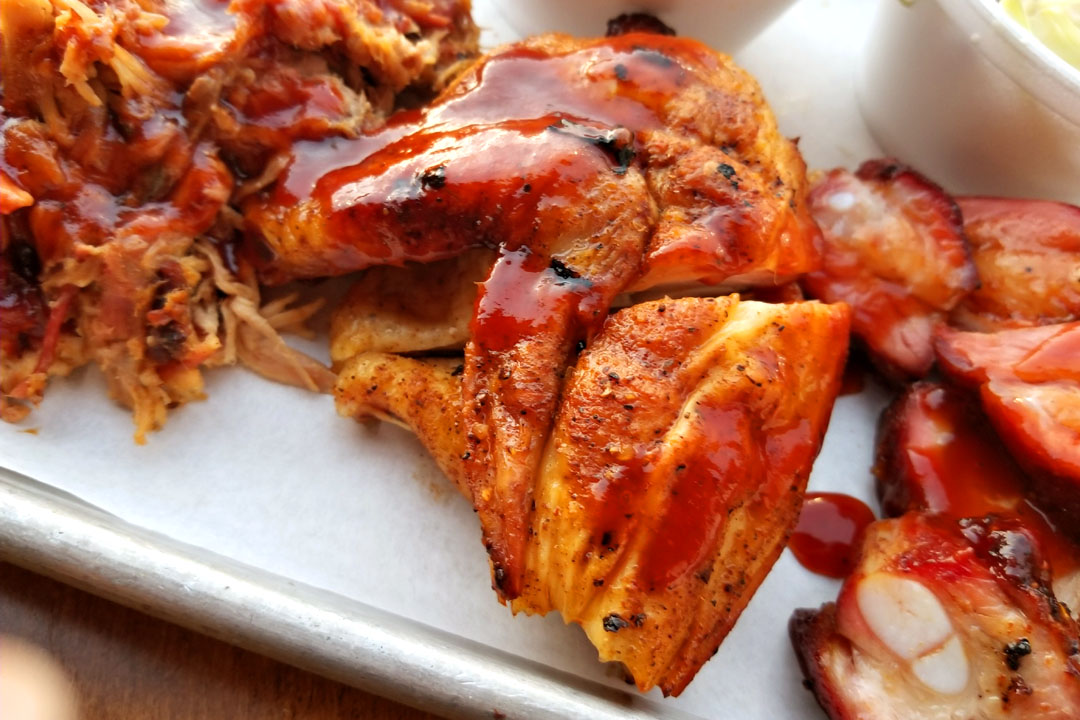 Chicken
I was given white meat for my chicken, and the breast was passable in terms of juiciness. The taste was mostly there as well, but again, I could've used more smoke.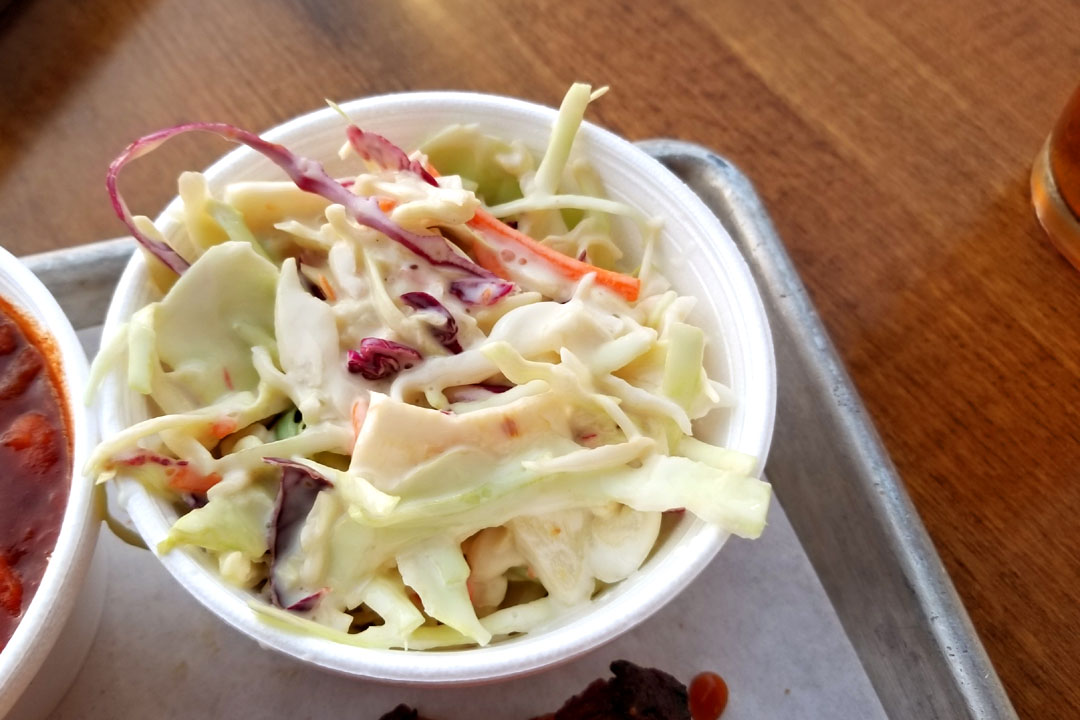 Coleslaw
I enjoyed the cole slaw, which had a creamy, distinctly lactic tang set over a base of bitter, crunchy veggies.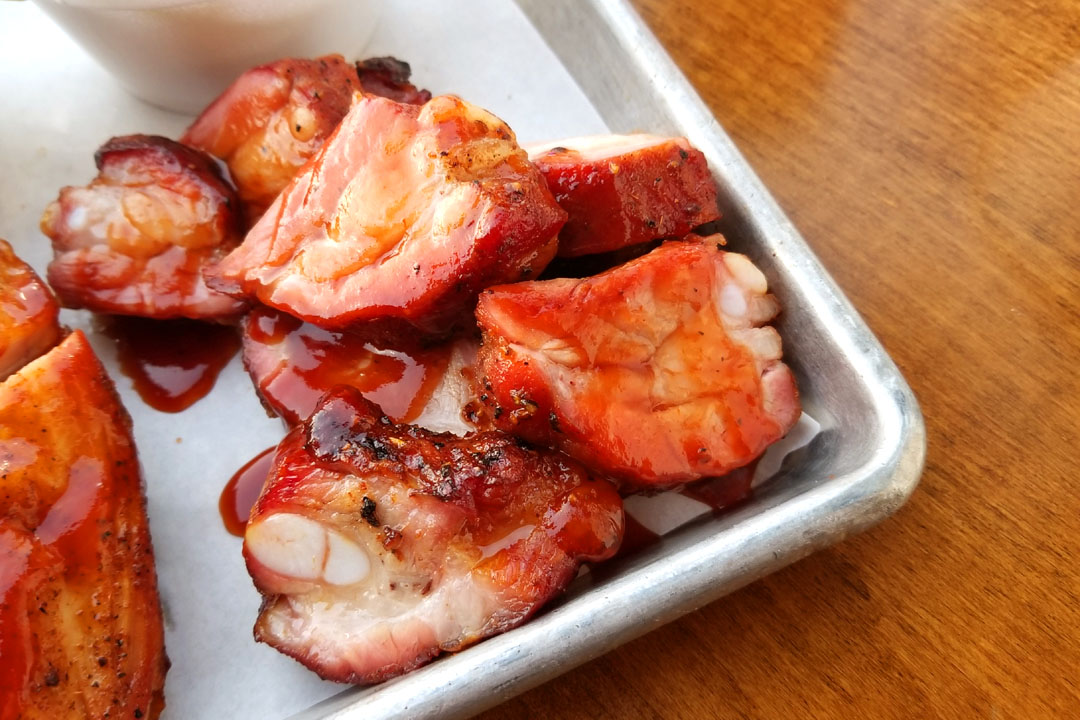 Rib Tips
Last up were the pork rib tips, which managed to be a standout. I was a fan of their meaty, springy bite, and their robust flavor took well to the sweetness of the accompanying sauce; I even got a bit of a char siu-esque quality in there.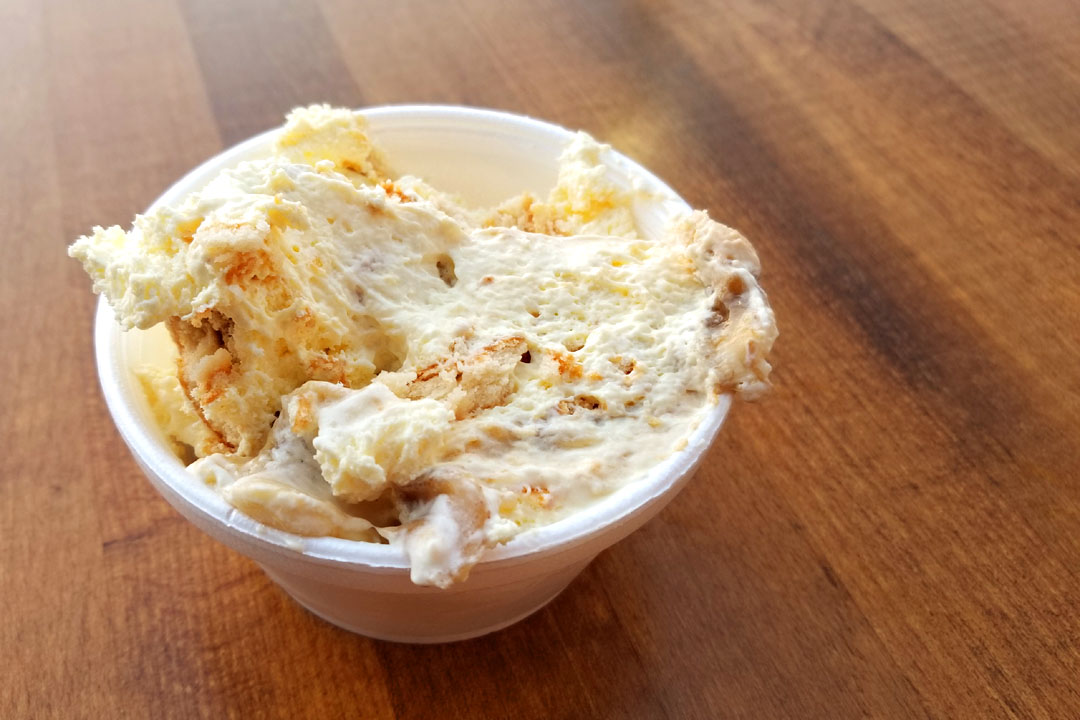 Banana Pudding [$6.00]
I'm generally quite fond of banana pudding, and this was a tasty version of the Southern classic, with a comforting, familiar back-and-forth between banana and vanilla.
Beale's had been on my list to check out for a couple years now, so it's about time that I finally made it out here. The barbeque was solid overall, but there's also room for improvement, and specifically, I'd like to see more of an embrace of smoke over sweetness. Meanwhile, all the sides I tried were on point, and I had no issues with service, either.