INI Ristorante (Fountain Valley, CA)
Ini Restaurant
16129 Brookhurst St, Fountain Valley, CA 92708
714.277.4046
www.iniristorante.com
Fri 07/22/2022, 09:10p-11:00p

A birthday dinner in Orange County brought me to INI Ristorante, a new spot that launched back at the start of June. It comes to us from Chef Cuong Viet Nguyen's
Kei Concepts
, the hospitality group responsible for some of the hottest eateries in north OC. I'm talking about places such as Sup Noodle Bar, Vox Kitchen,
Gem Dining
, Kin Craft Ramen & Izakaya, Nép Cafe, and ROL Hand Roll Bar. As for INI, the food here is Japanese-inspired Italian, a combination that's seemingly becoming more and more popular.

INI takes over a location that was previously home to Tip Top Kitchen, and was a Blockbuster Video before that (remember those?). The space has been thoroughly reworked, and is actually quite capacious and comfortable, albeit somewhat loud.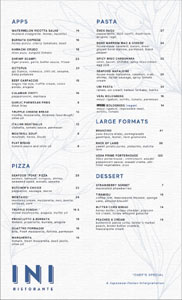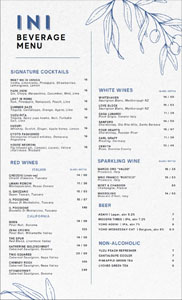 Here we see INI's menu, which reads mostly Italian, in the familiar cadence of apps, pizzas, pastas, mains. To drink, you get some cocktails, a handful of beers, and a short wine list. I'd recommended BYOB-ing; corkage is $25 for the first two bottles and $40 for any subsequent ones. Click for larger versions.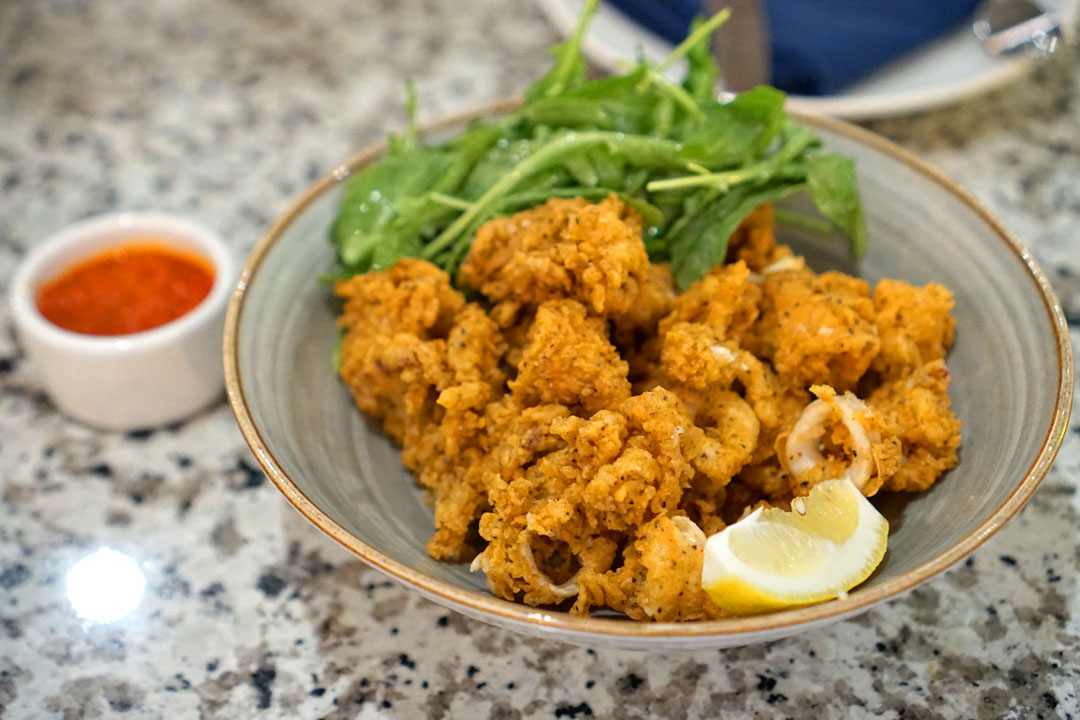 Calamari Fritti [$16.00]
| pepperoncini, marinara
We began with a solid rendition of fried calamari, one that featured crunchy, brittle battered exteriors but supple insides. I didn't get much of the pepperoncini, but I did taste a good amount of what I believe was garlic, which made sense with the brine of the squid. A dip into the included marinara certainly made sense, but I preferred just a squirt of lemon.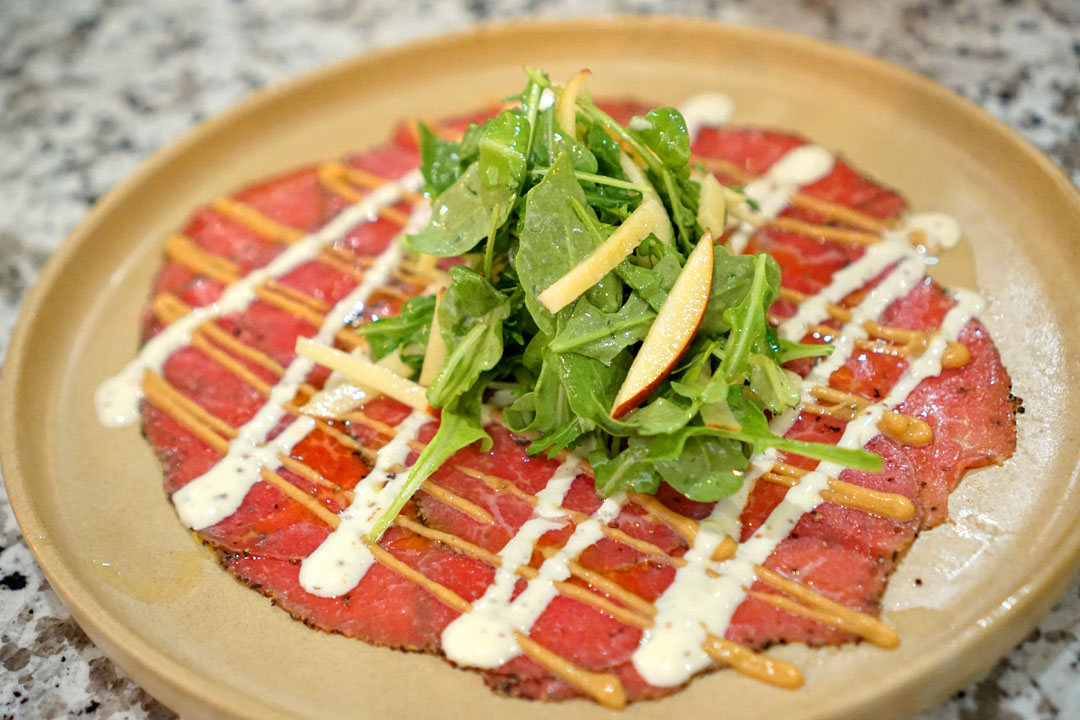 Beef Carpaccio [$15.00]
| wagyu top eye, truffle cream, onion ponzu, arugula
It'd been a while since I've had a carpaccio, and this was a reasonable rendition. The beef itself was as you'd expect, and the sauces imparted a sweetness along with peeks of truffle, while the arugula helped lighten the mood. A complaint here was that the slices were all stuck quite firmly together, making eating the dish a smidge difficult.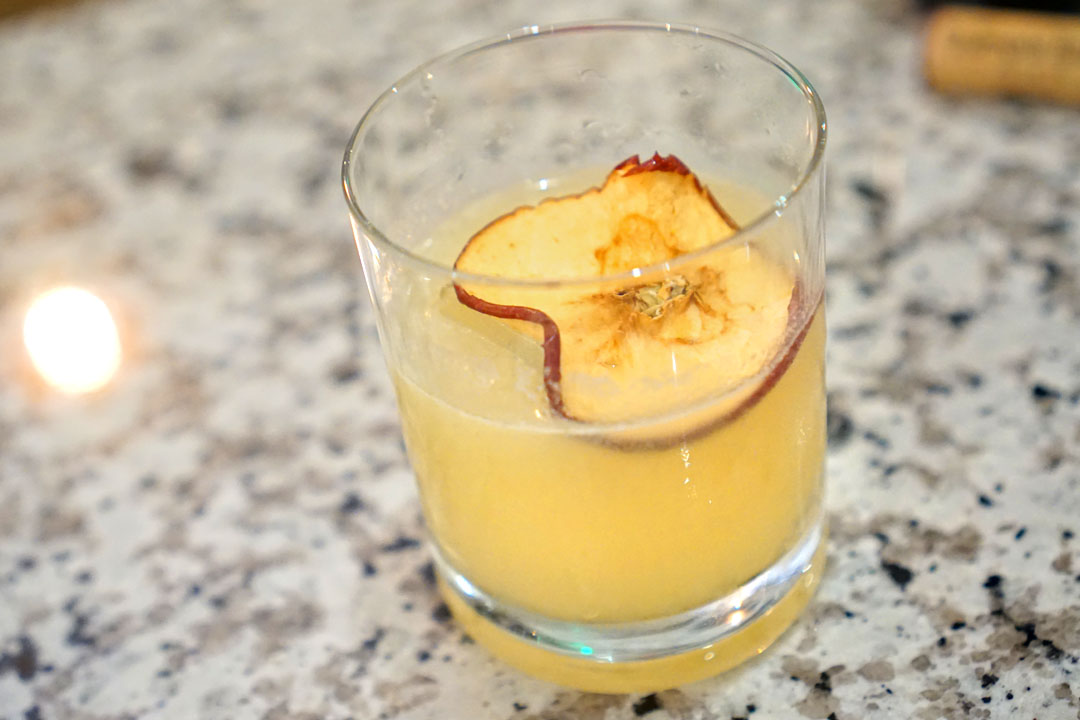 Kusuri [$16.00]
| Whiskey, Scotch, Ginger, Apple honey, Lemon
We tried a couple cocktails, and our first was this obvious variation on the Penicillin. The drink showed off some very in-your-face whisky notes (which I didn't mind), set against plenty of ginger-y zest, with the honey working to moderate things.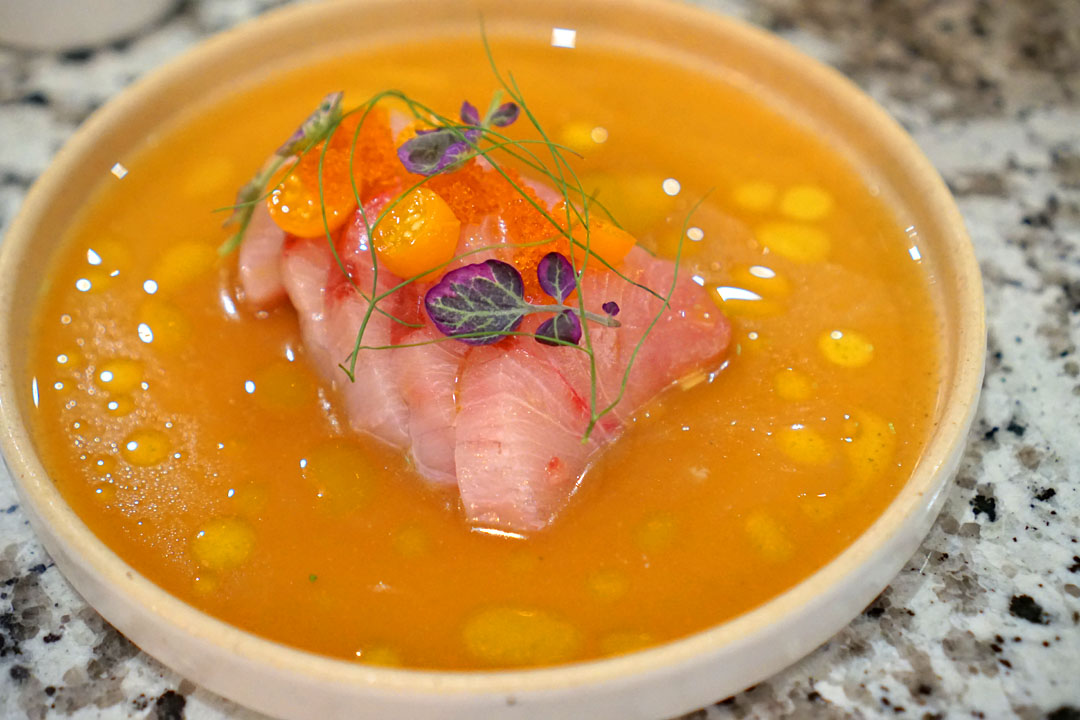 Hamachi Crudo [$18.00]
| miso yuzu, sungold tomato
The crudo played meaty, fatty, briny cuts of yellowtail against umami notes from a miso-based marinade, and at the same time, tomatoes imparted a tart, juicy character. I did appreciate the textural contribution from the masago (or tobiko?), but I really would've preferred thinner cuts of fish here.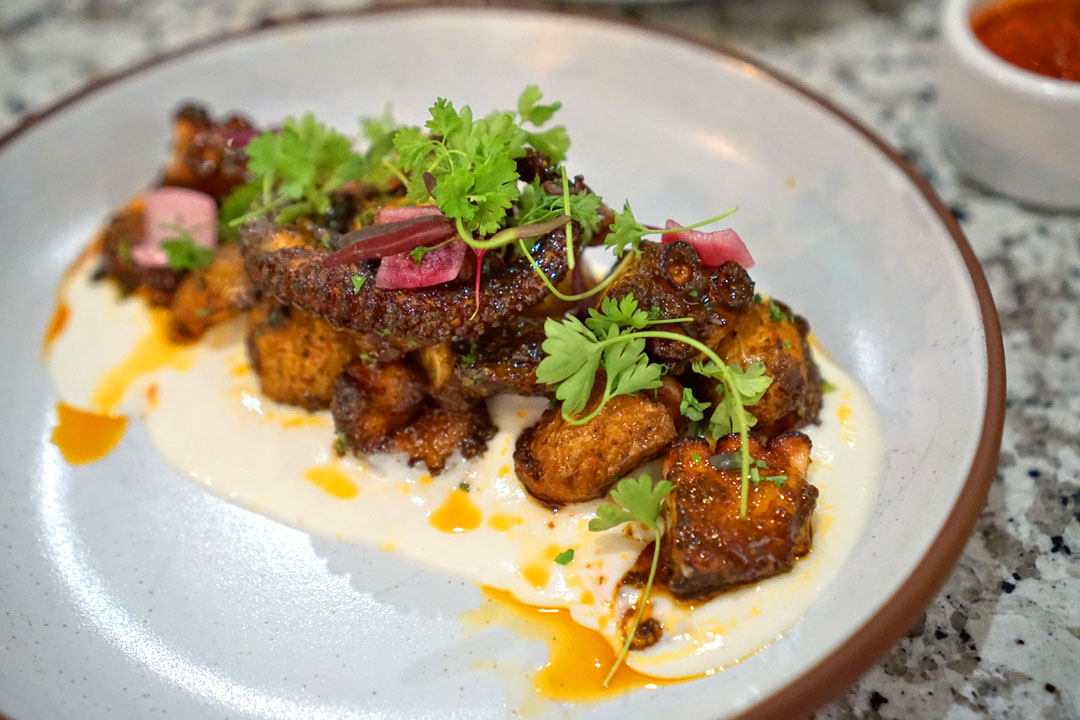 Octopus [$21.00]
| ajo blanco, romesco, chili oil, sesame, baby potatoes
Octopus ate nice and tender, though I would've liked a harder sear on the outside. The dish had a distinct celery-like element to it, which paired well with the familiar, nutty, piquant nature of the romesco, all while the potatoes imparted a welcomed weightiness.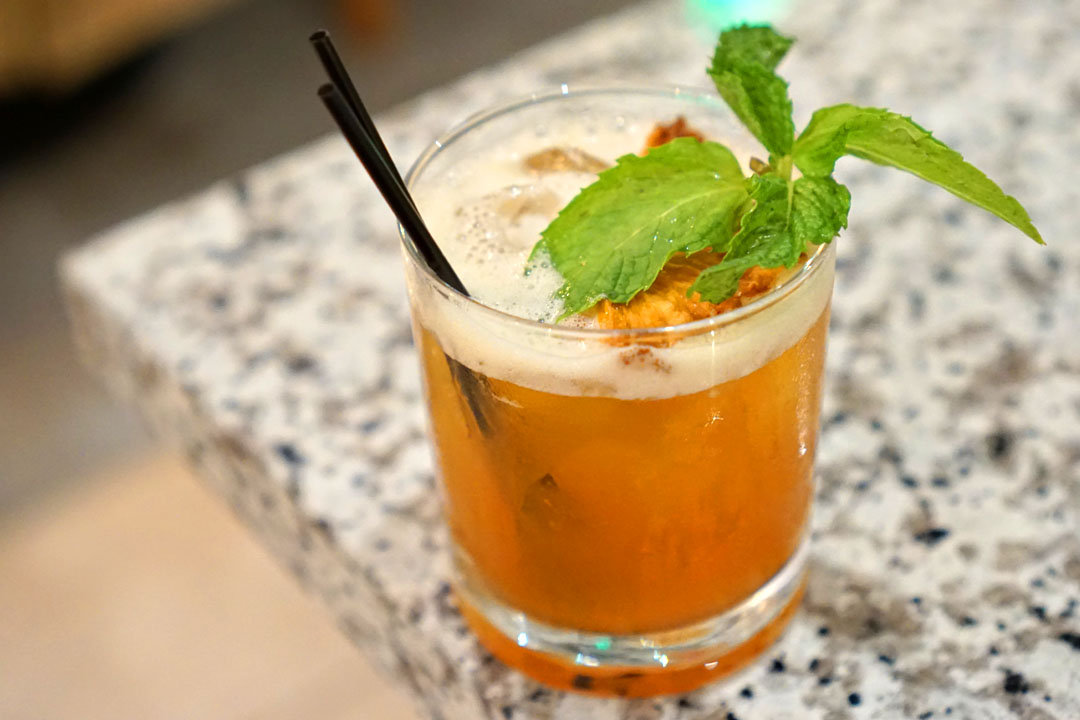 Lost in Rome [$16.00]
| Rum, Pineapple, Ramazzotti, Peach, Lime
My second cocktail was pretty easy-going, demonstrating a healthy dosing of pineapple right up front, tempered a touch by spicy, bittersweet nuances from the amaro.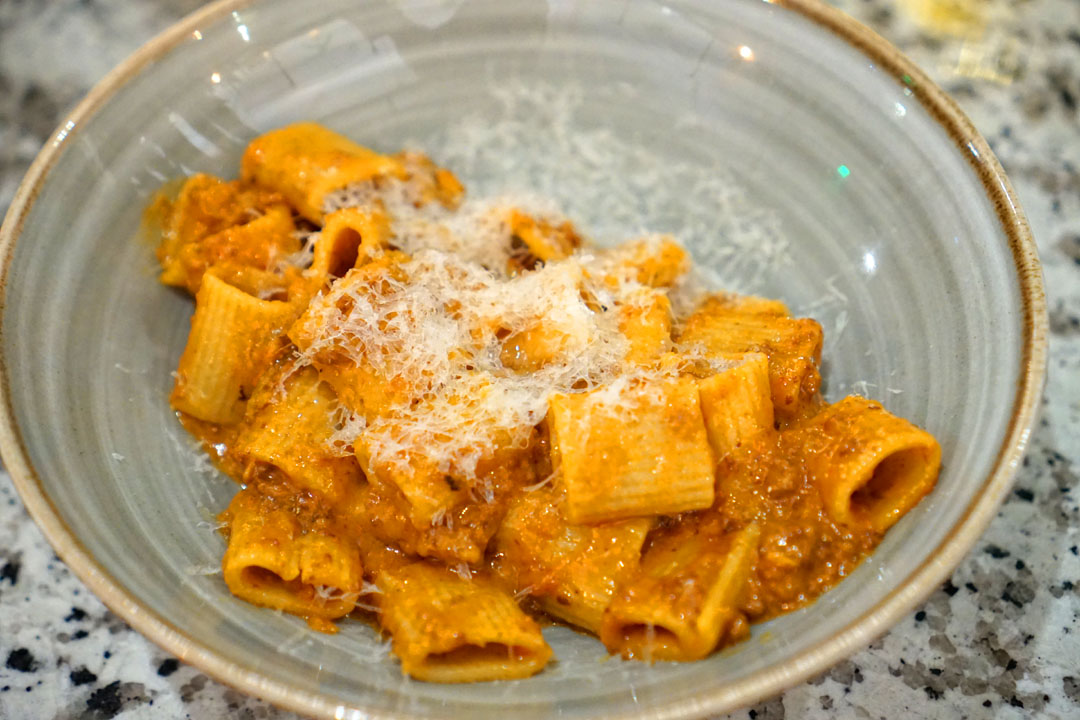 Veal Bolognese [$16.00]
| mezzi rigatoni, sofrito, tomato, parmesan
Our first of three pastas was a take on the classic bolognese. The rigatoni were well-textured, and the ragù did show off the savory, meaty goodness of the veal, though I did find it sweeter than anticipated.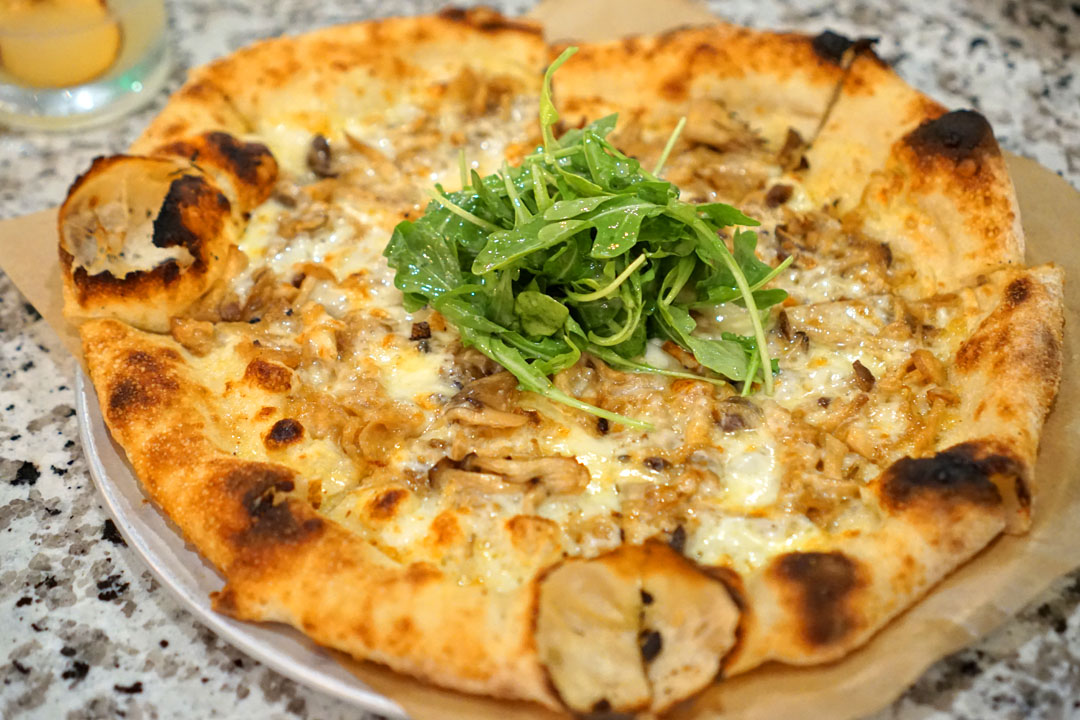 Truffle Funghi [$19.50]
| mixed mushrooms, arugula, truffle oil
We also sampled two of the pizzas. The funghi did indeed show of the woodsy, cozy qualities of the 'shrooms, boosted just a tad by the musk of truffle oil. However, the crust didn't seem quite right, coming out chewier and denser than I'd prefer.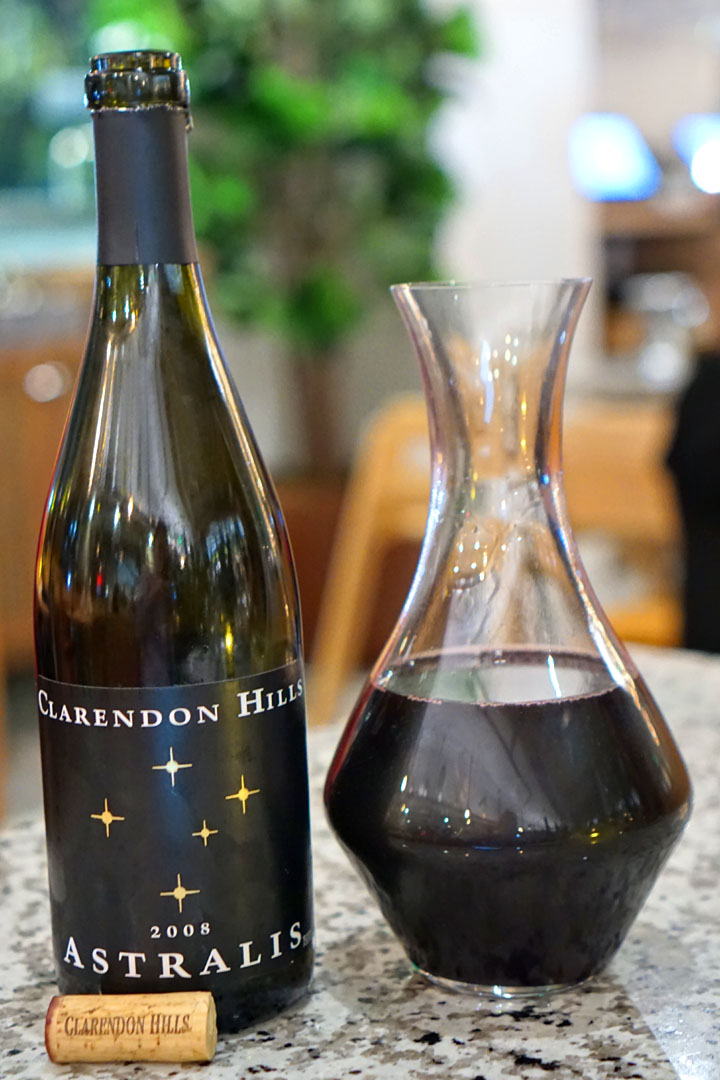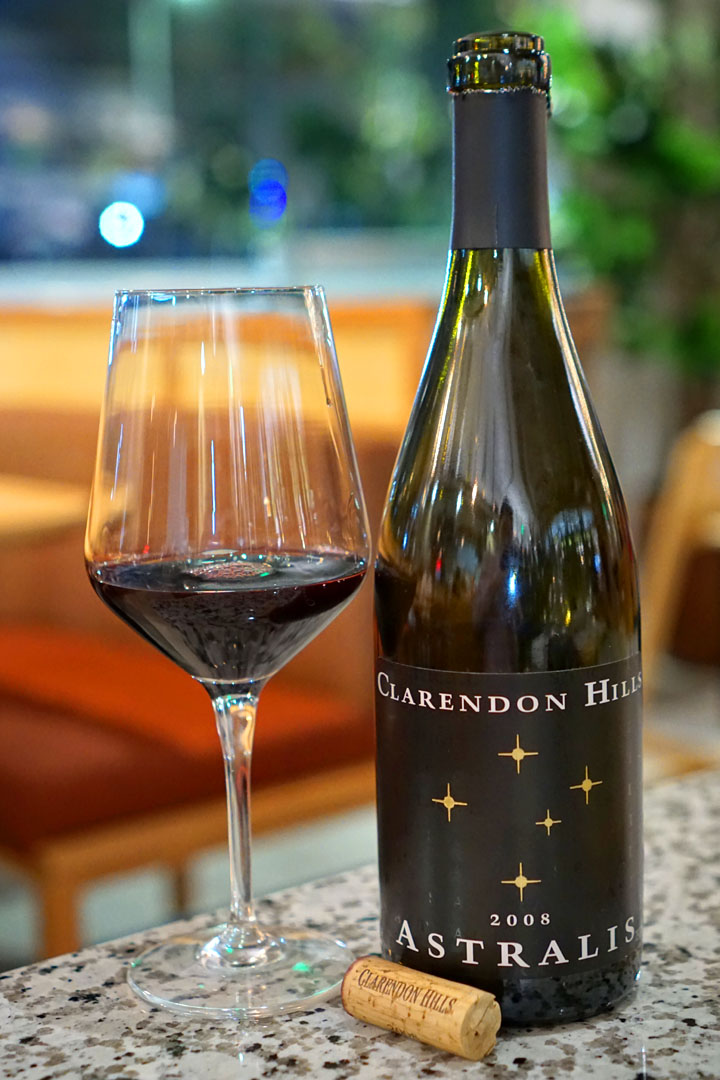 We also brought some wine to drink, the
2008 Clarendon Hills Astralis
, an oft-lauded Shiraz from South Australia. Initial whiffs from the decanter revealed jammy, earthy aromas with hints of
suanmei
, tobacco, spice, and heat. We let the wine settle and warm, and in the glass, its bouquet highlighted super rich berries evened out by a marked savoriness. Lush on the palate, it displayed meat and mint up front, combined with rich berries, sour plum, spice, and dry herbs, with the fruit lingering long and strong--lovely and potent overall. I actually don't drink too much Aussie wine, but perhaps I should seek out some more.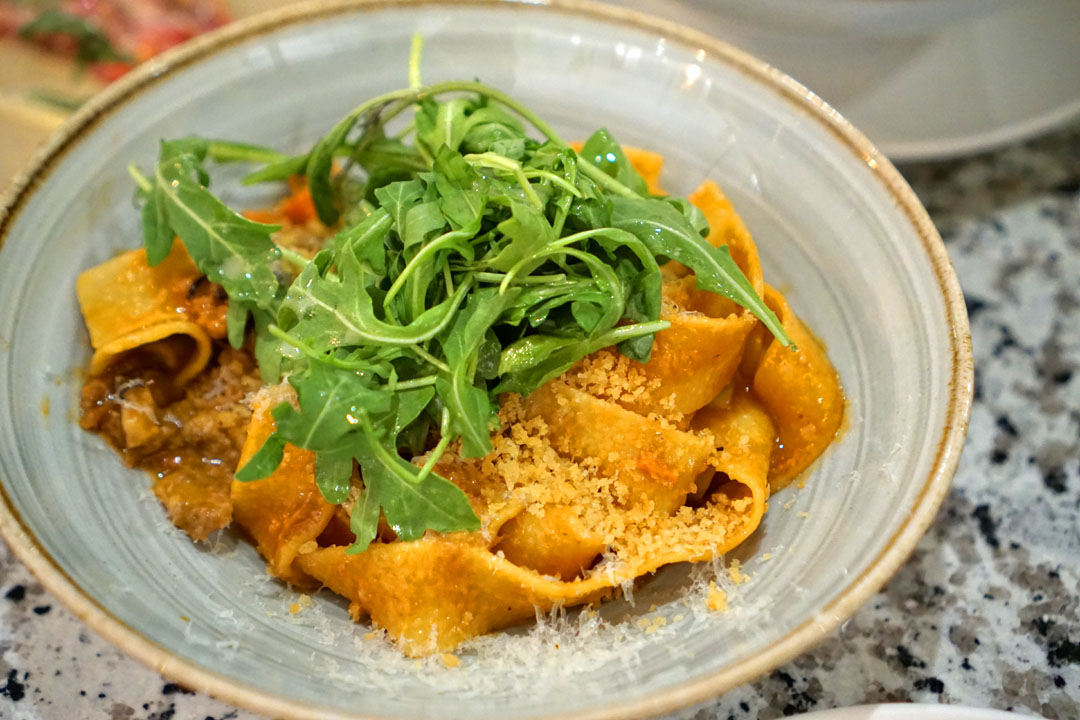 Duck Ragu [$27.00]
| pappardelle, duck confit, mushroom, arugula, ragù
Pappardelle were pretty spot-on texturally. The pasta was a good match to the ragù, which did a nice job showing off the intensity and depth of the duck, though again, I found it on the sweeter side.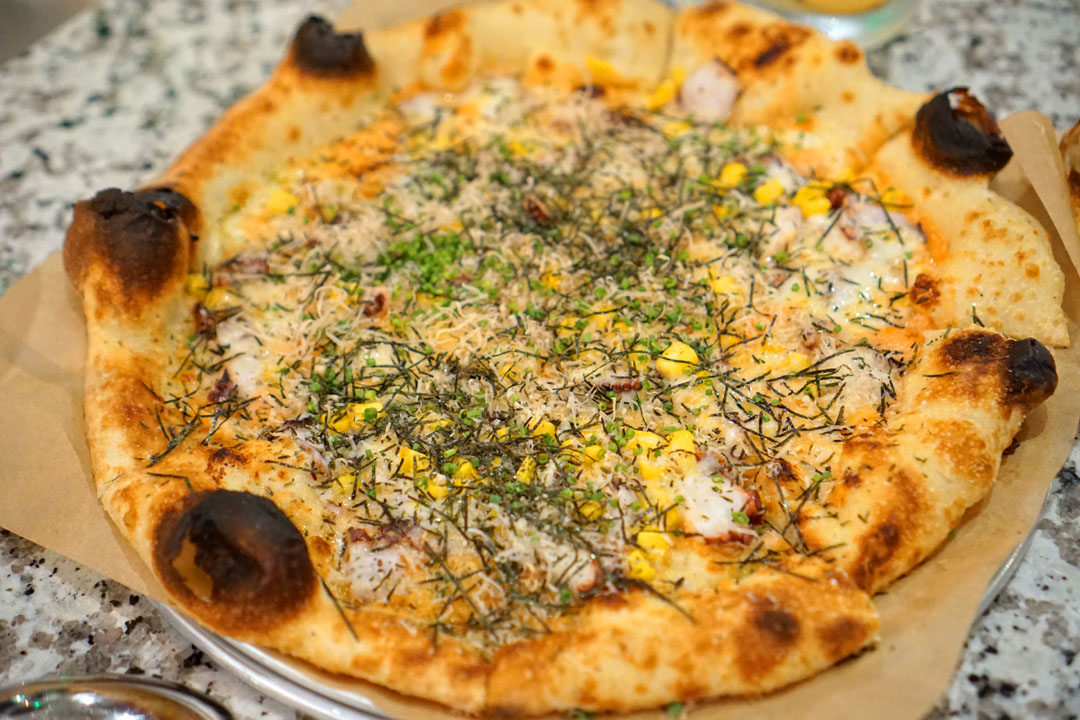 Mentaiko [$24.00]
| mentaiko cream, mozzarella, nori, bonito, octopus, corn
Our second pizza was perhaps the most overtly Japanese dish of the evening, though I didn't taste all that much from the advertised pollock roe. Rather, I got lots of umami from the seaweed and bonito flakes, which married well with tender chunks of octopus and the sweetness from the corn. But again, like with the pizza above, the consistency of the dough seemed off.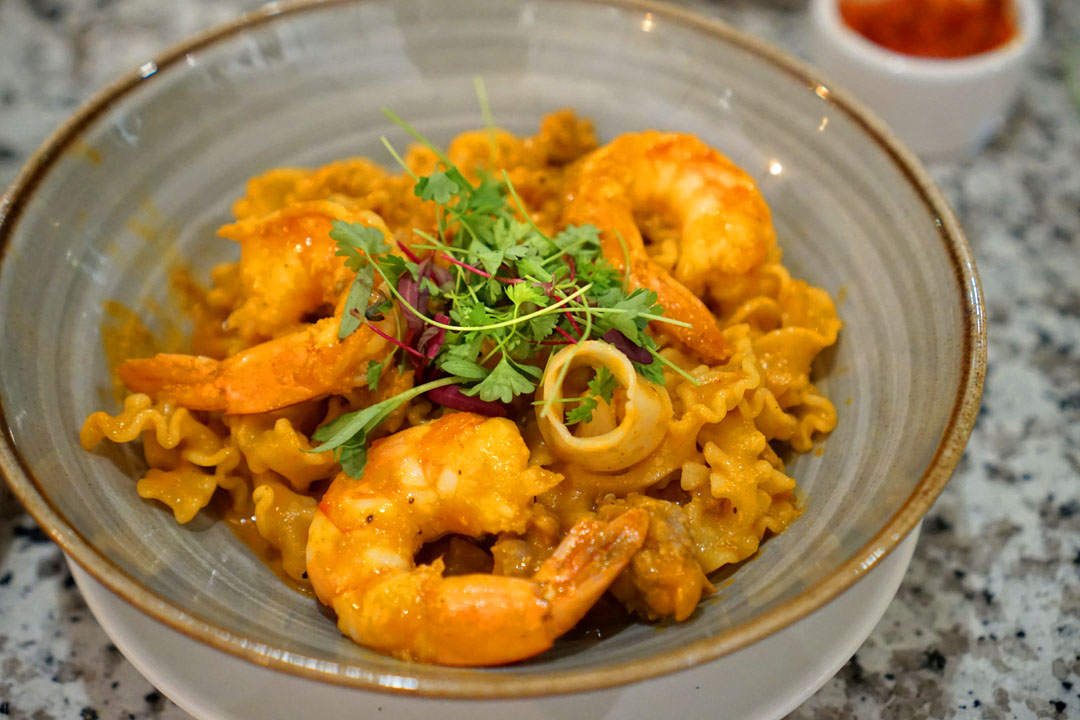 Seafood Mafaldine [$25.00]
| house-made mafaldine, calamari, crab, shrimp, italian sausage, spicy tomato cream
The mafaldine was my favorite of the pastas. The sweet heat of the dish matched up with the salinity of the seafood, and I especially appreciated the comfy, savory nature of the sausage. The shrimp were well-cooked as well, and interestingly, we also detected an almost pho-like flavor here, which we didn't mind.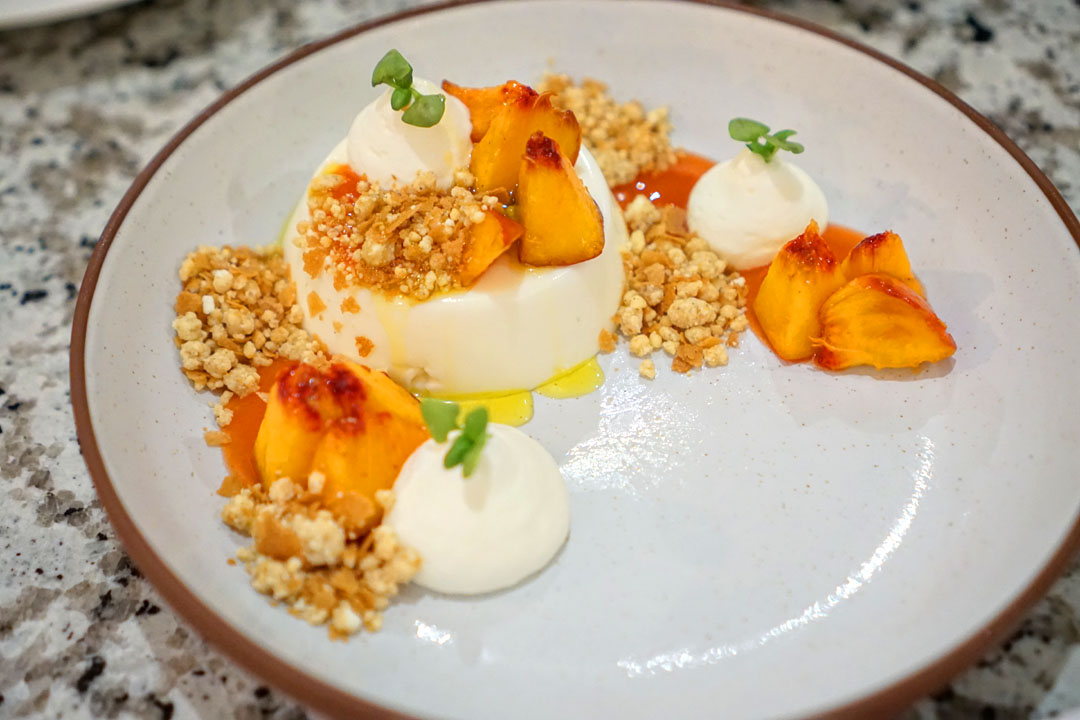 Peaches & Cream [$14.00]
| buttermilk panna cotta, farmer's market peach, brown butter crumble, mascarpone cream
Time for dessert. A play on peaches and cream certainly worked out thanks to its classic interplay of the stone fruit with a creamy, lactic combo of panna cotta and mascarpone. Great contribution from the crumbles, too.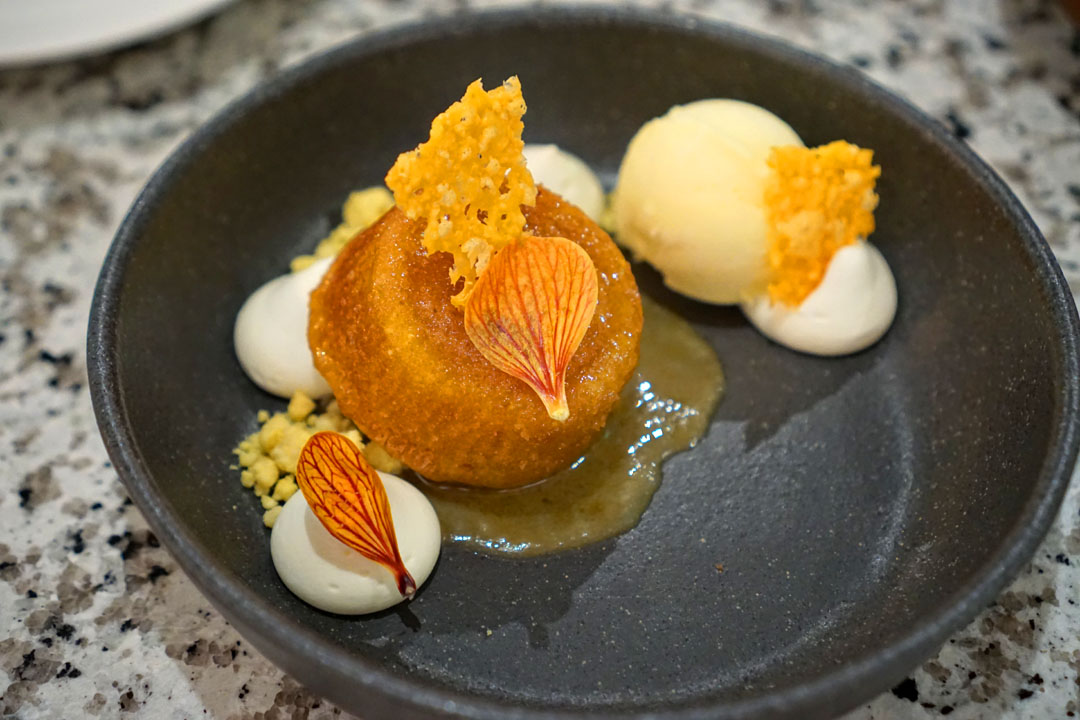 Butter Corn Bread [$14.00]
| honey butter, crispy cheddar, popcorn ice cream, honey whipped ganache
The cornbread was also a winner, coming out as rich and moist and buttery as I was hoping for. It linked up seamlessly with a popcorn-enriched ice cream, and I liked the saltiness offered up by the cheddar tuiles to boot.
Judging by how busy the place was, INI seems to be doing some brisk business and garnering quite a bit of attention, though I think there's still room for improvement in the kitchen. Some of the dishes could certainly benefit from some fine-tuning, some polish, and overall, I'd like to see the food lean more overtly into its Japanese influences. The restaurant is young though, so there's still plenty of time to evolve.