Wally's (Beverly Hills, CA) [2]
Wally's Wine
447 N Canon Dr, Beverly Hills, CA 90210
310.475.3540
www.wallywine.com/restaurants/
Mon 07/25/2022, 08:25p-10:50p

Recently, I was looking to purchase a bottle of the much-lauded 2018 Château Mouton Rothschild, and thus headed over to Wally's, which actually had some of the best pricing around for that particular vintage. Now, since I was already there, I decided to also enjoy dinner at the wine shop-slash-restaurant. If you recall, I last posted about the place
in late 2015
, not long after its kitchen was taken over by
David Féau
. I had a lovely meal back then, but Féau wound up leaving in November 2018, and was replaced by his second-in-command, Ryan Kluver, who's still top toque today.
About the Chef
: Kluver was born and raised in San Clemente, a city at the very southern tip of Orange County, and graduated from San Clemente High School in 1999. He joined Patina Restaurant Group in 2005 at their
flagship restaurant
at the Walt Disney Concert Hall, then went on to work at two of the company's other properties: Paperfish in Beverly Hills and Kendall's Brasserie, also in DTLA. He left PRG in 2008 and eventually connected with the team at
Hatfield's
, and helped open the second iteration of the restaurant in early 2010. After a year, the Chef transitioned over to a line cook position at
The Royce
in Pasadena, which is where he first started working with Féau. Féau, however, decamped at the start of 2013, and took Kluver with him. The pair did some consulting work for Lexington Social House over the course of the following year, then took over the kitchen at Wally's around August 2015.
Kluver is joined in kitchen by Chef de Cuisine Omar Zanders, while the front-of-the-house is led by General Manager Randy Evans (Hillstone Restaurant Group) and Wine Director Phillip Dunn, who comes to Wally's from
Spago
and
Canlis
.

Inside, things haven't really changed much at all since I last reported on the place, and that's not a bad thing.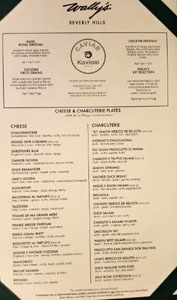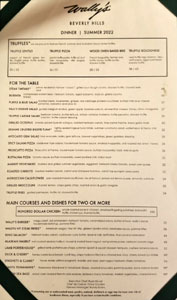 Shown above is Wally's' fairly lengthy cheese and charcuterie list, as well as the night's dinner menu. Click for larger versions.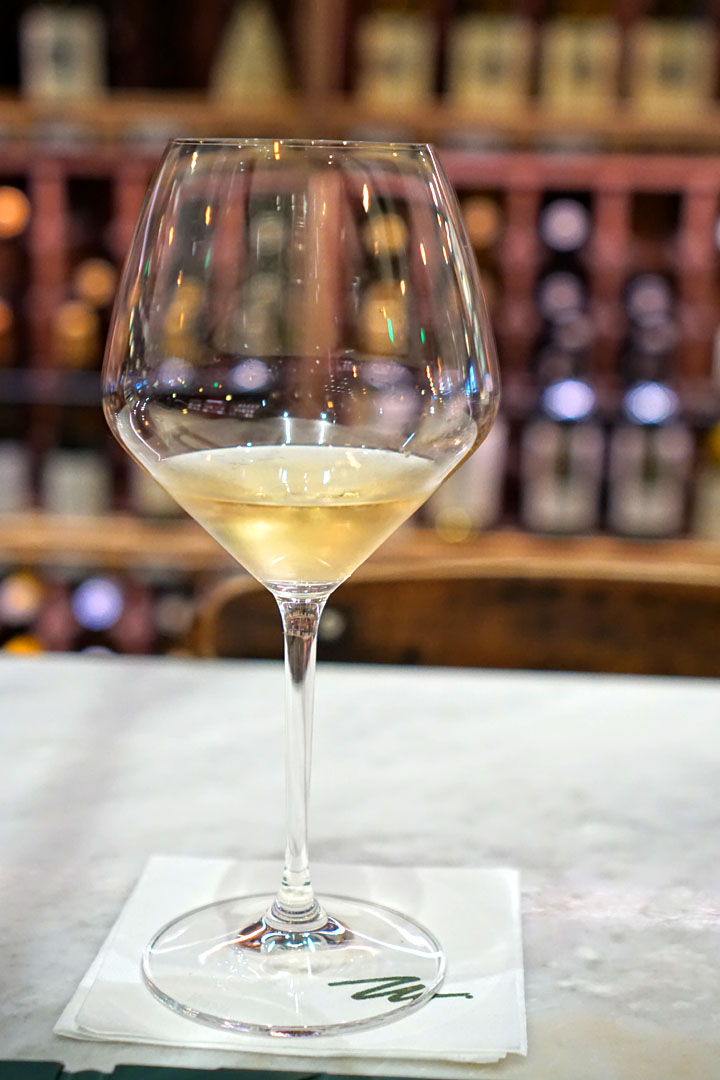 I received great service from Sommelier-slash-Terroir Specialist Chanelle Kuhn throughout the evening, which started with a complimentary pour of the
Louis Roederer - Cristal, Champagne, Reims, FRA 2007
. The wine had a powerful nose that hit me hard with boatloads of stone fruits intertwined with a chèvre-esque lactic tang; it was actually reminiscent of a cheese plate. On the palate, I found the bubbly lush yet acidic, its initial elements of mineral, brioche, saline, and lemon giving way to apricot preserves on the mid-palate, making for an eminently balanced, yet somehow brash drinking experience. This one was tasting great tonight, but I'd be very curious to see how it develops over time.
Truffle Lentils [$30.00]
| ragout of French green lentils, English peas, truffle butter, shaved truffle
David Féau
served me the best lentils I've ever had, and it looks like Kluver's taken a page from his old boss' playbook, since these were superb as well. I loved the unabashedly earthy, nutty quality of the lentils, and how they so seamlessly meshed with the funk of those summer truffles and dish's buttery undercurrent, all while peas imparted a much-needed brightness. This was something I just wanted to keep eating.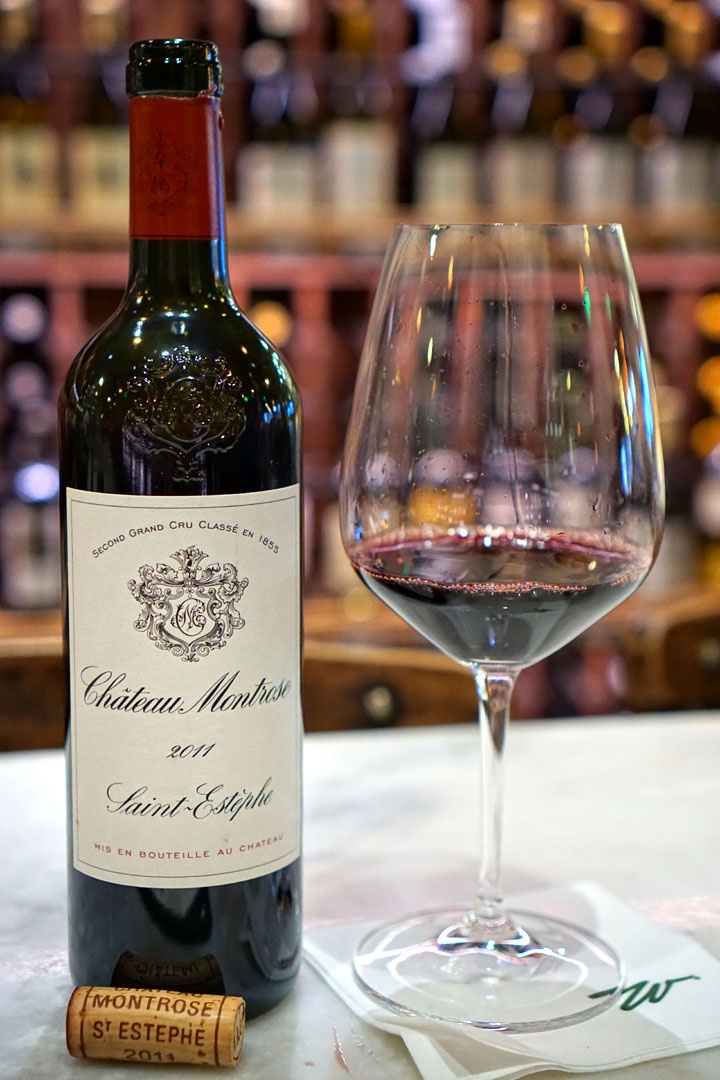 For my main wine, I opted for the
Château Montrose - 2ème Cru Classé 2011 [$190]
based on Kuhn's recommendation, and she was right on the money with this "off year" bottling. The Bordeaux smelled great, offering a dry herb character layered over a base of purple fruits and traces of barnyard. I found the palate surprisingly silken, with flavors of rich dark berries backed by herbs, peppery spice, and leather, all leading to a back end reminiscent of grape gummies. I think I actually preferred this to the much more celebrated 2005 vintage that I had not long ago at
Matu
.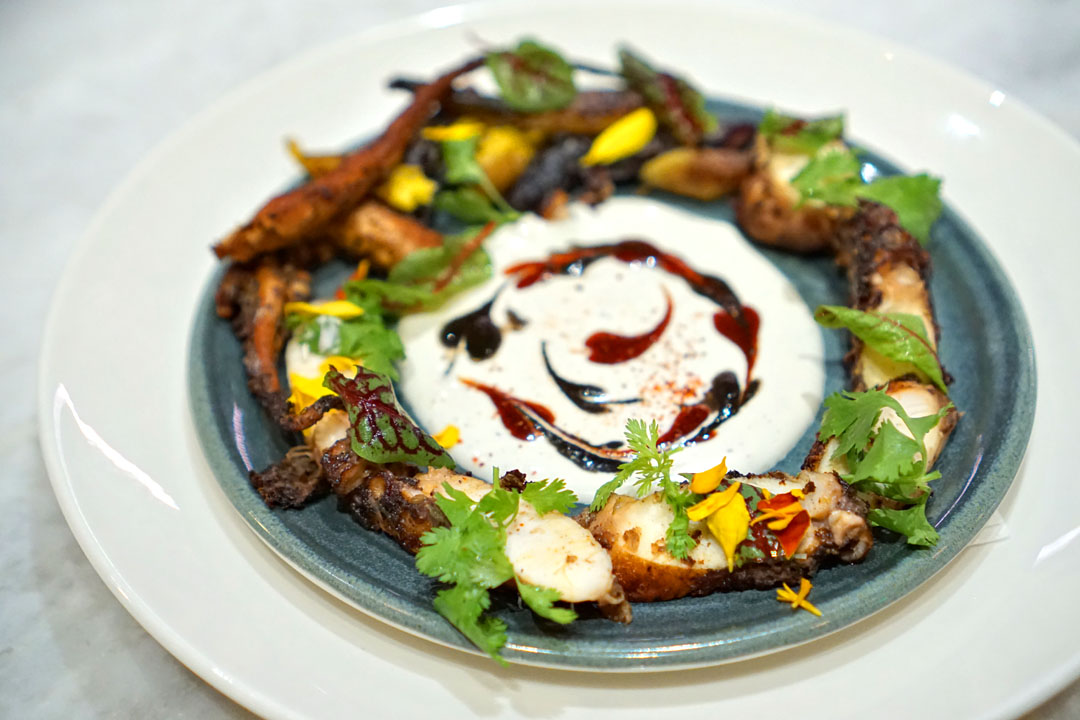 Grilled Octopus [$30.00]
| chorizo spiced Spanish octopus, roasted heirloom carrots, lime creme fraiche, black garlic mole
I'm a sucker for octopus, and tonight's example ate super tender, though I would've liked a crispier exterior. Taste-wise, I found the octo appealingly briny, which made the application of crème fraîche and the greenery key for balance.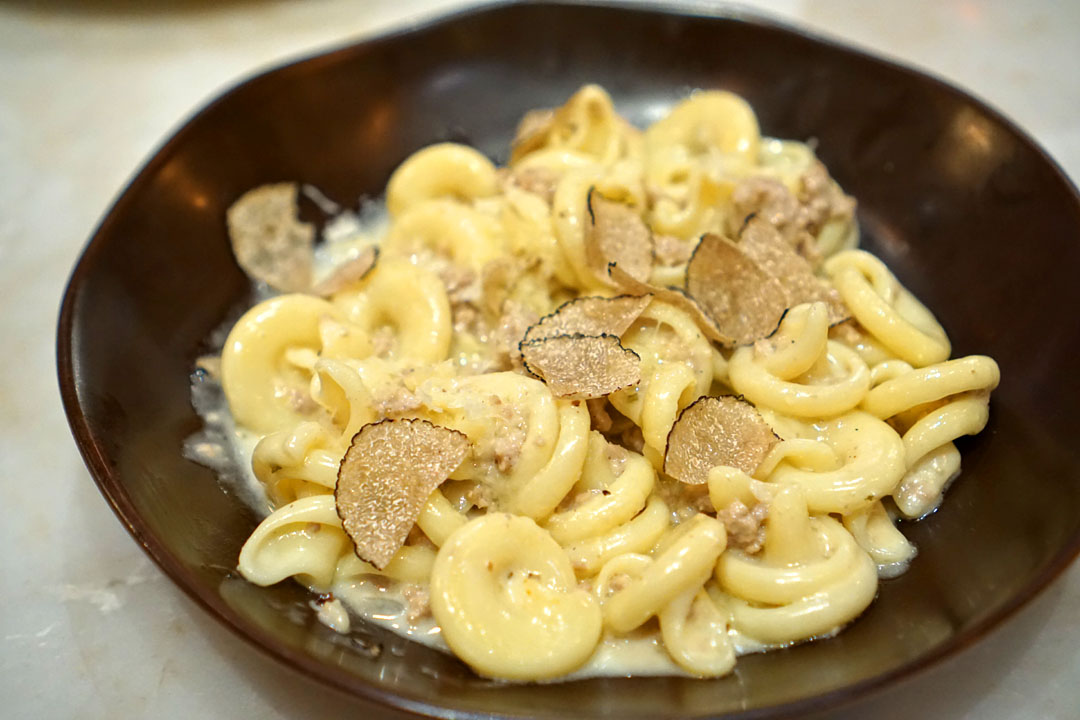 Truffle Bolognese [$38.00]
| veal truffle ragu bianco, vesuviotti pasta, aged parmesan, shaved truffle
This riff on the ubiquitous dish of bolognese was a winner. I loved the consistency of the pasta as well as its distinctive spiral shape, while the actual ragù was uncommonly elegant, yet deeply savory, and really melded seamlessly with the musk of those truffles.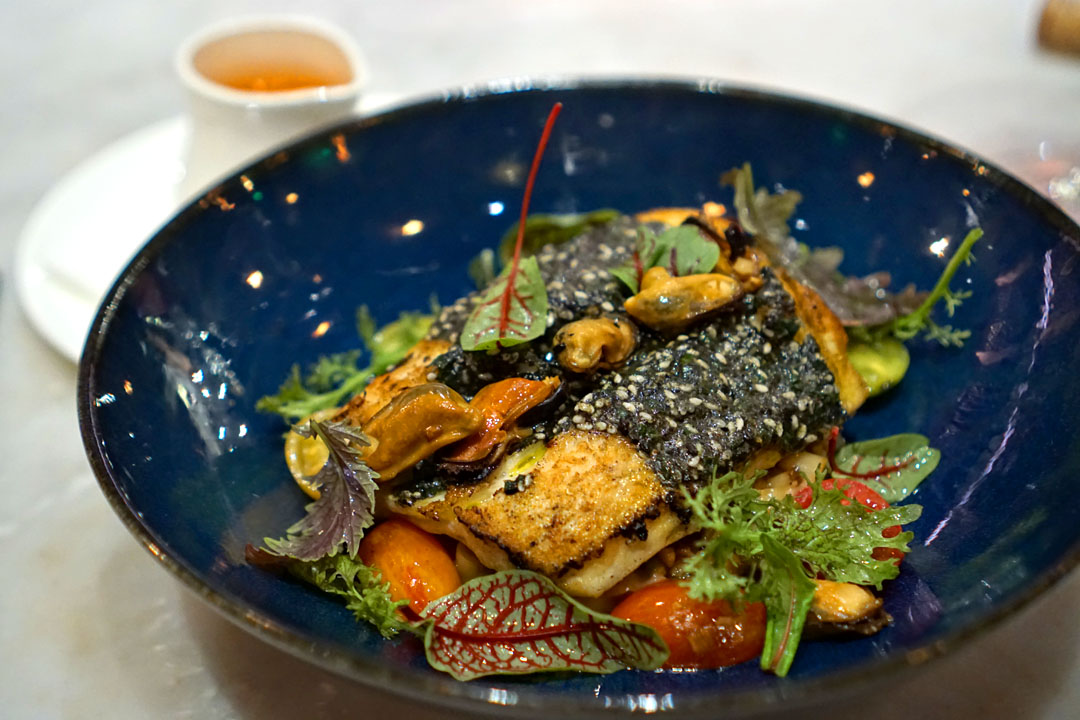 Alaskan Halibut [$48.00]
| nori crusted alaskan halibut, mussel & market bean ragout, nori pomme puree, heirloom tomato nage
Last up was the halibut, which came out firm and flaky, with a subtly sweet taste that made sense with the umami notes from the seaweed. Mussels boosted the salinity factor further, while those tart, juicy tomatoes imparted some contrast.
It's too bad that Féau left Wally's, but Kluver seems to be doing a pretty good job filling his shoes, even if the cooking here's a bit less venturesome than before. The food's appropriate for the wine, which is the real draw of this place. And speaking of the wine, I was surprised at how reasonably priced their list is. Perhaps it's fortunate that Wally's isn't located closer to me, or else I might be tempted to pop bottles a tad too often.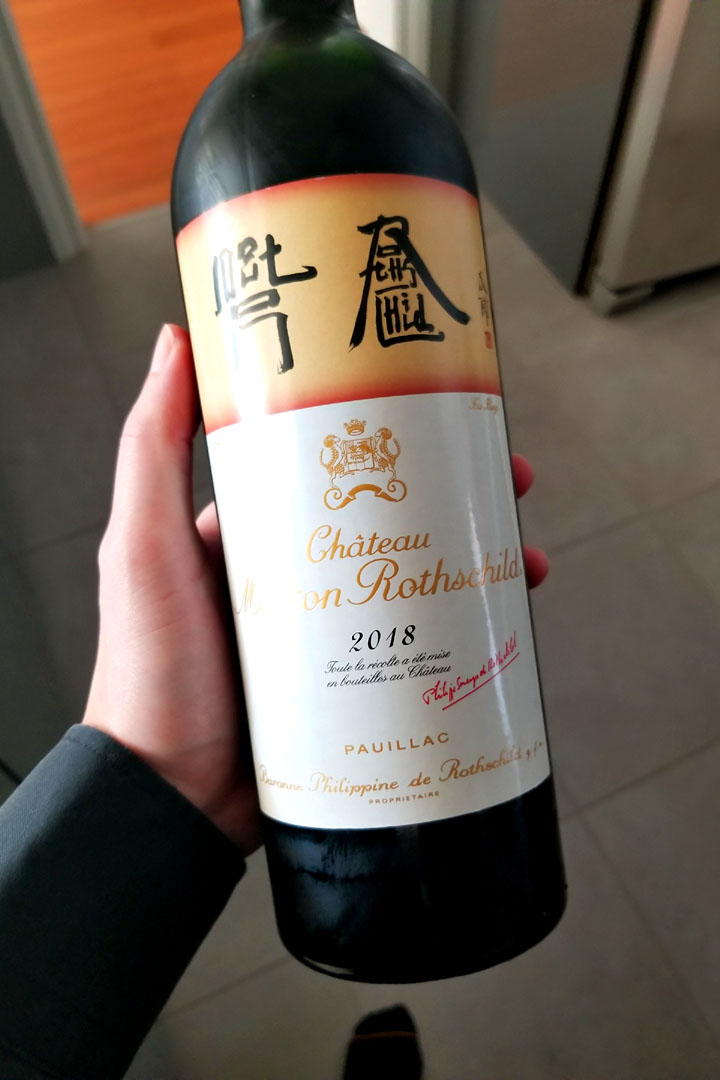 This should be ready to go in about two decades...