Ilé (Los Angeles, CA)
Ile Concept Kitchen + Experiential Dining
1312 Cole Ave, Los Angeles, CA 90028
323.348.1577
www.ileishome.com / www.cheferos.co
Thu 06/30/2022, 07:50p-11:15p

As someone who's been dining out heavily in LA for nearly two decades, I think I can safely say that upscale West African fare is a niche that's largely been left unfilled. Thus, when I heard about ILĖ in a recent
Tock
email blast touting new spots, my interest was immediately piqued. Named after the word for "home" in the language of the Yoruba people of Nigeria, the underground dinner series launched at the end of March out of an apartment in Hollywood. It's the brainchild of Chef Tolu Erogbogbo (he prefers to go by Tolu Eros or Chef Eros, the nod to the Greek god a reference to his love of food), who aims to present the cuisine of his West African homeland in way that I don't think most Angelenos have encountered before.
About the Chef
: Tolulope Erogbogbo was born Benin City, Nigeria in 1988 to a Yoruba father and an Edo/Calabar mother. After finishing high school (where he was head boy), he moved to Lagos briefly, then relocated to England in 2005 to attend the University of Wolverhampton, majoring in international business management. While studying in the UK, Eros did some food service logistics/operations work for Oceania Hotels on campus, but quickly fell in love with the kitchen after he began selling African-spiced chicken to his classmates. He even started cooking at a proper restaurant during this period, but returned to Lagos not too long after completing his degree in 2008.
Now back home, he partnered with his mother and Tosan Jemide (a local chef) and, in 2009, debuted La Saison Café and Restaurant in the affluent neighborhood of Ikoyi (in a space previously controlled by Jemide, no less). However, the restaurant shuttered in September 2011 following Eros' inability to manage its finances. Following, he teamed up with his brother-in-law and started a business dealing with real estate and energy, but that didn't last long. He then began making cookies and selling them via social media, which soon led to the founding of an actual bakery called Cookie Jar in 2012. In 2014, he launched a catering arm called Eros & Gourmet Foods, and quickly made a name for himself among Nigeria's elite, earning him the nickname of Billionaire Chef.
2017 saw Eros begin traveling to other parts of Africa, Dubai, Europe, and the United States, and at each locale, he would host small communal dining experiences. He even made his way to LA, but left disappointed with the city's West African food. In January 2019, he debuted Ilé Eros, a restaurant co-located with Cookie Jar in the city of Lekki, while a meal kit service called Fresh Prep bowed in the middle of 2020. By the time summer 2021 rolled around, Eros was back in the US, and after cooking around the country for a few months, eventually decided that he wanted to stay in LA, a desire made possible after he secured an O-1A visa (the "extraordinary ability" one).
At the beginning of 2022, he met
David Olusoga
, a fellow Lagosian who was raised in New York (Queens), graduated from Cornell (c/o 2013), worked as an investment banker, and moved to LA circa 2015. Olusoga is quite the cook himself, and even thought about starting his own restaurant, but the two quickly began formulating plans for Ilé, which hosted its first dinner on March 24th, set in Eros' residence at the new Rise Hollywood apartment complex. Currently, dinners happen on Thursdays and Fridays, and there are two seatings: one at 5:30pm with four courses at $120, and one at 7:30pm with nine courses at $250 (plus 25% service). Private events on other days are also possible if you're so inclined.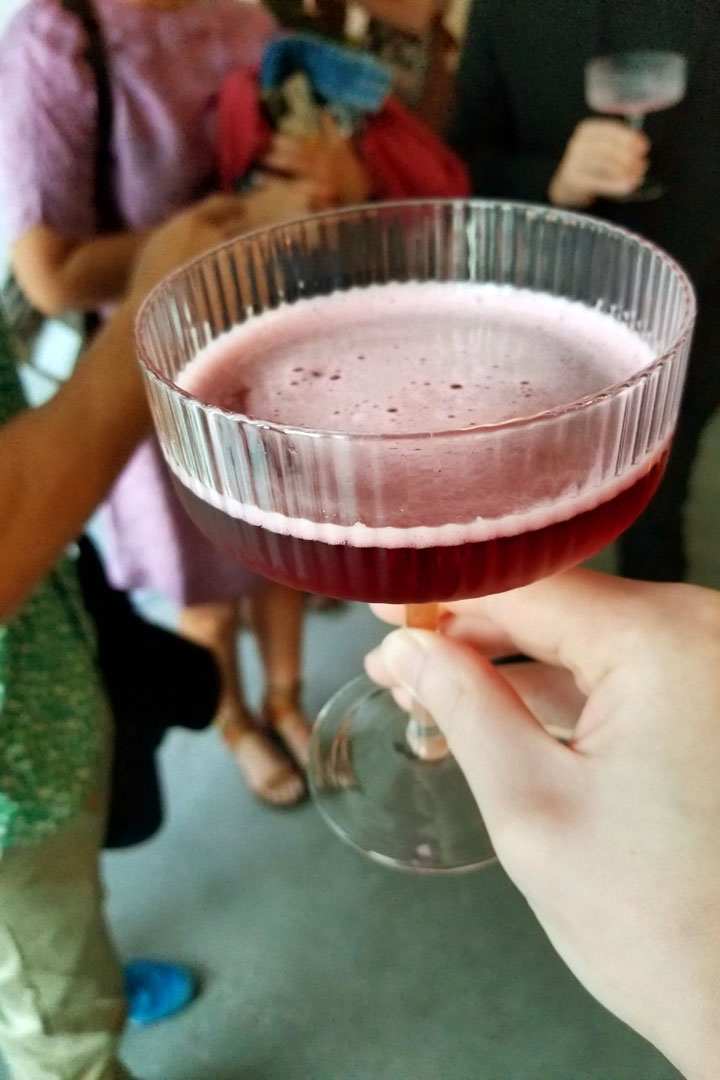 Upon arriving, I was quickly handed a non-alcoholic welcome beverage incorporating hibiscus, known as
zobo
.


Ilé dinners take place in the Chef's kitchen-slash-dining room. Note that he actually had five staff members assisting him (two in the kitchen and three serving), which is more than I expected.

And here's the evening's menu. It was ostensibly the last time Eros would be serving it, since he's moving to a new menu (entitled "Motherland") in early July. Click for a larger version.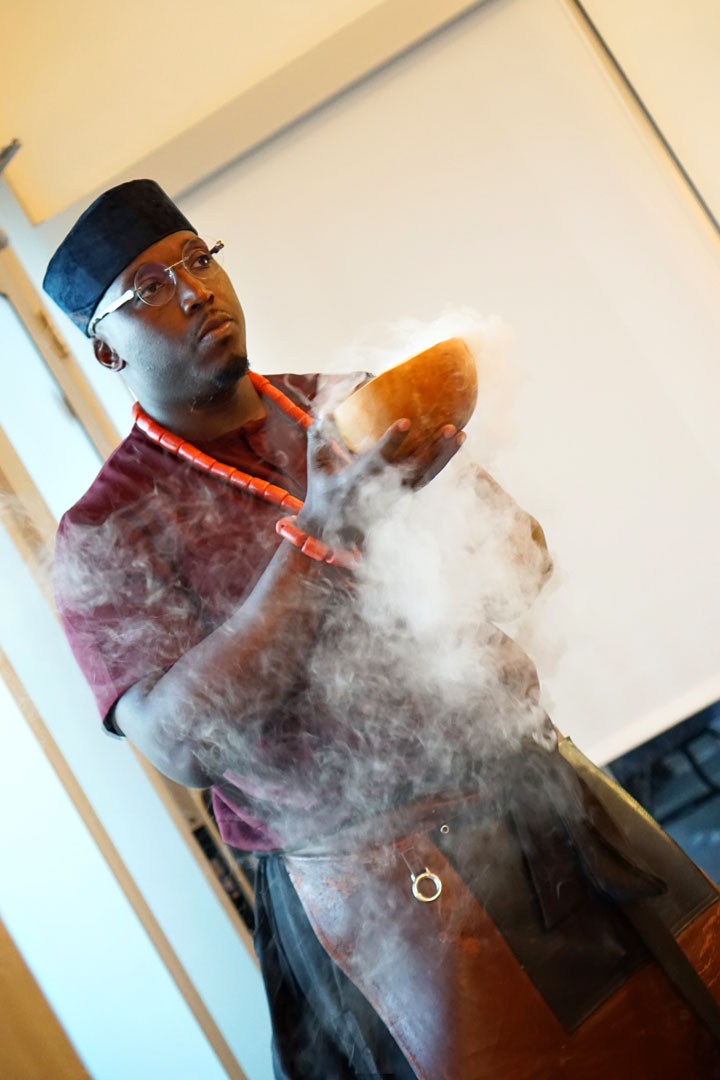 Above we see Chef Eros giving us his introductory speech. He actually spoke frequently and at length during the course of the night, explaining each dish and its context, which I think was pretty important given that most of us here in SoCal (myself included) likely don't have much experience with Nigerian cookery.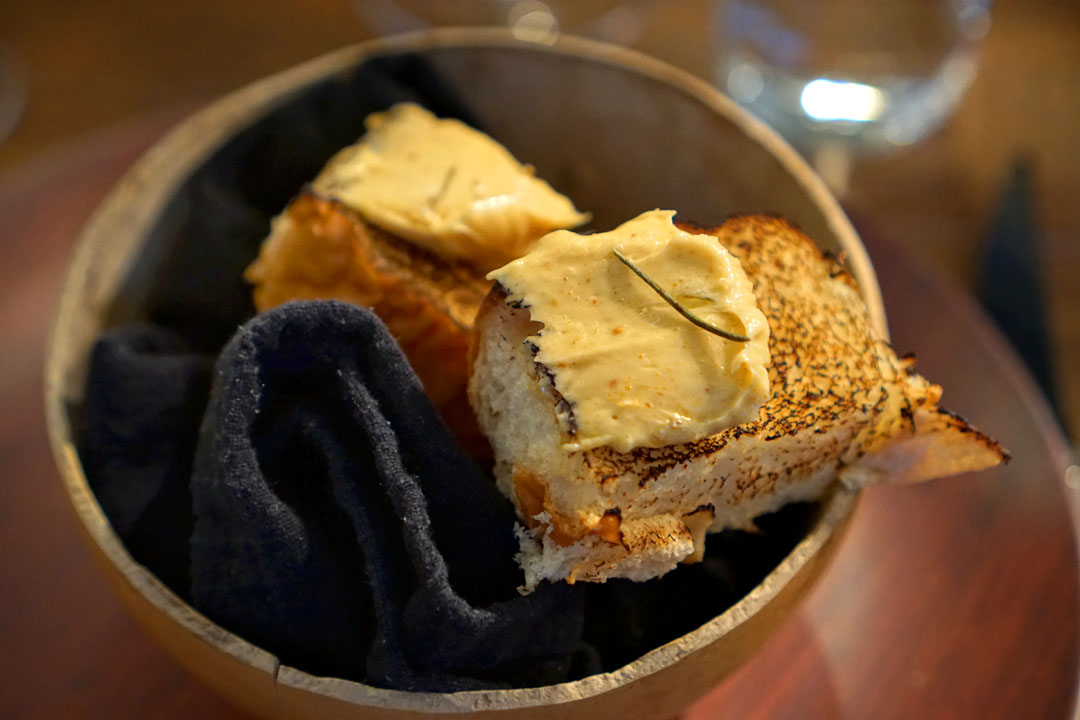 1: Agege
| Sweet Bread . Whipped Butter . Yaji
Our meal began with a staple bread of Nigeria, often hawked on the street by women
carrying large portions of it on their head
. According to the Chef, it can be eaten alone, or with butter, eggs, beans, or even cola, and is generally consumed during breakfast. However, we were obviously having it for dinner, and thus, it came lightly charred, and topped with a whipped butter containing fig and
yaji
(a spice mix with chilies, garlic, ginger, and most importantly, ground-fried peanut). The end result was delectable. I really enjoyed the bread's soft, sweet nature and how that played with its slight smoke, while the fruity-nutty qualities of that butter really enlivened things leading to a fragrant finish of rosemary. In fact, the use of fig made this course pair especially well with the Riesling below.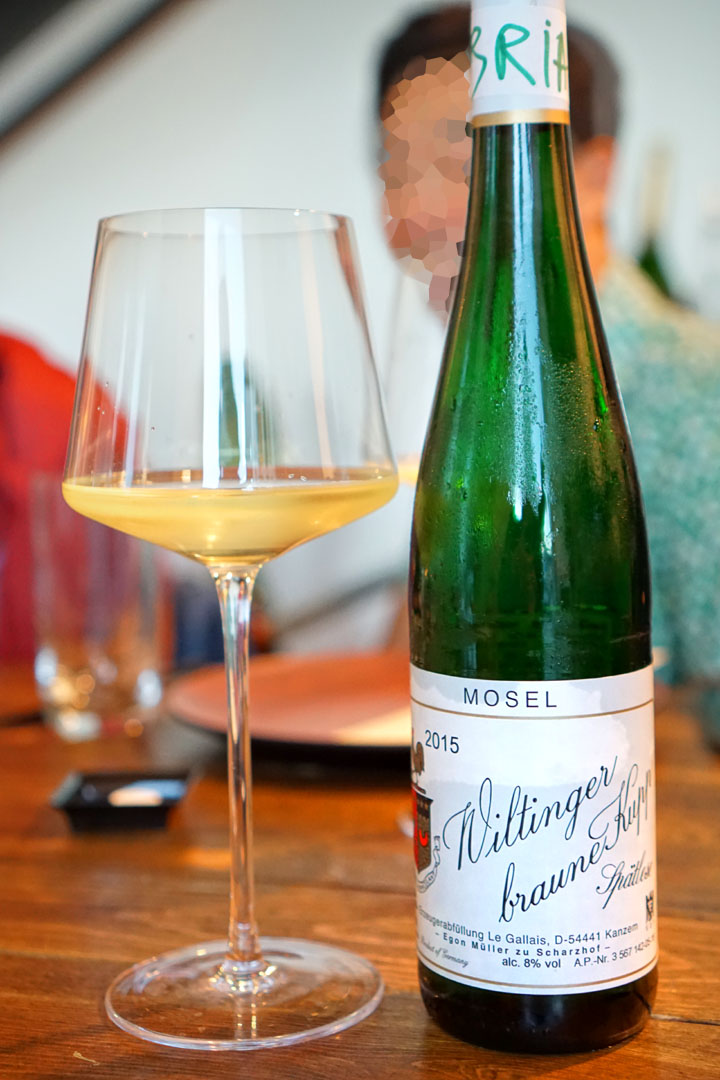 Ilé is a BYOB affair with no corkage, so we definitely wanted to make use of that, and thus got things started with the
2015 Egon Müller 'Le Gallais' Wiltinger Braune Kupp Riesling Spätlese
. The wine smelled great, giving up notes of bright pome fruits and flowers, backed by a bit of a medicinal, mineral edge. Taste-wise, I found it zesty and eminently quaffable, yet dignified, with flavors of pineapple and citrus, all evened out by stone, some "green" nuances, and just enough acid. Very well integrated despite its low 8% ABV--a great start.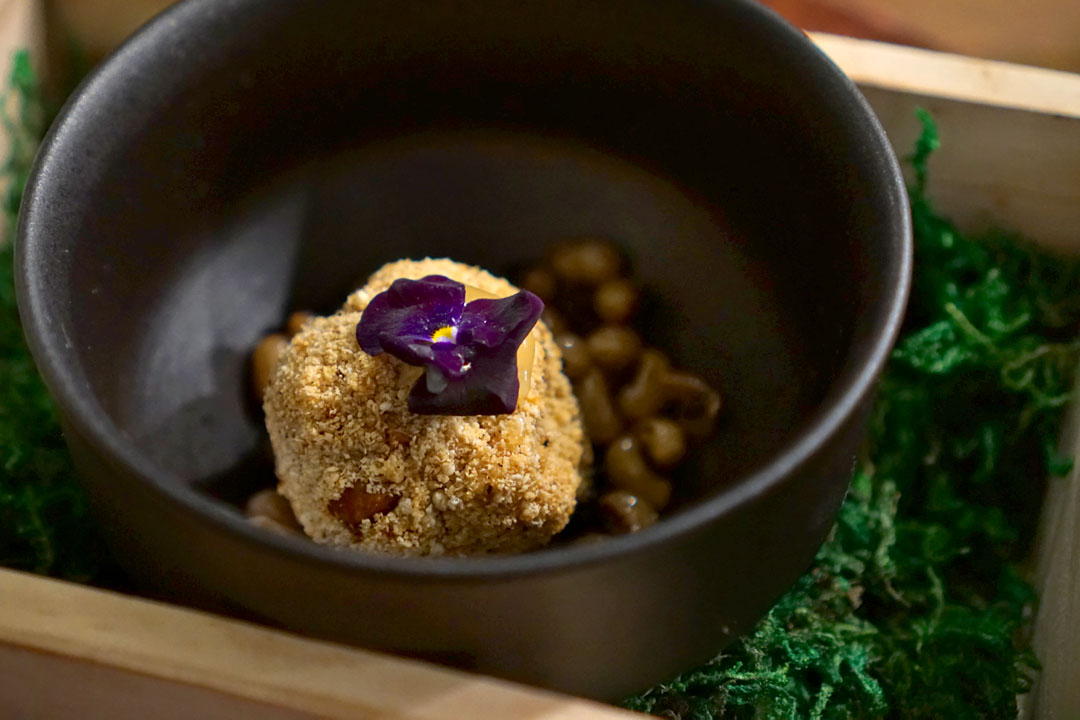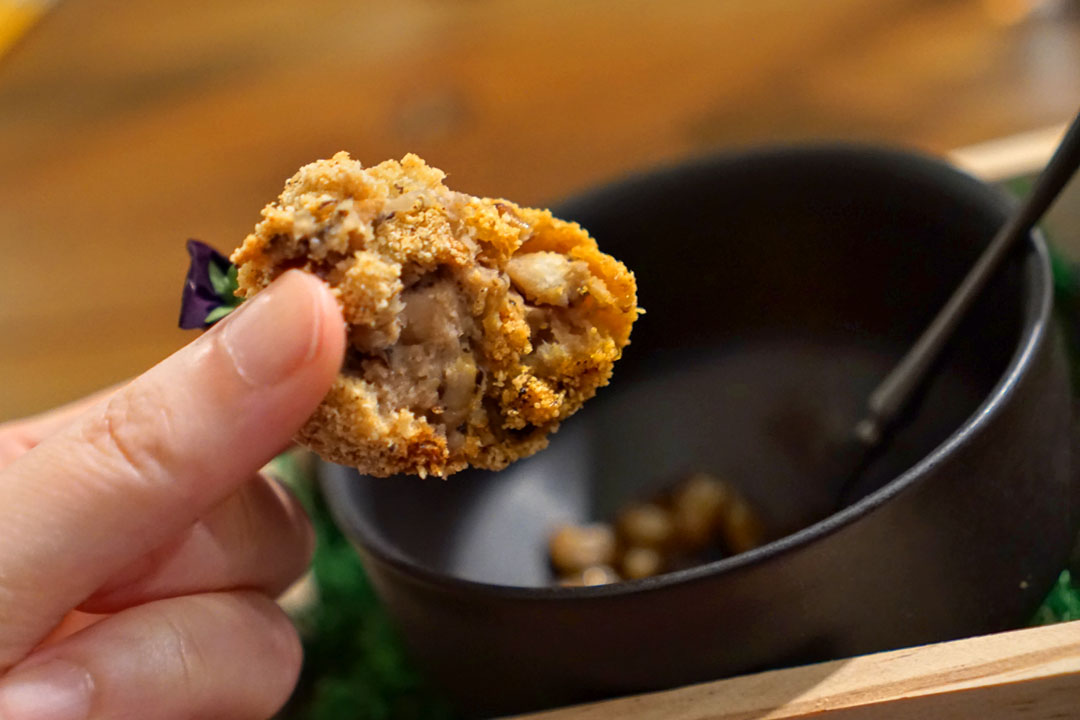 2: Ewa Agoyin
| Black Eyed Pea Croquette . Garri Crust . Crispy Beans . Palm Oil Sauce
Our second course was a riff on one of the Chef's favorite childhood foods, which he would purchase for breakfast in Lagos for a mere 15 naira. A creation from francophone West Africa that made its way to Nigeria, the traditional
Ewa Aganyin
features mushy beans set in a fiery sauce. Tonight's version of said sauce comprised palm oil, chilies, and crayfish, and showed off a wonderfully nutty heat and umami that nearly reminded me of chili crisp (which seems to be all the rage these days). It was a perfect pairing for that dry, gritty, earthy bean fritter, which was infused with plantains and crusted with
garri
(cassava flour) for additional texture.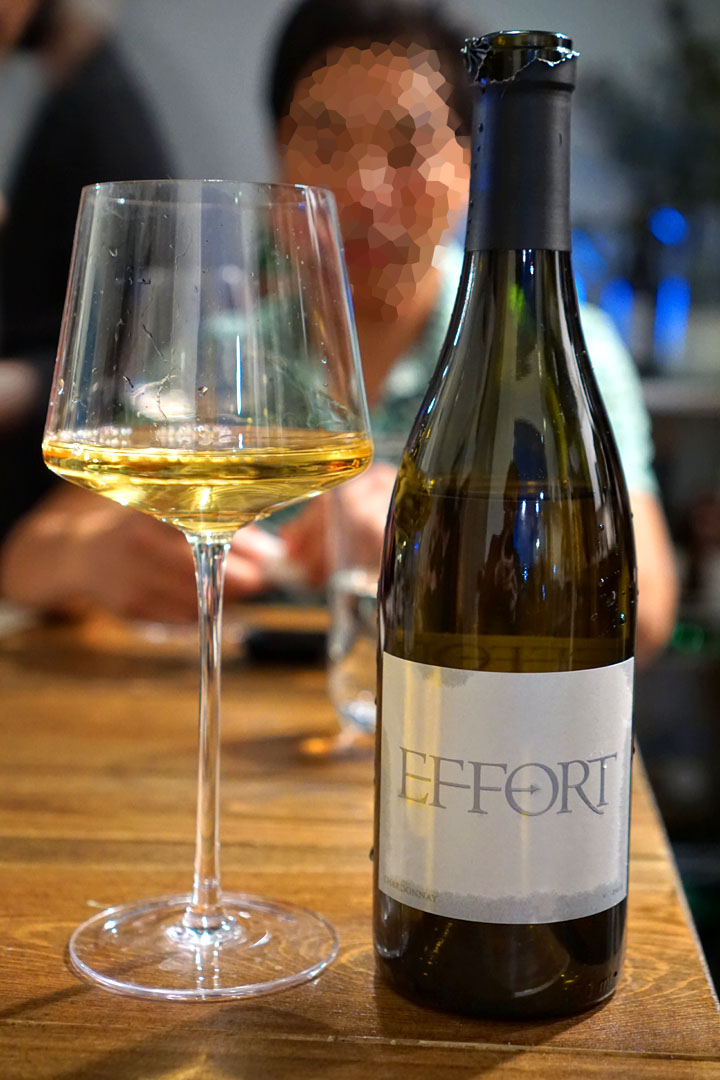 Up next to drink was the
2016 Effort Chardonnay
, from California's Edna Valley. Nose here was lemony and savory and nutty up front, with a mineral and funk backing. On the palate, I found the wine restrained in its butteriness, its crisp citrus, saline, and spice notes combining with traces of barnyard to good effect. This one worked rather well with the salad below.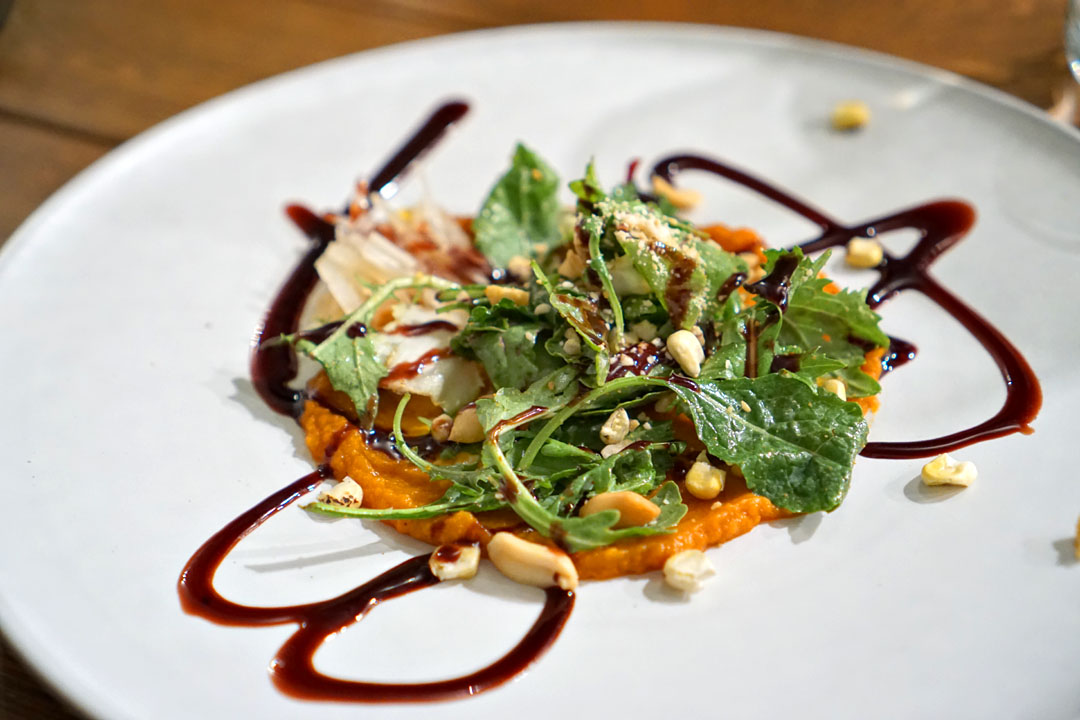 3: Guguru & Epa
| Pickled Cassava . Spicy Greens . Dehydrated Corn . Hibiscus Vinaigrette . Nuts
Interestingly, Eros referred to this course as "Guitar Boy," named after a song by famed Nigerian musician Victor Uwaifo (the Chef's uncle). However, the dish was actually dedicated to a friend of his, whom he met 18 years ago in high school and was one of the people who convinced Eros to pursue an international culinary career. This friend was very sheltered due to his father "hiding" him at home because of his being gay (a crime in many parts of Nigeria), and sadly, he ended up committing suicide last year, I have to assume because of difficulties related to his sexuality. Thus, every component on the plate was inspired by the Chef's relationship with this friend. The carrot-caramelized onion purée represents the red soil of southern Nigeria; the greens represent the "greenness" of his friend when they first met; the nuts (cashews and peanuts) represent the friend's "naughtiness;" the pickled cassava represents his travels; the dehydrated corn represents the Chef's relocation to Lagos (being a popular street snack there); and finally, the hibiscus dressing represents the blood spilled when the friend took his own life. Taken together, all the various elements made for a rather successful salad. The base note here was the sweet-savory interplay of the carrot-onion combo, and layered on top was the dish's sheer nuttiness, accented by bitter greens and floral notes from the hibiscus.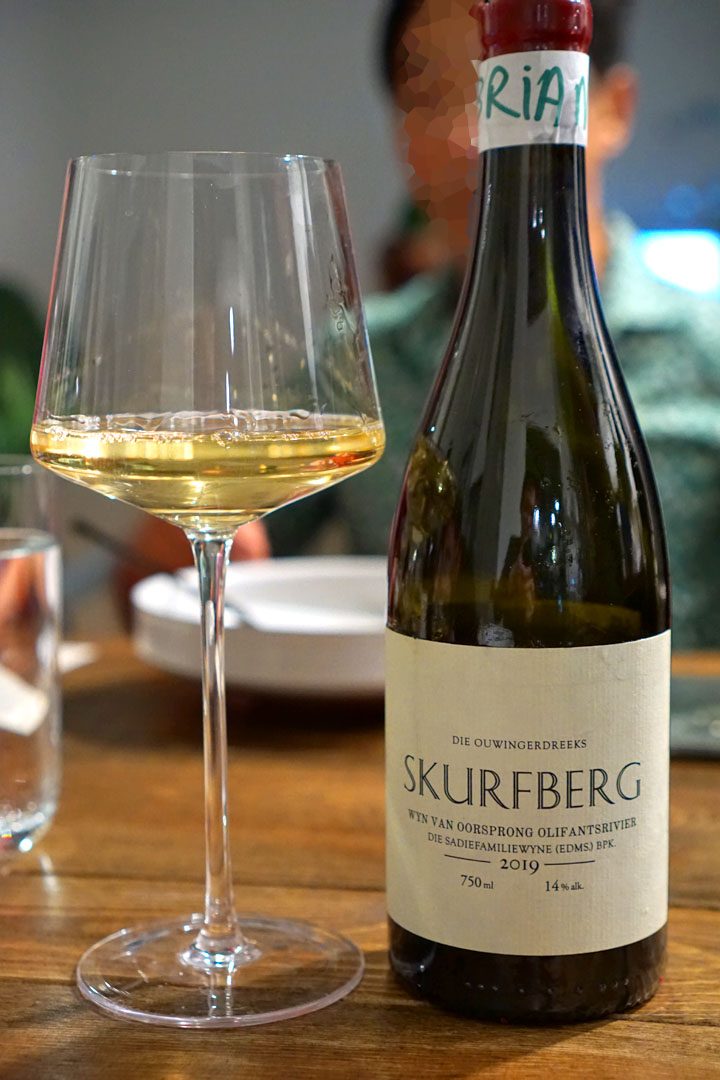 Our third and final white was the
2019 Sadie Family Chenin Blanc Skurfberg
from South Africa. The bouquet here was fruity and flowery at first blush, with an undercurrent of spice and saline. Tasting the wine, I got minerals and barnyard up front, but what stood out the most was an almost
fènglísū
-esque tropical fruitiness that appeared on the mid-palate. Tasty!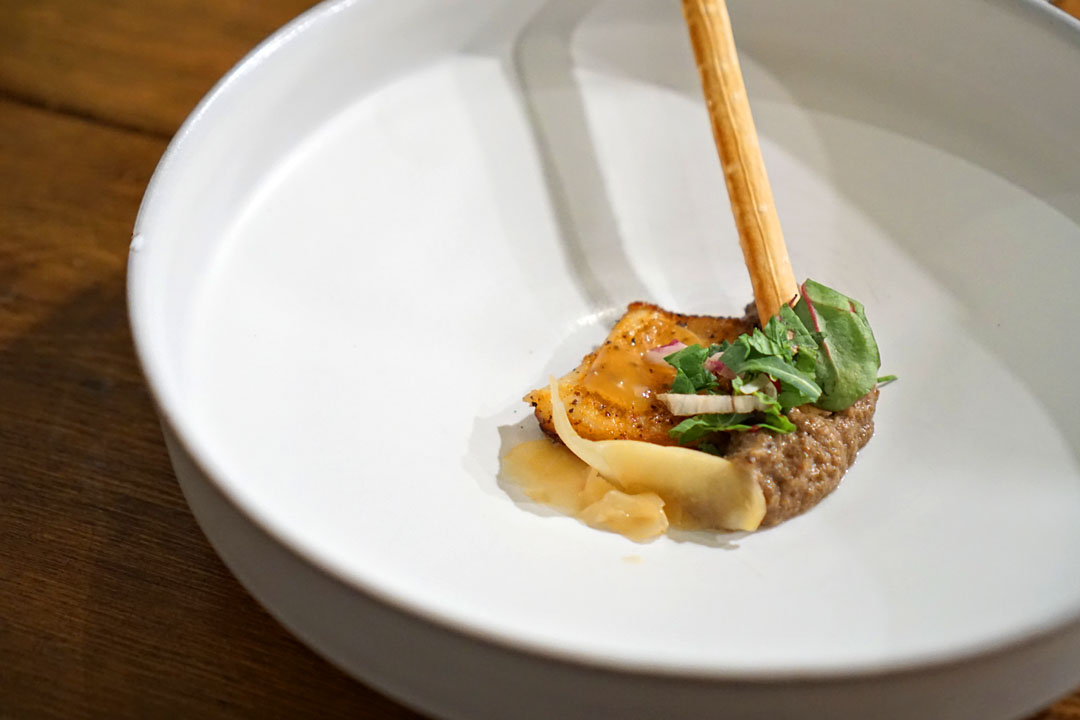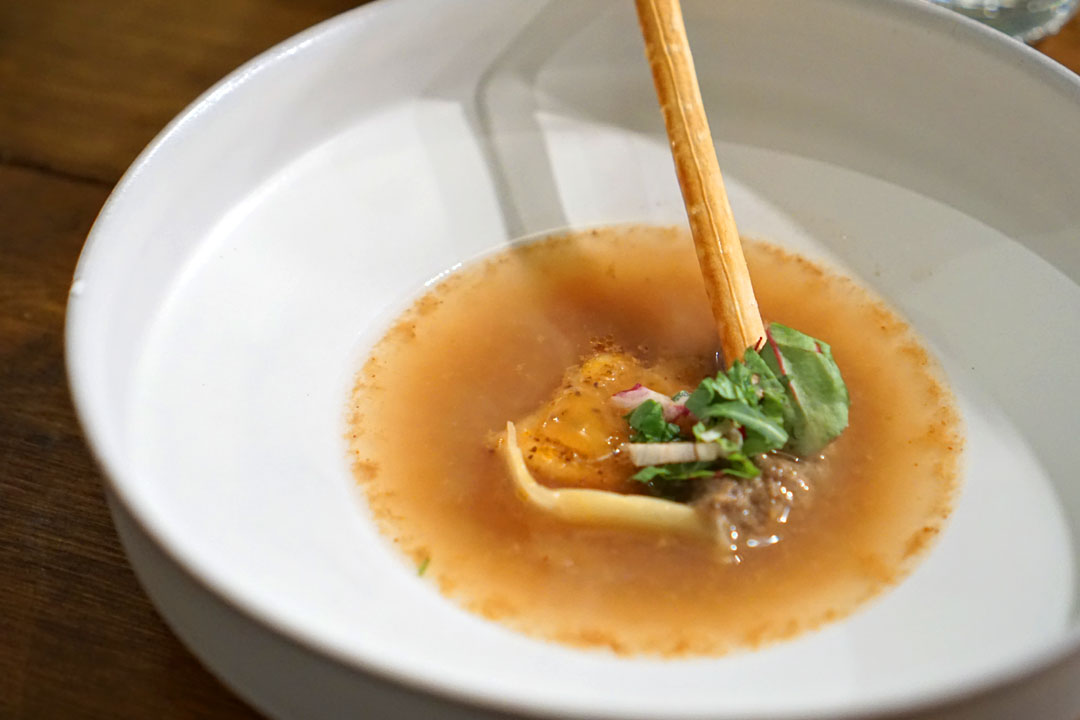 4: Pepper Soup
| Seared Fish . Aromatic Broth . Mushroom Purée . Lemon Notes
Peppersoup is a West African staple that, according to the Chef's mother, could help cure malaria due to its extreme heat. Fortunately, Eros did tone down the fieriness of the dish tonight, and instead focused his efforts on allowing the other ingredients in the red snapper-based broth to shine:
prekese
, his favorite spice, which imparts a sweet, caramel-y flavor; grains of Selim, the "heart of the soup" with a black pepper-meets-paprika taste; African black pepper, which is apparently similar to our usual black pepper; spicy, aromatic calabash nutmeg; as well as ginger, onion, and of course, habanero. The soup was pretty marvelous, displaying a heady, dark, yet balanced spice along with plenty of depth and complexity, with a black pepper-ish astringency in the background. It was the perfect accompaniment to the expertly seared, well-seasoned, sweet-n-saline tilapia, and I liked the additional points of interest provided by the 'shrooms and pickled ginger, all while that sea salt breadstick offered up some textural contrast.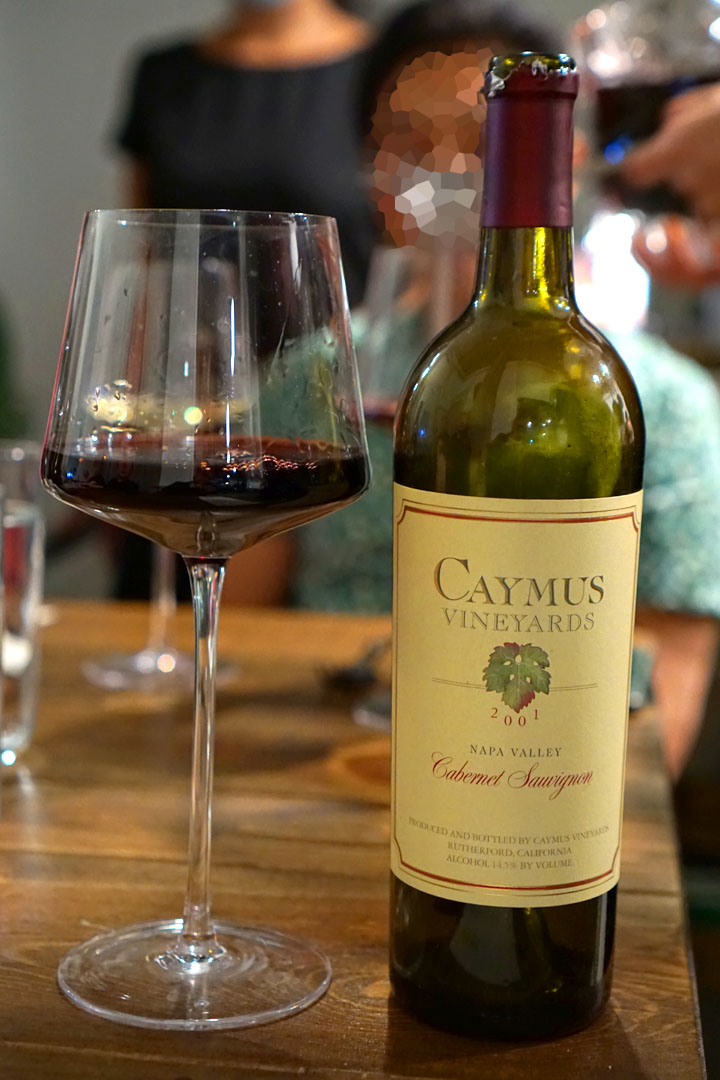 I ended up bringing two bottles to share, and the first was the
2001 Caymus Cabernet Sauvignon
, a well-known Napa Cab that I'd had in my cellar since '08, and which has aged rather nicely. It displayed aromas of dark red fruits intertwined with slight anise-y spice and was silky smooth on the palate, with distinct nuances of mint giving way to smoky bramble and cacao notes. Intriguingly, I got an explosion of berries on the finish when I drank this with the beef floss below--the best pairing of the night according to some of us.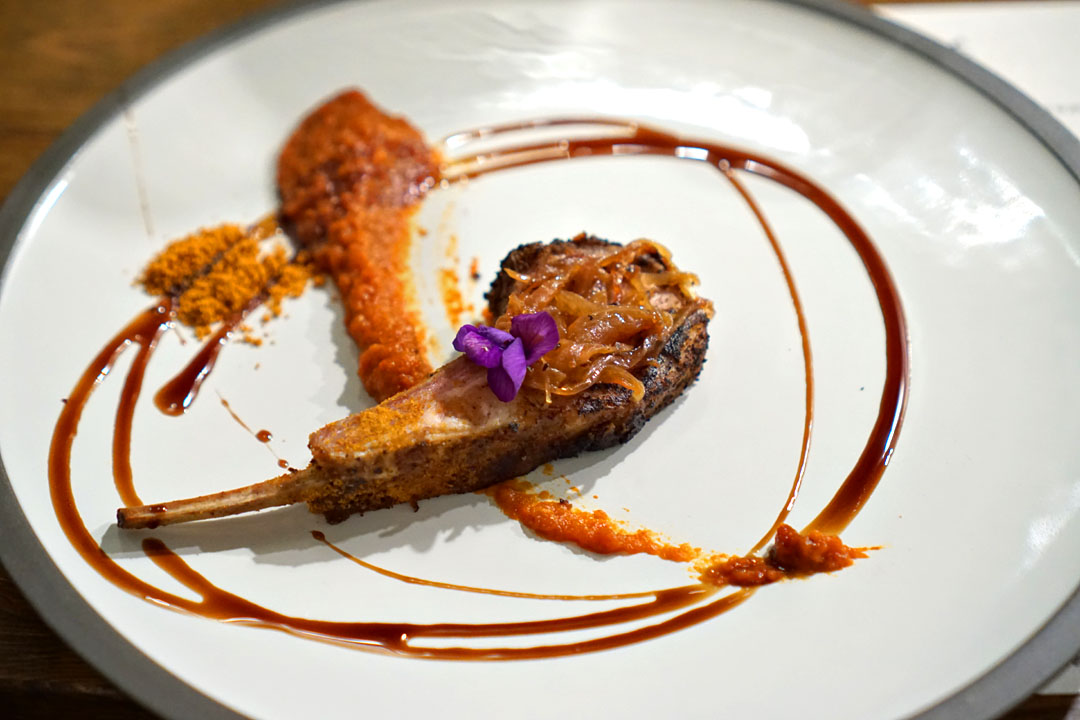 5: Suya
| Yaji Spiced Lamb . Carrot Tomato Purée . Black Garlic Vinaigrette . Caramelised Onion
Here was a course inspired by the Chef's favorite variety of street meat, apparently served by groups of men who set up shop on the roadsides of Lagos every day around 7:00pm. My lamb came out beautifully seasoned, and showcased a fantastic sweet-n-spicy quality and a lovely pepperiness, all of which made perfect sense with the subtle smoke on the chop. Also appreciated was streak of jollof-carrot purée, not to mention the additional complexity added by those caramelized onions. My objection here was that I wanted a rarer cook on my lamb.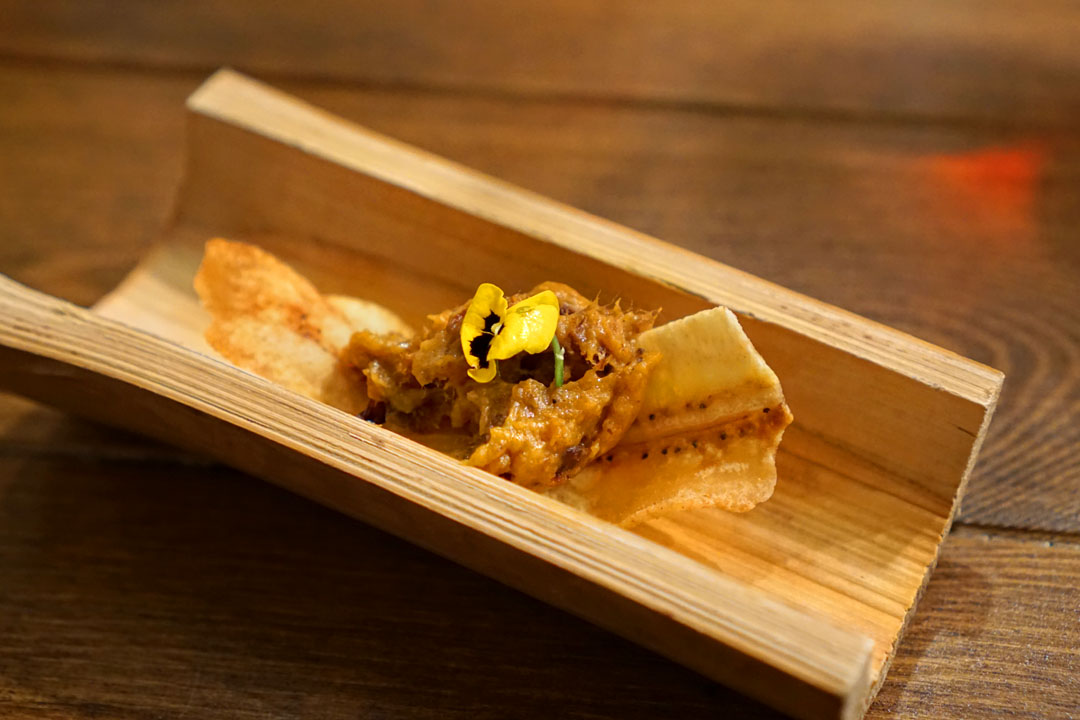 6: Dambu Nama
| Beef Floss . Plantain Purée . Plantain Chip
This off-menu course featured Northern Nigerian beef floss, or dried threads of
suya
-esque beef that I immediately likened to
rousong
. Actually, I liked it even better than
rousong
, since there was so much more going on in terms of seasoning vis-à-vis the generally sweet nature of the Chinese-style pork floss. The aggressive spice of the
dambu nama
made it a wonderful foil to the sugary puréed plantains, while the plantain chip imparted the needed texture.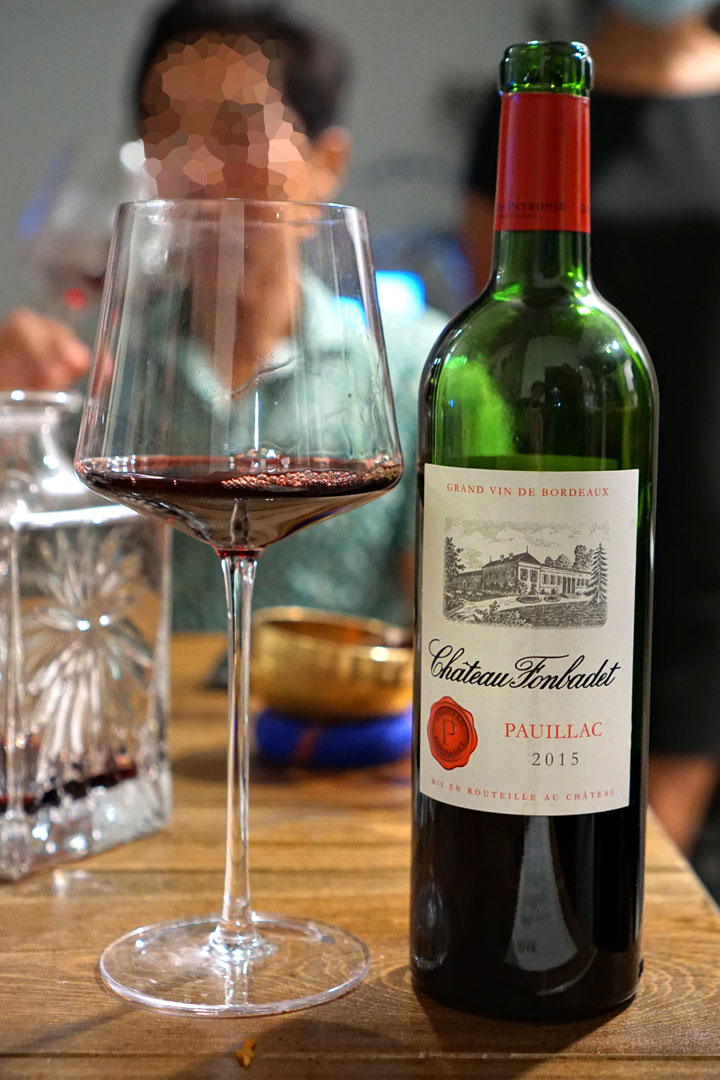 Moving on, here we have the
2015 Château Fonbadet
from Pauillac. The wine had an appealing bouquet filled with smoky meats commingled with earth and black fruits. In terms of taste, I got rich berries, minerals, leather, and oak, all tinged with a peppery spice. The Bordeaux was drinking pretty well now, but would probably be even better in a few years.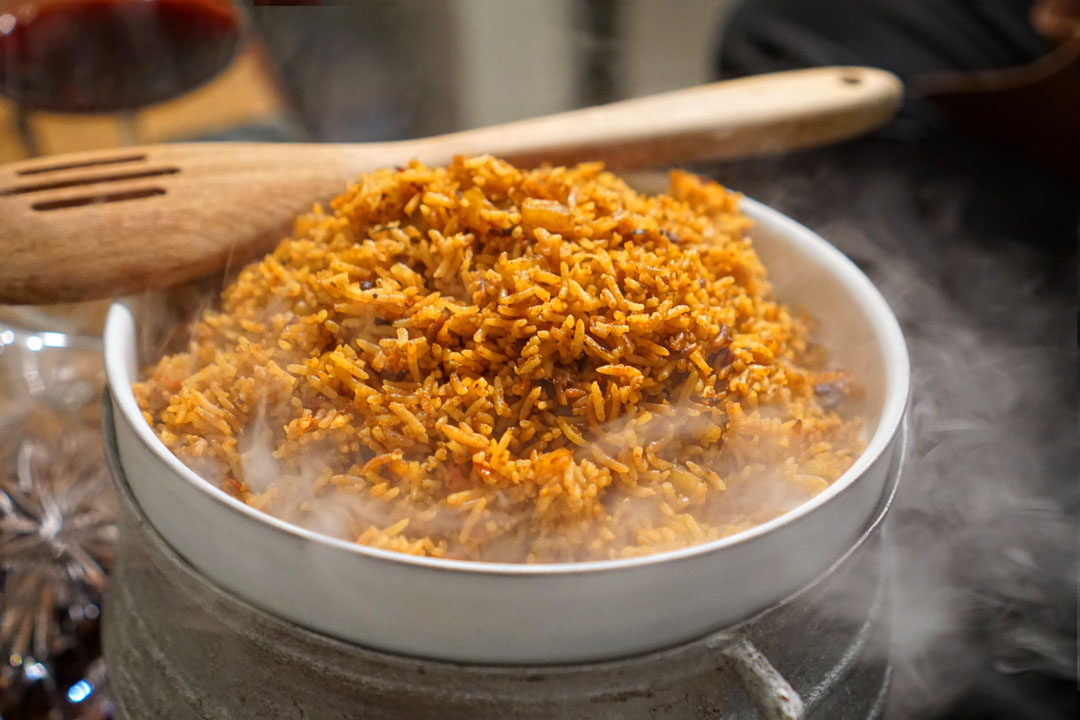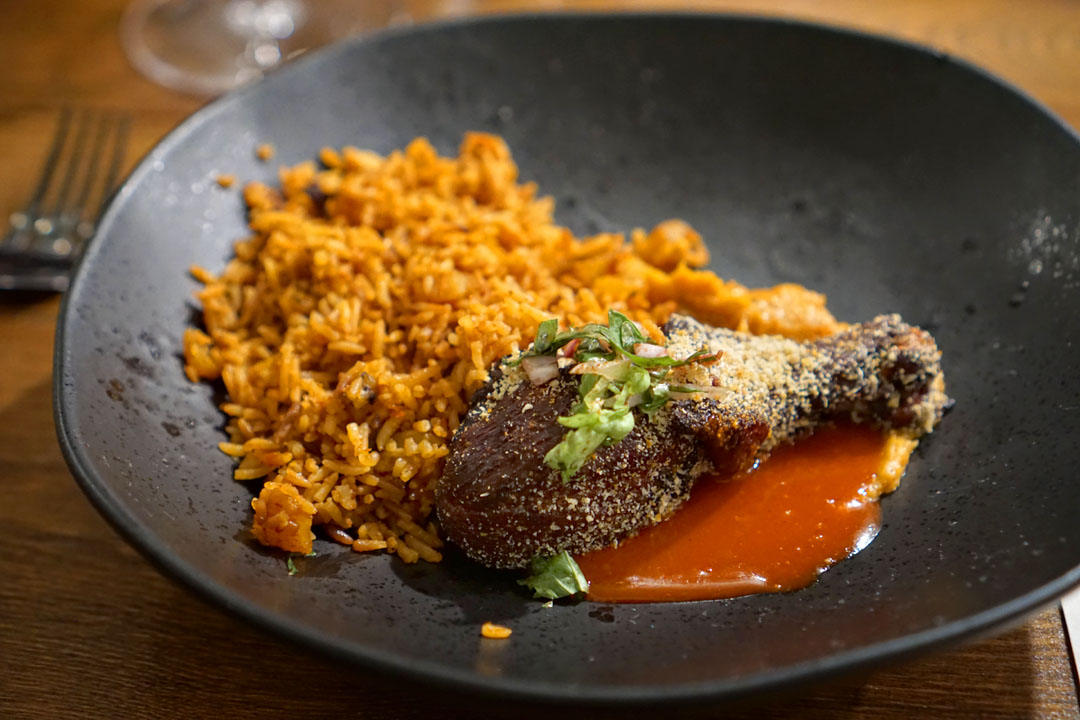 7: Jollof
| Unity Jollof . Crispy Chicken . Plantain Emulsion . Palm Oil Buffalo Sauce . Micro Salad
The tomato-based jollof rice is perhaps the most iconic food to ever come out of West Africa, and there are a number of variations, with various parties each claiming their own as the best. Chef Eros' "unity" version actually combines aspects of the original Senegalese, Nigerian, and Ghanaian preparations, and is arguably the dish that he's the most known for. I can see why, since it was scrumptious. Think light and almost fluffy in consistency, and loaded with homey, comforting, well-balanced spices that made me just want to keep eating; I easily consumed a second serving, and even wanted to take some home. The rice was served with a dark, juicy, unbattered (Nigerians don't like batter apparently) fried chicken drumstick, which was tossed in spiced
garri
for added crunch. The bird conveyed a deep bittersweetness that worked for me, and also meshed with the coziness of the rice. I got some nice hits of piquancy from the buffalo sauce and shito-scented plantain purée, too.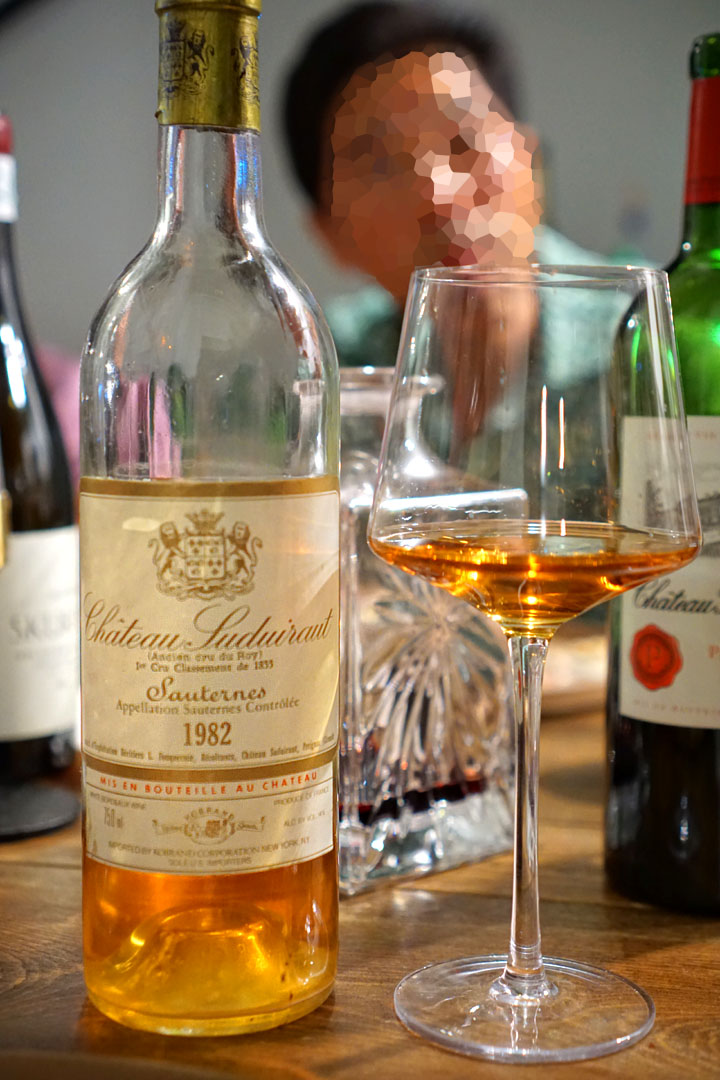 As mentioned in my recent post about
Ima
, I'm trying to drink more '82 wines in 2022 given that I'm celebrating my 40th birthday this year, and thus, I chose the
1982 Château Suduiraut
as my second bottle for tonight. The Sauternes boasted a nose rife with honey and dehydrated apricot. As for the palate, it was smooth and velvety, with more of those lush stone fruit notes in great harmony with marmalade, honey, and caramel components, though I could've used a bit more acidity. This one was pretty delish, and I think the wine actually still has some life left in it if you want to further age a bottle.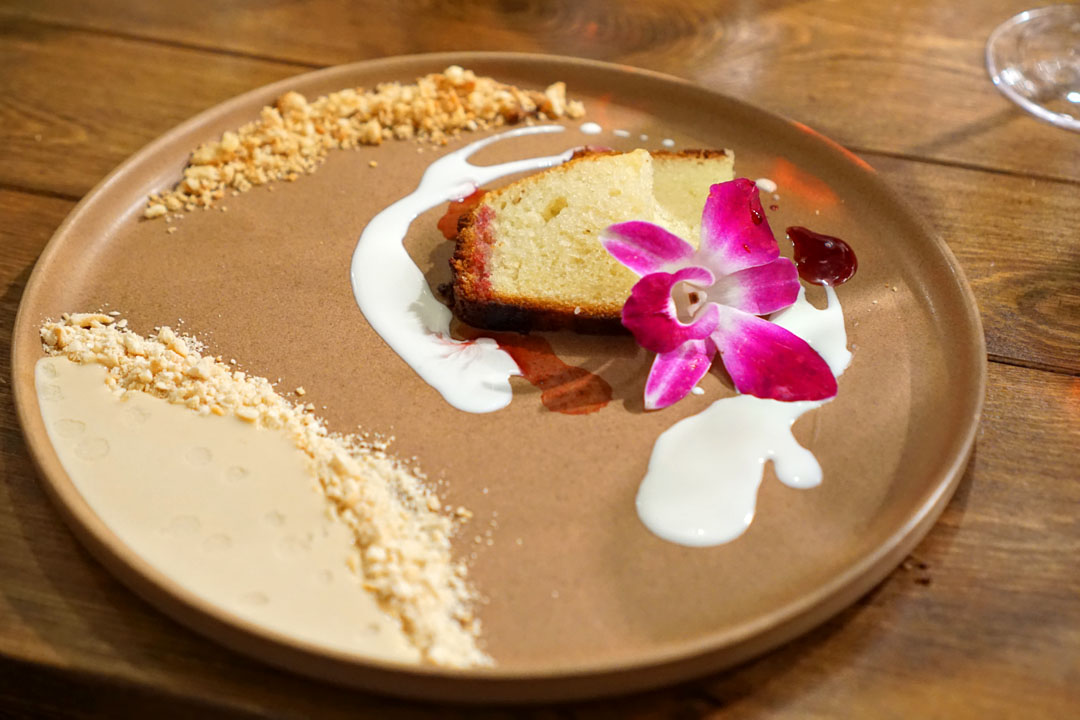 8: Lemongrass
| Olive Oil Cake . Lemongrass Infusion . Chin Chin Crumble . Zobo Gel . Palmwine Syrup
9: Smoked Mousse
| Butterscotch Mousse . Lemongrass Syrup . Mezcal Notes . Cashew
For dessert, we were proffered two items, plated together. First was a lemongrass cake based on one baked by Eros' grandmother, who actually owned a restaurant in Lagos. Interestingly, the Chef claimed that he was never able to recreate the cake properly until he opened Ilé three months ago, and I have to say that he was successful. I really appreciated the moistness of the cake, and how it had a touch of olive oil peeking through, while the fried dough provided a welcomed crunch. It linked up beautifully with the zip of lemongrass, and if that wasn't enough, the hibiscus gel and palm wine helped tie everything together. Also on the plate was a satisfying, familiar-tasting butterscotch mousse (it actually reminded me of the Danish butter cookies of my childhood), perked up by droplets of smoky mezcal.
West African cooking hasn't really had a huge presence on the global fine dining scene, but Eros has made it his mission to change that. He's doing an admirable job combining traditional elements of the cuisine with just enough modernity, and the end result is an unquestionably personal exploration of his roots, one that conveys the boldness and complexity of Nigerian cookery to delicious effect. It was like nothing I'd ever experienced before. Now from what I understand, the Chef is planning on opening a permanent restaurant somewhere in Los Angeles, so I'm hopeful that it'll eventually come to fruition.