Providence (Los Angeles, CA) [7]
Providence Restaurant
5955 Melrose Ave, Los Angeles, CA 90038
323.460.4170
www.providencela.com
Sat 07/30/2022, 05:35p-09:10p

Regular readers will know that it was my birthday earlier this year, and of course, the special occasion called for a special meal. After considering a few options, we ended up choosing
Providence
, the seafood-focused, edge-of-Hollywood fine dining mainstay from Chef Michael Cimarusti (who, sadly, has recently had to close his spots Best Girl and Il Pesce Cucina). Unfortunately, our prior dining plans were scuttled due to some unforeseen circumstances, so we ended up rescheduling dinner for the end of July.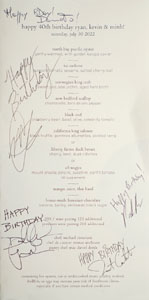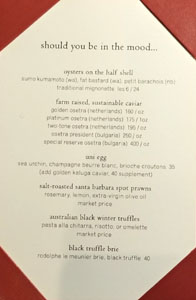 Pictured above is the evening's tasting menu, priced at $295 a head, along with a listing of supplemental dishes. You can also opt for a wine pairing at $125/$265, but we went the BYOB route, paying a corkage fee of $75 for our first two bottles, then $100 for the third. In addition, I did appreciate the customized menu, signed by Chef Cimarusti, GM/Owner Donato Poto, CdC Tristan Aitchison, and Sous Chefs Danielle and Paul. Click for larger versions.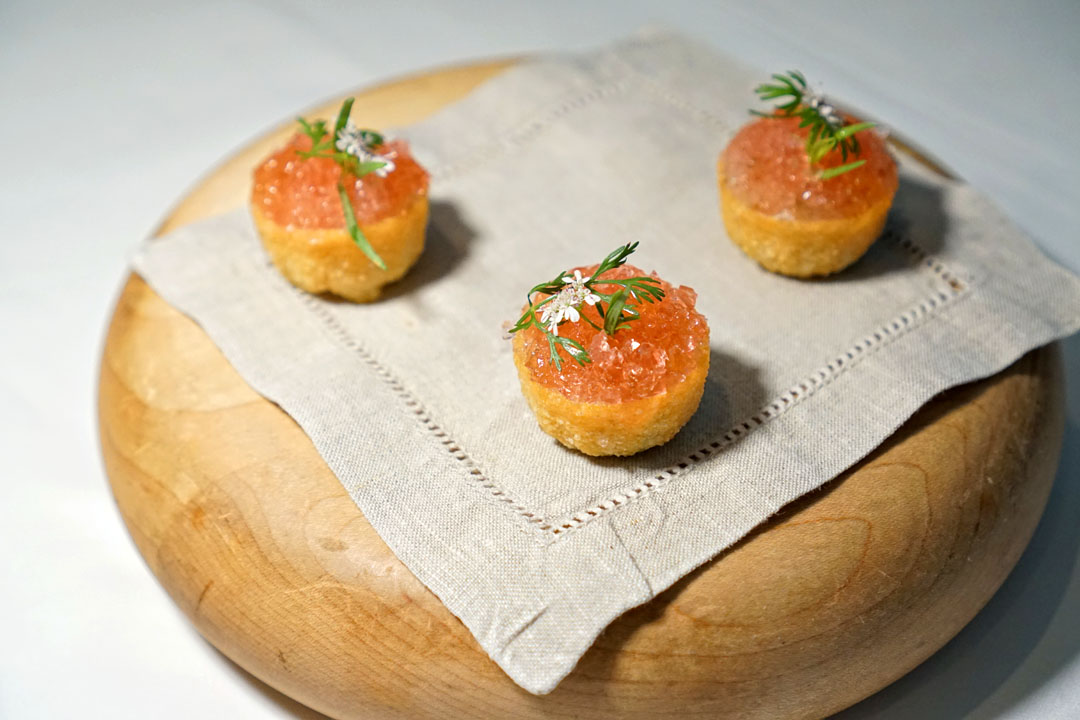 As always, our meal commenced with a parade of amuse-bouche, beginning with hiramasa paired with rhubarb and avocado. The first thing that stood out to me was the array of textures present, while the brine of the fish married well with sweet-n-sour rhubarb before transitioning to a light, herby finish. Nice counterpoint from the fried shell, too.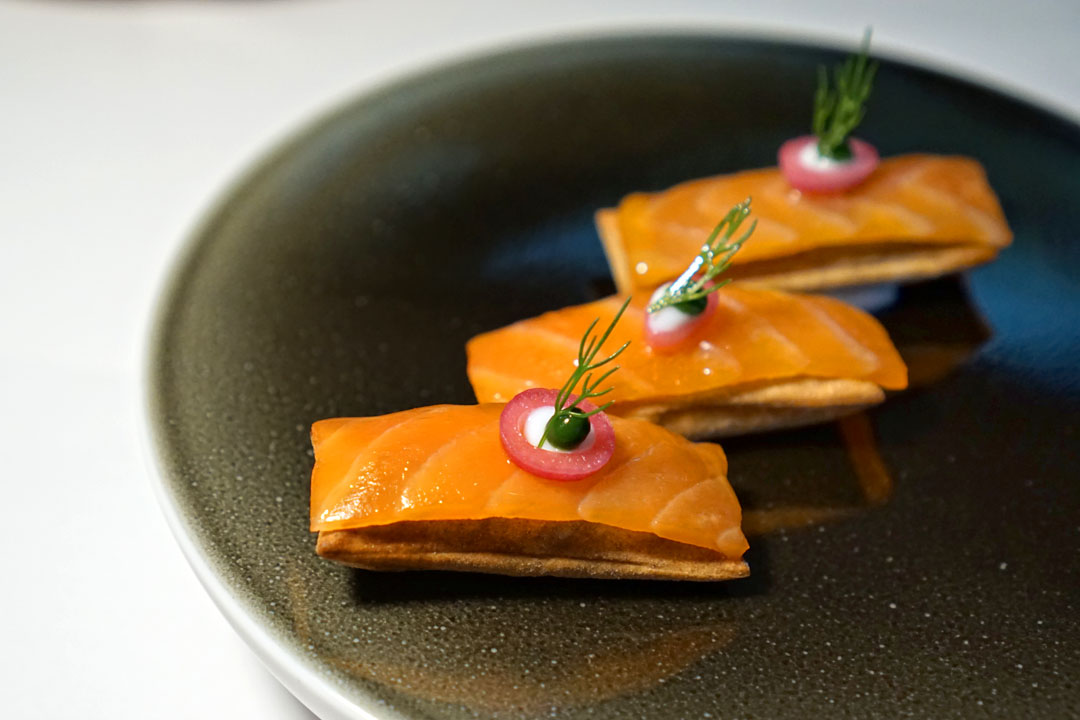 House-cured king salmon ate salty, smoky, and nearly "hammy," but its intensity was offset by the application of horseradish cream, dill, and pickled red onion, not to mention that crunchy puffed cracker.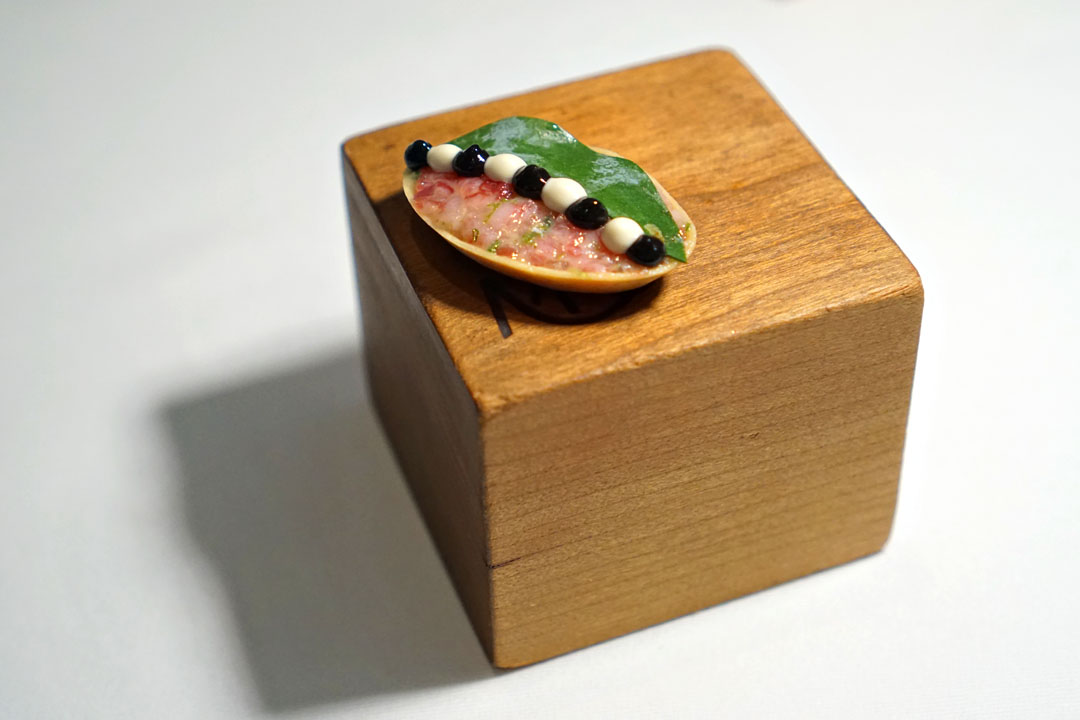 I was also fond of the Wagyu tartare, especially how the fattiness of the beef was kept in check by dollops of oyster aioli and zippy charred lime purée, all while the back end went in a decidedly herbaceous direction. Intriguingly, I found that the canapé really brought out the fruitiness of the Dom P below.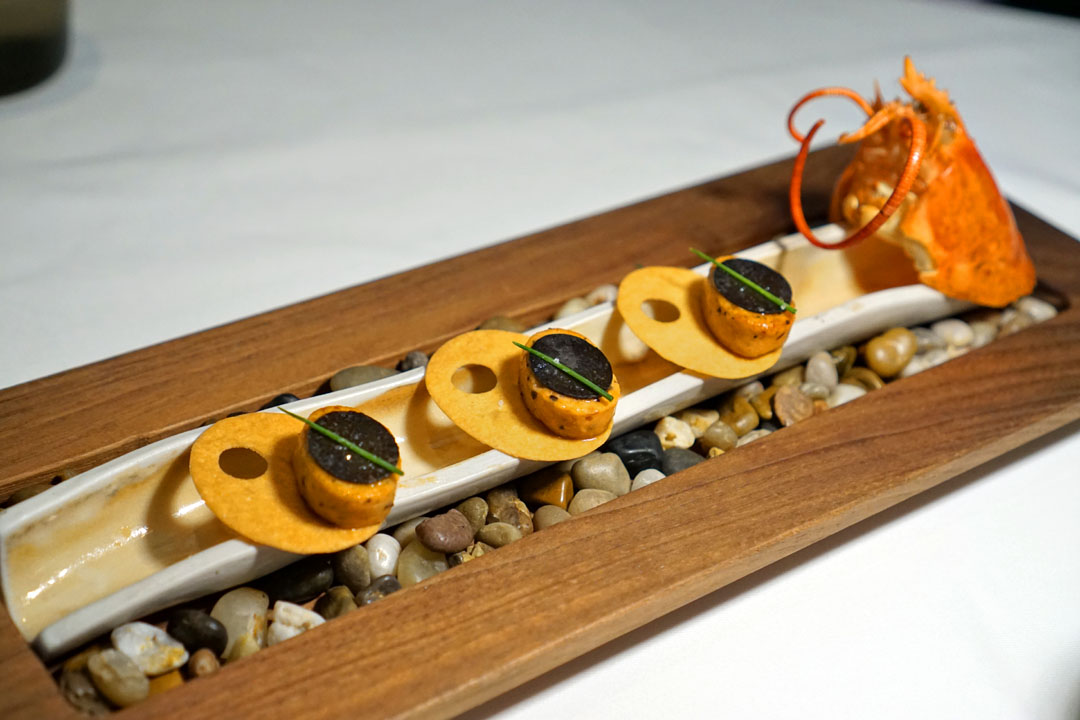 Our fourth and final amuse was arguably my favorite. A warm lobster mousse did a bang-up job capturing the cozy, sweet-saline-savory essence of the crustacean. At the same time, it also made a lot of sense with accompaniments of black truffle and chive, while the cracker (fashioned from a reduced lobster consommé) imparted a much-needed crunch.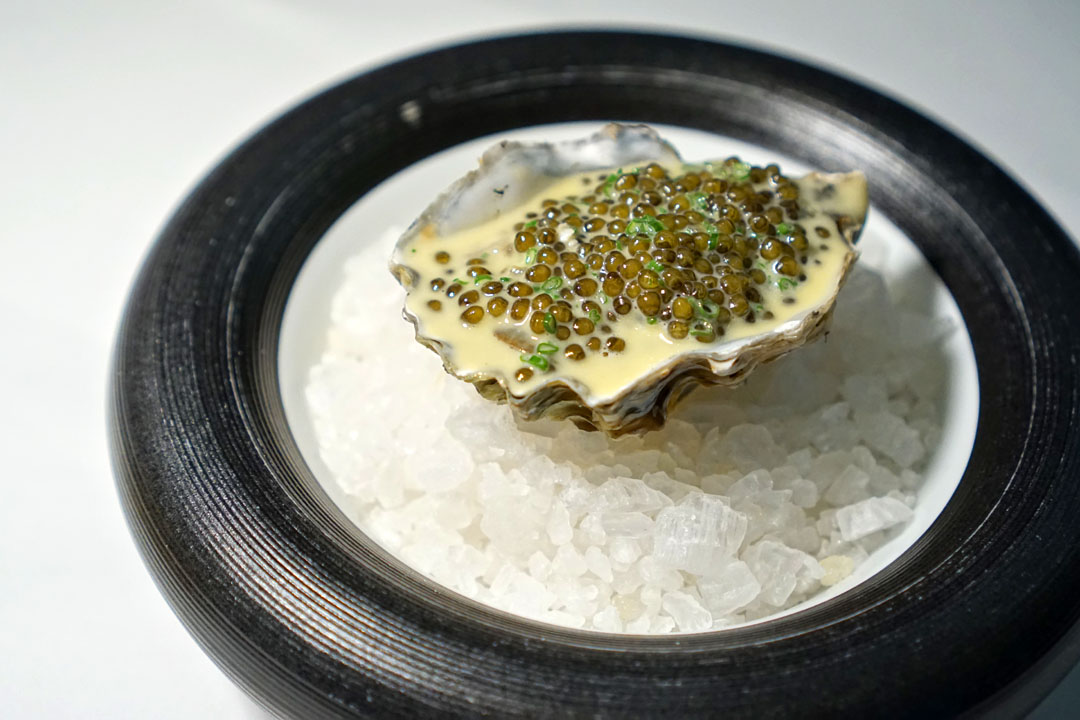 1: north bay pacific oyster
| gently warmed, with golden kaluga caviar
Steamed and served with Champagne butter, chive, and kaluga caviar, this was probably the best oyster I've had all year, and a reminder of just how good a cooked preparation can be. I loved how the saline nature of the oyster linked up with the more focused salt of the sturgeon roe, and how that all meshed with the tangy, lactic butter and the dish's overarching herbiness. I could've easily eaten a half dozen more of these guys.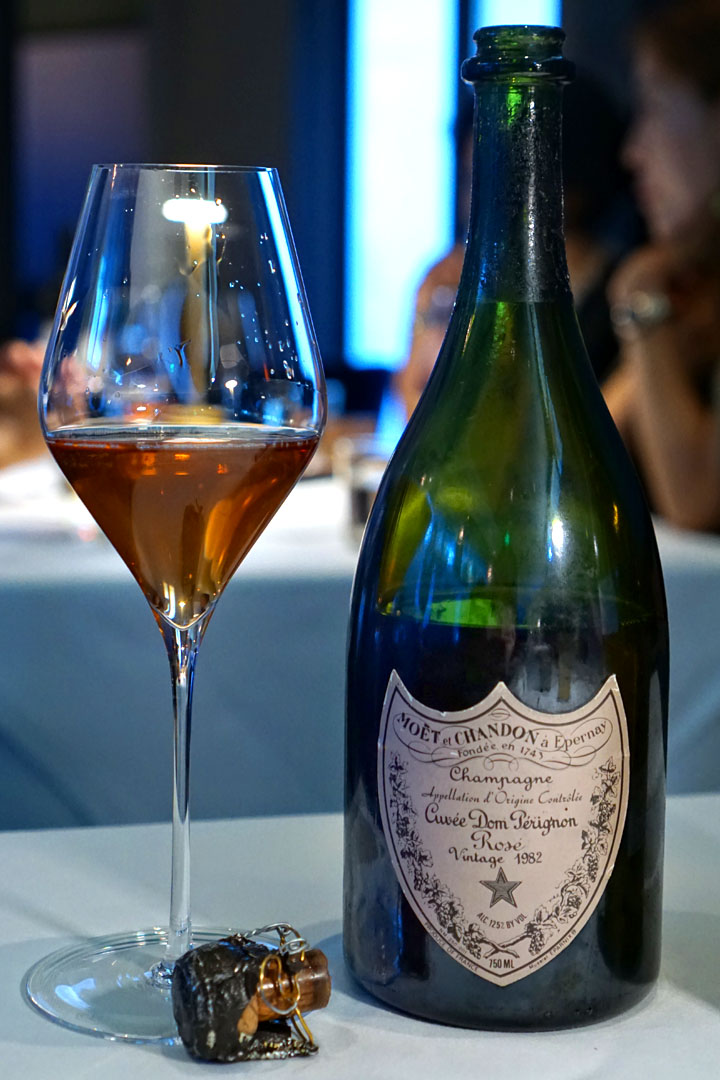 As I mentioned in my recent dining report on
Ima
, I've been making a concerted effort to drink more 1982 wines this year in celebration of my 40th birthday. Thus, I purchased a bottle of the
1982 Moët & Chandon Champagne Cuvée Dom Pérignon Rosé
specifically to BYOB to this meal. Given its age, I was concerned that the wine might be severely compromised, but it was actually quite lovely. The nose brought elements of strawberries, but also showed the bubbly's maturity with a plethora of oxidative, nutty, savory, almost sherry-esque nuances. On the palate, the Champ was still nicely carbonated and lively, its flavors of further strawberry and tropical fruits giving way to barnyard and a pert backbone of minerals and acidity. I was rather happy with how this one turned out.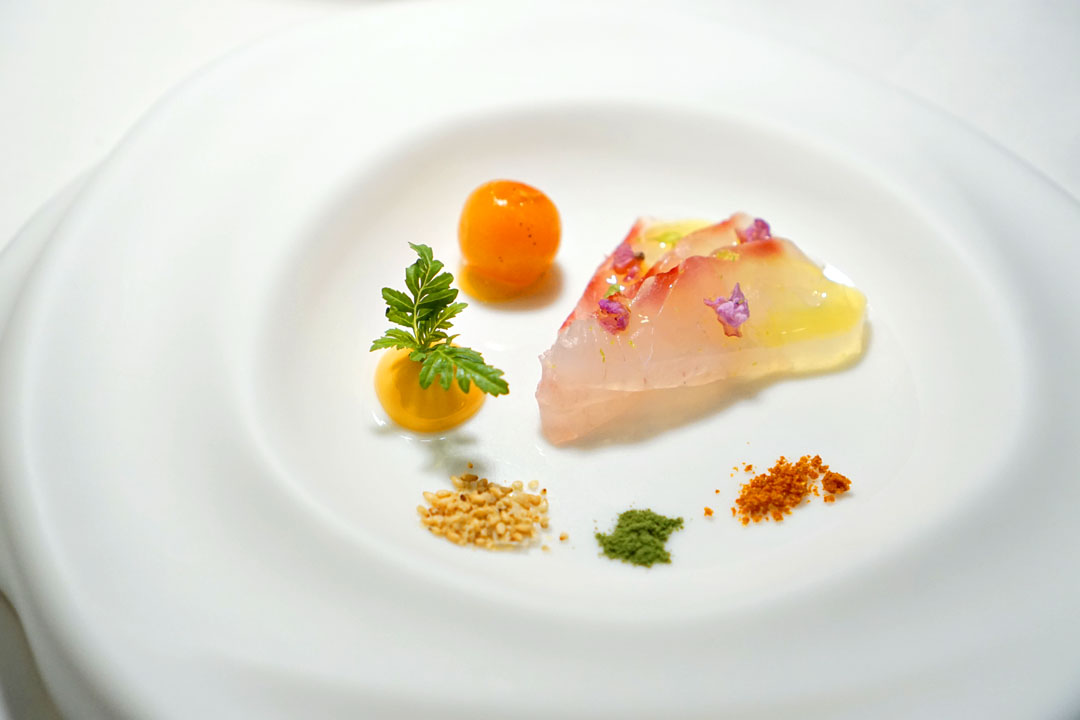 2: tai sashimi
| sungold tomato, sesame, salted cherry leaf
A crudo of wild Japanese snapper was accompanied by a peeled Sungold tomato, egg-dashi purée with Tangerine Lace leaves, sesame salt, salted cherry leaf powder, Sungold tomato powder, and a drizzle of Sicilian olive oil. We were instructed to incorporate all the various components together, and the end result was a wonderfully multifaceted presentation of the fish that masterfully commingled salt and umami with tart-sweet tomato and the fragrance of that olive oil. A favorite for me, and when taken with the DomP above, probably the best wine pairing of the night.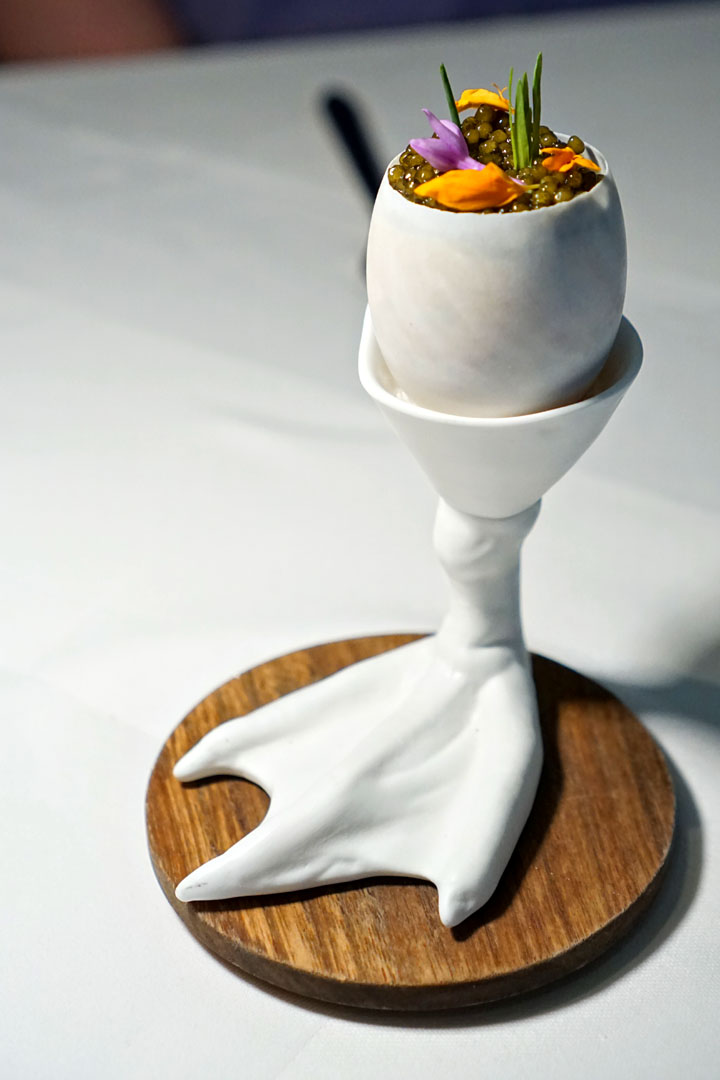 uni egg [$35.00 + $40.00]
| sea urchin, champagne beurre blanc, brioche croutons + golden kaluga caviar
We supplemented our meal with one of Providence's most well-known dishes, which apparently has been on the menu since opening. It was as delicious as I expected--I guess how could it not be given those ingredients? What I found particularly engaging was how the lusciousness of the dish melded with the subtle astringency from the flowers (sourced from an on-site garden), all while hits of salty caviar served as great finishing touches. This was even better when paired with the Bourgogne below.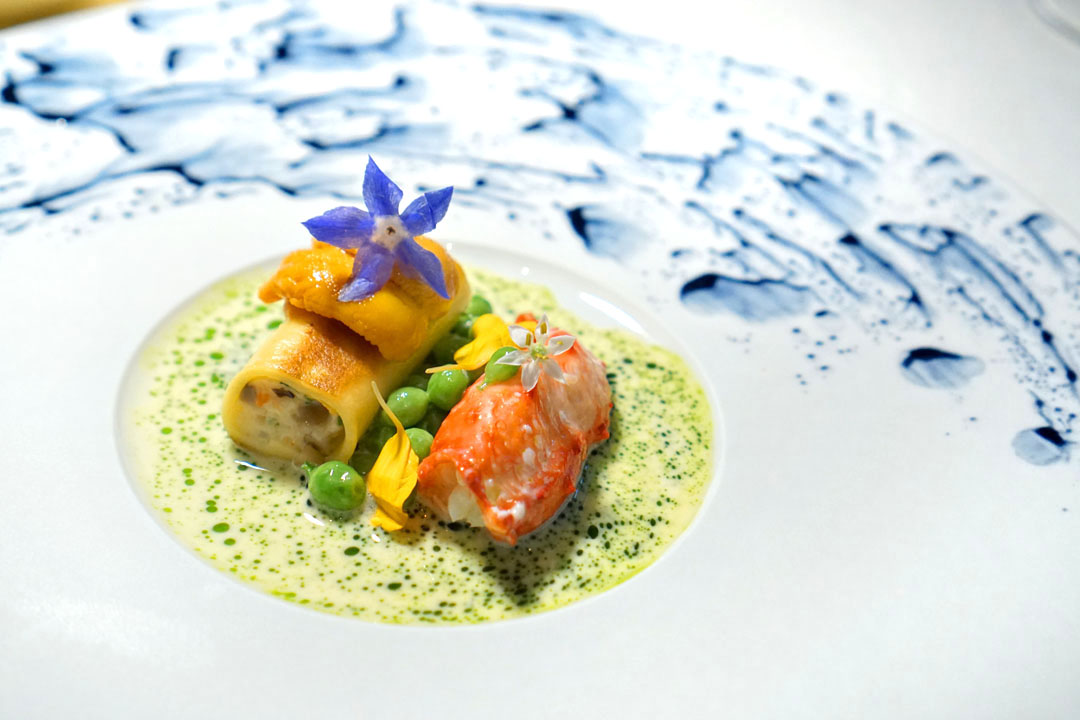 3: norwegian king crab
| sweet pea, sea urchin, aged ham broth
Up next was another standout course. I began with a bite of that perfectly textured, exquisitely sweet crab leg. I then moved on to the crêpe, which was rolled around a deeply satisfying mousseline of crab-lobster-shrimp-shiitake, augmented by Hokkaido uni. However, the beauty really comes when you combine the two parts of the dish, tied together by an enveloping Prosciutto di Parma-enriched shellfish broth while being simultaneously brightened by those peas.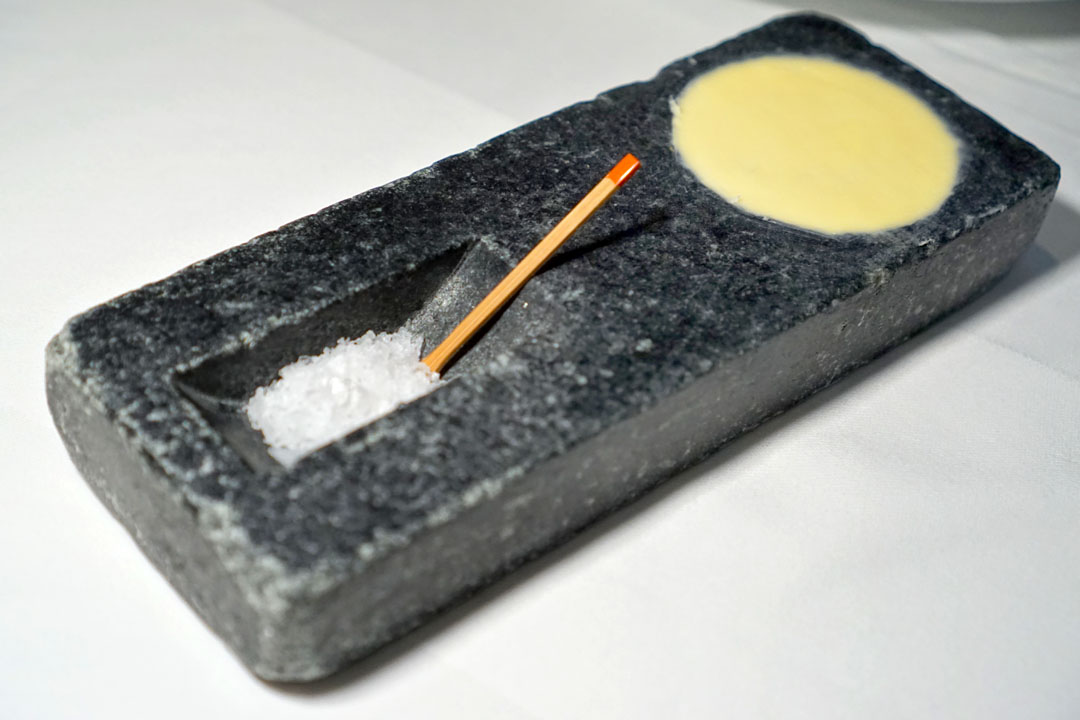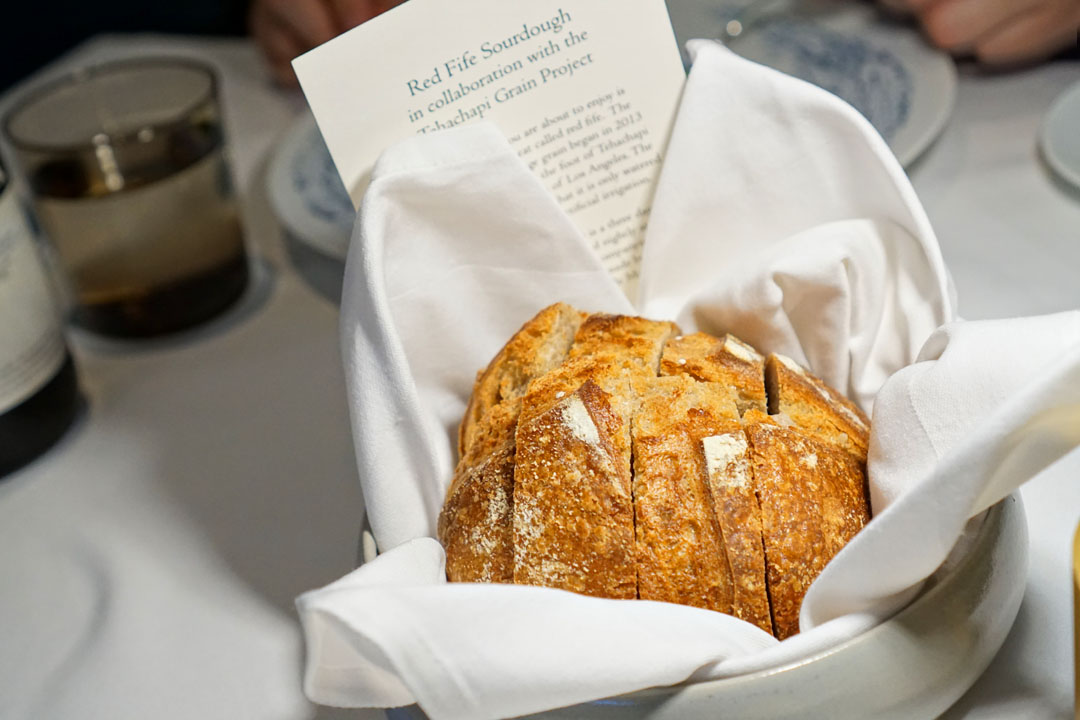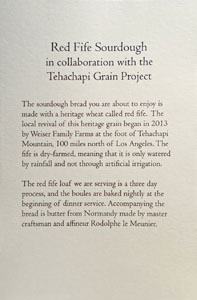 Tonight's bread, a red fife sourdough, was outstanding, and some of the best I've encountered in all of 2022. Texturally, there was just this spot-on marriage of crust and crumb, and I was impressed by how the loaf's tang was matched by an almost fruity character. It was delish just by itself, but a dab of that delightfully salty Rodolphe le Meunier butter did take things to the next level. Note also the informative card that the bread came with (click for a larger version).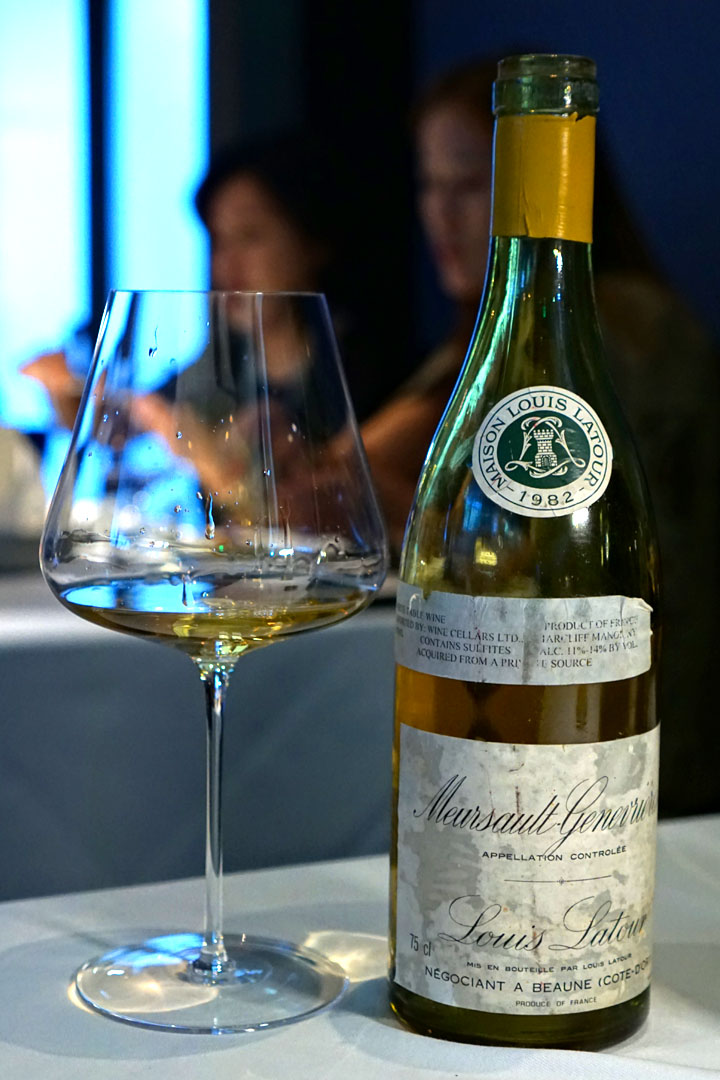 As much as I was concerned with the condition of the Champagne above, I was even more worried about our next wine, the
1982 Louis Latour Meursault 1er Cru Les Genevrières
, which I'd also purchased specifically to BYO to this dinner. Fortunately, my worries were needless, as the white Burgundy made a great showing this evening. Aromas here were surprisingly vivacious, demonstrating a healthy amount of yellow fruits commixed with a persistent yet subdued mustiness. Tasting it, I found the wine rich and buttery, which wasn't unexpected, but this was all evened out by a zippy acidity and touches of herb, citrus, and stone fruit. Despite its four decades of age, this one didn't seem over the hill at all, and was drinking great tonight.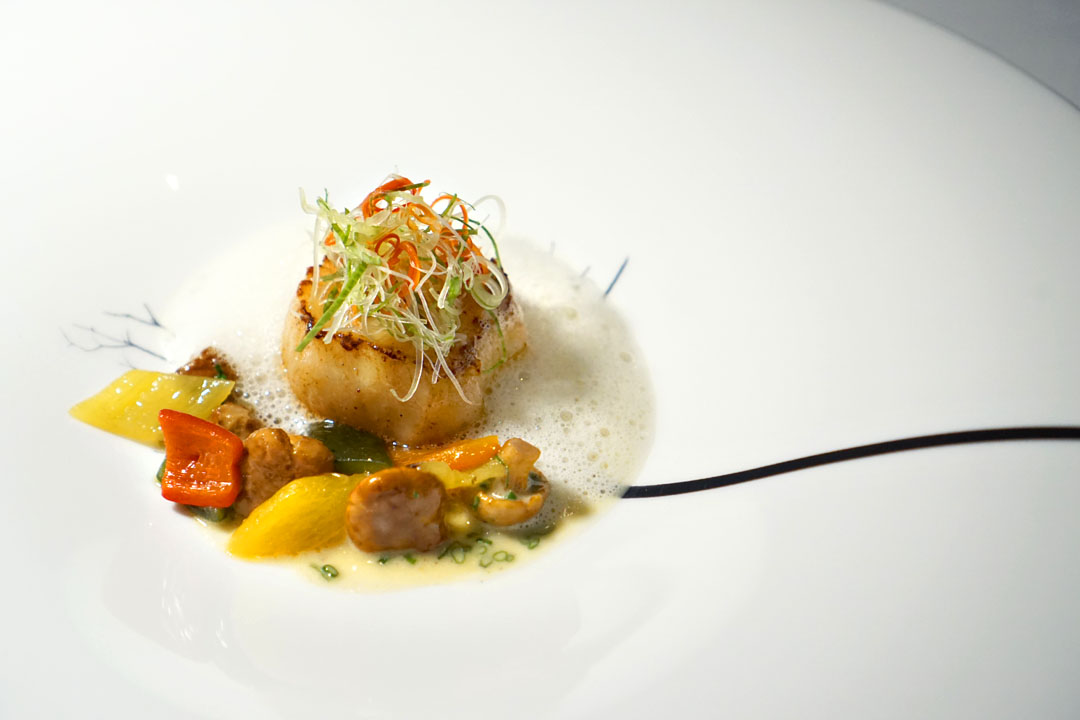 4: new bedford scallop
| chanterelle, toro de oro pepper
A lone pan-seared Massachusetts scallop was remarkable in its concentration and intensity compared to most, but sang even further when matched with the savory-piquant combination of button chanterelles and braised peppers, all set in a brown butter espuma. Just a crucial, meanwhile, were those chiffonades of pepper and celery up top, which offered a zestiness that really uplifted the dish.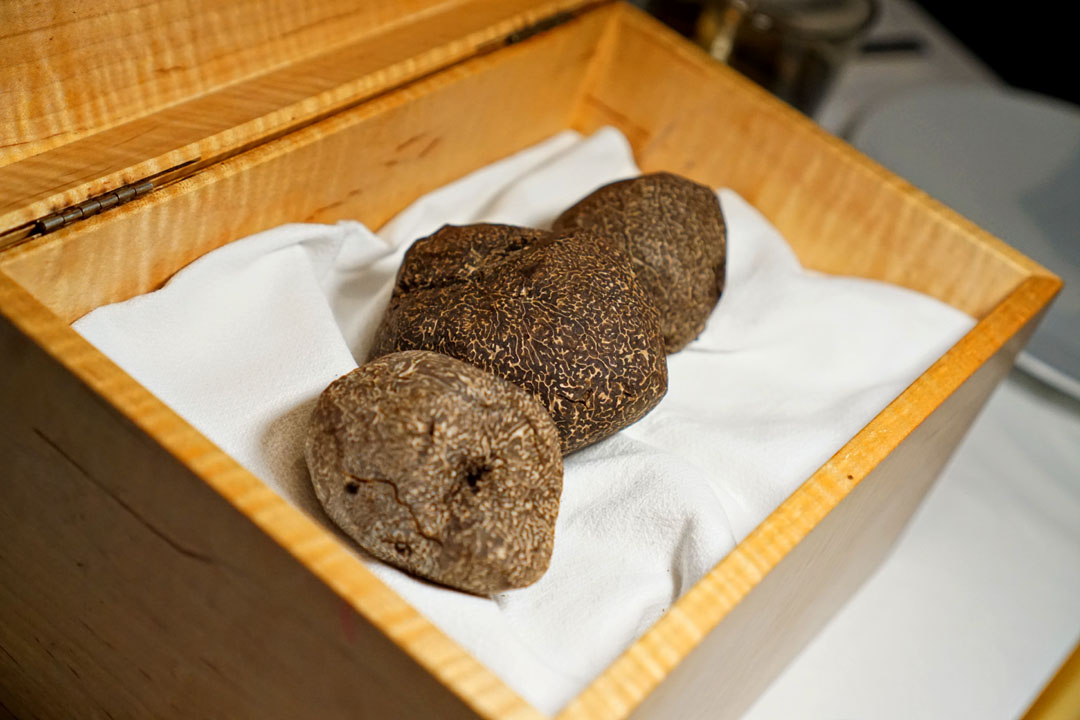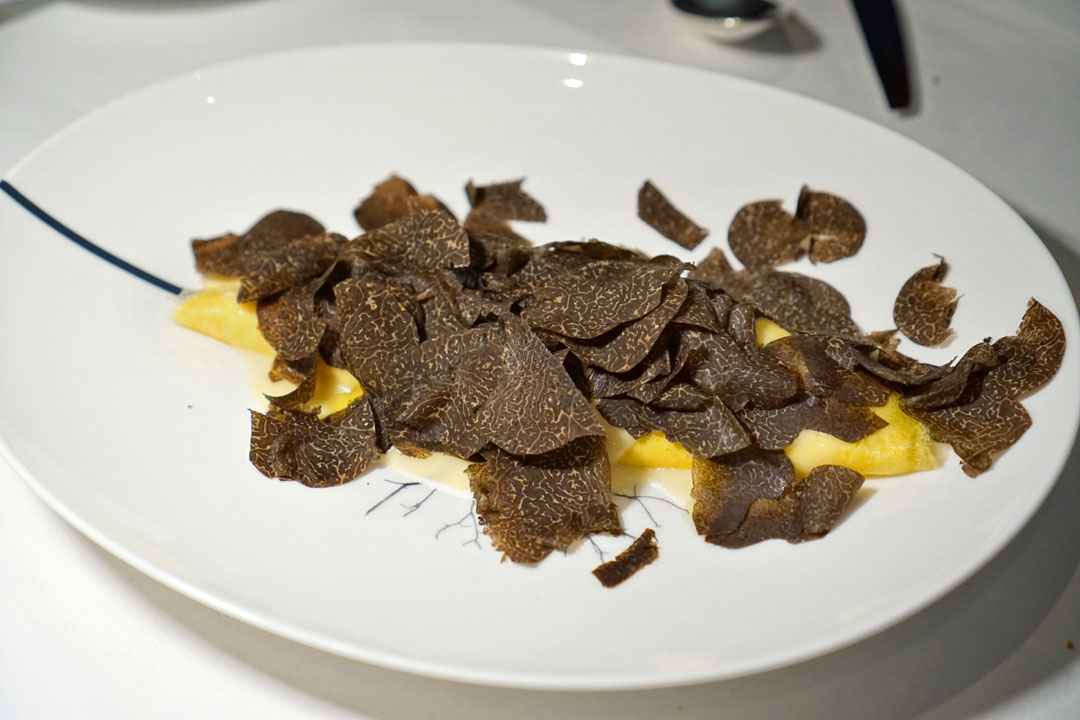 australian black winter truffles [$90.00]
| omelette
We also ended up supplementing with two additional truffle courses, and our first came in omelet format. I loved the silky, fluffy consistency of the egg here, but the crux of the dish was how the pungent musk of those truffles coalesced with the umami-laden funk of what I believe was Parmigiano.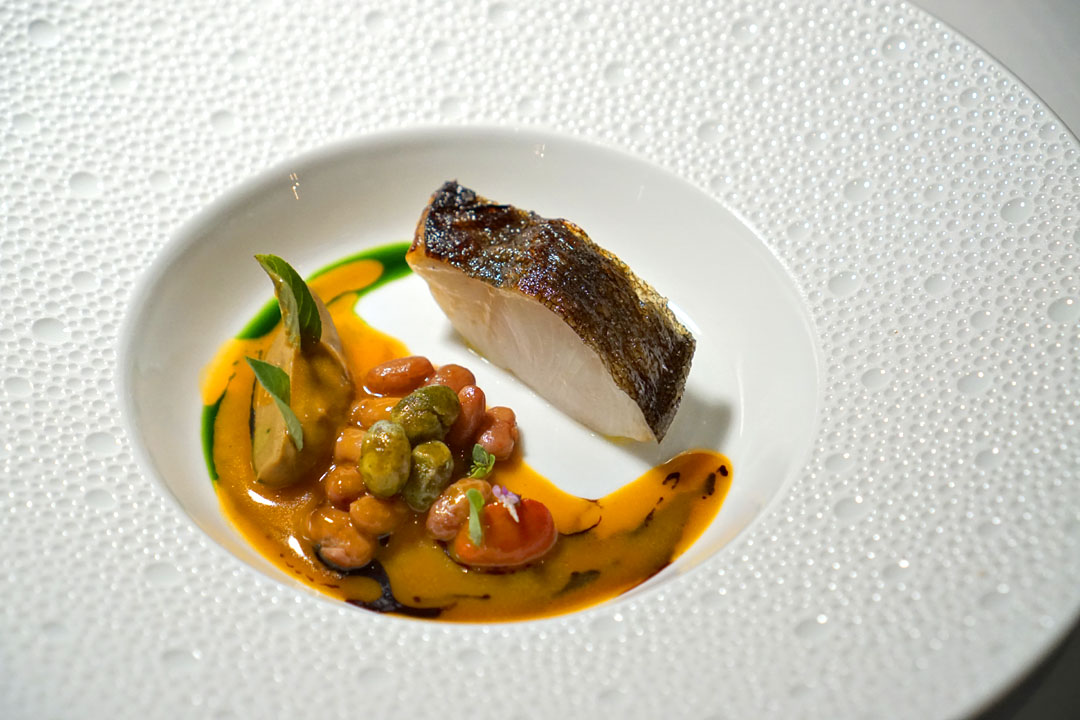 5: black cod
| cranberry bean, basil, olive, celebrity tomato
Local black cod (from around Santa Barbara I believe) was basically flawless. Of particular note was its very crispy, yet dainty skin, while its potent but elegant brine was on proud display as well. Mediterranean-leaning accoutrements of cranberry beans, Japanese eggplant purée, black olive oil, tomato and basil oil, and a finish of thin-set ratatouille worked well for contrast, and I was especially a fan of the back-and-forth between the beans and the olive.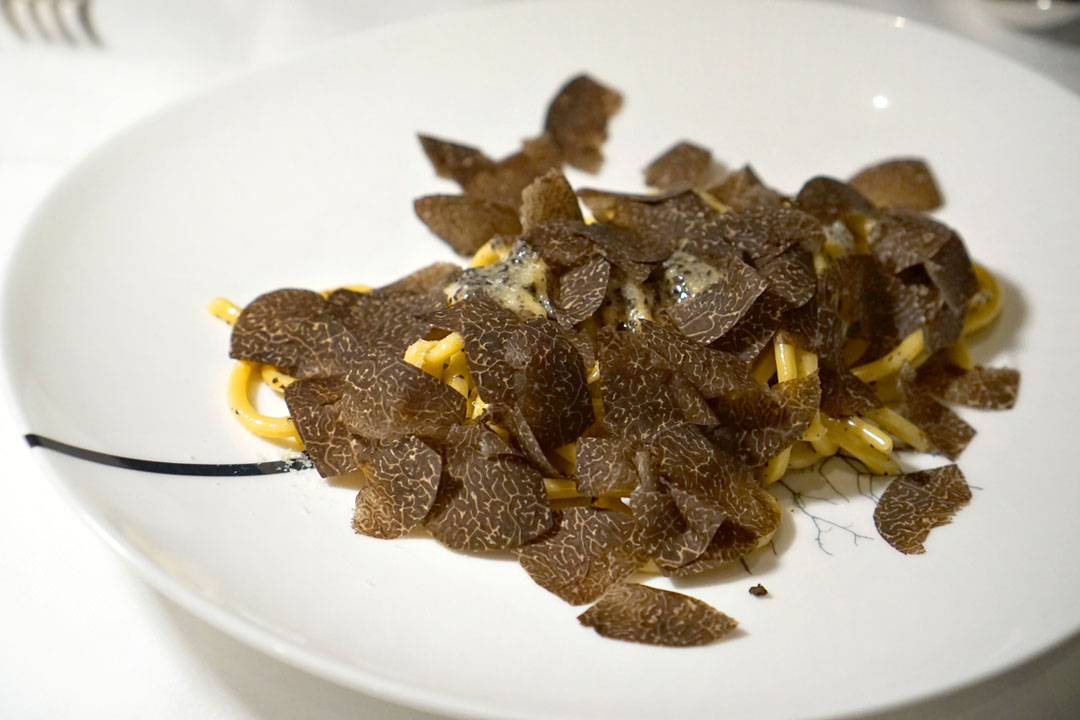 australian black winter truffles [$90.00]
| pasta alla chitarra
Our second truffle supplement was just as good, if not better, than our first. I was impressed by how substantial and well-textured the noodles were, and how well they took to the woodsiness of those shavings. Straightforward, yet a bit profound.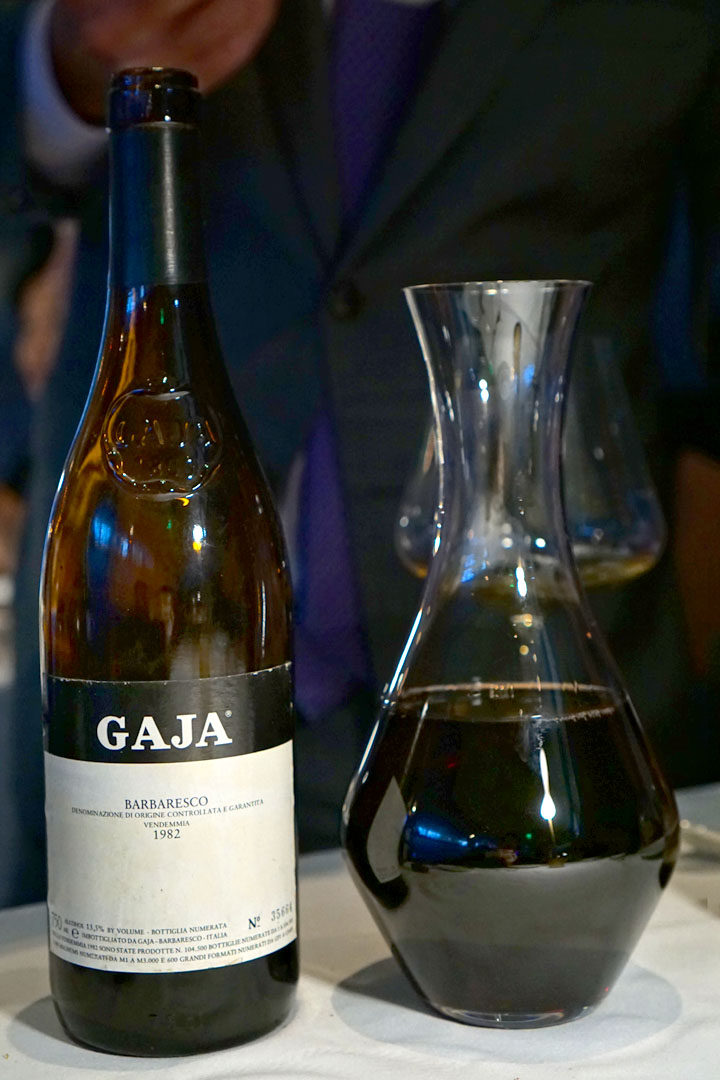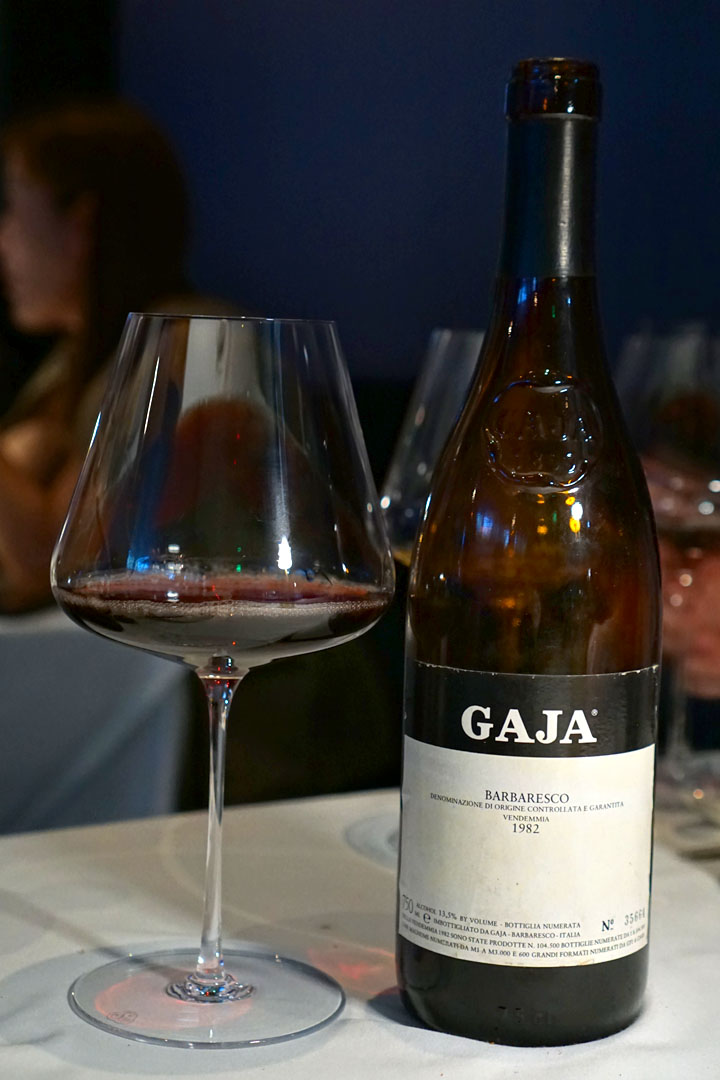 Keeping with the '82 theme of the night, one of my dining companions brought out his bottle of
1982 Gaja Barbaresco
. The bouquet on this one was all about meat and mint, set over a base of dark fruits and subdued flowers. Those menthol notes were also present on the wine's velvety palate, where they were joined by surprisingly animated forces of dark spice, earth, and red berries. This was drinking swell, and was probably my favorite of the three wines.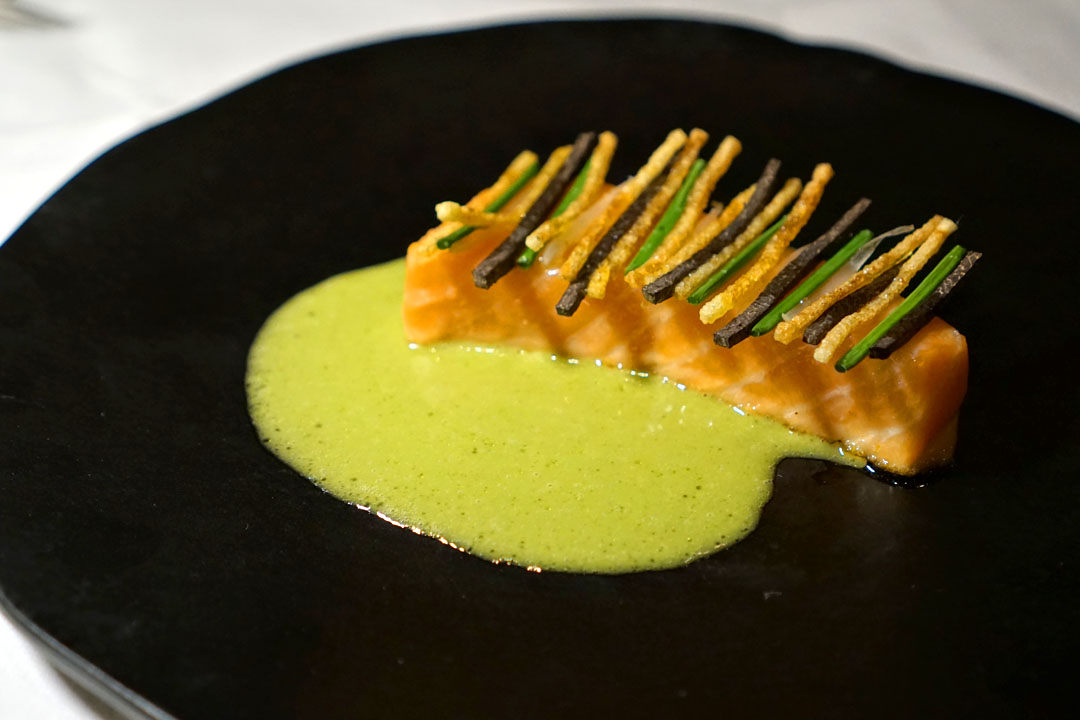 6a: california king salmon
| black truffle, pommes allumettes, pickled ramp
Salmon was cooked just how I like it, coming out still a touch rare, while its robust, saline flavors played beautifully with the tanginess of a pickled ramp sauce. The icing on the cake, meanwhile, were those juliennes of potato-black truffle-chive; I especially liked the salty crunch of the pommes.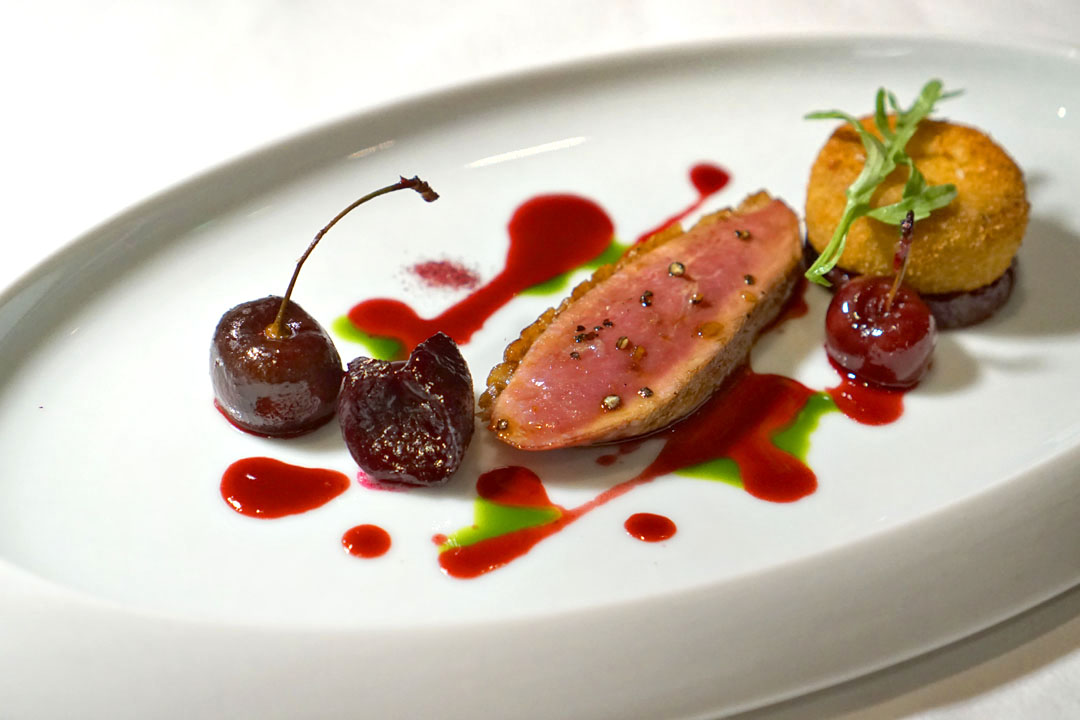 6b: liberty farms duck breast
| cherry, beet, duck rillettes
Liberty Farms duck was sublimely textured, and had that oomph, that anatine funk I was looking for. The bird combined easily with the sweetness of roasted cherries and a beet-cherry dressing, and at the same time, rillettes of confit leg--set atop a beet/cherry compote--contributed darker, deeper flavors.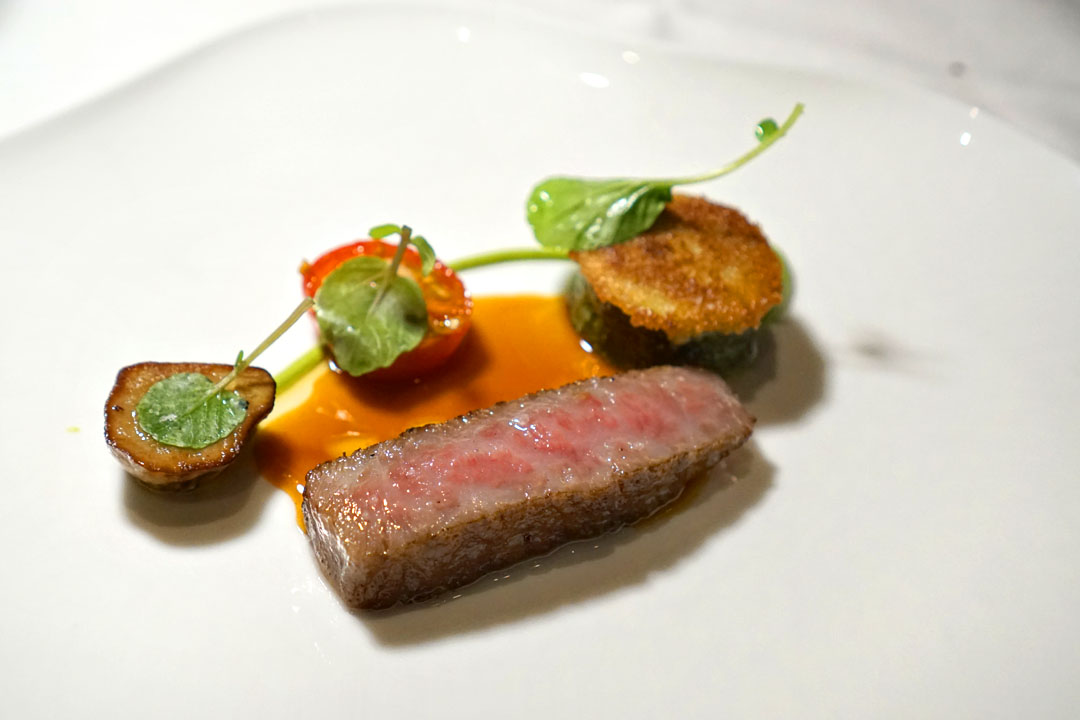 6c: a5 wagyu [$40.00]
| mount shasta porcini, zucchini, confit tomato
Real deal Japanese beef struck that perfect balance between unabashed, in-your-face fattiness and finesse, and was probably the best steak I've tasted all year. If that wasn't enough, we were also given a hollowed out squash stuffed with beef trimmings, confit'd Early Girl tomato, and roasted porcini, all brought together by a Provençal-style daube sauce.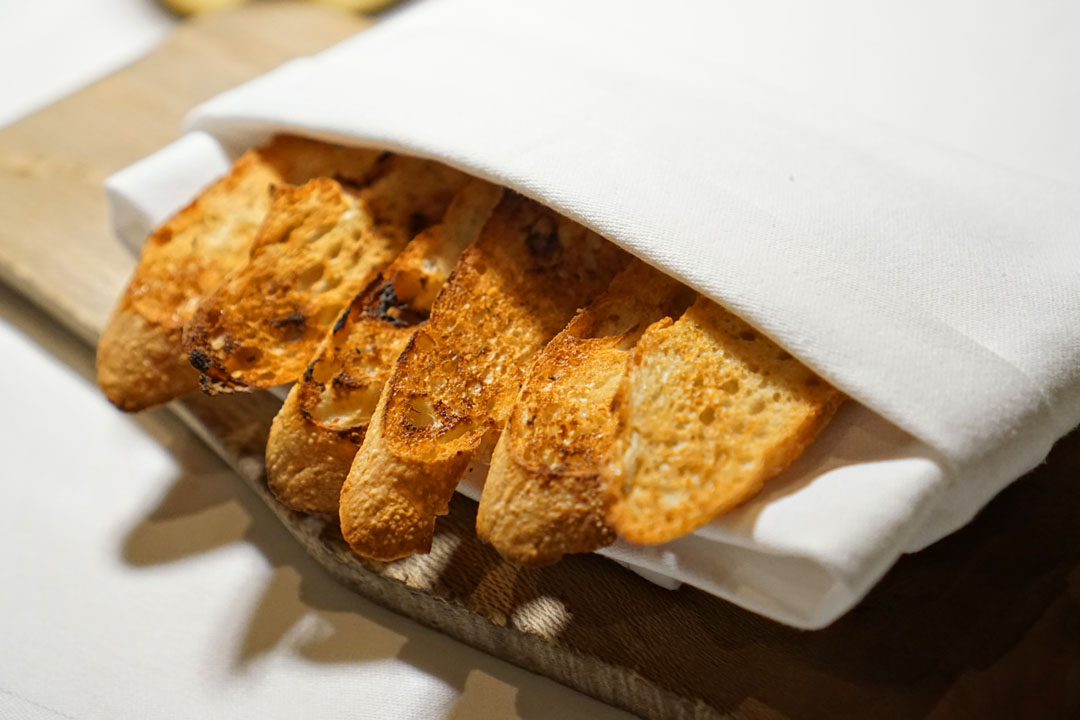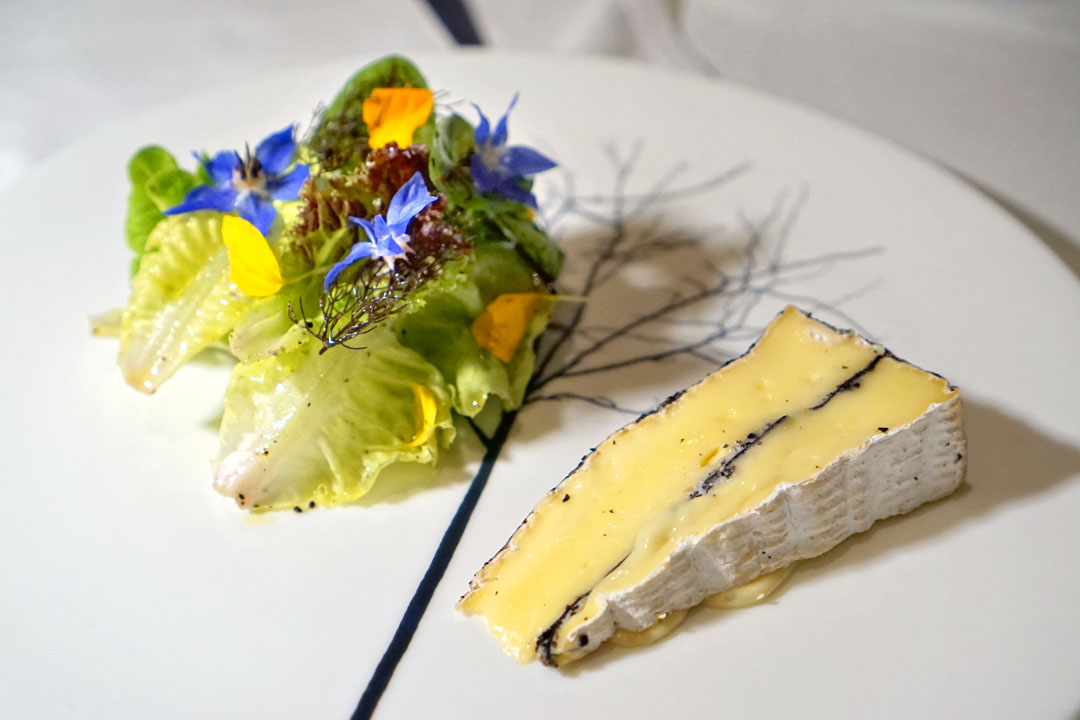 black truffle brie [$40.00]
| rodolphe le meunier brie, black truffle
Brie is undoubtedly one of my preferred cheeses, and its lush, barnyard-y qualities fused gorgeously with the headiness of those truffles. The salad did a commendable job lightening the mood, and I was certainly a fan of the extra crispy toast, too. An engaging fromage course.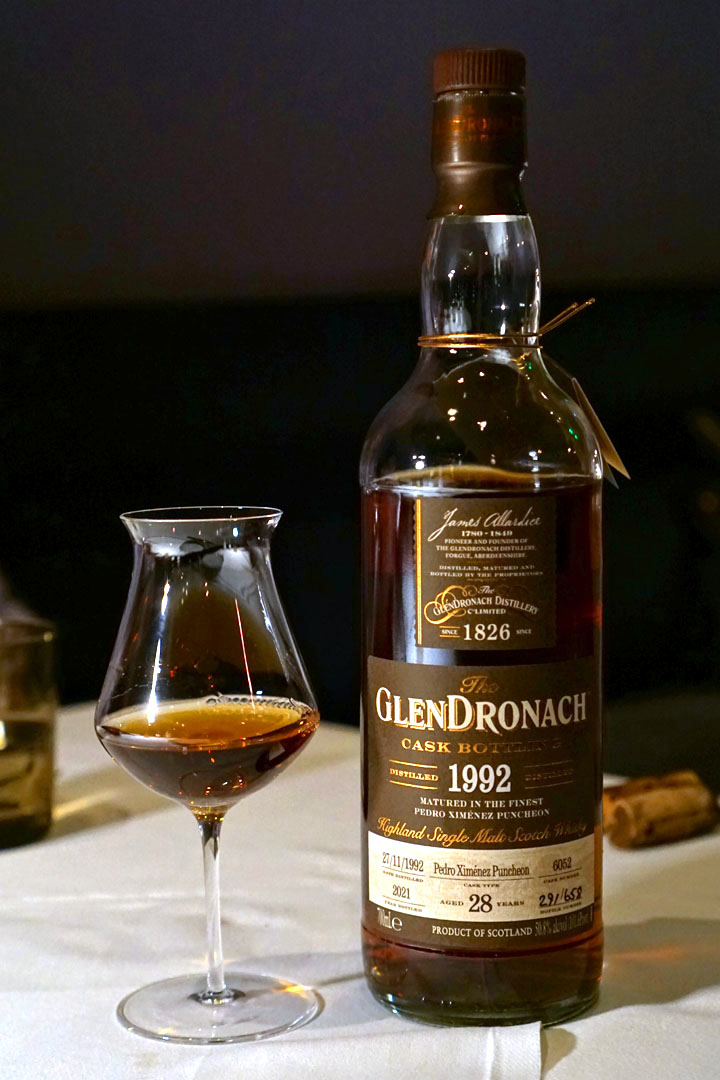 One of my fellow diners also brought a bottle of the
1992 Glendronach 28 Year Old Single Cask Pedro Ximenez Puncheon #6052
to share. On the nose, the whisky demonstrated a distinct chocolate-covered raisin character, laced with brown sugar and smidges of spice. Taking a sip, I found the spirit on the thicker side, and got more of those sultana- and chocolate-like notes, joined by saline, pungent spice, citrus, baked beans, fragrant wood, and mixed nuts. This was lovely overall, and actually went quite nicely with the desserts to follow.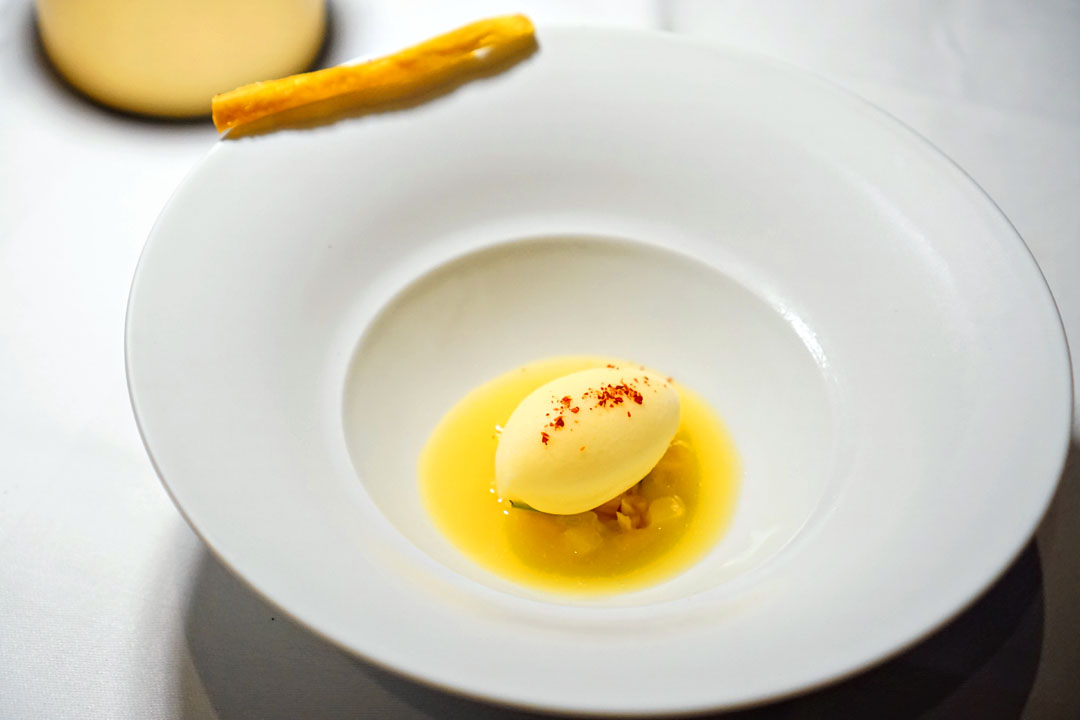 7: mango, mint, thai basil
Our pre-dessert featured mango in four ways: a base of mango with mint and Thai basil, a mango sorbet dusted with Espelette pepper, a dried mango stick, and a finish of mango nectar. Not surprisingly, this was a bright, refreshing course that worked swimmingly as a bit of a palate cleanser.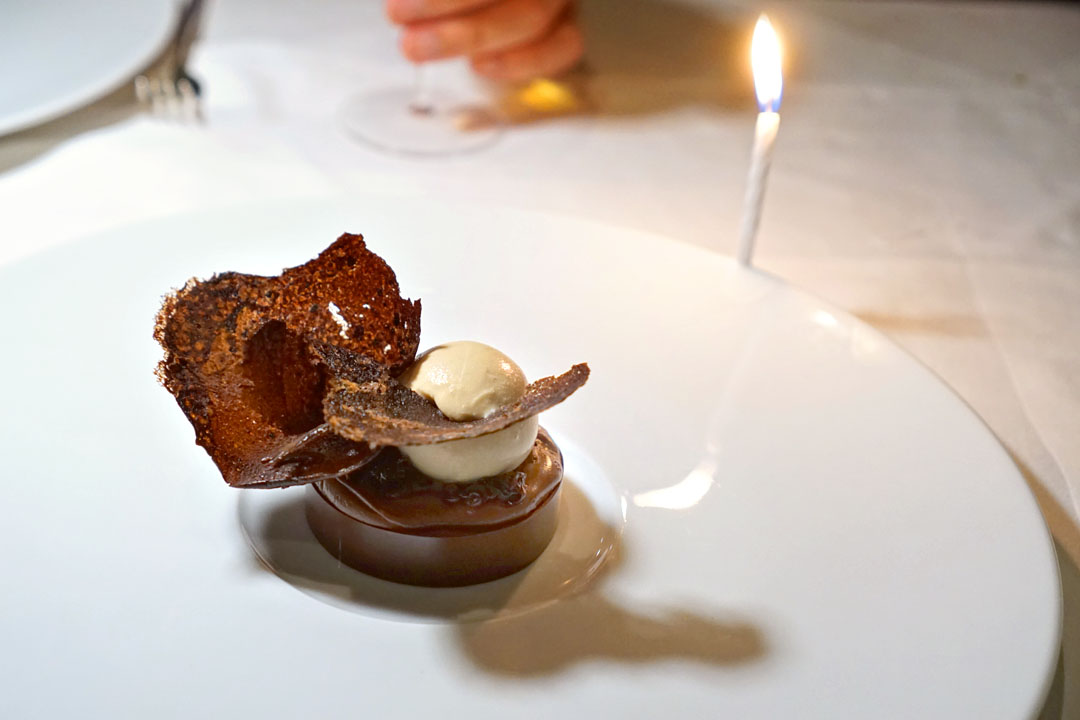 8: house-made hawaiian chocolate
| banana, barley, okinawan black sugar
Dessert proper consisted of a chocolate ganache-filled flourless chocolate cake with tempered chocolate meringue, banana, rum raisins, barley-
kokuto
gelato, and a cacao tuile crown. I found this a gratifying, multifaceted, multi-textured exploration of chocolate, and I especially enjoyed how the unmistakable sweetness of the banana pervaded the dish. Note also the birthday candle--a nice touch.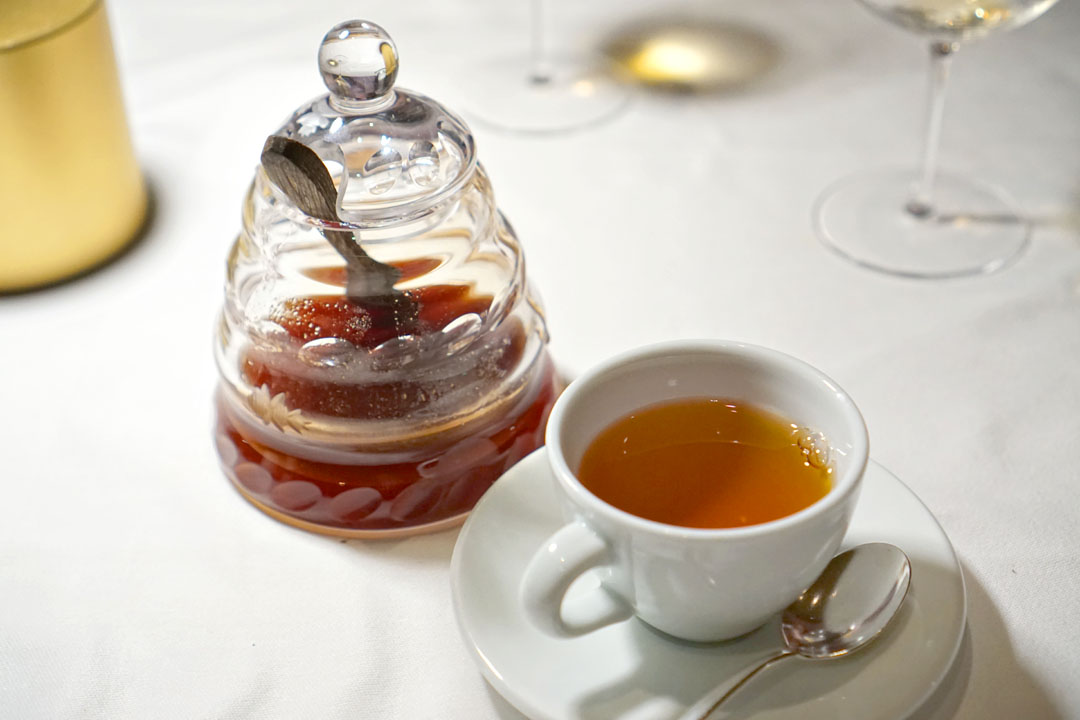 Along with the sweets, we were also served some cacao husk tea, which I don't think I've ever had before. Made from the shells of roasted chocolate beans, the tea smelled like a nutty hot cocoa, but drank like an herby, minty black tea, one that opened up even further when taken with some of the included syrup.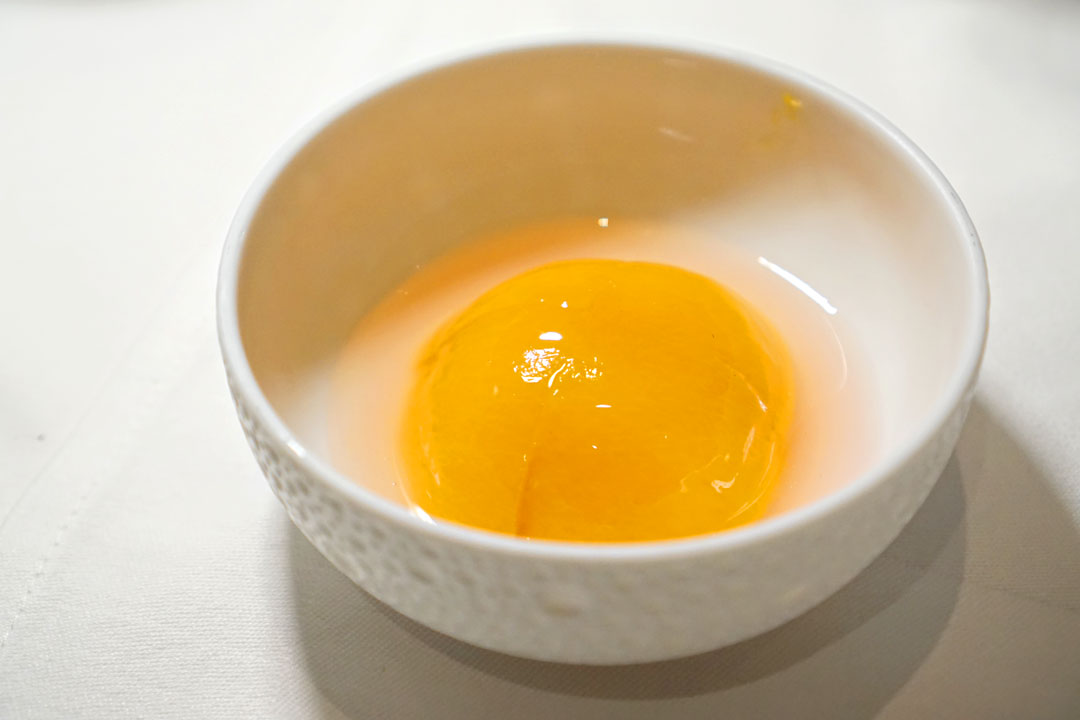 Here we have peaches poached in rosé wine with lemon verbena and thyme. Tasting candied but never cloying, you could almost think of the fruit as being like the best canned peaches you've ever had. Superb when taken with the PX Scotch above.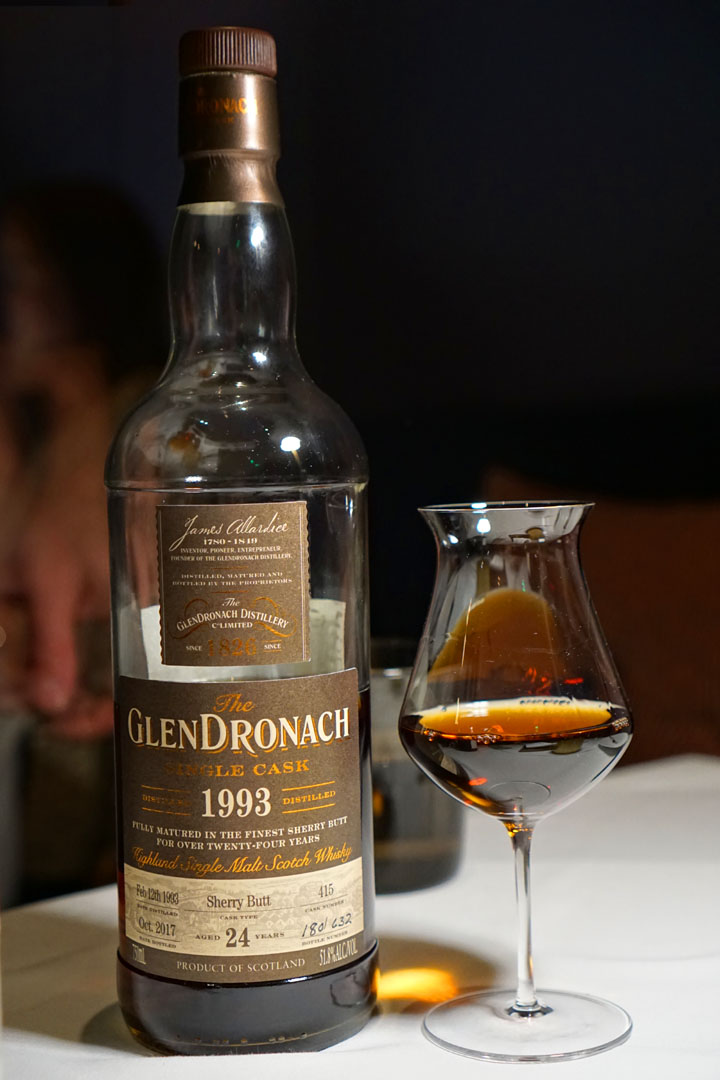 Seeing that we already had a bottle of Scotch at the table, Providence's Bar Director Kim Stodel approached us with his
1993 Glendronach 24 Year Old Single Cask Sherry Butt #415 [$150]
, which we also sampled. The nose on this one displayed dusty sherry notes up front set over a backbone of dark, sticky fruits and a touch of earth. On the palate, I found the whisky uncommonly viscous, with rich, sweet, mouth-coating, long-lasting flavors in the direction of cacao, warm spices, nuts, and dried fruits.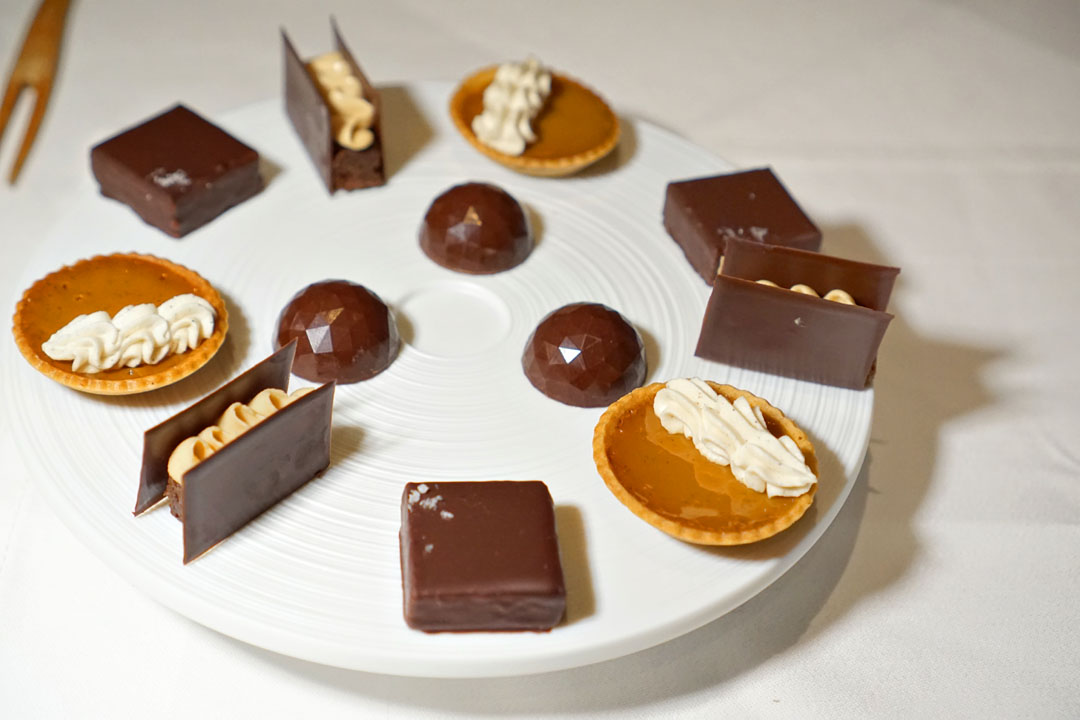 Mignardises comprised surprisingly smoky bonbons filled with chocolate ganache, vanilla caramel tarts reminiscent of Danish butter cookies, somewhat "ricey" chocolate squares with pistachio, and chocolate brownie tarts with a delightfully nutty hazelnut cream.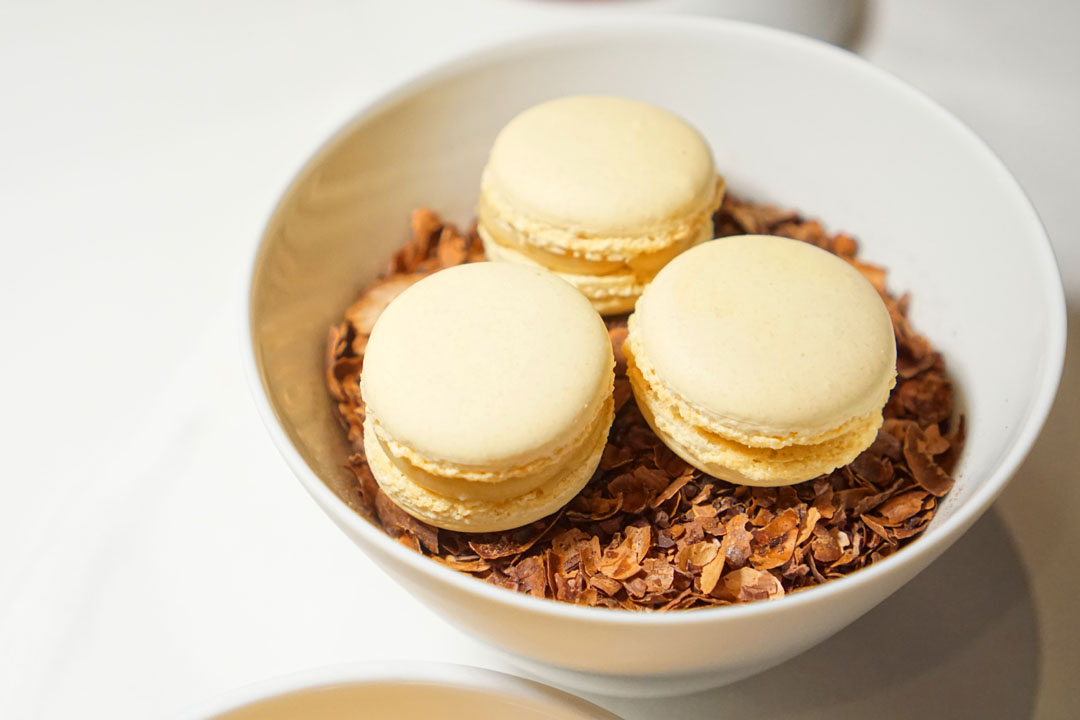 Macarons (sitting in cacao husks) were faultlessly textured and showcased flavors of vanilla and kumquat. We were also served dense, nearly savory squares of strawberry pâte de fruit, which I unfortunately forgot to photograph.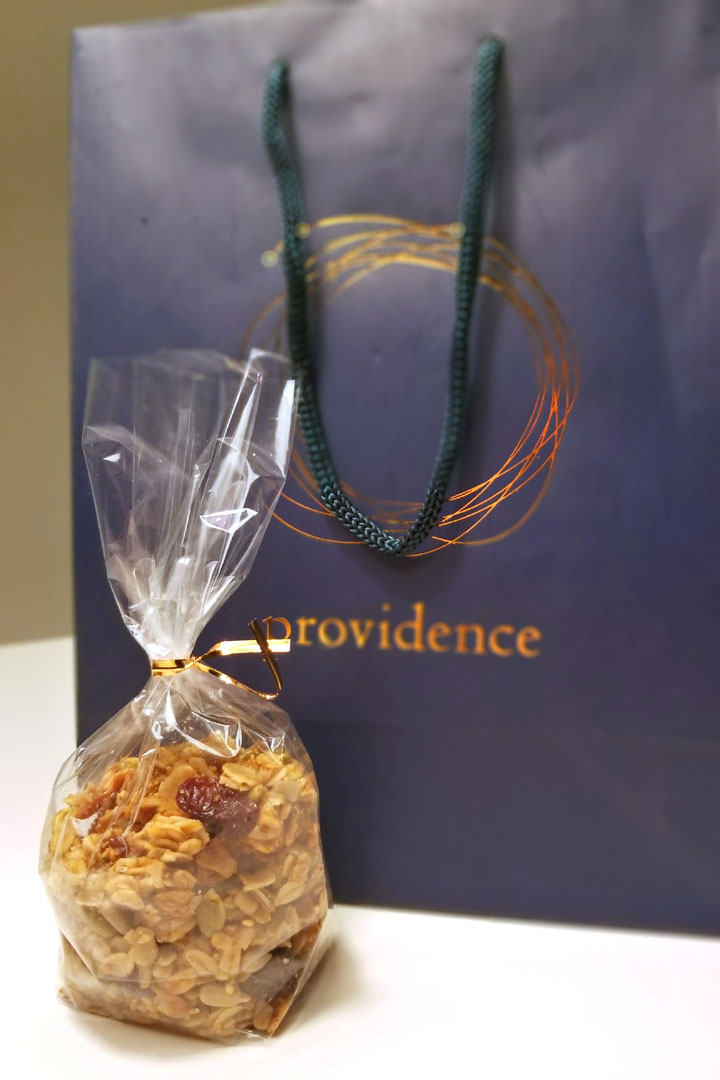 To take home: a bag of unusually flavorsome granola.
It's been far too long since I'd had a proper meal at Providence, which is a shame, as our time here tonight was exemplary. When I think of the food we had, I think of precision, focus, clarity, luxury, and of course, deliciousness, all coming together with effortless-but-affable service to make for a pretty much flawless dining experience. This was no doubt one of my top meals of the year, and a powerful reminder of exactly why Providence is considered such a fine dining stalwart.