Bolita (Los Angeles, CA)
Bolita Bar
864 N Virgil Ave, Los Angeles, CA 90029
323.612.0240
www.bolita.la
Wed 08/10/2022, 09:45p-12:15a

I recently made it a point to check out Bolita, a new-ish Cuban-themed cocktail bar in East Hollywood that grand-opened back on December 10th. Named after an old underground lottery-type game played in Havana, the spot comes to us from
Sobre Mesa Hospitality
, the folks behind Cuban staples El Cochinito and Café Tropical. The principals here are Chef Daniel Navarro (head of Sobre Mesa) and Bar Director Christopher Raba, who runs the place on a day-to-day basis.
About the Partners
: Navarro got an early start in the kitchen thanks to his grandmother Gladys Gutierrez, who had operated Silver Lake's El Cochinito since taking it over in 1988. During high school, he got his first non-family restaurant job at a rotisserie chicken joint, starting as a dishwasher. Then, prior to junior year, he scored a gig at a local country club, and worked there through graduation. In summer 2008, Navarro enrolled at the Culinary Institute of America, and actually interned at
Providence
during his time there. After finishing up at the CIA, he came back to LA and starting cooking at
The Bazaar
, then moved over to
Canelé
.
2011 saw him return full-time to El Cochinito, since his grandma had experienced some health issues and thus needed someone to run the restaurant in her absence. Following her recovery, Navarro moved to New York in 2013, where he worked at The Cleveland in Soho, Concord Hill in Williamsburg, and Estela in Nolita. In 2016, he relocated back to SoCal to take over El Cochinito following his grandmother's passing. He revamped the old-line Cuban eatery, and even opened an outpost in Miami in September 2018 (sadly, it closed less than a year later). Not long after, in mid-2019, Navarro wound up taking over Café Tropical, which had been founded all the way back in 1975.
Chris Raba, meanwhile, was born in Glendale and attended USC, where he studied philosophy and history. Following graduation, he ditched plans to become a high school history teacher and decided to get into bartending after having his first craft cocktail with Naomi Schimek over at The Tar Pit (it was his 22nd birthday). He started out as a barback in July 2010 at The Association in Downtown, then worked his way up via positions at Más Malo, The Famous in Glendale, and
Eveleigh
in WeHo. Raba later bartended at Hollywood spots
Wood & Vine
,
Birch
, and
Gwen
, then moved over to Five0Four and Iron Triangle Brewing in the Arts District. His last post was at
Rudolph's Bar & Tea
at the Freehand Hotel, but he was let go from that position as a result of the pandemic.

Bolita takes over a Virgil Village building that was previously home to the short-lived Equal Parts and before that, the long-lived Smog Cutter. The space has certainly been fancified, and now sports a mid-century Havana sort of feel.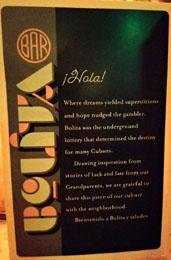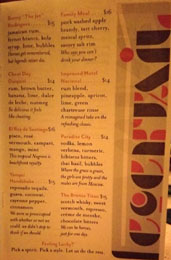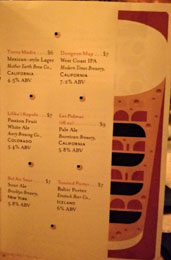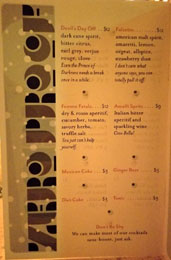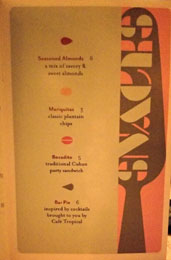 As for Bolita's menu, it features a tight selection of generally tropical-leaning cocktails along with a handful of beers/wines, and a few bar snacks. Click for larger versions.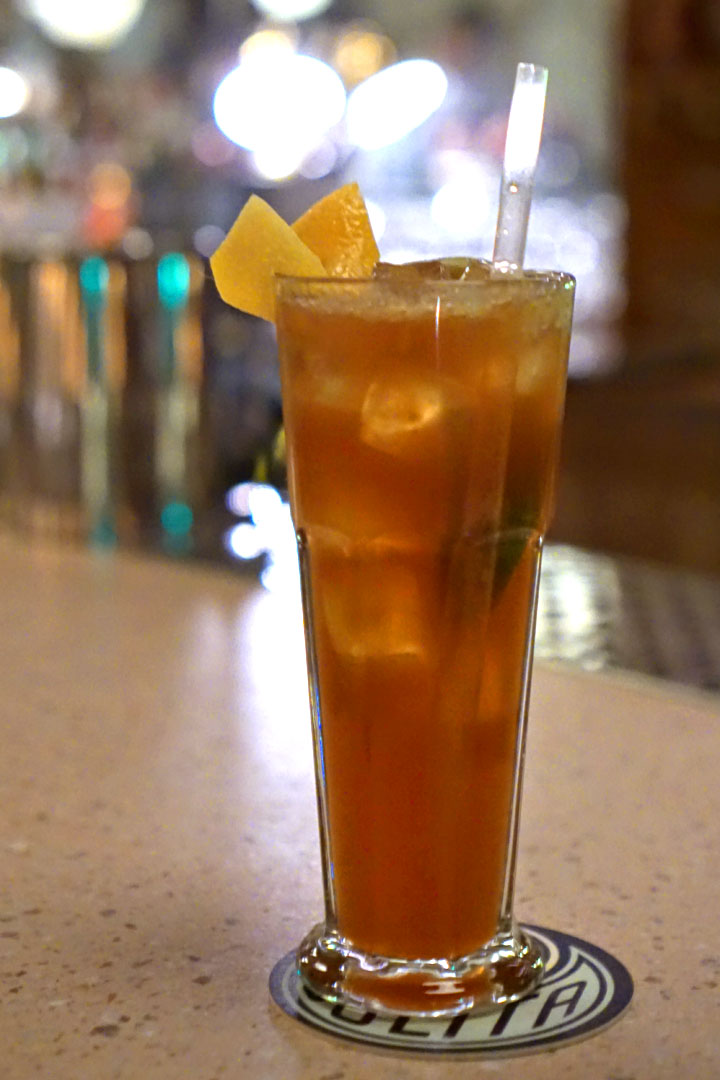 Benny "The Jet" Rodriguez [$15.00]
| jamaican rum, fernet branca, kola syrup, lime, bubbles
Given that I was at a Cuban-inspired establishment, it felt appropriate to start with a take on the iconic Cuba Libre. It was a worthy riff on the iconic cocktail, with a spot-on balance between the punch of the rum, the bitterness of the amaro, and the multifaceted sweetness of the cola, but the highlight for me was the fernet, with its creeping minty edge that really made itself known toward the finish.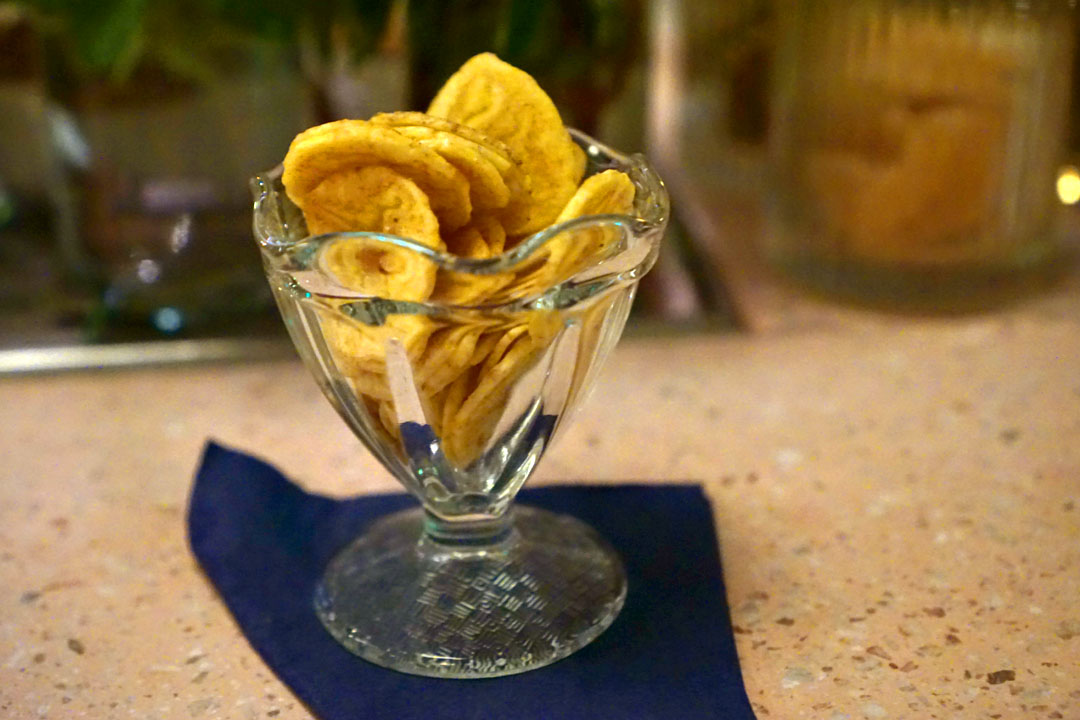 Mariquitas [$3.00]
| classic plantain chips
A ubiquitous Cuban snack of fried green plantains met the mark. I liked the interplay of sweet and salty flavors here, as well as the chips' pleasant crunch.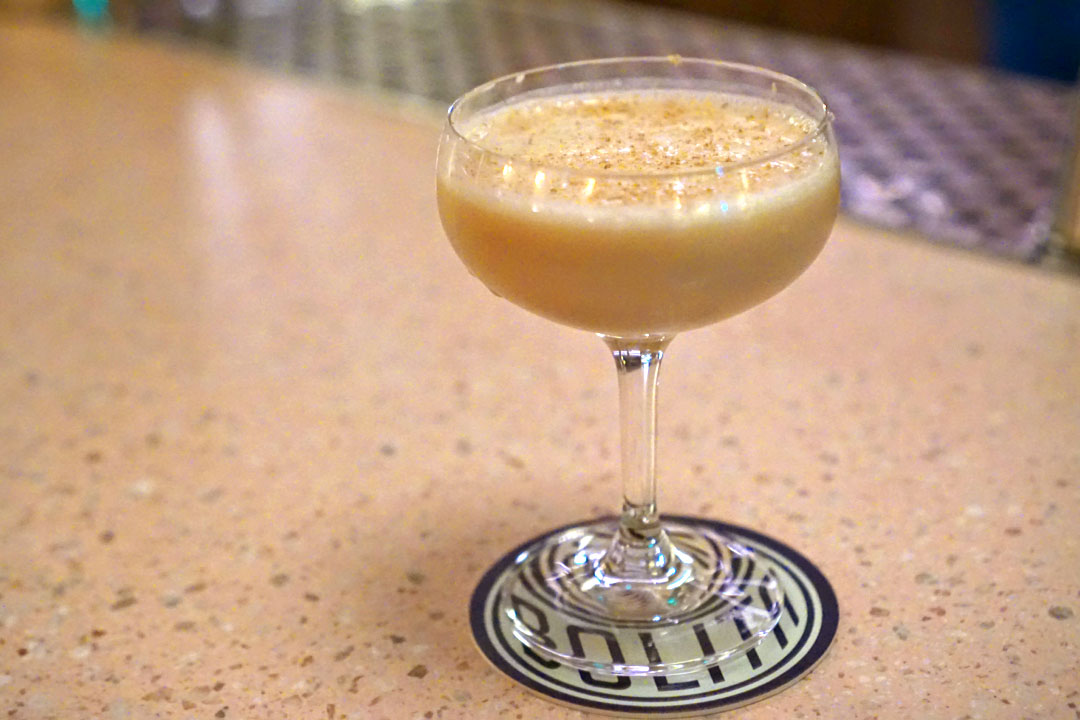 Cheat Day Daiquiri [$14.00]
| rum, brown butter, banana, lime, dulce de leche, nutmeg
This daiquiri variation was surely on the luscious side, and the cocktail was an easy one to enjoy. What struck me here was how well conveyed the banana was, and how well it melded with the richness and depth of the brown butter. At the same time, the sourness from the citrus really helped even things out, as did the warm spice from the nutmeg.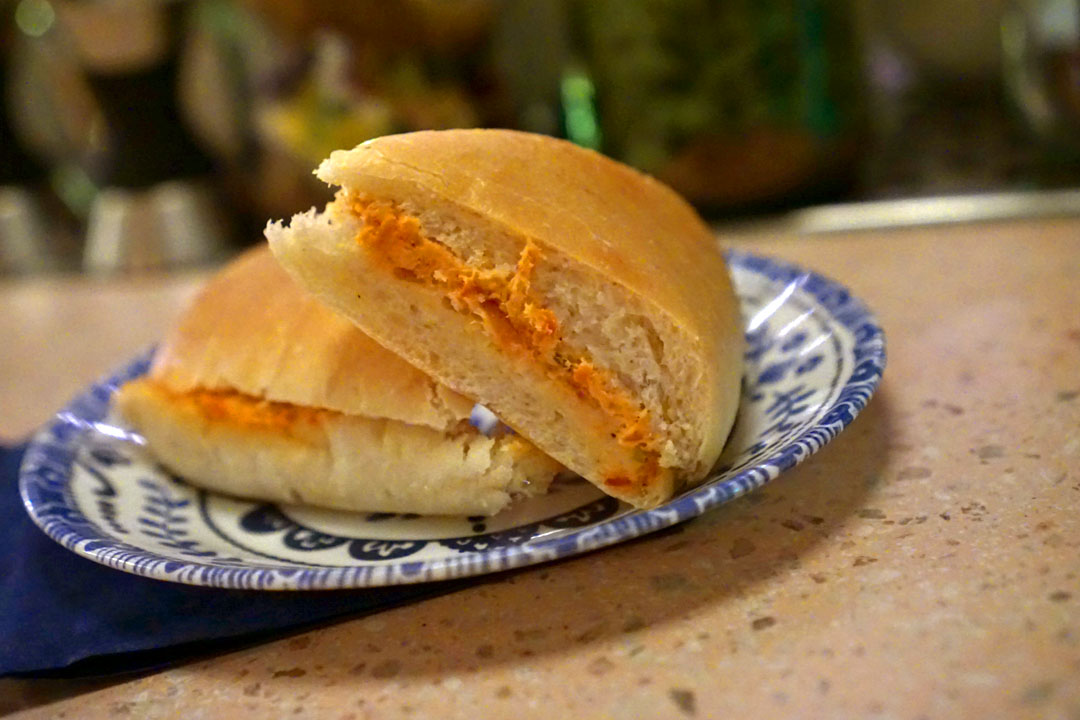 Bocadito [$5.00]
| traditional Cuban party sandwich
Served on medianoche bread from Cafe Tropical, this miniature sandwich was a blast to eat thanks to its creamy, subtly sweet, subtly piquant ham-based filling.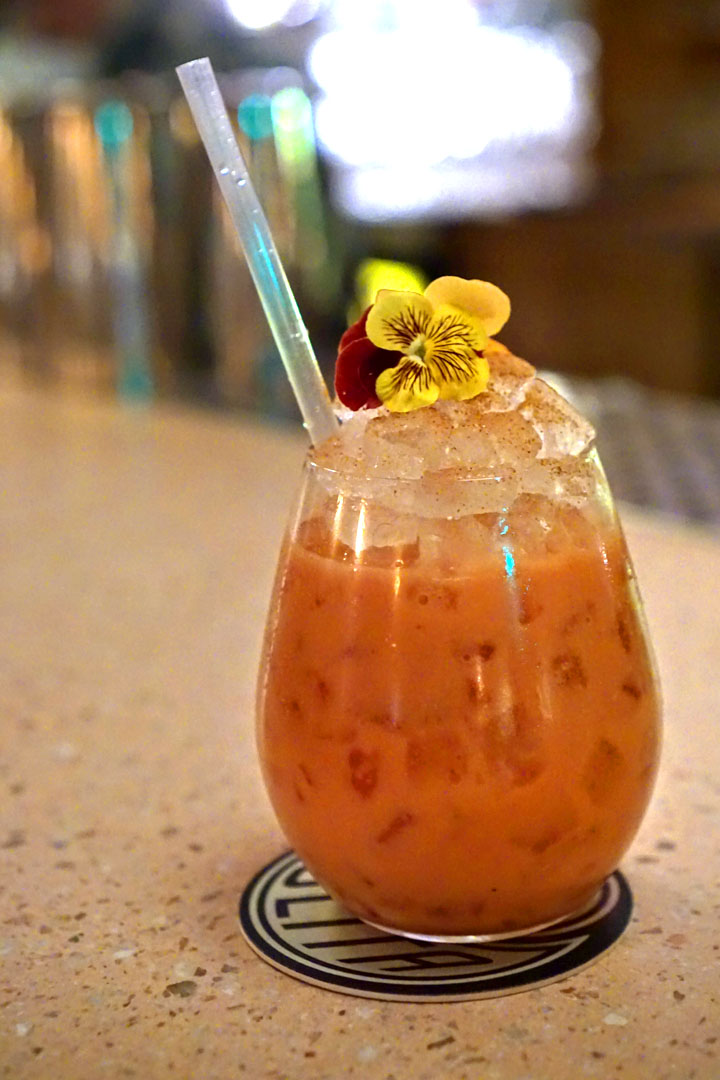 Yanqui Handshake [$15.00]
| reposado tequila, guava, coconut, cayenne pepper, cinnamon
According to Raba, this is Bolita's most popular cocktail, and I can see why. I was a fan of how the drink's sheer fruitiness led to a multi-pronged heat on the back end, and an even bigger fan of its almost savory underpinning, which kept all the elements in check. Smart, but also fun for sure.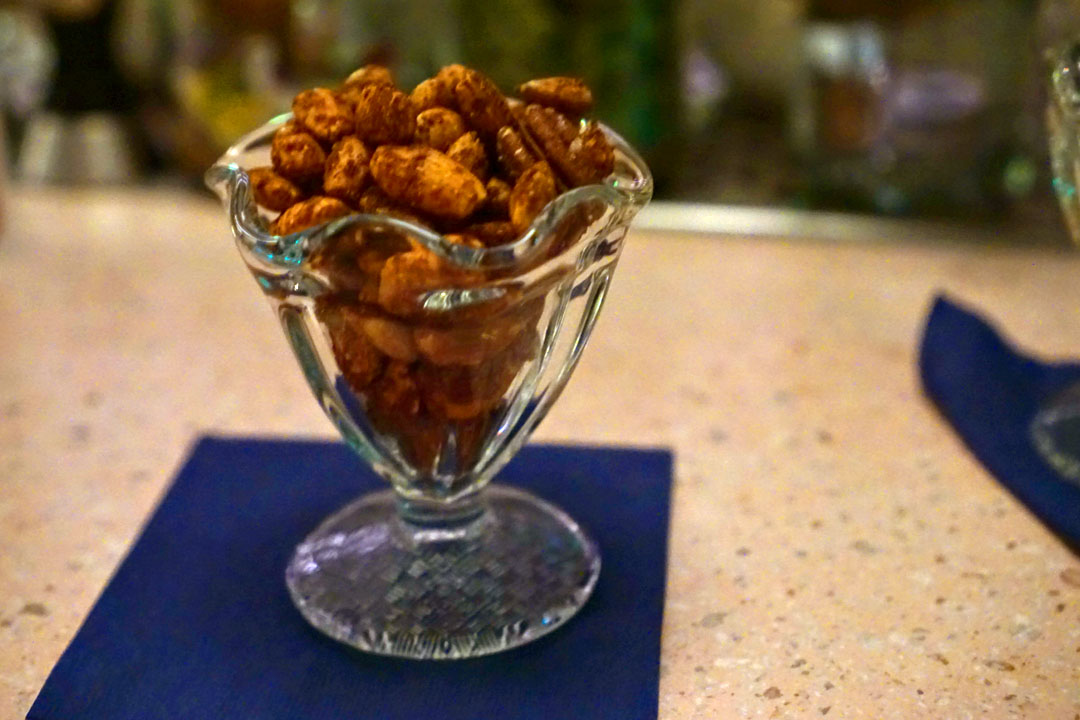 Seasoned Almonds [$6.00]
| a mix of savory & sweet almonds
Almonds were aggressively spiced, which I liked, and arrived with a few sweet walnuts mixed in.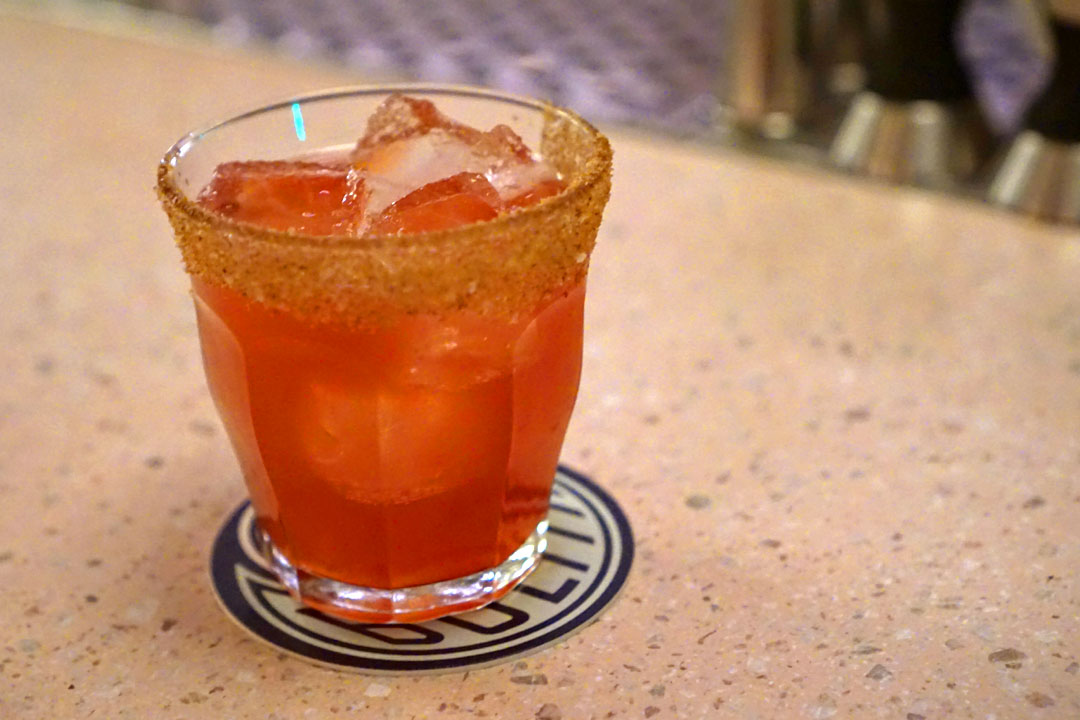 Family Meal [$16.00]
| pork washed apple brandy, tart cherry, mezcal spritz, savory salt rim
Given that I just had Bolita's most popular cocktail, it made sense to also try the least popular one. I could see it as being the most polarizing of the bunch. The nose here was unabashedly savory and a touch smoky, with a distinct herbaceous component. Tasting it, I got very true-to-life pork up front, commingled with surprisingly robust apple, all leading to an uplifting cherry pie-esque close. Interestingly, upon tasting the drink, the first thing I thought of was the smell of a restaurant kitchen after dinner service--very neat.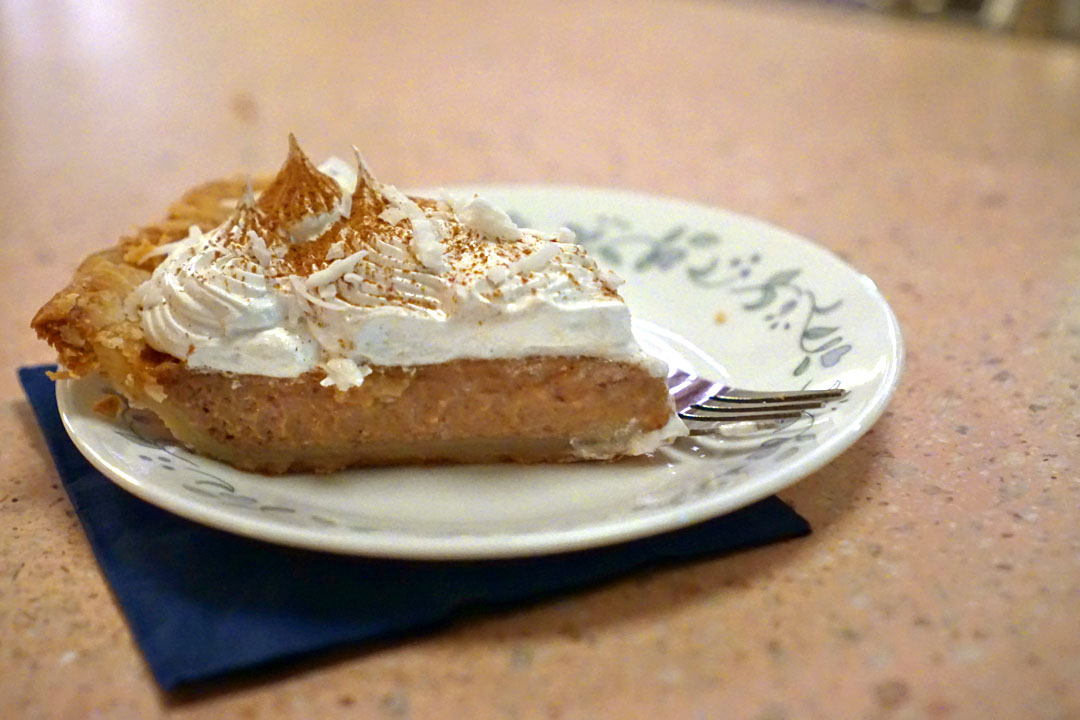 Bar Pie [$6.00]
| inspired by cocktails, brought to you by Café Tropical
Tonight's pie was inspired by the Yanqui Handshake above, and featured loads of tropical flavors from a guava mousse, tempered by meringue and perked up by a dusting of cayenne powder. Pretty nice crust on this, too.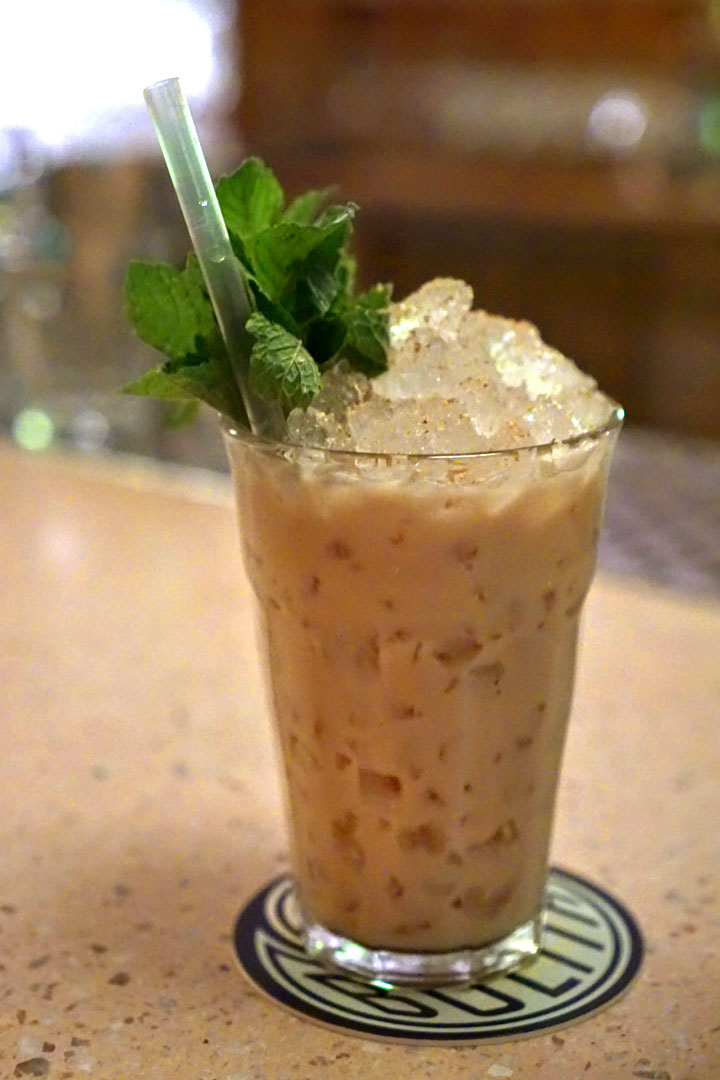 Grasshopper [$15.00]
At this point, I was looking for something dessert-y, and Raba offered up his interpretation of the traditional Grasshopper, which actually ended up being the best version of the cocktail that I've had. The key was that perfect contrast between flavors of mint and bittersweet dark chocolate, while the drink's mouthfeel was luscious without veering heavy.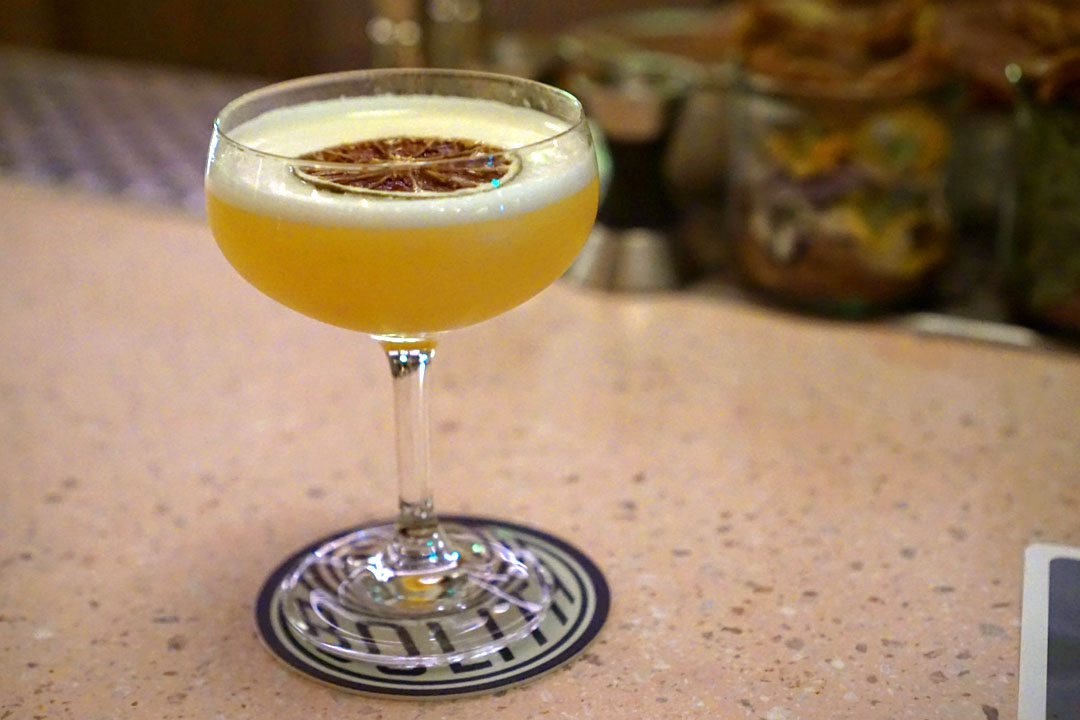 Improved Hotel Nacional [$14.00]
| rum blend, pineapple, apricot, lime, green chartreuse rinse
I ended my evening with another icon of Cuban cocktail culture, and it was yet another winner. What I really appreciated here was how the fruitiness of the drink stood out, especially the apricot, and how that meshed with what seemed like an unusually fragrant rum. Meanwhile, serving as the perfect accent piece was a trace of herbiness from the Chartreuse.
I'm glad that I made the effort to check out Bolita, as I had a great experience here. Raba and his team did a commendable job taking care of me, and the drinks were on point as well, striking this balance between being fun and easy-going, yet still contemplative and complex. This place has a comfortable, neighborhood-y vibe, but at the same time, feels like a bit of a destination, too. Definitely one of my favorite cocktail newcomers in LA.