Koreatown Pizza Co. (Los Angeles, CA)
Korea Town Pizza Company
3900 Wilshire Blvd, Los Angeles, CA 90010
213.738.0077
www.koreatownpizzaco.com
Sat 06/18/2022, 06:10p-09:10p

Some friends and I were recently on the search for a centrally-located, kid-friendly restaurant suitable for large parties, and decided on Koreatown Pizza Company, a slanger of Korean-style pies that launched back in 2017.
Interestingly, this place can trace its roots to Mr. Pizza, a Seoul-based pizza chain that was founded in 1990. In 2007, the company opened its first US location in K-town, at 3881 Wilshire, and one of its earliest employees was Henry Lee, who had just immigrated to the US from South Korea. He was in his early 20s at the time, and got a job as a server before making his way into the kitchen and eventually becoming general manager of the eatery, and then the chain's overall California operations. However, he wanted to get into restaurant ownership, and thus, in late 2016, he teamed up with Ju-weon Kang and took over the original Mr. Pizza on Wilshire, renaming it to the suspiciously similar M Pizza at the start of 2017.
In August 2017, Henry met one Johnny Lee (a.k.a. Johnny Star Lee or Johnny Byul Lee), a Korean-American hailing from Boise, Idaho of all places. Johnny had actually co-founded DTLA burger joint Meatzilla earlier that year with James Reamy of Yeastie Boys, and is an investor in Milt+T and Lasita as well. He's also apparently involved in various other investments, and based on
his Instagram
, appears to have a propensity for memes and crypto. In any case, the two decided to team up, and soon turned M Pizza into Koreatown Pizza Co, with the spot grand-opening on September 15 2017.

As mentioned above, Koreatown Pizza Co originally opened in the old location of M Pizza at 3881 Wilshire (which was home to Seo Rae Gwan and Furusato Sushi before that). However, it is important to state that the restaurant moved to a new address across the street in March 2019, and now occupies a ground floor space inside the Ramada hotel that previously held the likes of Ca'Brea, Harang Bistro, Moa Moa, and Koko Lounge & Bar. I will also note that after Koreatown Pizza left, 3881 Wilshire became Bon Bon Tap, then Egg Tuck, then Chef Kang Sul Box, which closed in March this year.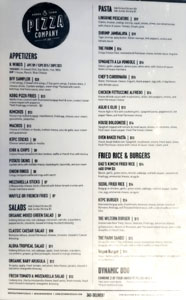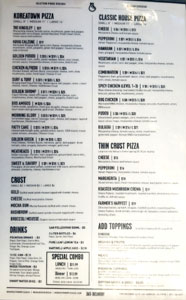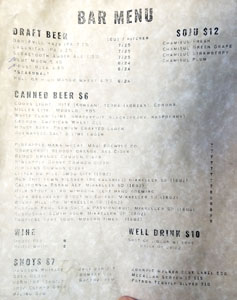 The menu lists a number of "creative" pizza options as well as more ordinary selections, along with appropriate appetizers, pastas, and other sundry items, while beverage-wise, you'll probably want to stick to beers. Curiously, KPC apparently also functions as an outpost of
Bitcoin Pizza
, which I guess sort of makes sense given Johnny's proclivity for cryptocurrency. Click for larger versions.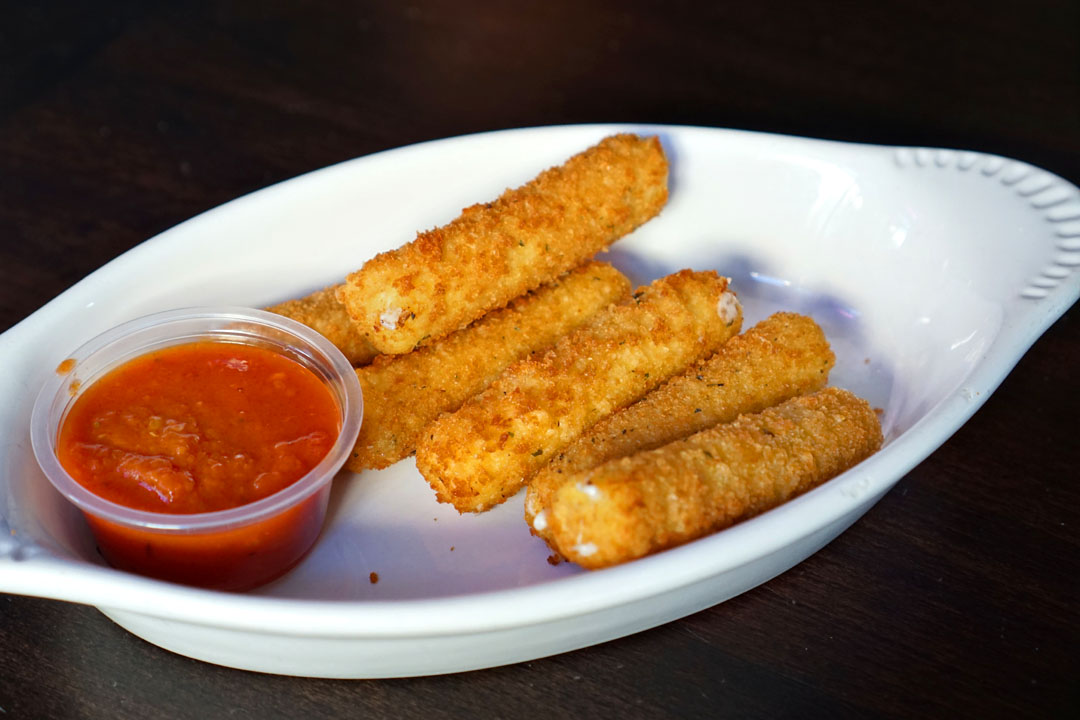 Mozzarella Sticks [$7.00]
| 6 Mozzarella cheese sticks covered with Italian bread crumbs with house marinara sauce
We began with a serving of fried mozzarella, which was just what I had in mind: stretchy cheese, crispy breaded crust with a touch of herb, and a tangy tomato sauce to brighten things up.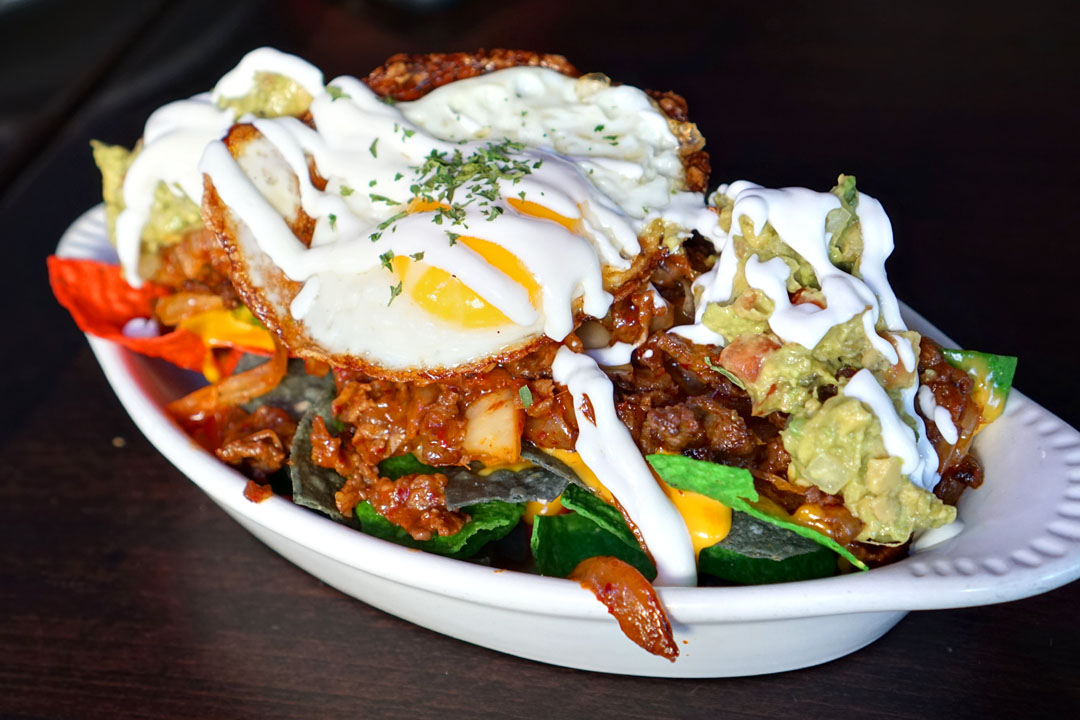 Kimchos [$13.00]
| House marinated bulgogi, fried Kimchi, fried egg, cheese, sour cream, guacamole, jalapeños
I'm a sucker for nachos, so I definitely felt the urge to try this Korean riff on it. I would've liked to have tasted more from the advertised kimchi, but other than that, it was pretty successful. The classic, familiar flavors from the bulgogi were well conveyed, and linked up nicely with the onions, not to mention that runny egg, all while the guac smoothed it all out.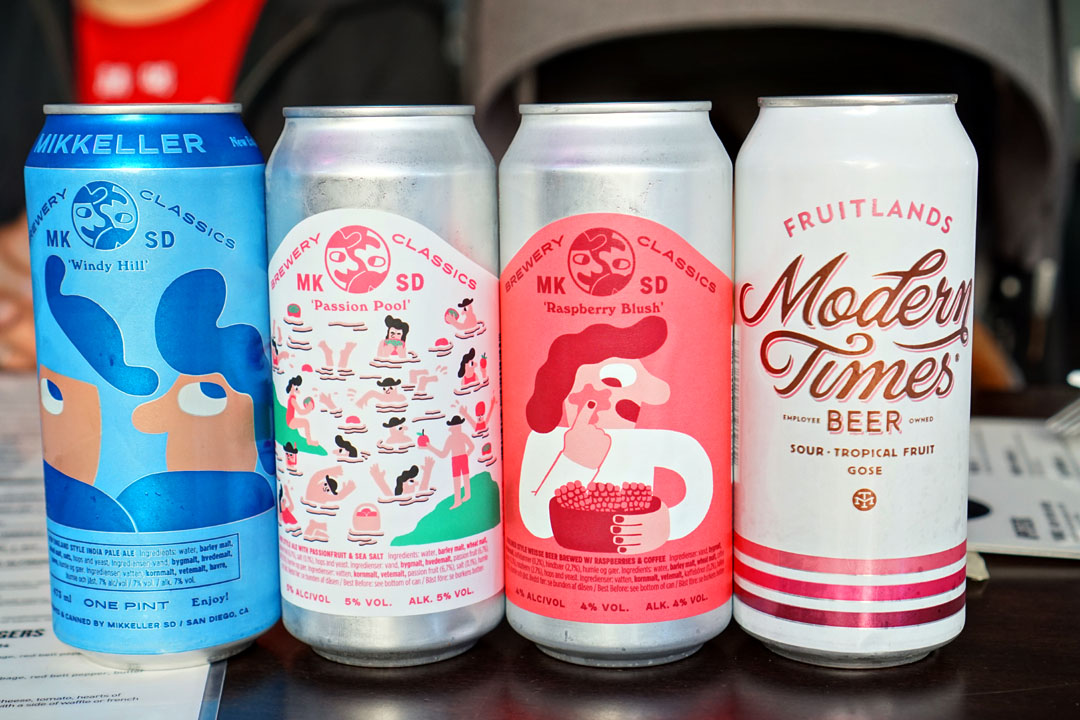 Beverage-wise, we started with four canned beers:
Windy Hill IPA, Mikkeller SD [$8] – I actually forgot to try this one.
Passion Pool Sea Salt & Passionfruit, Mikkeller SD [$8] – Clear passion fruit flavors and a generally tart disposition, but with a salty finish that I rather enjoyed.
Raspberry Blush Sour, Mikkeller SD [$8] – Grain-y and moderately sour, while its notes of raspberry were joined by a chocolatey quality from the use of coffee.
Tropical Tart Sour, Modern Times [$8] – Expectedly fruity, but what really set this one apart was how utterly floral the beer was.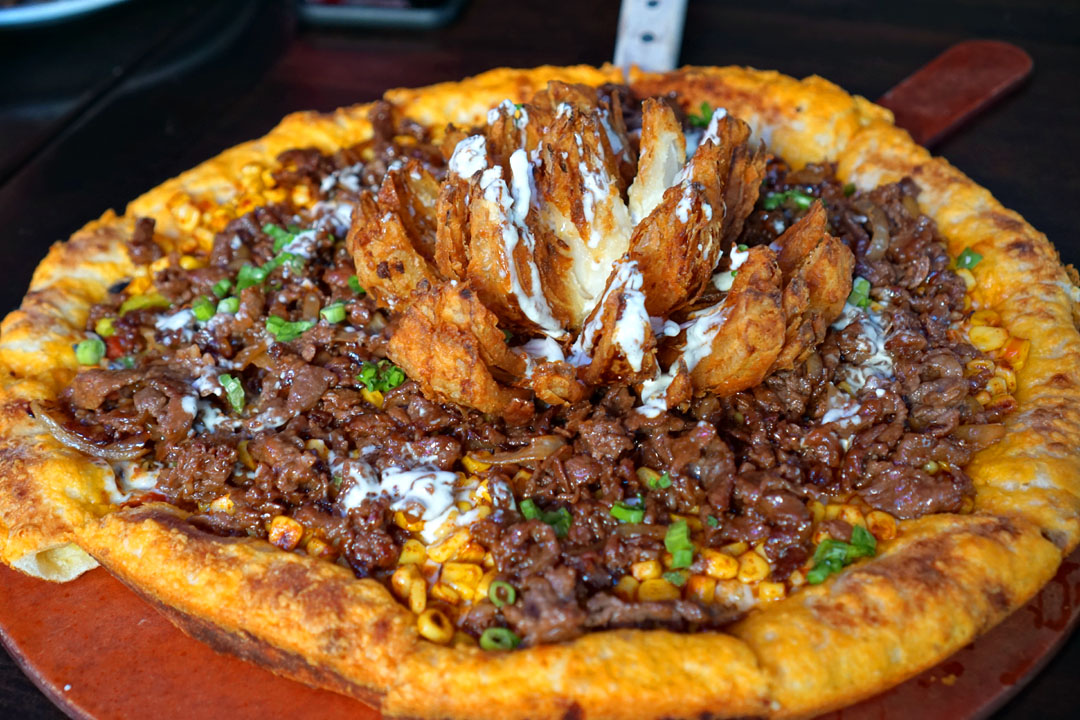 The Kingsley [$27.00]
| Mozzarella cheese, tomato sauce, mushroom, green bell pepper, topped with corn cheese, korean bbq beef, Fried Crown Onion, house sauce and scallions
Ostensibly named after the K-town street where Johnny's wife grew up on, the Kingsley is actually the restaurant's signature pizza, one which I found properly over-the-top. The combo of sweet bulgogi and sweet corn actually worked fairly well here, in a familiar, cozy sort of manner, but the sweet potato crust did result in the sugar level getting a bit out of hand. I would've liked to have seen more from the scallions and peppers to keep it all in check. I will also say that the blooming onion was a bit ridiculous, but was indeed on point in terms of both texture and taste.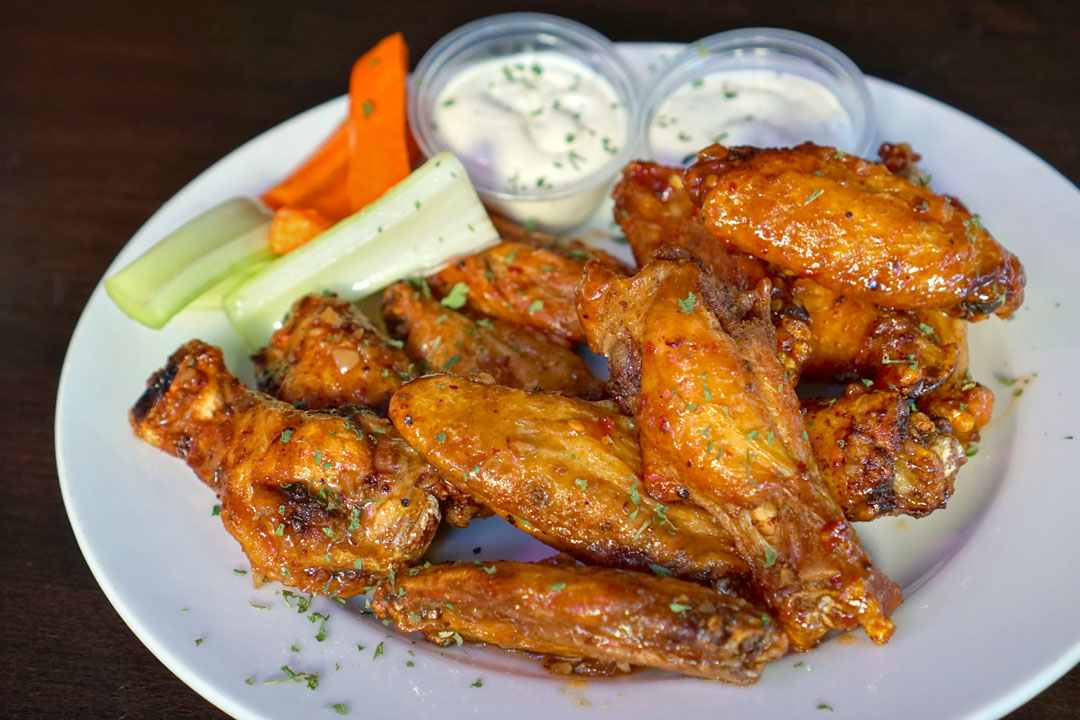 K Wings (12pc) [$15.00]
| K-Sweet Chili / Soy Garlic
We tried a half-n-half order of fried chicken, and I believe the piece I sampled was of the "K-Sweet Chili" variety. The bird was decently juicy, and did have a pleasant sweetness and smoke to it, but its flavors were lacking in depth, and seemed a bit superficial.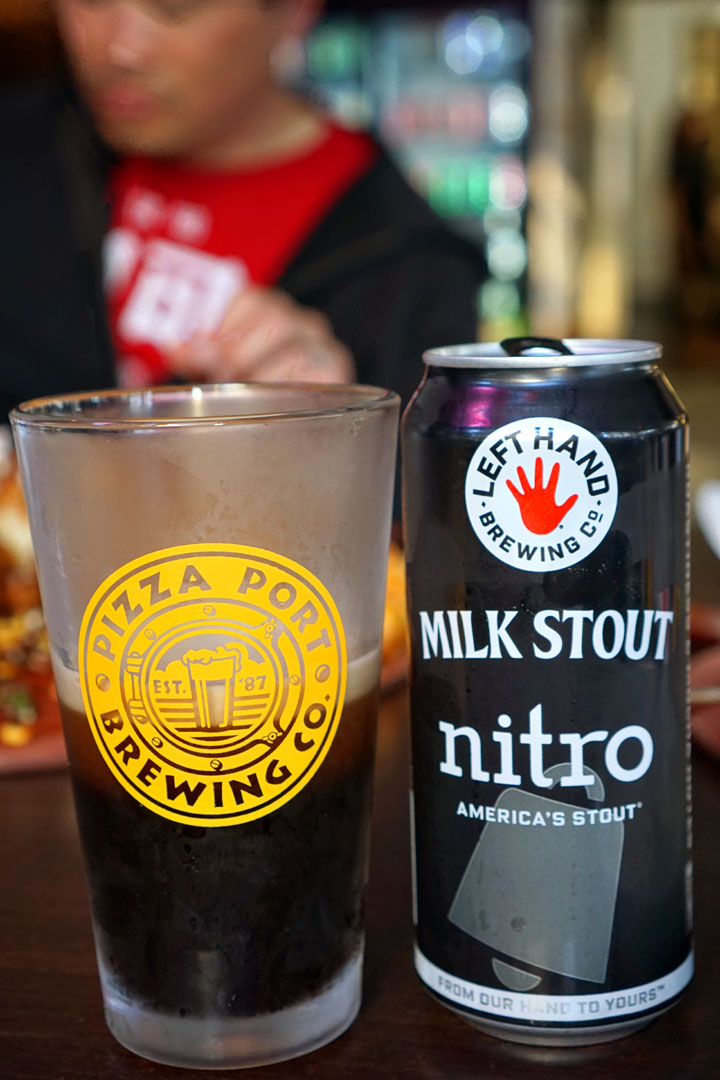 Next to imbibe was the
Milk Stout Nitro w/Mocha, Left Hand Brewing [$8]
, which I found roasty and chocolatey at its core, but with a mineral backing and a distinct licorice note bringing up the rear. Super smooth as well.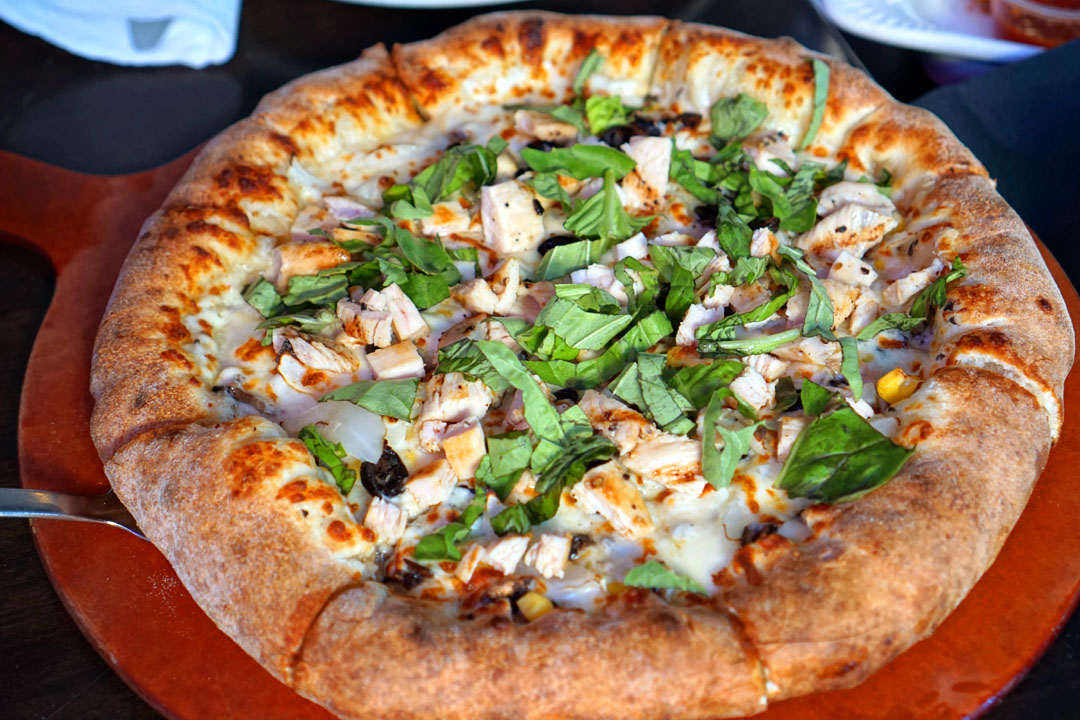 Chicken Alfredo [$19.00/medium]
| Chicken breast, alfredo sauce, mozzarella cheese, corn, olive, mushroom, onion, fresh basil, Cheese Crust
Our second pizza didn't quite capture the essence of fettuccine Alfredo for me, though it was still tasty, though perhaps a tad heavy on the olive. I liked all the basil on top, as well as the pie's airy, cheese-filled crust.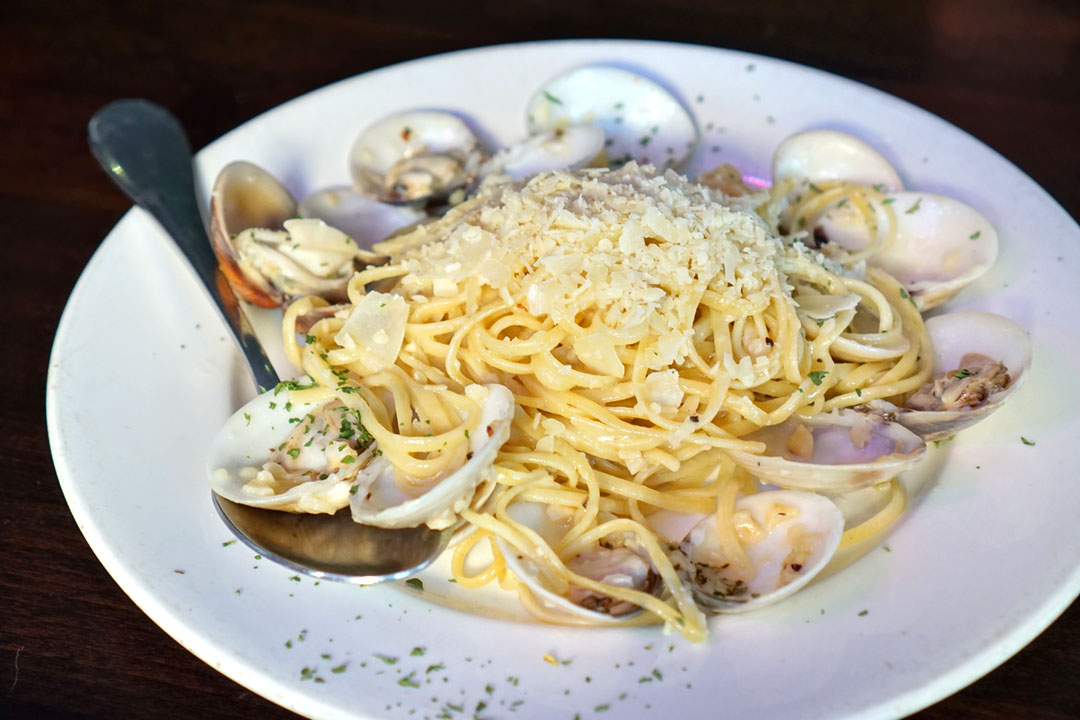 Spaghetti a la Vongole [$16.00]
| Clams, garlic, peppers, lemon juice, white wine, with choice of sauce: Garlic or house marinara
A take on spaghetti alle vongole was better than I thought it'd be. The pasta itself was pleasantly firm, and the salinity of those clams was pretty deftly delivered, meshing well with all the garlicky notes present.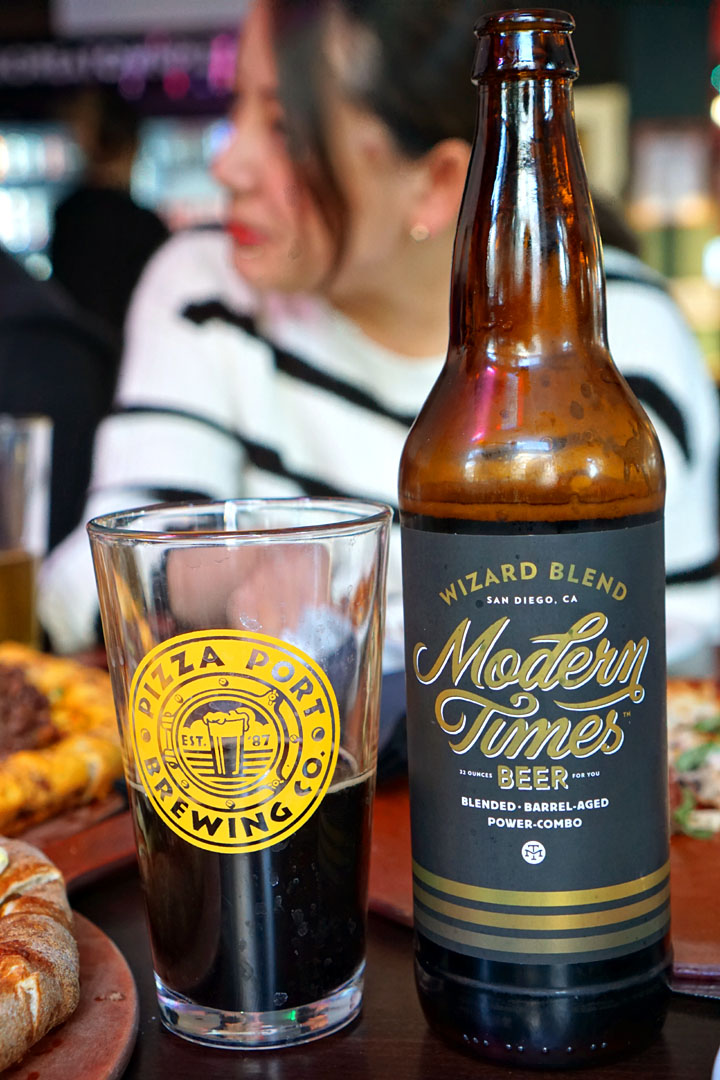 At this point, we moved into a couple bottles that I'd brought, starting with the
2016 Modern Times Wizard Blend
, a cuvée of five barrel-aged ales. The beer showed off an explosive nose filled with dark fruit, caramel, and maple. On the palate, I found cacao, oak, roast, smoke, and plenty more of that rich, luscious maple syrup--lovely. I still have another bottle of this left, so I may want to revisit it in a few years' time.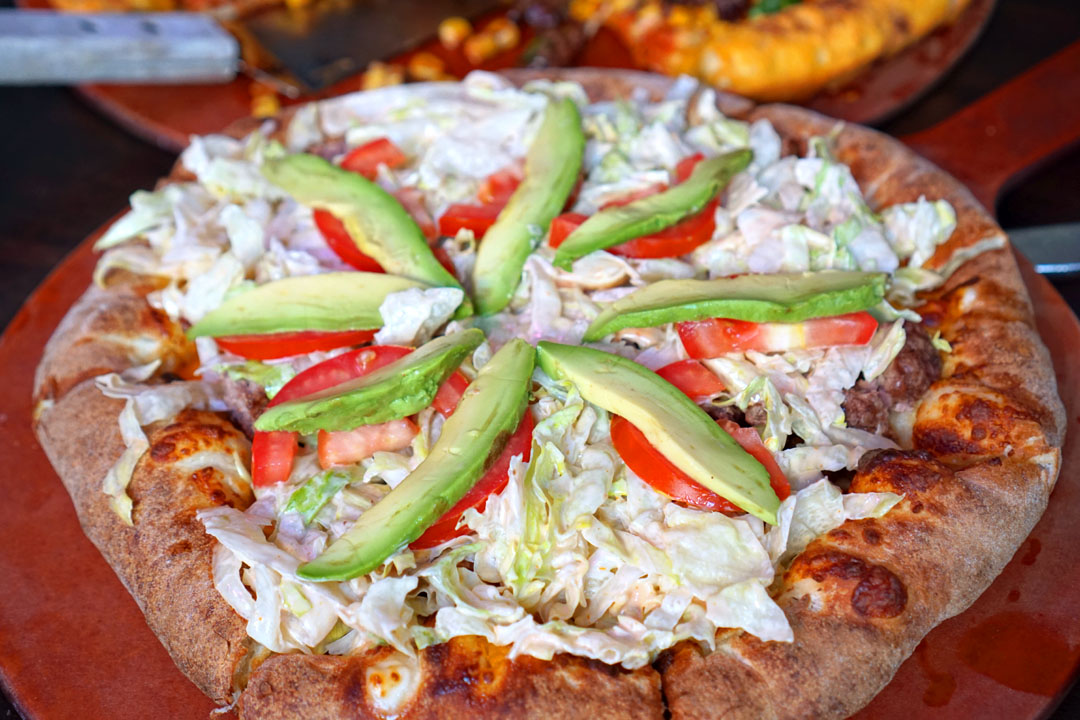 Patty Cake [$19.00/medium]
| Homemade burger patty, grilled onions, bacon, 1000 Island, mixed salad, tomato, avocado, Cheese Crust
This burger-inspired pizza was fun and familiar, and I'll liken it to a blend of a Big Mac and an In-N-Out hamburger. I especially liked the Thousand Island dressing and how that played with the lettuce and beef.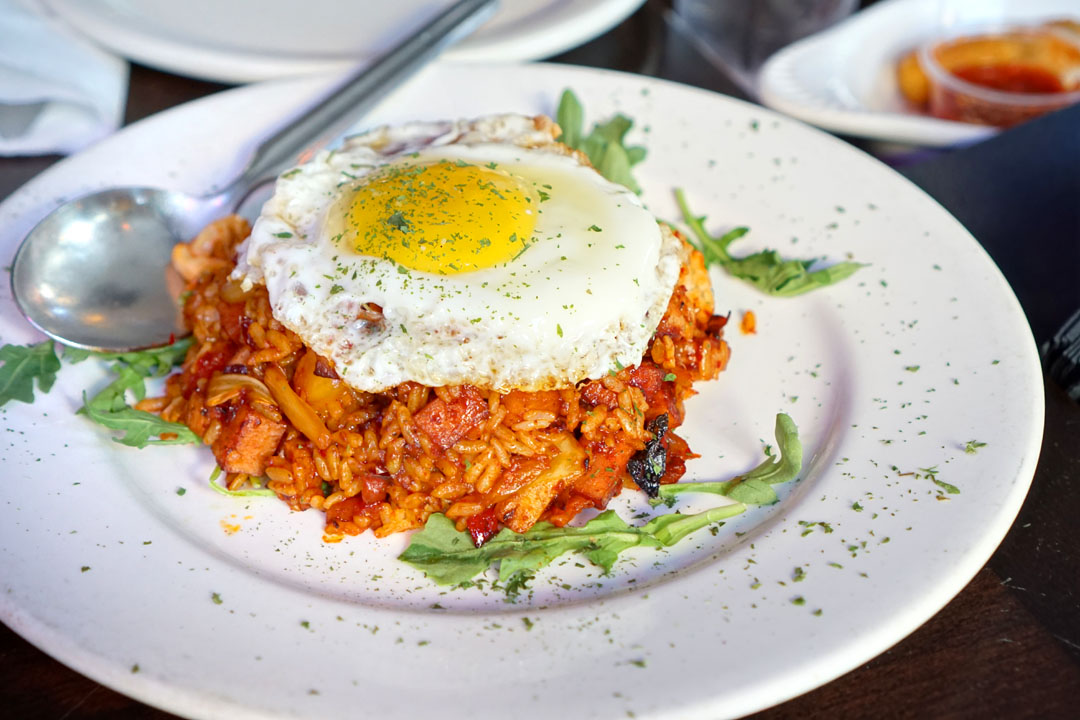 Dad's Kimchi Fried Rice [$14.00]
| Bacon, garlic, green onion, kimchi, cabbage, red bell pepper, sesame oil, fried egg, emmental cheese, arugula
This was a solid
bokkeumbap
, though perhaps a tad "wetter" than I'd like. The spiciness of the kimchi was well presented, and made sense with the saltiness from the bacon, and I can't complain about that runny egg, either.
Our final beer was the
2017 Beachwood System of a Stout
, an oak-aged Armenian coffee stout with cardamom and molasses. This one smelled of soft cacao and roast intertwined with raisin-y fruit and a hint of cardamom. Tasting it, I got an enveloping warming spice alongside dark chocolate, bittersweet coffee, and dark fruits, and overall, I'd say that the beer has held up well.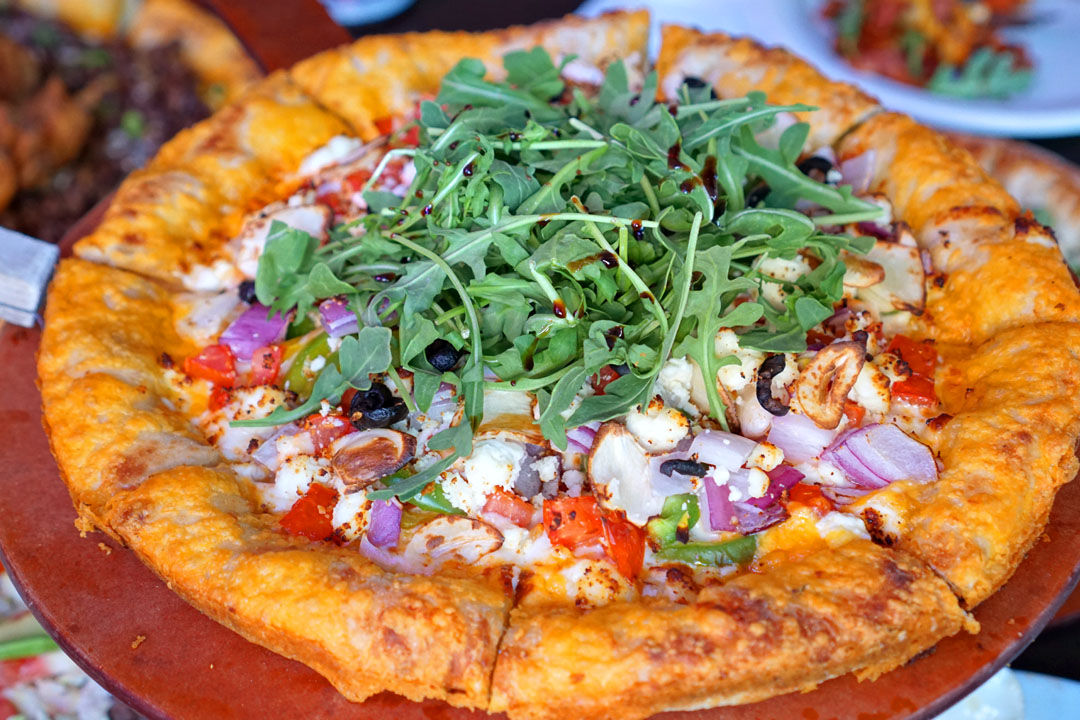 Golden Greek [$18.00/medium]
| Feta Cheese, Tomato sauce, red onion, garlic, bell pepper, diced tomato, olive, arugula, balsamic vinegar, gold crust
This next pizza managed to be a surprise standout. I think the key was how the sugariness of the
goguma
was balanced out by the brightness of the veggies and salty feta.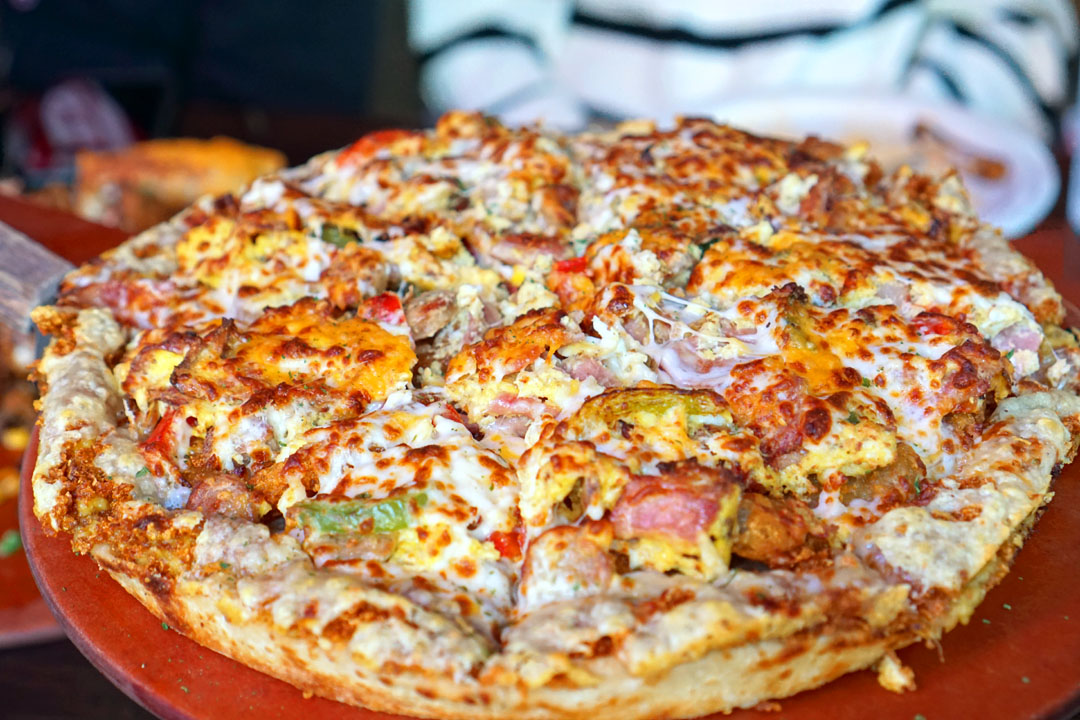 Morning Glory [$19.00/medium]
| Scrambled eggs, bacon, sausage, ham, cheese, bell pepper, layered hashbrown, Hashbrown Crust
Given my penchant for breakfast foods for dinner, I guess it shouldn't come as a surprise that this turned out to be my favorite pizza of the evening. There was a delicious back-and-forth between the hash browns, salty ham, and fluffy eggs, and the pie was even better with a dash of hot sauce.
If you were a fan of Mr. Pizza, you'll probably enjoy Koreatown Pizza Company, since the food is similar. I was actually never a huge fan myself, but fortunately, I'd probably say that the quality is a bit higher here. In the end, I was pretty satisfied with my experience, which was about what I expected, and overall, the restaurant served its purpose.
---
Since dinner ended early, I decided to stop by
Kato
for some postprandial libations, given that I was super impressed by the restaurant's cocktail program during my visit back in March.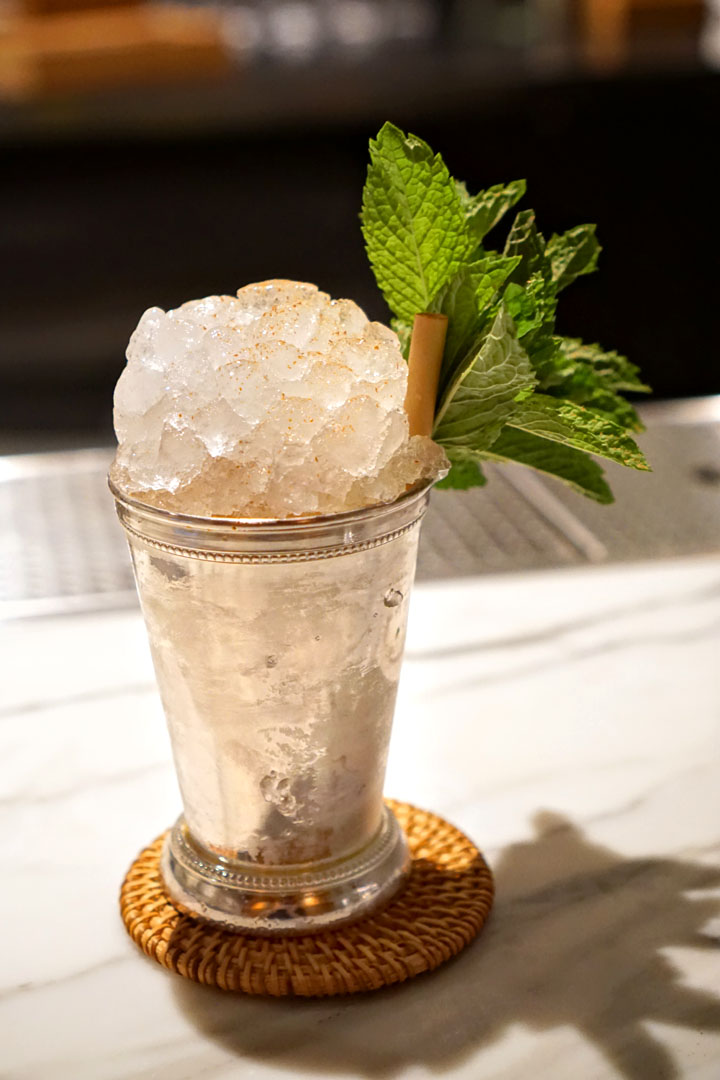 Julep [$21.00]
| 2002 paul anheuser riesling, tequila ocho reposado, avua amburana cachaca and amaro nonino swizzled on crushed ice with coral cot, black vinegar, almond and ume
After taking a seat the bar, I ordered the julep, which was quite simply the best version of the drink I've ever had. There was so much more depth and complexity than usual, and the interplay between the cocktail's sweet, spicy, minty, and boozy elements was just fantastic. I loved the fruitiness from Riesling peeking through in the background.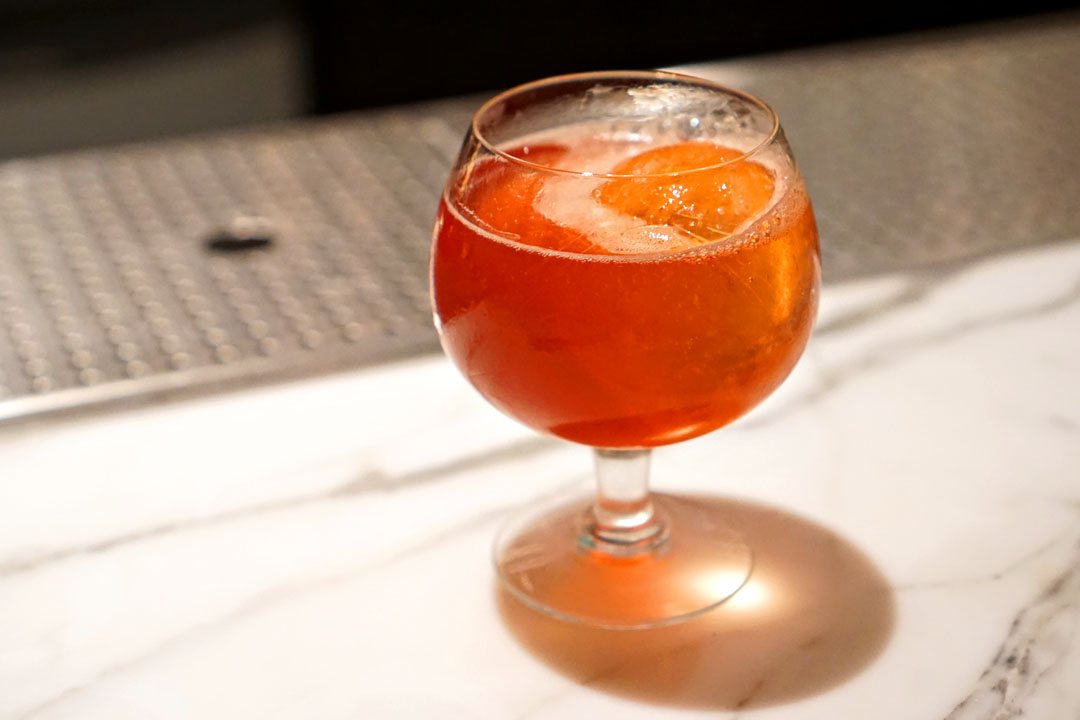 Spritz [$19.00]
| forthave red aperitivo carbonated with hami strawberry and shiso
Kato's version of the spritz was also a winner. Think tangy strawberry at the forefront, leading to bittersweet depth, botanical nuances, and uplifting shiso in the background. I even got some
suanmei
in there, which was unexpected, but not unwelcomed. Again, so much more going on here compared to the usual cocktail.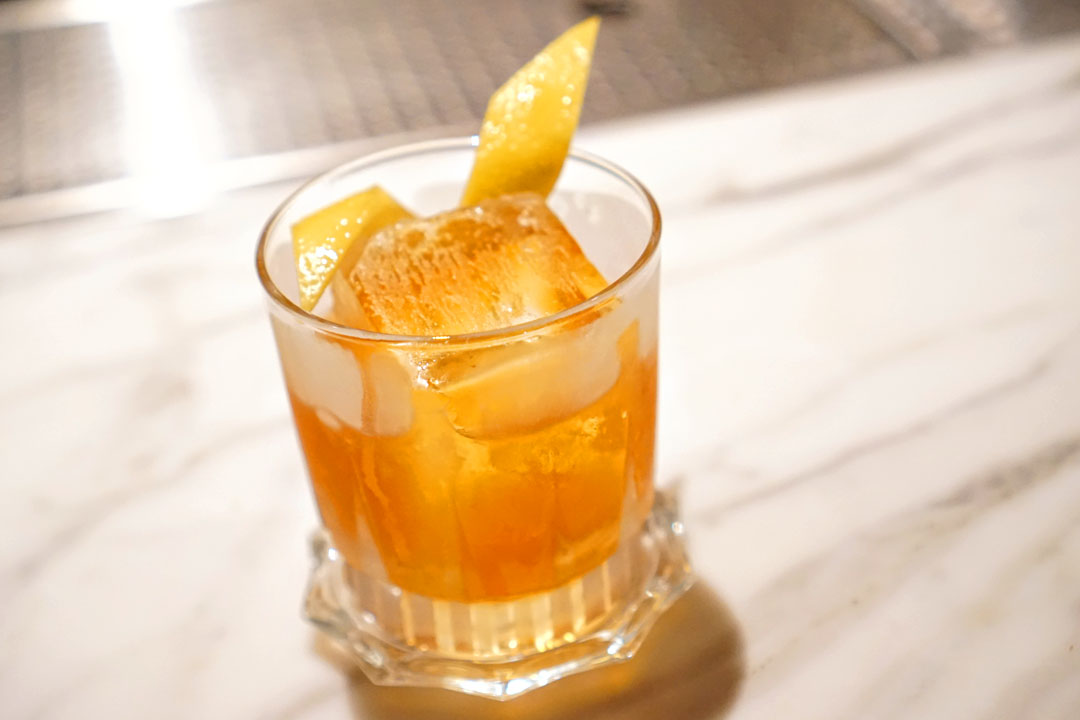 Old Fashioned [$19.00]
| kavalan distiller's select whisky, jujube and angostura bitters served on a large rock
Last up was this old fashioned variation, which looked typical, but tasted anything but. What really struck me was the cocktail's bracing, almost
baijiu
-esque funk and nuttiness, on the nose and the palate. Combined with the more expected notes of caramel, chocolate, and oak, it made for an intriguing, contemplative sipping experience unlike any I'd had before.