Sushi Miyagi (Los Angeles, CA)
Sushi Miyagi
150 S Barrington Ave, Los Angeles, CA 90049
323.382.5635
www.sushimiyagiusa.com
Fri 08/12/2022, 05:55p-08:15p

A short time ago, some friends and I were on the hunt for a new omakase spot to try, and after searching around online for a bit, came across Sushi Miyagi, an edomae-style spot in Brentwood Village that grand-opened on August 1 2019. The place comes to us from the husband-and-wife team of Chef Shinichi Miyagi ("Shin") and Mihoko Nakada ("Miho"), who runs the front-of-the-house; in fact, I don't think that the restaurant actually has any other employees.
About the Chef
: Miyagi Shinichi was born in Osaka circa 1972, and after getting interested in sushi at an early age, began his apprenticeship when he turned 16. By the age of 25, he had already opened his own kappo restaurant, but ended up immigrating to the United States in 2001. Here in Southern California, he made his way around a number of well-known sushi spots, including
Sasabune
,
Matsuhisa
, and
Q
. The Chef later spent some time working in San Diego, then, along with Miho, helped open the much-lauded
Sushi I-naba
in 2017. However, he decamped from the Manhattan Beach eatery around the latter half of 2018, and soon began setting the stage for Miyagi, his first solo project.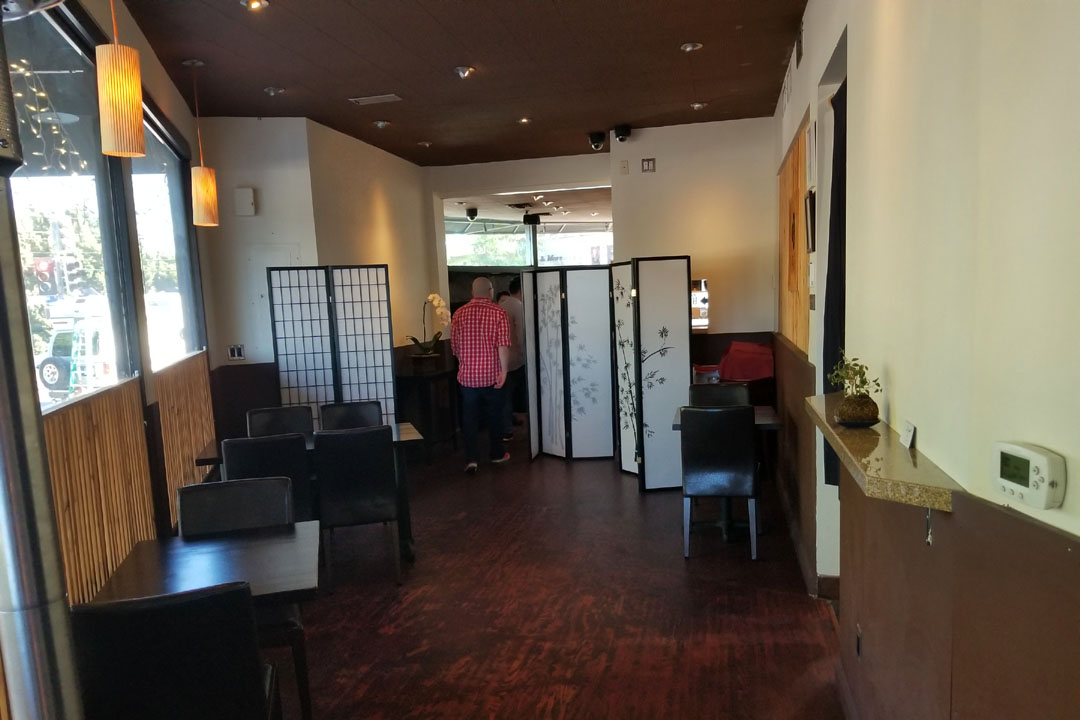 Sushi Miyagi takes over a corner spot that was formerly home to Cafe Brentwood and before that, Saketini. It's a pretty small space, with only three (rarely used) tables and a 6-7 seater bar.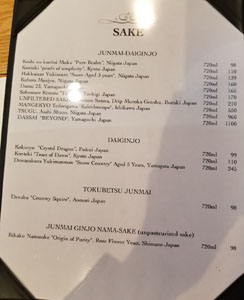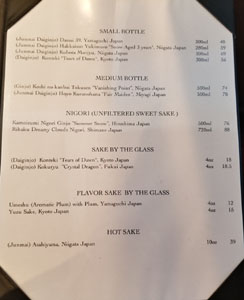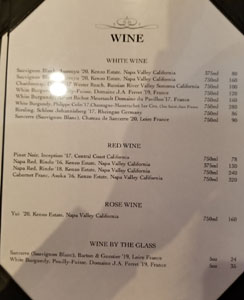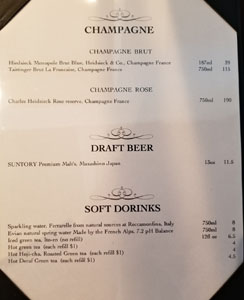 We weren't provided any printed menus, but keep in mind that Miyagi is an omakase-only restaurant, and there are three levels offered: Aoba (青葉) at $160, Date (伊達) at $210, and Miyagi (宮城) at $260, which requires advance notice and is what we chose. Shown above is the beverage menu, which is centered on a selection of sakes. Corkage is definitely an option as well; we paid $35 a bottle, though do note that bringing your own sake isn't allowed. Click for larger versions.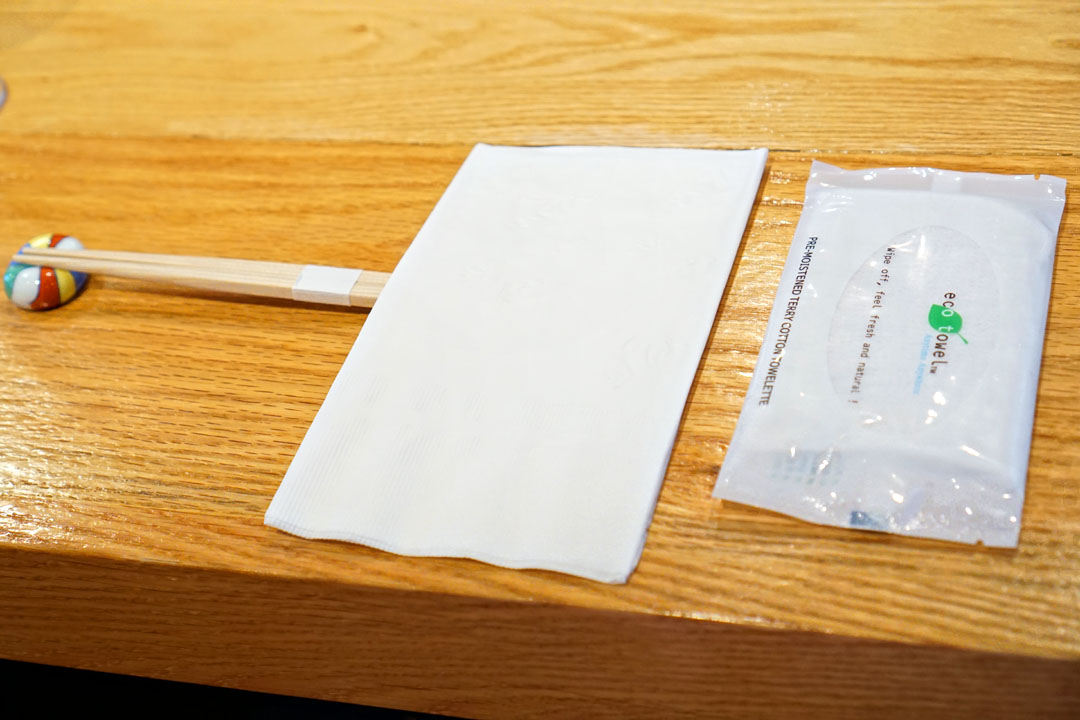 A simple place setting. Note also the
oshibori
, which was chilled given the hot weather.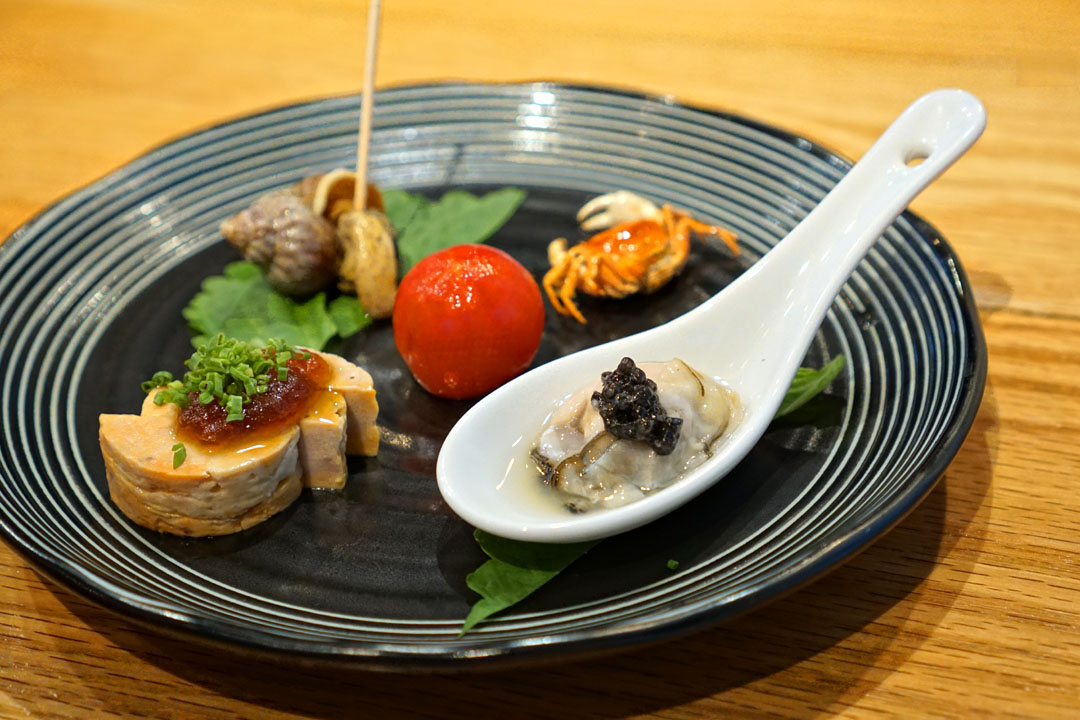 1: Zensai
Our meal commenced with a quintet of small bites. Clock-wise from lower-right, we had:
Kusshi – One of my favorite oyster varietals came out uncommonly creamy and sweet, meshing well with the caviar and finishing with a very distinct melon-y note.
Jikasei Ankimo – Homemade monkfish liver was a delight thanks to its lush consistency, refined brine, and light smoke, all set against the tartness of ponzu jelly.
Tsubugai – Steamed whelk from Hokkaido had a nice bite, while its flavors were mildly oceany, with a touch of bitterness on the back end.
Sawagani – Sourced from Kagoshima, a tiny deep-fried freshwater crab was a fun bite, and showcased a great saltiness and crunch that reminded me a bit of a shrimp chip.
Tomato – A slick, juicy peeled tomato displayed an appealing savory tang thanks to its marinade, and also worked as a sort of palate cleanser.
To drink, we brought along two sparklers, the first of which was the
2007 Billecart-Salmon "Cuvée Louis" Brut Blanc de Blancs Champagne
. The wine smelled of bread and stone fruit preserves, backed by a trace of barnyard. On the palate, I found it perky and acid-forward, its apple juice, citrus, and mineral notes playing with more toast and just enough funk in the background. An apt apéritif.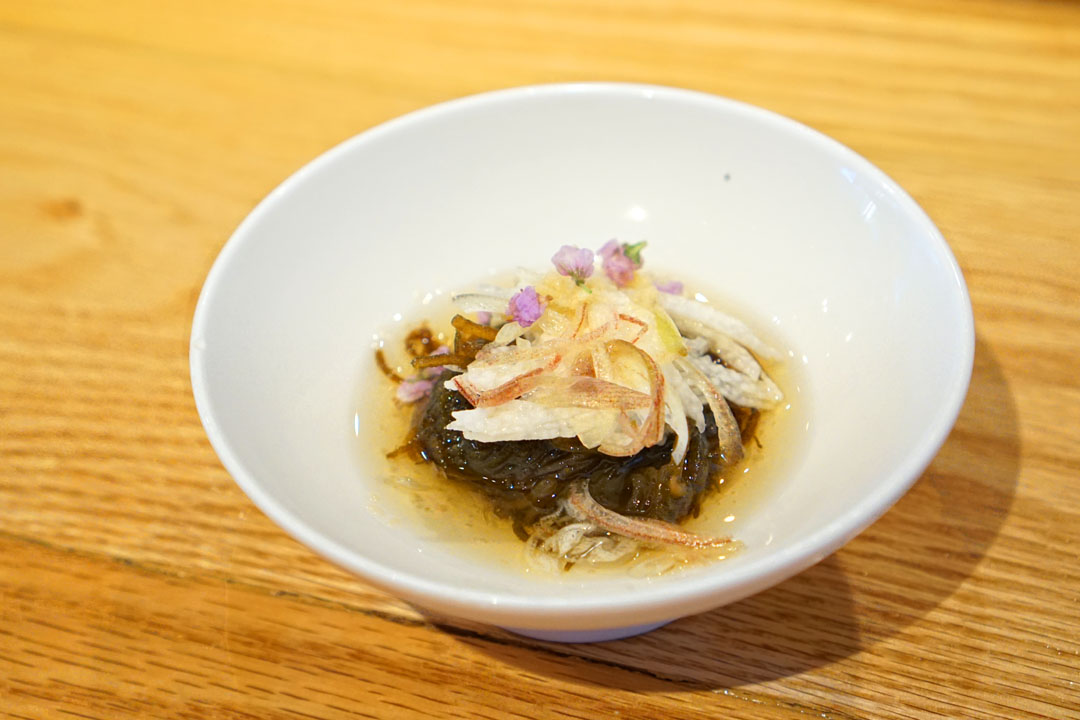 2: Mozuku
Here, a base of slippery seaweed ate tangy and refreshing, while crunchy, zesty cuts of
myoga
offered up welcomed contrast in both the taste and texture departments. Mountain yam moderated the interaction, and of particular note was the dish's smoky and floral nuances (from the shiso flower) on the finish.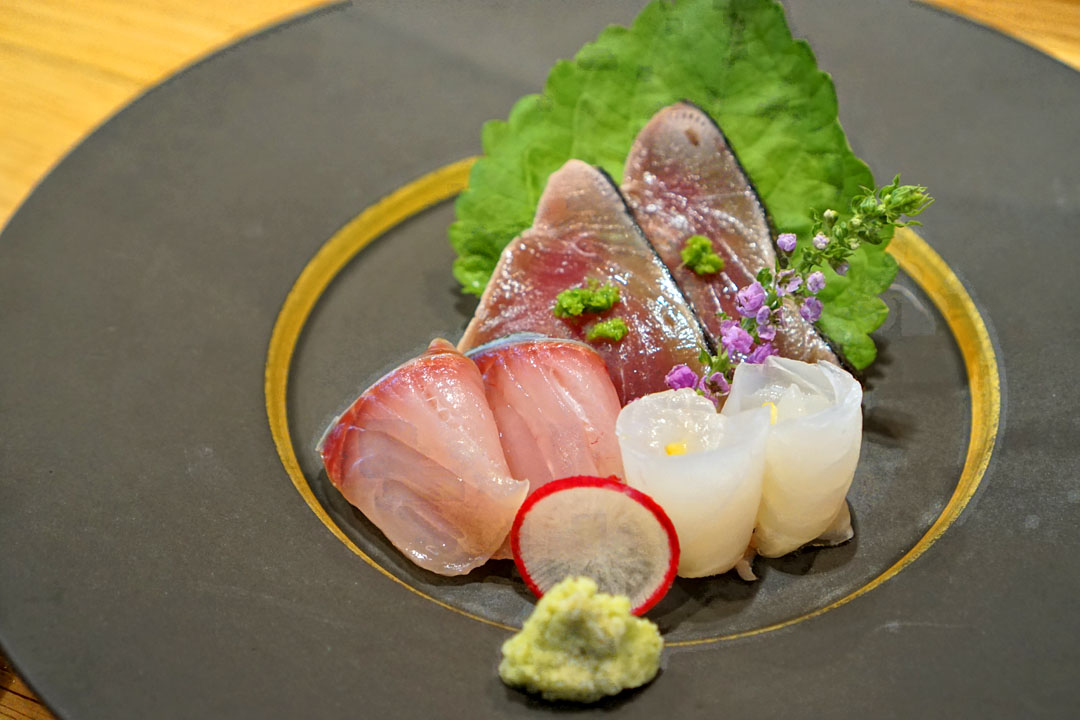 3: Sashimi Moriawase
We were offered three types of sashimi:
Hirame – Hailing from Kanagawa, wild halibut was better than most, coming out extra supple, with a great counterpoint from the use of yuzu skin.
Hamachi – Wild yellowtail from Kagoshima was also lovely thanks to its super tender bite and balanced fattiness.
Katsuo – I was a fan of the bonito as well, mostly due to how its zesty ginger-green onion condiment married with the fish's almost ham-like smoke.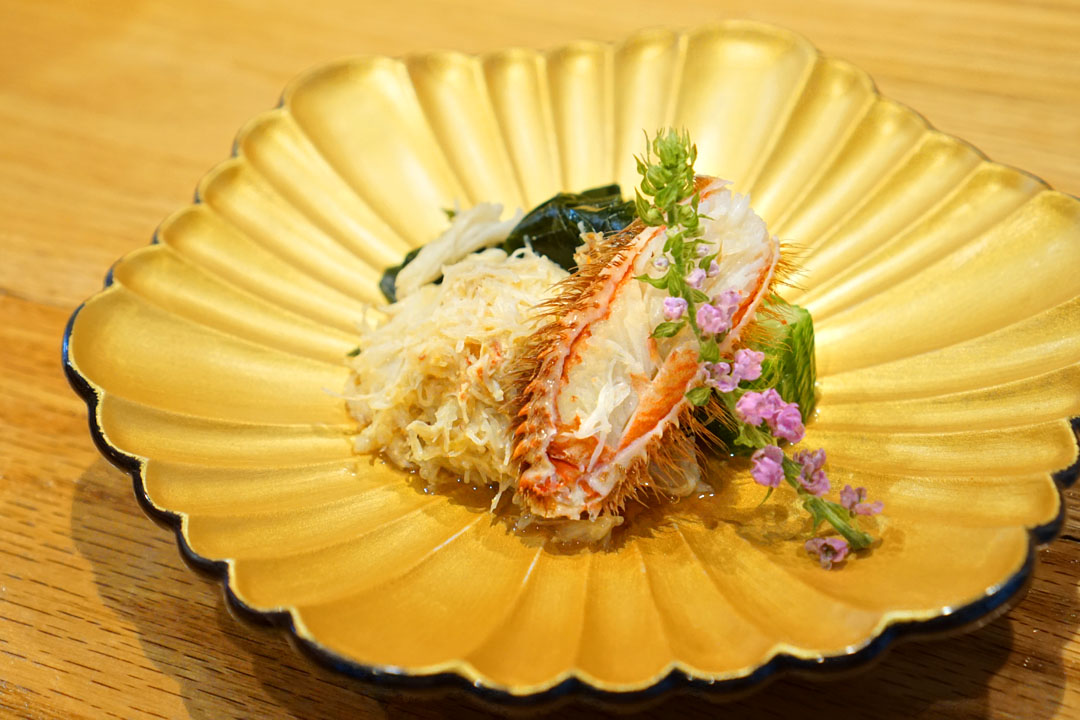 4: Kegani
The Hokkaido hairy crab was certainly a favorite. I started with the leg, which was perfectly cooked and properly fresh and sweet. However, even better was that mound of shredded meat, which had its sweetness boosted by the palpable depth of
kanimiso
, with a supporting role played by shards of Miyagi-sourced seaweed.
When the plate and the gari comes out, you know its sushi time.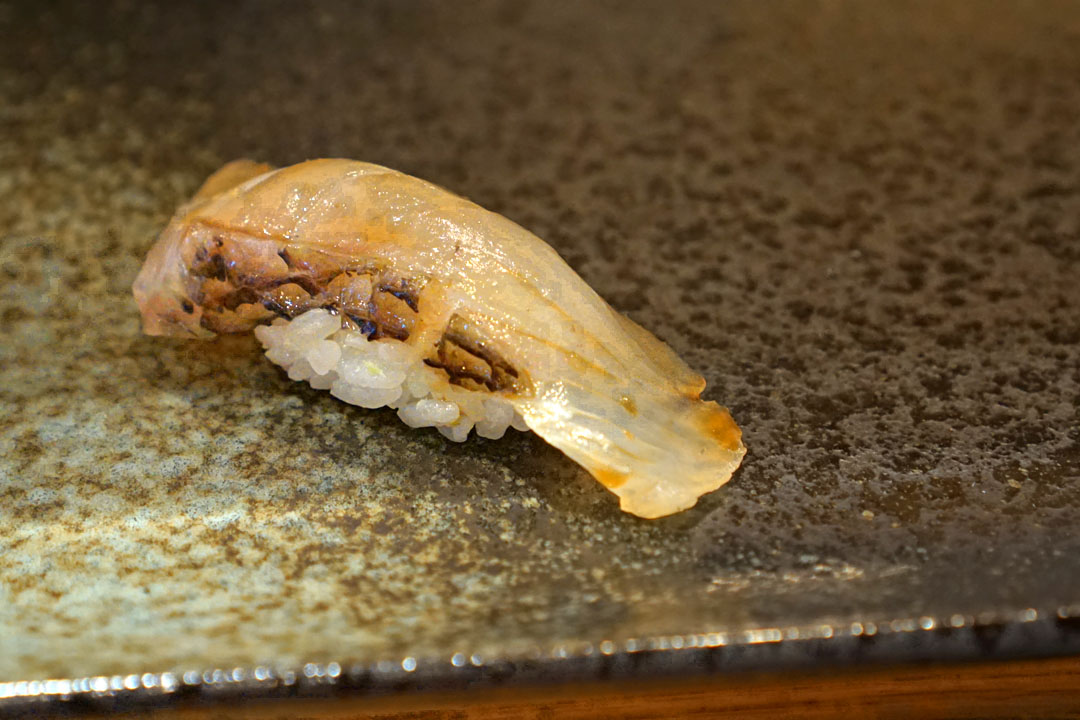 5: Madai no Kobujime
Our first piece of nigiri was a joy to eat, and comprised sea bream that'd been subjected to kelp treatment, which enhanced both the fish's taste and texture. At the same time, I really enjoyed the sweet-ish counterpoint from the rice here.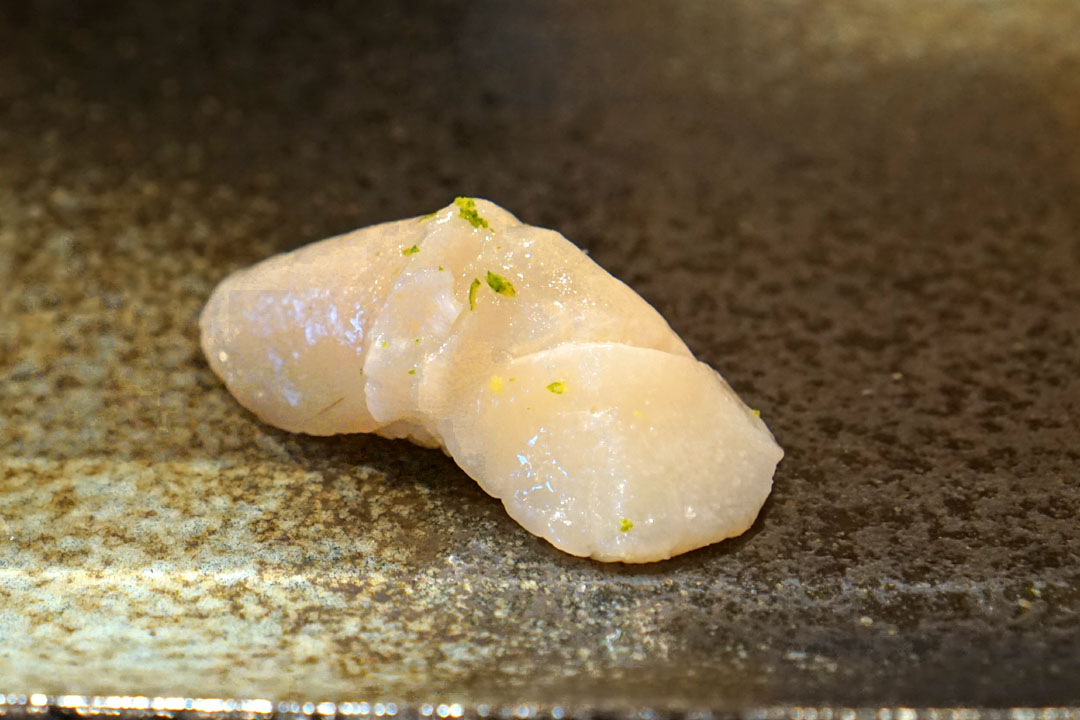 6: Hotate
Hokkaido scallop was on point with its fresh, sweet taste, perked up by hits of sea salt and yuzu zest.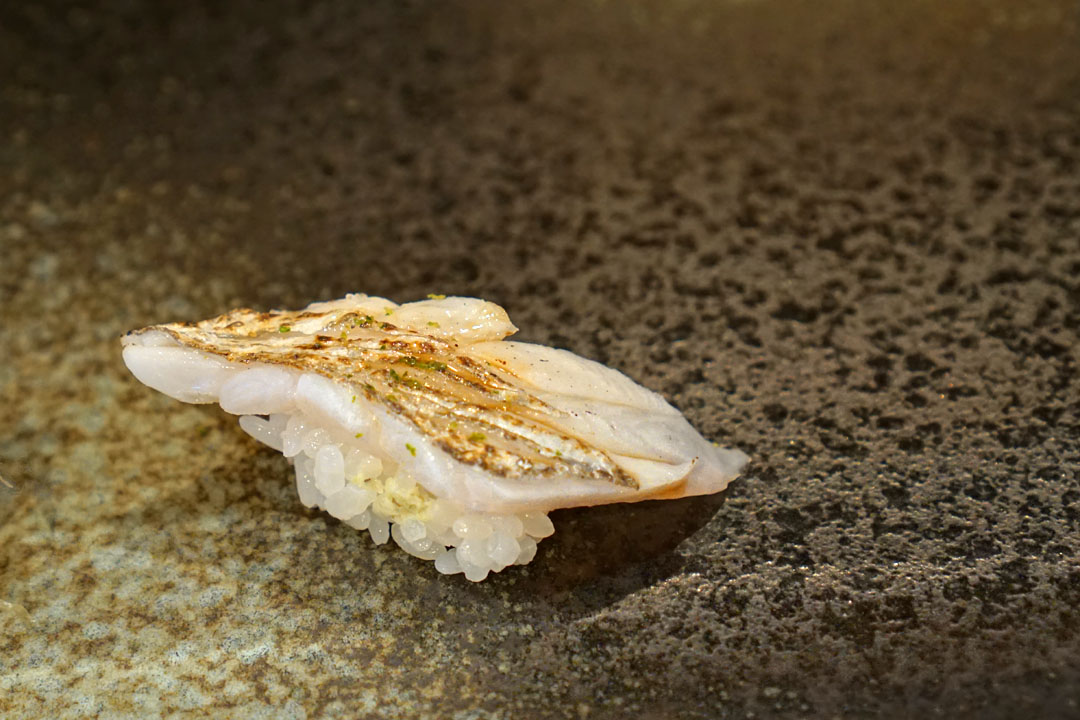 7: Tachiuo
Beltfish from Oita was superbly textured, and had a sweetness that worked swimmingly with the smoke of the fish's lightly seared skin.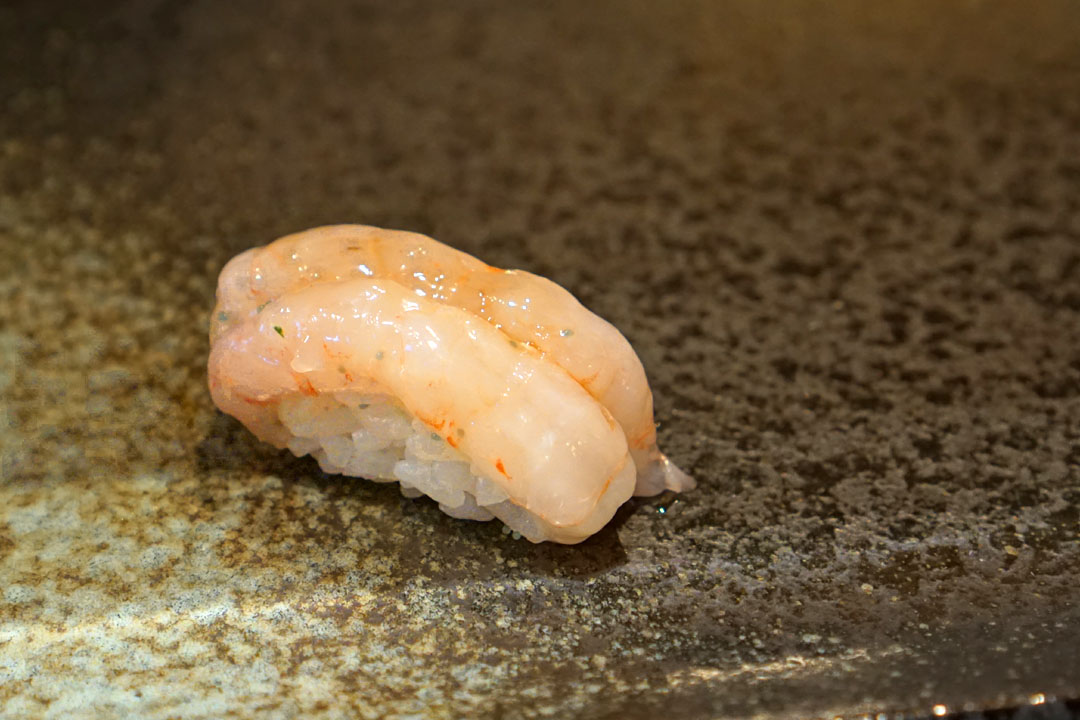 8: Amaebi
Sweet shrimp was sourced from Hokkaido, and featured an unusually creamy consistency as well as a growing salinity offset by the rice. Nice temperature contrast from that
shari
, too.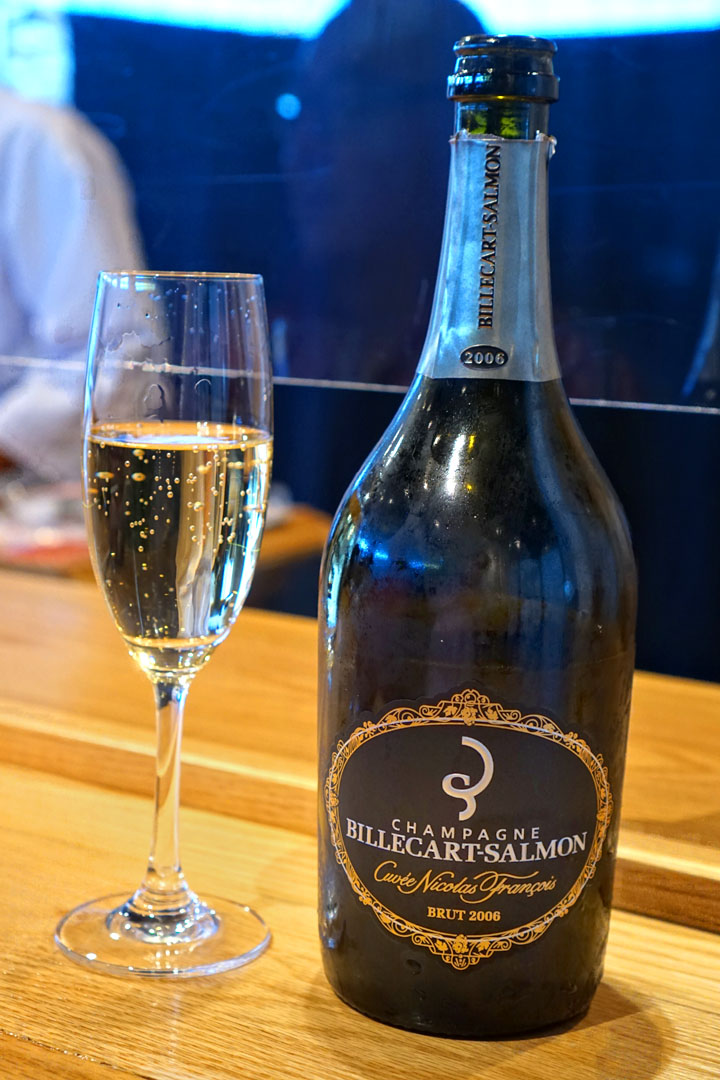 Coming from the same producer as our first bottle was our second, the
2006 Billecart-Salmon "Cuvée Nicolas François Billecart" Brut Champagne
, which was actually quite different. The bubbly had a bouquet that went in a decidedly saline, almost savory direction, but with a citrus backing. On the palate, I found it considerably drier, more austere than the BdB above, and got a slight smokiness commingled with light toast, subdued orchard fruits, and sweet herbs. Interestingly though, as the Champ warmed, it began displaying some pronounced golden raisin notes that really integrated well with the rest of the wine.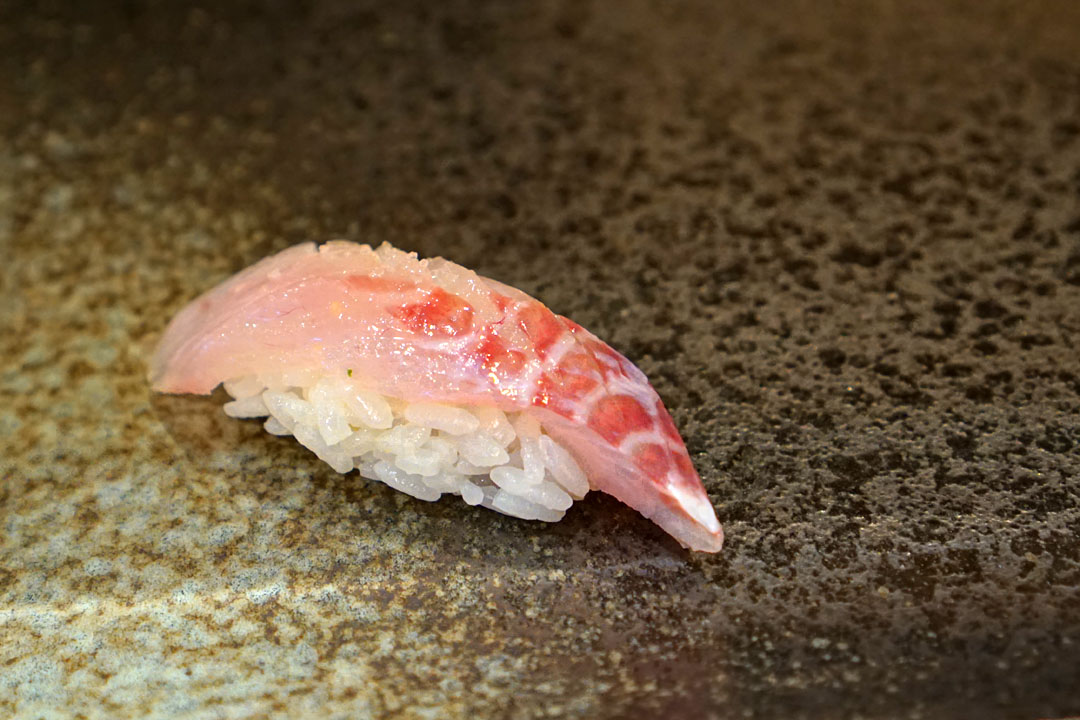 9: Aka Isaki
Next up was the red grunt, which you don't see very often. What stood out was the fish's firm, chewy bite, as well as how its powerful salinity played with the citrusy sweetness of the orange utilized here.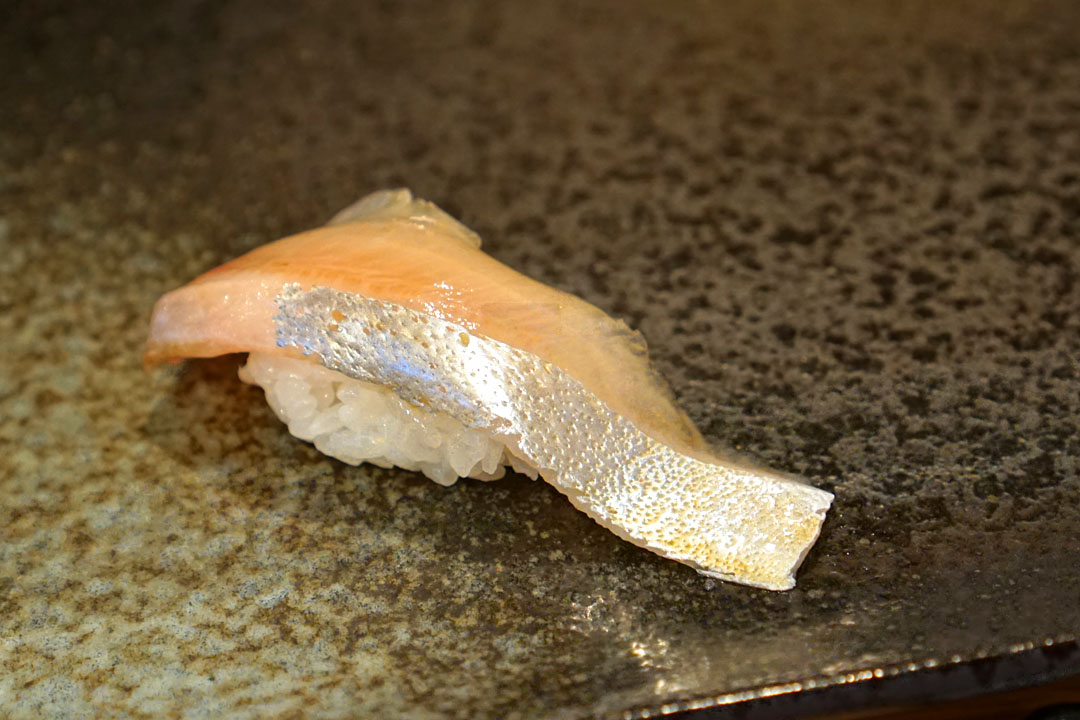 10: Shima Aji
The striped jack was a favorite. I found the fish super balanced and cohesive, with a great texture and savor that stood up well to the warm-ish rice.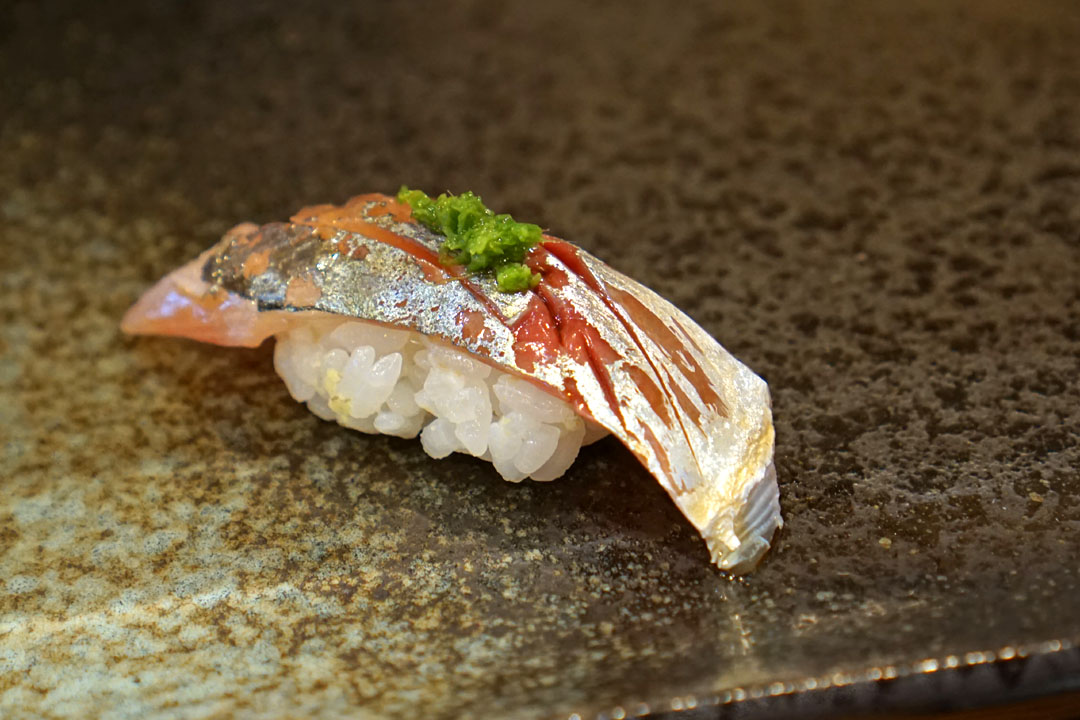 11: Aji
The Spanish mackerel, from Kagoshima, was one of the better examples I've had due to its graceful brine, fab texture, and the zing of that ginger-scallion on top.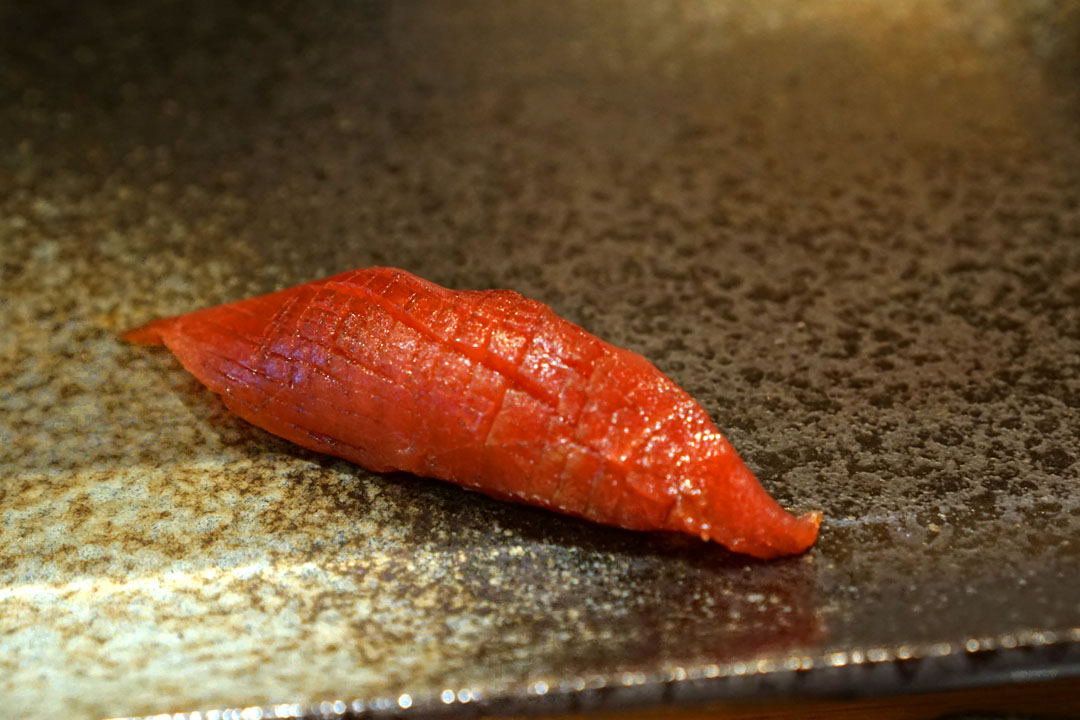 12: Jukusei Akami
26-day aged bluefin was a favorite due to its considerable depth of flavor. Also of note was the rice, which seemed to be quite a bit sharper in this application, I'm assuming to help offset the power of the fish.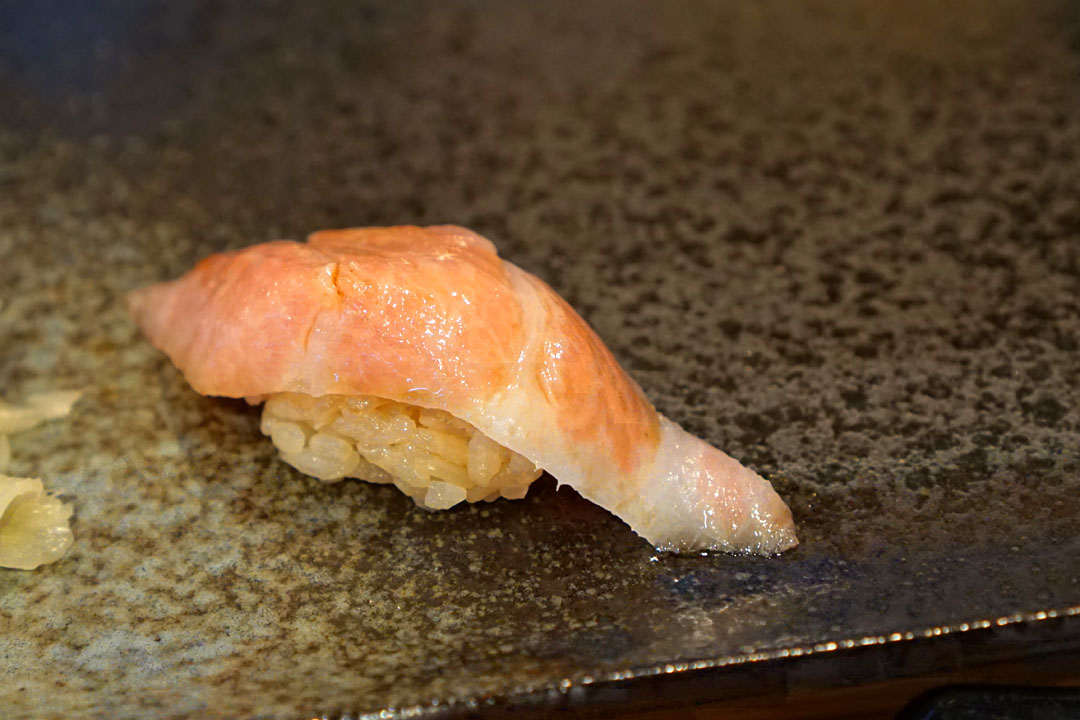 13: Otoro
Spanish ootoro was one of the most overly oily, fatty examples I've had, but also possessed a marked sweetness that helped keep things in check.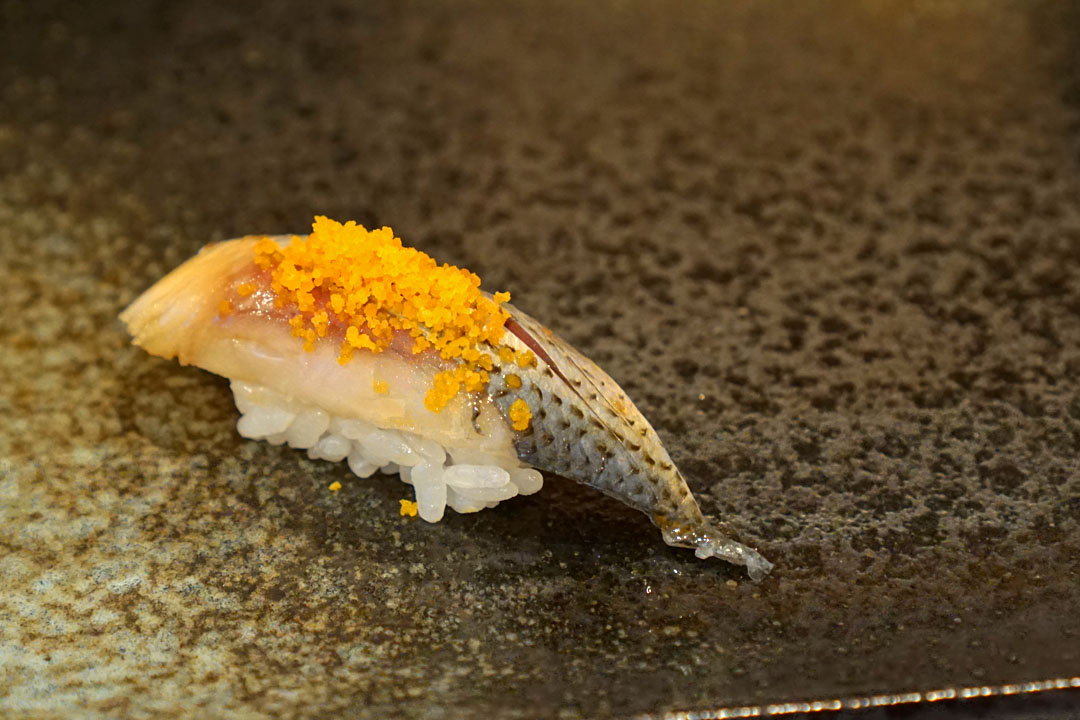 14: Kohada
Gizzard shad conveyed a superlative interplay of sweet and salty, all moderated by a topping of sugary
oboro
.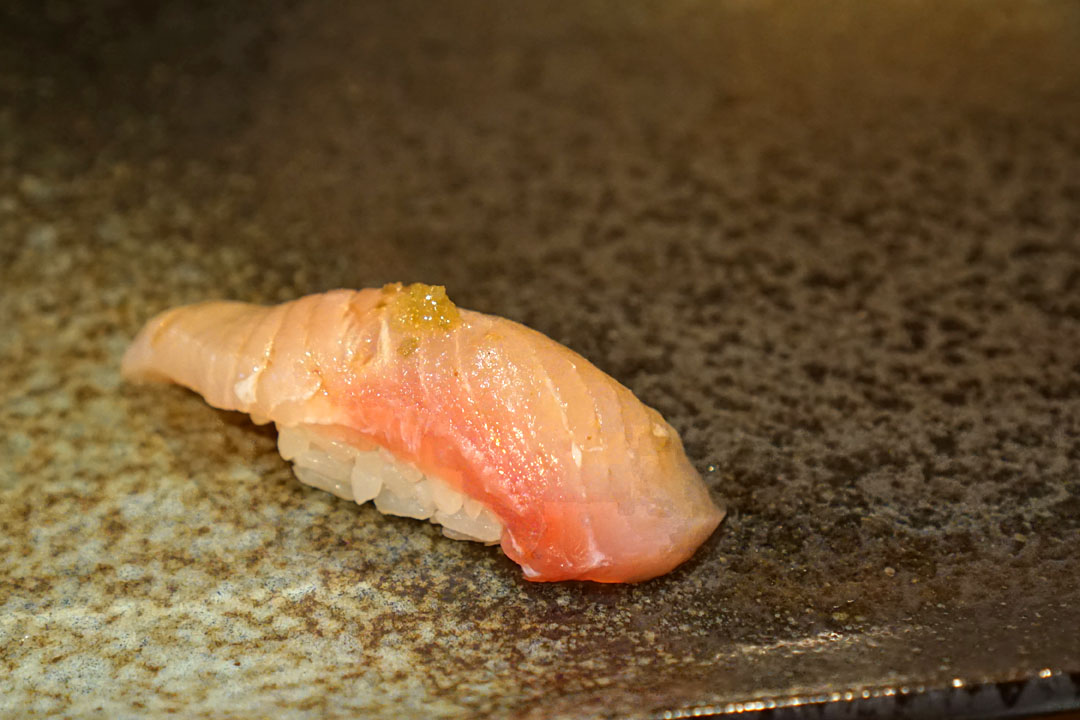 15: Shira
Here we have mahi-mahi, which I don't think I've ever had in sushi form, so it was neat to see it on the menu tonight. The fish showcased a super soft consistency, along with a straightforward flavor profile that worked beautifully with the unmistakable punch of yuzukosho.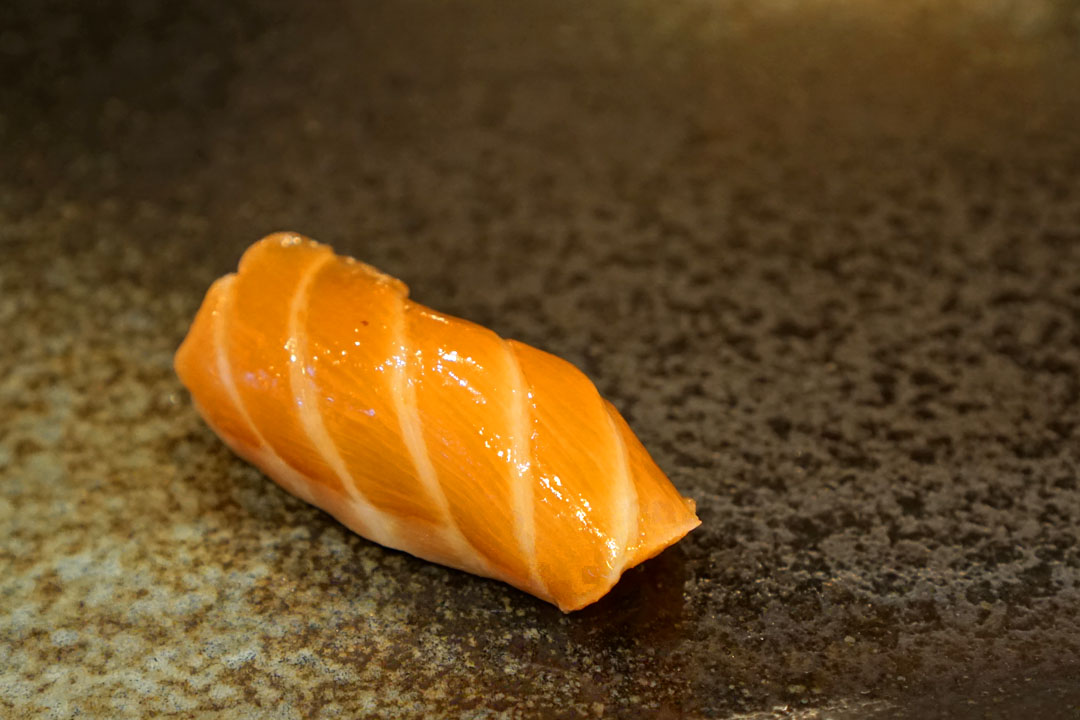 16: Bakka Salmon
Coming from the Faroe Islands, the salmon had the rich, fatty qualities I expected, but what I didn't expect was the bite's floral sweetness thanks to the use of
sakura
. Very cool.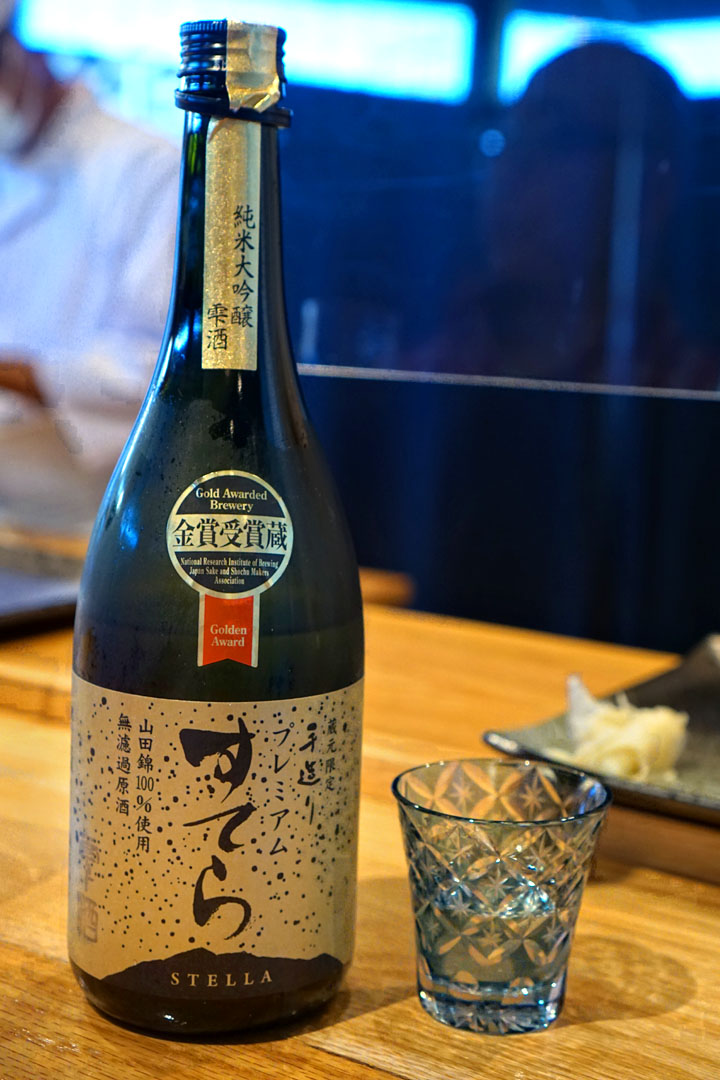 With our wine dispensed with, we moved on to some sake from Miyagi's list, specifically the
Junmai-Daiginjo, Unfiltered Sake, Premium Stella, Drip Muroka Genshu, Ibaraki Japan [$210]
. It was lovely, with potent aromas of banana candy that were absolutely delightful and hard to ignore. I found the palate silky smooth, round even, while flavors were very reminiscent of honeydew melon, laced with just a smidgen of umami.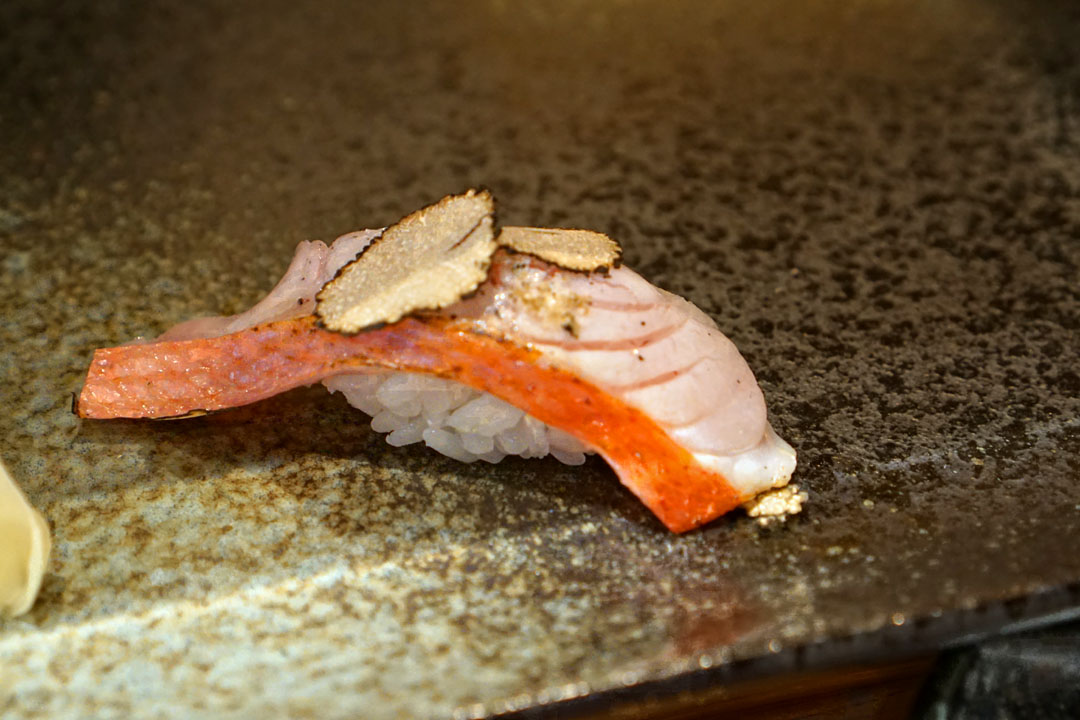 17: Kinmedai
The golden eye snapper was another standout. The fish itself was just what I was looking for, but what really made things interesting was the use of Italian summer truffles, which lent a muskiness that meshed surprisingly well with the smokiness of the cut.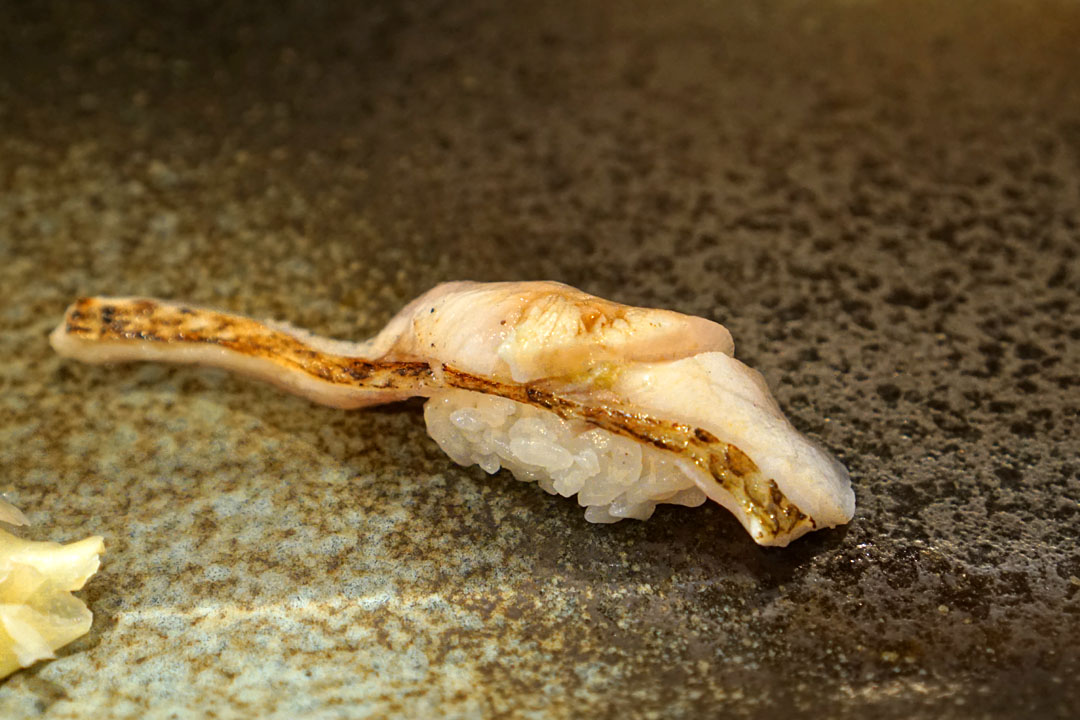 18: Nodoguro
Blackthroat seaperch is my favorite fish, so it's always a treat to see it as part of an omakase. As usual, the
akamutsu
was served lightly seared, giving it a wonderful char that really sang alongside the elegant-yet-unabashedly fatty nature of the flesh.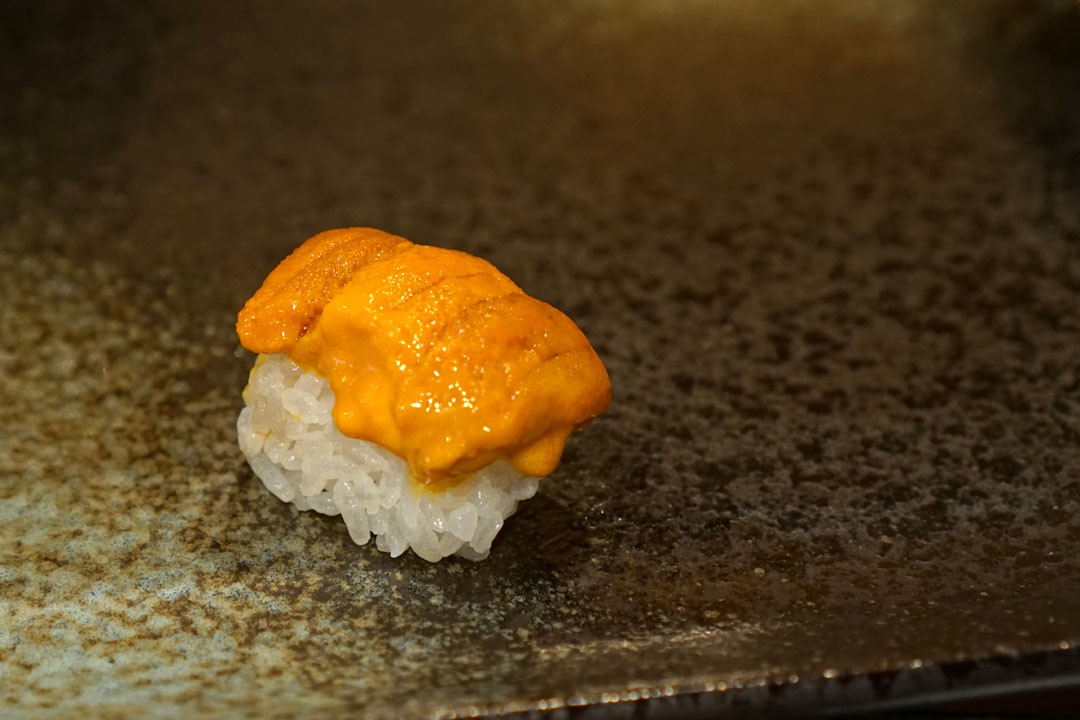 19: Hokkaido Uni
Sea urchin was a must-try of course. Given that the roe was sourced from Hokkaido, I got the focused minerality I was looking for, but it also ate sweeter than usual, which I didn't mind at all.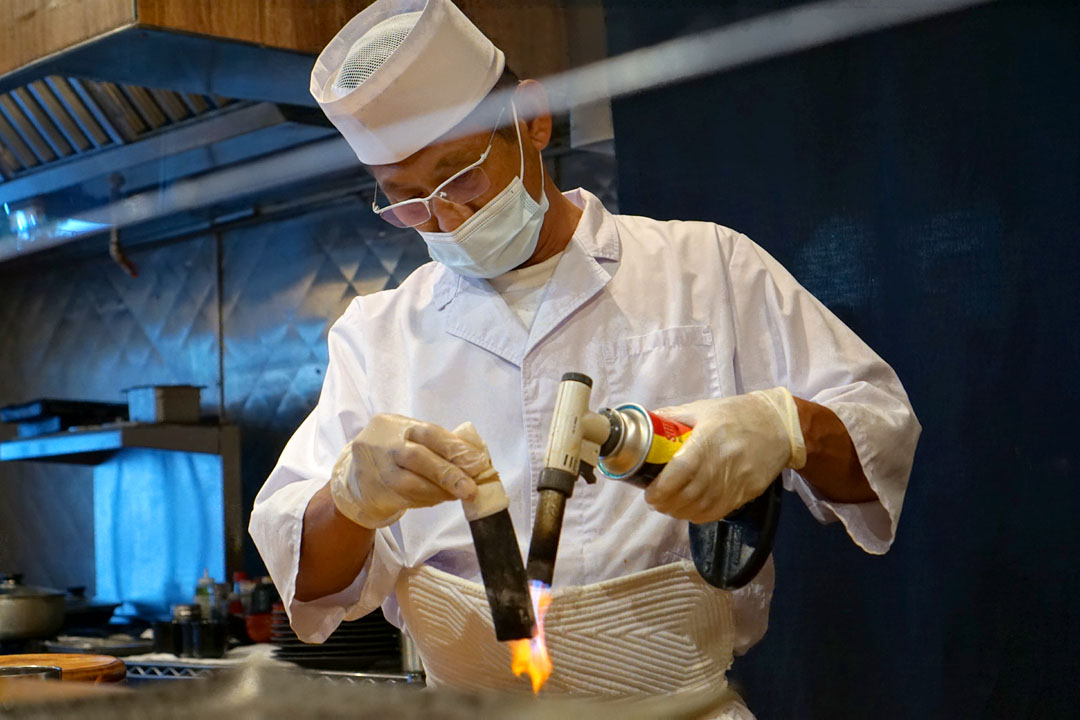 Here we see Shin-san torching some binchotan to sear our next course...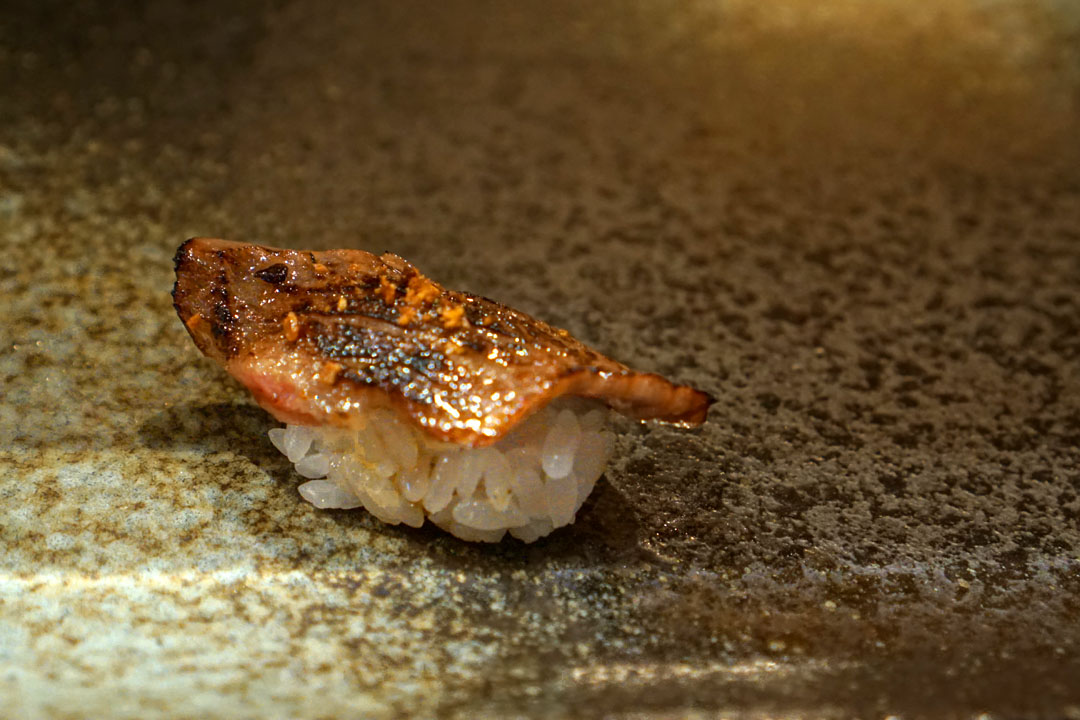 20: Miyazaki Wagyu
...Which was one of the better beef sushi preparations I've had. I loved the back-and-forth here between smoke, lean, and fat, and the garlicky bits up top made a lot of sense, too.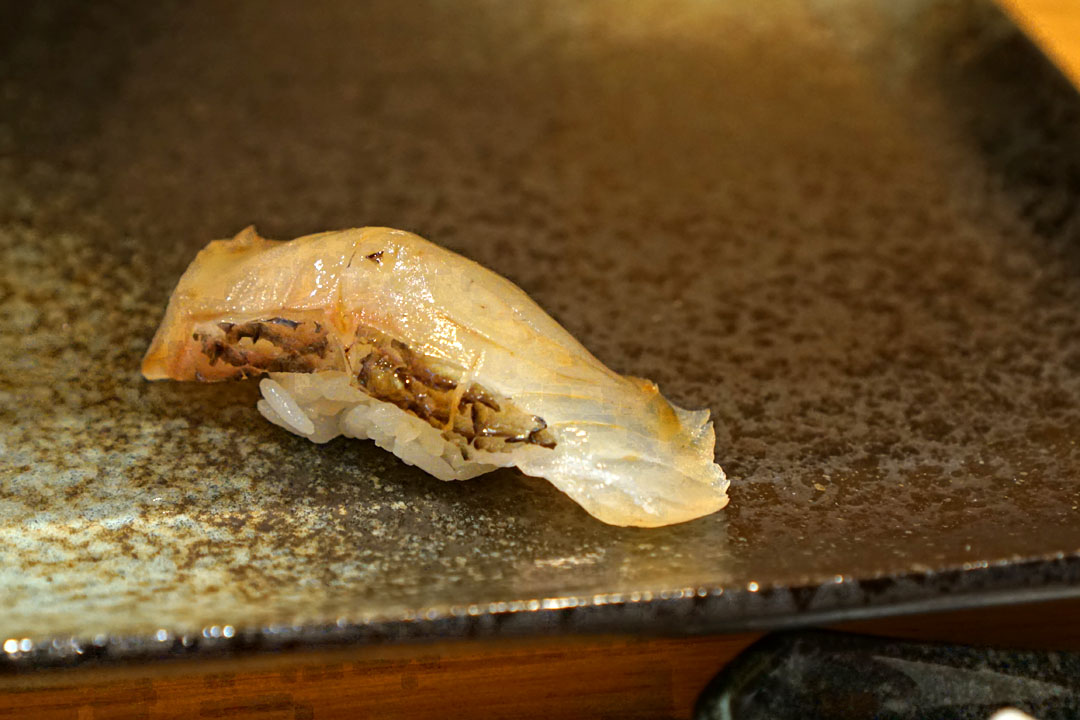 Supplement: Madai no Kobujime [$7.50]
We were nearing the conclusion of our dinner at this point, and thus decided to add on a few supplemental pieces of sushi. Up first was the kelp-treated red sea bream, which was just as tasty at the end of the meal as it was at the beginning.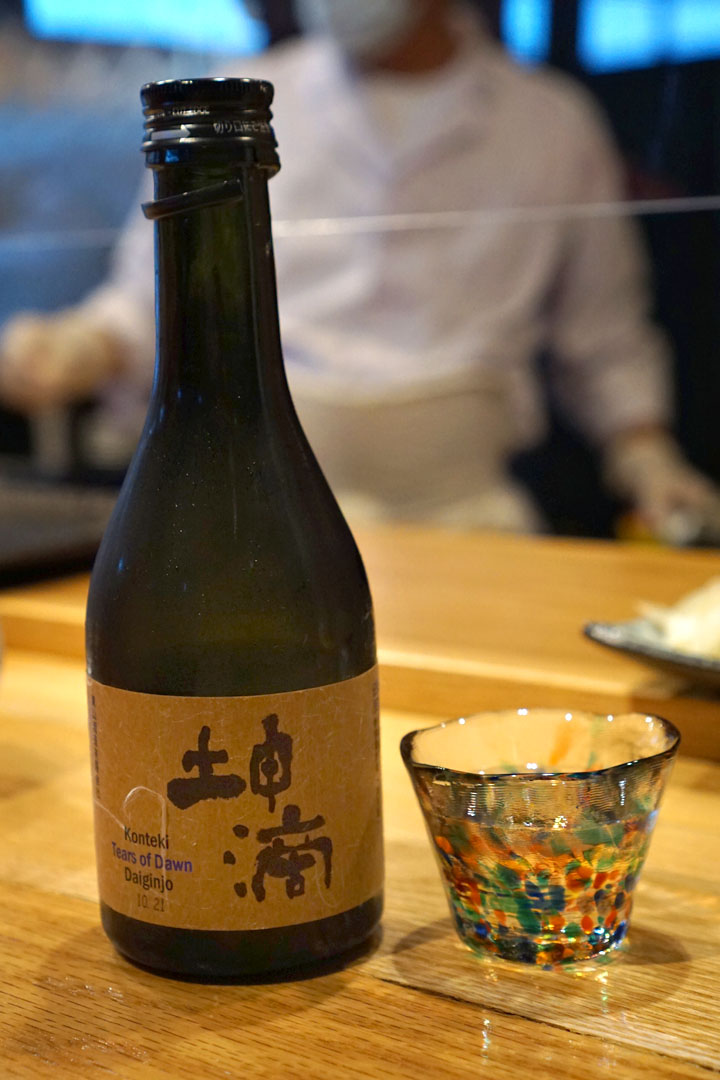 To close out the night beverage-wise, we opted for a small bottle of the
Daiginjo, Konteki "Tears of Dawn", Kyoto Japan [$56]
. The sake was pleasant enough, and soft on the palate, but not very memorable, with a rather nondescript sweetness and rice character backed by an undercurrent of heat.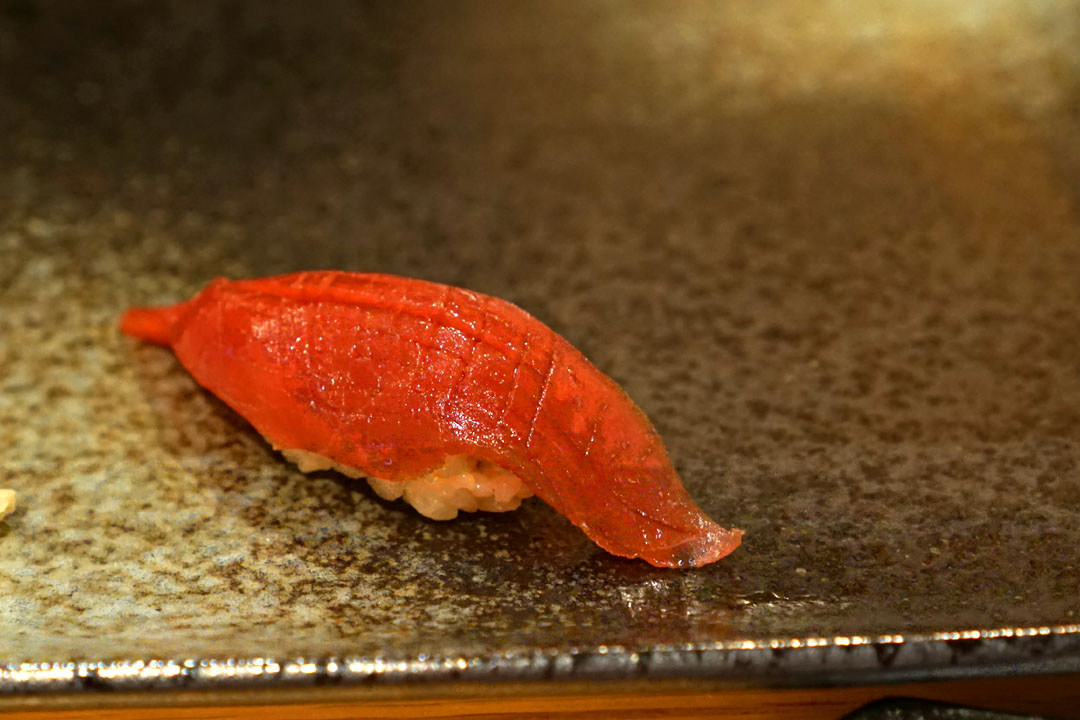 Supplement: Jukusei Akami [$11.00]
We also had more aged tuna, which demonstrated sweet, tangy qualities that matched up well with the sheer richness of the fish. Surprisingly though, the rice here was quite a bit different compared to what we had with our first piece, coming out on the overly soft, sticky side.
Supplement: San Diego Uni [$12.00]
If we're talking about local sea urchin, I think we're all used to Santa Barbara by this point. Tonight's less common San Diego roe was noticeably more saline-centric vis-à-vis the overt sweetness one typically finds up north, but still very enjoyable. However, as with the tuna above, the shari didn't seem right texturally, and made for the only real misstep of the night.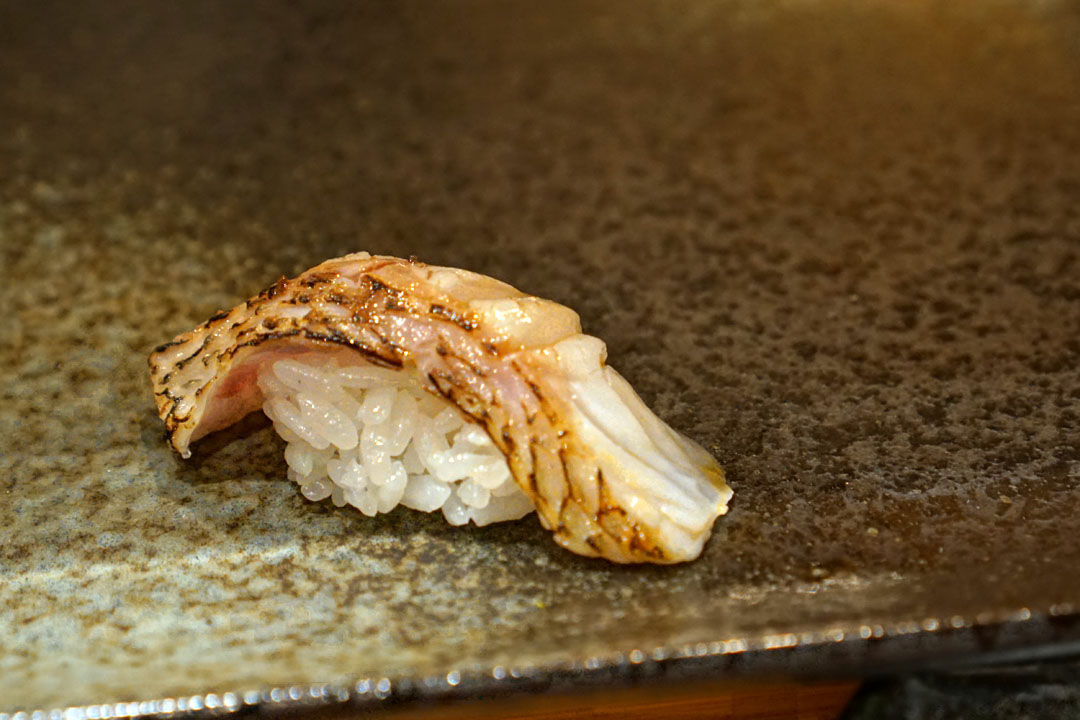 Supplement: Nodoguro [$16.50]
Yet, I had no issues with the rice in our final serving of nigiri. In fact, this might've even been better than our first piece of rosy seabass--yum.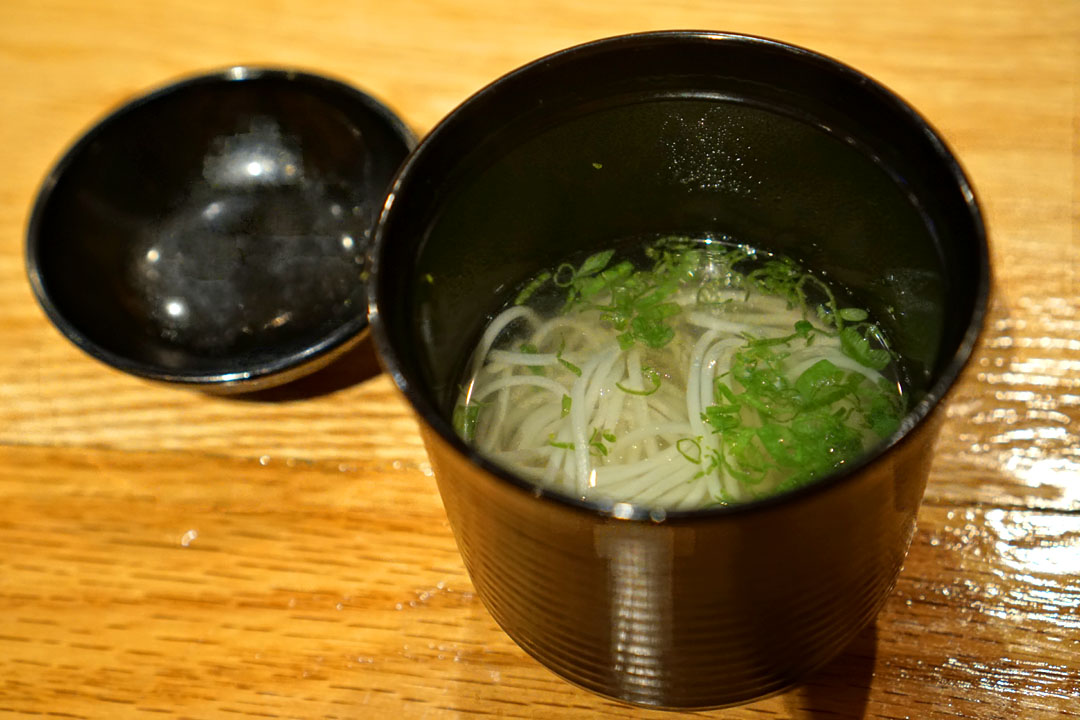 21: Somen
Somen noodles were served in a cozy broth (red snapper-based I believe) deftly enlivened by green onion.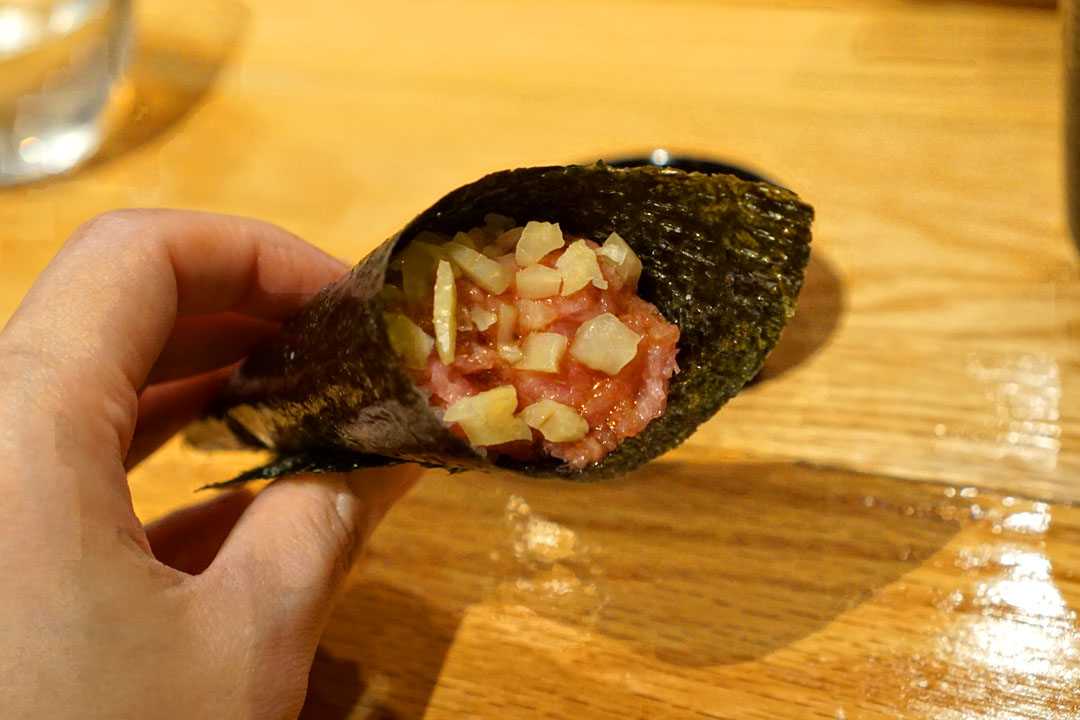 22: Toro-Taku Temaki
I was hoping for a hand roll to end with, and this fit the bill perfectly. I just loved how the fatty tuna melded with those crunchy, piquant pickles, not to mention the crispy, dainty nature of the nori.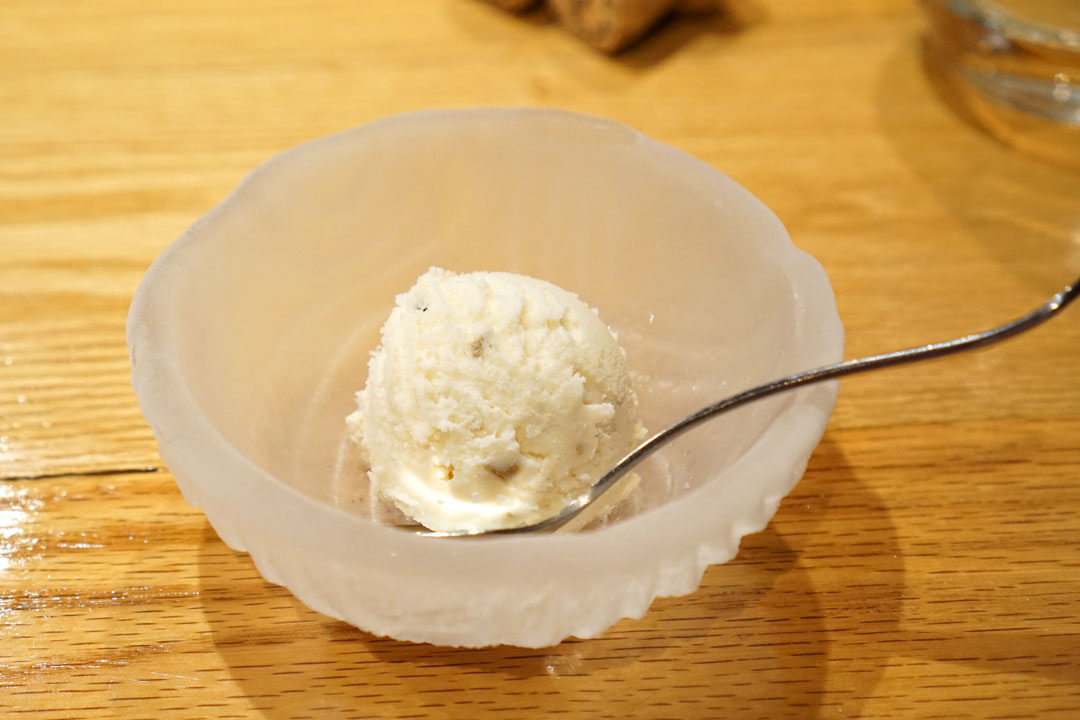 23: Truffle Ice Cream
Closing out our evening was a scoop of homemade vanilla ice cream infused with truffle. It was a splendid combination of flavors, and after tasting it, I'm a bit surprised that we don't see truffle ice creams more often. I could've eaten a pint of the stuff.
I sort of stumbled across Sushi Miyagi randomly, but I'm sure glad that I did, as it managed to be one of the top omakase meals I've had this year. It was a fun, varied, delicious meal, and I certainly appreciated the intimacy of the whole experience; in fact, we were the only ones in the restaurant, so it was nice to have some one-on-one interaction for a change. In discussions of the better sushi joints in SoCal, this place seemingly almost never comes up, but it probably should.