El Pastorcito (Temple City, CA)
Super Tacos El Pastorcito Estilo DF
9700 E Las Tunas Dr, Temple City, CA 91780
626.677.8814
www.instagram.com/elpastorcitotacos/
Fri 07/15/2022, 10:10p-11:55p

Not long ago, I had to pick up a bottle of old Armagnac in Pasadena, and decided to get some takeout while I was in the area. I opted to check out El Pastorcito, an ostensibly Distrito Federal-inspired taco truck parked across the street from Temple City Park that opened back in October 2020. In addition, there's a
second truck
(an actual truck, not a trailer) in Arcadia, which debuted on April 28th this year. Do also note that there existed a Tacos El Pastorcito in Silver Lake at one time, but the businesses don't appear to be related.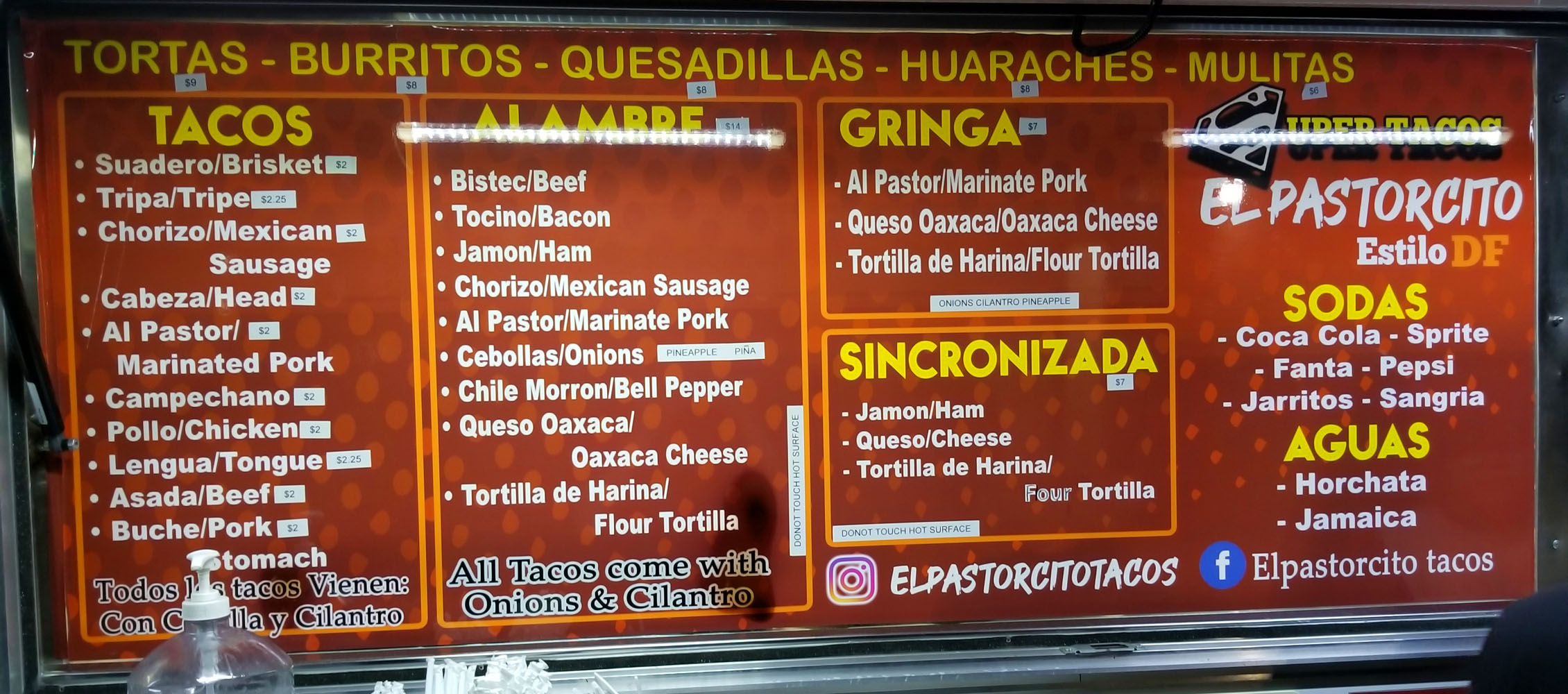 Here we see the menu, which offers a wide array of options.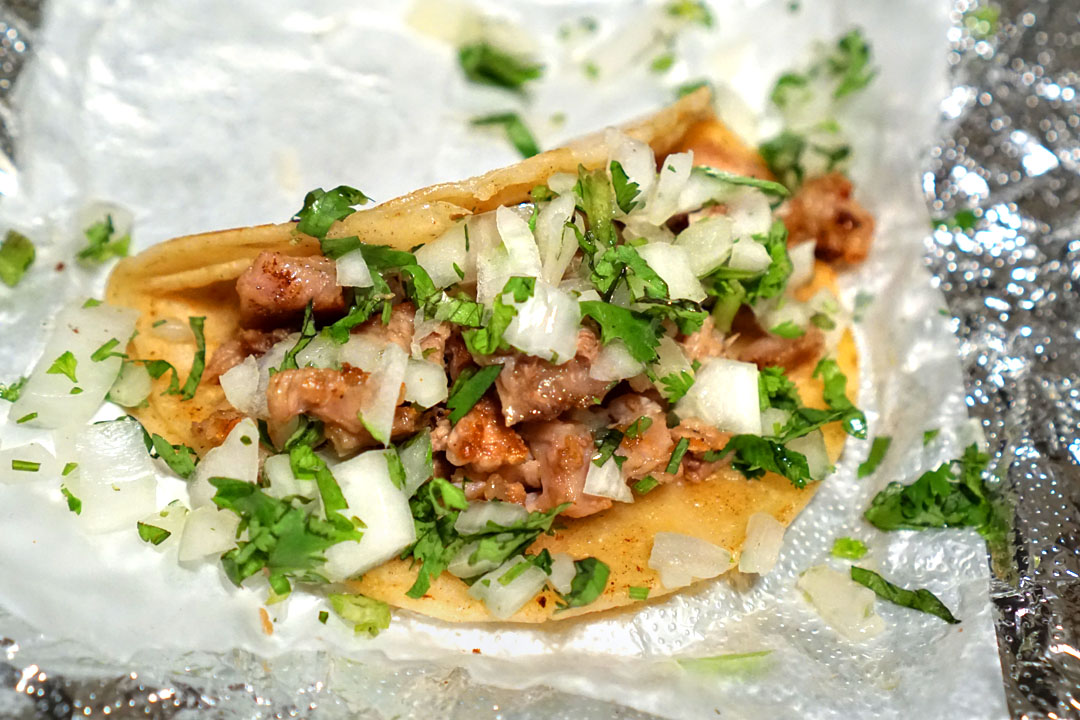 Taco - Suadero [$2.00]
The suadero made for a great start to tonight's meal. I was a big fan of the meat's charred crispy bits and deep savor, paired with just a touch of bovine funk. A definite favorite.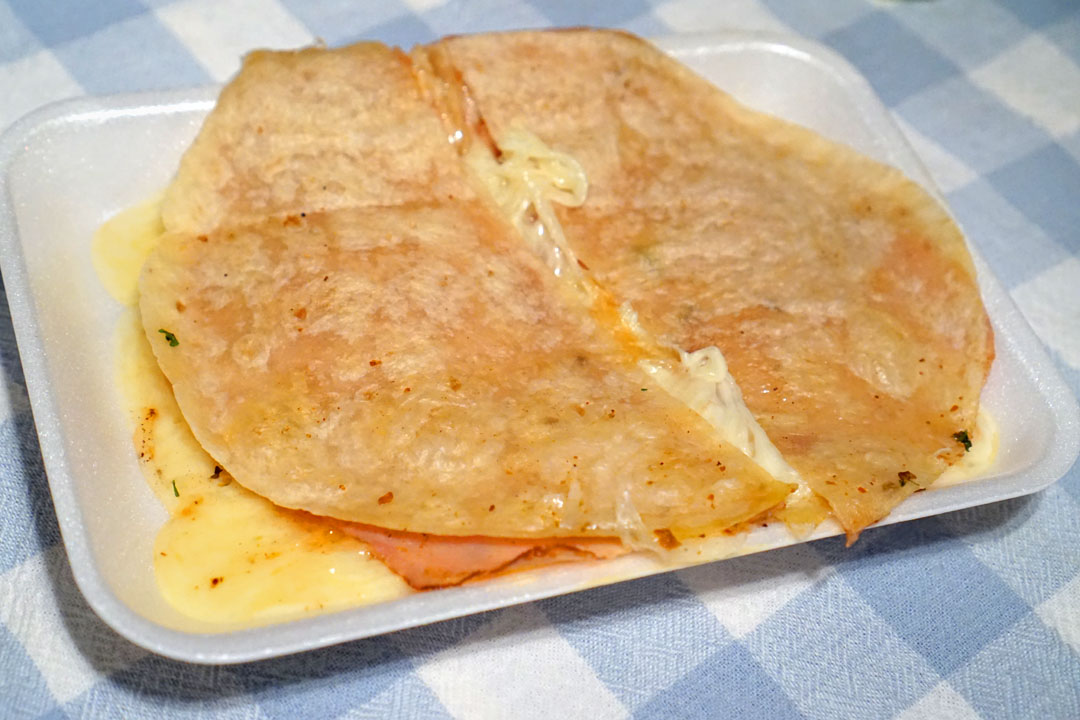 Sincronizada [$7.00]
| Jamon, Queso, Tortilla de Harina
Not only had I not had a quesadilla sincronizada before, I'd actually never even heard of the dish prior to tonight, so naturally I had to give it a try. I'd liken it to Mexican ham and super-stretchy-cheese sandwich, one that ate comfortingly familiar. Try this with the salsa roja, which had a smokiness that meshed seamlessly with the jamón.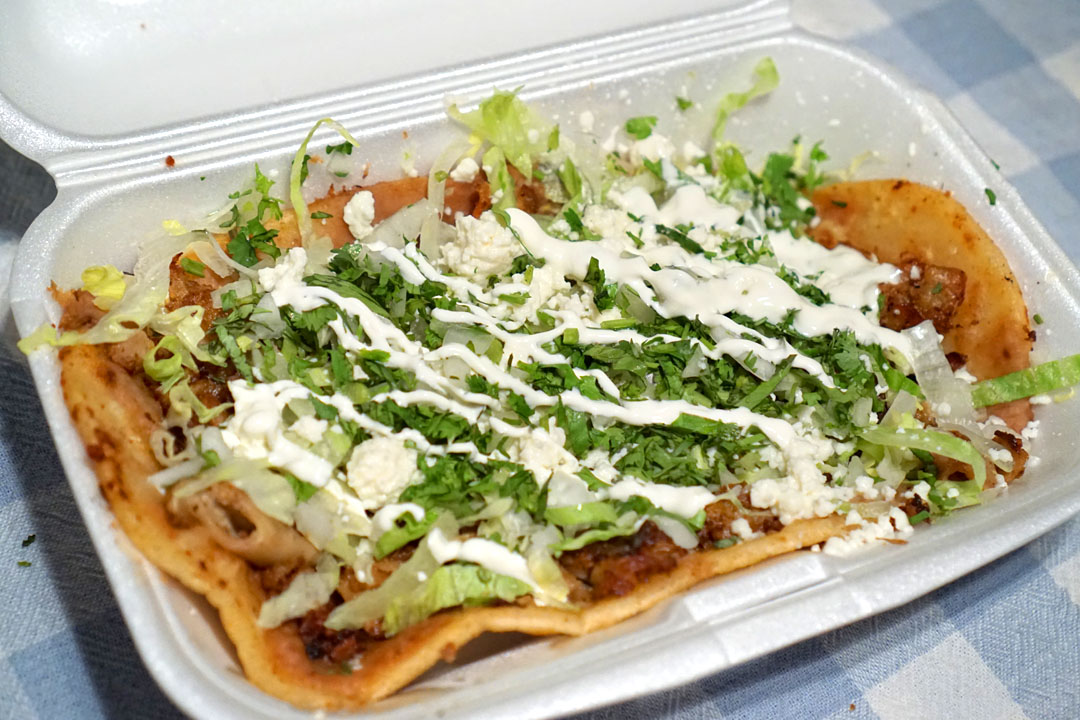 Huarache - Tripa [$8.00]
The huarache was a winner as well. I really enjoyed the sear and crunch on the tripe here, while the offal's signature earthiness melded easily with the combo of cheese-onion-cilantro. At the same time, the beans and thick masa base helped moderate everything.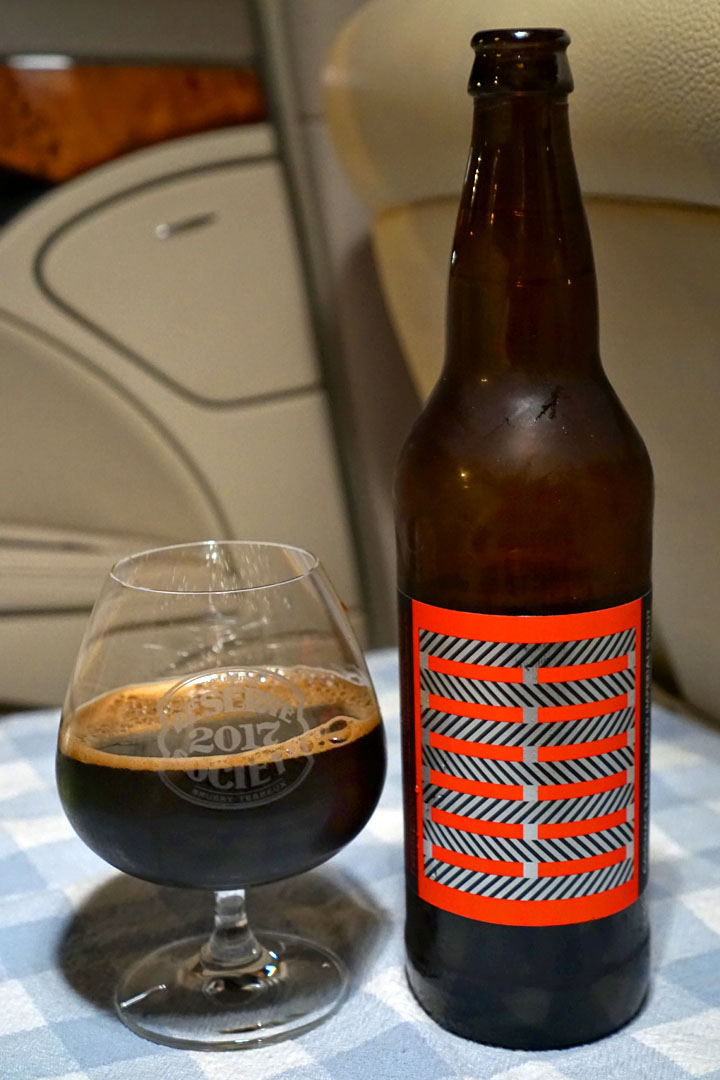 To drink, I brought along the
2016 Cycle Pallet #5
, a cognac barrel-aged imperial stout. The nose on this one was all about dark berry fruits commingled with candi sugar and hints of barnyard. Taste-wise, I got a healthy dosing of grape jam up front, leading to sweet, malty sensations, cocoa, nuts, and oak.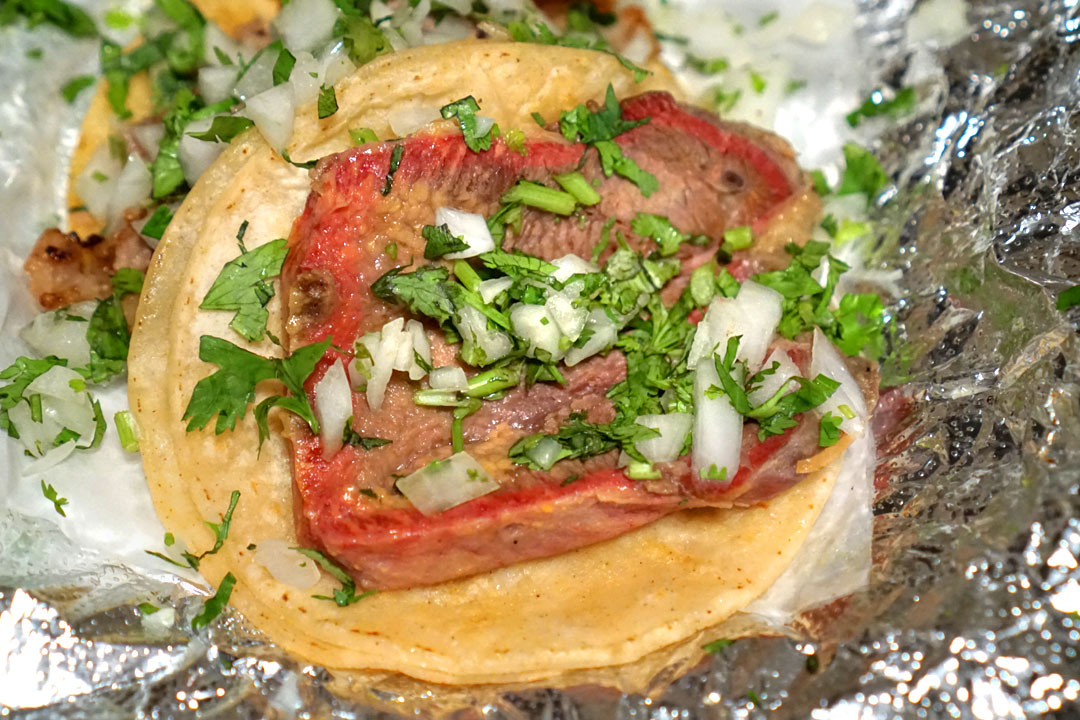 Taco - Lengua [$2.25]
Unlike with most preparations, the tongue came in one large piece, which I found soft and slick, with just a bit of chew. It demonstrated a delicate sort of beefiness that really opened up with a dash of the salsa verde.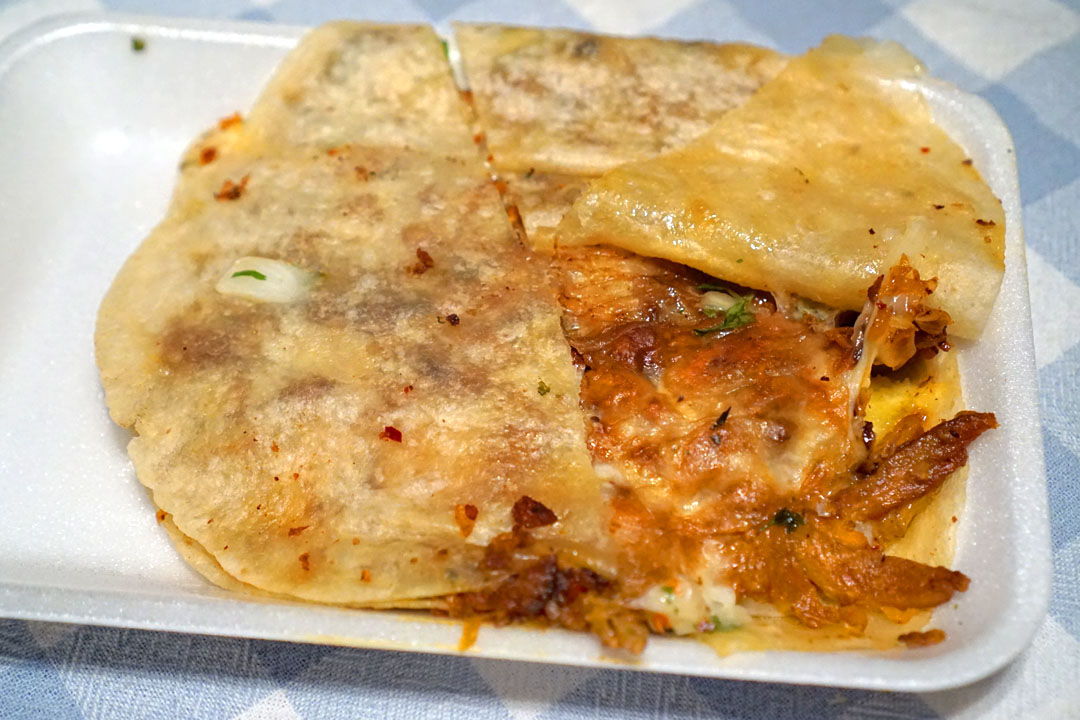 Gringa [$7.00]
| Al Pastor, Queso Oaxaca, Tortilla de Harina
The star of the show here was the al pastor. I found it somewhat more restrained in terms of spicing compared to most, which really let the overtly porcine nature of the meat shine. Combined with the onions, cilantro, and above all the cheese, it made for a pretty satisfying eating experience, especially when taken with a splash of salsa.
Alambre [$14.00]
| Bistec, Tocino, Jamon, Chorizo, Al Pastor, Cebollas, Chile Morron, Queso Oaxaca, Tortilla de Harina
The alambre managed to be a favorite tonight. It was a real symphony of meats, with ham at the fore, bound together by queso while onions and peppers served as apt accent pieces. The flour tortillas, meanwhile, provided a much-appreciated counterpoint.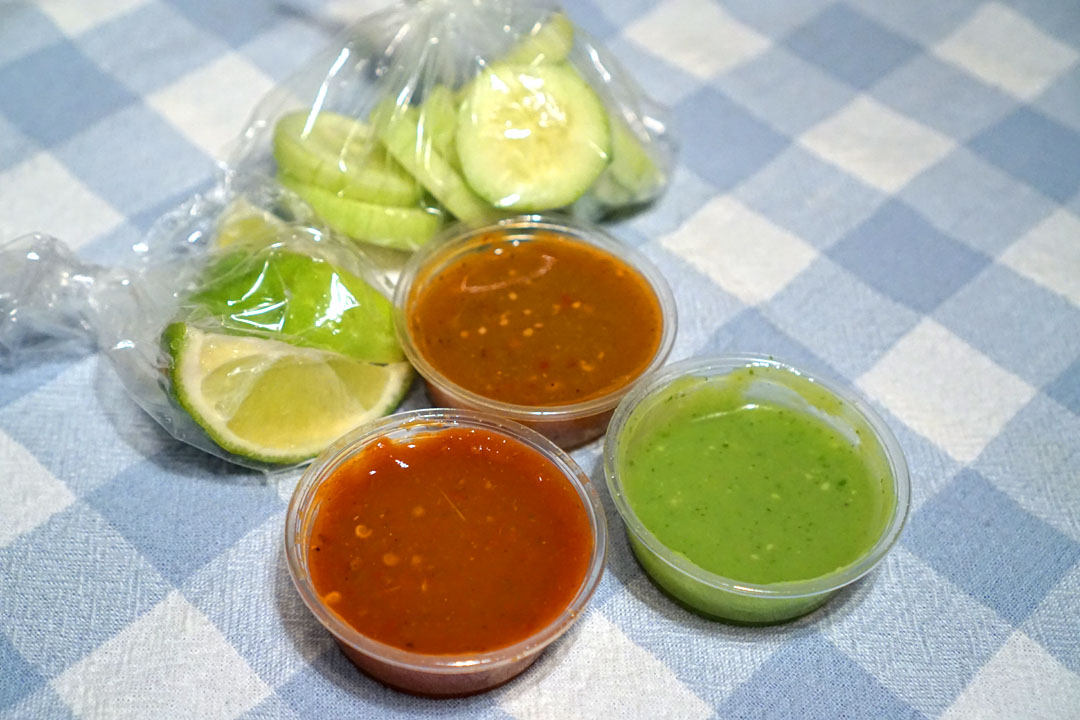 Accompaniments included three types of salsa (a powerfully smoky red, a tangy orange that was the spiciest of the three, and a fresh-n-zesty green) as well as lime and cucumber.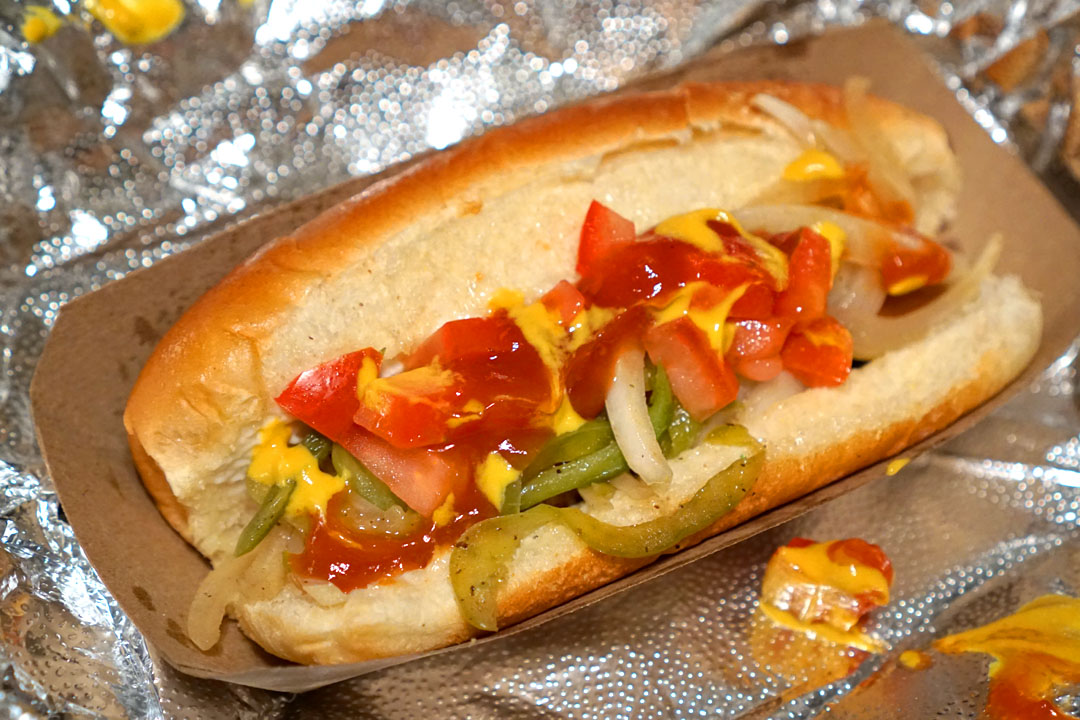 Hot Dog
Interestingly, El Pastorcito also sells hot dogs, so I was curious to try one. The sausage itself was prototypical, and linked up swimmingly with the onion and bell peppers, but the ketchup actually got in the way of that interaction.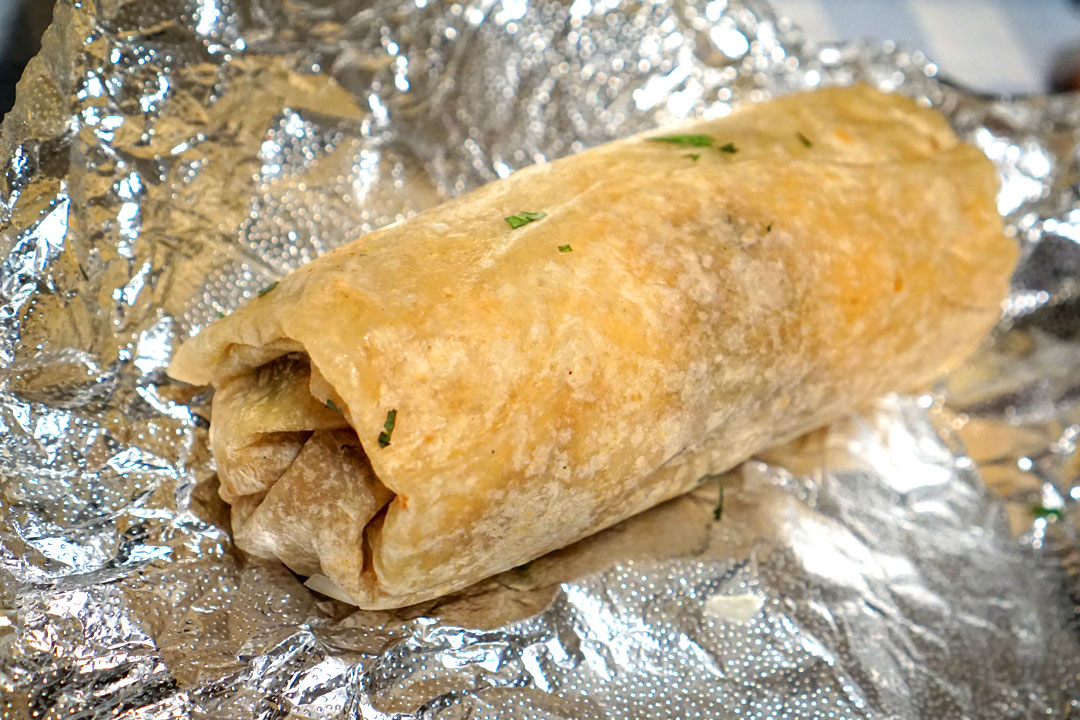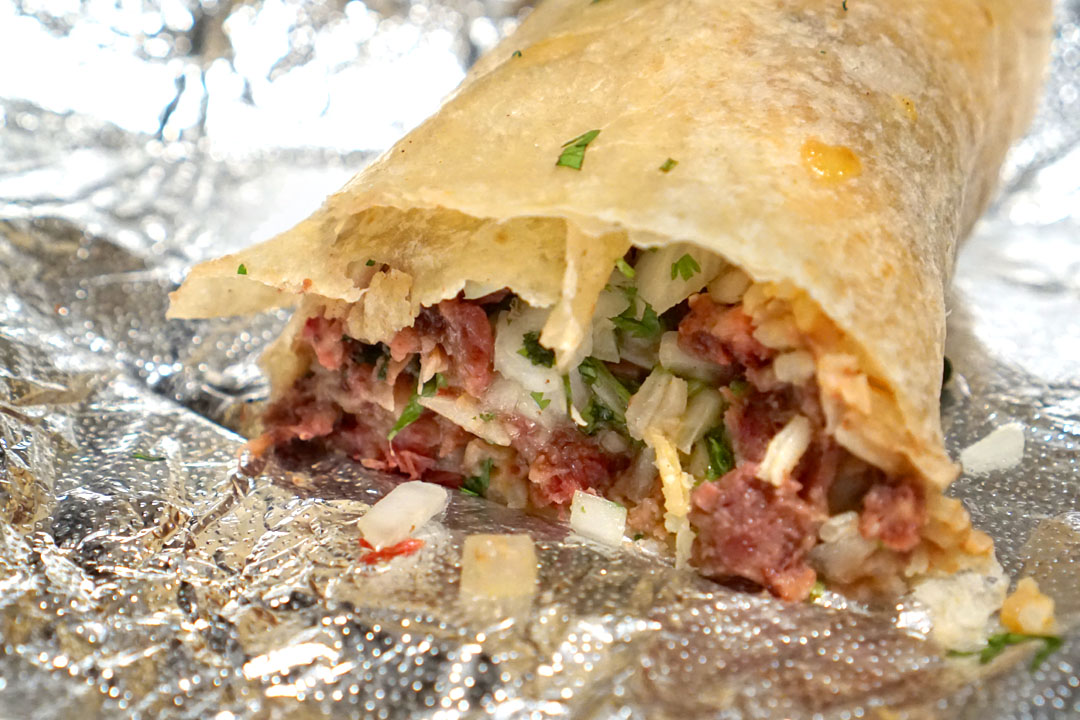 Burrito - Cabeza [$8.00]
My cabeza burrito featured supple, long-cooked shreds of beef that combined cohesively with the rice and beans, while the cilantro-onion offered up the needed brightness. This one really called for the application of salsa, but I found that any of the three worked just fine.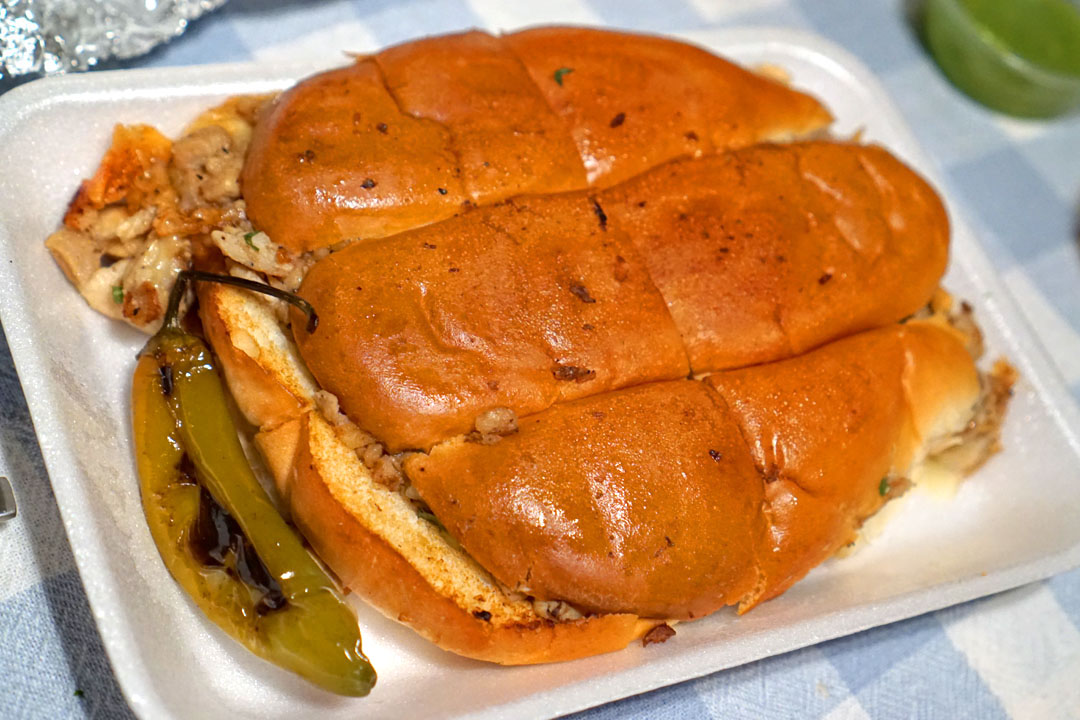 Torta - Pollo [$9.00]
The torta came pre-sliced into six portions, which I appreciated, and the chicken itself arrived relatively juicy, with a decent amount of sear to boot. It integrated well with all the cheese in the sandwich, while the soft, sweet-ish bread worked as vessel for everything. I liked this one perked up with a pour of green salsa.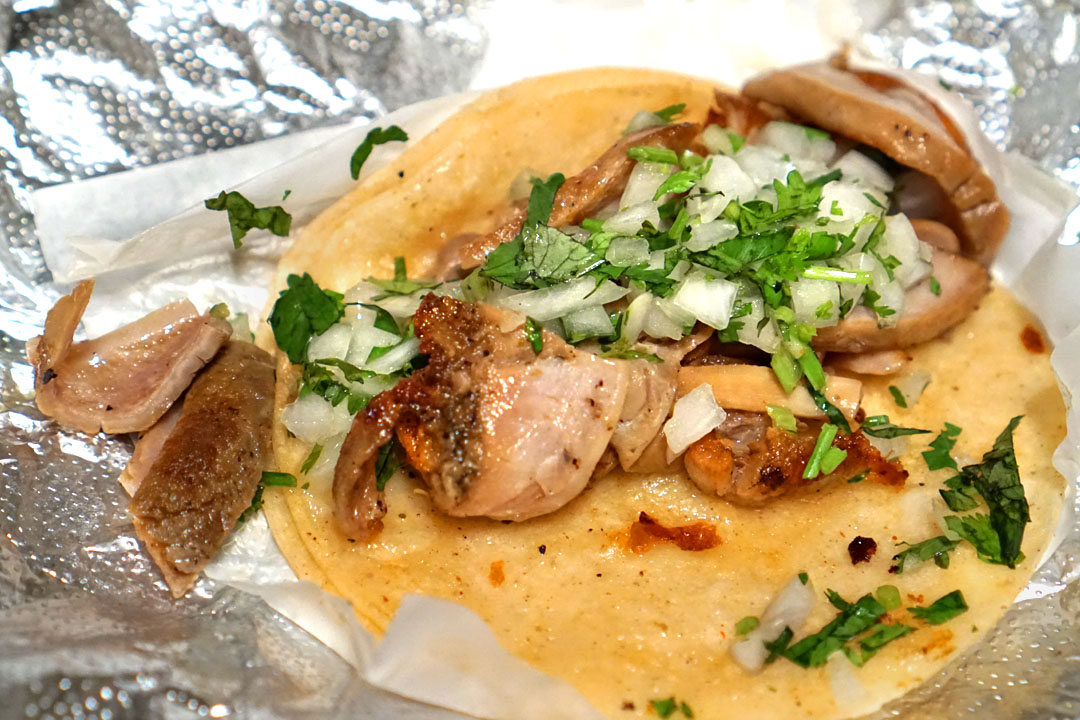 Taco - Buche [$2.00]
The pork stomach was another favorite, and in fact, one of better versions I've had. The key was the offal's supple, semi-slippery texture, unabashedly porky depth, and spot-on piquancy from its seasoning.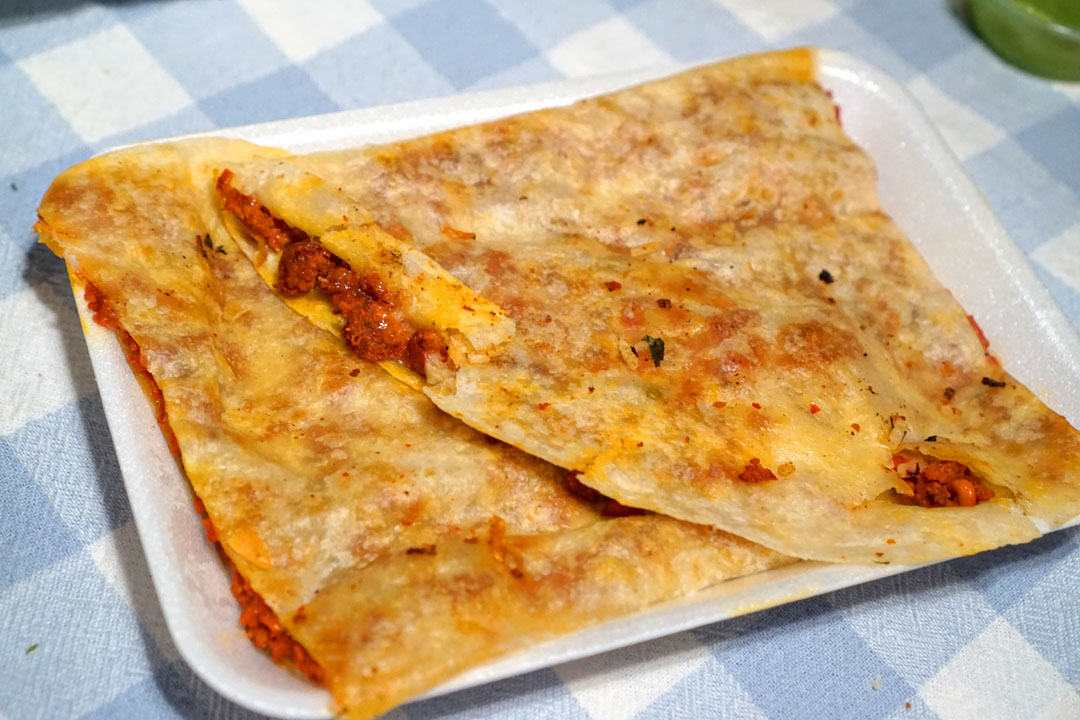 Quesadilla - Chorizo [$8.00]
I often tend to go with chorizo as my filling of choice for quesadillas, and tonight was no exception. The sausage showed off the sour spice I wanted, but also displayed a bit of a South Asian-esque flair that was unexpected, but not unwelcomed. This one seemed to make the most sense with the red salsa.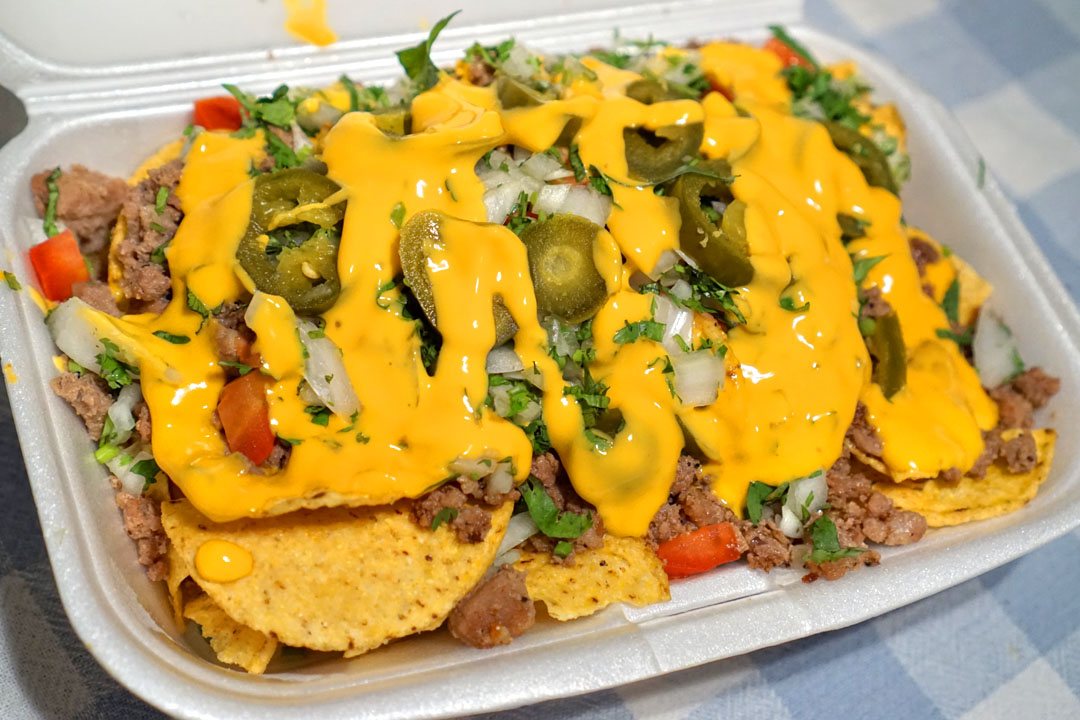 Nachos - Asada
I'm a sucker for nachos, so obviously I couldn't resist tonight. The dish was well put together, with each element in its proper place, and I enjoyed eating it, though I could've used more sear, more smoke on the carne asada--a common complaint of mine. Another quibble was that I would've liked to have seen different tortilla chips utilized, and the ones I had were a tad lacking in the crunch department.
El Pastorcito made for a gratifying late-night meal. The food was pretty solid overall, and there were a couple of standout items, such as the suadero. I'd probably visit this spot somewhat regularly if I lived in the area, so feel free to give it a shot sometime.
I fear that I'm developing a taste for Armagnac...