Tim's Avenue (Anaheim, CA)
Tim's Avenue
3240 Lincoln Ave, Anaheim, CA 92801
www.instagram.com/timsavenue/
Wed 08/24/2022, 11:15p-12:10a

I was recently on the prowl for late night eats in north OC, and after considering Albertacos in Cypress (pretty much my go-to in the area), I opted to get some takeout from the curiously-monikered Tim's Avenue instead. The spot was indeed founded by a guy named Tim, while the "Avenue" is a reference to the old Ave 26 Night Market in Lincoln Heights. Tim was an undergrad studying business, but decided to pause his studies in order to try his hand at entrepreneurship. And since he'd always wanted to get into the food business, he decided to launch Tim's Avenue back in July 2020, setting up shop inside Olligo Grill, an eatery that's normally closed late at night.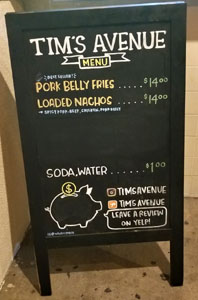 Shown above is the menu, which was abbreviated this evening. The food is casual Korean fusion fare that's in the same vein as the stuff popularized by Kogi. Note that only cash and Venmo are accepted for payment. Click for a larger version.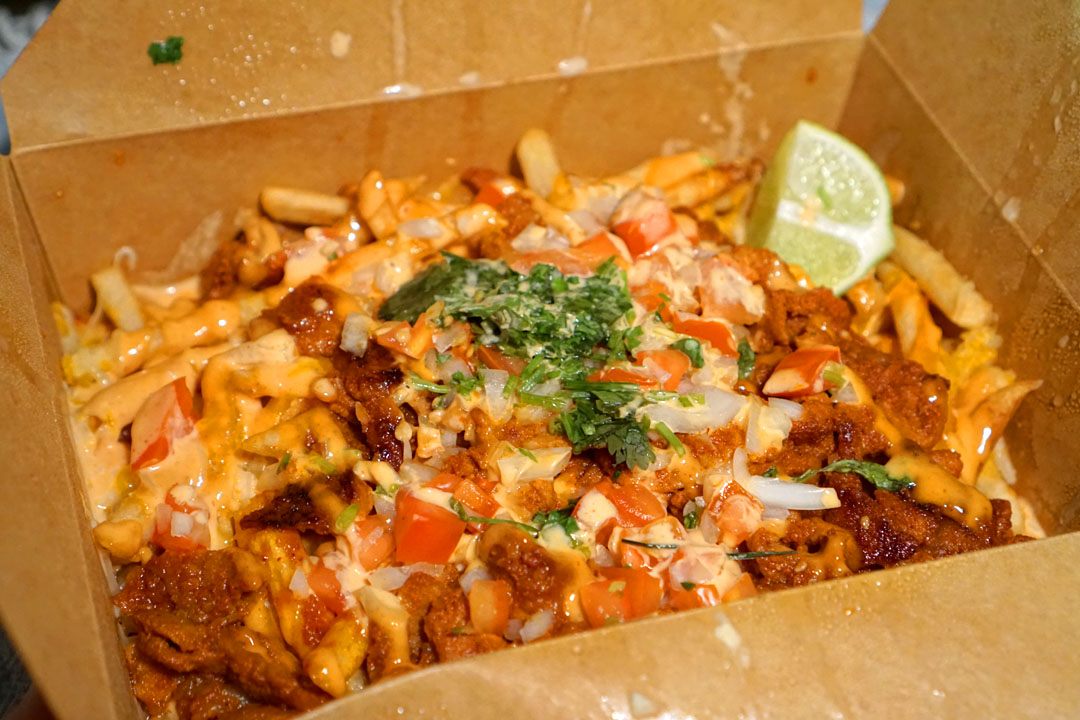 Spicy Pork Fries [$14.00]
Tim's Avenue is known for its pork belly fries, but the kitchen had run out of samgyeopsal, so I ended up going with dwaeji-bulgogi as my topping. The meat had the tenderness I was looking for, as well as sweet-savory-spicy notes that seemed oh-so familiar. These gochujang-sourced flavors worked nicely with the dish's spicy dressing to create a lingering, yet restrained heat, and the herbiness of the cilantro functioned surprisingly well as a counterpoint. As for the fries, they were of the shoestring variety, and reminded me of McDonald's' in terms of both taste and texture.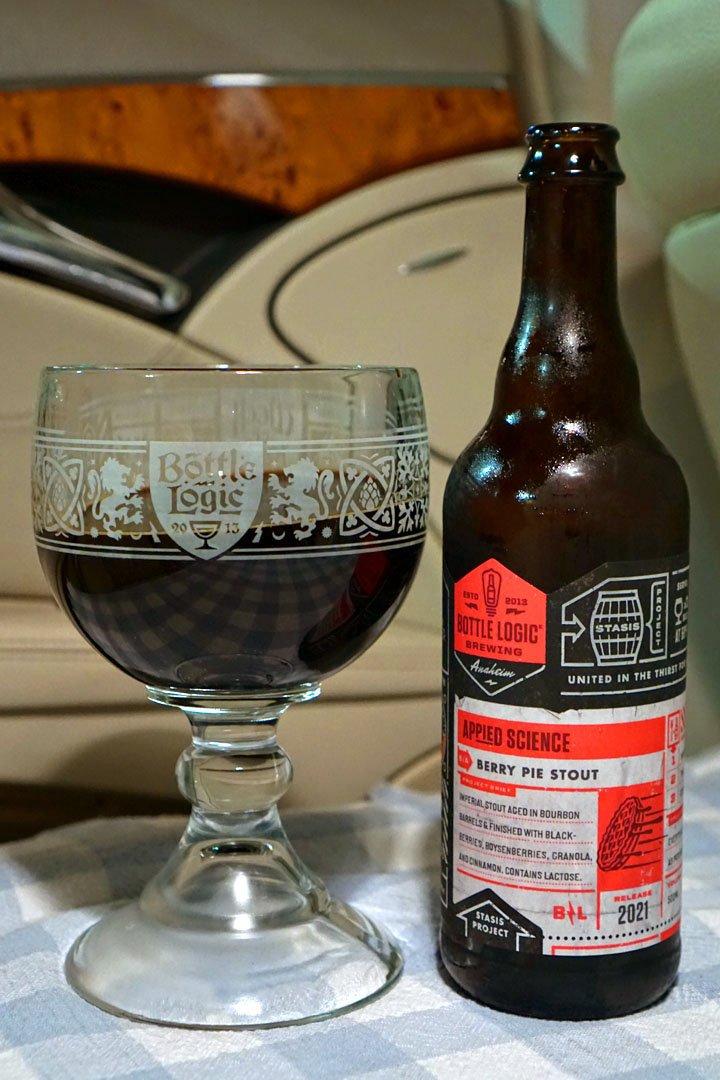 To pair with the meal, I brought along a bottle of the
2021 Bottle Logic Appied Science
, a bourbon barrel-aged imperial stout with blackberries, boysenberries, granola, cinnamon, and lactose, created in collaboration with Forager Brewery. This one smelled quite sweet, with aromas of chocolate, roast, and ripe berries all over the place. On the palate, I found the beer smooth and viscous, its rich cacao character melding with more sweet-n-sour dark berry, light cinnamon spice, and an underlying nutty bitterness from the granola that kept things in check. This one actually did a commendable job recalling its berry pie inspiration.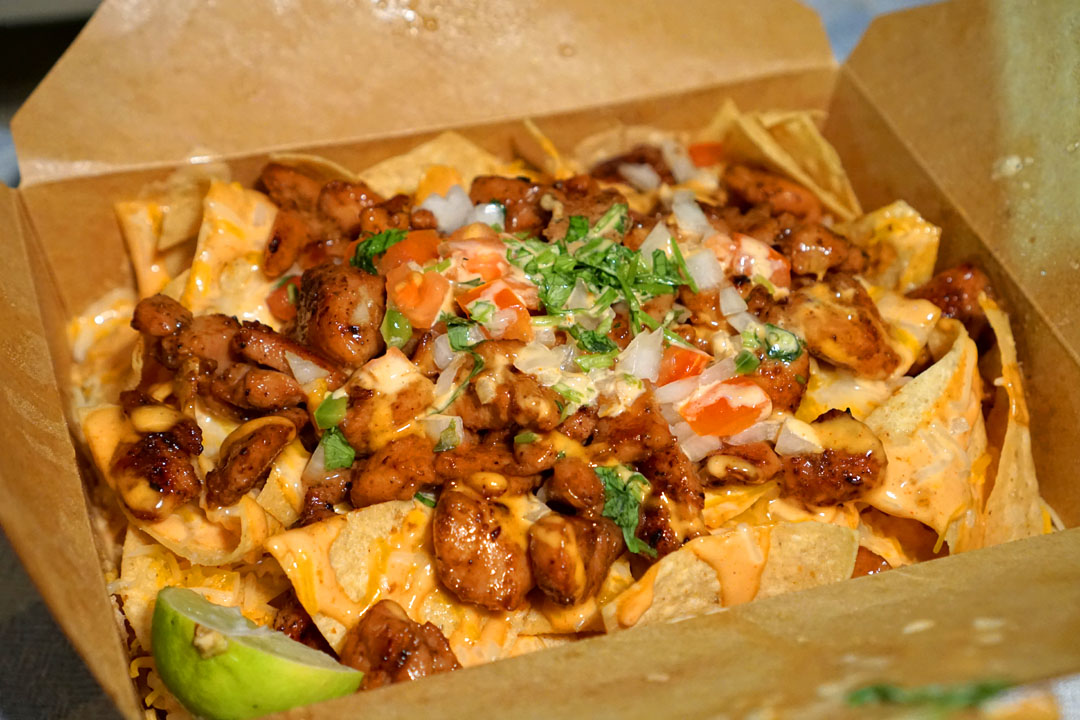 Chicken Loaded Nachos [$14.00]
Given my propensity for nachos, I had to try this as well. The chicken was essentially a version of dak-bulgogi, and came out well textured, with a surprisingly healthy char that helped moderate the sweetness of the meat. The brightness of the pico de gallo was crucial, as was the integrating effect of the dish's spicy, creamy sauce, while the cheese added a palpable weight.
I'd actually been to Tim's Avenue a few times prior to this, and the place does come to mind fairly often when I'm looking for late night dining in the northern territories of Orange County. The food hits the spot for the most part, and is sort of what you want when you're eating at midnight. The place appears to be doing pretty well, and according to Tim, he's actually looking to take over Olligo Grill altogether. The goal is to serve all day long with an expanded menu, so I'll try to check back in when that happens.