Aunty Maile's (Torrance, CA)
Aunty Maile's Hawaiian Restaurant
19106 S Normandie Ave, Torrance, CA 90502
310.819.8314
www.auntymailes808.com
Tue 05/02/2023, 07:40p-08:50p

I recently had to be in the South Bay to pick up some allocated whiskey that I'd won from the Total Wine in Redondo Beach, and thus decided to get some takeout in the area beforehand. After weighing a few options, my restaurant choice ended up being Aunty Maile's, another recommendation from longtime blog reader
Cindy
.
The Hawaiian eatery traces its history to Chef Bruce Goold and his wife "Aunty" Maile Goold. Around the early 2000s, Chef Goold opened Big Island Grill in Kailua-Kona, and the place soon became a local favorite. "Uncle" Bruce and Maile wound up moving to Las Vegas some years later, where they debuted Island Flavor in the city's Southwest neighborhood in October 2008. That restaurant also became pretty popular, and the couple was able to launch the more casual Island Flavor Express in Vegas' Southeast district in September 2015.
However, they eventually sold the businesses (the new owners opened another Island Flavor in Centennial in August 2020) and relocated to Southern California circa 2017. In mid-2018, they started Island Flavor Café at 16300 Crenshaw in Torrance, which changed its name to Aunty Maile's that December. A second, larger location (the subject of this post) debuted at the end of September 2019, while the original shuttered in 2021. All that being said, it looks like the Goolds aren't involved in the restaurant anymore, as new ownership took over in the middle of last year.

Aunty Maile's resides in storefront that actually previously held another Hawaiian spot called Island Eats Hale Aina (April 2012-July 2019), and the decor hasn't really changed all that much. Before that, the space was home to Frumento's Deli/Saxbys Coffee.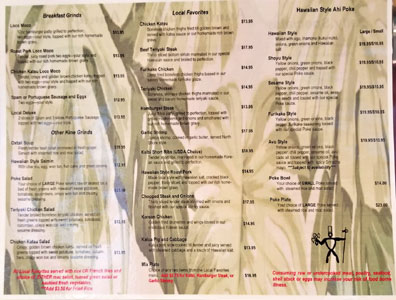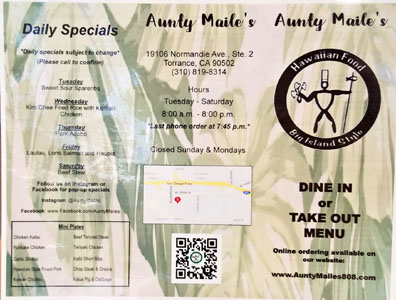 The menu is about par for the course as far as Hawaiian restaurants go. I opted for combination plate lunches so that I could sample more of a variety. Click for larger versions.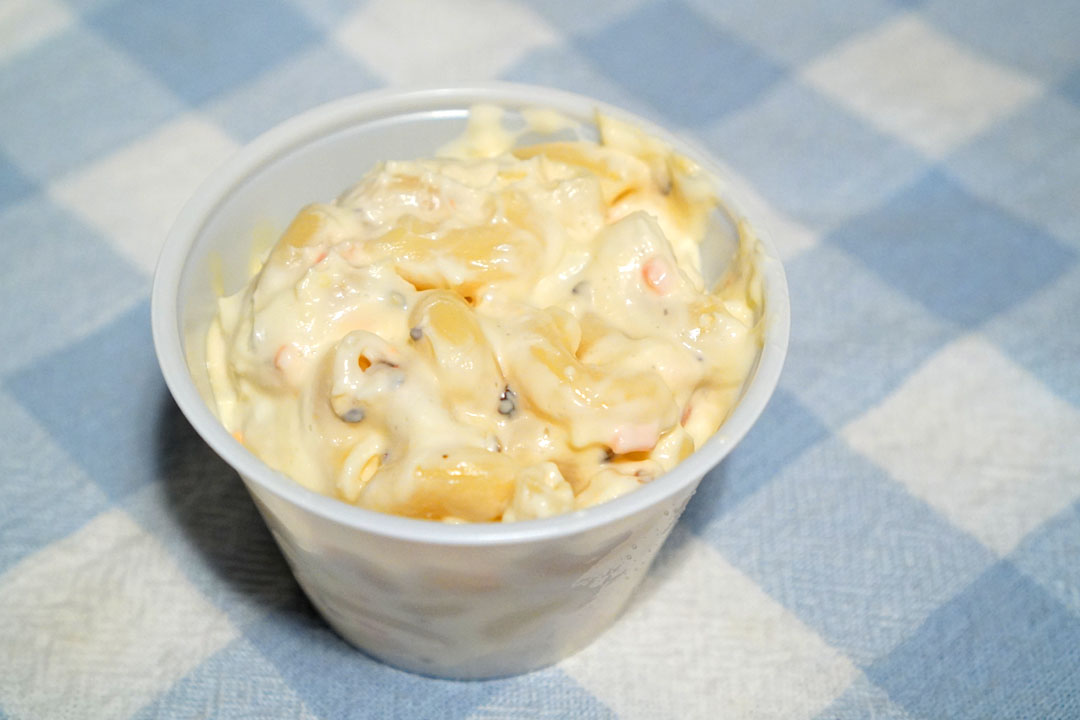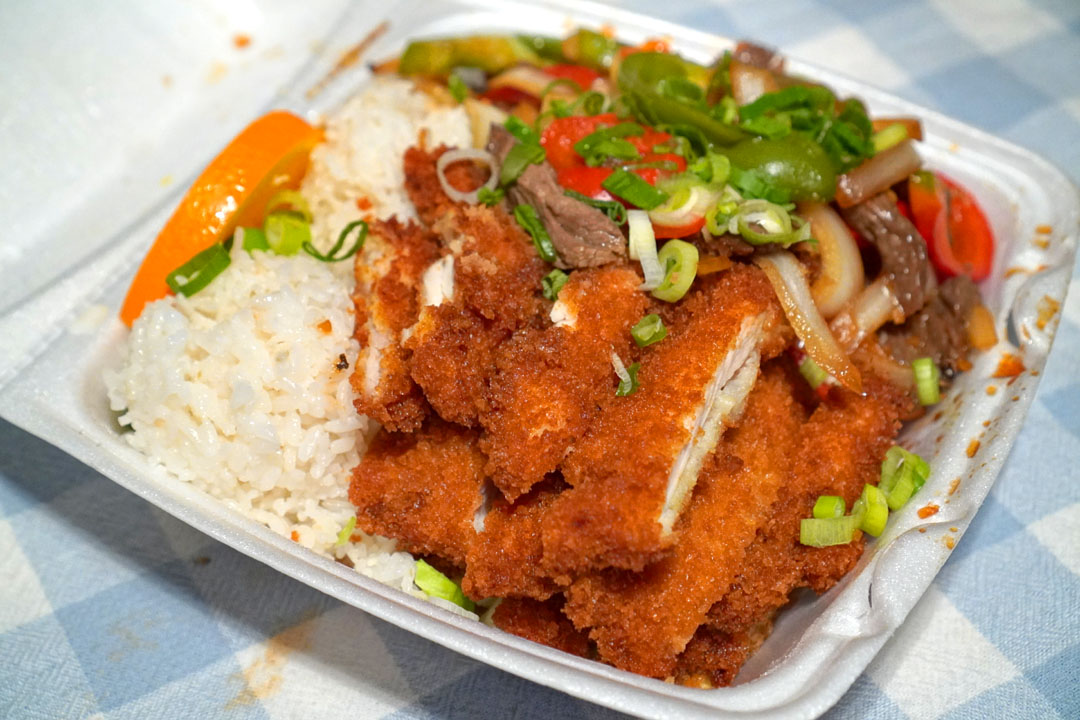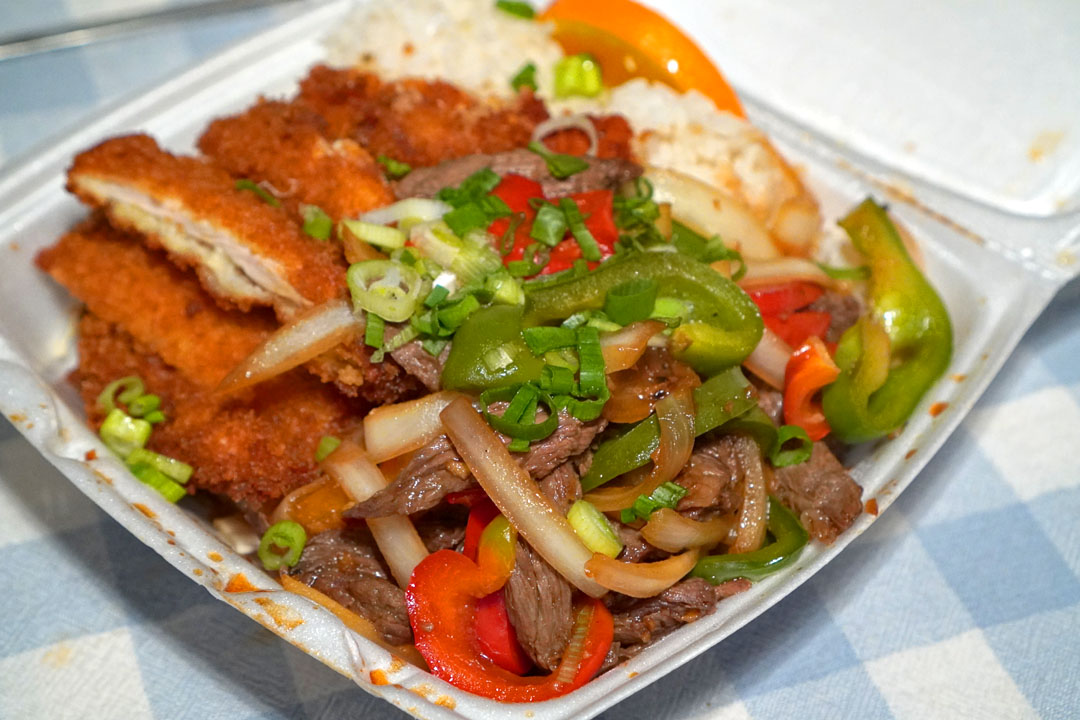 Mix Plate – Chicken Katsu / Chopped Steak and Onions, Rice, Mac Salad [$16.95]
| Boneless chicken thighs fried till golden brown and served with katsu sauce or our homemade rich brown gravy / Thinly sliced tender steak stir-fried with onions and finished with our special stir-fry sauce
My first mixed plate lunch contained chicken katsu, a dish that I'm generally quite fond of. However, the version tonight wasn't quite to my liking, coming out a bit dry on the inside and not particularly crispy on the outside, its panko breading recalling frozen supermarket tenders; the piquant tonkatsu sauce on the side did help, though. The Hawaiian chopped steak was more successful thanks to its sweet-n-savory flavor profile and effective use of the veggies, though the beef was chewier than I'd prefer. The rice, meanwhile, ate soft and a touch sticky, just as I expected, while the macaroni salad was seemingly extra creamy, with a distinctly peppery edge, but I wanted more pickle-y tartness for contrast, as it seemed rather flat.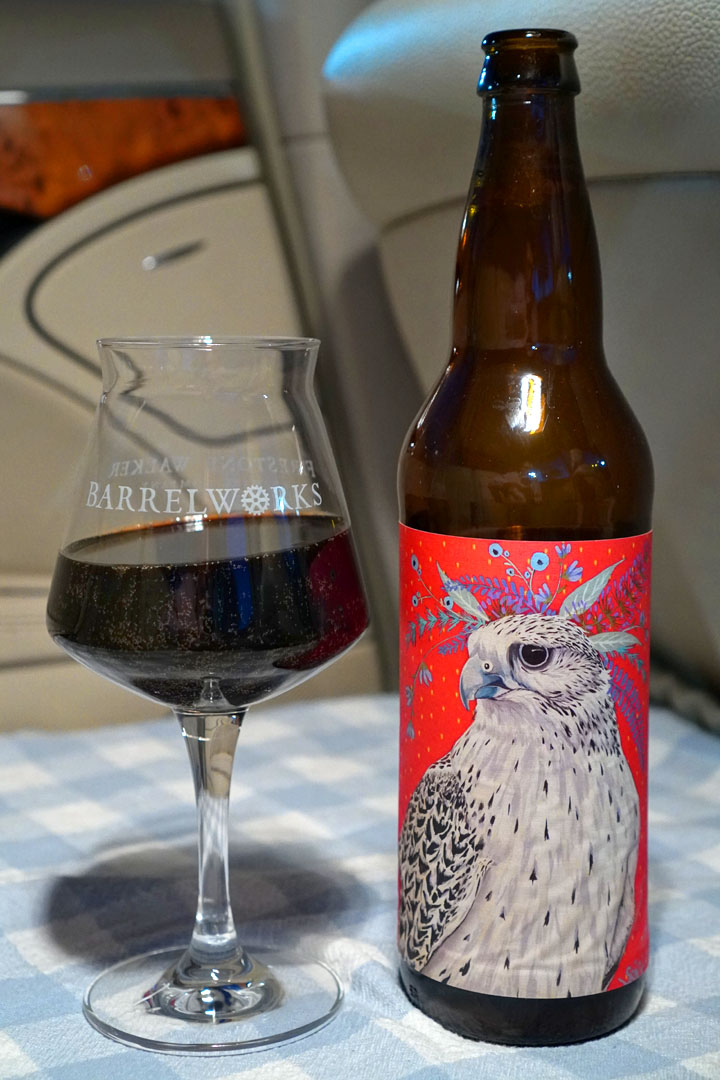 Tonight's beer was the
2022 Horus Strawberry Dose
, an imperial stout with chocolate, Panama La Esmeralda Geisha coffee, hazelnuts, freeze dried strawberries, and vanilla bean. This one smelled like Neapolitan ice cream--very promising--but with a touch of funk. Tasting it, I found the ale nutty and tangy up front, its mostly chocolate-y flavors supported by a subdued undercurrent of strawberry and overarching nuances of astringent coffee, with everything leading to an unexpectedly brief finish. This wasn't as tasty as I was hoping for, unfortunately.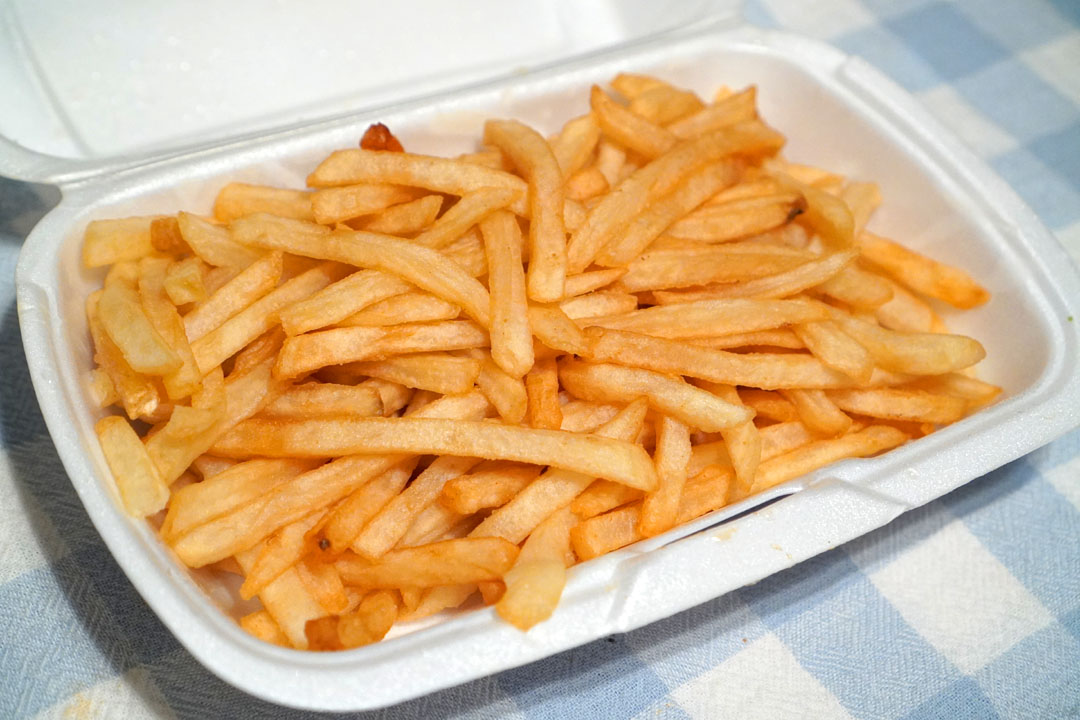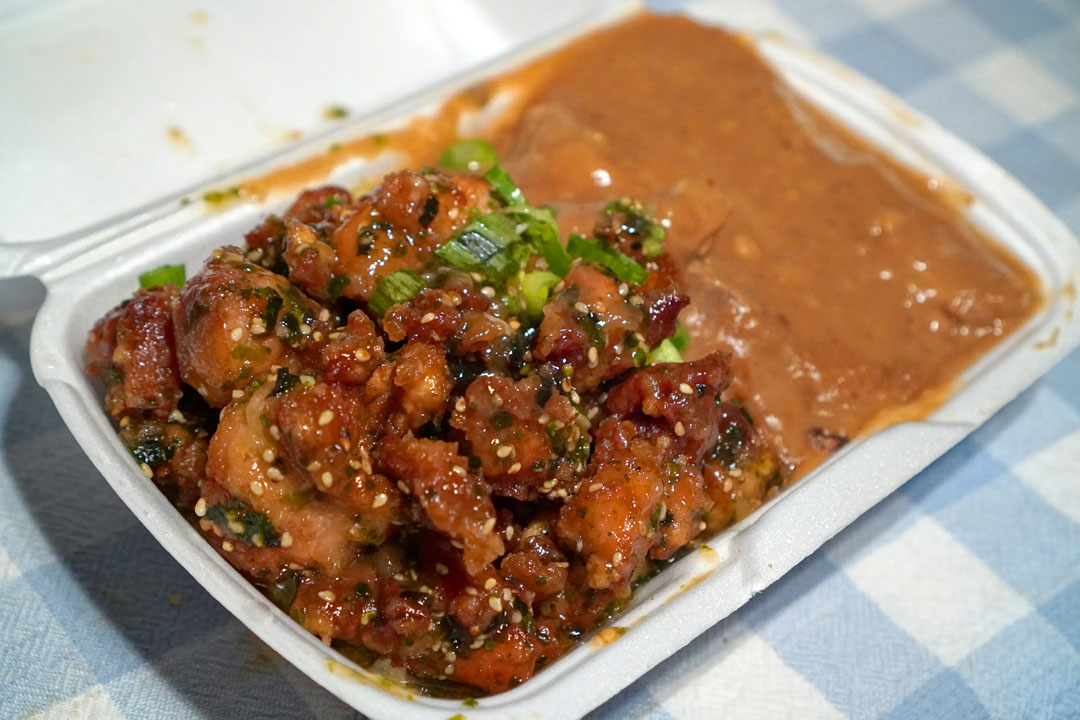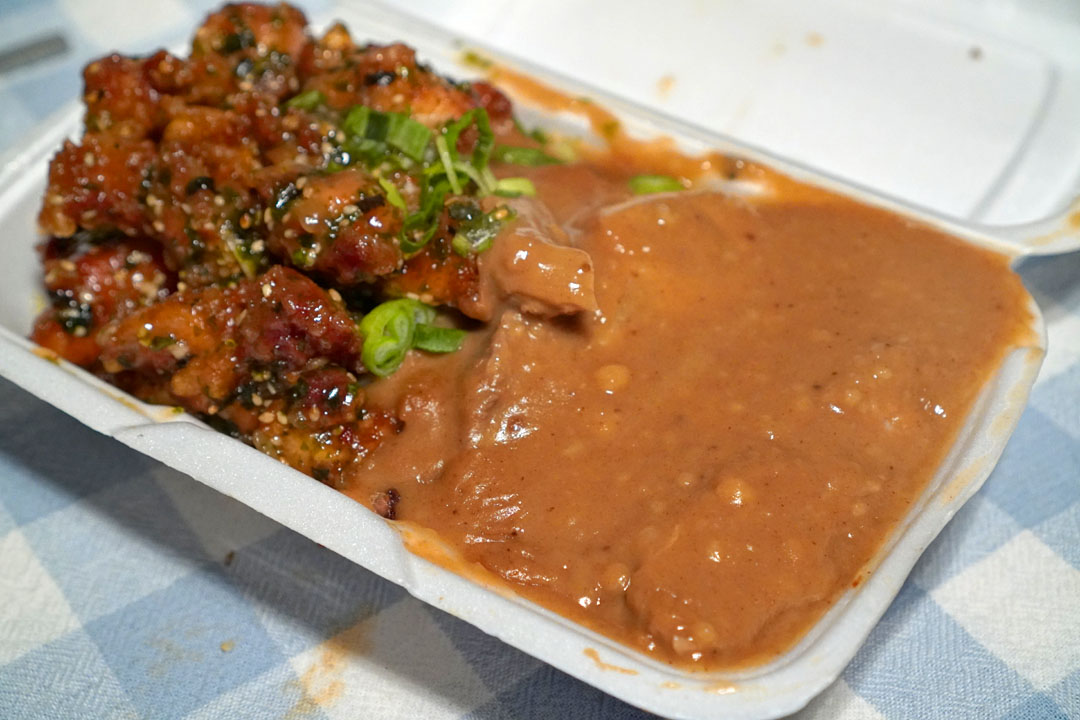 Mix Plate – Furikake Chicken / Hawaiian Style Roast Pork, Fries, Tossed Green Salad [$16.95]
| Deep fried boneless chicken thighs tossed in our savory homemade furikake glaze / Made local style with Hawaiian salt, cracked black pepper, thinly sliced and topped with our rich home-made brown gravy
Chunks of furikake chicken had assertively caramelized exteriors, though the bird could've been juicier, while its seasoning was very heavy on the seaweed and sesame. As for the roast pork, it was falling-apart tender, but was paired with a mildly spiced gravy that was reminiscent of elementary school cafeteria fare, and not in a good way. The fries were also a disappointment, arriving soggy and underseasoned. Do note that this plate was also supposed to contain a "tossed green salad," but it seems to have been forgotten.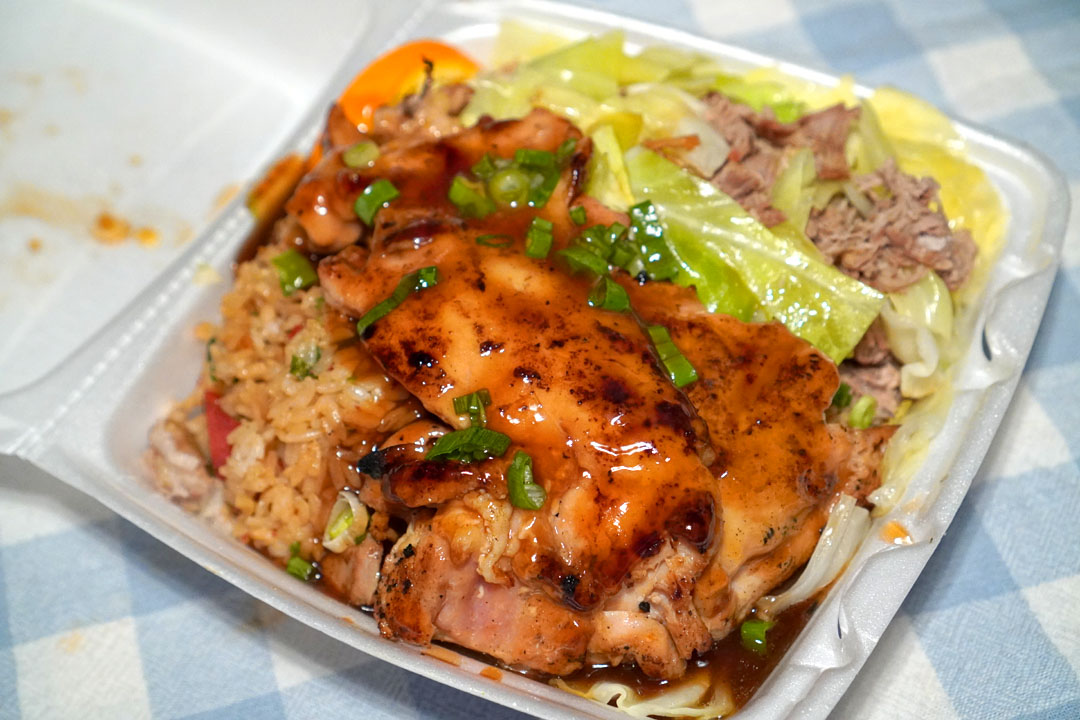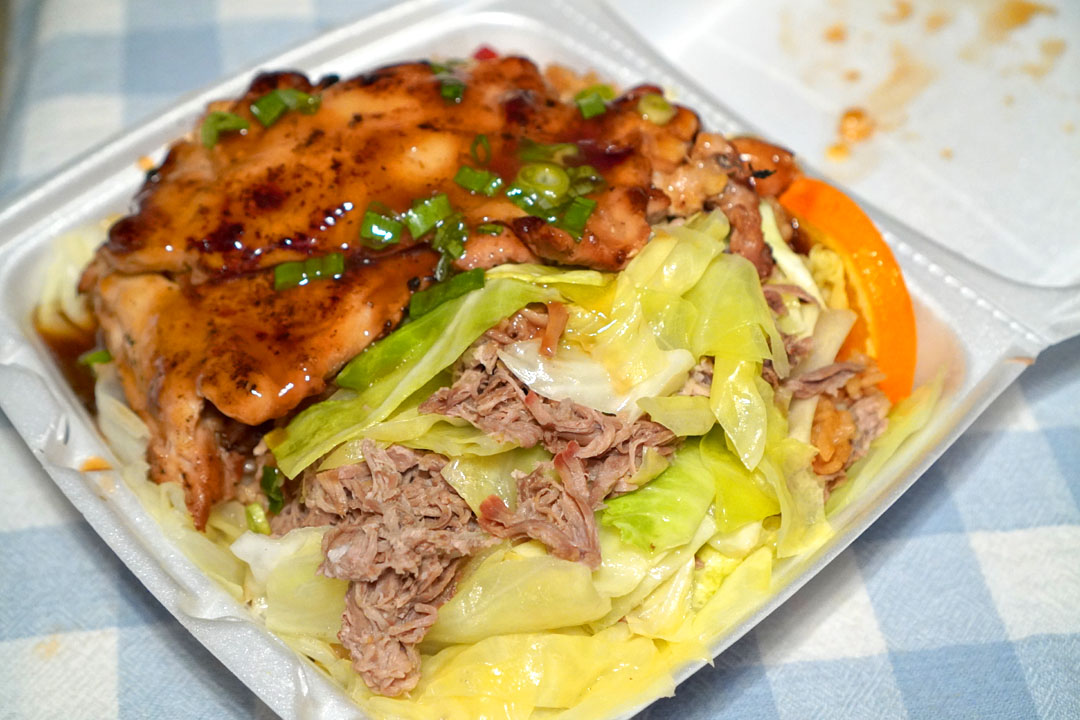 Mix Plate – Teriyaki Chicken / Kalua Pig and Cabbage, Fried Rice, Sauteed Fresh Vegetables [$16.95 + $3.50]
| Boneless, skinless chicken thighs marinated in our sweet and savory homemade teriyaki sauce / Kalua pork slow cooked till tender and juicy served with steamed cabbage and a touch of Hawaiian salt
The teri chicken was the most successful entrée this evening thanks to its tenderness, classic sweet-savor, and touch of char. The kālua pork was also enjoyable, and matched well with the mildness of the cabbage. This mixed plate also featured an upgrade to fried rice, and it was a solid rendition, stickier in texture, with a nice back-and-forth between char siu sweetness and the zing of scallion. The sautéed veggies on the side were also pretty nice, though I would've liked a firmer consistency on 'em.
This meal had its highs and its lows, but overall, I was left a bit disheartened, as there were simply too many concerns with the food to overlook. I don't quite understand all the praise that this place has gotten, but perhaps things have simply declined since new management took over.