Horses (Los Angeles, CA)
Horses Restaurant
7617 Sunset Blvd, Los Angeles, CA 90046
www.horsesla.com
Sun 04/30/2023, 06:05p-08:45p

I'd posit that
Mother Wolf
has been the buzziest Hollywood restaurant debut of recent times, but Horses just might be number two. The spot offers Cal-inflected French bistrot fare (or French-inflected Cal café fare?), and comes to us from the (ex-?) wife-and-husband team of Liz Johnson and Will Aghajanian, two names that you might not be too familiar with, but who definitely boast an impressive résumé between them.
About the Chefs
: A New York native, Elizabeth Johnson was born in 1991 and started her culinary career at the age of 15 at a deli. She quickly took a liking to the industry, and thus finished high school early the next year and began taking cooking classes at Schenectady County Community College. This led her to the Culinary Institute of America, from which she graduated in 2010. Following, Johnson moved to Boston to work at Toro, a tapas bar from Ken Oringer and Jamie Bissonnette, but later returned to NYC for a post at Má Pêche. Her tenure with
David Chang
was brief though, as she'd already been offered a
stage
at Noma by this point. However, she spent even less time at Noma (about a month or so), since she wound up meeting and falling in love with Aghajanian at the Copenhagen restaurant, and the two departed early to travel together.
William Aghajanian, meanwhile, was also born in 1991, and grew up in the Washington DC area. His first foray into the kitchen came when he was 11, but he got more serious about the craft while working at
Eric Ziebold
's CityZen at the Mandarin Oriental for five years (he started there at age 13 apparently). He then cooked at Cork Wine Bar circa 2009, but eventually made his way to Andoni Luis Aduriz' much-lauded Mugaritz before landing at Noma and meeting his future wife.
The couple ate their way around Europe, and Johnson subsequently cooked for a bit in Charleston, but didn't enjoy her experience in the city. She thus moved to Chicago to be with Aghajanian, and worked at Grace under Curtis Duffy, while he was at
L2O
under Matthew Kirkley. From there, the duo went to Japan for over half a year, where they cooked at Shinobu Namae's L'Effervescence in Tokyo. After returning to the States, they stayed in DC for a brief period and worked at
José Andrés
' flagship
Minibar
to save up some money. Johnson and Aghajanian then relocated back to New York; she got a pastry job at Empellón Cocina, and he landed a gig at
Per Se
(he even received a
Ment'or grant
while working there).
Johnson then took an offer to serve as opening chef of Mimi, a new French eatery in Greenwich Village started by some unexperienced restaurateurs. She opened the restaurant in October 2015 at the age of 24, will Aghajanian helping out while he was still cooking for Thomas Keller. Things were slow at the beginning, but the place eventually found its rhythm and started racking up the accolades. Despite the acclaim though, the pair decamped from Mimi in November 2016, and following, enjoyed some traveling in Spain (which included a meal at the famed Bodega El Capricho).
And this brings us to LA. After getting back from Spain, Johnson was hired to open Freedman's, a sort of new wave Jewish deli in Silver Lake. The place debuted in November 2017 and was largely well-received, even earning her a "Rising Star Chef of the Year" semifinalist nomination from James Beard the following February and a "Best New Chef" nod from
Food & Wine
in May. However, in spite of all the commendations, Johnson left the restaurant in June 2018 (ownership has since turned the spot into a Greek joint called Greekman's).
In December 2018, it was revealed that Aghajanian and Johnson would be taking the reins at The Catbird Seat in Nashville (replacing Ryan Poli), starting in February. The duo's avant garde cooking was able to earn them a James Beard "Rising Star Chef of the Year" semifinalist (and later finalist) nomination in February 2020. But shockingly, soon after the Beard announcement, news broke that the two had been let go from the restaurant for undisclosed reasons, and that a replacement had already been hired.
And this brings us back to LA. Johnson and Aghajanian returned to Southern California following their ouster, and by the end of 2020, had become partners at Horses, teaming up with Stephen Light, Ryan Gies, and Michael Belloli (plus Ken Friedman?). Work on revamping the former Pikey space soon began in earnest, and the new restaurant grand-opened on October 6th, 2021 with Brittany Ha and Lee Pallerino (Roberta's alums who are also married to each other) running the kitchen day-to-day, Josh Filler (also Roberta's) as sous, Hannah Grubba (
NoMad
) handling pastry, and Terence Leavey (Laurel Hardware,
Vespertine
,
CUT
,
Spago
) in charge of the FOH/wine.
Horses was a hit pretty much right out of the gate, and given its smashing success, a follow-on eatery called the Garden at Horses (set in an attached courtyard) dropped back in September. In addition, Johnson and Aghajanian were reportedly in talks to take over Chumley's, a historic speakeasy in NYC's West Village, with plans to transform it into a new spot called Froggy's, though those plans seem to have been put on hold.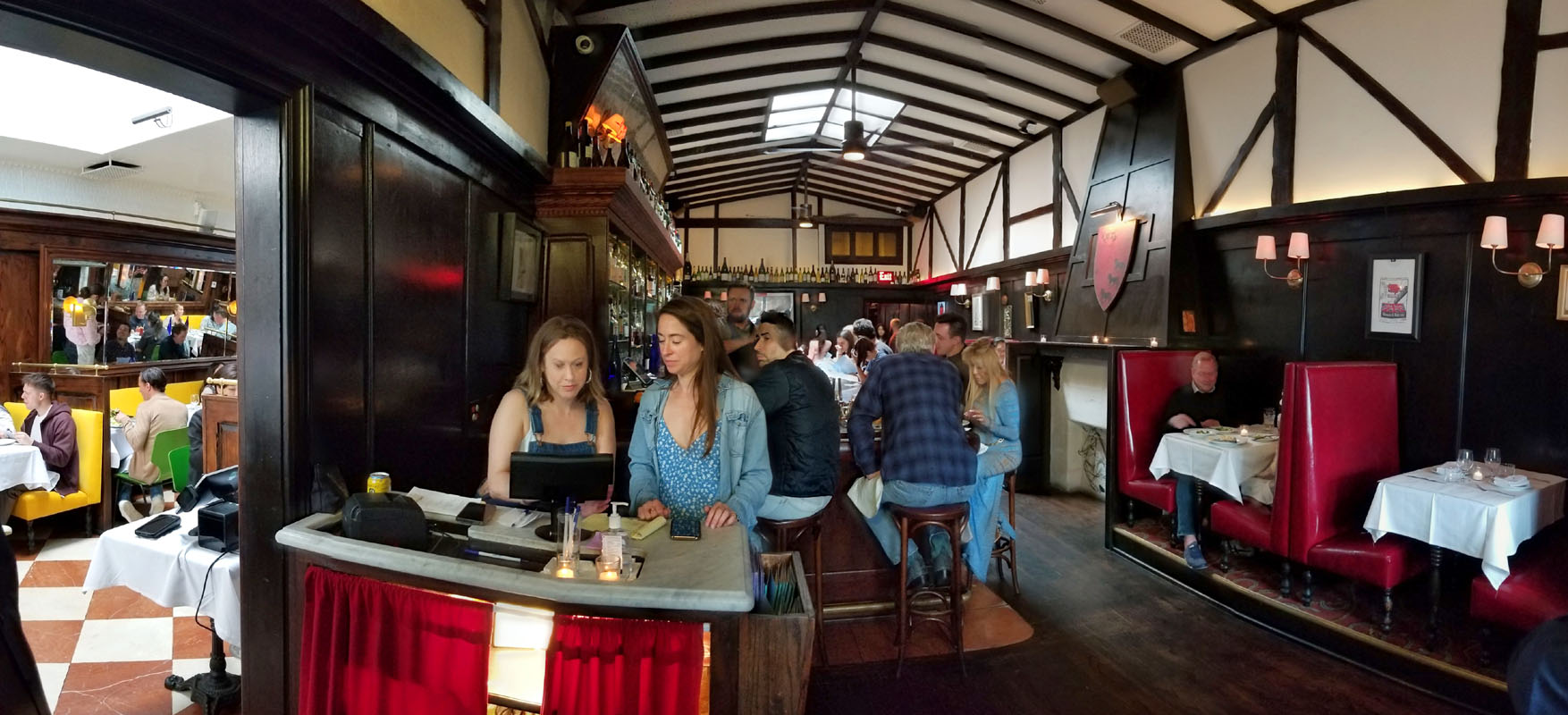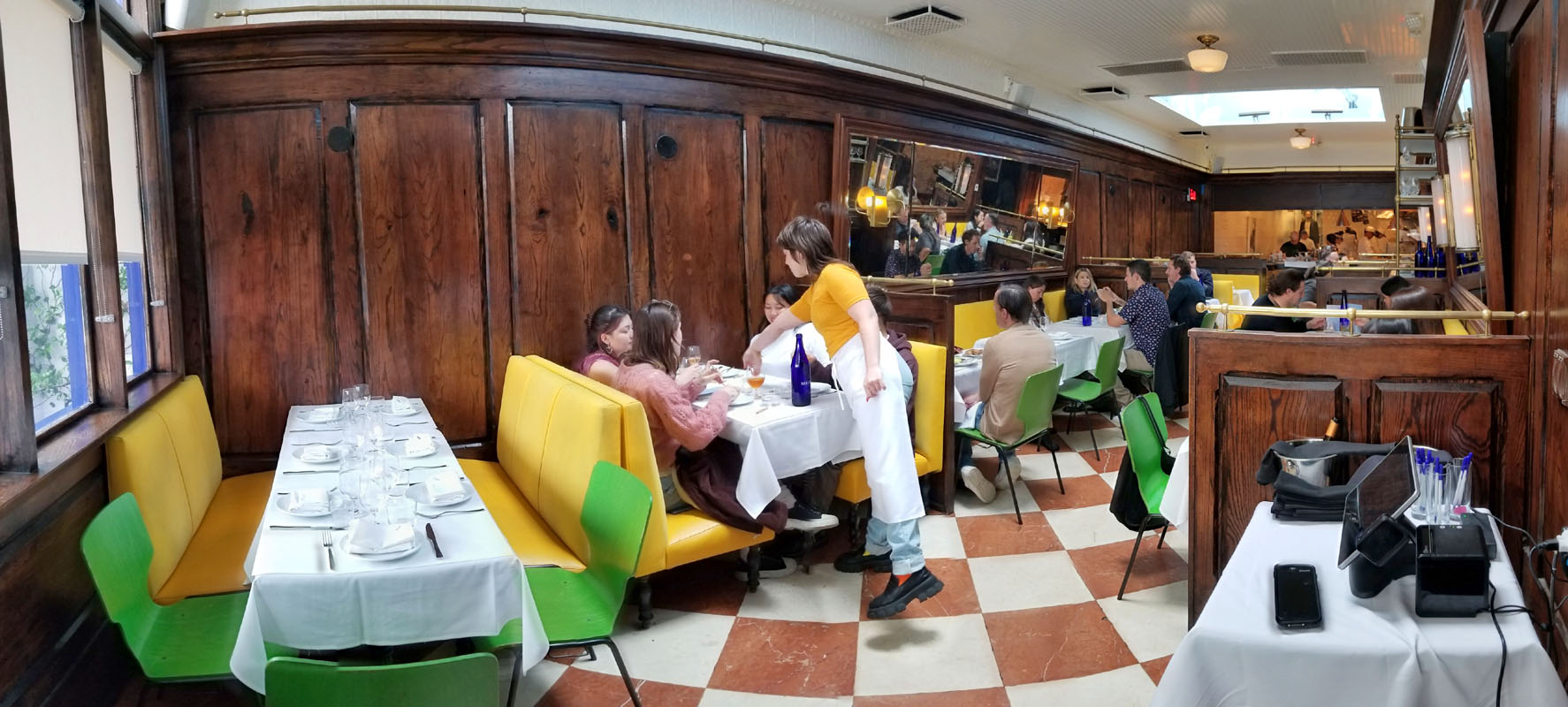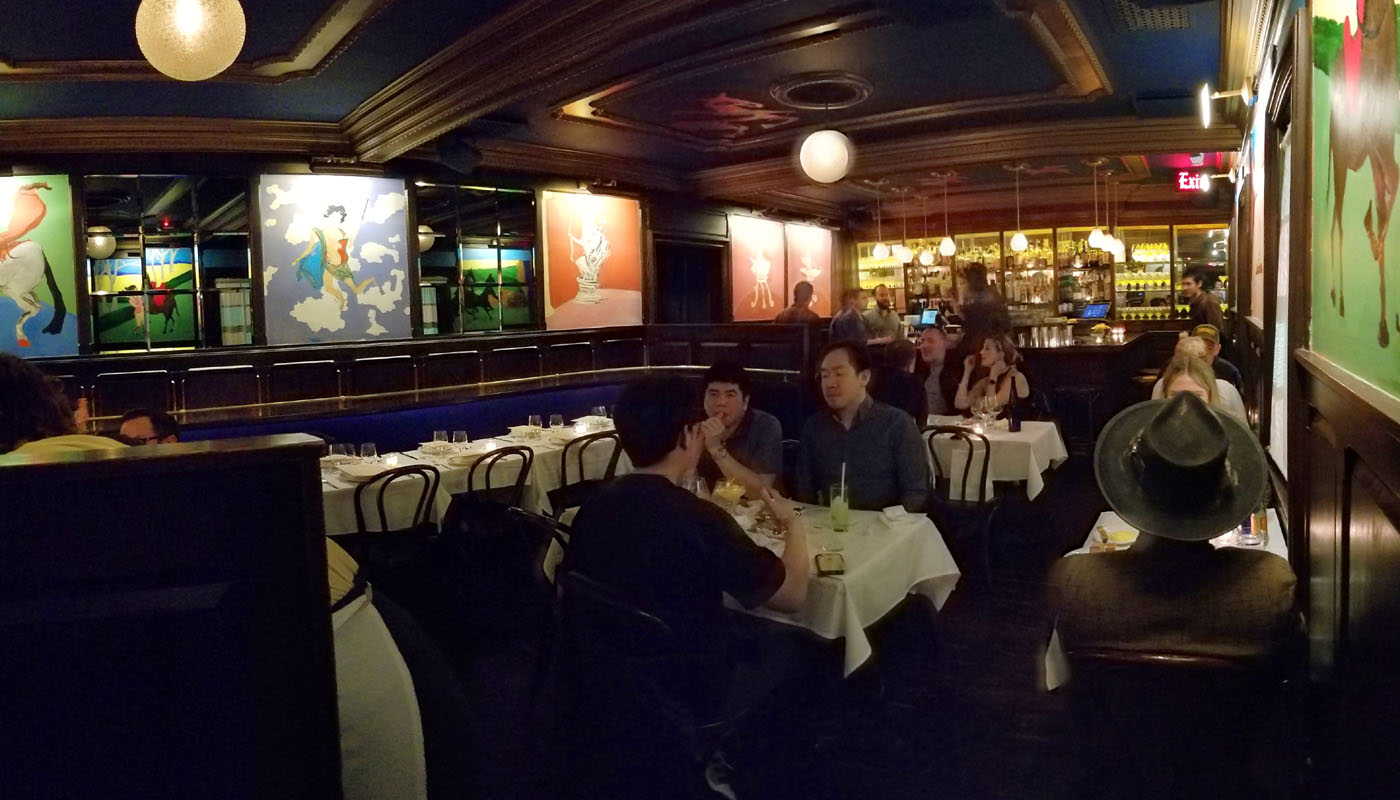 As mentioned above, Horses replaces The Pikey, but The Pikey actually combined two storefronts into one: the historic Ye Coach & Horses (open 1937) on the right, as well as the old Curry Palace/Balti House on the left. Thus, there are three dining rooms: the more famous wood-swathed, British pub-like room that was Ye Coach & Horses (a.k.a. The Drinkery); the much brighter, more colorful Sunshine Room where the Indian eatery used to be; and the moodier Kacper's Room in the back, which features Kacper Abolik art adorning the walls (and its own bar). Total capacity is roughly 100 (with 20% being at the bars).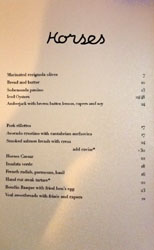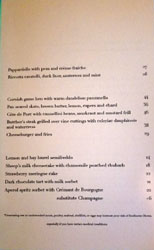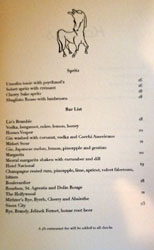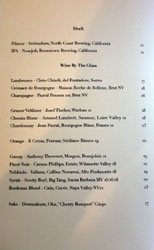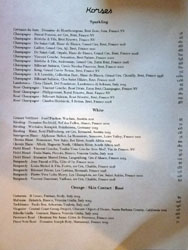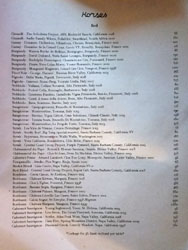 Pictured above is the menu, which does indeed read like a mash-up of a California café and a French bistro. Drink-wise, you get a small cocktail list mostly riffing on the classics from Steve LaFountain (
Cliff's Edge
,
The Standard
, Beacon, Ammo), a couple beers, and a slightly esoteric-leaning wine list curated by Leavey. Corkage is $45, limit two. Click for larger versions.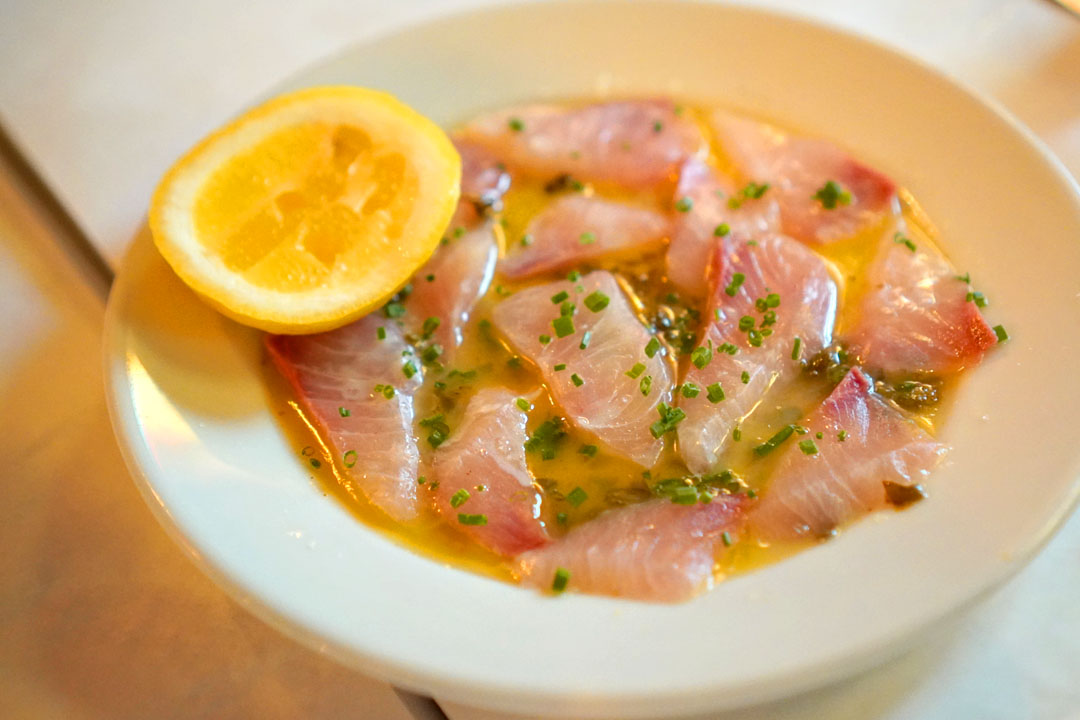 Amberjack with brown butter, lemon, capers and soy [$24.00]
I'm no stranger to kanpachi, but this is the first time I've seen the raw fish combined with such heavy accompaniments. However, it was a smart pairing, since the clean nature of the amberjack really lent itself well to the sheer richness of brown butter, while the soy sauce imparted additional umami and the lemon a hit of acidity. A promising start for sure.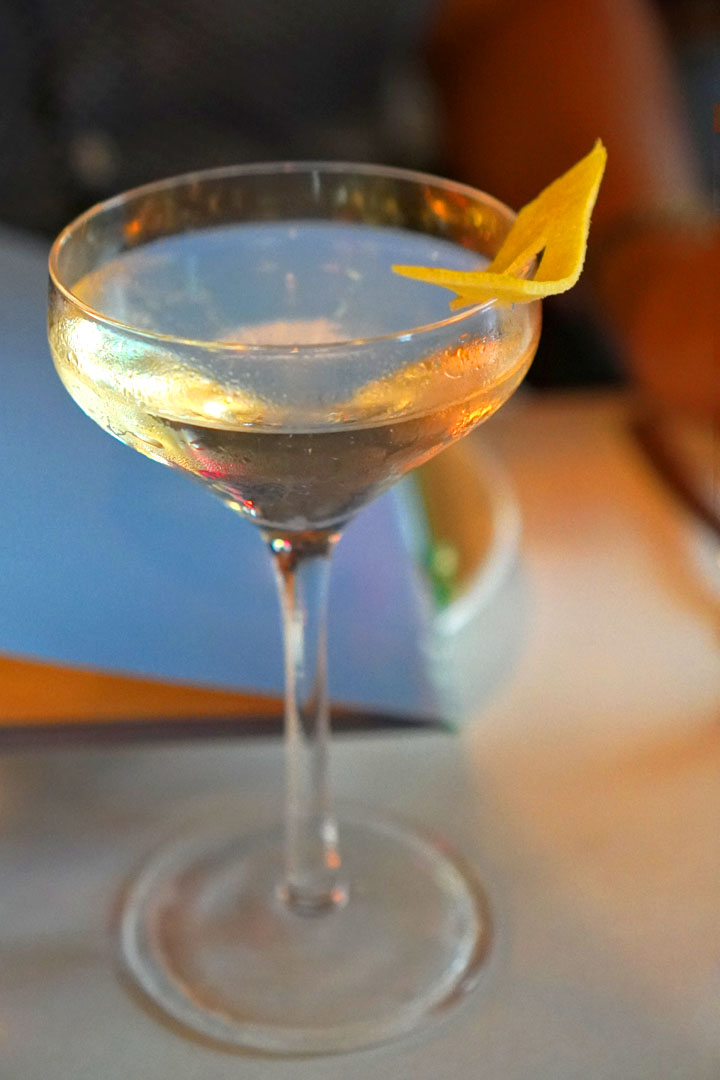 Horses Vesper [$22.00]
| Gin washed with coconut, vodka and Cocchi Americano
We opted for cocktails tonight, and this riff on the classic Vesper martini was decidedly gin-forward, but with just enough of the coconut peeking through and working hand-in-hand with the bittersweet Americano.
Smoked salmon lavash with cress [$24.00]
Given my propensity for smoked salmon, this was a must-try. It didn't let me down, with the refined smoke of the fish marrying perfectly with zippy cress and a distinctly creamy element. I was a fan of the textural juxtaposition from that thin, cracker-y lavash, too.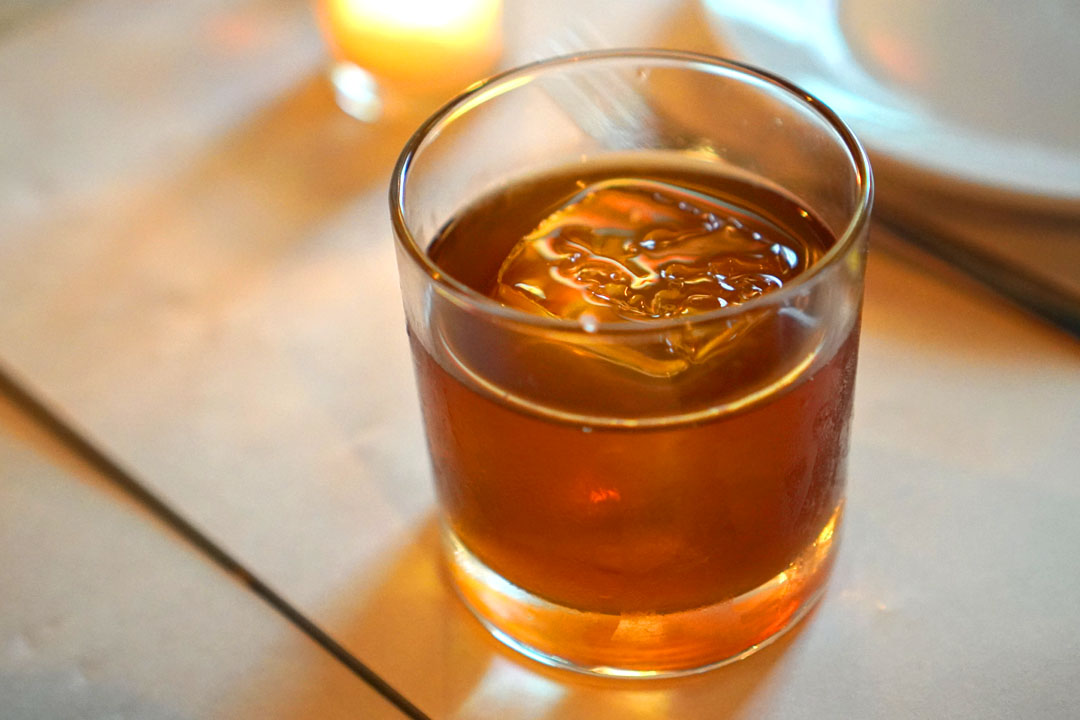 Sioux City [$23.00]
| Rye, Brandy, Jelinek Fernet, house root beer
Our next cocktail featured a robust nose highlighting dark fruits, while its palate was on the thicker side, offering a healthy dosing of bittersweet, medicinal flavors tinged with spice.
Pork rillettes [$17.00]
This was a pretty masterful preparation of rillettes. I was a fan of the meat's super smooth consistency, while its rustic, overt porkiness meshed beautifully with the tang of mustard and cornichon. I got a nice crunchy counterpoint from the toast, too.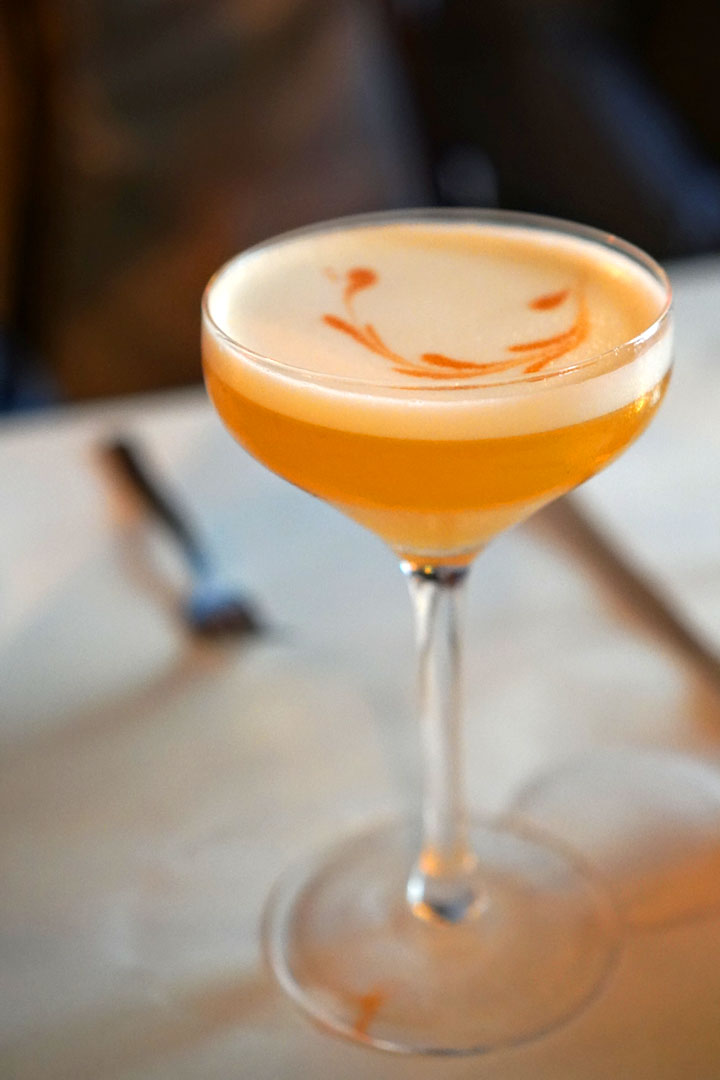 Hotel Nacional [$19.00]
| Champagne rested rum, pineapple, lime, apricot, velvet falernum, bitters
A variation on the classic daiquiri, this cocktail delivered delightfully sweet, tropical fruit flavors that were dutifully offset by just enough astringency.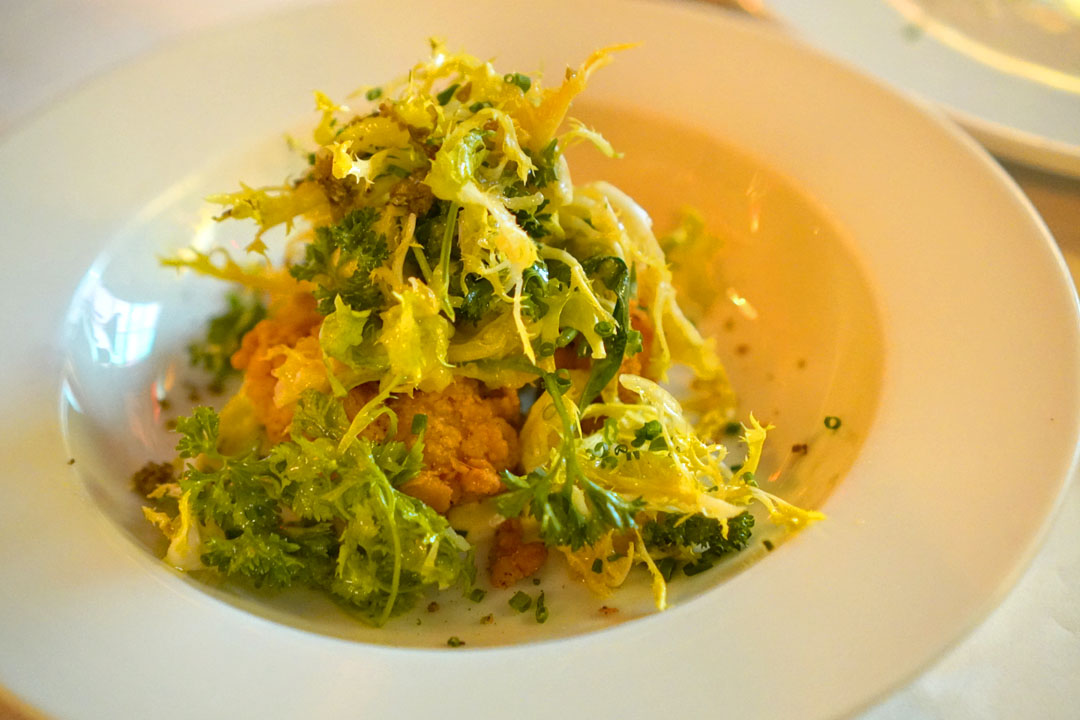 Veal sweetbreads with frisée and capers [$21.00]
Sweetbread arrived perfectly textured, with a crisp, almost fried chicken-like exterior, while its insides were tender and creamy. The offal's delicately gamey flavor profile was also spot-on, and melded like clockwork with that light, bright greenery.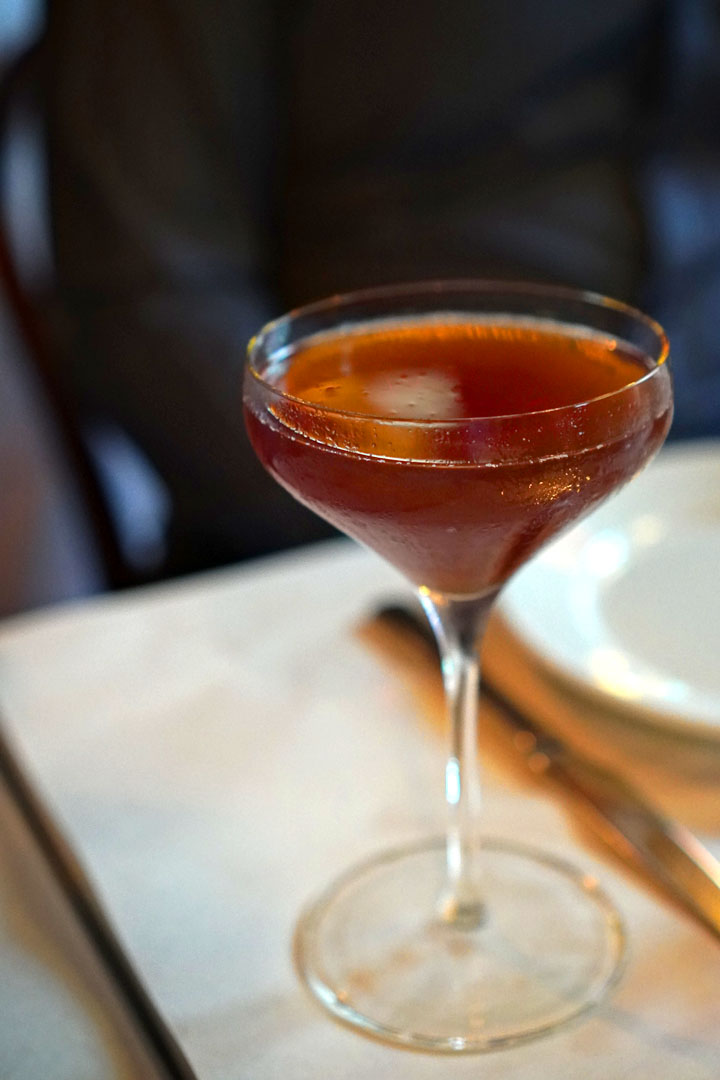 The Hollywood [$21.00]
| Michter's Rye, Byrrh, Cherry and Absinthe
This next cocktail was a winner as well, a great commixture of soft-n-sweet and sharply herbaceous, all perked up by a hint of zingy absinthe.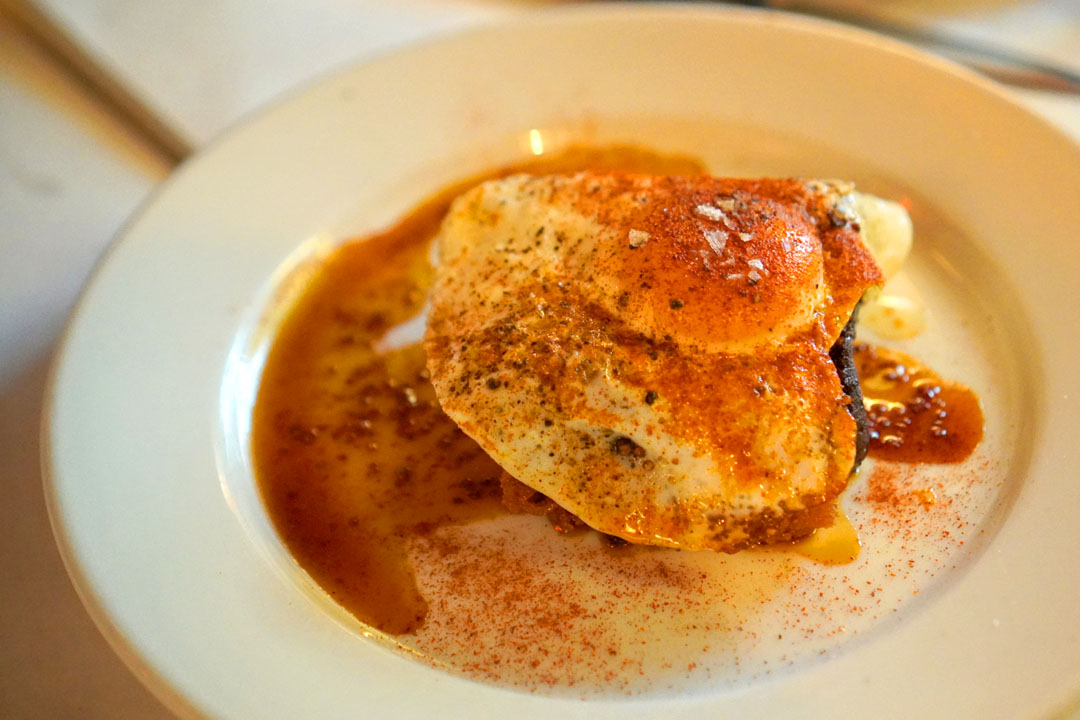 Boudin Basque with fried hen's egg [$23.00]
Here we have some of the best blood sausage I've tried. I was smitten by the potent-yet-polished earthiness of the boudin--along with all of its crispy bits--and how it paired with the lusciousness of that fried egg. Yum.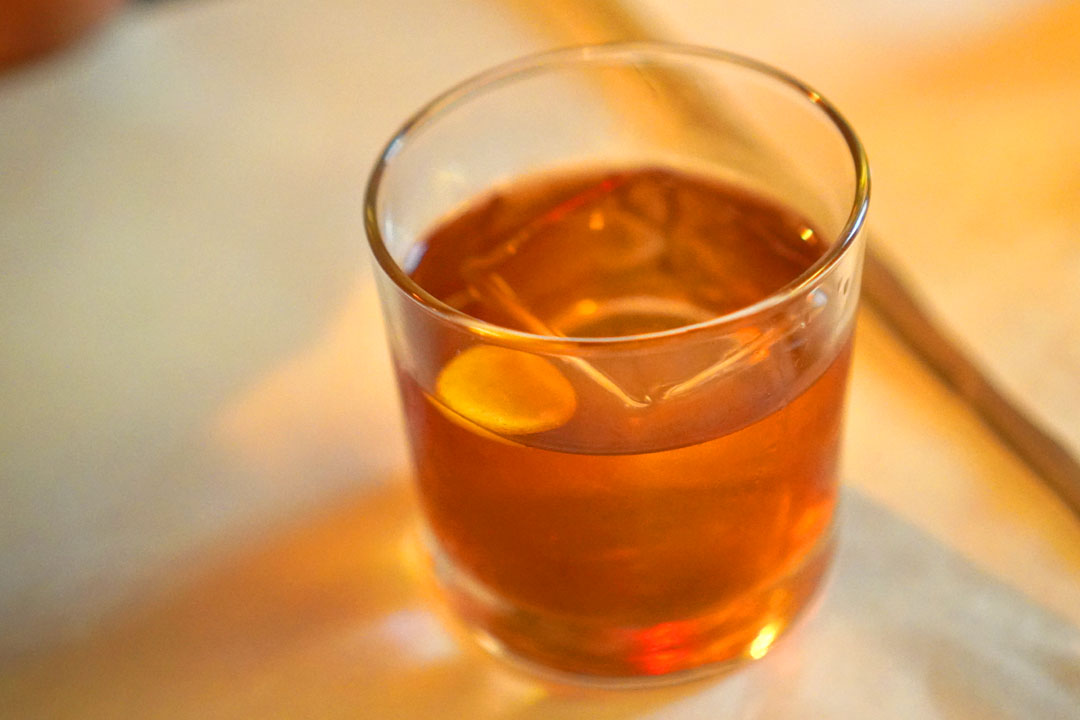 Boulevardier [$18.00]
| Bourbon, St. Agrestis and Dolin Rouge
This boulevardier variation was a welcomed play on the original cocktail. I got a nose teeming with what seemed like brown butter, while the drink was viscous and palate-coating, with herbs, spices, and the expected bittersweetness on proud display.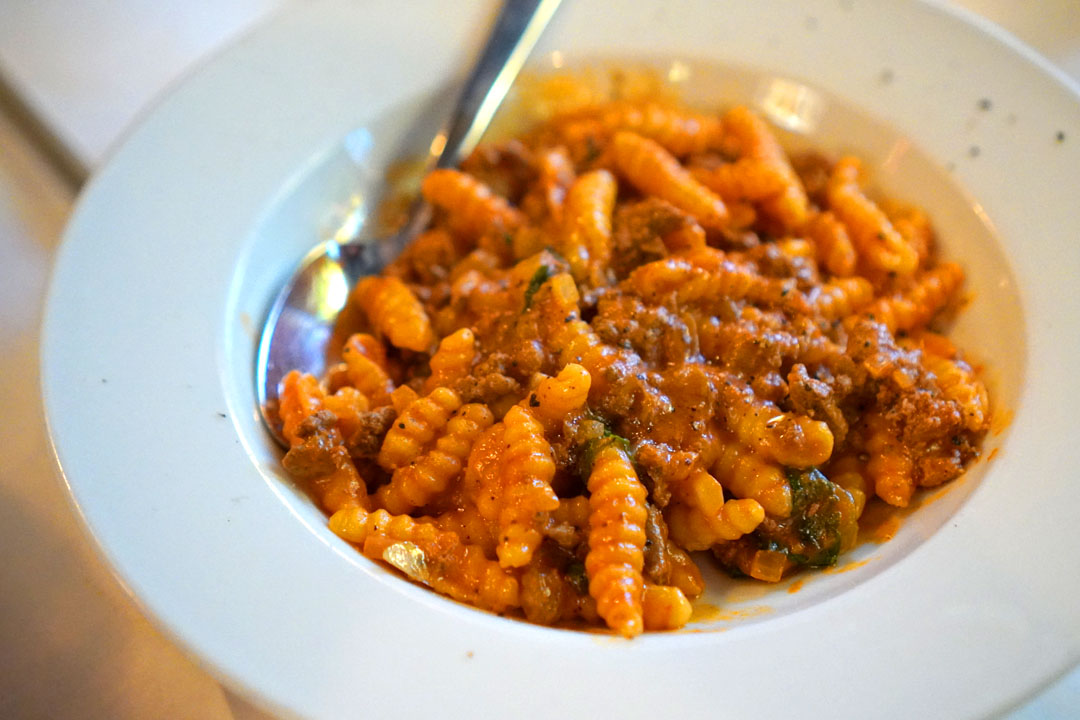 Ricotta cavatelli, duck liver, sauternes and mint [$28.00]
One of my favorite pasta shapes, cavatelli arrived well-textured tonight, with the right amount of chew. However, the star of the show here was clearly the liver, with its robust flavors that matched beautifully with the sweetness of Sauternes.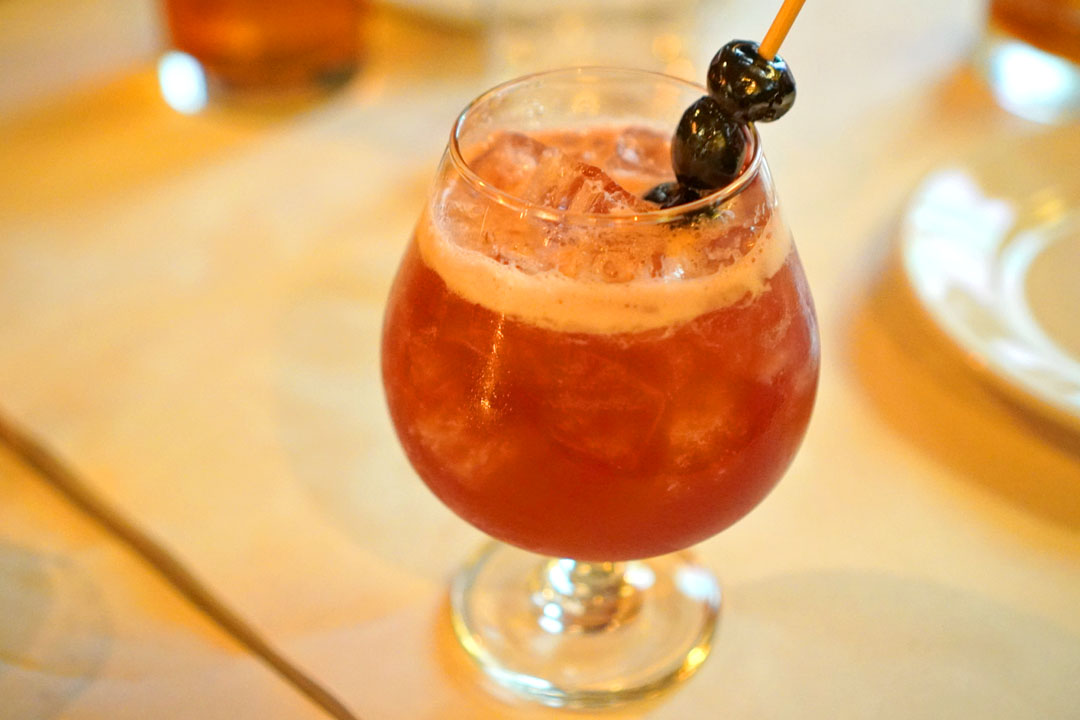 Cherry Sake spritz [$18.00]
This rather heady version of a spritz cocktail showcased loads of deep, intense cherry notes, tarted up by an almost absinthe-like edge that kept the sweetness in check.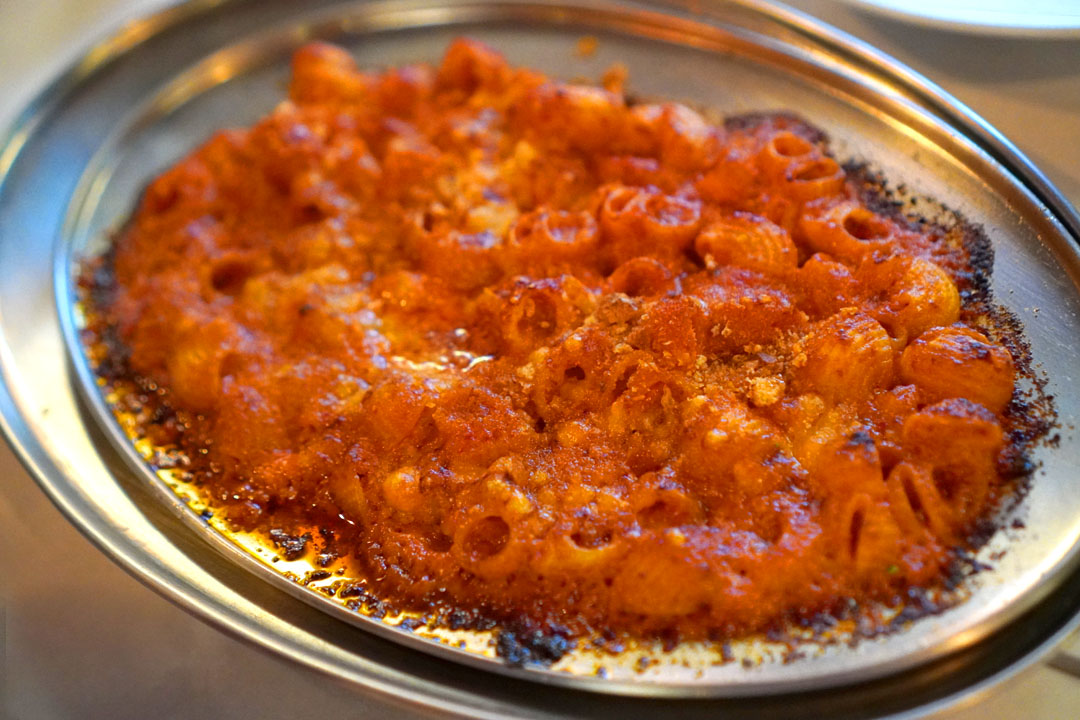 The Herman [$33.00]
Horses is rather well known for its off-menu spicy vodka baked pasta, so naturally we had to give it a go. I was a big fan of all the crispy bits and the texture on the pasta shells, while the dish's sweet-savory flavors were utterly cozy and familiar.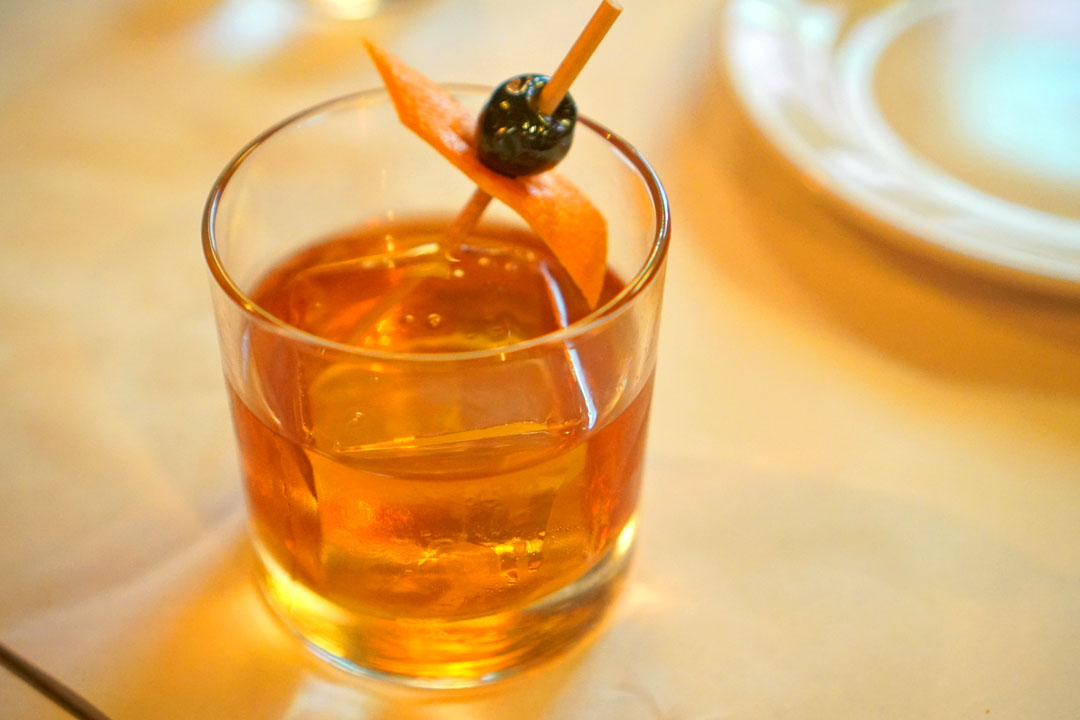 Old Fashioned [$18.00]
One of my dining companions requested Horses' version of the most classic of cocktails, and the bar came back with this, which incorporated Four Roses bourbon. It was just what you'd expect, highlighting the nature of the whiskey, but supported by candied nuances and the proper application of herb and bitterness.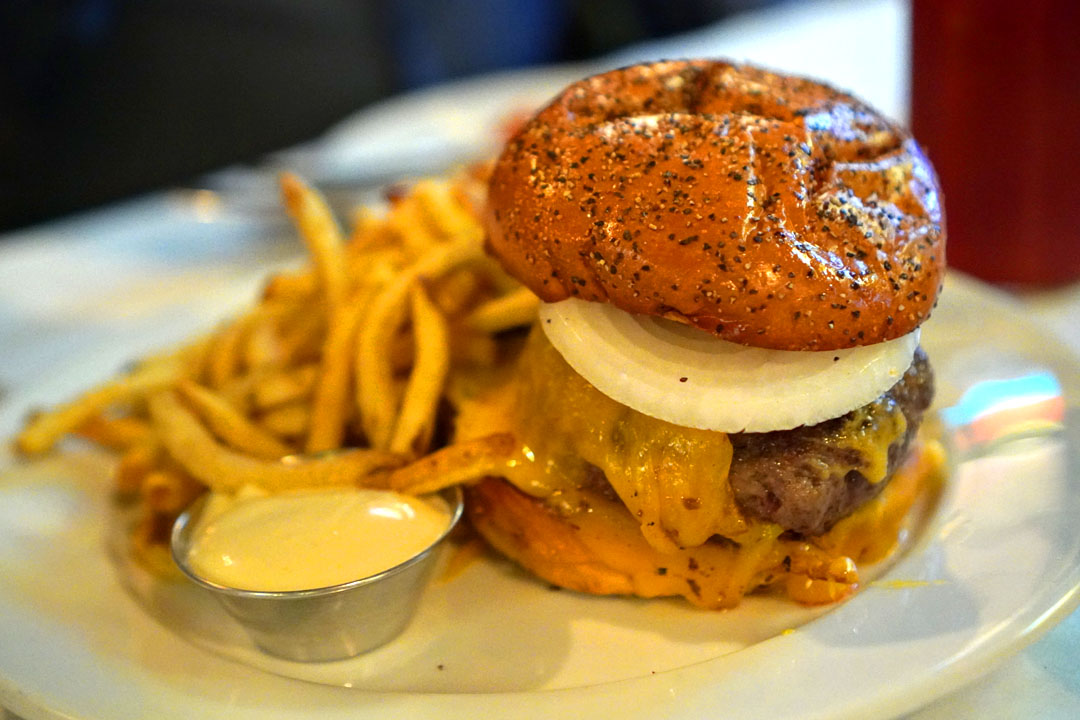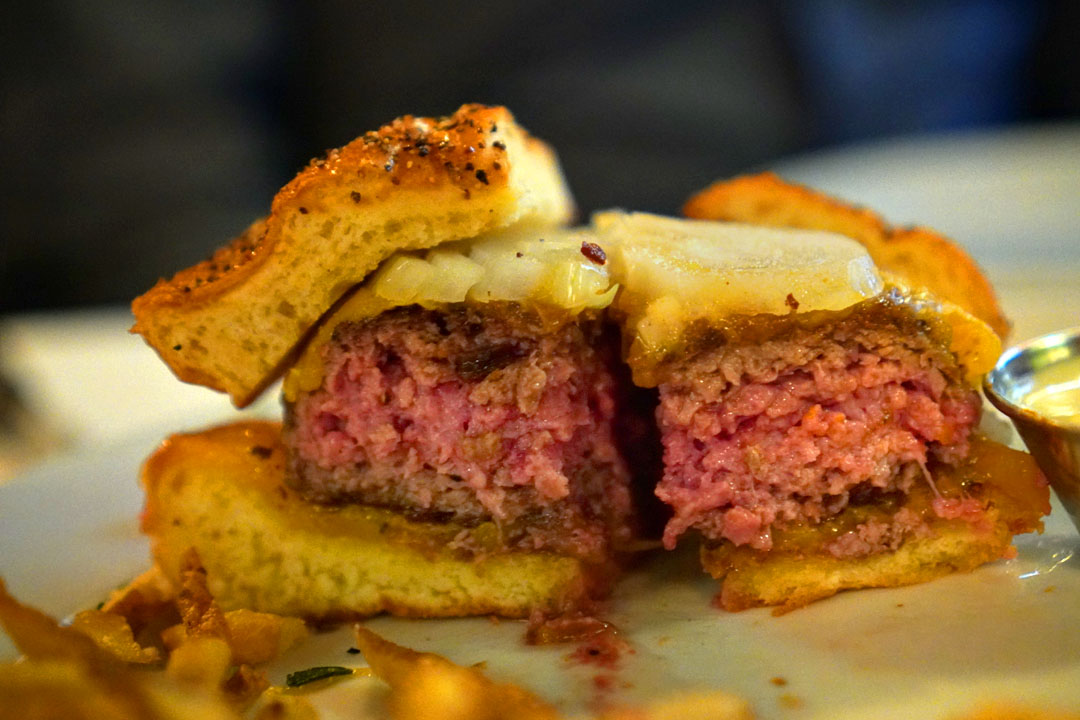 Cheeseburger and fries [$29.00]
The burger was another standout, and probably one of the best I've eaten. The key here was really the back-and-forth between that thick, juicy, unabashedly beefy patty and the kick of the onions, all while the cheese tied everything together. As for the fries, think pretty much perfectly salty and crispy, and delish either with or without the included condiment.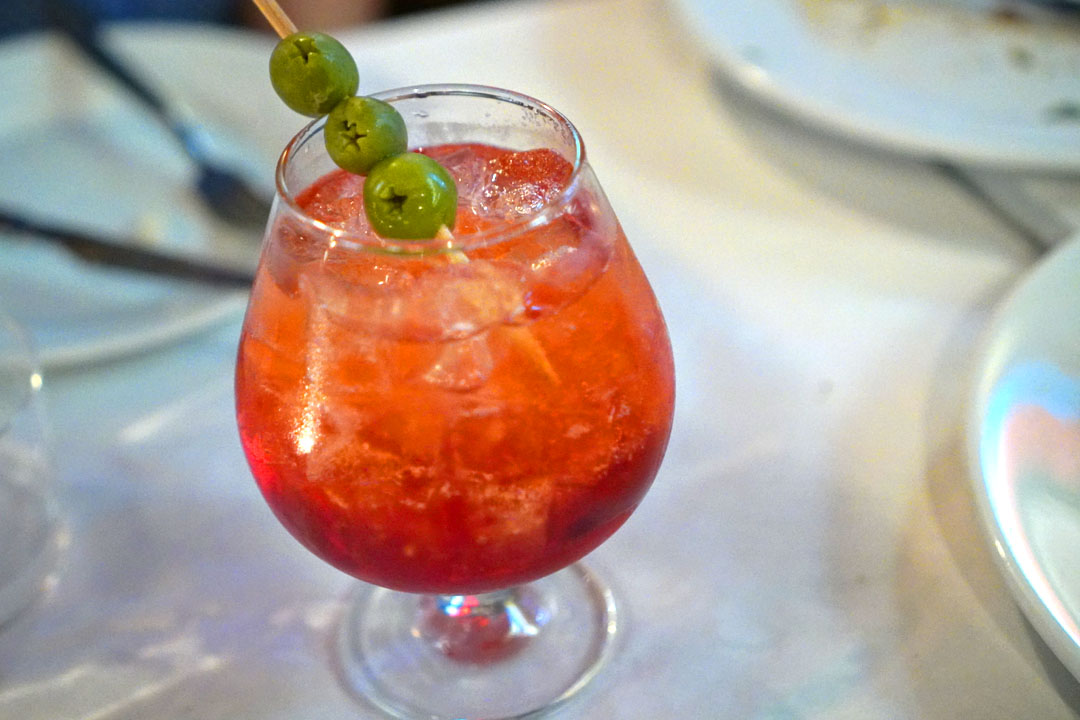 Select spritz with crémant [$16.00]
Our second spritz was invigorating, and really let the sparkling wine shine. Great addition of olives, too.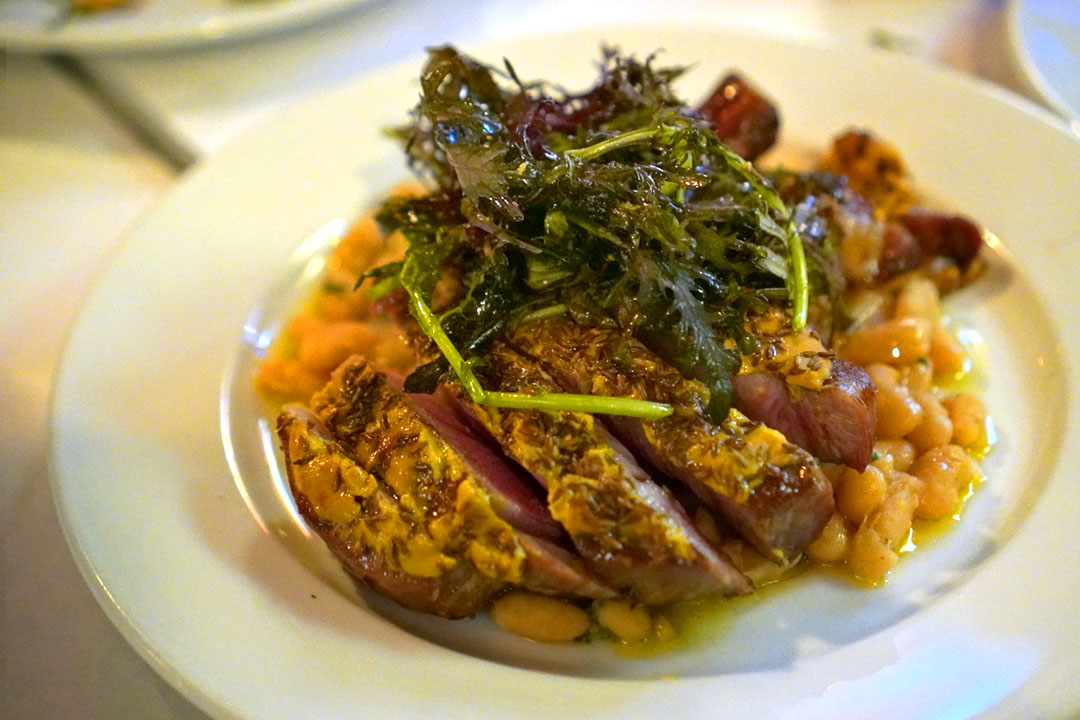 Côte de Porc with cannellini beans, sauerkraut and mustard frill [$46.00]
The pork chop was another favorite, and again likely one of the best I've had. I loved how supple and juicy and fatty and flavorful the meat was, but its spicing (incorporating cumin?) really took things over the top. I also appreciated the contrast imparted by the mustard greens, while the beans grounded and tempered the dish.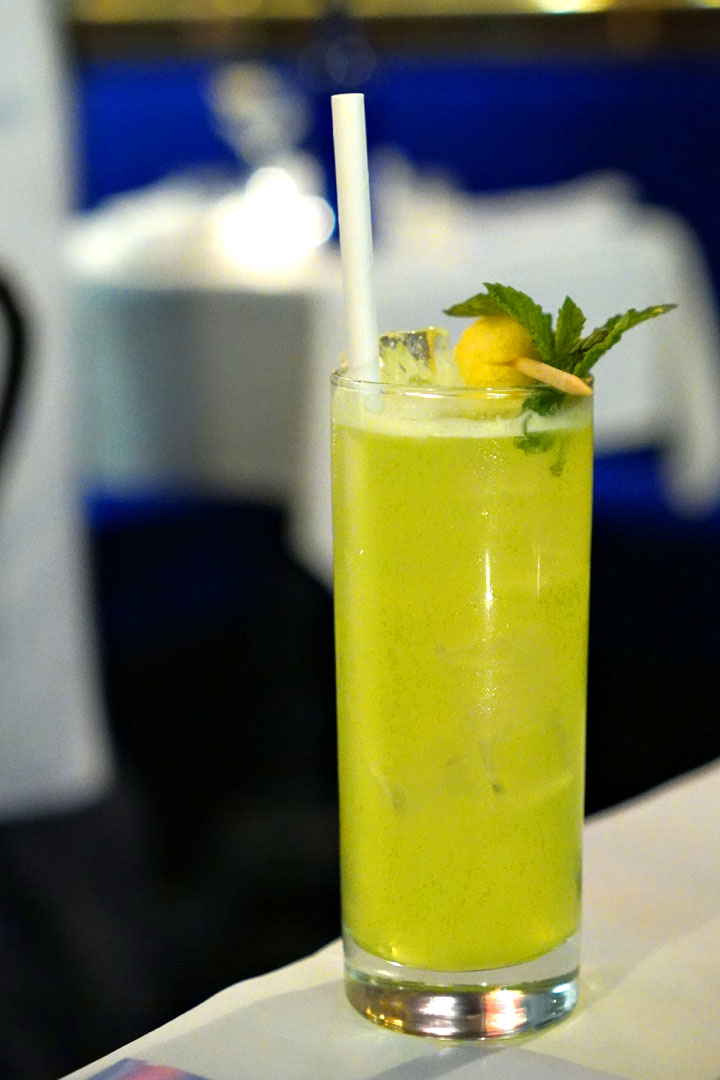 Midori Sour [$21.00]
| Gin, Japanese melon, lemon, pineapple and gentian
A reimagined Midori sour featured sophisticated melon flavors offset by nutty, astringent elements.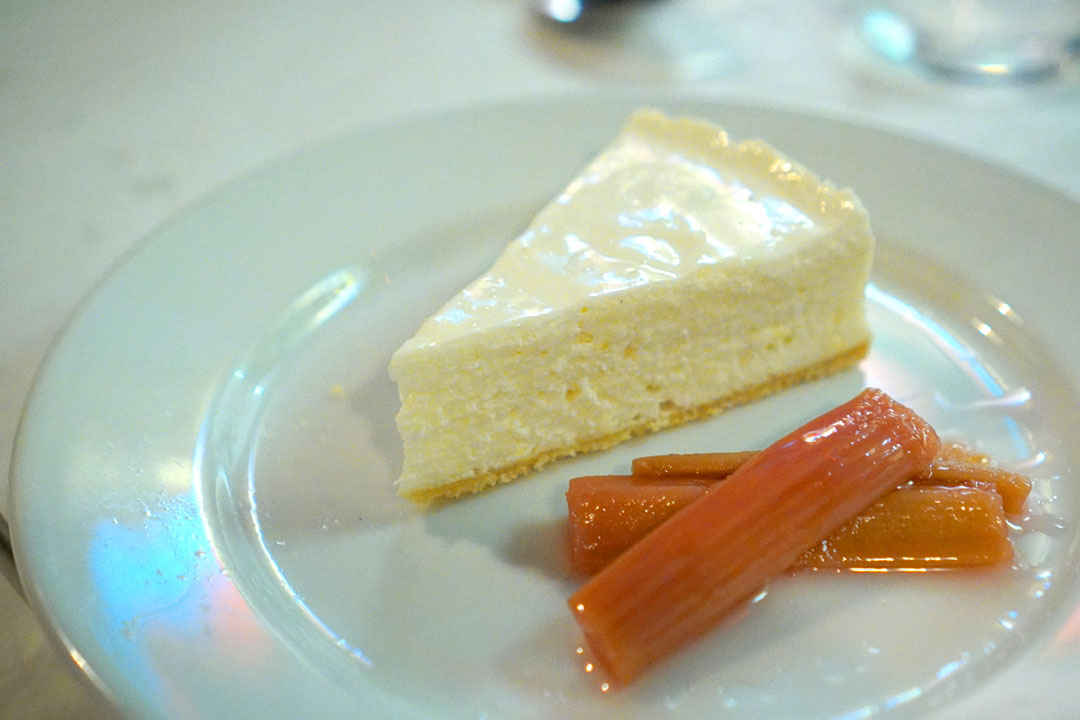 Sheep's milk cheesecake with chamomile poached rhubarb [$18.00]
A straightforward cheesecake was just what I wanted, coming out all creamy and luscious, with a nice crust to boot, along with a tangy, floral-fruity complement from the rhubarb.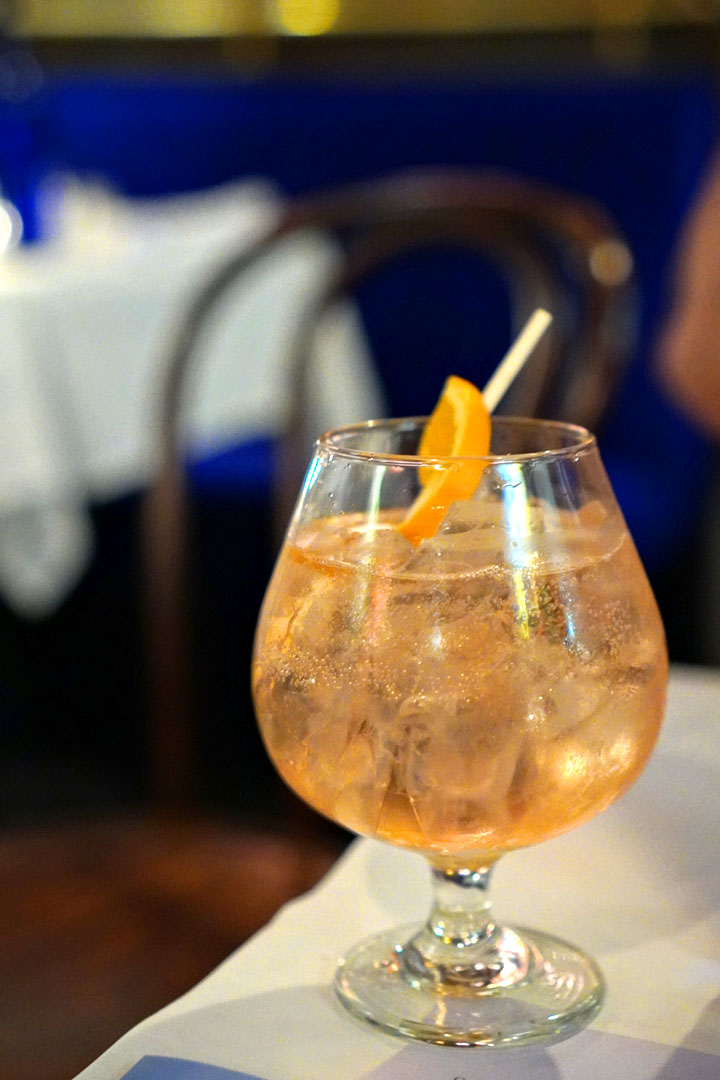 Umeshu tonic with peychaud's [$16.00]
The evening's final cocktail was brisk and bracing, but also had this savory, almost funky undercurrent to it that I wasn't quite expecting.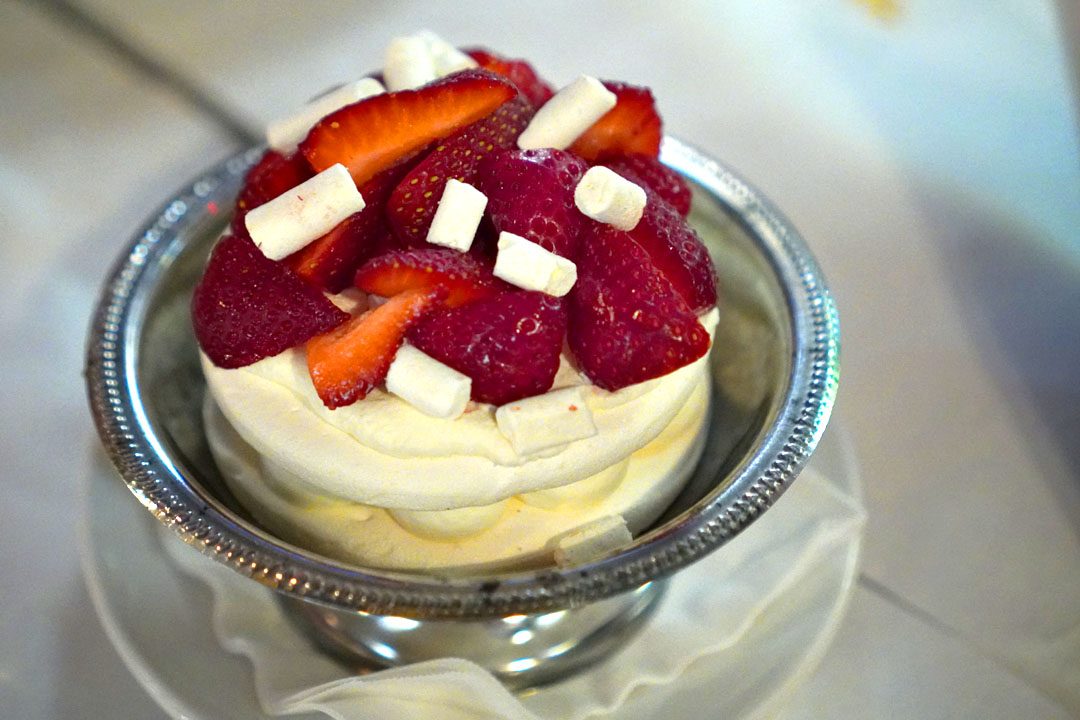 Strawberry meringue cake [$22.00]
This was my favorite of the desserts, and showed off delectable strawberry flavors set against a touch of salinity from the meringue. Lovely textures, too.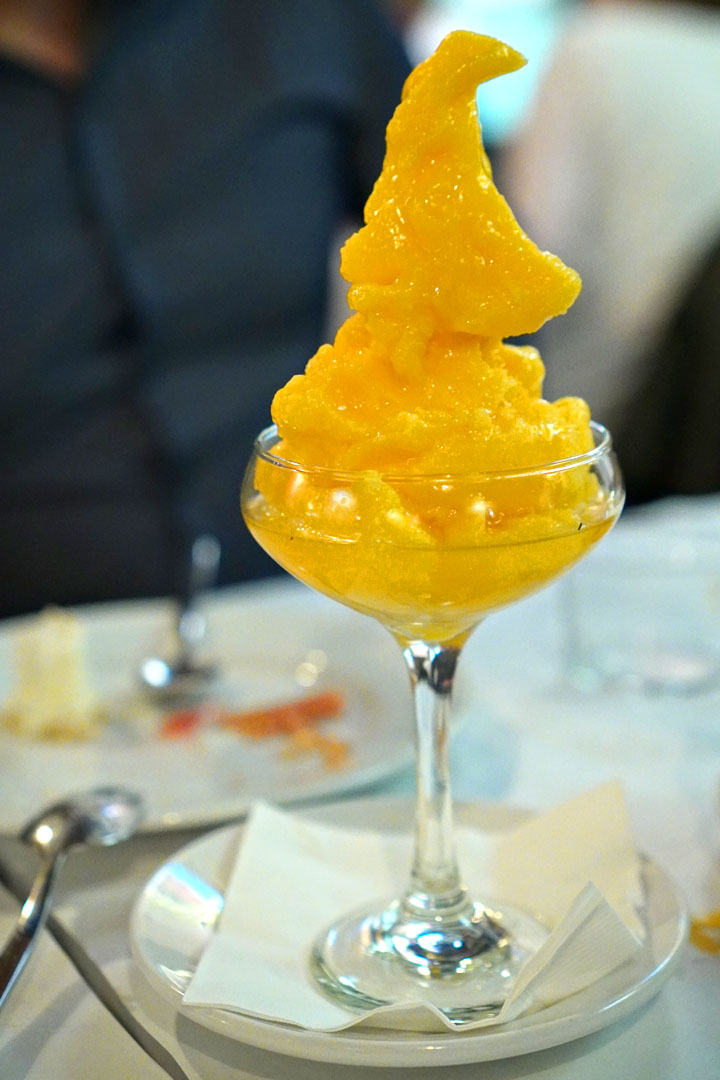 Aperol spritz sorbet with Crémant de Bourgogne [$22.00]
Last up was this boozy sorbet, which demonstrated some tasty citrus flavors and a sour plum-esque complexity.
There's been a lot of hype and hoopla surrounding Horses, but I'm glad to report that the restaurant managed to meet those lofty expectations. The spot is an energetic expression of a modern European bistro, with cooking that's straightforward, honest, executed with aplomb, and uncompromisingly delicious. Due to the difficulty of securing a reservation, it took me a while, but I'm really glad I finally made it out here, and with fortuitous timing too, given the recent bombshell news regarding the restaurant.
In case you haven't already heard
, Johnson and Aghajanian are reportedly in the midst of a messy divorce, replete with allegations of abuse and animal cruelty; Aghajanian apparently hasn't been involved in the business since November. Given this turmoil, I'm a bit surprised that our meal was as good as it was; the staff didn't really miss a beat in terms of either food or service. My guess is that Horses is not long for this world, sadly, but I'm hopeful that the team can somehow keep it going, even if it's without the founding Chefs. I guess we'll have to see how this all shakes out.