Kato (Los Angeles, CA) [4]
Kato Restaurant
777 S Alameda St, Los Angeles, CA 90021
213.797.5770
www.katorestaurant.com
Sat 04/15/2023, 08:15p-09:45p

My last post detailed a
tasting of Yamazaki whiskies
over at Bar Jackalope. Now given that I'd sampled no fewer than 10 spirits at the event, I felt the need to eat something. Since I was already in Downtown, I decided to mosey on over to ROW DTLA and try to walk-in at
Kato
, the much-lauded modern Taiwanese spot from Chef Jonathan Yao, Nikki Reginaldo, and Ryan Bailey. Unfortunately, the restaurant wasn't able to accommodate me for either the standard tasting menu or the new bar tasting menu (instituted last August), but I was able to take a seat at the bar and dine à la carte.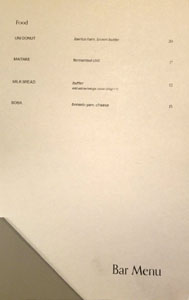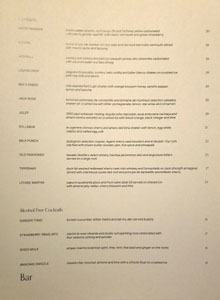 Here we see the bar menu as well as Austin Hennelly's stellar cocktail list. Click for larger versions.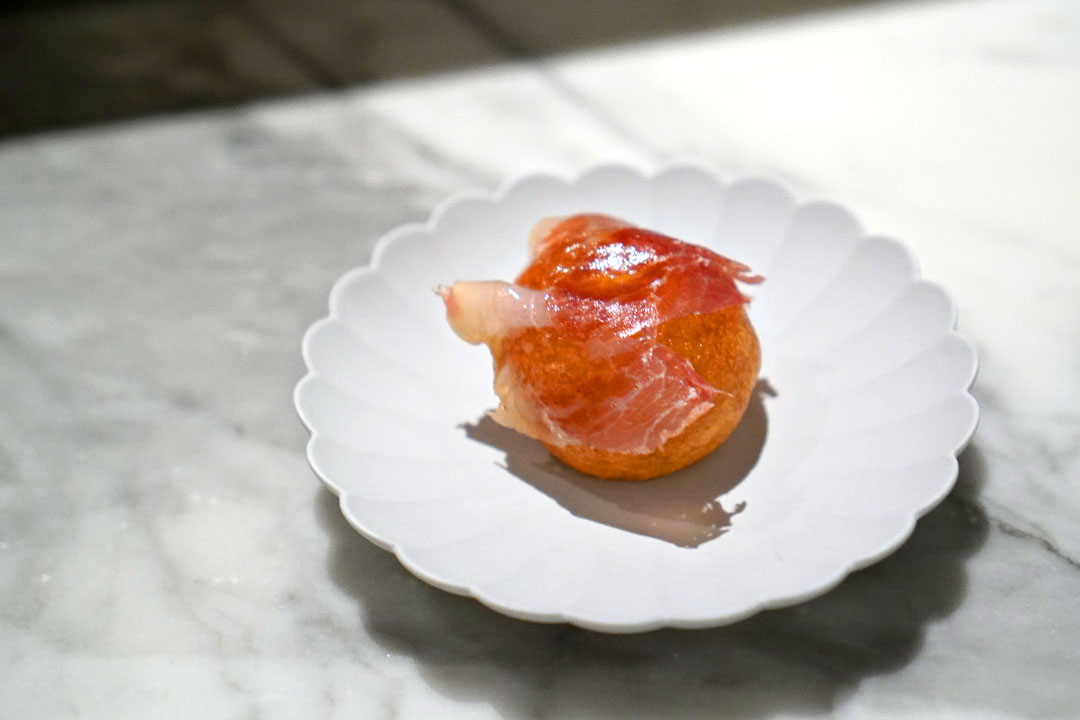 Uni Donut [$20.00]
| iberico ham, brown butter
Given that there were only four items on the menu, I ended up just ordering 'em all. Up first was something that I'd actually had on my last visit to Kato, but I'm happy to report that the dish has been improved since then. I loved the deep savoriness of the jamón ibérico right up front, which quickly transitioned to the sweetness of both sea urchin and brown butter, while the lingering finish showed off the uni's oceany charms. This was pretty much the perfect bite.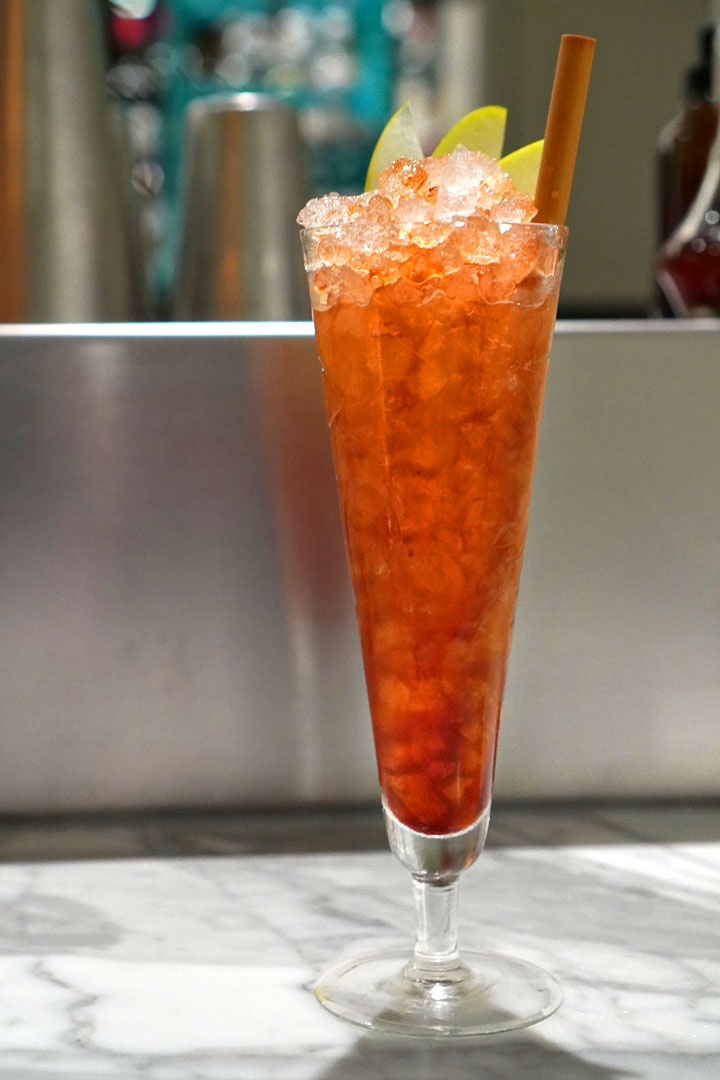 Jack Rose [$20.00]
| lemorton pommeau de normandie and domaine de montreuil selection calvados shaken on crushed ice with bitter pomegranate, lemon, star anise and cinnamon
My first cocktail was a definite winner. I enjoyed how the complexities of the apple brandies were conveyed here, and how they combined with a fragrant vanilla ice cream-esque character, while the deft application of sweet spice served as a great accent.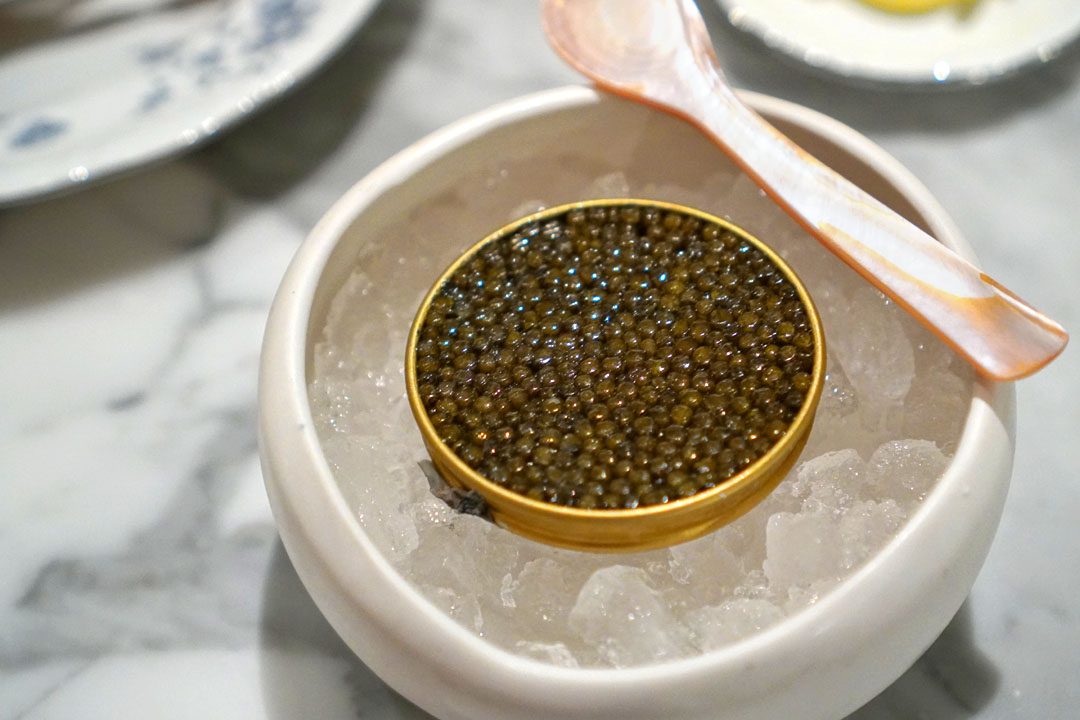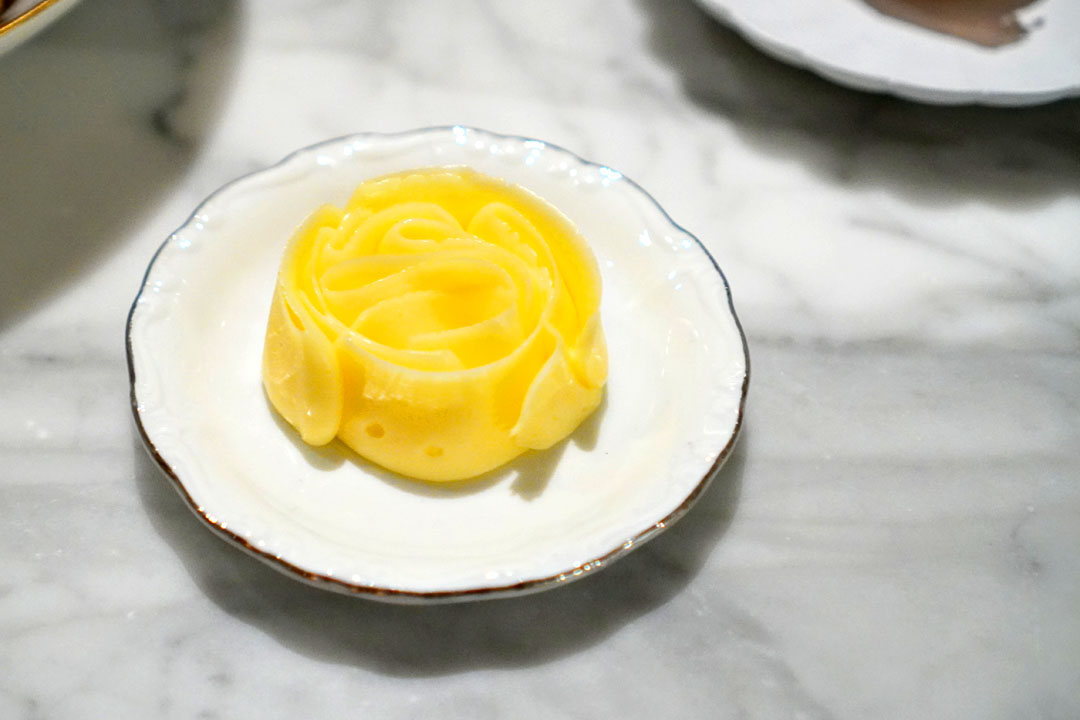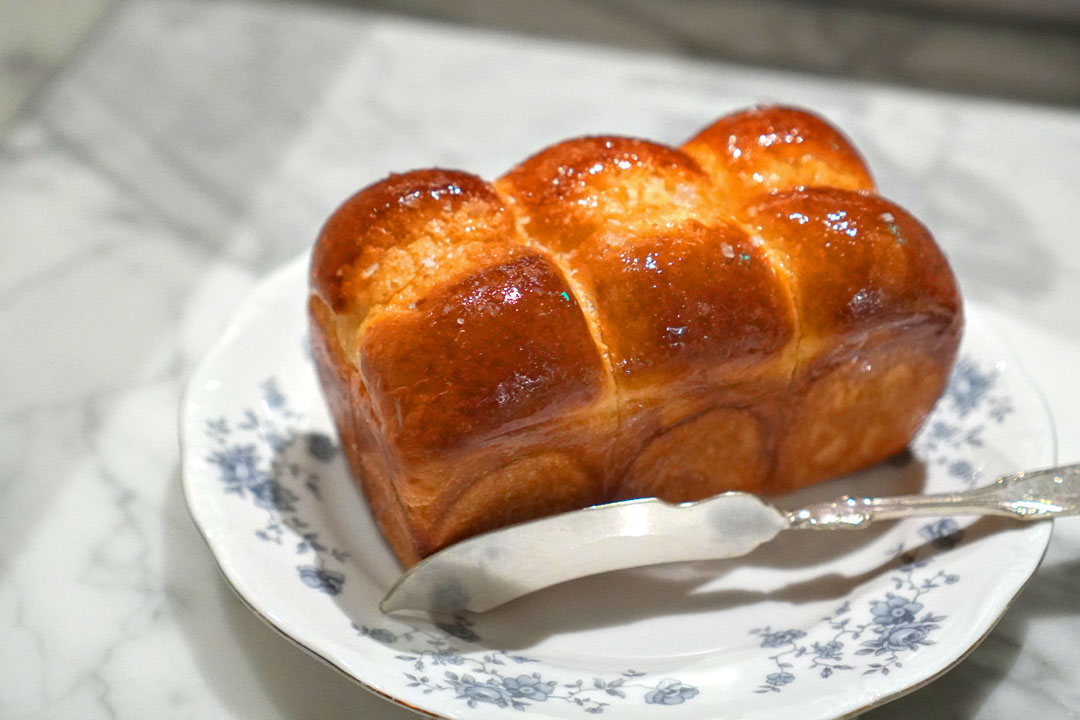 Milk Bread [$12.00 + $75.00]
| butter + add astrea kaluga caviar (30g)
I have fond memories of the shokupan from my last meal at Kato, and tonight's example managed to live up to those expectations. The signature softness and subtle sweetness I was looking for were there, but joined by an almost onion-y savor. An extra "cheesy" butter paired beautifully with the bread, while more intriguing was the caviar, which had this sticky salinity that arguably worked even better for contrast.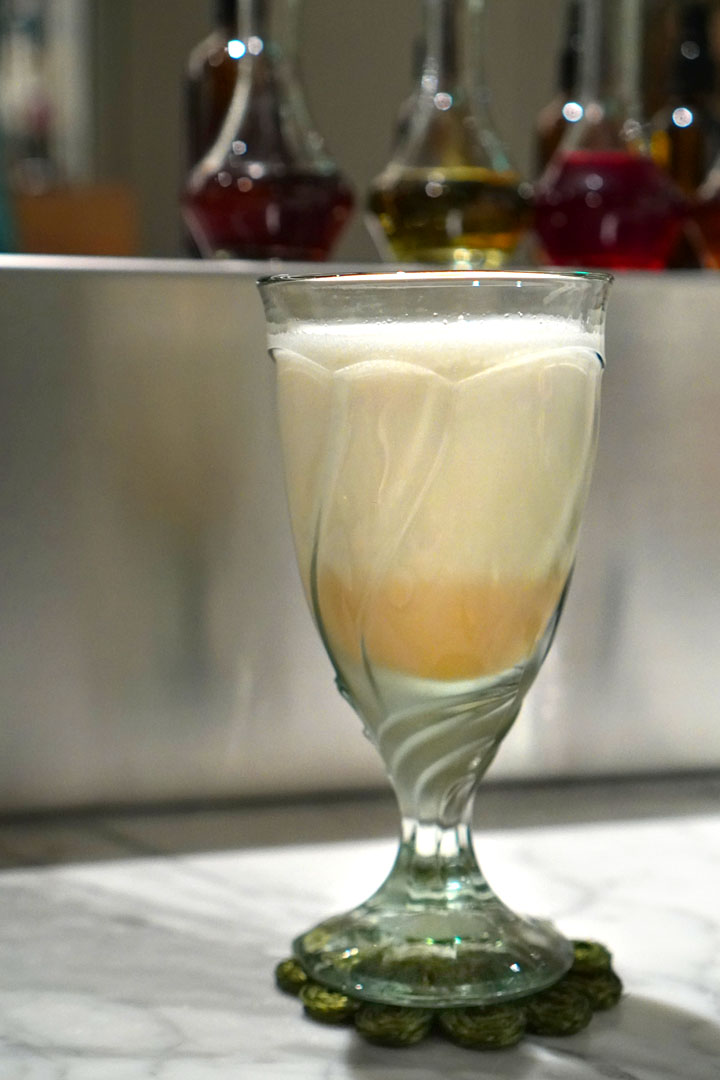 Syllabub [$21.00]
| la cigarrera oloroso sherry and amaro dell'etna shaken with lemon, egg white, calpico and salted egg yolk
Next to arrive was this reworked incarnation of a British classic, which was no doubt one of the more beguiling things I've imbibed all year. Initial aromas were bittersweet and eggy and slightly herby, while flavors leaned sweet and lactic, with a delightful oxidative edge from the sherry that was key. I quite enjoyed the sheer "fluffiness" of the cocktail, too.
Maitake [$17.00]
| fermented chili
The maitakes were also spot-on. I appreciated their feathery-yet-substantial texture and how that was juxtaposed against a light, crisp batter. Taste-wise, the mushrooms' delicately woodsy qualities married easily with the creeping, zippy heat from that fermented chile sauce.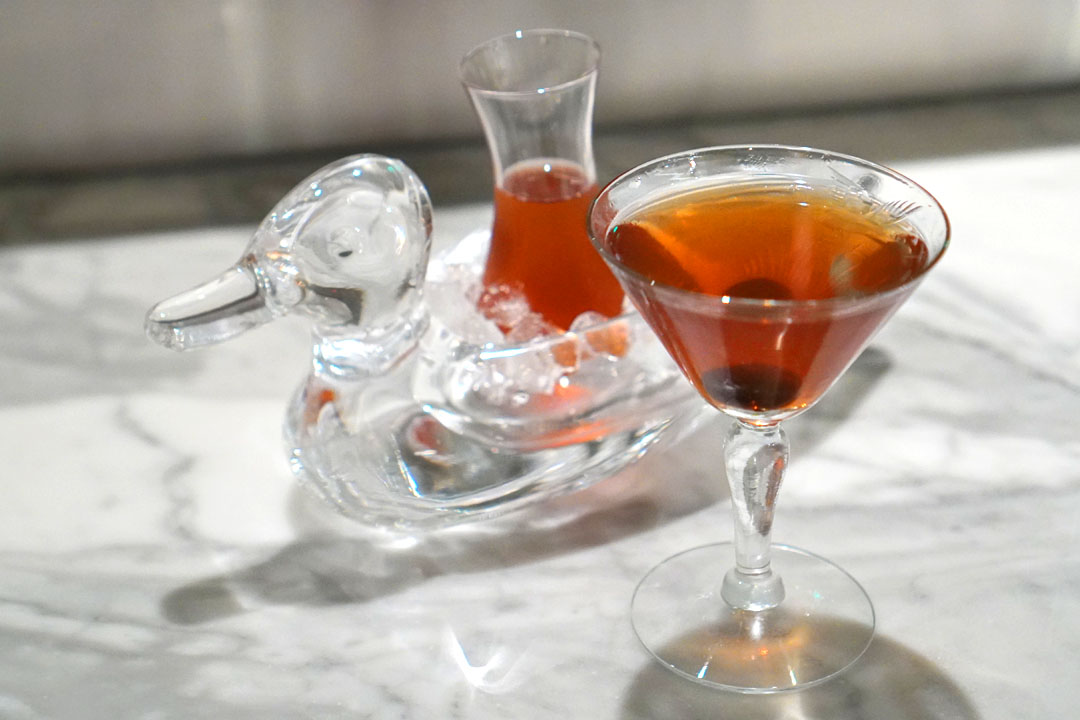 Tipperary [$37.00]
| duck fat washed redbreast sherry cask irish whiskey and l'encantada xo cask strength armagnac stirred with chartreuse cuvee des mof and principe de barbadillo amontillado sherry
I want to say that this was my first time having a Tipperary, which is a bit of a shame, since this was absolutely lovely. The cocktail smelled of rich, lush fruit, but with a marked nuttiness courtesy of the amontillado. Tasting it, I got delectably bittersweet chocolate commixed with more of those oxidative notes from the sherry, all perked up by a minty, herbal top note.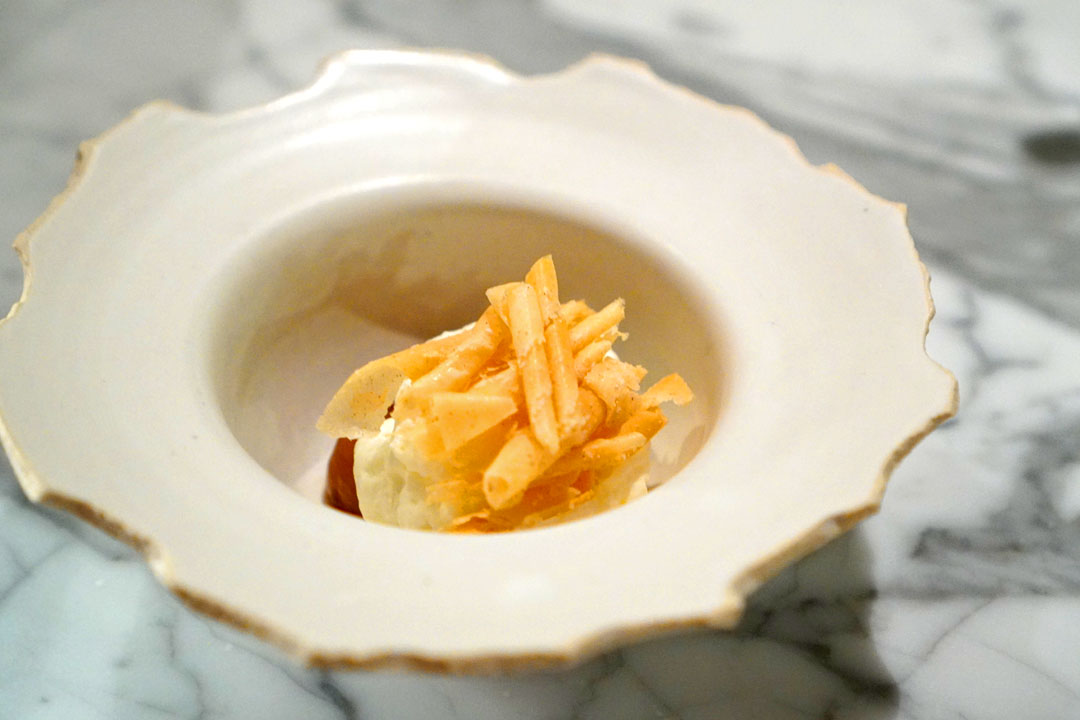 Boba [$15.00]
| boniato yam, cheese
Dessert (a Kato classic from the original location) featured wonderfully slick, chewy, boniato-enriched tapioca pearls. The boba was paired with an intensely sugary syrup, brown butter sablé shavings, and a light, salty cheese, all of which came together to make for a nearly salted caramel-like sensation. Superb.
Even though I merely had bar bites tonight, I left Kato surprisingly sated, and I think the key was how the kitchen's thoughtfulness and precision were clearly evident, even with these relatively "casual" dishes, The cocktails were also top-notch, as always; despite their admittedly verbose descriptions, they never veer overly fussy, and always demonstrate focus and finesse. I suppose this all just serves as a reminder that I need to return here for a proper tasting menu again sometime.