Curryfornia (Torrance, CA)
Curryfornia Restaurant
2140 Artesia Blvd, Torrance, CA 90504
310.756.6409
www.instagram.com/curryfornia90504/
Tue 04/25/2023, 07:45p-09:00p

I recently had a hankering for the
yōshoku
staple that is Japanese curry (日本のカレー), and thus paid a visit to a spot recommended by
Cindy
, a longtime reader of this blog. The place comes to us from Chef/Owner Koji Shimooka, a self-taught cook from Osaka who first dabbled in the industry while he was still in Japan. After moving to the US, he eventually opened Beach City Baked Donuts in Redondo Beach at the end of June 2009 (the place is now closed). His business partner was Gina Samejima, and the two soon teamed up again for Doya Doya, an okonomiyaki spot that debuted in February 2011 inside the former home of Mexican eatery Luna y Sol. However, Samejima later fell ill and had to leave the partnership, so Shimooka shut things down and decided to turn the restaurant into a
karē
shop, since his curry lunch specials had proven to be quite popular at Doya Doya. Curryfornia thus opened at the start of November 2017, and has since become somewhat known as one of the few Japanese curry specialists in the Los Angeles region.

Curryfornia resides in a strip mall located a stone's throw from
Hasu
, one of my favorite izakayas. The restaurant used to offer on-site seating situated in a connected storefront (Unit O), but that ended during the pandemic, so it's currently a takeout-only operation.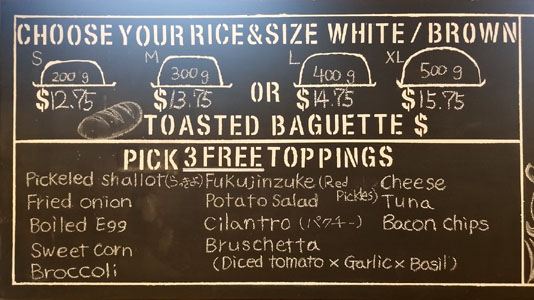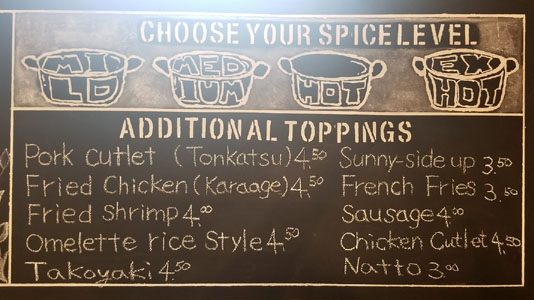 As we can see above, Curryfornia prides itself on its highly customizable menu, though the baguette option doesn't appear to be available anymore. Click for larger versions.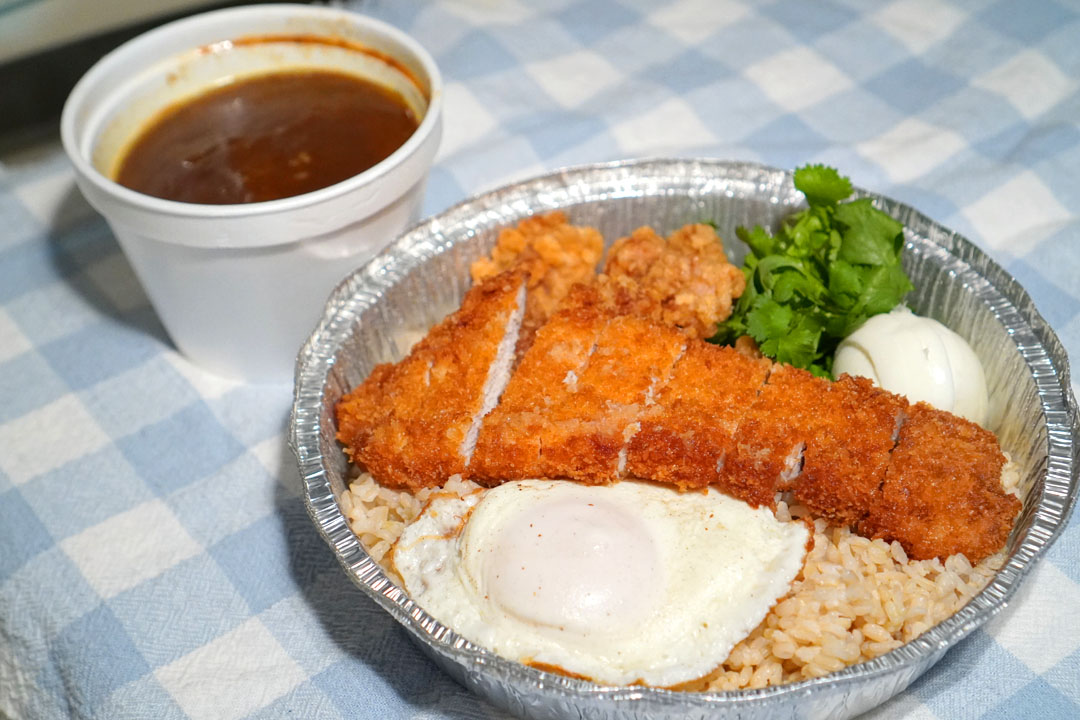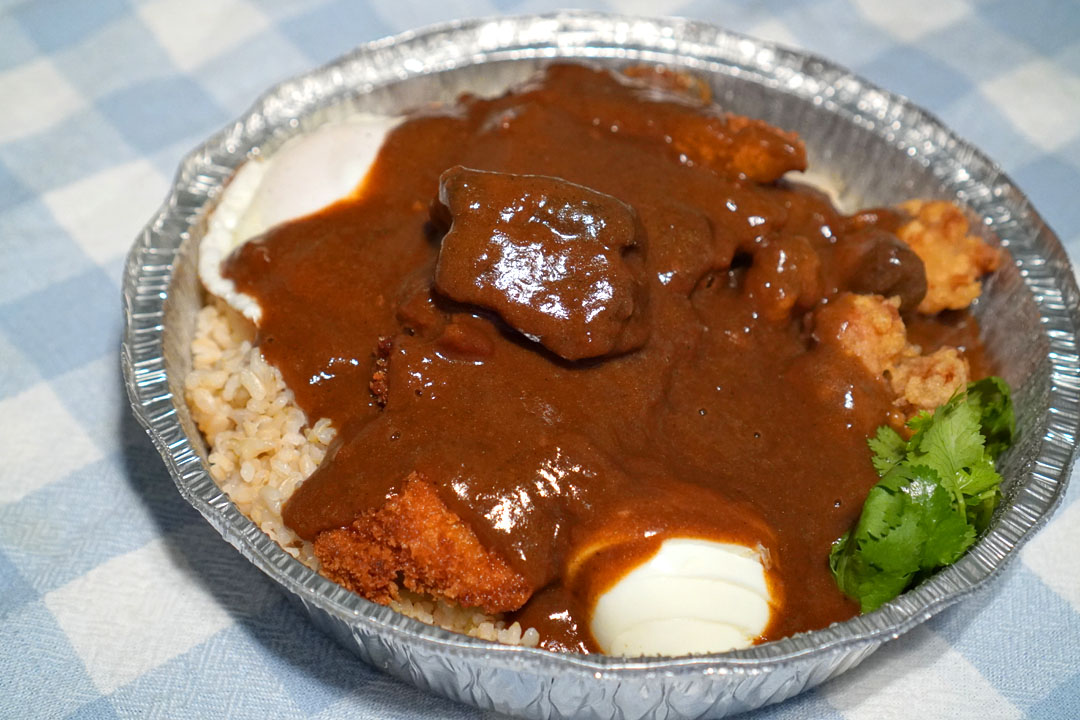 Medium Brown Rice – Mild – Pickled Shallot, Boiled Egg, Cilantro + Pork Cutlet + Fried Chicken + Sunny-Side Up [$13.75 + $4.50 + $4.50 + $3.50]
I ended up getting three orders of
karē raisu
so that I could sample pretty much the entire menu. First off, I will say that Shimooka's curry had more of an overt beefiness than most, which was matched by some assertive seasoning. The tonkatsu cutlet ate as tender and juicy as I was hoping for, and showed off a nice panko crust to boot, while the karaage was pretty standard, and could've used a crispier exterior. Egg-wise, the sunny side up arrived properly lush and runny, and the boiled egg was on point as well. Perhaps the most surprising item here was the cilantro, which I don't think I've had with curry before; it provided a brightness that really helped even out the strong flavors at play. Finally, do note that brown rice was used here, which actually made for some welcomed textural variation due to its more substantial chew.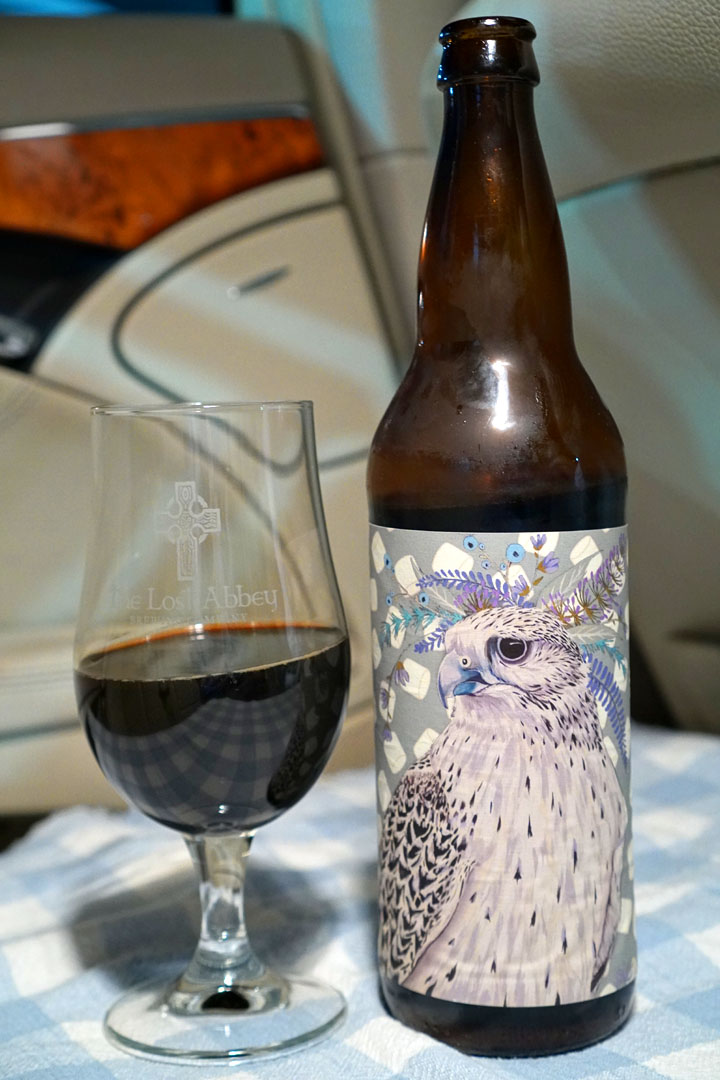 To drink, I brought along the
2022 Horus Mallow Dose
, an imperial stout with chocolate, coffee, hazelnuts, marshmallow, and vanilla bean. The nose on this one was pretty massive, displaying loads of sugary hazelnuts backed by a touch of coffee bitterness. Taking a sip, I got a base of rich chocolate and more sweet nutmeat alongside fragrant vanilla and marshmallow, while a roasty astringency made itself known on the back end. My complaints were that the finish was unexpectedly abbreviated, and that the beer was thinner than I'd want in terms of mouthfeel.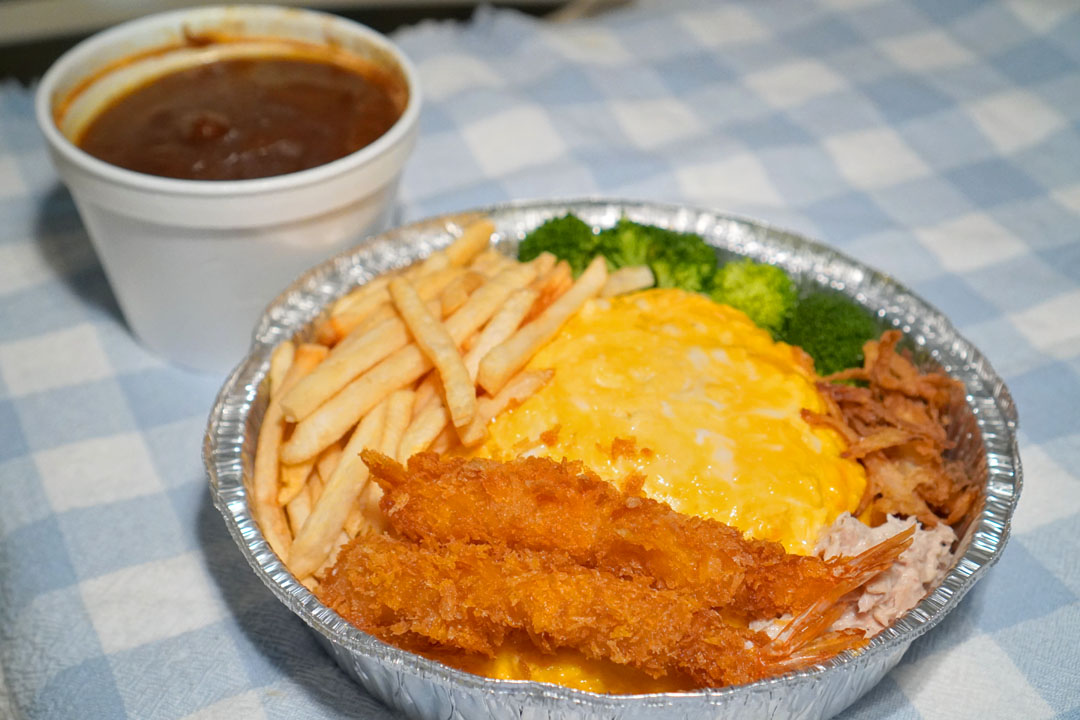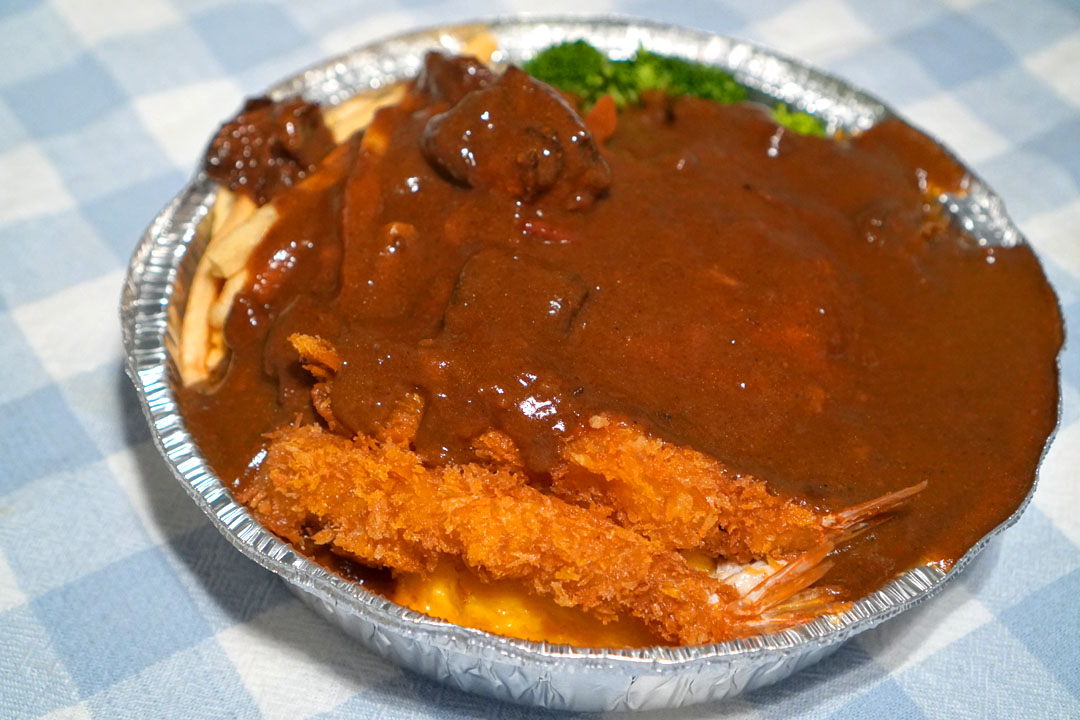 Large White Rice – Hot – Fried Onion, Tuna, Broccoli + Fried Shrimp + Omelette Rice Style + French Fries [$14.75 + $4.00 + $4.50 + $3.50]
My next curry was at the "hot" spice level, and featured a creeping heat that should be tolerable for almost everybody; overall, I'd say that it was actually a bit more "classic" tasting, though still more robustly seasoned than most. The shrimp were decent enough, as were the fries. More interesting was the unmistakable savoriness of the fried onions and the creamy brine imparted by canned tuna, while broccoli helped lighten the mood. The star of the show was definitely the omurice, with its thin, silky skin and touch of sweetness, all hiding some well-textured rice.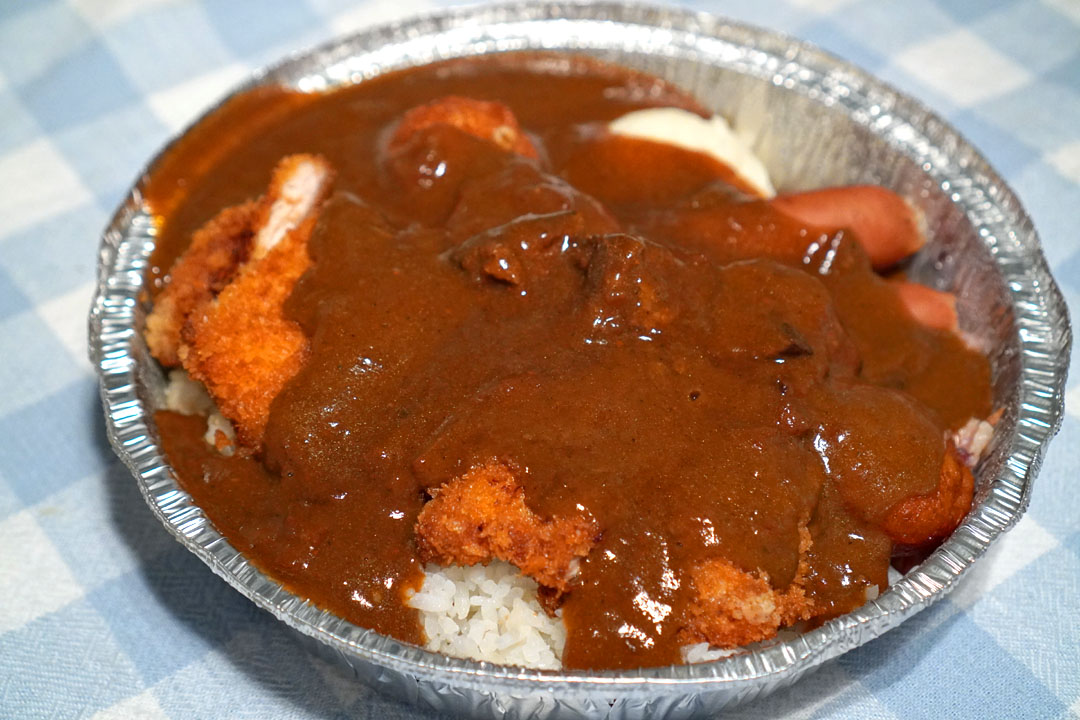 Medium Half and Half Rice – Medium – Fukujinzuke, Potato Salad, Bacon Chips + Chicken Cutlet + Takoyaki + Sausage [$13.75 + $4.50 + $4.50 + $4.00]
The chicken katsu didn't quite reach the levels of the pork version above, but still met the mark, as did the supple spheres of takoyaki. I liked the smokiness imparted by the bacon, while that firm, snappy sausage also featured its own bit of smoke. The weakest item here was clearly the potato salad, which was monotonous. As for the curry, the "medium" wasn't a huge step up in terms of heat, and probably veered more toward "mild" than "hot."
Curryfornia was another welcomed reader recommendation, one that undoubtedly quenched my curry craving. The food was solid and satisfying overall, with the hero being the curry itself, while the various toppings were generally good, though some were certainly better than others. I'd consider coming here somewhat regularly if I lived nearby.