Colette (Pasadena, CA)
Colette Restaurant
975 N Michillinda Ave, Pasadena, CA 91107
626.510.6286
www.colettepasadena.com
Sat 04/01/2023, 06:00p-08:55p

In the realm of Chinese restaurants in the San Gabriel Valley, Colette is definitely the one that's been making the most noise as of late, so a group of us decided to check it out recently for a birthday dinner. The Hastings Ranch eatery was opened in November 2016 by a Jianqin Xiong, and interestingly, when the place first debuted, it was actually an American spot with pretty generic food, one focused on breakfast and lunch (a.k.a. brunch), though dinner service was eventually added around a year later. In early 2019, a Scottish chef by the name of Hugh MacIntyre was hired to helm the stoves, giving the menu a bit of a multicultural bent, but he didn't last more than a few months, and the kitchen soon reverted back to more pedestrian fare.
In an unexpected turn of events, Colette ended up shutting down temporarily last autumn, and when it reopened in late November, the restaurant had completely flipped concepts, and was now serving "creative" Cantonese cuisine. For some reason, ownership didn't bother changing the name, which is a source of confusion. Strangely enough, the neon signage outside (人生如戲 =
rénshēng rú xì
= "life is like a play") is not meant to be its proper moniker. Rather, some have stated that the place's actual name in Chinese is 夢中情人, or
mèngzhōng qíngrén
, which means "dream lover."
Curiously, the story of who's running the kitchen at Colette's starts with San Gabriel's Embassy Billiards Club. The pool hall was founded in the mid-1990s by Hong Kong snooker champion David Yao, and an attached eatery called Embassy Kitchen (彌敦閣 =
mí dūn gé
= "Nathan Court") opened circa 1999. Ownership of the business eventually passed to Paul Yiu and Benny Yiu; the partners continued to emphasize Embassy's restaurant component, and the place eventually became somewhat known for its more uncommon Hong Kongese dishes. However, it was announced in December 2018 that Embassy Kitchen would shutter at the end of the year, as the property was slated for redevelopment.
That was supposed to be it, but apparently redevelopment fell through, and in 2021, plans were hatched to relaunch Embassy Kitchen under new ownership (led by Siu-kwan Lam). It successfully reopened on July 17th that year, and leading the kitchen was Chef Peter Lai, who reportedly cut his teeth at the famed Peninsula hotel in Hong Kong. New management also opened a more casual Embassy location in Alhambra in December 2021 (彌敦小館 =
mí dūn xiǎoguǎn
= "Nathan's Restaurant"), which even experimented with AYCE dim sum, but closed down in August last year, replaced by Double 1 Cuisine (also closed). Lai was top toque at Embassy Kitchen for around a year, but was poached in the latter half of 2022 to run the show at Colette, and so here we are.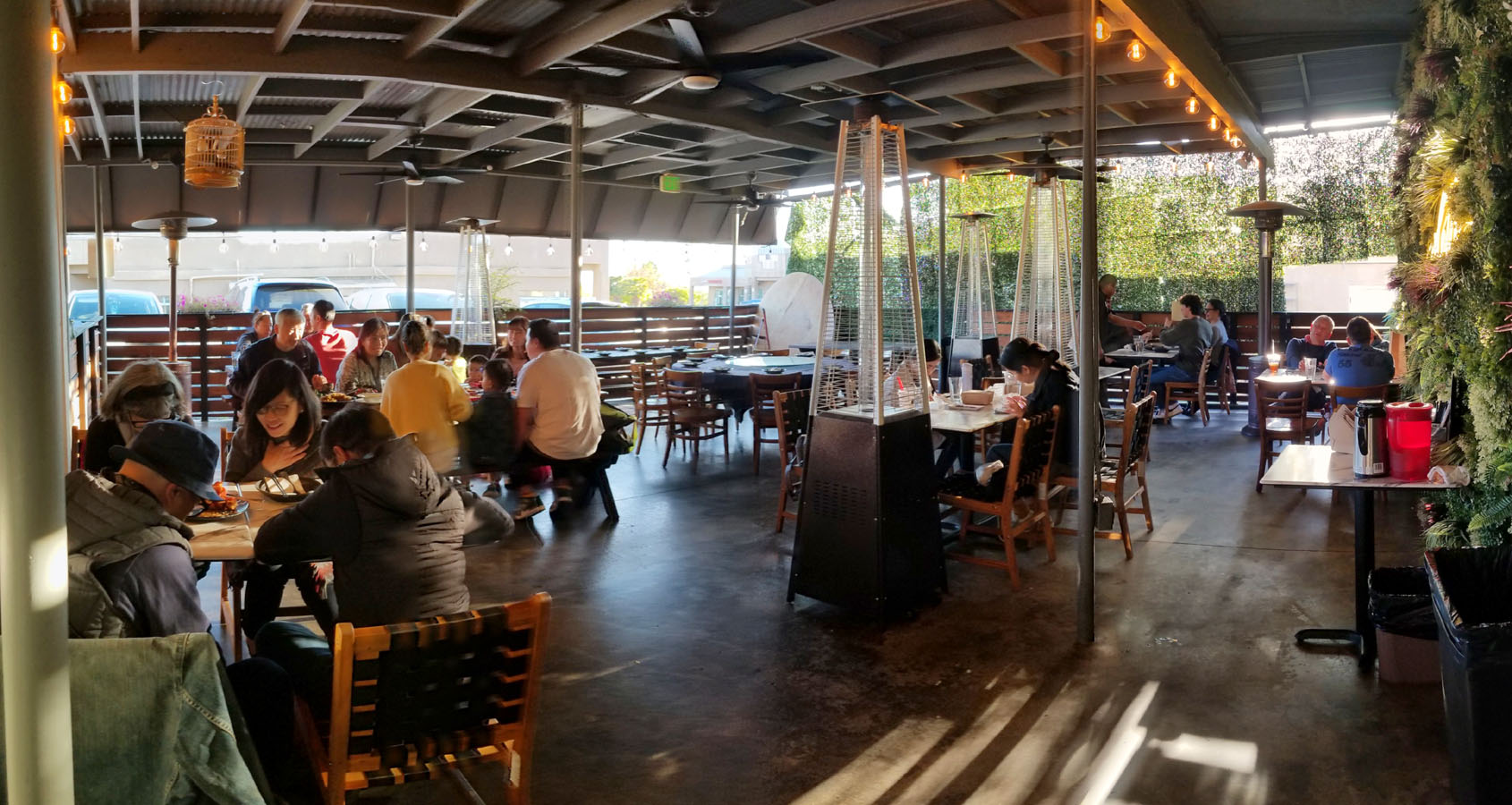 The restaurant resides in a Sierra Madre-adjacent building that was previously home to the likes of Old School Eatery, Fresco's Family Restaurant, and Nano Cafe. Things haven't changed too much since the days of the original Colette, though the space has indeed been gussied up a touch. Do note that there's quite a bit of patio seating, as we can see.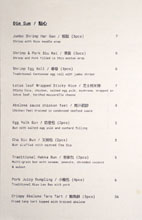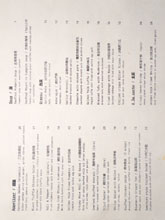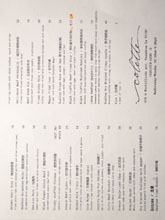 As for Colette's new menu, it's comprised of a small dim sum selection joined by an array of appetizers and larger plates, many of which are quite intriguing-sounding. Be sure to take a look at the
specials
board
as well, and apparently there are "secret" off-menu items, too. Click for larger versions.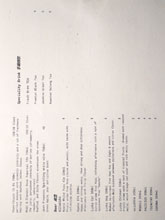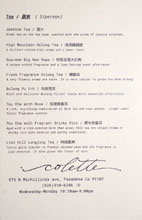 Drink-wise, you get tea, sake, a few beers, and three Champagnes, yet oddly enough,
no other wines
. Corkage was $25. Click for larger versions.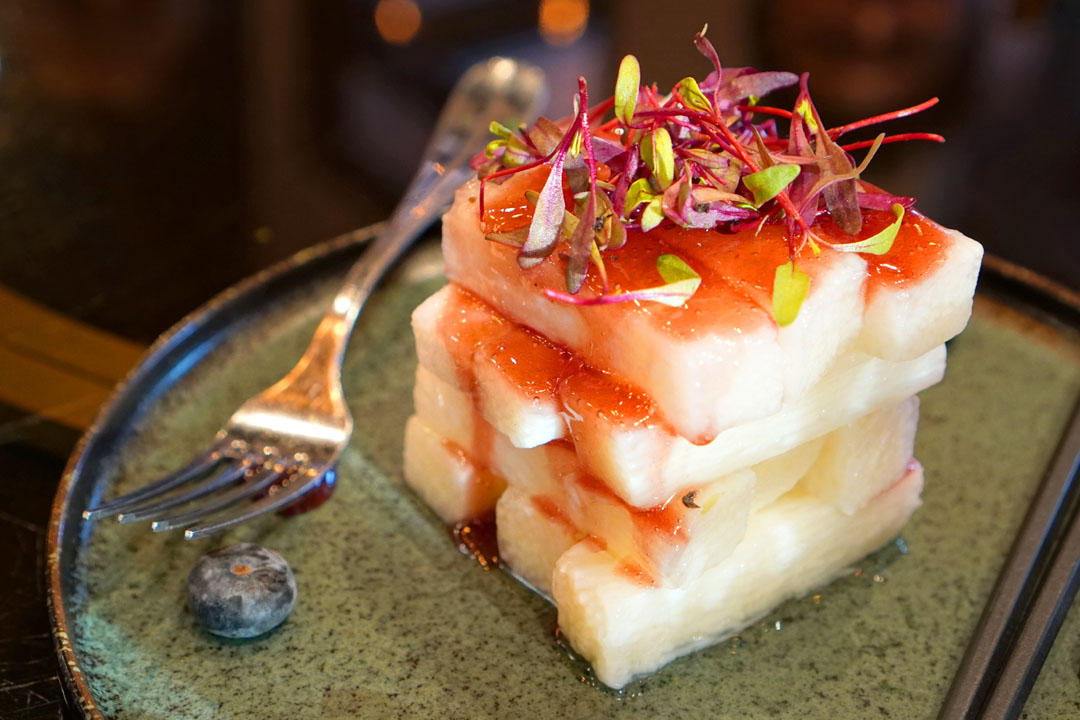 Blueberry Crispy Yam / 藍莓脆山藥 [$13.00]
| Fresh sweet and sour blueberry sauce on blanched yam sticks
Up first were batons of
shānyào
dressed in blueberry sauce. The Chinese yams had a crunchy, mucilaginous consistency reminiscent of a slimier jícama, and didn't taste much like anything. I was hoping that the blueberry would impart some sweet-sourness, but the dish just ate bland.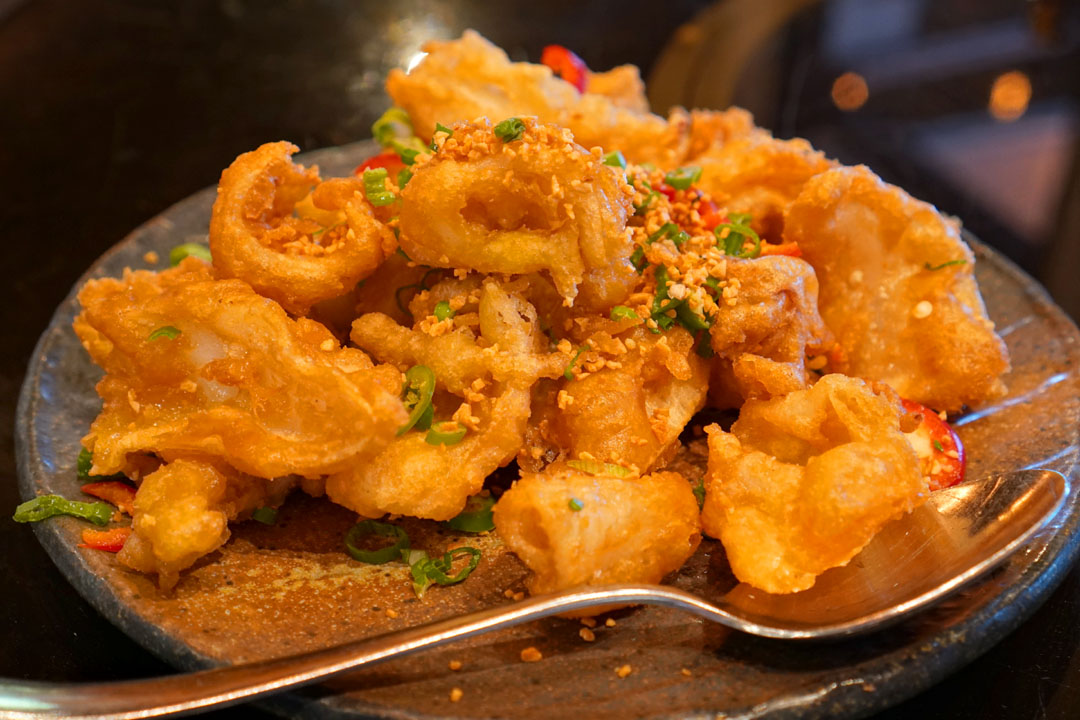 Salt & Pepper tossed Calamari / 椒鹽鲜鱿 [$18.00]
| Fried calamari tossed salt & pepper and sliced jalapenos
Jiāoyán
calamari is an oft-ordered dish of mine, and Colette's did not disappoint. I enjoyed the subtlety of the S&P here, combined with the chili peppers, and was especially impressed by how tender the squid was.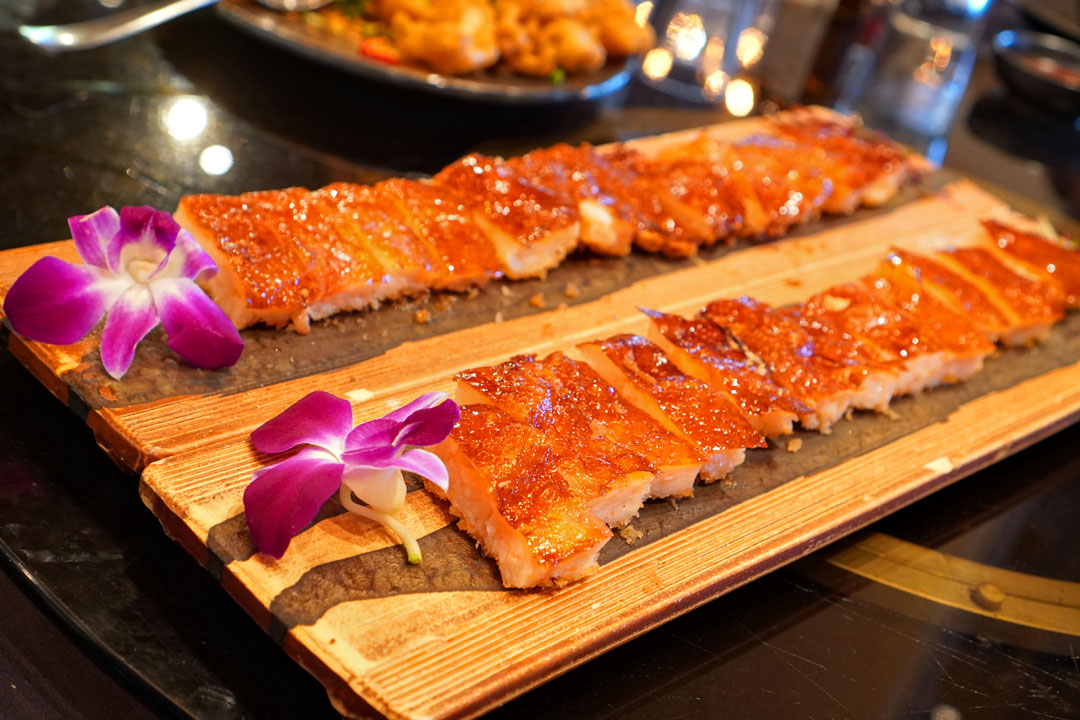 Crispy stuffed Chicken / 脆皮百花雞 (whole) [$68.00]
| Deboned air-dried chicken, shrimp paste
This is Colette's signature dish, and I can see why. I loved the textural play between the springy shrimp paste and the crunchy chicken skin, while flavors consisted of an almost
ròusōng
-like sweet-savoriness combined with a lingering hit of brine, salt, and umami. A definite highlight, and a must-order.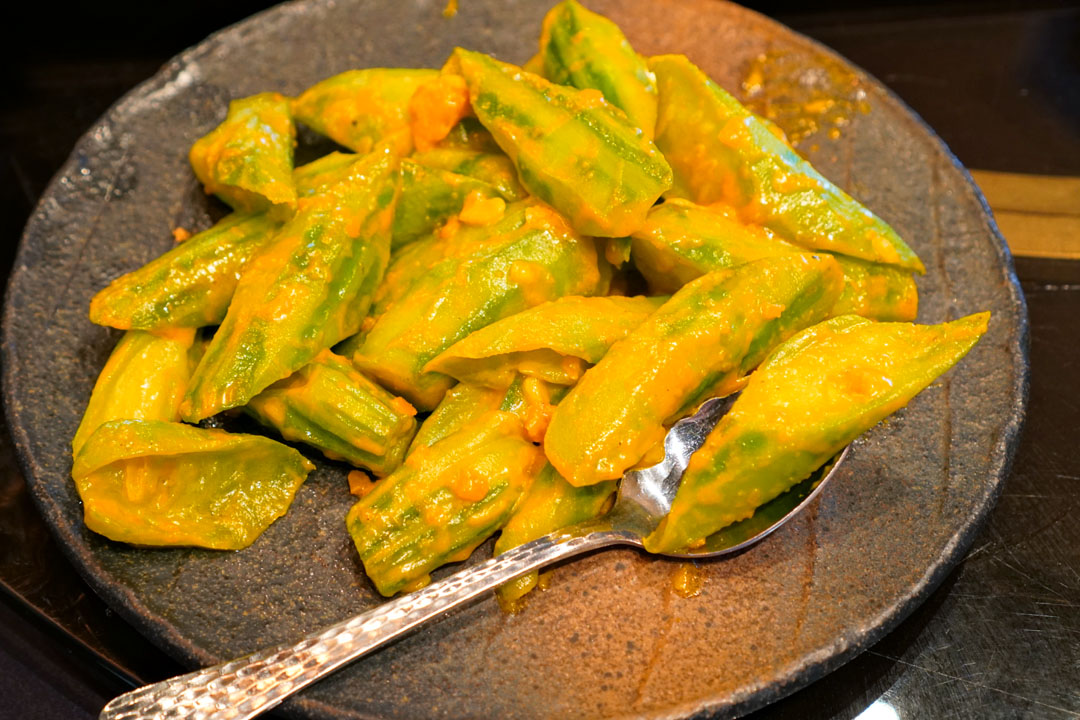 Golden Yolk Luffa / 鹹蛋炒絲瓜 [$16.00]
| Angled luffa stir fried with salted egg yolk
Loofah was pleasingly spongey yet crisp to the bite, its mild flavors playing foil to the somewhat off-putting saline astringency of
xián dàn
.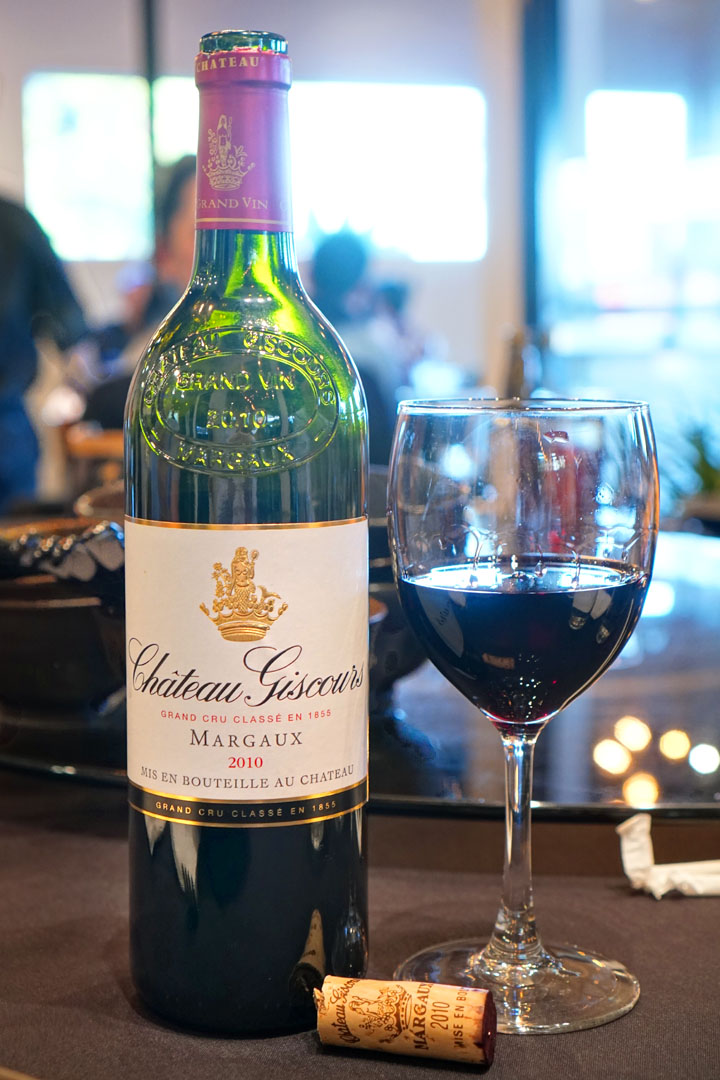 To drink, up first was the
2010 Château Giscours
from Margaux. The wine showed off a nose filled with inky fruits, but with a peppery kick and a backing of earth, and got noticeably jammier as it warmed. Taking a sip, I found the Bordeaux medium-weight, its dark-toned berry notes actually taking a back seat to the claret's floral, nearly perfume-y qualities, while herbaceous, minty elements appeared towards the rear. This was drinking pretty well tonight, but would likely benefit from a few more years in the cellar.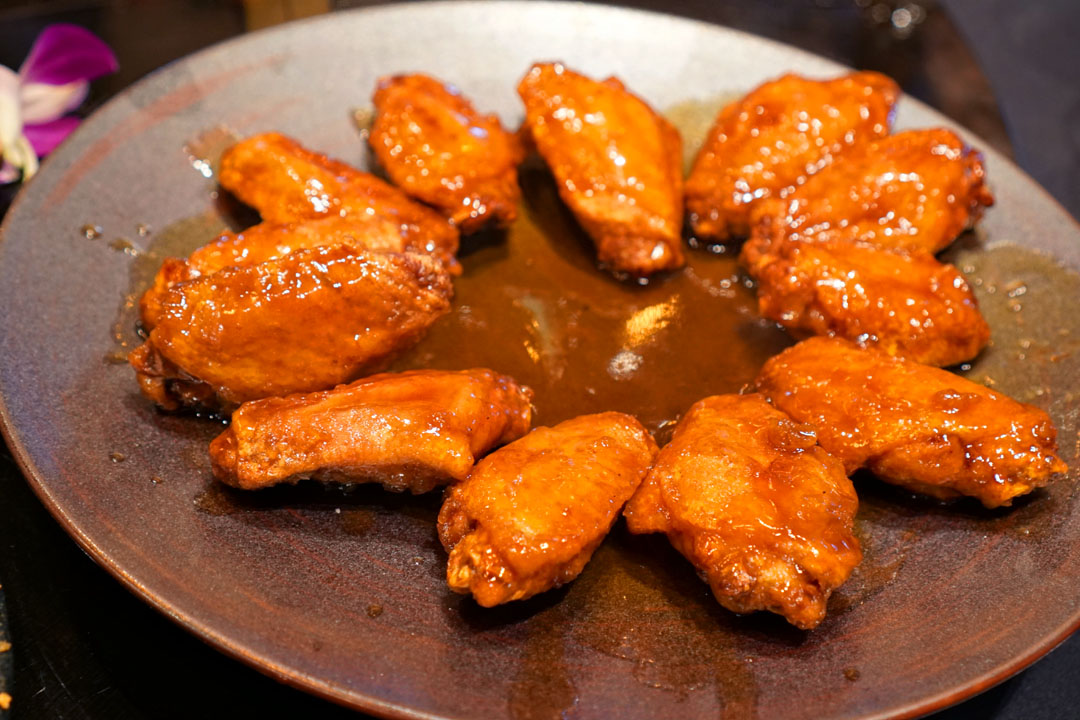 Cola Wings / 可樂雞翼 (6pcs) [$13.00 × 2]
| Chicken wings tossed in cola sauce
I had a hard time discerning anything distinctly cola-ish here, but I didn't mind, since these were some damn fine wings either way, with just the right amount of sweetness and a great back-and-forth between crisp skin and juicy meat.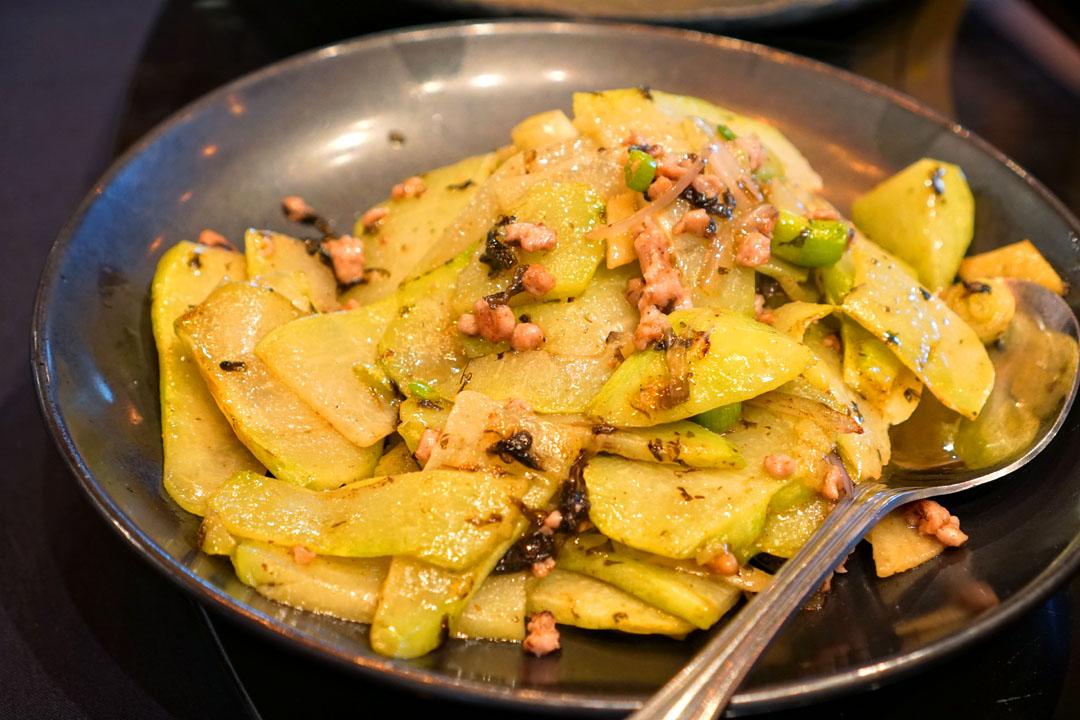 Chayote with minced pork / 欖菜肉鬆炒合掌瓜 [$16.00]
| sautéed chayote with minced pork and pickled olives
The
hézhǎng guā
managed to be another standout. Its texture was just what I wanted, and its mild, fresh taste paired seamlessly with those salty, savory bits of pork, all while the olives contributed a touch of funk. There was this almost ginger-y quality in the dish that I quite enjoyed, too.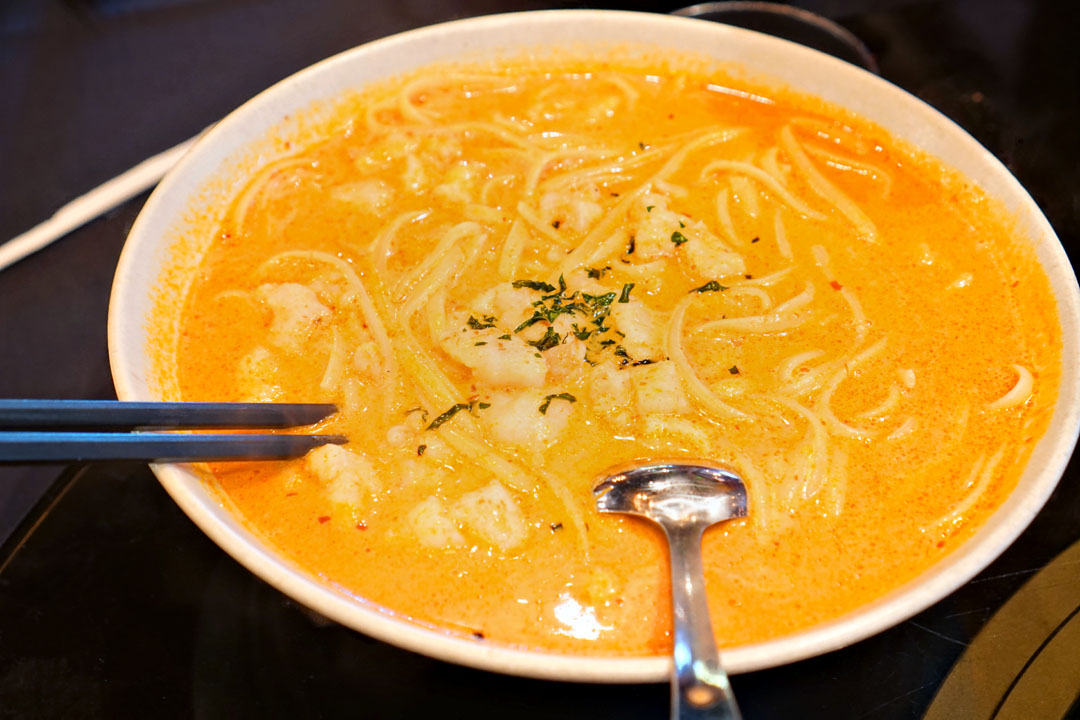 Laksa Seafood Spaghetti / 喇吵海鮮意粉 [$19.00]
| Homemade Laksa sauce (a spicy soup from South-East Asia) with spaghetti, mushroom and Seafood (Scallop, crab, shrimp)
The spaghetti did a nice job conveying the nature of laksa thanks to its coconut-y sweetness and familiar, satisfying spice. The actual seafood was well-textured and not overdone, though I could've used a firmer chew on those noodles.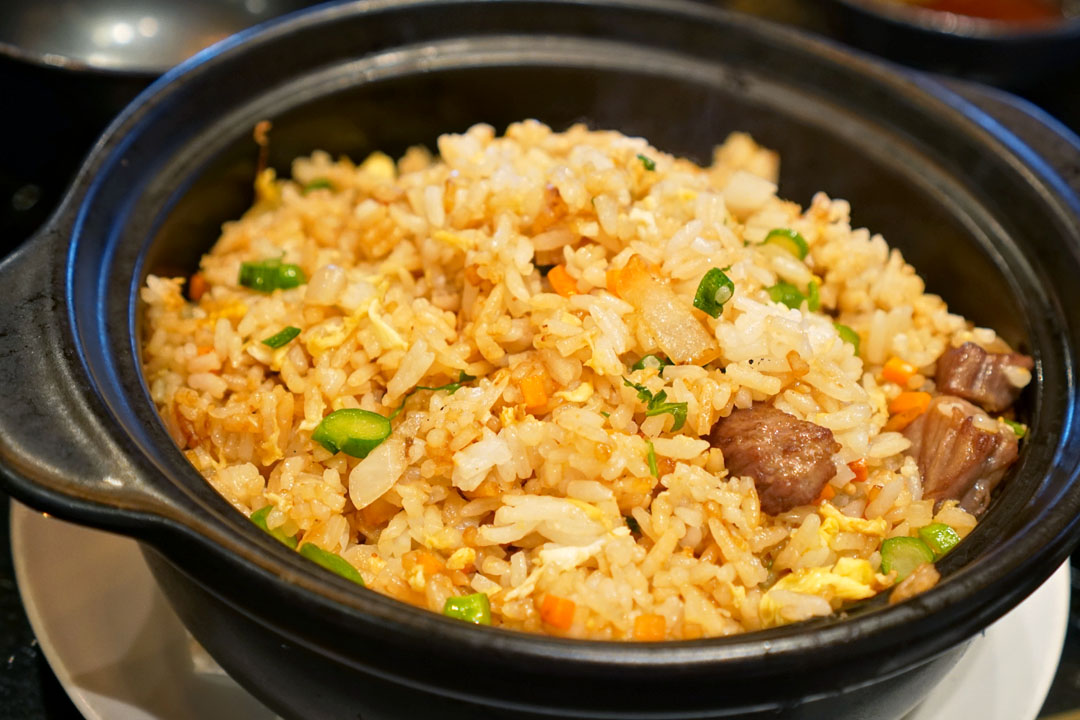 Wagyu Fried rice / 和牛炒飯 [$38.00]
| Fried rice with diced Miyazaki Wagyu
I'm a sucker for a good
chǎofàn
, and this was one of the best I've had in a while. I could tell that the kitchen actually used real deal Wagyu given the meat's sheer richness, which made sense with the moderating effect of the veggies and eggs. The rice itself was also quite gratifying to the bite, and even incorporated some crispy scorched bits. Another standout.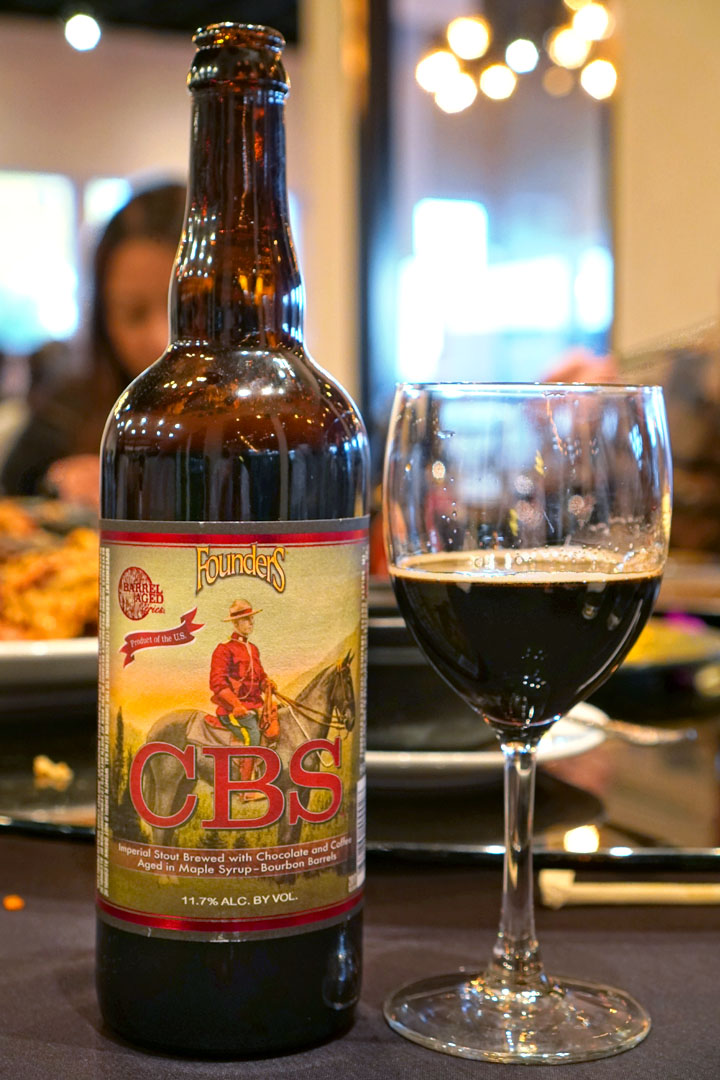 Next to imbibe was the
2017 Founders CBS (Canadian Breakfast Stout)
, an imperial stout brewed with chocolate and coffee, then aged in maple syrup-bourbon barrels. The beer smelled of sweet malt right up front, with an undercurrent of the advertised maple along with a metallic edge. On the palate, the maple was more subdued, with the stout's cacao and malty notes being more apparent, yet accented by a roasty bitterness from the coffee. This one was starting to show its age a little bit.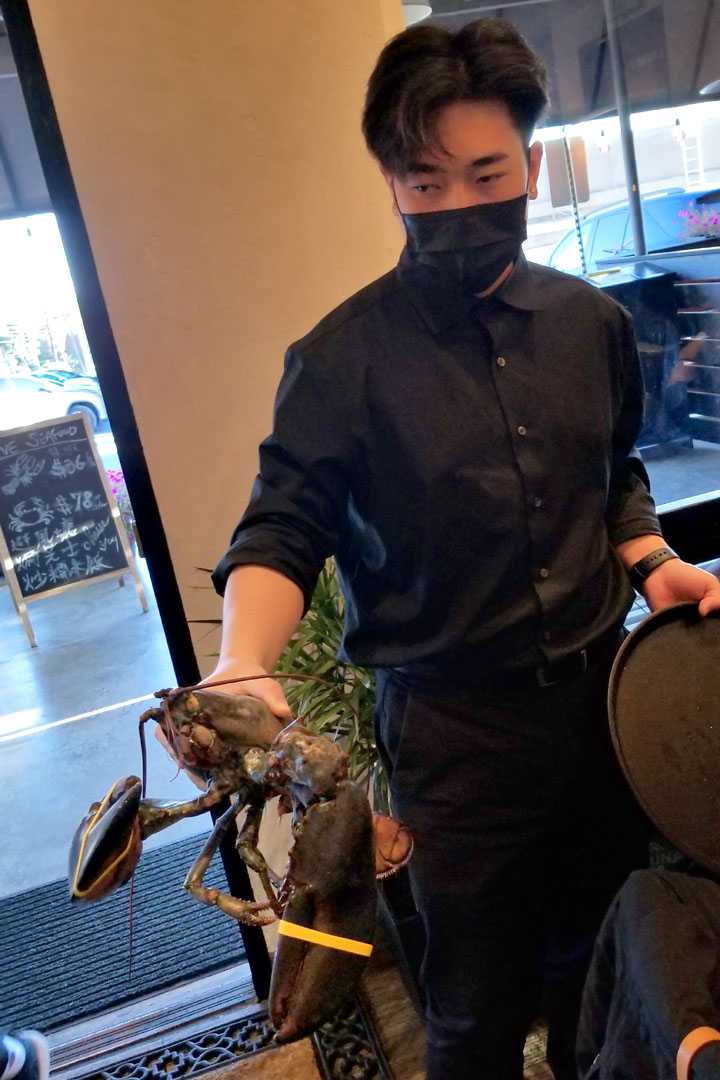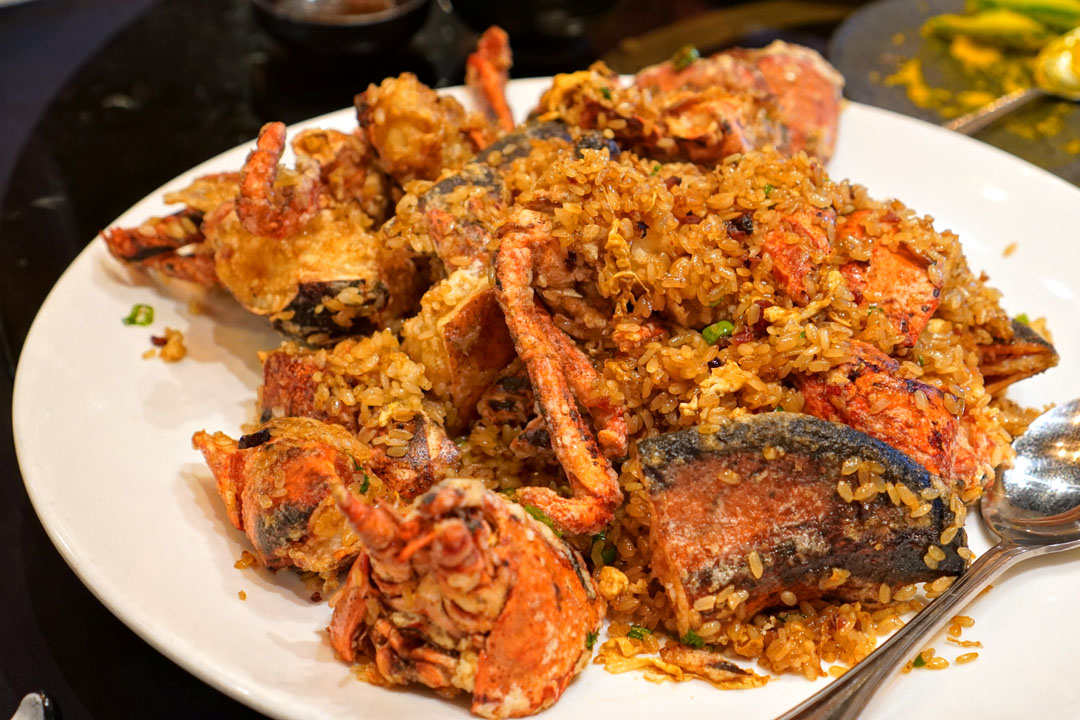 Stir-Fried Lobster with Sticky Rice / 龍蝦炒糯米飯 [$182.00]
Time for our meal's pièce de résistance. The lobster itself was a tad tougher than I'd prefer, though its taste delivered the sweet salinity I was hoping for. The star of the show was actually the rice, with its deeply satisfying savoriness and spot-on chew--we all wanted more of it.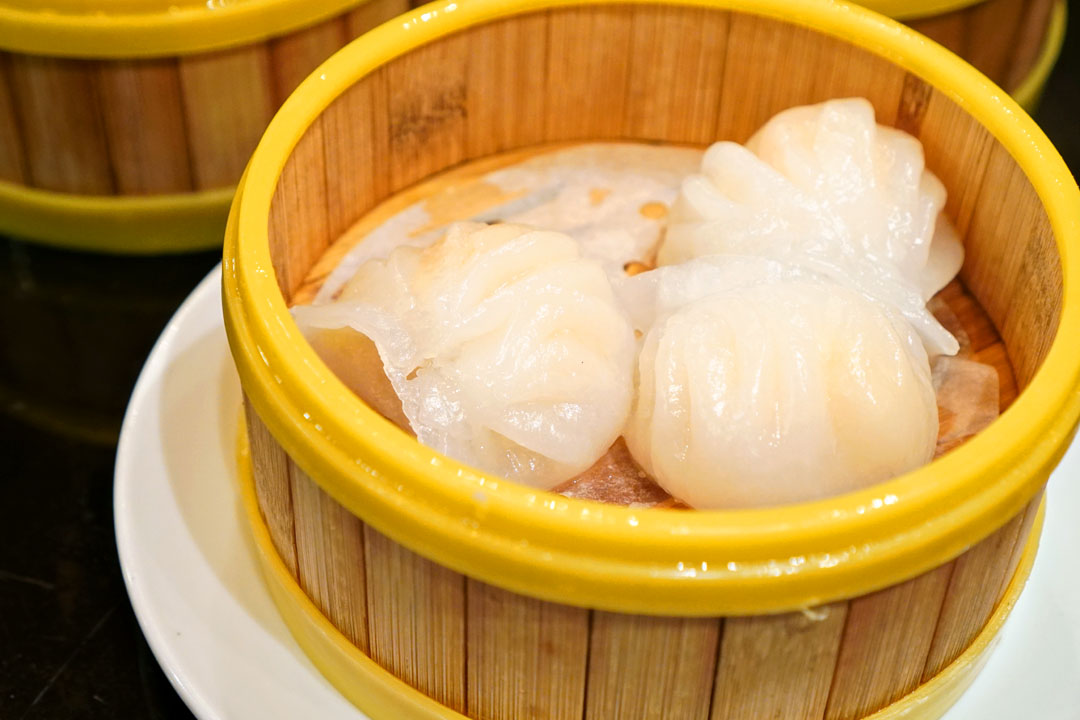 Jumbo Shrimp Har Gao / 蝦餃 (3pcs) [$7.00]
| Shrimp with Rice noodle wrap
At this point, we decided to try a couple items from the dim sum menu, and up first were the har gow. Sadly, something just seemed off about these, with the shrimp arriving quite overcooked, though the wrappers were fine.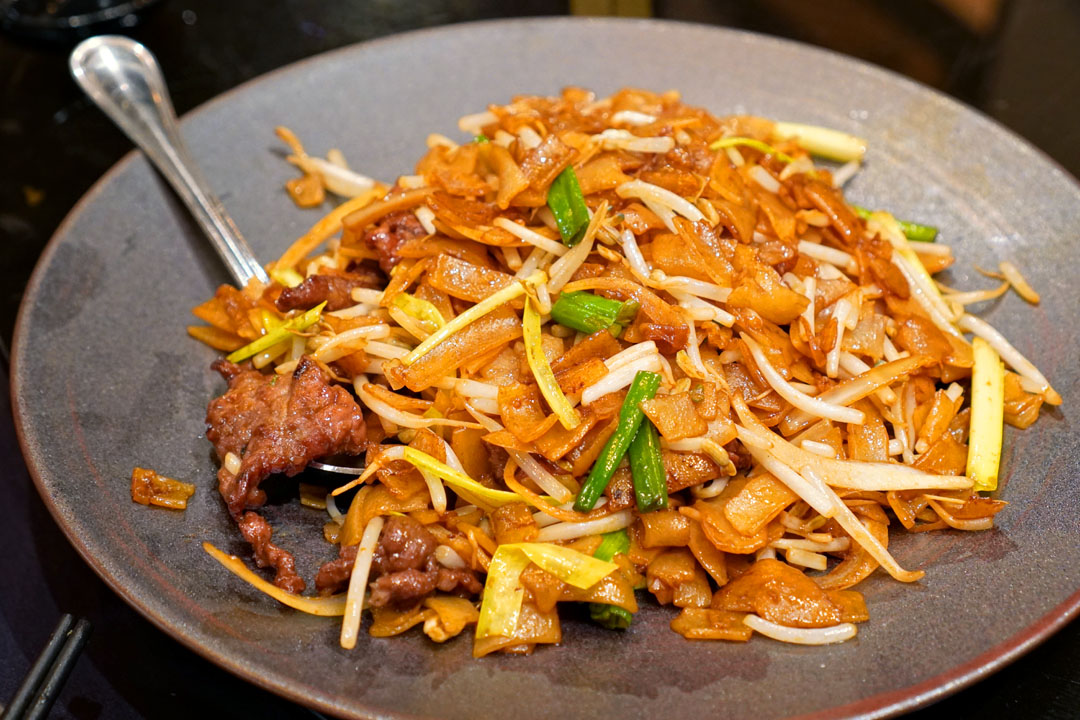 Beef Chow Fun / 古法乾炒牛河 [$19.00]
| Sliced beef stir-fried rice noodle, traditional
Here was Colette's take on one of the most iconic dishes of the Cantonese kitchen. The beef itself was on point, as were the noodles, and I liked the counterpoint provided by the bean sprouts, too. However, the dish didn't have as much
wok hei
as I was hoping for, and thus seemed to lack a bit of depth.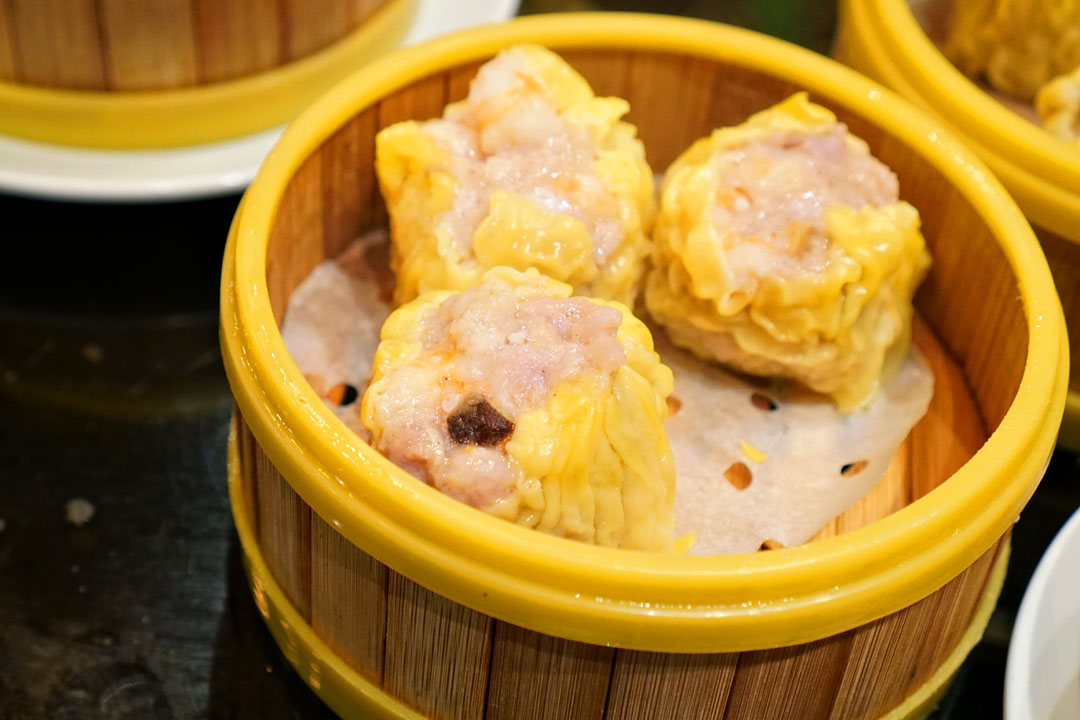 Shrimp & Pork Siu Mai / 燒賣 (3pcs) [$6.00]
| Shrimp and Pork filled in thin wonton wrap
Shumai were plumper than usual, and properly juicy, demonstrating the expected mix of brine and sweetness, but had a muskiness that threw me off.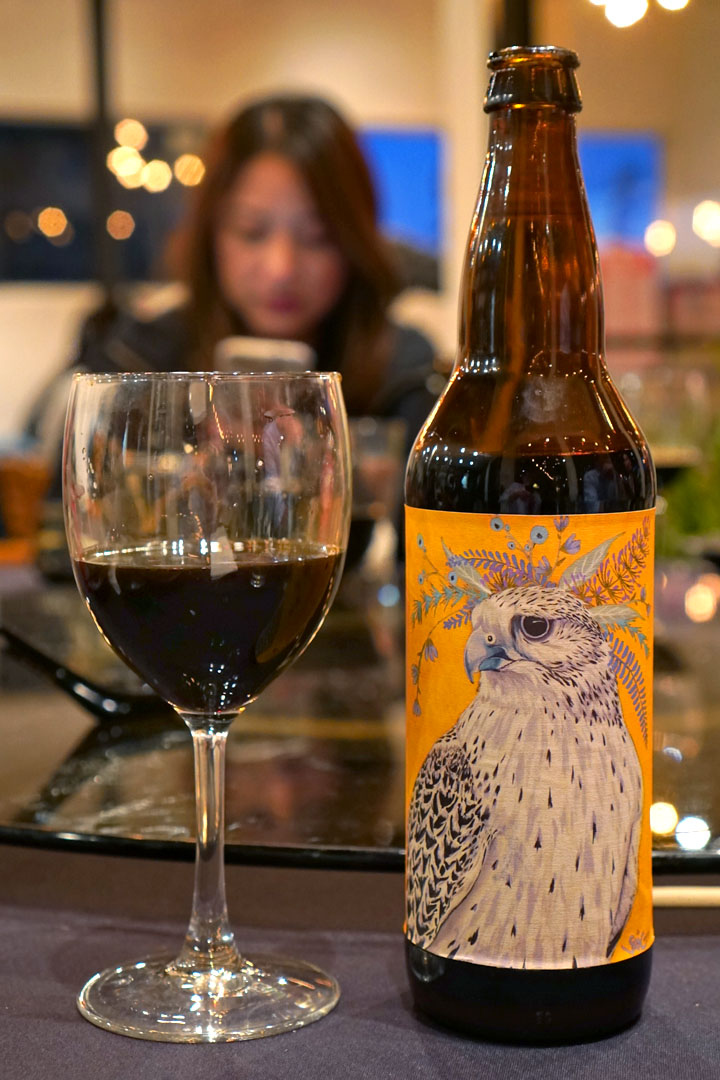 Our final beverage was the
2022 Horus Fourth Dose
, an imperial stout with chocolate, Panama La Esmeralda Geisha coffee, hazelnuts, and vanilla beans added. The nose on this one was pretty stupendous, with loads of in-your-face sugary hazelnut paired with melted vanilla ice cream. Taste-wise, the beer was slightly tangy up front, but this quickly transitioned to flavors of hazelnut, dark fruit, and vanilla extract, all overarched by roasty coffee. My complaint was that the ale was rather thin in terms of mouthfeel.
Well-done Beef Vermicelli / 潮式牛柳煎米粉 [$22.00]
| Crispy stir-fried vermicelli with beef
The vermicelli managed to be a surprise standout. I was a big fan of those crisp-textured noodles, and how they played with the cozy, homey beef and veggie combo. I don't think I've had a dish quite like this before--yum.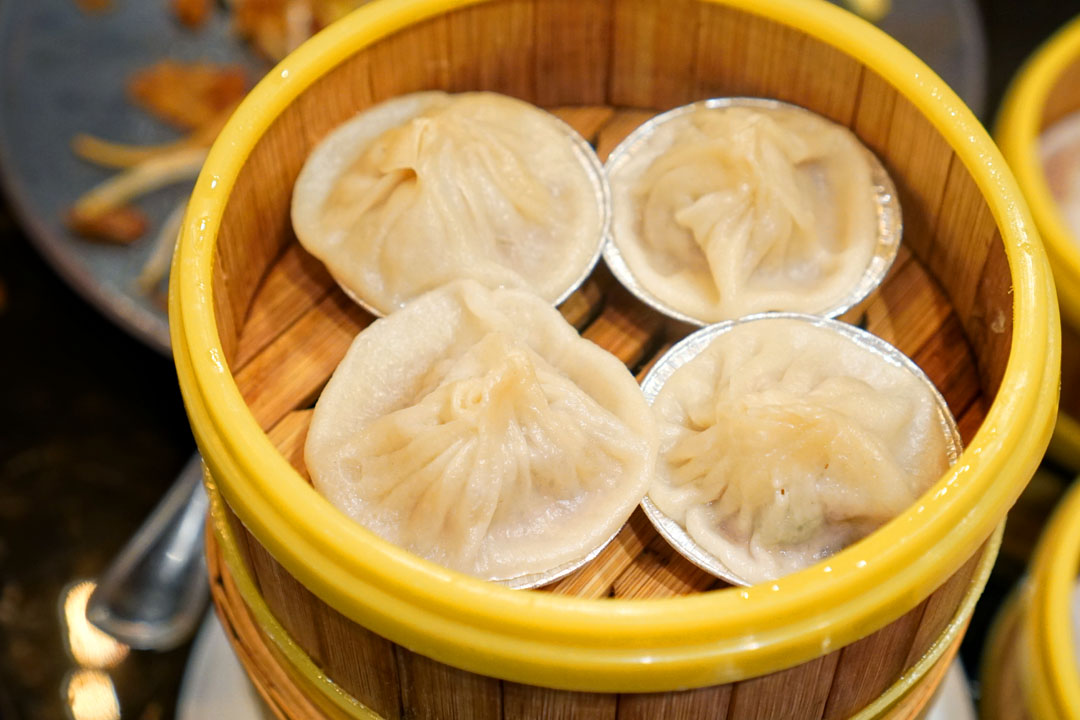 Pork Juicy Dumpling / 小籠包 (4pcs) [$6.00]
| Traditional Xiao Lao Bao with pork
We were all curious about the
xiǎolóngbāo
, and they were a decent rendition thanks to their properly soupy pork filling and relatively dainty skins.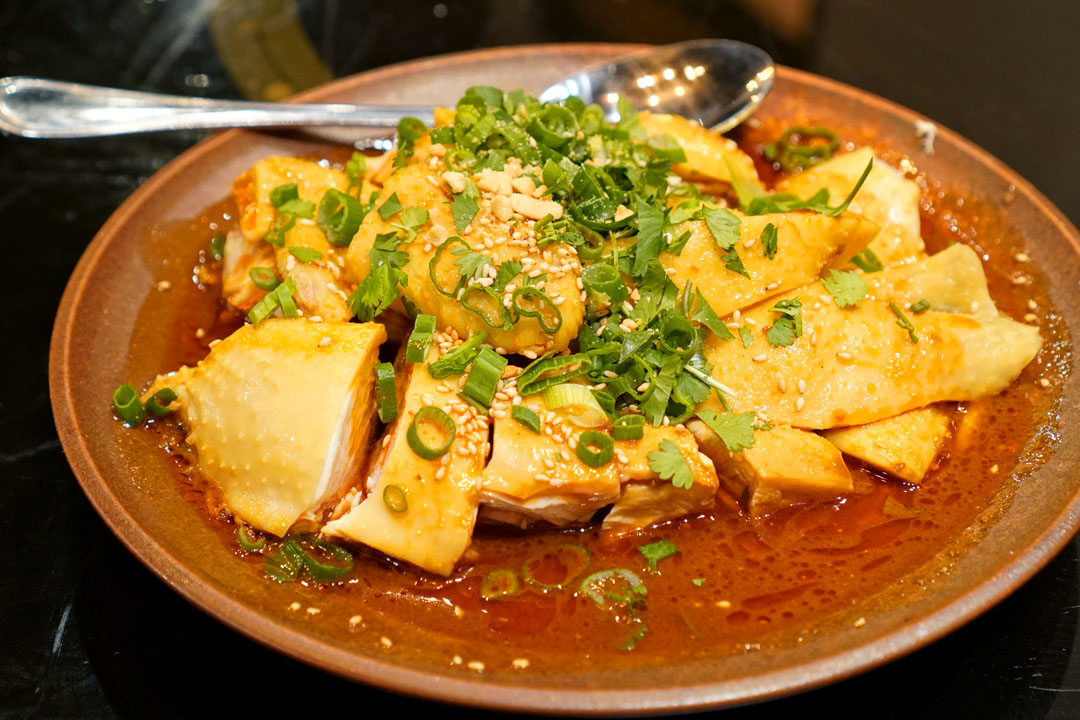 Szechuan style Chicken Salad / 川味口水雞 [$22.00]
| Chicken drizzled with chef special chili oil
Last up was the
kǒushuǐ jī
, which consisted of dense, chilled cuts of chicken doused in a floral, lip-tinglingly spicy
málà
sauce.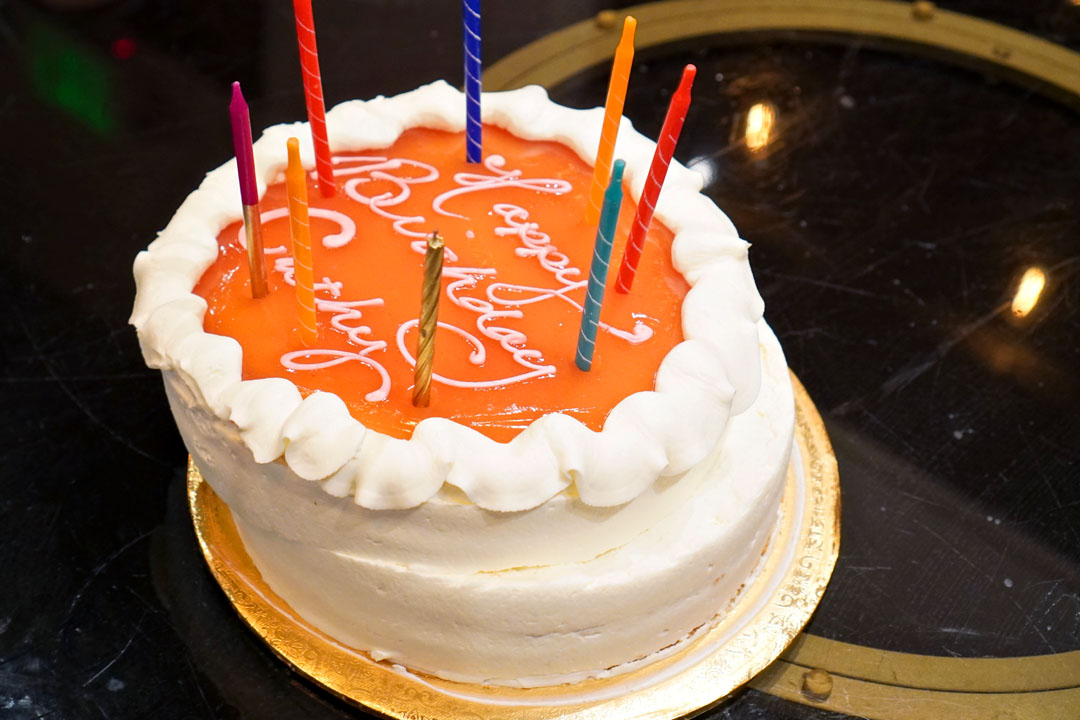 Closing out the evening was an
Angel Maid Guava Chiffon
cake that we'd brought (there was no cake-cutting fee). It experienced some structural issues in transit as you can see, but was still surprisingly tasty.
Our dinner certainly had its share of hits, as well as a number of areas for improvement. However, I'm going to be a bit more forgiving here, since this was some the most interesting Cantonese cooking I've seen in the Los Angeles region, so despite my grumbles, I still quite enjoyed my meal at Colette. Indeed, there are a lot more dishes on the menu that I'm curious to try, and in fact, I'm already thinking about a return visit.