Mr. T (Los Angeles, CA)
Mr. T Restaurant
953 N Sycamore Ave, Los Angeles, CA 90038
310.953.4934
www.mrtrestaurants.com
Fri 04/28/2023, 08:15p-11:45p

For my latest outing to Hollywood, I paid a visit to the curiously-named Mr. T, a globally-inflected contemporary French spot that had been on my "to-try" list ever since it opened back in August last year. The story of Mr. T starts with Frenchman Guillaume Guedj. He first made a name for himself in the restaurant world back in 2009, when he founded Passage 53 in Paris with Chef Shinichi Sato, whom he met while they were both working at Astrance. The restaurant earned a Michelin star in 2010, and another in 2011. The achievements of Passage 53 allowed Guedj to launch more businesses under his
2G Food Group
umbrella, with the first being Gyoza Bar (again with Sato), which premiered in 2012 in Paris.
He then teamed up with Tsuyoshi Miyazaki (sous chef at Passage 53) and Enguerrand Cantegrel (maître d'hôtel at Passage 53), and the three of them came up with the idea for the original Mr. T (which happens to be Miyazaki's nickname). The restaurant opened in 2017 in Paris' Le Marais district and was met with considerable success. Meanwhile, Passage 53 ended up shuttering in 2019, and was replaced by Ramen Bar in September 2020. Guedj then debuted Gyoza Factory in Frankfurt in January 2021, and took over F&B operations at Hôtel Bachaumont in Paris later that year.
As for how the Hollywood Mr. T came to be, apparently Guedj was convinced to do something in the US by none other than Jay Brown from Roc Nation. He thus teamed up with prolific LA restaurateur William "Bill" Chait, signing a lease for a space in a CIM Group-developed property in 2019. After numerous COVID-19-induced delays, the place finally grand-opened on August 16th last year with Executive Chef Alisa Vannah leading the kitchen on a day-to-day basis.
About the Chef
: A Los Angeles area native, Chef Vannah was born in February 1992 to a Thai-American family. She cut her teeth at
Chi Spacca
starting in April 2013, but would leave the Mozzaplex after only a year. In March 2014, she moved over to
Walter Manzke
's La Brea mainstay
Republique
, where she became executive sous. Vannah was also part of the opening team at Charles Namba's Echo Park izakaya
Tsubaki
, which debuted at the start of 2017. In early 2022, she was tapped to helm the kitchen at Mr. T, and subsequently trained with Miyazaki at the original restaurant in Paris before taking the lead here in Hollywood.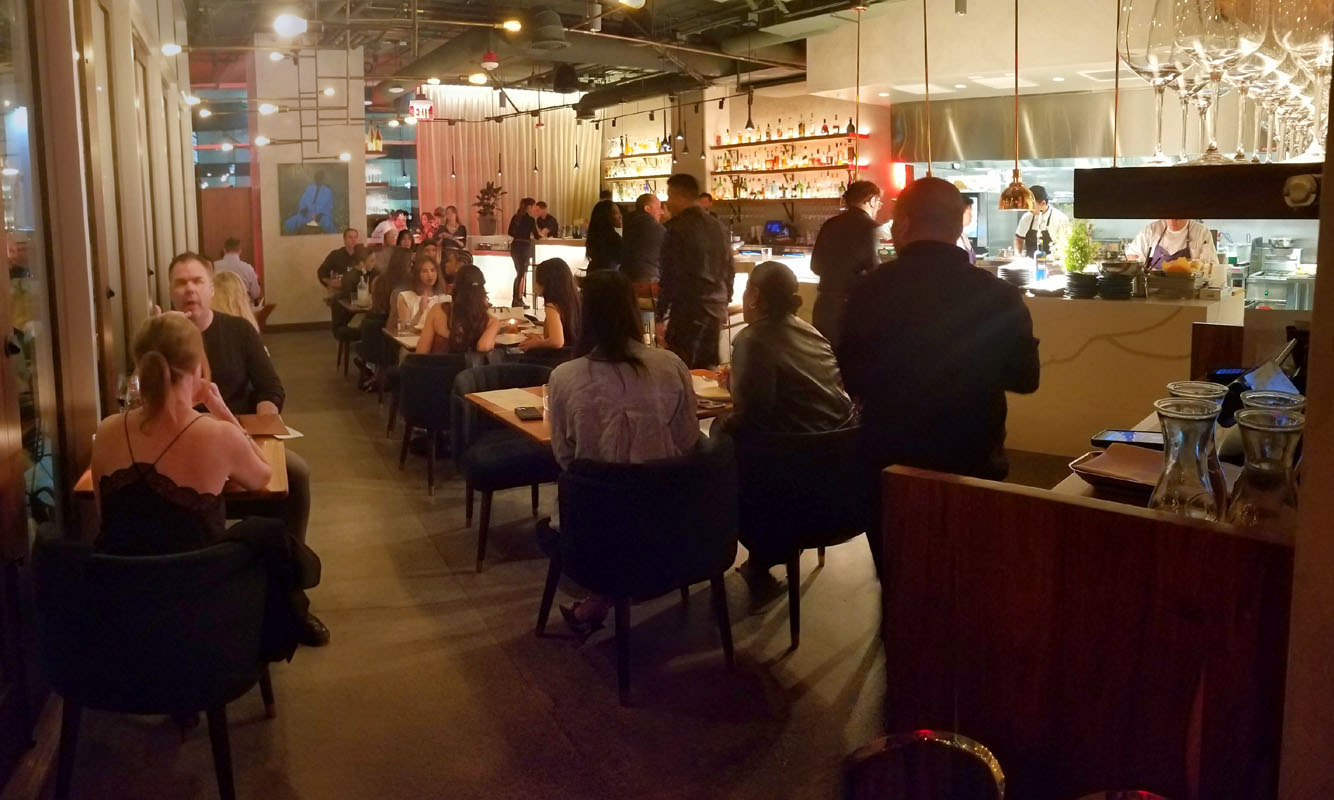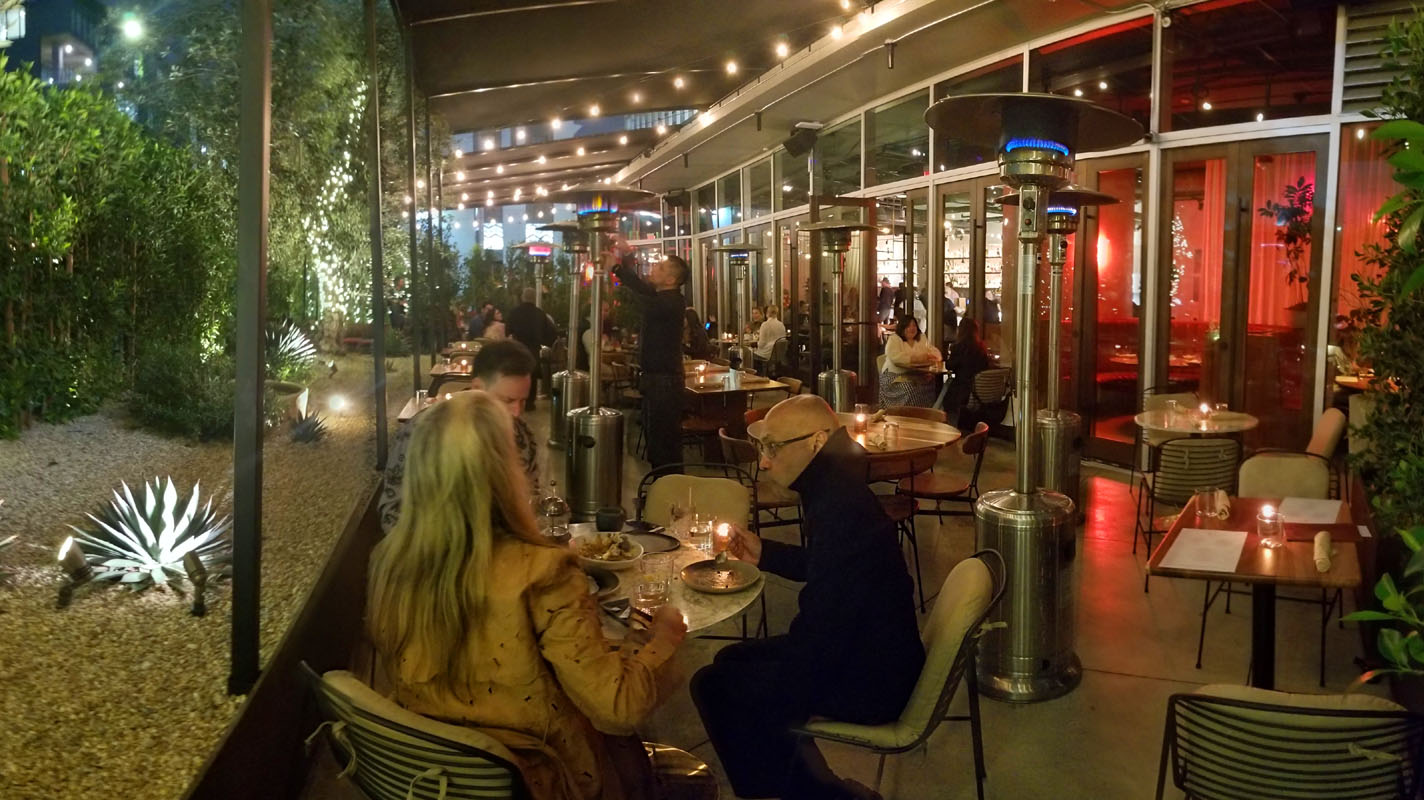 Mr. T. resides on the ground floor of a newly constructed building in the burgeoning Hollywood Media District. The restaurant was penned by Guedj and the late Richard Altuna, and boasts a somewhat minimalist, semi-industrial aesthetic. The dining room opens out to the patio, which has its own appeal, and there's also a private dining room for eight, replete with a dedicated outdoor area.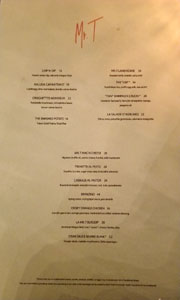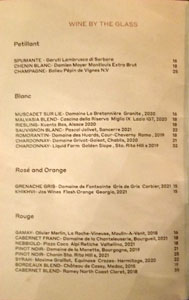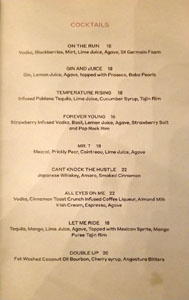 Mr. T's menu is well-curated, and rooted in French bistro cooking, though with plenty of other influences. There are a few classics from the original eatery in Paris, but most of the dishes are unique to LA. Beverage-wise, you get some fairly interesting cocktails and mostly-French wines, though unfortunately I didn't get to see the full wine list. Corkage is $35, limit two. Click for larger versions.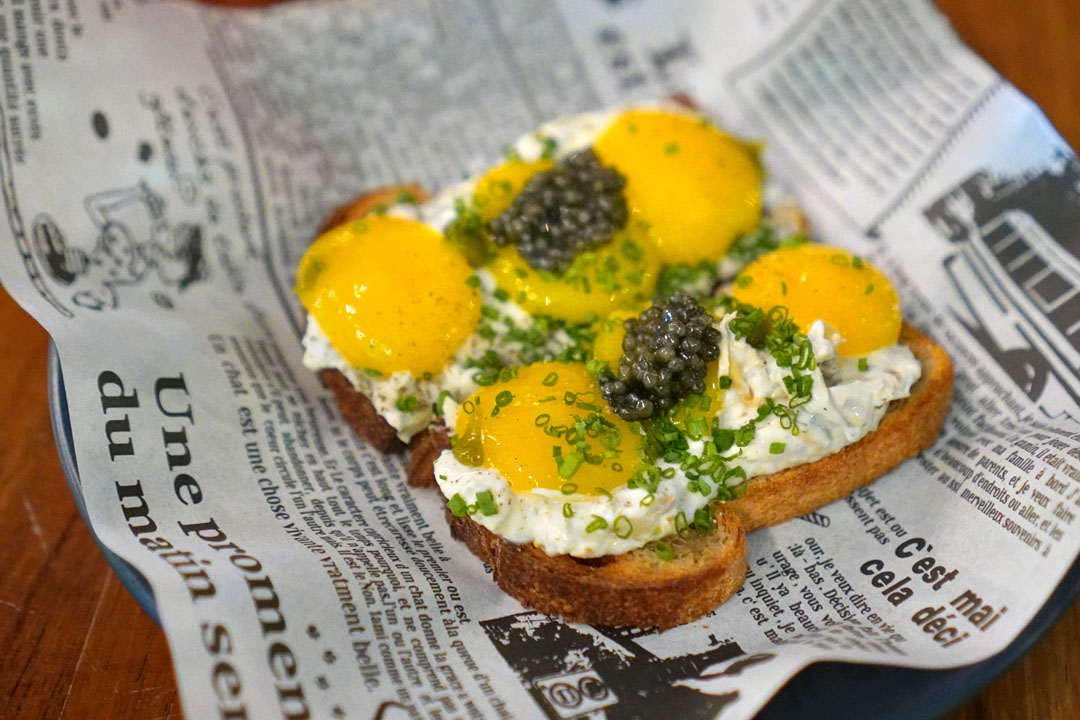 Kaluga Caviar Toast [$39.00]
| Confit egg, lime marmalade, bonito creme fraiche
Our meal got off to a promising start with some egg-on-egg action. As expected, the caviar made a lot of sense with those lush yolks, and there was this undercurrent of sweetness in the dish that was always kept in check. I appreciated the zippiness imparted by the chives, as well as the textural contrast from the bread, but my favorite component was probably the skipjack-infused crème fraîche, which had this creamy brine that really tied the dish together.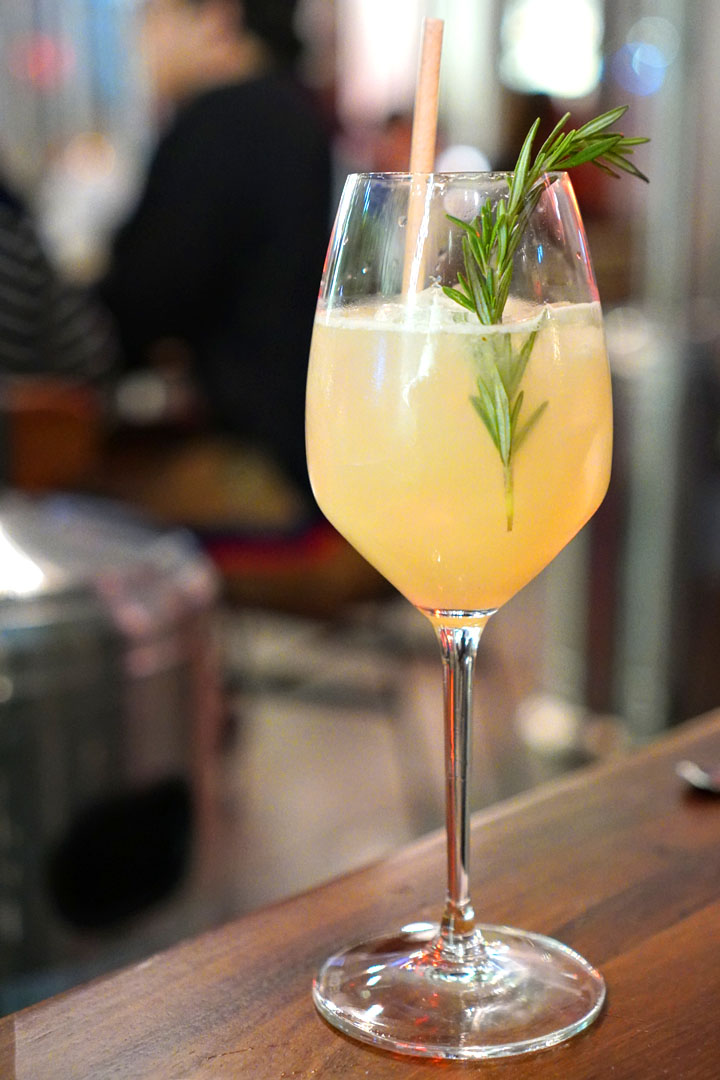 Gold Roses [$19.00]
| Blanco Tequila, Grapefruit, Rosemary, Agave, Lime Juice
Mr. T's "cocktail of the month" showcased the vegetal, peppery taste of tequila in a subdued manner thanks to deft applications of citrus, herb, and just a bit of heat.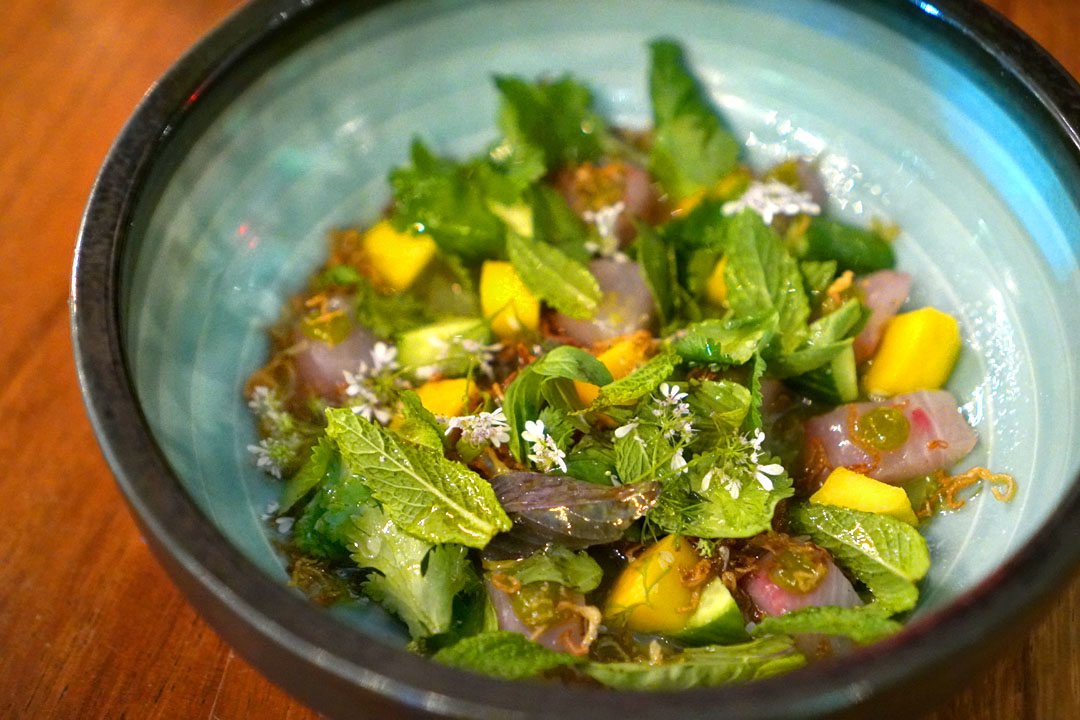 "Thai" Kampachi Crudo [$28.00]
| Hawaiian Kampachi, Nam jim vinaigrette, mango, jalapeno oil
Meaty shards of kanpachi combined effortlessly with the plethora of sour, savory, sweet, and herbaceous notes in the bowl, and overall, the dish did a commendable job conveying its Thai inspiration.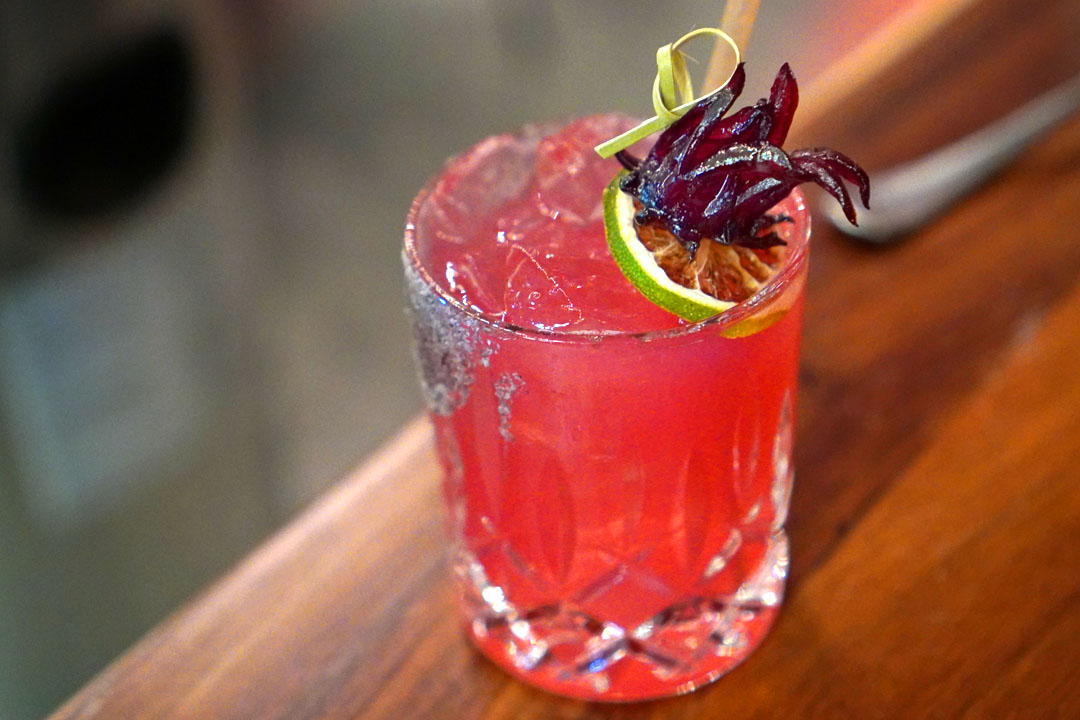 Mr. T [$18.00]
| Mezcal, Prickly Pear, Cointreau, Lime Juice, Agave
Of course, I had to sample the restaurant's namesake, ruby-hued cocktail. This one highlighted the smoky, leathery, spicy nature of the mezcal, softened a smidge by prickly pear and Cointreau.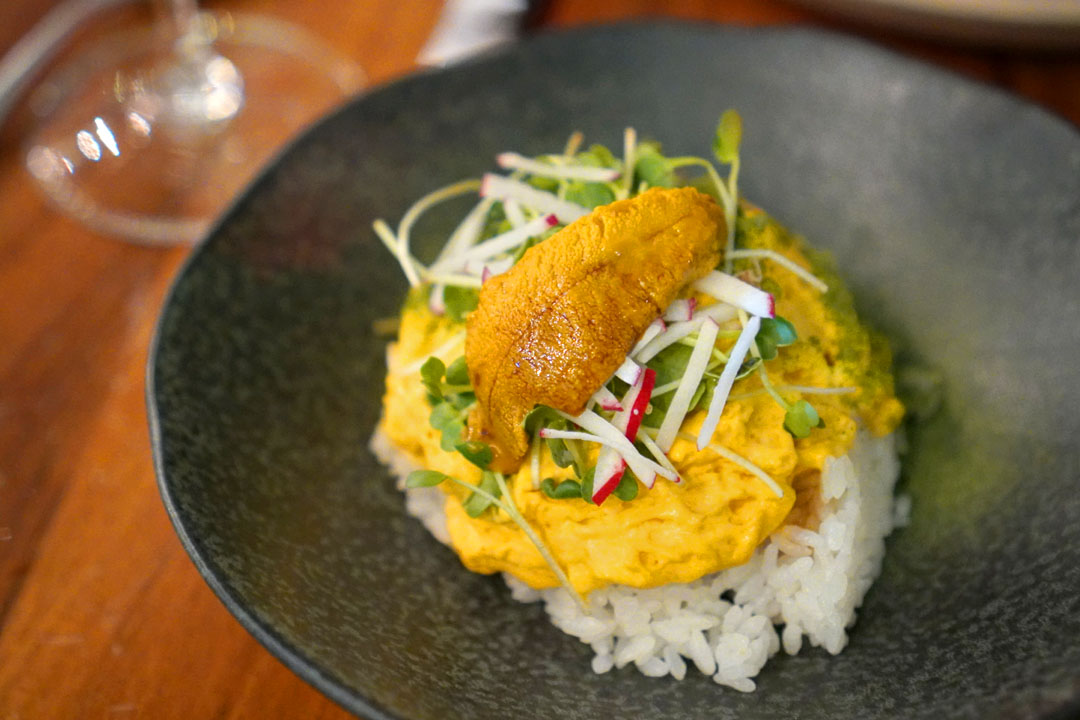 The "Uni" [$34.00]
| Koshihikari rice, config egg yolk, sea urchin
I don't think I've ever had uni presented quite like this before. There was this sweet-n-savory interplay going on that almost reminded me of brown butter, while the oceany qualities of the urchin came in later and lingered. All of this was tempered by the herbs, radish, and some beautifully-textured rice.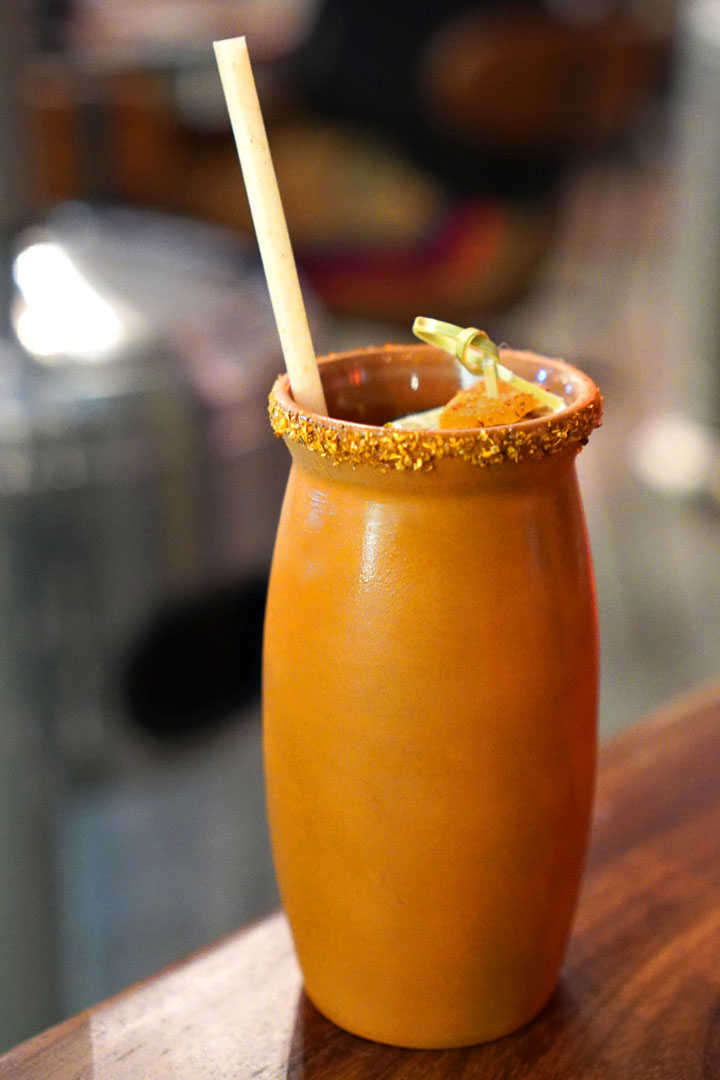 Let Me Ride [$18.00]
| Tequila, Mango, Lime Juice, Agave, Topped with Mexican Sprite, Mango Puree, Tajin Rim
Our third agave-based cocktail in a row was on the thicker side, displaying loads of tropical, nearly candied mango offset by just enough astringency.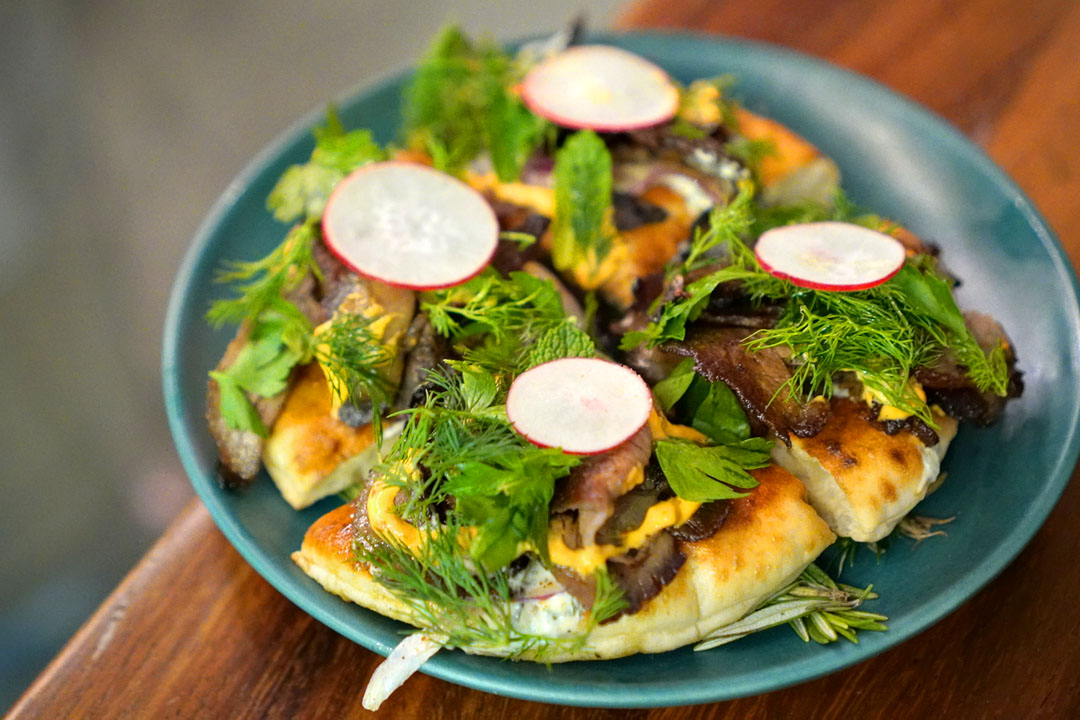 Mr. T Lamb Kebab [$26.00]
| Roasted lamb, tzatziki, spicy aioli
Naturally, I felt the need to try the restaurant's signature kabob dish, and it didn't disappoint. The meat was smartly spiced, recalling shawarma in fact, and made a whole lotta sense when taken with all the creamy, herby elements. Big fan of the fluffiness of the flatbread, too.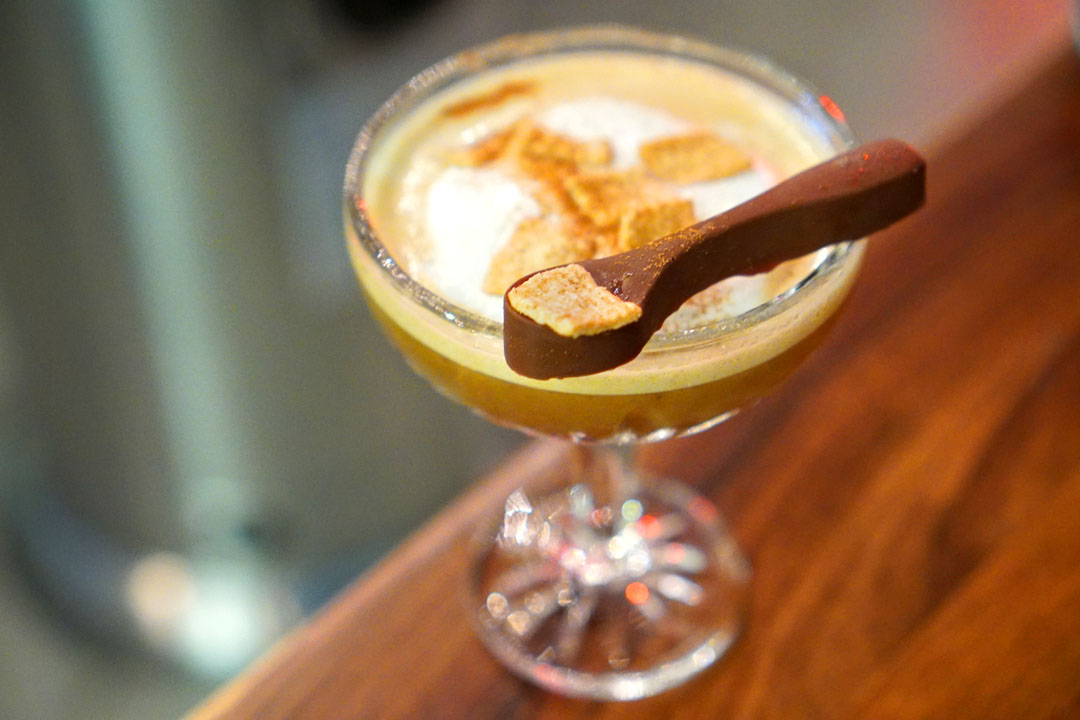 All Eyes on Me [$22.00]
| Vodka, Cinnamon Toast Crust Infused Coffee Liqueur, Almond Milk Irish Cream, Espresso, Agave
Given that Cinnamon Toast Crunch was one of my favorite childhood breakfast cereals, this was another must-order for me. The drink really did demonstrate that sweet-spiciness I was looking for, which melded seamlessly with the bitter-roastiness of the coffee. This would be great as a dessert cocktail, especially with that dark chocolate garnish.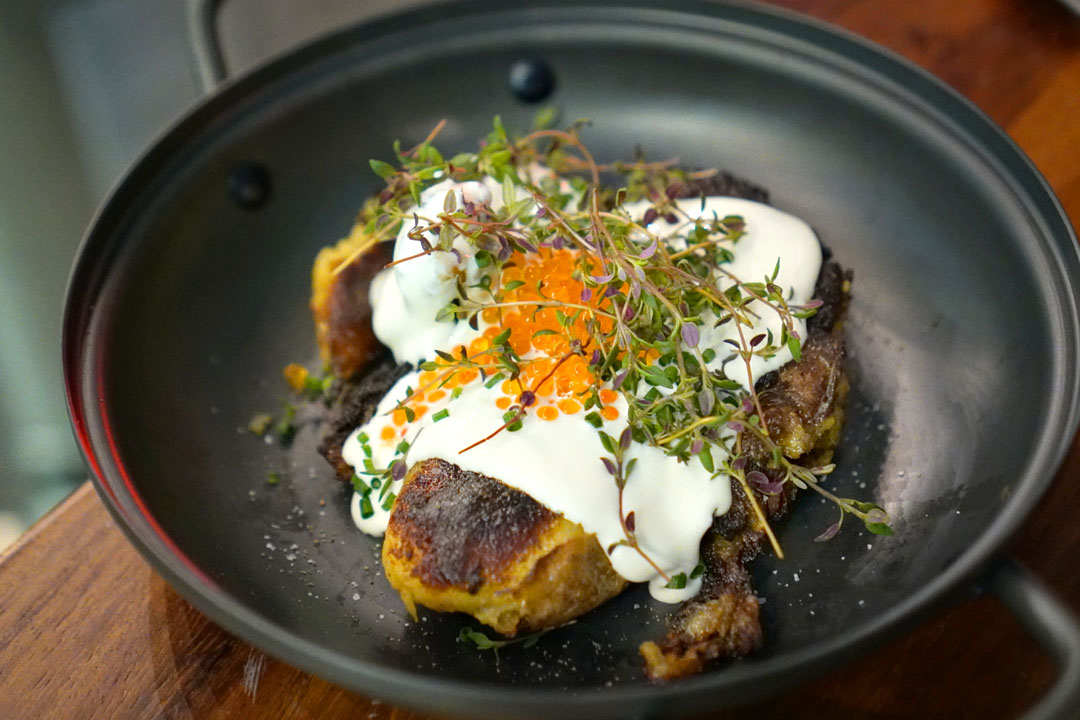 The Smashed Potato [$16.00]
| Yukon Gold Potato, Trout Roe
Potatoes arrived hearty and substantial, setting the stage for the application of all the creamy, saline, herbaceous ingredients on the plate.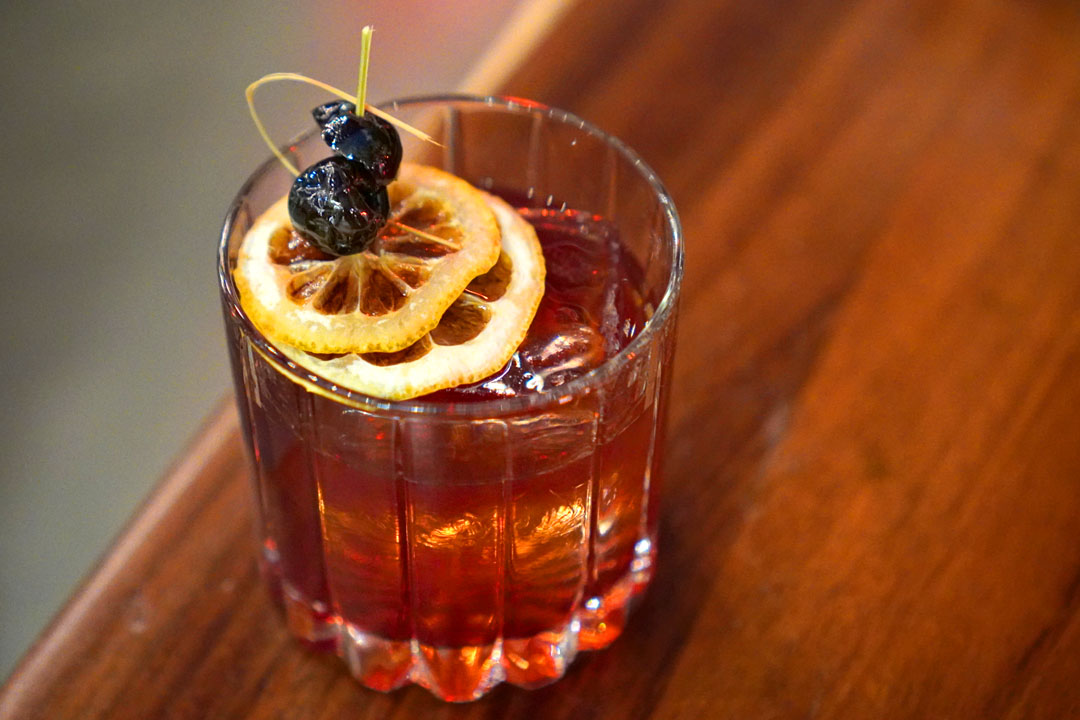 Double Up [$20.00]
| Fat Washed Coconut Oil Bourbon, Cherry Syrup, Angostura Bitters
The booziest cocktail of the bunch had an appealing nose that was sweet, yet almost briny at the same time. Tasting it, I got medicinal, herbal, and bitter notes to begin with, but there was also this nearly bubble gum-esque character that kept it all in check.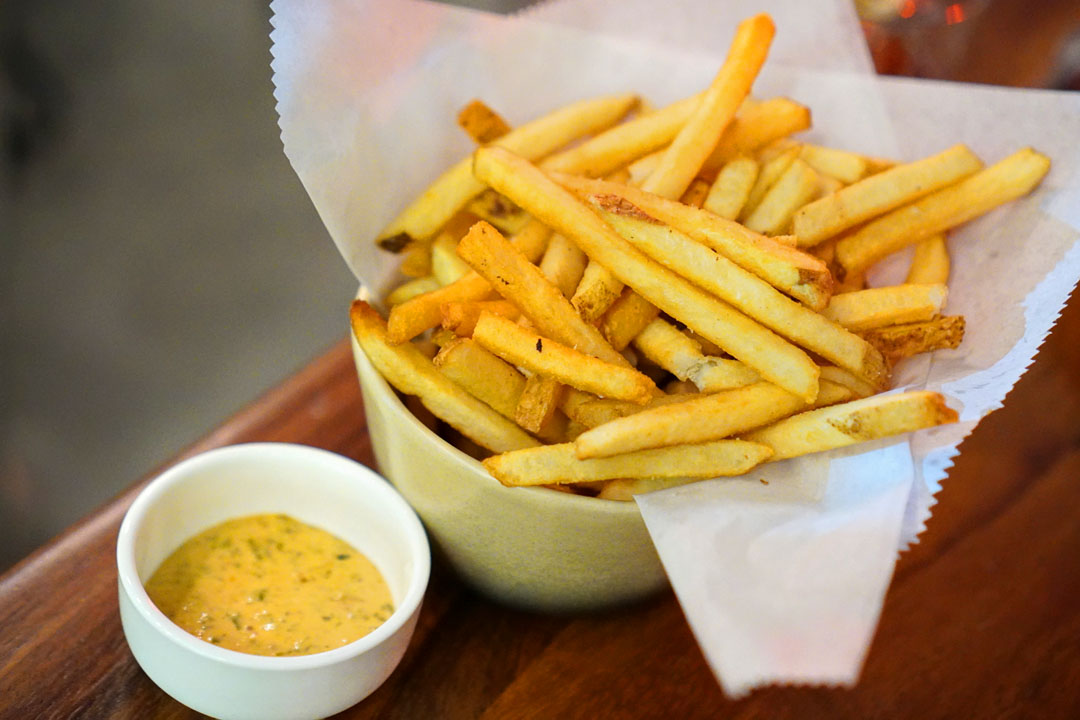 At this point, the fries meant to accompany our burger below was brought out. They were spot-on in terms of taste and texture, and were delish either with or without that spicy, Thousand Island-ish condiment.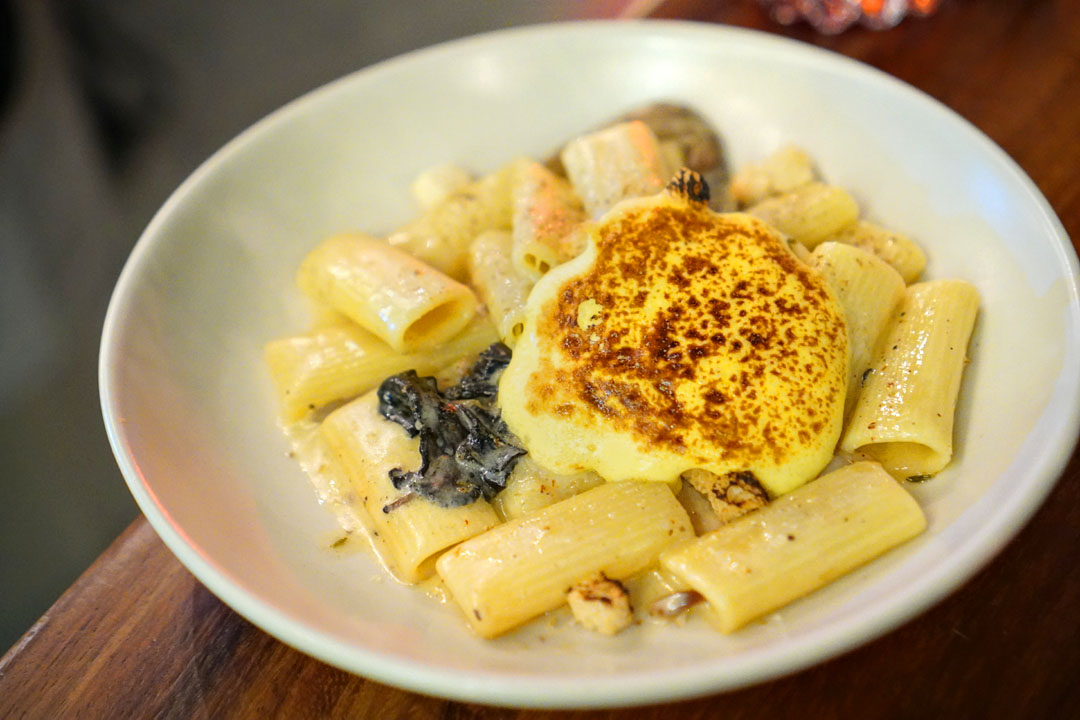 Mr. T Mac n Cheese [$26.00]
| Rigatoni, truffle oil, comte cheese flambe, wild mushroom
The mac and cheese was another signature dish, one that I was a fan of as well. The tube pasta was satisfyingly-textured and took well to the harmonious marriage of torched Comté, mushroom, and truffle. An easy crowd-pleaser.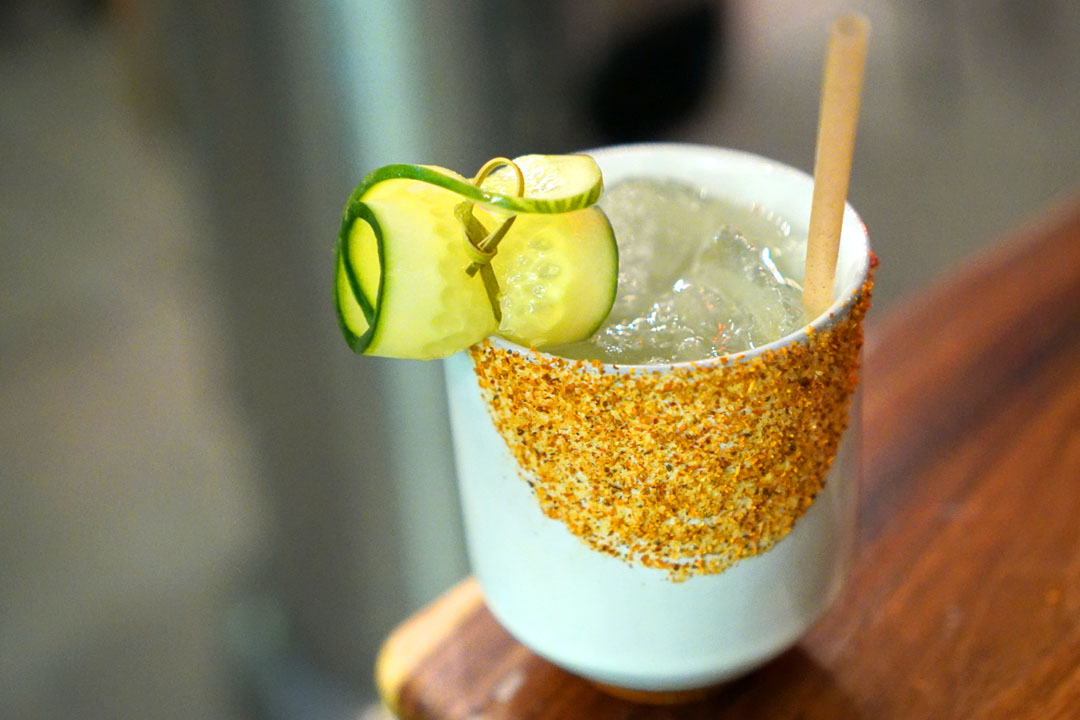 Temperature Rising [$18.00]
| Infused Poblano Tequila, Lime Juice, Cucumber Syrup, Tajin Rim
The evening's fourth and final agave cocktail balanced the vegetal nature of tequila with a good dosing of heat and plenty of bright cucumber.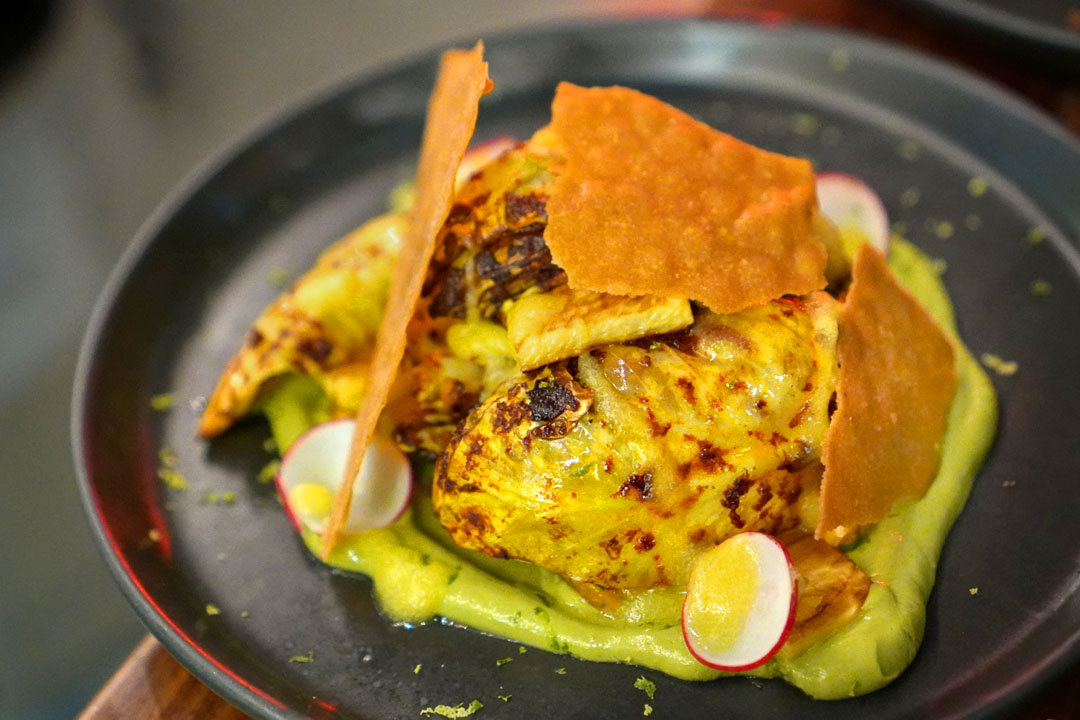 Cabbage Al Pastor [$24.00]
| Roasted pineapple, avocado mousse, corn tuile, gooseberries
What struck me first here was the sweetness of the pineapple, as there was too much of it for my liking. Fortunately, said sweetness was joined by that familiar al pastor seasoning I was looking for, which worked with the bitter, smoky flavors from the cabbage. At the same time, avocado smoothed things out, while the tuile imparted both crunch and some sweet-spice.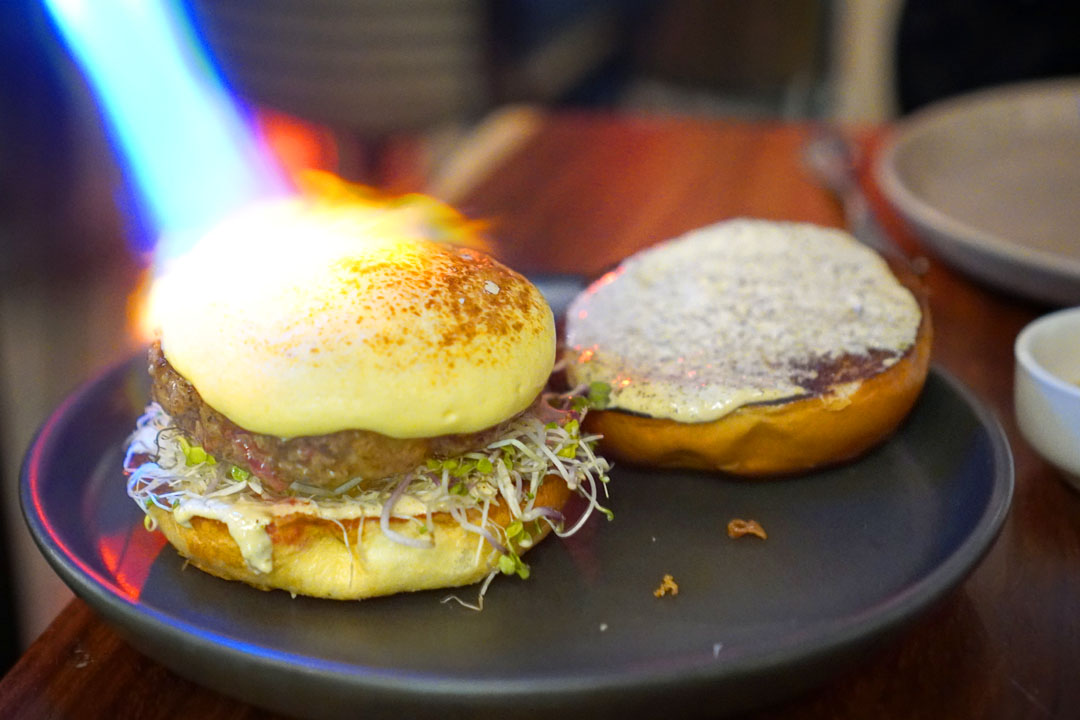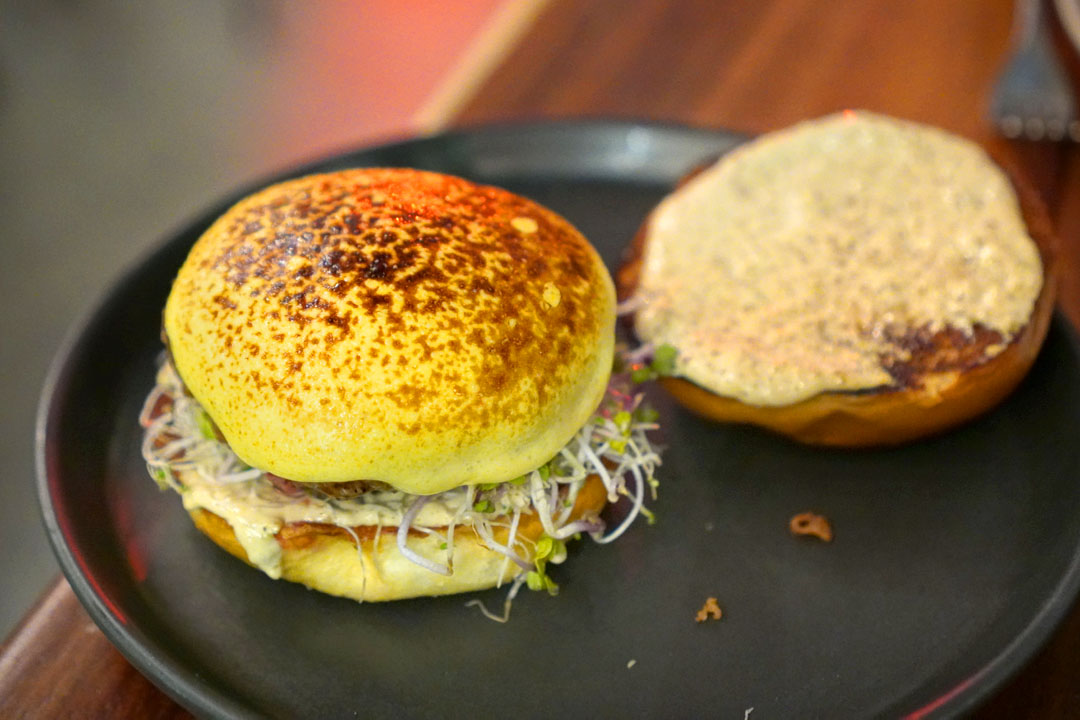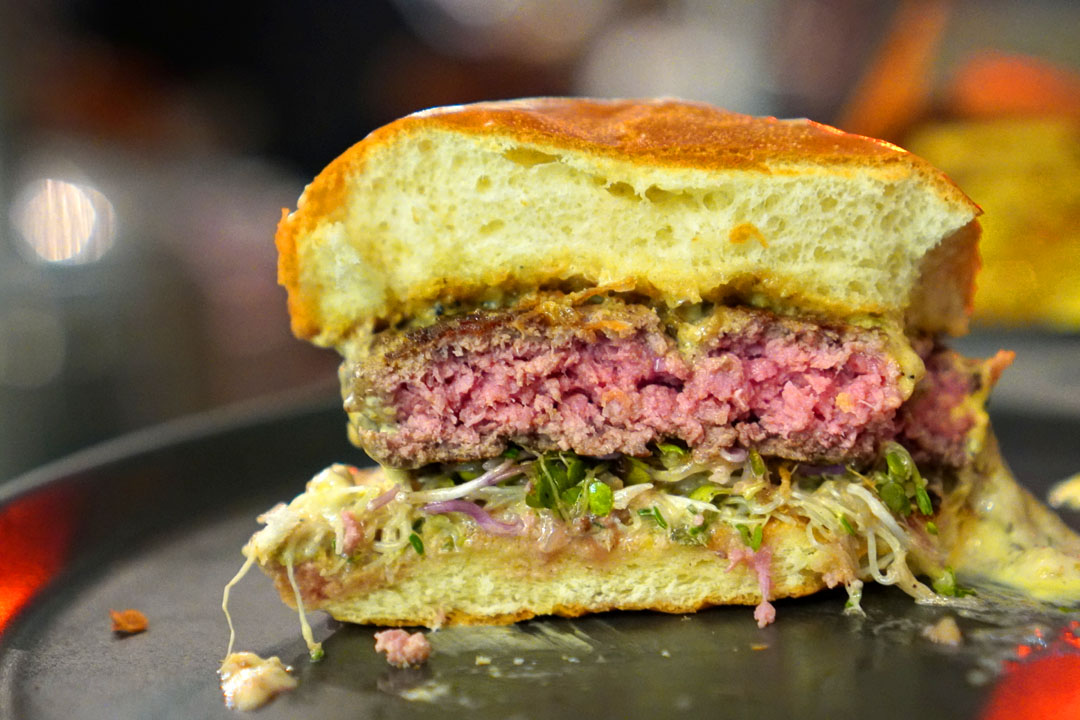 LA Mr. T Burger [$28.00]
| American Wagyu Beef, mac T sauce, cheese flambe, fries
The namesake hamburger, replete with more tableside torching, didn't let me down. In fact, it was one of the best I've had in a while. I enjoyed the rare cook on the patty, which arrived deeply flavored and with a lovely caramelized crust to boot. The savory onions and tangy pickles were crucial as well, while the accompanying sauce helped bring it all together.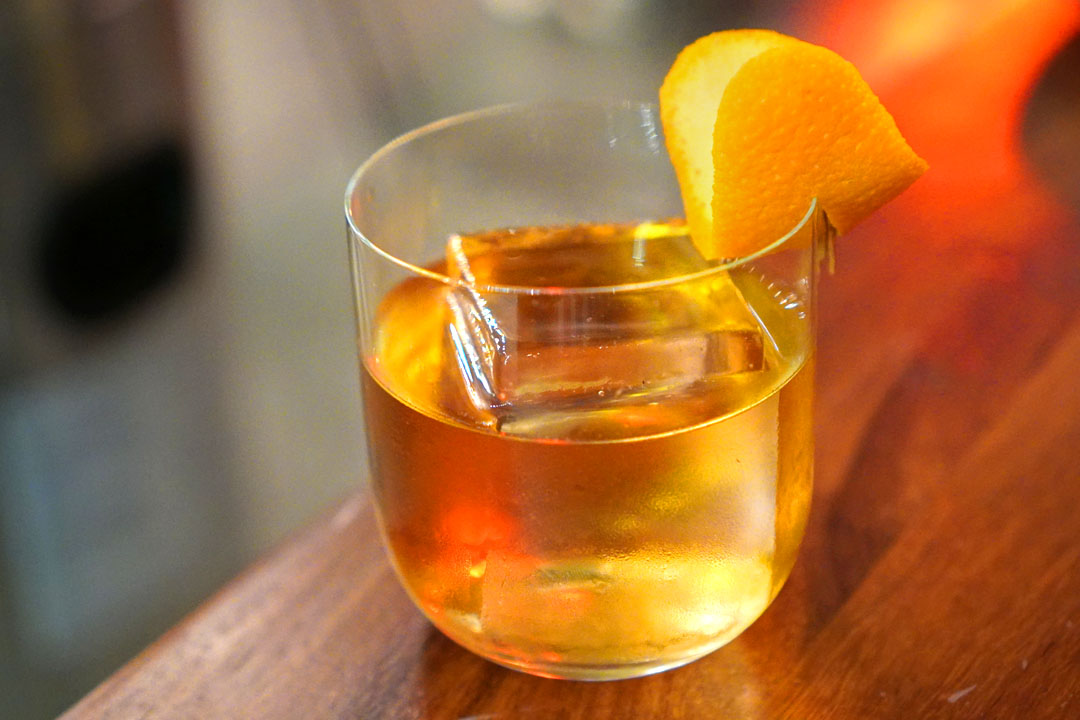 Can't Knock the Hustle [$22.00]
| Japanese Whiskey, Amaro, Smoked Cinnamon
My final cocktail smelled great, reminding me of a cinnamon-infused stout. On the palate, this was surprisingly crisp, with notes of juicy apple at the fore, set against sweet spices and hints of herb.

The dessert menu is a relatively brief affair. Click for a larger version.
Berries and Pearls [$14.00]
| Seasonal berries, tapioca water chestnut, rose water tuile
Our first dessert was on the lighter side, and combined tangy berries with tropical flavors (coconut, papaya?), floral nuances, and some almost Thai-like herbs.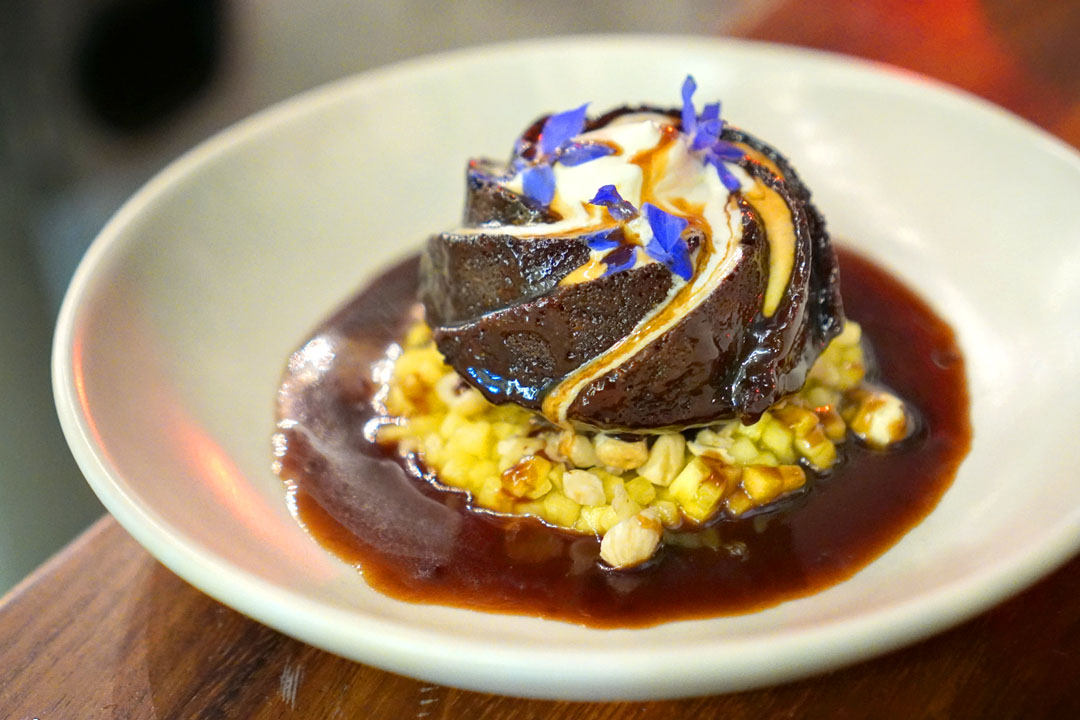 Sticky Toffee Pudding [$14.00]
| Pineapple relish, dates, mascarpone
Last up was the sticky date pudding, which had all the dark-toned, sugary flavors I was seeking, evened out by chopped nuts, pineapple, and even a touch of herbaceousness.
I was quite happy with my meal at Mr. T, which I was expecting to be based on what I'd read about the place. Miyazaki and Vannah's collaborative approach to the menu has resulted in cooking that's familiar and comfortable in one sense, but also spunky, engaging, and playful. Cocktails were also on point, and I had no qualms with the service, either. It's restaurants like this that have made Hollywood the most exciting place to eat in Los Angeles (of the last couple years), and Mr. T is certainly another feather in the neighborhood's cap.