Steep LA (Los Angeles, CA)
Steep LA at Mandarin Plaza
970 N Broadway, Los Angeles, CA 90012
213.394.5045
www.steepla.com
Fri 04/21/2023, 08:30p-10:05p

During the depths of the pandemic, I once paid a visit to Chinatown's
Angry Egret Dinette
for some torta-based takeout. After my meal, I noticed the storefront next door, which was home to Steep LA, an intriguing modern tea house that I subsequently added to my spreadsheet of spots to try. It obviously took me a while, but I finally made it out recently.
Steep is the brainchild of
Samuel Wang
and
Lydia Lin
, neither or whom come from the hospitality world. Wang is Taiwanese and grew up in Taipei; he boasts an engineering education, though works in graphic design and serves as the founder of
The Goods LA
and
Sweet Burden
. Meanwhile, Lin is Cantonese and a native of Guangzhou, and is a legal operations manager for architecture firm CallisonRTKL. Not surprisingly, both partners grew up around tea, but only began developing an appreciation for traditional kung fu tea ceremony (功夫茶, or
gōngfūchá
) as they got older. A few years ago, Wang came up with the idea of a space dedicated to that style of ritualistic, contemplative tea preparation, and thus recruited Lin, who shared a similar vision for such a tea room. Steep thus grand-opened on September 13th, 2019 (the day of the Mid-Autumn Festival), inside the former home of Chinatown Coffee Hall.
Now when it first started, Steep was a daytime-only affair. However, the pandemic made Lin and Wang adjust their business model. Therefore, in October 2020, they set up some outdoor seating and began a pop-up called Steep After Dark (SAD), serving tea-based cocktails and Chinese-y small bites from guest chefs and bartenders. On July 28th last year, SAD became a permanent offering, and now takes place every Thursday through Saturday. This is what I was here for.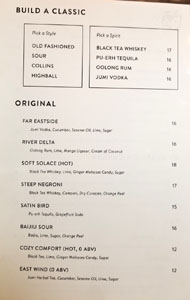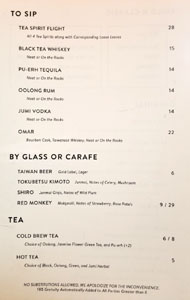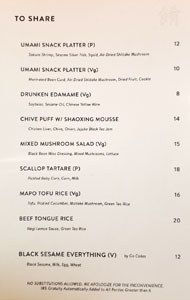 During the day, Steep offers a tight selection of teas from China and Taiwan in four categories (green, black, oolong, pu'er), along with a casual food program spearheaded by Lin, an accomplished home cook. However, for Steep After Dark, the eats veer toward
jiǔyáo
(酒餚), or food meant to pair with alcohol. And speaking of alcohol, the focus at S.A.D. is on cocktails incorporating tea-infused spirits, which are the creation of Head Bartender Huy Pham, a former cybersecurity professional who previously worked at
Bar Jackalope
. Click for larger versions.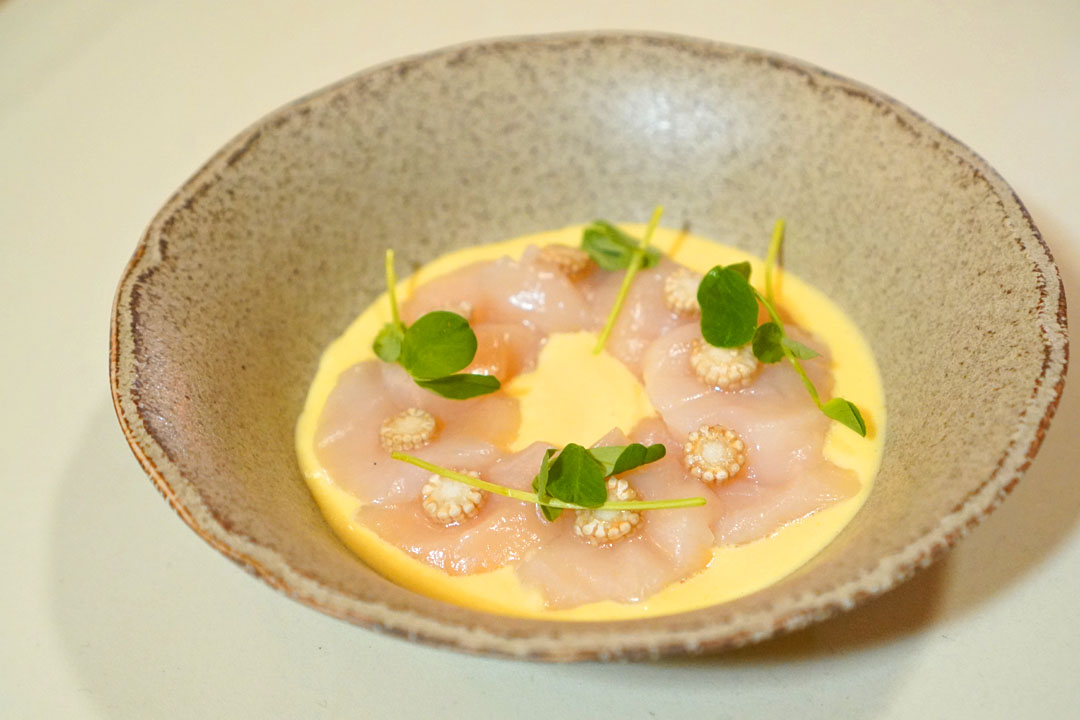 Scallop Tartare [$18.00]
| Pickled Baby Corn, Corn, Milk
I made my way through most of the menu, and first to arrive was the tartare, which was more like a crudo on account of not being chopped. Nomenclature aside, it was an effective dish, with the disparate sweetness of the scallop and corn making a lot of sense together, especially when accented by the herbs and tangy pickled bits.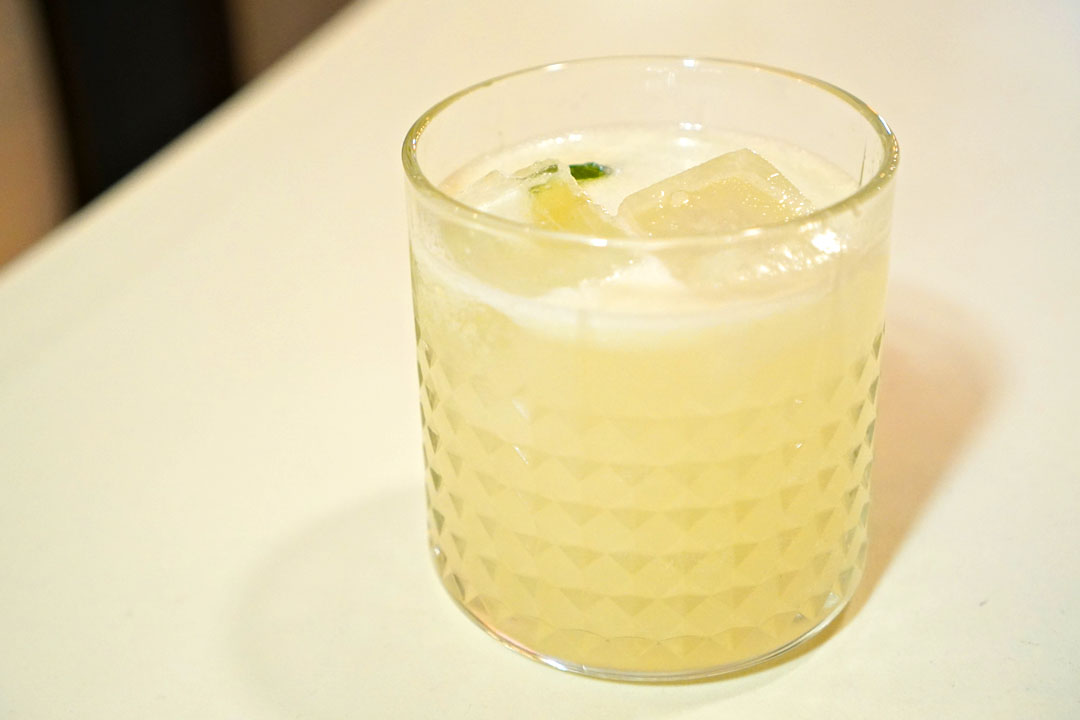 Far Eastside [$16.00]
| Jumi Vodka, Cucumber, Sesame Oil, Lime, Sugar
My first cocktail ended up being my favorite of the bunch thanks to its spot-on marriage of savory, nutty sesame with the drink's refreshing cucumber flavors. It really did a great job recalling a classic Chinese-style smashed cucumber salad (
pāi huángguā
). Very cool.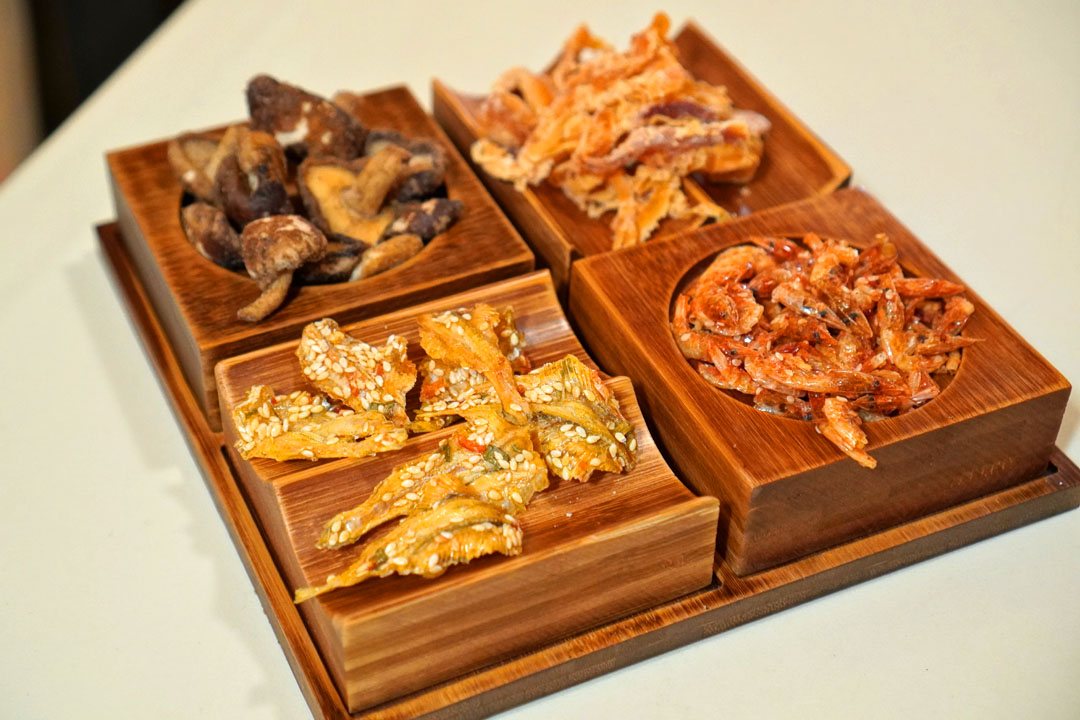 Umami Snack Platter [$12.00]
| Sakura Shrimp, Sesame Silver Fish, Squid, Air-Dried Shiitake Mushroom
Here we had a snack foursome that highlighted different aspects of umami. Going counter-clockwise from the bottom-left, we'll start with the fish, which had this crisp-pliant consistency and a mix of sweet and nutty flavors. The dried shrimp showcased a familiar brine backed by a marked sugariness, while its long finish demonstrated plenty of
xiān wèi
; this was something that I was exposed to as a kid, but which I didn't appreciate back then. Now something I did appreciate during my younger years were those sweet-n-savory, chewy cuts of shredded squid (
yóuyú sī
), a favorite childhood snack of mine. Last up were the mushrooms, which were almost airy to the bite and ate herby and sweet, with a long-lasting musk bringing up the rear.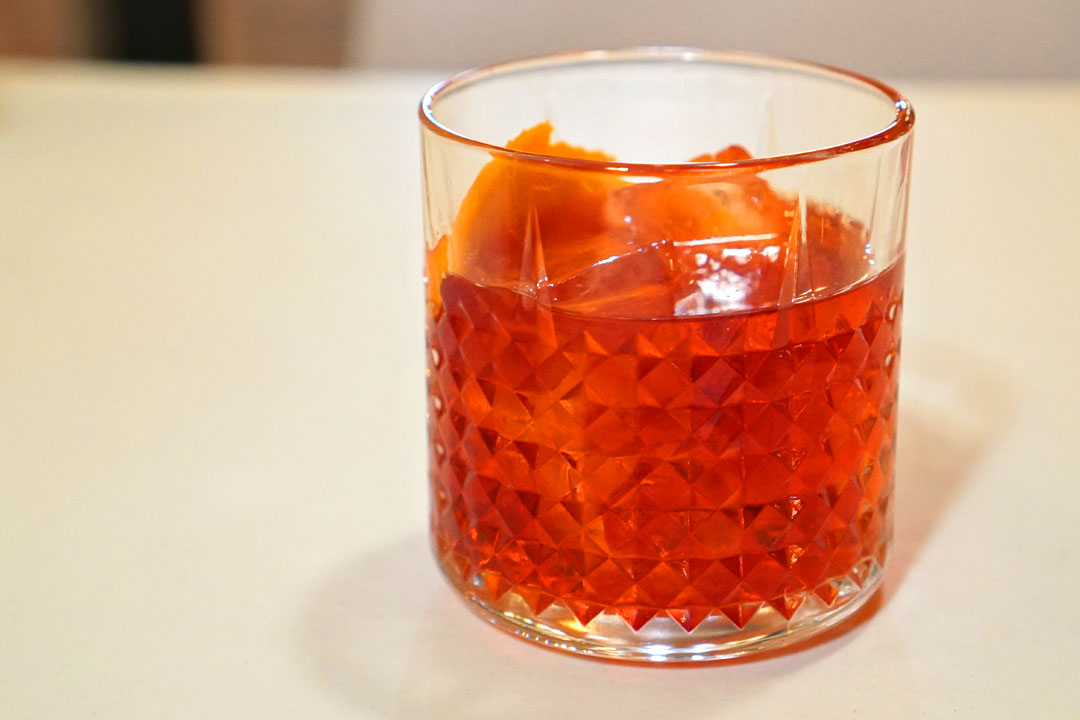 Steep Negroni [$17.00]
| Black Tea Whiskey, Campari, Dry Curacao, Orange Peel
This Negroni variation drank sweeter and more fragrantly than normal, and was quite viscous on the palate, with a dark-toned herbal character from the tea that worked for me.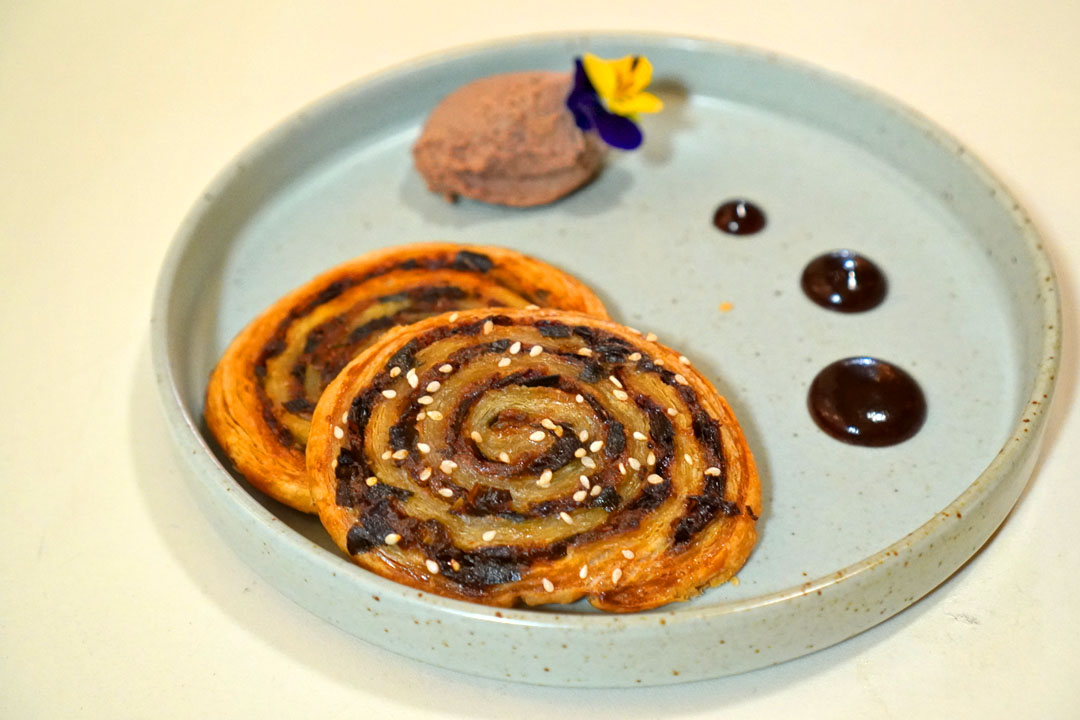 Chive Puff w/ Shaoxing Mousse [$14.00]
| Chicken Liver, Chive, Onion, Jujube Black Tea Jam
Pinwheels of puff pastry were properly flaky and imbued with plenty of onion-y goodness. They were tasty alone, but really sang when paired with that deeply-flavored liver mousse, all while a jujube jam imparted a sugary weight.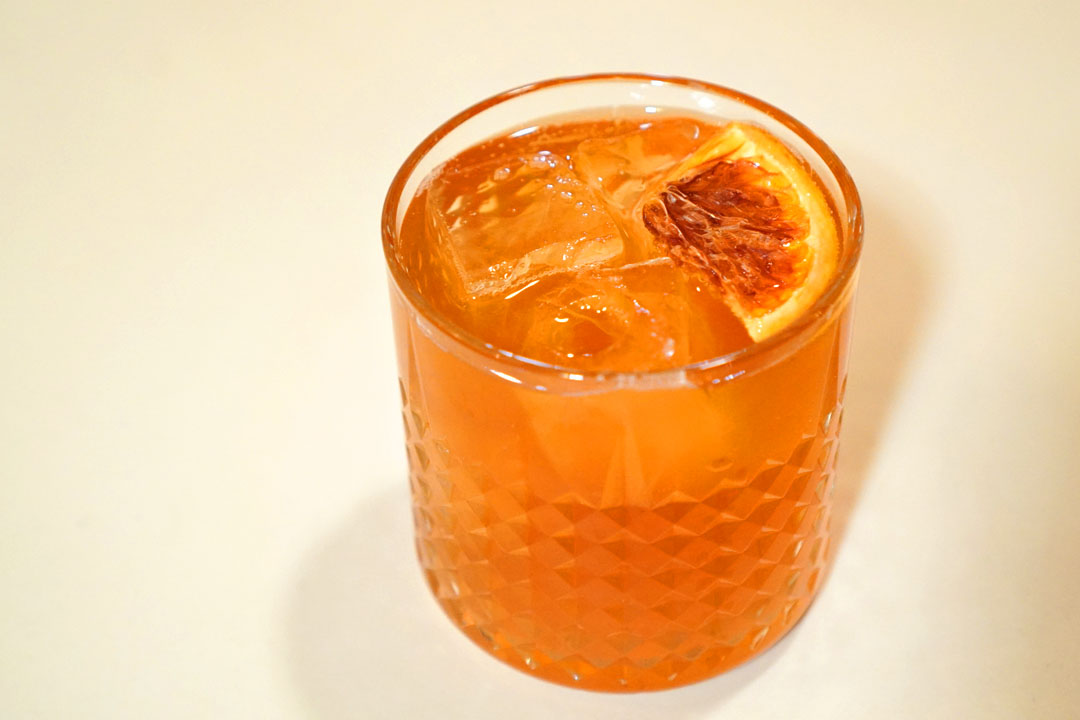 Satin Bird [$15.00]
| Pu-erh Tequila, Grapefruit Soda
This next cocktail was more interesting than I expected given that it comprised only two ingredients. The key was how seamlessly the earthy, almost funky taste of the pu'er combined with the brightness of the grapefruit, making for a pretty neat drinking experience.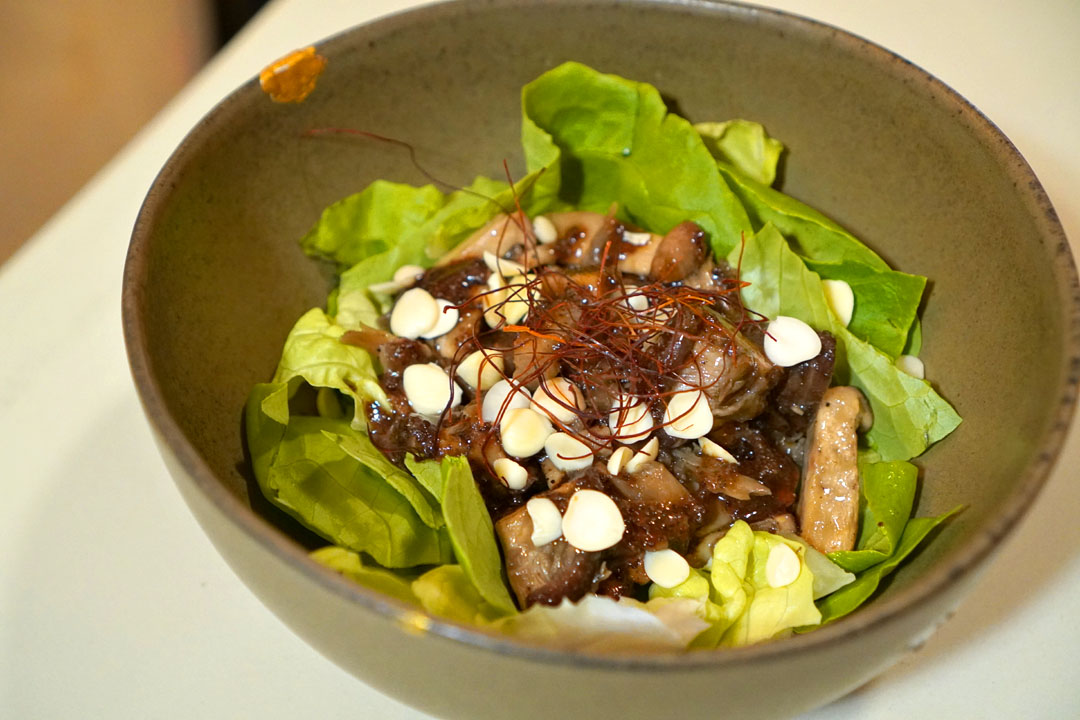 Mixed Mushroom Salad [$15.00]
| Black Bean Miso Dressing, Mixed Mushrooms, Lettuce
'Shrooms were very gratifying texturally, and showed off a delectable woodsiness that was further enhanced by the intensely savory, yet almost candied nature of that miso. Silky shards of lettuce helped temper the strong flavors at play, and I liked all the crunchy bits, too.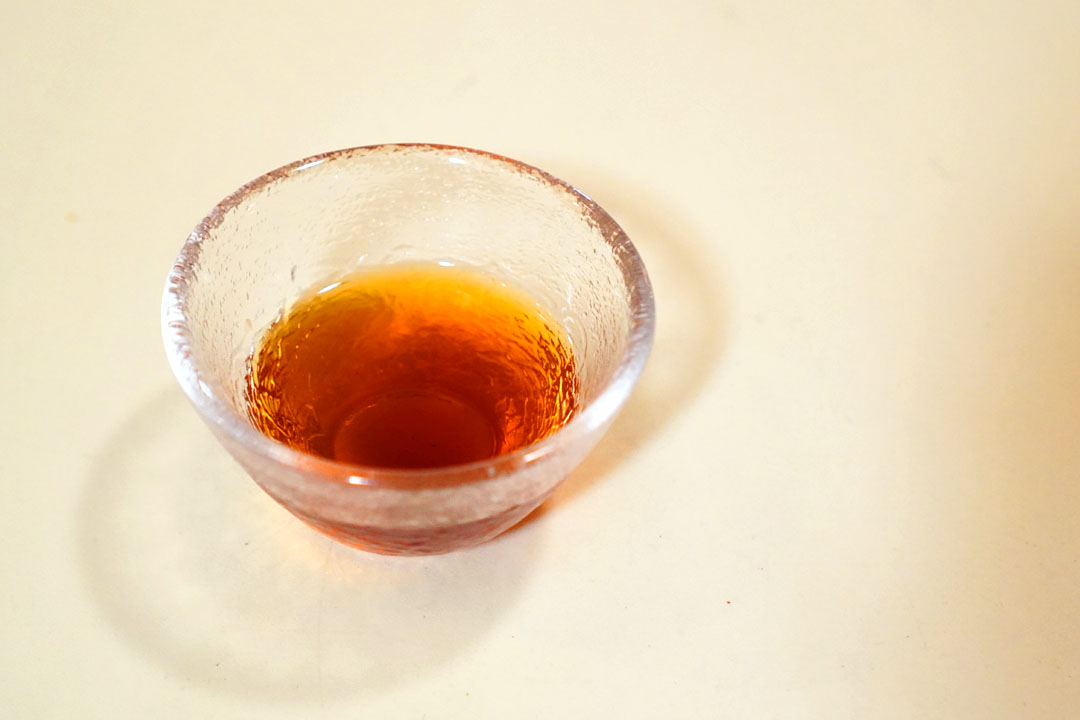 At this point, Pham and I were discussing the recent
Yamazaki tasting
at Bar Jackalope (since he worked there), and he thus brought out a sample of his
Black Tea Whiskey
for me to try. I have to say that I really enjoyed it, finding all the classic whiskey flavors I was looking for, but intertwined with a multifaceted tea character.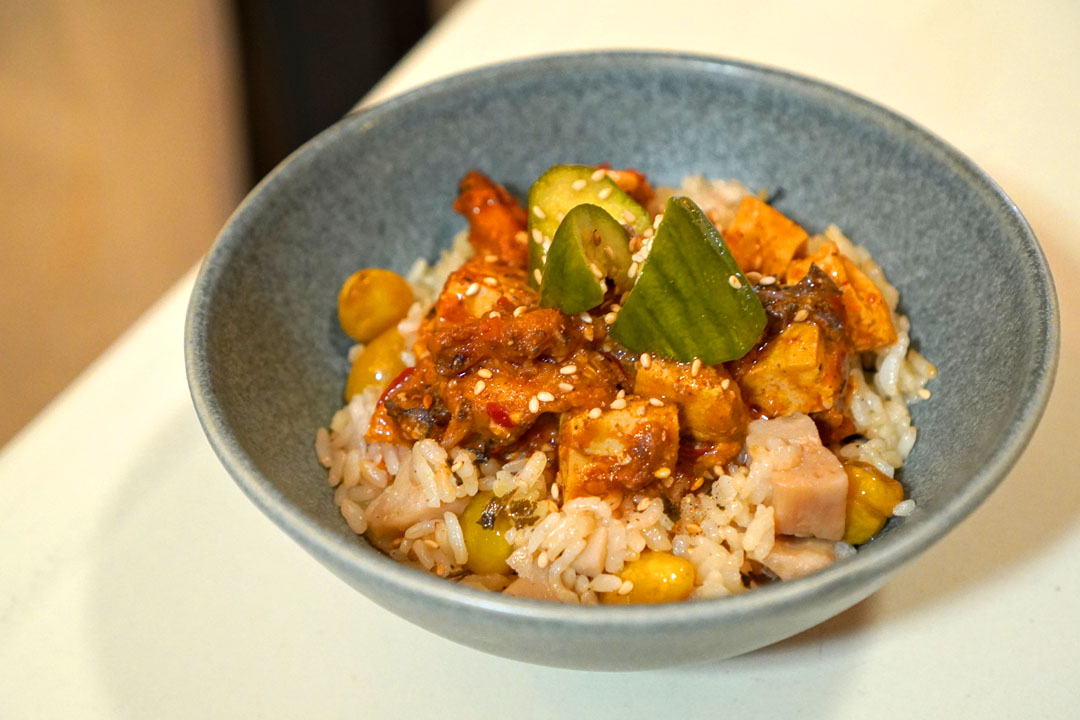 Mapo Tofu Rice [$16.00]
| Tofu, Pickled Cucumber, Maitake Mushroom, Green Tea Rice
This vegan take on mapo tofu also impressed due to its delectable spicing, tinged with just enough
málà
. The tofu was great when taken with the rice, which was on point texturally thanks to its perfect amount of "stick," and I liked the contrast offered up by the ginkgo nuts, too.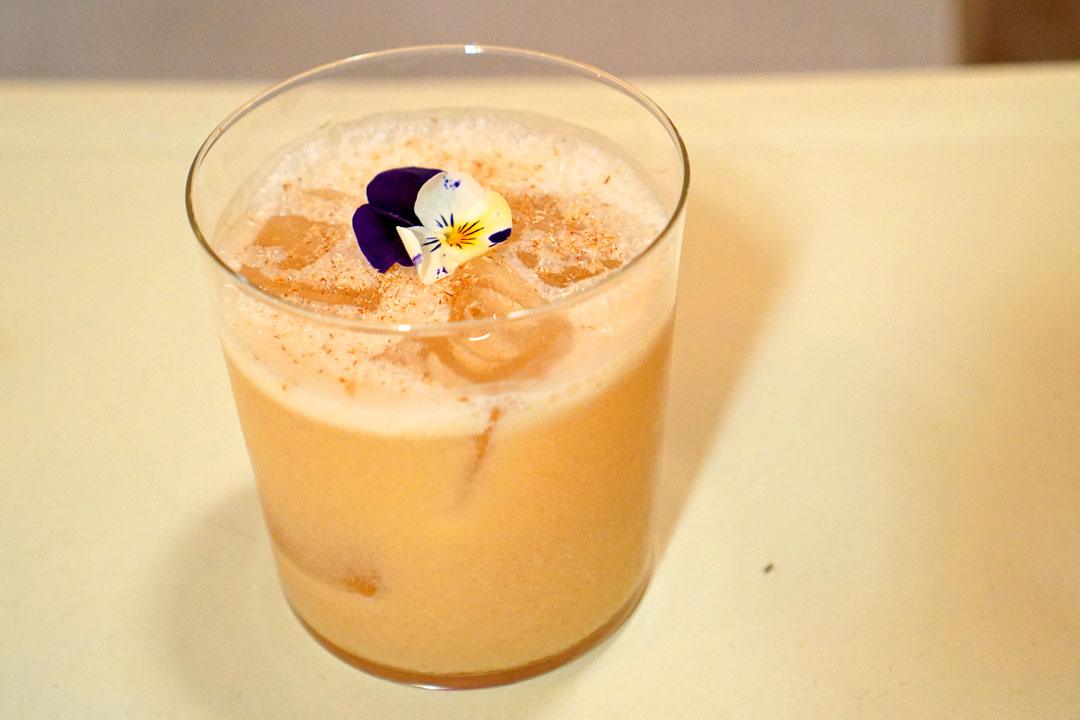 River Delta [$16.00]
| Oolong Rum, Lime, Mango Liqueur, Cream of Coconut
Here was a riff on the classic Painkiller cocktail that incorporated the sweet, aromatic, slightly grassy qualities of oolong tea, set against plenty of tropical coconut and touches of mango.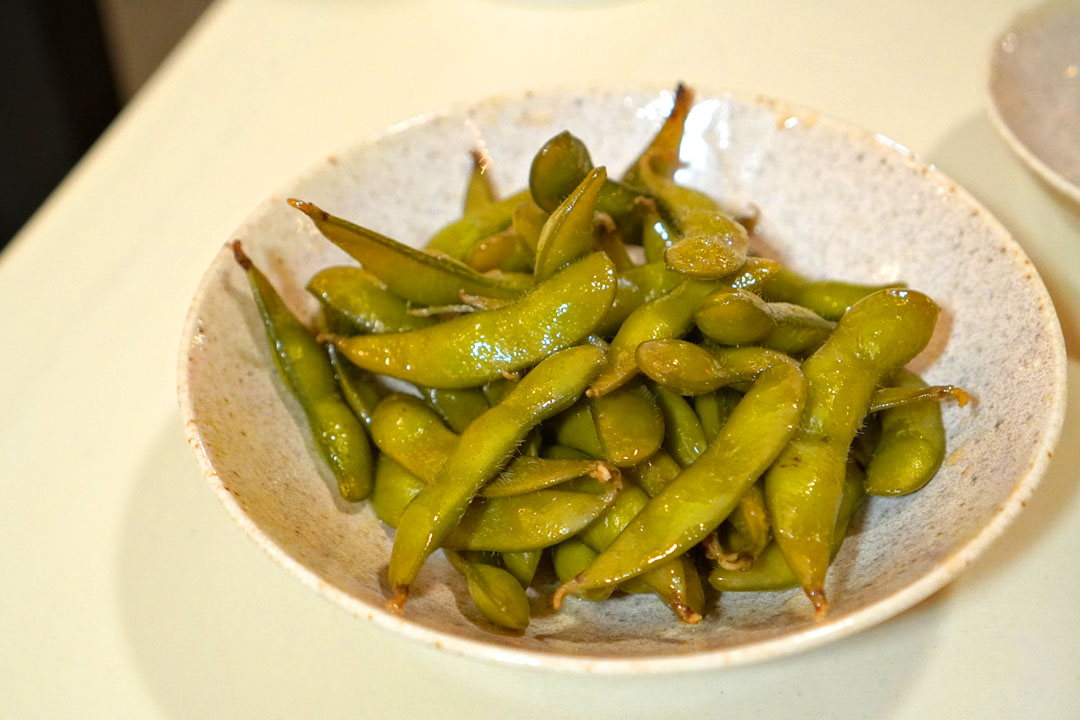 Drunken Edamame [$8.00]
| Soybean, Sesame Oil, Chinese Yellow Wine
Soybeans took surprisingly well to the savory, pungent flavors of
huángjiǔ
, while sesame oil imparted a nutty component that also fit the bill.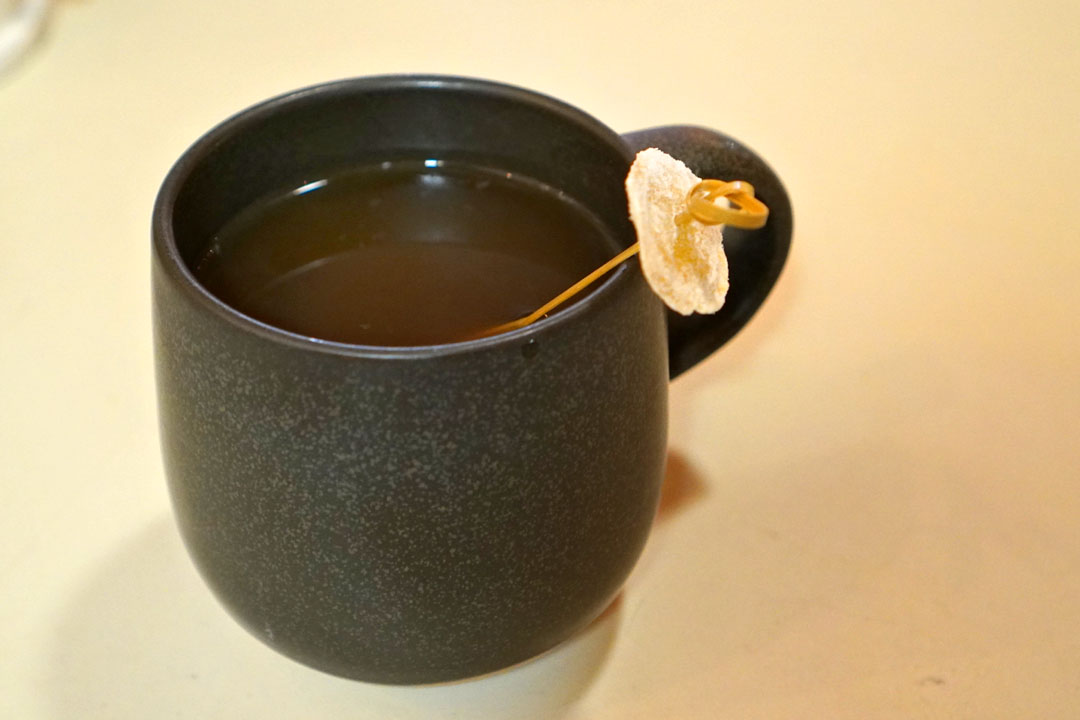 Soft Solace [$18.00]
| Black Tea Whiskey, Lime, Ginger Molasses Candy, Sugar
My final cocktail was a version of a hot toddy inspired by ginger tea, one that was particularly bold with its floral elements.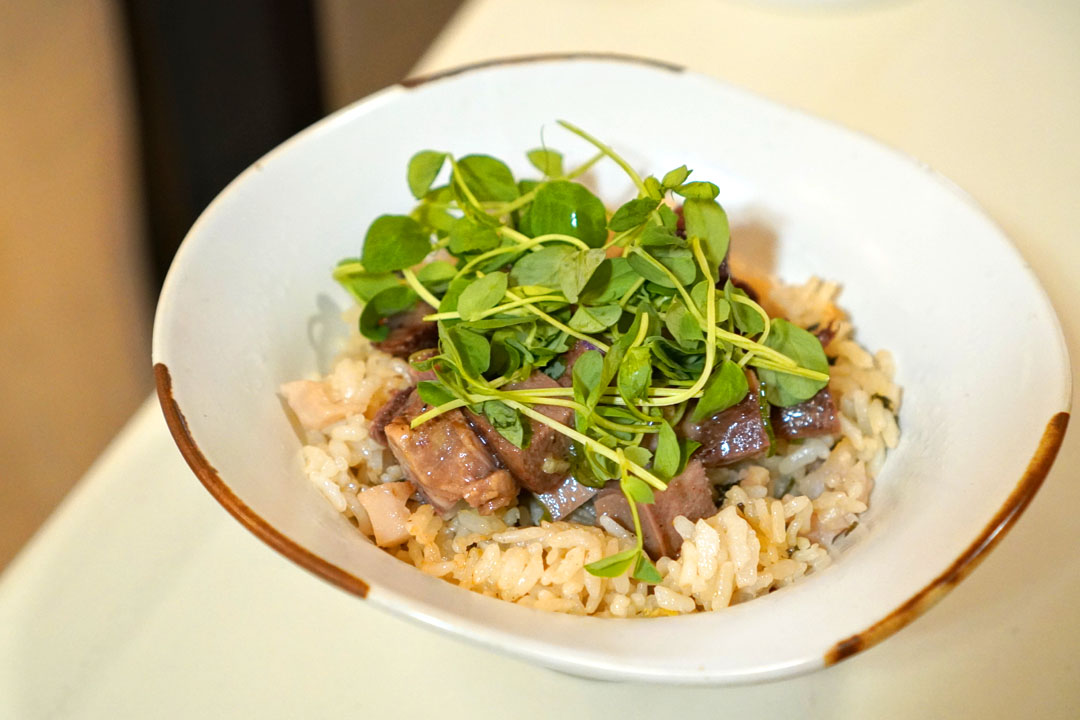 Beef Tongue Rice [$20.00]
| Negi Lemon Sauce, Green Tea Rice
This was probably my favorite dish of the night because of how tasty that tongue was--think super tender and unabashedly beefy, but perked up by the delightful zippiness of scallion-lemon-herb. And again, the rice was beautifully textured and served as the perfect counterpoint.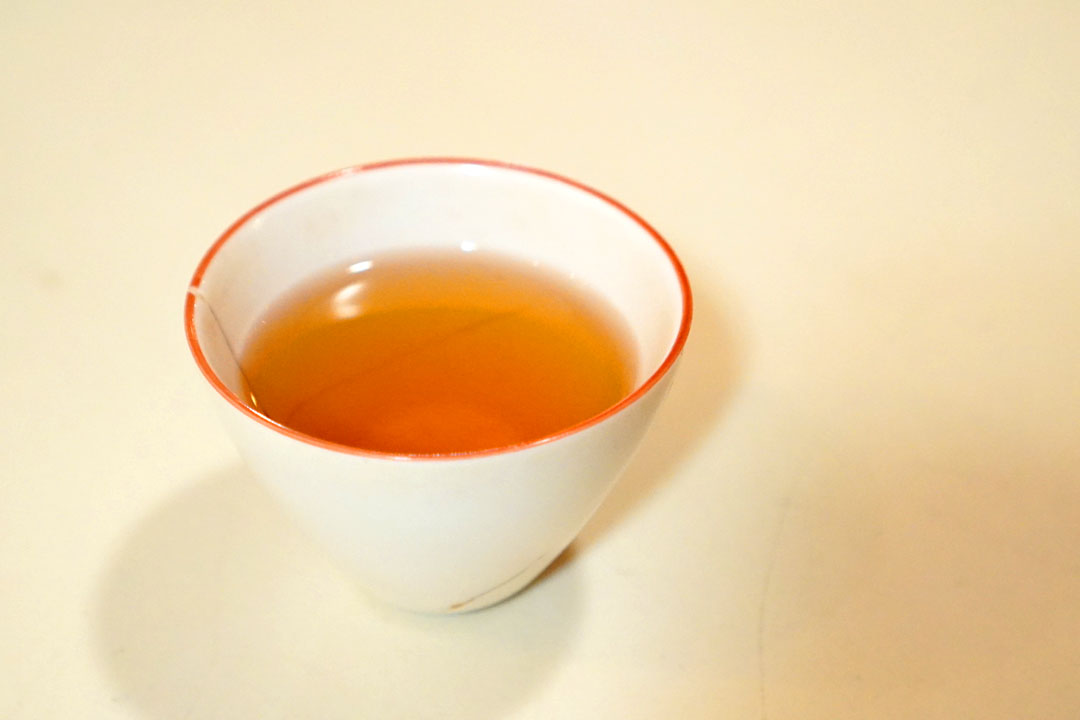 Along with dessert, I was provided a complimentary serving of seven year-aged Japanese-style white tea, which I found comforting and cozy, its soft sweetness offset by touches of astringency.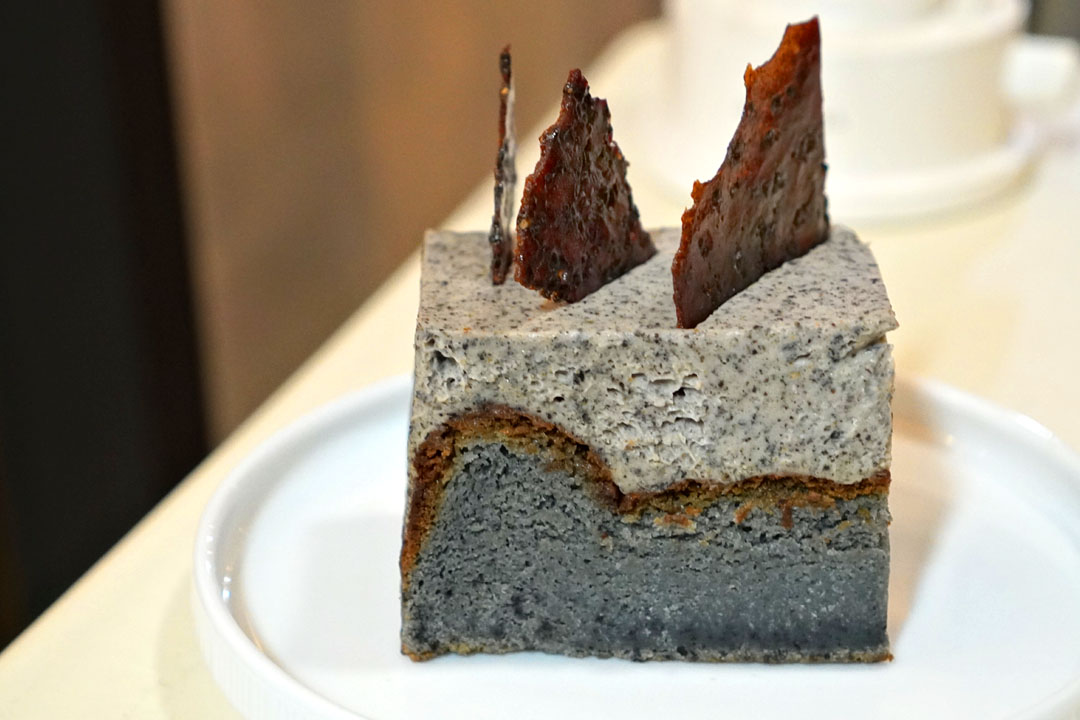 Black Sesame Everything [$12.00]
| Black Sesame, Milk, Egg, Wheat
Dessert tonight was sourced from Stephanie Fong's
Go Cakes
, and united a black sesame brownie with black sesame mascarpone and black sesame brittle. Surprisingly, I actually would've liked a more apparent black sesame flavor, though I did appreciate the cake's multipronged presentation.
It took me longer than I wanted to come and check this place out, but I'm glad I did, since I was quite happy with my time at Steep. Pham delivered on the tea cocktail front, and I was pleasantly surprised by how good the food was. This is a unique spot for sure (I can't think of anything else quite like it in LA), and given the strength of this meal, I'm now curious to come back and try the daytime tea service.