Anajak Thai (Sherman Oaks, CA) [2]
Anajak Thai Cuisine
14704 Ventura Blvd, Los Angeles, CA 91403
818.501.4201
www.anajakthai.com
Sun 04/02/2023, 07:45p-10:55p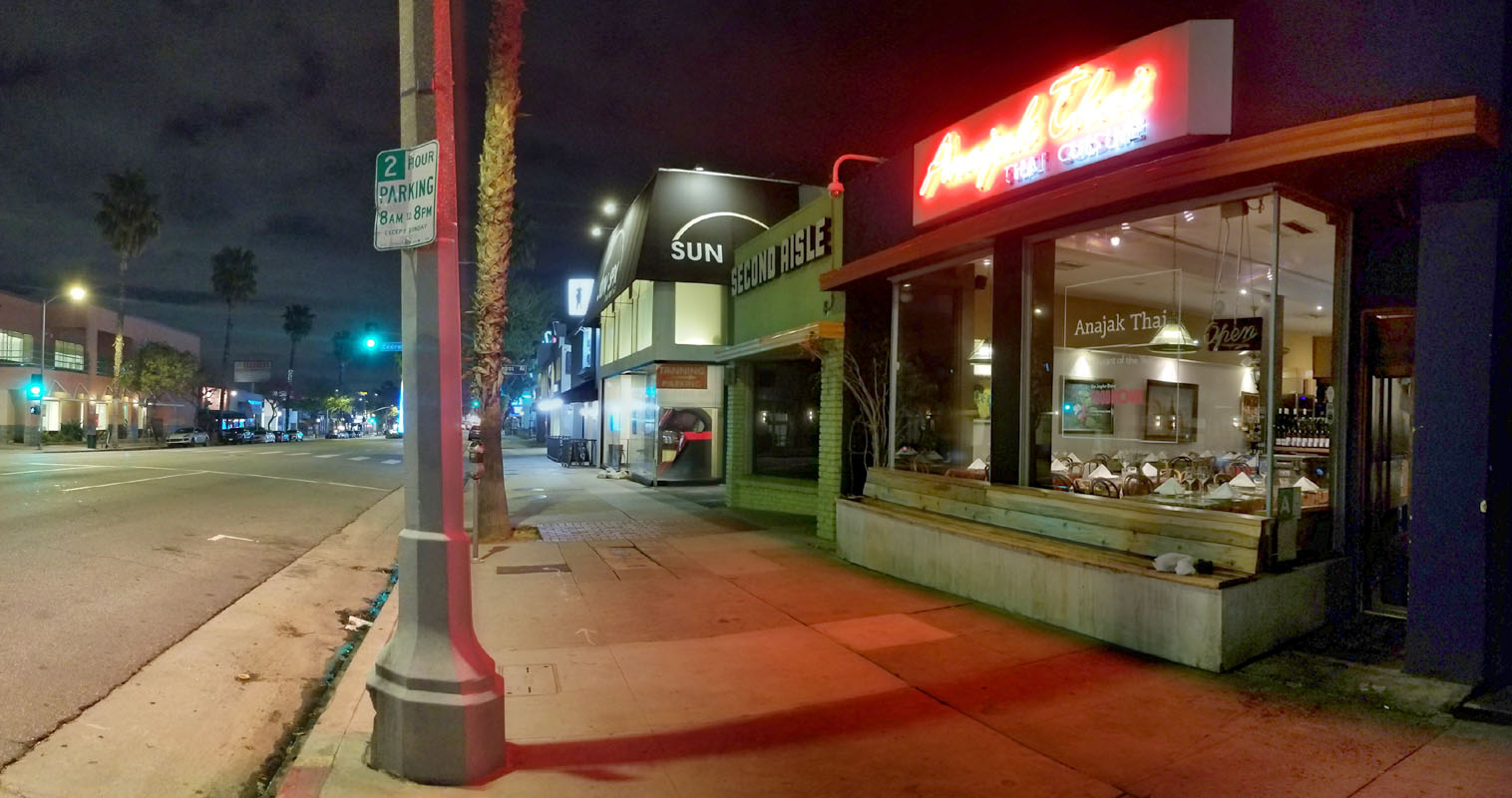 You'll probably remember that I filed a dining report on
Anajak Thai
not too long ago. Given how good that meal was, I was curious to return try their flagship "omakase" experience, so I kept checking the restaurant's Instagram account for updates, and was eventually able to purchase a ticket. If you're not familiar with Anajak's omakase dinners, they were instituted by second-generation Chef Justin Pichetrungsi back in July 2020. He started out by serving a handful of people in an alley next to the restaurant (weekends only), with most of the cooking done on a portable induction burner. As the pandemic progressed, these dinners grew and evolved, heightening Anajak's fame and acclaim in the process, though in recent times, they've seemingly become more and more sporadic.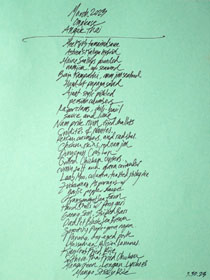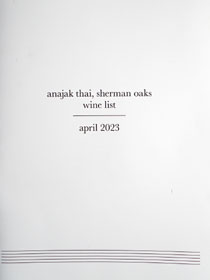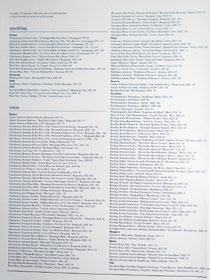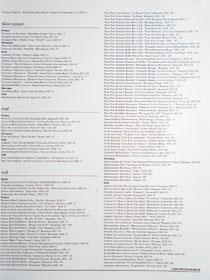 The omakase is currently priced at a pre-paid $195 a head, plus 9.5% tax (service not included), and comprises roughly 20 courses. You can also opt for a wine pairing, or do what I did and order a bottle off of Anajak's ample wine list. If you prefer, corkage is $75, limit two. Click for larger versions.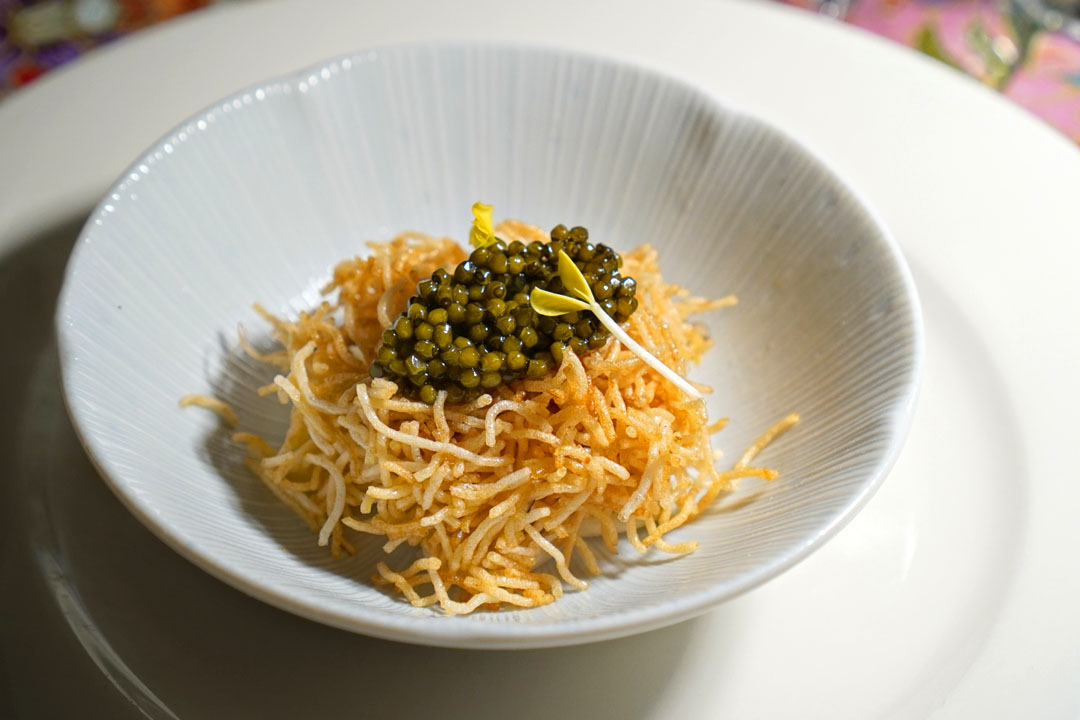 1: Mee Krob, Tamarind Sauce, Astrea Kaluga Hybrid
A small portion of
mi krop
served as the evening's amuse bouche. I've actually never been a fan of the dish in general, so I can safely say that this was the best version that I've tried. The key was how the sweet-n-sourness of the tamarind played off the caviar's creamy brine, all while bean sprouts provided a light, bright counterpoint. Nice texture on those rice vermicelli noodles, too. A very promising start, and a particularly good pair with the Ruppert-Leroy below.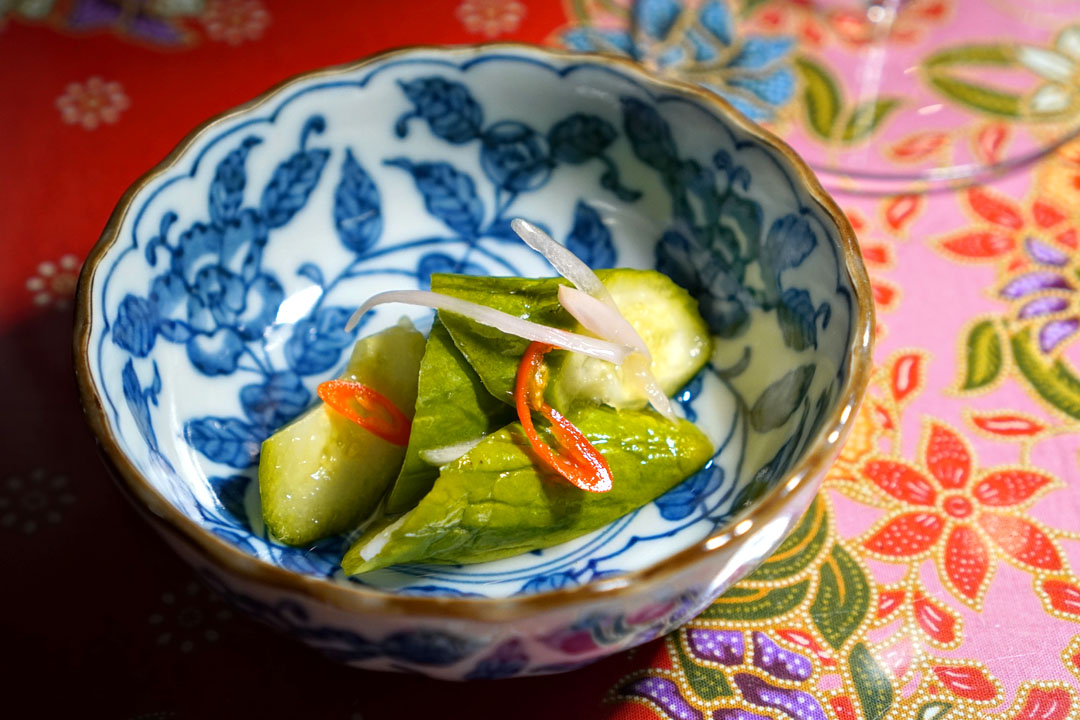 2: Ajaat-Style Pickled Persian Cucumbers
We then moved quickly into the raw portion of the meal.
Achat
pickles showed off a refreshing crunch, along with a sharp, lingering heat and an undercurrent of tangy sweetness.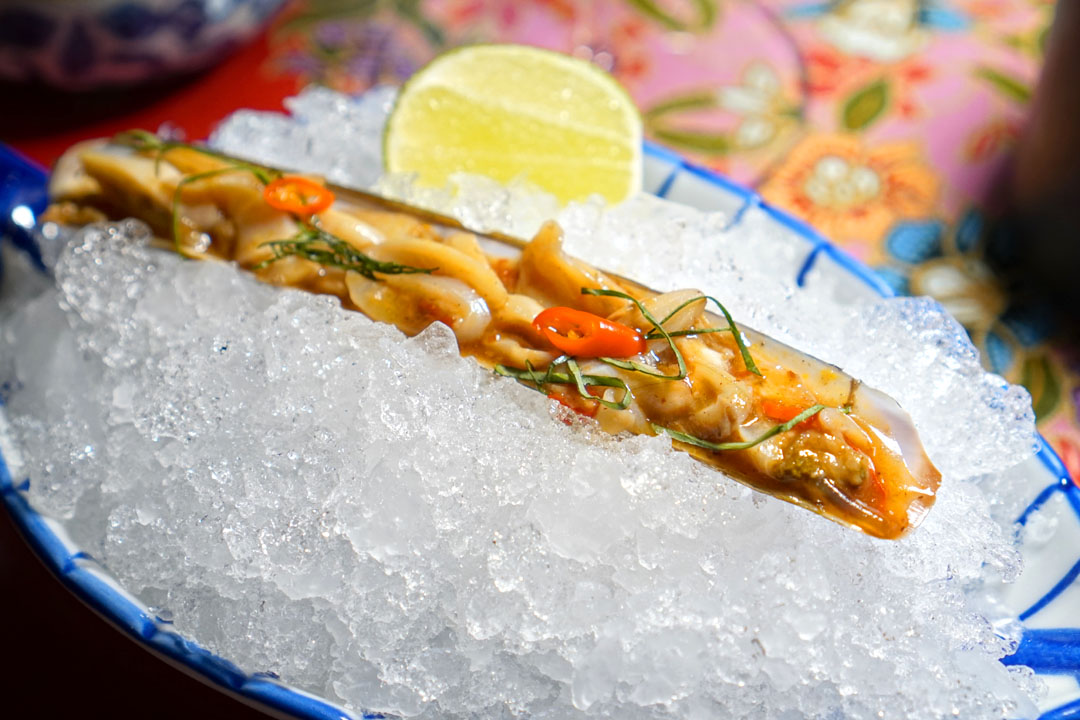 3: Razor Clams, Chili-Basil Sauce and Lime
New England razor clam arrived lightly poached, and matched with a wonderfully spicy-herbaceous dressing that did a perfect job complementing the brininess of the bivalve. A highlight for sure.
Given my penchant for sparkling wine, I picked the
Pinot Noir, Ruppert Leroy, "Papillon Brut Nature", Champagne, 2019 [$155]
to go with dinner. The bubbly demonstrated some super appealing aromatics, with stone fruits at the fore, undergirded by barnyard and mineral. The Champ also had a nice acidity, with floral and orchard fruit notes taking center stage, and just a slight toastiness hiding underneath. As the night progressed, I began getting more of an apple juice character on the nose, while the palate became more mineral-driven, with a bit of nuttiness to boot. I believe that this was my first time having a wine from Ruppert-Leroy, and I was very happy with it.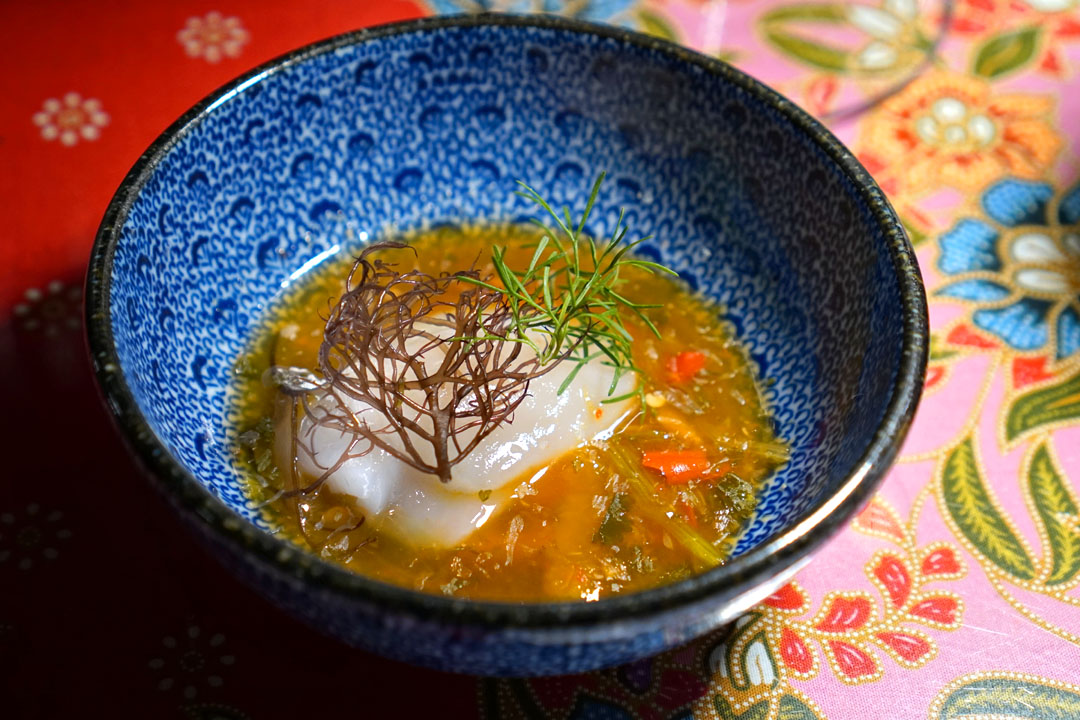 4: Maine Scallops, Pounded Nam Jim, Ogo Seaweed
Scallops were superb. They had their sweet salinity delicately conveyed, yet stood up beautifully to the heat and funk of that palm sugar-lime sauce, while the
ogonori
imparted just a smidge of salt.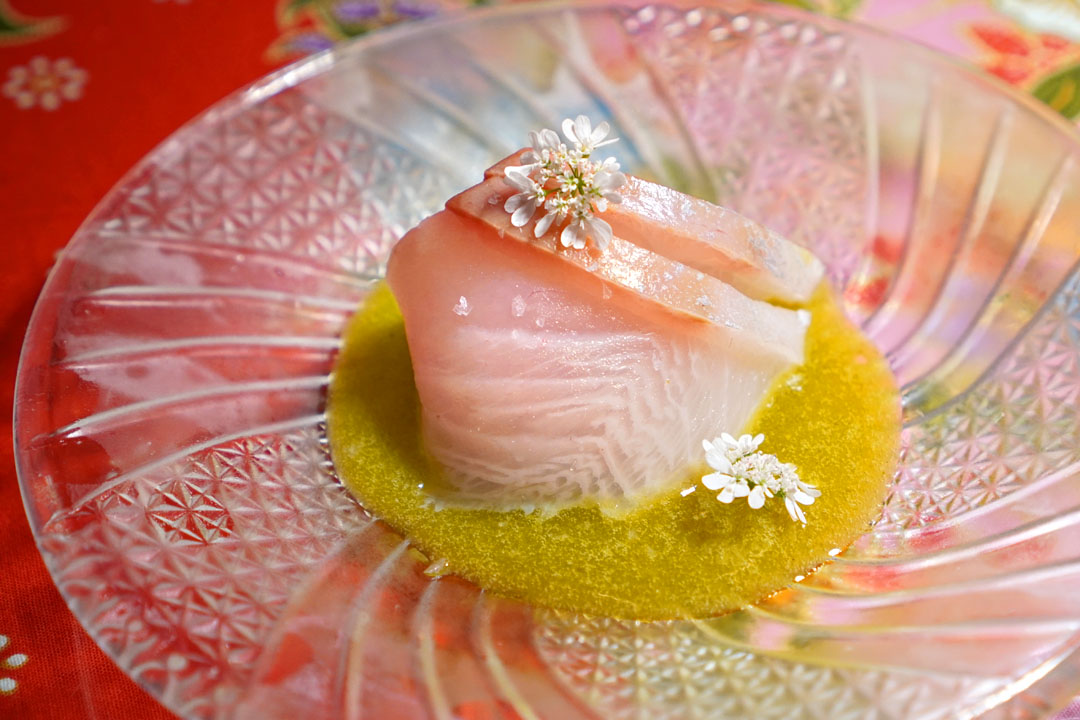 5: Baja Kampachi, Nam Jim Seafood
Raw amberjack possessed a gratifyingly firm, crisp bite, while the fish's rich, fatty flavors worked perfectly with that bright, zingy sauce.
6: Hand-Cut Papaya Salad
I had Anajak's
som tum
on my last visit, and what struck me first was how the green papaya salad was more texturally engaging this time around. At the same time though, flavors seemed a bit more restrained, and I could've used more from the dried shrimp, though the salty crunch of the peanuts was just as effective as before. Do note that, in my excitement and enjoyment of the meal, I forgot to photograph this dish unfortunately (it happens sometimes).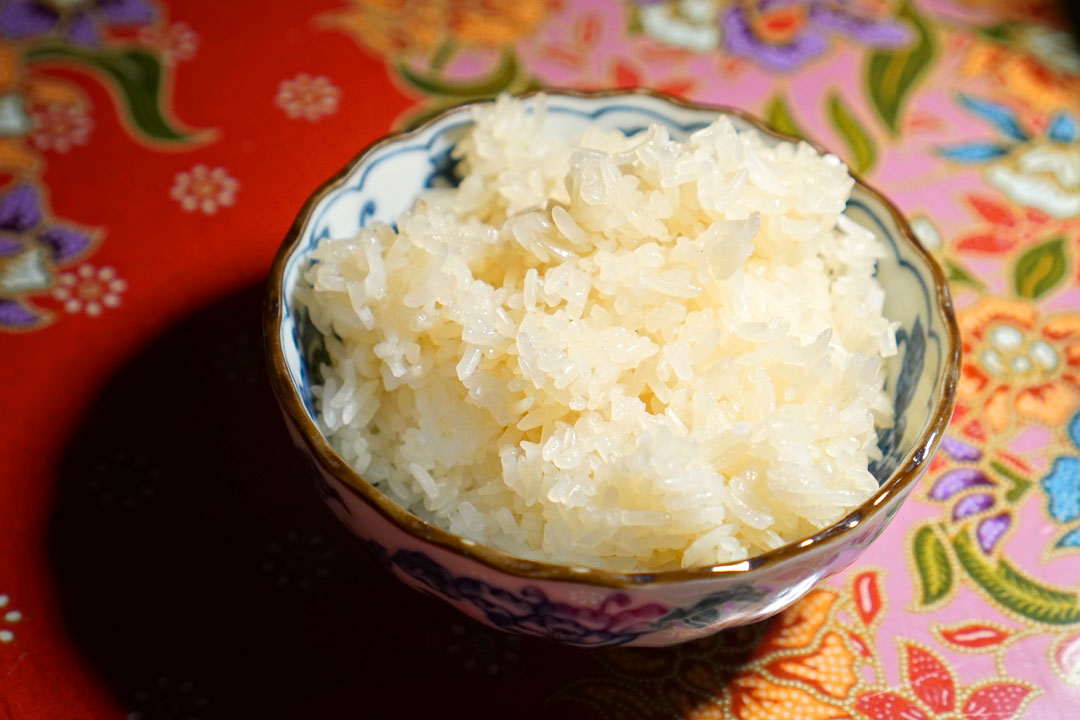 With the appearance
khao niao
, it was now time for the portion of the omakase dedicated to dishes that pair well with sticky rice.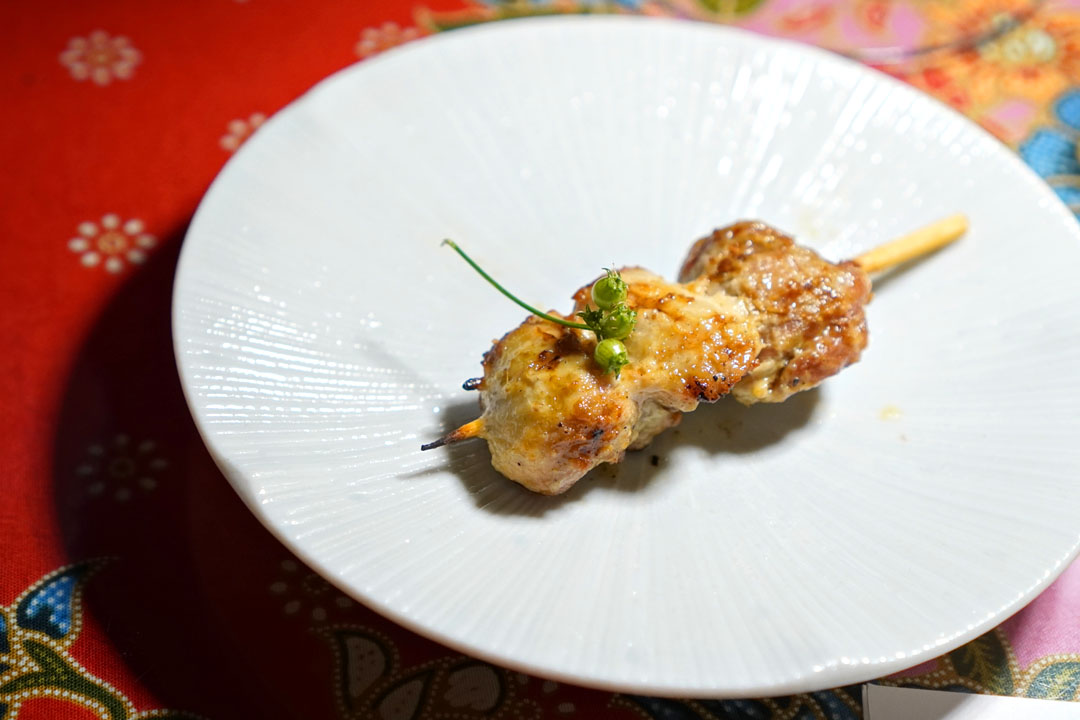 7: Grilled Chicken Oysters, Cumin Salt and Green Coriander
A
gai yang
-marinated chicken skewer was excellent. The oysters had that satisfying bite that I expected, while flavors were wonderfully smoky and savory, yet overarched by a zesty, almost citrusy tang. This would compare favorably to any similar yakitori preparation that I've had.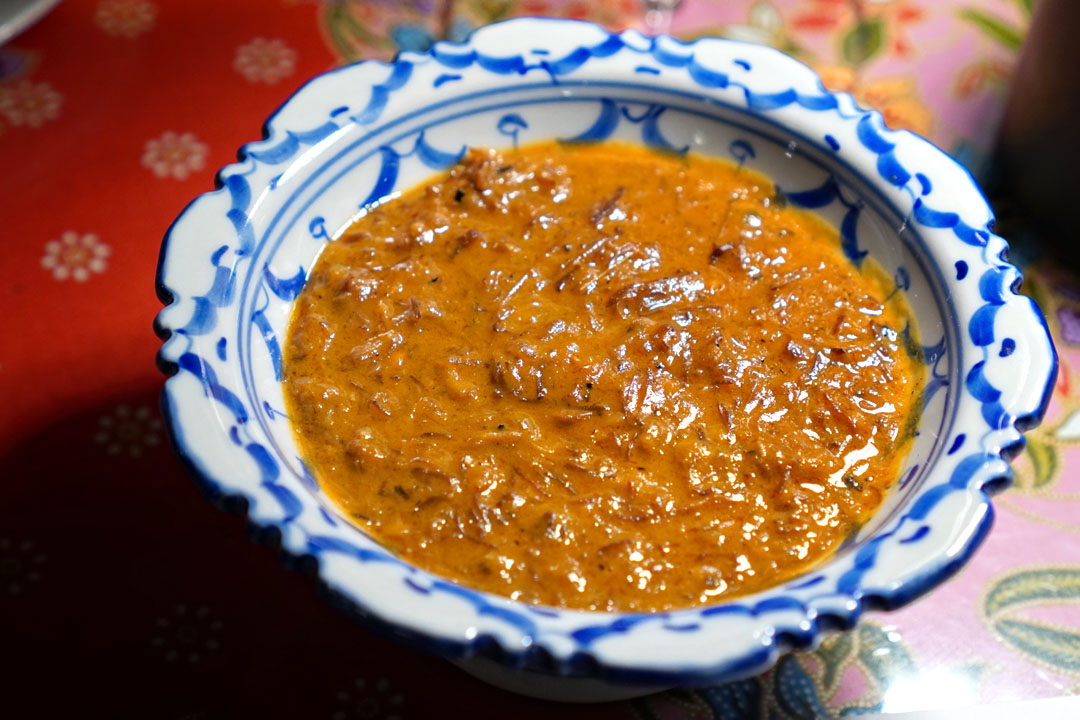 8: Dungeness Crab Lon
Next came a relish that I relished, one featuring crab, coconut milk, lemongrass, chilies, and
gapi
(fermented krill paste). I appreciated how well the signature sweetness of the Dungeness was conveyed, yet not overwhelmed by the assertive seasoning in the dip. This was meant to go with the veggies below.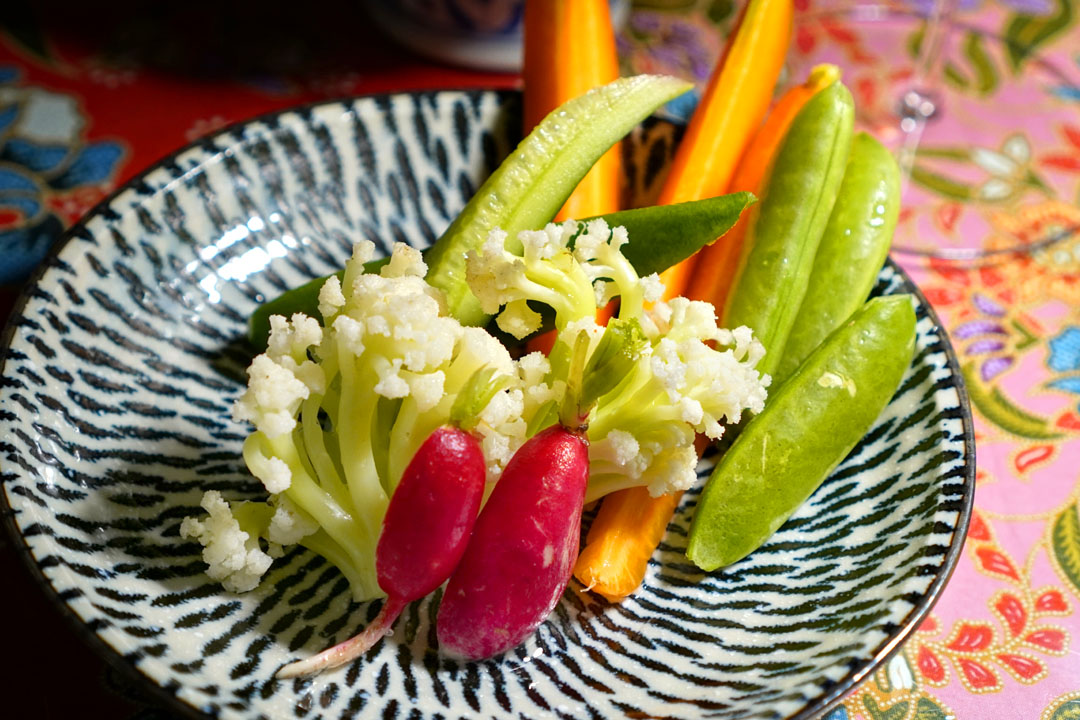 9: Crudités of Nantes, Persian Cucumbers, and Radishes
The evening's array of vegetables included sprouting cauliflower, French breakfast radishes, Persian cucumbers, Givens Farms Nantes carrots, and snap peas. Indeed, the light, bright, crunchy nature of the crudités made for a very apt pairing with the strong flavors from the
lon
above and the
nam phrik num
below.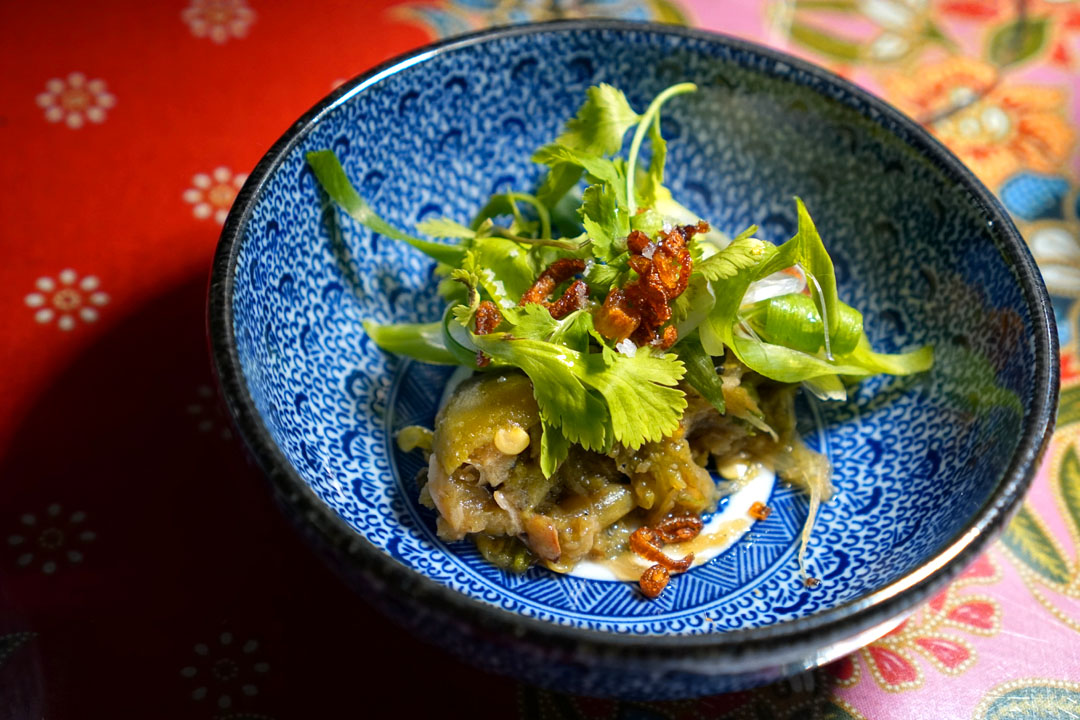 10: Nam Prik Num, Fried Shallots
Here we have a pounded condiment comprising green chilies, garlic, shallots, and more of that aforementioned
gapi
, then topped with green onion, cilantro, and fried shallots. It revealed a piercing, vegetal sort of heat, with some real depth to it, and worked swimmingly as a companion to the crudités, and particularly the chicken skins below.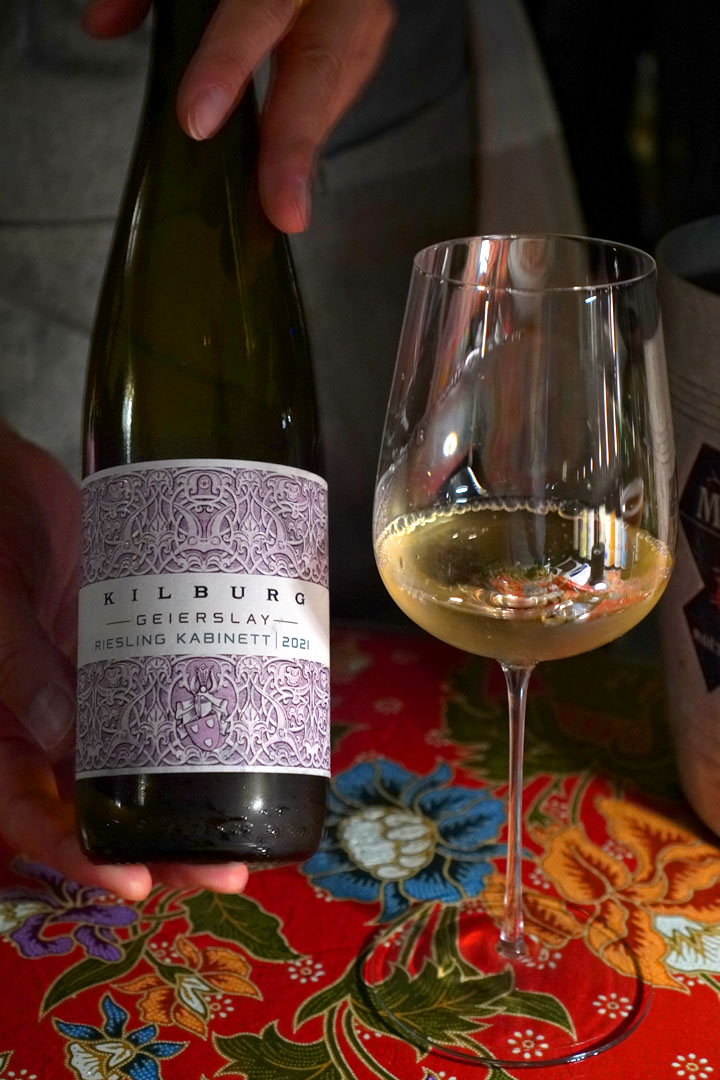 I was provided a complimentary sample of the
Riesling, Max Kilburg, "Geierslay Kabinett", Mosel, 2021
. The nose on this one was all about sweet, juicy, refreshing pineapple, with tinges of citrus, and was hard not to like. Tasting it, I got loads more of those lush tropical pineapple notes, but with a countering acidity a just a trace of spiciness. The wine even seemed a bit Sauternes-esque at times.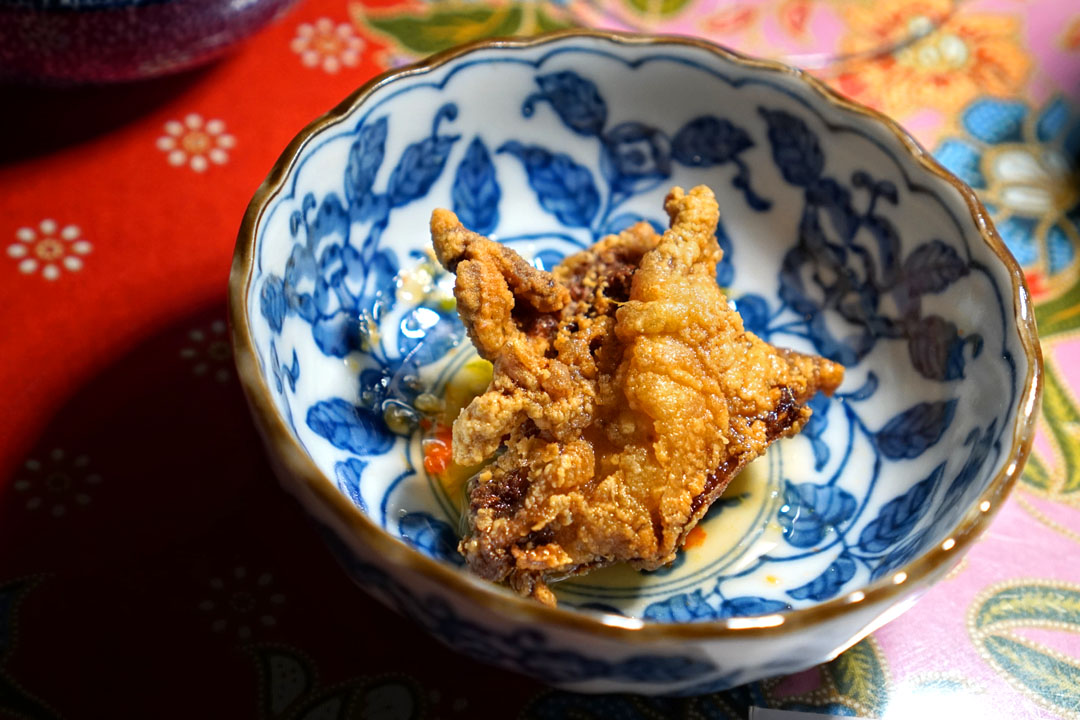 11: Chicken Skins, Red Nam Jim
I'm a sucker for fried chicken skin, so it's no surprise that I enjoyed this. Apparently, the skins were seasoned with the same marinade used in Anajak's Southern fried chicken, so they were extra flavorful, and had this almost "hammy" savoriness to them, along with a welcomed piquancy from that
nam chim
.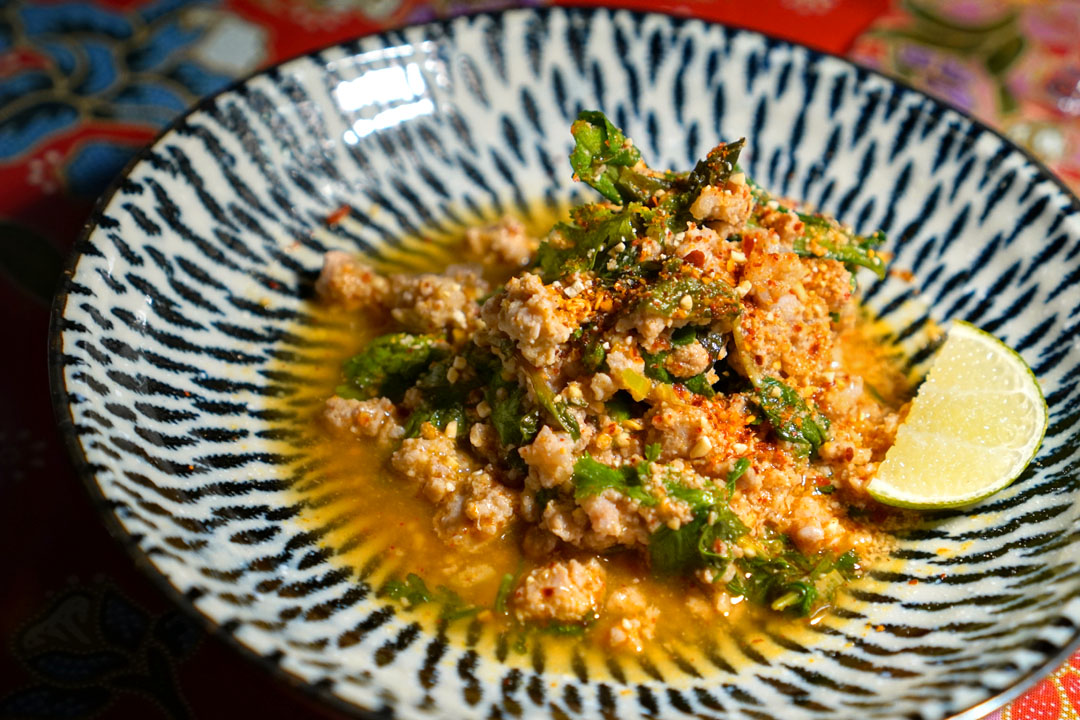 12: Laab Moo, Culantro, Toasted Sticky Rice
This Isan-style
larb moo
was another winner, and featured a base of juicy ground pork, combined with
khao khoua
(toasted sticky rice powder), chilies, and some wonderfully herby culantro. It all made for an elegant yet potent mix of flavors that really married seamlessly with the sticky rice.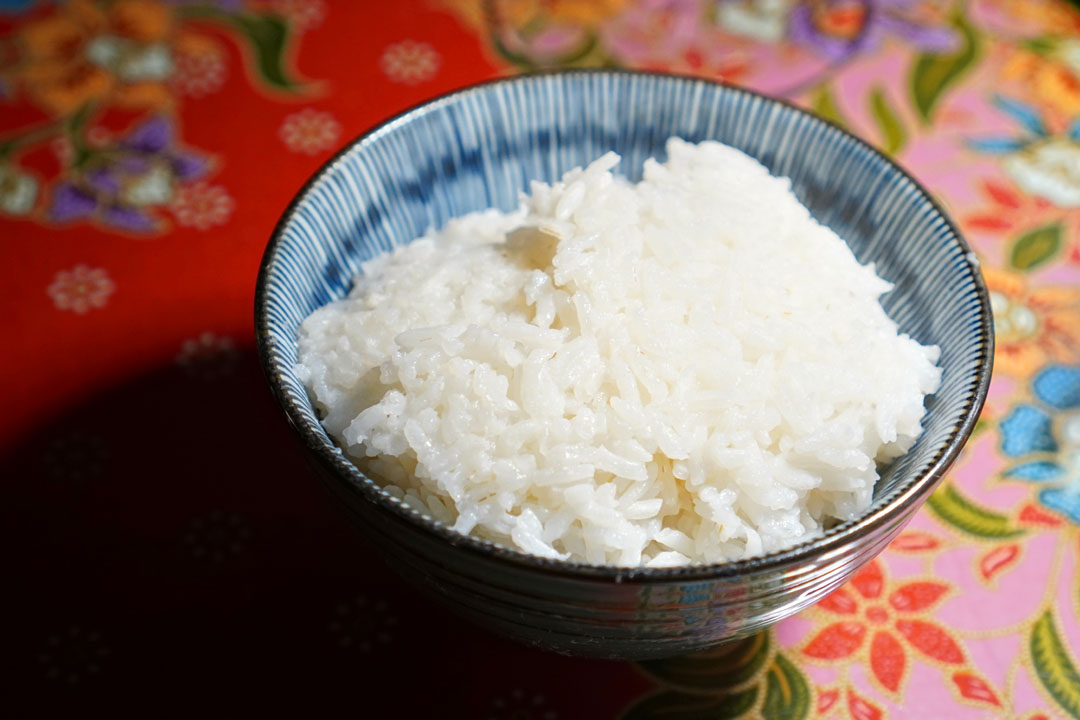 Making an appearance now was a bowl of
khao hom mali
(jasmine rice), meant to go with the set of dishes to follow.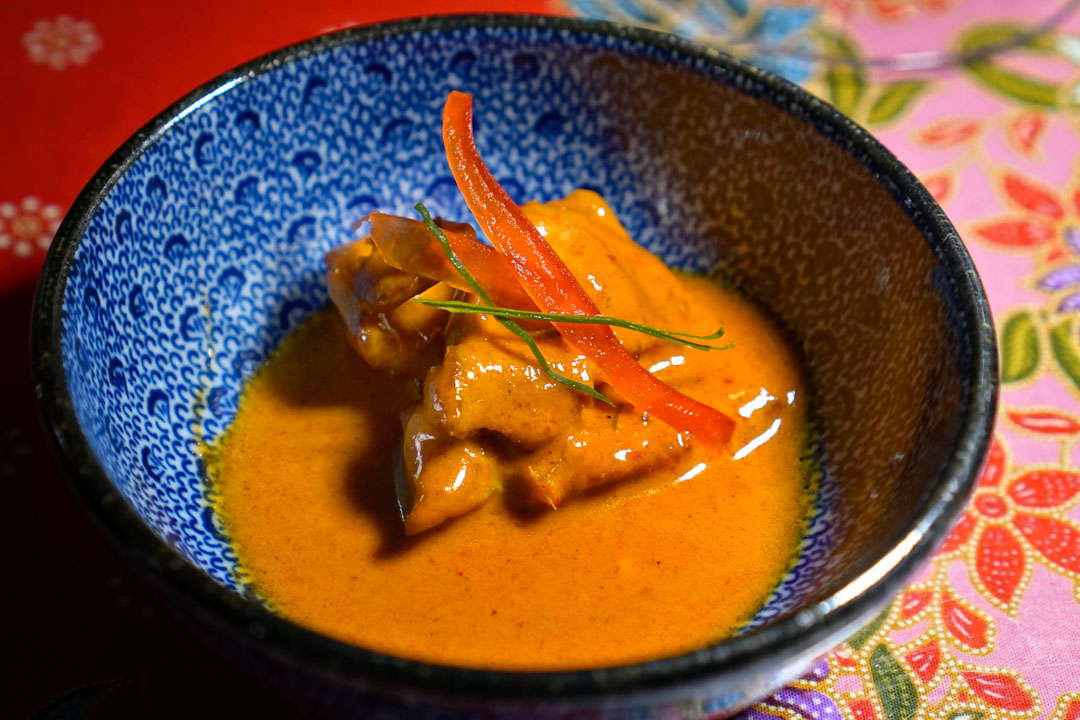 13: Panang, Dry-Aged Pork
Dry-aged pork from Peads & Barnetts arrived meaty and satisfying, with a bit of a nice crust to boot. The meat made a lot of sense with that makrut lime-boosted curry, with its invigorating flavors, coconut-y sweetness, and lemongrass-fueled zing.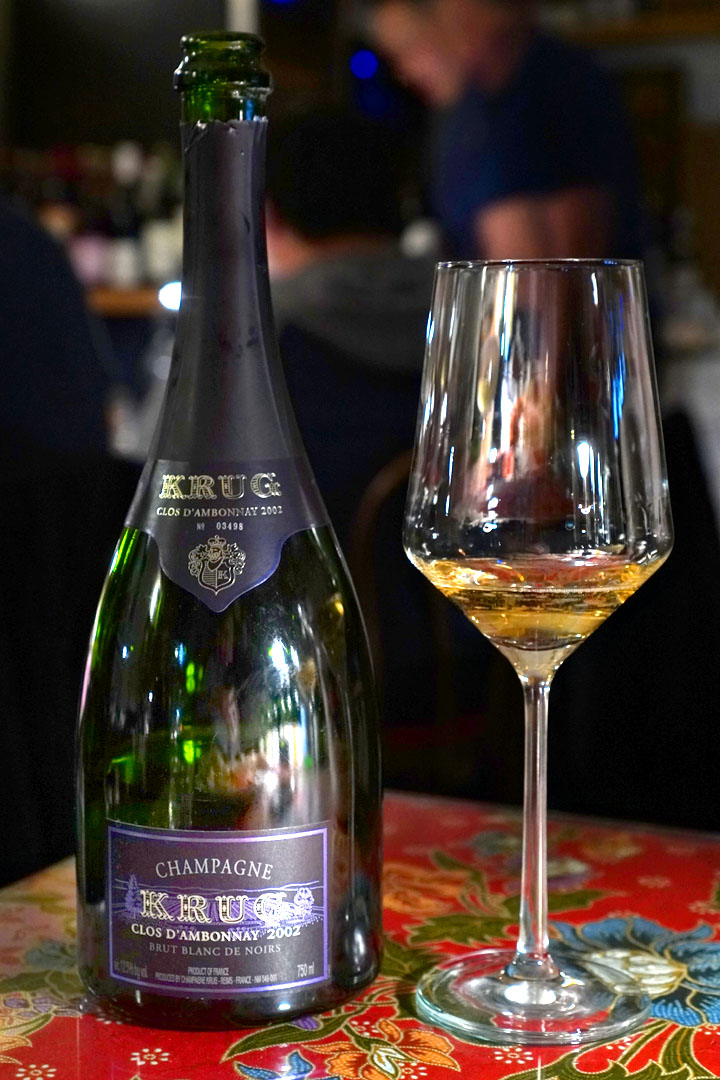 Coincidentally, noted LA wine influencer
Charlie Fu
(whom I first met at
Taste of Beverly Hills
back in 2010) happened to be seated near me, and generously offered a taste of the highly sought-after
2002 Krug Champagne Clos d'Ambonnay
, which his party had brought. The blanc de noirs had a palpable suppleness on the nose, which was rife with ripe orchard fruit, and gave me flashes of peach pie due to its underpinning of brioche. The wine's soft, round nature continued on to the palate, where again, dense stone fruits were at the fore, along with that signature Krug toastiness and supporting nutty, mineral-driven nuances. A great effort, and one that I really wish I could've spent more time with.
14: Gaeng Som, Striped Bass
Next we have
kaeng som
, which ostensibly comes from the area in Southern Thailand where Chef Pichetrungsi's mother is from. A water-based curry with dried/fresh chilies,
gapi
, shallots, and white turmeric, it had a mouthwatering sourness and earthiness to it, and worked as a fitting contrast to the brine of the bass, all while green papaya provided some textural variation.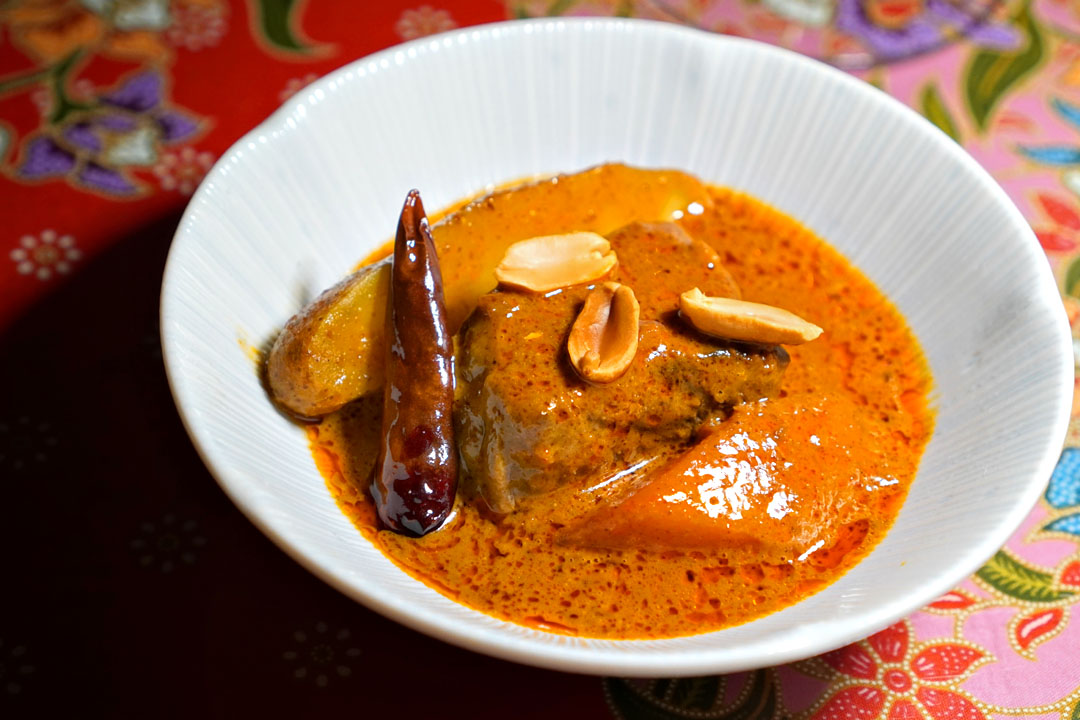 15: Massaman, Russian Bananas
I enjoyed the Massaman on my last visit to Anajak, and tonight's iteration was just as good, with all those cozy, heady, multifaceted spicy and sweet flavors from before, matched with a tender chunk of beef. Nantes carrots and potatoes were once again key, and of course I can't forget about the crunch and salt from those peanuts.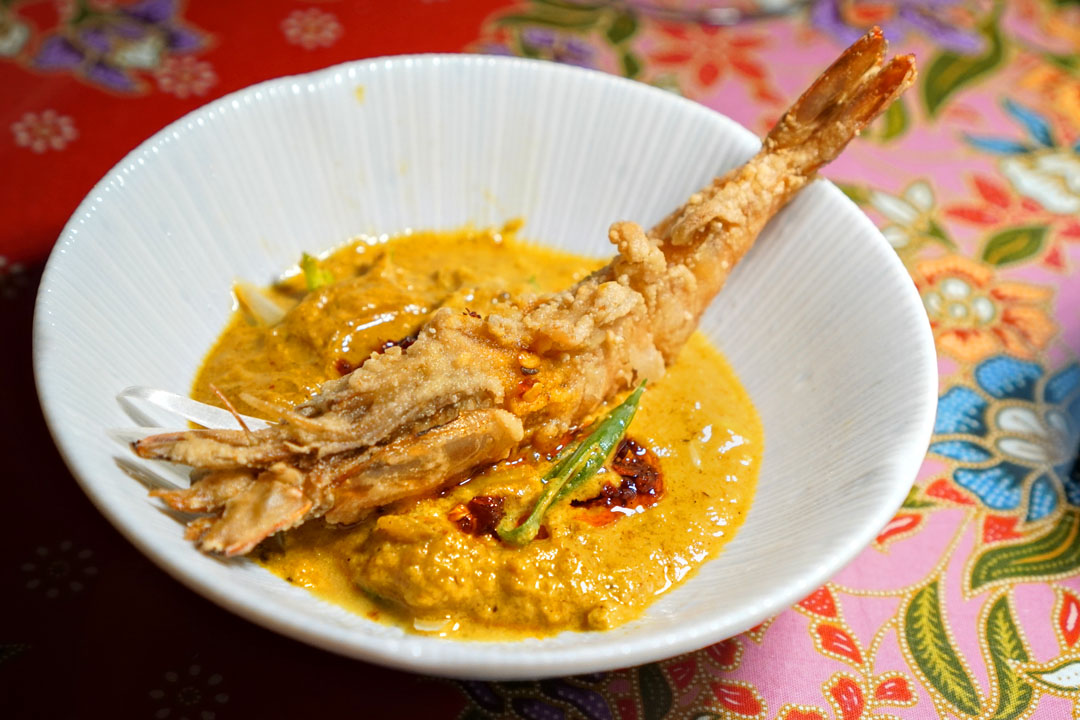 16: Transparent Sea Farm Hard Shells with Pong Gari
Mean to be eaten whole, the fried shrimp showed off a lovely crispness. Its sweetness and salinity were also deftly conveyed, and linked up effortlessly with the curry-driven flavors of a Cantonese-influenced
phong kari
sauce.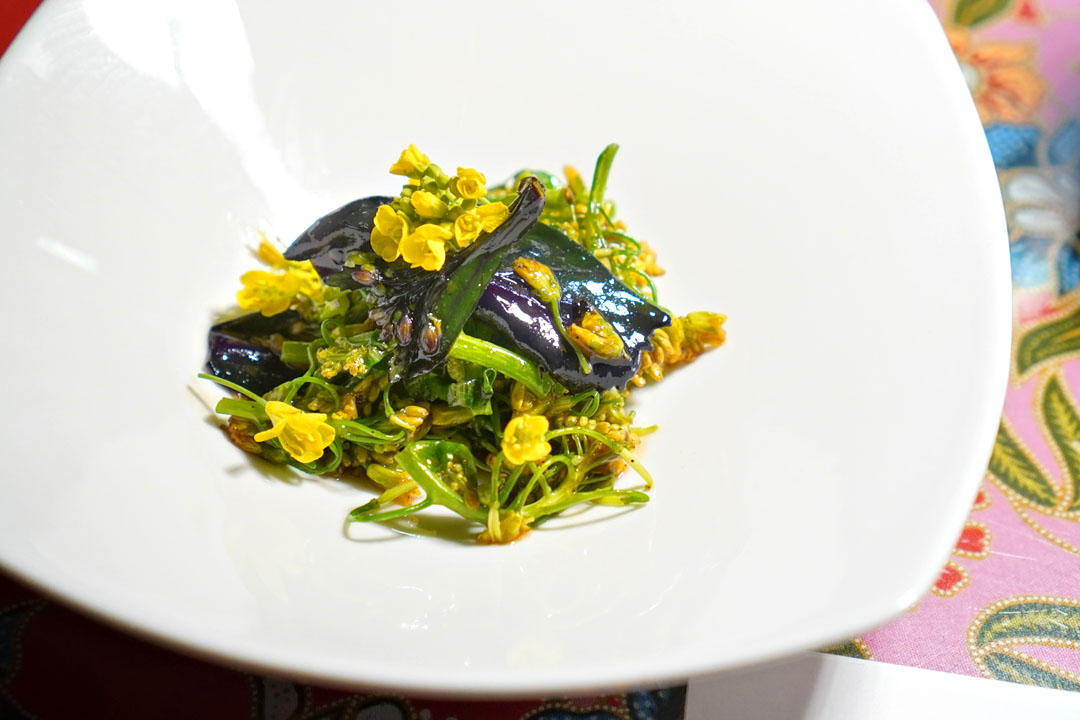 17: Sprouting Purple + Green Napa
Sprouting green and purple napa was sourced from Her Produce in Fresno. The cabbage was an uncommon sight, and expressed loads of lingering umami, offset by the veggie's innate bittersweetness.
It was hard to imagine which wine Charlie could follow up the Clos d'Ambonnay above with, but a pour of the
2017 Domaine de la Romanée-Conti Grands-Echezeaux
managed to do the trick. The Burgundy smelled of intoxicating berry fruits, but backed by a potent layer of
garrigue
and delicate application of spice and florals. Taking a sip, I was taken aback by how utterly thick and palate-coating the DRC was, while flavors included more of that luscious cherried fruit, with a supporting cast of dry herbs and subdued sweet spices. Again, this was some luxuriant stuff, and another wine that I would've loved to have been able to explore further.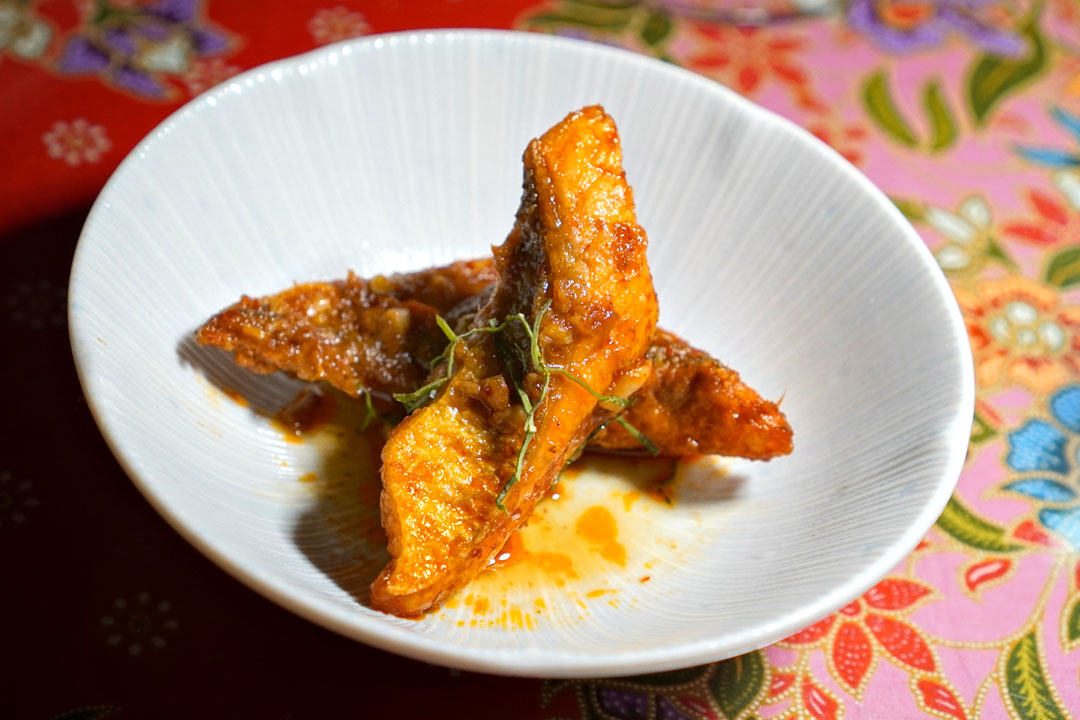 18: Pad Pet Black Sea Bream
Meaty cuts of sea bream were paired with a fragrantly-spiced
pad phet
red curry sauce, which incorporated green peppercorn and some delightfully zesty
krachai
(think ginger).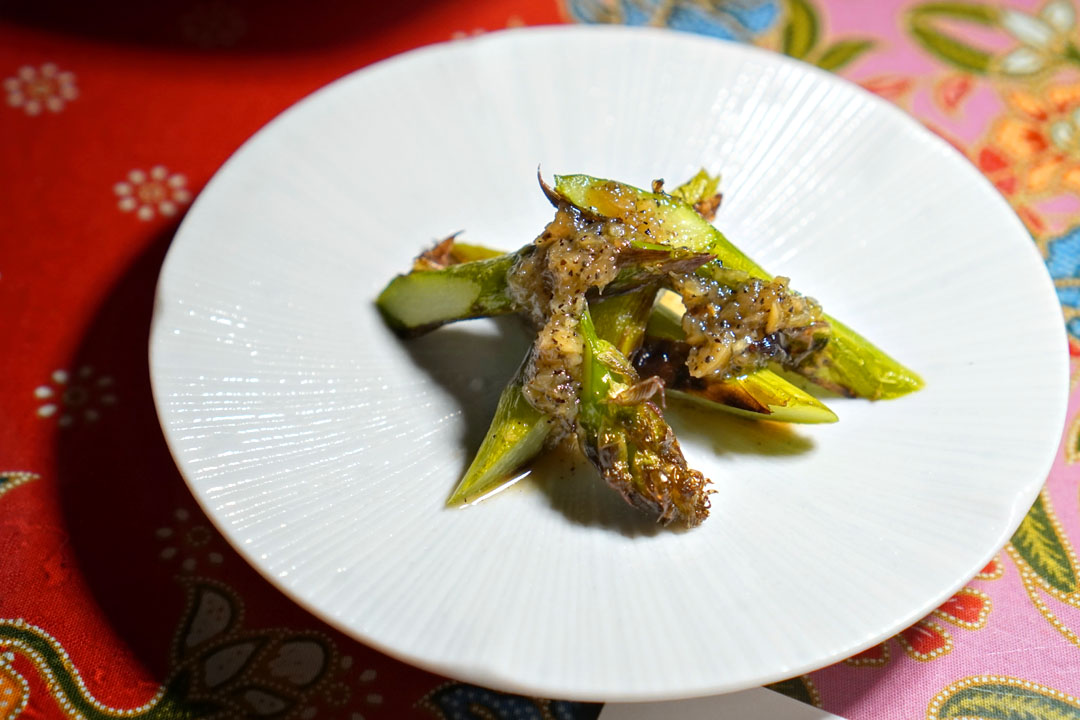 19: Zuckerman Asparagus with Garlic Pepper Sauce
Grilled first-of-the-season asparagus had that bittersweetness I was looking for, but was surely enhanced by that familiar, yet enticing garlic-black pepper sauce, which I sort of want on all my asparagus now.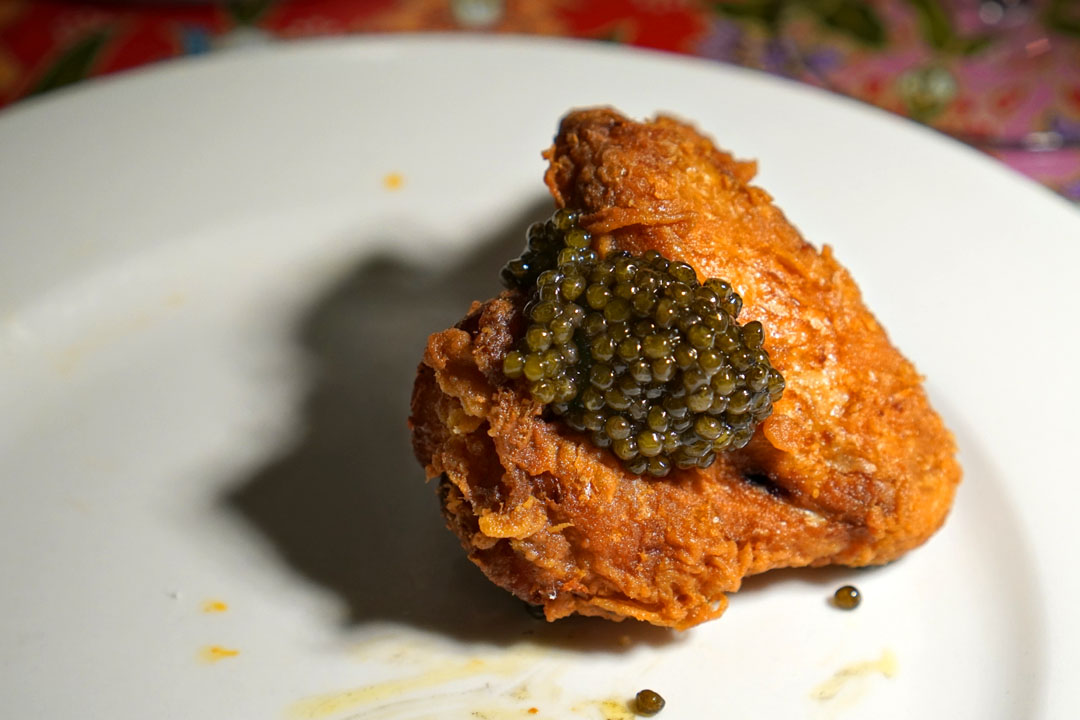 Southern-Thai Fried Chicken
In addition to his role in the wine world, Charlie Fu is also part of the team at
Astrea Caviar
(one of Anajak's suppliers), and was thus enjoying a bit of a BYOC (Bring Your Own Caviar) session tonight. He thus offered me a piece of the restaurant's famous fried chicken, but with a dollop of his sturgeon roe. Given how tasty the bird is by itself (I had it on my last visit just weeks prior), I was a bit skeptical, but I will say that the caviar did impart a saline edge that upgraded the dish.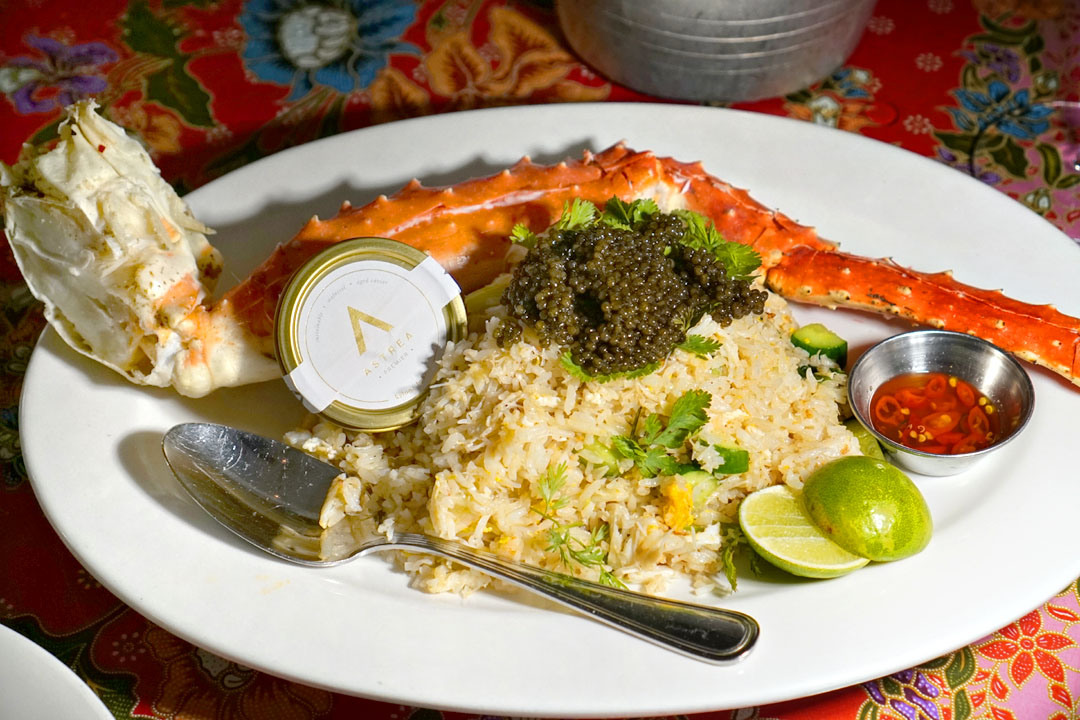 Supplement: King Crab Fried Rice [$120.00]
I have a hard time saying no to fried rice, and thus augmented my meal with this unabashedly luxurious version. I began with that steamed king crab leg, which was impressive thanks to suppleness and exquisite sweetness, and was actually easy to eat too on account of being pre-cracked. The actual fried rice, meanwhile, arrived well-textured, and highlighted Dungeness crab, which married easily with the freshness of the herbs, and also took well to a dash of chili-fish sauce or a squirt of lime. As for that Astrea kaluga hybrid roe, it was once again proffered by Charlie, and once again served as a great accent piece, playing foil to the sweetness of both crabs. Did the rice need the caviar? No. But was it improved with it? Yes.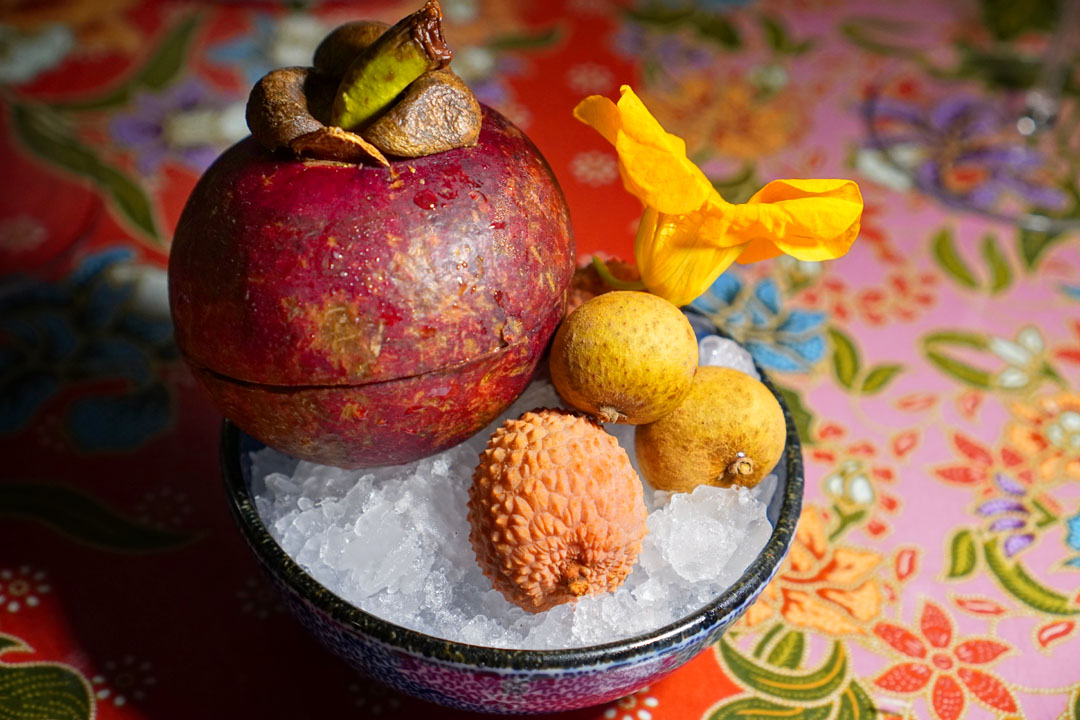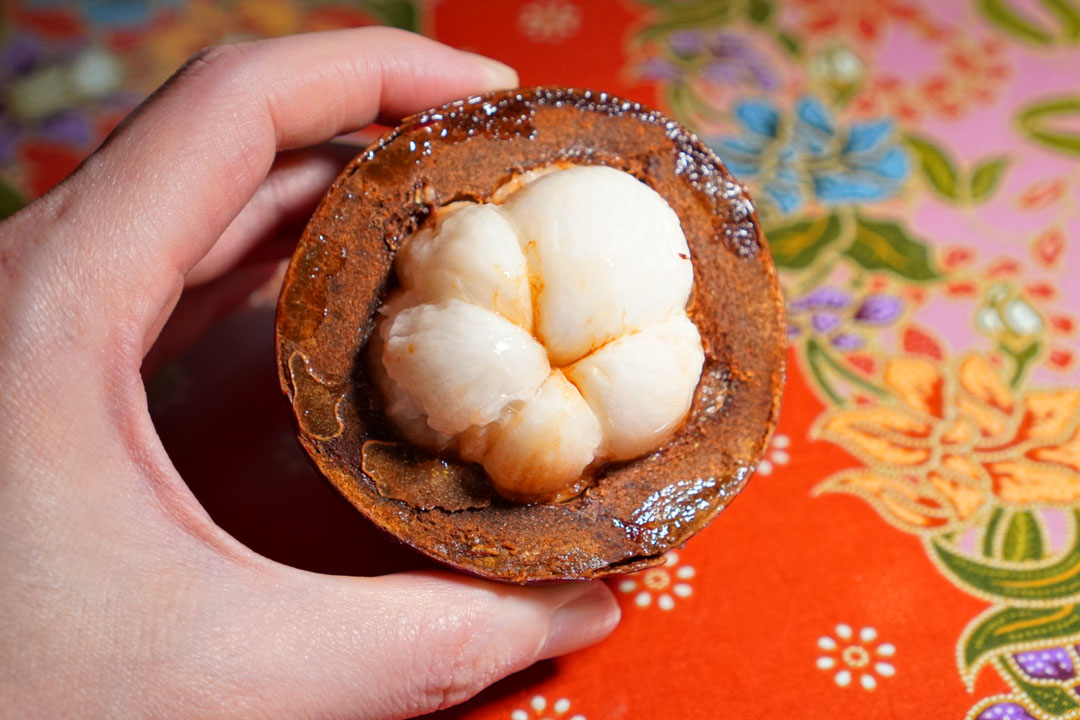 20: Mangosteen, Longan, Lychees
My first dessert course consisted of a trio of tropical fruits. I believe that this was my first time having fresh mangosteen (a.k.a. the "queen of fruit") like this, and I reveled in its sheer juicy-sweetness. The floral taste of the lychee was also on point, while the longans had a bit of a musk to them.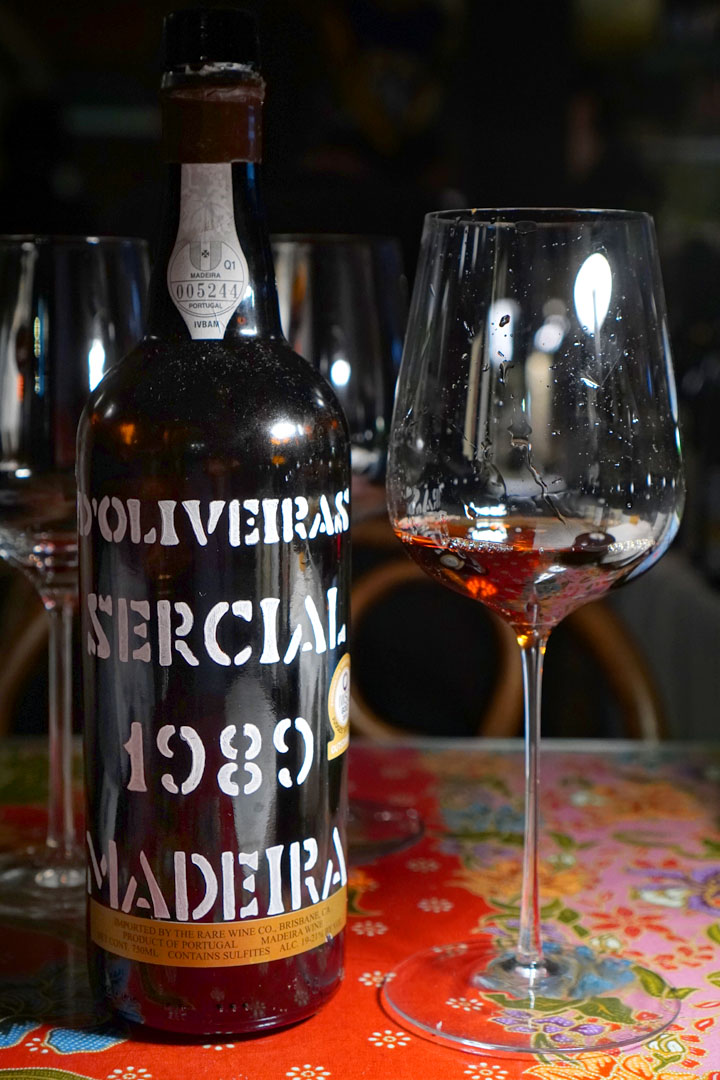 To close out the meal, I was provided a pour of the
1989 D'Oliveira Sercial Madeira
. The wine functioned as an apropos pairing with the desserts due to its generally dry, saline disposition, juxtaposed against just enough full-bodied fruit.
21: Mango Sticky Rice
Last up was no doubt the most iconic of Thai desserts. Anajak's version featured what the Chef describes as a more "crystallized" style of the rice, one that highlighted a refined sweetness that paired like clockwork with those sugary mangoes. Also crucial here was the dish's sprinkling of toasted split mung beans, which offered up a superb nutty crunch.
I very much enjoyed my last meal at Anajak, but this was an altogether different beast, a real multi-course exploration of Thai cuisine that I was undoubtedly impressed by. Pichetrungsi's cooking walks a fine line between the cozy and the familiar and the exciting and the venturesome, and the Chef is clearly adept at weaving seemingly disparate elements of spice, sourness, heat, and funk into powerful, yet finessed dishes that span a wide gamut. In the end, I'd go as far as to say that this was the best Thai dining experience that I've ever had (service tonight was noticeably elevated, too), and I now consider Anajak's omakase an "essential" LA tasting menu.