Chifa (Los Angeles, CA)
Chifa Restaurant
4374 Eagle Rock Blvd, Los Angeles, CA 90041
323.561.3084
www.chifa-la.com
Sat 05/06/2023, 09:10p-11:00p

I don't find myself up in Eagle Rock all that often, but I made the trek tonight to check out a restaurant that I've been meaning to try ever since it opened back in late November 2020. In work since at least 2018, Chifa (國偉, or
guó wěi
) serves Chinese and Peruvian cuisine, but curiously enough, not really Chinese-Peruvian cuisine (which is what
chifa
typically refers to), and has a pretty intriguing backstory.
The story begins with family matriarch "Popo" Wendy Leon, who originally hails from Tongshan County in Hubei, China but grew up in Hong Kong. She married a Peruvian-Chinese man named Ricardo Jose Leon, and ended up moving with him to Peru in 1974. She opened a restaurant called Chifa in Lima the following year; the place served mostly Cantonese fare, though Wendy also learned to make Peruvian food from Ricardo's family. The two had three kids together, and in 1977, immigrated to the US, settling in Highland Park. Wendy worked as a seamstress early on, while Ricardo secured a job at Chinatown's Golden Palace (at the site of the current Broadway Cuisine). They moved to Rosemead in 1985, and Wendy later helped run eateries operated by her brother. The couple's youngest child, Humberto Leon (born June 1975), eventually made a name for himself in the fashion world, teaming up with Carol Lim to found clothing retailer Opening Ceremony in 2002. They were also named creative directors of Kenzo in 2011, but relinquished that post in 2019.
A few years ago, Humberto decided to launch an incarnation of his mother's original restaurant right here in LA, which was a long-held desire of his. He thus recruited his sister Ricardina Leon, who boasts a background in asset management and real estate investment, as well as her husband John Liu. Liu, who possesses Taiwanese ancestry, also spent nearly three decades in investment management, but is also an accomplished home cook and boasts catering experience; he was therefore the natural choice to helm the kitchen here. They started working on Chifa 2.0 in 2018, and the restaurant ended up debuting over Thanksgiving weekend in 2020. This is truly a family business, as both Liu's daughter and son have worked at Chifa, and the response has generally been positive, with the place even earning a Big Gourmand nod from Michelin in September 2021.

Chifa resides in a building that previously held the longstanding Hal's Pet Shop, which closed at end of June 2018 after 30 years in business. The space was completely redone by Humberto and his friend
Michael Loverich
. The dining room has a plush, romantic feel to it, swathed in shades of green and featuring tables and chairs designed by Humberto himself.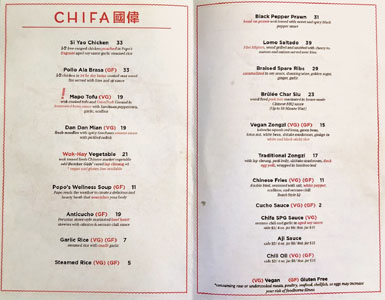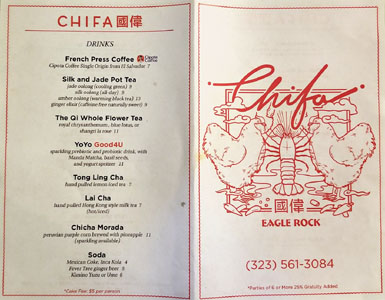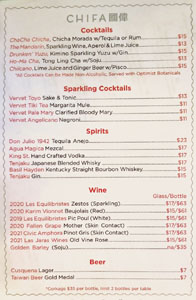 As for Chifa's menu, it takes cues from Wendy's original restaurant in Lima, though Liu has certainly put his own spin on the cuisine. Beverage-wise, there's a selection of tea and other non-alcoholic beverages (note that the place didn't have a liquor license when it first opened), as well as a small array of beer, wine, spirits, and cocktails. Corkage was $35, and we were charged for only two of our three bottles. Click for larger versions.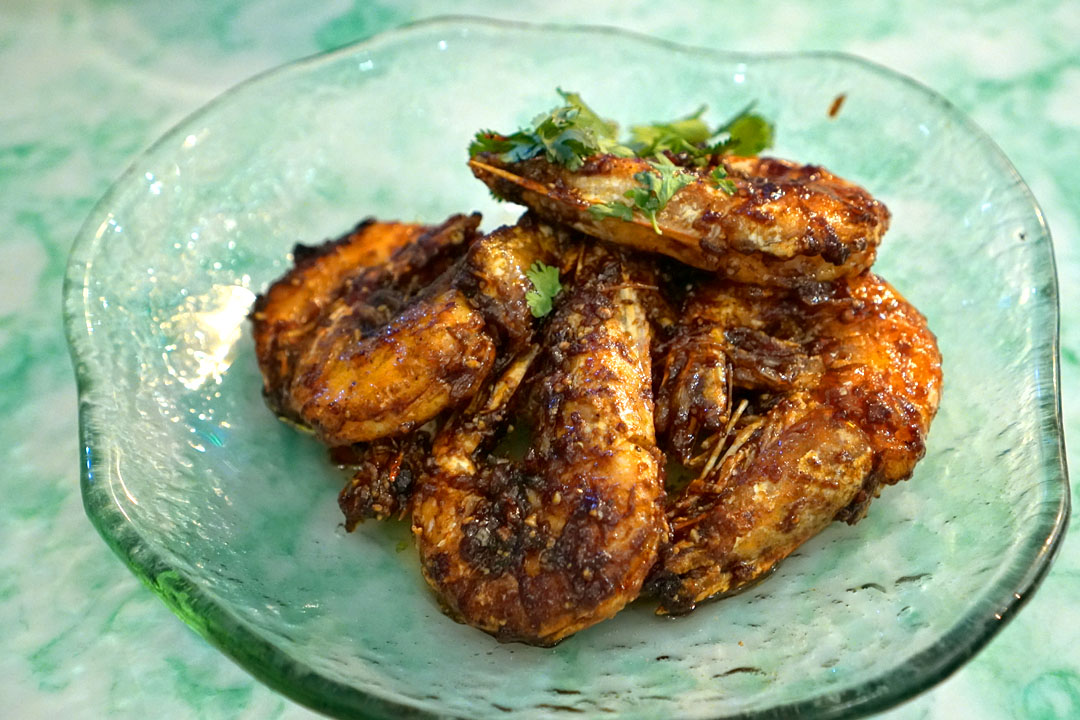 Black Pepper Prawn [$31.00]
| head on prawn wok tossed with sweet and spicy black pepper sauce
Up first were some sizeable shrimp, ones with a brininess that made a bunch of sense with the dish's robustly sweet, peppery flavors that certainly satisfied. I just would've liked a bit more texture here.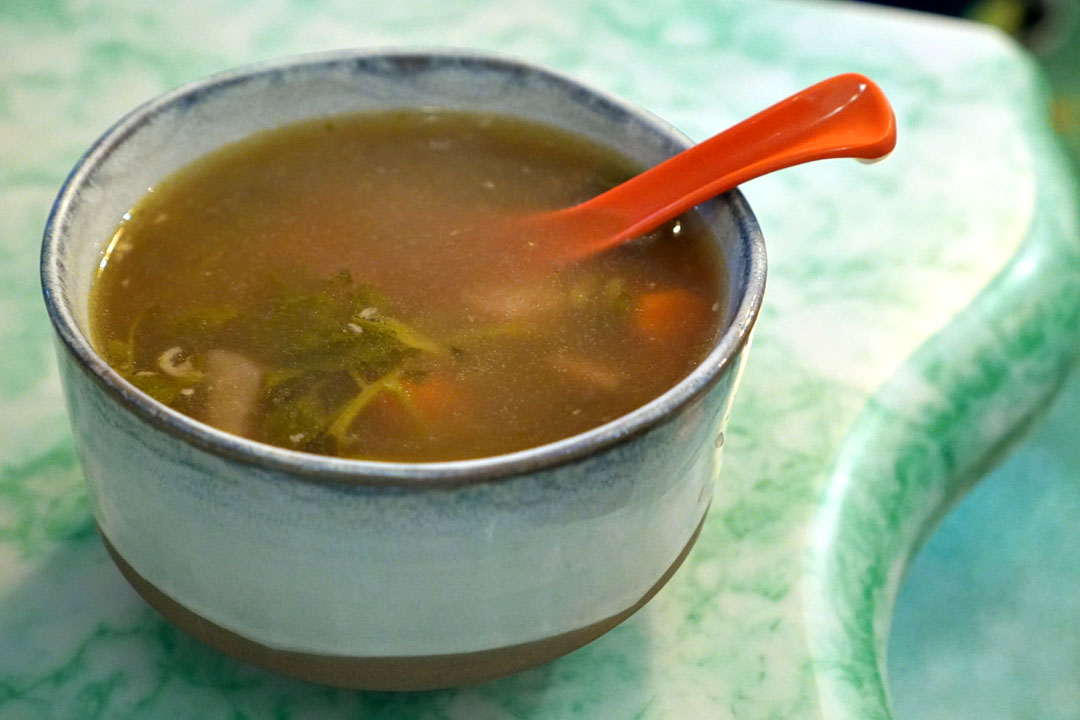 Popo's Wellness Soup [$11.00]
| Popo reads the weather to create a delicious and hearty broth that nourishes your body
The soup lived up to its moniker, and tasted as healthy and homey as its name would imply.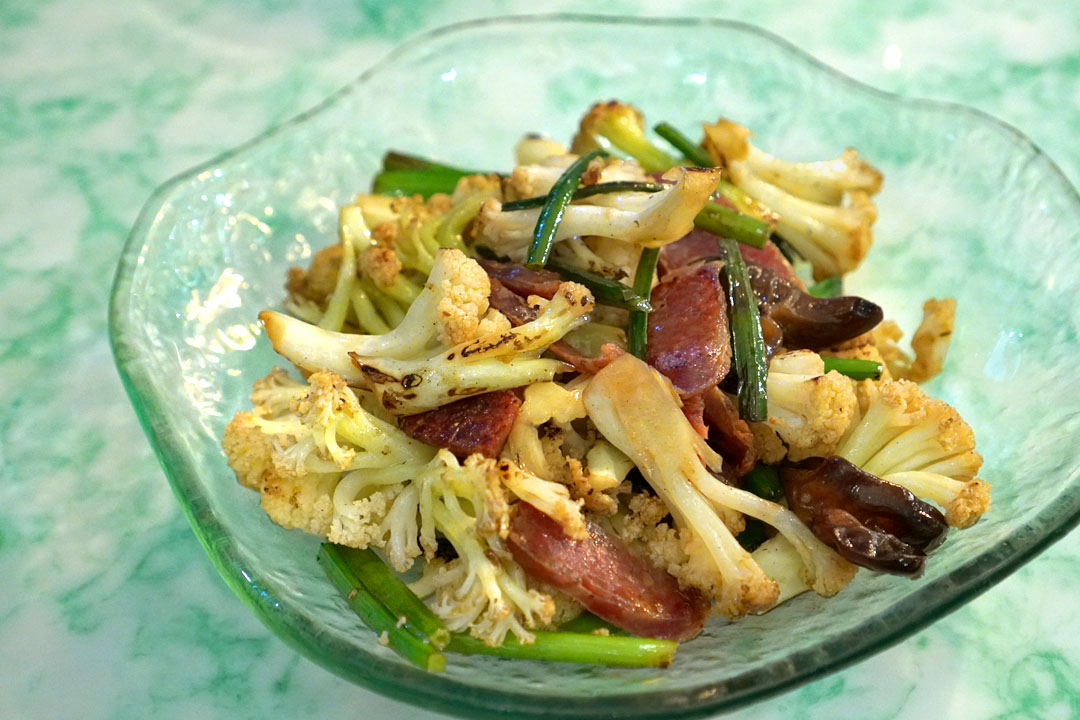 Wok-Hay Vegetable [$21.00 + $5.00]
| wok tossed fresh Chinese market vegetable + add Butcher Girls' cured lap cheung
The cauliflower was a surprise standout, and was truly imbued with plenty of that smoky, savory
wok hei
character that I was looking for. The veggies were also great texturally, and I loved the counterpoints provided by the scallions and salty sausage.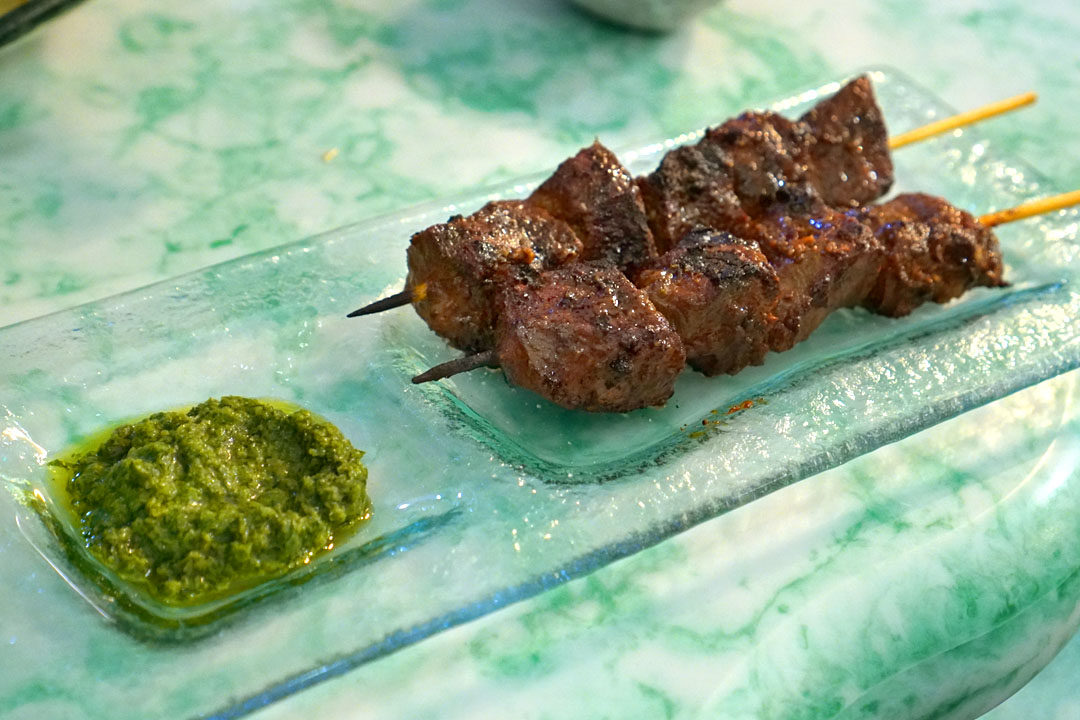 Anticucho [$19.00]
| Peruvian street style marinated beef heart skewers with cilantro & serrano chili sauce
The anticuchos were also superb, some of the best I've had in fact, arriving tender and succulent, with some beautiful spicing to boot. The skewers were delicious alone, but even better with a dab of that zippy sauce on the side.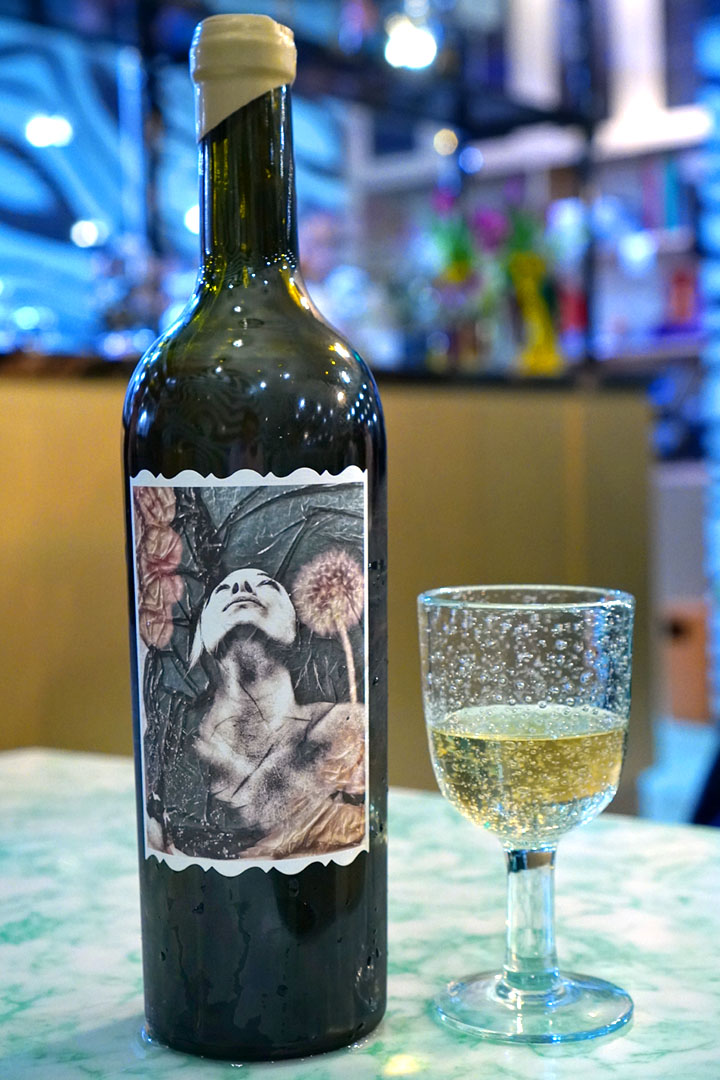 To drink, we brought three wines from the same producer and vintage, and first up was the
2020 Faethm Fingers Crossed White
. The Chardonnay blend possessed an intense nose of buttered tropical fruits that definitely hinted at its predominant grape varietal. On the palate, I found the wine dense and full-bodied, with loads of lingering spice commixed with more butter, minerals, citrus, and yellow fruits. This wasn't quite what I was expecting, and it'll be interesting to see how this one evolves over time.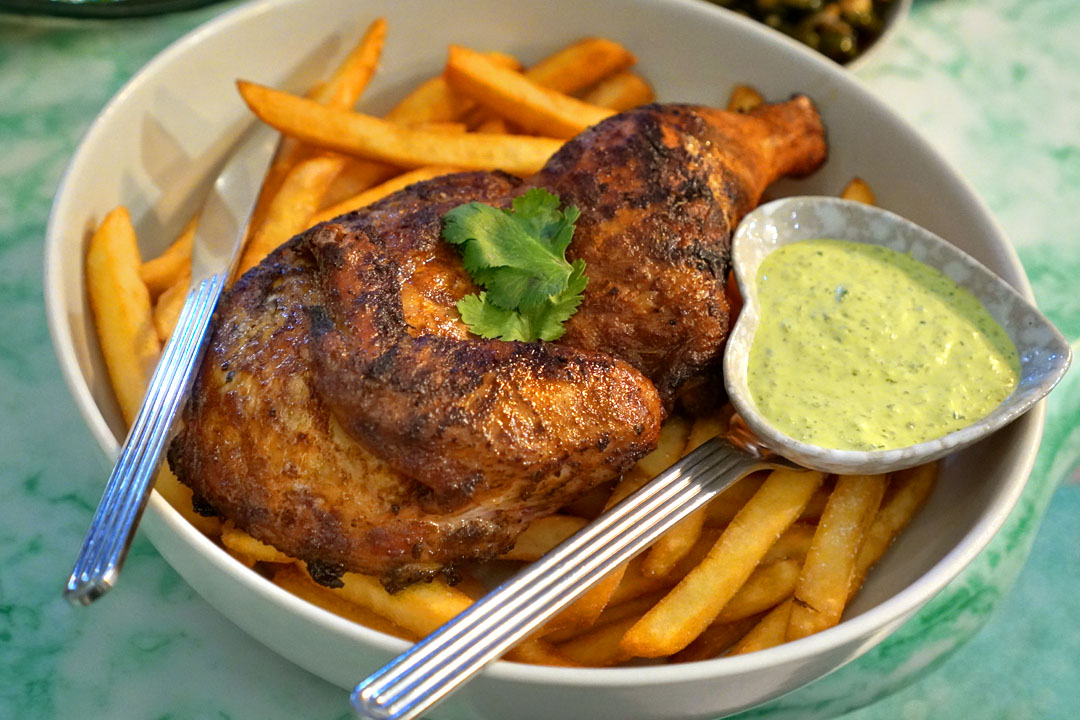 Pollo Ala Brasa [$33.00]
| 1/2 chicken in 24 hr dry brine cooked over wood fire served with fries and aji sauce
The pollo a la brasa was also excellent, and one of the strongest preparations I've tasted. The chicken ate super juicy and tender, even the breast, and was delectably seasoned. The bird was thoroughly enjoyable when taken alone, but I did appreciate the punch of that ají on the side, while the fries were spot-on, too.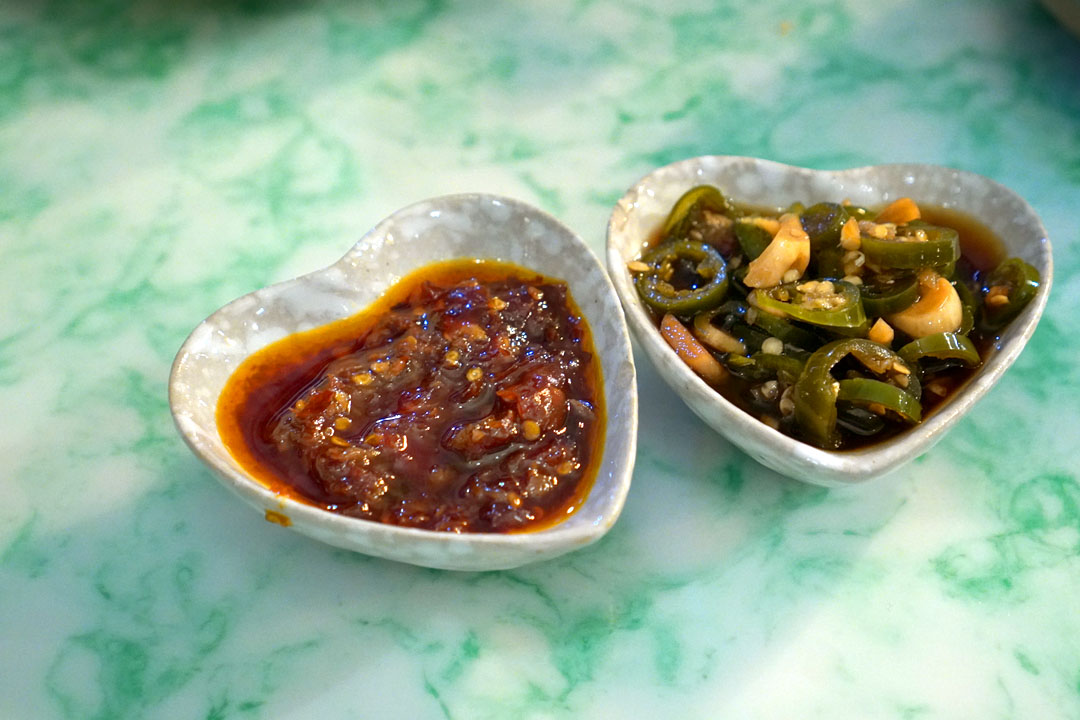 Chili Oil [$2.00]
Chifa SPG Sauce [$2.00]
| serrano chili and garlic in aged soy sauce
We also ordered a couple of add-on sauces, both of which were lovely and could accompany a variety of foods.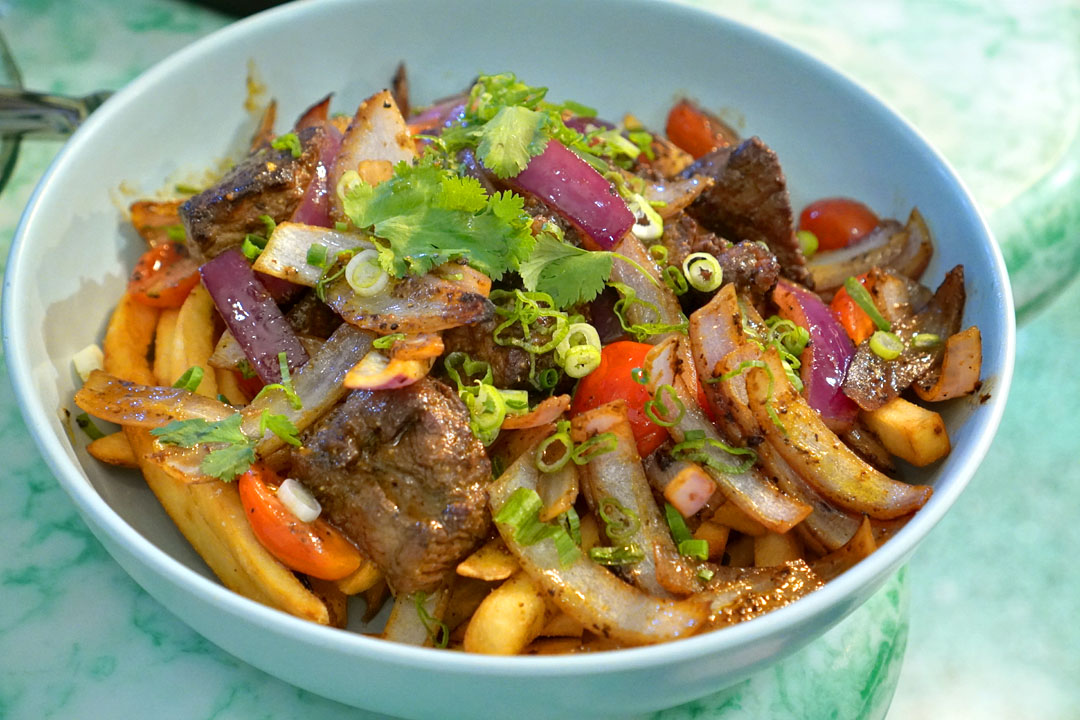 Lomo Saltado [$39.00]
| Filet Mignon, wood grilled and sautéed with cherry tomatoes and onions served over fries
The most quintessential of
chifa
dishes was done justice tonight. The filet was properly tender, and paired like clockwork with the strong, savory soy notes present, all while the veggies served as the perfect accent pieces. As for the French fries, they were just about flawless, as was the case with the pollo above. Delish.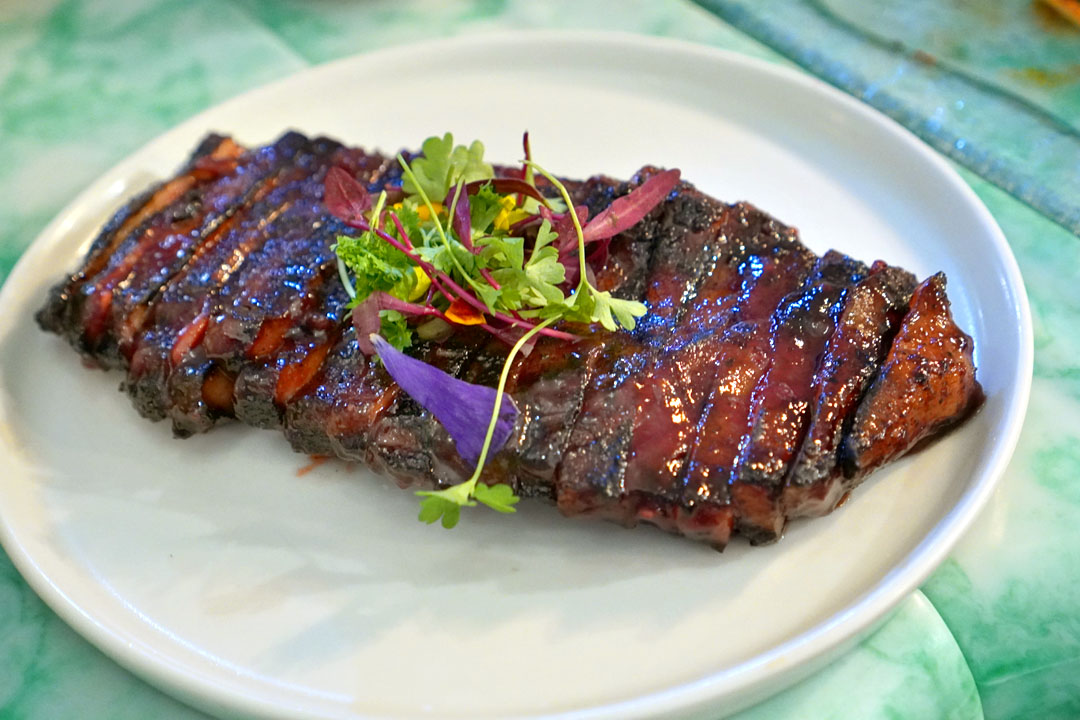 Brûlée Char Siu [$23.00]
| wood fired pork toro marinated in house made Chinese BBQ sauce
Liu's interpretation of chasiu was pretty unique, in a good way. The pork had the tenderness and fattiness I was looking for with p-toro (pork jowl), but also displayed a marked sweetness, so that smoky charred crust was absolutely crucial for contrast.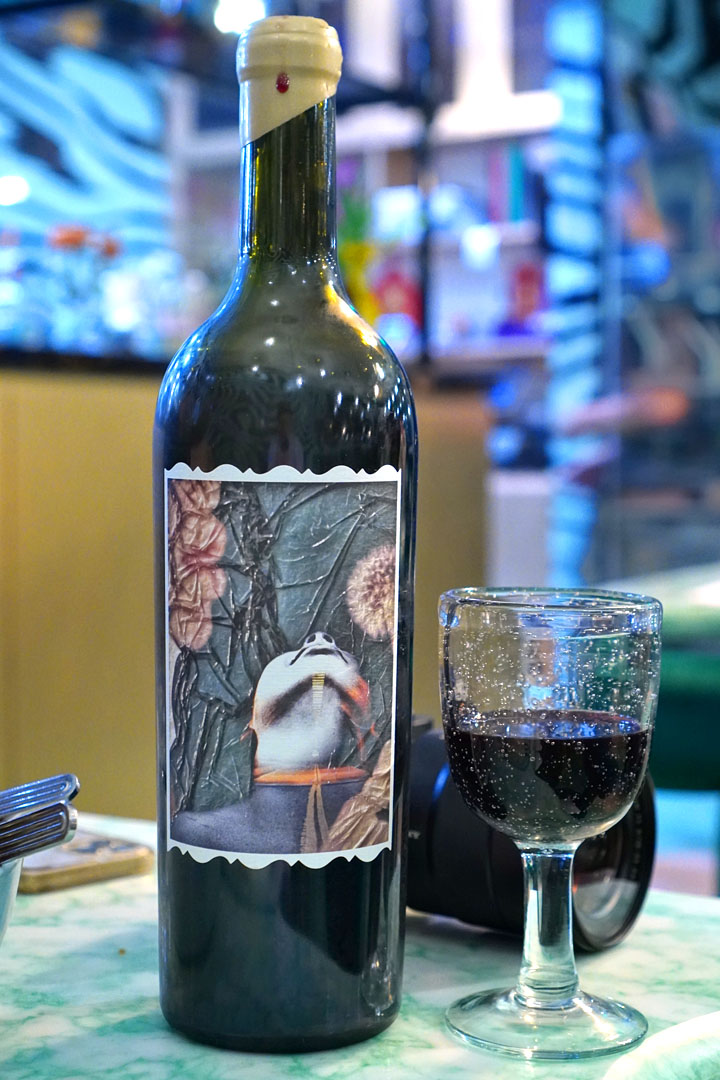 Next to imbibe was the
2020 Faethm Fingers Crossed Syrah
. The wine smelled of inky fruits blended with vanilla ice cream, interestingly enough. Tasting it, I got boatloads of cool, weighty dark fruits, but offset by elements of dry herbs, spice, and stone. Again, a bit different than your typical California Syrah.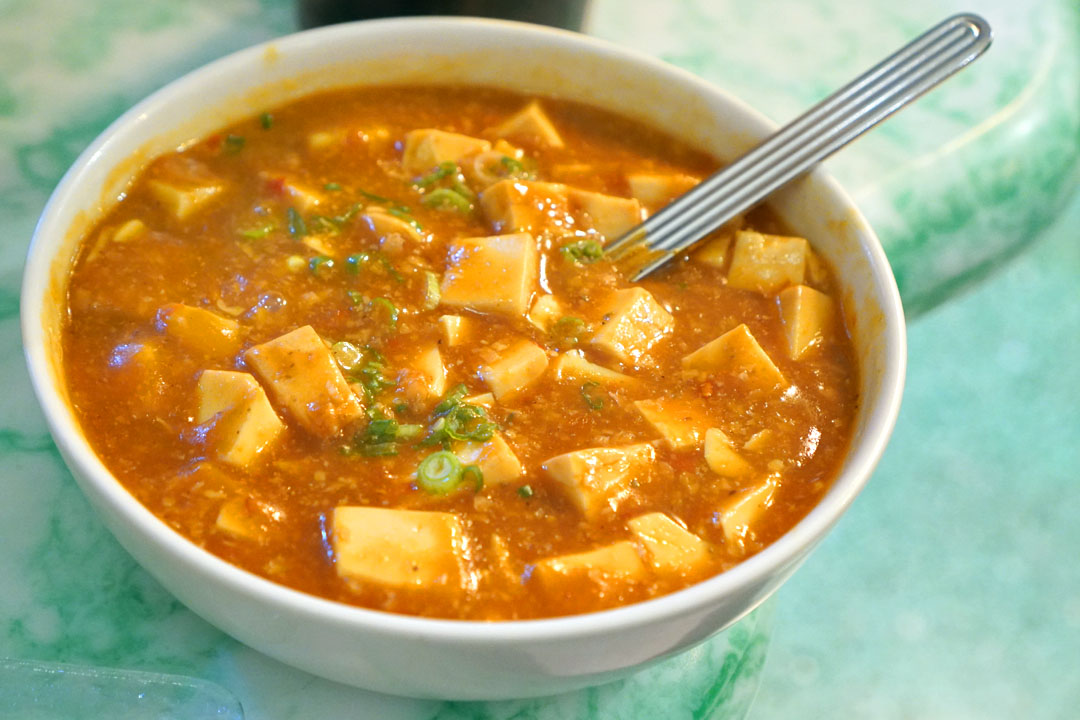 Mapo Tofu [$19.00]
| wok-cooked tofu and OmniPork Ground in fermented bean sauce with Szechuan peppercorn, garlic, scallion
A vegan take on mapo tofu was more successful than I thought it'd be. The kitchen was able to develop a good amount of depth, and I quite liked the sharp,
mala
-fueled spiciness in the dish. Nice texture on the actual bean curd, too.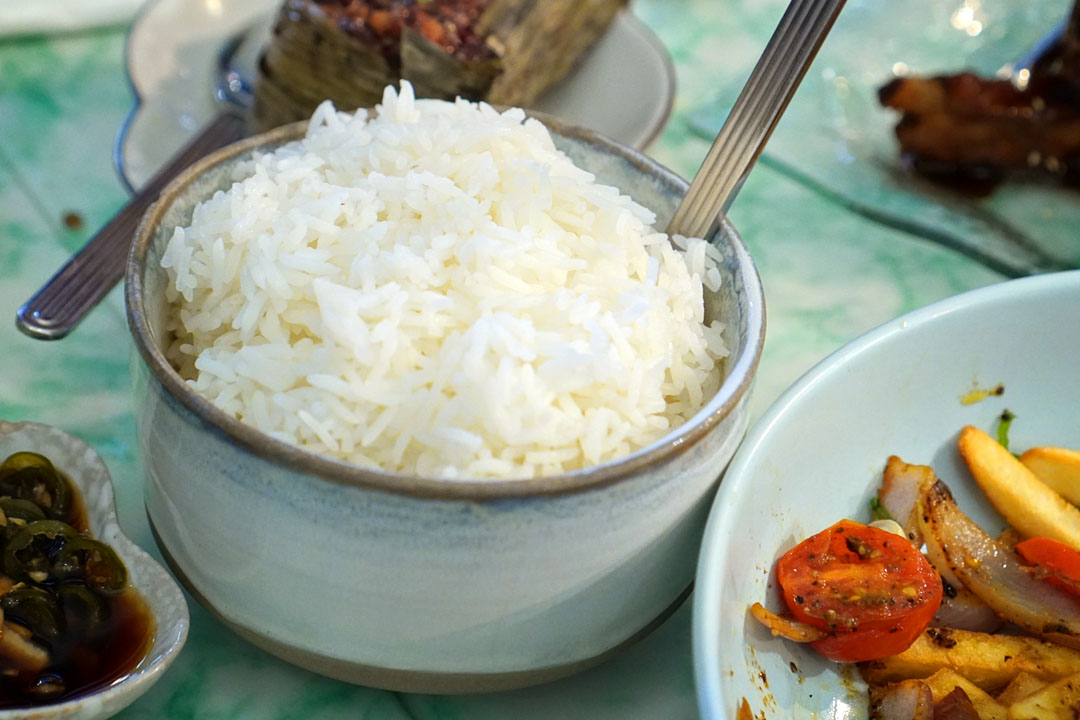 Steamed Rice [$5.00]
The tofu above was just begging for some white rice, and what we were served fit the bill perfectly, especially with its pleasingly fluffy texture.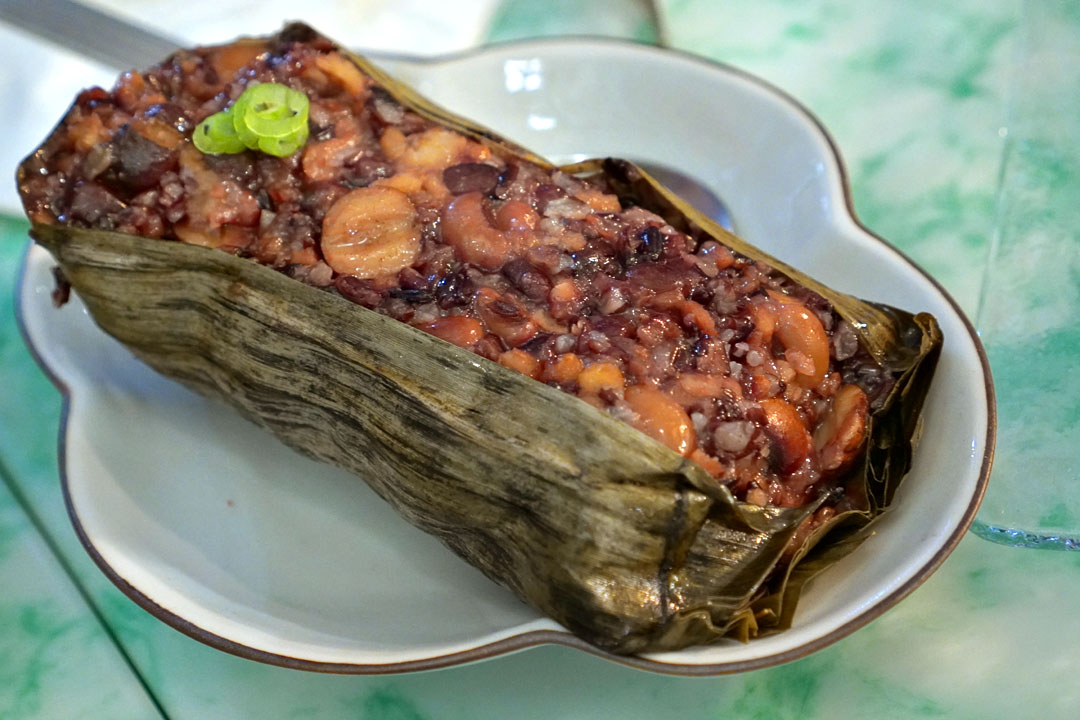 Traditional Zongzi [$17.00]
| with lap cheung, pork belly, shiitake mushroom, duck egg yolk, wrapped in bamboo leaf
I was never a fan of
zongzi
as a kid, but Chifa's was an agreeable rendition to be sure. The glutinous rice was well-textured, and the dish showcased a nice balance of sweet-savory flavors (I was especially fond of the 'shrooms), but overarched by prickly spices and a pungency from the salted egg yolks.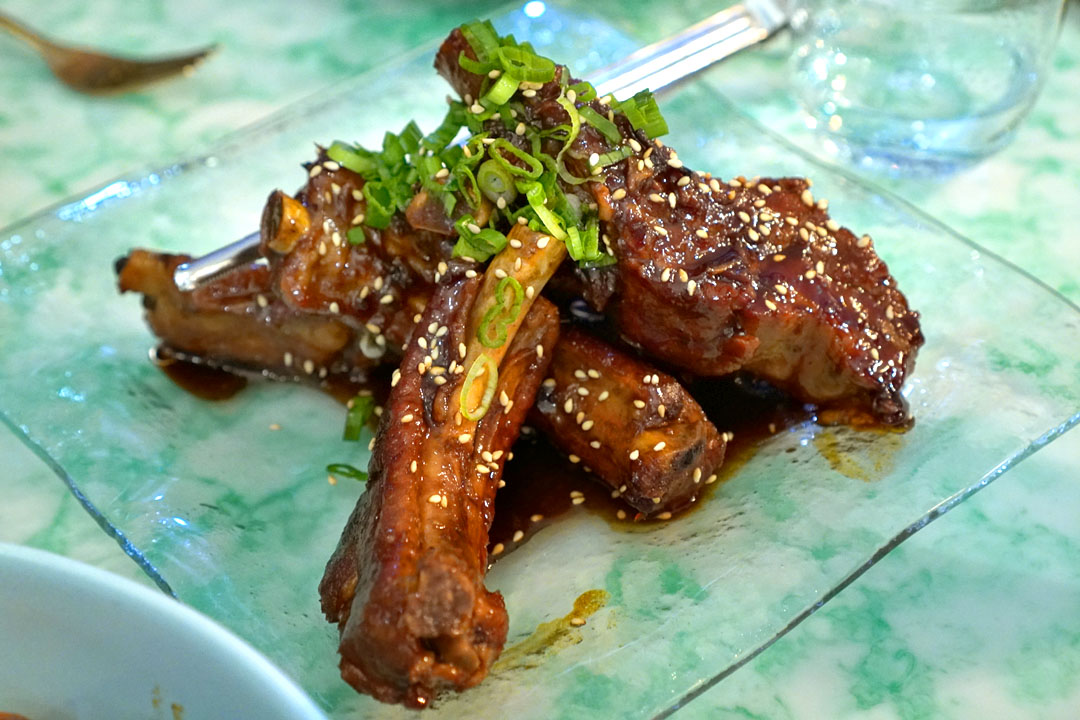 Braised Spare Ribs [$29.00]
| caramelized in soy sauce, shaoxing wine, golden sugar, ginger, garlic
Spare ribs tore cleanly off the bone, and were teeming with savory, caramelized flavors and a dash of complexity from the yellow wine. My only quibble was that the meat ate a tad dry in spots.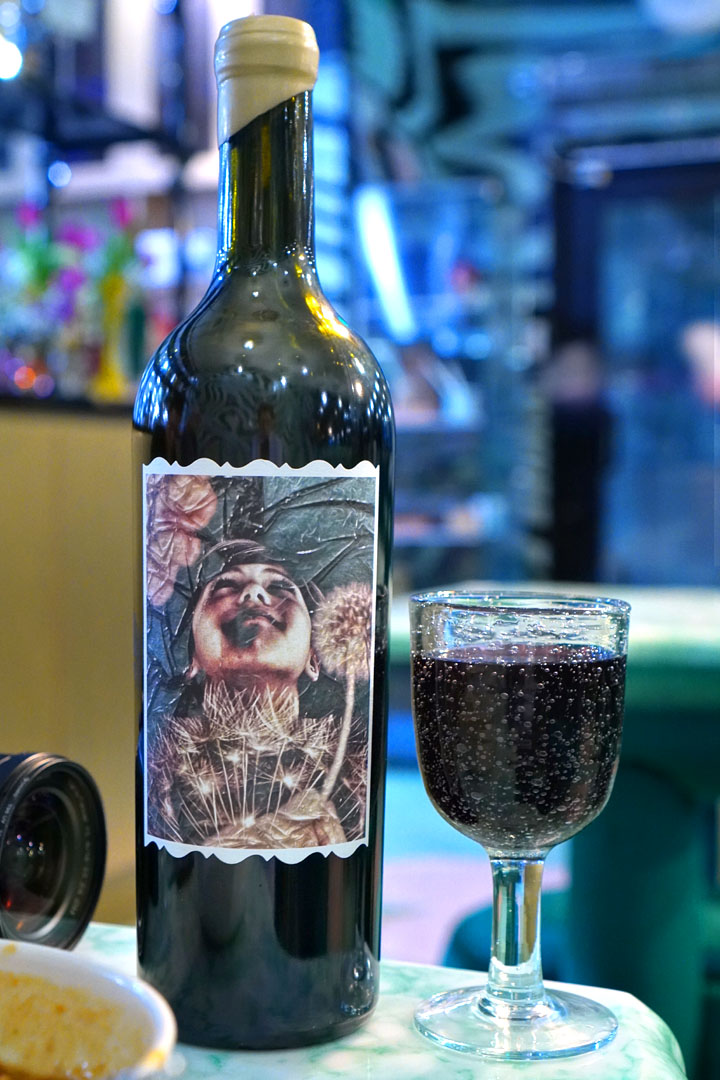 Our final tipple was the
2020 Faethm Fingers Crossed Grenache
. The wine smelled massively of soft, lush, "thick" dark fruits. The palate was supple in terms of tannins, and just quite supple overall, with lots of jammy berries accented by sweet spices and cacao. The most complete wine of the night by my estimation.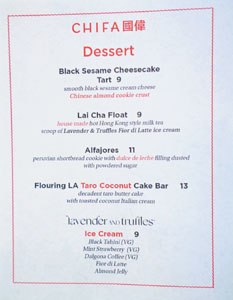 And here's Chifa's dessert menu. Click for a larger version.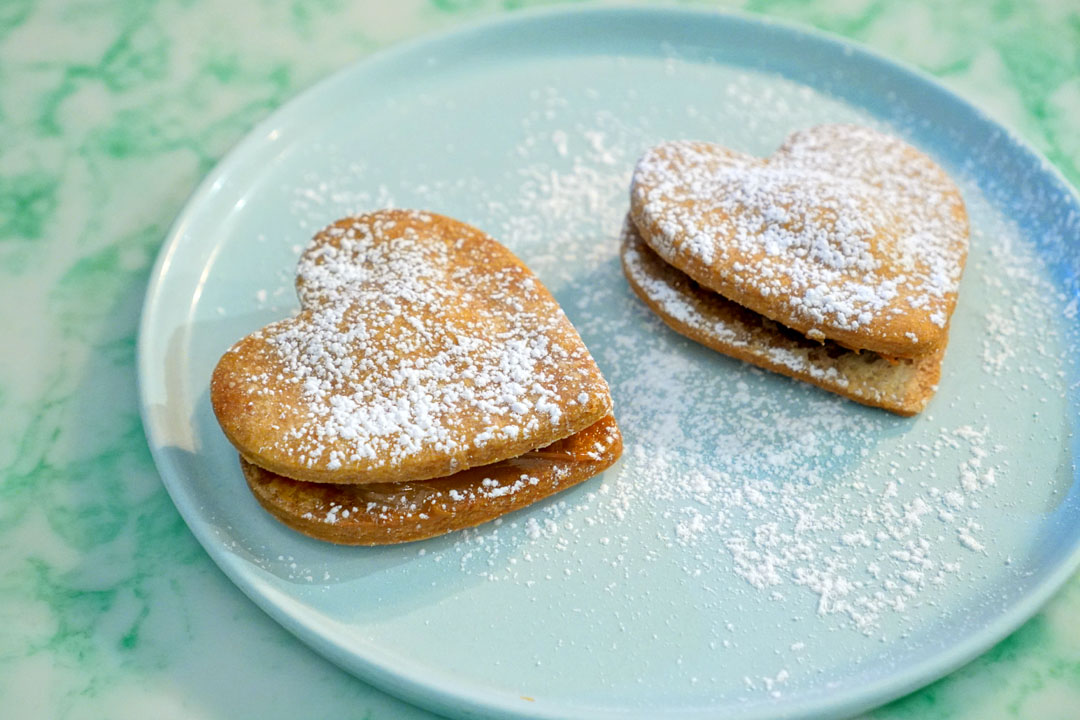 Alfajores [$11.00]
| peruvian shortbread cookie with dulce de leche filling dusted with powdered sugar
Our first dessert was this complimentary
alfajor
duo. I quite appreciated the cookies' gratifyingly crumbly consistency, not to mention their unabashedly sugary filling.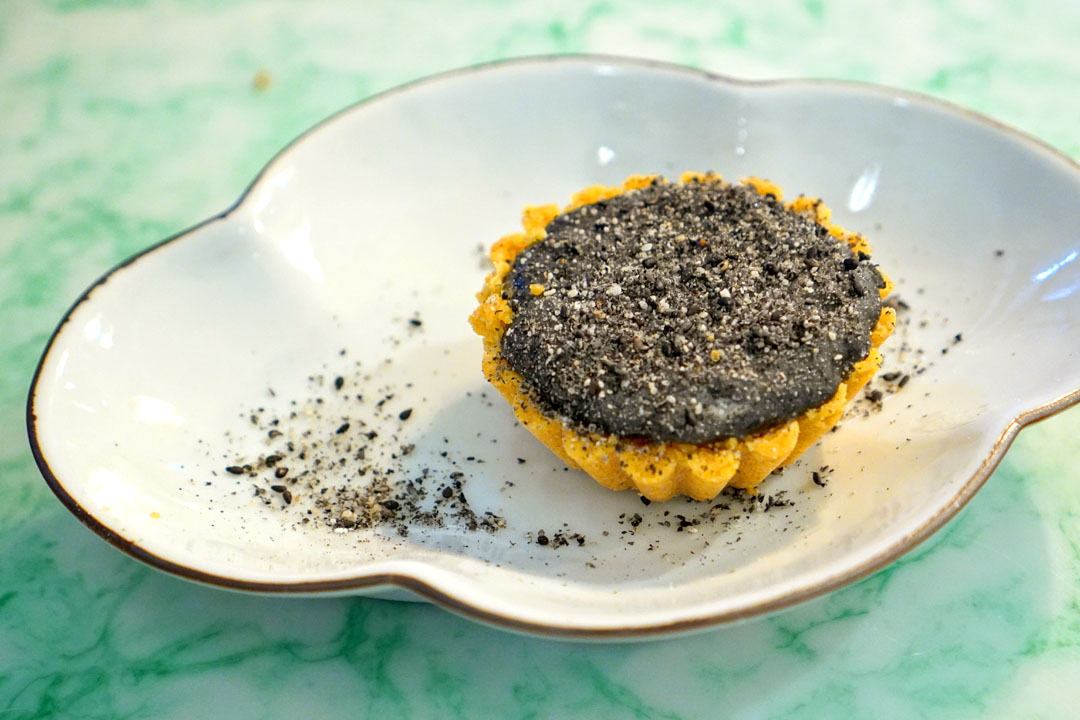 Black Sesame Cheesecake Tart [$9.00]
| smooth black sesame cream cheese, Chinese almond cookie crust
I'm a big fan of black sesame, and the signature nuttiness of the seed was well-represented here, linking up easily with that brittle crust.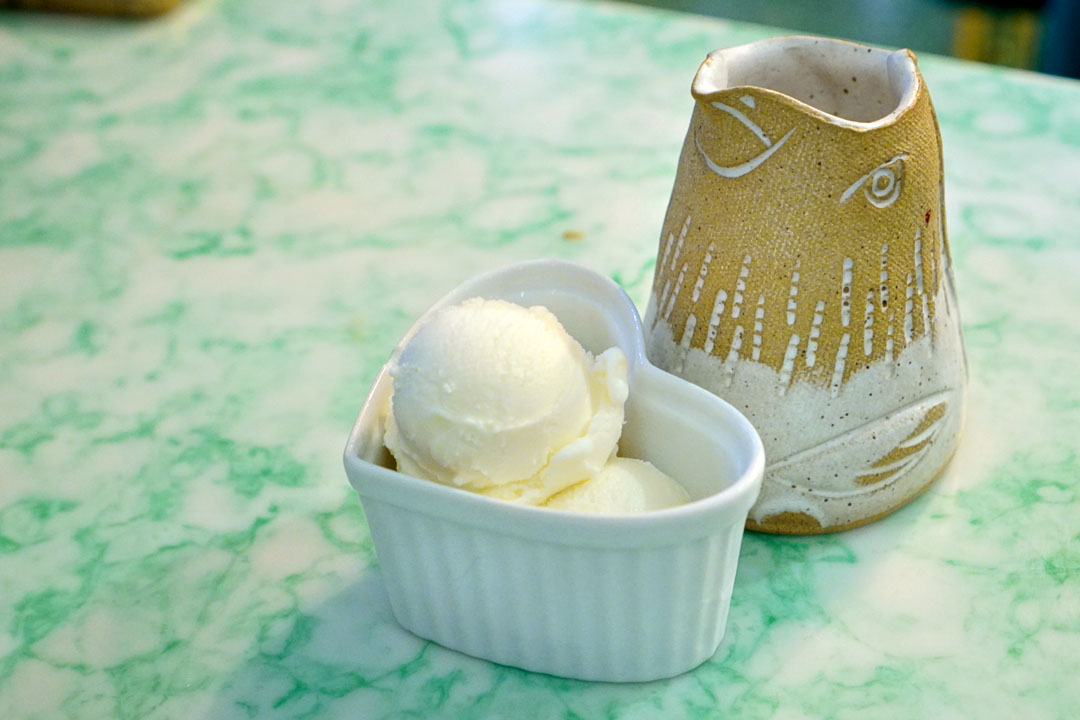 Lai Cha Float [$9.00]
| house made hot Hong Kong style milk tea, scoop of Lavender & Truffles Fior di Latte ice cream
This fun float combined the luscious nature of a cheese-enriched ice cream with the familiar flavors of Hong Kong milk tea.
Flouring LA Taro Coconut Cake Bar [$13.00]
| decadent taro butter cake with toasted coconut Italian cream
This rather comely cake did a pretty commendable job conveying the nutty-sweet taste of taro, which married well with the dessert's creamy, coconut-y components.
I came into Chifa expecting the cooking to be more like Chinese-Peruvian fusion, but rather, it's more like Chinese and Peruvian food served together, which works for me. Both culinary traditions were deftly represented tonight, and I walked out of here very satisfied. In fact, the place probably deserves more attention than it gets. Now given the strength of this meal, I'm now curious to try out the family's second spot: Monarch in Arcadia. That restaurant opened in January, and is apparently a riff on a Hong Kong-style cafe, which intrigues me. And in case that wasn't enough, back in February, they also launched Arroz & Fun, a casual, daytime-only eatery in Lincoln Heights (set in the former home of Gamboge).