Gigi's (Los Angeles, CA)
Gigi's Restaurant
904 N Sycamore Ave, Los Angeles, CA 90038
323.819.7703
www.gigis.la
Thu 05/04/2023, 08:45p-11:05p

I recently paid a visit to the Hollywood Media District in order to check out yet another new-ish dining establishment in the neighborhood. Gigi's is a bistro-inspired spot offering up Cal-French cuisine, and opened up back in November 2020 in a building that was previously home to lighting manufacturer Mole-Richardson. The place is the creation of New Yorker
Alexander "Alex" Wilmot
, co-founder of burger joint Whitman's. He's also brought on actress-slash-producer
Samantha "Sam" Ressler
as a partner (her grandmother Gigi lent her name to the restaurant), while the menu's the responsibility of Executive Chef
Matt Bollinger
.
About the Chef
: Matthew Bollinger received his formal training at the Culinary Institute of America at Hyde Park. After earning his associate degree in 2007, he stayed in New York and started working as a tournant at Jean-Georges Vongerichten's Perry St. In May 2010, he moved over to Laurent Tourondel's BLT Fish, where he spent six months before transitioning to an exec sous role at Hill Country Barbecue Market. April 2012 saw Bollinger at Spanish eatery Cata, but by the end of 2013, he had taken on a Chef de Cuisine gig at Rosette. His final position in NYC was at Sunshine Co. in Brooklyn, where he served as CdC for a year before decamping in March 2015 and relocating to Southern California. Now in LA, he soon joined the opening team at
Trois Familia
and helped launch the restaurant in October 2015. However, Bollinger wound up leaving the French-Mexican spot a year after its debut and landed another CdC job at
Winsome
in Echo Park. He stayed there until June 2017, then founded
All In Catering
with fellow chef Brian Nichols before being recruited to run the kitchen at Gigi's.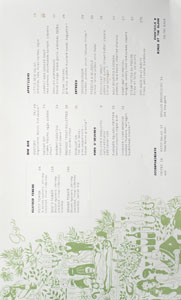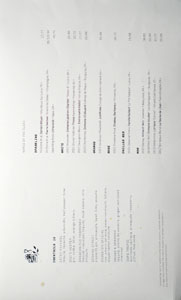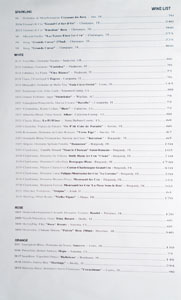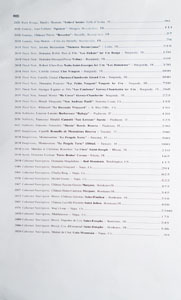 Here we see the menu at Gigi's, which definitely reads bistrot-esque. Drink-wise, you get some fairly interesting cocktails from Beverage Director Courtney Rose (
Mess Hall,
Petit Trois
,
Barrel & Ashes
,
Short Order
) and a French-leaning wine list put together by Kristin Olszewski (
Osteria Mozza
, Husk in Nashville). Click for larger versions.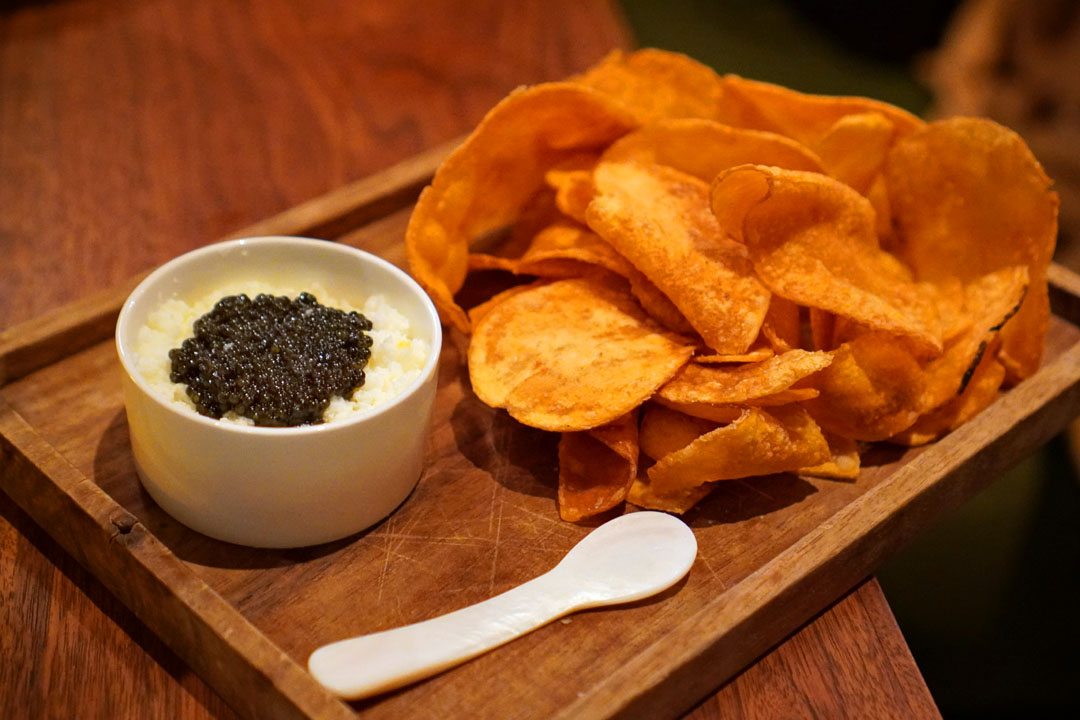 Caviar Dip [$70.00]
| crème fraiche, eggs, potato chips
Not surprisingly, the combination of caviar, egg, and tangy crème fraîche was a winning one, and made a whole lot of sense with those delightfully salty, crunchy chips (wouldn't mind just munching on a bag of those alone). A fitting start to the meal.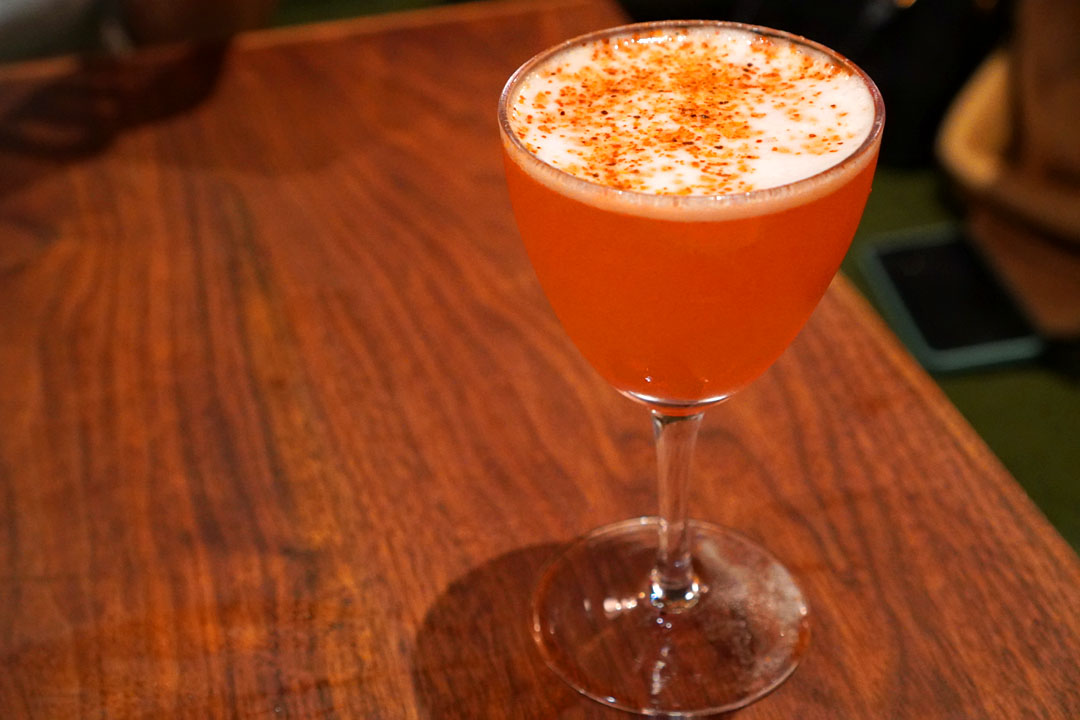 Copa Tropic [$18.00]
| ajornada cachaca, pineapple, raspberry, citrus, hop soda
We went with cocktails tonight, and this first one showed off a light, almost beer-like character, with its citrusy, hoppy nuances joining hands with subdued fruit flavors while the finish veered a bit saline.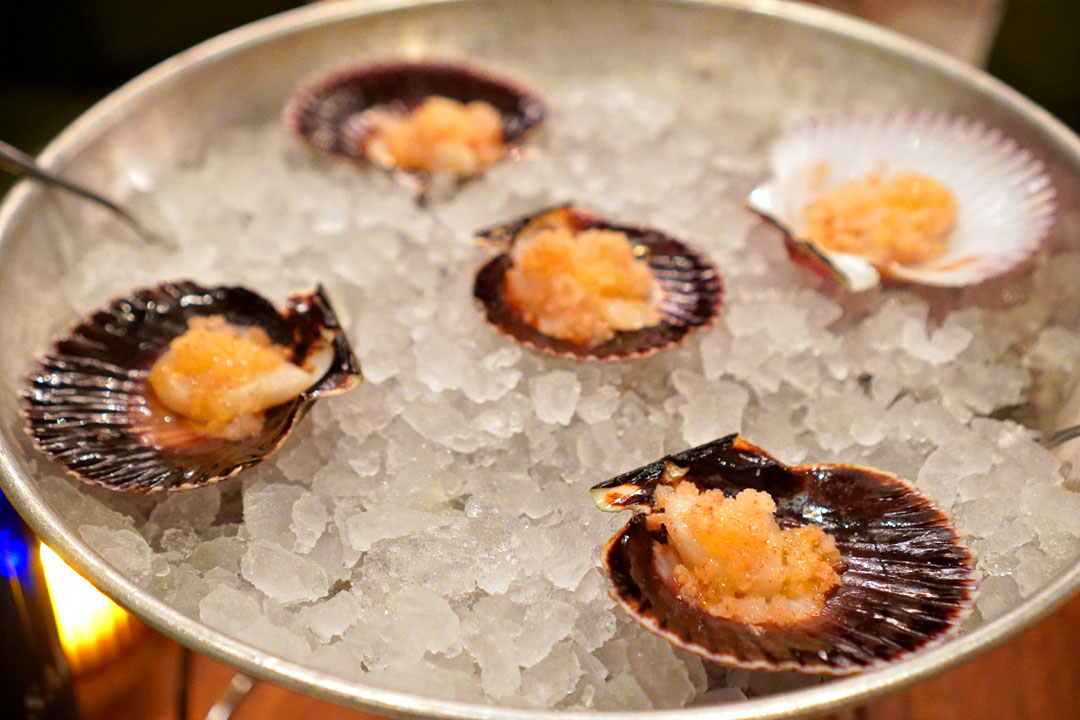 Scallop on the Half Shell [$20.00]
| pink peppercorn - meyer lemon granita
Scallops arrived sweet 'n' briny, just as you'd expect, so the key here was really that spicy edge provided by the peppercorns.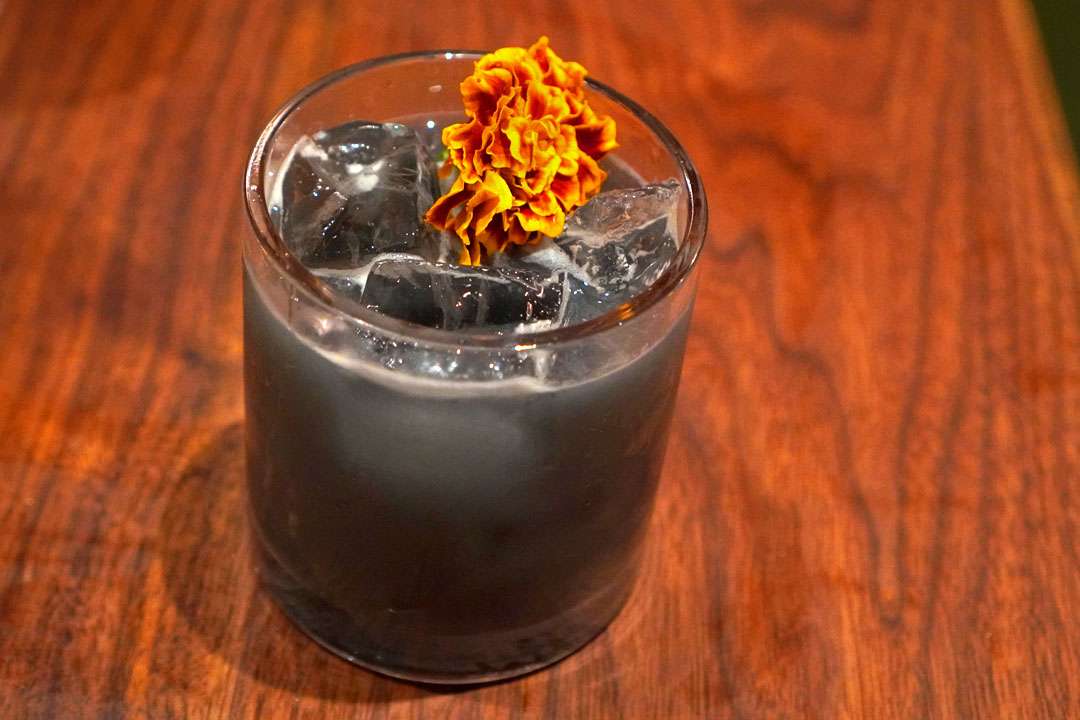 Smoke & Mirrors [$18.00]
| tequila, creme de violette, ginger, activated charcoal
This gray-tinted cocktail was certainly eye-catching. Taste-wise, it highlighted the back-and-forth between zesty ginger and the floral qualities of violet liqueur, with not much agave to speak of.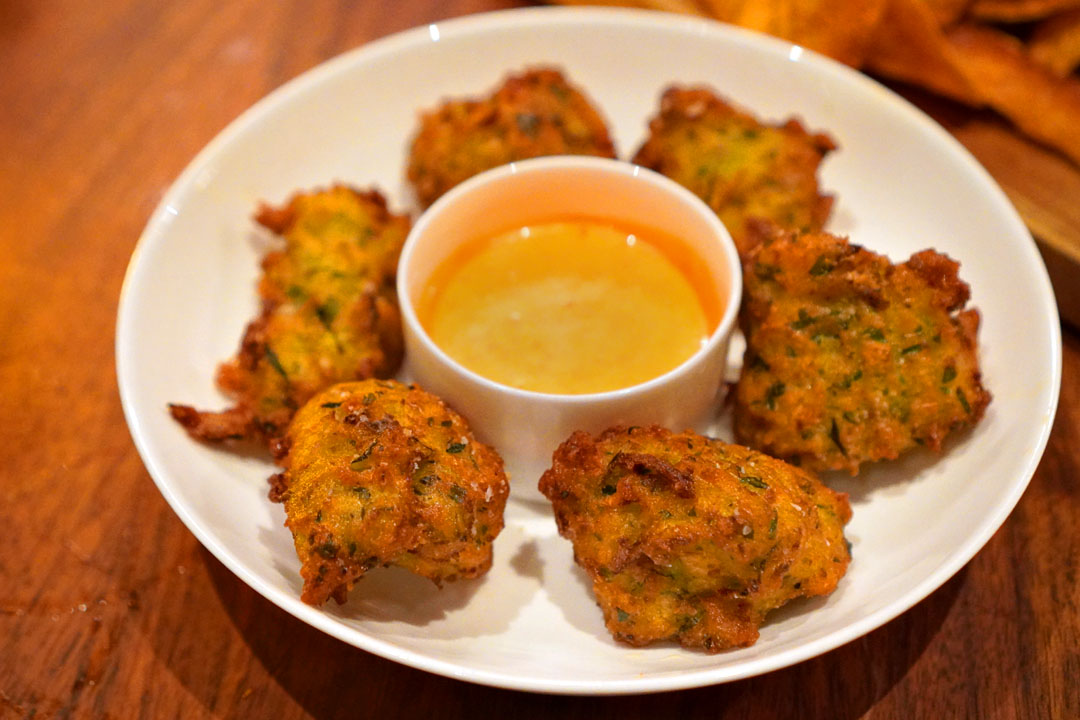 Summer Squash Fritter [$15.00]
| lemon piquillo vegan aioli
Squash fritters featured crisp outsides and pillowy interiors, while their mildly citrusy flavors opened up with a dip into that piquant aioli.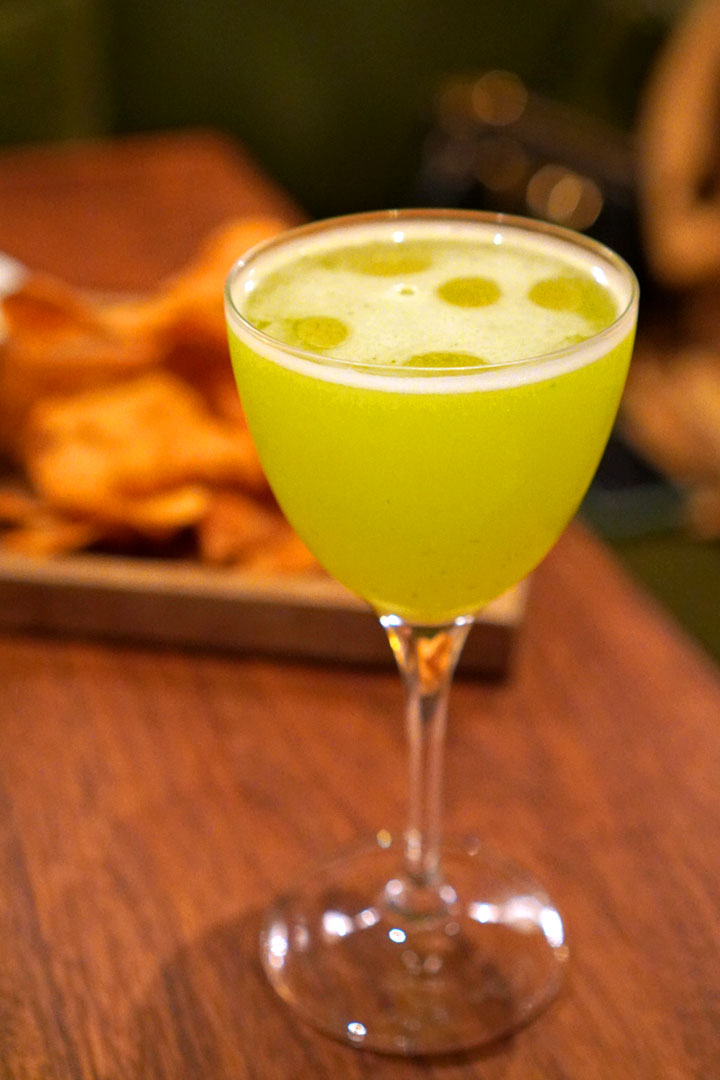 Sesame Street [$18.00]
| sipsmith gin, pineapple, basil, lime, sesame
This cheekily-named cocktail was my favorite of the evening, as I was smitten by its overarching notes of nutty, savory sesame, juxtaposed against pineapple and herb.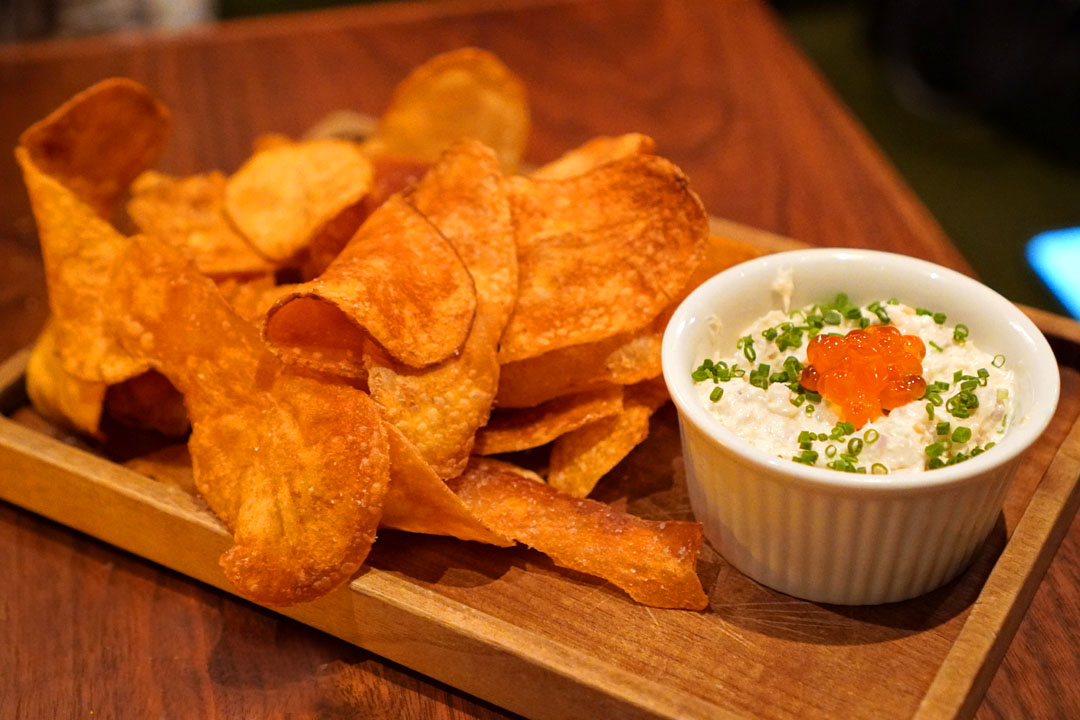 Smoked Trout Rillettes [$19.00]
| roe, potato chips
The rillette was another standout thanks to its deft marriage of smoke and saline, all in a smooth, creamy package. I also liked the further brininess imparted by the roe, while chives lightened the mood just a tad. And again, big fan of the chips as well.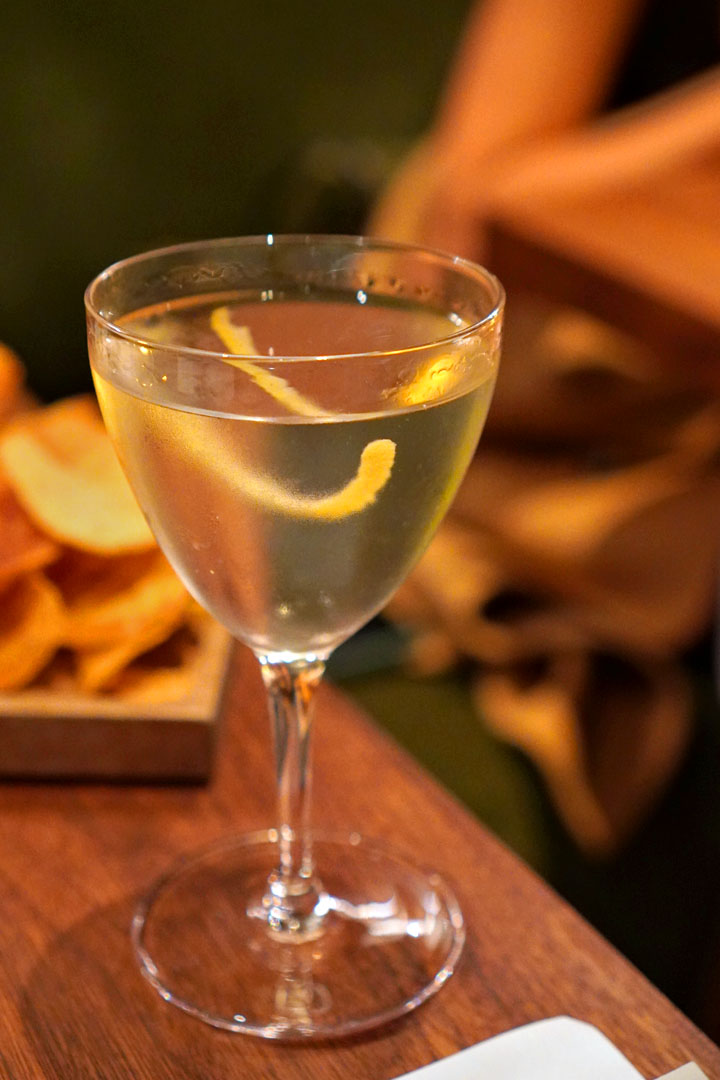 Gigi's Vesper [$18.00]
| gin, vodka, lillet, orange bitters
This next cocktail was the booziest of the bunch, yet never became heavy-handed. I enjoyed the olive-y, citrusy nuances on the nose, and the drink's floral notes (courtesy of the Lillet) were also to my liking.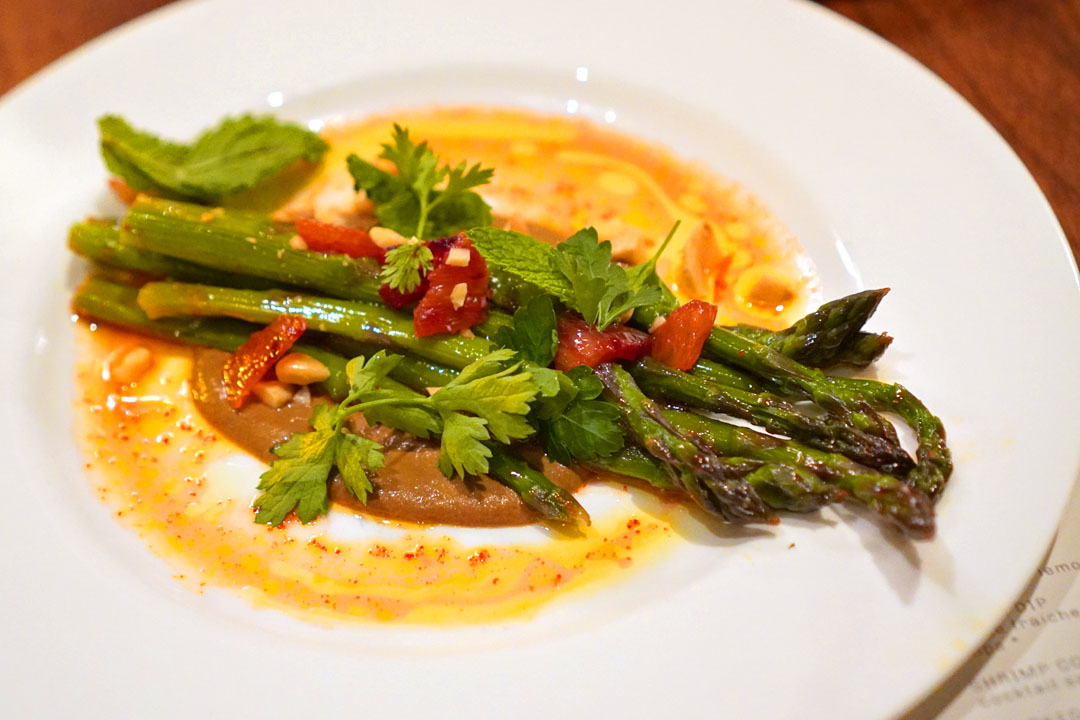 Grilled Asparagus [$22.00]
| blood orange, black garlic, almonds, herbs
Spears of asparagus arrived properly tender, their bittersweetness meshing well with the depth and pungency of black garlic. My complaint here was that the veggie could've used more smoke and sear.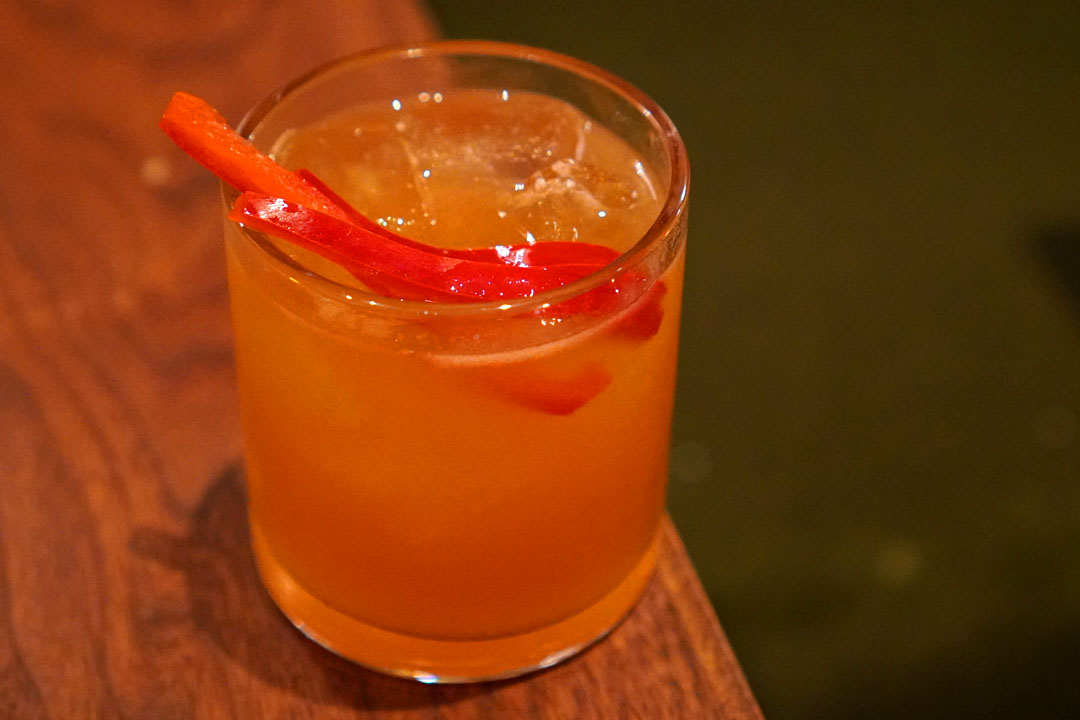 Aztec Revenge [$18.00]
| tequila, tepache, piloncillo, bell pepper, lime
A tepache-inspired cocktail did a nice job coalescing sweet spice with a healthy dosing of fruit and heat.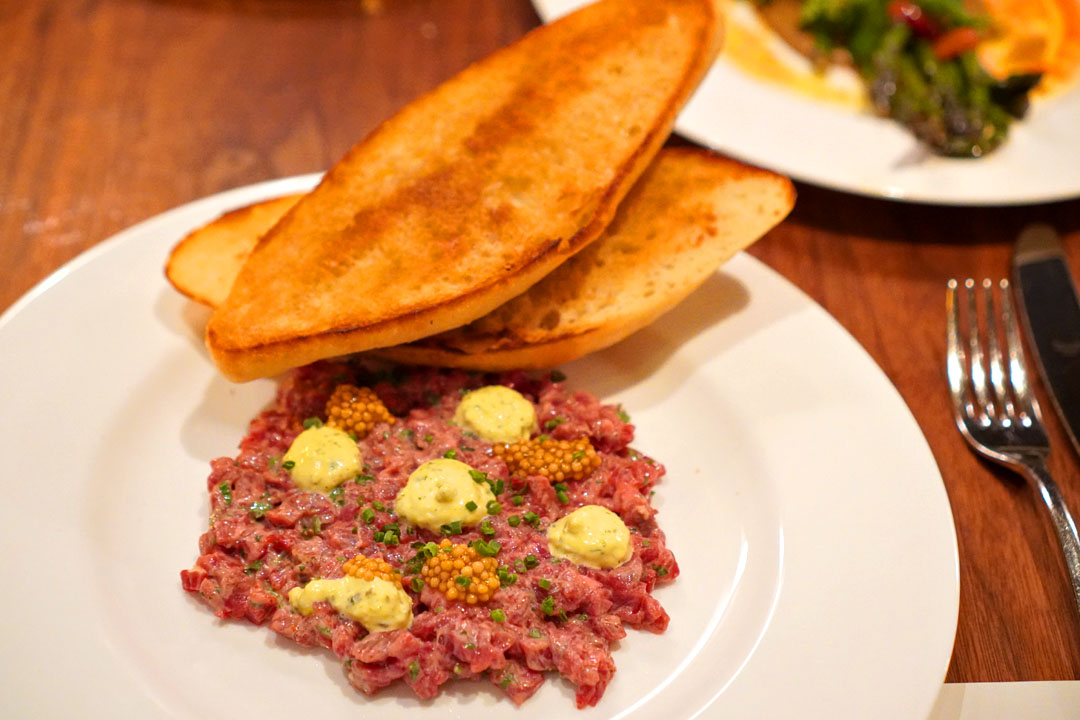 Steak Tartare [$26.00]
| gribiche, pickled mustard seeds, baguette
I do have a penchant for beef tartare, and tonight's rendition was a tasty one. The steak itself was suppler than usual, and contrasting forces of gribiche and mustard complemented the meat in classic fashion. I quite liked the soft-yet-toasty bread on the side, too.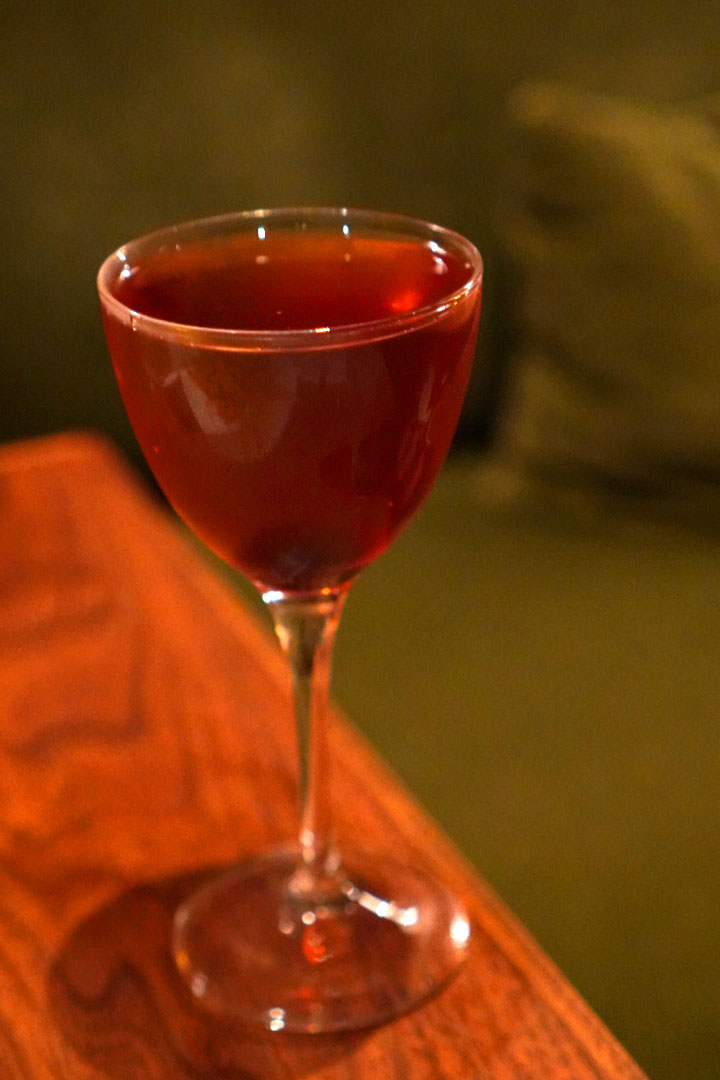 Stockton Special [$18.00]
| rye, amaro del etna, sweet vermouth, bitters, meyer lemon tincture
One of my go-to cocktails these days is the Manhattan, so it's no surprise that I really enjoyed this variation, specifically how nicely the bittersweet, herbal notes in the drink came together with all that red fruit.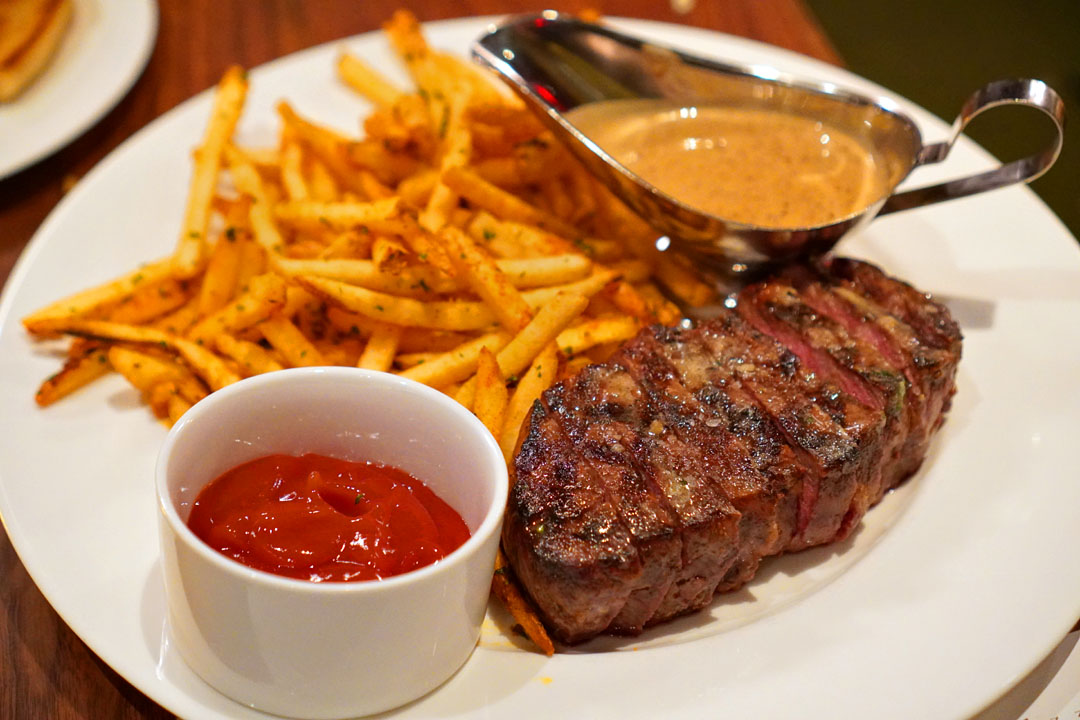 Steak Frites [$57.00]
| Prime NY Strip, au poivre
Our final savory was perhaps the most quintessential of brasserie staples. The meat was cooked a perfect medium, and showed off the tenderness, juiciness, and beefiness I was looking for. The French fries were spot-on as well, as was the peppercorn sauce, though it wasn't strictly needed. This was actually one of the best steak frites I've had.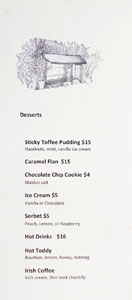 And here we see the dessert menu, which is a relatively straightforward affair at Gigi's. Click for a larger version.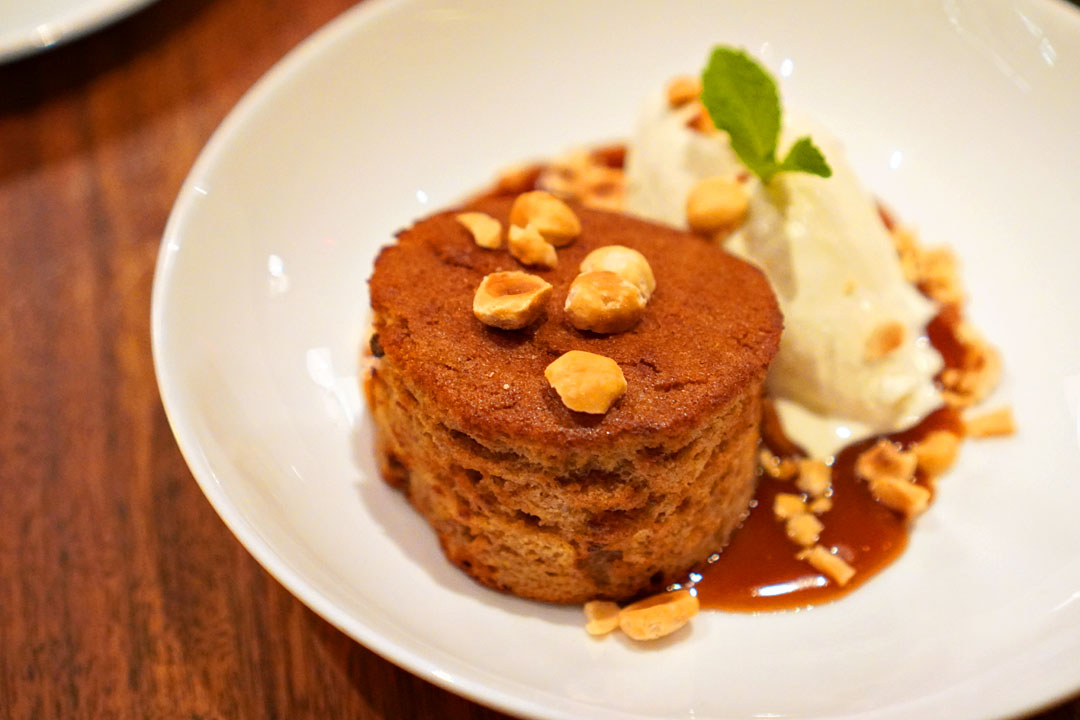 Sticky Toffee Pudding [$15.00]
| Hazelnuts, mint, vanilla ice cream
The sticky toffee pudding wasn't as sticky as I was hoping for, and was one of the more austere presentations I've encountered. That being said, I did get the expected dark fruit and nutty flavors, though far more interesting were the Lucky Charms marshmallow-like sensations I detected.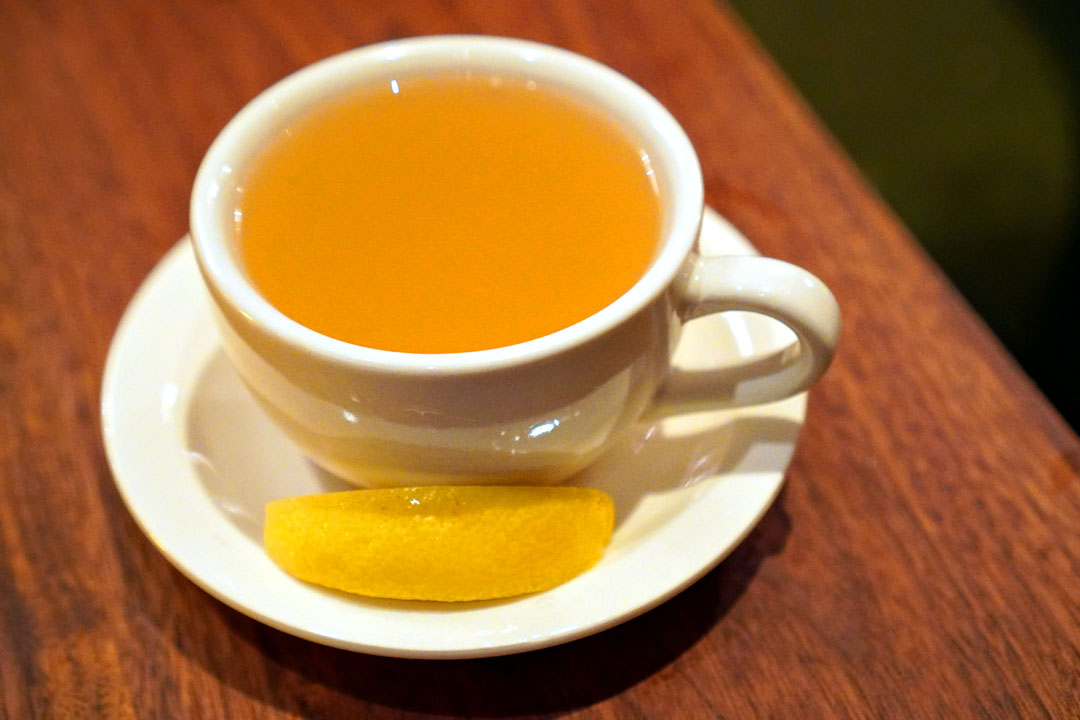 Hot Toddy [$16.00]
| Bourbon, lemon, honey, nutmeg
I felt compelled to order this last cocktail since we were basically right at the end of toddy season. It was a textbook preparation, coming out all hot and heartwarming.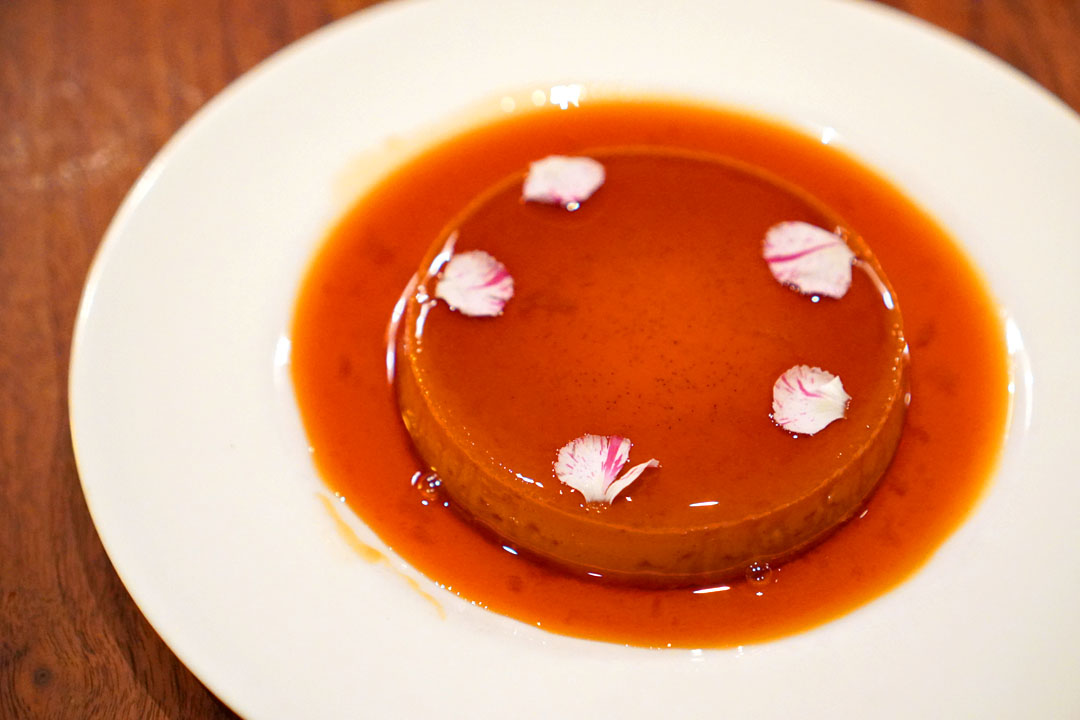 Caramel Flan [$15.00]
Last up was the crème caramel, a somewhat denser, richer presentation than I'm accustomed to, but I didn't mind.
Gigi's doesn't get talked about nearly as much as a lot of the other Hollywood restaurants that have opened up in the past couple years. But maybe it should, even though it's more of a "neighborhood-y" spot, as I still ended up pretty happy with my dinner tonight. The cooking might be rooted in French bistro traditions, but does a commendable job folding in a so-called "Californian" point of view that keep things interesting enough. Another worthwhile addition to the area--I hope the place can stick around.