Animal (Los Angeles, CA) [3]
Animal Restaurant
435 N Fairfax Ave, Los Angeles, CA 90036
323.782.9225
www.animalrestaurant.com
Thu 06/08/2023, 09:10p-11:35p

Vinny Dotolo and Jon Shook's
Animal
opened back in 2008, and quickly made a name for itself as
the
place to go for brash, meaty, sometimes-irreverent "dude food." It's a restaurant that I would undoubtedly consider an icon of the LA dining scene, so it came as a surprise when ownership announced that Animal's final day of service would be coming up soon, on June 17th. Given how influential this place has been, I made sure to prioritize one final visit before it was too late.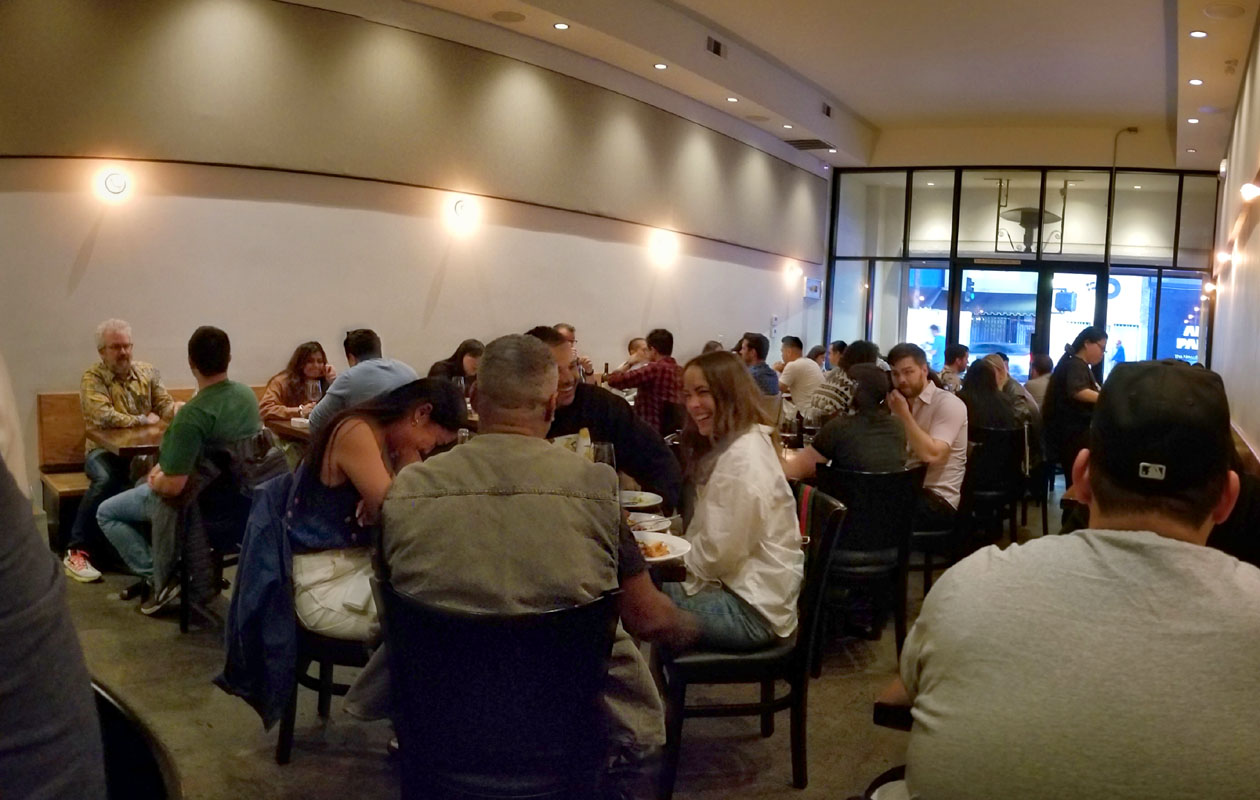 The no-frills interior looked pretty much the same as it did when Animal first opened.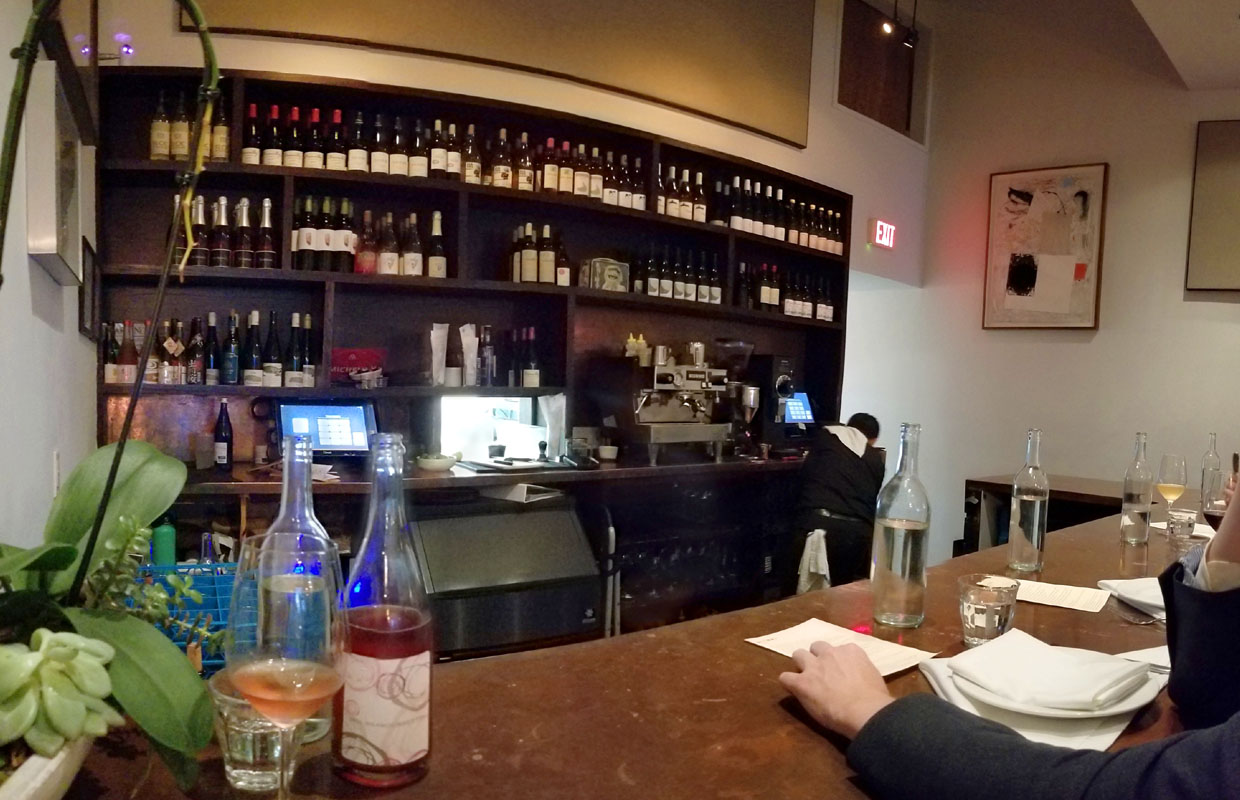 Not unexpectedly, reservations booked up pretty quickly after the closure was announced, so I had to seek out a walk-in seat at the bar (it was actually my first time dining at the bar).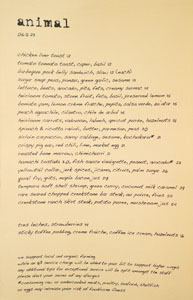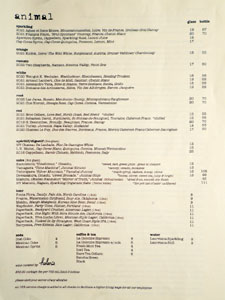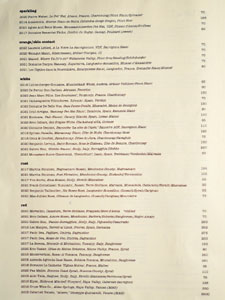 And here we see Animal's menu, which featured a number of classic dishes, but also enough newer creations to keep things interesting. To drink, you'll probably want to stick with wine, though sakes and beers were also available. Click for larger versions.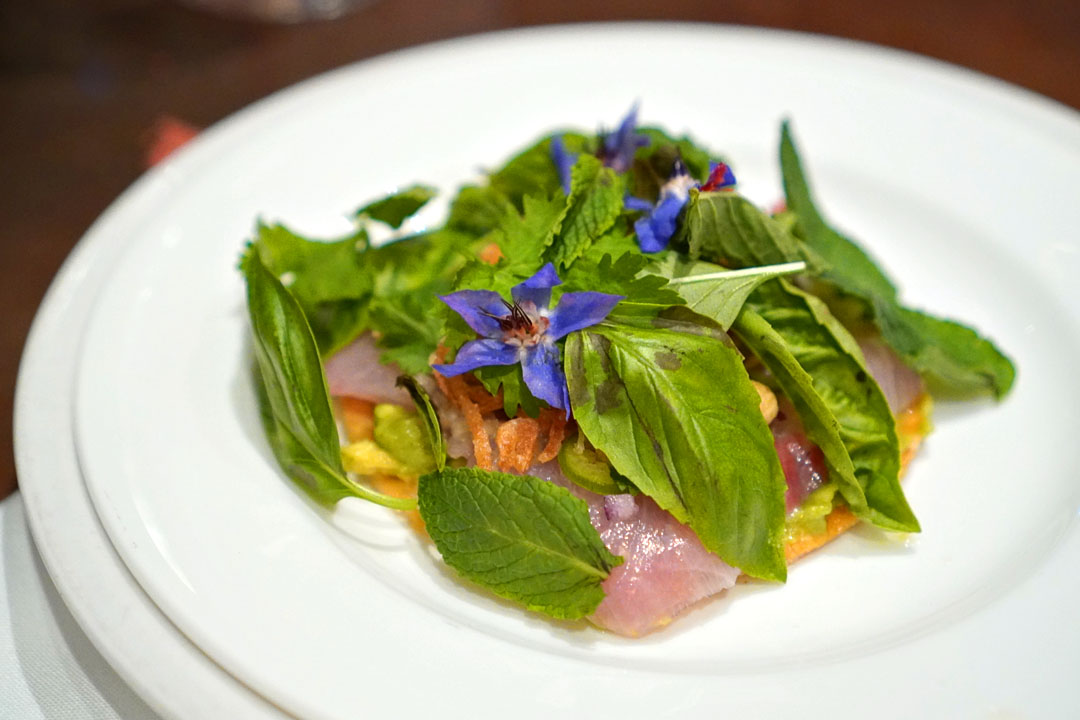 hamachi tostada 3.0, fish sauce vinaigrette, peanut, avocado [$23.00]
The yellowtail tostada has become one of Animal's signatures, and for good reason. The fattiness and lingering sweet salinity of the fish were highlighted, but also juxtaposed against savory fried shallots, the funk of fish sauce, peanuts, zippy herbs, and the corn-y crunch of that tortilla, with the avocado helping to tie it all together. Everything just came together like clockwork, making for a great start to the meal.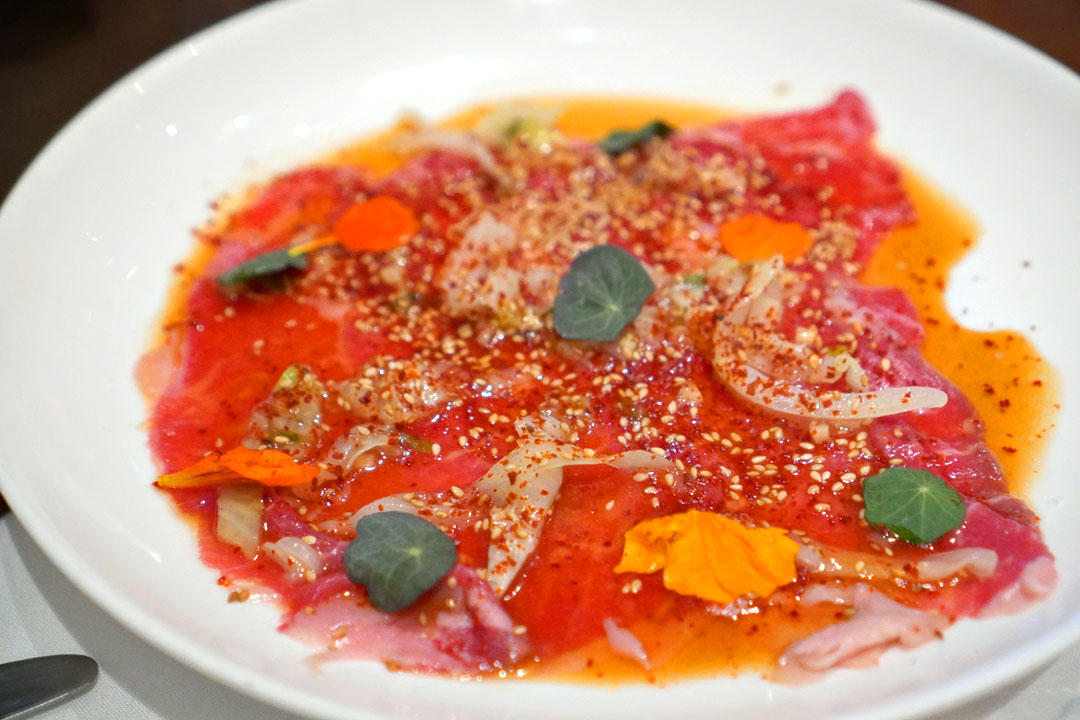 sirloin carpaccio, savoy cabbage, sesame, kochukaru [$21.00]
Thin, slippery cuts of beef really set the stage here. I appreciated the dish's sweet-savory flavor profile, accented by the nuttiness of sesame, all while the
gochugaru
imparted a creeping heat. Nice crisp counter from the cabbage, too.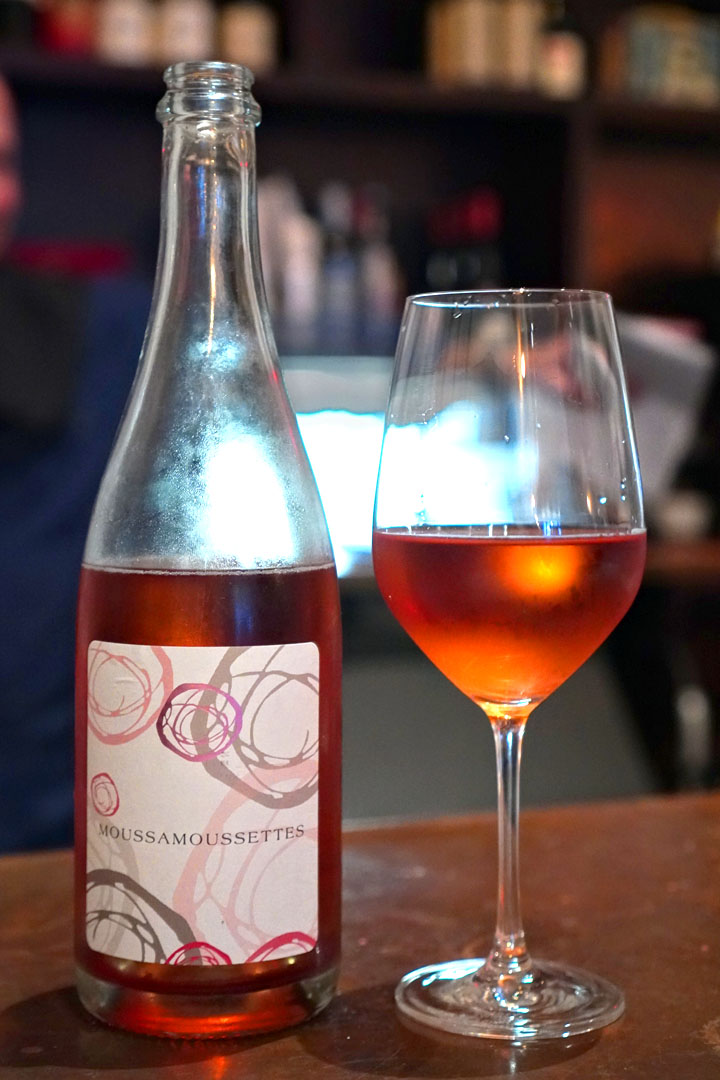 To drink, I ordered a bottle of the
2021 Agnes and Rene Mosse, Moussamoussettes Pet-Nat, VDF, Pineau d'Aunis/Grolleau [$70]
. The wine smelled of bright red fruits intertwined with minerals and an undercurrent of barnyard. Tasting it, I found the sparkler crisp and beer-like, its distinctly strawberry-esque flavors joined by more funk and minerality, with a finish that was surprisingly lengthy and fruit-forward. Lovely.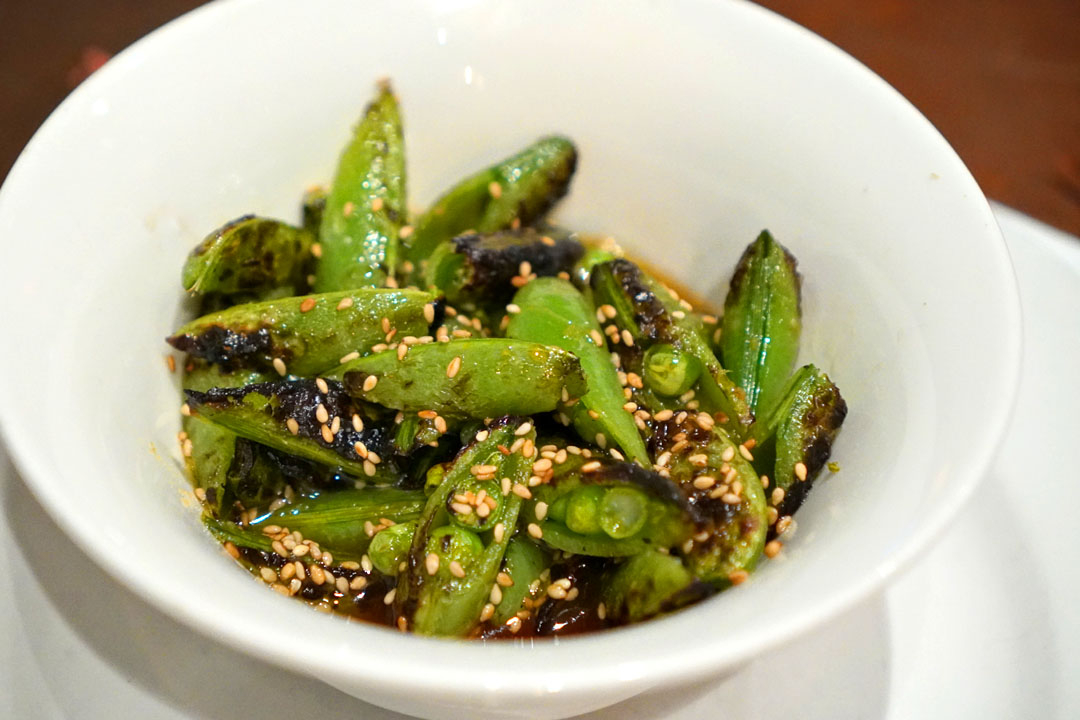 sugar snap peas, ponzu, green garlic, sesame [$13.00]
I'm quite the fan of snap peas, and this presentation didn't let me down. I loved the contrast between the brightness of the peas and their smoke, with all the nutty, sour, savory elements providing further complementary touches to the dish.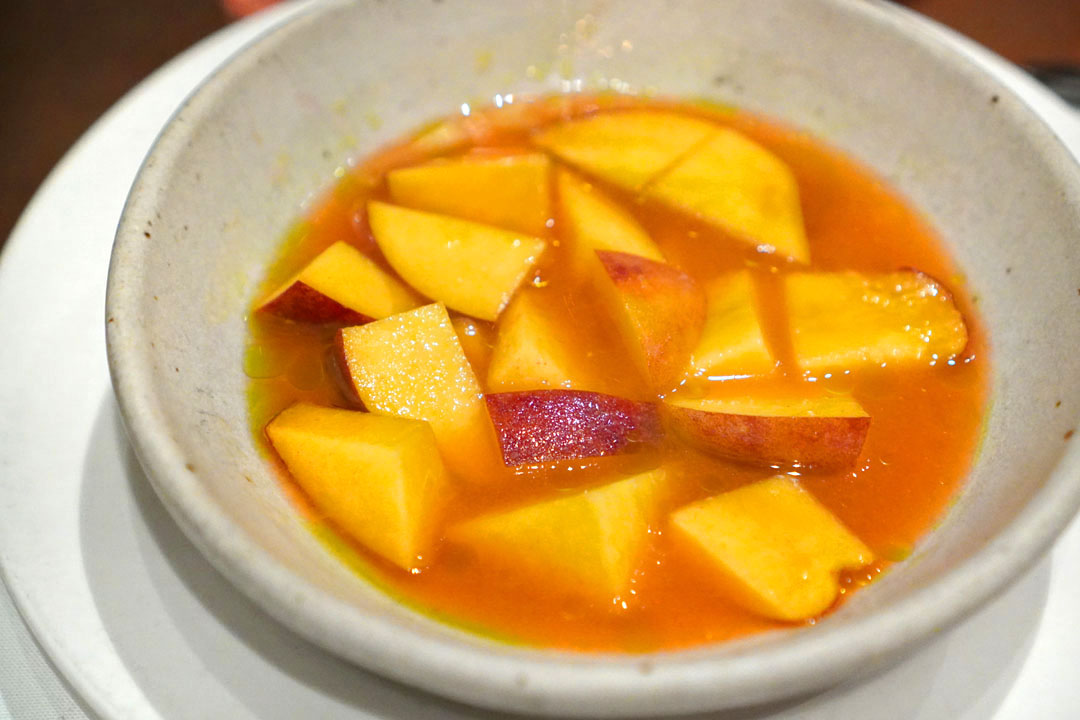 peach aguachile, cilantro, chile de arbol [$15.00]
Aguachile is something that I tend to order whenever I see it on a menu, and tonight was no exception. I got the acidity and spice I was expecting from the marinade, but the peach didn't quite make sense to me as the star of the dish. It just seemed a bit one-dimensional, and didn't really mesh with the other flavors happening in the bowl.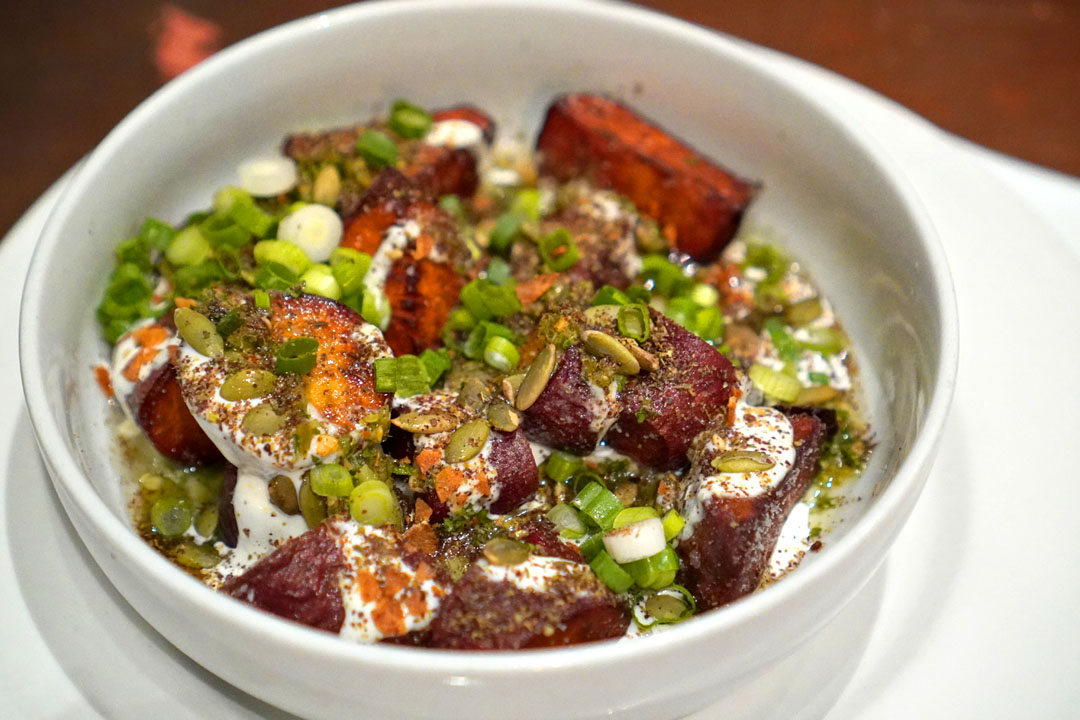 boniato yam, lemon crème fraîche, pepita, salsa verde, za'atar [$15.00]
I'm typically not a huge proponent of sweet potato, but this was a great use of the root veggie. I thoroughly enjoyed the back-and-forth between the yam's crisp outsides and fluffy interiors, while its restrained sweetness played well with the dish's creamy, zesty, nutty components, underpinned by a slight heat from the za'atar.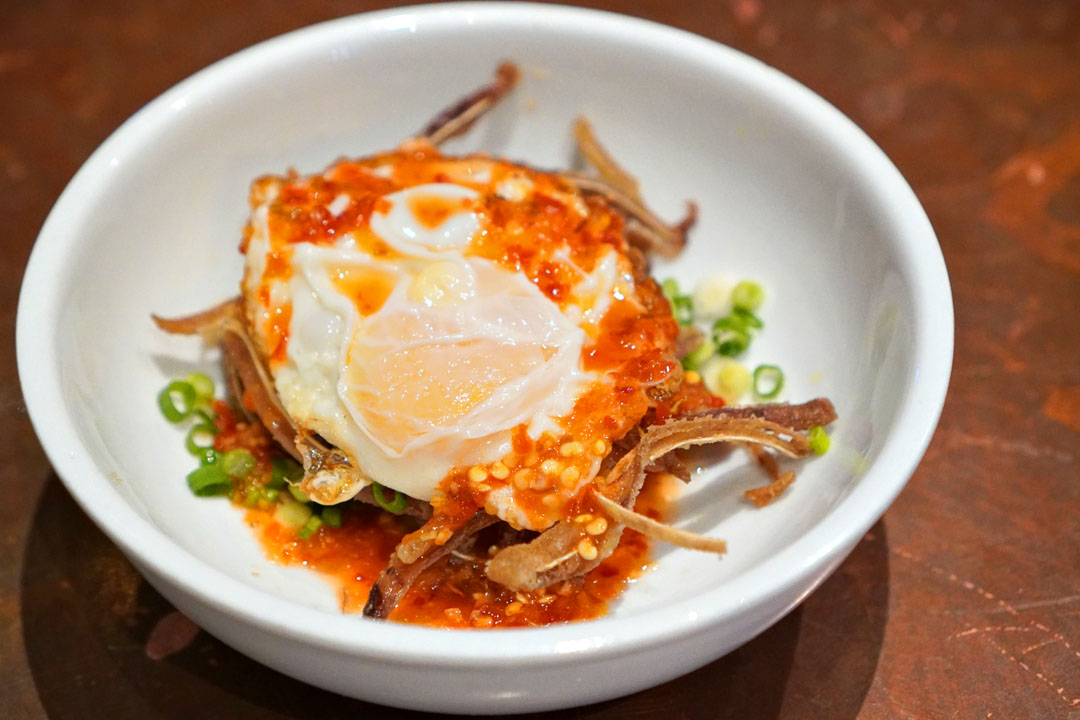 crispy pig ear, red chili, lime, market egg [$21.00]
The pig's ear is another Animal classic, and still one of my favorite preparations of the offal ever. I loved the ears' crisp-yet-supple chew, while flavors were definitely porcine, yet accented by sharp pricks of citrus. Also crucial was the enveloping lushness of that runny egg, and I liked the tangy, harmonizing heat from the salsa, too.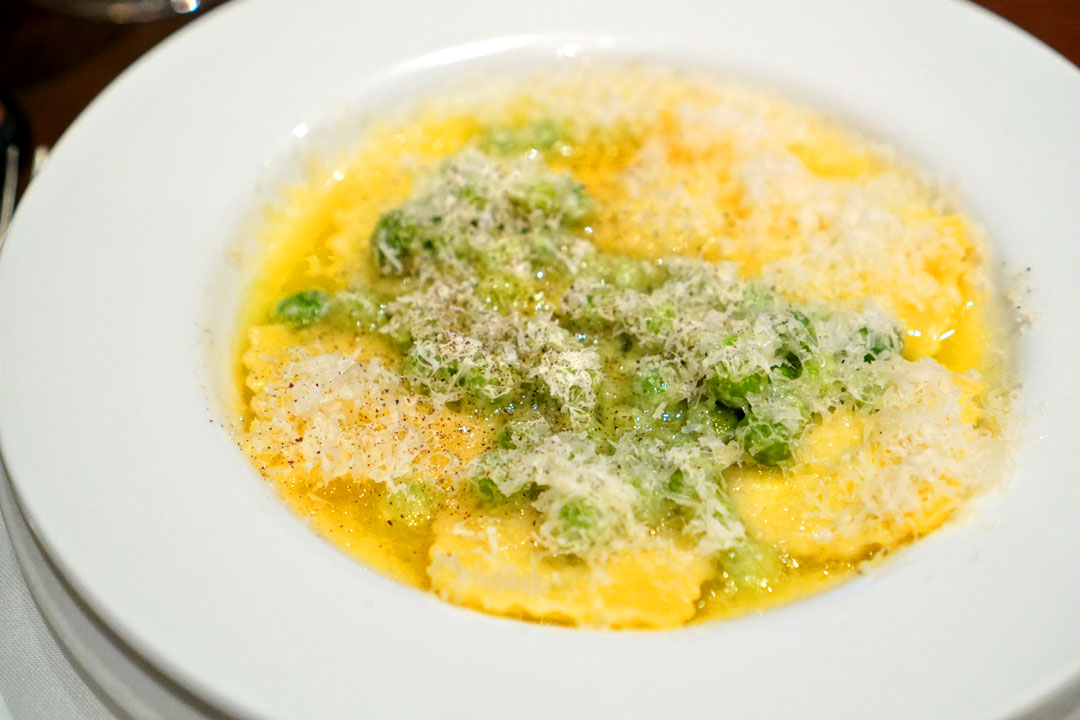 spinach & ricotta ravioli, butter, parmesan, peas [$20.00]
Ravioli arrived sweet, lactic, and oh-so buttery, with the peas functioning as a crucial counterpoint that kept it all in balance.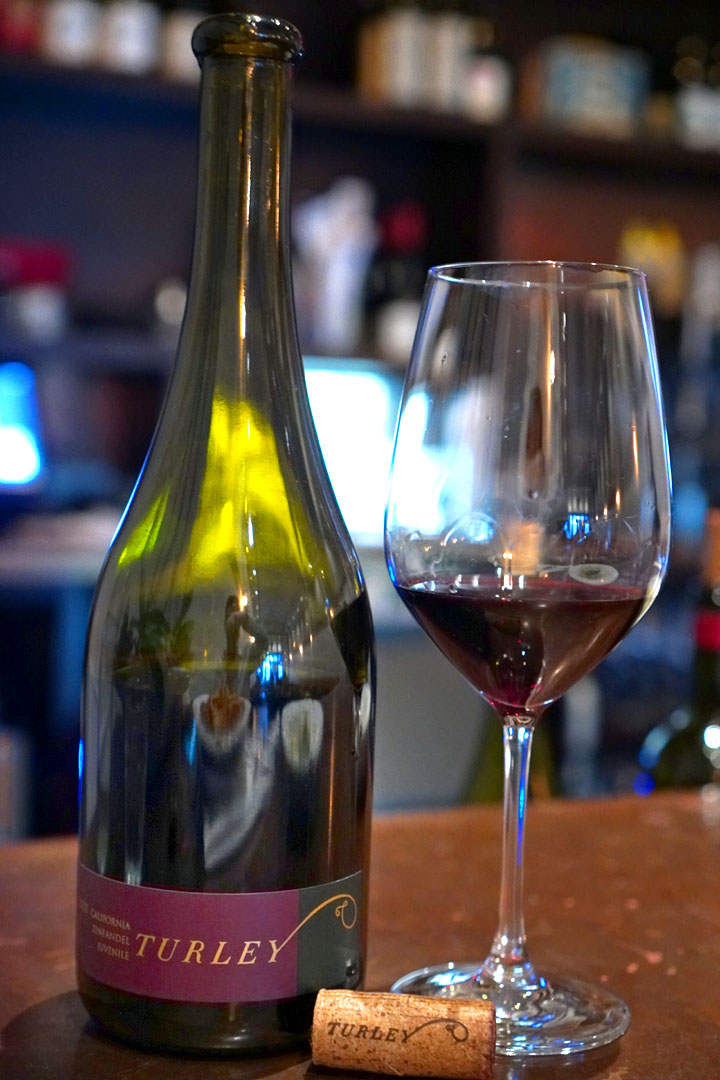 I also opened up a bottle of the
2021 Turley, Juvenile, Napa Valley, Zinfandel [$63]
to go with the heartier courses to follow. Nose was of rich, ripe, purple fruits accented by wisps of herb and pepper. On the palate, I found the zin soft, plush, with loads more of those dark berries evened out by spice and cacao, while the finish recalled plum candy. My quibble here was that the wine should've been served a bit chilled, and not at room temperature.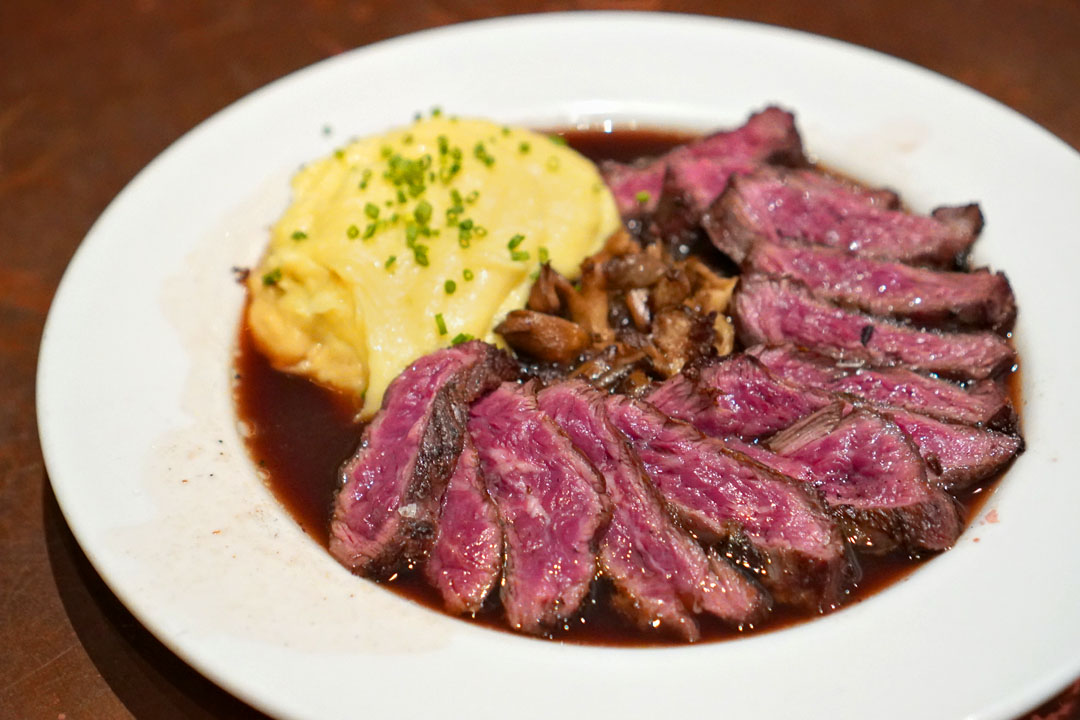 creekstone ranch skirt steak, potato puree, mushroom jus [$54.00]
Skirt steak arrived super flavorful, with a delightfully smoky, savory crust. However, I actually would've liked more cook on the beef, as I feel that it would've eaten better a touch less rare. Meanwhile, mushrooms certainly made sense as an accoutrement, as did that rich, dense, buttery pomme purée.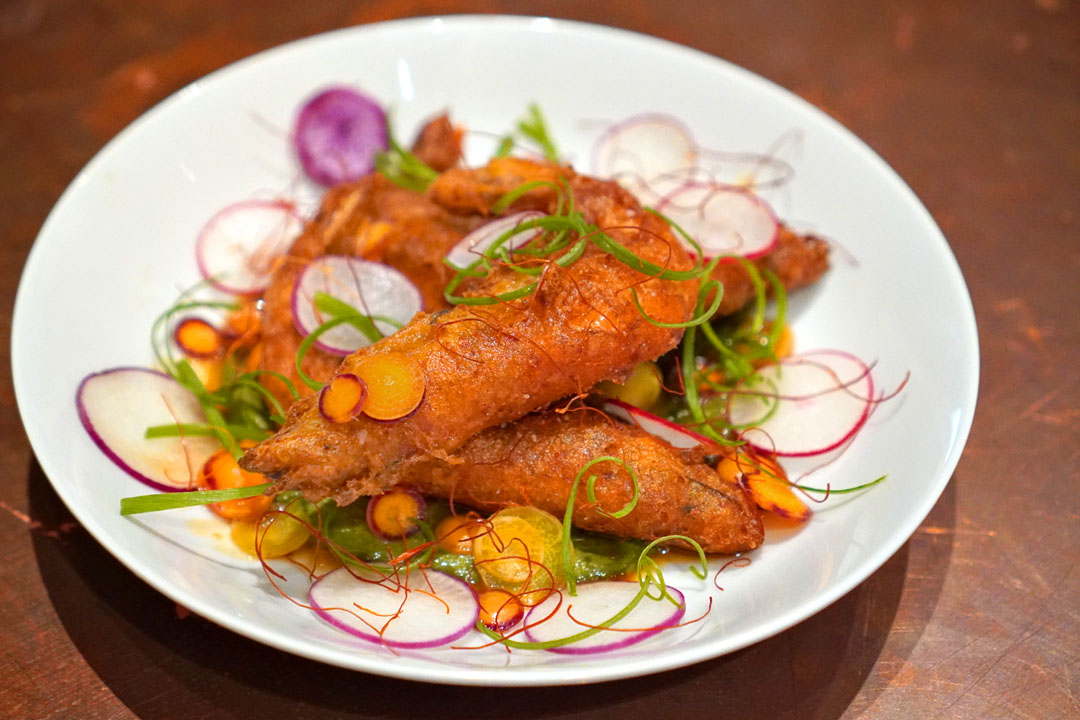 tempura soft shell shrimp, green curry, coconut milk caramel [$29.00]
Shrimp came out sweet 'n' briny, encased in crispy, delicate shells. Green curry served as an apt accompaniment, though I wanted less sugariness from the caramel, since the shrimp were already sweet enough.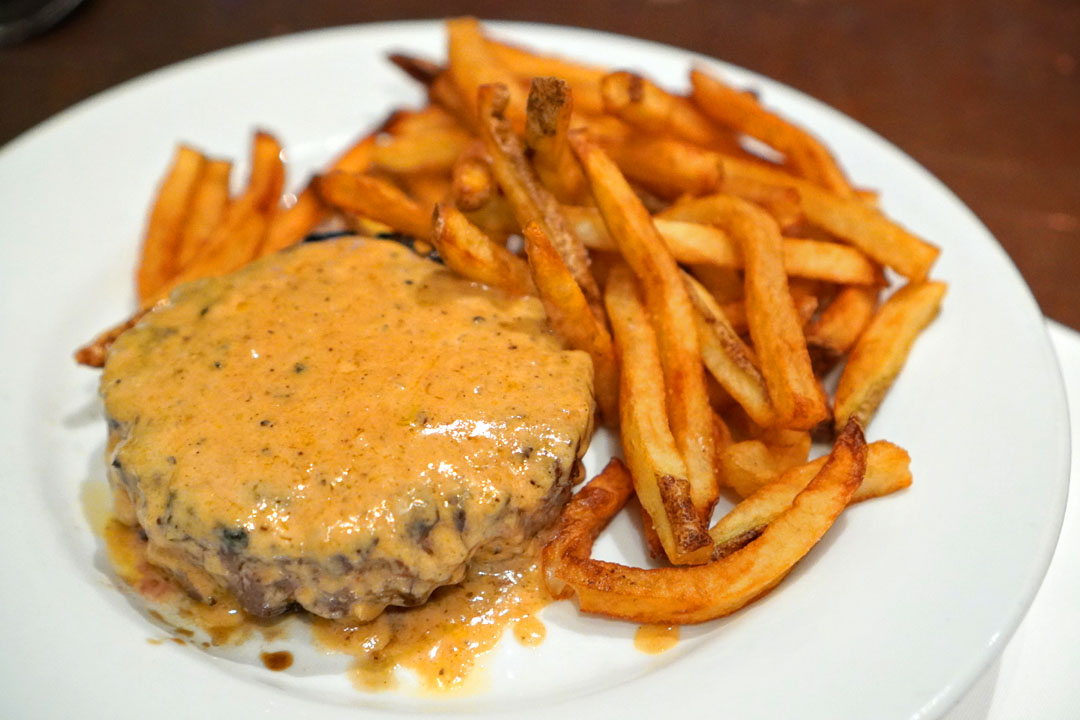 rare seared chopped creekstone bar steak, au poivre, fries [$54.00]
The chopped steak demonstrated a nice interplay between its crispy charred outside and rare, supple interior, and worked hand-in-hand with the in-your-face pepperiness of that au poivre sauce. The fries were pretty much spot-on in terms of taste and texture, too.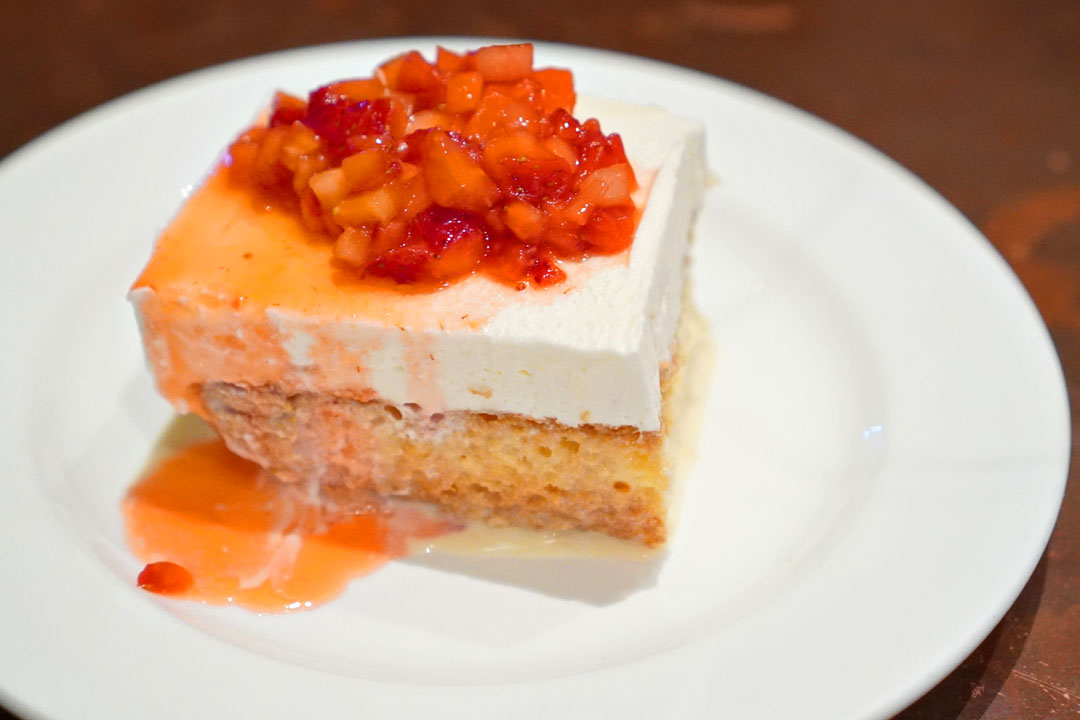 tres leches, strawberries [$14.00]
The tres leches was a winner as well. The cake was properly saturated, yet never heavy, and married beautifully with the both the sugary caramel sauce and the tangy fruit.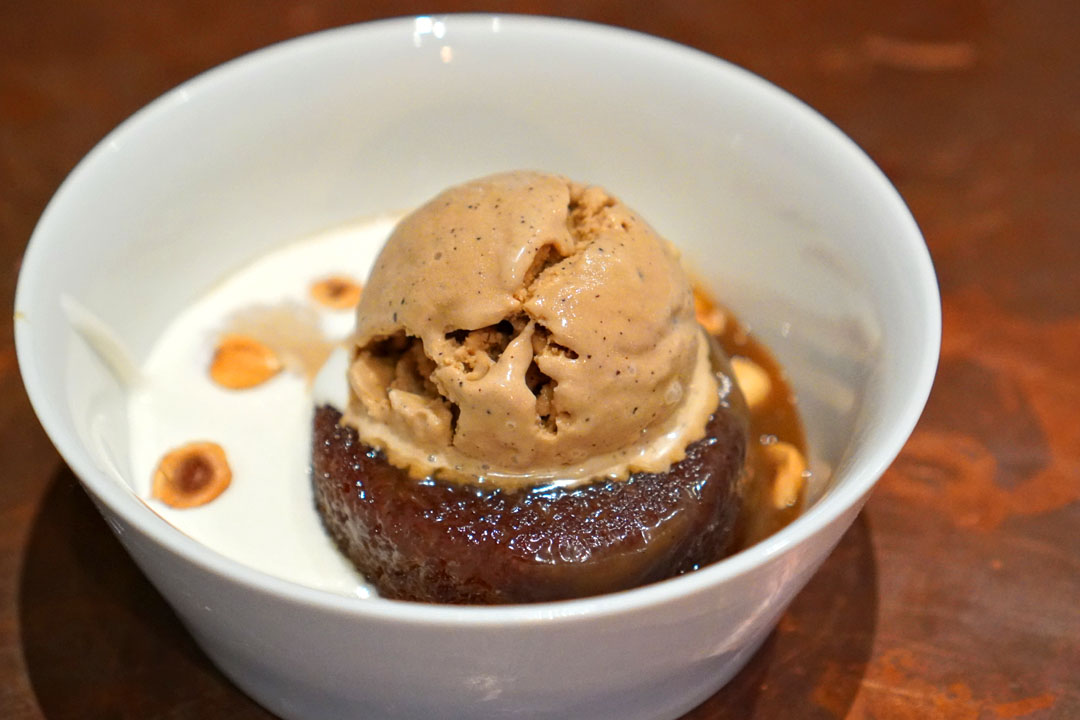 sticky toffee pudding, creme fraiche, coffee ice cream, hazelnuts [$16.00]
Last up was a strong rendition of the ubiquitous sticky date pudding. The cake showed off all the unabashedly sweet, dark-toned flavors I was looking for, set against a bevy of nutty, coffee-tinged nuances. Yum.
Despite a few concerns here and there, this was altogether an enjoyable dinner, with the kitchen's generally bold, brassy cooking kept in check by just enough finesse. The meal was also a bit of a wistful, nostalgic one, making me recall my formative years in the late aughts, when I was just getting to know the LA food scene. A lot has changed since then, so it was in a way comforting that Animal largely hadn't. The restaurant will be missed, no doubt, and I'm certainly curious to see what's going to take its place.