Bar Spero (Washington, DC)
Bar Spero Restaurant
250 Massachusetts Ave NW, Washington, DC 20001
202.506.3150
www.barspero.com
Mon 05/08/2023, 08:00p-10:30p

It's been nearly two years since my last trip to DC, and for the first meal of this latest visit, I decided to check out Bar Spero, the new-ish, eponymous eatery from Johnny Spero, a chef whom I've been keeping an eye on for a decade. I last caught up with him at his Georgetown spot
Reverie
back in May 2019. I enjoyed my meal at the restaurant, and fortunately, the place was able to survive the pandemic thanks to a few key pivots, which included selling cheeseburgers and slanging pizza via a pop-up called Lonely Hunter. During this period, Spero also became a partner in Nighthawk Brewery & Pizza in Pentagon City, and the brewpub ended up debuting at the end of March 2022.
In May 2022, Reverie garnered its first Michelin star, but tragedy struck in August, when a fire seriously damaged the business, putting it out of commission for an indeterminate period. The Basque-inspired Bar Spero, meanwhile, dropped in September last year, and in January, it earned a "Best New Restaurant" semifinalist nod from James Beard. Just days later, Chef Spero kicked off "Reverie on the Road," a series of collaborative dinners held at various restaurants across the globe. The first dinner was held at
Commis
in Oakland, while the last took place at
Saison
in San Francisco right at the end of May.


Bar Spero resides in the new Capitol Crossing development and spans roughly 6,500 square-feet, with room for about 120 guests. The space was penned by
Edit Lab at Streetsense
(the same people who did Reverie), and features a sunken bar area (where I was seated) surrounded by the dining room, all swathed in blues and beiges.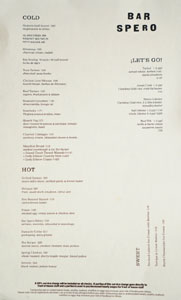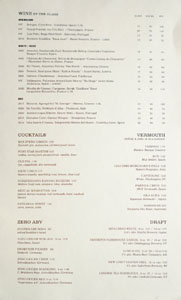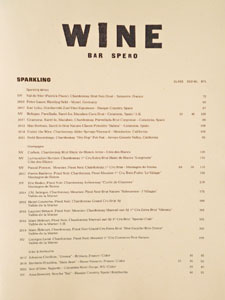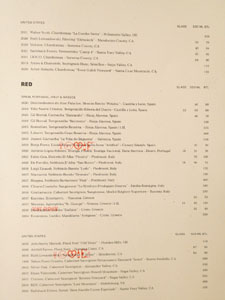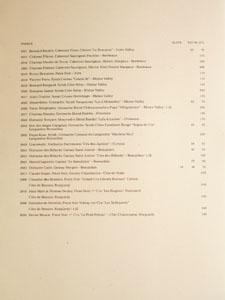 The menu at Bar Spero sports a decidedly Spanish lean and a proclivity for wood-fired cooking, not to mention a bit of a Mid-Atlantic twang. Drink-wise, there's a mostly Old World wine list, beers, vermouths, and of course, cocktails. Click for larger versions.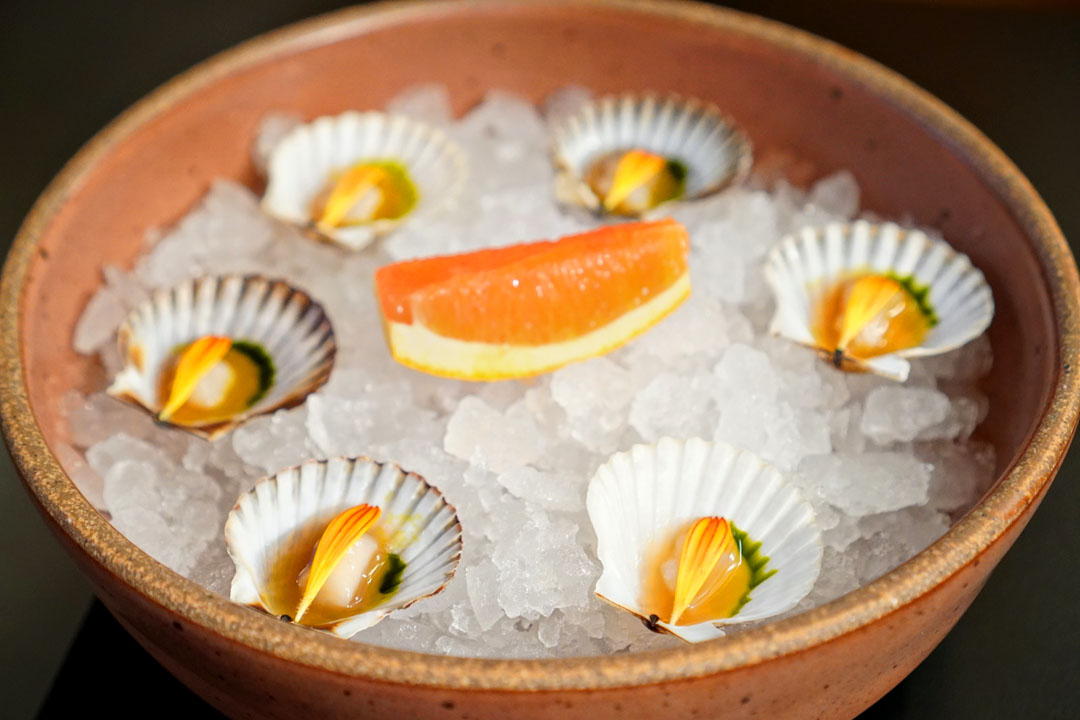 Bay Scallop [$30.00]
| leche de tigre
Up first were some of the tiniest scallops I'd ever seen, but despite their size, they packed in a good amount of sweetness and brine. The acidity from the tiger milk offered up a complementary acidity, but what I liked the most here was actually the grapefruit, which worked surprisingly well as a moderating force.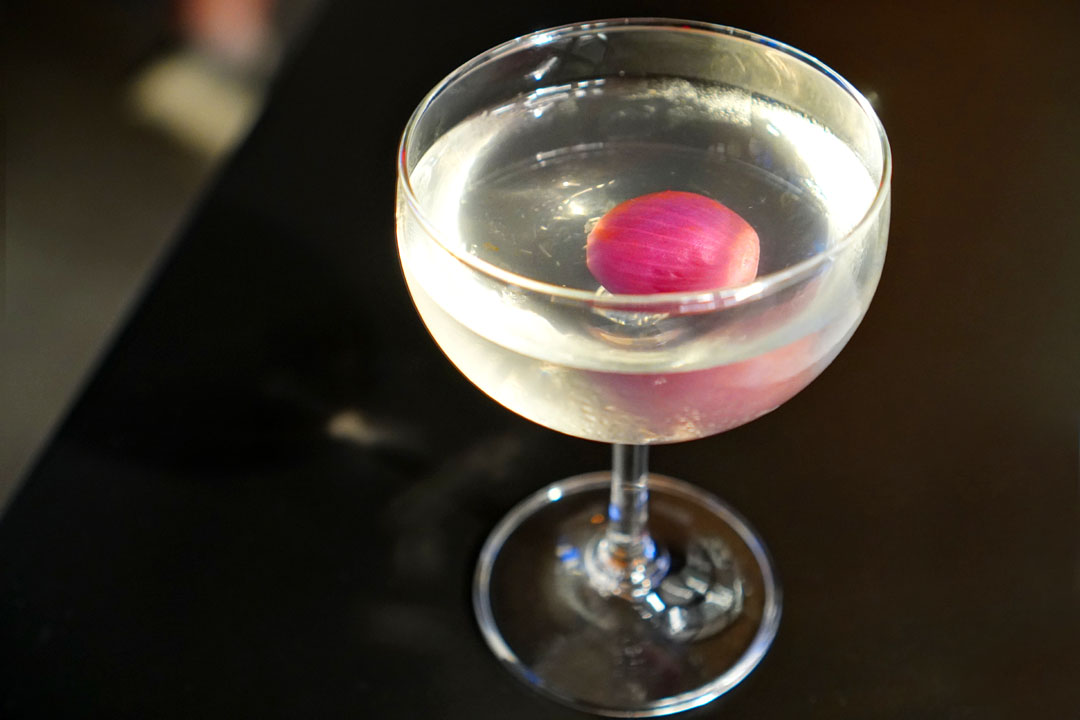 Bar Spero Gibson [$17.00]
| Spanish gin, quinquina, pickled pearl onion
This well-known martini variation ended up being far better than I was anticipating. The drink smelled briny, pungent, and vegetal, but in a good way, while its taste went in a savory, bitter, tangy, and even floral direction, and also showcased plenty of onion, especially on the finish. This was clearly the most onion-forward cocktail I've ever had, yet said onion never became overbearing.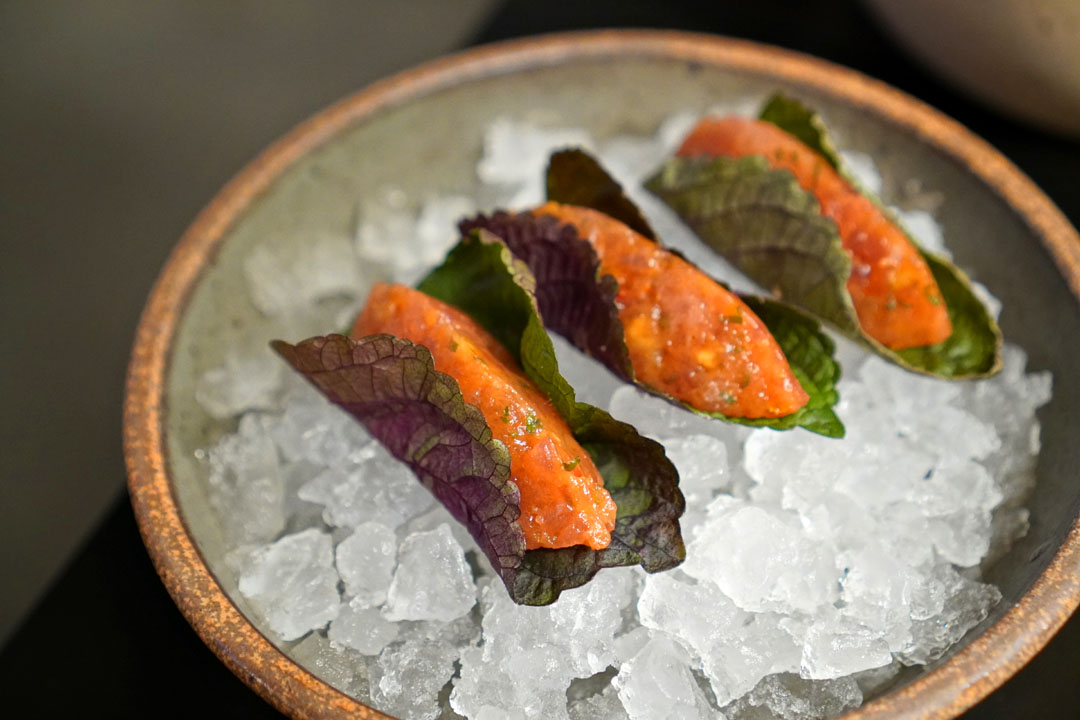 Tuna Tartare [$12.00]
| shiso leaf, yuzu kosho
Smooth, dense quenelles of diced tuna played the fish's umami notes against the refreshing mintiness of shiso, though I wouldn't have minded more from the
yuzukosho
.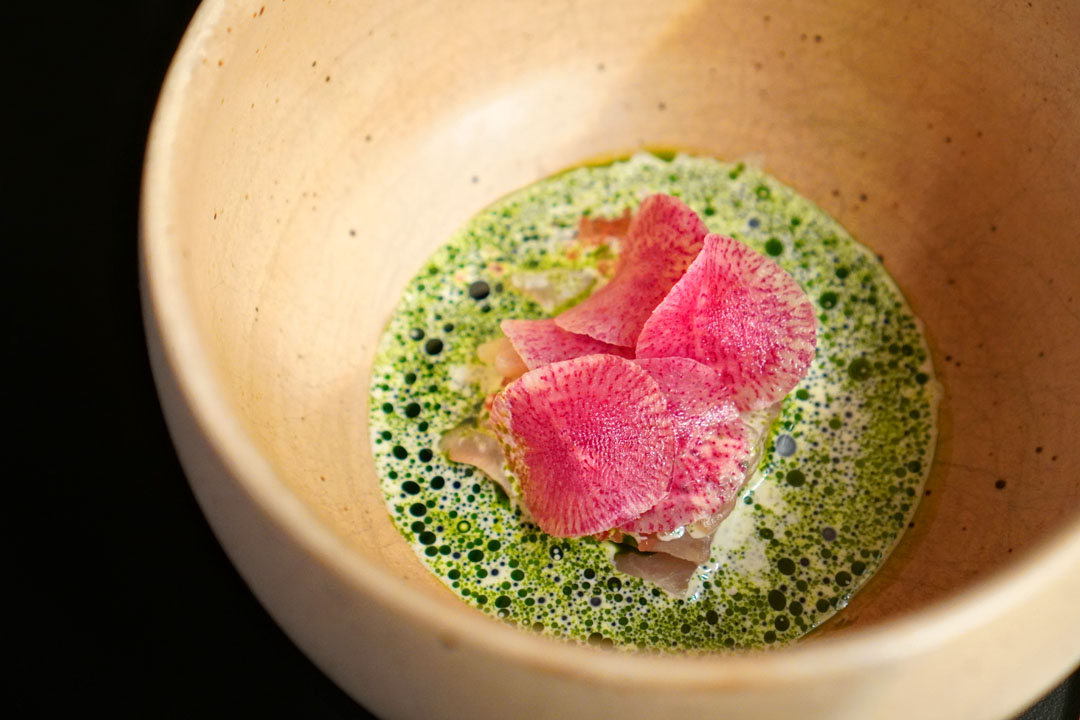 Hiramasa [$16.00]
| charcoal cream, radish
Yellowtail kingfish ate clean and meaty, but had a remarkable complexity and depth to it that I couldn't quite put my finger on. The fish paired perfectly with that creamy, herbaceous sauce, which was tarted up by juicy pops of what seemed like finger lime. Everything just came together beautifully, and I was left thinking that this might very well be the best hiramasa dish I've ever had.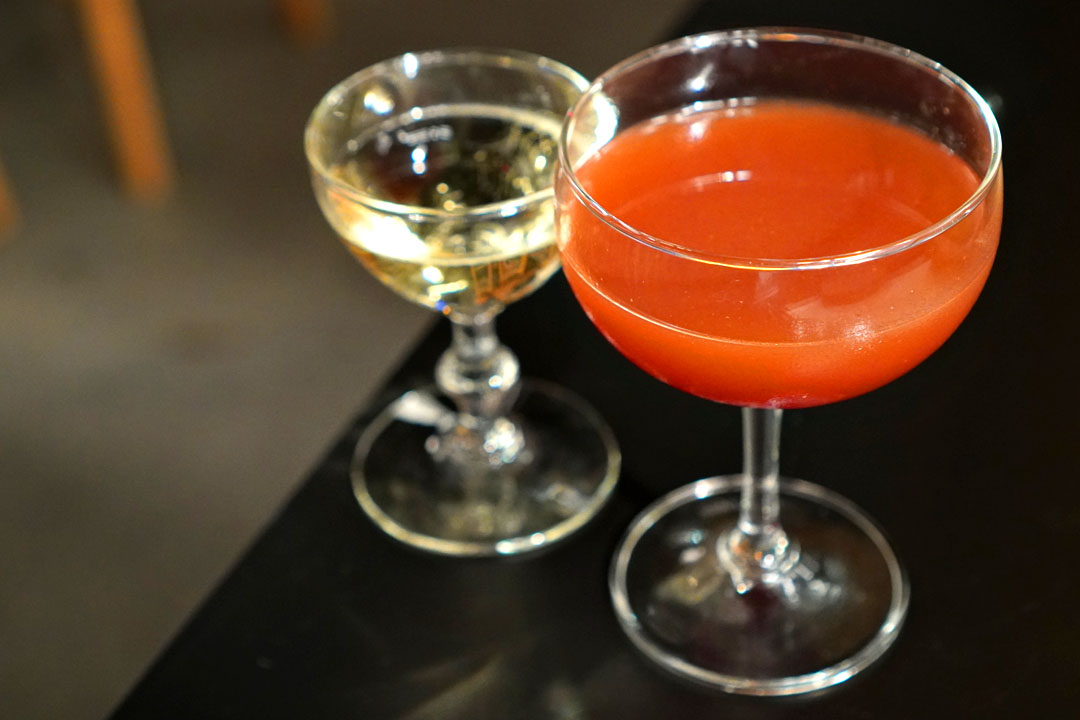 Port Star Martini [$17.00]
| vodka, tawny port, passionfruit, vanilla, lime
My next cocktail was also a riff on a martini, and featured tons of tropical passion fruit, which made a lot of sense with the drink's fragrant vanilla notes, all while the port appeared in the background. Curiously, the drink came with a sidecar of cava, and the sparkling wine served as a crisp, nutty, fruity chaser to the stronger flavors of the martini.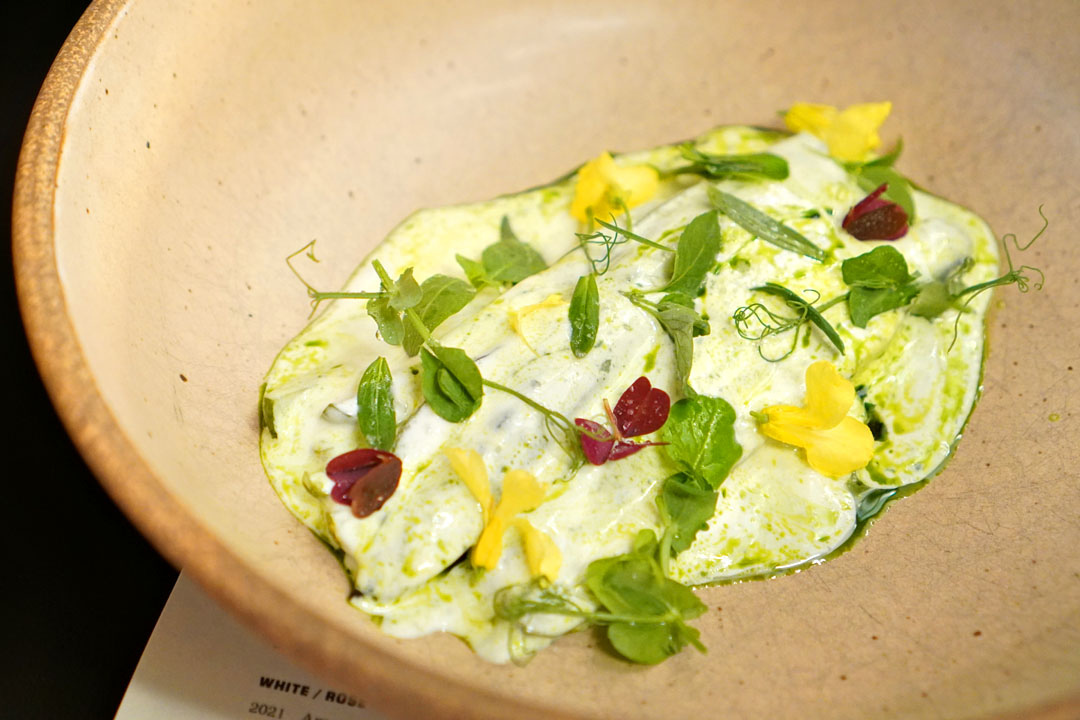 Roasted Cucumber [$18.00]
| stracciatella, lovage oil
Here we have perhaps the most inventive preparation of cucumber I've ever encountered. The crux here was the interplay between the luscious, lactic nature of the cheese and the bright, slightly pickle-y qualities of the cucumber, all while the lovage imparted a sharp, herby finish to the dish. Very neat.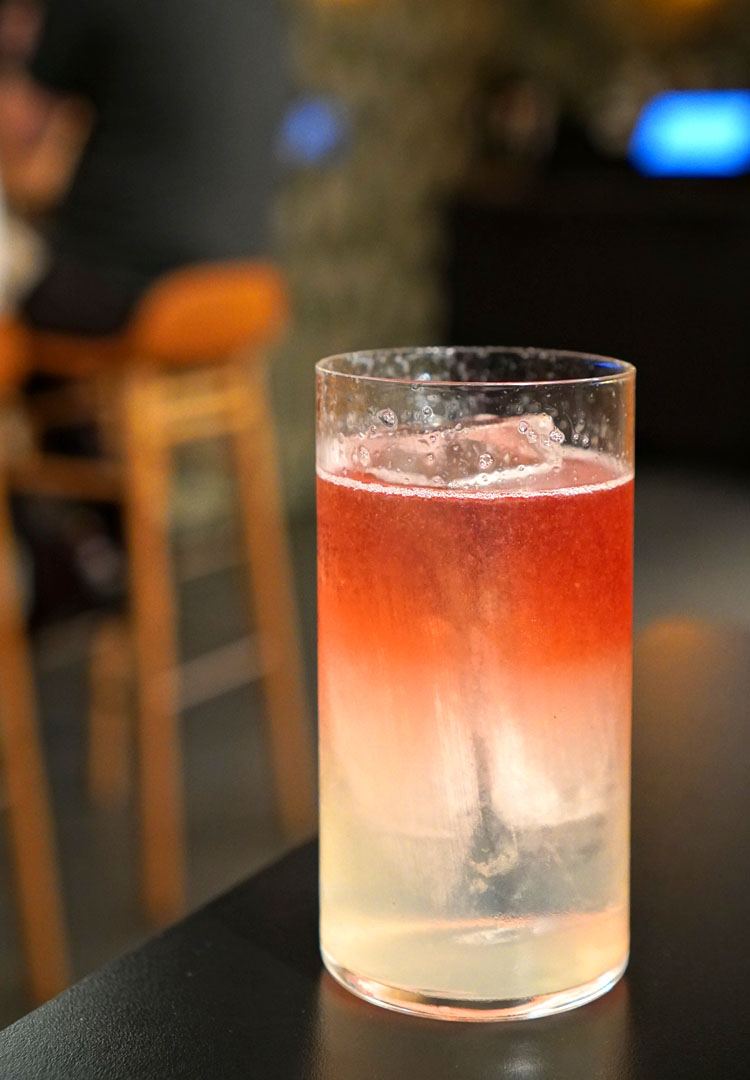 Siete Cinco [$17.00]
| blanco tequila, sparkling rosé, lemon, charcoal
This reworked French 75 was definitely rosé-forward, the wine's orchard fruit flavors meshing well with undertones of tequila, while hints of charcoal became apparent on the back end.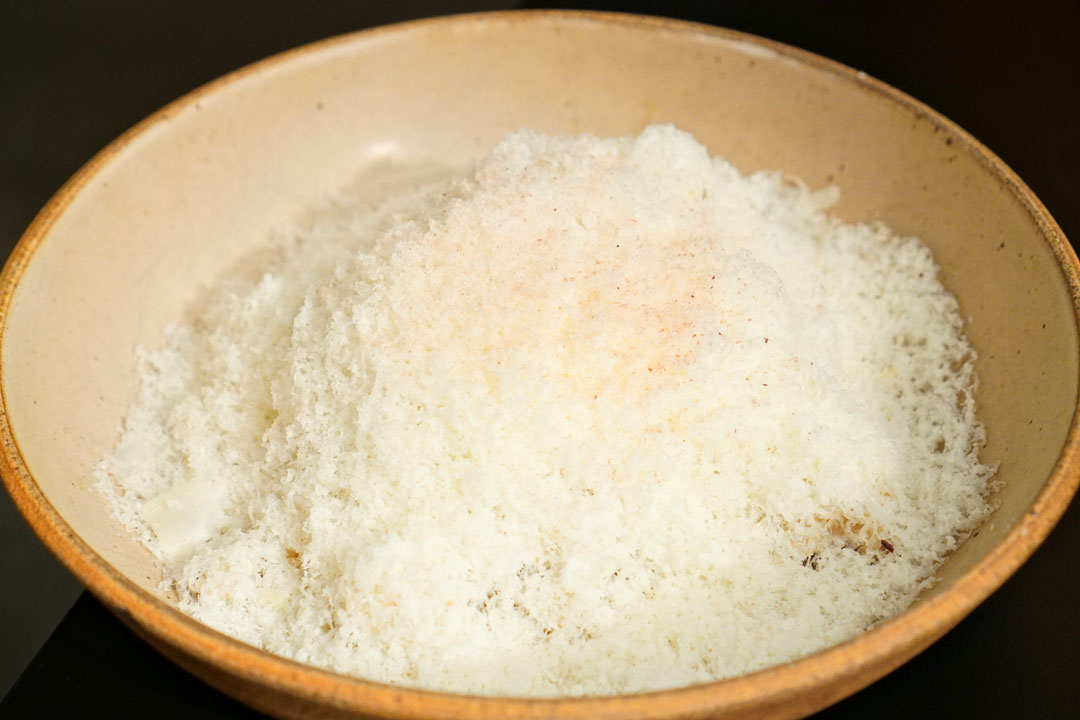 Charred Cabbages [$17.00]
| anchovy cream, Idiazabal cheese & bonito
I'm a bit of a sucker for cabbage, and this was certainly one of the most creative cabbage preparations I've seen. I was smitten by the back-and-forth between the veggie's bitter, smoky flavors and those salty, fluffy shavings of cheese, and this was made all the better by an omnipresent undercurrent of brine. I got a lovely contrast in textures, too. Another smart dish.
Beef Tartare [$18.00]
| capers, fried potato & allium
I have a hard time not ordering the steak tartare, and tonight was no exception to that rule. This was certainly one of the prettier ones I've seen in recent times, and I loved the crunch of the fried potato/allium, which also served as a great counterpoint to the meat. The beef itself was densely textured, and I enjoyed its mustard-y tang, but it seemed a touch austere, so I could've used another element to help meld everything together.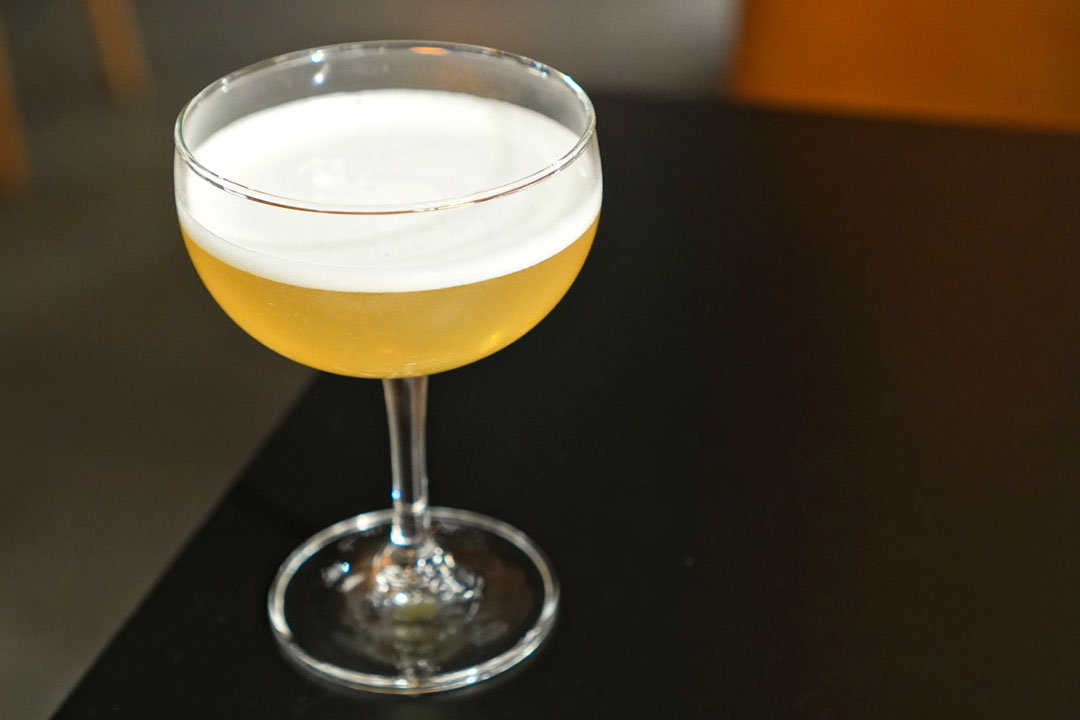 Susquehanna Banana Daiquiri [$17.00]
| Mellow Gold rum, pawpaw, lime, absinthe
A reimagined daiquiri was to my liking, with the cocktail showing off some delectable tropical fruit flavors set against pricks of citrus and the unmistakable zing of absinthe.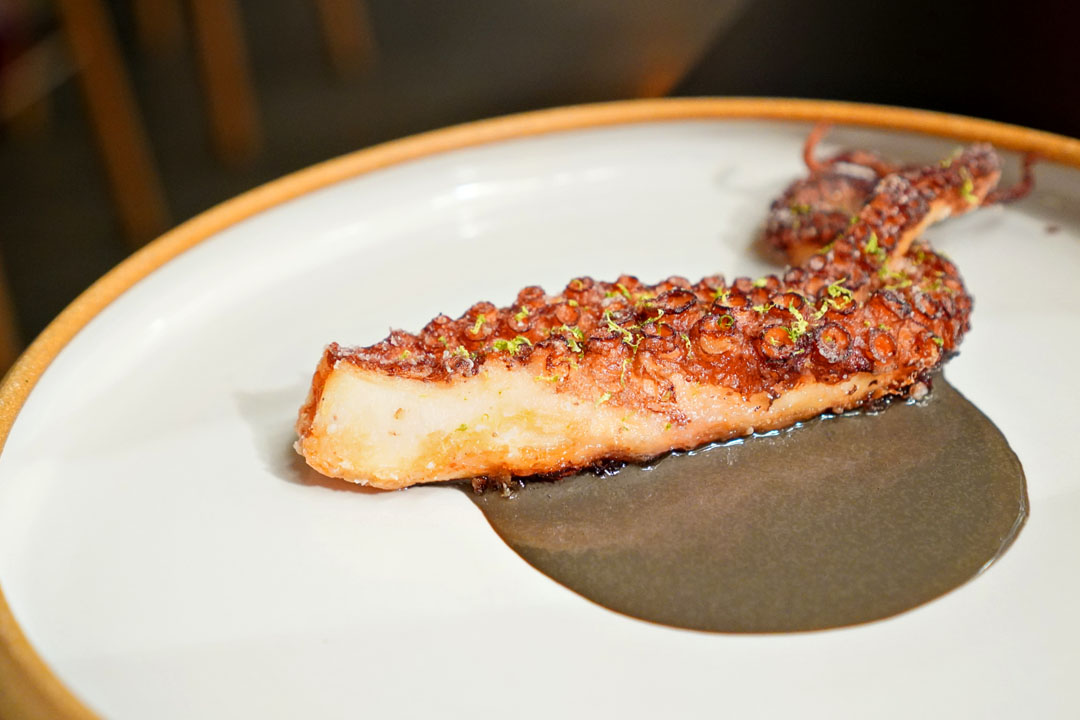 Octopus [$28.00]
| fried, squid stock emulsion, citrus zest
The octopus was another favorite, for sure. I loved its super tender consistency, while its savory, briny flavors were super satisfying, and only augmented by that puddle of squid emulsion. Also crucial here was the octo's crisp, delicately fried exterior (thanks to the use of cornstarch), which had a wonderful saltiness to it.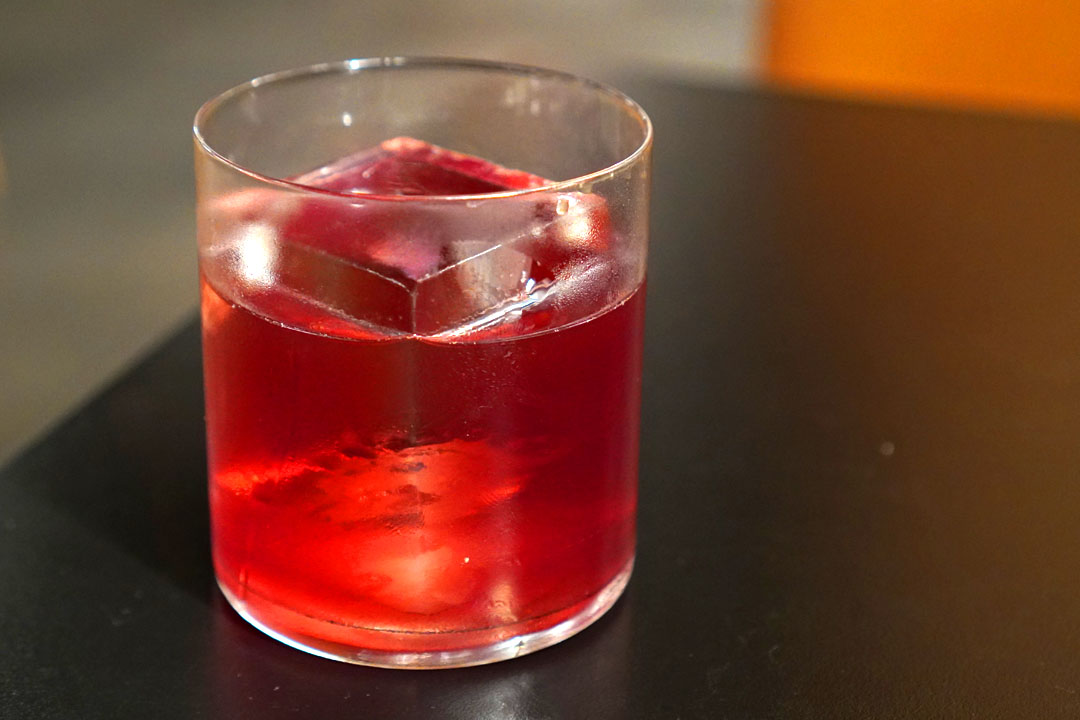 Mezcal Manhattan [$24.00]
| jamon iberico mezcal, red vermouth, ham-washed bitters
My last beverage was based on the Manhattan, pretty much my go-to cocktail as of late. The nose here was all about bittersweetness, with lots of fresh, herbaceous nuances mixed in. Tasting it, I got more of those bittersweet notes, but joined by the smokiness of mezcal and a palpable heat.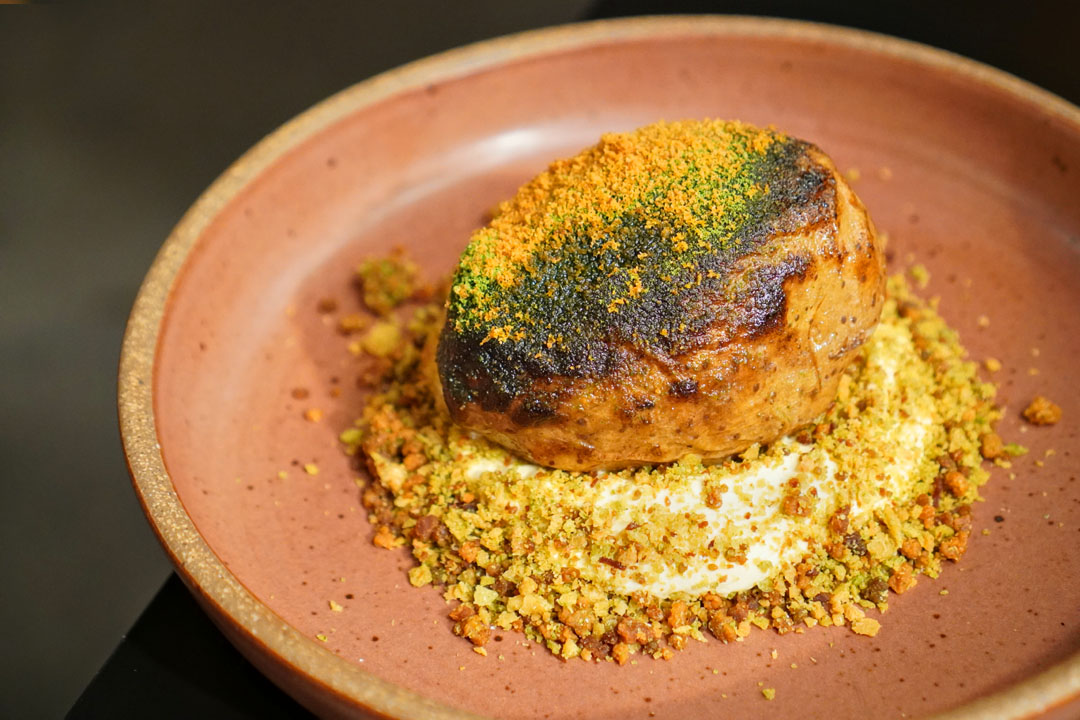 Potato [$16.00]
| smoked egg, crispy jamon & chicken skin
I was also into the potato, which was like a contemplative version of the baked potatoes of my childhood. It was spot-on texturally, and I liked the juxtaposition of all those creamy, crunchy, and salty ingredients on the plate.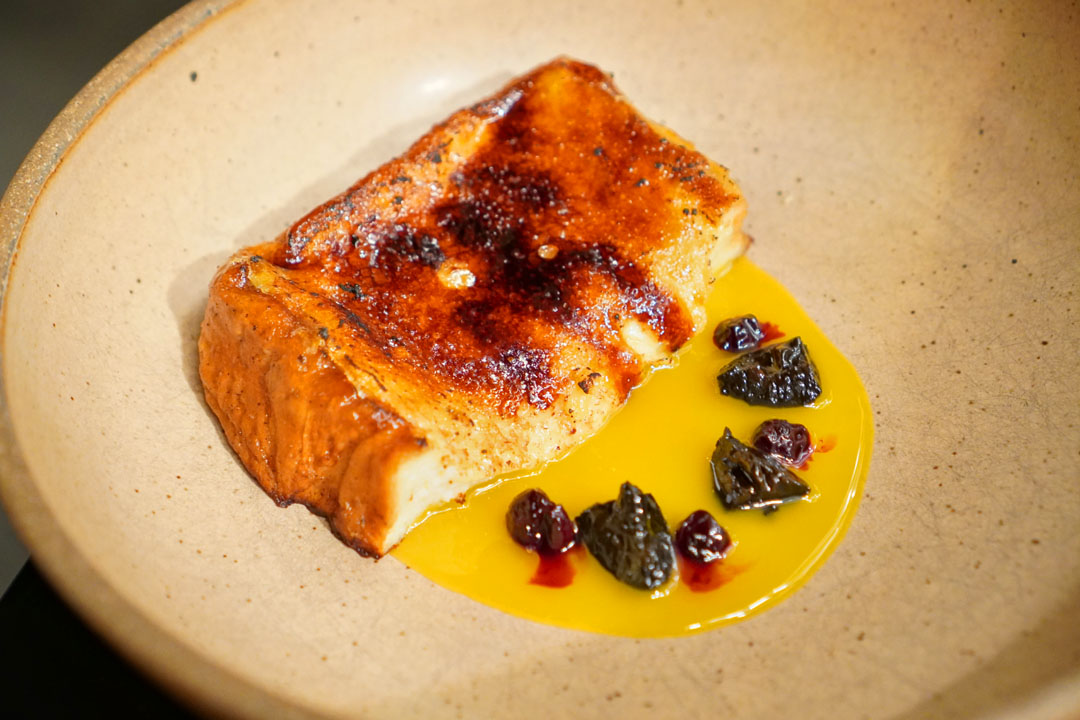 Torrijas & Green Walnut [$14.00]
Time for dessert. My first was this take on
torrija
, basically a Spanish version of French toast. I was definitely a fan of the bread's sugary, creamy nature, which was made even better by the sweet-spicy notes present and the toast's smoky brûlée'd top.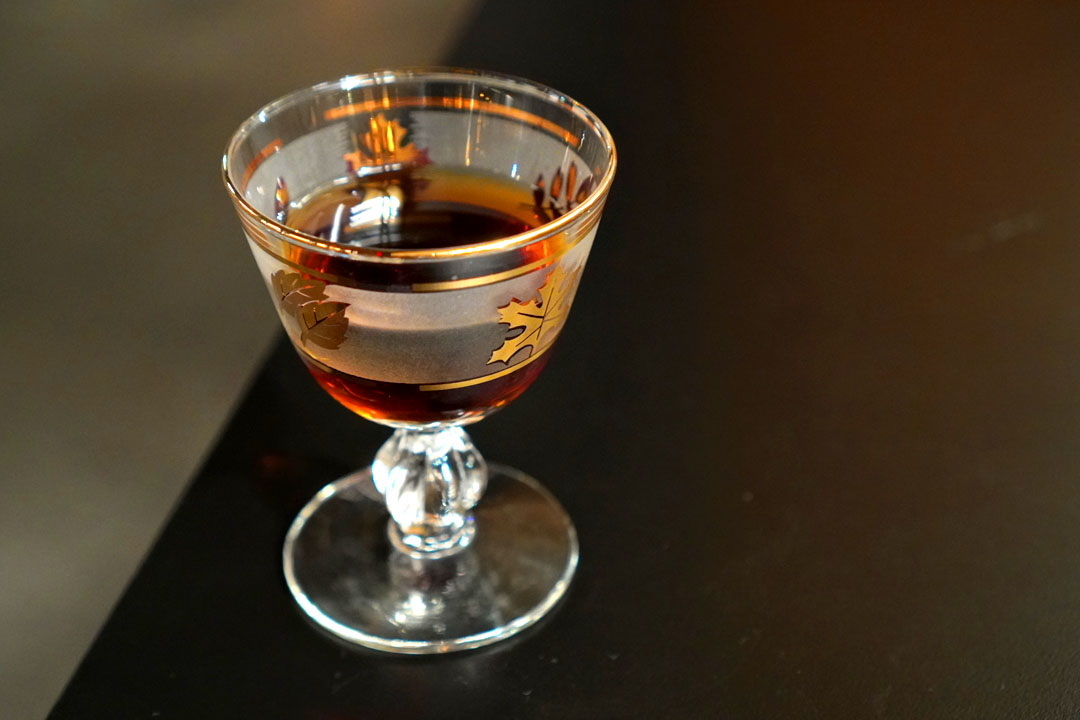 To go along with dessert, I was provided a complimentary pour of
Tximista Vermouth Rojo
, which comes from Spain's Basque Country. This was a great vermouth, a spicy yet soft concoction with a bevy of bittersweet, botanical notes offset by just enough fruitiness.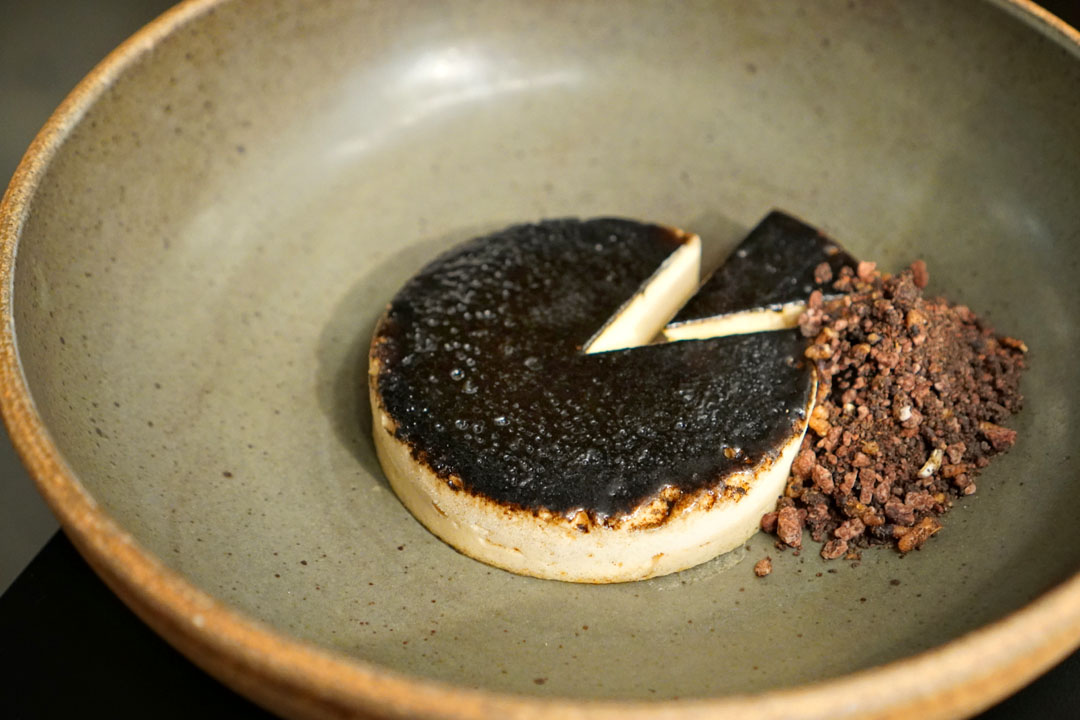 Burnt Cheesecake Ice Cream [$16.00]
Basque cheesecakes are all the rage these days, and this deft reinterpretation of the dish was a winner, no doubt. I was impressed by the interaction between the richness of the ice cream (which seemed more like a semifreddo) and the cake's assertive charring, while nutty, chocolate-y, and caramel-y components completed the experience.
Bar Spero offered me a tasty welcome back to the DC dining scene, and it was great to be able to see a different side of the Chef's culinary chops. I was delighted by how clever the cooking here was, but there was a casualness and ease to it all that I appreciated as well. As for Reverie, apparently Spero and his team are planning on reopening sometime later this year, so if that happens, I think I might want to pay the place a re-visit next time I'm in town.