Jeune et Jolie (Carlsbad, CA) [2]
Jeune & Jolie Restaurant
2659 State St, Carlsbad, CA 92008
760.637.5266
www.jeune-jolie.com
Sun 05/21/2023, 07:10p-10:30p

The last time I checked in with Eric Bost was back in April 2020, when the Chef was selling
COVID-era takeout
out of
Auburn
, his ambitious Cal-French tasting menu spot that had just debuted the previous March. Sadly, the restaurant folded shortly after my visit, and was probably the pandemic shutter than I was the most disheartened about. Following the closure, I was curious about Bost's next steps, but I didn't have to wait too long to find out.
In August that year, it was announced that he'd be heading up the kitchen at John Resnick's French-inspired
Jeune et Jolie
down in Carlsbad, taking over for opening chef Andrew Bachelier, who'd decamped in July. Bost officially started his post that September, and in June the next year, he also took charge over at Campfire, Resnick's other eatery down the street. The Chef's new menu was apparently a hit with the Michelin inspectors, and they awarded Jeune et Jolie a coveted star in September 2021.
I recently went down to Horus Aged Ales in nearby Oceanside to pick up some beers, and the trip was the perfect excuse to finally see what Bost has been up to here.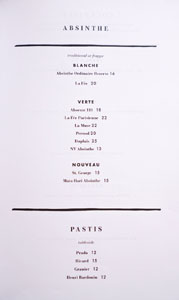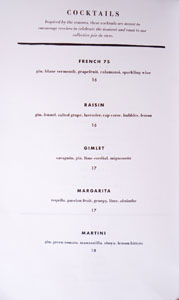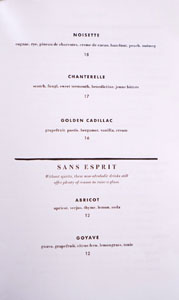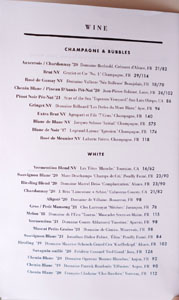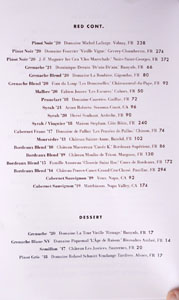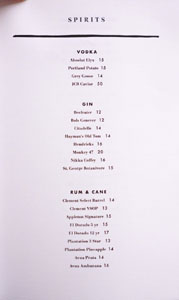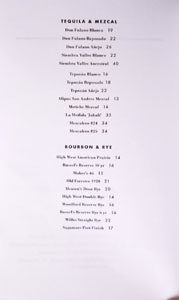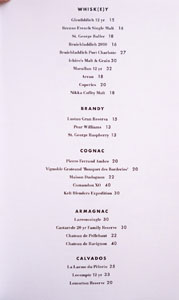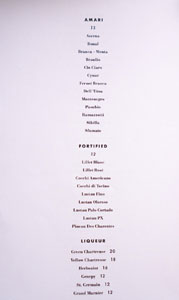 My party arrived quite a bit early for our reservation, and we thus took a seat outside and perused Jeune et Jolie's selection of libations. Click for larger versions.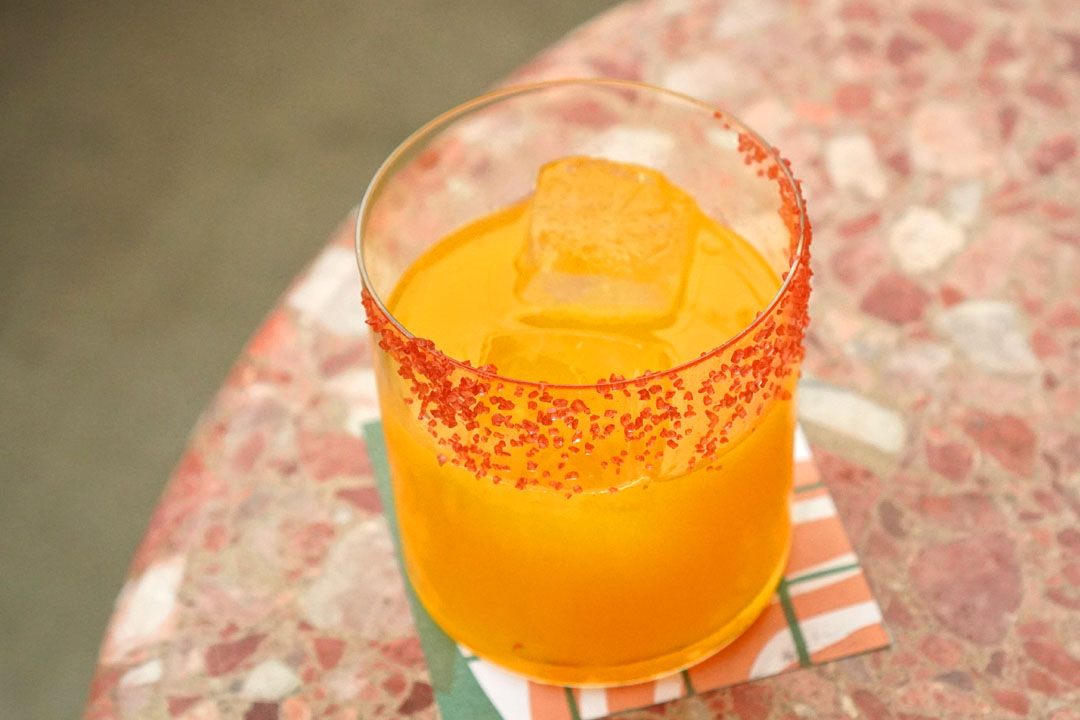 Margarita [$17.00]
| tequila. passion fruit. genepy. lime. absinthe
We ended up ordering a trio of cocktails to start, and up first was this reworked margarita. The drink did a good job blending its tropical passion fruit flavors with the expected citrusy notes, while there was also this bitter, herbal undercurrent that worked for me. I didn't mind that assertively salty, spicy rim, either.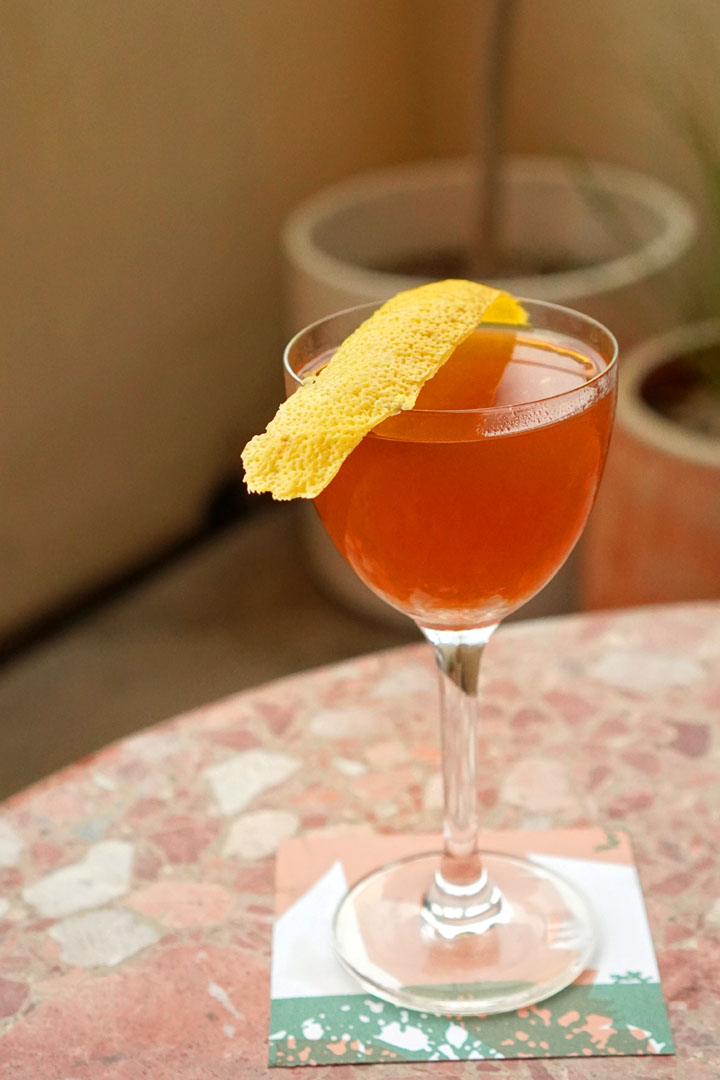 Chanterelle [$17.00]
| scotch. fungi. sweet vermouth. benedictine. jeune bitters
This was my favorite cocktail of the threesome. I enjoyed the drink's brown butter-like flavors, offset by a bevy of herbaceous, spicy, and umami notes, while the back end demonstrated a nearly blue cheese-esque pungency.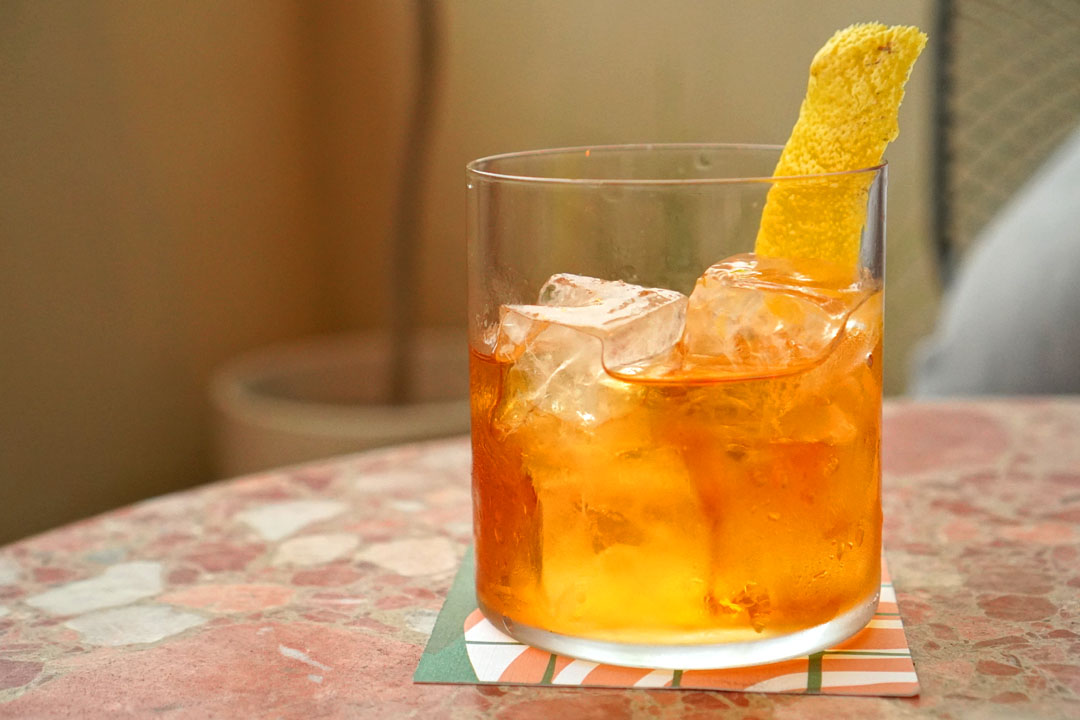 Noisette [$18.00]
| cognac. rye. pineau de charentes. creme de cacao. hazelnut. peach. nutmeg
Our third cocktail showed of an herby, nearly fennel-like nose, while taste-wise, I got sweet stone fruits commingled with hazelnuts, but undergirded by distinctly medicinal nuances.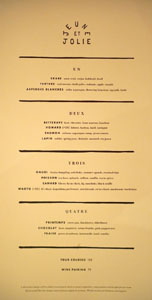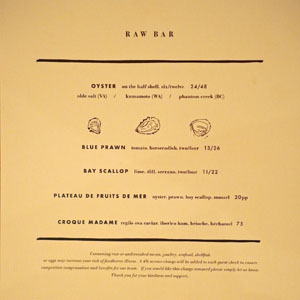 We were eventually led into the restaurant and handed Jeune et Jolie's menu, which comprises a four-course prix fixe tasting priced at $105 a head, plus $75 for the optional wine pairing; there's also a supplemental selection of raw bar dishes. Corkage was a not-too-bad $30 a bottle. Click for larger versions.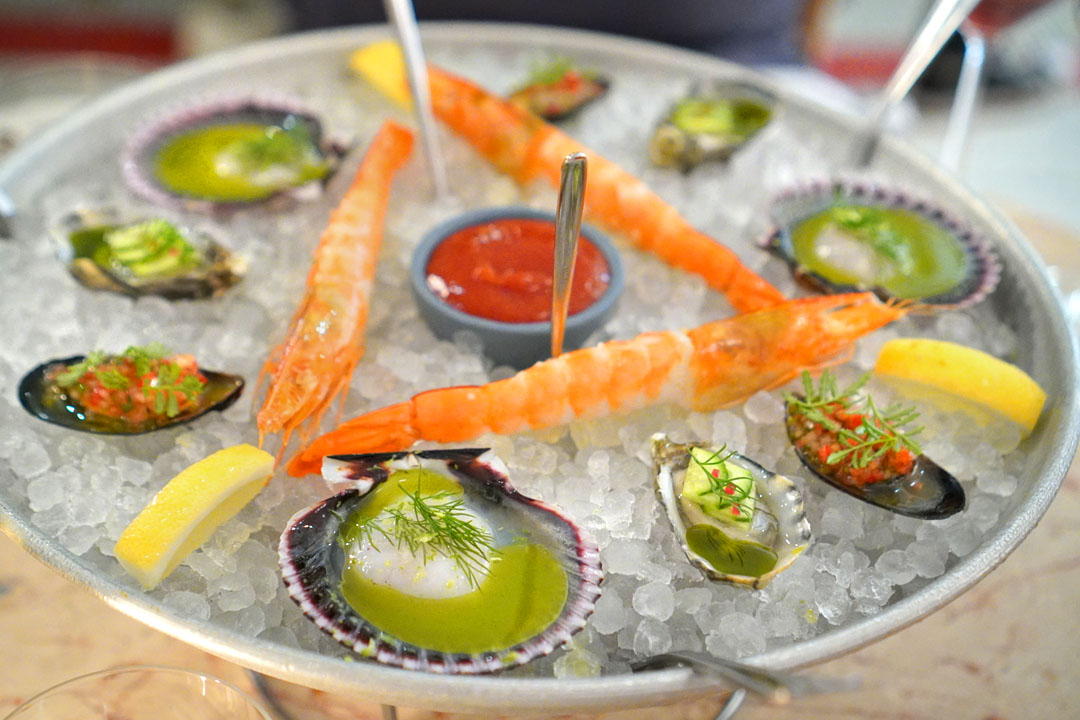 Plateau de Fruits de Mer [$60.00]
| oyster. prawn. bay scallop. mussel
Our seafood platter was composed of four different items:
I began with a fresh-n-clean Shigoku oyster, accompanied by a grassy seaweed vinaigrette, cucumber, and shallots.
I then moved on to the Peruvian bay scallop, done up aguachile-style and garnished with dill. There was a fantastic acidity in the bite that worked beautifully with the scallop's innate sweetness.
The mussel was my favorite thing here, and actually one of the best preparations of the bivalve that I've had. The key was the use of a sauce vierge, which boasted a wonderful brightness that complemented the mussel's brine perfectly.
Last up was the New Caledonia blue prawn, which arrived with a housemade, horseradish-infused tomato sauce. It essentially ate like an elevated shrimp cocktail.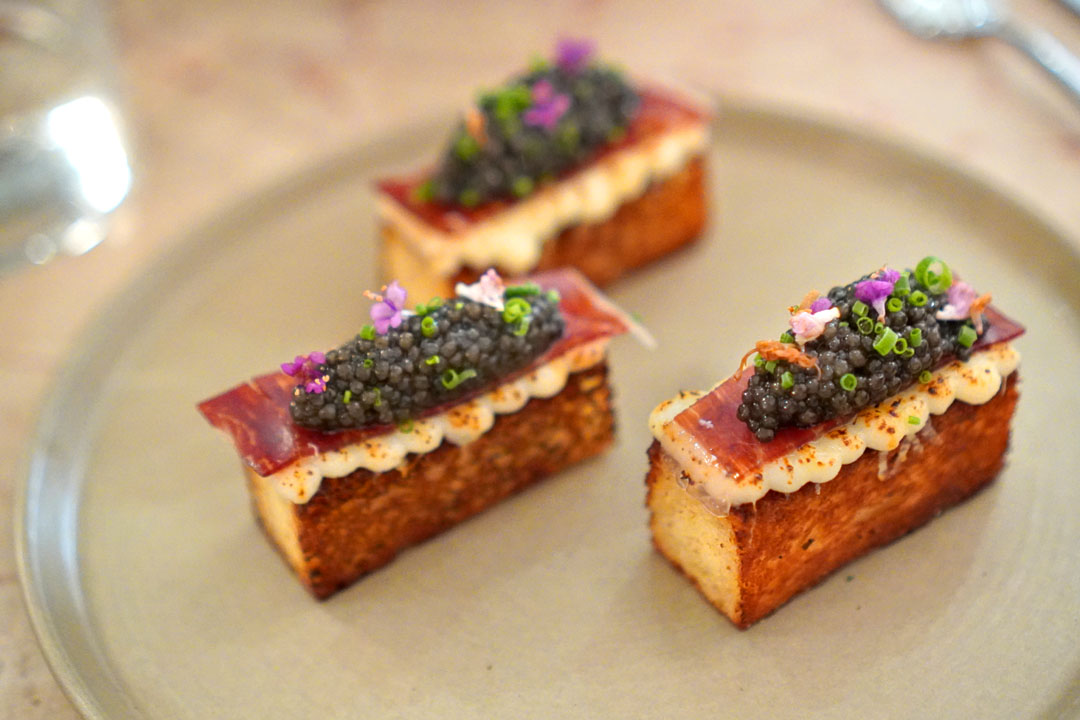 Croque Madame [$112.50]
| regiis ova caviar. iberico ham. brioche. béchamel
An ultra-luxe version of a croque monsieur was just as delicious as you'd expect. The salt of the caviar plus the salt of the ham really was a winning combination, and paired swimmingly with that buttery toasted brioche, all while the béchamel tied it all together.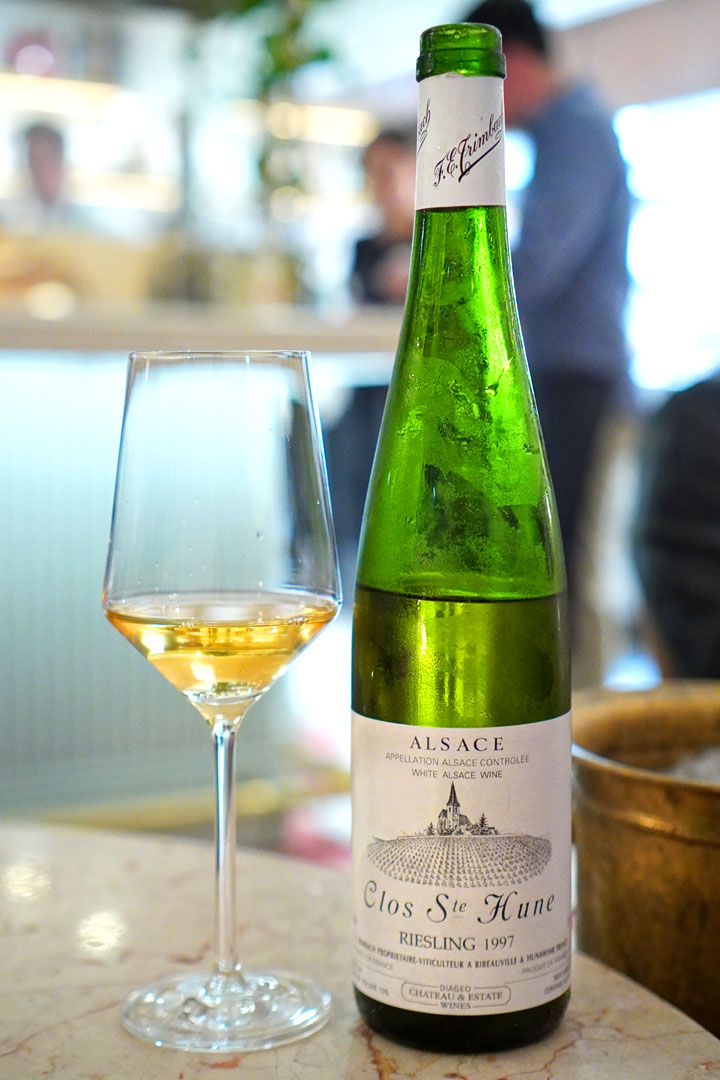 We brought our own wines this evening, and first to imbibe was the
1997 Trimbach Riesling Clos Ste. Hune
. I first tried the wine straight from the bottle, and found a somewhat Burgundian-like nose at first blush, but with reductive elements to go along with its aromas of stone and stone fruit. Tasting it, I found it juicy and a touch puckering, its tropical and citrus flavors joined by a backing of barnyard and mineral, but overall, the wine seemed "closed." We then requested a decant, and following, the Alsatian Riesling opened up nicely, demonstrating a markedly fresher character and bright nuances of pineapple, especially on the nose. As the night progressed, I found lemon curd and brown butter in the bouquet, while the palate showed more citrus and herb.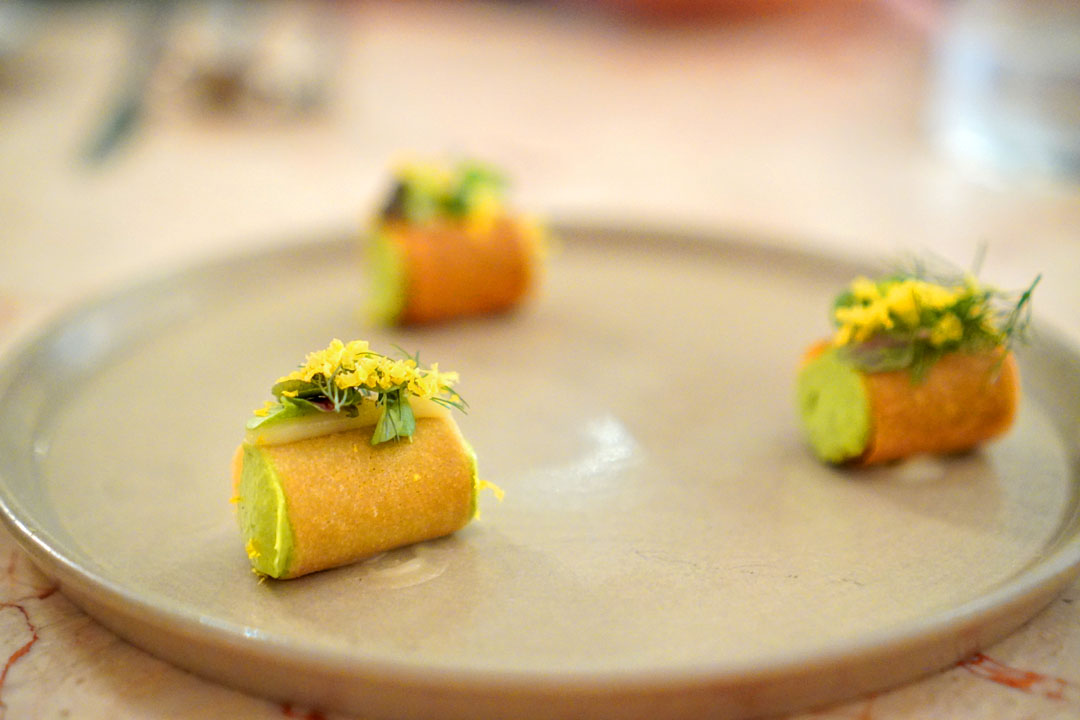 Our amuse bouche course consisted of cylinders of fresh, zippy avocado-yuzu purée, wrapped in a shattery, savory shells and topped with aromatic herbs.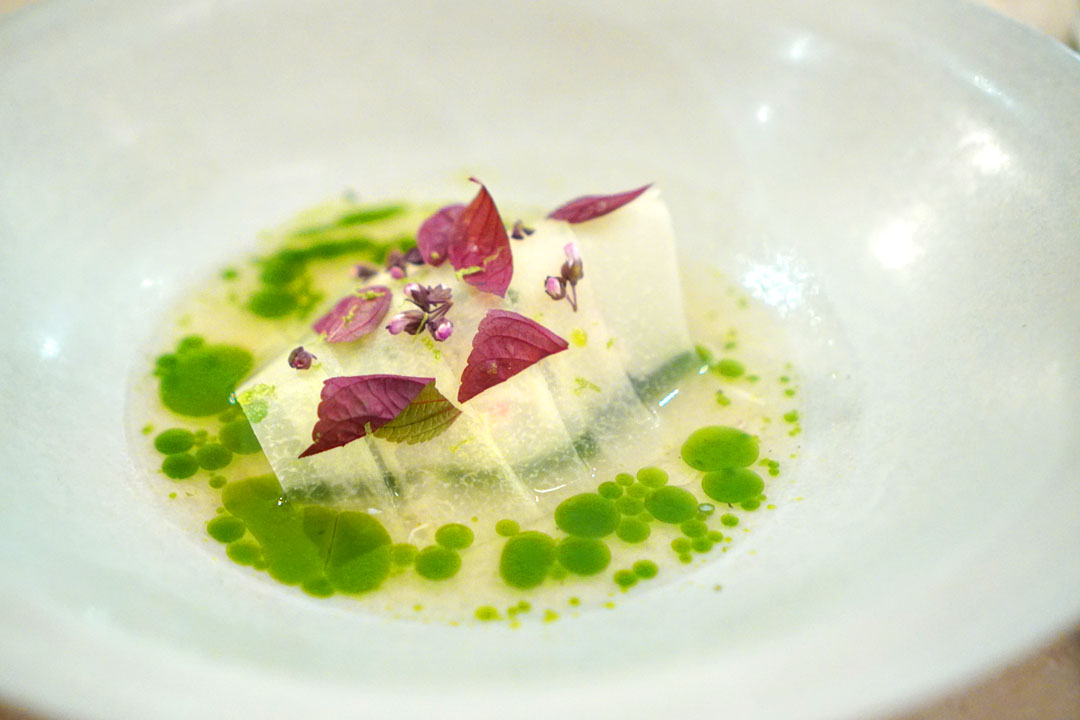 1a: Crabe
| snow crab. verjus. kohlrabi. basil
It was now time to get into the meal proper. Snow crab was a delight, its sweetness combining seamlessly with the herbaceousness of basil, shiso leaves, and shiso flowers. There was this peppery edge to the dish that I really enjoyed, too.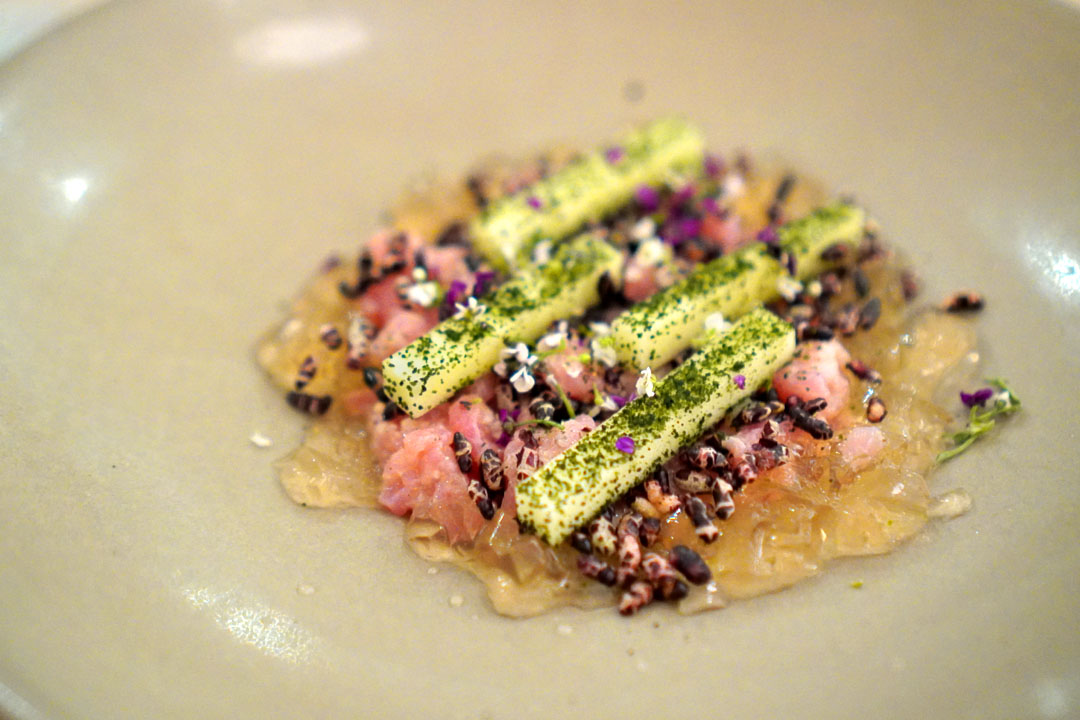 1b: Tartare
| veal tartare. dashi gelée. wakame. apple. wasabi
The veal tartar was my favorite dish of the night, and also the best version of the dish I've had. I loved how the delicate taste of the veal melded with, yet was never overwhelmed by, the smoke and umami from the dashi. Also crucial was the nutty crunch of the toasted rice, not to mention that slight heat from the wasabi.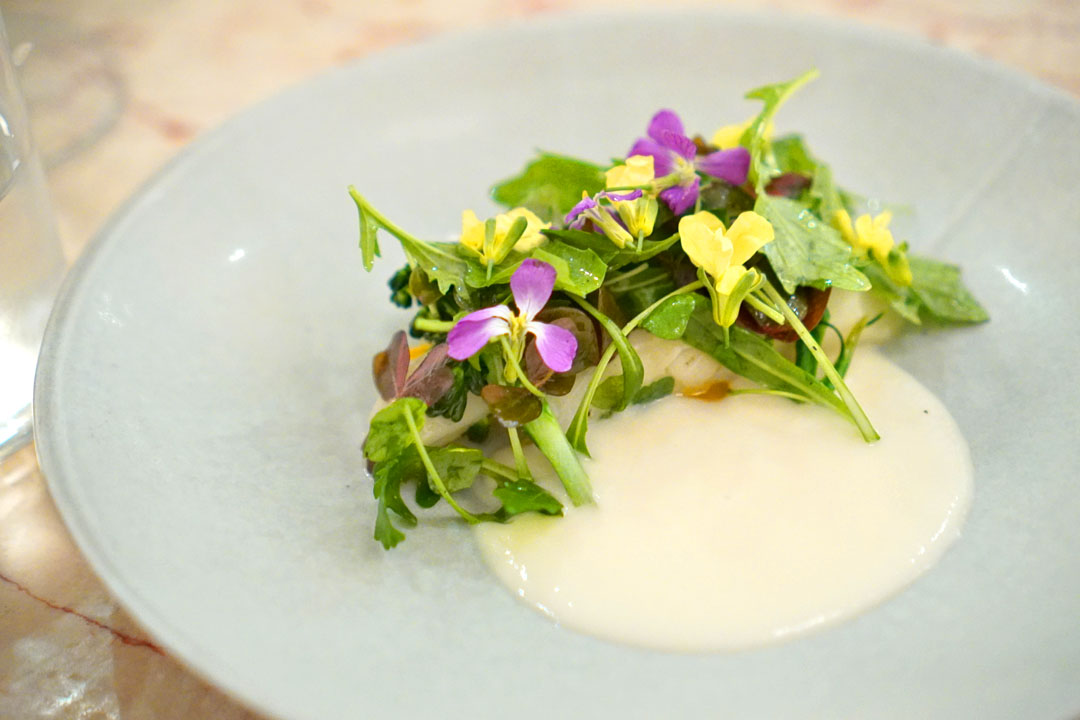 1c: Asperges Blanches
| white asparagus. flowering brassicas. egg yolk. lardo
We were in the midst of white asparagus season, so it was nice to see it on the menu tonight. The spears ate tender and bittersweet, and married easily with the bracing nature of the greens, all while the egg and lardo imparted some oomph that helped everything come together.
Pain et Beurre
| milk bread, brittany butter
Jeune et Jolie's version of
shokupan
was excellent, arriving supple and sweet, but with a saline edge. It was certainly delectable alone, but was even better with a dab of that wonderfully soft, salted butter.
2a: Betterave
| beet. chicories. bone marrow. hazelnut
Regular readers will know that I'm no fan of beets in general, but I'll admit that this was a smart presentation. The root veggies came out roasted and dressed in a bone marrow vinaigrette, but the crux here was the ability of the hazelnuts and bitter endive to counteract the earthy sweetness of the beets. Great array of textures, too.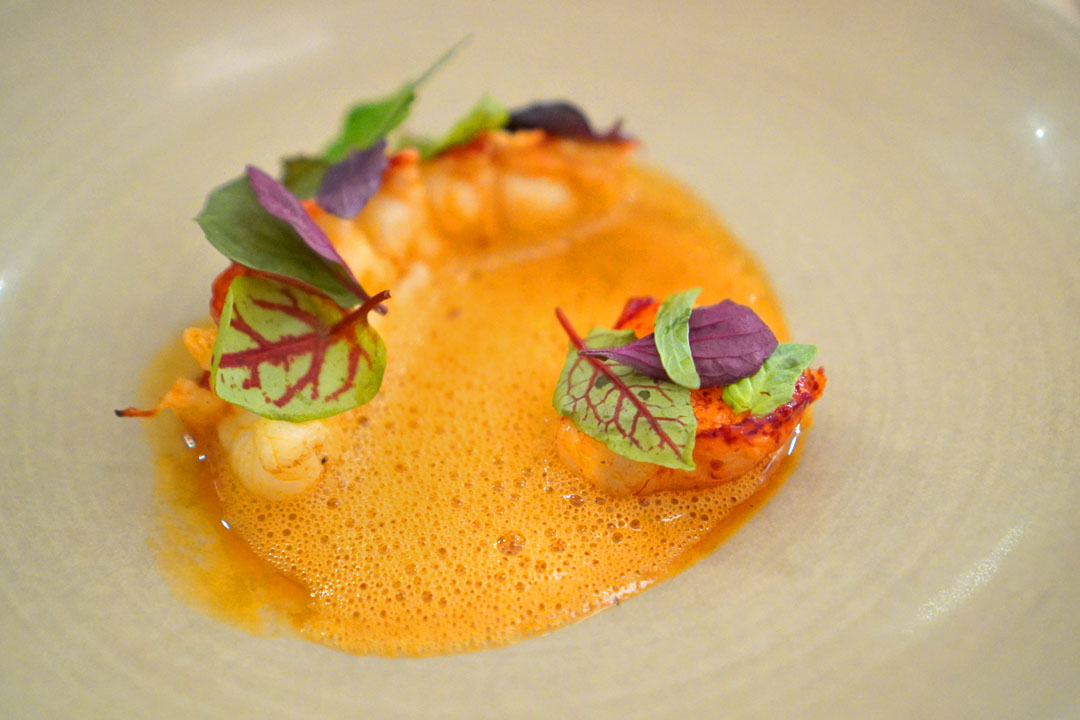 2b: Homard [$44.00]
| lobster. harissa. basil. tarragon
The concentrated sweet salinity of lobster was showcased here, perked up just a tad by the piquancy of harissa, and set against the aromatics of basil and tarragon. I got a nice "snappy" consistency on the lobster, too.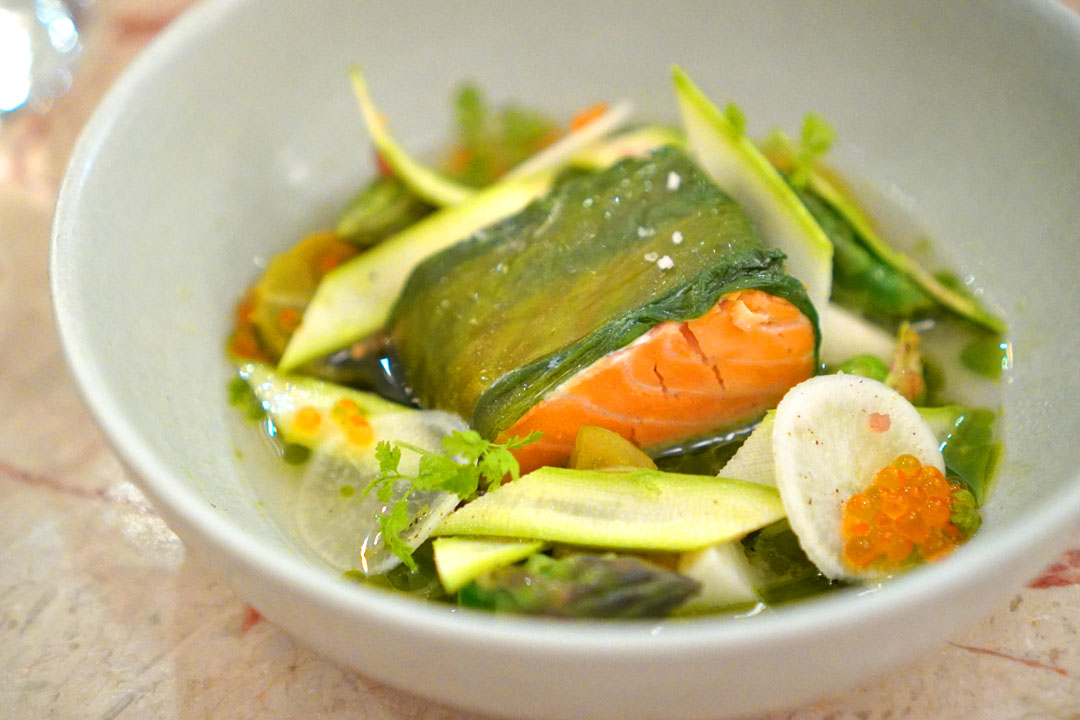 2c: Saumon
| salmon. asparagus. ramp. green tomato
A supple, oceany filet of poached salmon came wrapped in ramp leaves. The heft of the fish worked hand-in-hand with the contrast offered up by the pickled ramps, asparagus, and green tomato broth, and I especially enjoyed the bitter crunch from those yellow turnips.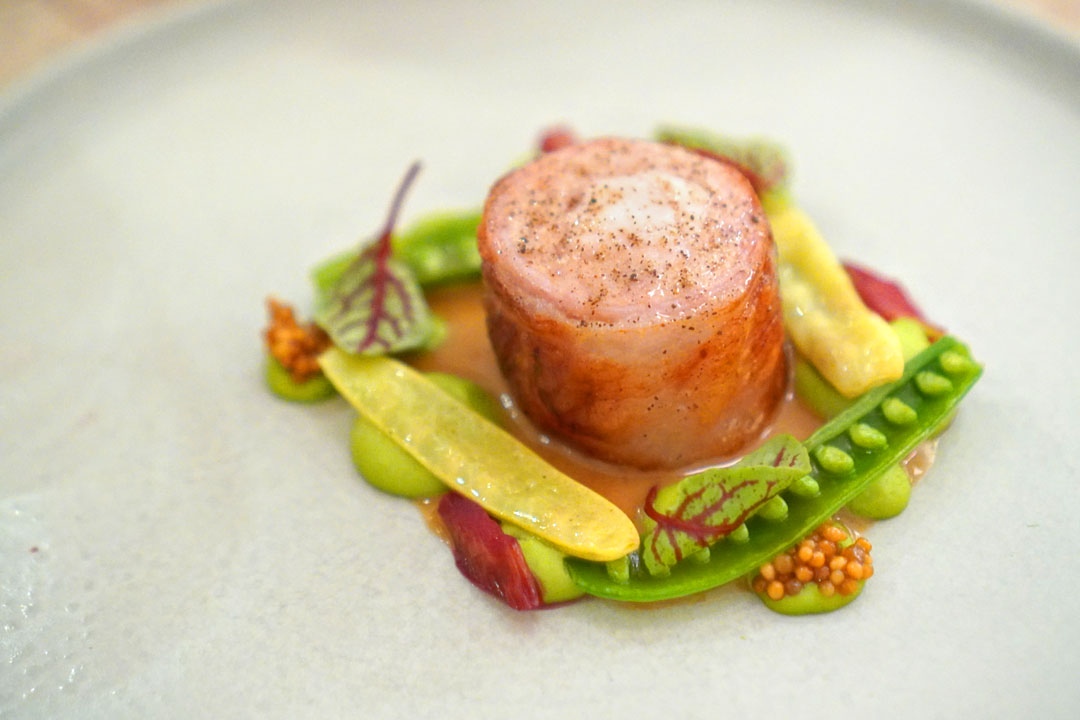 2d: Lapin
| rabbit. spring peas. rhubarb. mustard. vin jaune
A medallion of rabbit ate springy and elegant, with a distinctly sweet-ish note. Vin jaune kept things interesting, though my favorite element here was actually the unmistakable punch of that mustard.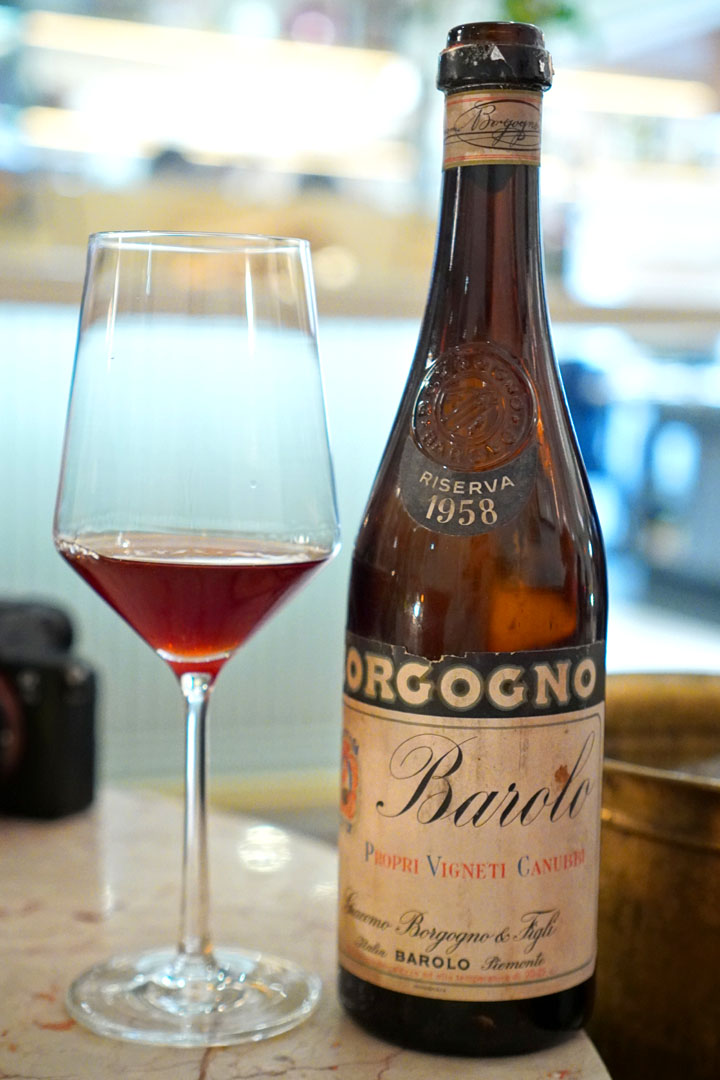 Our second wine was something much, much older, the
1958 Giacomo Borgogno & Figli Barolo Riserva
, which we drank without decanting. The nose on the Nebbiolo was tertiary-driven, its bloody, iron-y red fruits supported by barnyard and
animale
. On the palate, I tasted herbed meats doused with more of those fruits, with a blue cheese funk on the side, while the finish offered up tart cherries. Mature yet never old-tasting, this was drinking amazingly tonight, and actually reminded me of some of the fantastic
old
Rhône
I'd had at the end of 2022. I suspect that this will end up as one of my most memorable wines of the year.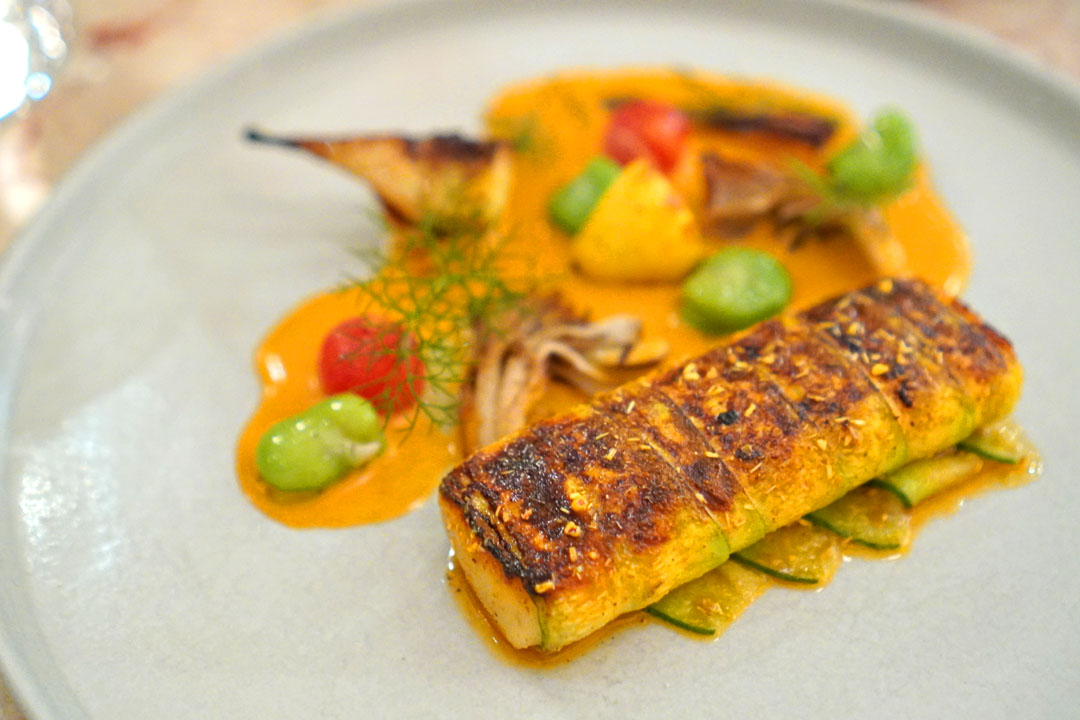 3a: Gnudi
| ricotta dumpling. artichoke. summer squash. swarnadwipa
The gnudi arrived wrapped in zucchini, and was as pillowy as I was hoping for. The dumpling's mild flavors made a lot of sense with the wonderfully pungent nature of that Swarnadwipa spice blend, all while the various accoutrements completed the equation, with that tangy (beurre blanc-based?) sauce being especially crucial. This may very well be the best gnudi I've had.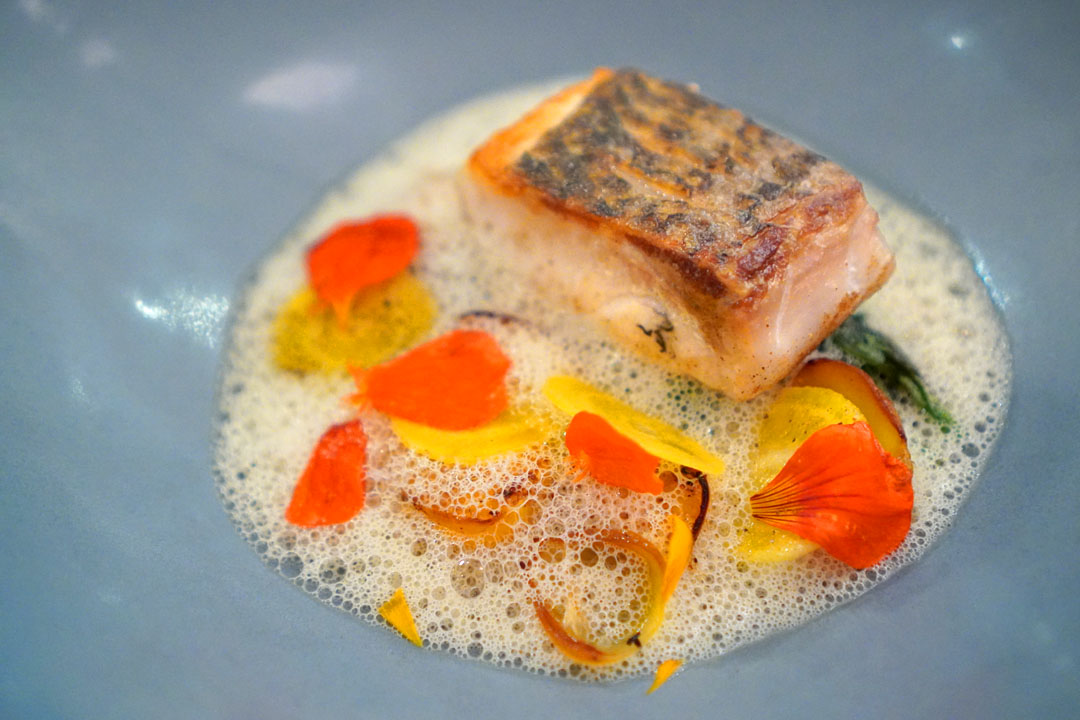 3b: Poisson
| sea bass. spinach. saffron. vanilla. warm spices
The featured
poisson
for this course was advertised as sea bass, but apparently the kitchen had run out of it; we were initially told that halibut was to be substituted, but ended up receiving striped bass. In any case, the fish was expertly cooked, coming out spot-on texturally, with a robust-yet-refined brininess that matched up easily with the Bloomsdale spinach and the dish's warm, fragrant spices. This was actually a bit reminiscent of the "Crispy Sea Bass with Delicate Spices" that Bost had prepared back at
Guy Savoy
.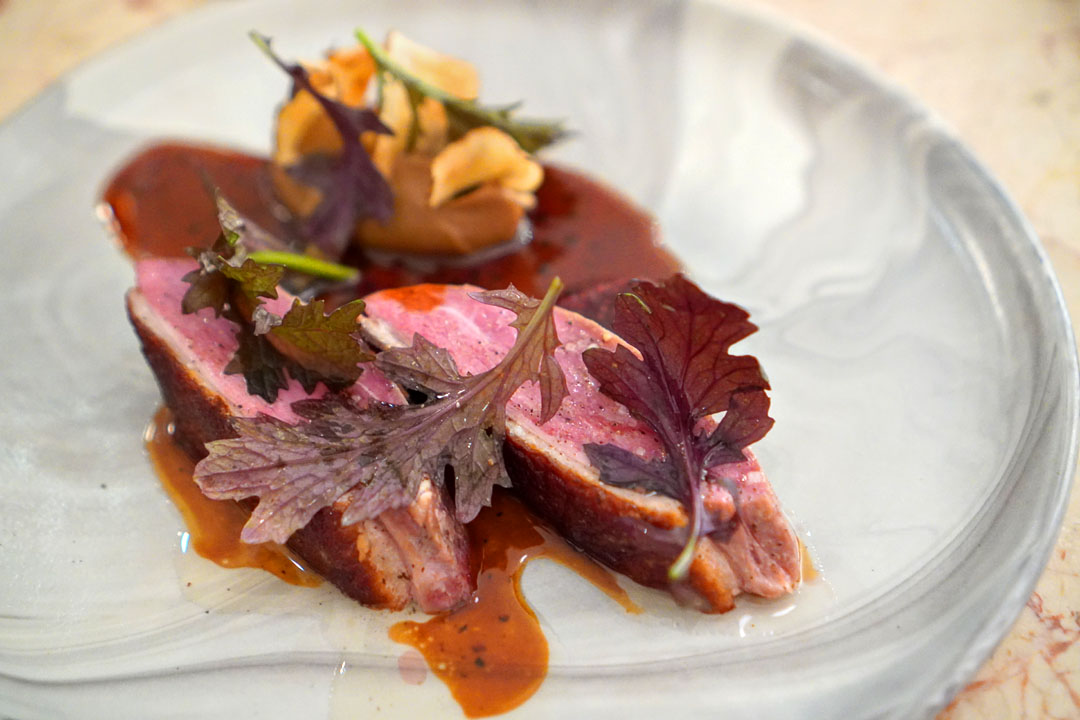 3c: Canard
| liberty farms duck. fig. sunchoke. black truffle
Honey- and black truffle-glazed duck was deeply and gratifyingly savory, with a delectable skin to boot, and meshed like clockwork with the fruitiness of a fig compote. There was also a dollop of sunchoke purée meant to tone things done.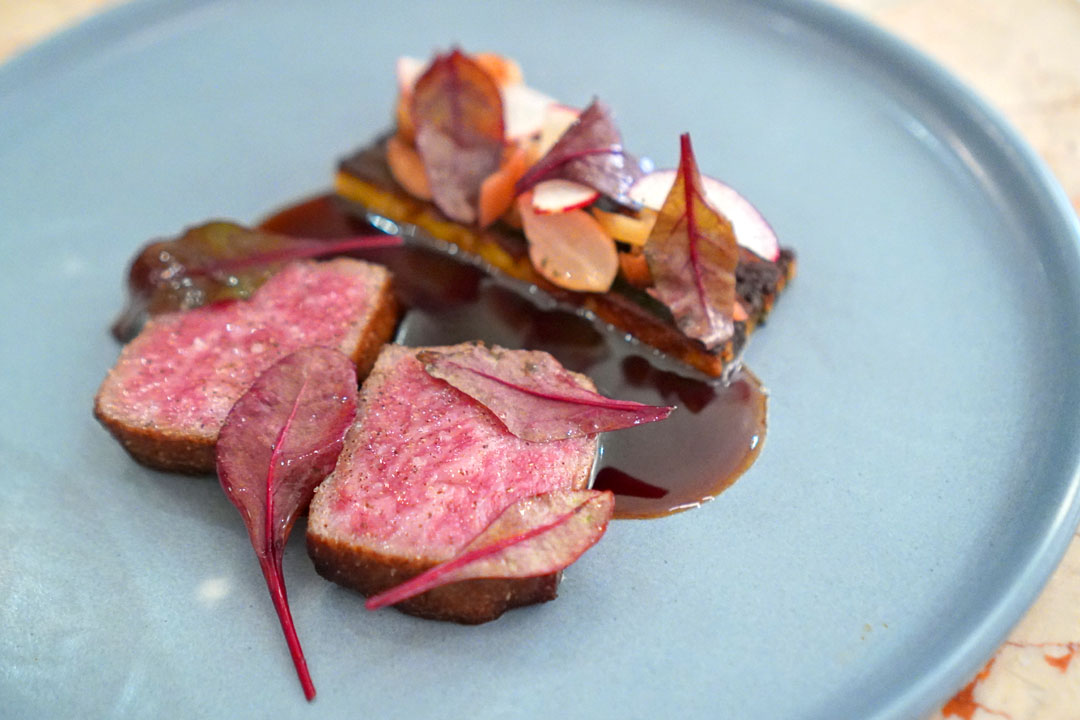 3d: Wagyu [$91.00]
| A5 ribeye. kagoshima prefecture. sweetbreads. swiss chard. mushroom. bordelaise
For our final savory course, we were given A5 wagyu, which ate as luscious and fatty as you'd imagine. Its richness was matched by the robustness of the accompanying bordelaise and the dish's "oniony" notes, all while the micro shard lightened the mood.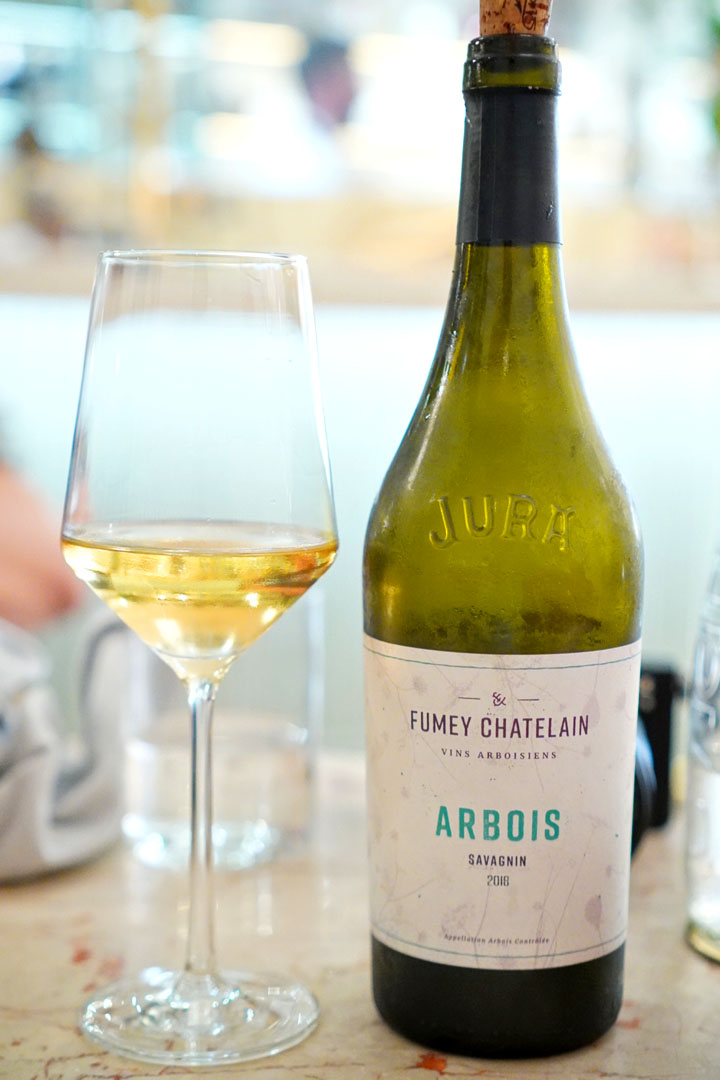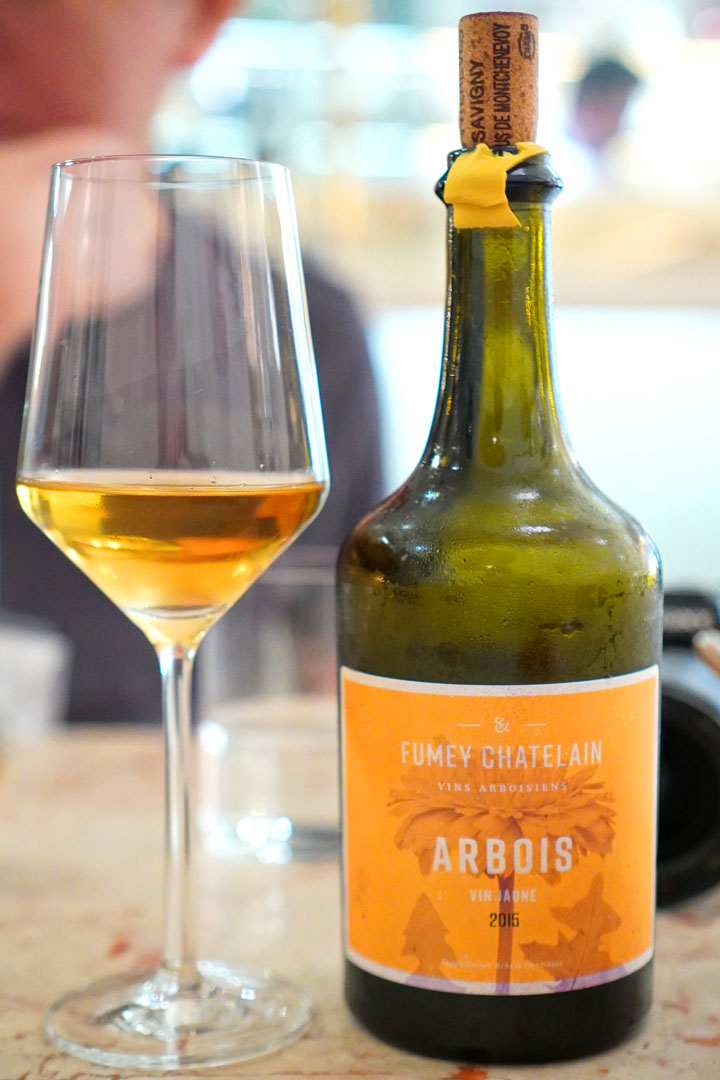 It was now time for dessert, and to go along, we ordered two wines from France's Jura region. First was the
2018 Domaine Fumey-Chatelain Savagnin Arbois [$28]
, which featured a super saline bouquet laced with nuts. On the palate, think even more nutty, with a fresh, grassy, "green" quality, a touch of orchard fruit, and more brine. We also sampled the
2015 Domaine Fumey-Chatelain Savagnin Arbois Vin Jaune [$36]
, from the same producer. This one was decidedly fruitier and more sherried on the nose. Taste-wise, I found the wine nutty and dry as expected, with more of those oxidative elements mixing with saline, savor, spice, and dried fruit.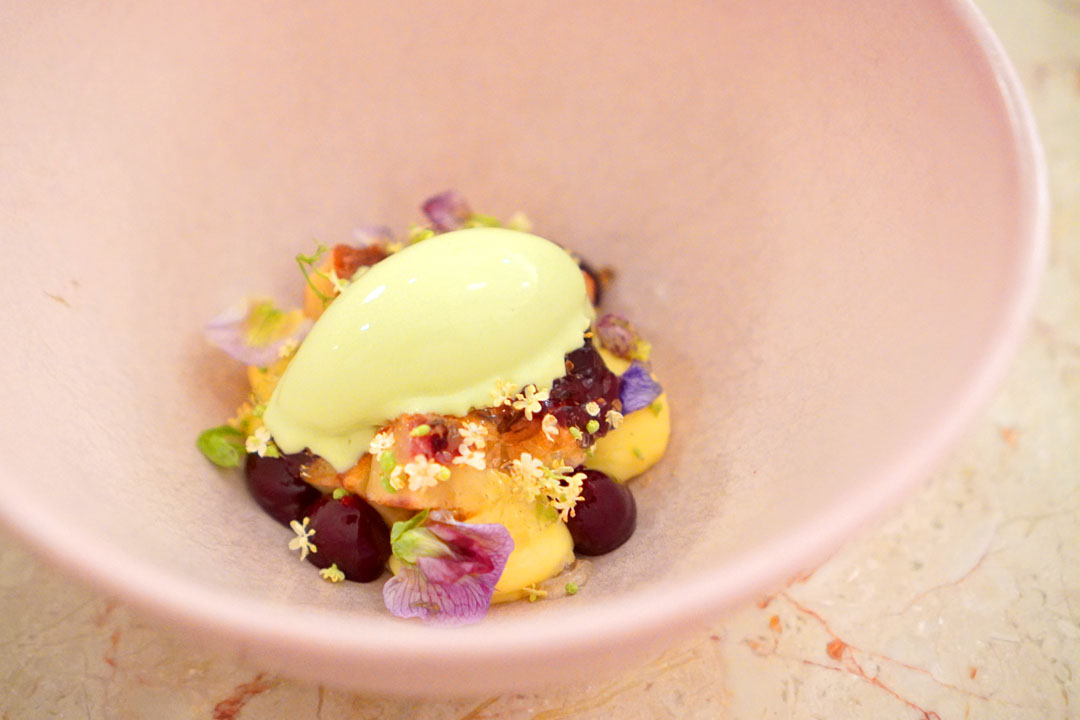 4a: Printemps
| sweet pea. blackberry. elderflower
This dainty-looking dessert was the most beguiling of the bunch thanks to how well the sweet pea ice cream played off of the blackberry and elderflower gelée. There was also a nuttiness present that I think could have come from the use of sablé Breton cookies.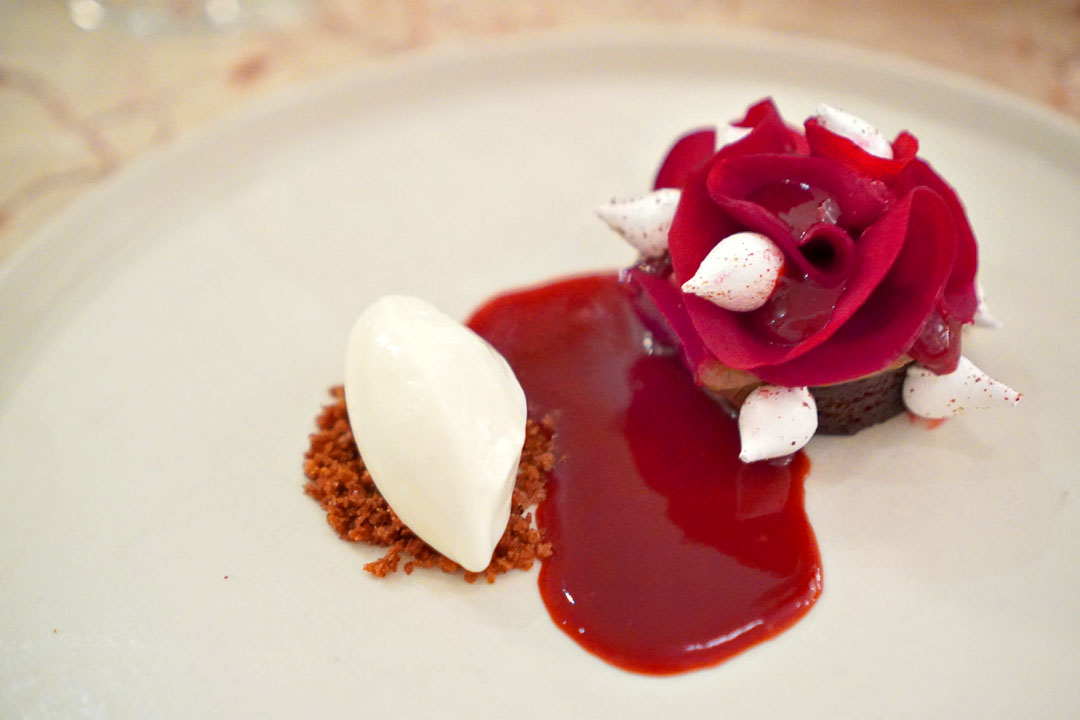 4b: Chocolat
| beet. raspberry. crème fraîche. pink peppercorn
Chocolate and beet came together in utterly harmonious fashion, aided by a supporting cast of raspberry coulis, crème fraîche-marshmallow ice cream, and peppercorn meringues.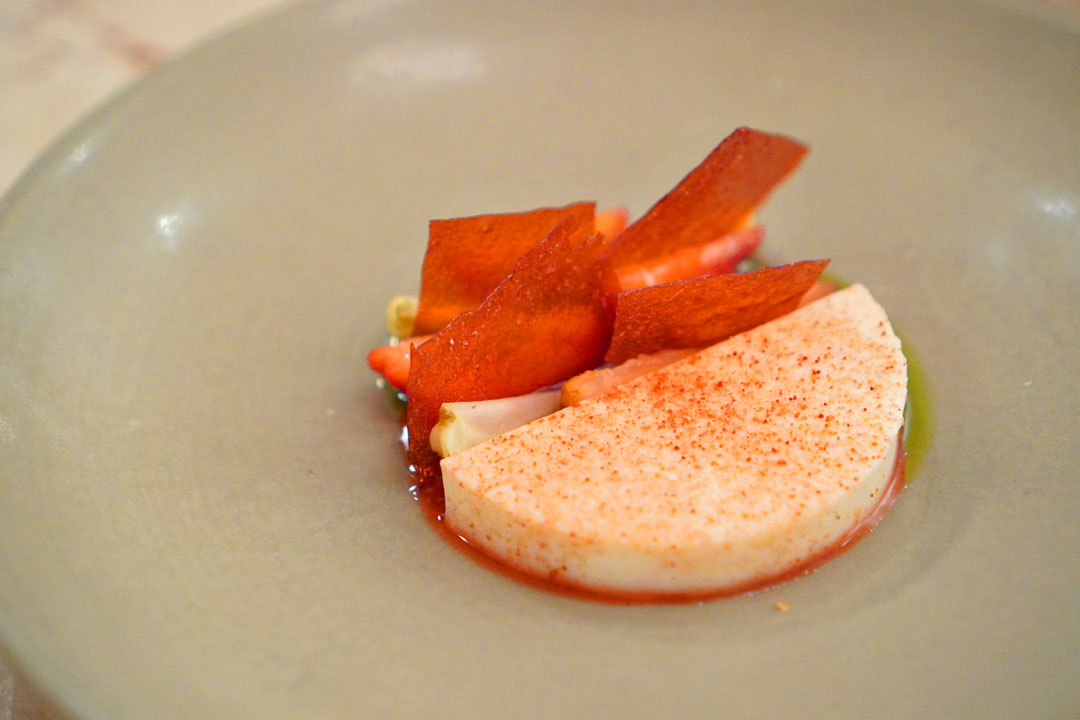 4c: Fraise
| green strawberry. buttermilk. basil. vanilla
Strawberry was presented in fresh, preserved, and consommé forms, its sweet-tartness tempered by a buttermilk panna cotta and traces of basil.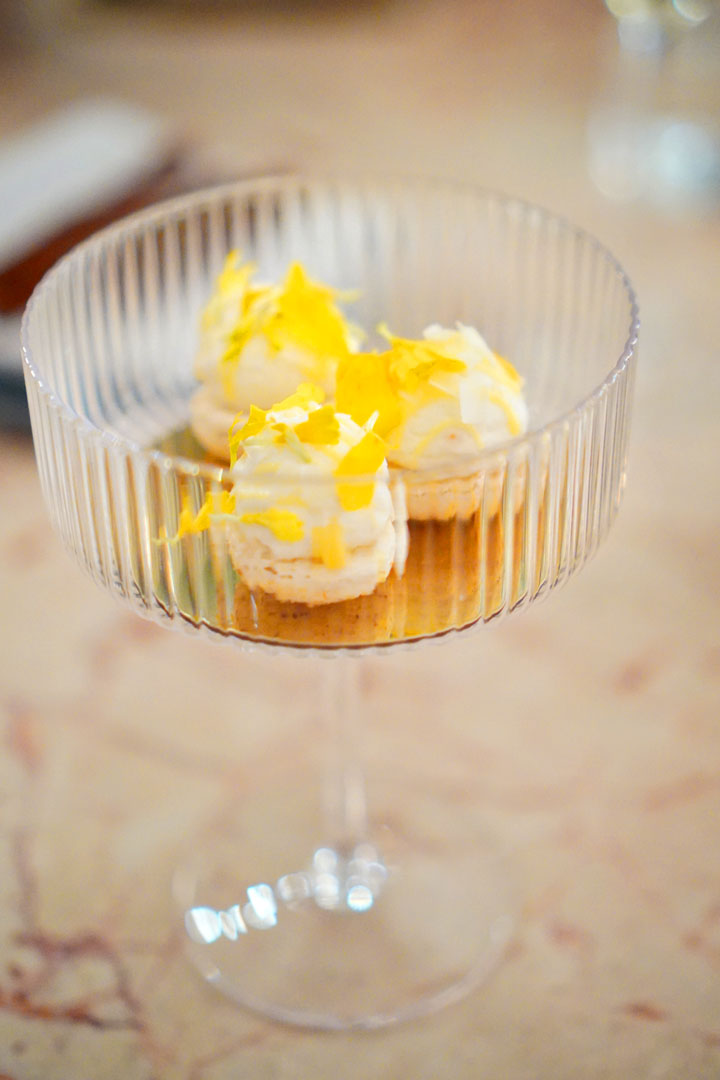 Mignardises comprised citrusy macarons with a Cointreau cream and passion fruit, as well as super savory sticks of milk chocolate dusted with red miso, blonde miso, and lime zest.
I enjoyed my last meal at Jeune et Jolie, but Bost has taken things to the next level. His cooking stays true to this place's Cal-inflected,
nouvelle
-inspired mantra, but he's imbued the cuisine with increased sophistication and elegance, turning the place into an essential San Diego-area restaurant in the process. However, Bost and Resnick's partnership doesn't stop here. The pair are currently working on two new concepts for Carlsbad, both slated to debut this year in a shared space a stone's throw away from Jeune et Jolie. The first is an all-day cafe called Wildland, while the second is a 22-seater chef's table tasting menu spot by the name of Lilo. I'm obviously much more interested in the latter, and it'll definitely be on my list to try once it opens.