Jônt (Washington, DC)
Jont Restaurant
1904 14th St NW, Washington, DC 20009
202.518.7926
www.jontdc.com
Wed 05/10/2023, 08:10p-11:30p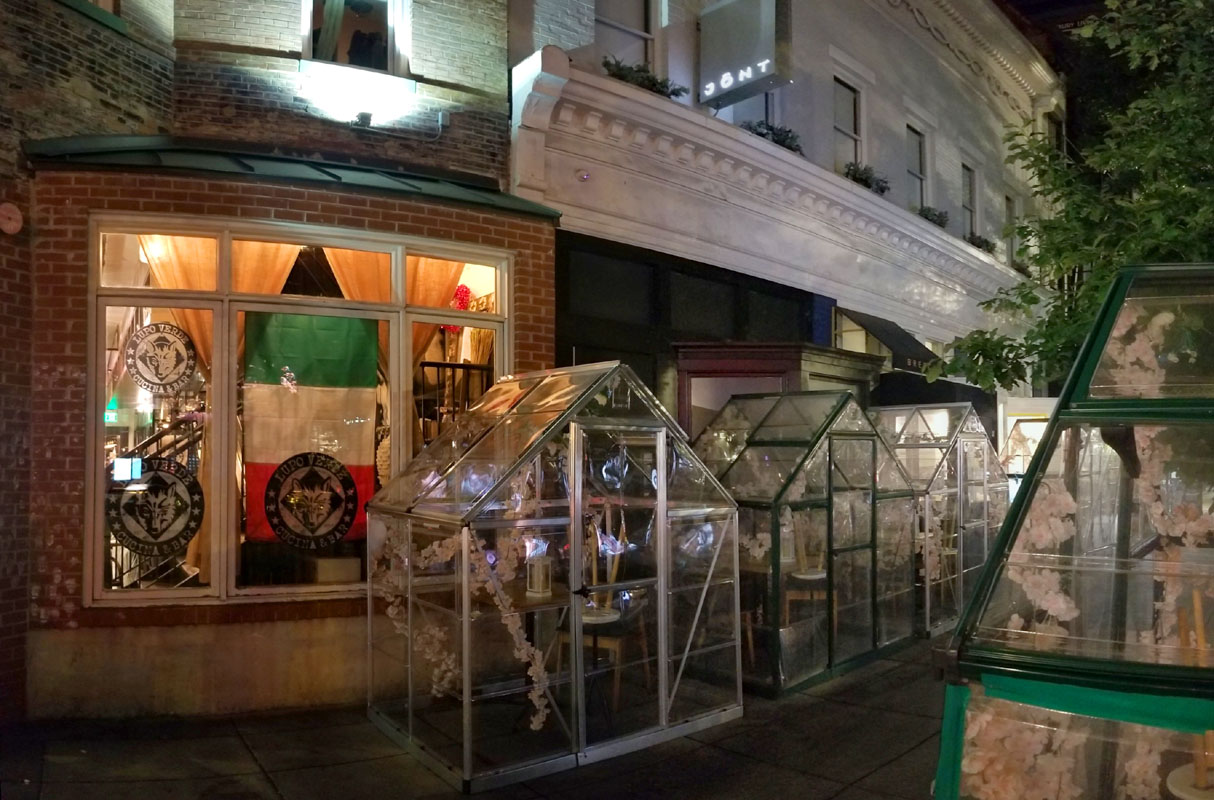 You might recall that I enjoyed a meal at Ryan Ratino's
Bresca
back in May 2019. At the end of my dining report, I mentioned that the Chef was "planning on debuting Jônt, an 18-seat tasting menu-only joint, later this year." Invariably, the restaurant was delayed, the delayed again due to the pandemic, and ended up opening in July 2020, but not really, since at that point, the place was serving a simpler, much more abbreviated menu. Jônt therefore debuted "for real" at the start of March 2021, and was quickly awarded two stars by Michelin in April for its contemporary, Japanese-inflected cuisine. Those two stars were reaffirmed the following May, and in April 2022, the spot garnered a "Formal Fine Dining Restaurant of the Year" finalist nomination in the RAMMY Awards. The RAMMY nod was repeated once again earlier this year, not too long after Ratino secured "Best Chef: Mid-Atlantic" semifinalist status from James Beard.
Scoring such accolades requires a dedicated staff, so joining Ratino in Jônt's kitchen leadership team are Culinary Director Brendan Mahon (Bresca,
Masseria
, Flight, Alphonse), Chef de Cuisine Brandon Dienger (Restaurant Eugene, Menton), and Sous Chef Kyle Sabota (Masseria). Meanwhile, the front-of-the house is led by Director of Operations Jhonatan Cano (
Minibar
), Manager Andrew Elder (Minibar), Assistant Manager Kinga Boratyn (Bresca,
Fiola
, Komi, Bourbon Steak,
Craigie on Main
), and Hospitality Director Nitiya Sin (Bresca, Minibar,
Per Se
, Quay). Jônt was the #1 restaurant that I wanted to visit on my latest trip to DC, so I sort of planned everything else around it.

Pictured above is my view from the center of Jônt's 16-seater kitchen counter. Note that the space is situated directly above Bresca, on the second floor of the building.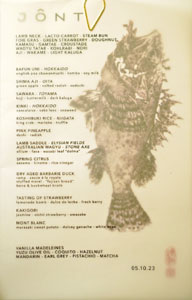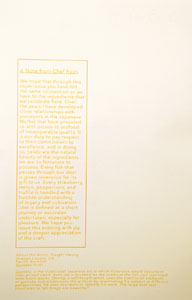 And here we see Jônt's menu for the night, which was priced at $375 a head, plus 22% service and 10% tax. Three wine pairing options are available at $195/$395/$650, and there's also a full wine list to choose from, naturally. If you prefer, corkage is $100 a bottle. Click for larger versions.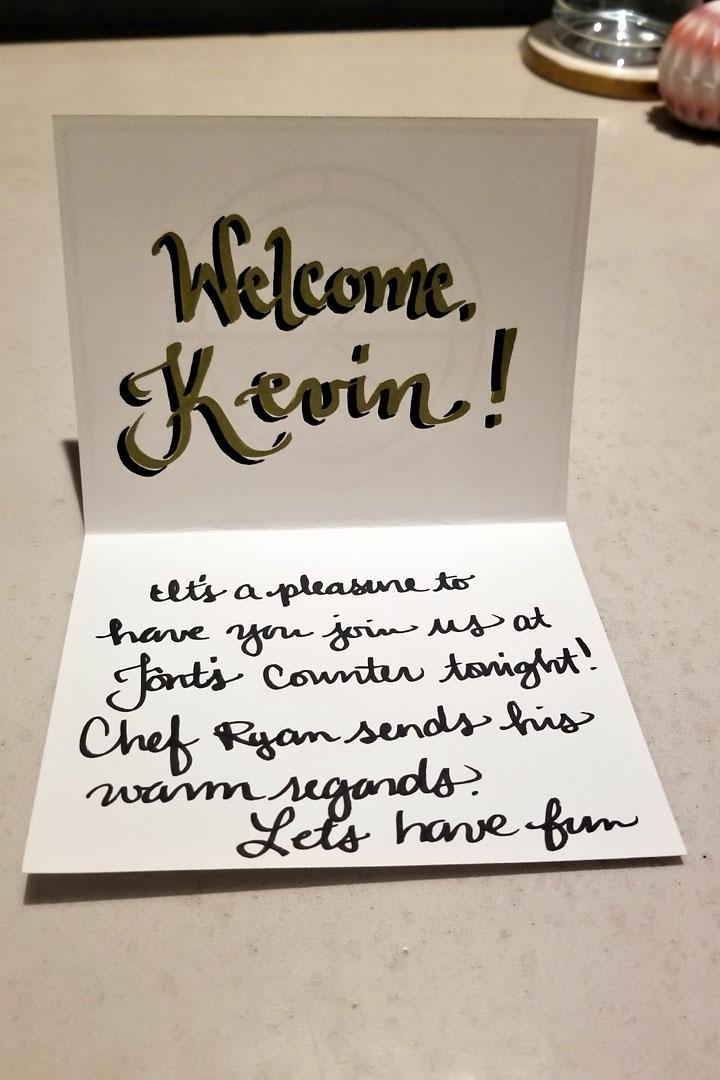 When I arrived, a hand-written card was awaiting me at my seat--a nice touch.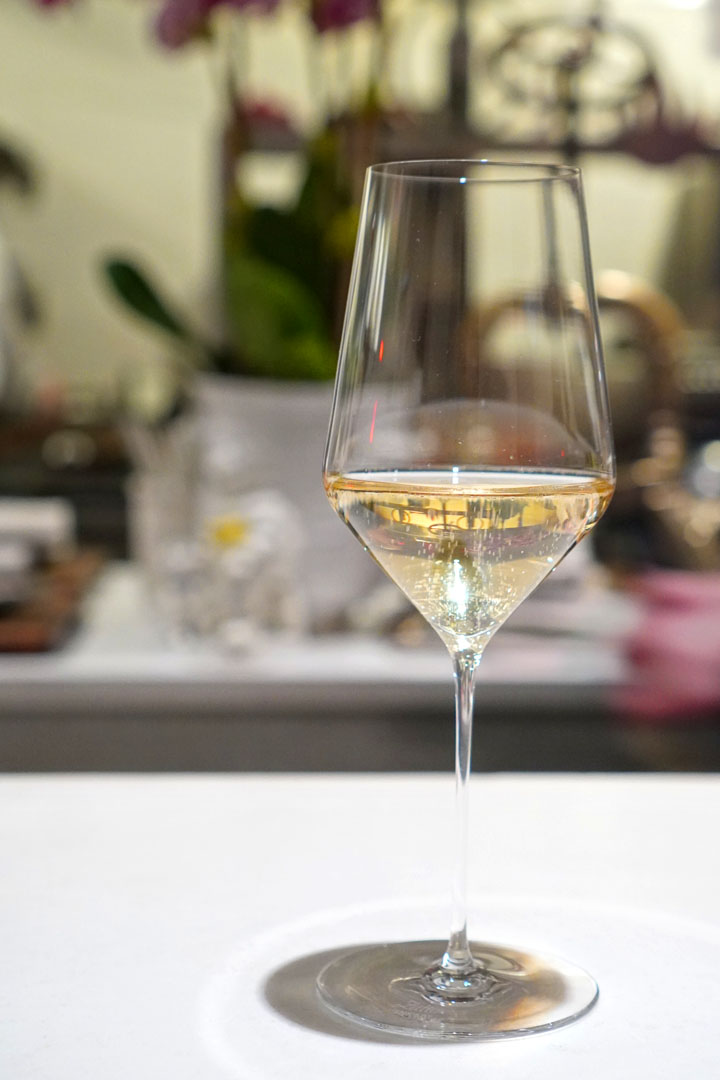 Upon being seated, I was quickly offered a complimentary pour of the
Krug 'Grand Cuvée' Brut, Reims
, which I enjoyed with my amuse-bouches below. The house's signature multi-vintage blend served as an apt apéritif, its robust expression of orchard fruits and lemon counterbalanced by nutty notes in concert with smoky, oxidative nuances.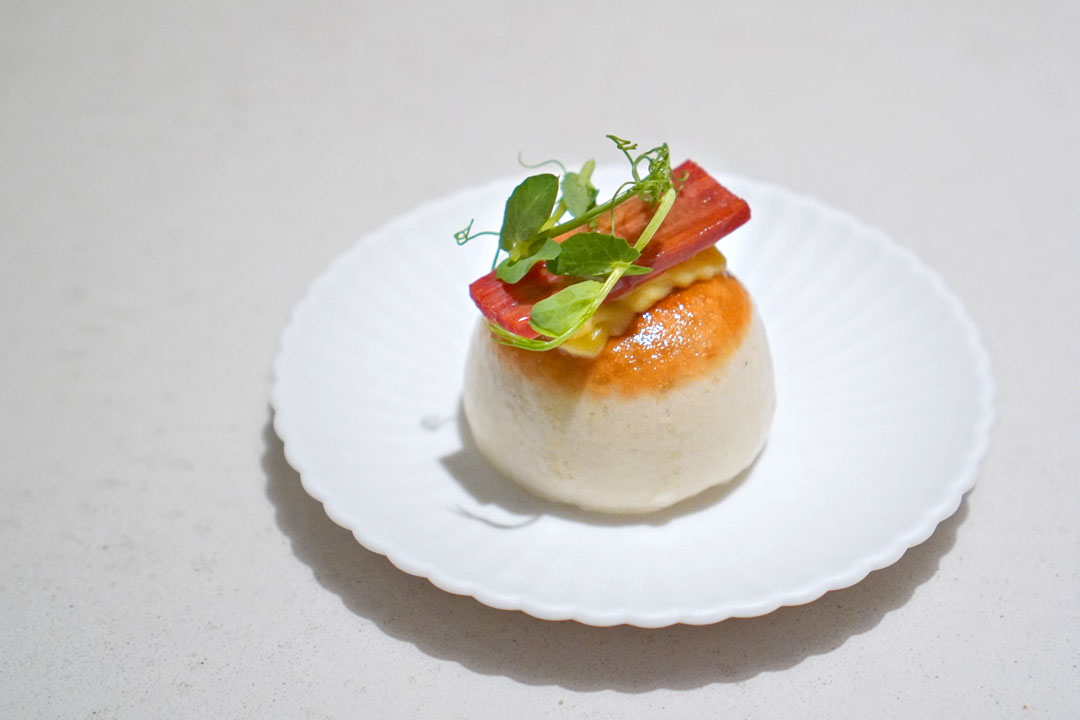 Amuse Bouche 1: LAMB NECK - LACTO CARROT - STEAM BUN
I was presented with five amuses, and my first was what appeared to be a reimagined Chinese
mantou
. The steamed bun was stuffed with a delectably sweet-n-savory lamb neck marmalade, which was offset just enough by some herbs and a slice of lacto-fermented carrot. Nice consistency on the actual bun, too.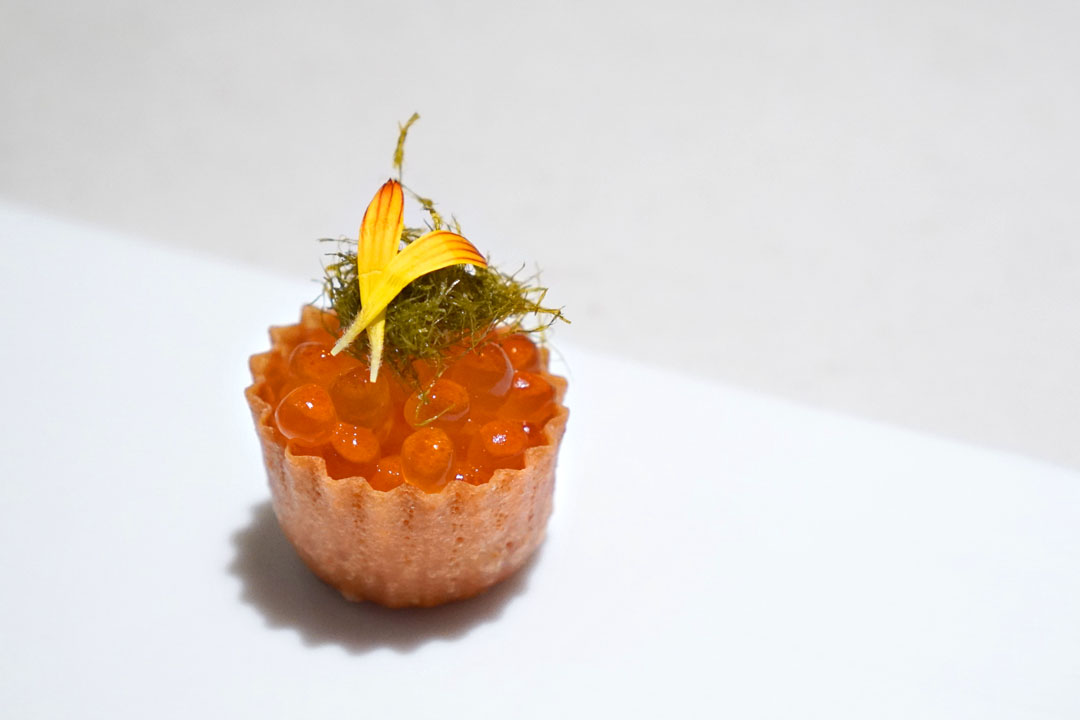 Amuse Bouche 2: SAKURAMASU - GAMTAE - CROUSTADE
Plump globules of
sujiko
showed off a concentrated brine that worked hand-in-hand with a Japanese cherry salmon mousse. The cleverness here was use of the seaweed, which offered up a saline, herby, almost dill-like sensation that served as the perfect finishing touch for the
sakura masu
. I was also a fan of the contrast provided by that crisp pastry shell.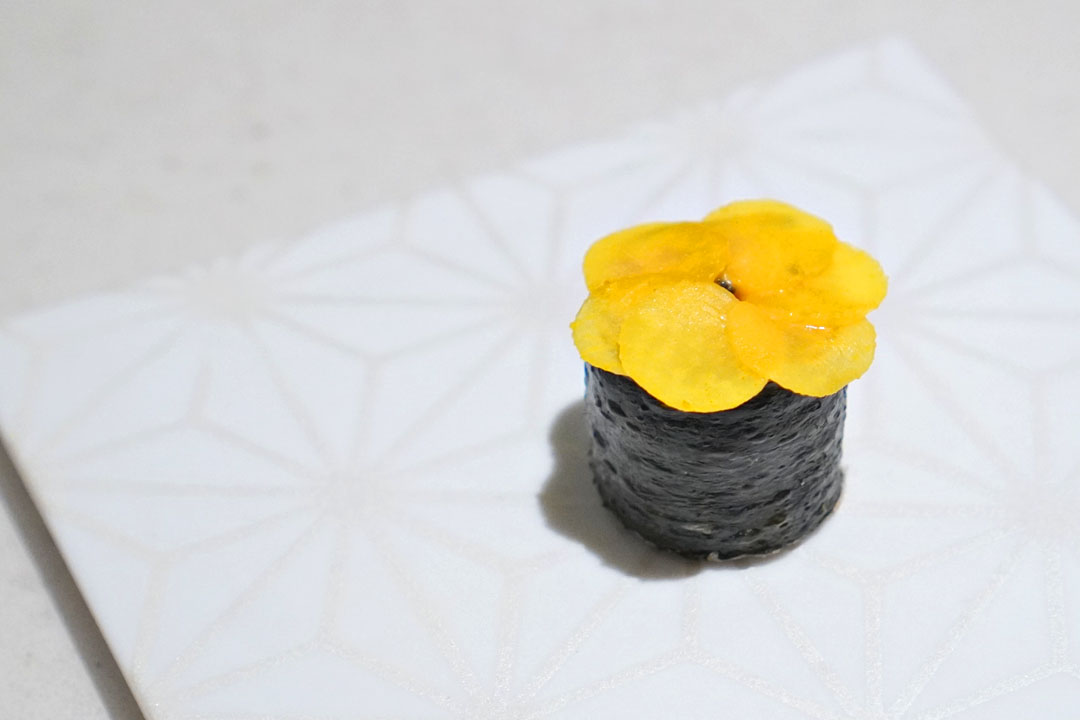 Amuse Bouche 3: WAGYU TARTAR - KOHLRABI - NORI
A tartare of A5 wagyu possessed a pretty remarkable depth that was enhanced by what I believe was smoked aioli and
togarashi
gel. The bite was crowned with disks of pickled kohlrabi, which reminded me of
takuan
and offered up a bit of a respite from the strong flavors going on.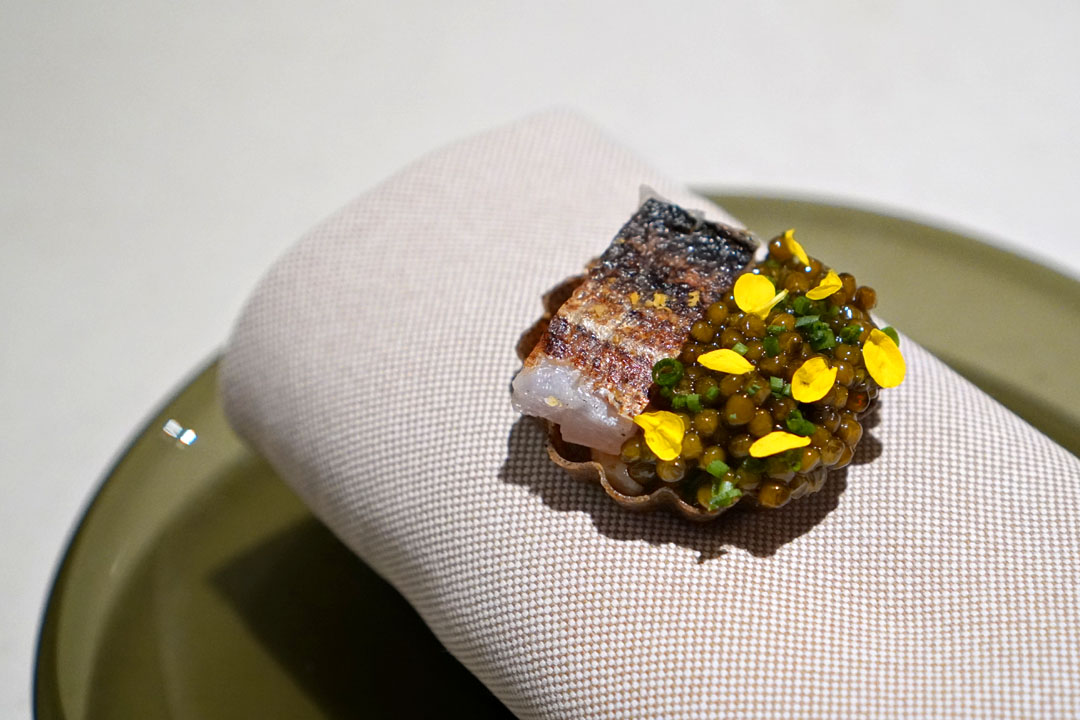 Amuse Bouche 4: KAMASU - WAKAME - LIGHT KALUGA
Grilled Nagasaki barracuda arrived smoky and saline, with the 30-year sturgeon caviar only augmenting the bite's oceany qualities. A creamy sweetness tempered the heady tastes at play, and the seaweed pastry provided some textural variation.
Amuse Bouche 5: FOIE GRAS - GREEN STRAWBERRY - DOUGHNUT
My final amuse turned out to be my favorite of the fivesome. I just loved that savory-sweet-earthy interplay between the miso-marinated foie and green strawberry jam, all juxtaposed against the bite's warm donut base and that sliver of herb up top.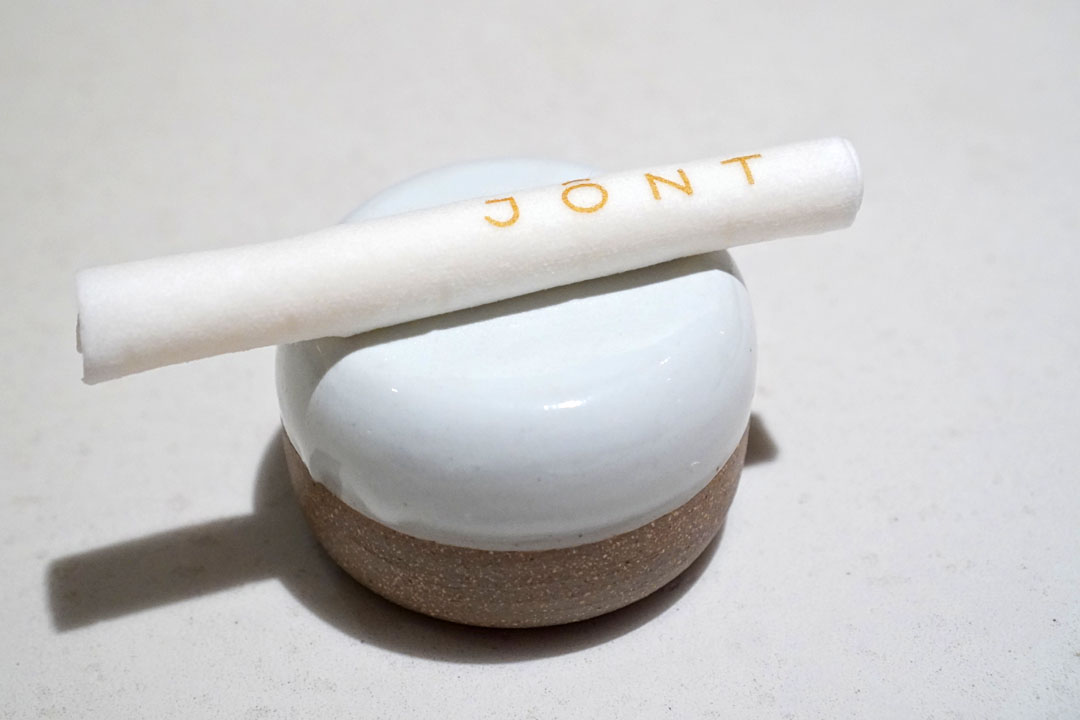 A rolled finger napkin was provided along with the amuses.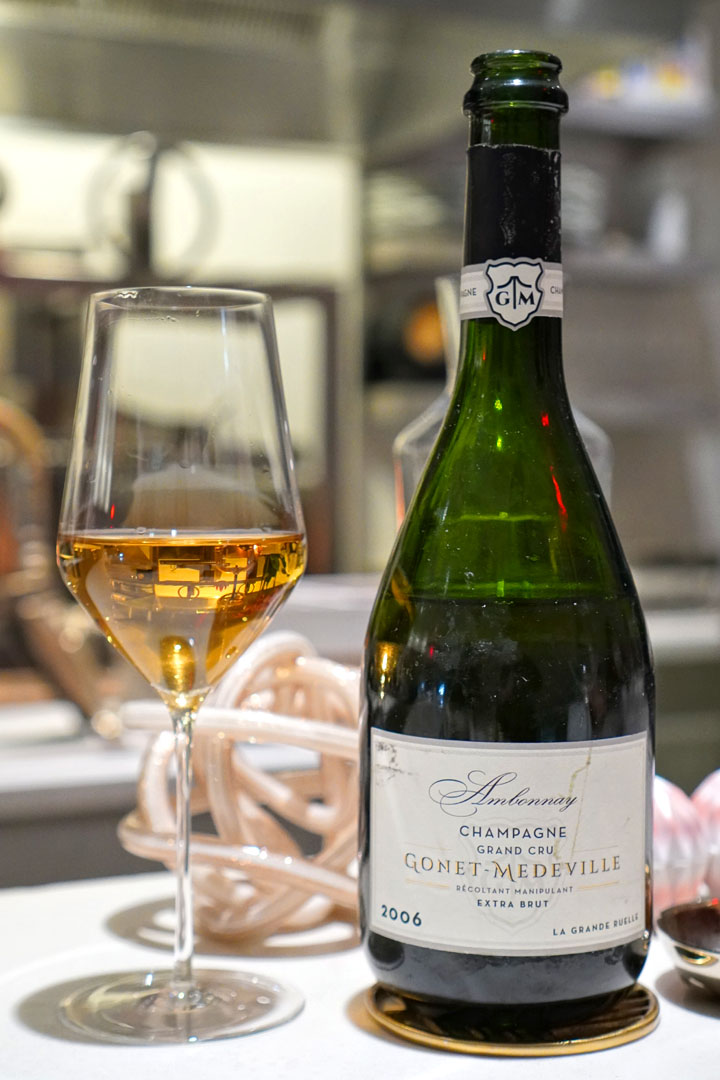 To pair with the rest of my meal, I opted for the
Gonet-Medeville 'La Grande Ruelle' Grand Cru 2006 Extra Brut Ambonnay [$350]
. A blanc de noirs disgorged in July 2018, the wine demonstrated a rich nose rife with ripe, dark-toned orchard fruits commingled with a bevy of almost sherry-like notes. The palate here was similarly concentrated and light on the bubbles, offering up more of those lush fruits alongside oxidative, nutty elements. Later on in the meal, I requested that the bottle be chilled, and this seemed to emphasize the fruitier qualities of the bubbly, while at the end of the evening, the now warmer wine went in a more savory, herby direction. A mature, contemplative sparkler than stood up to all the food I enjoyed tonight.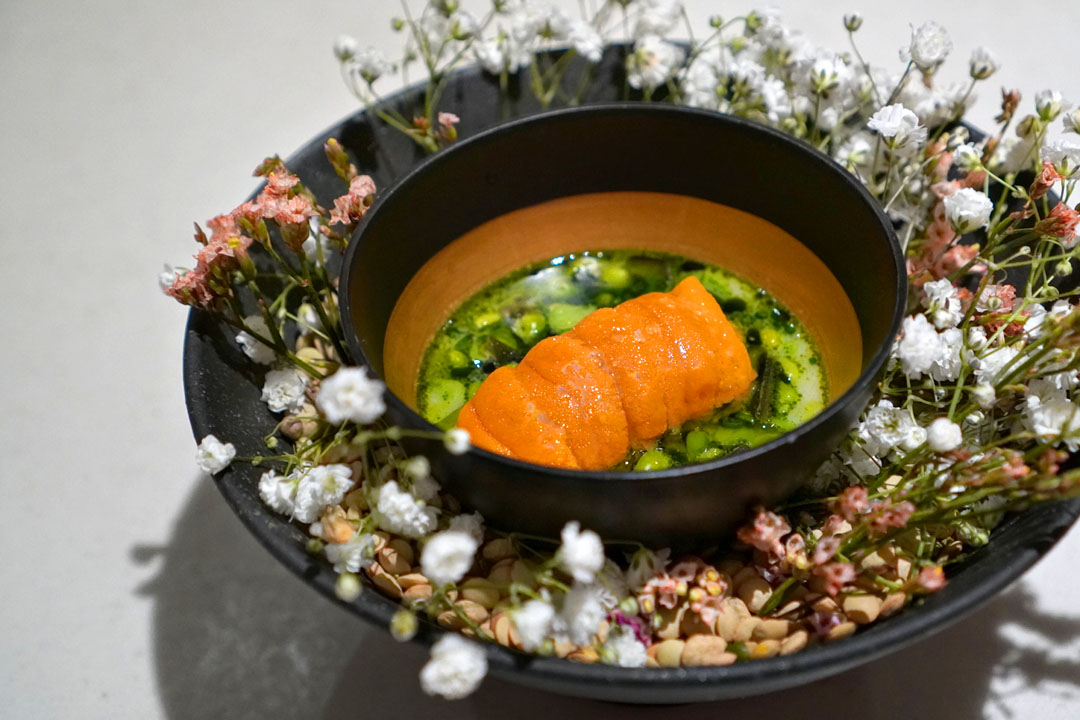 1: BAFUN UNI - HOKKAIDO
| english pea chawanmushi - kombu - soy milk
Our first "proper" course brought together two of my favorite things: peas and sea urchin. I don't think I'd ever encountered this pairing before, but it worked. I was smitten by how the two types of sweetness played off of each other, moderated just a tad by the tang of soy milk. I appreciated the texture contributed by the kombu as well--very cool.
2: SHIMA AJI - OITA
| green apple - salted radish - sudachi
Clean cuts of striped jack showcased a delicate brine that made surprising sense with the plethora of sweet 'n' sour flavors present, and I liked the dish's herbaceous finish, too. Pretty neat.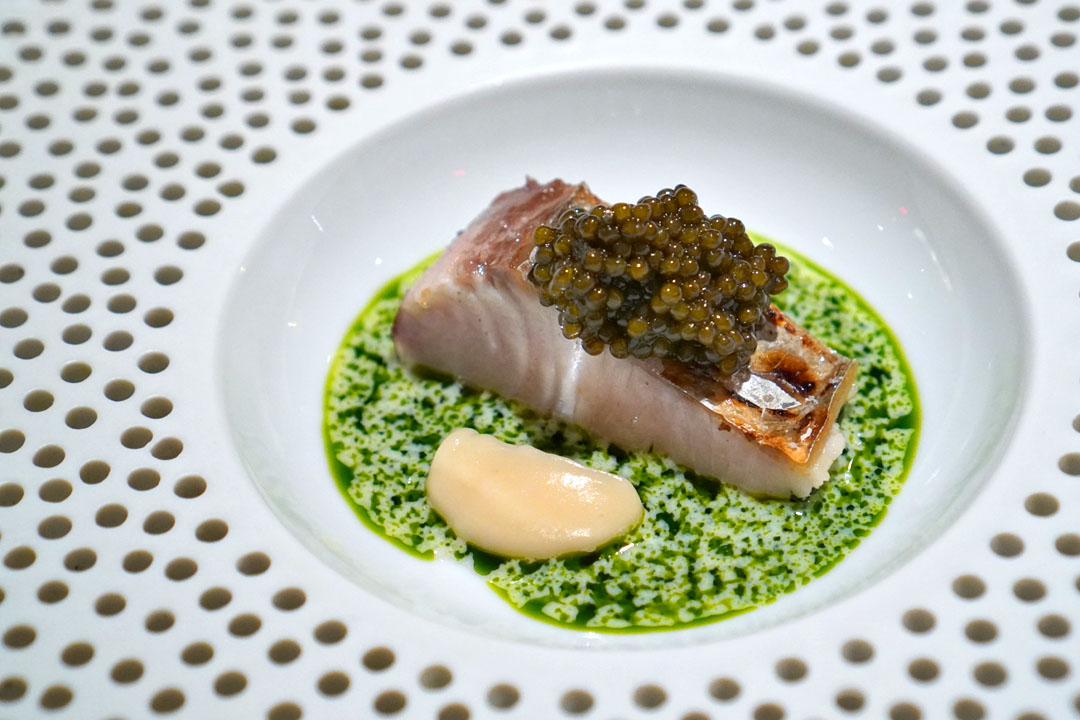 3: SAWARA - TOYAMA
| koji - buttermilk - dark kaluga
Grilled Spanish mackerel came out supple and saline and smoky, with the Petrossian caviar (from ~7-year-old sturgeon) taking things even further. I found that creamy-yet-sharp sauce of buttermilk of herb oils (chive, shiso, basil) very complementary, while a purée of Carolina Gold rice,
koji
, and onion soubise toned things down.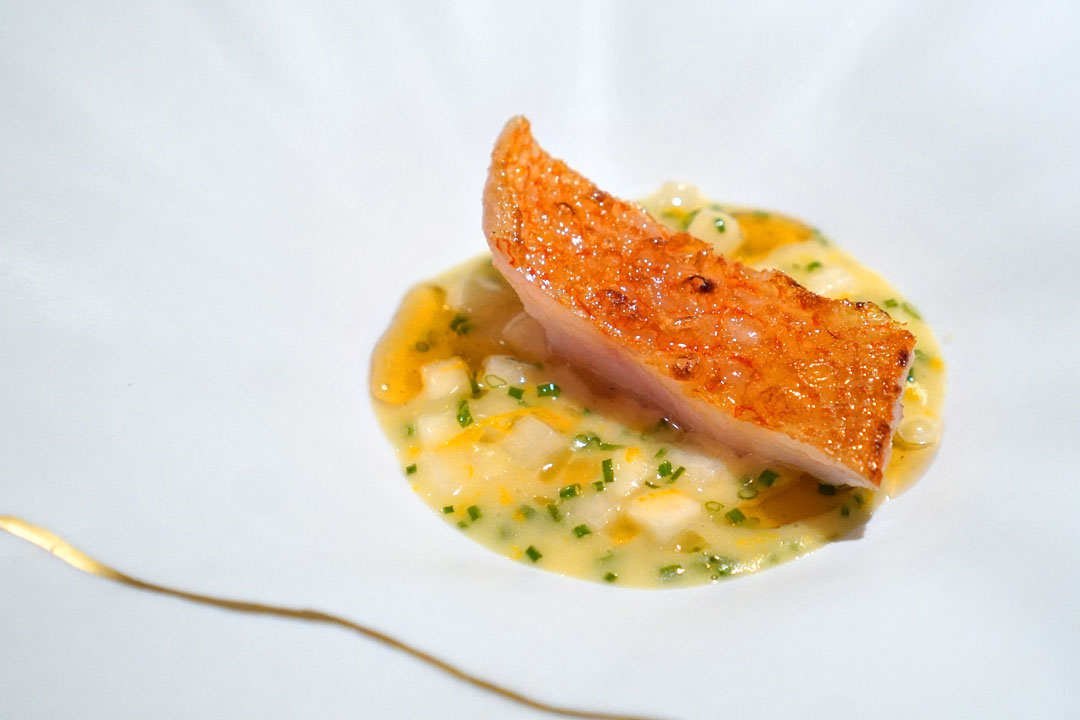 4: KINKI - HOKKAIDO
| cancalaise - sake lees - seaweed
Channel rockfish was super soft and super fatty, and arrived with a wonderfully crispy fried skin. However, the key to this dish was that
beurre cancalaise
, with its buttery, bitter, herby character that married smartly with the fish. I also enjoyed the texture provided by the diced veggies.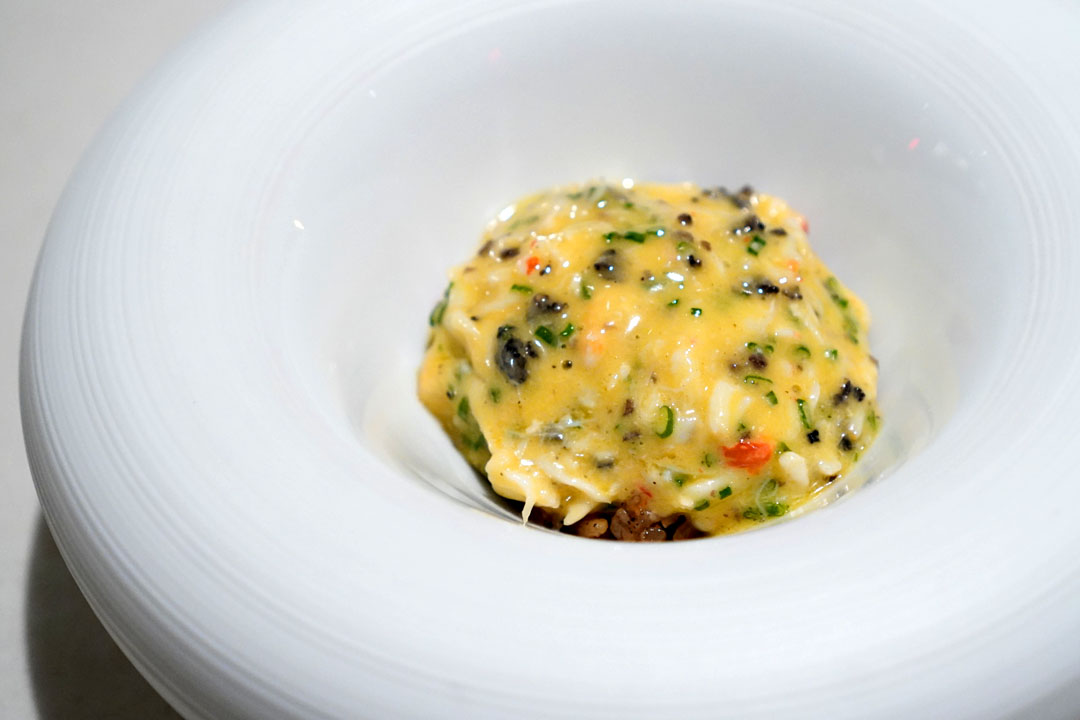 5: KOSHIIBUKI RICE - NIIGATA
| king crab - maitake - truffle
Up next was my favorite course of the night. What we have here is short-grain
donabe
rice cooked directly on coals in order to imbue it with a bit of smoke. The rice is combined with Hokkaido king crab (cooked low and slow over fire to build flavor), preserved Périgord truffles, and maitake, then topped with a
kanimiso
-infused butter sauce. I loved the marriage of all the buttery, briny, herby, truffle-y, and mushroom-y flavors here. It was such a gratifying, fulfilling combination, with a fantastic depth of flavor and a funkiness that almost recalled blue cheese at times. This just might be the best thing I've eaten all year.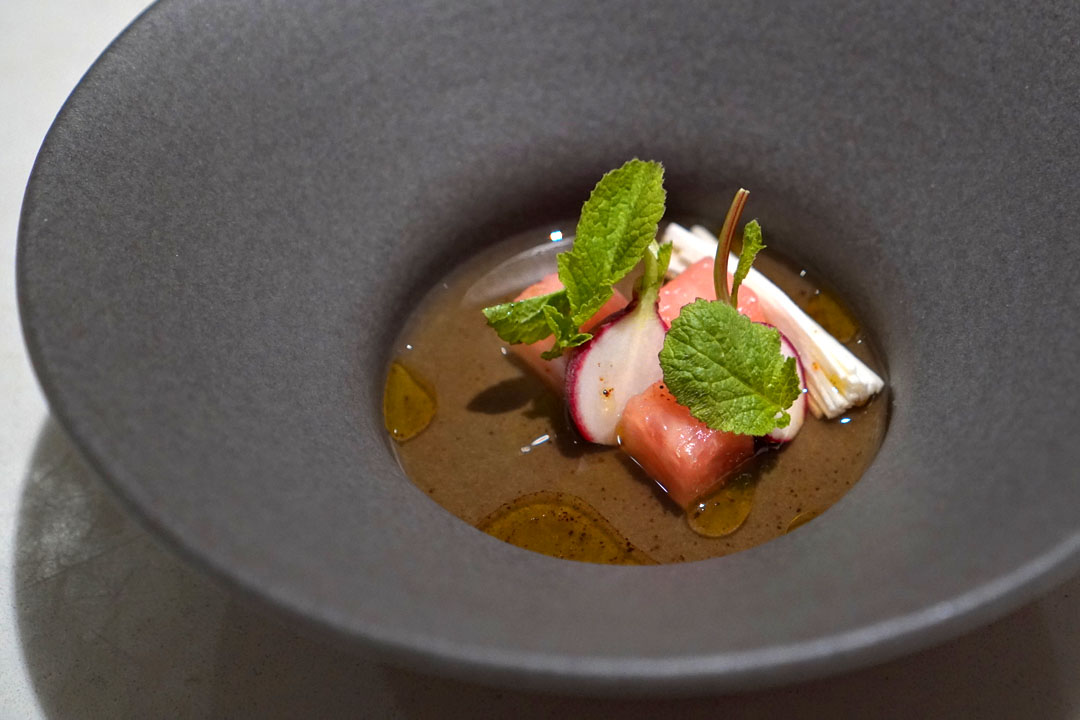 6: PINK PINEAPPLE
| dashi - radish
This course functioned as a palate cleanser, and melded tart, juicy pineapple with the spicy, vegetal bite of radish, all while the hearts of palm modulated the interaction.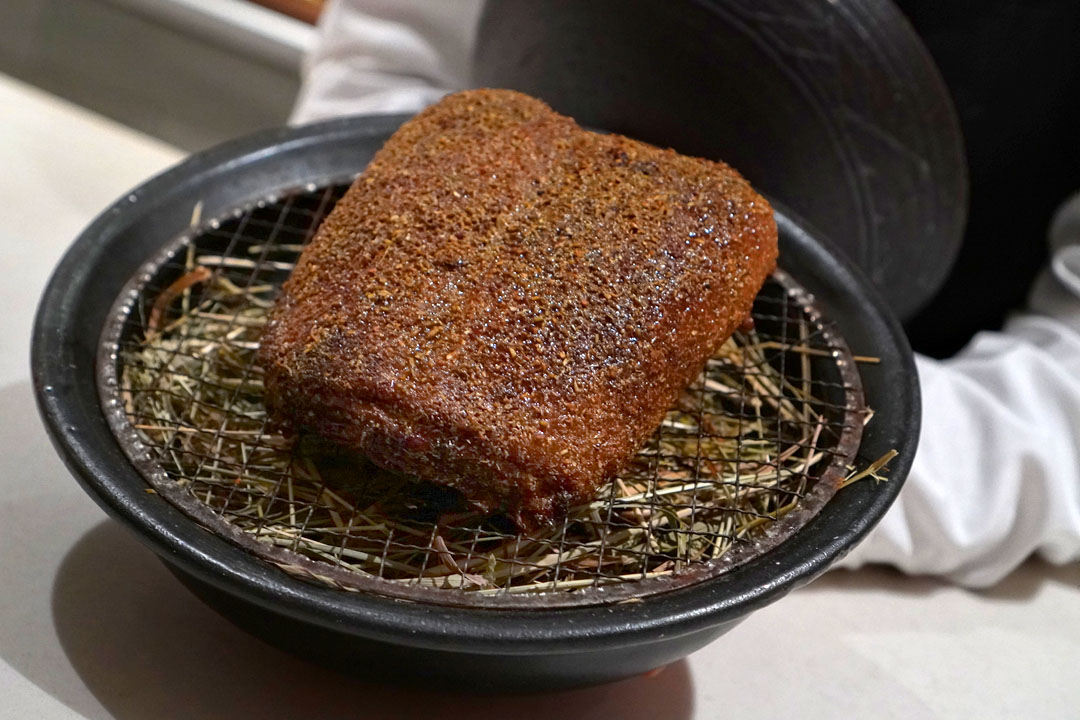 At this point, one of the staff presented the duck breast that we'd be enjoying later on in the meal.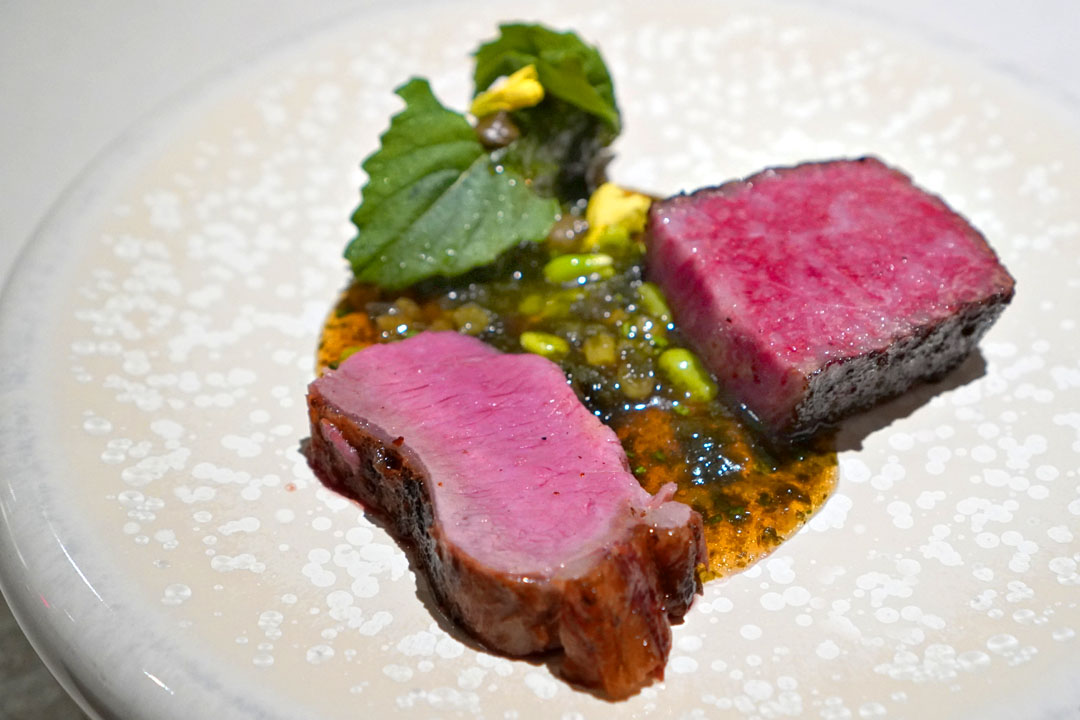 7: LAMB SADDLE - ELYSIAN FIELDS + AUSTRALIAN WAGYU - STONE AXE [+95.00]
| allium - fava - wasabi leaf "dolma"
Next to arrive was a duo of harissa(?)-cured lamb saddle and Australian
Kuroge
wagyu strip loin. I began with the lamb, which ate with a bit of a chew, its refined earthiness on proud display. On the other hand, the beef was a much more luxurious cut thanks to its sheer sumptuousness and nearly melt-in-your-mouth consistency; it was probably the closest non-Japanese wagyu has gotten to Japanese wagyu for me. We also had braised lamb belly wrapped in wasabi leaf, which lent a grassy, punchy taste that balanced out the heft of the meat. Finally, helping to bring everything together was a lamb consommé with fava and pickled wasabi stems, which had a bitter, vegetal austerity to it that effectively played off of the potency of this course.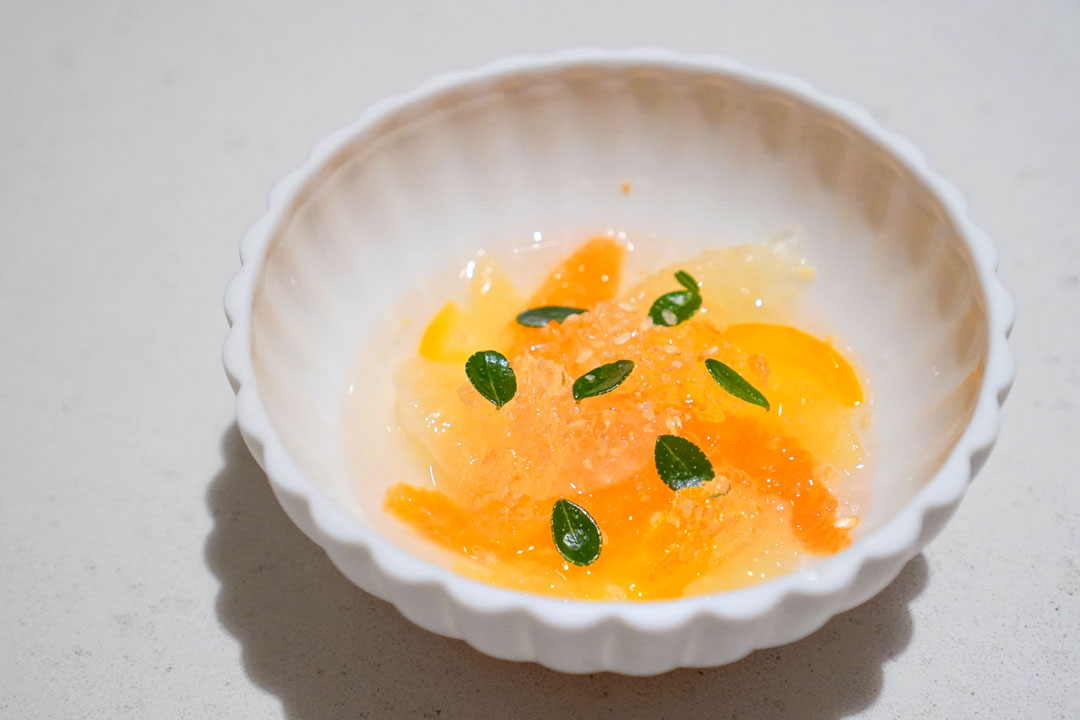 8: SPRING CITRUS
| sesame - kinome - rice vinegar
Another palate cleansing intermezzo highlighted the brightness of citrus, but backed by an unexpected depth and complexity that I really appreciated.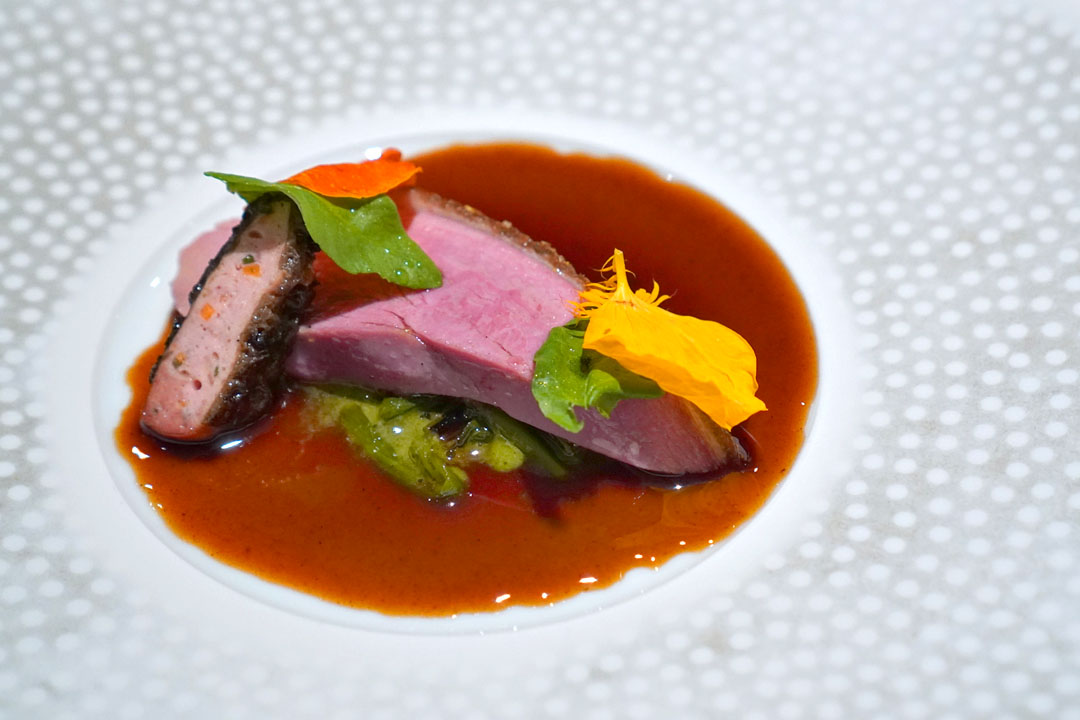 9: DRY AGED BARBARIE DUCK
| ramp - sauce à la royale - stuffed morel - "fujisan bread" - bone & buckwheat broth
Our final savory was a 24-day dry-aged Barbary duck, a lean, robust tasting bird with a distinct zinginess to it that may have come from sansho. I was a fan of how it paired with the accompanying sauce, a sweet, richly flavored concoction made from the pressed duck carcass, pickled ramp bottoms, and ramp oil. If that wasn't enough, we also had a duck sausage stuffed in a morel mushroom, which was just fantastic--I could've eaten a dozen more of those guys.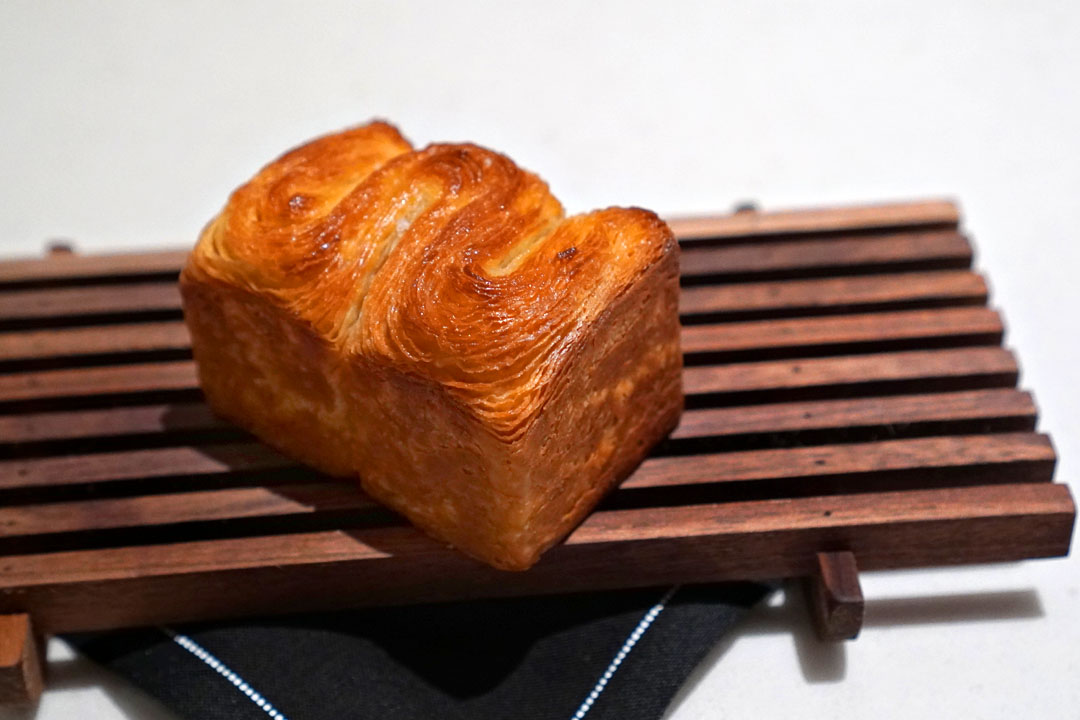 Jônt's riff on Japanese milk bread had this croissant-like, laminated texture that was quite beguiling, and I eagerly used the bread to sop up the remaining sauce from the dish above.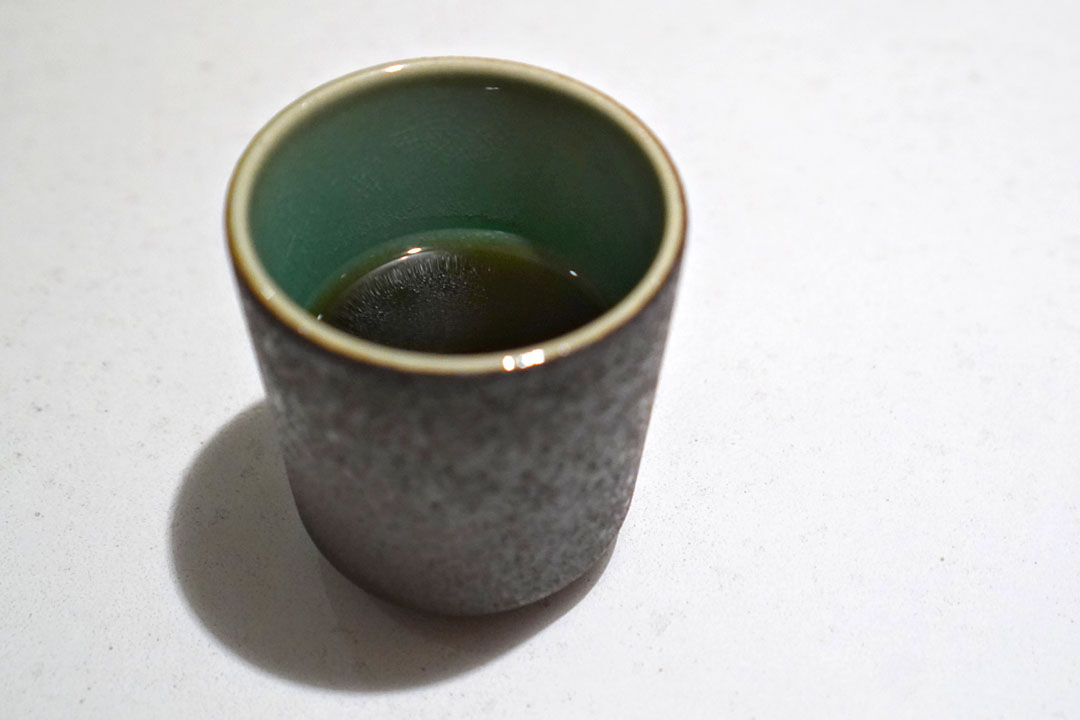 A duck bone-buckwheat broth was homey and heartwarming, and functioned as a nice closer to the savory portion of the dinner.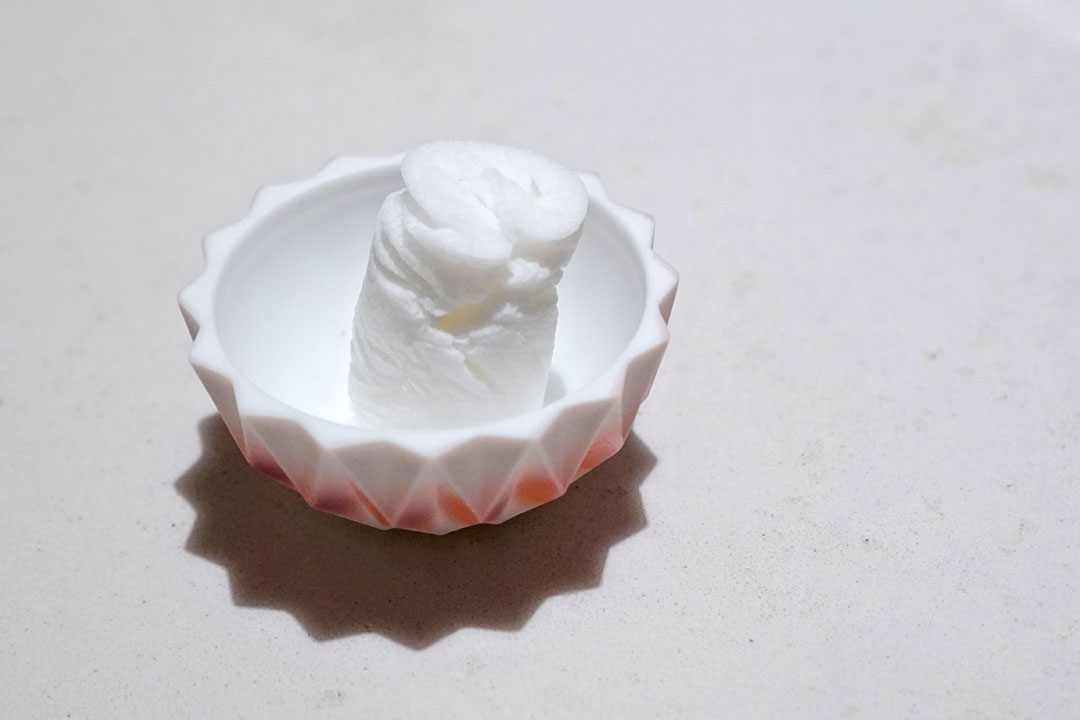 This container holding a finger napkin was sitting at the counter the entire night, and I was wondering when it'd finally make its appearance.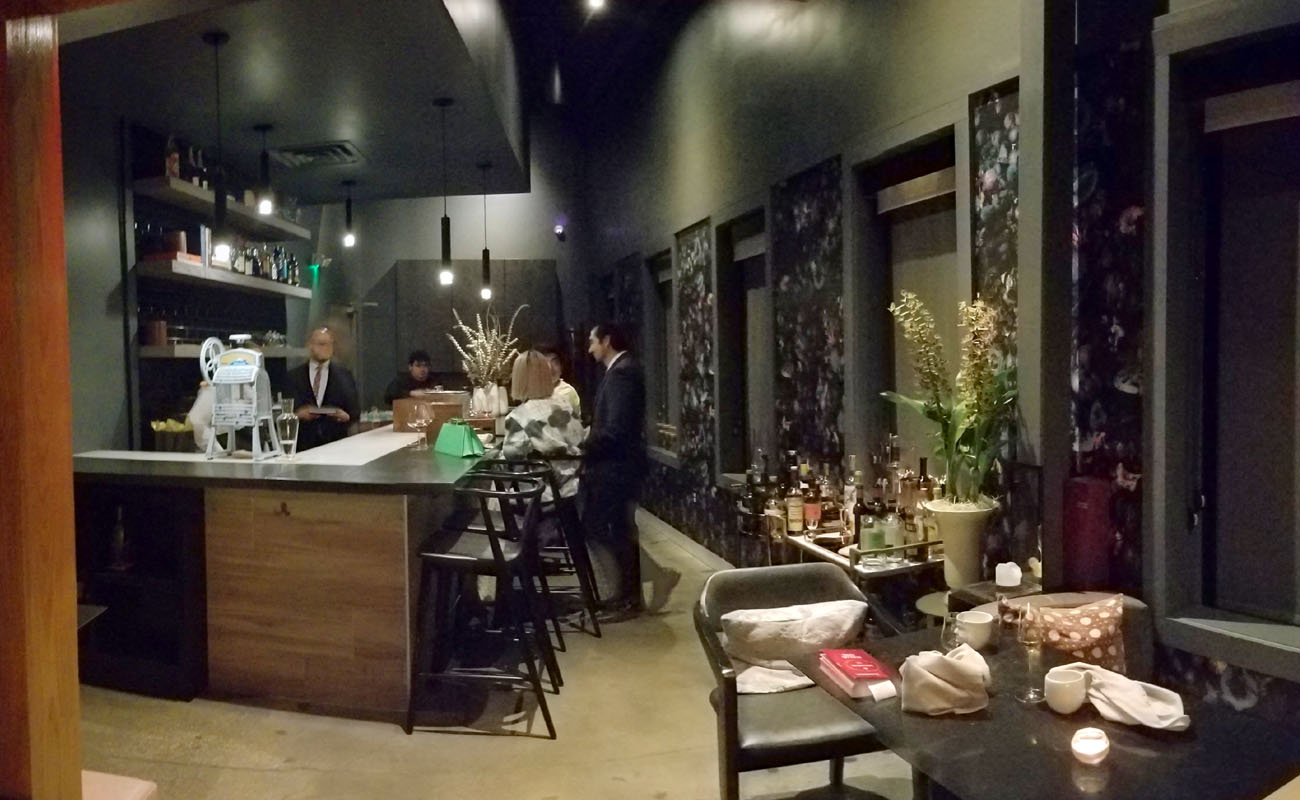 With the main part of our meal completed, we retired to the restaurant's bar/lounge area for dessert.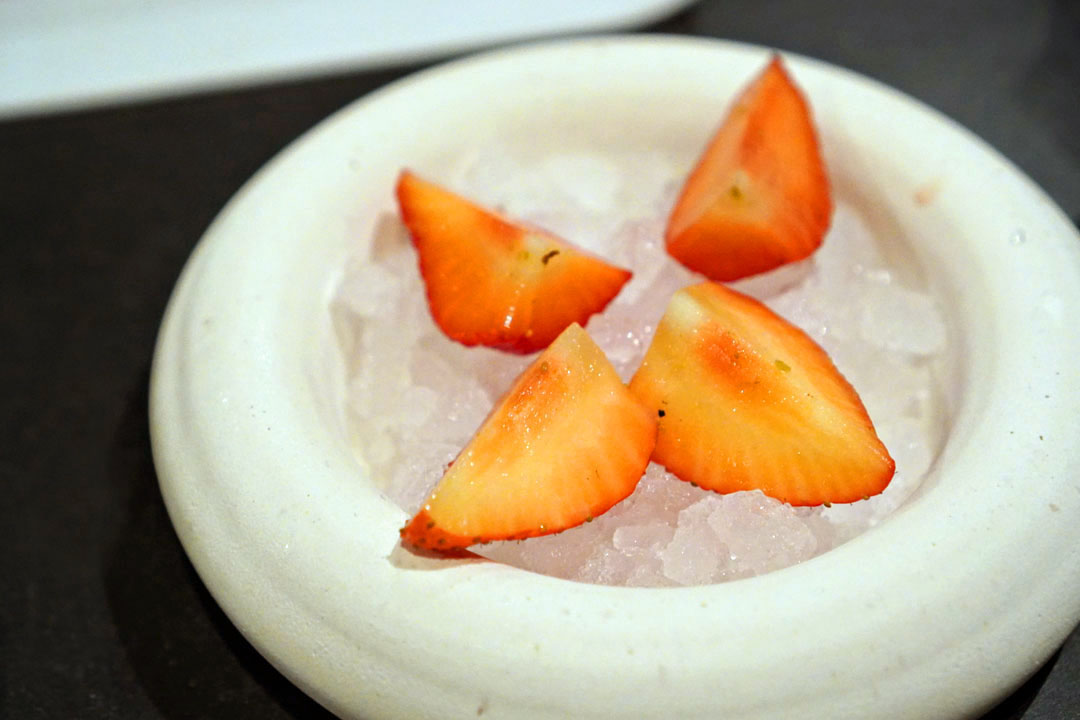 10: TASTING OF STRAWBERRY
| lemonade bomb - dulce de leche - fresh berry
Served with local honey and green sansho pepper, end-of-season Skyberry strawberries from Japan's Tochigi Prefecture were seemingly extra sweet and juicy. A refreshing start to dessert.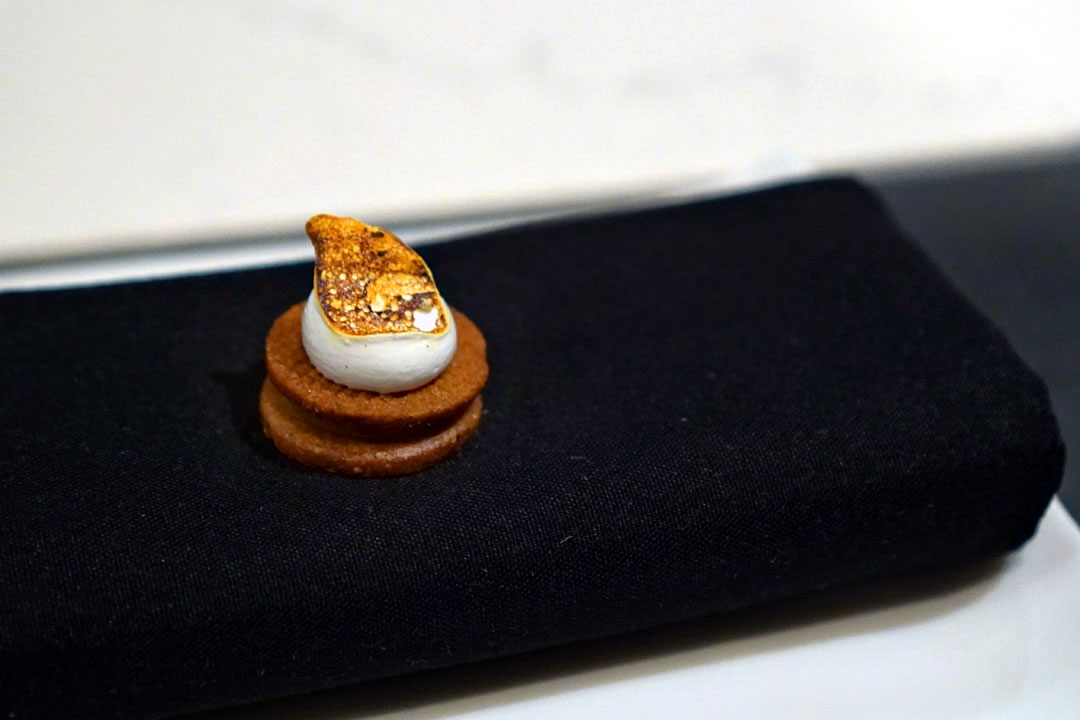 This next bite was composed of sesame cookies, filled with sugary dulce de leche and strawberry jam, then topped with a delightfully smoky binchotan-charred meringue.
A yuzu-strawberry bombe featured a liquid center that readily exploded upon mastication. Fun.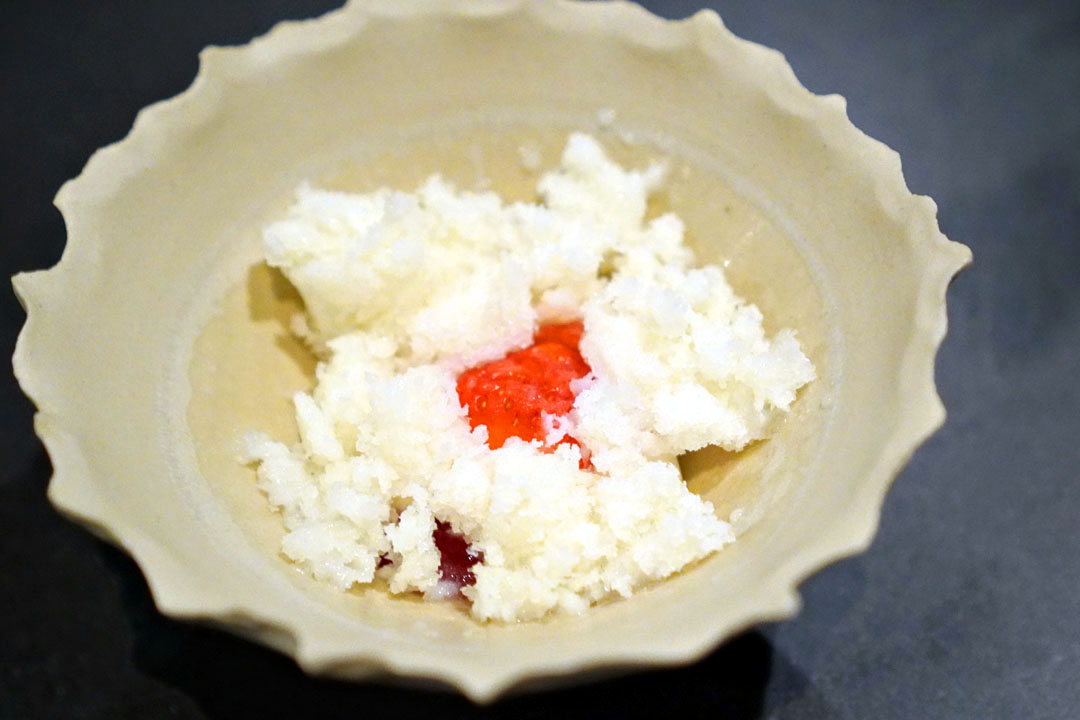 11: KAKIGORI
| jasmine - oishii strawberry - amazake
The
kakigori
was superb, and probably one of the best preparations of shaved ice I've had. I found the dessert simultaneously familiar, bracing, and intriguing, its candied strawberry flavors melding with jasmine tea, vanilla(?), and the sweet, somewhat pungent nature of
amazake
.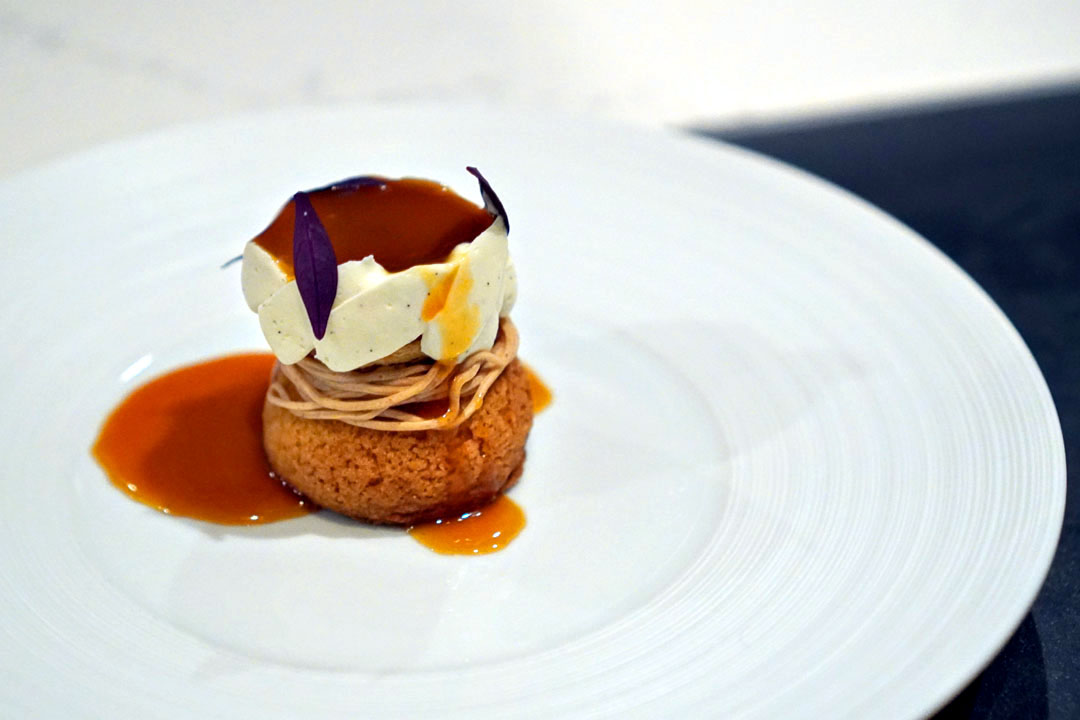 12: MONT BLANC
| murasaki sweet potato - dulcey ganache - white miso
The Mont Blanc was my favorite of the desserts, and likely the best version of the dish I've had. It did a great job highlighting chestnuts along with sweet potato, and I was a big fan of the dish's buttery biscuit base and how the miso imparted some umami to the mix. Absolutely delish.
Mignardise 1: VANILLA MADELEINES
Madeleines were pretty much textbook, arriving light, spongy, and vanilla-scented. Note the personalized thank you card.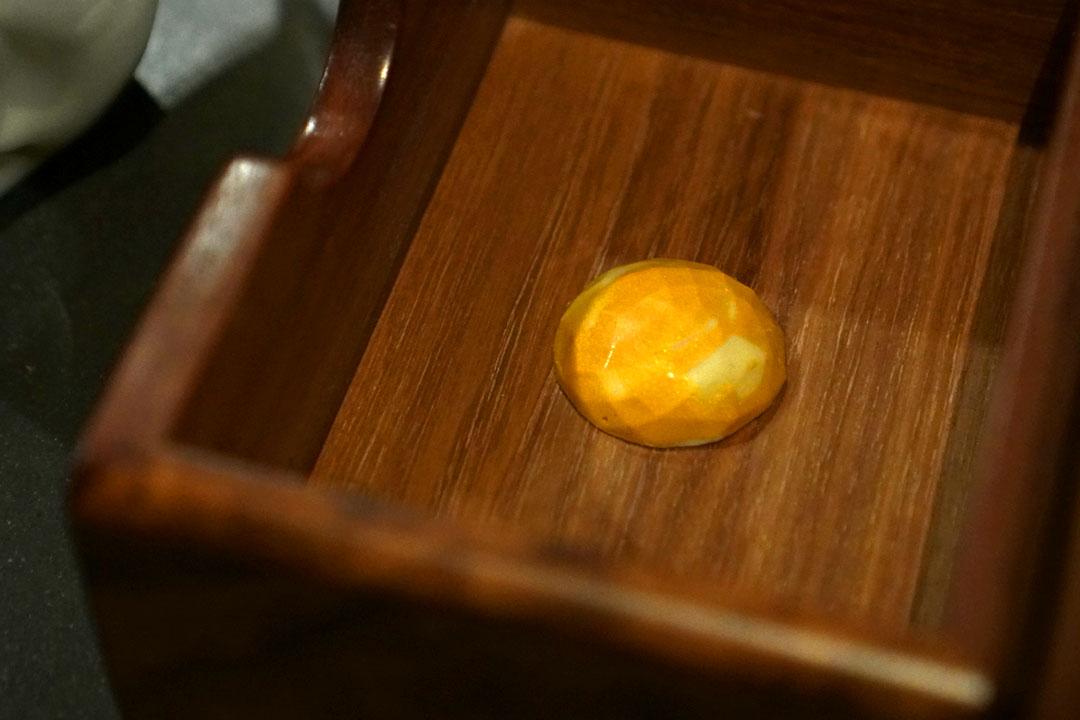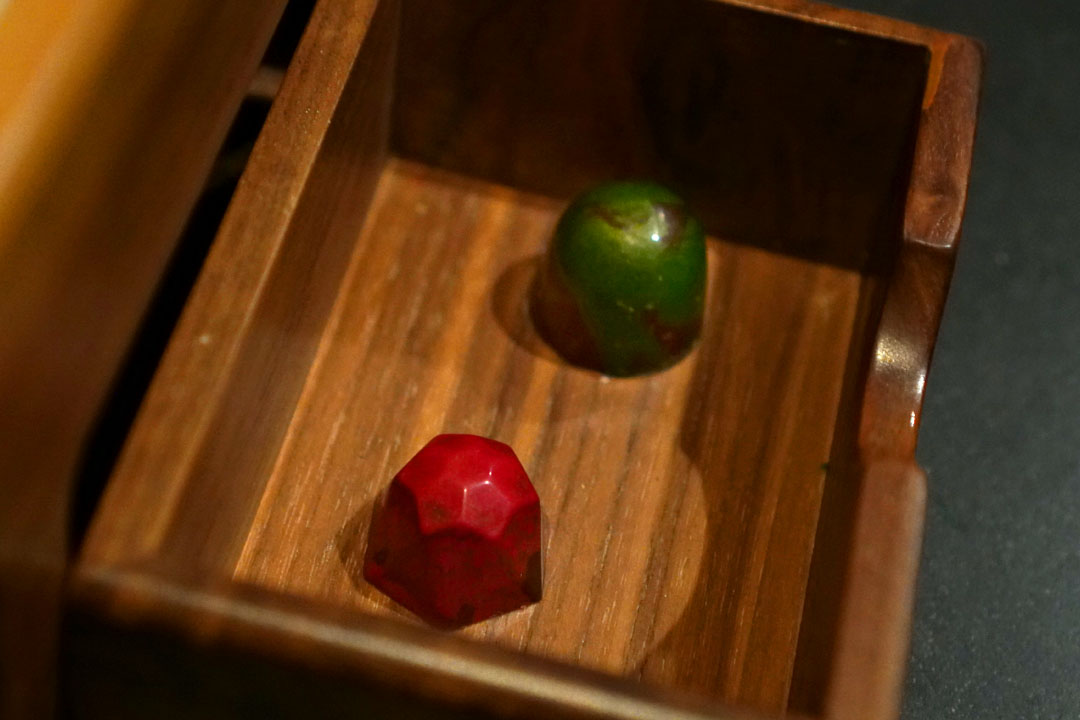 Mignardise 2: YUZU OLIVE OIL - COQUITO - HAZELNUT
Next came a presentation of bonbons. I particularly enjoyed the coquito (the red one) thanks to its sweet spicing, while the hazelnut (in green) had this almost Asian-y funk to it that was pretty neat.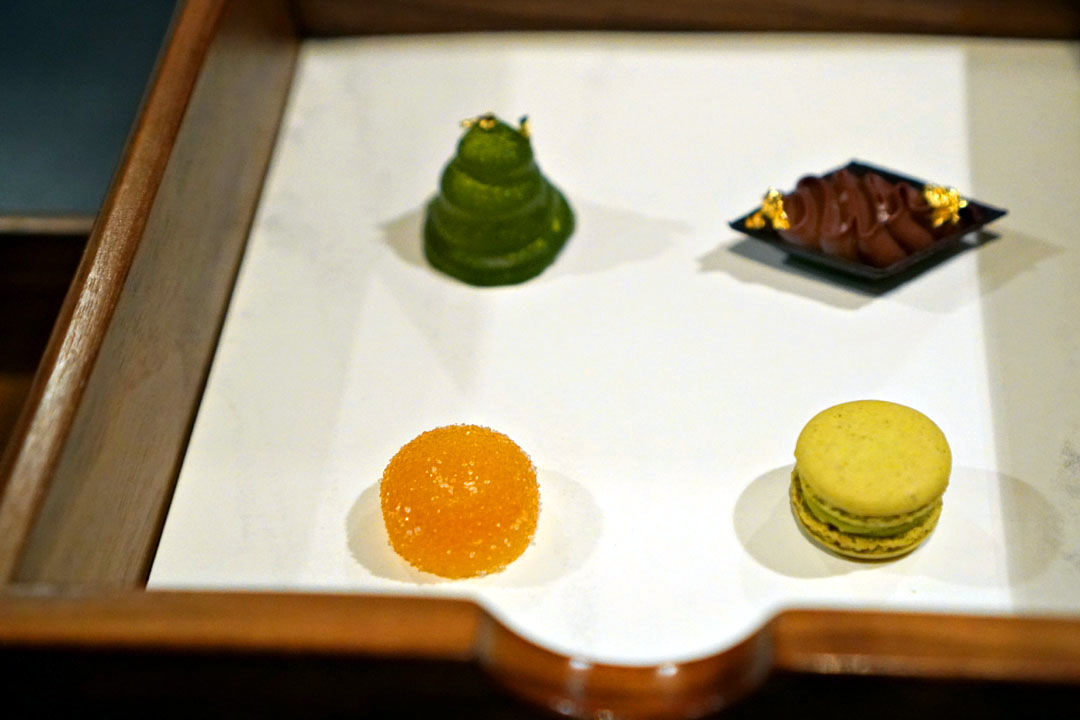 Mignardise 3: MANDARIN - EARL GREY - PISTACHIO - MATCHA
The bonbon trio above was followed by four more bites, my favorite of which was the pistachio macaron, followed by that mandarin orange pâte de fruit.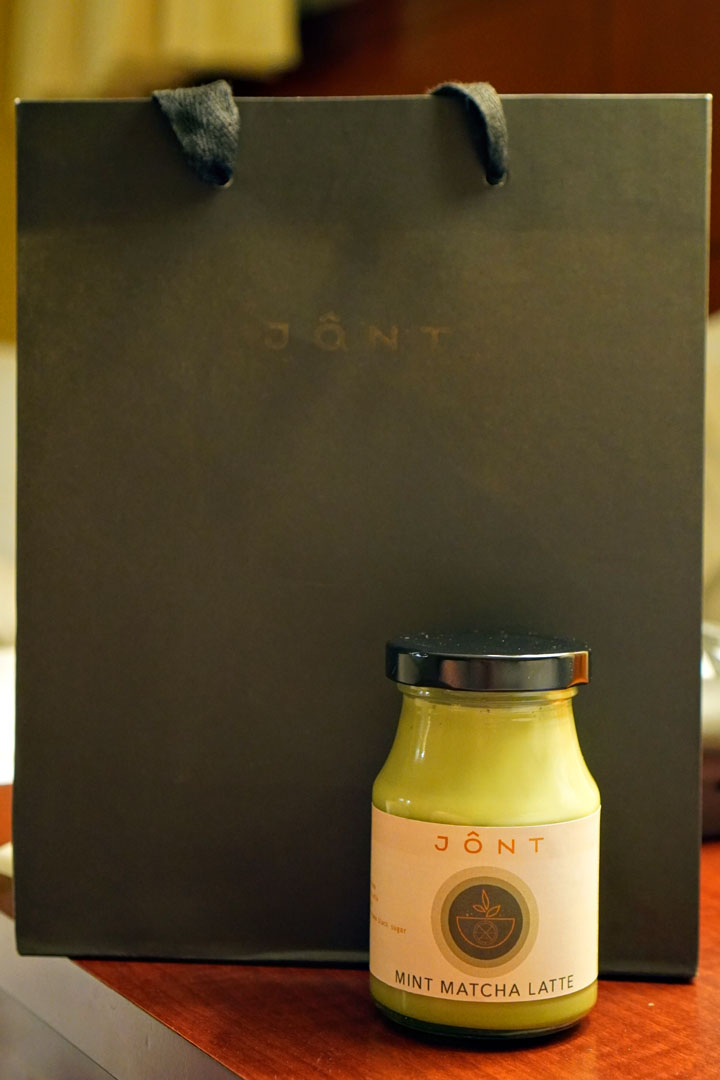 As a parting gift, I was given a container of
Mint Matcha Latte
, which comprised matcha, oat milk, mint, and Okinawa black sugar (
kokuto
). I drank it the next day, and found it nutty and creamy, with lovely bittersweet tea notes and an overarching mintiness.
I'd been wanting to check out Jônt ever since I had heard about the restaurant back in 2019, and I'm really glad that I was finally able to make it out here. The kitchen did a great job weaving Japanese influences into their contemporary American menu in a seamless, unobtrusive, and most importantly, delicious manner. The service was also commendable, likely the best I've witnessed all year, and overall, I can see why this place was able to land two Michelin stars. As for next steps, the team is in the process of launching a high-end cocktail bar at The Wharf development called
Press Club
, to be helmed by Jônt/Bresca Beverage Director Will Patton. Apparently it's going to be inspired by the vinyl bars of Tokyo, and is slated to open this fall, so that'll definitely be on my list to try next time I'm in town.