Selva (Long Beach, CA)
Selva Restaurant
4137 E Anaheim St, Long Beach, CA 90804
562.343.5630
www.selvalbc.com
Sun 05/28/2023, 07:50p-09:45p

I was recently on the search for a promising dining option in the LBC and came across Selva, a Colombian-inspired spot situated in Long Beach's Zaferia neighborhood. Named after a sort of equatorial forest prevalent in the Amazon basin, the place opened last February and resides in the former home of The Hideaway. In fact, the owners are the same (Patrick Malone, Geoffery Rau, Karna Rau--they also operate Roundin' 3rd next door), and they've brought on
Carlos Jurado
as Executive Chef/Partner.
About the Chef
: Carlos Jurado was born in Cali, Colombia in August 1987, though his family immigrated to Long Beach when he was just a toddler, and he spent his childhood in both Southern California and Nashville. It was only during his teenage years when he returned to Colombia, which allowed him to reconnect with his roots, especially with regard to food. He struggled with drug addiction in his later teens, but eventually got his act together and enrolled at the Le Cordon Bleu College of Culinary Arts in Pasadena, where he received his AOS degree in 2011.
In February 2013, Jurado was able to secure a line cook position at
Bouchon
in Beverly Hills, and also staged at
The French Laundry
during this period. He didn't stay there long though, and jumped ship to
Jordan Kahn
's
Red Medicine
that November. He remained for a year, then went to work at the DTLA location of
Border Grill
. At the end of 2015, Jurado relocated to Nashville to cook at Husk, while October 2016 saw him transition to a role at The Catbird Seat, under Ryan Poli. However, he returned to SoCal in March of 2017 due to his wife's pregnancy, as he wanted to be closer to family. He quickly landed a culinary production manager gig at COCINA, a media company focused on Hispanic cuisine, and soon joined the opening team over at
Vespertine
.
The restaurant wound up opening in July 2017, though Jurado decamped that December for an EC position at Chef'd, a meal kit service company. He resigned from his post at Chef'd in August 2018, then began hosting
Selva
pop-up dinners inside his San Pedro home while also working as exec chef/food stylist at Media X Agency in Manhattan Beach. In November 2020, he was hired to rework the menu at Ubuntu Café in Long Beach, and in April 2021, he began consulting for MoonGoat Coffee Roasters in Costa Mesa. Soon after, Jurado partnered with the ownership team at The Hideaway to turn his Selva pop-ups into a proper restaurant, and the place ended up grand-opening on February 4th last year.

As I mentioned above, Selva takes over the former home of The Hideaway steakhouse, but before that, the space held the likes of Callaloo Caribbean Kitchen, The Generation Gap smoke shop, and
Frenchy's Bistro
(one of the first places I ever blogged about). The restaurant is divided into bar and dining room areas, and the decor really hasn't changed much since the Hideaway days, which isn't necessarily a bad thing.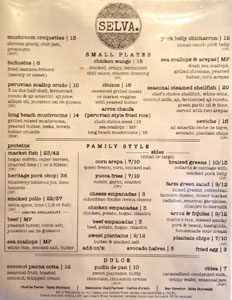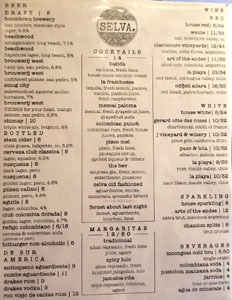 Here we Selva's menu, which is centered on wood-fired Colombian fare, but also flirts with the Peruvian cuisine playbook. Drink-wise, you get a reasonable selection of beers and wines, not to mention cocktails from Bar Director Mike Borowski. Click for larger versions.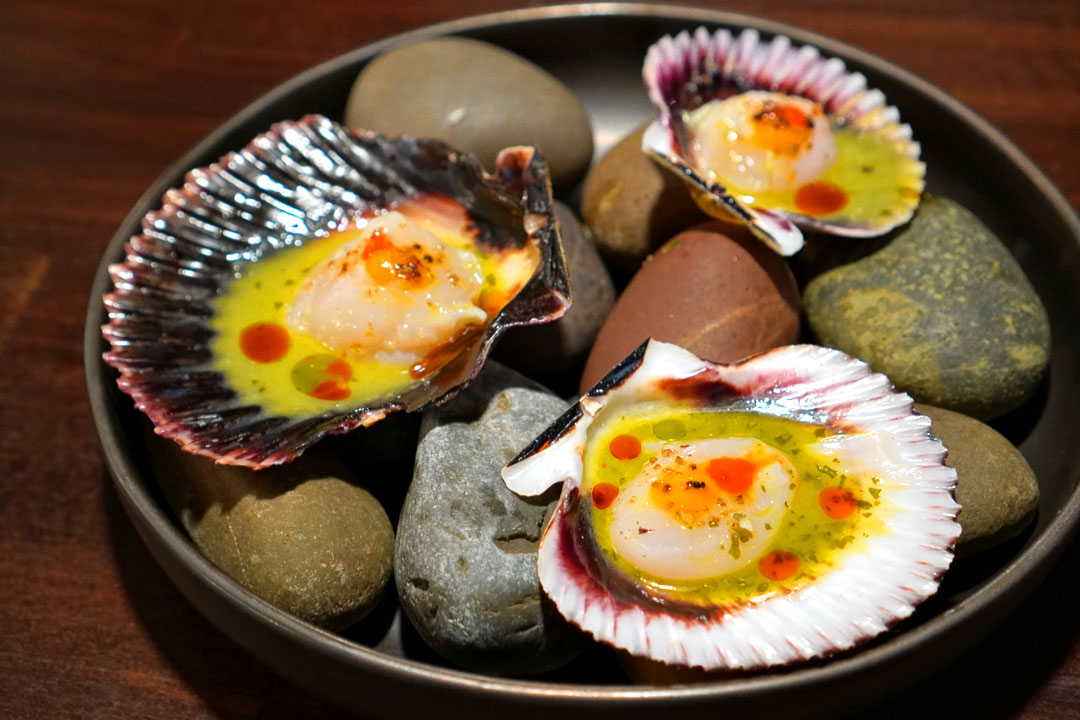 Peruvian Scallop Crudo [$10.00]
| 3 on the half shell, fermented rocoto & aji amarillo, aji juice, allium oil, yucateco sal de gusano
Our meal kicked off with a bang thanks to these scallops. I got a nice spice and acidity right up front, which then led to the bivalves' signature sweet brine, while the finish revealed heat and a punch of salinity from the worm salt.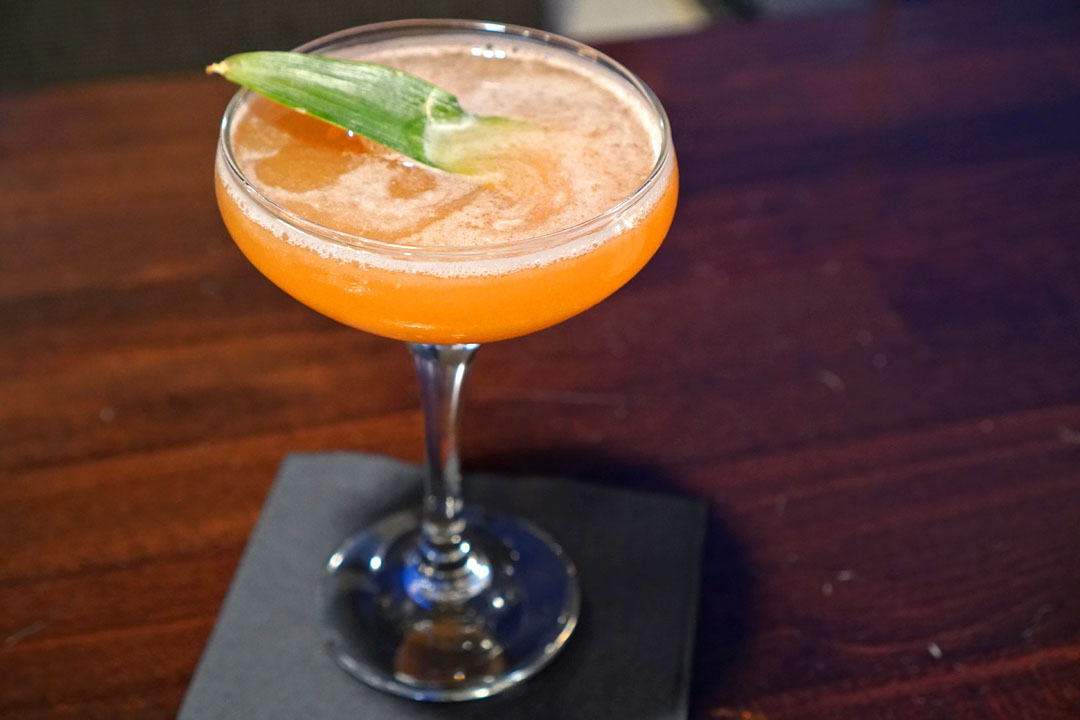 Pisco Mel [$14.00]
| pisco, fresh lime, pineapple syrup, apricot liqueur & bitters
We went with cocktails tonight, and the first one did a good job showcasing the pisco, commixed with juicy pineapple and an undercurrent of bitterness, with the apricot making itself known on the back end. Curiously, I even detected a bit of a ketchup-like taste in there.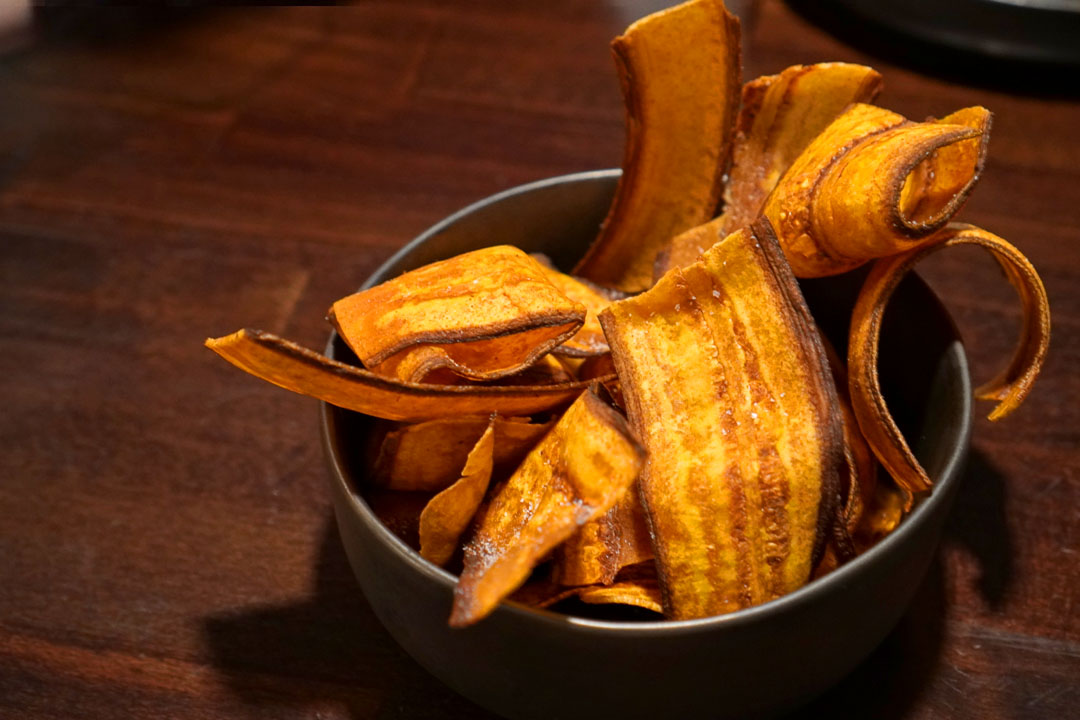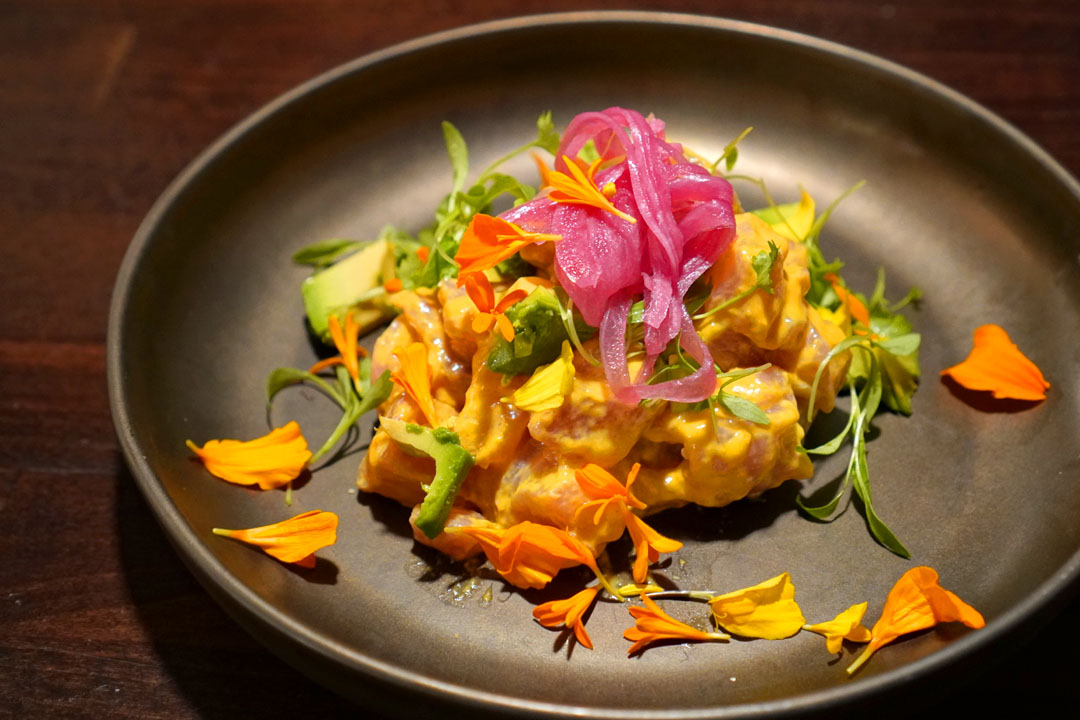 Ceviche [$16.00]
| aji amarillo leche de tigre, avocado, plantain chips
Yellowtail came out satisfyingly textured and imbued with a creeping heat, though I would've liked a touch more acidity from the tiger's milk. Meanwhile, the plantain chips demonstrated a great amalgam of sweet 'n' savory, and served as a fitting accompaniment to the ceviche.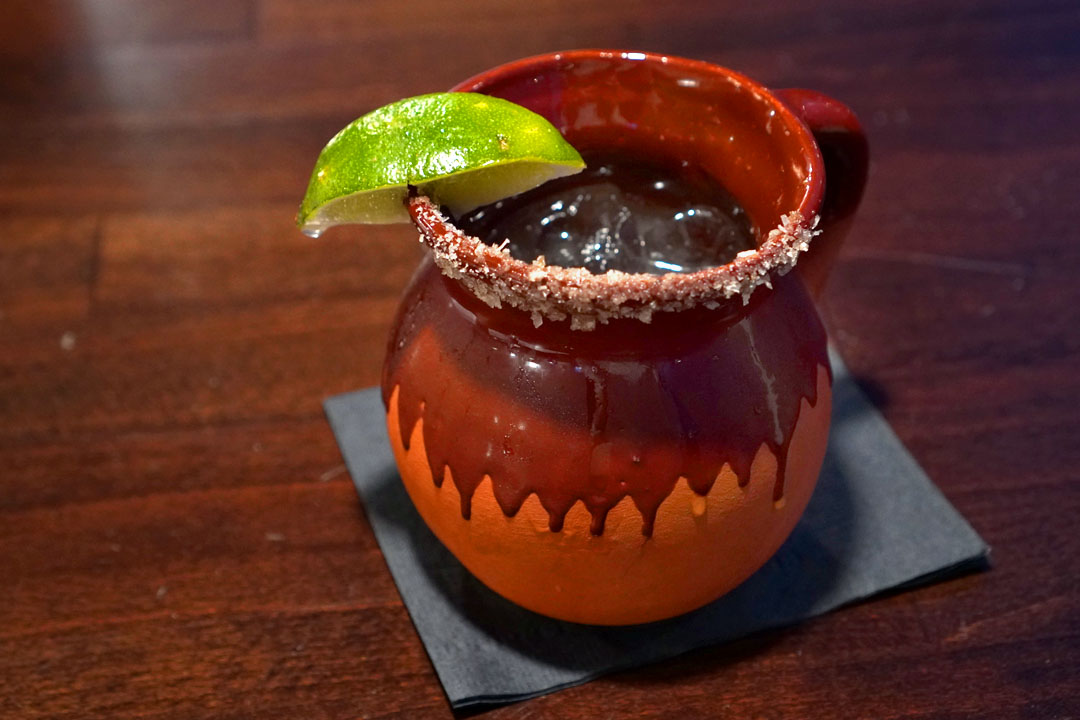 Tradicional [$12.00]
| altos reposado, fresh lime juice, agave
The margarita is perhaps the most "obvious" cocktail on the list, but this was a solid rendition. I found it a tad more refreshing and easier-drinking than most, while the drink's salted rim never got overwhelming.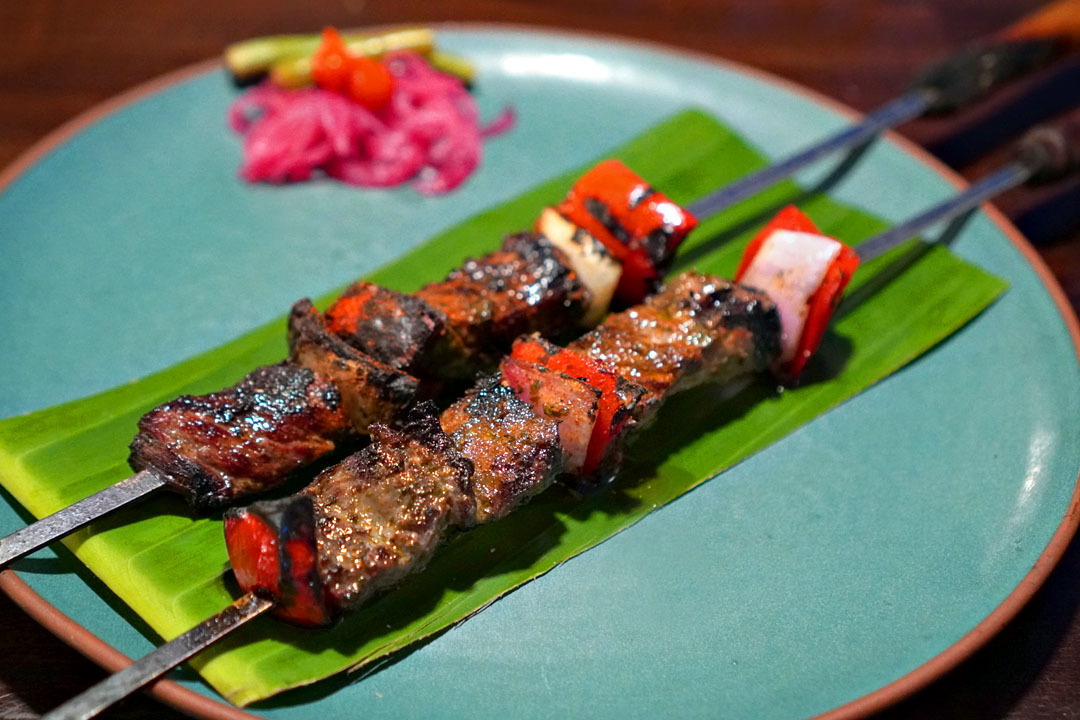 Chuzos [$16.00]
| skewered grilled meats with yeasted butter
The beef skewers were definitely a highlight. The meat came out juicier and tenderer than I was anticipating, and boasted a lovely smoke and sear, along with a distinct butteriness. I got a welcomed acidity from those pickles, too.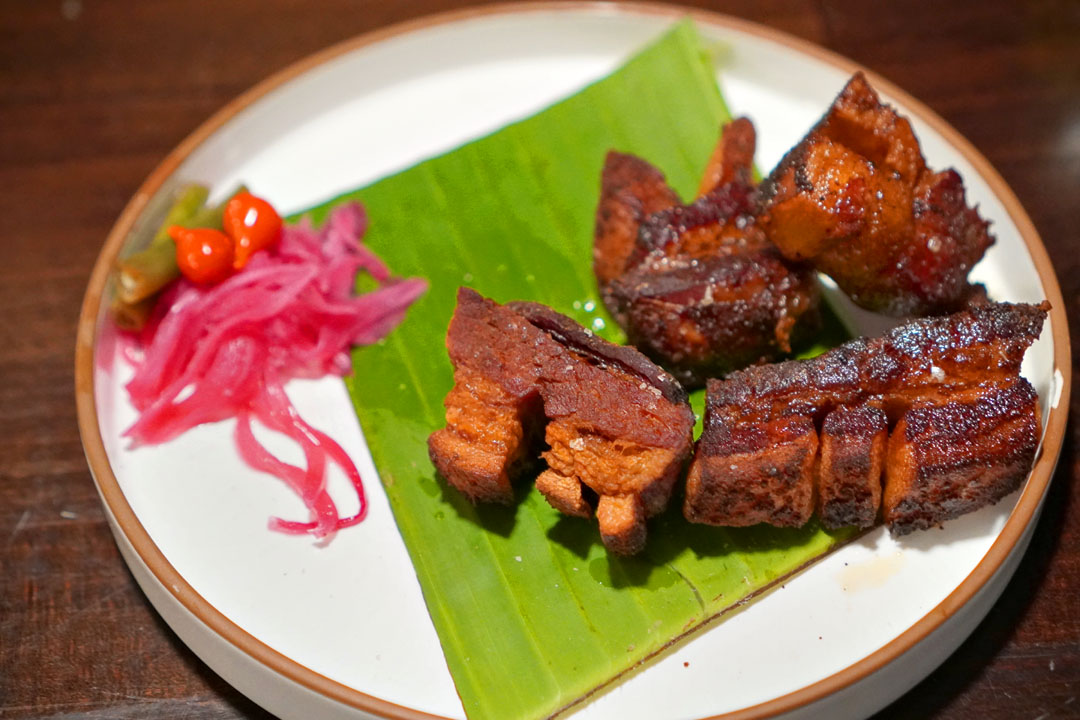 Pork Belly Chicharron [$12.00]
| niman ranch pork belly
Cuts of pork belly were fried to a crisp, and came teeming with a smoky, almost "hammy" savor that was once again well contrasted by those pickled onions.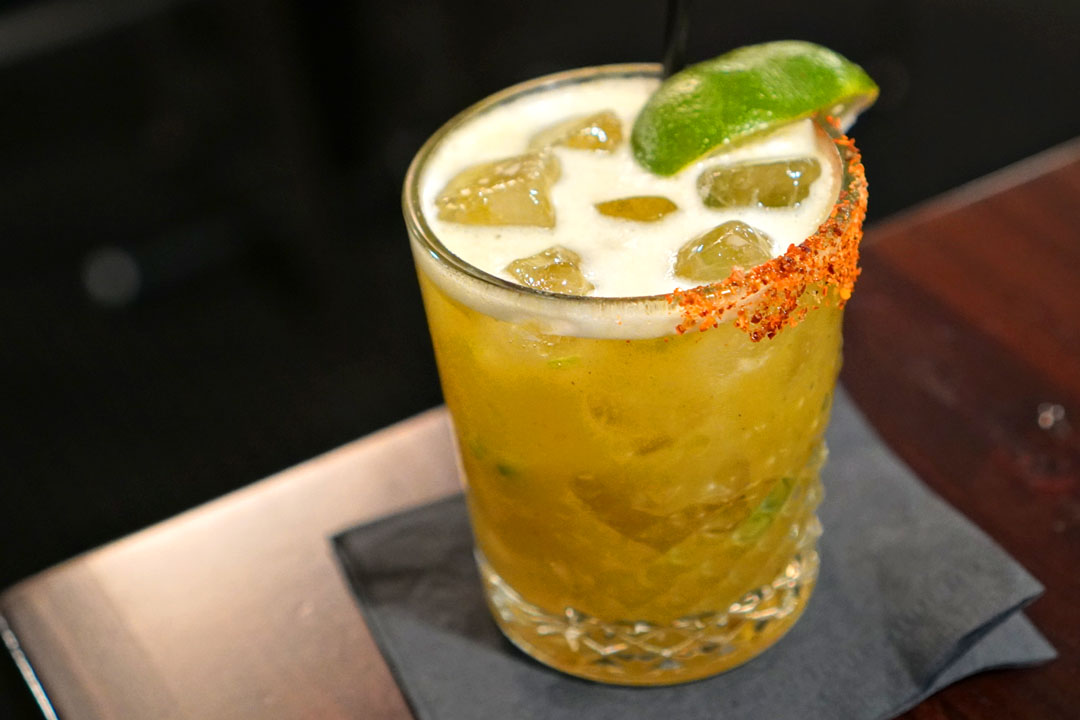 Spicy Lulo [$12.00]
| altos reposado, fresh muddled jalapeños, lulo
Our next cocktail was a margarita variation that showed off a healthy dosing of vegetal heat from the peppers, offset just enough by the drink's fruitier notes.
We were provided a trio condiments to experiment with, all three of which were commendable in their own right:
The red was based on fermented Fresno chile, and showcased a tangy, herby character with a subtle funk.
The yellow, on the other hand, was described as ají amarillo, and possessed a sweet heat that sneaks up on you.
Last up was what our server called chimichurri, but I'm thinking that it might've been ají verde. In any case, the sauce was pretty great, tasting as bright and zippy as I was hoping for.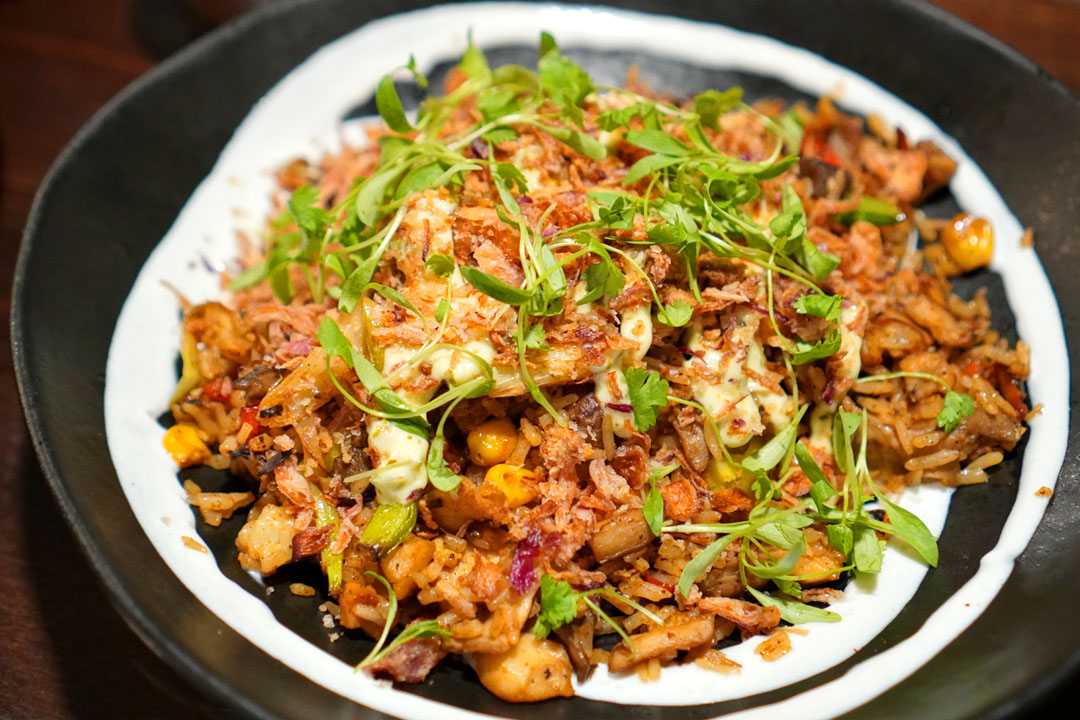 Arroz Chaufa (Peruvian Style Fried Rice) [$16.00]
| long beach mushrooms
As regular readers will know, I have a hard time turning down fried rice, and tonight was no exception. What struck me here was the lighter, almost "fluffy" nature of the rice, as well as its nuttiness. The earthiness of the mushrooms was forcefully conveyed, and I liked the flashes of sweetness imparted by what I believe was plantain. Even better with the green ají above.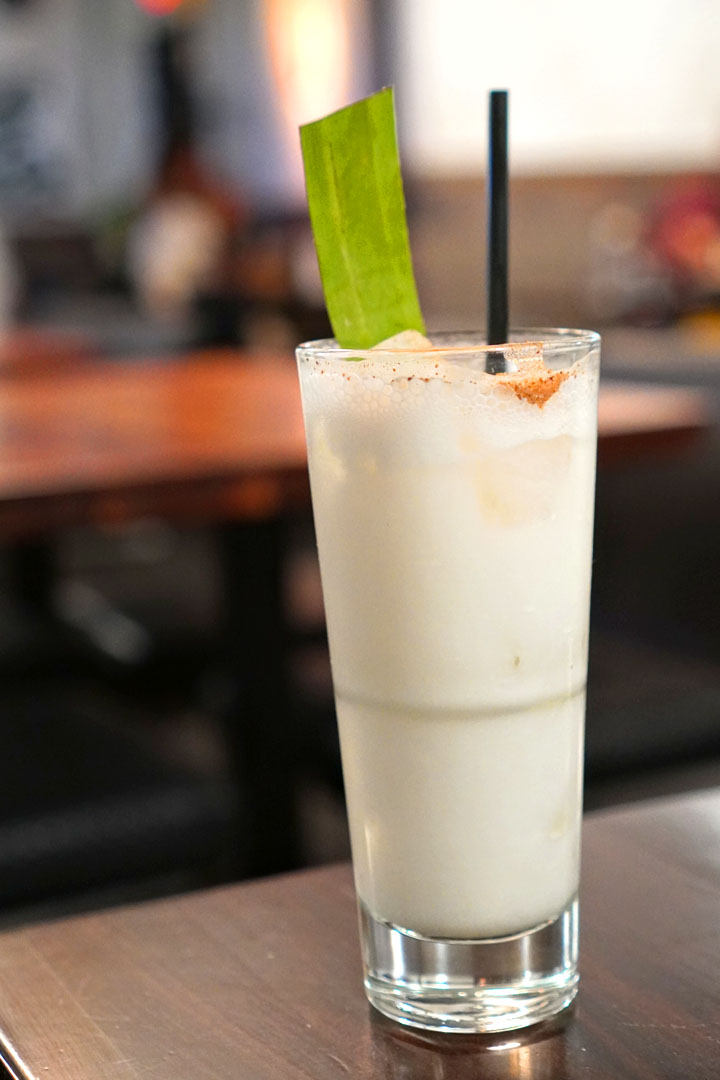 Batida [$14.00]
| cachaca, fresh lime, house-made coconut cream
This was certainly the funnest cocktail of the night--think sweet and creamy, but with a touch of bitterness for balance.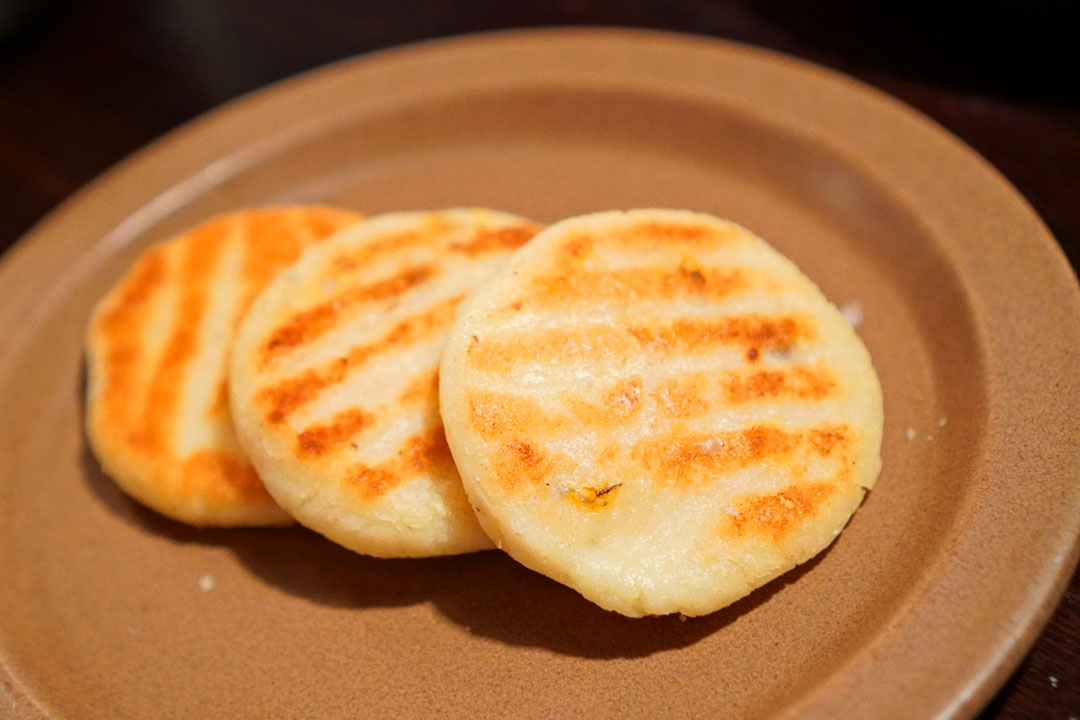 Corn Arepa [$7.00]
| queso fresco, corn, smoked salt
Arepas are perhaps the most iconic dish to come out of Colombia, and Jurado's were some of the best I've had. They were great texturally, imbued with certain lightness, while the corn meshed seamlessly with the cheese, its sweetness perfectly juxtaposed against the saltiness of the dish. A superb match with any of the sauces above.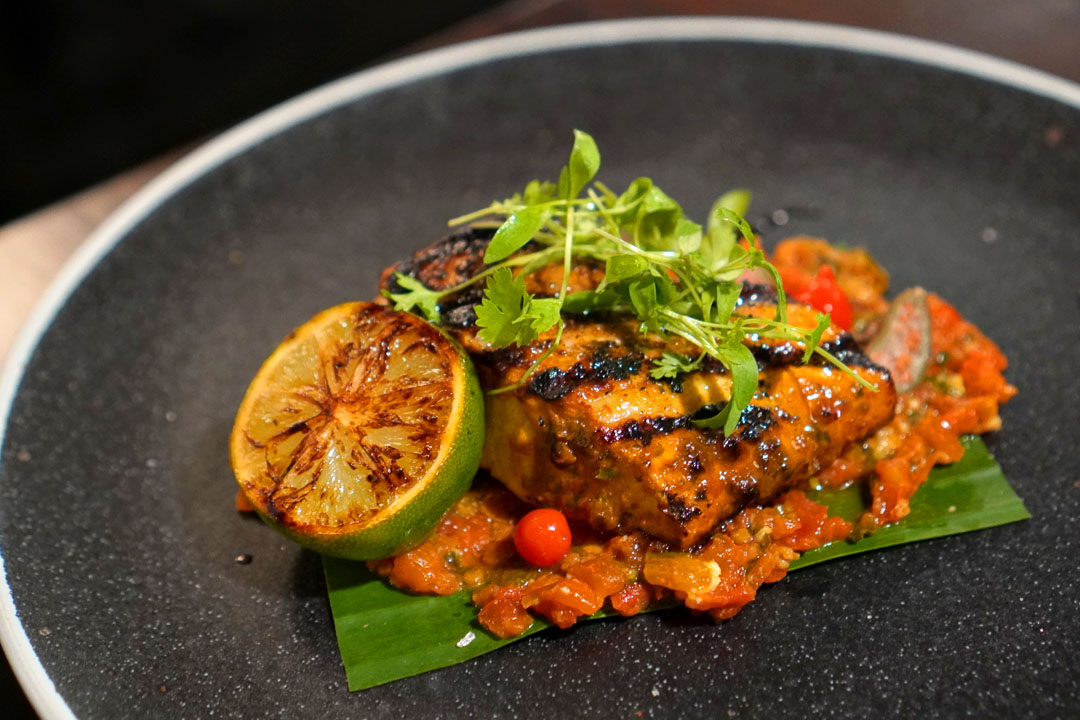 Market Fish [$23.00]
| hogao sofrito, caper berries, charred lime
Tonight's featured fish was mahi-mahi, a firm, flaky, juicy preparation with a great smoke to it. The sofrito provided a complementary acidity and salinity, and I liked the zestiness from those herbs, too.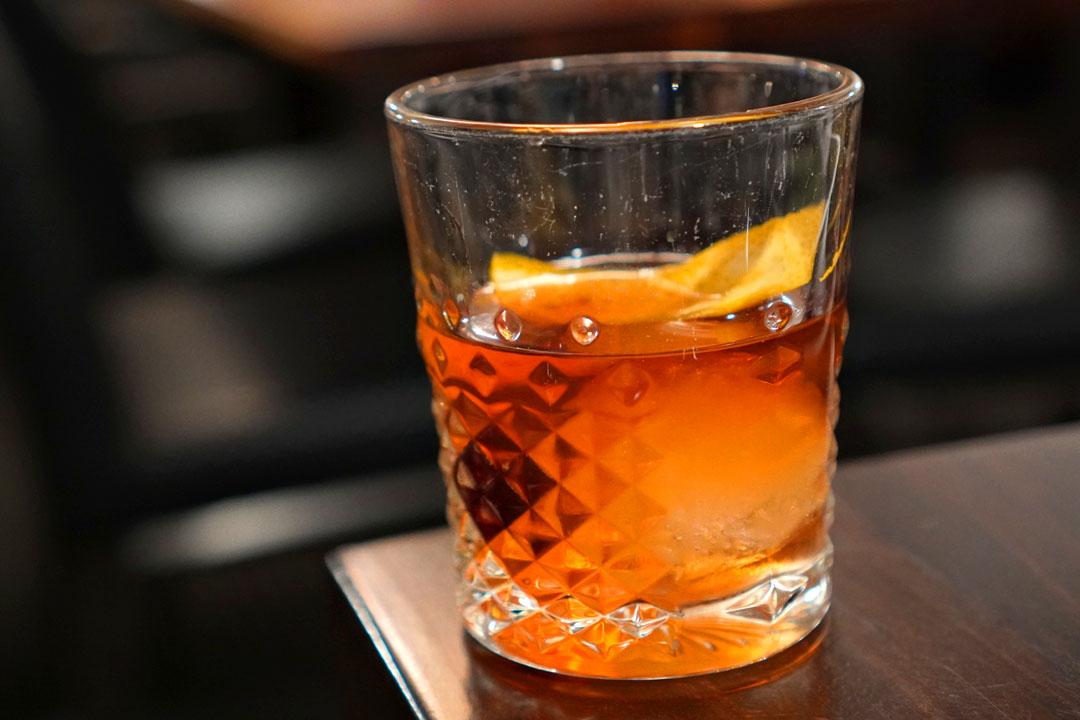 Selva Old Fashioned [$14.00]
| aguardiente, smoke, demerara, aromatic bitters
This old fashioned variation was the booziest cocktail we tried, and drank noticeably spicier and mintier than usual, making for a welcomed take on a classic.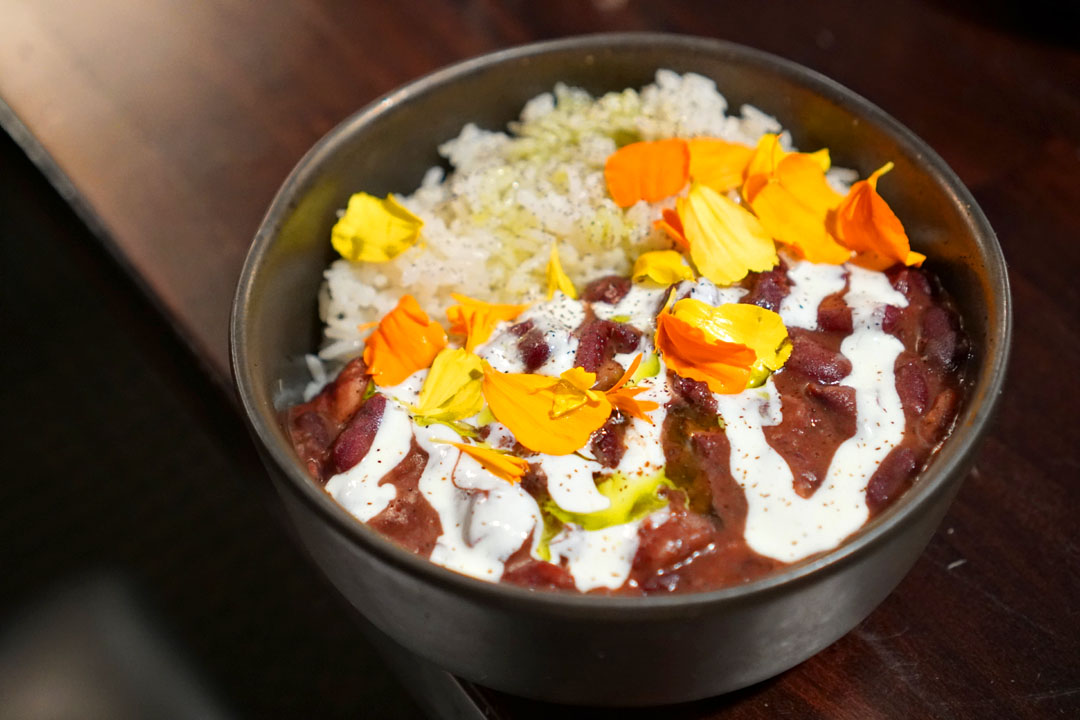 Arroz & Frijoles [$9.00]
| mama's rice, stewed smoky pork & beans, marigolds, housemade sour cream
Jurado's version of rice and beans was a winner. The rice itself was spot-on texture-wise, and functioned as the perfect foil to the heft of the pork, which was teeming with smoke and this almost instant ramen-like umami note. Cozy and comforting, yet nuanced and beguiling.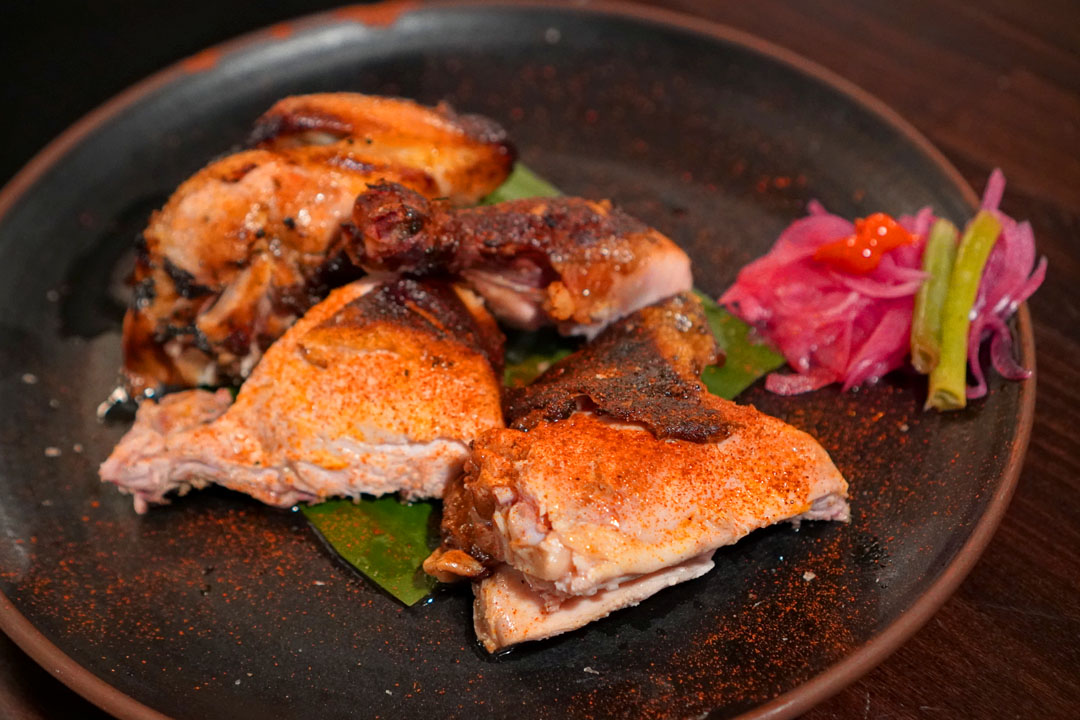 Smoked Pollo [$22.00]
| selva spice, lime
The brined, air-dried chicken is perhaps Selva's most well-known dish, and for good reason. The bird arrived wonderfully supple and succulent, its pervasive smoke beautifully complemented by some mouthwatering spicing and touches of acidity. My only quibble was that some parts veered a bit undercooked.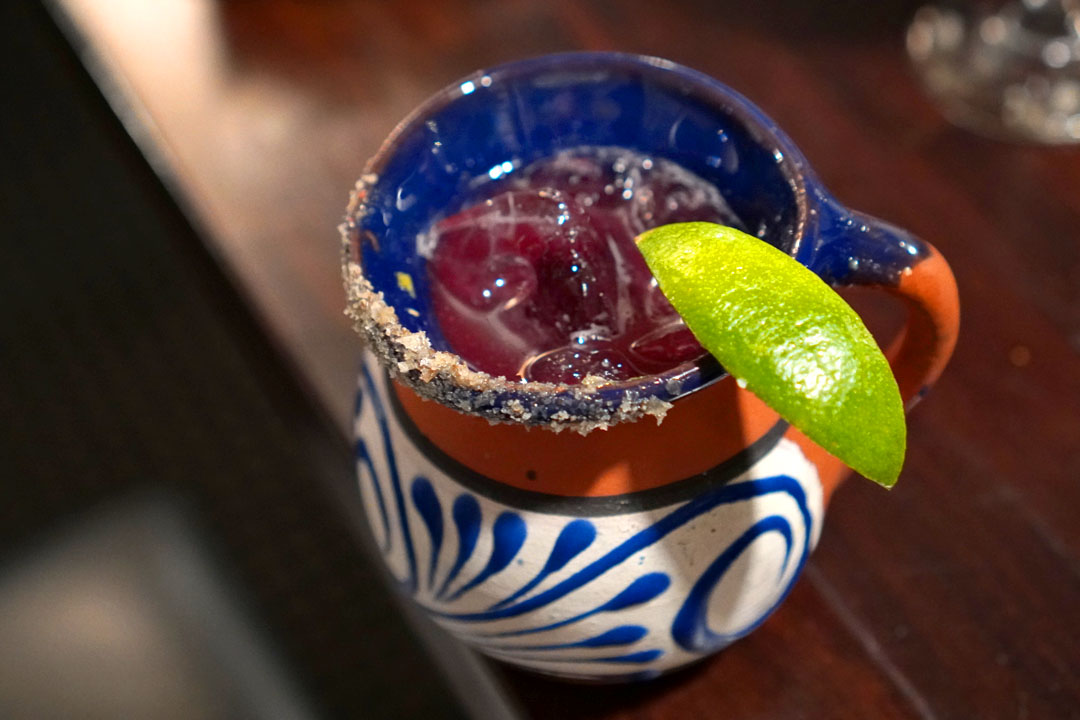 Jamaica-Rita [$12.00]
| altos reposado, hibiscus, agave
Our penultimate cocktail was another margarita riff, and this one conveyed a floral sweetness from the hibiscus that melded easily with both the drink's agave components and that salty rim.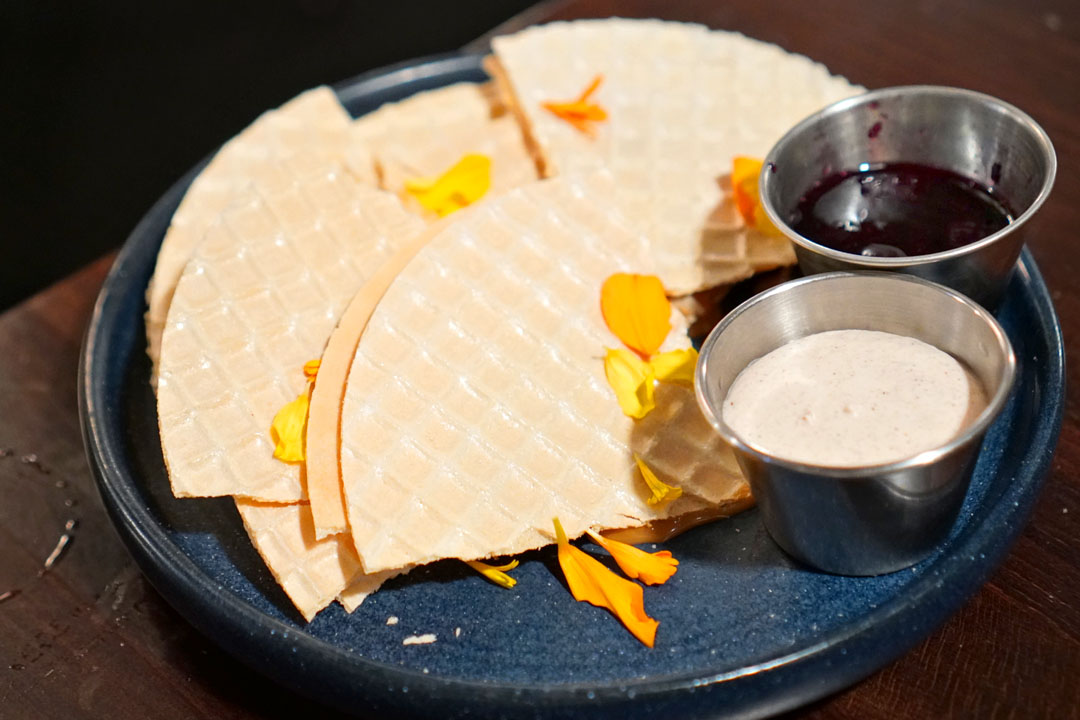 Oblea [$7.00]
| caramelized condensed milk, crispy wafer, seasonal jam
We tried all three of Selva's desserts. The oblea was up first, and comprised thin, crisp, airy wafers filled with sugary
arequipe
, paired with a robustly fruity jam, and what I believe was a cinnamon-spiced whipped cream.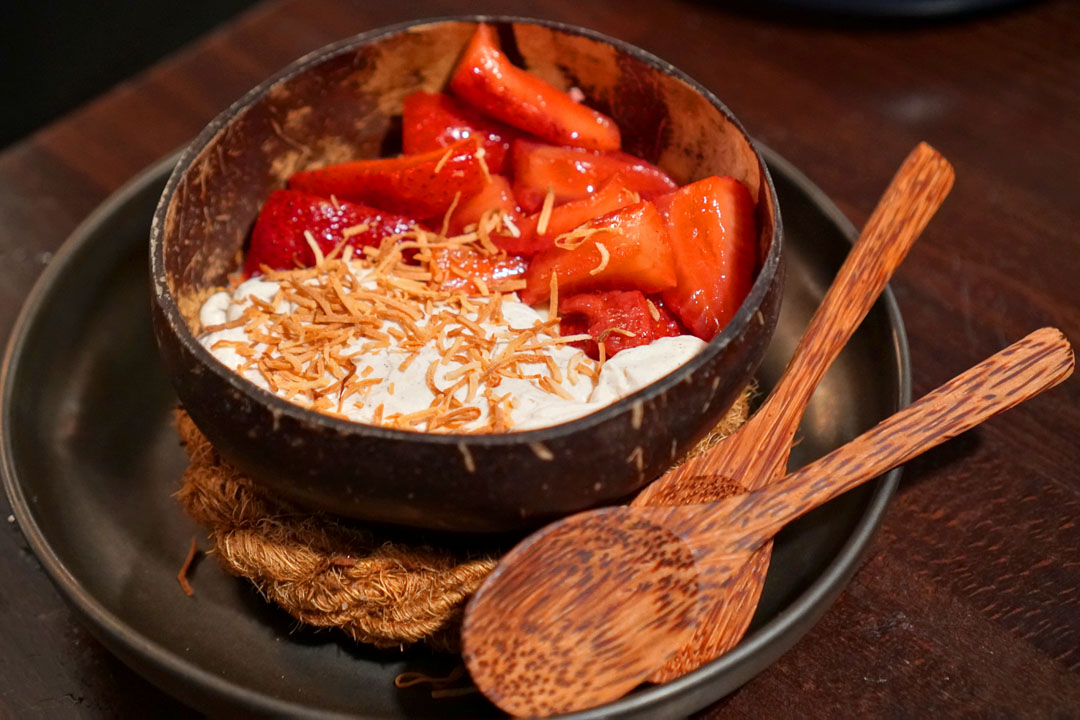 Coconut Panna Cotta [$12.00]
| seasonal fruit, toasted coconut, whipped cream
We were in peak strawberry season, so it was nice to see the sweet-tart, juicy fruit used here. The
fresas
made a lot of sense when taken with the comparatively restrained flavors of the panna cotta, and I liked all the toasty bits, too.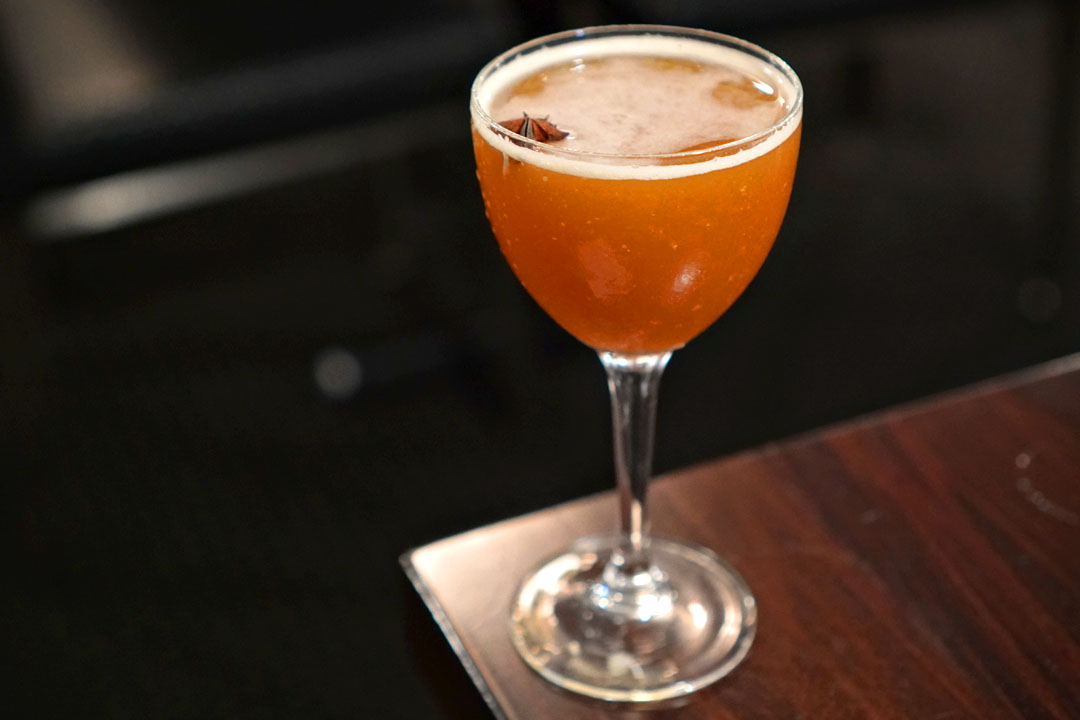 Fernet About Last Night [$14.00]
| fernet, aguardiente, bourbon, lime
My final cocktail was perhaps the most contemplative of the bunch due to its minty, herby, spicy nature. I even got a bit of a Chinese medicine-like sensation in there (perhaps because of the star anise).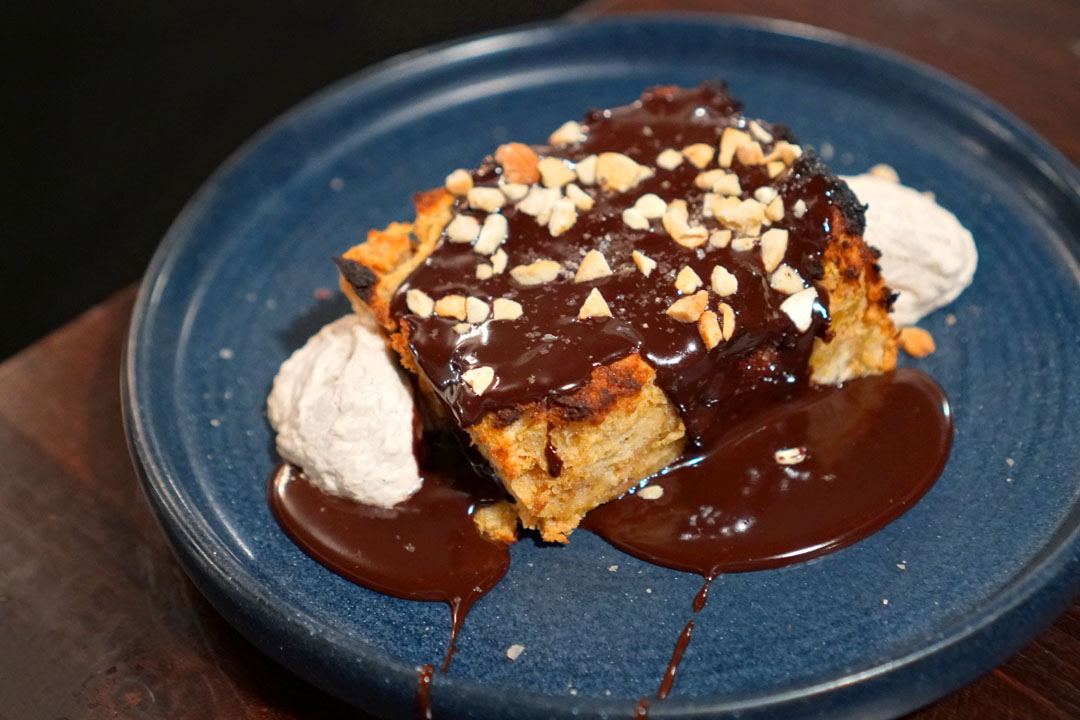 Pudin de Pan [$10.00]
| sweet plantains, nutty chocolate, cinnamon crema
Last up was the bread pudding, which displayed some tasty sweet-n-spicy flavors commingled with the chocolate. The plantains were well-incorporated, and interestingly, I even tasted flashes of red bean in the dessert.
We were quite happy with our meal at Selva. Jurado's cooking isn't what you'd expect for this part of town, and combines bold, soulful, flame-kissed flavors with a sophistication that speaks to the Chef's fine dining background. As the restaurant evolves, it's my hope that Jurado will move away from some of the menu's current Peruvian influences and offer a deeper exploration of Colombian cuisine, but even so, I must imagine that Selva's easily one of the best places to eat in Long Beach at the moment. In addition, the team recently launched the New Orleans-inspired Bar Envie across the street, so I might have to put that one on my list to check out as well.