Kadeau (Copenhagen, Denmark)
Kadeau Restaurant
Wildersgade 10B, 1408 København, Denmark
+45 33 25 22 23
www.kadeau.dk
Thu 08/10/2023, 06:40p-10:10p

I recently found myself in Copenhagen on short notice, and of course, when traveling to a new city, the first thing I have to do is decide on the restaurants to try. After putting together an Excel spreadsheet of potential options, Kadeau ended up being one of my top picks, and I was able to get a reservation after putting myself on the waitlist. The restaurant is an offshoot of the original Kadeau on Bornholm island, which was founded in 2007 by Chef Nicolai Nørregaard and Rasmus Kofoed. The type of food served is Nordic, not surprisingly, though the Chef prefers to refer to his cooking as Bornholm cuisine instead. If you're wondering about the name, it's based on the French loanword
cadeau
, and means "respect" or "praise." As for why it's written with a "K," apparently that was because the "C" domain name wasn't available, humorously enough.
About the Chef
: Nicolai Nørregaard was born in October 1979, and grew up in tiny town of Svaneke on the island of Bornholm. He got interested in food at an early age, particularly through the influence of his grandfather, who did his own gardening, fishing, and preserving; his uncle, meanwhile, ran a smokehouse on the island. However, Nørregaard was more interested in music at this point, and thus, at age sixteen, went to Copenhagen to attend music school. He soon discovered that a career as a musician wasn't right for him, and thus dropped out. Plans to study architecture and art also fizzled out.
Following, the Chef landed a bellhop position at Copenhagen's famed Hotel D'Angleterre, and exposure to the property's restaurant piqued his interest in the industry. After a few years, he went back to Bornholm and served front-of-the-house roles at local eateries during summers, one of which was Svaneke Pakhus. Working alongside him was sommelier Rasmus Kofoed (not to be confused with the Geranium guy), a childhood friend and Bornholm native that he'd met while playing handball at age 11. Nørregaard later spent winters working in Copenhagen at Cofoco (which had opened in 2004), but eventually devised plans with his old pal to open their own place together on Bornholm.
They thus took out a loan and, in March 2007, purchased a restaurant called Strandhytten (a.k.a. Strandpavillonen) in Vester Sømark on the island's southern coast, which occupied the former home of a seasonal beach pavilion. Now given that neither partner had ever cooked professionally, a Head Chef from Cofoco was hired to run the kitchen when Kadeau first opened, and the food being turned out back then was much simpler. Gradually however, Nørregaard took over, and the cuisine became increasingly ambitious, largely thanks to the influence that the rise of Noma had on the team. Having fully embraced the New Nordic ethos, Kadeau quickly began making a name for itself in the gastronomic world, and things reached a turning point in 2010.
It was that year when both partners had children, and they thus decided that they wanted to open Kadeau in Copenhagen in order to be closer to their families and also cook for people in the off-season (the original restaurant was only open during late spring to early fall). The two partnered with Magnus Høegh Kofoed and Theis Brydegaard (Restaurant Manager and Head Chef, respectively), and debuted Kadeau Copenhagen in November 2011 at Vesterbrogade 135. The place was an instant hit, but the owners soon realized that the space was too small, and therefore shut down the operation in June 2012 and moved it to a larger building at Wildersgade 10A in Christianshavn.
Set in a former office building, this iteration of Kadeau launched in October 2012, and received a Michelin star just months later, in March 2013. In October 2015, Kadeau moved once again, but this time just next door to Wildersgade 10B. The dining capacity of the new address was actually smaller, so I assume that the intent was to be able to focus more on each customer. That decision apparently paid off, as restaurant was able to land its second Michelin star in February 2018 (Kadeau Bornholm had also garnered its own star in 2016). More recently, Head Chef Kyumin Hahn was made a partner in the business last June.
In terms of Nørregaard and company's other ventures, the Vesterbrogade 135 storefront was turned into Pony in 2013. It was a more casual, bistro-ish eatery, and seemed to be going strong until it was forced to shutter in March 2020 due to the pandemic. There was also a pop-up called SommerPony, set inside Hotel Nordlandet, a boutique hotel on Bornholm's northern coast that opened in 2015. SommerPony has since turned into Restaurant Nordlandet, which Nørregaard is also involved with.
As for Wildersgade 10A, it was transformed into a Nordic-Asian bistro called Eldorado in November 2015, with Brydegaard helming the kitchen. However, despite doing quite well, it didn't last long, and by October 2016, had been replaced by Nabo, a more neighborhood-y joint also headed by Brydegaard. Nabo itself, however, had shut down by early 2018, and in April that year, was superseded by 1408, a cocktail bar created in partnership with Morten Damgaard. 1408, meanwhile, closed the following year, and in 2020, was (without involvement from the Kadeau guys) turned into an event spaced called Out of Office, which also appears to be defunct now. There was also Restaurant Honey at Adelgade 12, a casual eatery that opened in July 2016, but closed in 2018.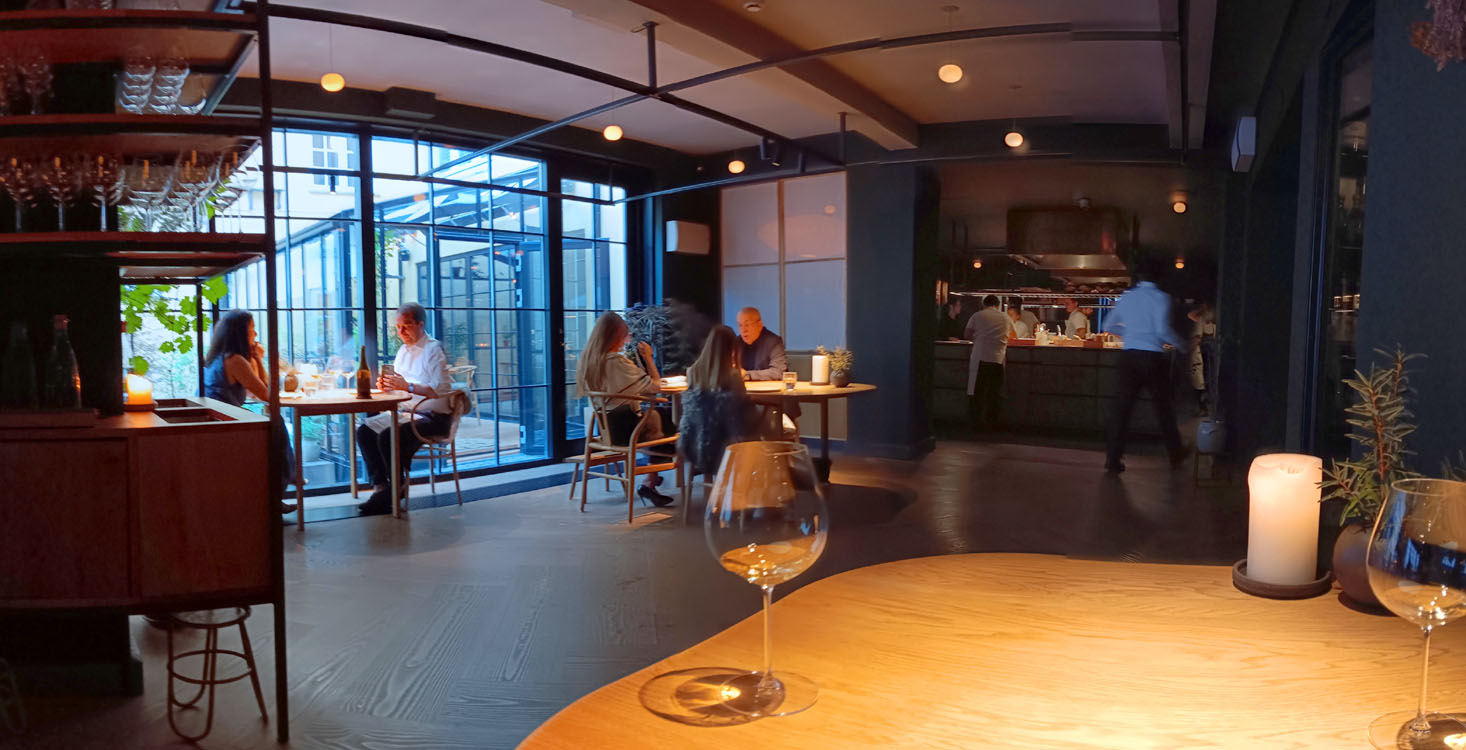 Pictured above is the view from my table, which afforded me a peek into the open kitchen. Do note that Kadeau underwent a remodel in 2020 by
OEO Studio
(designers of the original interior), in collaboration with Chef Nørregaard. I've taken a look at photos of the old space, and the new interior is fancier, though it still retains that level of warmth that they were going for. Apparently, the goal was to provide a sense of dining in the Chef's own home (I suppose the term
hygge
may apply here).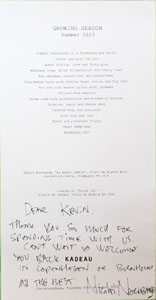 The evening's "Growing Season" menu is shown above. Dinner at Kadeau will set you back 3200 kr ($485.32), with a 900 kr ($132.90) deposit required upon booking. A wine/non-alcoholic pairing is available at 2000 kr/1100 kr ($303.33/$166.83), but I opted to order a bottle from the restaurant's ample
wine list
. Click for a larger version.
I do have to give Kadeau's staff special credit for providing me a signed copy of the menu. Chef Nørregaard had already left the restaurant by the time my dinner was over, so he was of course unavailable to offer his signature. However, the team responded by mailing a personalized copy to me after I'd already returned to the States, which was a level of service that went above and beyond.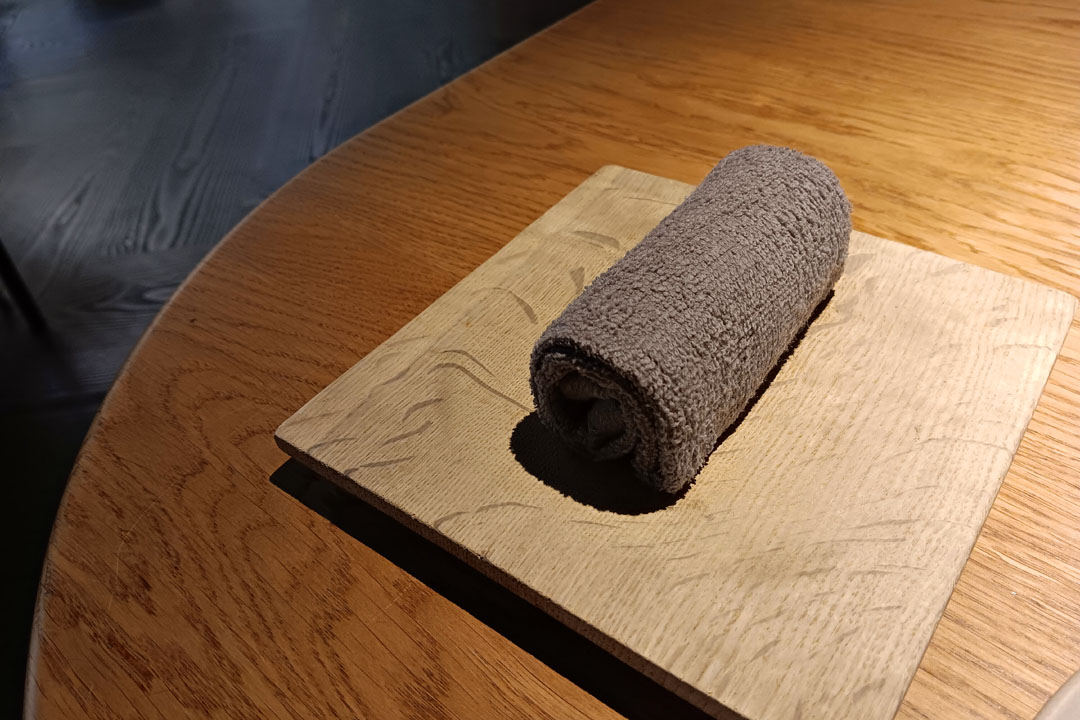 Upon being seated, I was quickly presented with a moist towel, which was a welcomed, refreshing touch.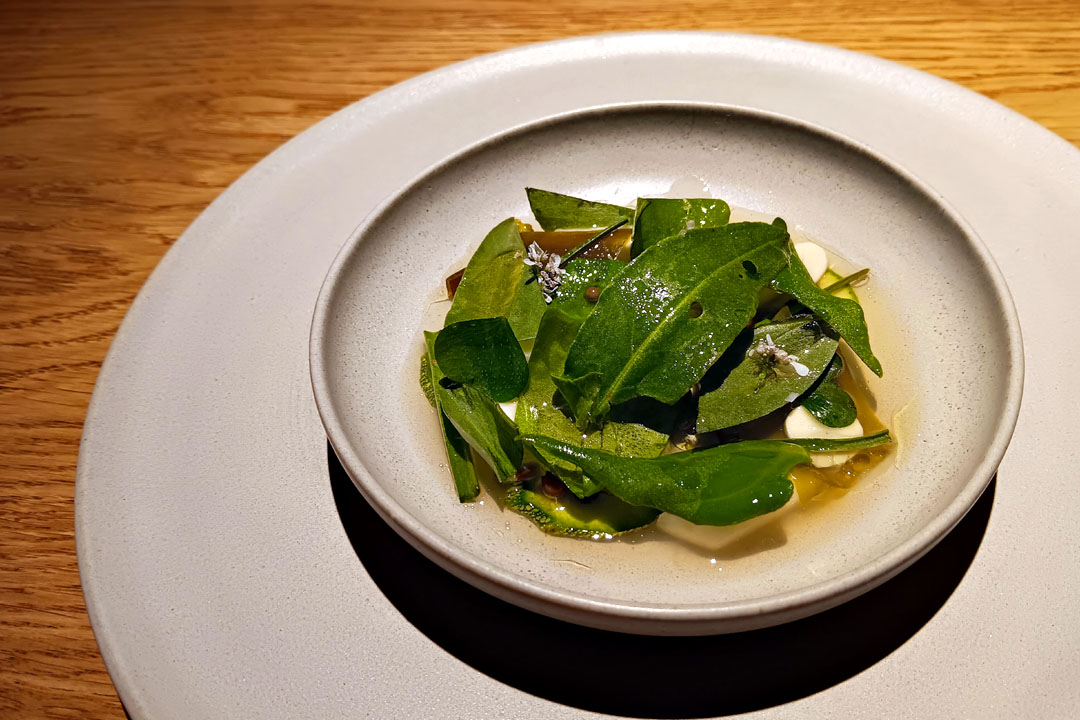 1: Summer vegetables in a fermented pea broth
My meal commenced with a summer salad comprised of charred white cabbage, young fig, courgette, and herbs, all set in a reduced mussel stock with horseradish sauce. I loved how fresh and vegetal this tasted; it was like taking a bite of the garden, and captured that essence so clearly and so forcefully. The broth was crucial in providing an omnipresent piquancy and depth, with subtle hints of horseradish, and there was also this nuttiness that I really enjoyed. The salad was even better when taken with the wine below, which opened up further dimensions to the dish. Smart and invigorating--what a start.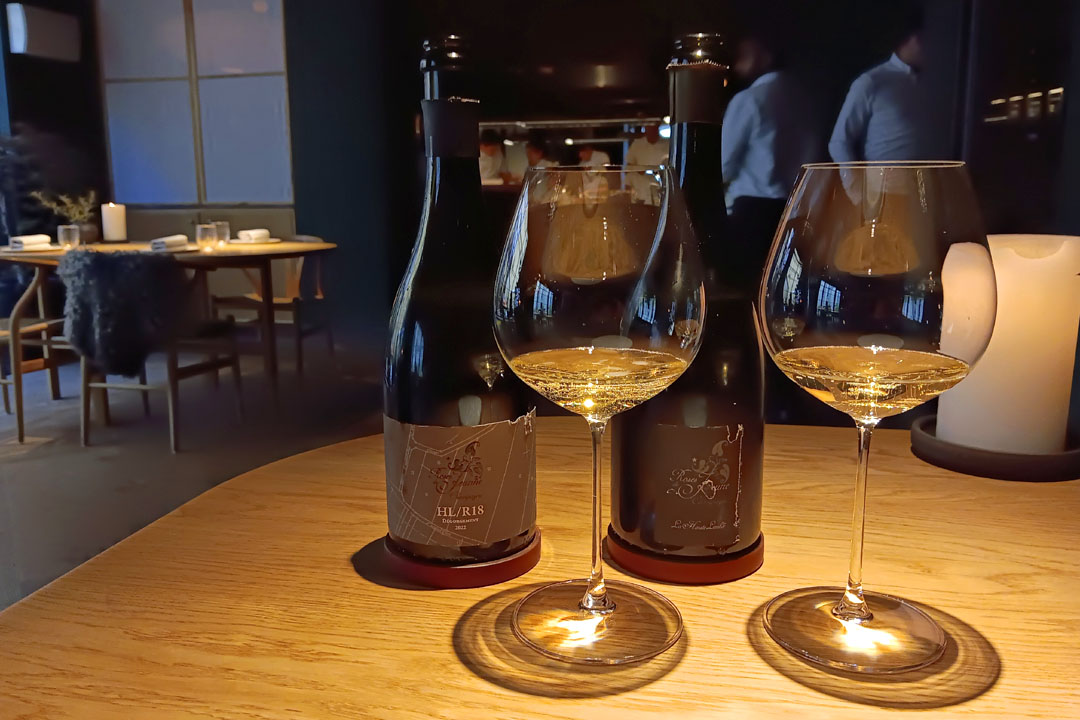 I'd coordinated with the restaurant ahead of time and picked out a wine to pair with my dinner: the
Cédric Bouchard, 'La Haute Lemblé', Blanc de Blancs Brut, Celles-sur-Ource, Champagne FR 2016 [1900 kr ($288.16)]
, which was actually quite well-priced given that the bottle typically retails for $350+ in the US. Now the staff ended up opening the 2018 version of the wine by mistake, but it turned out to be a happy accident, since I was thus able to sample both vintages. I started with the '18, and found a super lush nose brimming with perfume-y florals, with supporting caramel and nutty notes--wow. On the palate, I got loads of round, ripe orchard fruit, in an almost candied manner, and this sensation only seemed to intensify as the liquid warmed; fortunately, a healthy dosing of acidity and minerals kept it all in balance.
The '16, on the other hand, was an entirely different beast. The Champ smelled of earth and stone fruits, with a flavor profile that was much crisper, with minerality and acidity at the fore. With a bit of time, I began getting a toastiness on the palate, along with enhanced peach/apricot notes. Further into the meal, a new pour revealed a bouquet of dusty crème brûlée, when later became dusty apples with more time in the glass, before finally settling into apricot jam. Both wines were commendable efforts from M. Bouchard, and it was great to experience how different they were--what a difference a vintage can make!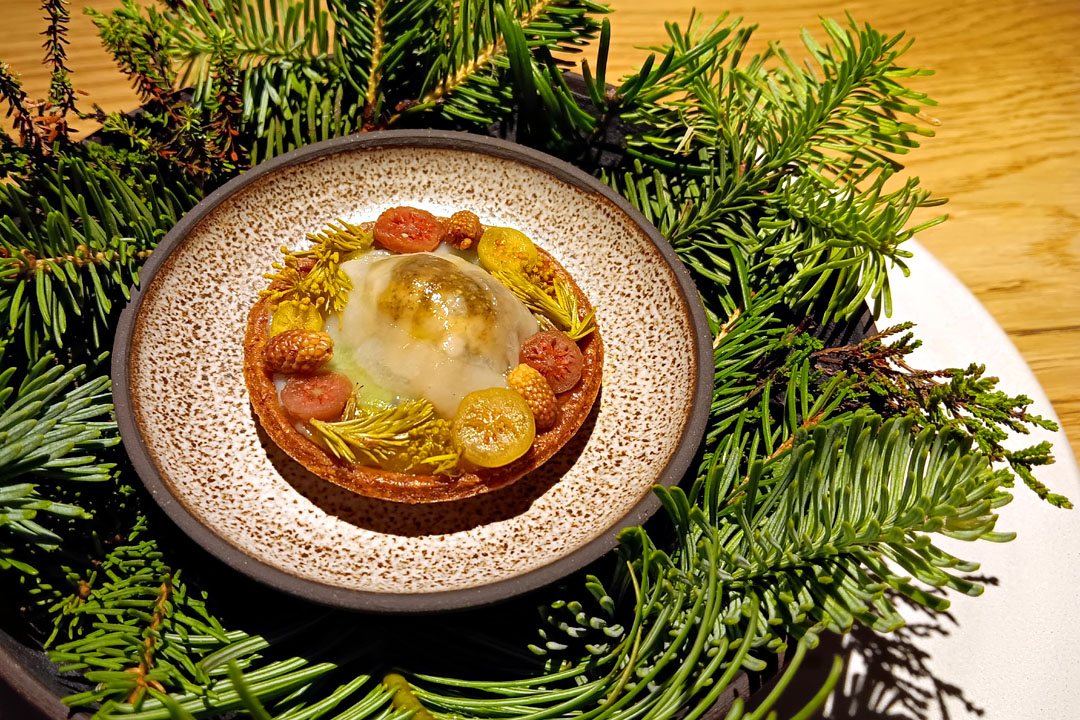 2: Oyster and pork fat pie
A rye tart shell served as the vessel for a filling of poached oyster, housemade lardo, pickled blueberry, and spruce tips. The herbal, resinous, astringent complexity of the spruce was masterful when matched with the oyster and fruit, and the whole thing was moderated in both taste and texture by that rye pastry. Super neat.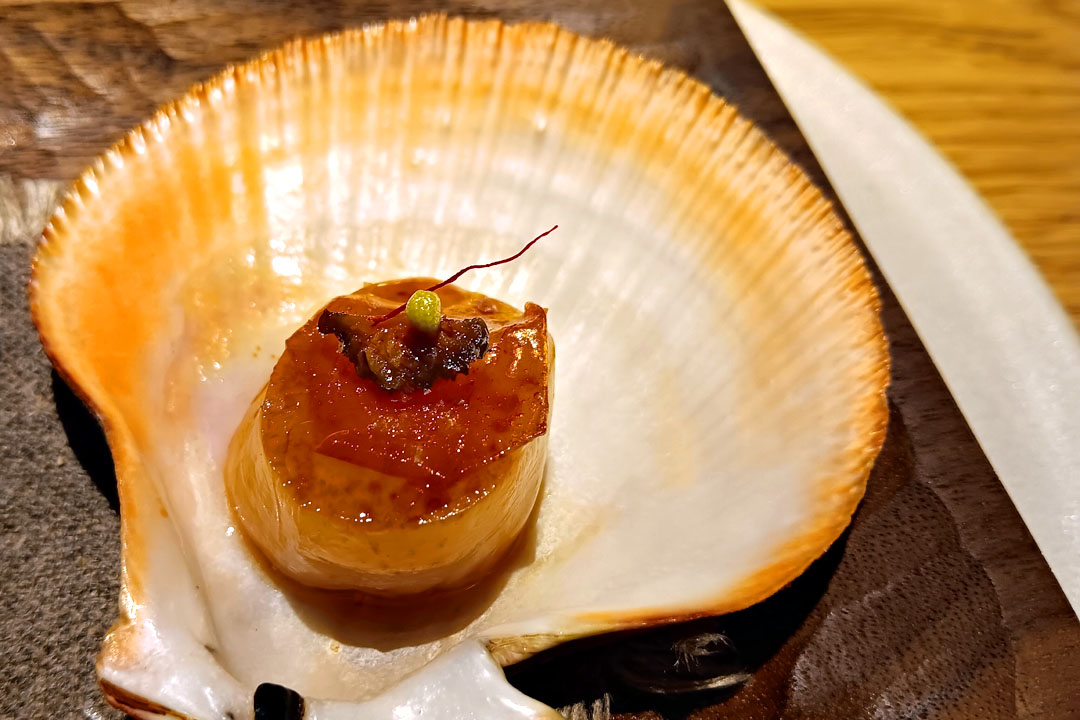 3: Queen scallop, rose and Scots pine
A lone Norwegian scallop showcased a patent sweetness up front, which led to just the right amount of saline, then to a lovely "cold smoke" character on the finish. Really sophisticated.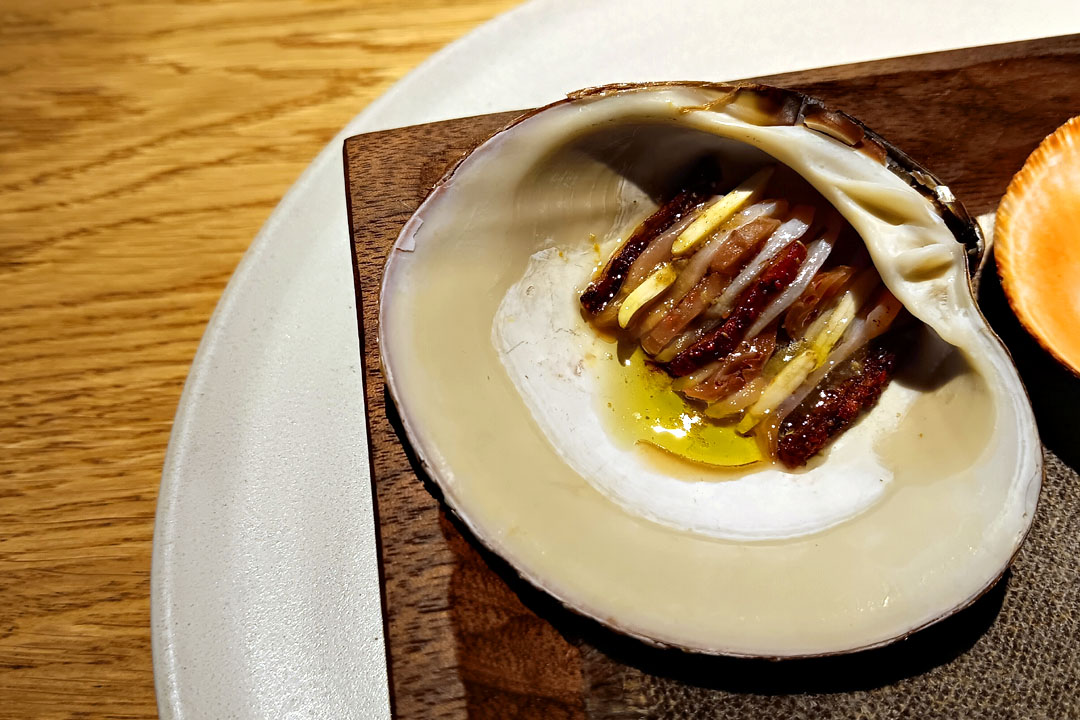 4: Mahogany clam, dried strawberries and cherry leaf
Served alongside the scallop above, slices of Icelandic mahogany clam were interleaved with strawberries and peeled pumpkin seeds, thus providing the quahog with tangy, nutty, and even sweetly spicy notes to go along with its intrinsic saltiness.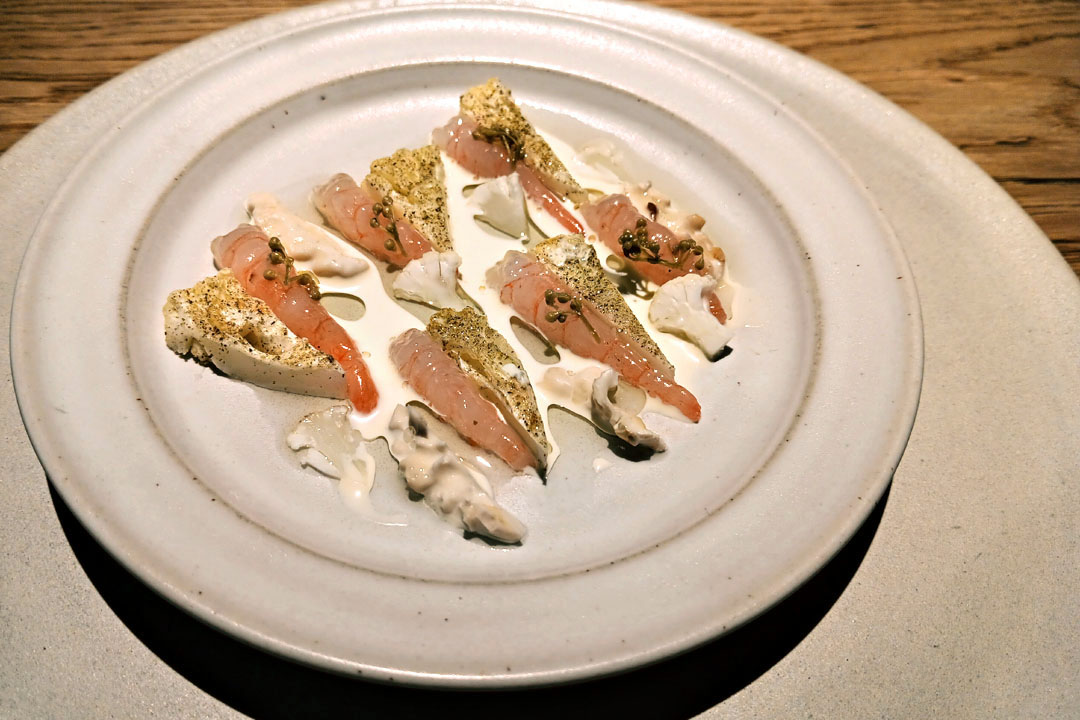 5: Raw shrimps, cauliflower and elderflower
Next up was a clever course that was quite unlike any other preparation of raw shrimp I'd had before. Harvested in Norwegian waters, the shrimp were delectably sweet and saline, but what was genius here was how amazingly they paired with the floral nuances from the elderflower oil. Also key was the tempering effect and crunch of the roasted cauliflower, while drizzles of double cream helped tie it all together.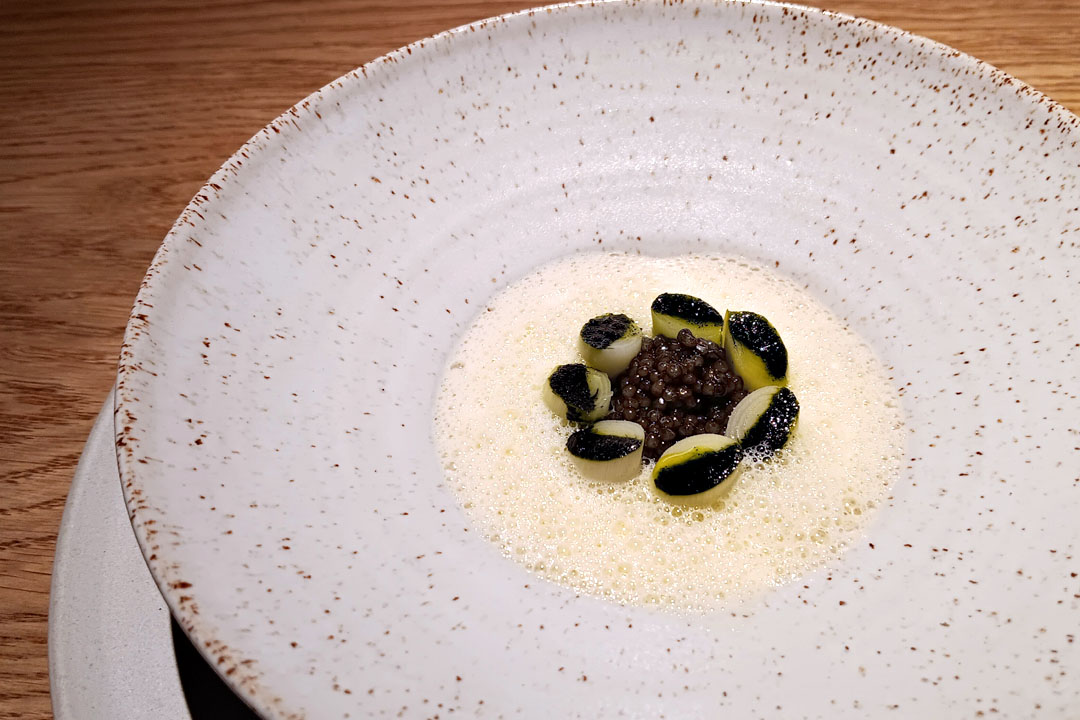 6: Fire-baked leeks and Ossetra Royal caviar and fig leaf
Now we come to what must be the best leek dish I've ever tasted. The center portions of charred leeks were crowned with kale, and this made for a piercingly vegetal type of taste, punctuated by smoke. The leeks married flawlessly with the brazen-yet-elegant salinity of the Bulgarian caviar (produced just for Kadeau apparently, with less salt), yet easily outshined the roe. At the same time, you had this buttermilk sauce with its lactic tang that really made everything come together beautifully. This one wowed me.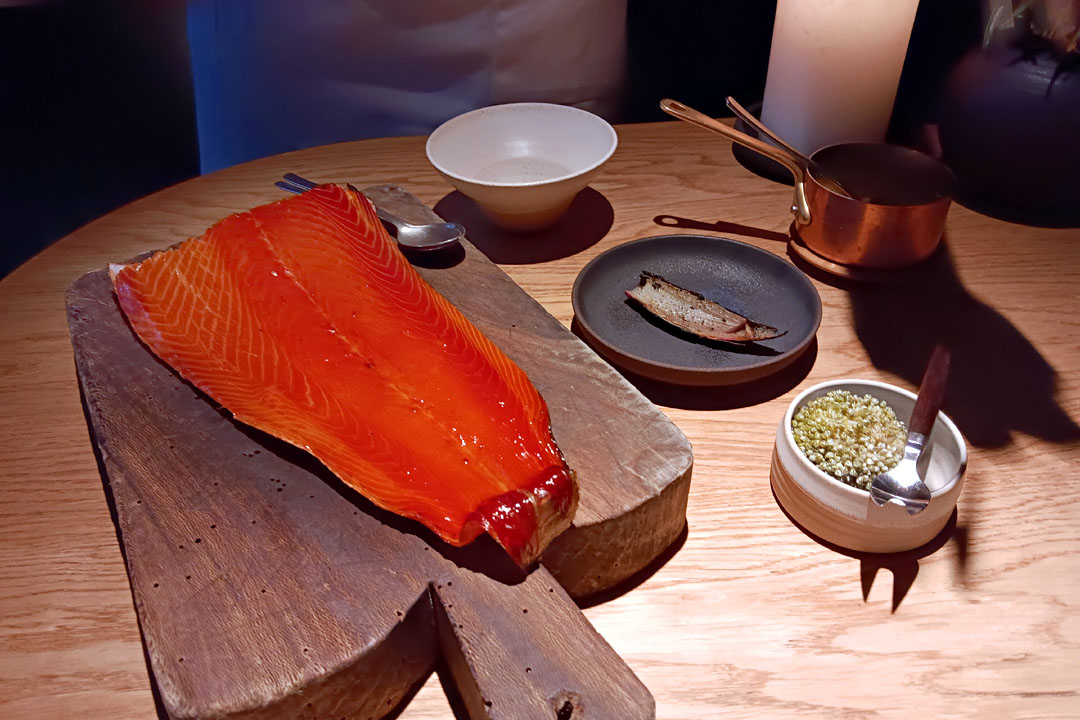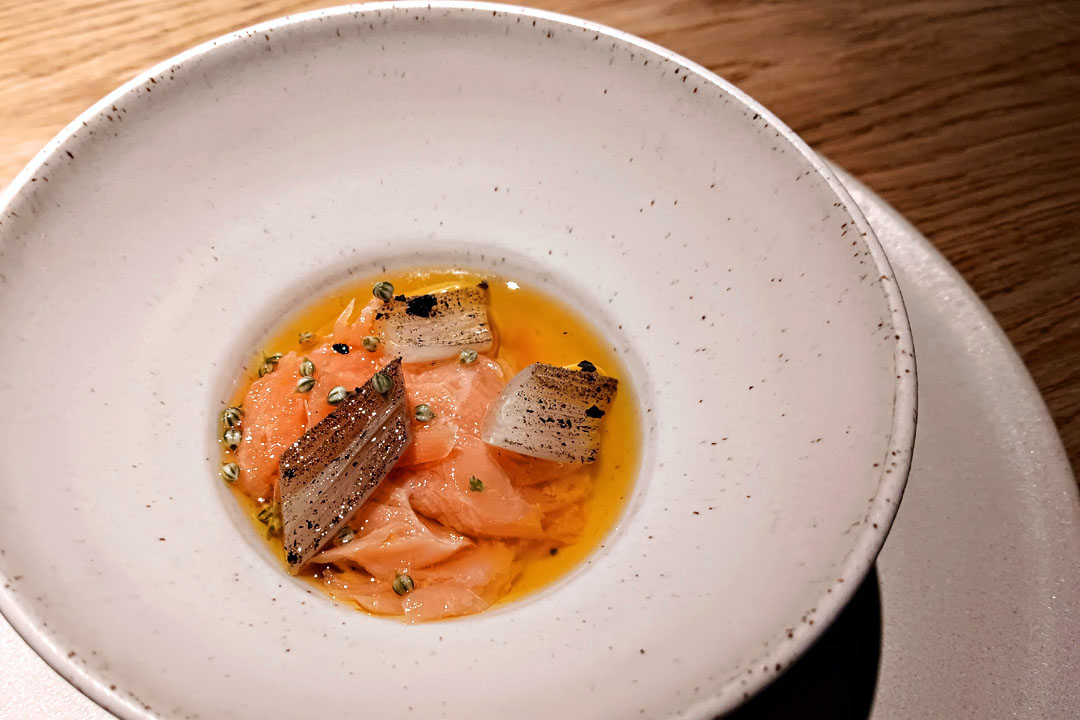 7: Hot and cold smoked salmon with lavender
The best leek I've ever had was followed up by the best smoked salmon I've ever had. The fish was salt-cured, gently cold-smoked with cherry wood, then hot-smoked before serving, and was accompanied by apple cider vinegar, lavender-infused butter, shallot, and pickled leek flower. What struck me first was the salmon's amazing consistency, which was near melt-in-your-mouth, falling-apart tender, yet still substantial, and oh-so lush and fatty. It also had this wonderfully refined smokiness, which meshed perfectly with the zippy Alliums and the delightfully tangy nature of the vinegar. I can see why this is a signature dish. And on a related note, I really hope that the entire salmon filet didn't go to waste, as I was served merely the small portion pictured, excavated from the center of the fish; in hindsight, I should've asked for more.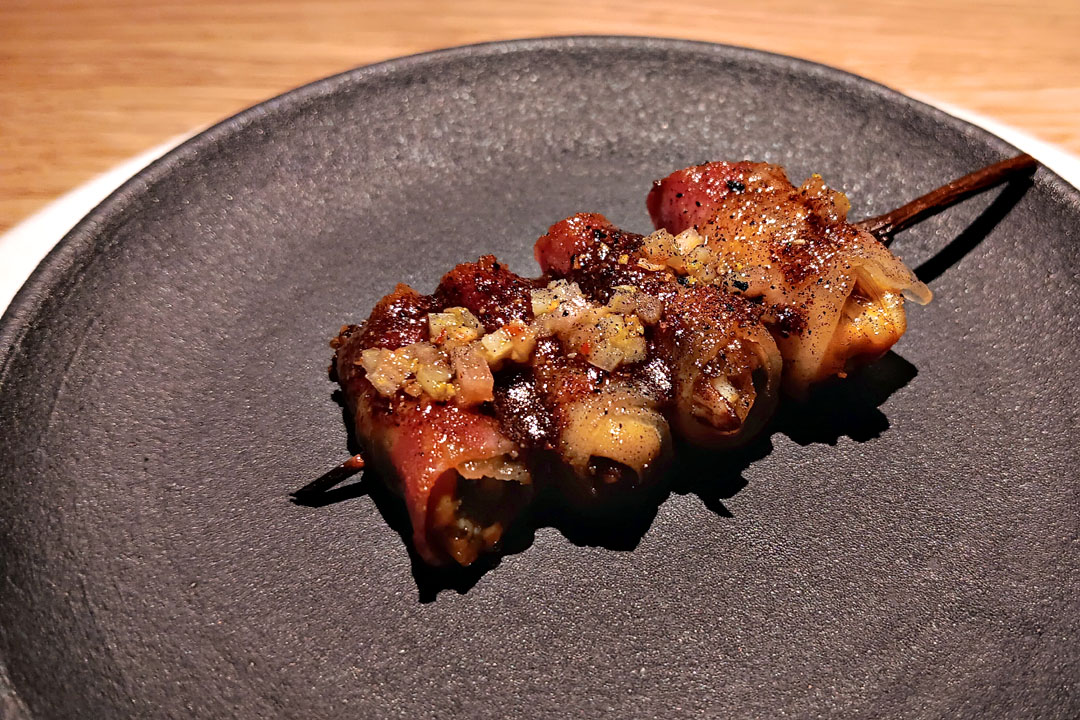 8: Grilled blue mussels
This skewer could be confused for yakitori, but was actually composed of Danish blue mussels wrapped in lardo, with pickled rhubarb on top. What I loved here was how well the brininess of the mussels meshed with the lardo's smoky char, all while the sweet-sourness of rhubarb offered up the right amount of contrast. And if that wasn't enough, somehow, I even detected some mustard-y flavors here. One of my favorite presentations of mussels ever.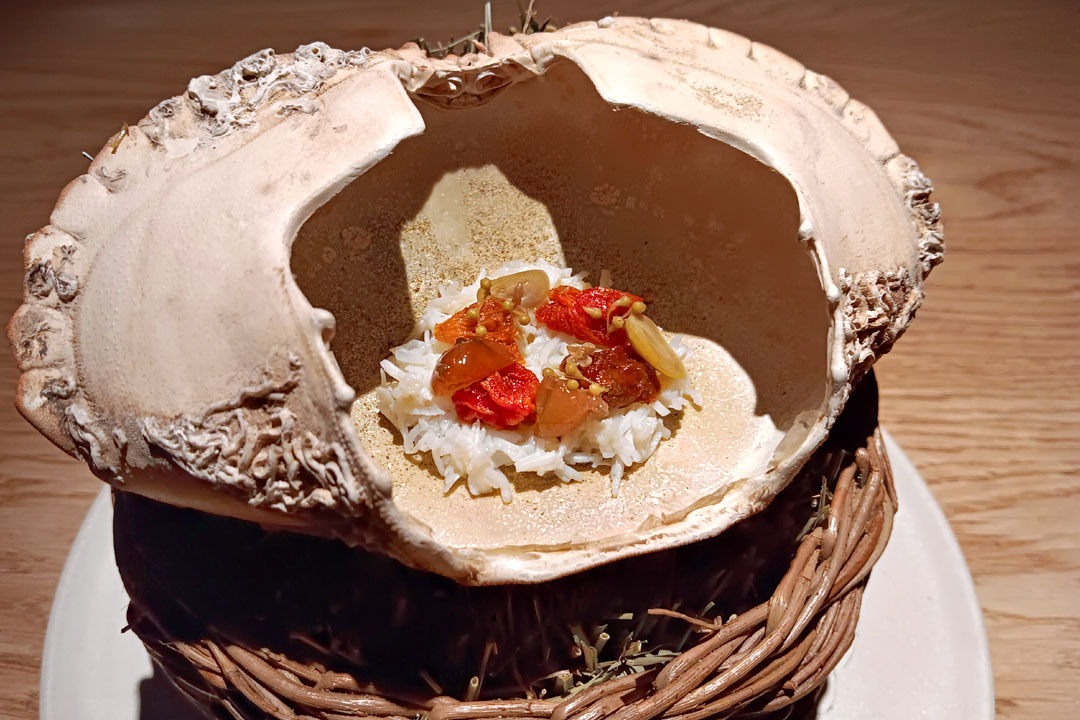 9: Brown crab with gooseberries and mirabelle blossom
Danish brown crab was butter-roasted with its shell, and had this intensely sweet salinity that matched gorgeously with the deep, nutty, umami notes in the dish, all while preserved plums and gooseberries offered up a sweet, tangy accent. This was some of the best crab I've ever eaten--another highlight for sure.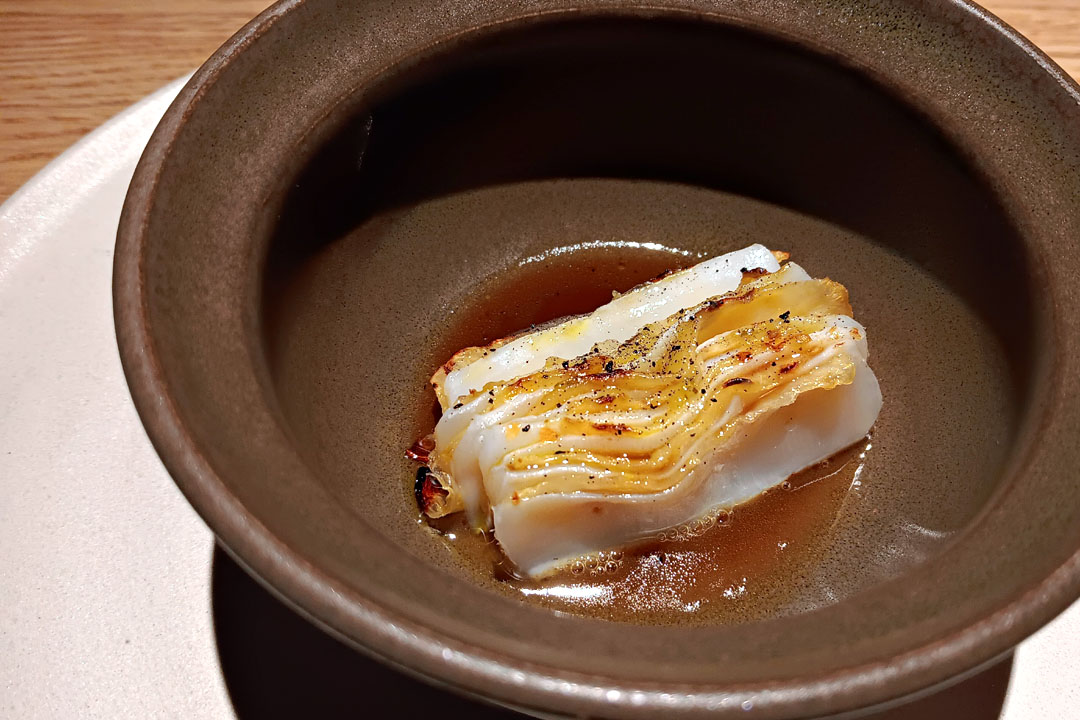 10: Celeriac, squid and sheeps whey
Baby Danish squid was layered with celery root, then paired with whey and a butter-finished squid stock. The crux here was that interplay between the oceany nature of the squid and the celeriac's vegetal characteristics, but I have to give credit to the sauce as well for how elegantly the butter was incorporated.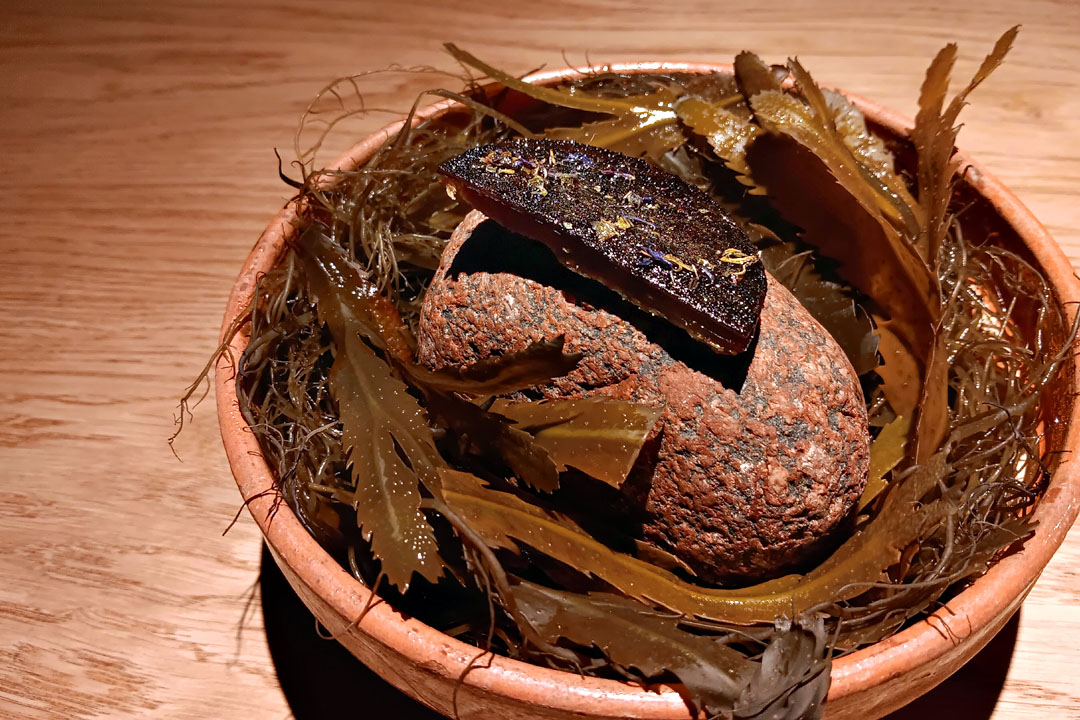 11: Candied kelp and beetroots
Here was a fun course of bee pollen-infused beet, sandwiched between a kombu cracker bottom and a top layer of berry juice-braised kombu jelly topped with corn flowers. I was definitely a fan of the back-and-forth between the fruit and the seaweed-y savor of the kelp, and wouldn't have minded snacking on a few more of these. Great chewy textures, too.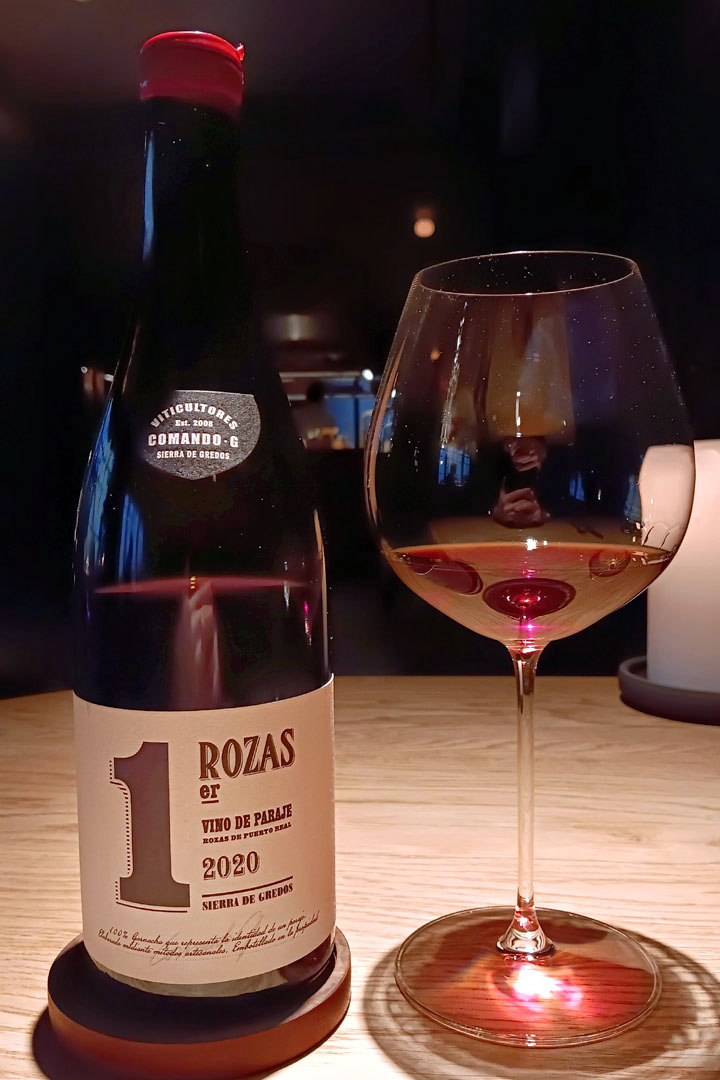 To pair with my pork below, I was provided a complimentary pour of Grenache: the
Comando G, 'Rozas 1er', Sierra de Gredos, Vinos de Madrid ES 2020
. The wine displayed an aroma redolent of strawberries, but with a backing of barnyard. On the palate, I found grippy tannins supported by some delicious floral flavors and even more of that berry fruit, along with smidges of spice and mineral. A lovely expression of Garnacha.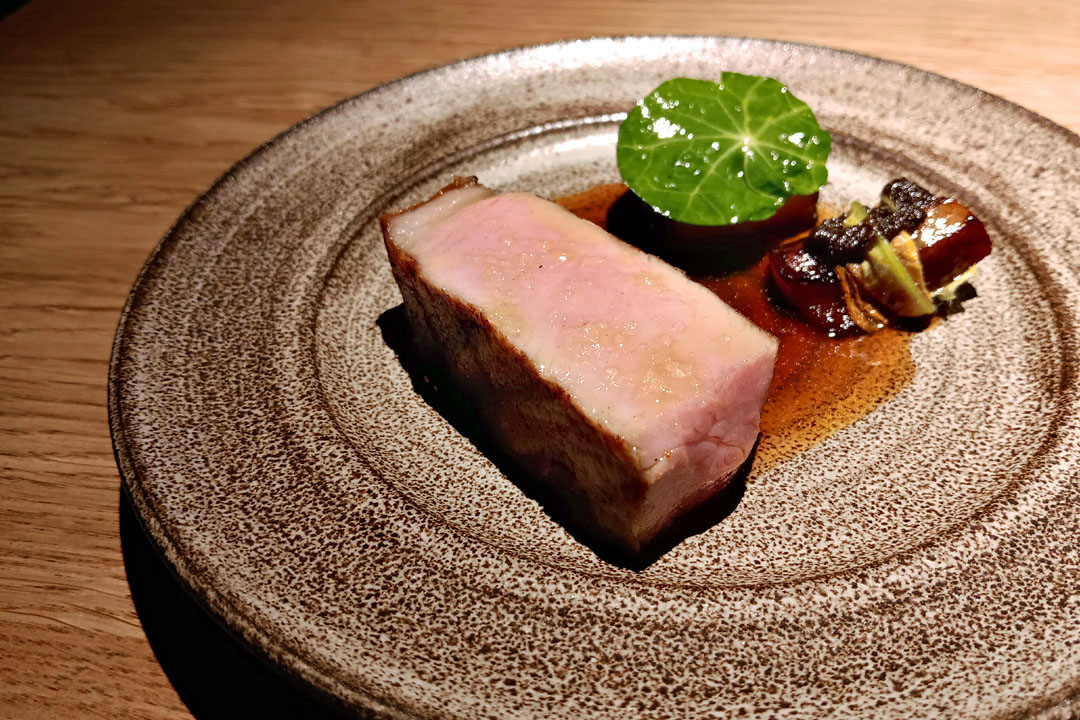 12: Pork chop and jowl
My final savory was this three-way of pork. The main character was a dense, chewy block of dry-aged local pig, one with a great sear, proper juiciness, and plenty of porcine depth. There was also a decadent cut of belly that was well-countered by zesty, almost minty nasturtium. However, my favorite preparation was the jowl, a fatty, "hammy" serving offset by courgette leaves and the pungency of black olive. Also on the plate was a reduced brown butter-oxidized wine sauce that helped bring everything together, and overall, this was some of the most polished pork I've had.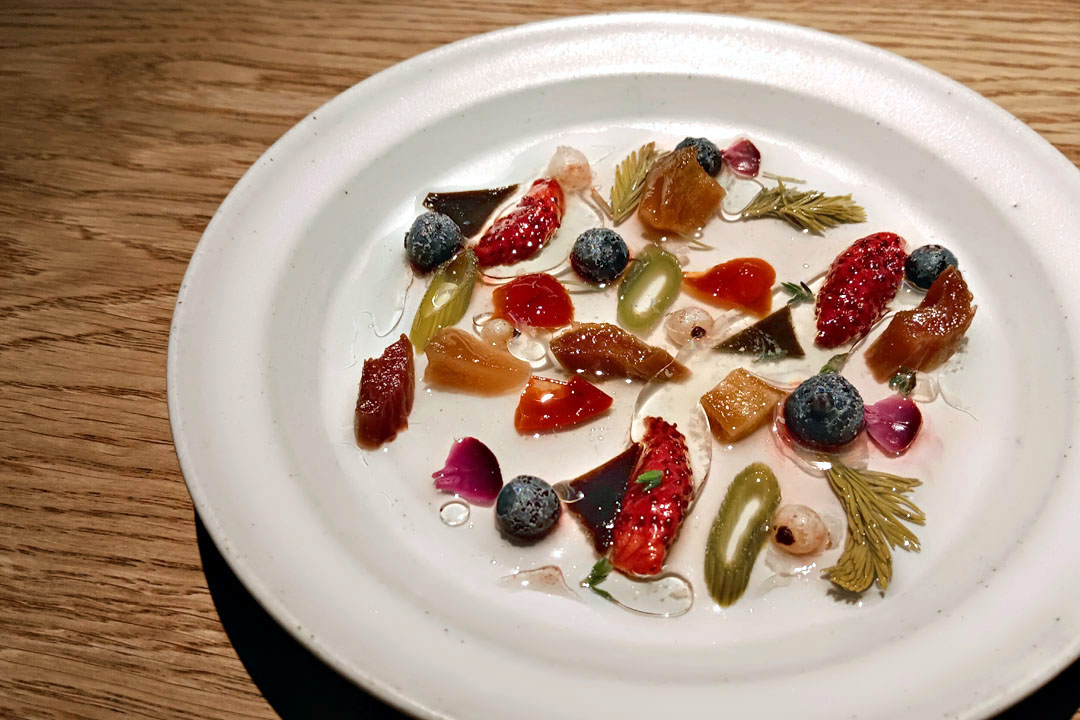 13: Fresh and preserved fruits
The evening's first dessert was a bit of a showstopper. It was such a pure, ultra concentrated expression of the summer garden, and I loved how its sweet, tangy, herby, and piney elements were brought together by that lemon verbena-boosted gooseberry juice.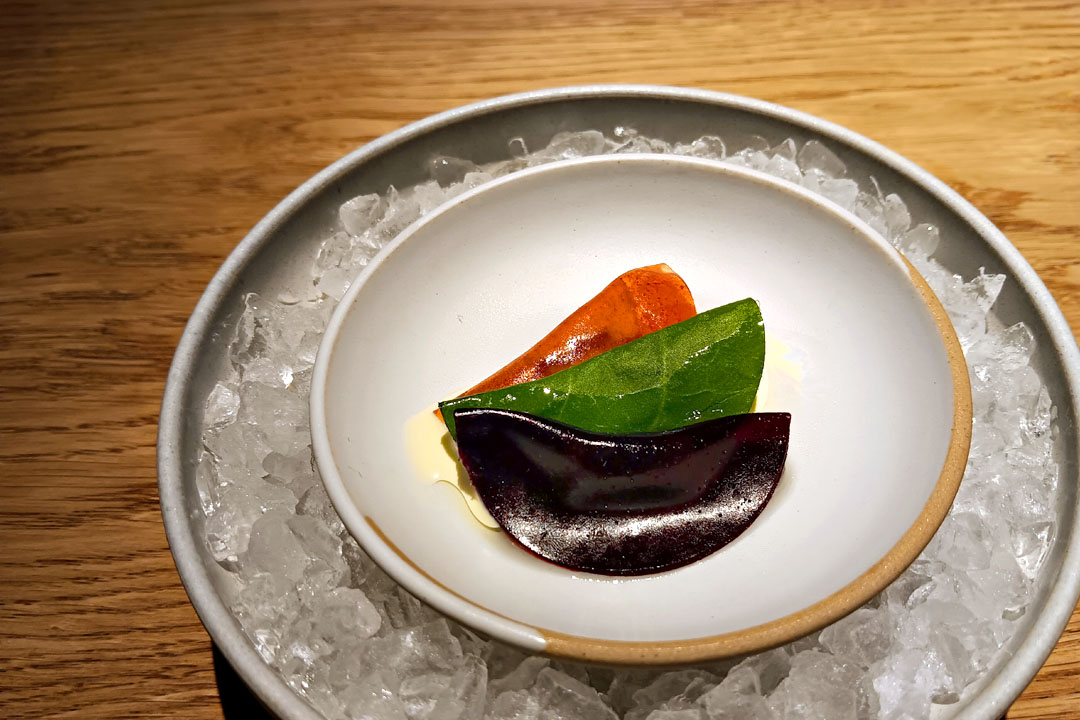 14: Sweet dumplings
We then moved to a trio of untraditional dumplings. I began with the gooseberry, which paired a grapey sweetness with a creamy, lactic element. The mint, meanwhile, went in a bright, herbaceous direction, with a strawberry-esque tang. Finally, we had the black carrot, which had this sort of vegetal sweet-n-sour thing going on that I quite liked.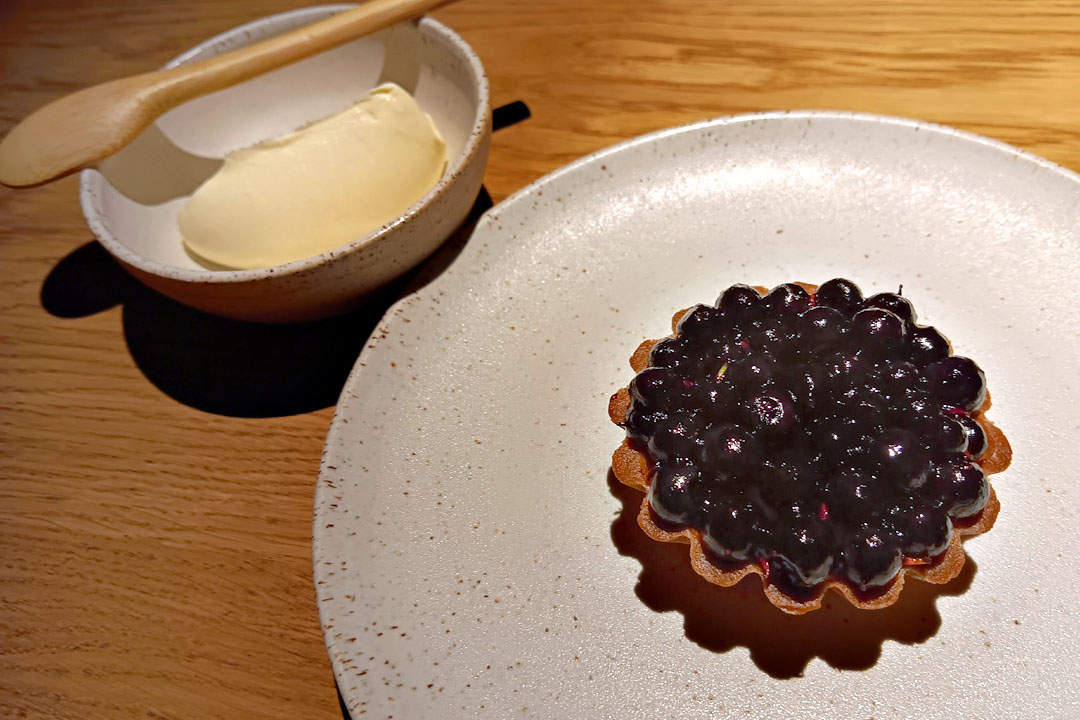 15: Blueberry tart
Tart blueberries played well with the nutty sweetness of frangipane and a pastry shell, while the cream imparted what seemed like a bit of herbaceousness.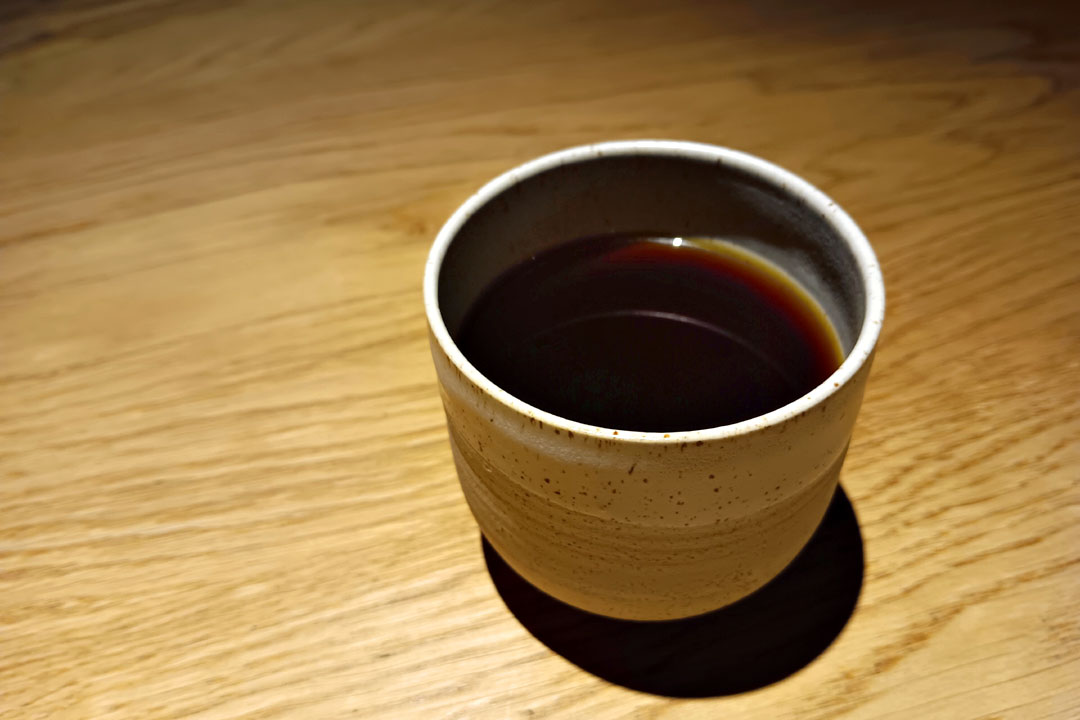 Coffee [75 kr ($11.37)]
from Kenya served as a fitting close to the meal. What was curious was that it had this fruity-vegetal character that actually reminded me of all the La Victoria salsa I used to consume as a child, but with a nutty backbone.
Kadeau served as a marvelous introduction to the Copenhagen dining scene. The kitchen delivered a pretty much flawless meal, one that highlighted the best of Bornholmian cuisine while blending creativity with comfort and the fresh with the familiar, never losing sight of deliciousness. I could sense all the technique and skill required to achieve this level of cookery, but I didn't have to think too much about such matters in order to enjoy the food. The service (coordinated tonight by Restaurant Manager Alberto Segade Menendez) was befitting of the cooking as well, and taken altogether, this was, without a doubt, my top meal of 2023 thus far.
Note: I'd forgotten to pack the SD card for the camera that I normally utilize for blogging purposes (a rookie mistake, I know), so I had to resort to using my cell phone to document the meal, hence the lower photo quality.