Coco's Tacos (Gardena, CA)
Cocos Tacos
1841 W Redondo Beach Blvd, Gardena, CA 90249
424.244.5718
www.instagram.com/cocos.tacos/
Tue 07/18/2023, 08:35p-10:10p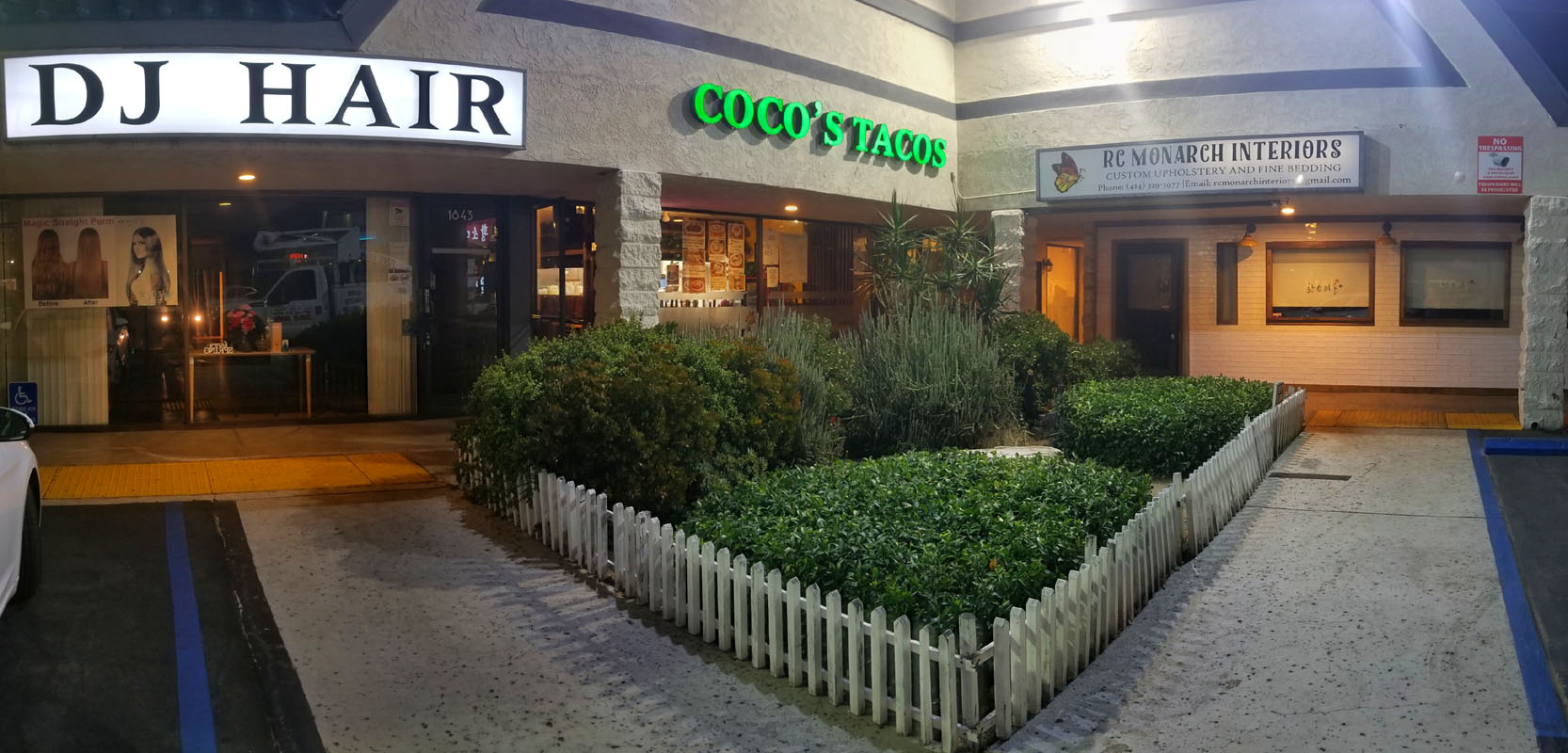 As I tend to do on occasion, I made my way to Torrance recently to pick up some whiskey, and wanted to get some takeout in the area. Now Japanese is the obvious choice when you're in the South Bay, but I was in the mood for Mexican, and thus decided to check out Coco's instead, a spot that I actually wasn't familiar with prior to this week.
The place opened in June 2020, and comes to us from the husband-and-wife team of Eustorgio Garcia ("Coco") and Maria Garcia, while their four children also help out. Apparently, the couple used to be part of the street taco scene up in LA (they were situated at the northeast corner of MLK/Denker, not far from BMO Stadium), but were convinced to open a permanent restaurant by Pablo Arakaki. Arakaki is the owner of Ladybug Cafe, which used to occupy the Coco's space. When he decided to move his business to a larger building (the old Bob's Hawaiian Style down the street), he helped the Garcias take over the lease and open up shop here.

As mentioned above, Coco's resides in a Republic Plaza strip mall storefront that was previously Ladybug Cafe. Before that, it was home to Jun Bento, Ohana Grill Hawaiian BBQ, and Coffee Cafe GNBY, among others I'm sure. They've obviously kept some of the previous tenants' Japanese-y decor.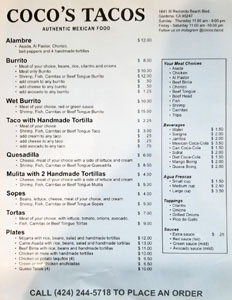 The menu here is about par for the course, proffering a variety of meats available in a number of formats. Click for a larger version.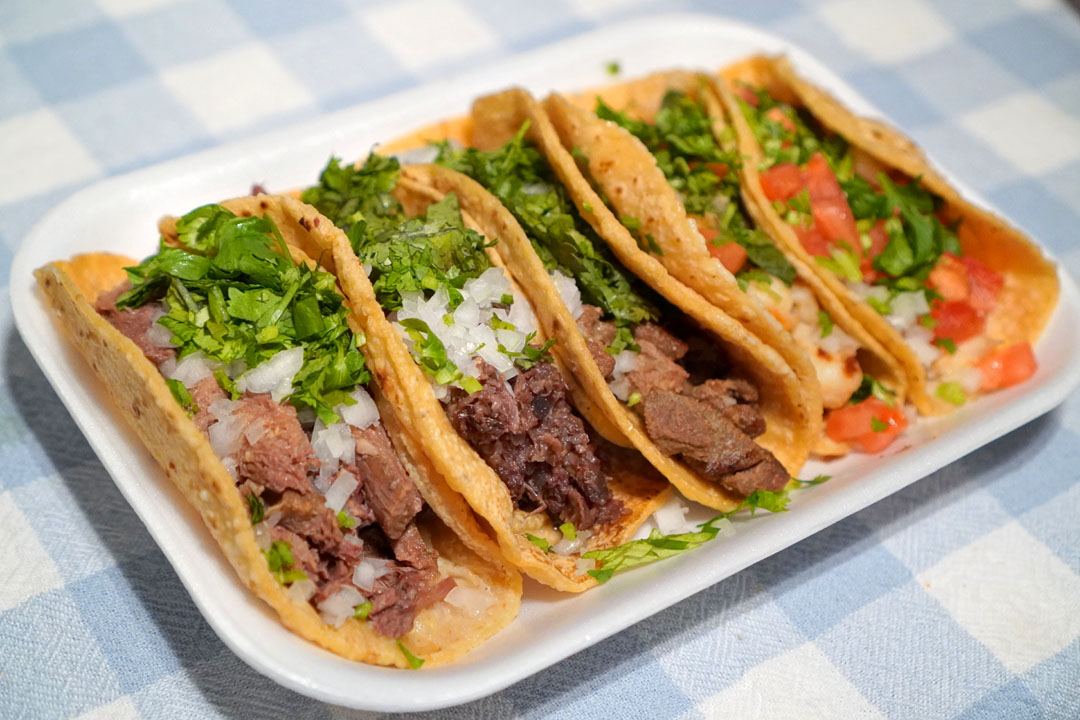 My quintet of tacos arrived together on one plate.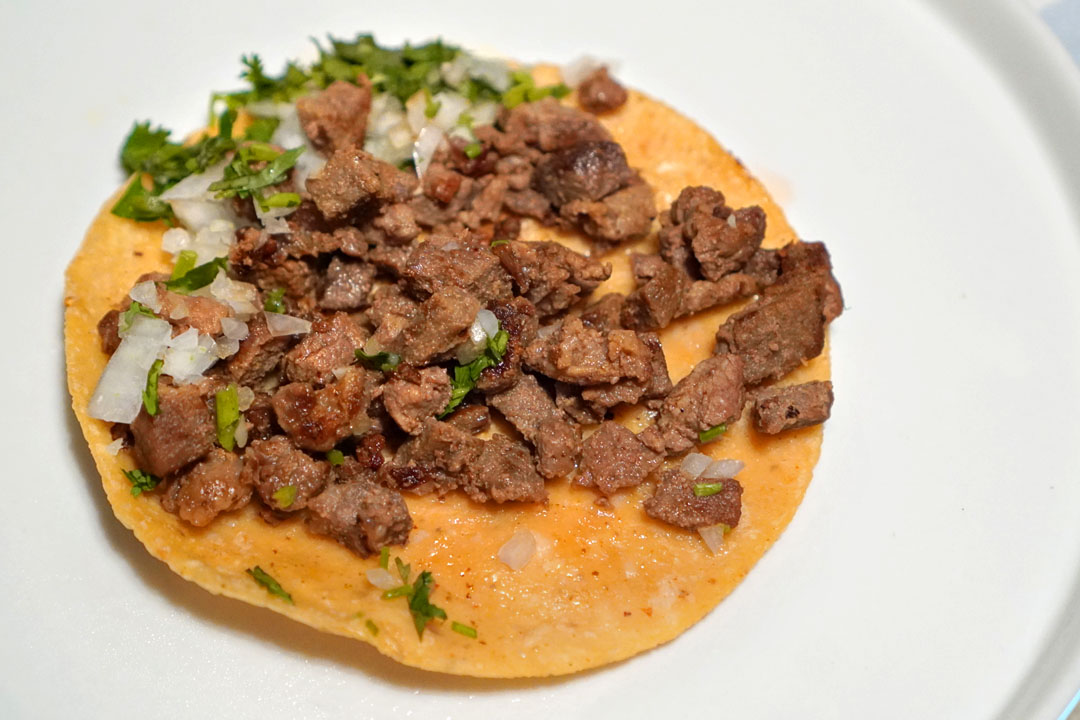 Taco - Asada [$2.25]
| Meat of your choice
We'll begin with the most fundamental unit of taco consumption. The carne asada showed off a pretty decent sear and spicing, though the beef was a touch tougher than I'd prefer. At the same time, the floppy-yet-substantial, moderately maíz-y tortilla was made in-house, and served as a fitting vessel for the meat. The taco also worked well with all three of the provided salsas; you can't go too wrong with this.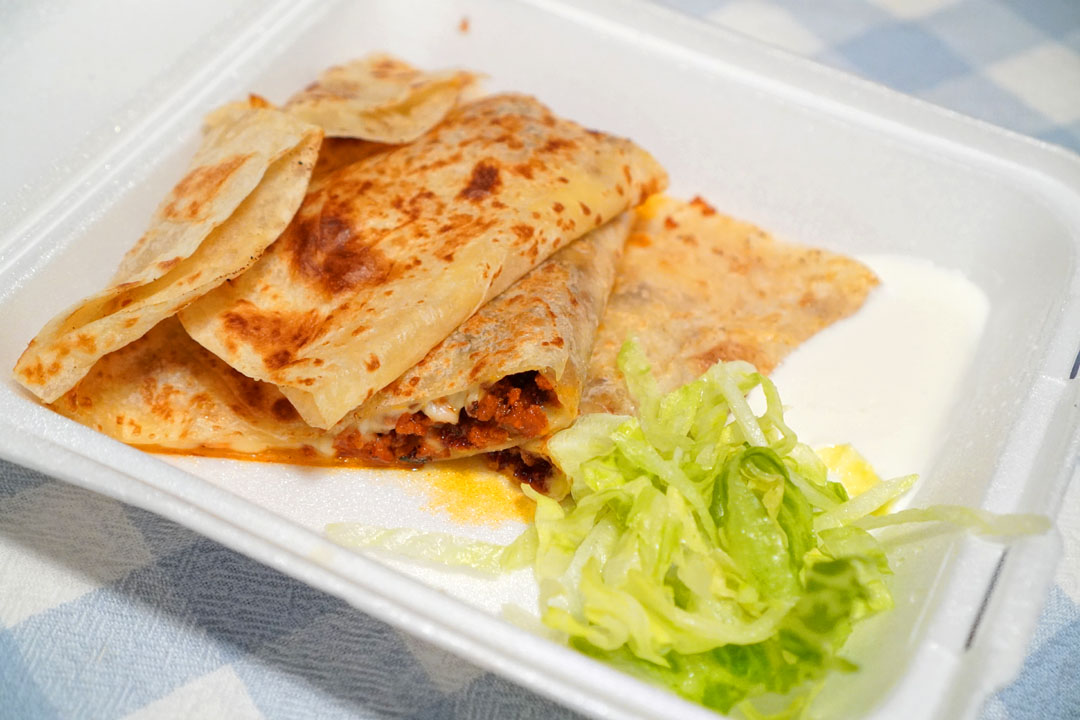 Quesadilla - Chorizo [$6.00]
| Cheese, meat of your choice with a side of lettuce and cream
Chorizo is generally my meat of choice for quesadilla purposes, and the sausage certainly delivered tonight with its classic, satisfying seasoning and rustic texture, all paired with stretchy cheese and a chewy flour tortilla. The lettuce and crema, meanwhile, served to lighten the mood.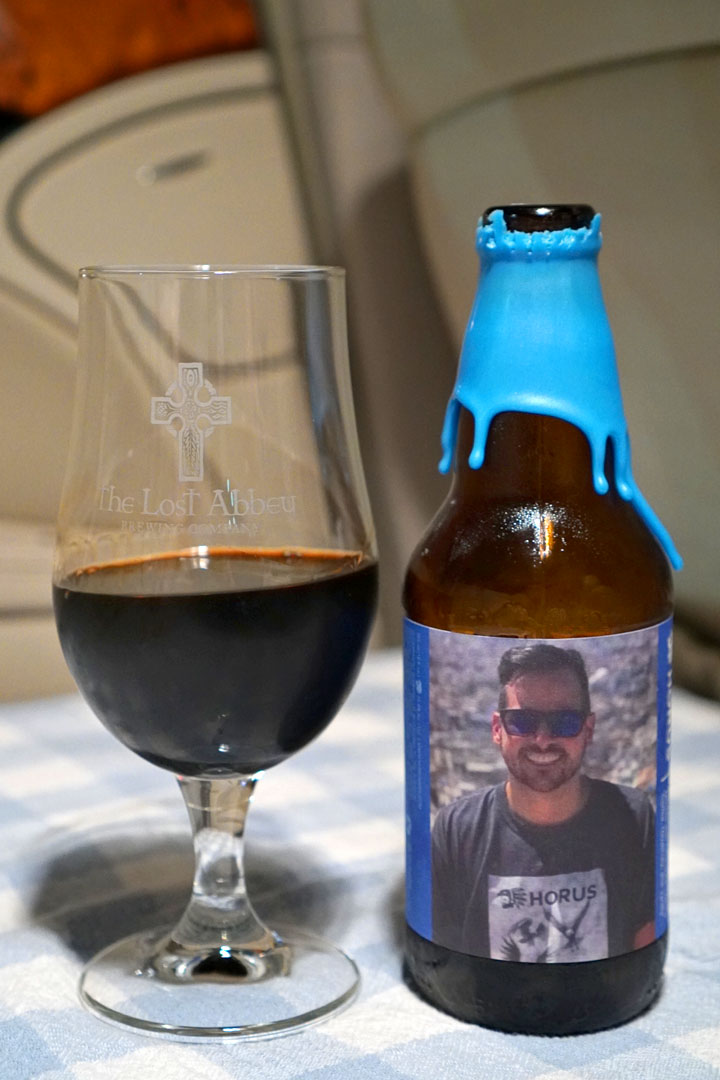 My first beverage was the
2023 Horus Stay Strong Alex
, an imperial stout aged in Buffalo Trace for 55 months, with chocolate, Geisha coffee, hazelnuts, and vanilla. It smelled fantastic, offering up loads of sweet hazelnuts swirled with vanilla, with just a hint of barrel peeking through. On the palate, the beer was properly thick, showcasing a mix of bourbon-fueled heat, oak, and dark fruits up front before transitioning to plenty more vanilla and hazelnut, accented by tinges of roasty coffee. A commendable effort.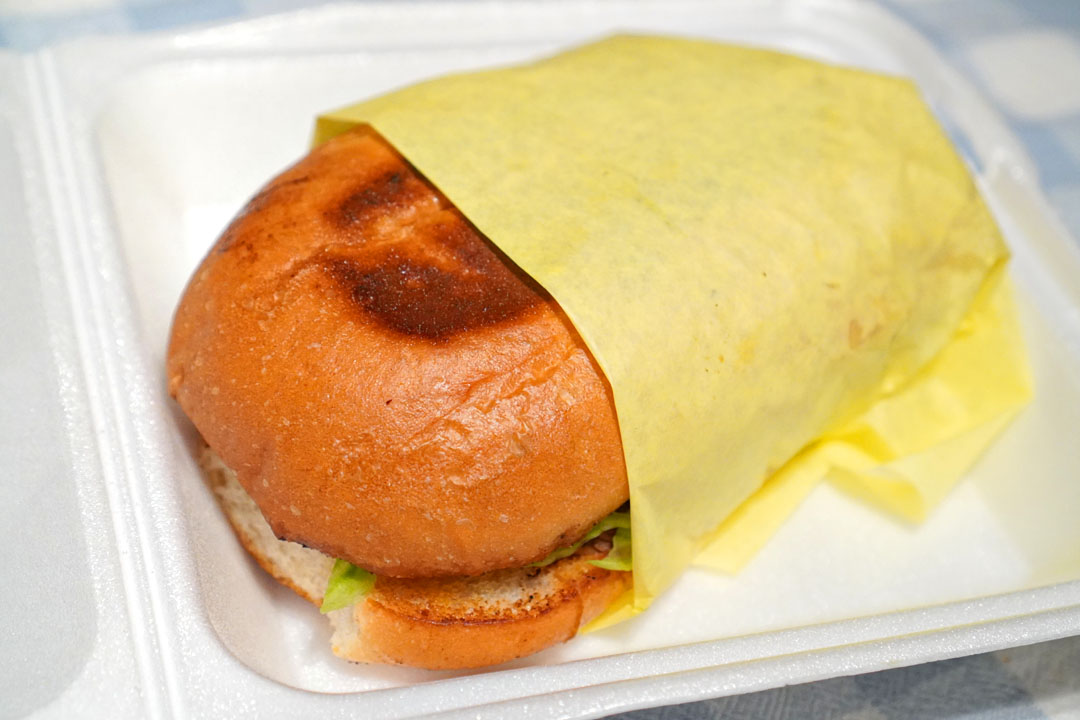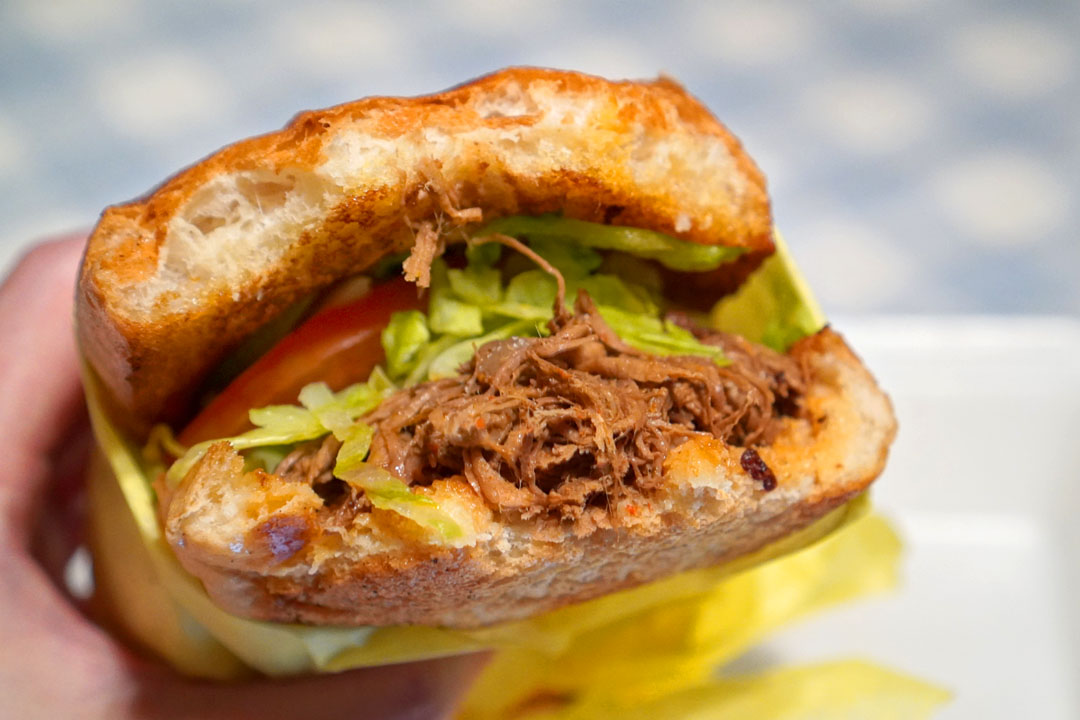 Torta - Beef Birria [$7.00]
| Meat of your choice, with lettuce, tomato, onions, avocado
Birria arrived deliciously-spiced, though it was drier than as I was hoping for. Nevertheless, the meat made sense with all the veggies here, and I liked that soft, toasty bread, too.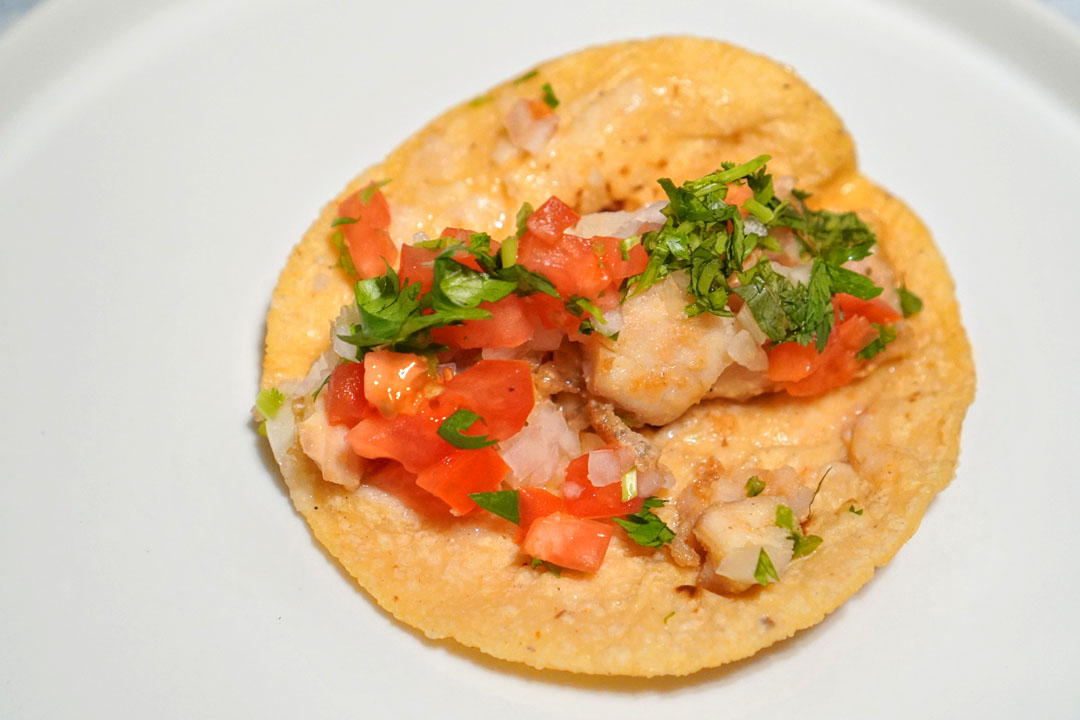 Taco - Fish [$3.00]
| Meat of your choice
The fish taco, unfortunately, was the weakest dish of the night. The actual pescado arrived underseasoned, and more worryingly, had a fishiness to it that I found off-putting. The pico de gallo was also lacking in vigor, so overall this was definitely a miss.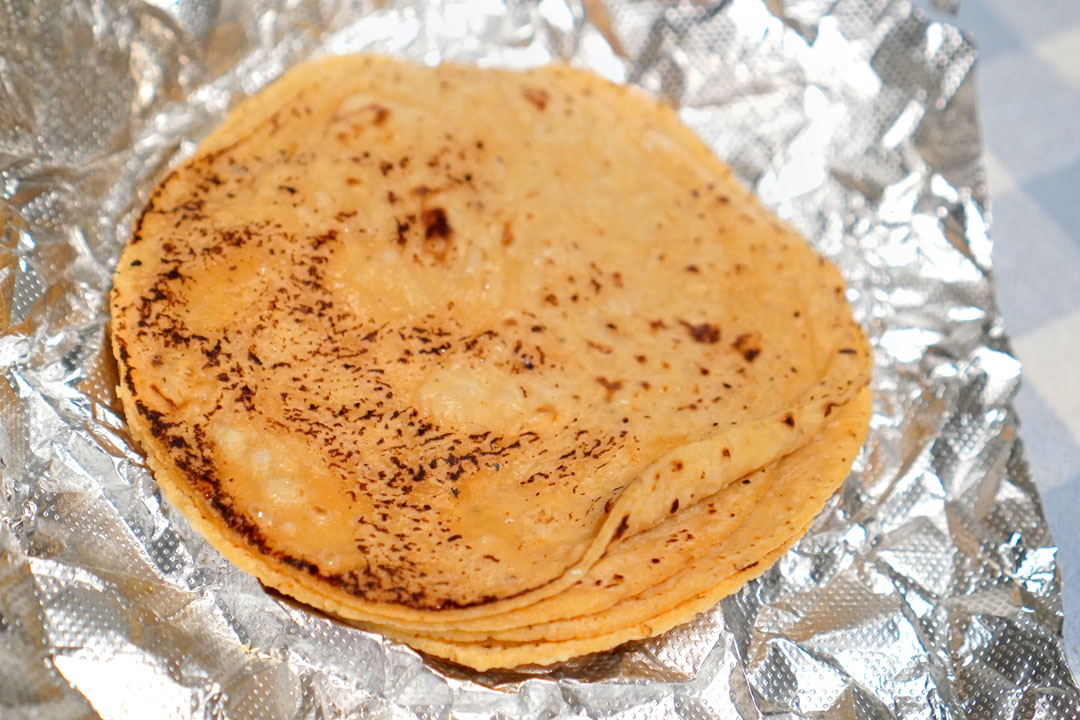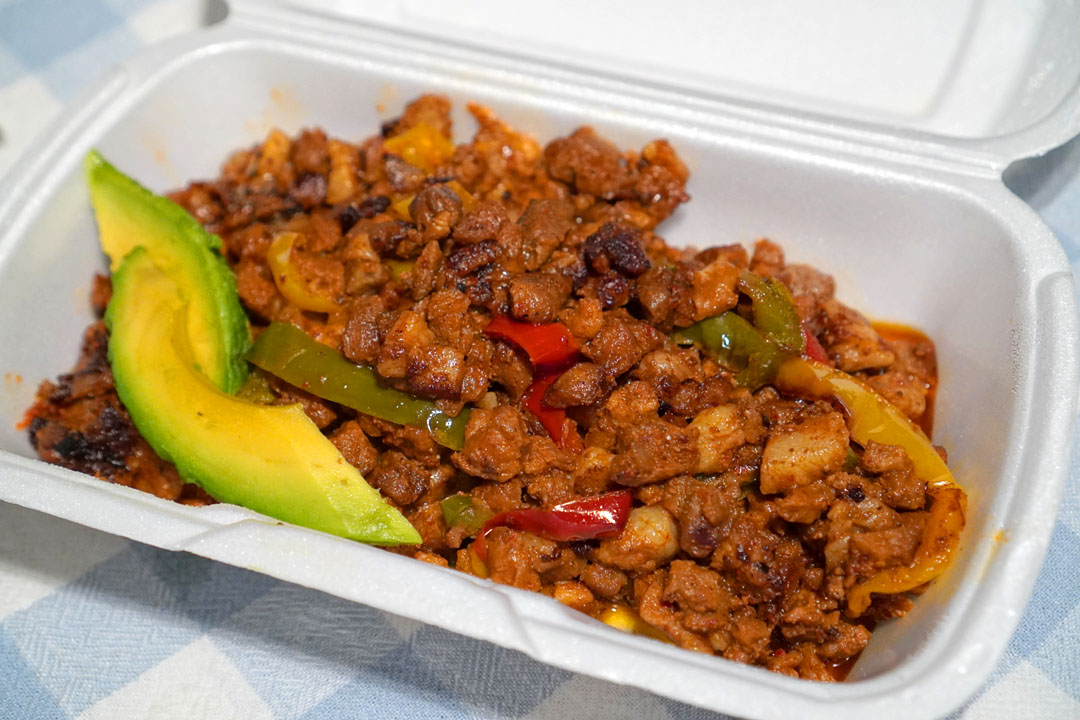 Alambre - Al Pastor [$12.00]
| bell peppers and 4 handmade tortillas
The alambre was a favorite, largely thanks to the al pastor itself, which ate tender and juicy, and was imbued with this delightfully warm spicing. The counterpoint provided by the peppers was much appreciated as well, while the those housemade tortillas served as a natural complement to the pork.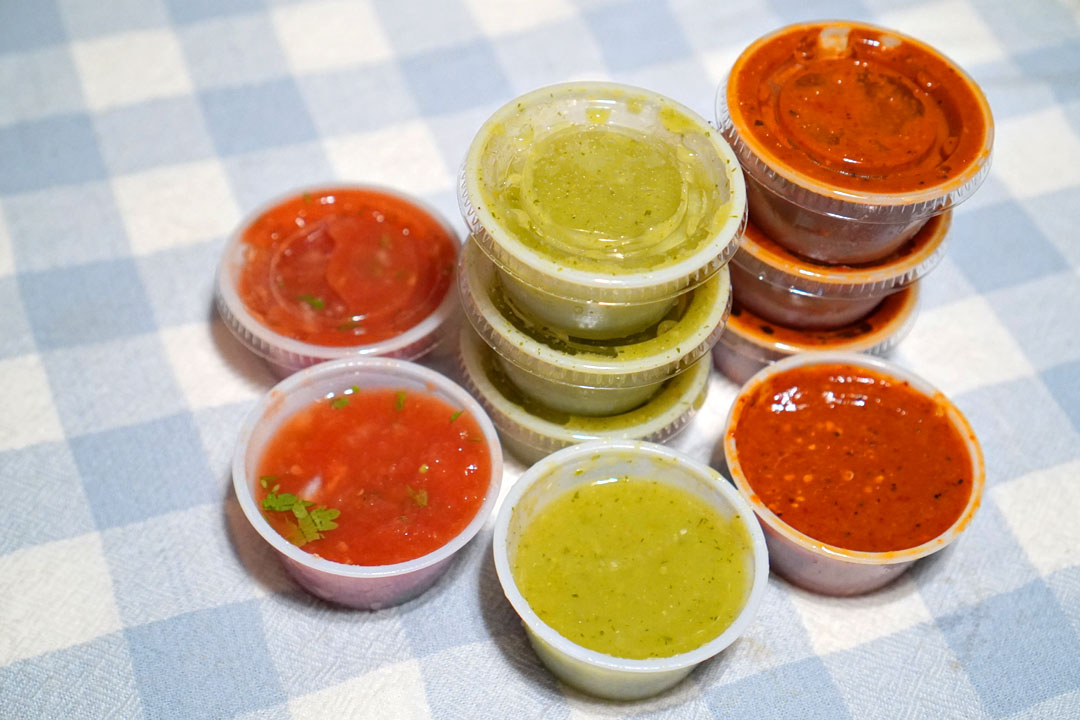 Three salsas were provided with my meal: a liquidy, very mild, slightly sweet cruda; a tangy, vegetal verde; and a smoky roja that was certainly the spiciest of the trio.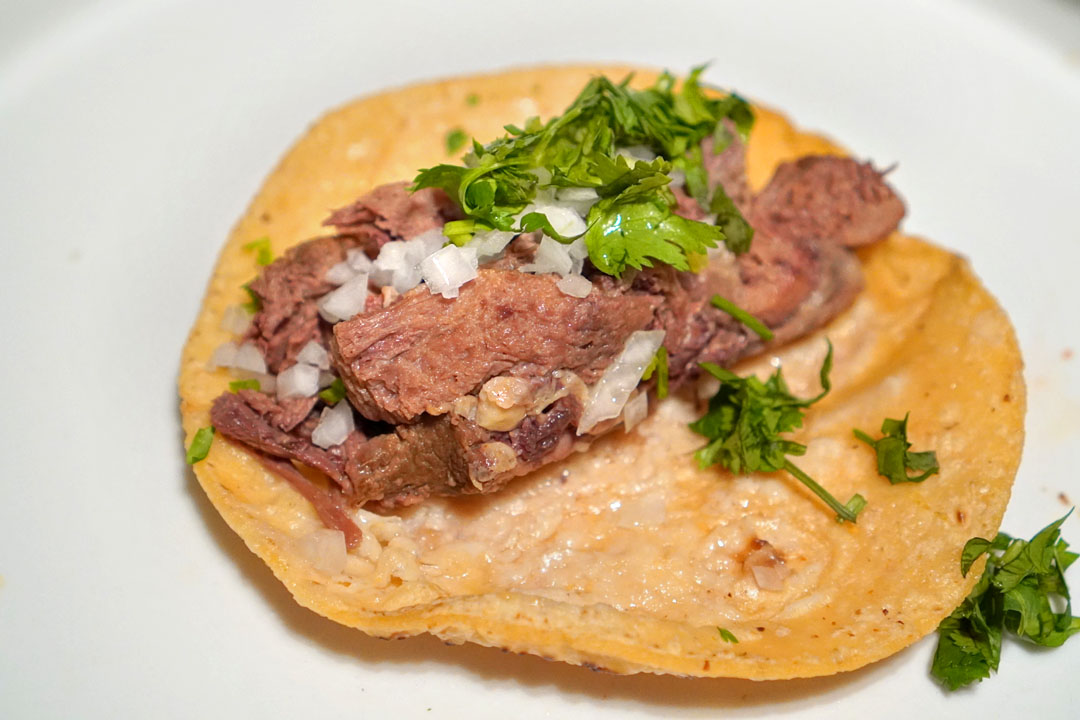 Taco - Beef Tongue [$3.00]
| Meat of your choice
Lengua came out as soft as I wanted, and featured some restrained spicing that really called for a splash of that fiery salsa roja.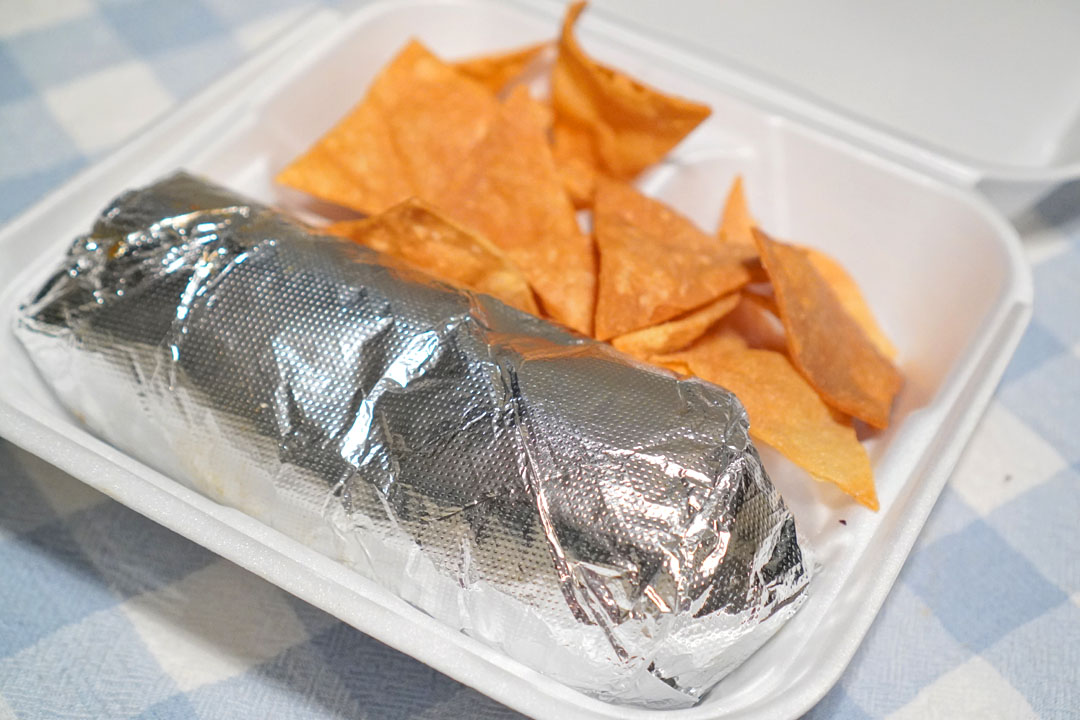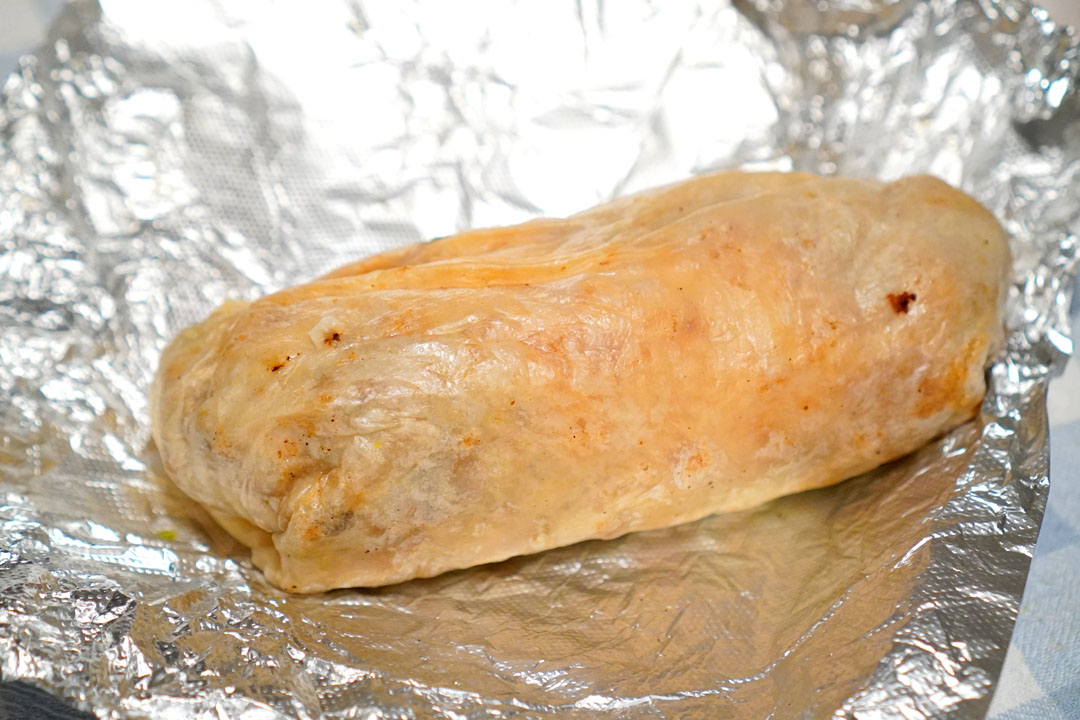 Burrito - Chicken [$8.00]
| Meat of your choice, beans, rice, cilantro and onions
The burrito de pollo was a surprise standout. I quite enjoyed the smoke and sear on the chicken, and the bird married seamlessly with its various accompaniments, the rice in particular. A good match with all three salsas.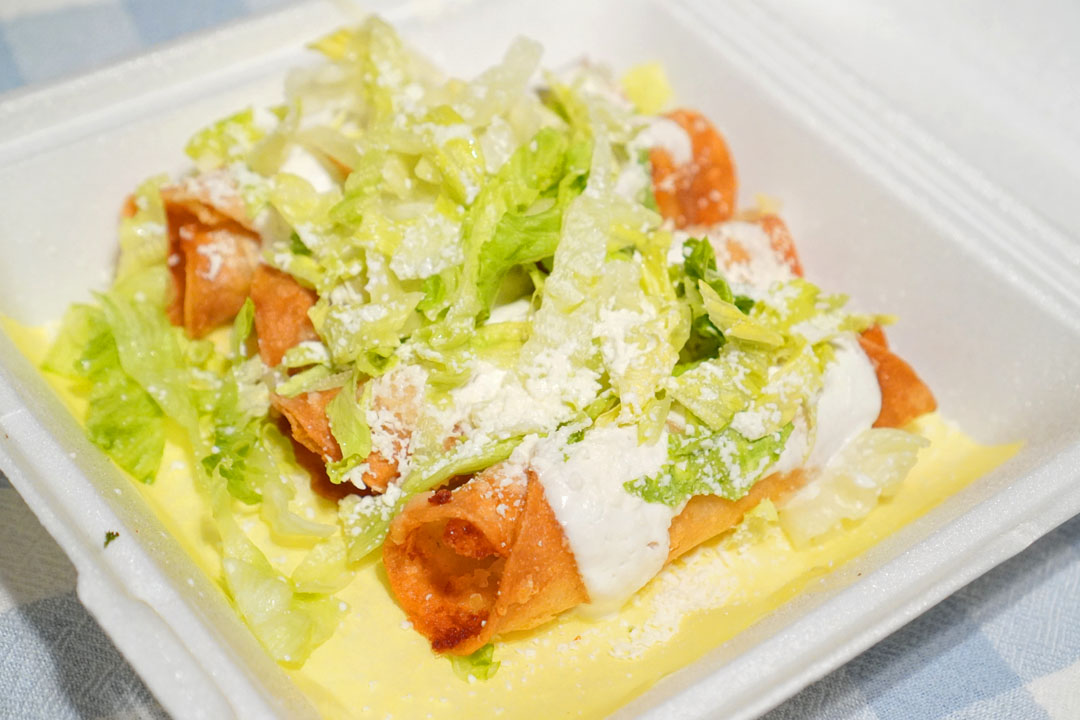 Potato Taquitos [$6.50]
I was also a fan of the taquitos de patata, which came stuffed with mild-y spiced potato. The rolled tacos really sang when paired with the cheese/cream/lettuce combo, and was even better with a dash of salsa roja/verde.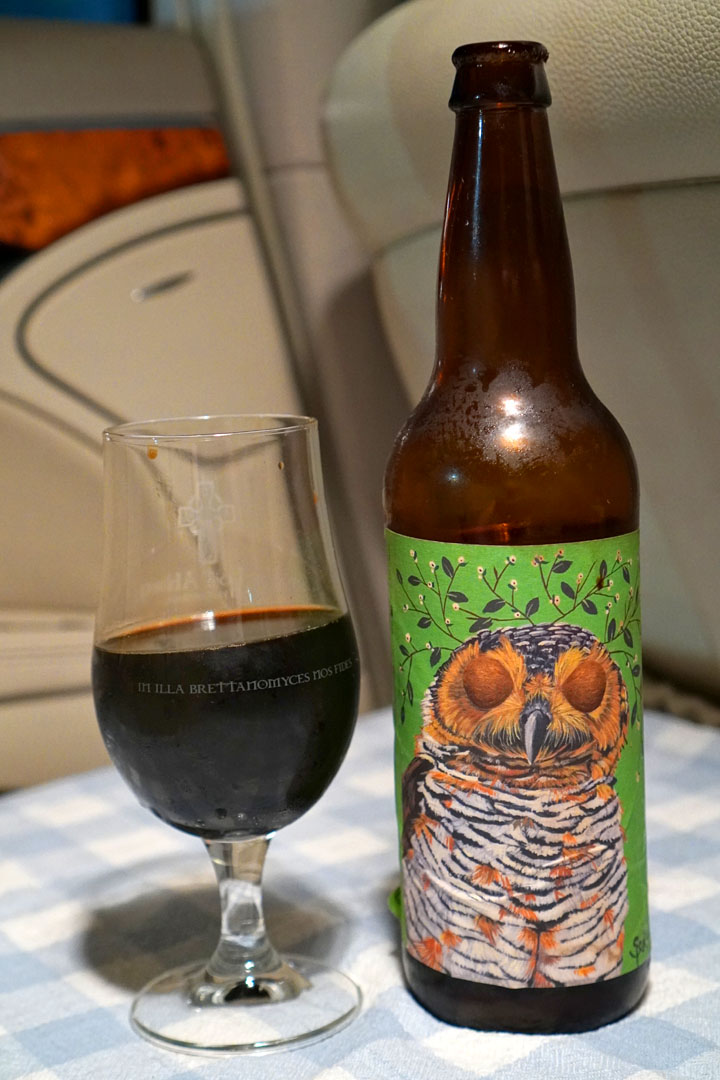 An imperial stout with coconut, coconut, coconut, coconut, coconut, coconut, coconut, coconut, coconut (yes, that's literally what it says on the label), the
2022 Horus Coco Eyez
was the night's second libation. On the nose, I got a reasonable amount of coconut, joined by elements of vanilla and dark fruit. In terms of taste, the beer conveyed a tangy, almost cinnamon-esque spice that managed to completely overshadow the actual coconut, much to my dismay. Given that I was visiting a restaurant called Coco's, I felt that the bottle seemed apropos, but it ended up being a clear disappointment, especially given that "coconut" was listed on the label a ridiculous nine times.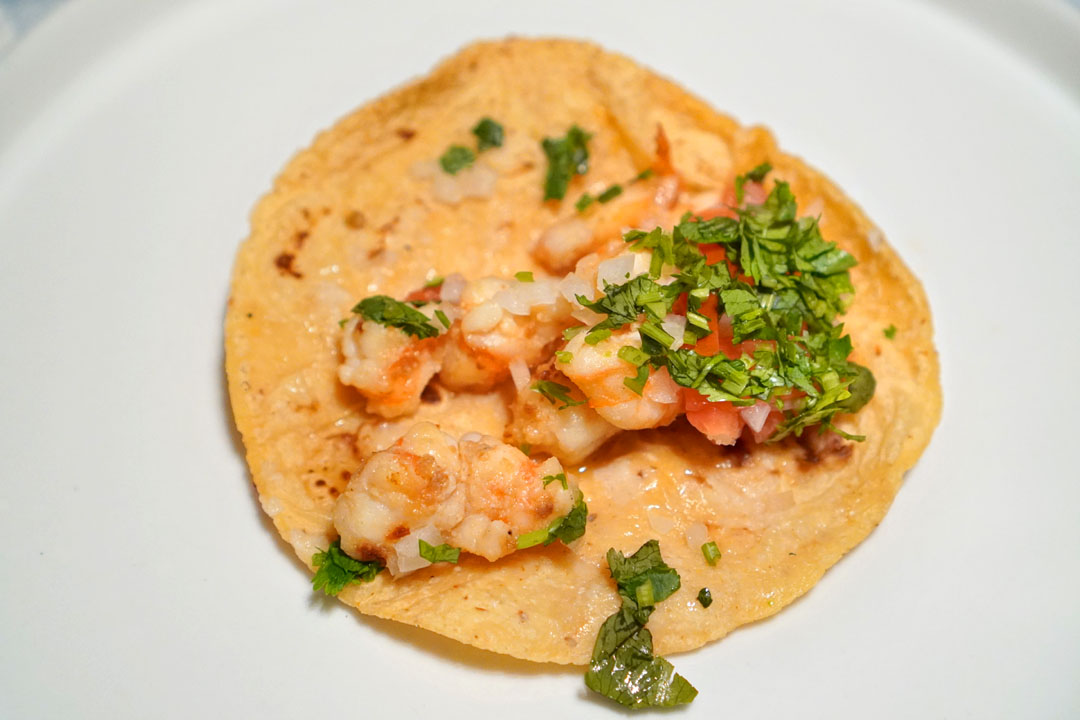 Taco - Shrimp [$3.00]
| Meat of your choice
The taco de camarones was also a letdown, with the actual shrimp coming out overcooked and underseasoned. And again, the salsa fresca didn't really help much. It seems like you might want to stay away from the seafood here.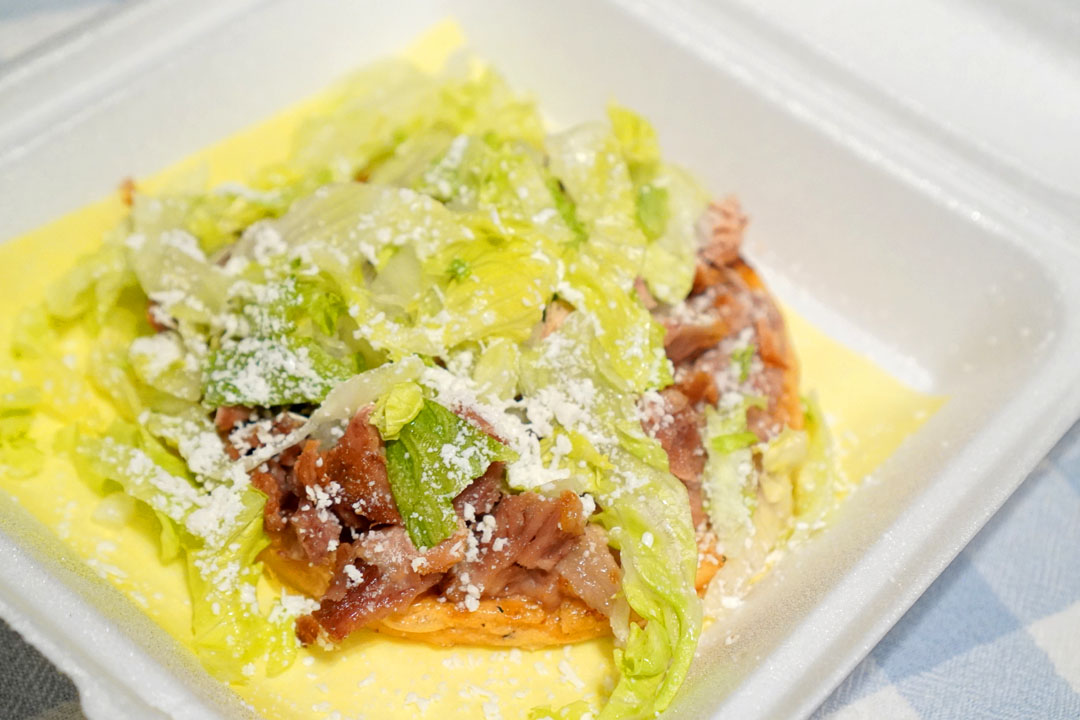 Sope - Carnitas [$5.00]
| Beans, lettuce, cheese, meat of your choice, and cream
The sope was quite nice, with the carnitas arriving tender and teeming with this porcine funk. The pork melded easily with its substantial, moderating masa base, and I certainly appreciated the contrast provided by the lettuce and cheese.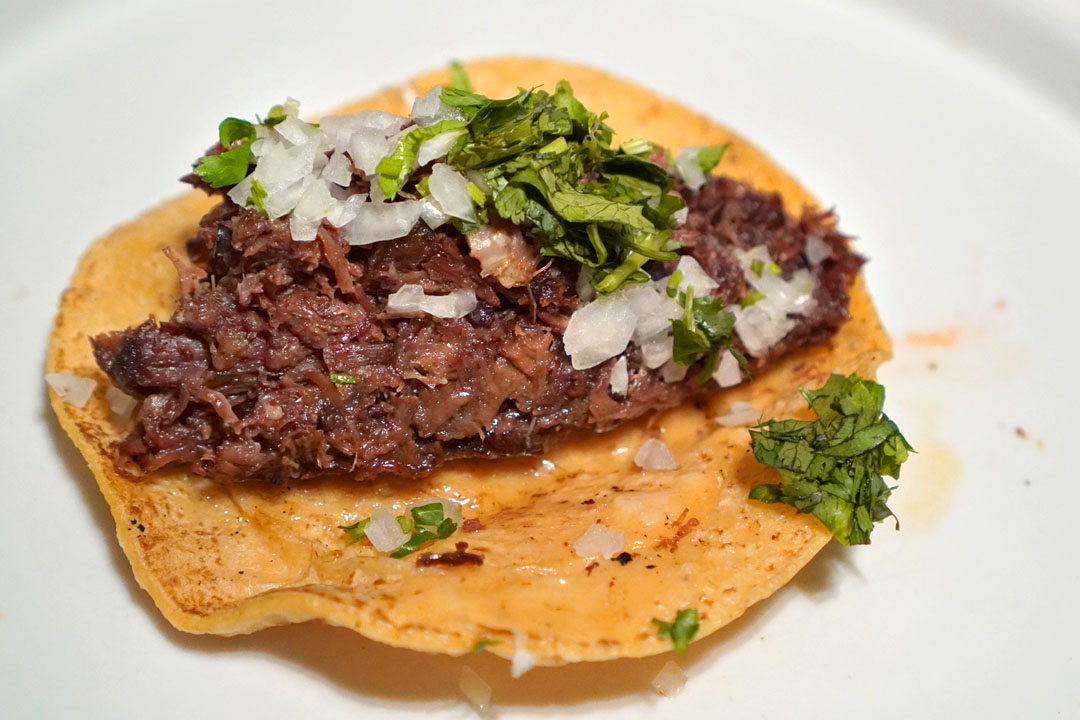 Taco - Beef Head [$2.25]
| Meat of your choice
Another favorite of mine was the taco de cabeza. That head meat had that gelatinous consistency I was looking for, along with some nice spicing and plenty of dark-toned flavors. This was best with the salsa verde.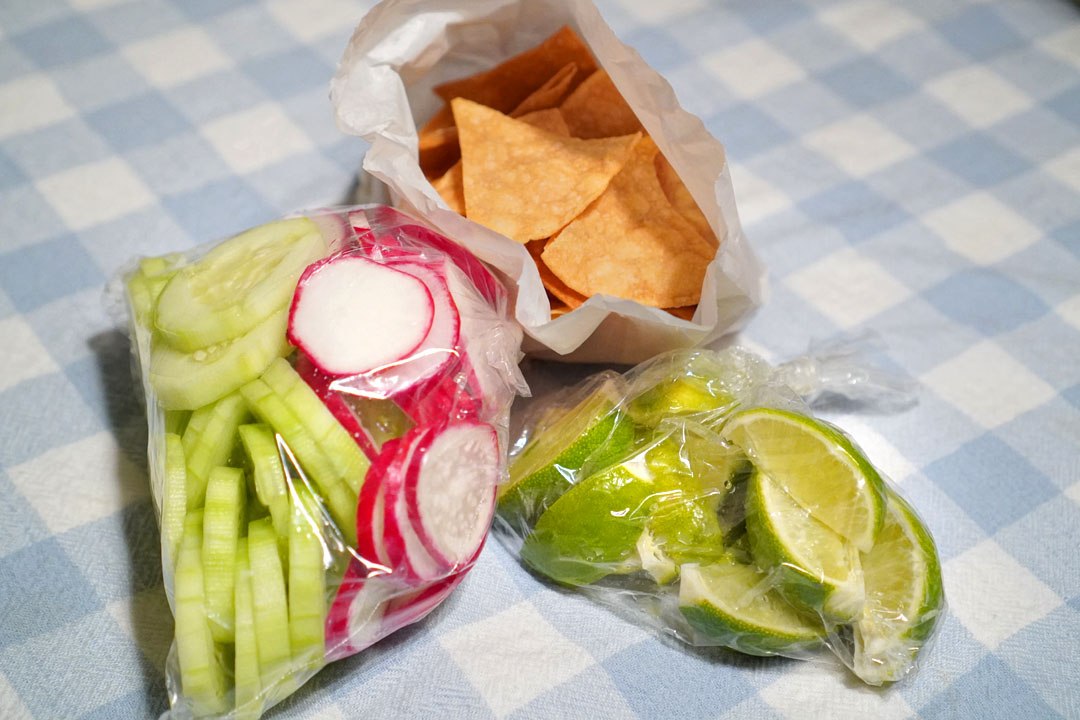 Other accoutrements were sliced radish/cucumber, limes, and tortilla chips that had this almost wonton strip-like sweetness.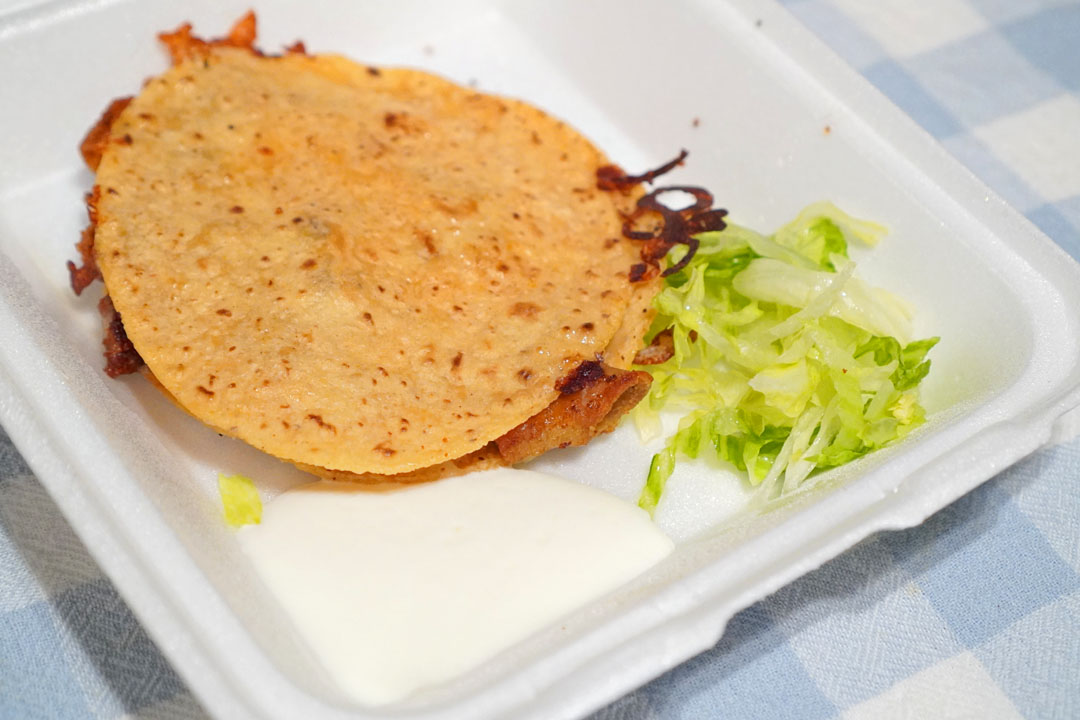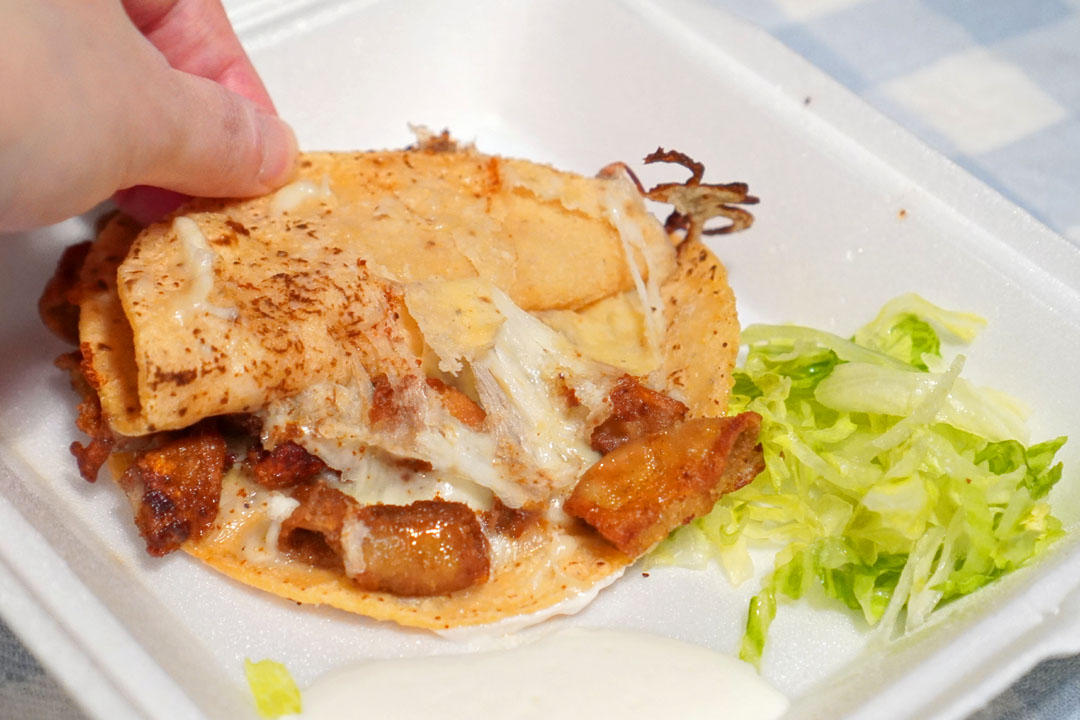 Mulita - Tripa [$4.00]
| Cheese, meat of your choice with a side of lettuce and cream
Also a highlight was the mulita de tripas. The intestines demonstrated that mix of earthiness, smoke, and sear that I wanted, and I loved all the crispy bits as well. Great counterpoint from the handmade tortillas, too.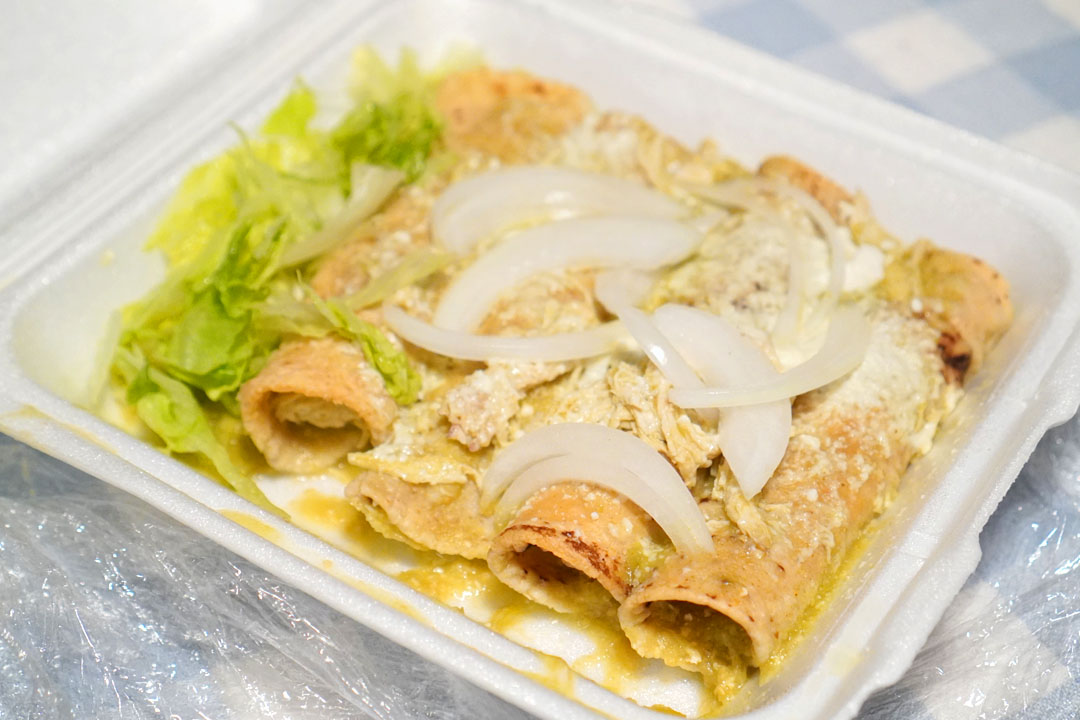 Green Chicken Enchiladas [$6.50]
Last up were the enchiladas verdes, which combined homey cuts of chicken with a tangy tomatillo sauce in classic, comforting fashion. I was quite a fan of those zesty raw onions, too.
The kitchen undoubtedly delivered a couple real missteps with tonight's meal, though overall, there were certainly more hits than misses, and I was generally content with what I received. This was some pretty prototypical Mexican fare, but I could see myself returning next time I'm around these parts.