San Laurel (Los Angeles, CA)
San Laurel at Conrad at The Grand LA
100 S Grand Ave, Los Angeles, CA 90012
213.349.8585
www.sanlaurel.com
Tue 09/13/2022, 07:30p-10:05p

I'd been a patron of the old
Patina
ever since the late 2000s, and one of the things that always irked me during my visits was the unsightly parking garage situated directly across the street from the restaurant. Thus, I was heartened when construction of The Grand LA at the site began at the start of 2019, and even more so when I found out last year that none other than
José Andrés
would be opening up a trio of restaurants at the property, especially given the closure of
The Bazaar
back in August 2020. The mixed-use development grand-opened on July 6th, with San Laurel (named after the bay laurel) debuting two days later inside the Conrad hotel. The cuisine here is a blend of Spanish and Californian, and is executed on a day-to-day basis by Head Chef Jeff Chen.
About the Chef
: Chen comes from a Chinese-Canadian background, and actually got his start in February 2004 inside the kitchen of Prime steakhouse in Toronto. He left the following May to pursue a formal culinary education, and thus attended Toronto's George Brown Chef School. During this period, he cooked at a local Hilton, and after completing his studies in 2006, stayed at the hotel for a few years. Following, Chen relocated to LA to take on a position at The Bazaar/
Saam
in April 2012. He progressed up the ranks from cook to sous to exec sous before the restaurant shuttered in 2020, but remained at the SLS, becoming the property's CdC. He served in that role until January this year, when Andrés tapped him to run the show at San Laurel.


The Grand as a whole was penned by acclaimed architect Frank Gehry, while the interior of the Conrad was designed by
Tara Bernerd & Partners
, a British outfit. San Laurel sits on the 10th floor of the hotel, and features a warm, earth-toned aesthetic that does fit the restaurant's Cal-Mediterranean cooking. The main dining room is pictured above, but there's also a patio (where we were seated), which affords diners a view of the Walt Disney Concert Hall across the street (see topmost photo).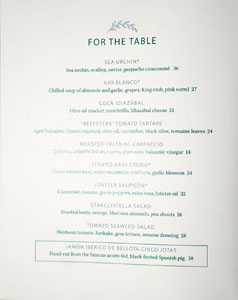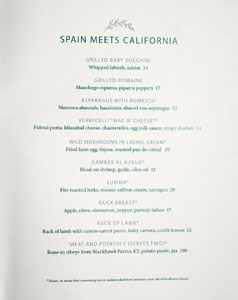 The menu sports a Cal-Spanish vibe, and is simply divvied up into two sections for starters and more substantial dishes. Click for larger versions.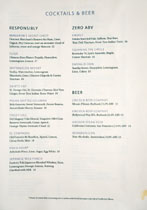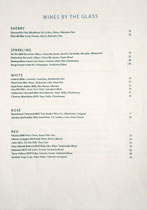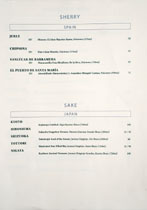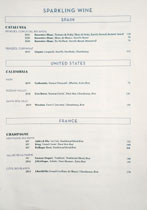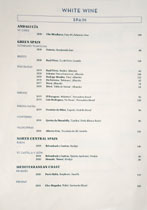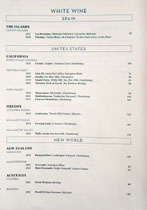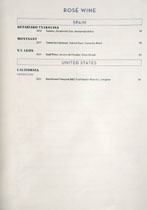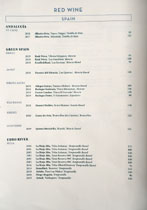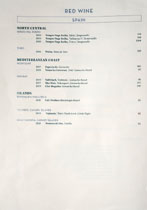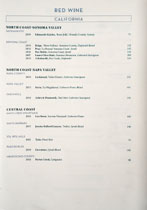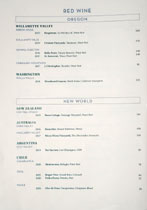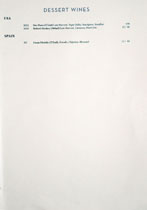 Beverage-wise, you get cocktails from Miguel Lancha (who's in charge of the bar programs at most of Andrés' properties), a couple beers, a full spirits selection, a smattering of sake, and a Spanish- (and to a lesser extent, Californian-) leaning wine list. Click for larger versions.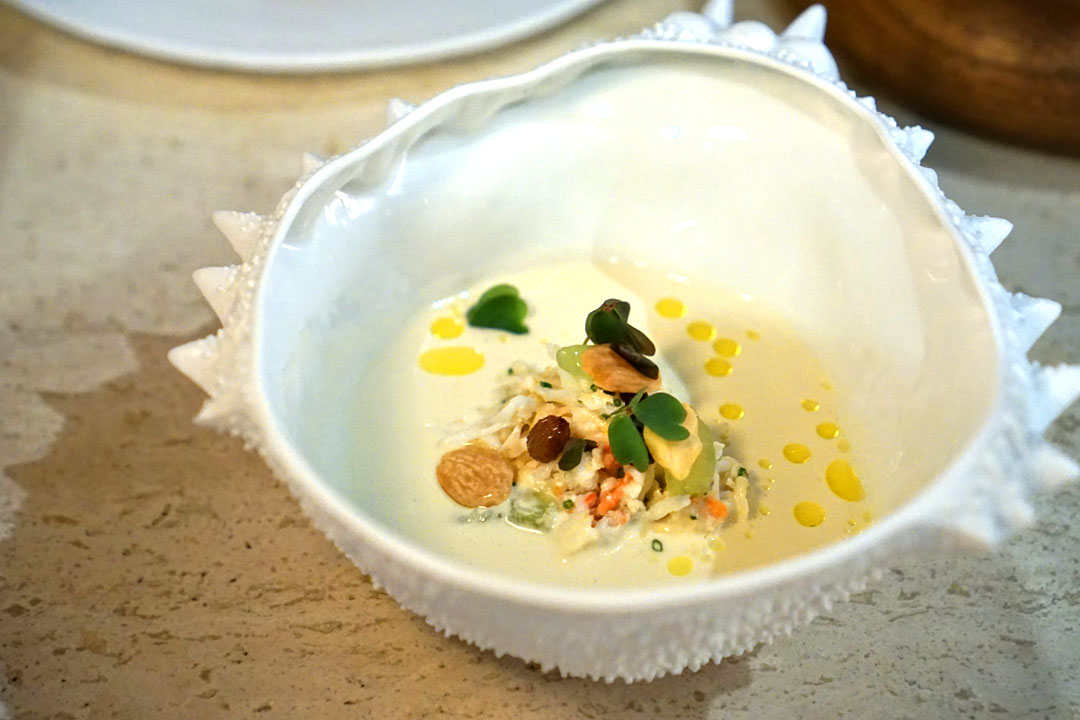 Ajo Blanco [$27.00]
| Chilled soup of almonds and garlic, grapes, King crab, pink sorrel
Our meal got off to a very strong start thanks to the ajoblanco, which was probably the best version of the dish I've had. I loved the soup's "gritty" consistency, but even better was how its grapey, nutty flavors so effortlessly married with the sweetness of the king crab. Nice crunch from the almonds, too.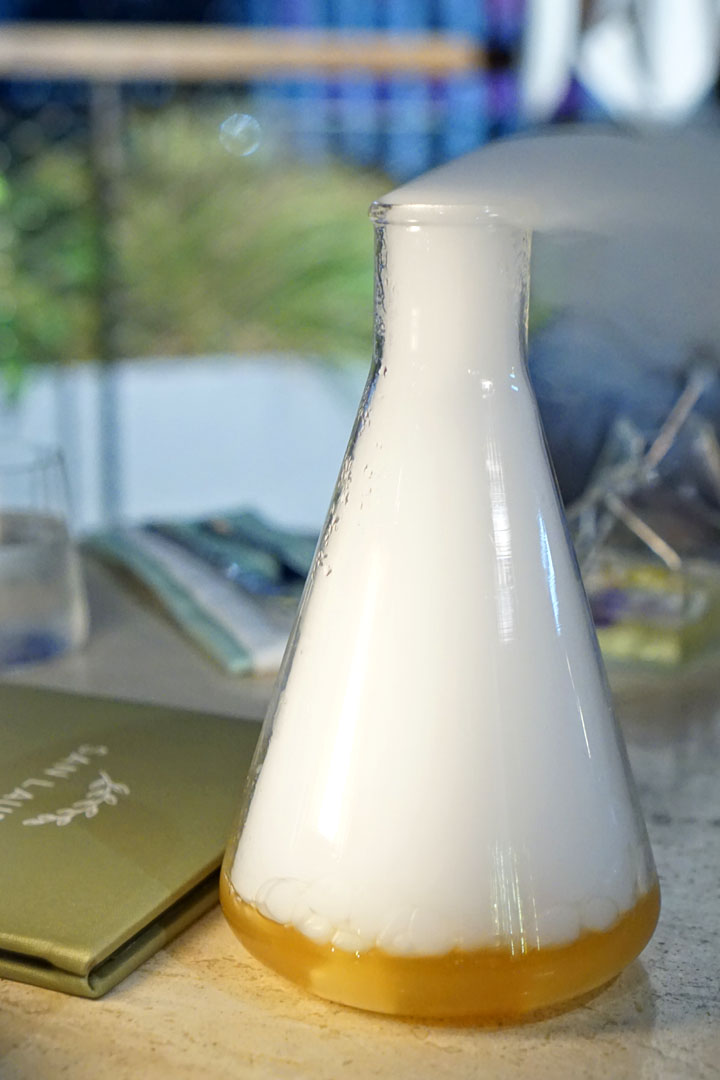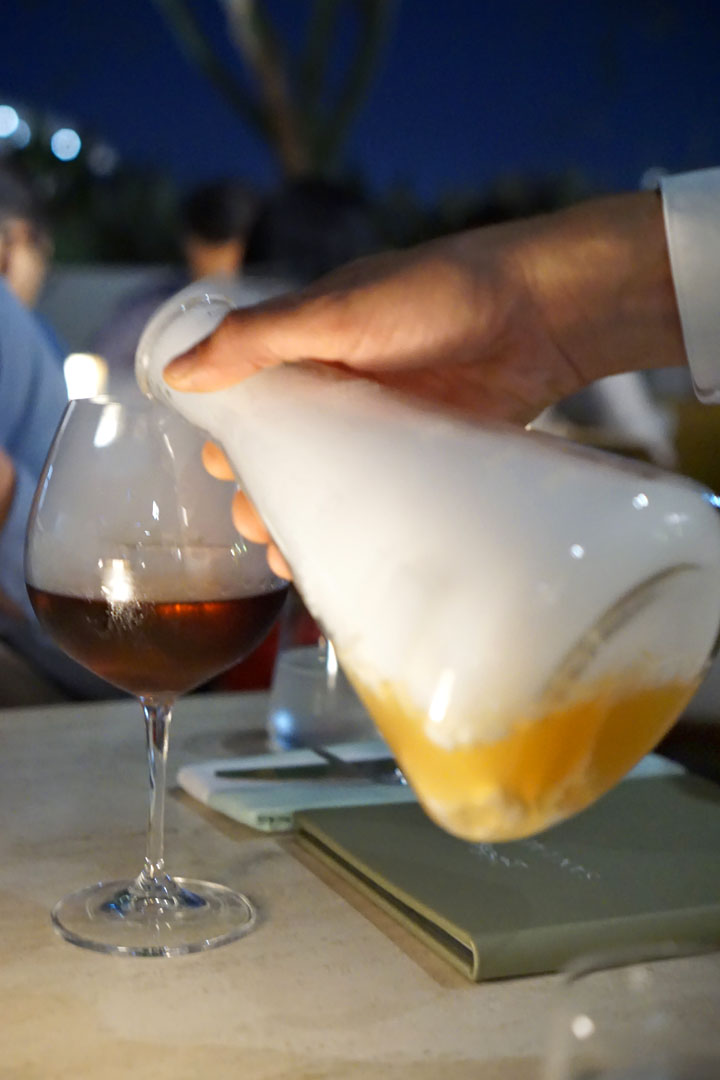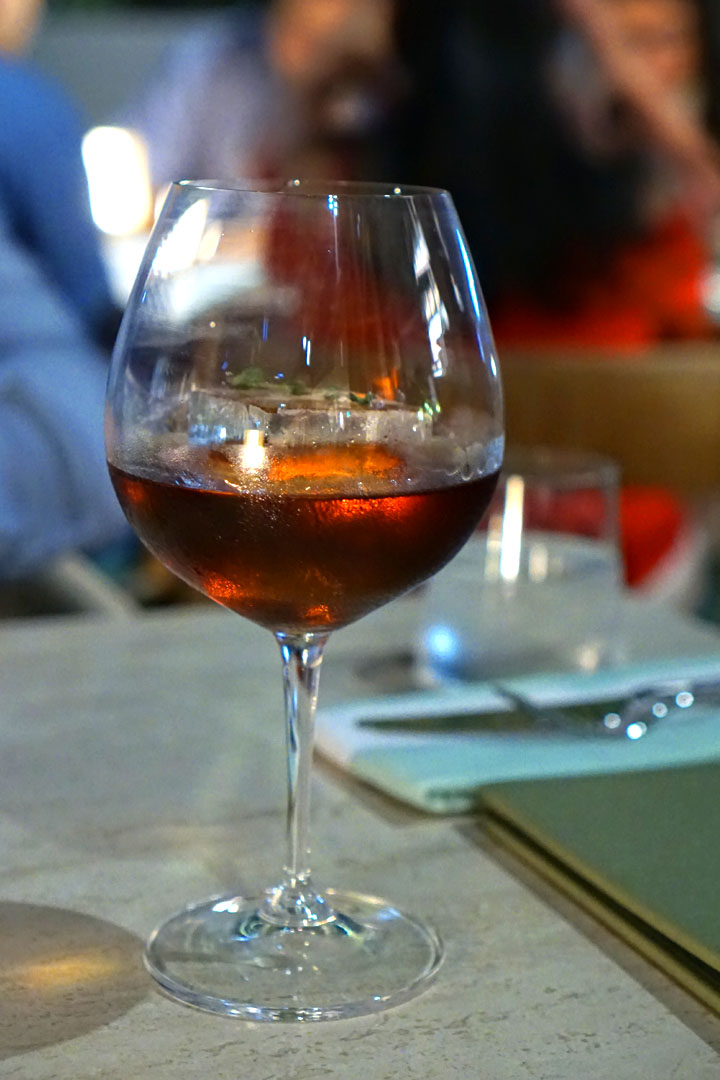 Foggy Hill [$22.00]
| Del Maguey Vida Mezcal, Yzaguirre 1884 Gran Reserva Vermouth, Cynar, Aperol, Orange-Thyme Aromatic Cloud
We ended up making our way through all of the nine cocktails, and this first one definitely involved some tableside theatrics. "Aromatic cloud" aside, the drink was quite lovely, blending the unmistakable smokiness of mezcal with a bevy of bittersweet, herbaceous elements that just made sense.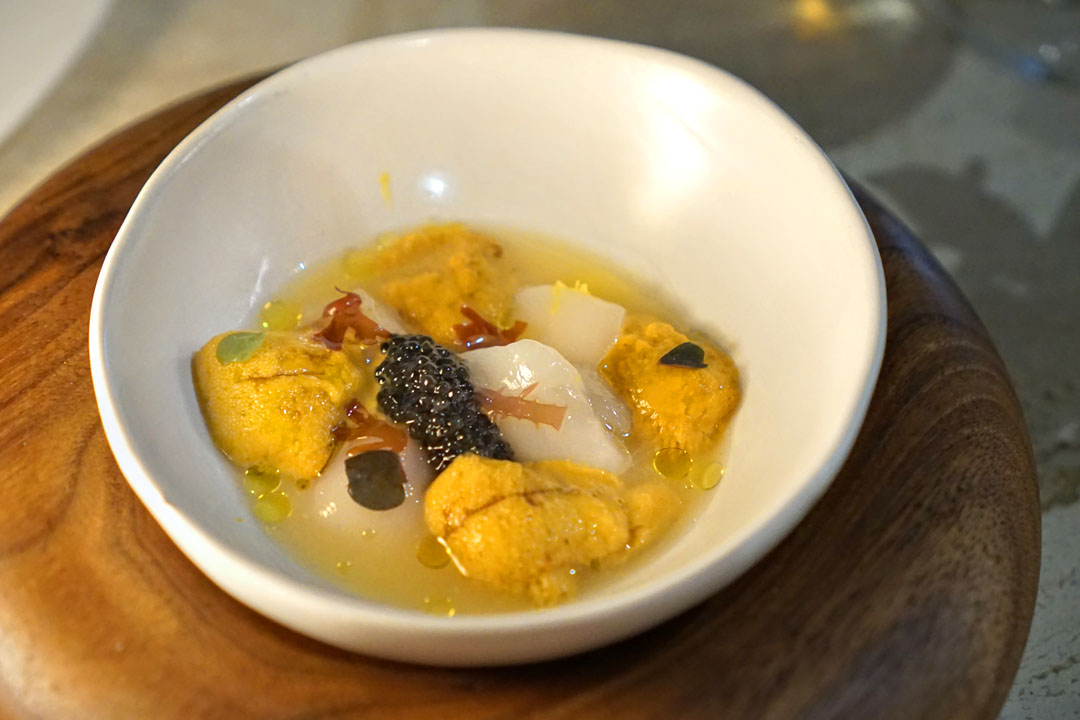 Sea Urchin [$36.00]
| Sea urchin, scallop, caviar, gazpacho consommé
Naturally, the uni was a must-try. Here, I really appreciated how the sweetness of the roe/scallop combo was matched with the sharp salinity from the caviar, all while the gazpacho helped lighten the mood.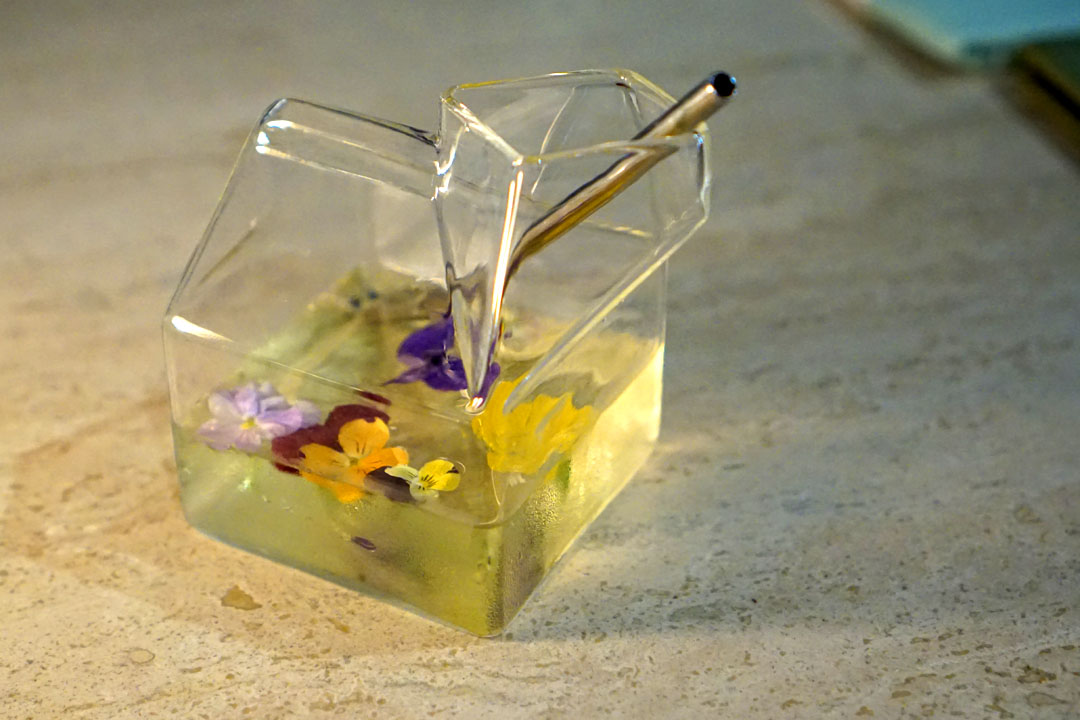 Japanese Milk Punch [$21.00]
| Suntory Toki Japanese Blended Whiskey, Yuzu, Lemongrass, Orange, Lemon, Nutmeg, Clarified with Milk
Our next cocktail featured a rather whimsical vessel that certainly evoked memories of childhood lunches. The punch was silky smooth, of course, and displayed a nice balance of floral and herbal nuances, offset by a zesty astringency. However, my complaint was that the drink lacked oomph, and seemed a bit flat.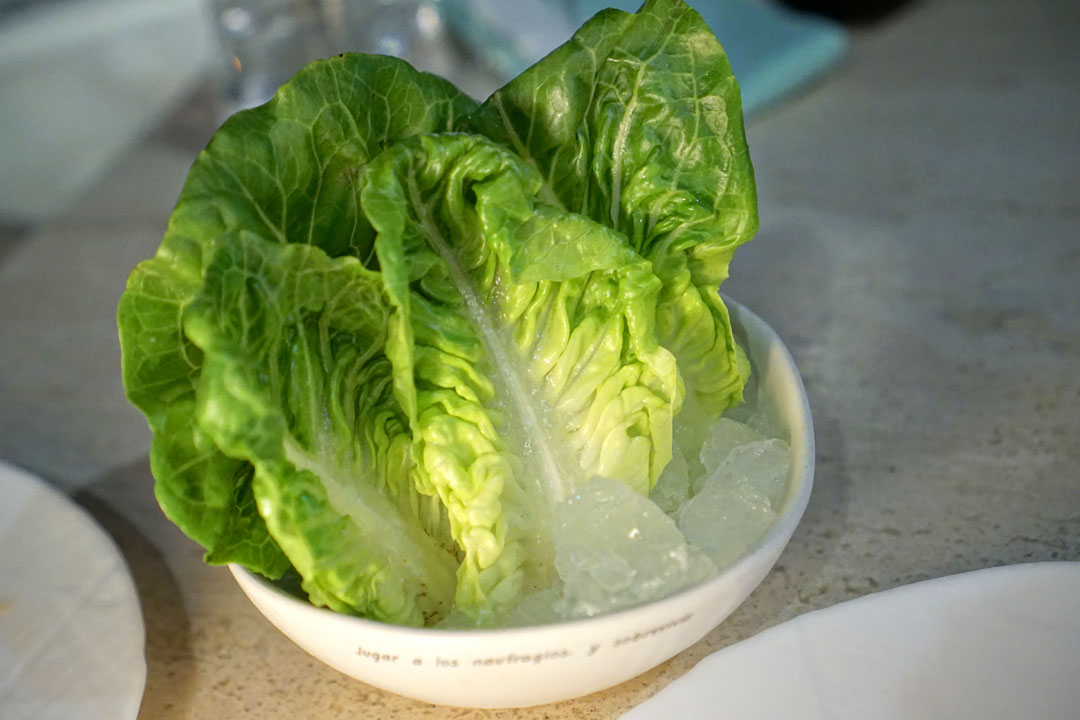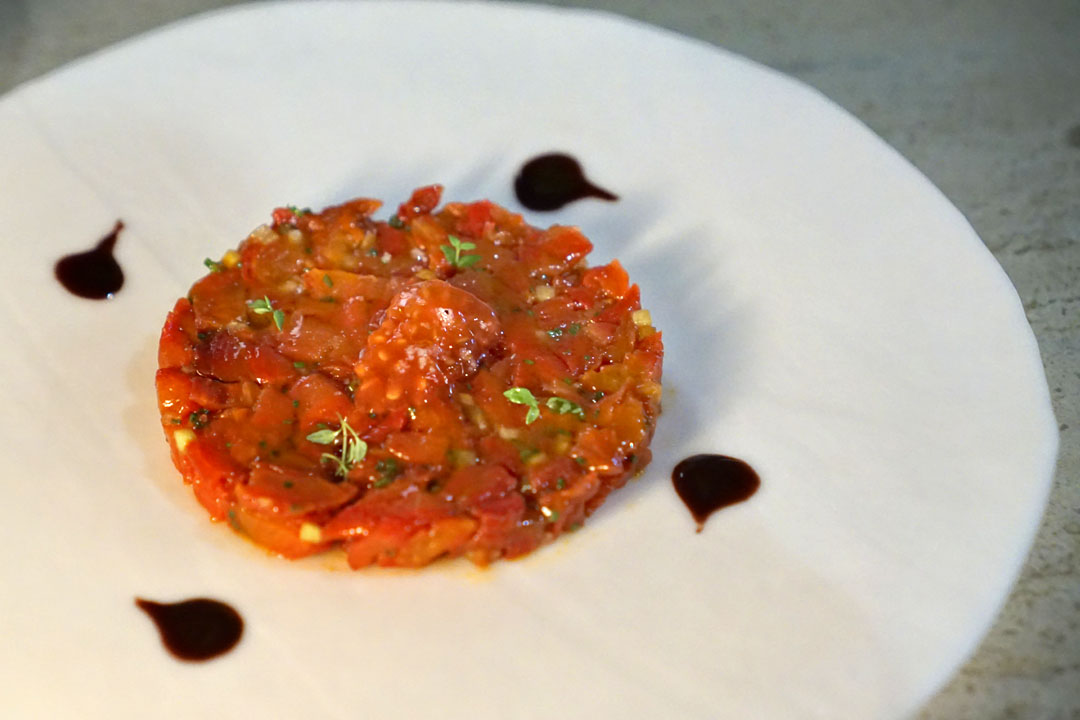 "Beefsteak" Tomato Tartare [$24.00]
| Aged balsamic, Savora mustard, olive oil, cucumber, black olive, romaine leaves
I'm typically not a huge fan of vegetable-based tartares, but really enjoyed this one. What stood out to me was how "meaty" the texture of the tomato was, and I'm curious as to how the kitchen was able to achieve that. Also key was the pervasive tanginess from the balsamic-mustard-olive, and I liked the cool, refreshing crunch of the lettuce, too.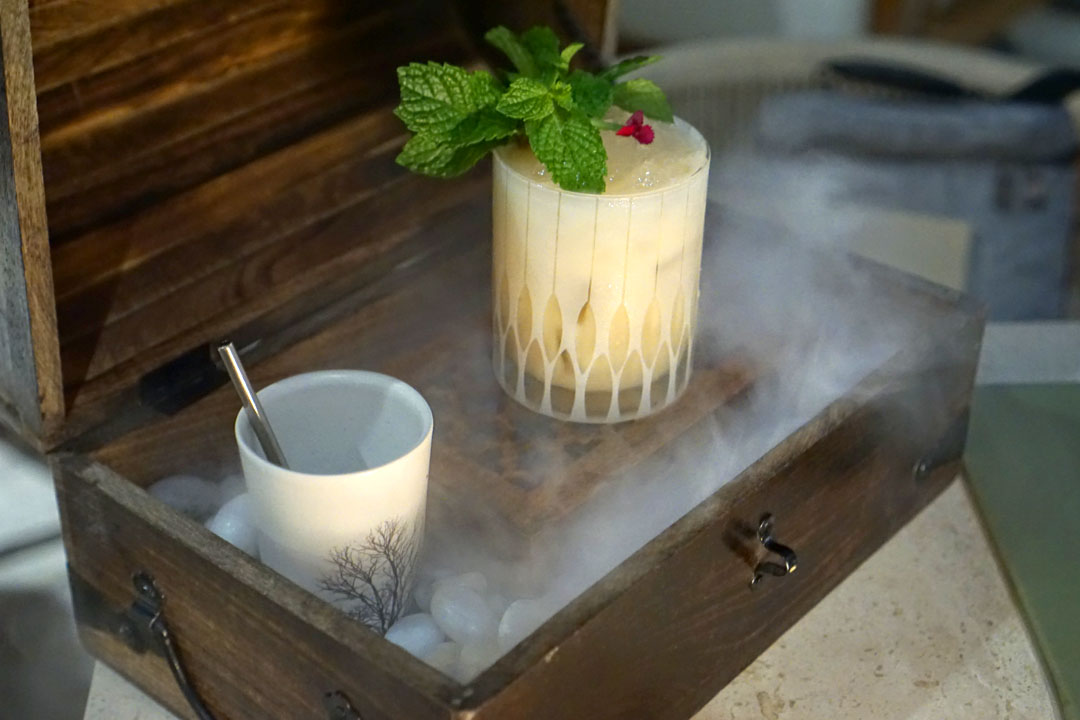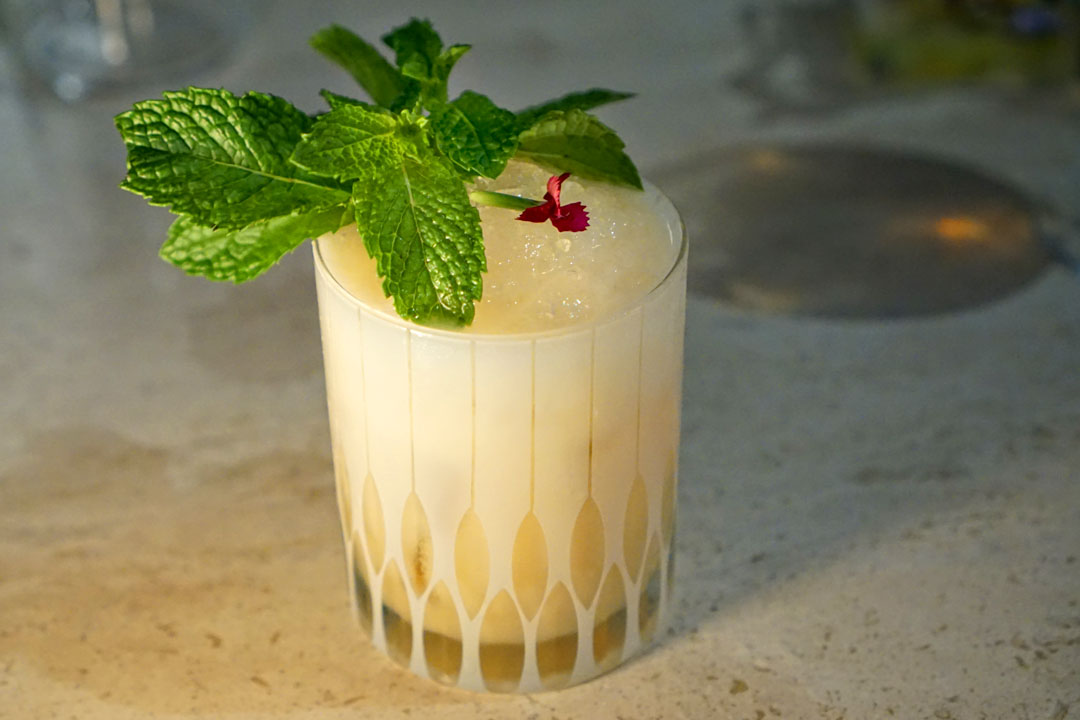 Bergeron's Secret Chest [$22.00]
| Denizen Merchant's Reserve 8yr Rum, Lime, Orgeat, Dry Curacao, over an aromatic cloud of hibiscus, roses and orange blossom
Here we have a riff on the iconic tiki cocktail that is the Mai Tai. It was a smart take on the classic that really spoke to me, and I was particularly fond of the interaction between smoky components (burnt matches came to mind) and the drink's generally tropical inclination. One of my dining companions even likened the drink's aroma to "new shoebox," and overall, I felt that there was a great mix of familiarity and novelty with this one.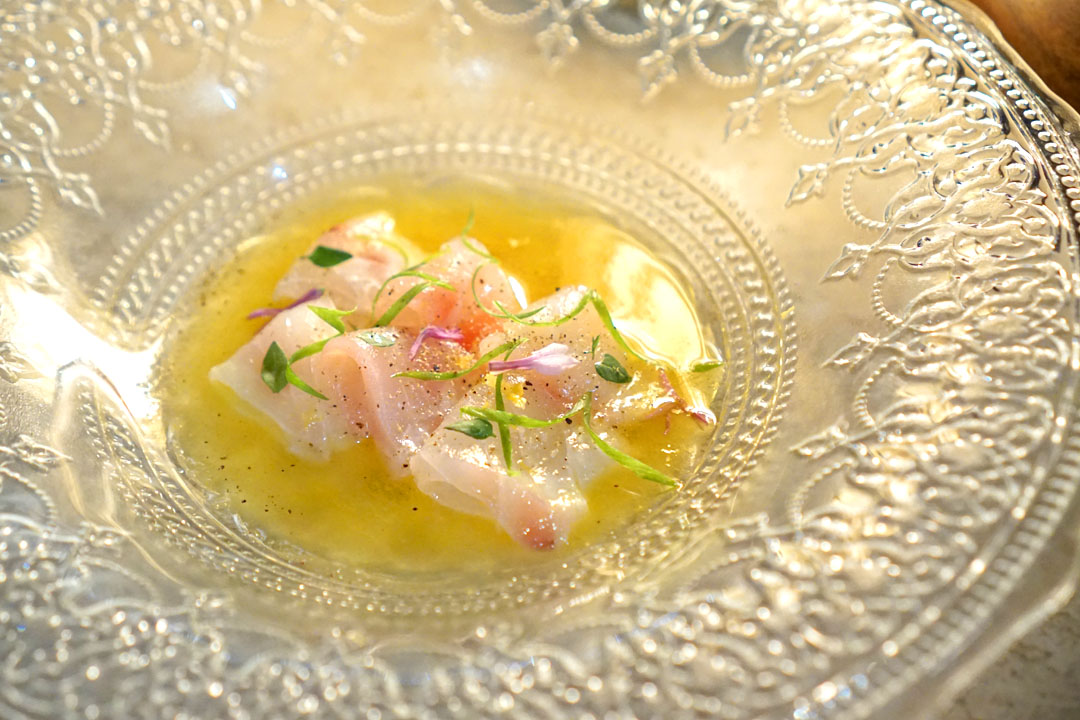 Striped Bass Crudo [$24.00]
| Cured striped bass, white escabeche, scallions, garlic blossom
The crudo was another must-try for me, and didn't disappoint. The texture on the bass was spot-on, with just the slightest bit of "snap," and the fish matched up easily with hits of both salt and citrus. The dish definitely perked up my palate.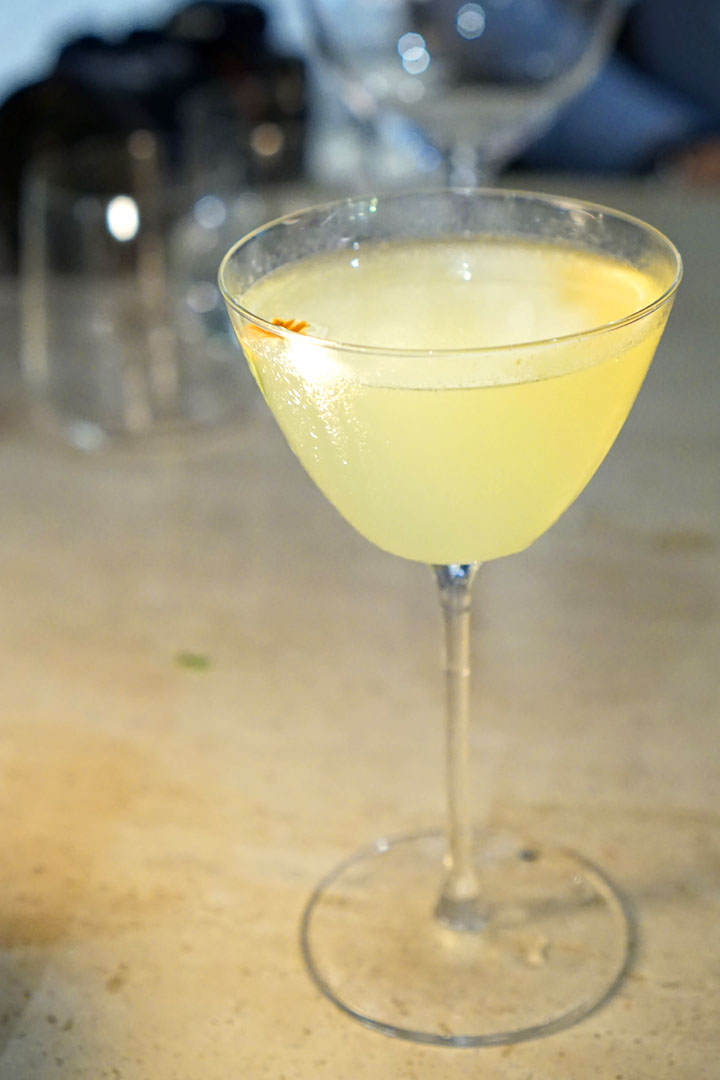 Flyer [$17.00]
| Olmeca Altos Blanco Tequila, Honeydew, Lemongrass, Lemon
Our fourth cocktail was decidedly less whimsical than the three that preceded it. We had a base of melon-y sugariness, effectively counteracted by zippy lemongrass, while the tequila contributed a necessary boozy backing. What I found most intriguing here is that I detected hints of Danish butter cookies on the nose--not sure where that was coming from.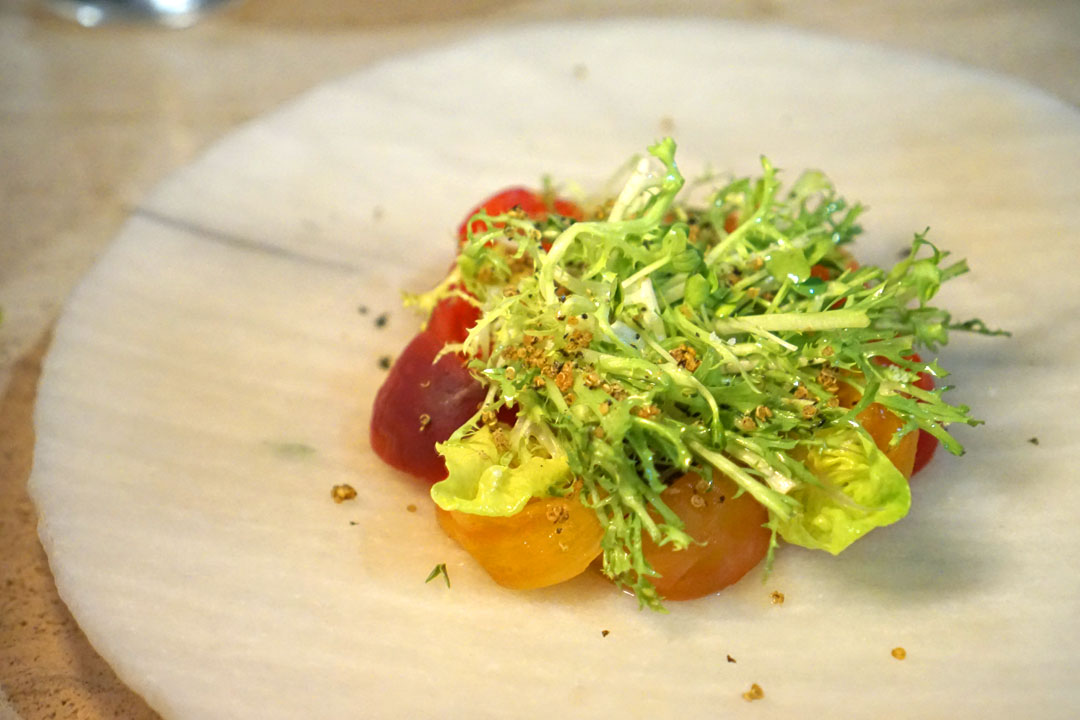 Tomato Seaweed Salad [$28.00]
| Heirloom tomato, furikake, gem lettuce, sesame dressing
This salad was also an unexpected standout thanks to its interplay between a wonderfully crunchy-nutty furikake and the umami from the seaweed, all evened out by those super juicy tomatoes.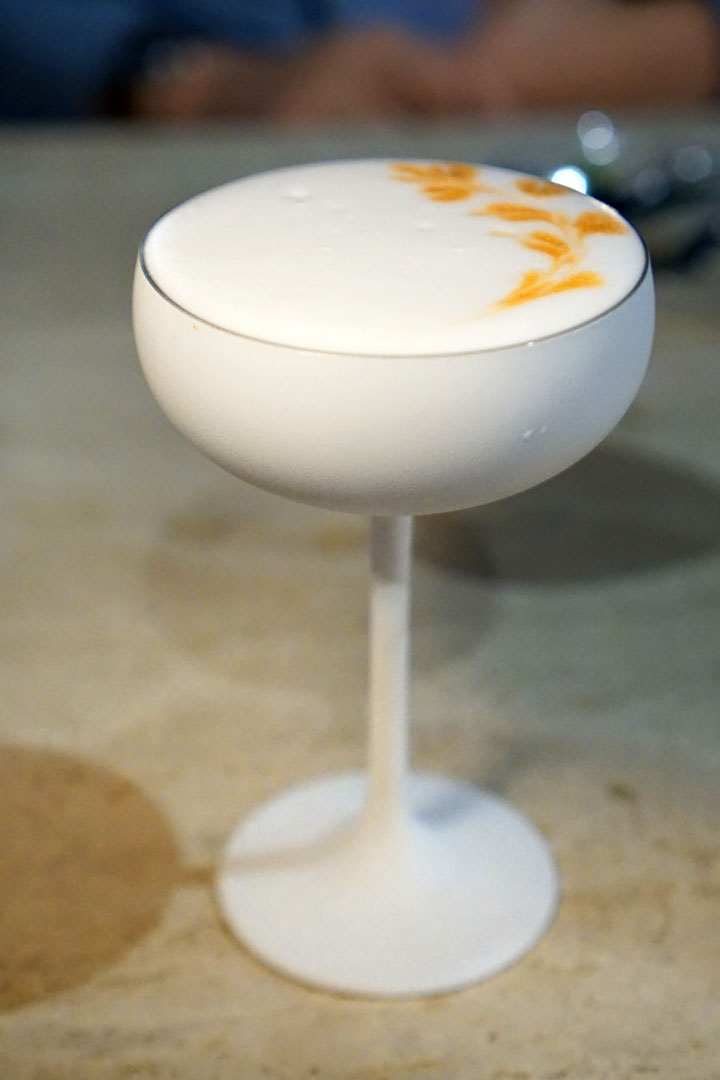 Pisco Sour [$18.00]
| Acholado Pisco, Lime, Sugar, Egg White
San Laurel's version of the most ubiquitous cocktail to ever come out of Peru was unusually floral and perfumed, and had a particularly fluffy topping of egg white that veered almost "soapy" (but not in an off-putting way). I quite liked the all-white presentation to boot.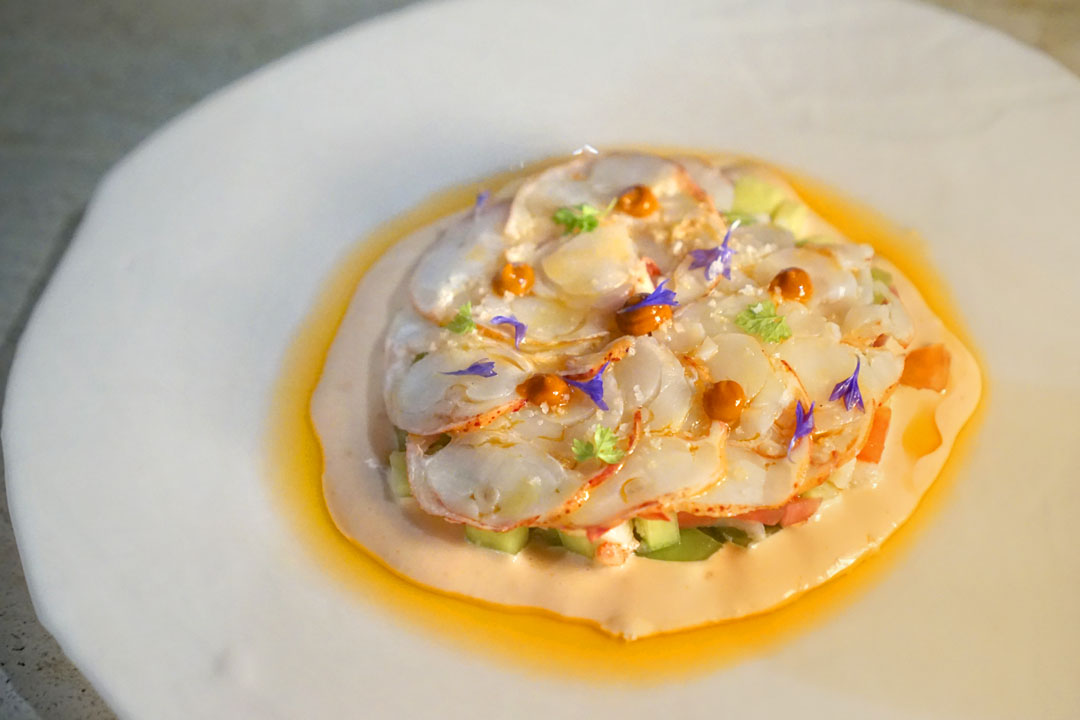 Lobster Salpicón [$32.00]
| Cucumber, tomato, green peppers, salsa rosa, lobster oil
The salpicon was also a favorite. The lobster itself showed off a delectably sweet brine that linked up beautifully with the salsa rosa, which curiously, reminded me of the special sauce from a Big Mac. At the same time, I appreciated how the veggies brightened things up, all while that lobster oil imparted more depth to the dish.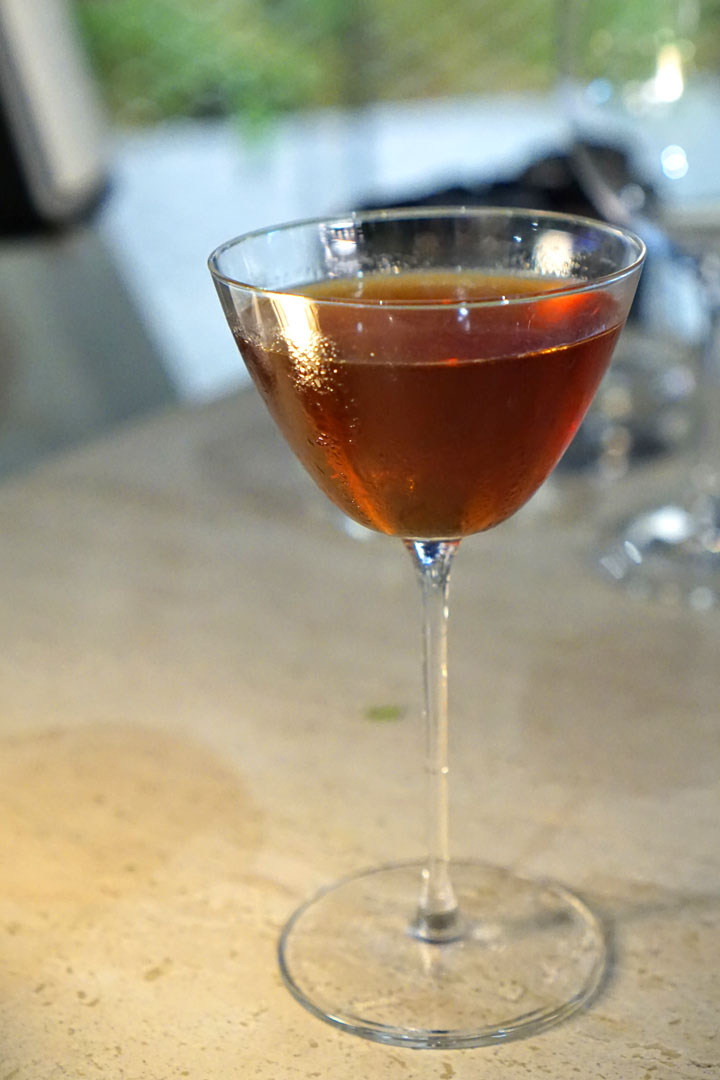 Polka Dotted Coleman [$18.00]
| Bols Genever, Sweet Vermouth, Fernet Branca, Amontillado Sherry, Sesame
This was probably the most polarizing cocktail of the night, but was one that I quite enjoyed. The bouquet here was all about saline and sesame, and actually reminded me a bit of Chinese food. Taste-wise, I got loads of mintiness up front, leading to a nuttiness from the sherry, Asian medicinal notes, and plenty more of that sesame bringing up the rear. Really neat.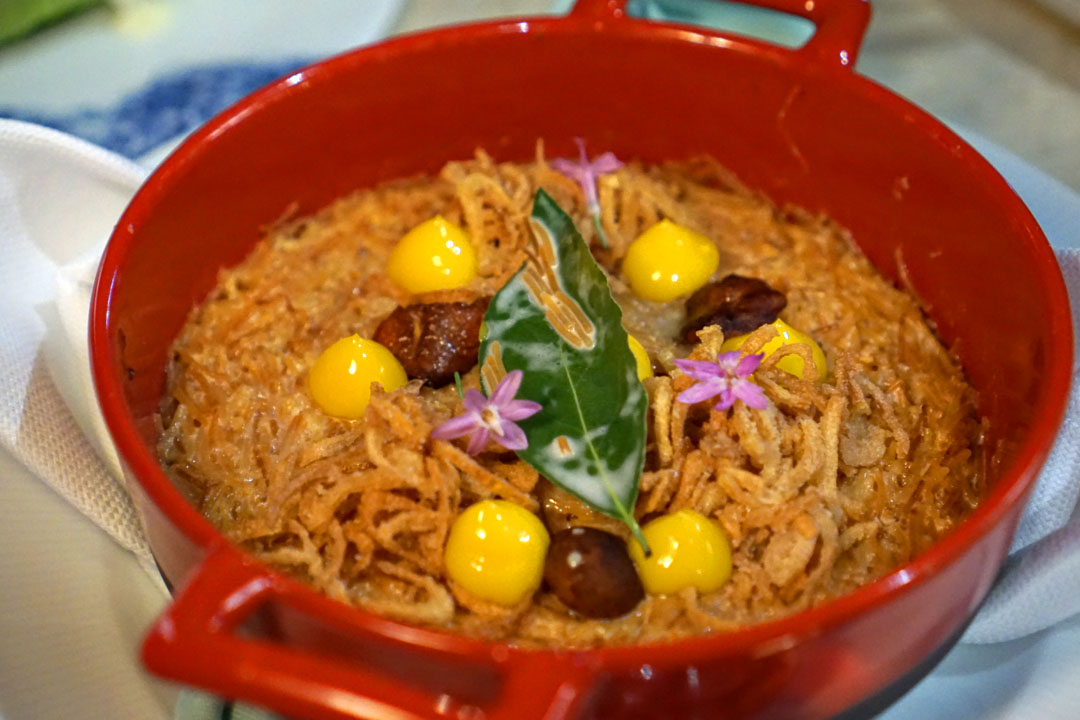 Vermicelli "Mac n' Cheese" [$24.00]
| Fideuà pasta, Idiazabal cheese, chanterelles, egg yolk sauce, crispy shallots
The fideuà made for perhaps the most interesting interpretation of mac and cheese I've ever encountered. The pasta was a joy texturally, and served as a base for the marriage of rich Idiazabal and those umami-laden chanterelles, with the egg yolk helping to tie things together. Nice bit of texture and savor from those fried shallots, too.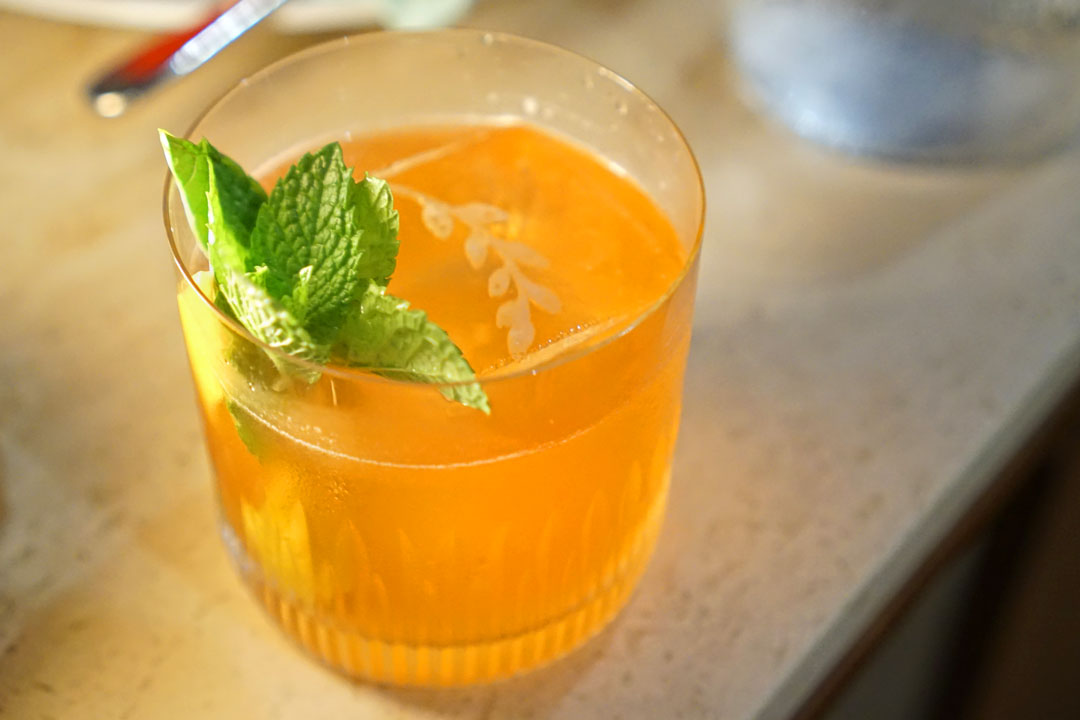 El Compadre [$18.00]
| Old Forester 86 Bourbon, Aperol, Lemon, Citrus Peels, Mint
This vibrantly orange-toned cocktail had a base character that I'd almost describe as "candied," but it never veered overtly sugary thanks to deft applications of bittersweet, herbal, and citric notes.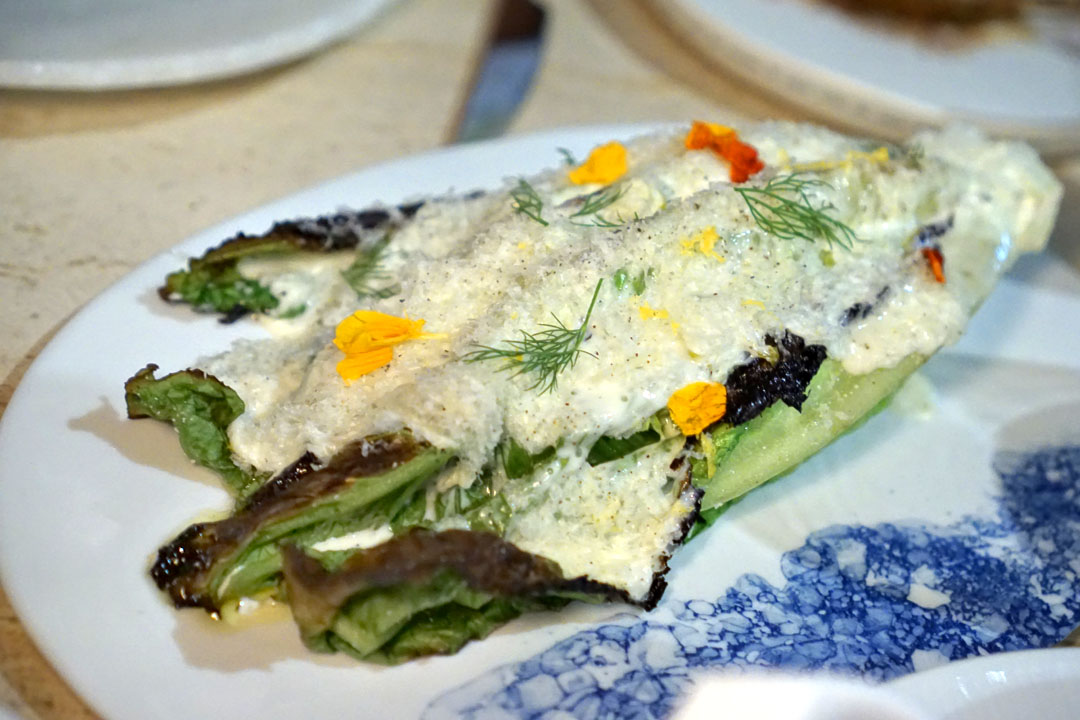 Grilled Romaine [$17.00]
| Manchego espuma, piparra peppers
The romaine was perhaps the most gratifying presentation of the veggie I'd ever tasted. The dish actually showcased a fruitiness that I wasn't expecting, and I liked how the salty weight of the cheese meshed with the cool, crisp nature of the lettuce.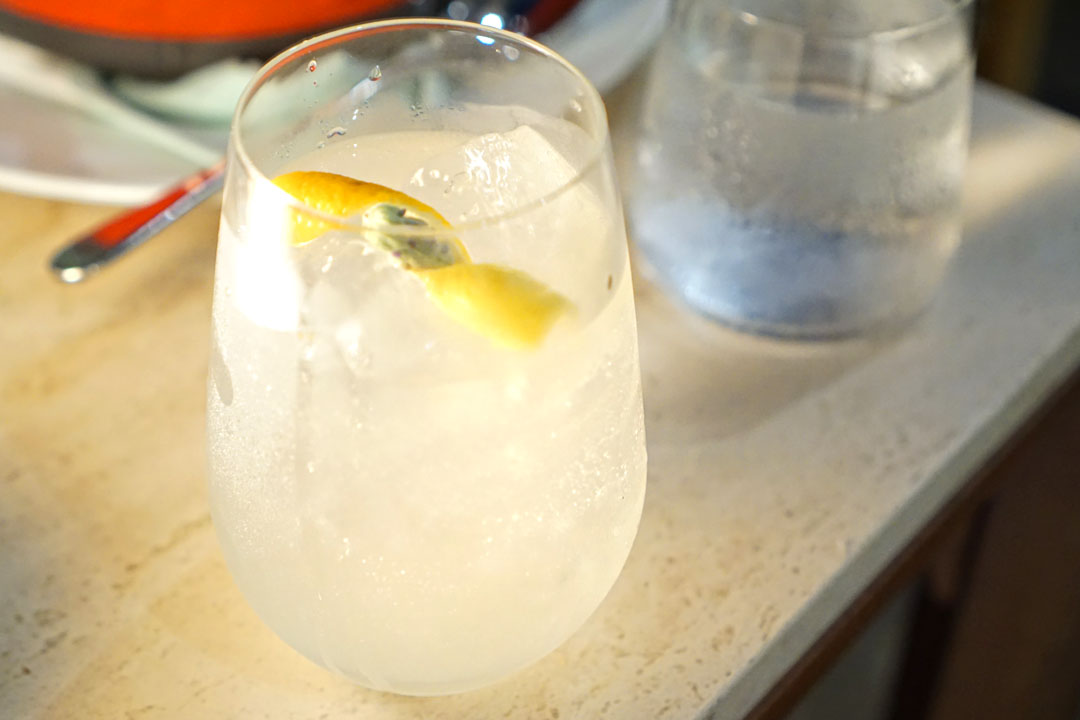 Saints G&T [$19.00]
| St. George Gin, St. Germain, Chareau Aloe Vera, Ginger, Fever-Tree Indian Tonic Water
Our penultimate cocktail was this skillfully-assembled gin and tonic. What worked for me here was the back-and-forth between the bitterness of the tonic and the combination of Chareau and St-Germain, which resulted in an almost prune-like flavor profile. And if that wasn't enough, the ginger offered up a nice zestiness that perked up the drink.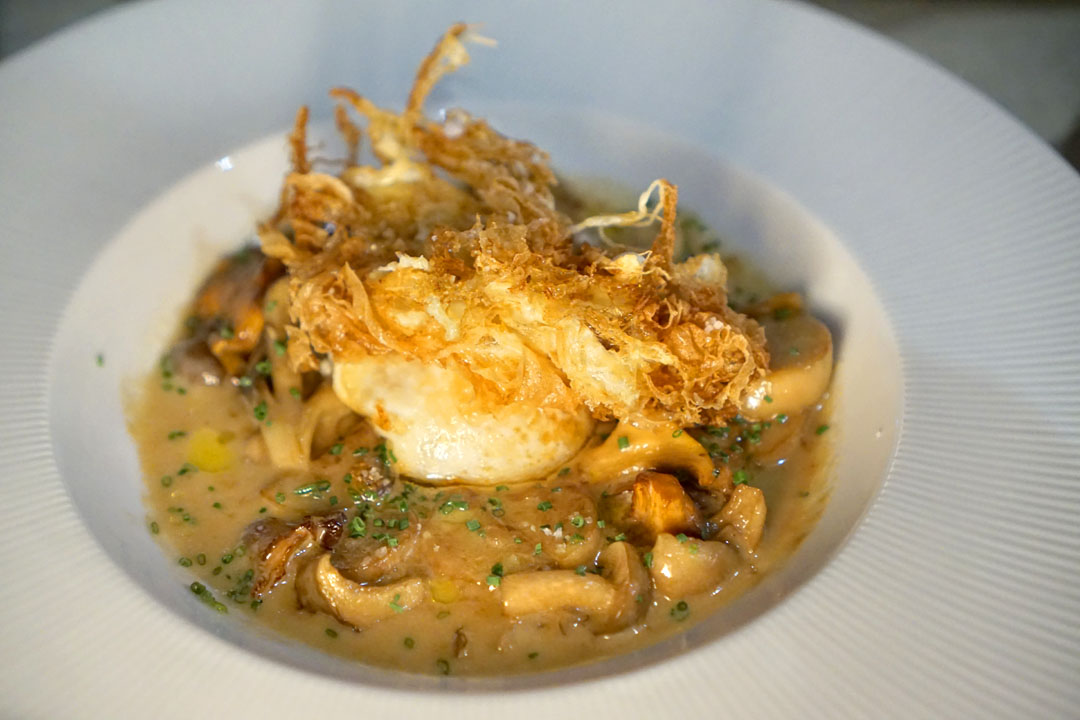 Wild Mushrooms in Laurel Cream [$39.00]
| Fried farm egg, thyme, toasted pan de cristal
It's hard to go too wrong with the combo of mushroom and egg, and indeed, this dish ate cozy and satisfying. The 'shrooms just made sense with that comforting, bay leaf-enriched cream, and I can't fault that gorgeously fried egg, either. I have to give a shout out to the included pan de cristal, too, since the bread was super shattery, with a superb toastiness that really worked as a foil.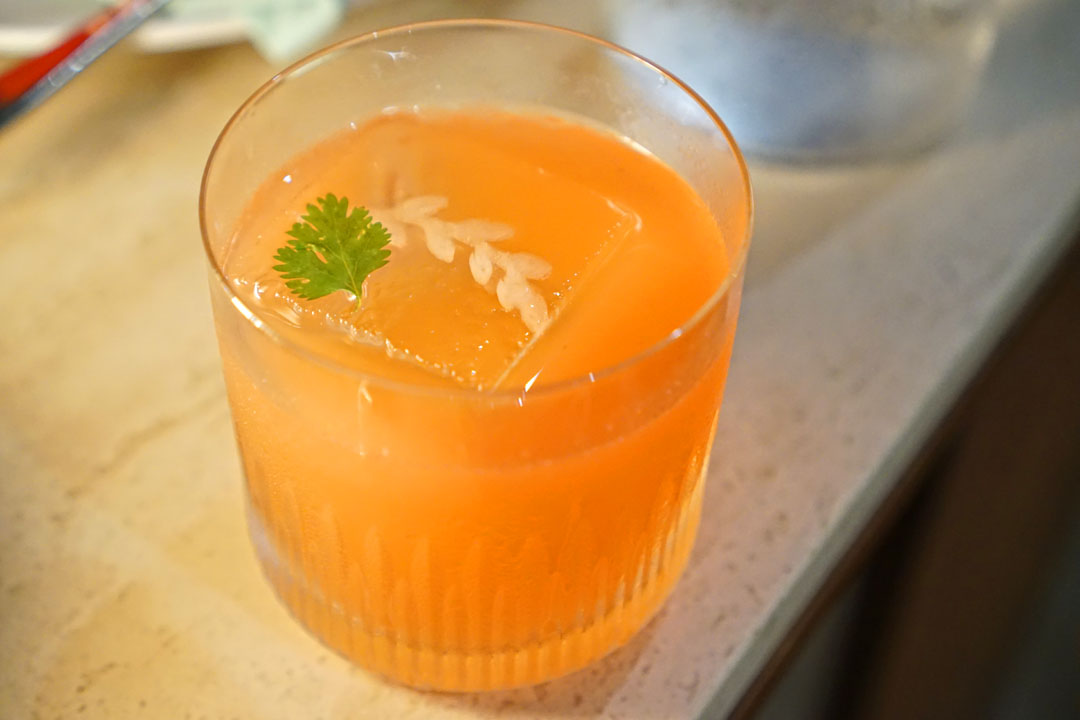 Watermelon Report [$19.00]
| Vodka, Watermelon, Lemongrass, Mandarin, Lime, Cilantro Chipotle & Cumin Tincture
Watermelon was the star of the show in the evening's final cocktail, with the fruit's true-to-life sugariness and juiciness taking well to contrasting components of heat and spice.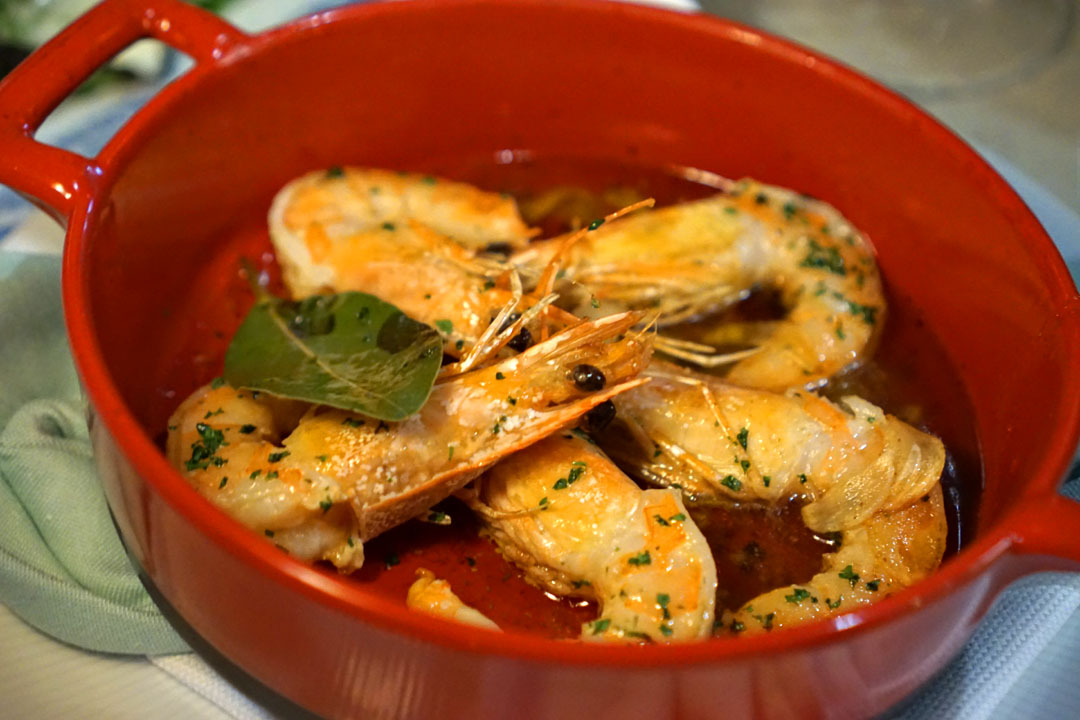 Gambas al Ajillo [$42.00]
| Head-on shrimp, garlic, olive oil
In this relatively straightforward rendition of a Spanish staple, the oceany quality of the prawns was superbly conveyed, but also set against plenty of garlicky sharpness and a healthy dosing of olive oil.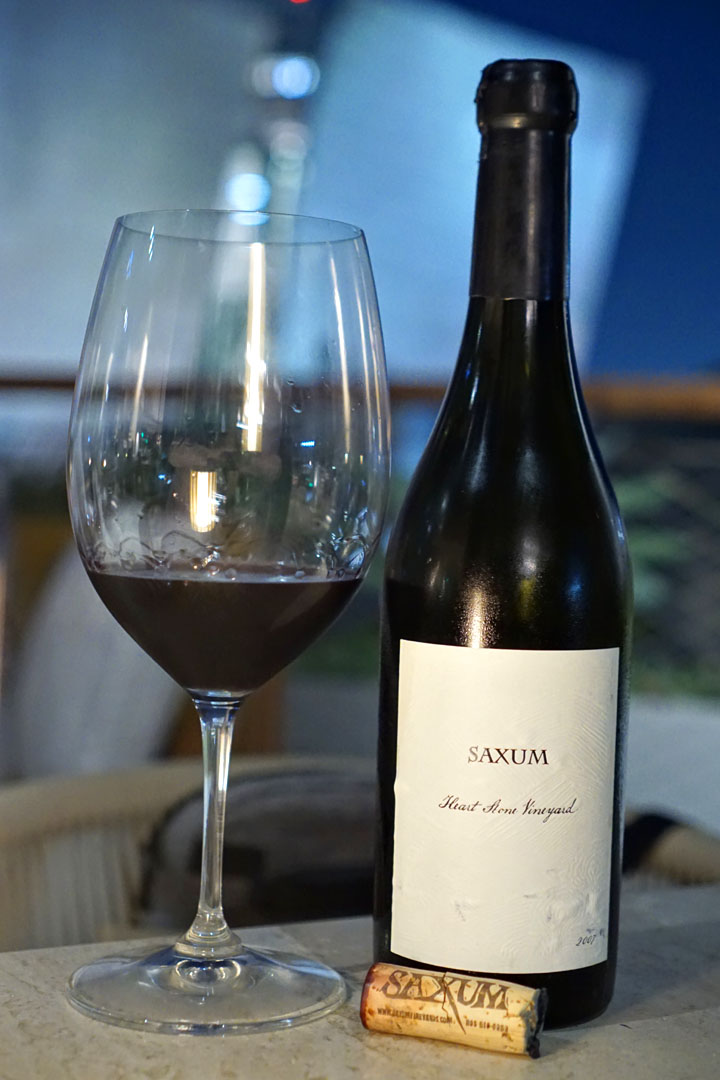 With the cocktails all drunk up, we moved on to some wine, the
2007 Saxum Heart Stone Vineyard
, a blend of 65% Syrah/21% Grenache/14% Mourvèdre from Paso Robles. The GSM demonstrated a nose filled with BBQ meats and dark berries, backed by whispers of cacao and herb. On the palate, I found this unusually velvety, with flavors of peppercorns and bloomy chocolate to go along with a concentrated fruit base. Overall, this was drinking great tonight, and should have a good number of years left. Do note that, somewhat surprisingly, corkage is not allowed here, but we were graciously accommodated given that we'd ordered so much.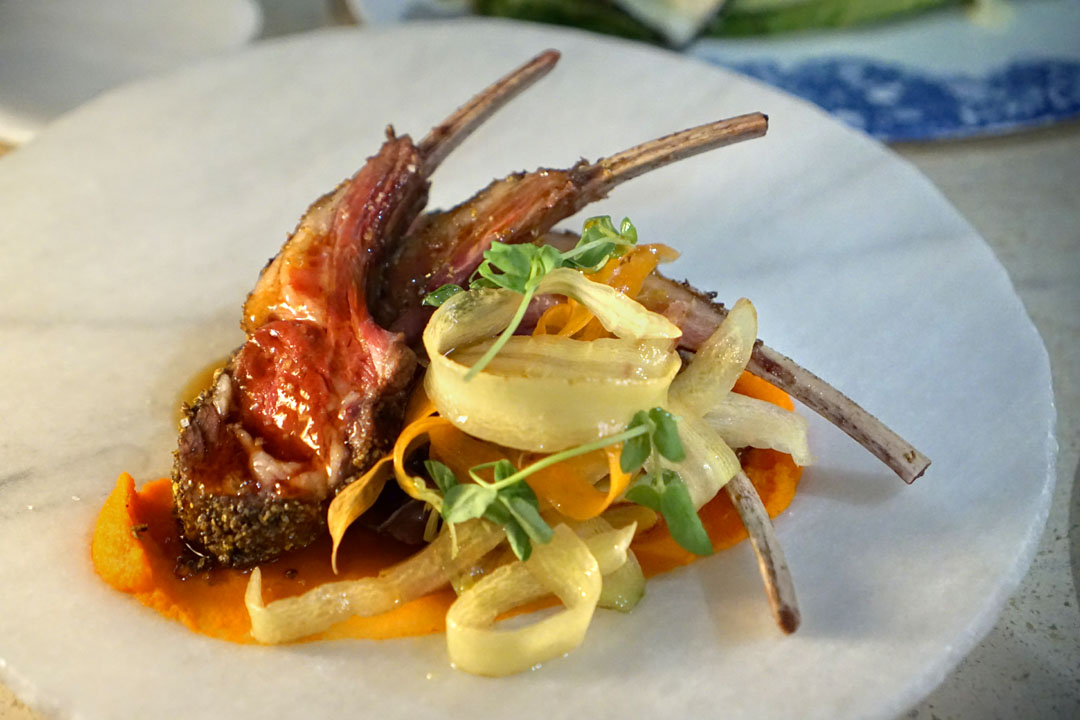 Rack of Lamb [$62.00]
| Rack of lamb with cumin-carrot puree, baby carrots, confit lemon
The lamb was certainly the heftiest dish of the night. I was a big fan of the texture on the chops as well as their assertive spicing, which reminded me a bit of taco seasoning (and I mean that in a good way). Given the potency of the meat, the carrots were crucial for some semblance of balance.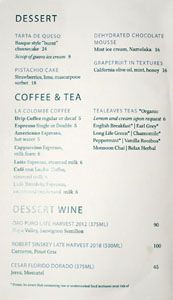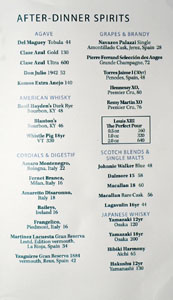 And here we see San Laurel's dessert menu, along with a selection of after-dinner drinks. Click for larger versions.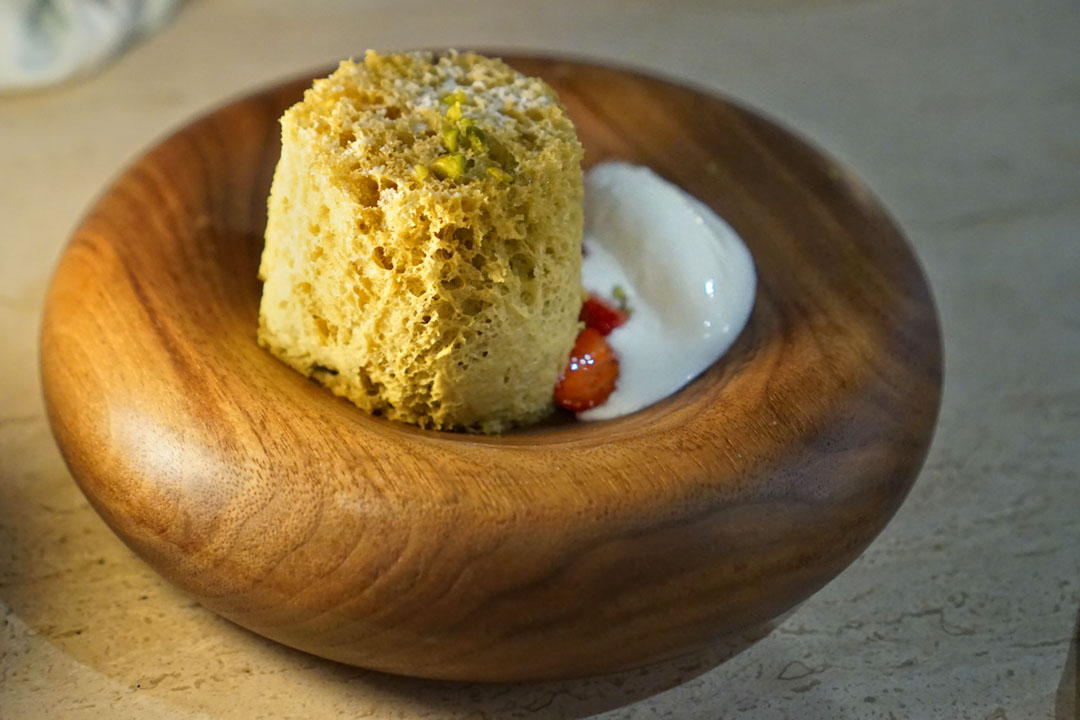 Pistachio Cake [$18.00]
| Strawberries, lime, mascarpone sorbet
Our first dessert featured what I believe was microwaved "aerated brioche," which was all the rage in the early 2010s. The cake definitely worked though, thanks to its airy consistency and how well the nuttiness of the pistachio was conveyed. Meanwhile, juicy strawberries and a lush, lactic sorbet served as the necessary accoutrements to complete the package.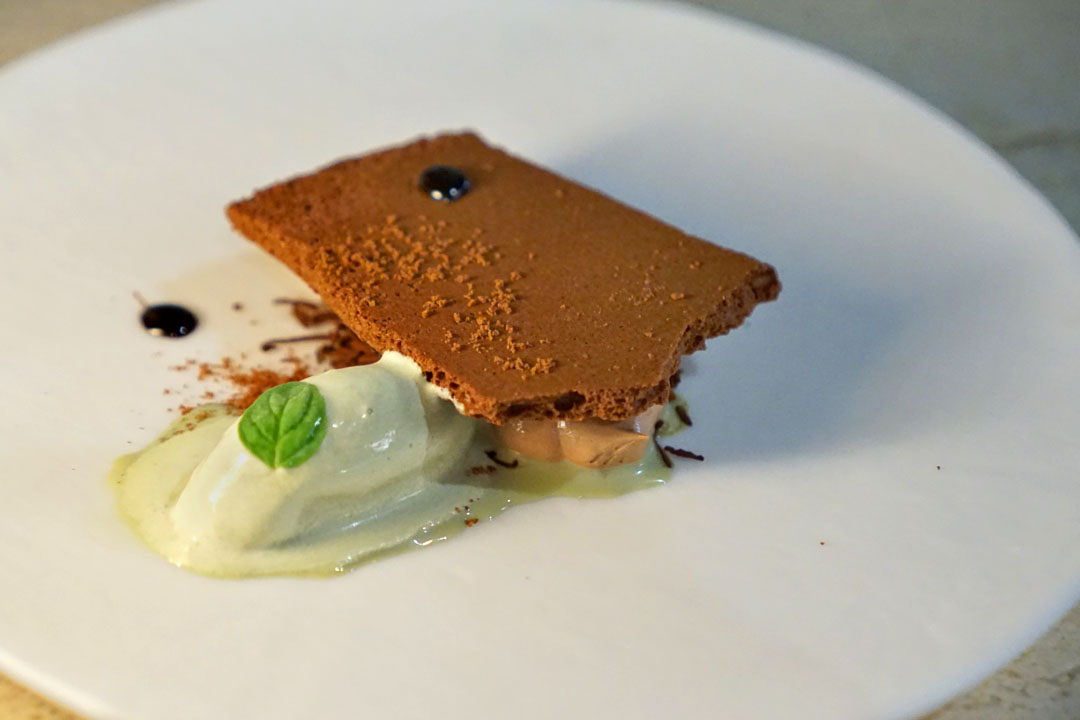 Dehydrated Chocolate Mousse [$16.00]
| Mint ice cream, Namelaka
The hero here was that mousse, which had a delightful texture to it. The chocolate made a lot of sense with the complementary flavors from the mint, while that smooth, creamy namelaka served as a bridge between the two.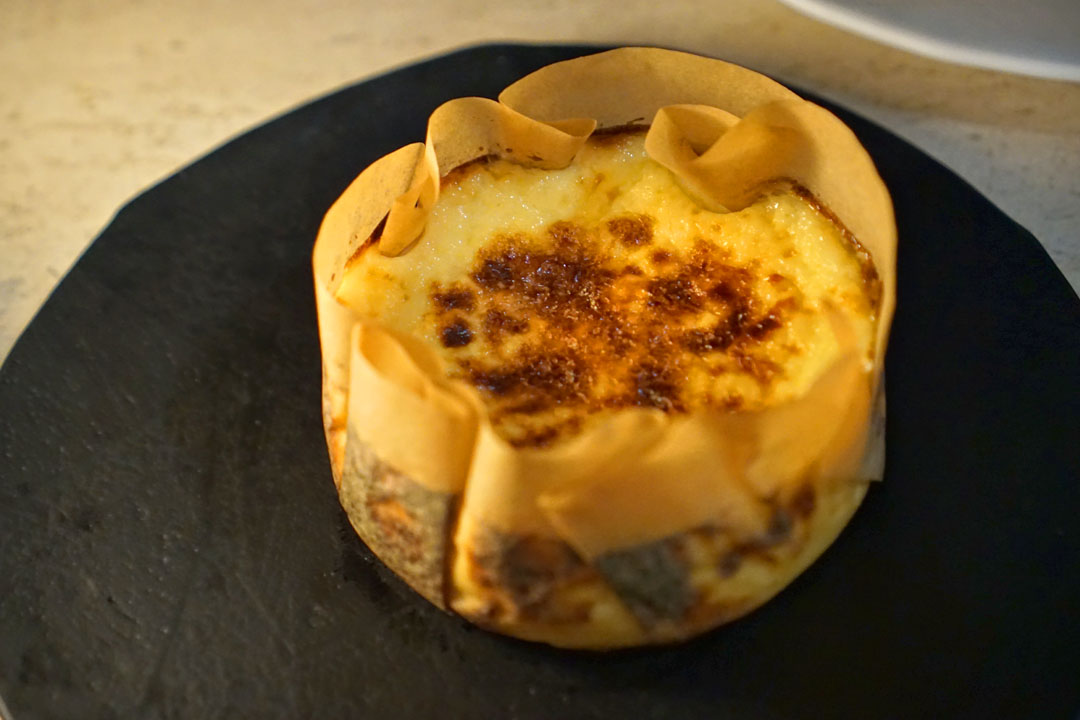 Tarta de Queso [$24.00]
| Basque style "burnt" cheesecake
I feel like Basque cheesecakes have been the dessert du jour over the past couple years, so I wasn't shocked to see one on the menu. I will say, though, that this was a strong rendering of pastel de queso, one with an especially forceful cheesiness alongside an equally formidable char element.
I was very happy with my dinner here, happier than I expected to be, in fact. Given that this place is the primary restaurant at Conrad, and given that it's also an all-day restaurant, I was anticipating the food to be on the "safer" side in an attempt to appeal to a broader clientele, as hotel eateries often tend to do. However, the cooking here was more engaging, more compelling than I'd imagined, and that's great. San Laurel is undoubtedly a worthwhile addition to Downtown dining, and represents a successful return of Chef Andrés and his team to the LA food scene.
Now given the strength of this meal, I'm more excited now about checking out Andrés' other eatery at the Conrad, Agua Viva, which is an open-air spot serving Latin-Asian cuisine. We also have an outpost of Bazaar Meat (a steakhouse concept) that should be opening up in the near future, and I'm curious about the status of SED, which was supposed to be high-end cocktail bar. It was open briefly back in July, but has since closed, so I'm not sure what's happening with that. In any case, I do expect to be back at The Grand in the not-too-distant future.
---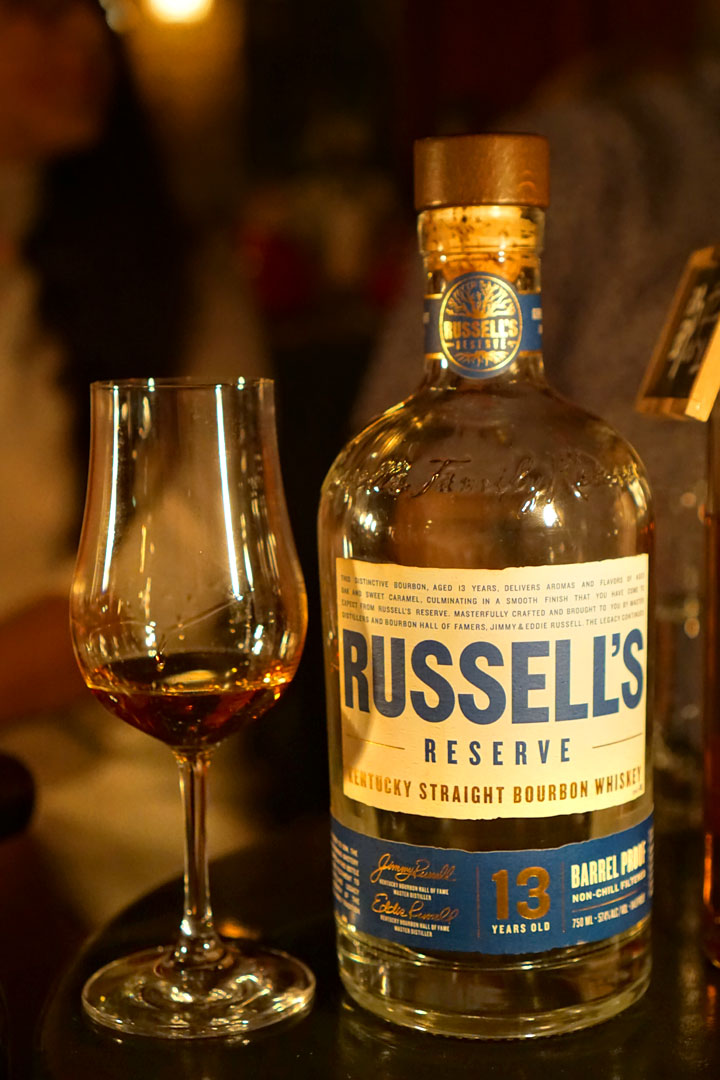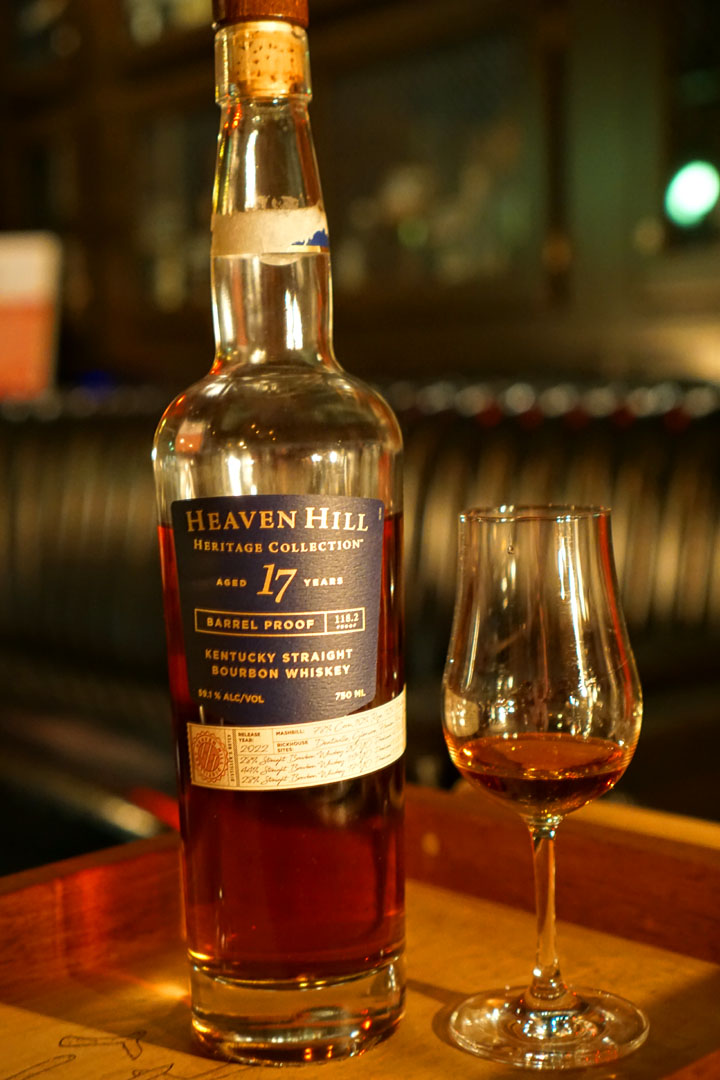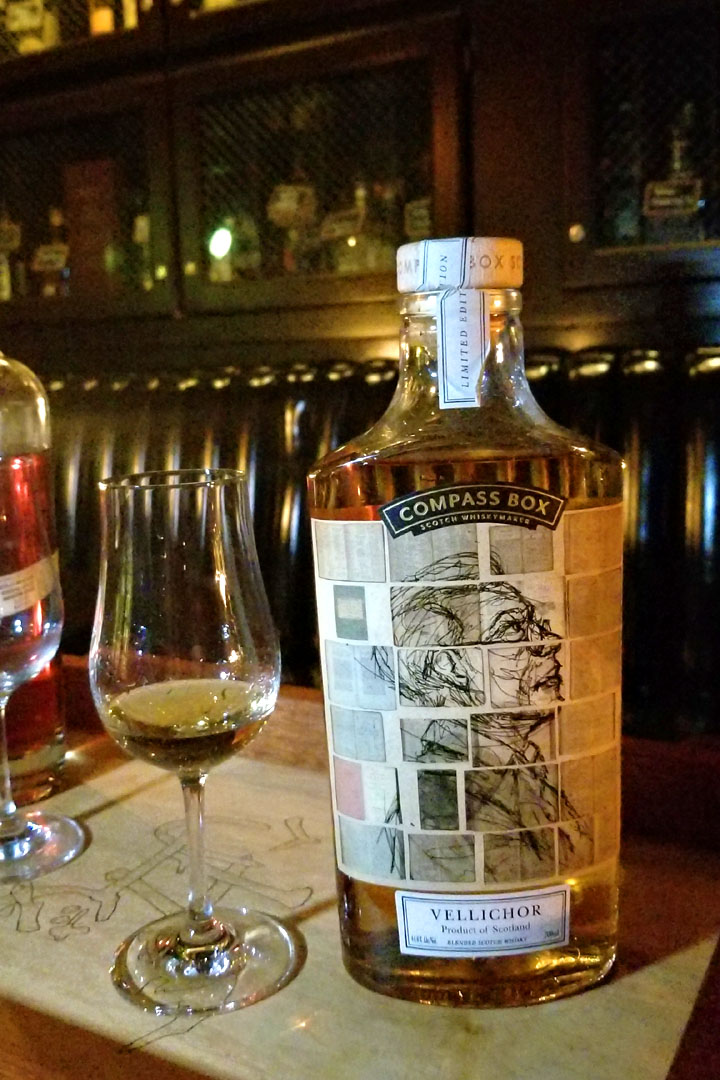 After dinner, we paid a visit to Bar Jackalope to enjoy some lovely postprandial whiskies:
Russell's Reserve 13 Year Old Bourbon [$47]
Heaven Hill Heritage Collection 17 Year Old Barrel Proof Bourbon [$190]
Compass Box Vellichor Blended Scotch [$50]