Eleven Madison Park (New York, NY)
Eleven Madison Park
11 Madison Ave, New York, NY 10010
212.889.0905
www.elevenmadisonpark.com
Mon 10/09/2023, 05:25p-08:30p

I recently visited England for a bit of a food tour, and on my way over there, I had a stopover in New York, and thus wanted to fit in a good meal while I was in Manhattan. Thus, after considering a number of potential options, I decided to book an early reservation at the storied bastion of fine dining that is Eleven Madison Park. Situated in the Flatiron District, EMP was first opened in November 1998 as a more casual French eatery, but rose to national and then international acclaim when Chef Daniel Humm and Will Guidara took over the place in 2006. More recently, in 2021, EMP reopened its doors to a post-pandemic world as a plant-based restaurant, to the surprise of many, myself included, and I was curious to see how they were adapting.
About the Chef
: Daniel Humm was born in September 1976 in Strengelbach, Switzerland but grew up in Zurich and Schinznach-Dorf, the eldest of four children. As a youngster, he never particularly enjoyed his schooling, but he did have experience working on farms and kitchens, and thus, against his father's wishes, he decided to drop out of school at age 14 and begin a culinary apprenticeship. He first trained at Kurhotel Im Park in Schinznach-Bad under Chef Viktor Geiser, who proved to be a major influence on the young cook. From there, Humm served commis positions at Claridge's hotel in London and Baur Au Lac hotel in Zurich, then worked for Chef Otto Limacher at the Tschuggen Grand Hotel in Arosa. He later cooked at Le Pont de Brent in Montreux under Chef Gérard Rabaey and at Löwen in Thörigen under Nik Gygax, and spent a brief period at Chrone in Mesikon.
In 2002, he became Executive Chef at Gasthaus Zum Gupf in Rehetobel, where he received his first Michelin star. The following year, Humm packed his bags and moved to the United States, arriving in San Francisco to head up the kitchen at Campton Place, where his cooking was well-received, even earning four stars from the
Chronicle
. However, he didn't stay there long, as in January 2006, he relocated to NYC to become Exec Chef at Danny Meyer's Eleven Madison Park, replacing Kerry Heffernan. Joining him in leading the reinvention of EMP was one Will Guidara.
William Guidara was born in November 1979 in Sleepy Hollow, New York. His father Frank Guidara was President of Restaurant Associates, so he knew early on that he wanted a career in hospitality. He apparently began that career at the age of 13 at a local Baskin-Robbins, and eventually made his way to Cornell University's School of Hotel Administration in 1997. During this period, he worked stints at Tribeca Grill and
Spago
(his dad had gone on to work for
Wolfgang Puck
), as well as at a local Ruth's Chris in Tarrytown.
After graduating in 2001, Guidara spent a few months at a culinary school in Spain, then started working for Danny Meyer's Union Square Hospitality Group, where he spent a year-and-a-half at Tabla. However, he left in 2002 for a more corporate position at Restaurant Associates, but returned to USHG in 2004. He became GM of all of the company's operations at the Museum of Modern Art (save for The Modern), and stayed in that role until joining EMP in 2006.
With Humm and Guidara in place, Eleven Madison Park was successfully transformed from a brasserie-type place to something much more ambitious. A four-star review from the
Times
came in August 2009 (and a second in 2015), while a Michelin star arrived just a couple months later. EMP secured the #50 spot on The World's 50 Best Restaurants list in 2010, gradually increasing its ranking until hitting #1 in 2017. The restaurant was elevated to Michelin three-star status in October 2011, a rating it's maintained since then. At nearly the same time as the Michelin news, it was revealed that Danny Meyer would be selling EMP to Humm and Guidara, and the deal was complete by November.
In 2012, the duo launched The NoMad to considerable critical acclaim, which was followed by The NoMad Bar in 2014. It was then announced in June 2015 that they'd be opening a restaurant at the new 425 Park Ave development in Midtown, while April 2017 saw the debut of their fast-casual eatery Made Nice in Flatiron. Meanwhile, NoMad Los Angeles opened in January 2018, which was soon followed by NoMad Las Vegas that October.
Things thus appeared to be going smoothly, but a shake-up arrived in July 2019, when Humm and a group of investors bought out Guidara's stake in the partnership in a reportedly amicable split. In December that year, Humm opened Davies and Brook at Claridge's in London (where he'd trained many years before), his first restaurant outside of the US. Meanwhile, bad news came in January 2020, when the three NoMad properties terminated their relationship with Humm's Make It Nice group. Even more bad news came in March, when EMP had to shutter due to the pandemic, though it did temporarily turn into a commissary kitchen to prepare meals for the food-insecure, in cooperation with non-profit Rethink Food.
A meal kit service called Eleven Madison Home was started in October 2020 (with profits helping to fund Rethink Food), while Made Nice shut down a month later. In April 2021, Humm and Rethink launched Eleven Madison Truck, which was also designed to tackle food-insecurity in NYC. EMP was able to reopen in June 2021 with a somewhat controversial plant-based menu that wasn't universally well-received. This switch to veganism also resulted in the closure of Davies and Brook at the end of 2021, and around the same time, Humm was also forced out of 425 Park. On the bright side, EMP did achieve a Michelin three-star rating in October 2022, and was apparently the first plant-based restaurant to do so.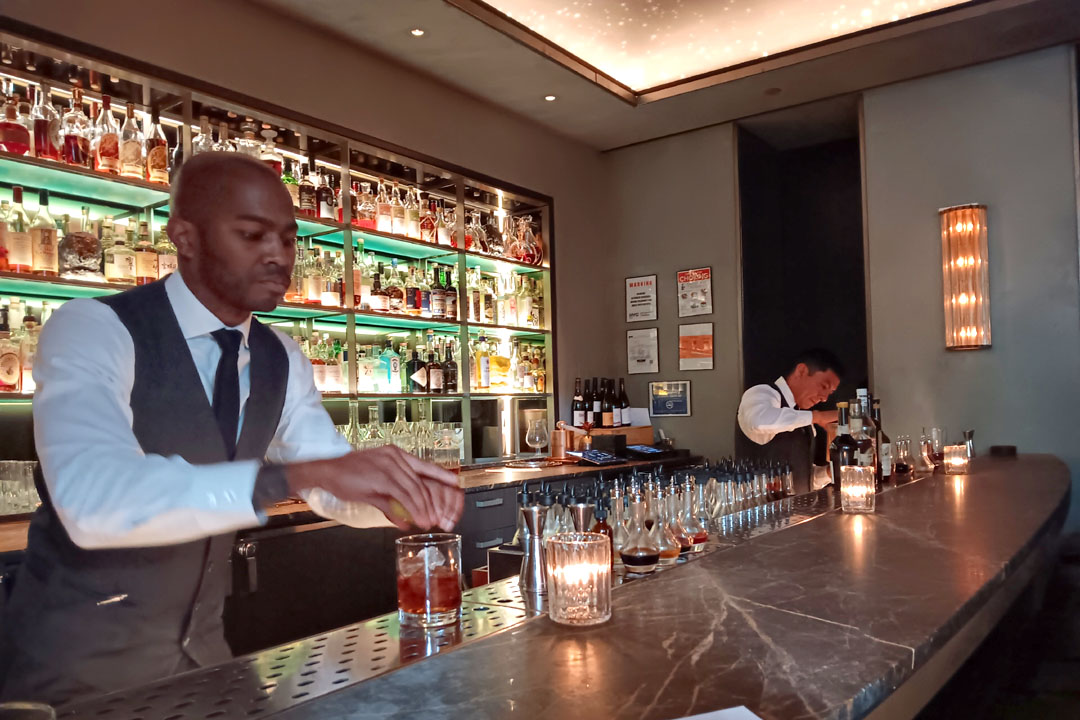 After making my way out of JFK, I arrived early for my reservation, and was thus shown a seat at EMP's bar/lounge area, which had actually been slightly remodeled during the pandemic shutdowns.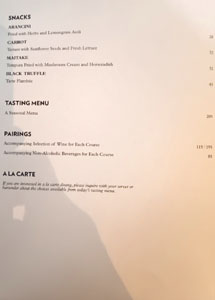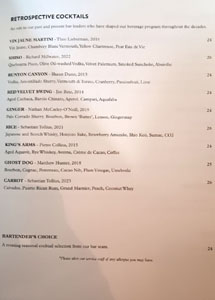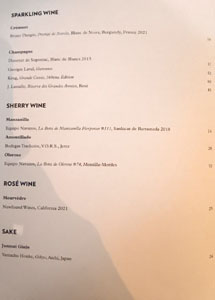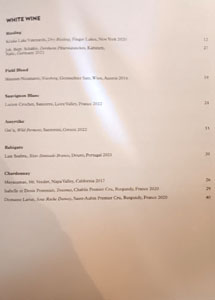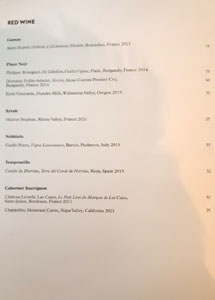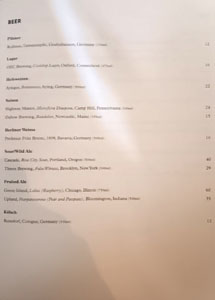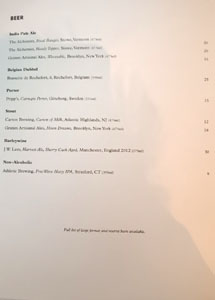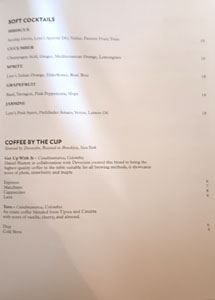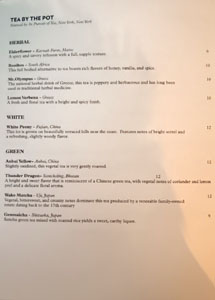 The bar menu lists an array of interesting-sounding cocktails, along with wines by the glass, tea, and a surprisingly legit beer selection. Food offerings include a smattering of snacks along with an abbreviated bar tasting menu. Click for larger versions.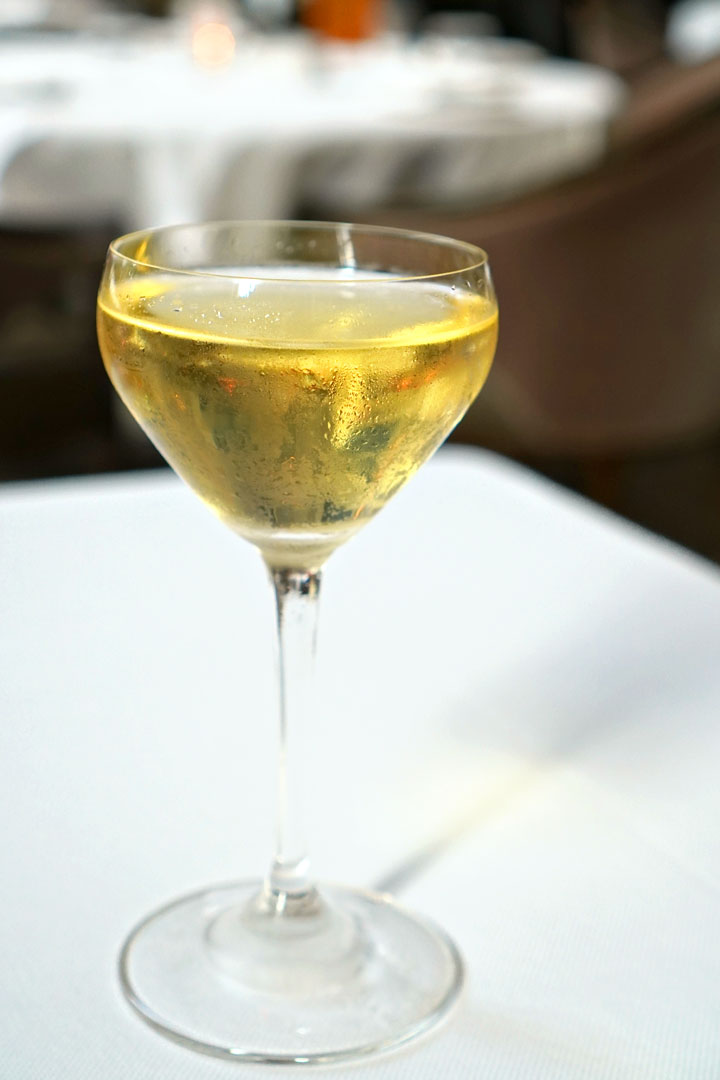 Vin Jaune Martini - Theo Lieberman, 2016 [$24.00]
| Vin Jaune, Chambéry Blanc Vermouth, Yellow Chartreuse, Pear Eau de Vie
I began with a martini, a cocktail that I tend not to order all that often. However, the incorporation of vin jaune into the drink piqued my intrigue. The wine contributed its nutty, oxidative notes on the nose, where it was joined by a distinct sourness. Tasting it, I found nearly cacao-like notes up front, along with an apple juice-like sweetness, the vin jaune's nearly briny qualities lending support. A rather apt apéritif.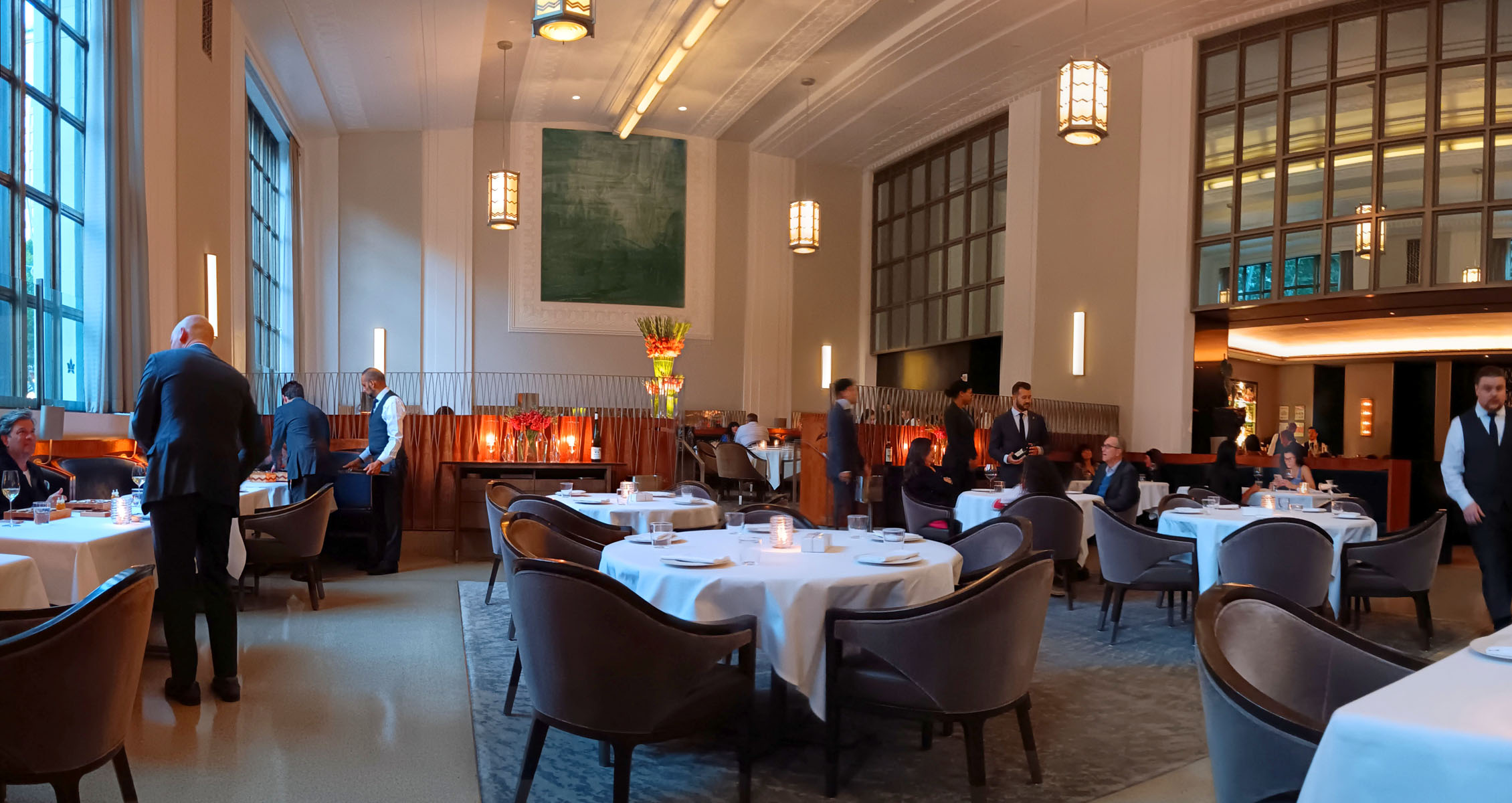 Eleven Madison Park is situated on the ground floor of the Metropolitan Life North Building, a 30-story art deco structure across the street from Madison Square Park (which happens to be where
Shake Shack
first started). Pictured above is the main dining room, which certainly conveys a sense of import. The current decor dates from 2017, when the restaurant was closed for four months in the summer for a remodel courtesy of Brad Cloepfil of
Allied Works Architecture
, a regular patron of the restaurant. The remodel also included updates to the kitchen (which was actually the main impetus for the renovation), bar, and three upstairs private dining rooms, as well as new furnishings and tableware. Do also note the dining room's large painting, which was created by Hungarian artist Rita Ackermann and is a riff on the Stephen Hannock piece that used to occupy the wall.

For the month of October, Eleven Madison Park's menu was a retrospective one celebrating the restaurant's 25 years, and featured the return (and reimagination) of some of EMP's most iconic dishes. Pricing was a pre-paid $375 a head (plus $33.28 tax), with optional wine pairings at $195/$365, or a non-alcoholic pairing at $115. Click for a larger version.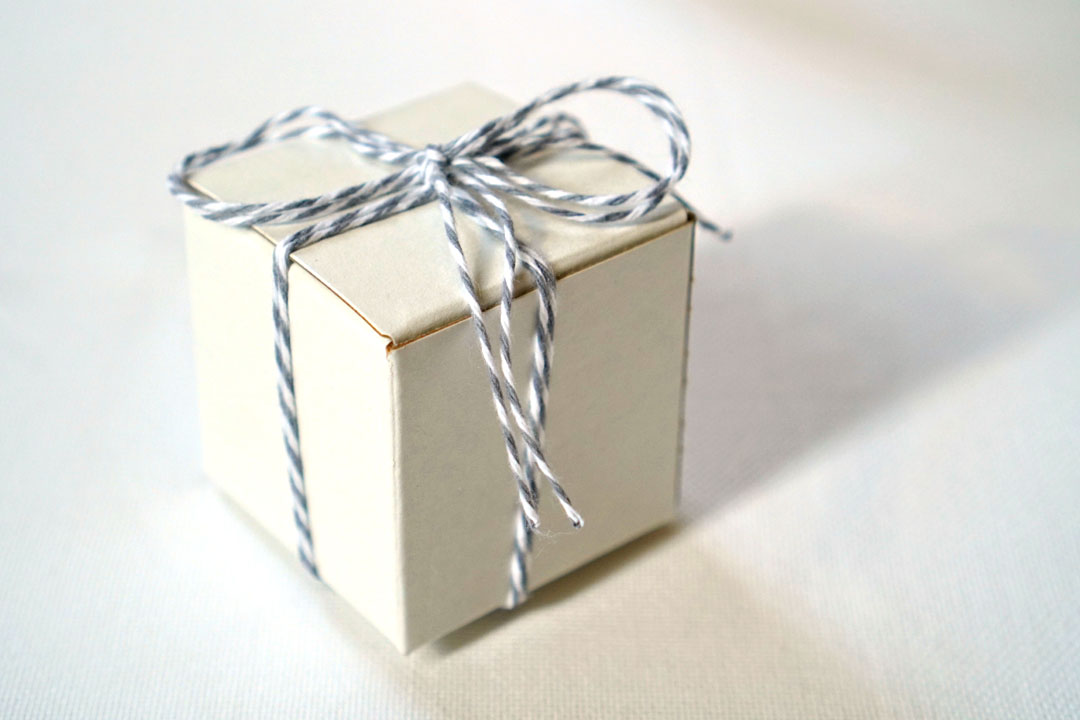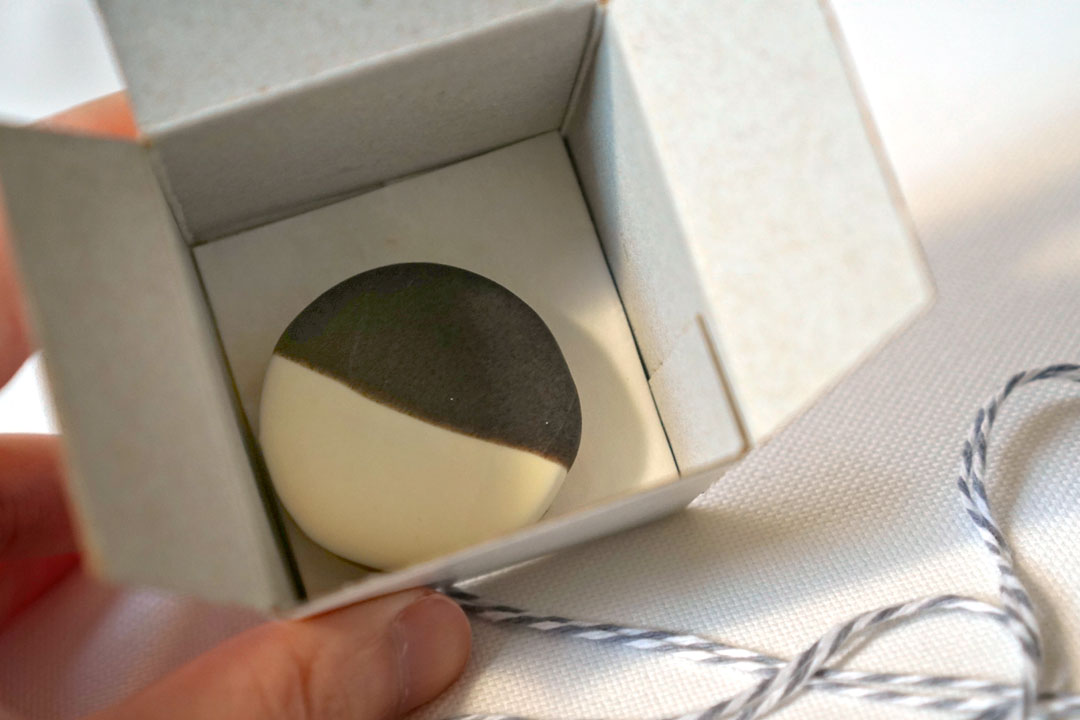 1: Black & White Cookie
My meal commenced with EMP's signature black and white cookie, which has been, in some form or another, on the menu since 2012 I believe. The restaurant's take on the NYC staple showed off a crumbly, "sandy" consistency and incorporated apple and sesame, giving it a nutty sort of savoriness that only intensified towards an herbaceous finish.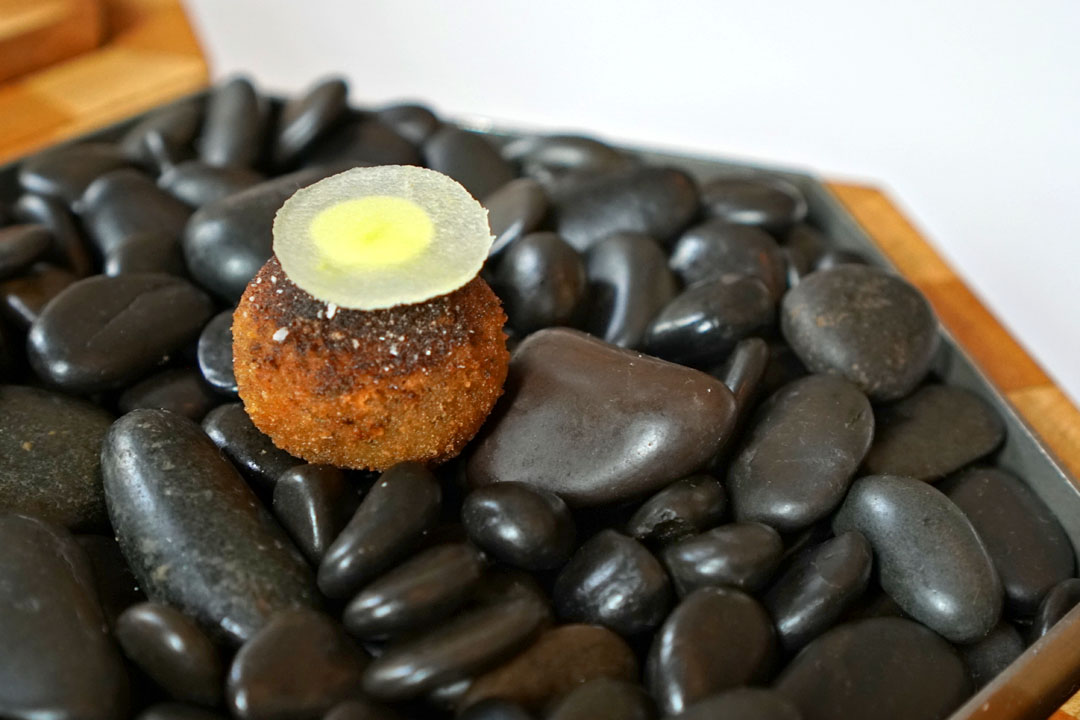 2a: Hors-d'œuvre Tower
| Mushroom Arancini
Presented in a set of four stackable wooden boxes crafted by
Robert Lafferty
, tonight's amuse-bouches were all about highlighting apples and autumnal flavors. This maitake-apple rice ball balanced the sweetness of the fruit with an almost foie gras-esque character that I was beguiled by. A cozy start to be sure.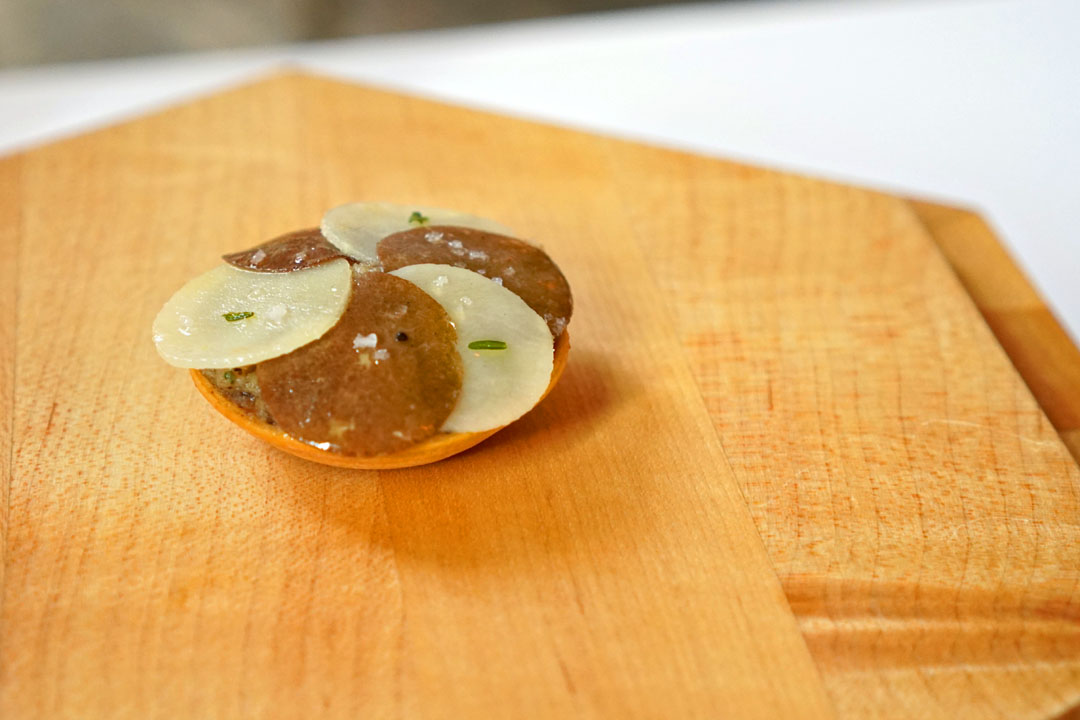 2b: Hors-d'œuvre Tower
| Parsnip Tart with Black Truffle and Thyme
A rather handsome tartlet showcased a spot-on interplay of truffle-y musk and nutty, vegetal parsnip, all while the bite's pastry base offered up an excellent countering crunch.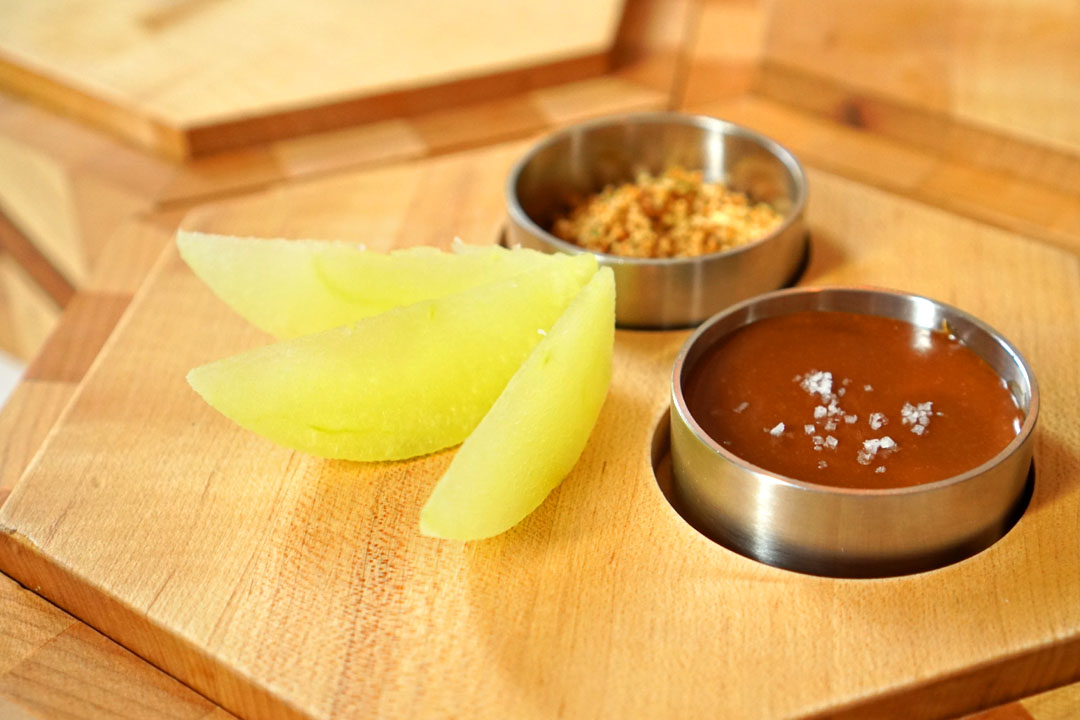 2c: Hors-d'œuvre Tower
| Apple with Caramel and Amaranth
Sweet, juicy slices of compressed apple were dipped into a caramel and parsnip mousse that had this surprising foie-like earthiness, then dipped again into crispy amaranth, which provided a delightfully nutty contrast.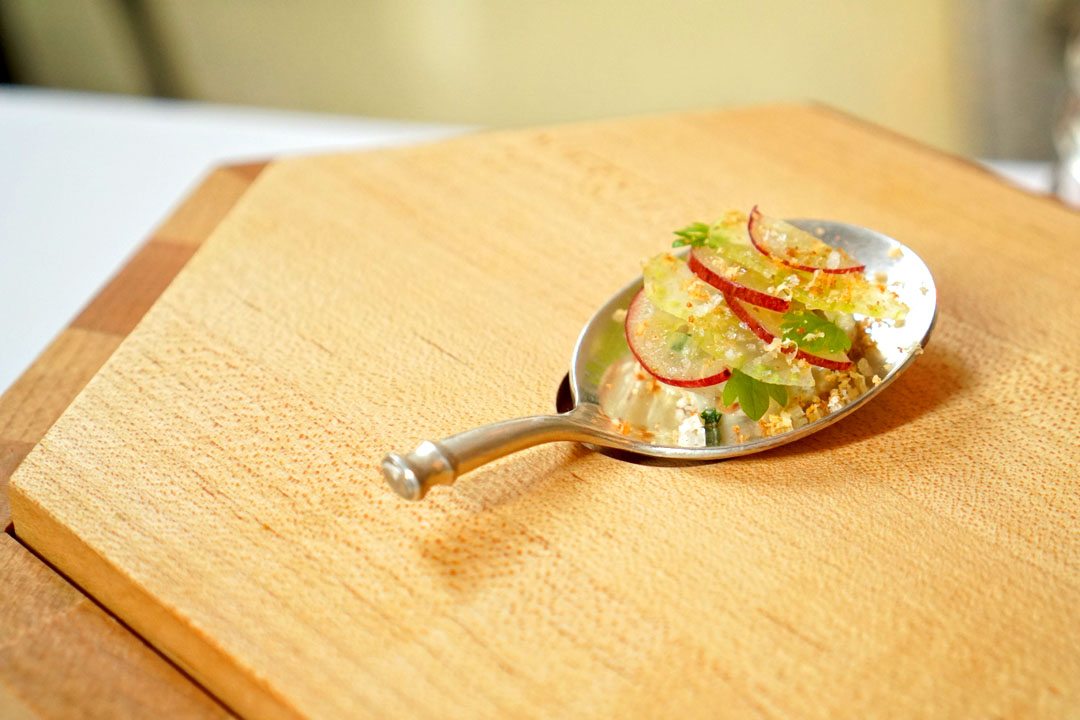 2d: Hors-d'œuvre Tower
| Waldorf Salad
A reimagined Waldorf salad featured thinly sliced apple, celery leaves, grapes, and a smidge of "blue cheese." I found it a really well-composed bite, one that did a great job capturing the essence of the classic salad.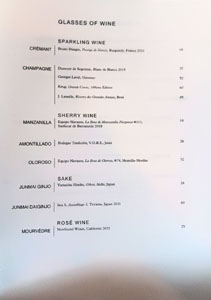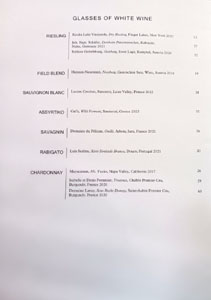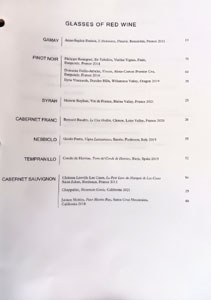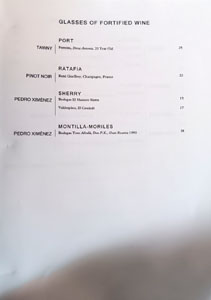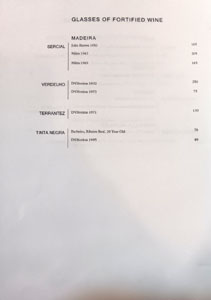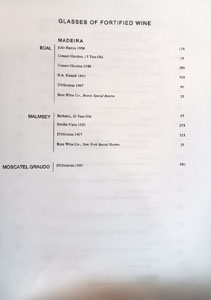 With my initial cocktail all finished up, I requested the wines by the glass list, as shown above. Click for larger versions.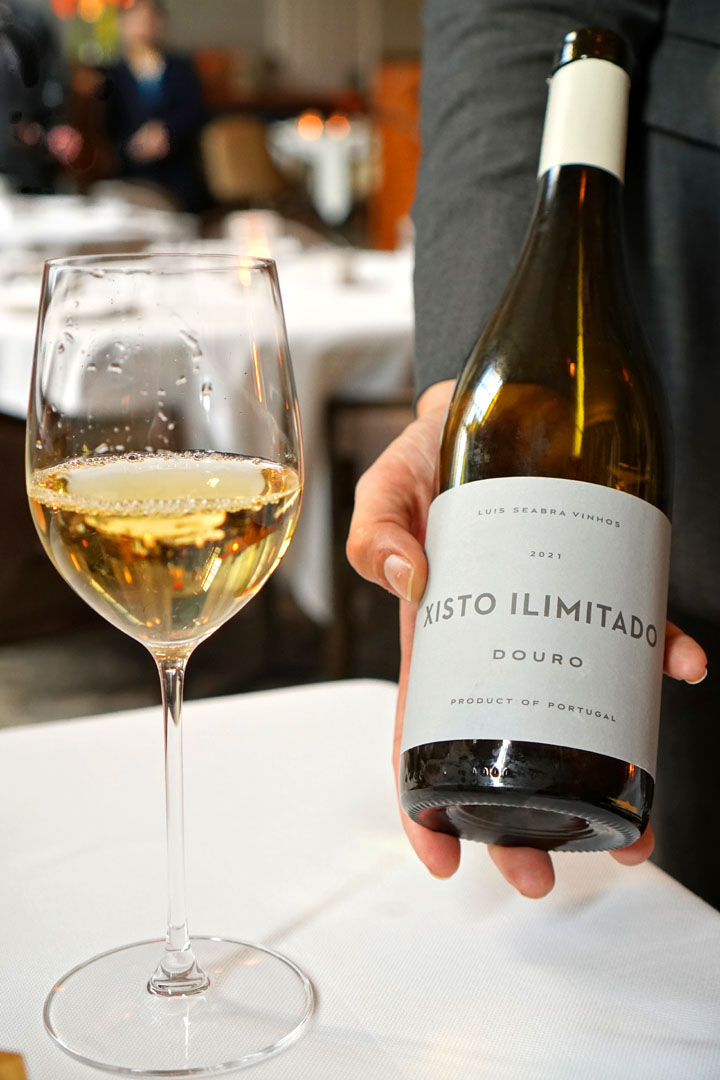 I ended up going with a recommendation from Sommelier Stefanie Harris, the
Rabigato, Luis Seabra, Xisto Ilimitado Branco, Douro, Portugal 2021 [$20]
. The nose here was fresh and fruity, with juicy pineapple at the fore, evened out by a touch of minerality. Tasting it, I found the wine similarly vibrant, with loads more yellow fruit and citrus commingled with plenty of grassy, saline elements and a lovely acidity. I typically don't drink much wine for Portugal (except for port), but I quite enjoyed this one.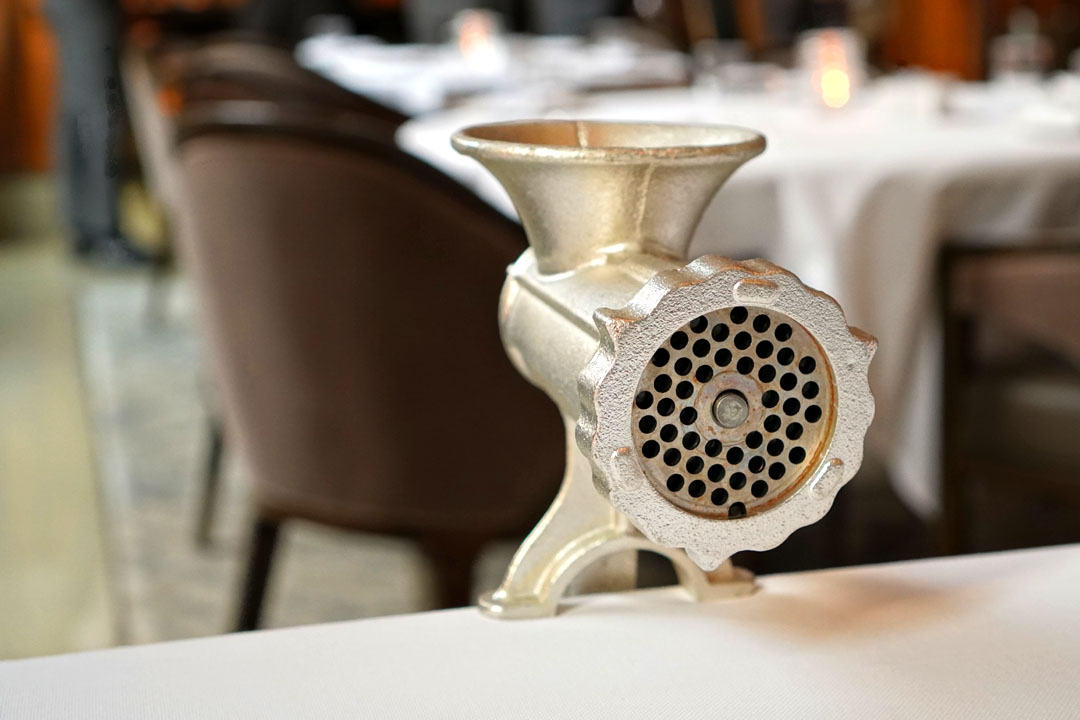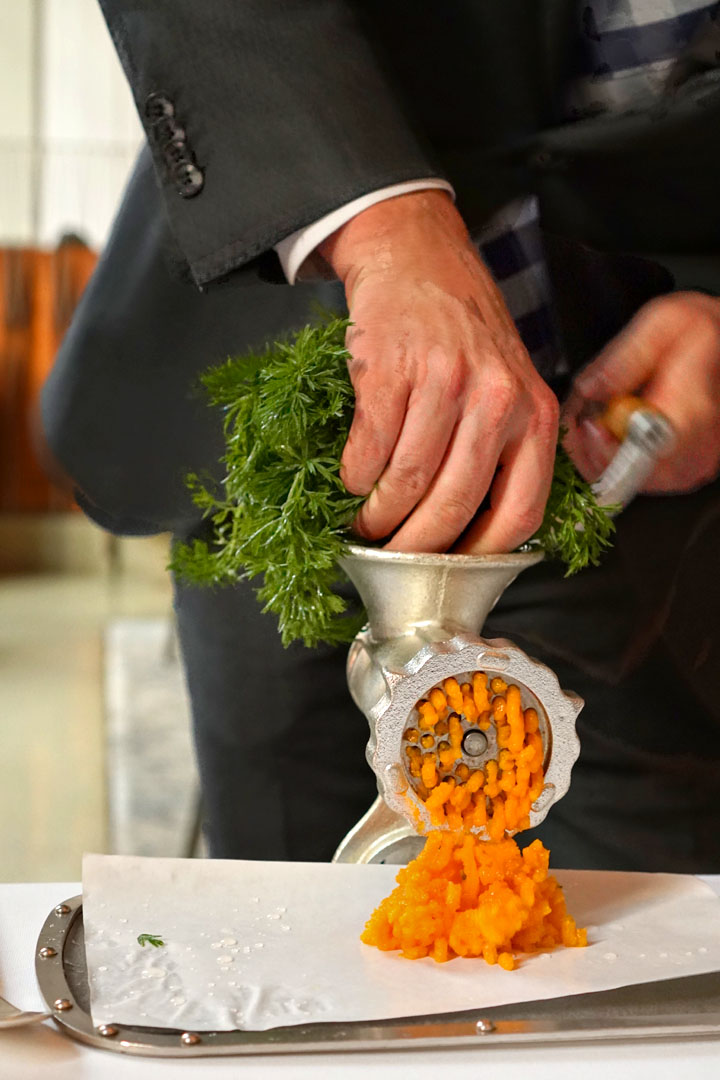 When the meat grinder was clamped to the table, I immediately knew what was coming up: EMP's (in)famous carrot tartare from 2012.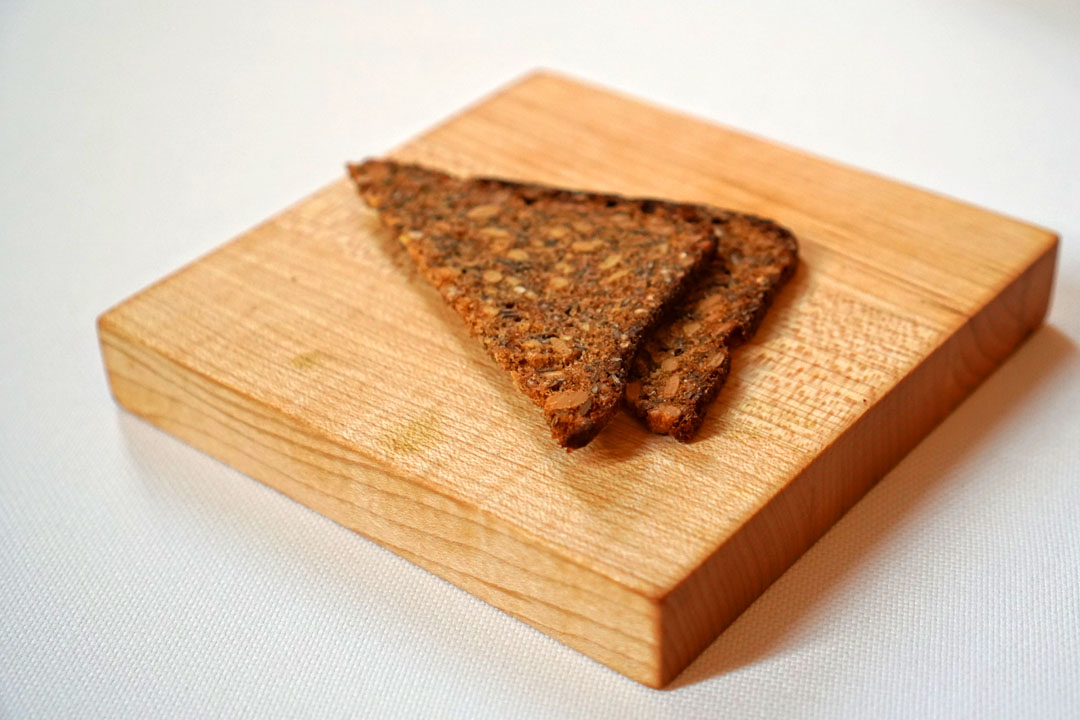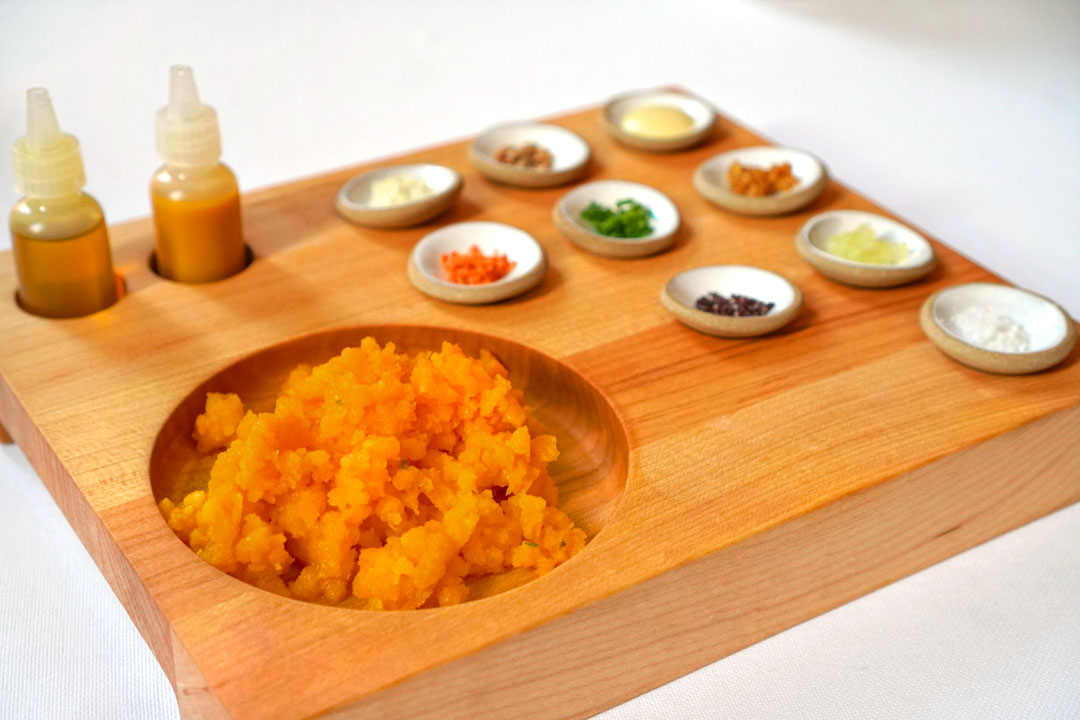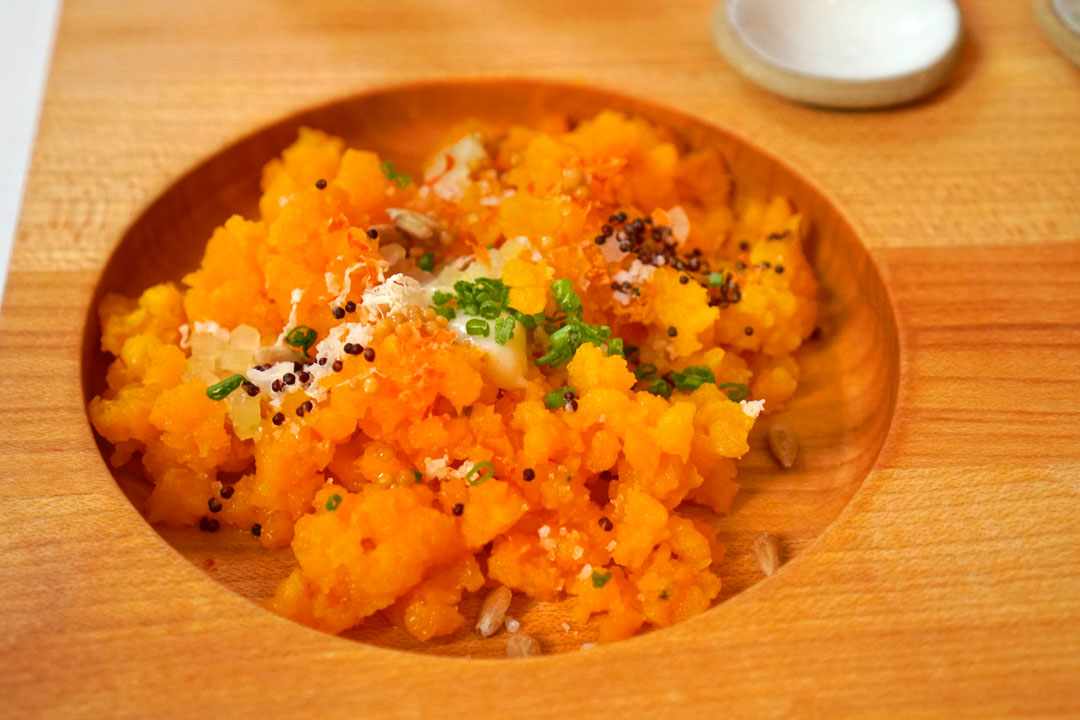 3: Carrot Tartare
| With Rye, Mustard and Horseradish
I first tried the carrot unadorned, and appreciated how its sweetness was so forcefully and singularly conveyed. Next, as recommended by my server, I tossed in all the mix-ins, which included puffed millet, dehydrated and smoked carrot, sunflower seeds, chives, salt, and mustard cream with horseradish, among other goodies. Meanwhile, the two squeeze bottles contained mustard oil, which had this fantastic nutty brine-like sensation, and an apple-carrot vinaigrette, which combined the essence of carrot with a nearly curry-esque spice. All the various components combined beautifully, adding interest to the carrot while preserving the inherent nature of the root vegetable; I was especially a fan of the horseradish. I liked this dish way more than I thought I would, and in fact, this just might be the best carrot dish I've ever had.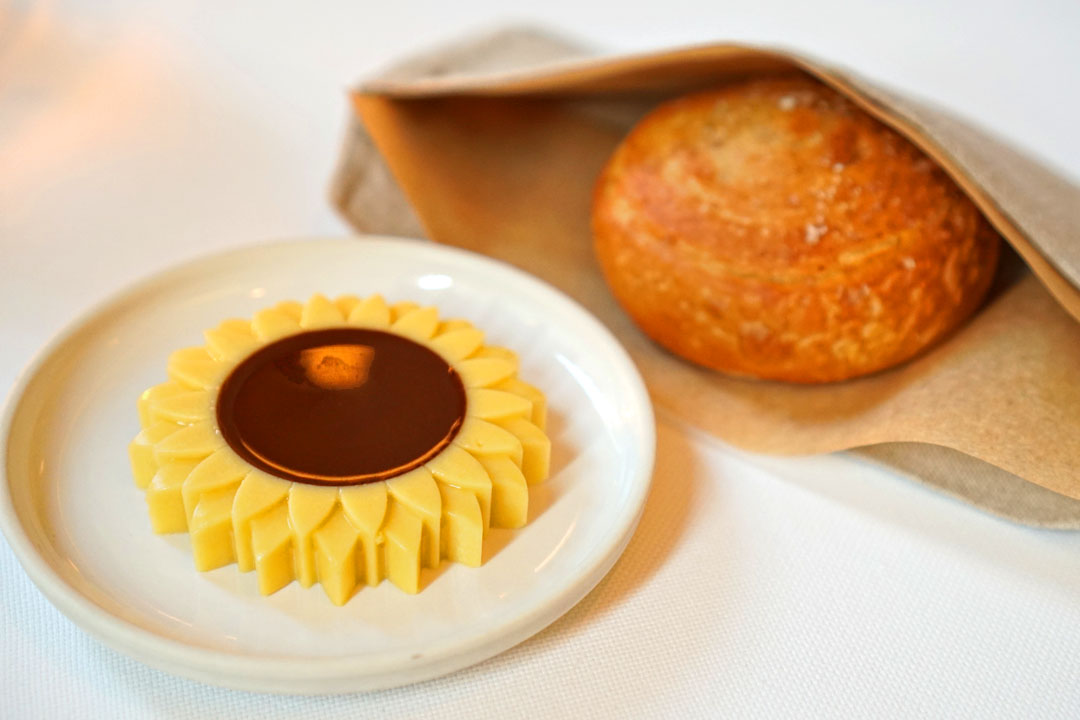 EMP's presentation of bread and butter was superb. The laminated, multigrain, croissant-inspired bread came out wonderfully flaky, and featured a crumb that was simultaneously "grainy" and "doughy." The sunflower butter with sunflower seed glaze was similarly commendable thanks to its delectably grassy, nutty, savory flavor profile that linked up swimmingly with the bread.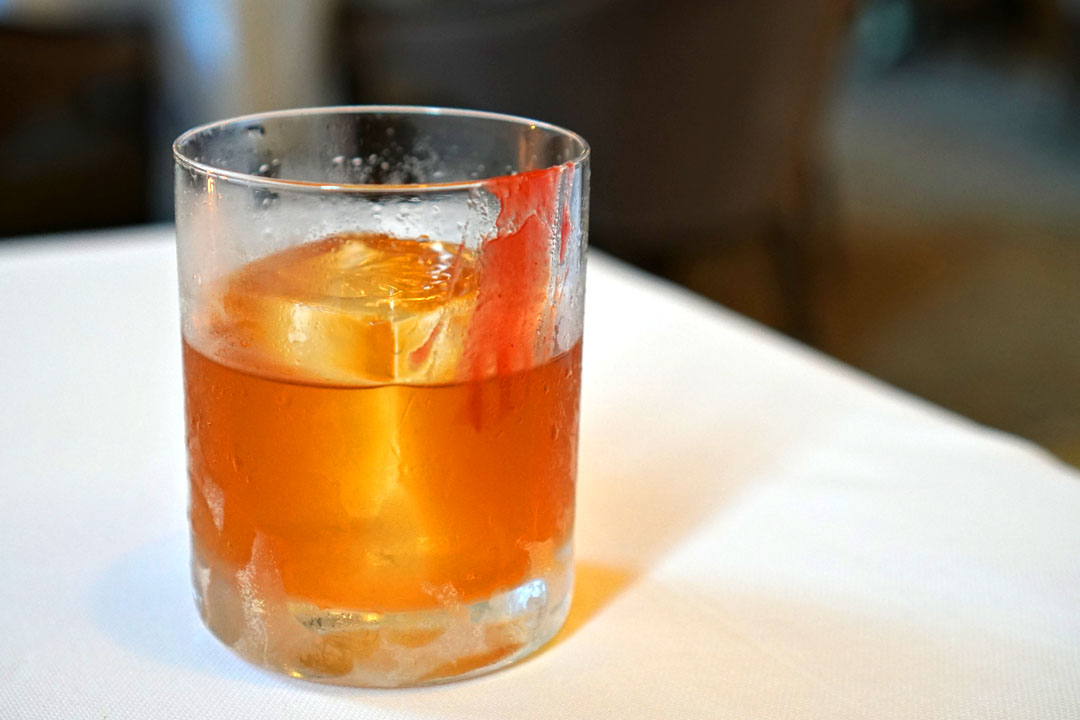 Ghost Dog - Matthew Hunter, 2018 [$25.00]
| Bourbon, Cognac, Pommeau, Cacao Nib, Plum Vinegar, Umeboshi
At this point, I moved back into cocktails, and ordered this next one largely because I was curious about how the umeboshi would be utilized. The drink smelled of sour-yet-savory fruits with an astringent backing. Taking a sip, I found it generally boozy and bittersweet, with supporting notes of apple and cacao giving way to hints of pickled plum toward the close.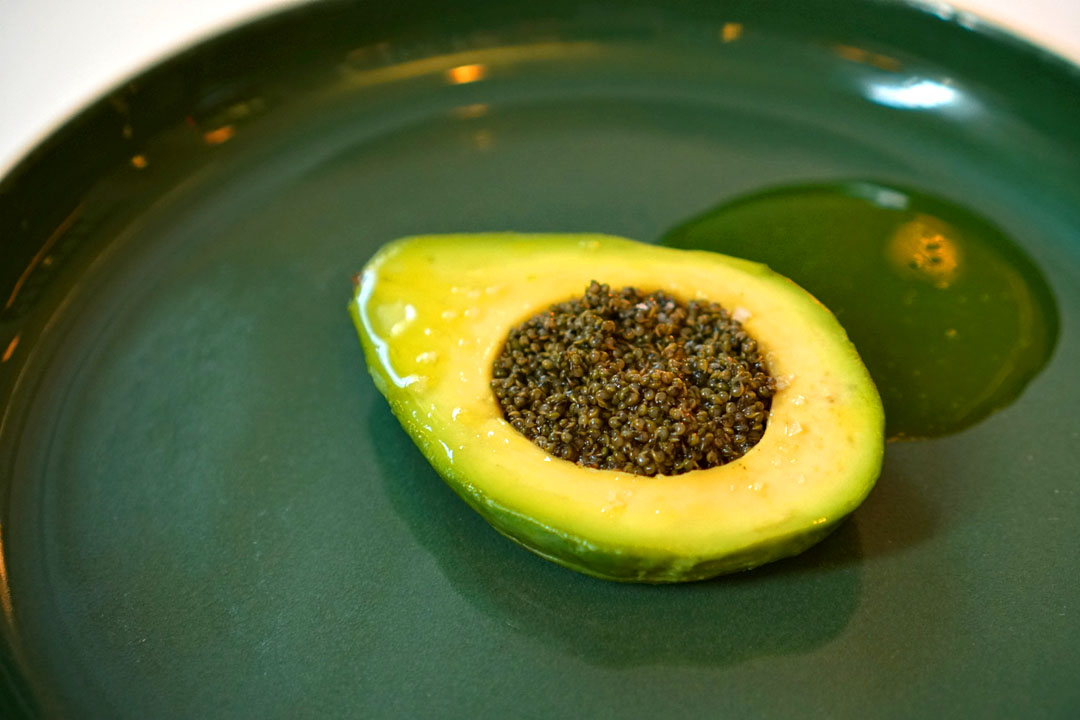 4: Tonburi
| With Avocado, Cucumber and Mint
This rather stark-looking dish was another favorite, and quite simply, one of the strongest avocado dishes I've tasted. The key was how perfectly the creaminess of the avocado meshed with the vegetal, nutty nature of the
tonburi
, all while the mint sauce and cucumber salad provided a requisite brightness. Really cool and clever.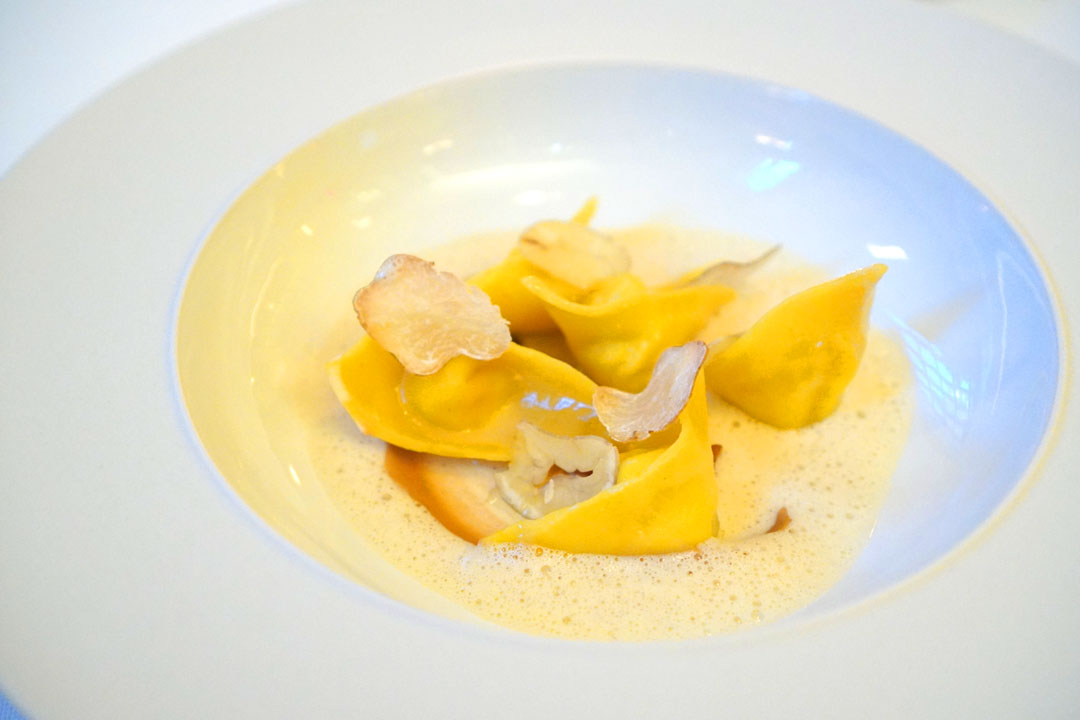 5: Tortellini
| With White Truffle and Chestnut
This next dish tasted patently of the season, and married the nutty, autumnal sweetness of chestnut with the pungency of shaved French white truffle and distinct "lactic" character, the whole thing augmented by a white truffle foam.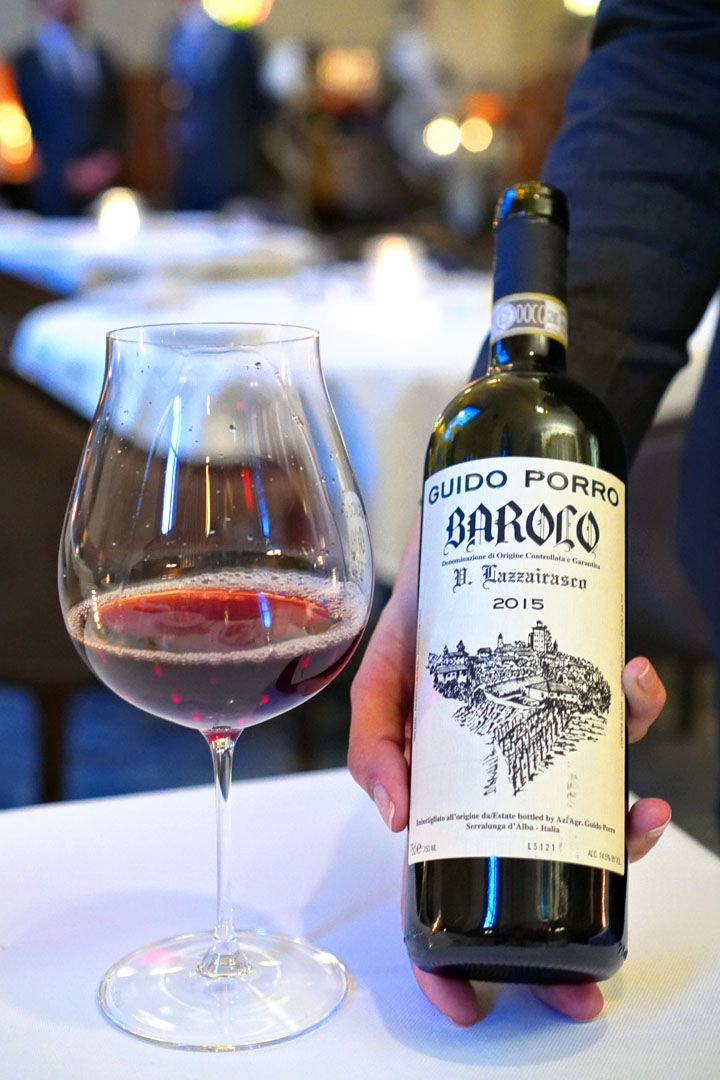 Red wine duties were handled by the
Nebbiolo, Guido Porro, Vigna Lazzairasco, Barolo, Piedmont, Italy 2015 [$35]
, another recommendation from Harris. Aromas here were musky dark fruits and cola, with touches of floral. On the palate, I found the wine smooth and round, its base of red fruits presenting in soft manner, joined by a light minerality and a smidgen of spice and piquancy.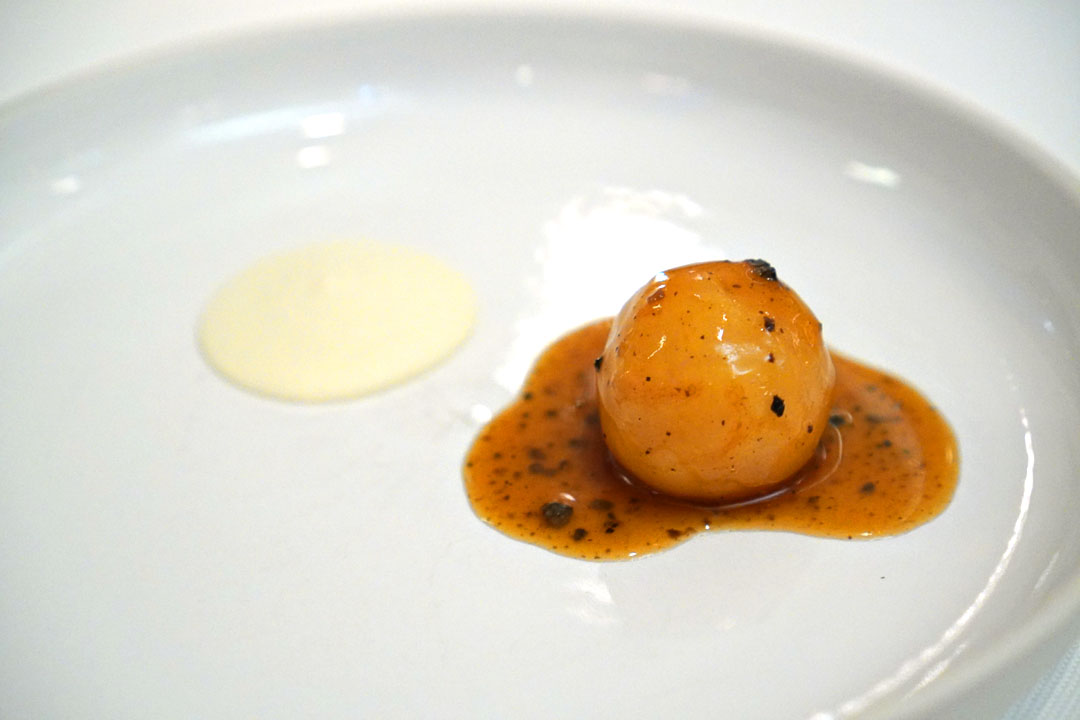 6: Celery Root
| With Black Truffle
Another minimalist-looking course comprised braised celeriac, dressed in a sauce of black truffle, with an additional black truffle purée hiding underneath a dollop of celeriac purée. I loved the juiciness of the root, and how its vegetal bitterness held up to the unabashed woodsiness from the truffle. It was a straightforward but effective combo, one that was surprisingly familiar and comforting, yet also nuanced.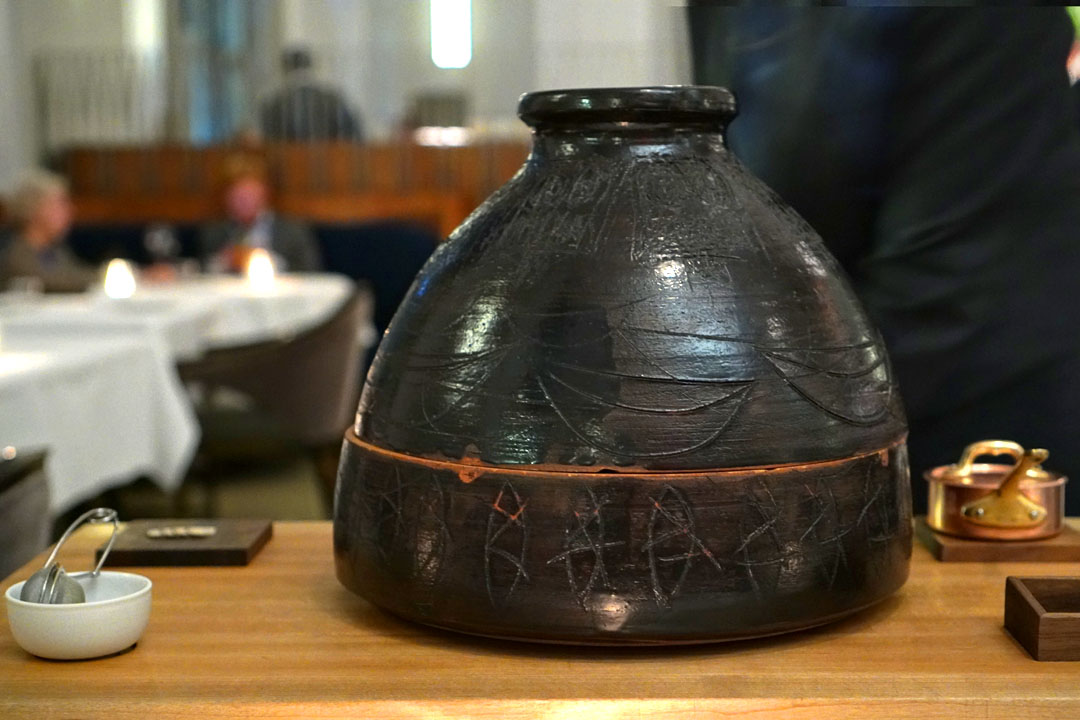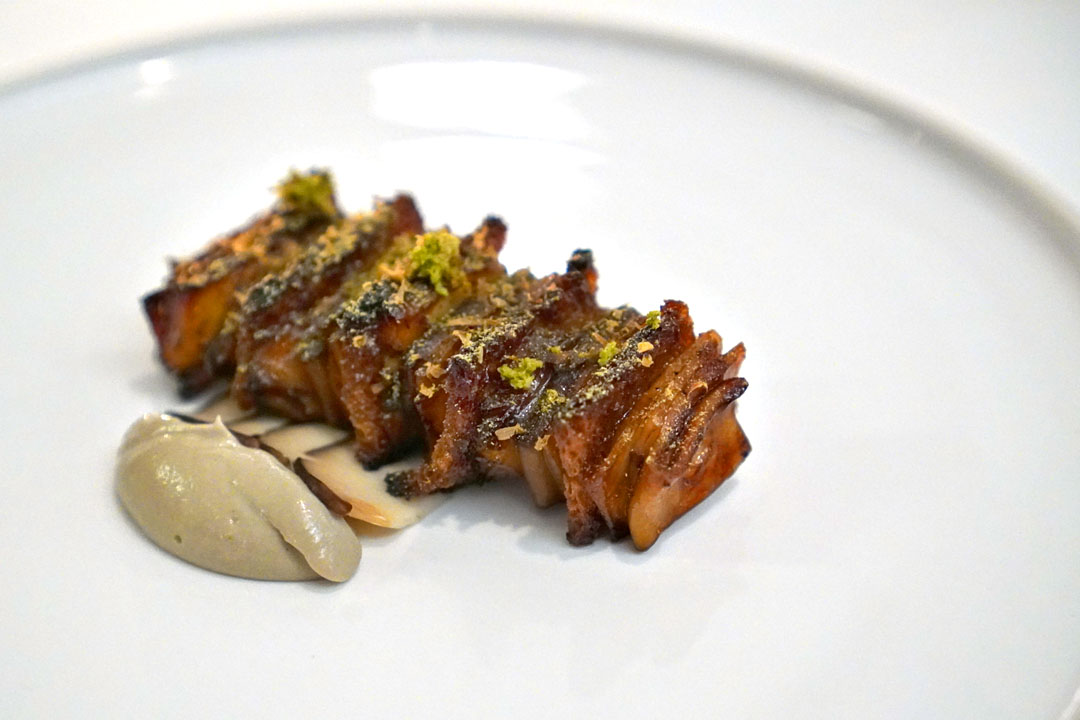 7: Maitake Mushroom
| Grilled with Juniper and Pine
Black maitakes from producer
Shogun
were confit'd, skewered with seitan, brushed with maitake paste, grilled, and glazed with maple. They were then sprinkled with juniper and pine, and served with mushroom purée and pickled king oysters. This all resulted in a wonderfully meaty texture on the 'shrooms, along with a nice char, while flavors were delectably smoky, deep, gratifying, and umami-laden. The pickled 'shrooms actually helped lighten the mood.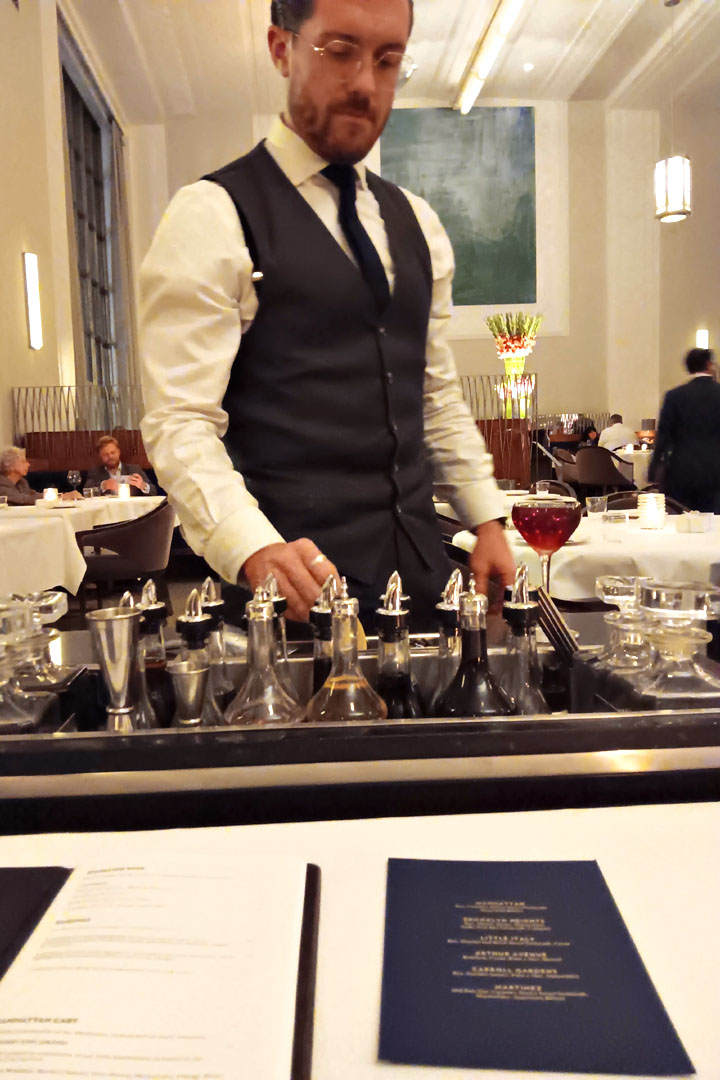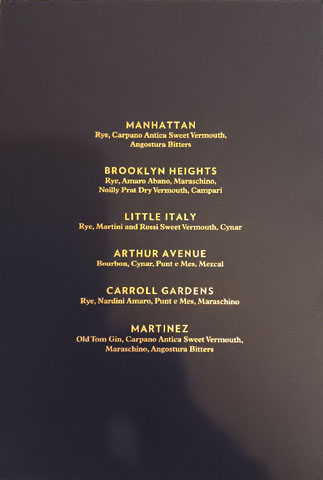 I was now feeling another cocktail, and couldn't resist ordering something off of the restaurant's roaming Manhattan cart, which offers tableside preparations of its namesake drink and its variations. It even comes with its own menu. Click for a larger version.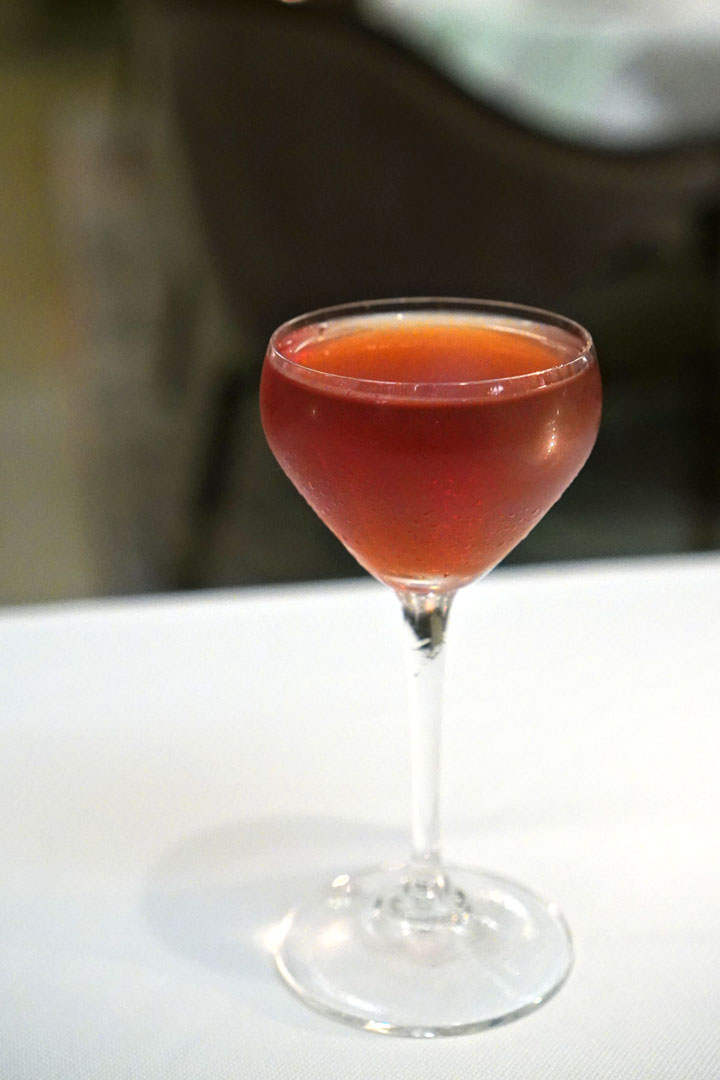 Bedford and Grand [$25.00]
| Michter's Rye Whiskey, Barolo Chinato, Fino Sherry, Maraschino, Orange Bitters
I opted for a Manhattan variation created to celebrate EMP's 25th anniversary. I immediately detected a cacao character courtesy of the Barolo Chinato, which coalesced well with the boozy, bittersweet nature of the cocktail, and I also appreciated the overarching oxidative qualities imparted by the sherry.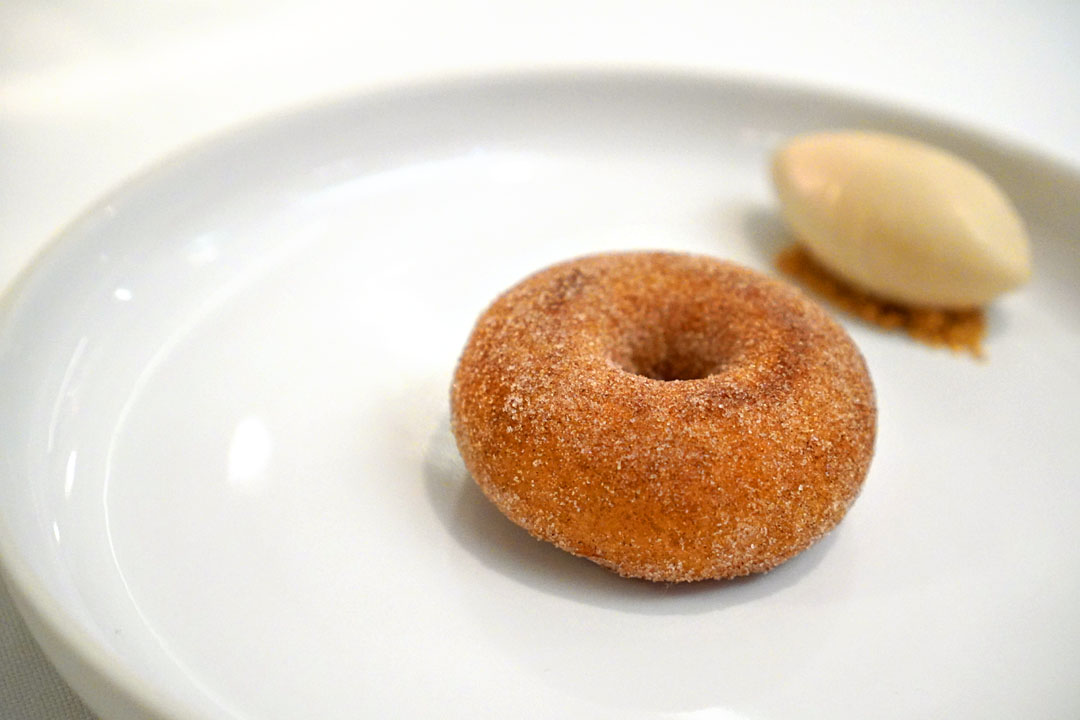 8: Apple Doughnut
| With Cinnamon Ice Cream
A Granny Smith donut effortless combined the tart-sweetness of the apple with a fragrant cinnamon spice, all while the ice cream completed the equation.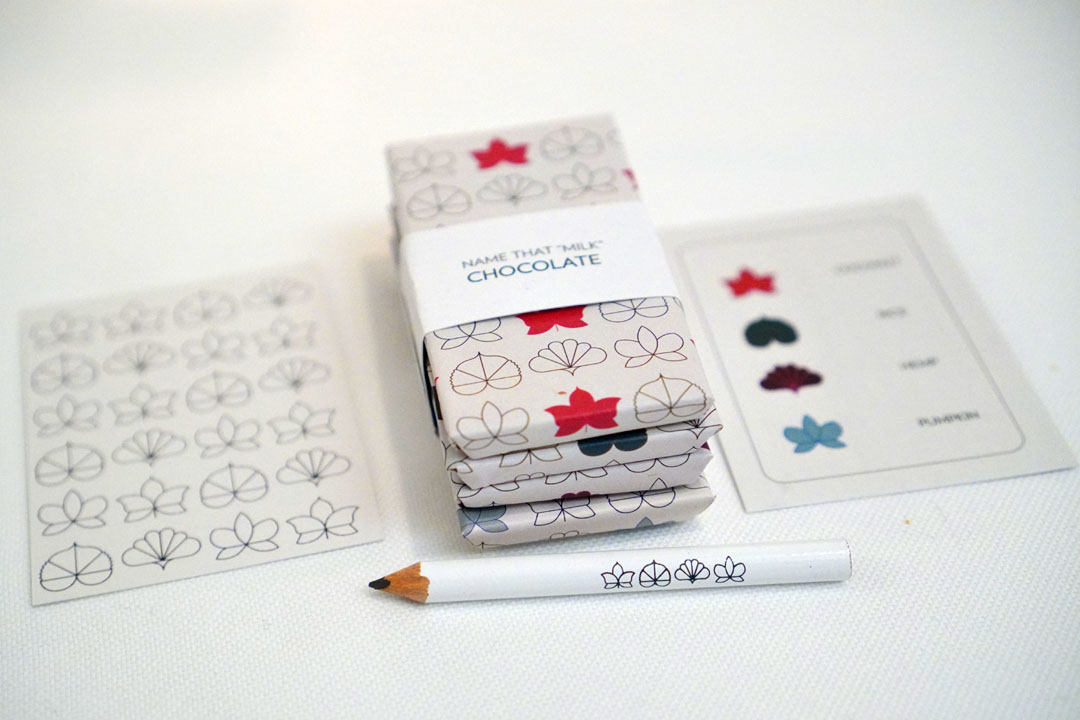 9: Name That Milk
Next, I was presented with four different types of chocolate made with four different types of milk: coconut, rice, hemp, and pumpkin. I was then asked to determine which was which, a task that I did not complete successfully.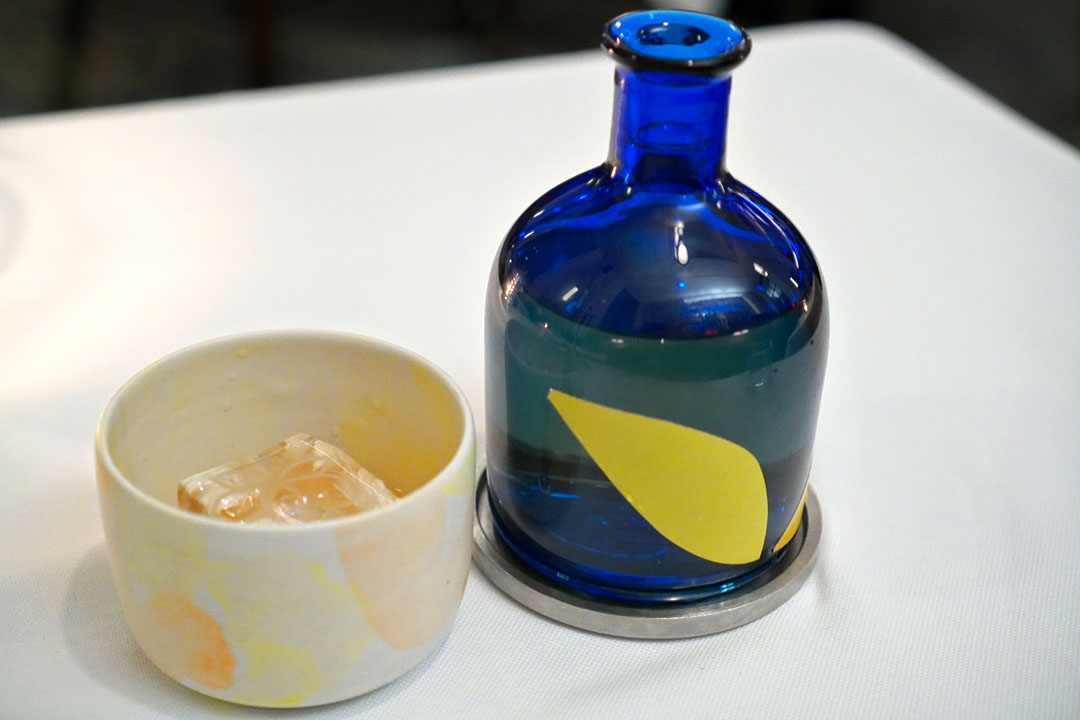 I was then given a complimentary pour of a vermouth that the EMP team had developed during the pandemic. The aromatized wine was made with grapes from Upstate New York, fortified with brandy, flavored with gentian, wormwood, and angelica root (among other items), then combined with peaches and pears. I found it super refreshing, with loads of stone fruit and floral notes making for an invigorating tipple indeed.
Closing things out was pretty much the coolest pretzel I'd ever seen. Made with chocolate and sesame, it had an in-your-face nuttiness that I reveled in, and in fact, I was actually reminded of
tangyuan
.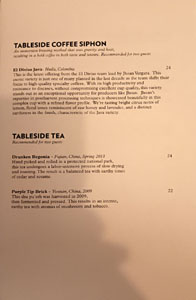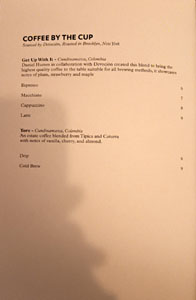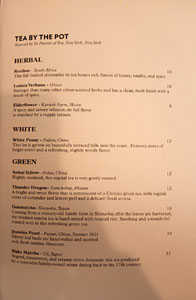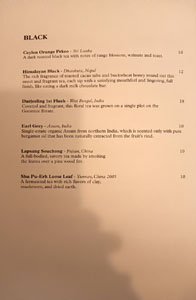 I then requested the coffee and tea list in order to choose my final beverage before I had to depart. Click for larger versions.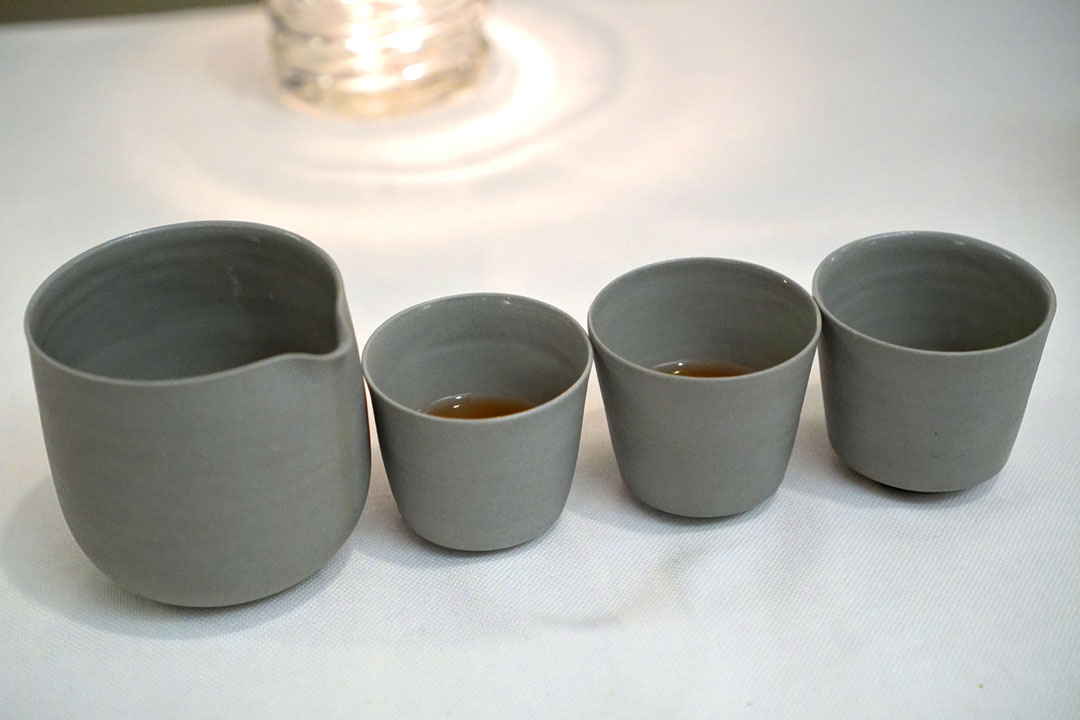 I wound up going with the
Purple Tip Brick - Yunnan, China, 2009 [$22]
, a
shóu
-style pu'er. The tea showcased an intensifying grassy and umami quality, while a marked smokiness appeared on the mid-palate and turned nearly briny at the end. A fitting closer.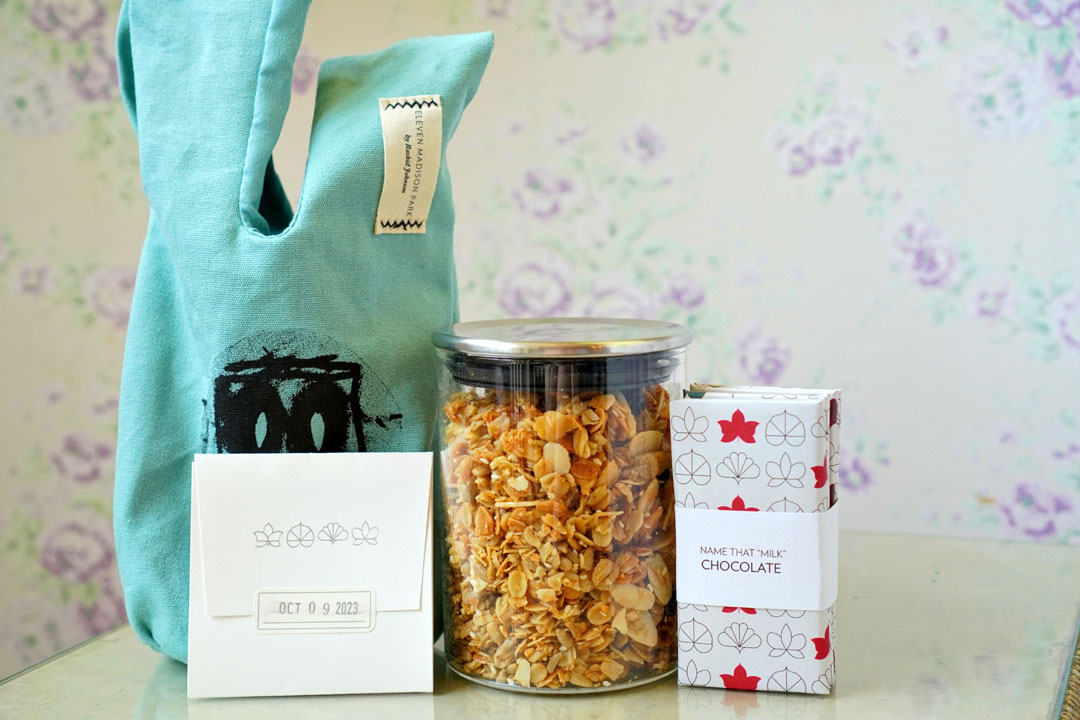 Parting gifts included a jar of Eleven Madison Park's famous granola (with tote designed by artist Rashid Johnson, who'd collaborated with the restaurant before), as well as the chocolates I enjoyed above and a copy of the night's menu.
Like many, many others, I was a bit skeptical when I first heard that Humm and company were ridding Eleven Madison Park of all animal products. Fortunately, the team was able to deliver a very strong meal tonight, and I had no real complaints with the cooking, while service was exemplary, as expected. There's some meticulous, focused cooking going on; the kitchen didn't miss a beat, and I didn't miss the meat. But at the same time, given the quality of the food tonight, I was left wondering: would my dinner have been
even better
had the restaurant not been bound by the confines of being plant-based? I'll never know.
---
As I mentioned up above, I had a plane to catch after EMP. I decided to partake in the in-flight meal, which I thought might be fun to document, especially since this was my first time trying United's premium Polaris offering.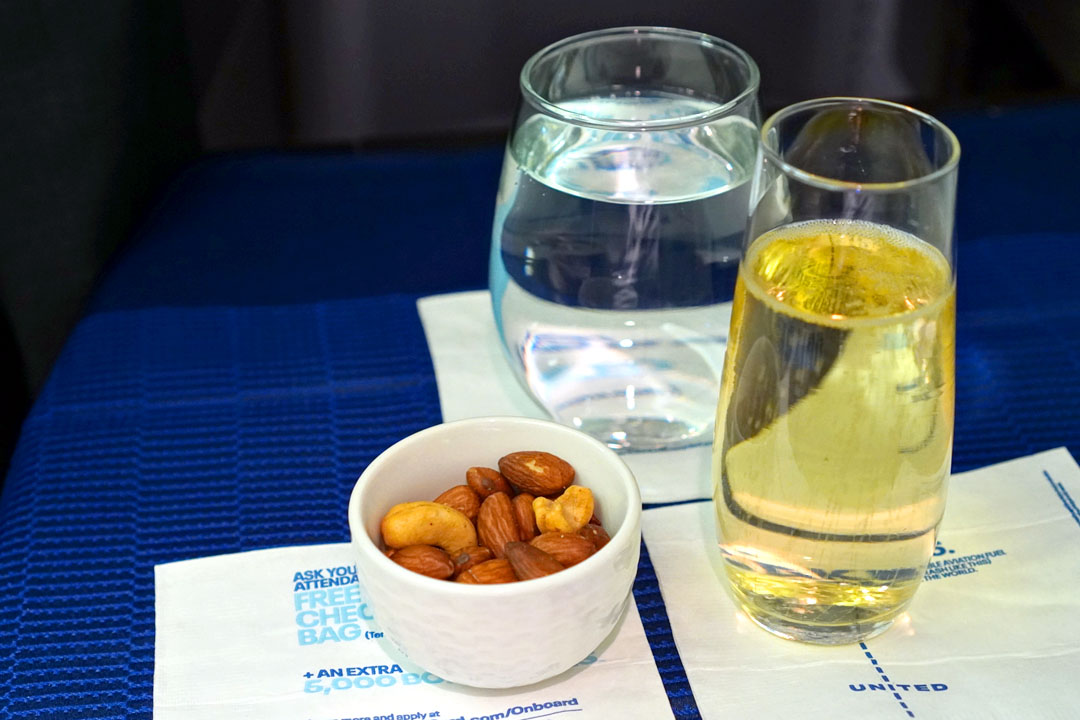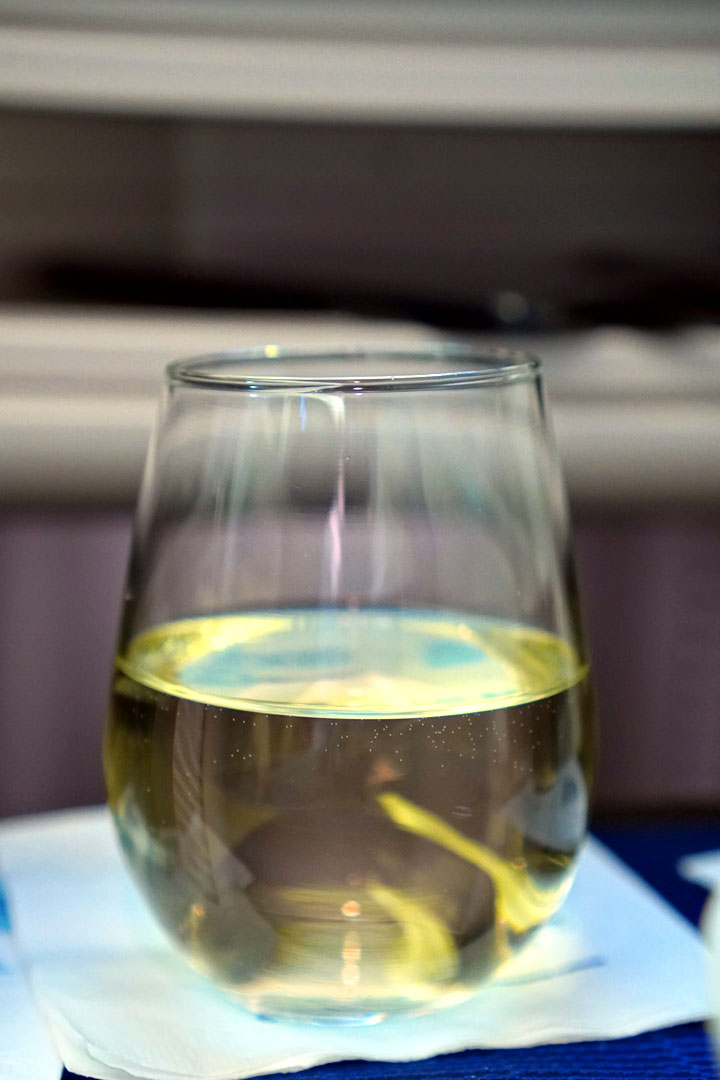 Prior to dinner proper, I was served a small bowl of warm nuts, which had an unusually high proportion of almonds. I was also asked for my choice of wine, and I opted for two pours: the crisp, bright, apple-forward
Champagne Heidsieck Monopole Blue Top Brut, NV, Champagne, France
, and the
Duckhorn Vineyards Sauvignon Blanc, 2022, North Coast, California
, with its bevy of easy-going tropical, grassy, and floral flavors.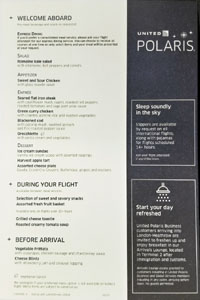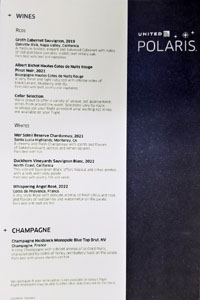 Pictured above were my food and drink options. Click for larger versions.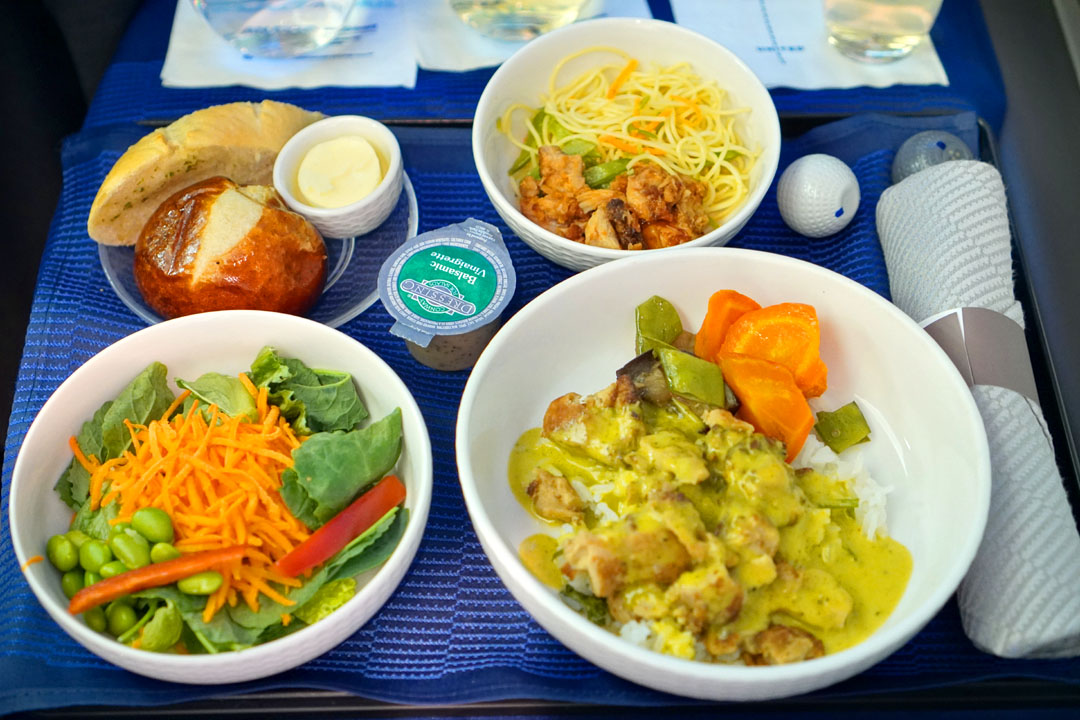 Dinner was served together as one course.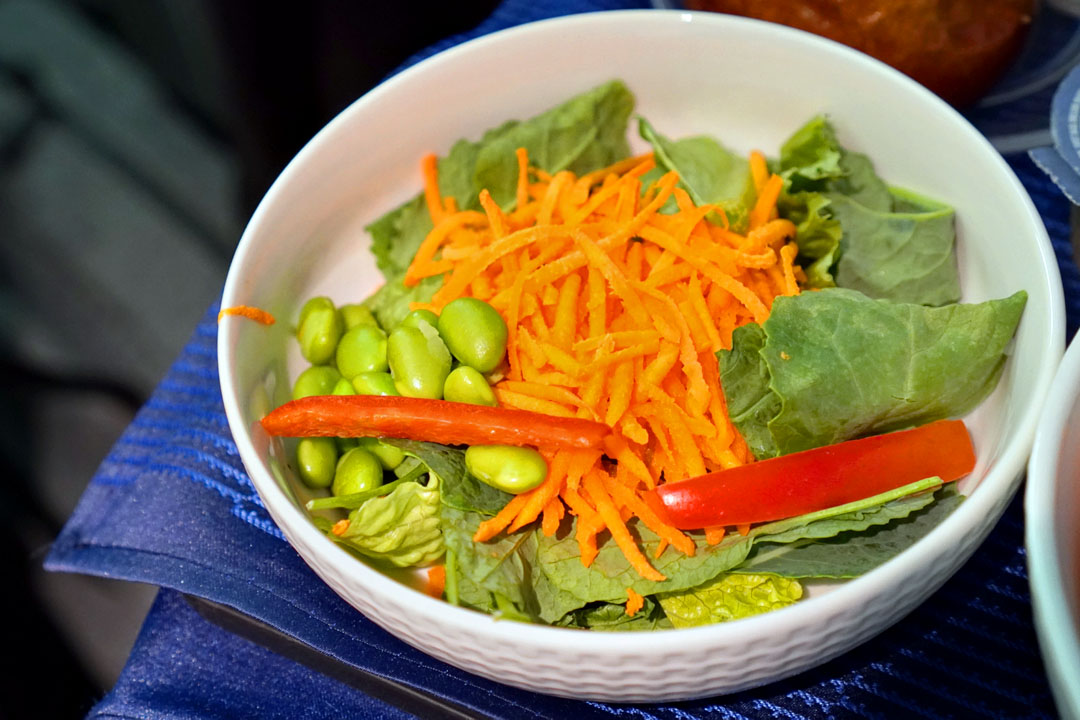 1: Romaine kale salad
| with edamame, bell peppers and carrots
A rather austere, disjointed salad I have to say. The aggressively piquant, peppery dressing didn't help much, but I did appreciate the edamame.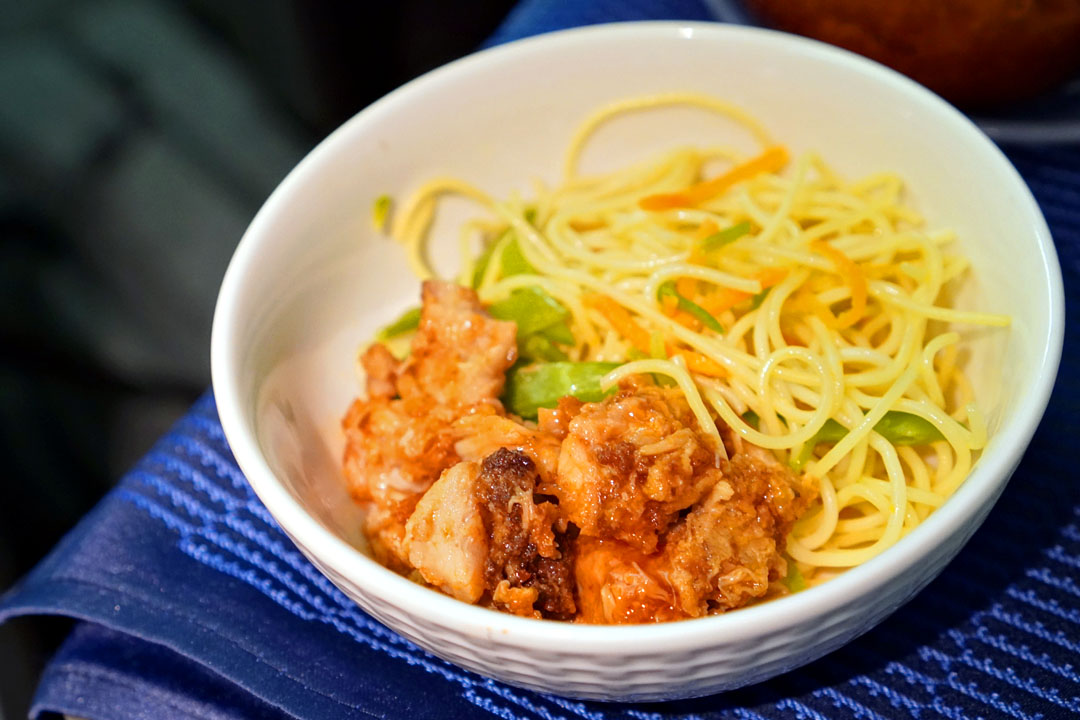 2: Sweet and Sour Chicken
| with glass noodle salad
Chicken was neither particularly sweet nor sour. The noodles, though, were even more unfortunate, arriving dry and mealy.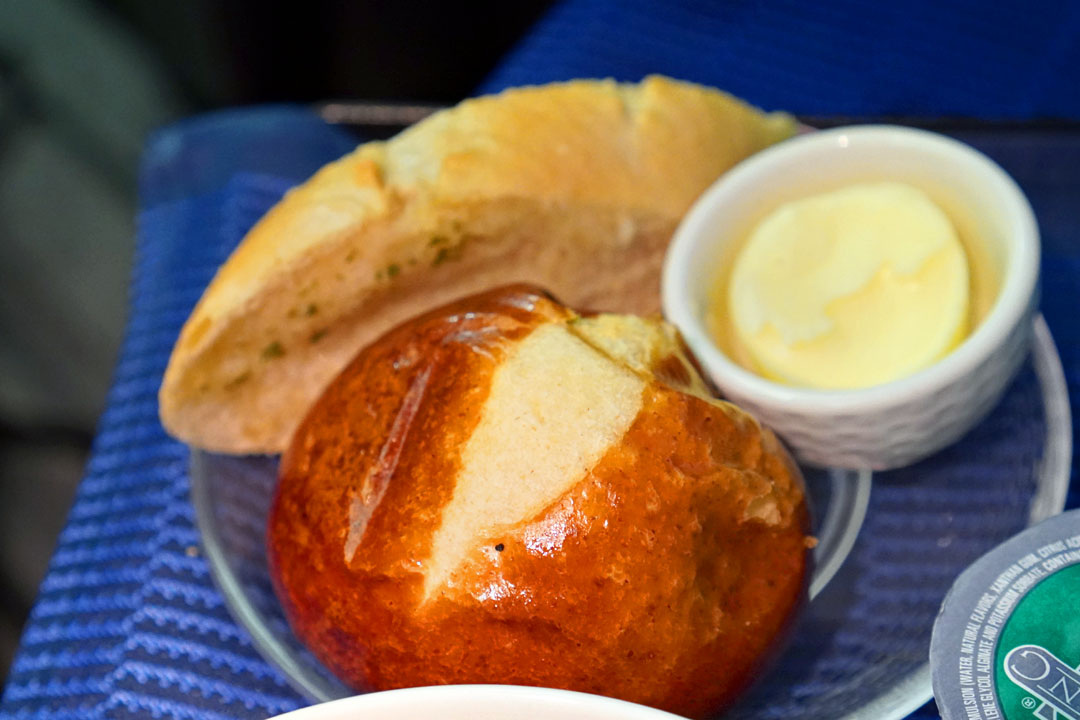 Two varieties of bread were provided. The pretzel one was quite good, with a nice butteriness and "pull-apart" consistency, while the other possessed a welcomed herby kick, but was otherwise forgettable. As for the butter, it was definitely harder than I would've liked, though it did have a decent salt to it.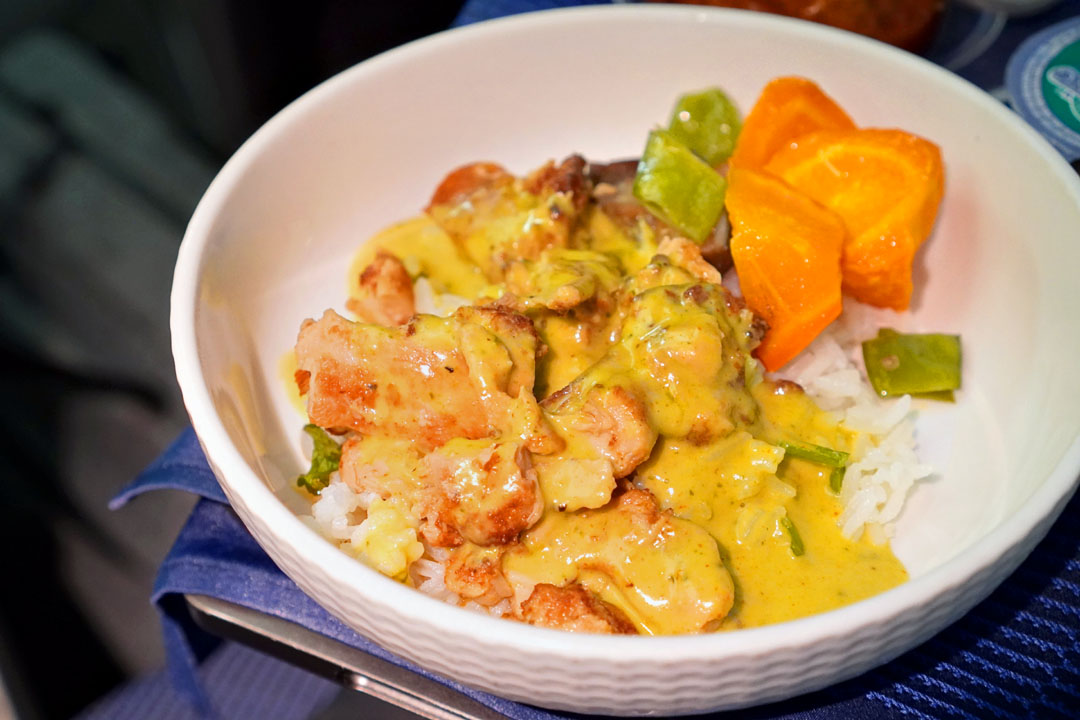 3a: Green curry chicken
| with cilantro jasmine rice and roasted vegetables
A Thai-style green curry was the highlight of the meal. I certainly tasted some of the herbaceous, pungent elements I was looking for, though of course they were toned down from what I'd typically expect. I had no real complaints with the chicken itself, and I was ambivalent about the carrots, though the eggplants fared better. The biggest flaw here was that the rice was far too soft, which I suppose wasn't too surprising.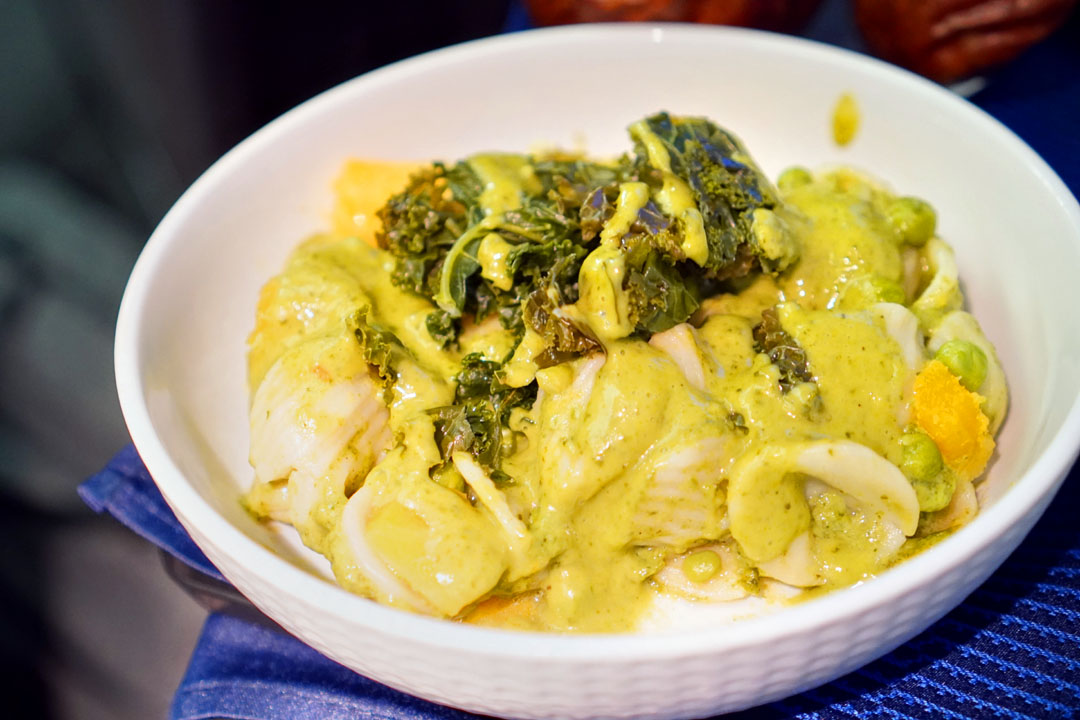 3b: Orecchiette
| with pesto cream and vegetables
I also requested the pasta an as alternate entrée selection. The actual orecchiette were quite thoroughly overcooked, and thus nearly gummy in consistency, though the actual pesto flavors weren't bad, and were perked up by the bitter greens.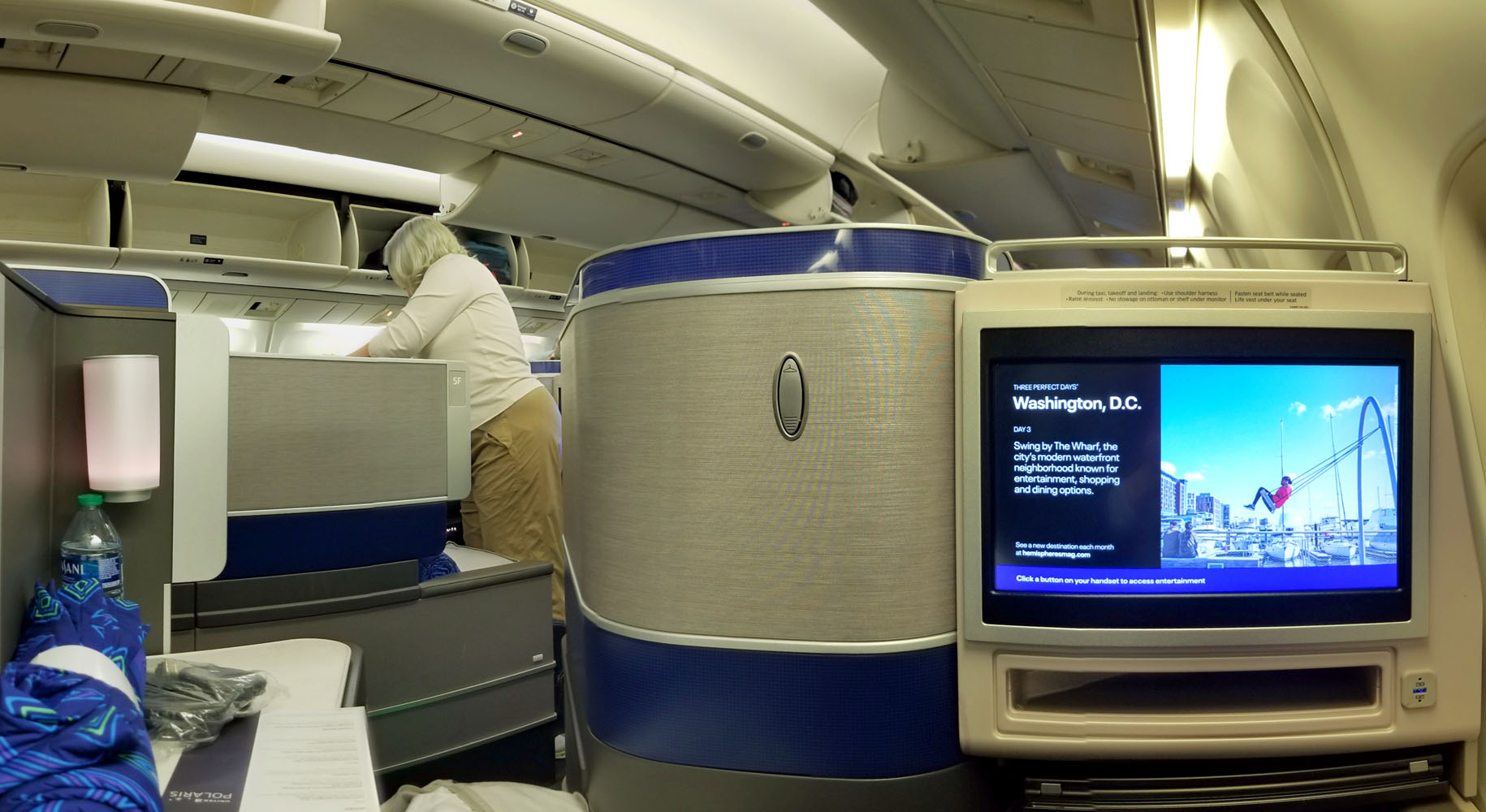 On my recent trip to
Copenhagen
, I was able to try out similar business class offerings from SAS and Lufthansa, and both of those airlines offered superior food and beverage options. However, I will say that I preferred the actual cabin on this Polaris flight, and my fully lie-flat seat did result in some very restful sleep.