Providence (Los Angeles, CA) [3]
Providence
5955 Melrose Ave, Los Angeles, CA 90038
323.460.4170
www.providencela.com
Tue 08/25/2009, 07:00p-01:30a
After my
first visit
to Providence with H.C. of
L.A. and O.C. Foodventures
, where I had the nine-course tasting, I vowed to return and tackle the 16-course Chef's Menu. Well, I came back a
second time
for a 5x5 event, ordered a la carte on
meal three
, and then paid a
fourth visit
for another 5x5. I was thus determined that there would no more messing around this time: my fifth trip would be for the Chef's Menu,
end of story
. And actually, I did it one better: Dason, one of my readers, arranged a special
22
-course degustation, which would end up being the longest meal I've ever had (edging out my
fourth Urasawa dinner
), clocking in at an astounding 6.5 hours!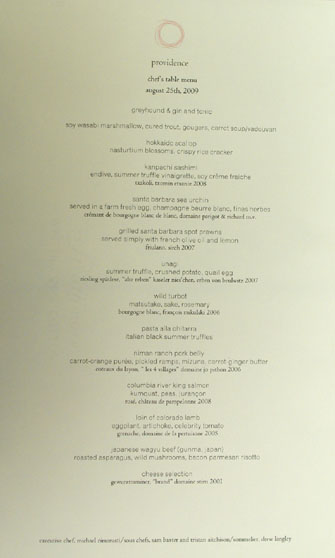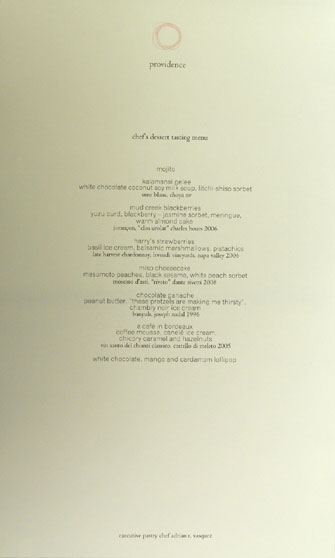 Above we see the list of courses that we had; click for larger versions. The bill was almost indecipherable, but after a series of specials and discounts, the tab came out to about $360 per person, inclusive of tax, tea, tonic, tip, and tipple.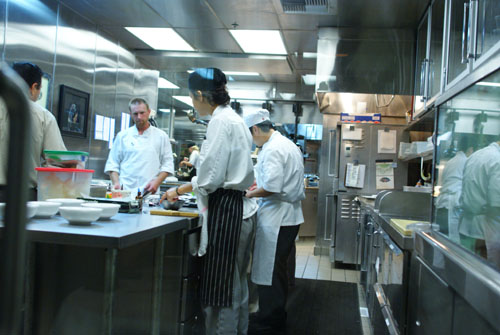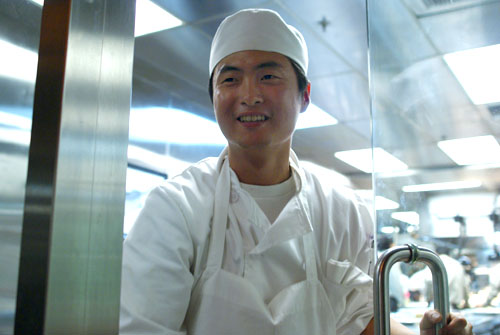 We were seated at the Chef's Table, which provided us a superb view of the dynamic, yet strangely tranquil kitchen. One of my dining companions spotted a young man (right photo) whom she swore worked at
Urasawa
previously. I was feeling a bit incredulous of that claim, so we made a bet--the loser would treat the winner to the $95 omakase at
Wakasan
. Of course, I lost. It turns out that the lad, James, was indeed our server at Urasawa. He'd left the restaurant in December of last year to work at Kuru-Kuru Sushi in Burbank (where he'd been prior to his stint at the "U"). James came to Providence in order to gain more exposure to Western cooking techniques, and is currently working as the garde manger. Interestingly, we were also told that when Urasawa-san himself dines at Providence, he always sits at the Chef's Table.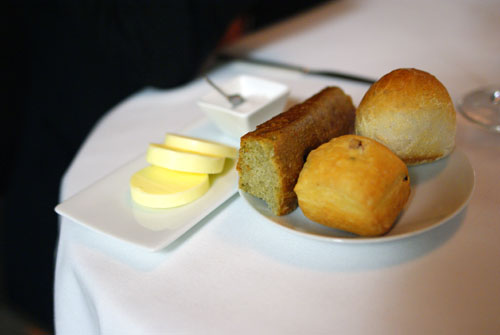 A troika of bread was presented: nori focaccia (my favorite), bacon brioche, and plain white. As usual, salt and butter were also provided.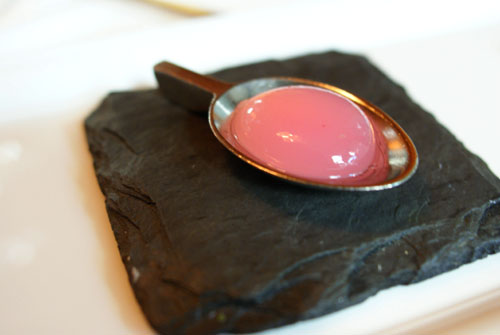 Amuse Bouche 1: greyhound & gin and tonic
An amuse bouche at Providence almost always includes some sort of spherification. This time is was a Greyhound cocktail, which I'd also had at the
last 5x5
. A Greyhound is a vodka- or gin-based cocktail enhanced with grapefruit, and this time around, the spherification was somewhat richer in flavor than before, with the tart quintessence of grapefruit artfully captured and exploding in my mouth upon mastication. Along with the Greyhound came a "Gin and Tonic" in gelée form. We were told to squeeze lime juice onto the translucent, oblong cuboid, which in turn activated a distinct, tingly effervescence, simulating the carbonation of tonic water. It was a tart, fizzy experience, like a G&T with very little alcohol.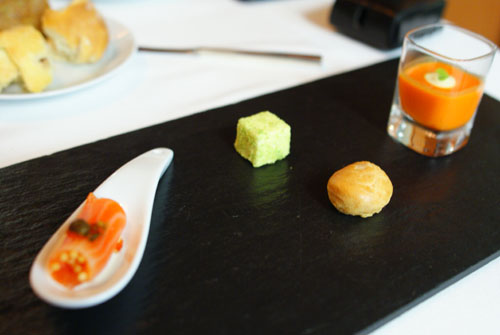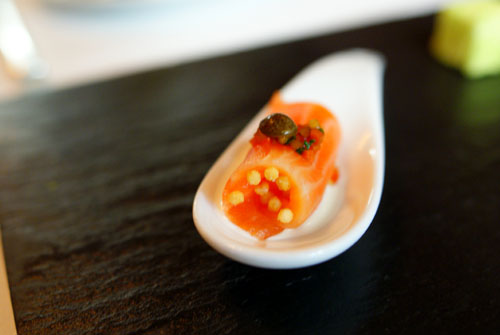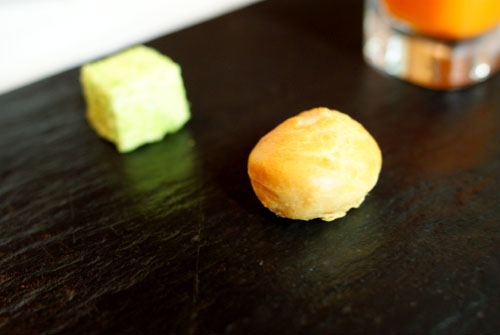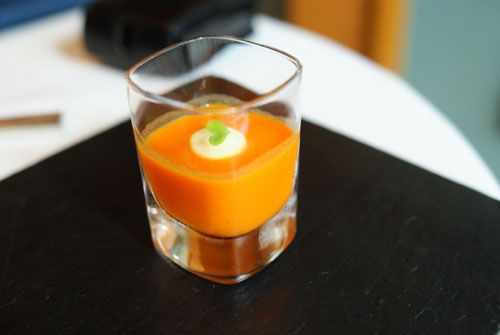 Amuse Bouche 2: soy wasabi marshmallow, cured trout, gougers, carrot soup/vadouvan
We were told to eat from left to right, so I first tried the cured Tasmanian trout with ginger crème fraîche, crispy rice, and shimeji mushrooms. I quite liked this one, with the mushrooms adding a certain weight to the delicate nature of the fish, while the rice lingered on the close, while also providing a fantastic crunchy textural element to liven things up. Second was the gougère, made with Gruyère
and
Parmesan. When I bit into it, the cheese puff exploded, coating my palate with its contents--a hot, gooey, salty liquid that was quite in-your-face, thanks to the use of that second cheese. Next I had the soy marshmallow, coated with wasabi-green pea dust. The marshmallow itself was incredibly soft, almost ethereal, but packed a biting punch, an amalgam of salty and sweet and spicy, with a lingering pea-tinged finish. Finally came the chilled carrot soup with vadouvan and crème fraîche. The spice blend was apparent on the fiery attack, but was tempered somewhat by the creamy crème fraîche; the carrot only came to the fore on the late midpalate, and was the main component I tasted on the finish.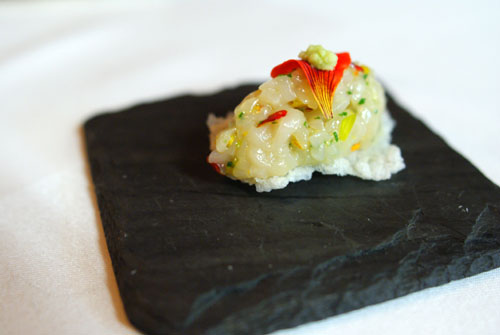 Amuse Bouche 3: hokkaido scallop
| nasturtium blossoms, crispy rice cracker
The final amuse was also the best. The key here was how the nasturtium and wasabi countered the scallop's innate sweetness with an admixture of peppery and spicy notes, thus forming the perfect foil to the mollusk. Meanwhile, the rice added a fantastic crispness to an otherwise creamy dish, taking things up a notch. Superb.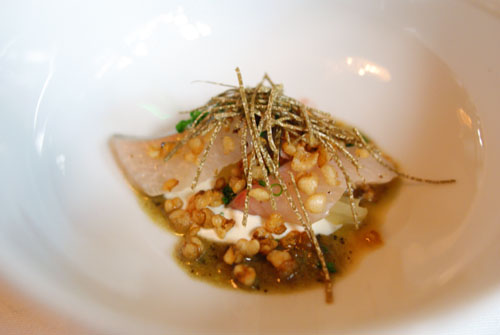 1: kanpachi sashimi
| endive, summer truffle vinaigrette, soy crème fraiche
txakoli, txomin etxaniz 2008
Our first "real" course was comprised of kanpachi, served with sous vide endive, yuzu, soba, soy crème fraîche, and black truffle. What made this dish for me was the interplay between the kanpachi and the truffle, with the truffle adding a profound earthiness and gravity to the otherwise subtle fish. Texturally, things worked out perfectly as well, with the bits of soba adding a fantastic crunch to things, while the endive had a very pleasing, snappy consistency as well. Arguably my favorite course of the evening.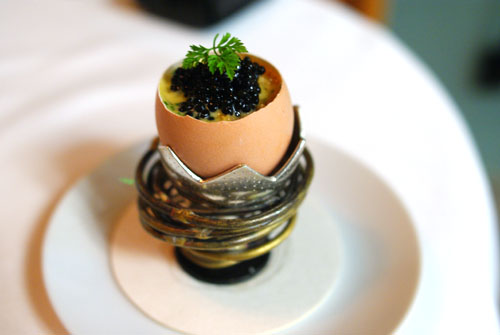 2: santa barbara sea urchin
| served in a farm fresh egg, champagne beurre blanc, fines herbes
crémant de bourgogne blanc de blanc, domaine parigot & richard m.v.
Next we have Cimarusti's take on the classic "egg cup" dish: slow-cooked yolk, Santa Barbara sea urchin, Champagne butter sauce, toasted brioche croutons, fines herbes, and American caviar. I appreciated how the salty caviar cut the rich, monolithic creaminess of the yolk, but the egg-on-egg action was the ticket here, with the yolk tempering the brininess of the uni considerably. Some, however, would've liked the uni to have been more apparent, and I can definitely understand that point of view as well.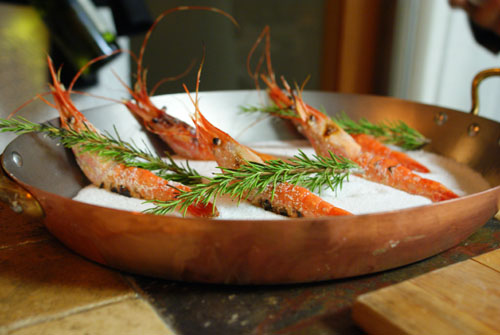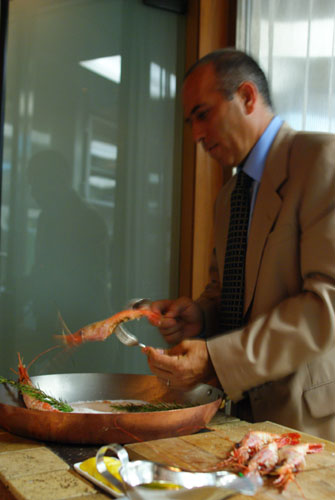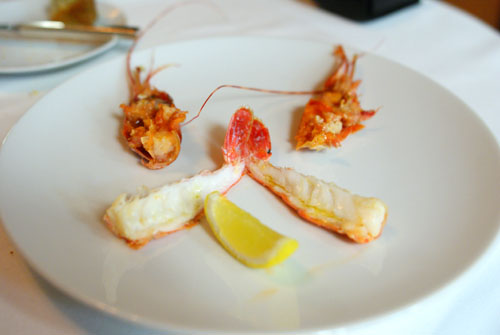 3: grilled santa barbara spot prawns
| served simply with french olive oil and lemon
friulano, sirch 2007
Now for some tableside presentation: a cart was wheeled in, on top of which sat a pan containing five beautiful salt-grilled spot prawns. Providence Co-Owner and Maître d' Donato Poto proceeded to serve the shrimp, separating the head and tail sections, then splitting the two pieces before plating. The natural sweetness of prawn was deftly balanced by the salt, while the lemon added a great sour tang to spice things up. Most of my dining companions actually preferred the more flavorful head portion.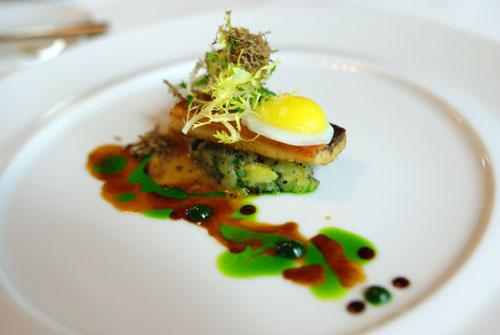 4: unagi
| summer truffle, crushed potato, quail egg
riesling spätlese, "alte reben" kaseler nies'chen, erben von beulwitz 2007
Here was quite possibly the best preparation of unagi (freshwater eel) I've ever had. Though some thought that it was overly fishy, I appreciated the eel's strong, heady savor, as well as its exceptionally crisp, oily skin. The cruces of the dish for me was the potato, which did a great job in mitigating the unagi's overt fishiness, as well as the quail egg, which added a moderating creaminess to the dish. Again, as with the first course, the application of summer truffle worked beautifully here as well.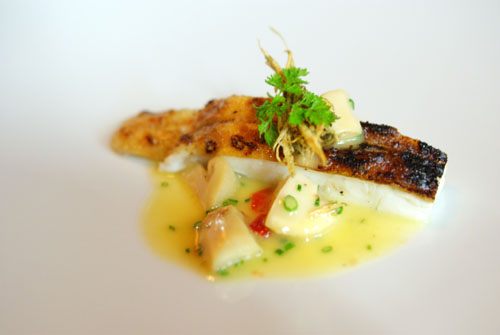 5: wild turbot
| matsutake, sake, rosemary
bourgogne blanc, françois mikulski 2006
Following up my best ever unagi was perhaps my best ever turbot. What did it for me was the use of rosemary; pairing it with the turbot was genius, with the pungency of the herb complementing the hearty, buttery fish superbly. I especially enjoyed the crispy, super-saporous skin. The matsutakes, at the same time, mixed things up texturally, while providing a subtle veil of earthiness.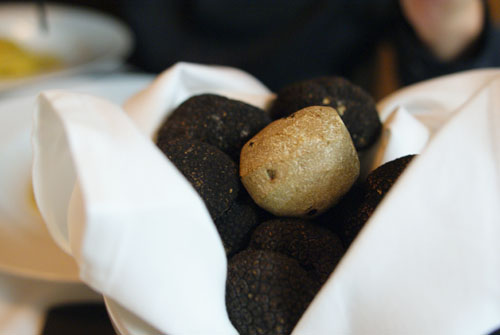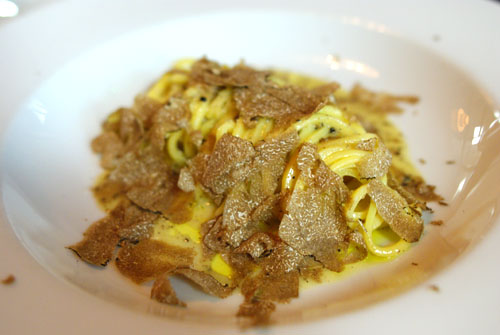 6: pasta alla chitarra
| italian black summer truffles
anjou, "les 4 pépinières" domaine jo pithon 2005
A specialty of the Abruzzo region,
alla chitarra
refers to pasta that has been formed by forcing flat pasta through a
chitarra
, a grid of finely spaced strings. The pasta was dressed simply with olive oil and set before us, unadorned. Donato then stepped inside with a basket of truffles, and proceed to give each of us a generous shaving. The fungi's heady aroma was intoxicating, but its flavor was actually tempered by the heavy, al dente noodles, as well as the olive oil.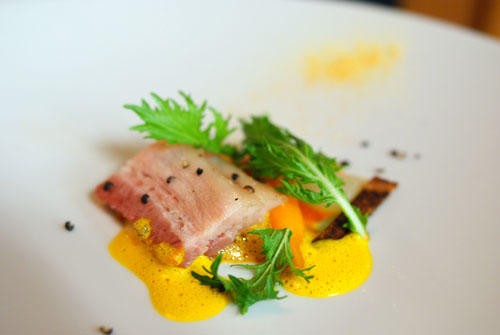 7: niman ranch pork belly
| carrot-orange purée, pickled ramps, mizuna, carrot-ginger butter
coteaux de layon, "les 4 villages" domaine jo pithon 2006
I've been liking pork belly more and more as of late, and this course just continued the trend. The pork itself actually reminded us of pastrami, with its distinctive brine and pepperiness. It was also quite fatty, but not overwhelming so, with a delightfully crunchy skin to boot. The belly's weight was simultaneously balanced by the sweetness from the carrot sauce and the pungent bitterness of the mizuna and ramps.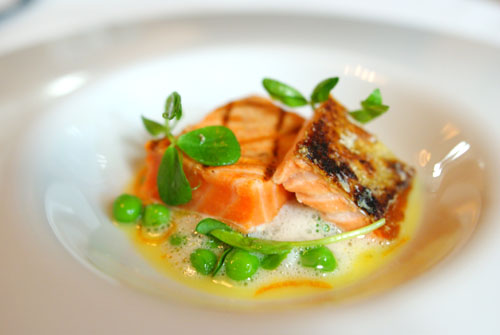 8: columbia river king salmon
| kumquat, peas, jurançon
rosé, château de pampelonne 2008
The salmon was a point of contention for us. The salmon itself couldn't be faulted, but some thought that the kumquat was far too tart, overshadowing the natural savor of the fish. For me though, that wasn't an issue, and I really appreciated the vegetal tang and finish imparted by the peas. We all, however, agreed on the brilliance of the stupendously unctuous and flavorful skin.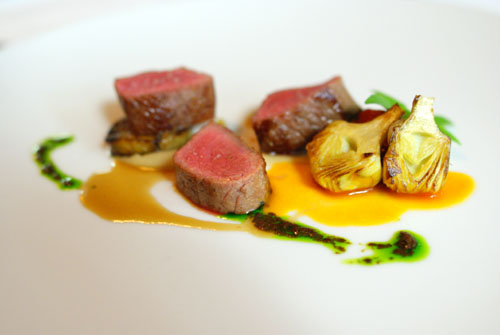 9: loin of colorado lamb
| eggplant, artichoke, celebrity tomato
grenache, domaine de la pertuisane 2005
The lamb had the honor of inspiring the best quote of the night:
My lamb has more game than my date!
This seemingly
Delicious Life
-inspired line had some merit though; the lamb
was
more robust than most, and though it was too overbearing for some, I appreciated its rank, as well as its delicate body. But it wasn't just about the lamb, the tomato compote added a distinct weight, a marked sweetness to counter the slight sourness of the meat, while the artichoke accented things with a bit of bitterness. The best accoutrement, though, was the basil sauce, with a bold pungency that greatly tempered the lamb.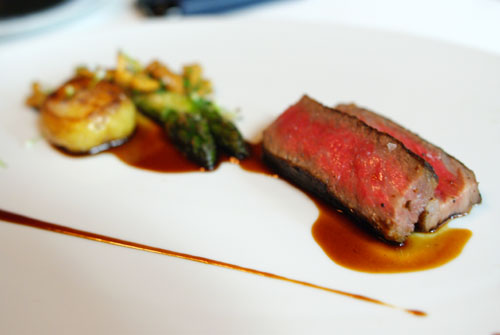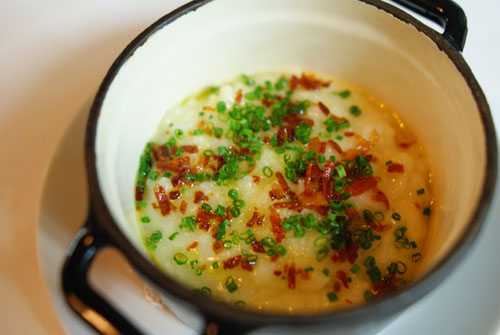 10: japanese wagyu beef (gunma, japan)
| roasted asparagus, wild mushrooms, bacon parmesan risotto
I think we were all blown away by the beef here. Magnificently marbled, tremendously tender, supremely sapid, with a splendid, savory crust--it was as good as any you'd find in a high-end steakhouse, and that includes
CUT
. It was so good, in fact, that I preferred to eat it completely devoid of any trappings. The asparagus, mushroom, butterball potato, beef jus, even the risotto--they were fine, but unnecessary in my opinion.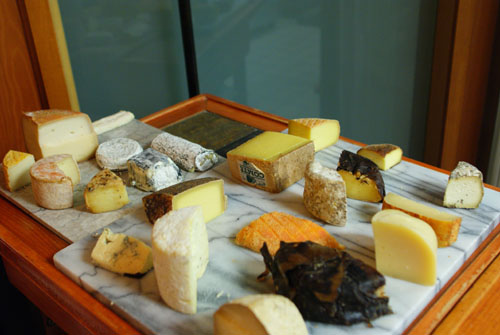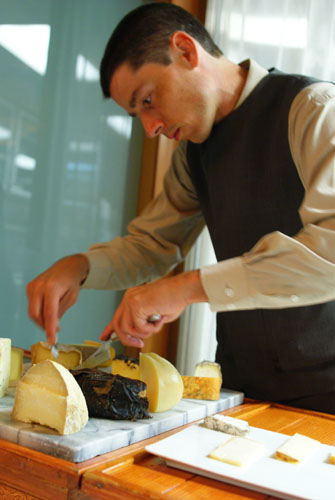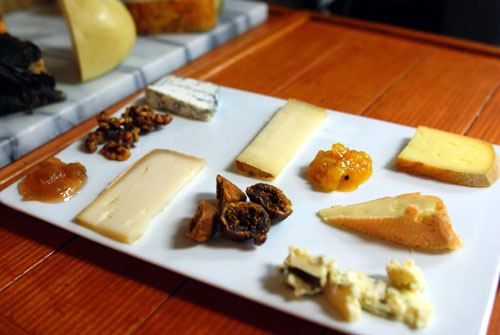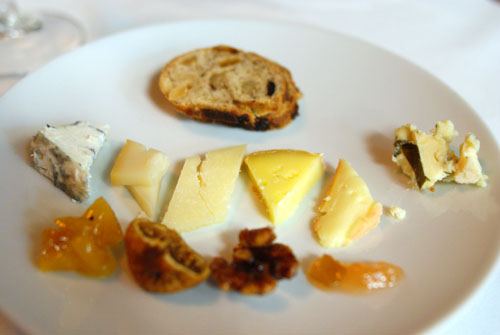 11: cheese selection
gewurztraminer, "brand" domaine stirn 2001
Providence has always had one of the best cheese carts in the City, from which we were given a select sextet of fromage, accompanied by figs, candied walnuts, apricot-black pepper jam, apple jam, and nut bread:
Capriole Sofia - My second favorite of the bunch, this was a delicate, slightly sweet, lightly flavored goat cheese from producer Capriole out of Greenville, Indiana.
Tomme de Chèvre des Pyrenees - Tomme is a term that generally refers to cheese produced in the French alps; however, this example was from a different mountain range: the Pyrenees. It was a goat's milk cheese, with a mild, subtly salty character.
Ossau-Iraty - Next was another cheese from the Pyrenees, though this time one made from sheep milk. The Ossau-Iraty had a creamy, medium-firm body and lightly nutty sapor.
Gubbeen Cheese - From Ireland comes this surface-ripened, semi-soft cow's milk cheese with a pleasant, soft earthiness and lovely nuttiness.
Grès de Vosges - This was a soft cow's milk cheese from Alsace, notable for its gooey consistency and pungent, sweet flavor (from the use of kirsch in the production process). Easily my favorite of the set.
Rogue River Blue Cheese - A cheese plate just wouldn't seem complete without a bleu, so here we had one from Rogue Creamery of Central Point, Oregon. Made from raw cow's milk and wrapped in grape leaves, the cheese was sharp, herbaceous, and a bit sweet.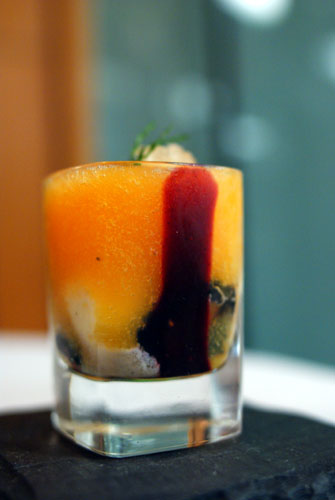 Dessert Amuse Bouche: cantaloupe soup
And with that, we were on to dessert. Though our menus listed the "Mojito" spherification as the pre-dessert, we were instead given this (due to the similarity between the Mojito and the Greyhound): a cantaloupe soup with blackberry gelée, vanilla ice cream, lime granita, and mint. It was a great substitution. The cantaloupe was ever-present, a base on which the sweet berry, sour lime, and creamy vanilla could play, while the mint gave the shot an overarching lightness.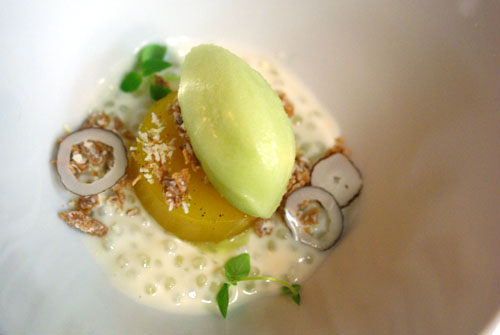 12: kalamansi gelee
| white chocolate coconut soy milk soup, litchi-shiso sorbet
ume blanc, choya nv
First up was a dessert with a distinctly Thai-influenced tinge, thanks to the coconut and the pandan-esque flavor of the sorbet. It thus had a sweetness reminiscent of
Lod-Chong Nam Ka-Ti
, a dessert of pandan noodles in coconut milk, but was balanced by the tartness of the kalamansi, or calamondin, gelée. Overall, a light, refreshing course to kick things off.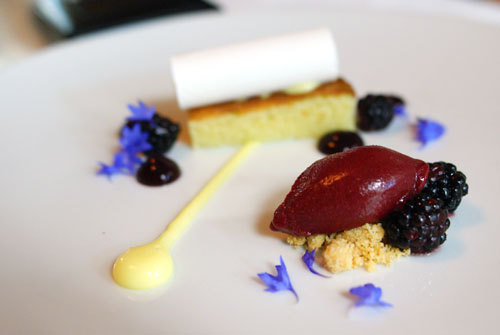 13: mud creek blackberries
| yuzu curd, blackberry-jasmine sorbet, meringue, warm almond cake
jurançon, "clos urolat" charles hours 2006
Next, an interesting study in the interaction between sweet and sour. We have a meringue tube, filled with a tangy yuzu curd, atop an almond cake. The curd-cake complex was rather nondescript on its own, but was countered beautifully by the sorbet, imbued with the saccharine essence of blackberry, and the blackberry fruit itself.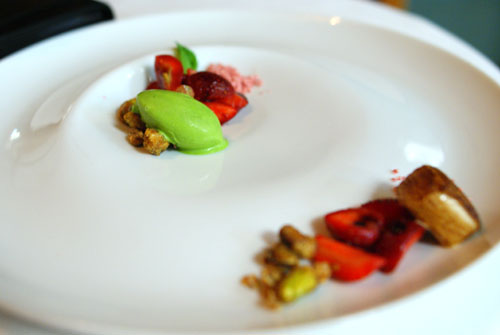 14: harry's strawberries
| basil ice cream, balsamic marshmallow, pistachios
late harvest chardonnay, levendi vineyards, napa valley 2006
Surprisingly, the bracing, pungent smack of the basil proved a superb complement to the cloying sweetness of the strawberry--a fanciful, yet fabulously fitting foil. The pistachios, meanwhile, provided a countervailing nuttiness, as well as a great crunchy textural ingredient, while the heavy, toasty balsamic marshmallow seemed a bit out of place, though it did add a distinct gravity to the dish.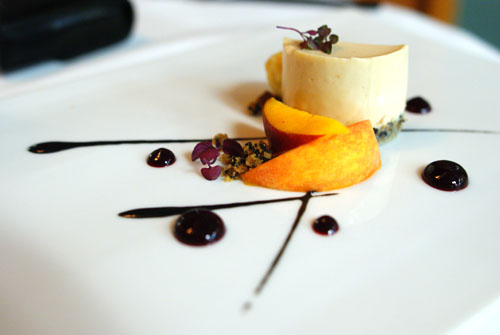 15: miso cheesecake
| masumoto peaches, black sesame, white peach sorbet
moscato d'asti, "riveto" dante rivetti 2008
This next dessert was easily the most controversial of the series, due to the miso cheesecake. The cake was actually quite savory, especially when taken in concert with the black sesame; one of my dining companions even likened its flavor to Cheez Whiz! As a result, it was a bit disconcerting to eat, though fortunately it was tempered significantly by the sugary peach (from Masumoto Family Farm in Fresno) and peach sorbet.
16: chocolate ganache
| peanut butter, "these pretzels are making me thirsty", chambly noir ice cream
banyuls, joseph nadal 1996
Given that I'm not a fan of peanut butter, it's not surprising that this dessert wasn't a hit with me. Nevertheless, the ganache did do an admirable job in covering its sapor, while the pretzels contributed a bit of saltiness, while adding a great crunch to things. The best part of this, though, was the ice cream made from Unibroue's Chambly Noire dark ale, with its unique bitterness, smokiness, and toffee notes. FYI: "these pretzels are making me thirsty" is a reference to the
Seinfeld
episode "The Alternate Side," in which Kramer is slated to utter the line in a Woody Allen movie--yes, I'm a
Seinfeld
fan.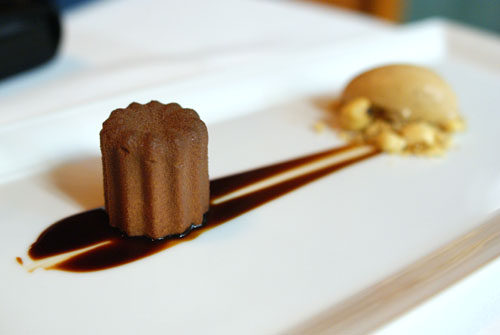 17: a café in bordeaux
| coffee mousse, canelé ice cream, chicory caramel and hazelnuts
vin santo del chianti classico, castello di meleto 2005
This was actually a dessert that I had on my
last visit
. A canelé is a type of pastry from the Bordeaux region of France; however, the "canelé" here was merely a shell, filled with a cold coffee mousse center. The canelé's delectable rum- and vanilla-tinged flavor was thereby moved to the ice cream, with the hazelnuts providing a lovely, nutty finish. A great interplay of tastes and textures--I can see why this is the restaurant's most popular dessert.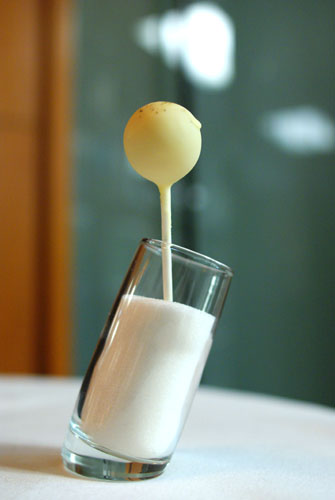 18: white chocolate, mango and cardamom lollipop
And now, Providence's infamous lollipop. Despite being made with mango, we all thought that it tasted of banana, with a spicy savory accent on account of the cardamom. Humorously, we were warned not to shoot the glass of sugar!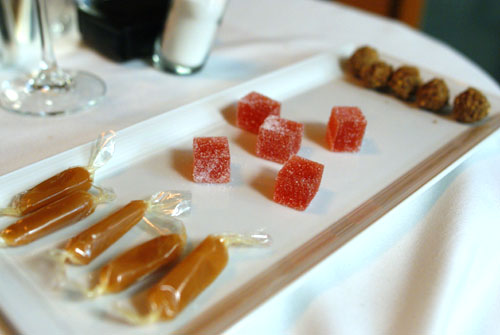 With the menu proper devoured, we were given the requisite plate of mignardises. I first tried the crunchy Almond Praline Truffle, the most conventional of the trio, tasting of Ferrero Rocher with an Amaretto tinge. Next was the
Ras el Hanout
Gelée, which had an interesting sweet and savory interplay going on, thanks to the use of the Middle Eastern spice blend. Finally we have the Bacon Caramel, which I instantly described as tasting "like breakfast" upon consuming. It was eye-opening, and actually a bit uncomfortable to eat, with a flavor not unlike bacon dressed in maple syrup!
Without a doubt, this was my strongest Providence meal to date. While my previous visits were certainly enjoyable, it's only now that I was able to realize the full extent of Michael Cimarusti's talent. What I experienced clearly demonstrated a masterful grasp of ingredients, combined with plenty of innovation, creativity, and a touch of "molecular" technique, all together creating what I consider the most exciting seafooder in the City--it is clear to me now why Michelin chose to bestow two stars here.