The Strand House (Manhattan Beach, CA)
Strand House Restaurant
117 Manhattan Beach Blvd, Manhattan Beach, CA 90266
310.545.7470
www.thestrandhousemb.com
Thu 08/11/2011, 06:20p-10:55p

Has lightning struck twice? Has Manhattan Beach scored another coup in the form of
Grace
's Neal Fraser? Hot on the heels of David Lefevre's seminal
MB Post
is The Strand House, a $10 million project from the
Zislis Group
, owner of Rock'n Fish and Manhattan Beach Brewco across the street, as well as Mucho Ultima Mexicana, Shade Hotel, and Rock & Brews in El Segundo. Brothers David and Michael Zislis have partnered with the Bloomfield and Hunter families to take over the defunct "
douchery
" that was
Beaches
.
Fraser
is serving as Consulting Chef for Strand House, a temporary position that's planned to run until year's end. From then on, the kitchen will be in complete control of Missouri native Travis Lorton. Lorton began his culinary career washing dishes at a local restaurant, and began working as a butcher sometime later. He eventually made his way to Chicago, where he cooked at Le Meridien Hotel, MK, Blackbird, and catering company Finesse Cuisine, and also served stints at Avenues, Schwa, and One Sixtyblue. During this time, Lorton enrolled in the Le Cordon Bleu program at the Cooking and Hospitality Institute of Chicago as well. Following, he made a brief stop in Denver, cooking at Alto and Bistro One. Then, in 2009, Lorton relocated to Los Angeles to work at Travis Lett's
Gjelina
in Venice before becoming Chef de Cuisine at Strand House.
Lorton is joined in the kitchen by Pastry Chef Seth Caro, whom many of us will remember from the first season of
Top Chef: Just Desserts
. Caro hails from the town of Chappaqua, in north Westchester County, New York. As a youngster, he was predisposed to drawing and music, and never really considered a future in cooking. He actually started his culinary career as a teenager working in delis as a short order cook, but never took things seriously until he fell in love with contemporary pastry arts. Caro subsequently enrolled at the Institute of Culinary Education in Manhattan, and also
staged
at Nobu before making his way to a number of restaurants across the City: Haku, Loft, Chanto, Perilla, Grayz, and Atria. After competing on
Just Desserts
, Caro landed in Southern California, where he scored a spot here at Strand House.

The 250-seater restaurant is split into five levels, with the main dining room seen here occupying floor three. The casual, indoor/outdoor space was penned by Paolo Volpis of
XQTD Inc
(with Drasin Designs helping on the interior), and is meant to invoke the feel of the "ultimate" Strand beach house.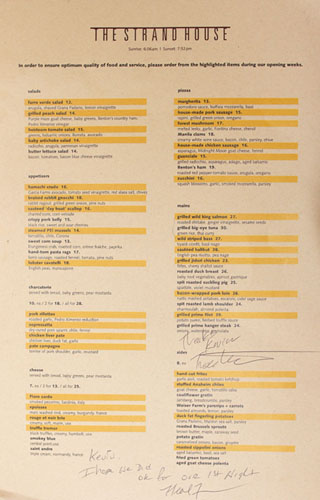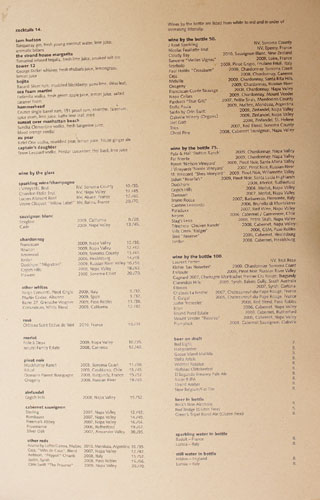 The Strand House's menu is about what you'd expect: a blend of classic flavors reimagined and refined; the restaurant itself refers to the style as "modern heirloom." As for the libations, Caro actually takes charge of the cocktails as well here, which are complemented by a respectable wine selection and a small smattering of beers. Click for larger versions.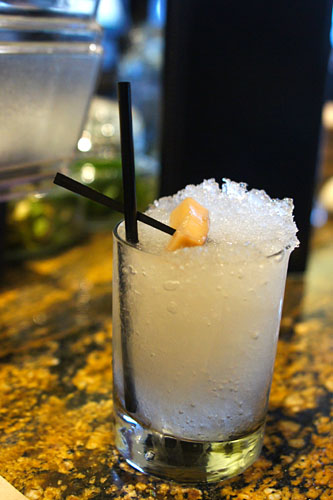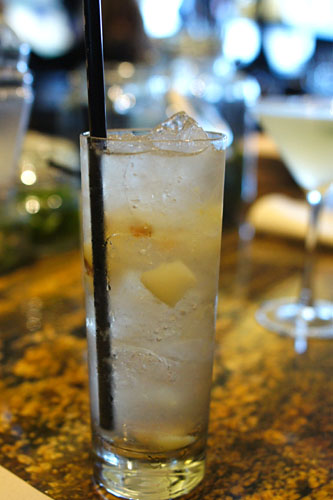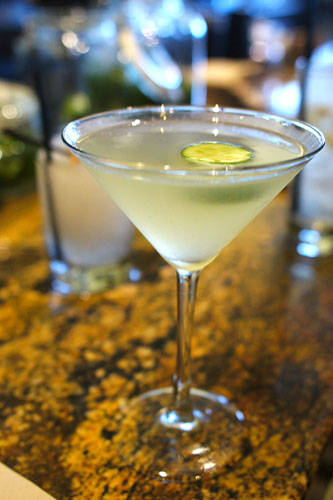 tom hudson [$14.00]
| Tanqueray gin, fresh young coconut water, lime juice, aromatic bitters
au pear [$14.00]
| Ketel One vodka, muddled pear, lemon juice, house ginger ale
captain's daughter [$14.00]
| Snow Leopard vodka, Persian cucumber, thai basil, lime juice
Given the one-and-a-half hour wait that we had to endure (they won't be taking reservations for a while), we enjoyed a leisurely stroll around the neighborhood before heading up to the bar on the fourth floor to try out some of Caro's cocktails. I ordered the Tom Hudson, which unfortunately fell a bit flat, with the gin and lime overpowering any subtlety from the coconut and bitters. I wasn't in love with the Au Pear either, which really needed to do more to show off the pear. The best drink here was the Captain's Daughter, which did a nice job playing the spice of the basil and coolness of the cucumber against a boozy base of vodka.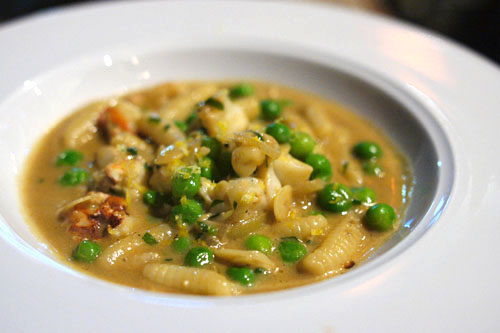 lobster cavatelli [$18.00]
| English peas, mascarpone
Once we were finally seated, we kicked things off with an order of lobster cavatelli. This was a tasty dish, with subtly sweet lobster and the mascarpone adding weight and body to the dish. My favorite element here, though, were the peas, which did a great job balancing the dish with their bright, green flavors.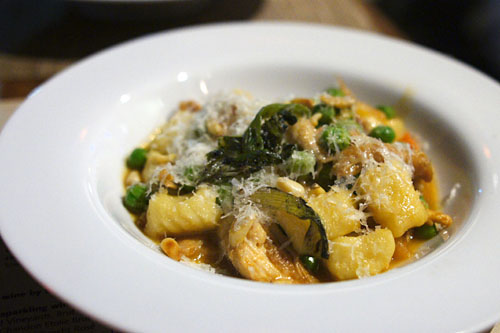 braised rabbit gnocchi [$18.00]
| rabbit ragout, grilled green onion, pine nuts
The gnocchi, meanwhile, was also quite tasty. Fluffy and pillowy in consistency, the pasta's relative austerity made for a good match with the rich, deep, dark flavors of the rabbit ragout. The green onion and peas, once again, aided in contributing some levity to the fray, and, at the same time, the pine nuts mixed things up texturally.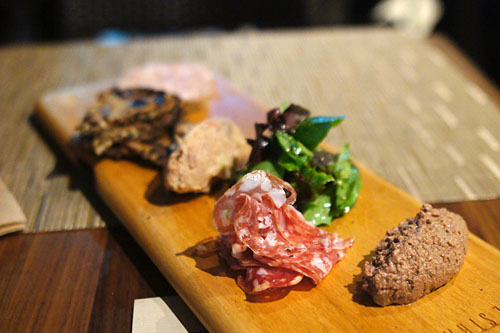 charcuterie [$28.00]
| pork rillettes, soppressata, chicken liver pate, pate campagne
The Strand House proudly makes all of their charcuterie in-house, and here we were presented a foursome, all served with fruit bread and baby greens:
Chicken Liver Pâté | chicken liver, duck fat, garlic - Considerable depth of flavor here, with loads of chicken-y goodness finishing with the lingering essence of liver. Might be too in-your-face for some.
Soppressata | dry-cured pork salami, chile, fennel - A classic rendition of the Italian cured salami, with a nicely salty, spicy character finished with a satisfying fattiness.
Pork Rillettes | roasted garlic, Pedro Ximenez reduction - A profound porcine sapor on this one, with a touch of sweet smokiness thrown in for good measure.
Pâté de Campagne | terrine of pork shoulder, garlic, mustard - My favorite of the quartet. I loved its rustic, gritty texture and the tempering tang of the garlic.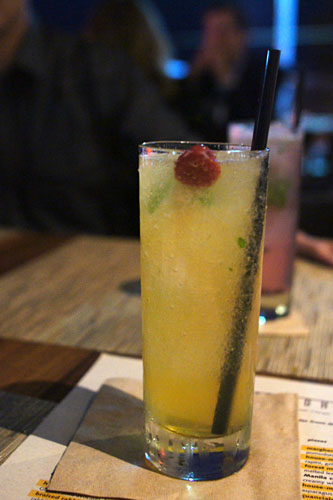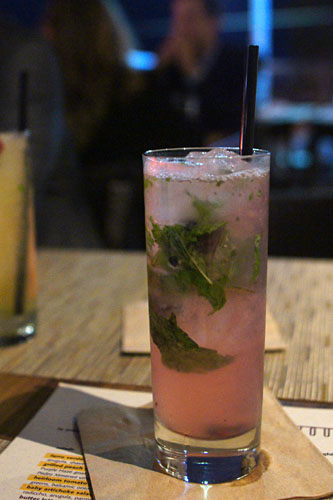 hammerhead [$14.00]
| Cruzan single barrel rum, 151 proof rum, absinthe, falernum, spice dram, lime juice, kaffir lime leaf, mint
bojito [$14.00]
| Bacardi Silver rum, muddled blackberry, yuzu lime, shiso leaf
Cocktails round #2. The Hammerhead deftly showed off the power of the rum and the anise-laced tinge of absinthe, though I would've liked to have tasted more sweet spice from the falernum. The Bojito, meanwhile, was a riff on the classic mojito featuring blackberry, with a nice piquancy countered by the sugariness of the fruit.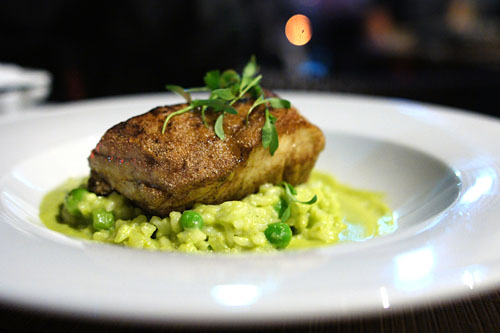 sautéed halibut [$28.00]
| English pea risotto, pea nage
Moving on now to the mains, the halibut was cooked perfectly, resulting in a tender, succulent flesh paired with a delectably crisp, savory crust. The fish was delicious alone, but I appreciated the refreshing, vegetal flair contributed by the pea risotto, as well as the rice's satisfying
al dente
texture. My favorite course of the evening.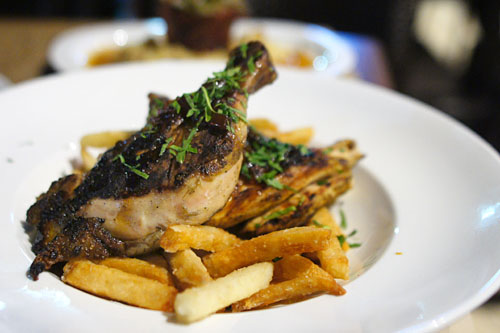 grilled jidori chicken [$23.00]
| frites, sherry shallot sauce
Chicken arrived deftly seasoned, with a nice bit of char to boot. I greatly appreciated the accompanying sherry-shallot dressing, which contributed a superb piquancy to the course. Lovely French fries too. My only concern was that some parts of the bird could've been lusher, juicier.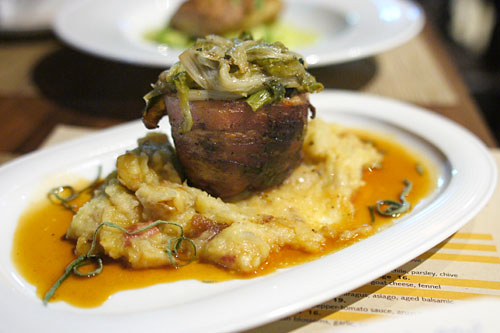 bacon-wrapped pork loin [$26.00]
| rustic mashed potatoes, escarole, cider sage sauce
And now for some pork-on-pork action. I was afraid that the tenderloin would be overcooked, but it turned out wonderfully, with a soft, succulent consistency and tremendously toothsome relish that conveyed hints of both sugar and smoke. At the same time, the escarole added some vegetal astringency to moderate the meat, while the mashed potatoes grounded the dish.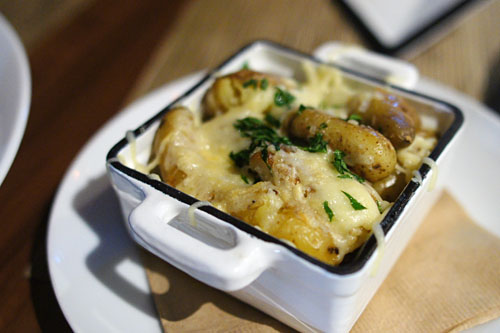 duck fat fingerling potatoes [$8.00]
| Grana Padano, Maldon sea salt, parsley
Duck fat, potatoes, cheese--can't go
too
wrong with these ingredients. We're talking a cheesy, gooey amalgam of salty goodness here. This should be a crowd pleaser.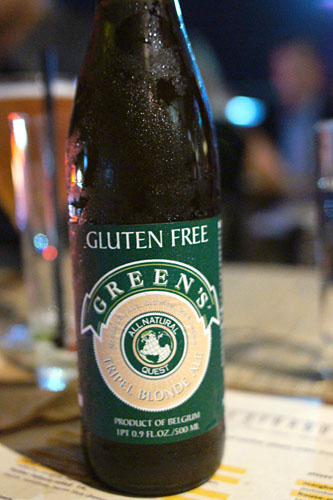 I don't think I've ever had a gluten-free beer before, so I gave Green's Quest Tripel Blonde Ale [$8] a try. It wasn't bad at all, with a pleasing carbonation intertwined with sour notes of apple and citrus, all with a subtle undertone of funkiness.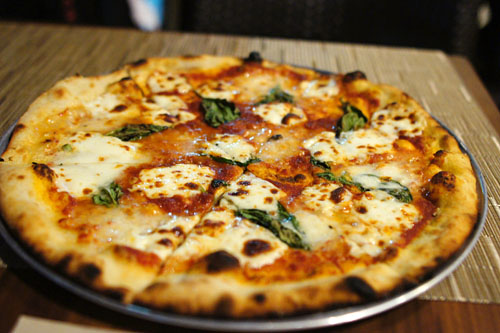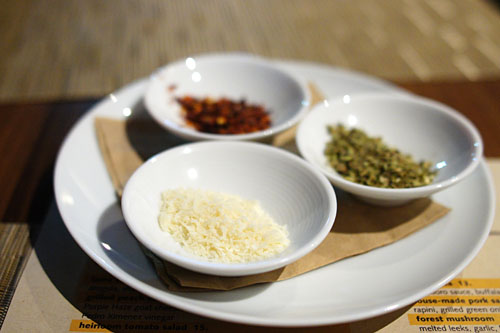 margherita [$13.00]
| pomodoro sauce, buffala mozzarella, basil
Of course, we had to try out one of Strand House's pizzas, and the basic margherita was our pie of choice. This was a competent presentation of the classic, with the traditional flavors of tangy tomato, luscious cheese, and aromatic basil all working together nicely. The crust was present, but not overwhelming, with notes of char bitterness. The pizza was served with Parmesan, oregano, and pepper, but such accoutrements were unnecessary.
With our savory courses dispensed with, it was time to try some of Seth Caro's desserts. Click for a larger version.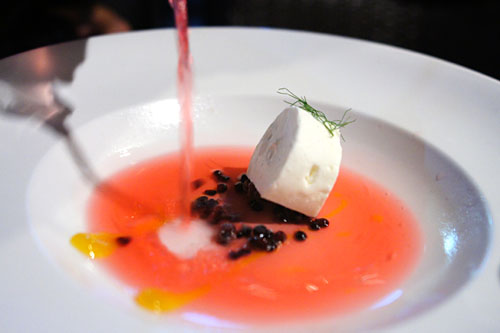 rhubarb bubble tea [$10.00]
| frozen cheesecake, blackberry caviar
A very light, refreshing dessert, with a pleasant tanginess from the cheesecake countervailing the sweetness of the blackberries nicely. I quite liked the textural contrast provided by the boba, but I would've liked more impact, more "oomph" from the dessert.
raspberry & plum melba [$10.00]
| fresh ricotta, buttered corn sorbet
Here was Caro's take on the classic melba, an Escoffier-era dish of peaches and raspberry sauce, served with vanilla ice cream. I enjoyed how the overt sugariness of the plum and raspberry played off the slight savoriness of the sorbet, while the ricotta added a touch of acidic sweetness to things.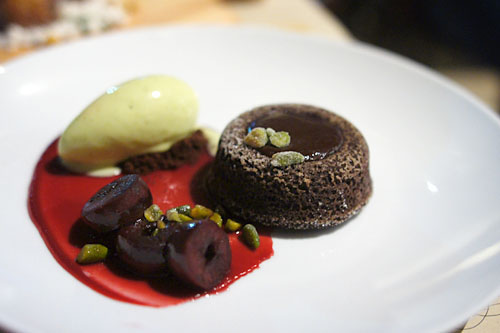 warm chocolate cake [$10.00]
| cherries jubilee, pistachio ice cream
A classic pairing of chocolate cake and tender cherries, all linked together by a fantastic pistachio ice cream. A relatively safe dessert; my only complaint was that the cake could've been moister.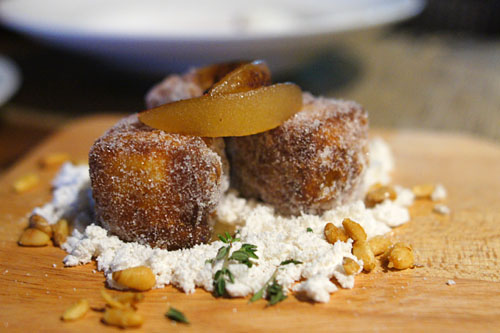 butterscotch doughnuts [$10.00]
| powdered bacon, burnt peach jelly
This was, without question, our favorite dessert of the foursome. The doughnuts themselves were spot on: crisp on the outside, yet creamy and fluffy inside, with a delightfully rich, saccharine smack that worked wonderfully with the savory flair of the bacon powder. I could've taken about a dozen more!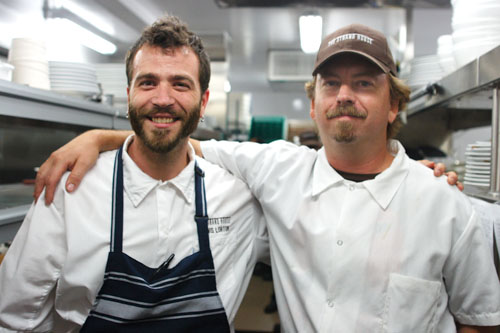 After the meal, we went into the kitchen to chat briefly with chefs Travis Lorton and Neal Fraser.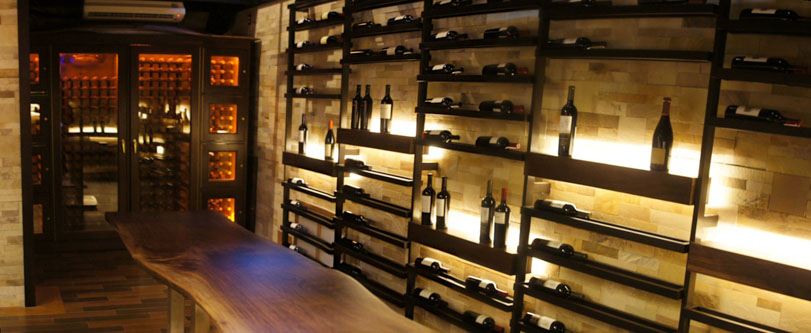 We then wandered down to the basement level of the building, which houses the restaurant's wine cellar and, thanks to its transparent ceiling, also serves as a prime location for potential panty peepers.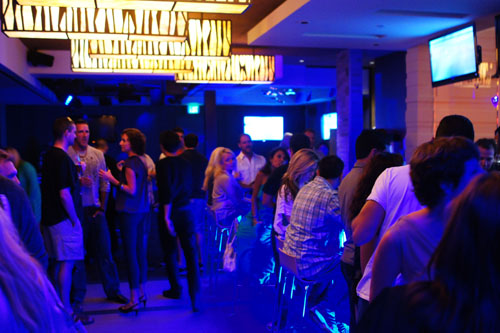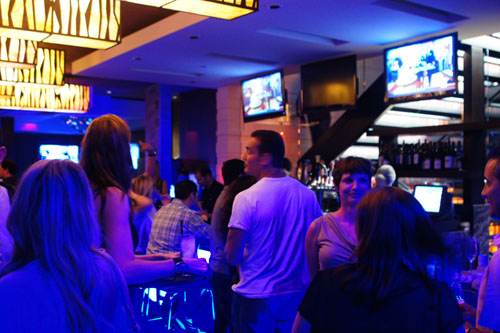 As we exited, we passed by the first floor, which, packed with the typical "beautiful" Manhattan Beach crowd, was quite the party. This underscores my main concern with The Strand House. Culinarily, I think we're on track here. I had some minor quibbles with some of the dishes, but the food for the most part was quite good. Lorton and Fraser know how to cook a menu's that's rustic, yet refined, and that jives with the palates of the local populace. However, I'm concerned that the "scene" might eventually surpass the food, that the bar might take precedence over the kitchen. That'd be a shame, as The Strand House currently stands as a great addition to the neighborhood. As of now, the restaurant is already advertising
Strandbar
, a bar/lounge replete with live DJs, dancefloor, and, as you can see in the topmost photo,
bouncers and a velvet rope
. We'll see how this one plays out.