Hank's Oyster Bar (Alexandria, VA)
Hank's Oyster Bar Old Town
1026 King St, Alexandria, VA 22314
703.739.4265
www.hanksrestaurants.com
Sat 09/10/2011, 08:20p-10:05p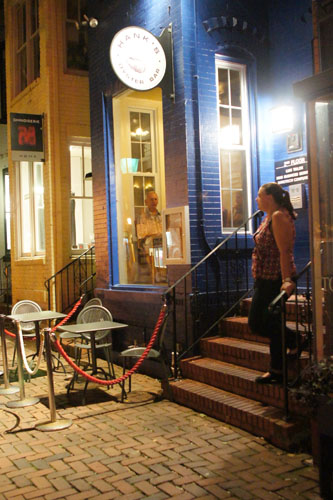 During a recent business trip to the DC area, I was craving some proper East Coast-style seafood, and a coworker suggested that we try out Hank's, which just happened to be conveniently located near our hotel in Old Town Alexandria. Named after the Chef's fisherman father, Hank's is the brainchild of one Jamie Leeds. The restaurant aims to present "Urban Beach Food," basically Leeds' versions of New England seafood classics.
About the Chef
: Leeds hails from Brooklyn, so I suppose it's fitting that the self-taught chef started her culinary career in 1987 at Danny Meyer's legendary Union Square Cafe. She was initially hired on as a line cook, but was eventually promoted to Sous after mastering each of the kitchen's stations. During her stint here, Leeds was sent to France by Meyer and
staged
at a number of restaurants, including Hotel Negresco in Nice, Pain Adour et Fantaisie in Grenade-sur-l'Adour, as well as Gascogne and Hostellerie du Cerf in Marlenheim. She left Union Square in 1991 and moved to Chicago, taking on the Executive Chef role at Cafe Ba Ba Reeba, a tapas joint owned by Richard Mellman's Lettuce Entertain You Enterprises (of
L2O
fame).
After two years, she was promoted to Corporate Chef, a position she would retain until 1995, at which point she decided to dabble in independent restaurant consulting, working jobs at Rhumba in Chicago and Elka at the Miyako Hotel San Francisco, among others. In 1997, Leeds returned to the Big Apple, taking over the stoves at The Globe before becoming Consulting Chef at Drew Nieporent's Myriad Restaurant Group in 2000. During this period, she consulted for the famed Tribeca Grill, Steelhead Grill at the Pittsburgh City Center Marriott, and Earth & Ocean at the W hotel in Seattle, in addition to heading things up at Beekman Kitchen in New York.
In 2002, Leeds headed south to the Nation's capital, taking up residence at Washington Terrace's 15 Ria restaurant for three years. After leaving the hotel in 2005, she opened up her own place in May that year: the first Hank's Oyster Bar, situated in the former space of Trio Pizza & Subs in Dupont Circle. Hank's was a near-instant success, allowing the Chef to debut another outpost of her seafooder in Alexandria in 2007, this time with partner Sandy Lewis (of
José Andrés
' ThinkFoodGroup). This second location, too, was a smash hit, and as a result, in 2008, Leeds and Lewis launched CommonWealth Gastropub in Washington. However, the restaurant never really caught on, and was shuttered in early 2011. The closure allowed the duo to focus on the creation of Hank's Oyster Bar and Lounge, a significant expansion of the original Hank's that opened last August.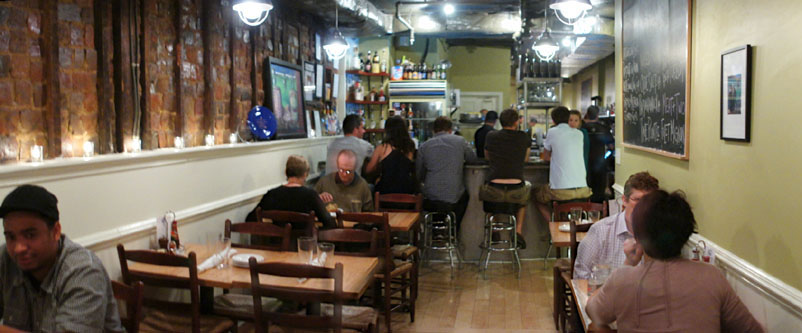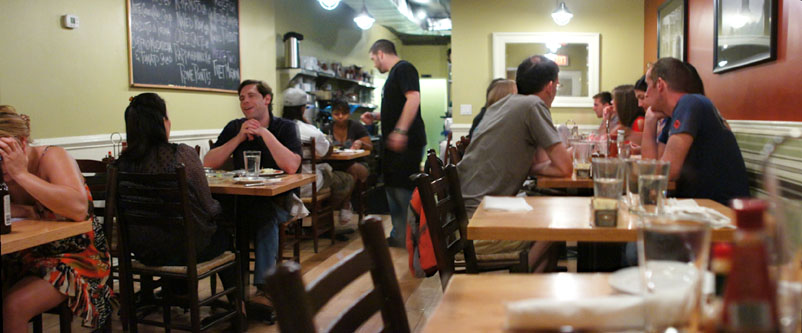 Hank's is perhaps the
narrowest
restaurant that I've ever been to, spanning roughly 12 feet across. Two small dining spaces--one in front and one in back--flank a small bar area.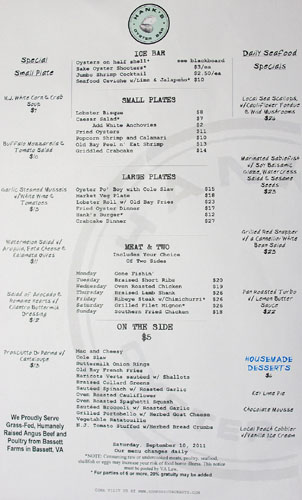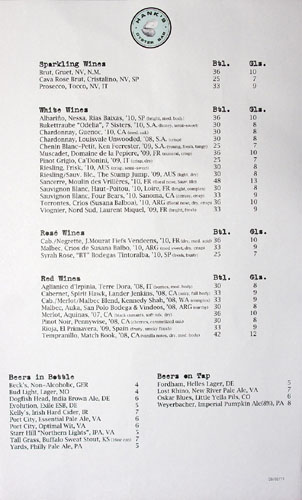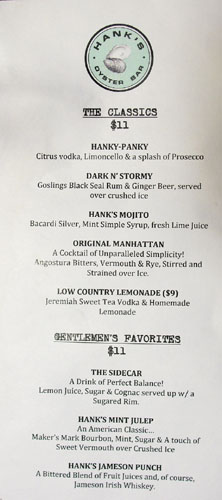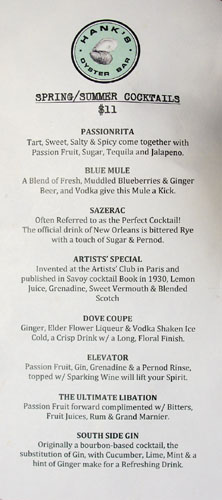 The menu here at Hank's Oyster Bar is about what you'd expect. However, Chef de Cuisine Nick Flores does add in a few of his original dishes as well. Click for larger versions.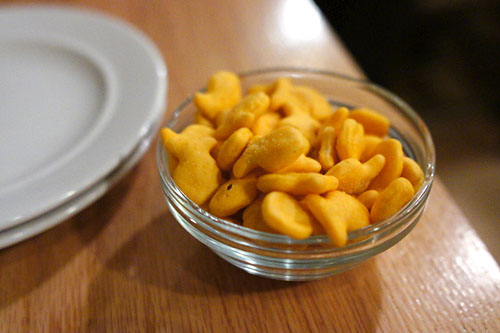 In lieu of bread service, Hank's instead offers up a bowl of Pepperidge Farm Goldfish crackers.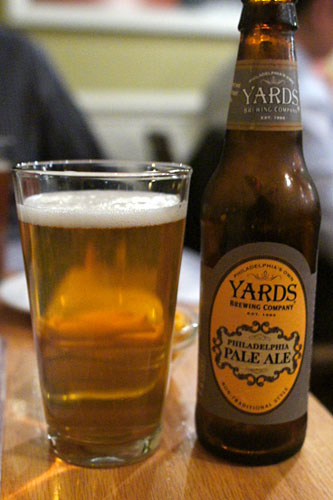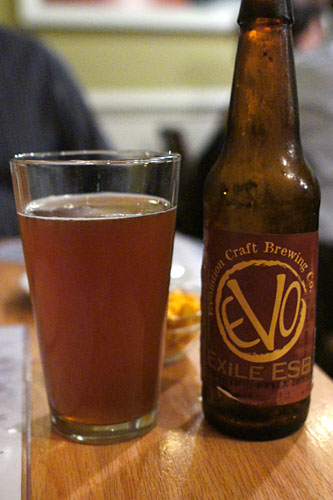 Our first rounds of beers included the
Yards, Philly Pale Ale, PA [$5]
and the
Evolution, Exile ESB, DE [$5]
.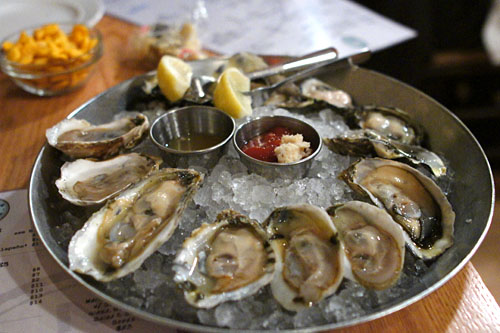 Oysters on half shell [$2.00/each]
Of course, we had to start with a big platter of oysters, two of each variety offered. I began with a
Maple Point
, from Washington State, which had a delightfully subdued salinity that I rather enjoyed. The
Kumamoto
was the best of the bunch: meaty and supple, with a refined relish, while a
Naked Roy
from Washington was quite sweet, fruity even. Moving on to East Coast oysters, the
Old Plantation
from Virginia showed off an almost "eggy" flavor that I found interesting. A
Rappahannock
, also from Virginia, was mild and delicate, and I deemed the
Rome Point
from Rhode Island the saltiest of the group.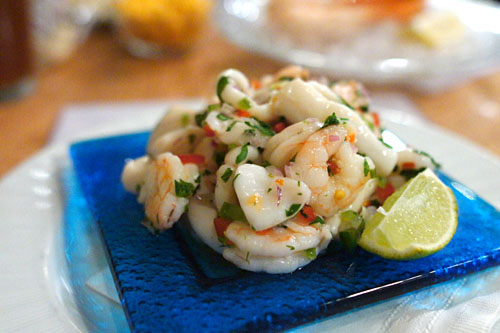 Seafood Ceviche w/ Lime & Jalapeño [$10.00]
Hank's ceviche of fish, shrimp, and squid showed off the distinct, true-to-life flavors of each ingredient, while lime and jalapeño served as piquant counterpoints in the dish. Overall, a decent preparation, but a bit simplistic, especially when compared to the near-revelatory varieties served at places like
Picca
.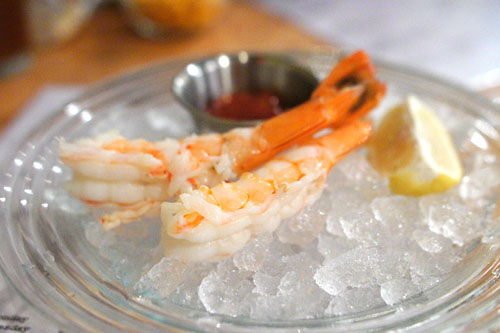 Jumbo Shrimp Cocktail [$2.50/each]
The shrimp cocktail was probably the best version that I'd ever had, with its wonderfully fresh, snappy shrimp and delightfully tangy cocktail sauce. Perfection.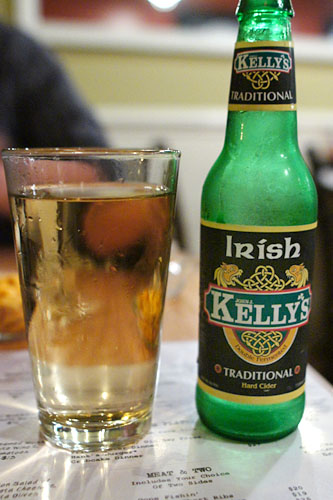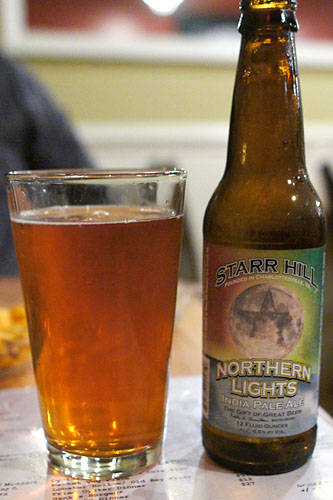 With our brewskies finished, we opted for the
Kelly's, Irish Hard Cider, IR [$7]
and the
Starr Hill "Northern Lights", IPA, VA [$5]
.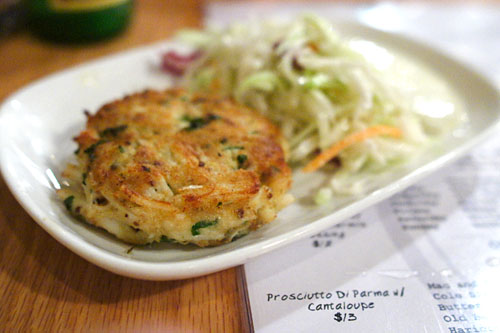 Griddled Crabcake [$14.00]
I'm often let down by crab cakes, but Hank's was superb, no question one of the most delicious that I've experienced (though my top is still
Gulfstream
's). It had very little filler, but was instead brimming with sweet, succulent crabmeat. I enjoyed the levity provided by the included coleslaw, and the dish even managed to convert my dining companion, who was previously a crab cake hater!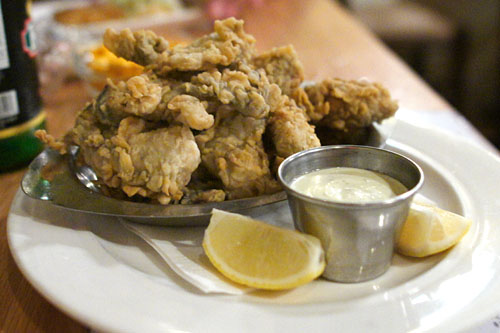 Fried Oysters [$11.00]
Fried oysters were excellent, easily the best I've had. Made with Hama Hamas, they weren't overly fried, and still retained their wonderfully creamy, salty interiors that went swimmingly with the oysters' lightly crisp batter. The paired tartar(?) sauce and lemon, meanwhile, were perfect accompaniments to countervail the Hama Hamas' considerable intensity.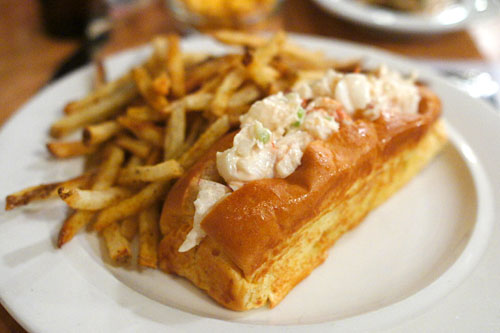 Lobster Roll w/ Old Bay Fries [$23.00]
After having an excellent lobster roll at
Son of a Gun
, I've been somewhat enamored with the dish--I even ordered one at
Panera
a few days before this meal! Fortunately though, Hank's preparation was much better, and in fact, was right up there with SoaG's version. I absolutely loved the sweet, creamy, snappy bits of lobster, as well as how the meat paired with the soft, slightly sugary bread that it was served in; the roll, really, was key here in tying everything together. Fries, meanwhile, showed off a delectable bit of spice from the Old Bay, though I would've liked them crunchier.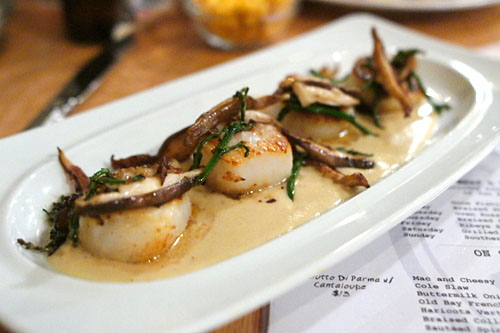 Local Sea Scallops, w/ Cauliflower Fondue & Wild Mushrooms [$26.00]
Here, we deviated from Hank's standards, and decided to go with one of Chef Flores' original dishes. Tender and still slightly rare on the inside, the scallops were cooked perfectly. I rather liked how they paired with the earthiness of the mushrooms, and though I was skeptical about the cauliflower, I actually didn't mind the fondue.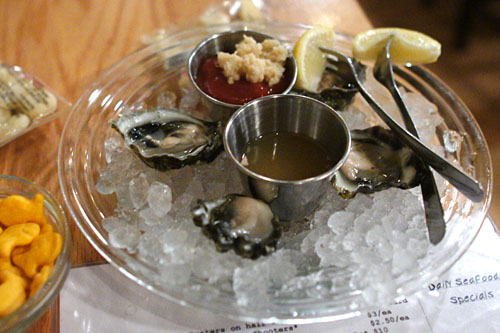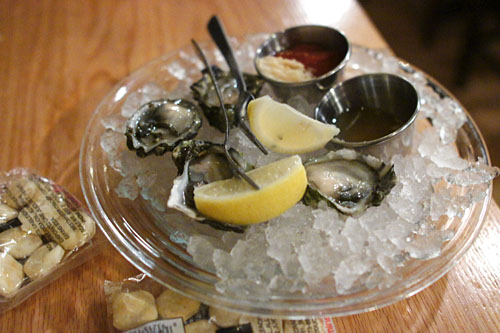 At this point, we were
hank
ering for some more Kumamotos, and ordered up another serving. Turns out they brought us an extra plate by mistake, but we weren't complaining!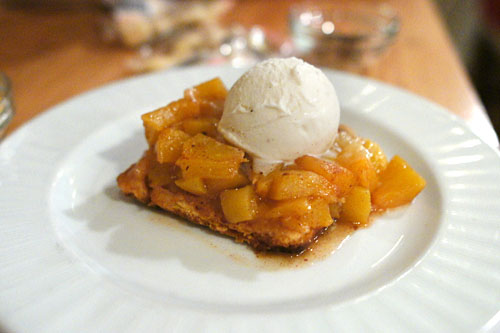 Local Peach Cobbler w/ Vanilla Ice Cream [$6.00]
Dessert is a must for me, hence this warm cobbler. It was pretty much what you'd expect, with classic peach flavors in a nicely crisp crust, all paired with a tempering scoop of vanilla ice cream.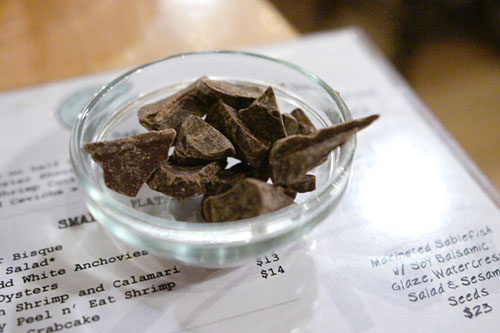 And in place of mignardises, Hank's gives you a small bowl of dark chocolate shards.
Well color me impressed. This rather unassuming restaurant managed to blow away my expectations, serving up some of the best traditional seafood dishes that I've ever tasted. It's simple, approachable fare to be sure, but Hank's pretty much does it better than anybody else. I think I've found my new favorite restaurant in the Alexandria area.