Test Kitchen (Los Angeles, CA) [20]
Test Kitchen
9575 W Pico Blvd, Los Angeles, CA 90035
310.277.0133
www.testkitchenla.com
Thu 11/04/2010, 07:15p-09:30p
I think that the
shutter
of Alain Giraud's Anisette brasserie in September surprised a lot of us, me certainly. After some speculation,
word eventually came
that the Chef is working on a new restaurant concept in Pacific Palisades, to be named Maison Giraud. The Maison will be a smaller, more accessible affair, with an attached bakery and shop--add it to the list of notable openings in the coming months! Of course, a preview of the new spot at Test Kitchen was certainly in order.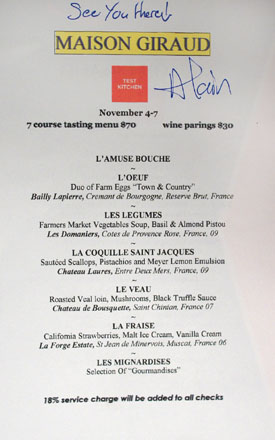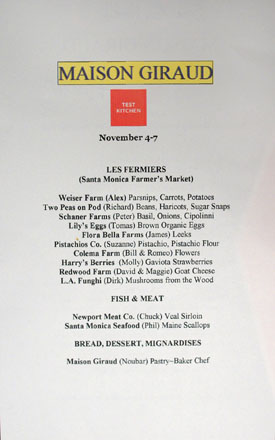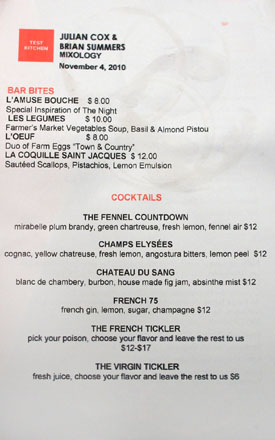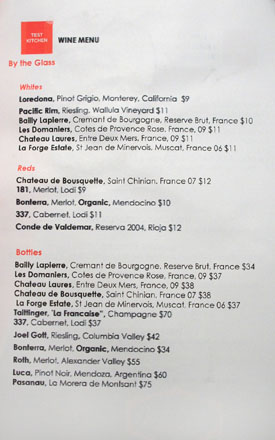 Not surprisingly, Giraud's $70 seven-courser represented one of the more expensive Test Kitchen outings. Wine pairings tacked on an additional $30, while cocktails were the charge of bartenders Julian Cox and Brian Summers. Click for larger versions.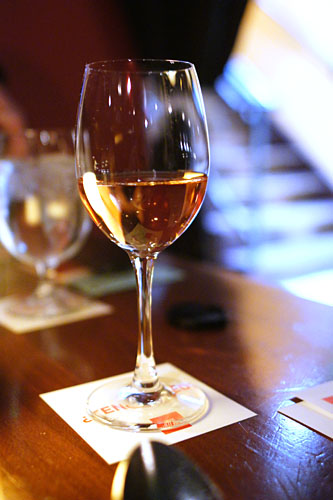 Our perpetually on-point server Aaron started us off with a gratis glass of the 2009 Les Domaniers Cotes de Provence Rosé, a light, dry, food-friendly wine that he particularly enjoyed. Thanks Aaron!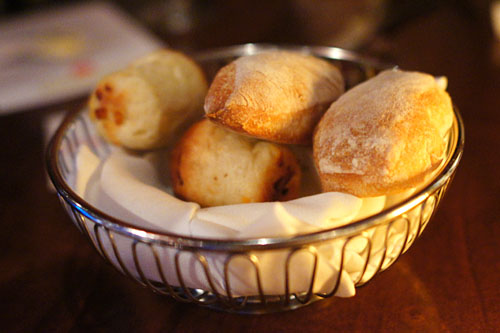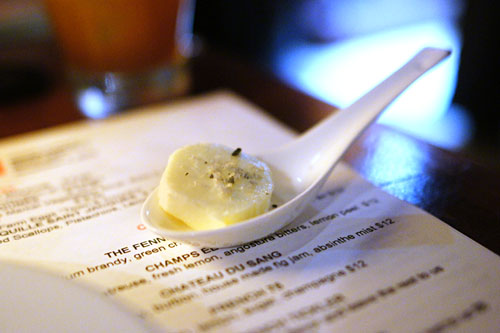 Bread was baked in-house (Maison Giraud will have a small bakery attached) and consisted of brioches and mini baguettes paired with a
fleur de sel
butter. The baguette was solid, just like you'd expect, but was overshadowed by the brioche--flaky and savory on the outside, but with a soft, airy interior. The
beurre
, meanwhile, showed off a delicate lightness initially, but possessed an unmistakably salty, savory finish--nice.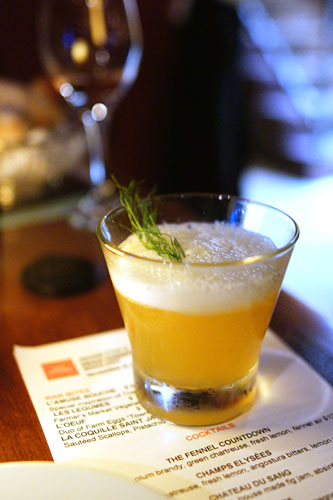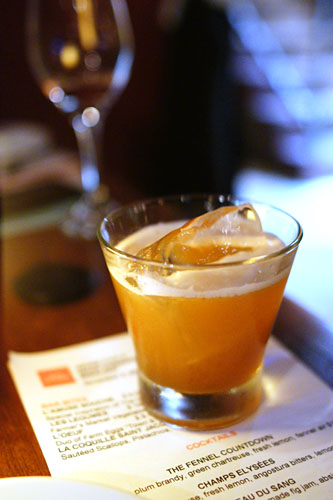 THE FENNEL COUNTDOWN [$12.00]
| mirabelle plum brandy, green chartreuse, fresh lemon, fennel air
CHAMPS ELYSÉES [$12.00]
| cognac, yellow chartreuse, fresh lemon, angostura bitters, lemon peel
Not surprisingly, we quickly ordered up the first two specialty cocktails. The Fennel Countdown showed off an unmistakable anise-tinged aroma, but the fennel flavor was actually pretty subdued on the palate, contributing, along with the Chartreuse, a lovely herbaceousness to the drink that played well with the brandy and lemon. The Champs Élysées, on the other hand, was slightly hot, with an almost smoky flavor and a finish filled with the lingering bitterness of Angostura.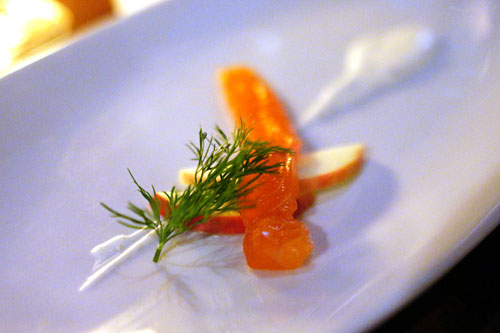 1: L'AMUSE BOUCHE
Giraud's amuse bouche consisted of slivers of fennel-marinated salmon, fennel cream, dill, and Pink Lady apples. It was delicate cut of fish, conveying signature salmon flavors along with some very restrained notes of fennel. The cream contributed a stronger taste of aniseed, while the apple's crisp, juicy sweetness was appreciated as well.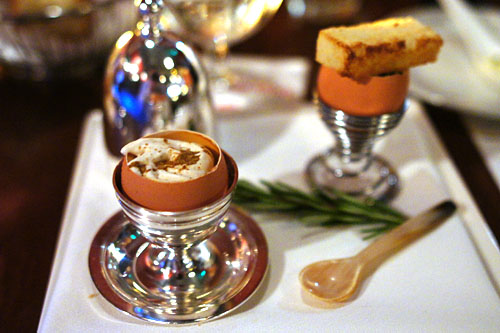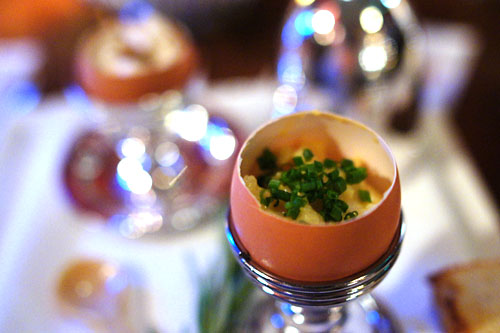 2: L'OEUF
| Duo of Farm Eggs "Town & Country"
Bailly Lapierre, Cremant de Bourgogne, Reserve Brut, France
Up next we had farm egg, served two ways. I started with the "Town" presentation, which was an amalgam of egg custard and porcini powder. With this one, I really enjoyed the pure, creamy, lush essence of egg, beautifully countervailed by the earthy aroma of mushroom. As good as it was, the "Country" preparation was even tastier. Comprised of scrambled egg, onion, bacon, cream, and served with toasted brioche, I loved how the brazen saltiness of bacon was so perfectly tempered by the tangy application of scallion. Classic flavors, but so, so gratifying--one of the highlights of the meal.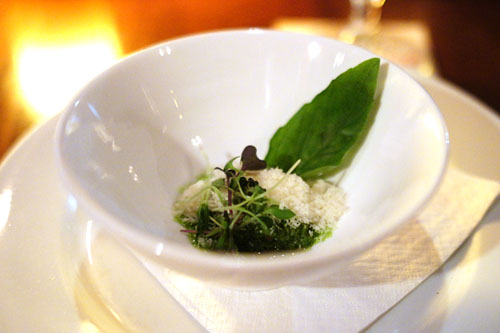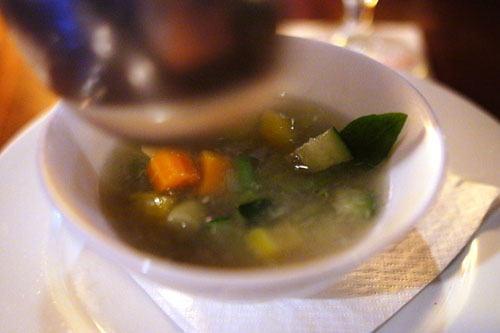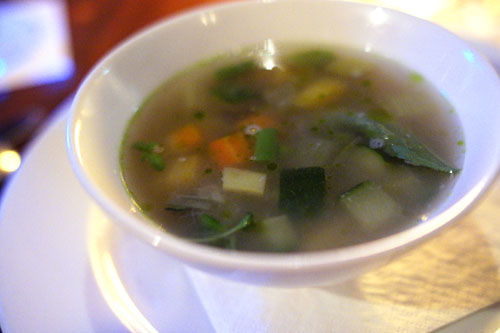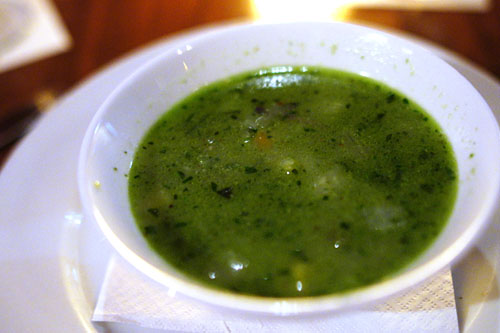 3: LES LEGUMES
| Farmers Market Vegetables Soup, Basil & Almond Pistou
Les Domaniers, Cotes de Provence Rose, France, 09
We were presented with a bowl of pistou, which is a condiment containing basil, almond, garlic, olive oil, and Parmesan. To this, our server poured a soup of seasonal vegetables (which probably should've been a bit warmer), and we were instructed to thoroughly stir the resultant commixture. The resulting broth was rich in basil essence, with an aromatic, vegetal relish augmented by the weight of the cheese. Surprisingly satisfying--I appreciated how each vegetable was uniquely and distinctly presented (though their individual flavors could've been brighter).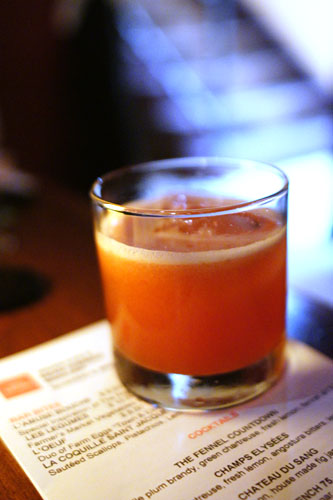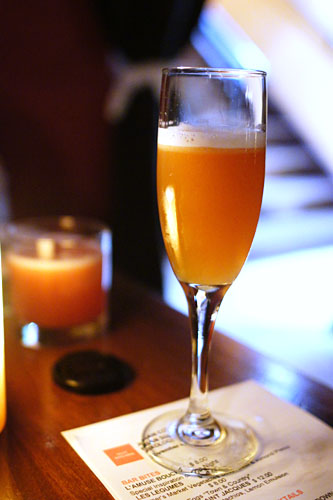 CHATEAU DU SANG [$12.00]
| blanc de chambery, bourbon, house made fig jam, absinthe mist
FRENCH 75 [$12.00]
| french gin, lemon, sugar, champagne
Blood is thicker than water, as evinced in the Chateau du Sang, or Castle of Blood. This was a heavy, viscous concoction, with the strong, sugary character of fig nicely balancing the power of the booze, all with subtle undertones of absinthe. The final cocktail of the evening, the French 75 was thoroughly refreshing, demonstrating a great interaction between the lemon and gin, all complemented by a delectable trace of sugar.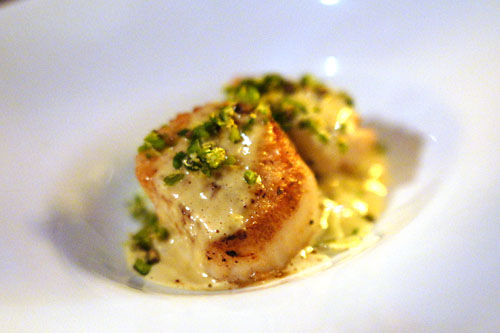 4: LA COQUILLE SAINT JACQUES
| Sautéed Scallops, Pistachios and Meyer Lemon Emulsion
Chateau Laures, Entre Deux Mers, France, 09
This was probably my favorite course of the evening, and one of the best scallop dishes I've had in a while. Dressed in a white wine butter sauce, the scallops were gorgeously cooked, with a refined brine and pleasing peppery tang. The lemon, meanwhile, did a great job in balancing the dish, and I adored the nuttiness imparted by the pistachios.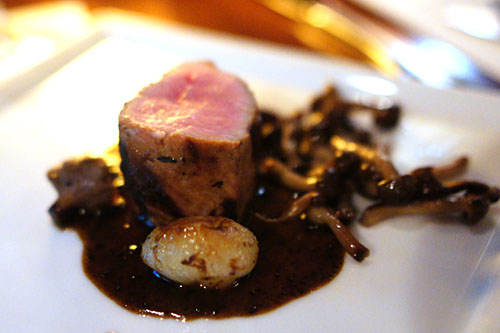 5: LE VEAU
| Roasted Veal Loin, Mushrooms, Black Truffle Sauce
Chateau de Bousquette, Saint Chinian, France, 07
As seems the case with most veal preparations, the meat here was somewhat tepid flavorwise, and also a touch dry unfortunately. That being said, the dish was saved by the heady relish of truffle, which did a fantastic job heightening the punch of the veal. I also appreciated the strong, earthy aroma of the mushrooms (bluefoot,
nameko
,
buna-shimeji
), which, again, added a certain amount of gravity to the dish.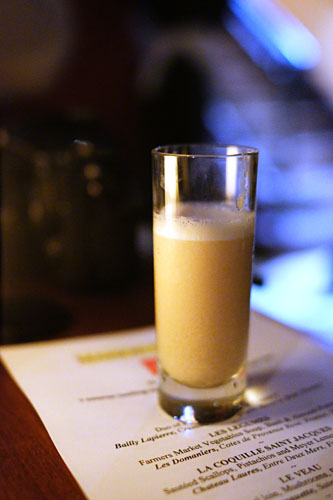 To pair with our dessert course, resident bartender Brian Summers mixed up a special complementary cocktail for us: a potent mix of Appleton Estate Extra 12 year old rum, coconut milk, condensed coconut water, housemade canela syrup, St. Elizabeth Allspice Dram, Don's Mix, and lime juice. It was a light, tangy libation, with strong notes of rum tempered by wonderful flavors of holiday spice.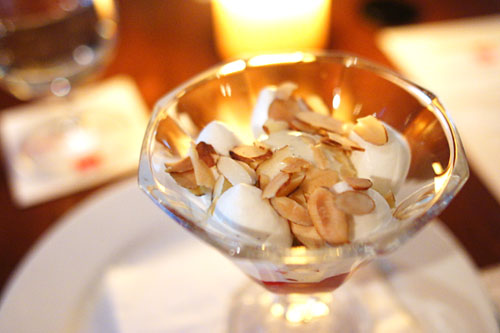 6: LA FRAISE
| California Strawberries, Malt Ice Cream, Vanilla Cream
La Forge Estate, St Jean de Minvervois, Muscat, France, 06
Gaviota strawberries from legendary producer Harry's Berries were marvelous as expected, bursting forth with bold, bright berry flavor. This unabashed sweetness was then deftly moderated by the almond-infused vanilla cream, making for a straightforward, well-balanced dessert. One of my dining companions even compared this to a "Chinese birthday cake!"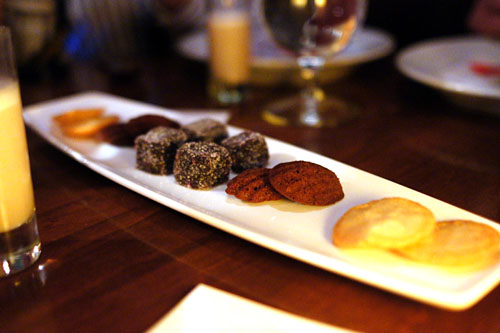 7: LES MIGNARDISES
| Selection of "Gourmandises"
We concluded with a trio of delicacies: almond and butter fancies (like Chinese almond cookies), chocolate madeleines (nice citrus flavors to offset the chocolate), and cassis
pâte de fruits
(like eating jelly, "spread this on toast").
Amazingly, this was actually my first time tasting the Chef's cuisine, and the results were promising--an effective marriage of California market-driven fare with the tradition of Provençal cookery.
Add Maison Giraud to my list of must-try restaurants
.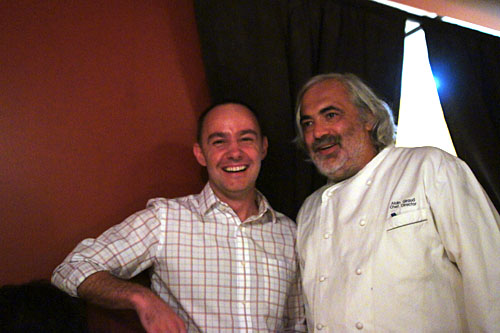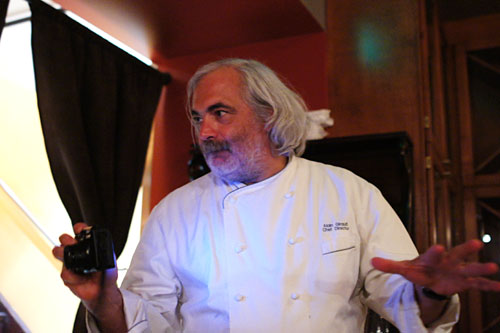 Previous Test Kitchen posts: Guillermo Barreto - Diego Hernandez - Ismene Venegas (10/27), Ricardo Zarate (10/16), Javier Plascensia (10/13), Marcel Vigneron (10/1), Suzanne Griswold - Rachael Narins (9/30), Adam Horton (9/27), Steve Samson - Zach Pollack (9/23), Joshua Smith (9/21), Amy Pressman (9/20), Shelley Cooper (9/17), John Sedlar (9/15), Amanda Baumgarten - Dylan Hallas - Dan Moody (9/14), TiGeorges Laguerre (9/6), Vartan Abgaryan (9/4), Neal Fraser (8/31), Michael Voltaggio (8/29), Walter Manzke (8/25), Ricardo Zarate (8/24), Jordan Kahn (8/18).