Playground (Santa Ana, CA)
The Playground Restaurant
220 E 4th St, Santa Ana, CA 92701
714.560.4444
www.playgrounddtsa.com
Fri 07/13/2012, 08:30p-12:55a

Wow, it's been a while Orange County. The last time I was down south was all the way back in February, when I made trek to attend
Pascal
's last night of service. The reason for the prolonged absence? I guess there just hasn't been much exciting going on, nothing to
really
draw me in (plus it's a bit of a drive). What piqued my interest tonight, thus, was Playground in Downtown Santa Ana, the new brick & mortar debut from Jason Quinn, the 25-year-old former chef of the
Great Food Truck Race
-winning
Lime Truck
. I'd heard nothing but raves from my contacts in OC about the place, so what the hell I thought, let's give it a go.
About the Chef
: A SoCal native, Chef Quinn grew up in the idyllic setting of Irvine, the son of two lawyer parents. He attended Tarbut V' Torah, a private Jewish school in the City, then started out as a chemistry major at the University of California Santa Barbara. During his studies there, he caught the cooking bug after watching episodes of
Emeril Live
. Inspired, he quickly switched majors to history, writing his final thesis on UK chefs Heston Blumenthal, Jamie Oliver, Gordon Ramsay, and Marco Pierre White. Quinn skipped culinary school, but instead got his start waiting tables in 2008 at
Houston's
in Irvine, a gig that he soon parlayed into a catering business. From there, he met Kerry Simon on a trip to Las Vegas, and the Chef eventually invited his young fan to
stage
at Simon LA. After that, Quinn moved on to
Charlie Palmer
, then transitioned to Hanna's in Rancho Santa Margarita, where he became sous chef.
However, Quinn soon got fed up with customers constantly modifying his dishes, and decided that it was time for a change. He partnered with longtime friend Daniel Shemtob and Jesse Brockman to conceptualize The Lime Truck, which bowed in June 2010, near the height of the food truck frenzy started by Kogi the previous year. The truck was a hit, and largely recognized as one of the top players in the game, at least in Orange County. In April 2011, The Lime Truck crew was able to turn this early success into an appearance on Season 2 of the
Great Food Truck Race
, a contest that the trio eventually ended up winning. Quinn took his share of the $100,000 prize to launch his own place, which he'd dreamed of doing all along. He went into business with his father Bob, and the two found a spot in Downtown Santa Ana's East End and set up shop, debuting in November of last year. The restaurant was initially a burgers 'n' beer concept, but Quinn quickly decided to change the direction of the place, turning it into the eatery that we see today, helmed by a team of young, hungry cooks, including Sous Chef Frank DeLoach (whom I first encountered at
Mezze
), Brad Radack, Tim Anderson, Zach Scherer, and even Ryan Carson (
'Pri-ve
chef and former head toque at
AnQi
). The front-of-the-house, meanwhile, is run by the Chef's wife Hillary and his brother Brandon.

Playground is situated right across the street from the Yost Theater, in the old Mariscos Tampico building. The space was totally revamped and features a 27-foot-long white quartz-topped bar that forms one side of the room, while a cluster of black ebony tables takes up the rest of the area. There are even plans to have patio seating on the adjacent Sturgeon Promenade.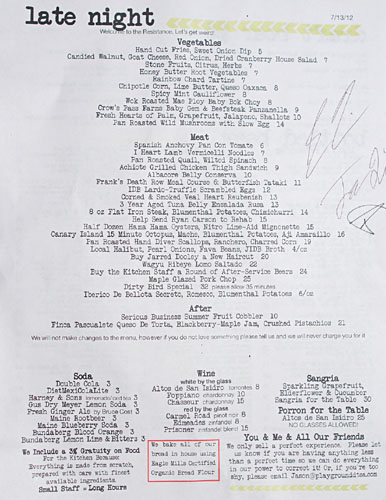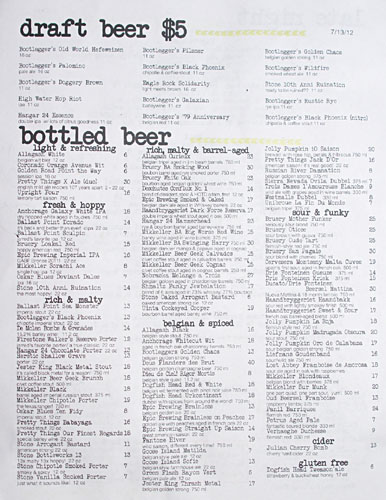 Playground's menu comprises a bevy of small plates, modern rustic American in essence, with an ingredient- and technique-driven flair. Equally as engaging is the restaurant's craft beer list, which features 15 taps and a selection of over
100
bottles (with some only available upon request). It's quite possibly the largest array of beer that I've experienced in OC, perhaps even eclipsing that at
Beachwood
. Though Playground was originally a beer-only restaurant, a small wine list has been added as well if that's your thing. The entire beverage program is overseen by Certified Cicerone Jarred Dooley, who we last saw at
The Bruery Provisions
, and who's also working on his Court of Master Sommeliers credential. He also happens to be one of Chef Quinn's best friends. Click for larger versions.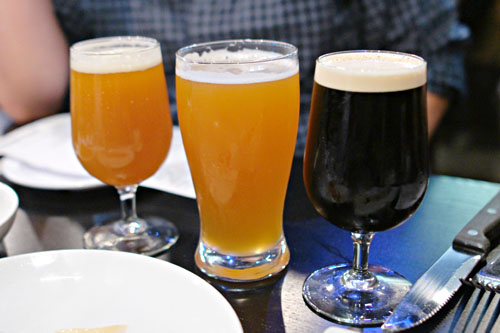 We began with a troika of beers on tap, all priced at a reasonable $5 each (with pour size varying depending on the particular brew). Going left to right, we had the Hangar 24 Essence, a delightfully subtle double IPA with a great base of citrus flavors, all intermingled wonderfully with a focused hoppiness. The Bootlegger's Old World Hefeweizen, from nearby Fullerton, was a prototypical example of the style with its marked fruity character, while Bootlegger's Black Phoenix (nitro version) was enjoyable as well, with its chipotle-laced attack and coffee-stained finish.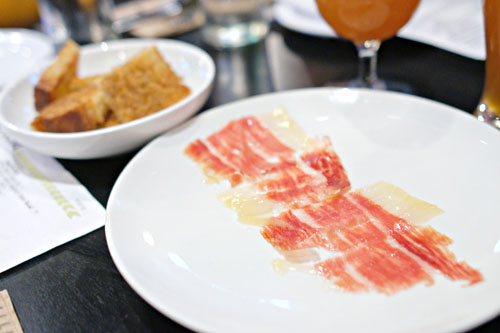 The kitchen quickly sent out a plate of
jamón ibérico de bellota
, which the Chef had just procured on a recent trip to Las Vegas. The meat was absolutely lovely, exactly what you'd expect from a good
jamón
, with a smooth, fatty, somewhat waxy consistency and immensely rich, savory, nutty, palate-coating taste.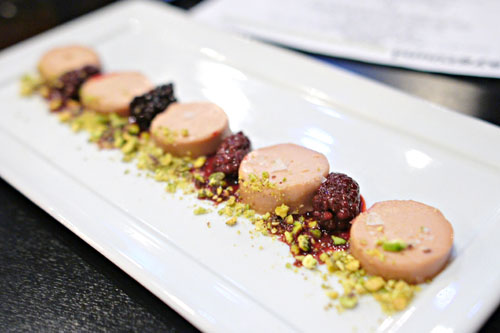 Buy the Kitchen Staff a Round of After-Service Beers [$24.00]
If you decide to purchase the kitchen a round of beers, the boys in the back will be grateful and might send out a special complementary course to show their appreciation. On this particular evening, we received disks of Sauternes-laced foie gras torchon, with toasted pistachio and blackberry-maple jam. The foie was classic in essence, with the sweetness of the fruit melding well with the liver, while the pistachio served as a nutty counterpoint and also provided a keen textural contrast. And the accompaniment of crisp, buttery toast? Superb.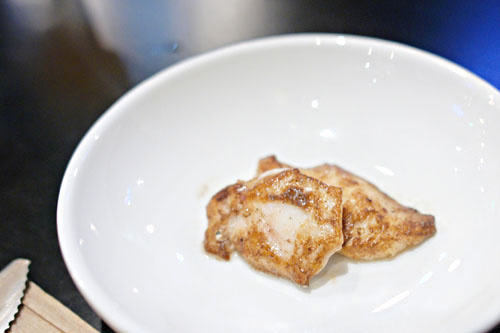 Chef Quinn had recently received a whole halibut, and sent out its prized cheeks: simply cooked with a wonderful char, simultaneous fibrous and melt-in-your-mouth, and imbued with a sweet, buttery flavor.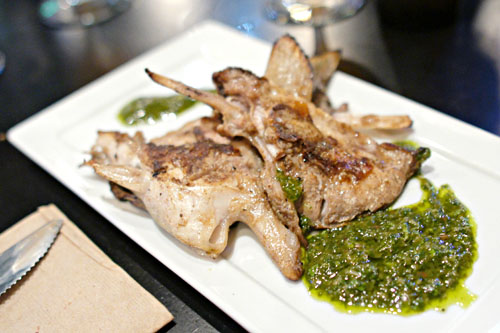 The cheeks were followed up by halibut collar, simply roasted and served with chimichurri. These were even more decadent, and immensely tender, with a rather lush, profound richness that was wonderfully tempered by the tang of its paired condiment. Yum.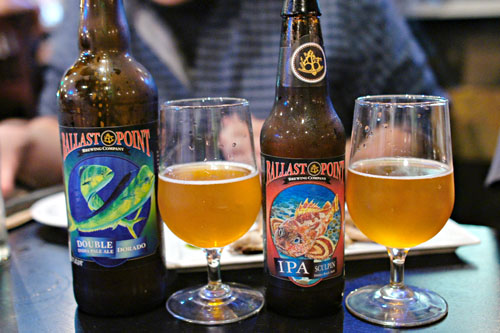 Our next round of beer comprised both the Ballast Point Dorado [$14] and the Ballast Point Sculpin [$7]. Now, the Sculpin is Jarred Dooley's favorite IPA, and happens to be one of mine as well, though I think I actually preferred the Dorado here, a double IPA that I'd never tasted before. It had a somewhat stronger pine-y taste, with a tarter finish, while the Sculpin was fuller bodied, but more subdued. In the end, both great beers--you can't go wrong with either.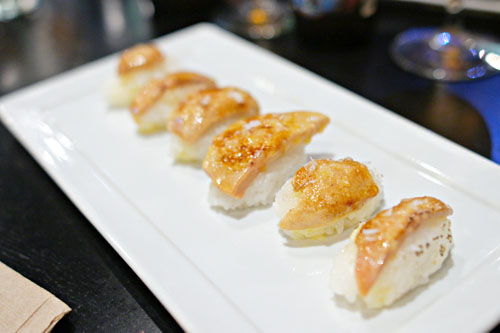 Help Send Ryan Carson to Rehab [$15.00]
As I mentioned earlier, Ryan Carson from
AnQi
and
'Pri-ve
is working here now, and, apparently, is in desperate need of rehab. As such, we decided to contribute to the cause, and enjoyed a plate of foie gras
nigirizushi
as a token of appreciation. They were wonderful, with a great crisp caramelized layer adding a sugar-y counter to the lush, luxurious liver, all while the
shari
served to moderate the interaction. Delish, and at the same time, very different than the foie
nigiri
that I'd eaten not long ago at
n/naka
.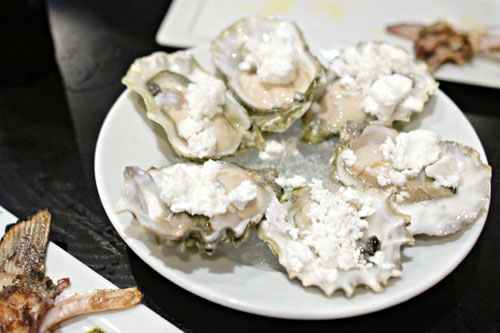 Half Dozen Hama Hama Oysters, Nitro Lime-Aid Mignonette [$15.00]
Beautiful Hama Hama oysters were light and bright, with a meaty, satisfying chew. The nitro lime-aid, meanwhile, added a counterbalancing citric kick to the dish, and also served up a rather bracing temperature contrast. However, I would liked less of the "snow," to let the inherent ocean-y character of the oyster shine through a bit more.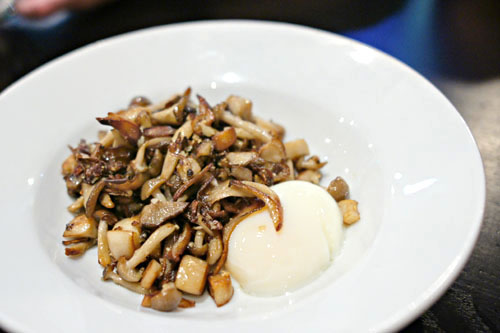 Pan Roasted Wild Mushrooms with Slow Egg [$14.00]
Mixed mushrooms showed off a wonderfully satisfying texture and delightful char, with their earthy smack accented by an almost Asian tinge of flavor. At the same time, the runny, slow-cooked egg oozed an enveloping richness that deftly tied everything together. My only concern was that the dish was a touch on the salty side.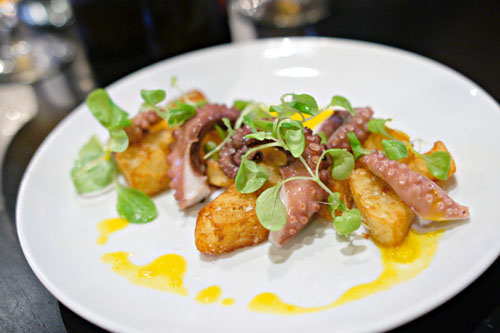 Canary Island 15 Minute Octopus, Mache, Blumenthal Potatoes, Aji Amarillo [$16.00]
The octopus was pretty awesome: supple and snappy in bite, with a clean, subtly sweet flavor adeptly matched by the piquant relish of the accompanying
aji amarillo
. I loved the Heston Blumenthal-inspired taters here as well, with their crisp, crunchy exteriors, pillow-y insides, and savory weight forming a fitting foil to the cephalopod.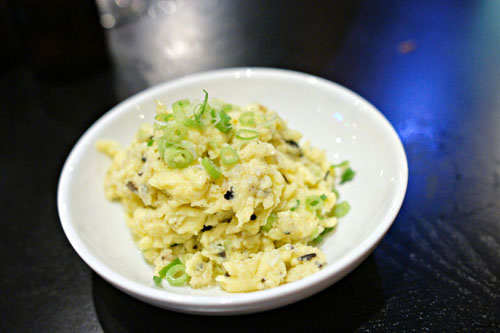 IDB Lardo-Truffle Scrambled Eggs [$12.00]
It's hard to mess up a mixture of
jamón ibérico
lardo, truffle, and egg, and indeed, this was no exception. The egg itself was light and undeniably fluffy, with a mild relish that was perfectly augmented by the earthy gravity of the truffle, all while the lardo provided a subtle undercurrent of porcine goodness to the dish. I appreciated the sharp pricks of piquancy from the scallion, too. Yeah, I'd love this for breakfast!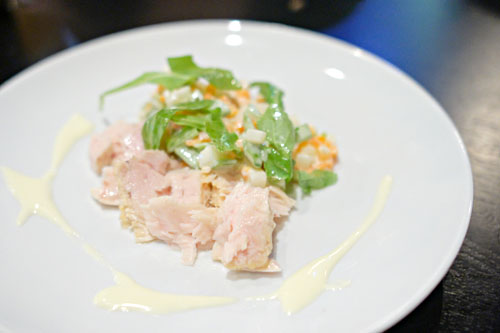 3 Year Aged Tuna Belly Ensalada Rusa [$13.00]
The aged tuna belly here was not unlike canned tuna, but taken up to the Nth degree, showing off a mouthwatering savoriness that was beautifully balanced by the accompanying mix of veggies. You could almost think of this as the best tuna salad you've ever had.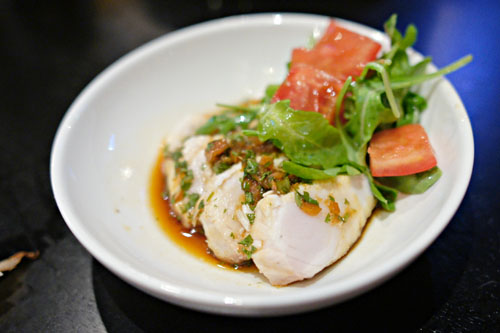 Frank's Death Row Meal Course 6: Butterfish Tataki [$11.00]
Playground's "Death Row" series presents dishes that members of the staff would request if they had one day to live. Tonight's selection came from Sous Chef Frank DeLoach, who served up a delectable tataki of butterfish. I loved the firm-yet-yielding consistency of the fish, and how its subdued-yet-substantial flavor was heighted by its tangy, Japanese-y sauce.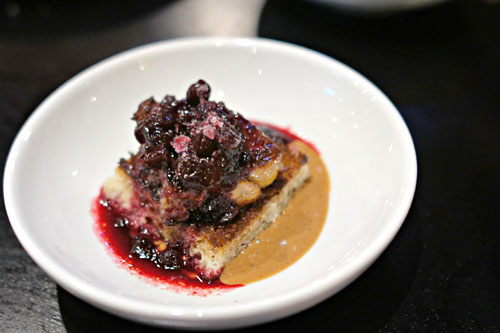 Buy Jarred Dooley a New Haircut [$20.00]
Playground's Cicerone/Sommelier Jarred Dooley is quite the hirsute kinda guy, and ostensibly, is long overdue for a haircut (see photo
here
). We obliged with giving him a trim, and the kitchen returned the favor with a special foie gras "PB&J" dish. Now regular readers will know that overly sweet foie scares me, but fortunately, the sugariness here was actually restrained, making the course come together surprisingly nicely, and really capturing the essence of a peanut butter and jelly sandwich.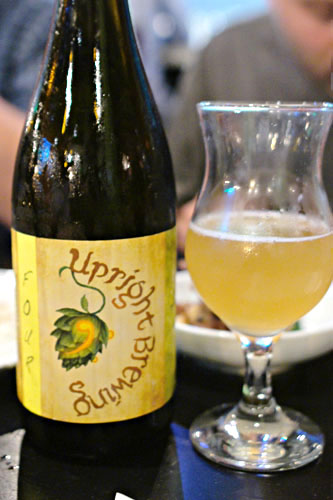 Our next beer was the Upright Four [$16], which I adored. It's probably one of the best saisons that I've had, with an incredible lightness to it that melded perfectly with its tart, grassy, citric, refreshing character.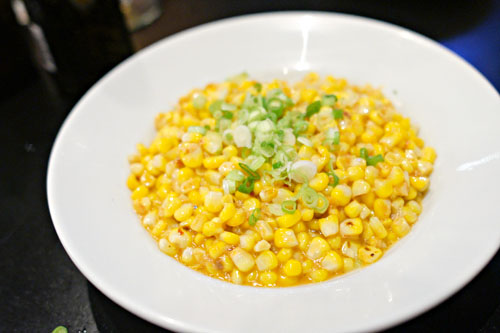 Chipotle Corn, Lime Butter, Queso Oaxaca [$8.00]
Quinn's presentation of corn was one of the best that I've had. The sweetness of the corn was on proud display, gorgeously augmented by the weight of Oaxacan cheese and butter, all while the chipotle added a lingering touch of heat to the fray. Everything just came together here--it's something you could eat a big bowl of, and we did just that.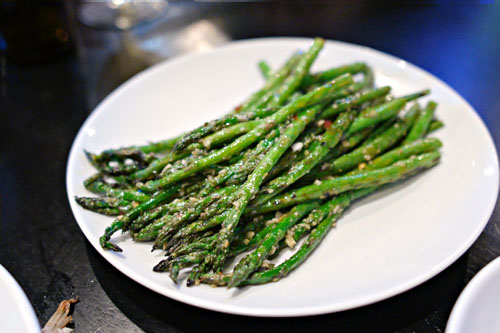 Dragon Roasted Asparagus [$12.00]
Thin, crunchy spears of asparagus were roasted in a straightforward manner with garlic, chile, lemon, olive oil, and salt. The result was enjoyable to say the least. The course almost had an Asian verve to it in fact, with the inherent astringency of the vegetable faultlessly married to the tangy, savory flavors at play.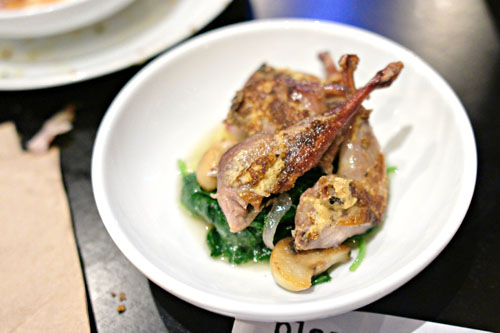 Pan Roasted Quail, Wilted Spinach [$8.00]
Quail was as tasty as you'd expect, with the juicy, succulent bird conveying a mouth-watering savoriness that was nicely put up against the vegetal bitterness of the accompanying spinach.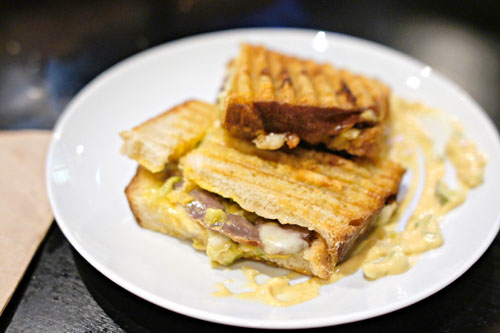 Corned & Smoked Veal Heart Reubenish [$13.00]
Next up was Playground's take on the classic Reuben sandwich, with veal heart taking the place of corned beef. The meat was on point, with a great smoky character that worked well with the cheese and creamy dressing, all while pickles added pinpoints of piquancy to things. However, I actually found the toast a bit much here, and would've liked more meat to balance things out.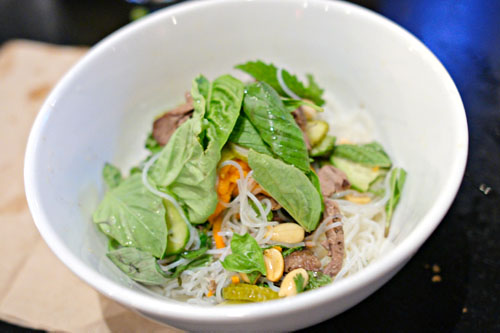 I Heart Lamb Vermicelli Noodles [$7.00]
Here was a light, refreshing, Vietnamese
bún
-inspired dish featuring lamb heart. The meat was spot on, tender and toothsome, with a lovely savor that went swimmingly with the peppery, minty herbs and sweet, acidic flavors in the dish, all while the vermicelli moderated the interaction. Great nuttiness and crunch from the peanuts, too.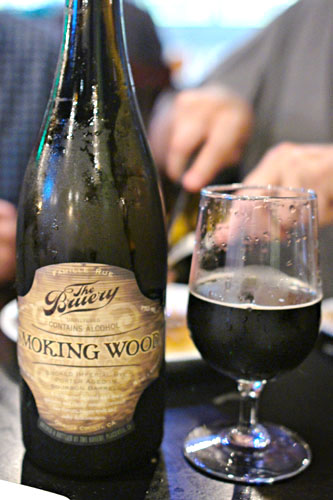 Here was the Bruery Smoking Wood [$30], a bourbon barrel-aged rye smoked porter. This one was an intense, dark, smoky, coffee-tinged, chocolate-y affair, with just a hint of offsetting spice. It definitely stood up to the heartier courses to follow.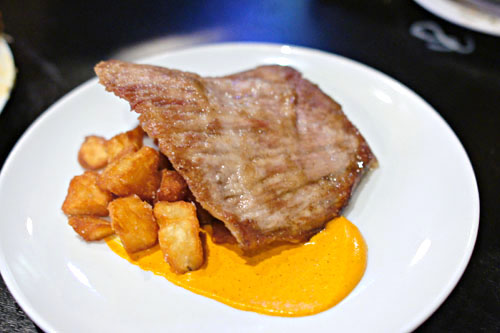 Iberico De Bellota Secreto, Romesco, Blumenthal Potatoes [$6.00/oz]
Now we come to what may arguably be my favorite course of the evening. The so-called secreto is a special cut of pork that is amazingly marbled, almost oozing oil in fact, with an unabashed fattiness and gobs of porcine flavor. I know people hate using the word "unctuous," but this piece of pig really was deserving of that moniker. As incredible as the meat was, we can't forget about the romesco here, which offered up an apt counterpoint to the pork, as well as those wonderful Blumenthal potatoes, which made a repeat appearance here. I'd had the secreto before at
é by José Andrés
, but I actually preferred this version.
Maple Glazed Pork Chop [$25.00]
What came to the table next was a real sight to behold: easily the thickest pork chop that I'd ever experienced--it must've been a good five inches, damn! It was intimidating to be sure, but was a joy to eat, no question one of the best chops I've had. The meat, still slightly pink, was simultaneously juicy, tender, and full of pork-y flavor, with just a bit of maple sweetness to go along.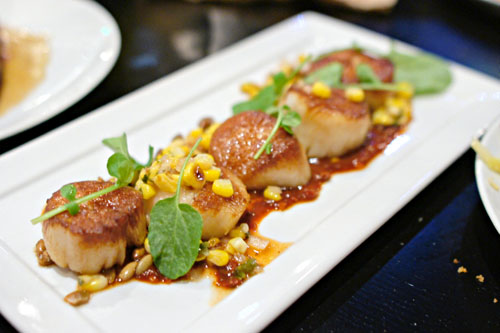 Pan Roasted Hand Diver Scallops, Ranchero, Charred Corn [$19.00]
Scallops arrived expertly cooked, with a great bit of caramelization to go along with their sweet, saline sapor. The key here, though, was the ranchero sauce, which added a great kick of heat to the dish, and I really appreciated the sugary kernels of corn as well.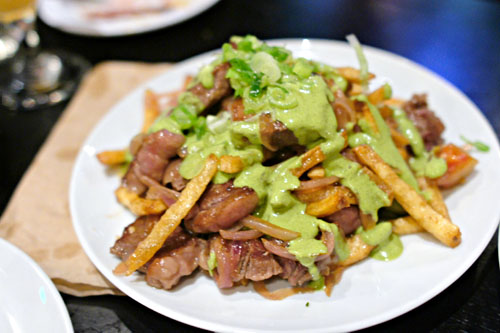 Wagyu Ribeye Lomo Saltado [$22.00]
Quinn's riff on the Peruvian staple
lomo saltado
wasn't the most visually-appealing dish, but made up for its homeliness with its lip-smacking flavor. The wagyu utilized here was just as fatty and tender as you'd expect, adding a palpable gravity on top of the French fries, all while the veggies and cilantro salsa completed the dish. A tasty course that really captured the essence of the traditional preparation.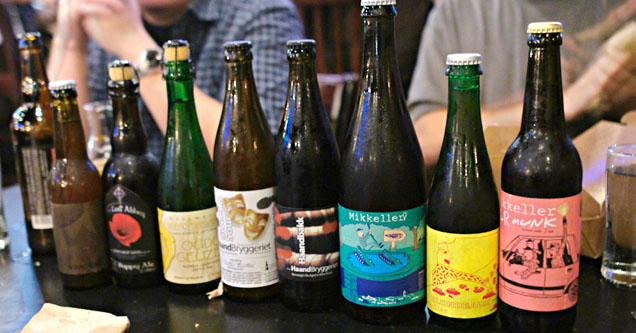 At this point, the Chef brought out a line-up of some of his favorite beers, including the Lost Abbey Red Poppy Flanders Red, Drie Fonteinen Gueuze (which I'd had not long ago at
Beachwood
), Haandbryggeriet Haandbakk Oud Bruin, Mikkeller Swinging Harry Belgian dark with mango and papaya, Mikkeller Blondeaux Belgian blond with berries, Mikkeller Sur Munk quad-sour, and Ducato/Drie Fonteinen Beersel Mattina saison-lambic blend. We decided to go with the Mikkeller Sorachi Ace [$8], a stupendous single-hop IPA, as well as the French oak barrel-aged Haandbryggeriet Sweet & Sour [$17], which really lived up to its name. An impressive selection to say the least!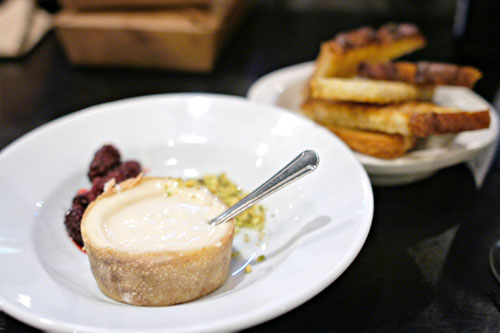 Finca Pascualete Queso De Torta, Blackberry-Maple Jam, Crushed Pistachios [$21.00]
Time for dessert, which Quinn is responsible for himself (as Playground lacks a dedicated pastry chef). First up was an unpasteurized sheep's milk
queso
from Spanish producer Finca Pascualete. It was tremendous, a creamy, smooth, gooey, Époisses-esque cheese with a mouth-watering, salty tang and funky, lactic kick that I adored. I thoroughly enjoyed it alone, but the cheese was also delicious when taken with a bit of blackberry-maple jam, pistachios, and toast. A must try for all you
fromage
aficionados.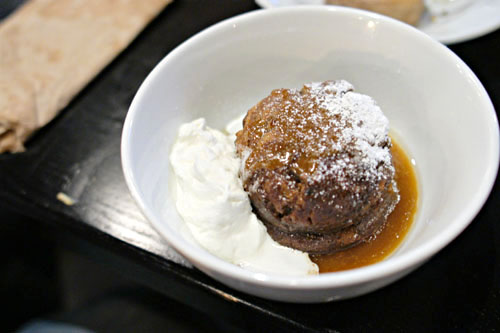 Sticky Toffee Pudding [$7.00]
No surprises here with Playground's sticky toffee pudding, with its rich, dense sponge cake teeming with toffee and dark fruit flavors, all moderated by the levity of the paired whipped cream.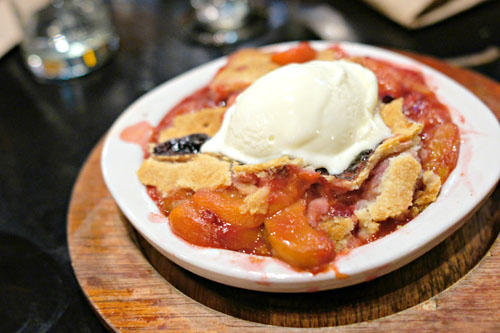 Serious Business Summer Fruit Cobbler [$10.00]
Our final dessert was this summer fruit cobbler. What I really loved here was the topping of liquid cheesecake ice cream, which displayed a positively intriguing texture (it was almost caramel-like) and lactic tartness that formed a great balance to the warm, fruity base of the dish.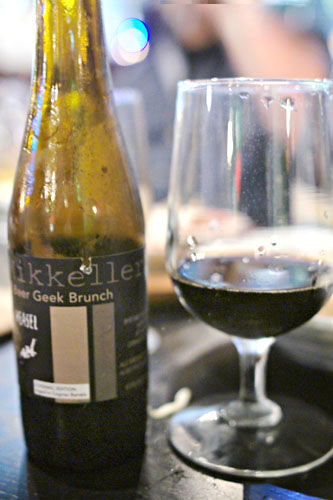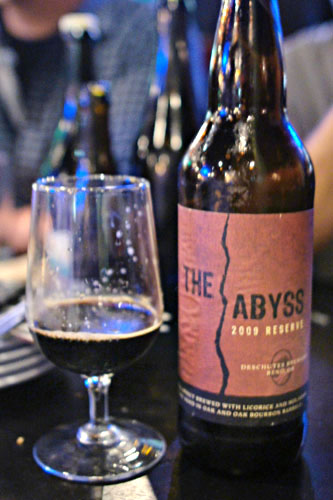 Some more beers. First was the Mikkeller Beer Geek Cognac [$15], a civet coffee stout aged in cognac barrels that was positively loaded with coffee, caramel, and chocolate notes. More interesting was the Deschutes Brewery The Abyss 2009, a rare stout that wasn't even on the list. Instead the beer was a birthday gift from Jarred Dooley to Chef Quinn's brother Brandon, and he decided to share the bottle with us. Quite simply, it was fantastic, quite possibly the best stout that I've ever tasted. Of course, you had your expected notes of coffee, wood, and malts, with a touch of spice, but it also showed off a remarkable finesse, balance, and complexity that clearly put this beer on another level. I can see why this was worthy of being a birthday gift!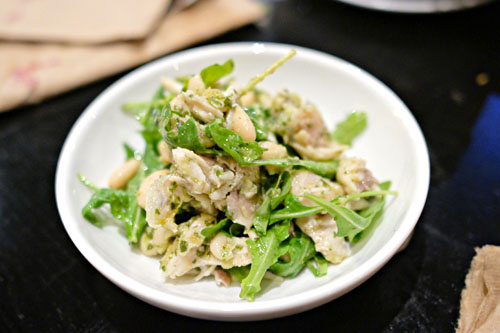 Albacore Belly Conserva [$10.00]
At this point, we noticed that we somehow missed the Albacore Belly Conserva, a dish on the menu that we'd wanted to try. It was subsequently brought out, and I quite liked its powerful, yet refined brine, grounded by the earthy beans in the dish, with the greenery forming a fitting contrast to the tuna.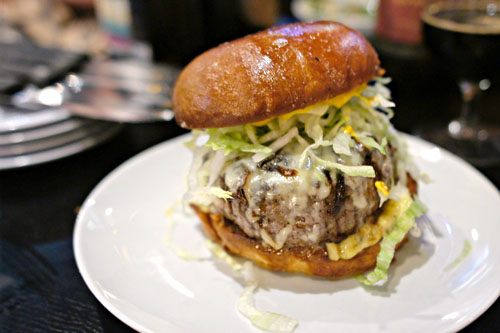 Playground Burger [$14.00]
The kitchen, apparently, thought we were still hungry, and thus sent out the signature Playground Burger, an off-menu special available upon request only. It was all sorts of awesome, one of the tastiest burgers I've had certainly. The patty, a good
two-and-a-half inch
thick portion, is a hand-ground blend of wagyu tri tip, wagyu brisket, Angus chuck, and Angus ribeye, formed using the famed "log" method developed by The Fat Duck's Heston Blumenthal. Cooked medium-rare,
and only medium-rare
, the beef conveyed a unique mouth feel, slick and luscious, but also
light
, with an almost steak-like quality to it--a pure expression of beef. Joining the meat were Fontina and Gruyère cheeses, maple-bourbon compote caramelized onions, shreds of iceberg lettuce, and a housemade mustard-mayo sauce, all on a custom-baked bun. Everything came together in wondrous fashion, with the various accoutrements doing a great job in highlighting the beef, making for a flawlessly integrated burger that truly stands among the Southland's best.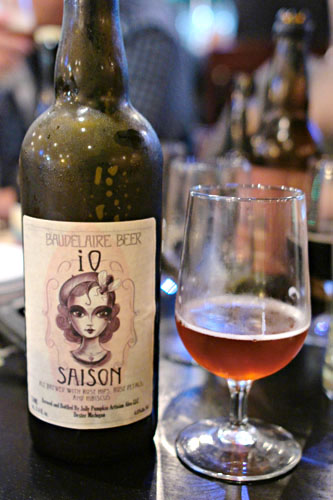 To cap off the evening, we ordered a bottle of Jolly Pumpkin iO Saison [$20] to share with the staff. Much like the aforementioned Upright Four, this also stands as one of the most delicious saisons that I've had. The beer's brewed with rose hips, rose petals, and hibiscus, making for a fantastically floral drinking experience, with the essence of the flowers intermingling wonderfully with the beer's otherwise tart, citric, funky flair.
Perhaps there is some hope for Orange County after all, as Playground managed to meet, and actually exceed expectations. Quinn's cooking is some of the sharpest in the area, and the kitchen's dogged pursuit of top-notch ingredients, prepared lovingly with precise technique, is paying dividends here. It's exciting, interesting, honest, yet humble fare that we're talking about, and I have no qualms deeming Playground's rustic-yet-refined food among the best, if not
the
best, in OC.
As for what's next for Quinn and company, the Chef is sort of following in Roy Choi's footsteps here, making the transition from food truck to some really great restaurant concepts. His follow-up project is a 17-seat
omakase
-only restaurant, codenamed "2.0," situated right next door to Playground and done in partnership with Ryan Carson (November ETA). "Secret," which was supposed to be housed in the Yost Theater, is a no-go now unfortunately. Instead, Quinn is teaming with his Sous Chef Frank DeLoach to debut a Neapolitan-style pizza joint; look out for that and perhaps some more exciting developments next year.