Le Comptoir (Los Angeles, CA)
Le Comptoir at Hotel Normandie
3606 W 6th St, Los Angeles, CA 90020
562.537.5990
www.lecomptoirla.com
Sat 02/28/2015, 08:50p-11:00p
When we last caught up with Gary Menes back in August 2012, he was busy running his
Le Comptoir
pop-up at Tiara Cafe, serving up his trademark veggie-focused menus with
Wes Avila
at Fred Eric's now-defunct all-day cafe. The Chef ended up vacating the spot in August that year, replaced by
Starry Kitchen
Nights
. However, he quickly found a new location at Santos Uy's Mignon wine bar in September, and later took up residence inside the Wine Vault in Glendale, which, coincidentally, was situated in the same building that used to house his old stomping ground, Palate Food + Wine. Menes would stay there until October 2013, when it was announced that a permanent version of Le Comptoir would inhabit Koreatown's Hotel Normandie. Plans initially called for a spring 2014 debut, but the restaurant experienced delay upon delay before finally opening at the end of December.

The restaurant occupies the home of the old Dragon Lady dive bar, and true to its name, comprises 11 counter seats surrounding the kitchen, and not much else.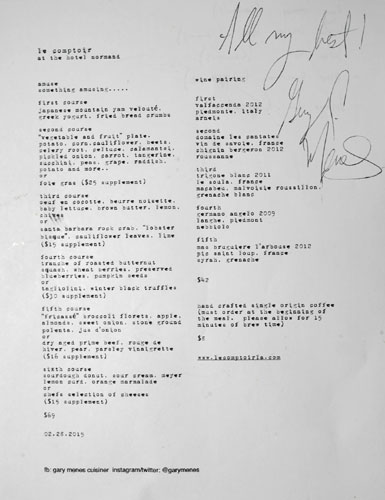 Le Comptoir's menu is of course vegetable-centric, a hyper-seasonal
carte
featuring produce largely sourced from Gladys Ave Urban Farm in Long Beach, which Menes tends to daily (he took it over from oceanographer
Charles Moore
in early 2014). Seatings occur at 6:00pm and 8:30pm, with six courses priced at $69 (be careful with those supplements, though), plus $42 for wine pairing. Corkage, meanwhile, is a pricey $40 a bottle. Click for a larger version.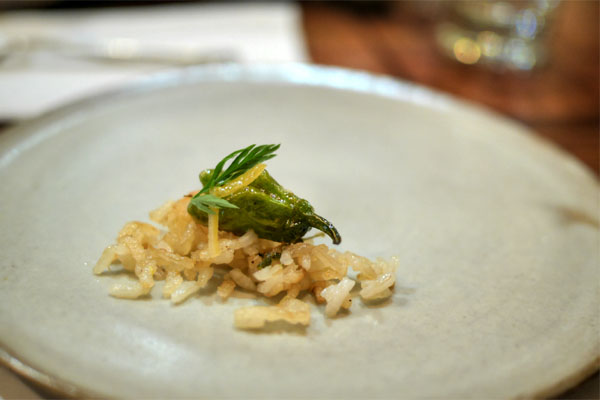 Our amuse comprised crispy Carolina Gold rice with blistered shishito, lemon confit, carrot greens, and a sherry vinaigrette. I deemed it a very promising start to the meal, with the delightful crunch and char of the rice making for a perfect counter to the heat of the pepper, the lemon and greens adding that requisite amount of zip to the mix.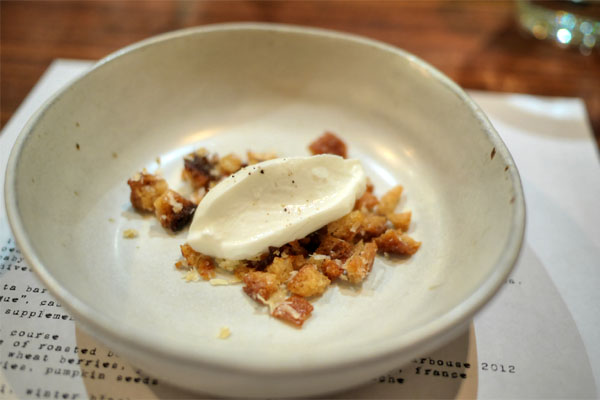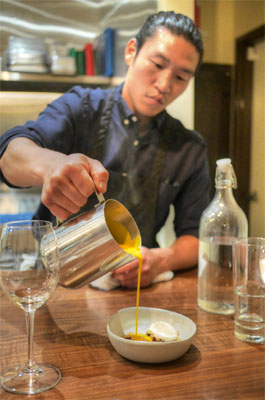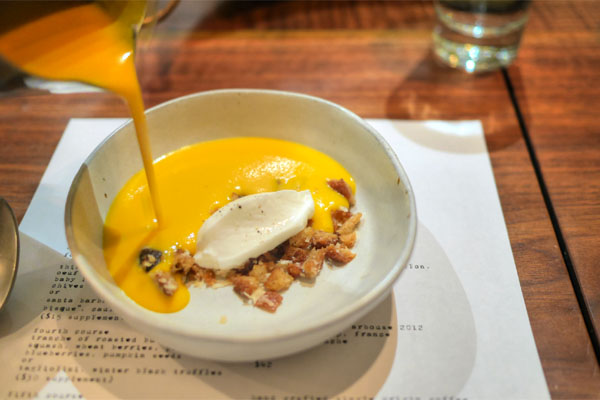 1: japanese mountain yam velouté, greek yogurt, fried bread crumbs
valfaccenda 2012, piedmonte, italy, arneis
A potage of mountain yam made for a hearty and heartwarming first course. The velouté was sweet, but not overly so, and the crux for me was how well the cool, lactic tang of the labneh worked in tempering the weight of the root vegetable. Also crucial were the bread crumbs, which imparted a wonderfully crunchy savoriness to things. Very good.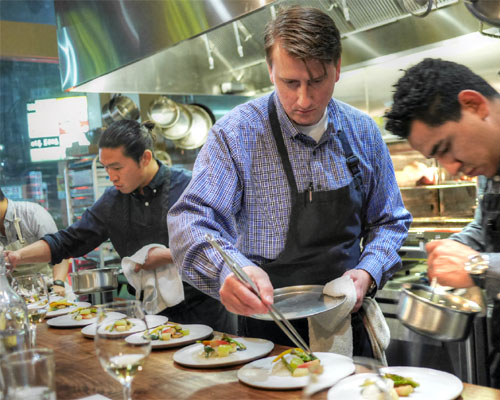 Above, we see the assembly line-style plating necessary for our next course, which must've encompassed 20+ components.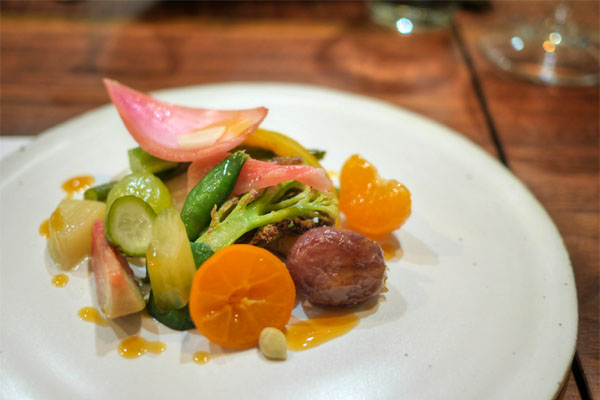 2a: "vegetable and fruit" plate. potato, corn, cauliflower, beets, celery root, celtuce, calamantsi, pickled onion, carrot, tangerine, zucchini, peas, grape, radish, potato and more..
domaine les cantates, vin de savoie, france, chignin bergeron 2012, roussanne
And here we have what could be viewed as Menes' take on the iconic
gargouillou
. Given the myriad of produce on the plate, there was of course a lot going on, but it all came together, a mélange of crunchy and soft, of sweet, tart, and bitter, all tied together by an overarching theme and enveloping savor.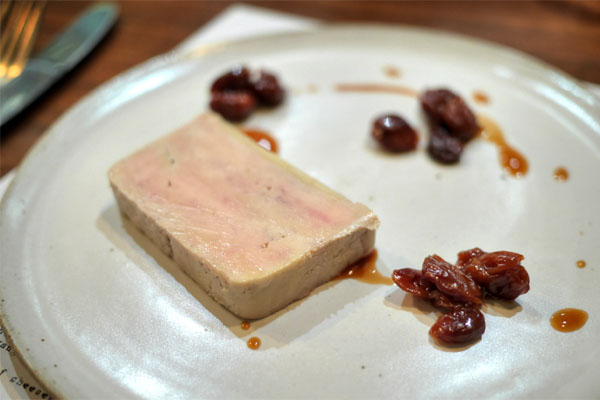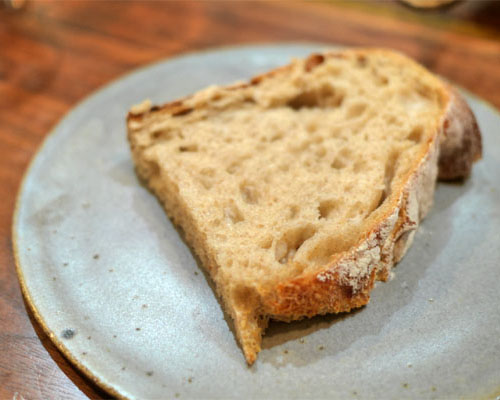 2b: foie gras [$25 supplement]
domaine les cantates, vin de savoie, france, chignin bergeron 2012, roussanne
The foie gras was a prime example of such, the liver's signature potency conveyed with considerable finesse, its earthiness perfectly complemented by the sweet-tart nature of the reconstituted cherries and pineapple reduction. Delicious alone, and just as good when taken over a base of fluffy housemade sourdough, which is produced using a starter aged 16 to 20 years, depending on whom you ask.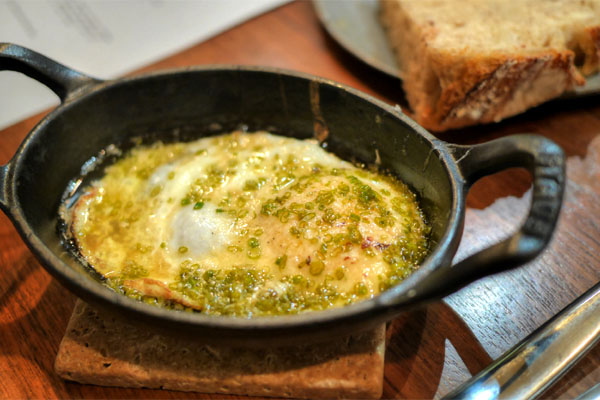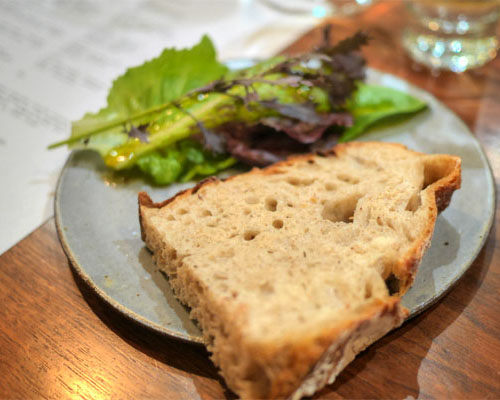 3a: oeuf en cocotte, beurre noisette, baby lettuce, brown butter, lemon, chives
trigone blanc 2011, le soula, france, macabeu, malvoisie roussillon, grenache blanc
An egg casserole satisfied in a straightforward manner, the rich, runny yolk amplified by brown butter, yet simultaneously well-foiled by the zesty duet of lemon and chives. Again, we were served some homemade sourdough as an accompaniment, as well as some bitter greens, which I found particularly apropos.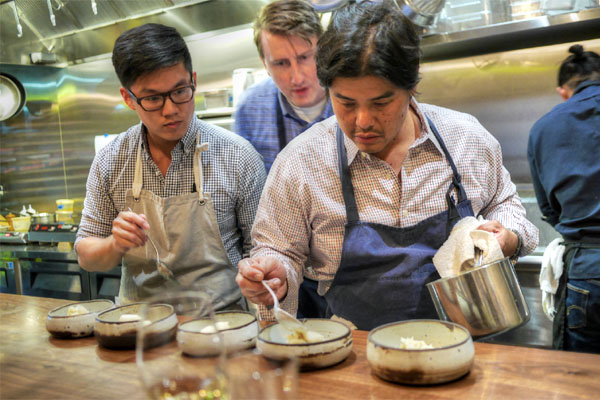 For our next course, the Chef spoons some of that "bisque" atop our crab.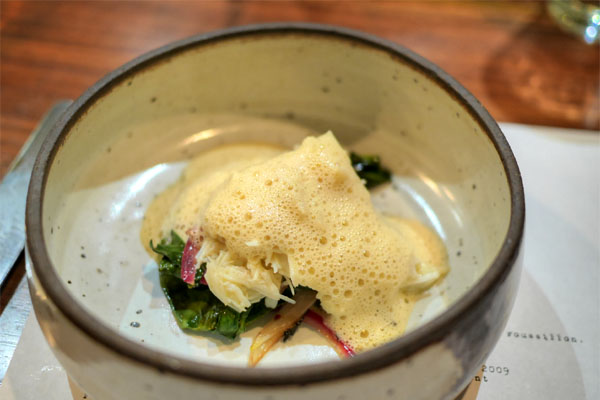 3b: santa barbara rock crab, "lobster bisque", cauliflower leaves, lime [$15 supplement]
trigone blanc 2011, le soula, france, macabeu, malvoisie roussillon, grenache blanc
Rock crab was on point, all rich and briny and buttery, taken up a notch by that lobster froth while the cauliflower greens added a fantastic touch of countering astringency to the fold. Yum.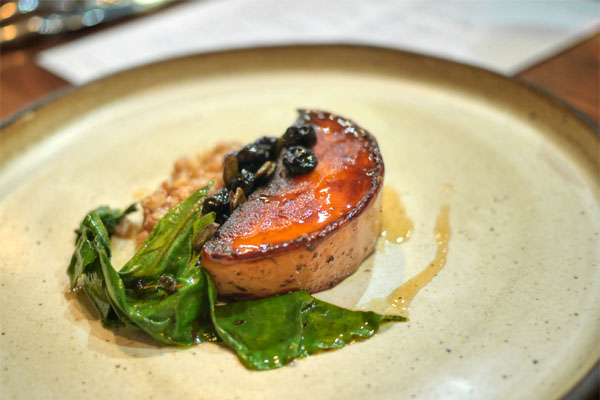 4a: tranche of roasted butternut squash, wheat berries, preserved blueberries, pumpkin seeds
germano angelo 2009, langhe, piedmont, nebbiolo
Regular readers will know that I've no love lost for butternut squash, but tonight it managed to be one of the highlights of the meal. In fact, it was possibly the strongest presentation of the ingredient I've had. The key was that char, which did a wonderful job providing savoriness and astringency to balance out the inherent sweetness of the squash. Also vital was the texture on those wheatberries, as well as the nutty crunch of pepitas. Great bitterness on those greens, too.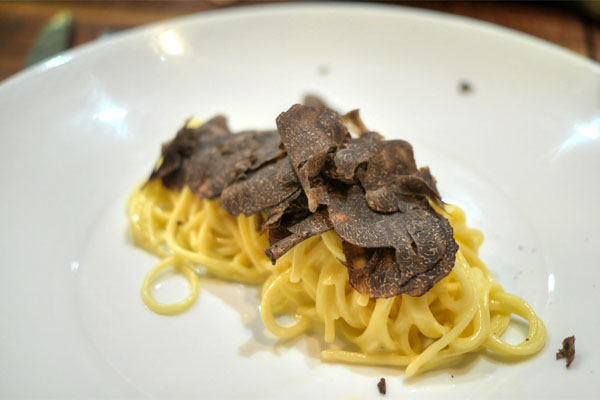 4b: tagliolini, winter black truffles [$30 supplement]
germano angelo 2009, langhe, piedmont, nebbiolo
Tagliolini arrived well textured--tender but still with some bite--and lightly dressed, an uncomplicated stage on which to showcase the heady musk of black truffle.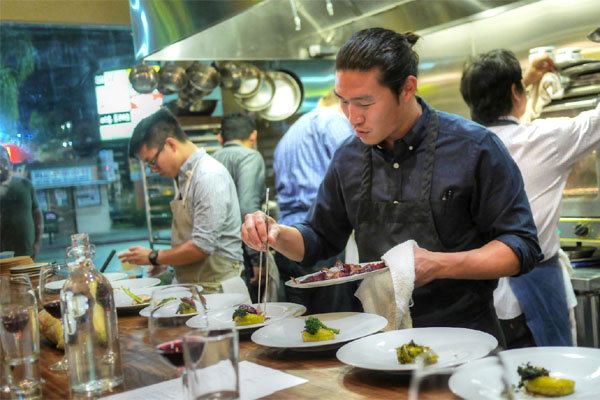 Our final savory courses being plated with some big-ass tweezers. Note creepy dude in the window.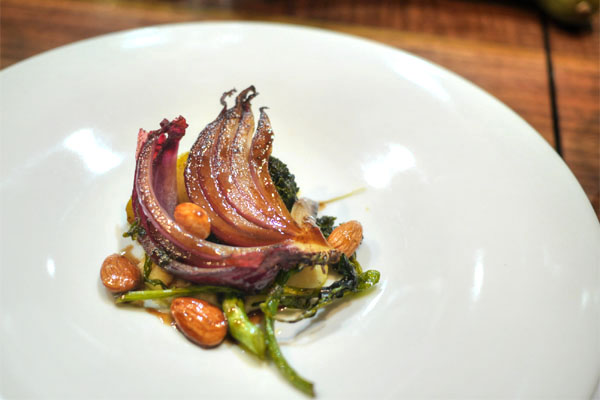 5a: "fricassé" broccoli florets, apple, almonds, sweet onion, stone ground polenta, jus d'onion
mas bruguiere l'arbouse 2012, pic saint loup, france, syrah, grenache
Though a traditional fricassee calls for meat, Menes' vegetarian take on the classic was surprisingly satisfying, with sweet, bitter flavors underpinned by a strong backbone of umami-tinged goodness. I particularly appreciated the incorporation of almonds here.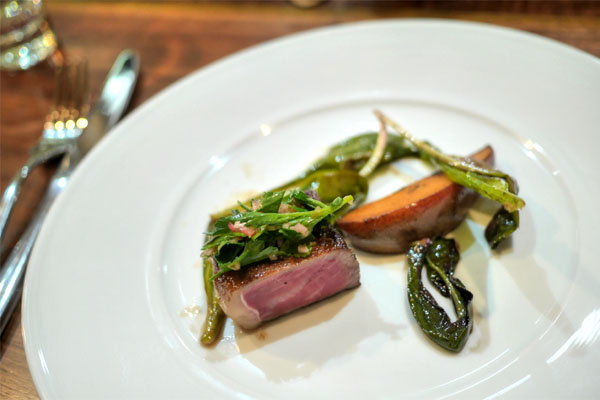 5b: dry aged prime beef, rouge de hiver, pear, parsley vinaigrette [$16 supplement]
mas bruguiere l'arbouse 2012, pic saint loup, france, syrah, grenache
Beef was expectedly deep in flavor, really showing off the earthiness that you often find in dry-aged meat. I quite enjoyed it alone, but the best thing here was that parsley vinaigrette, which had all the brightness and acidity that you'd get from a chimichurri. It was a perfect accoutrement to the beef, and the lettuce was no slouch, either. My only quibble? The cut could've stood to be a touch more tender.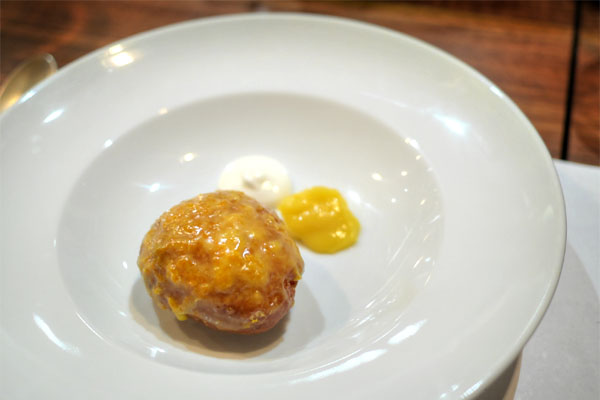 6a: sourdough donut, sour cream, meyer lemon curd, orange marmalade
Dessert brought out a singular doughnut hole of sorts, one that was light, airy, crisp, and slightly tangy, accompanied simply by a tangy cream and tart curd.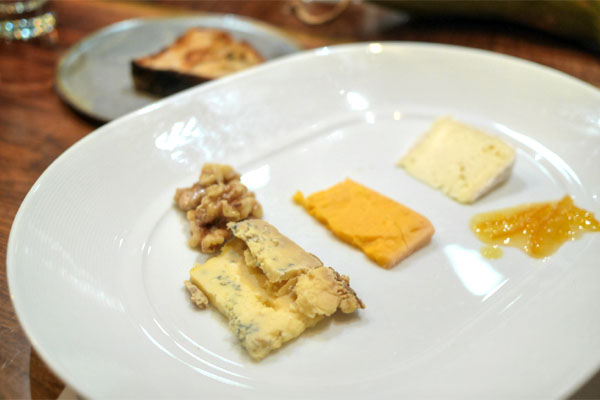 6b: chef's selection of cheeses [$15 supplement]
The cheese course, meanwhile, resulted in a threesome of
fromage
: a pungent, yet refined Stilton; the sharp, crumbly, richly-flavored Hook's 10-Year Cheddar; and Cowgirl Creamery's Mt Tam, a soft, creamy, mushroom-y triple-cream.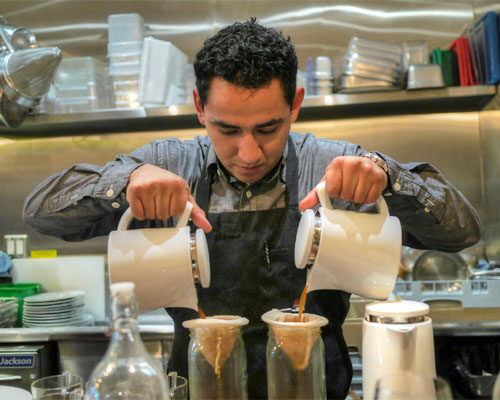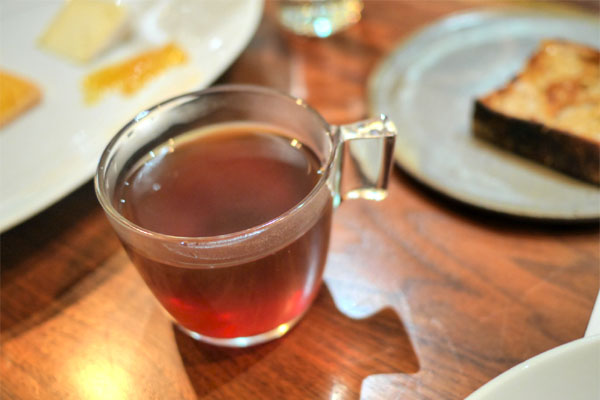 The restaurant is pretty fastidious about its coffee service, and tonight we ordered their Kenyan variety, at $12 a pop (Peruvian and decaf Ethiopian varieties were also on offer). Brewed using the SoftBrew process, which ostensibly combines both pour-over and French press qualities, the coffee was very light in terms of roast, with a fruity flavor profile and a somewhat bracing acidity.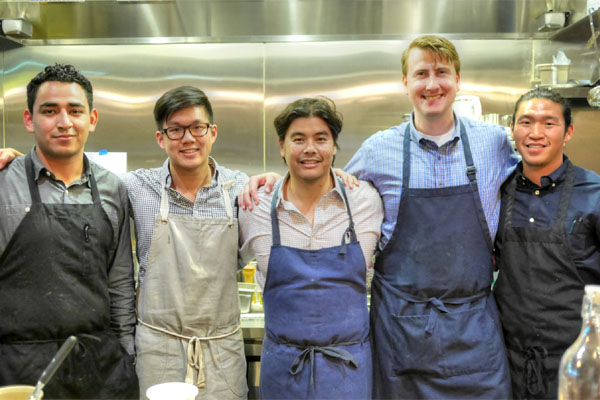 Le Comptoir's staff of five (left to right): apprentice Alex Guzman (from Bar Nine coffee shop in Culver City, Sqirl and Single Origin previously), apprentice Joshua Lu (a senior in biochem at UCLA), Chef Cuisinier Gary Menes, commis Randy Moles (
RivaBella
,
Mezze
,
Riva
,
Angelini Osteria
), commis Jason Koh (helps run Eggslut and worked with Menes at the Glendale outpost of LC).
Having had his food at a previous incarnation of Le Comptoir, I have to say that I thoroughly enjoyed seeing how the Chef's cuisine has evolved in the intervening years. Menes' cooking is even more focused than before, displaying flavor profiles that are even more robust, more confident, more creative. It's a pretty cool blend of the classic and the contemporary, all taking place in an intimate, interactive setting that I wish more chefs would emulate.
---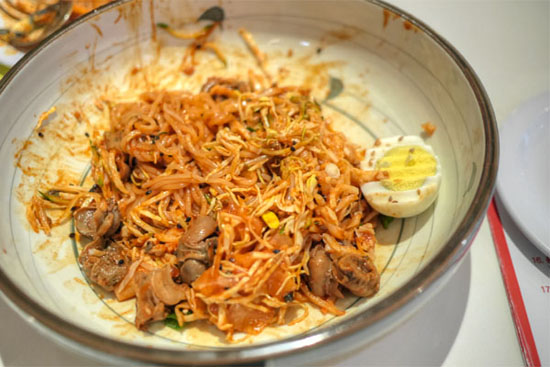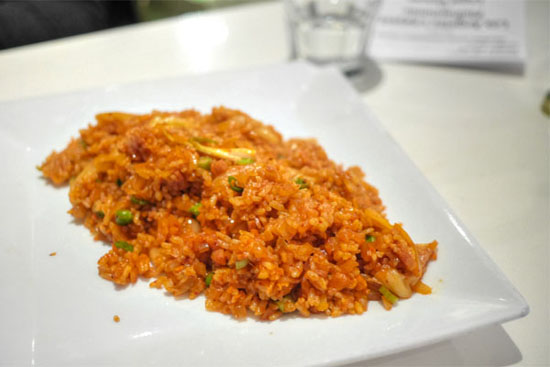 Sea Snail Jjol Myun [$10.99]
| Jjol Jjol Myun with Sea Snail
Kimchi Fried Rice [$8.99]
| Fried Rice with Kimchi
Afterward, I wandered over to the nearby School Food, which, ostensibly, serves the type of food Korean children might consume after school. And indeed, they turned out very serviceable renditions of fiery
gochujang
-laced
jjolmyeon
and
kimchi bokkeumbap
. I wasn't particularly hungry, but could eat a little, taking the rest home.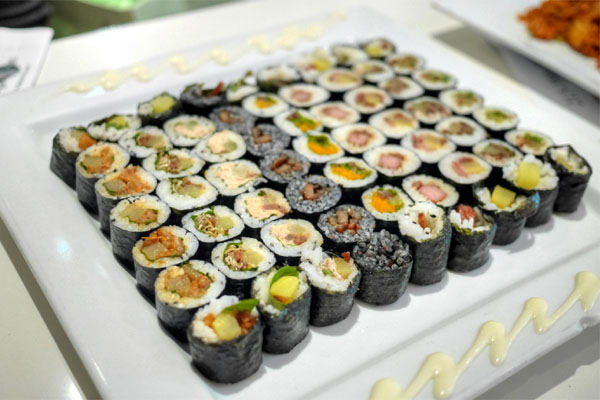 Combination Roll [$25.99]
| Per 3 People/9Rolls: Small Anchovy, Stir Fried Kimchi, Garlic Bacon, Spicy Anchovy, Black Squid Ink, Smelt Eggs, Teriyaki Beef
What I was most looking forward to, though, were the
gimbap
here, which come in an impressive-looking spread with no less than nine varieties: Stir Fried Kimchi, Small Anchovy, Tuna, Black Squid Ink, Smelt Eggs, Spam, Garlic Bacon, Teriyaki Beef, Spicy Anchovy. These made for some pretty satisfying leftovers the next day.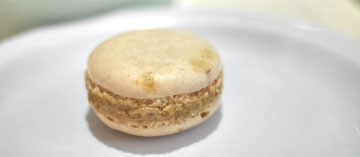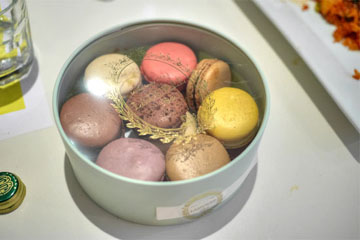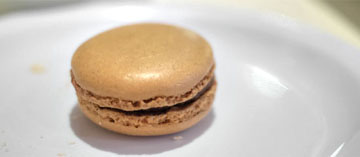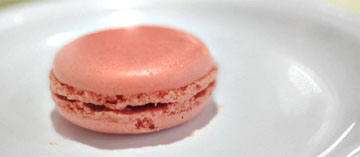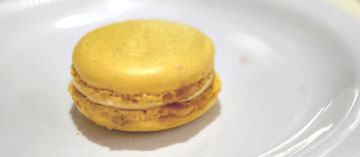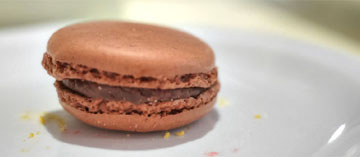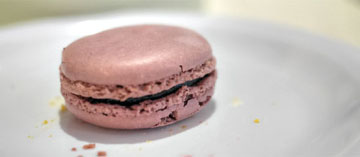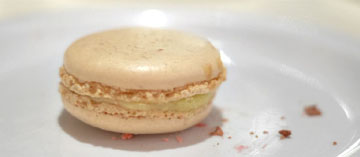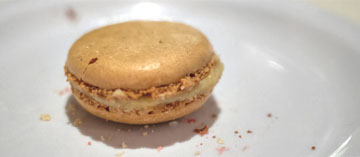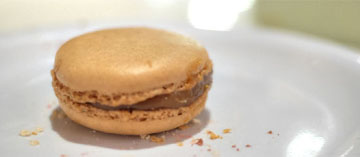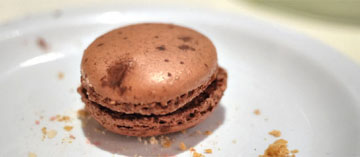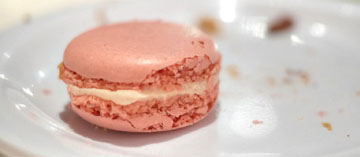 The real reason for my visit to School Food, though, was to sample some Ladurée macarons, which were flown over from New York just the day prior. 11 flavors were sampled:
Praline Sésame / Praline Sesame - Pleasantly nutty and sweet.
Café / Coffee - A very focused, true-to-life coffee flavor.
Framboise / Raspberry - Super jammy, sweet, and floral.
Citron / Lemon - Sharply lemony, but with a sugary backbone to even it out.
Chocolat / Chocolate - Very rich and forceful, probably the heftiest of the bunch.
Cassis Violette / Blackcurrant & Violet - Aromatic and jammy, not unlike grape soda.
Fleur d'Oranger / Orange Blossom - Intensely perfume-y, damn.
Rhum Vanille / Rum Vanilla - Boozy and bittersweet.
Caramel à la Fleur de Sel / Caramel with Salted Butter - Sugary with a delightful hit of salt on the finish.
Guimauve Chocolat Coco / Chocolate Coconut Guimauve - Great coconut and chocolate flavors with a fluffy marshmallow-y texture in the middle.
Pétale de Rose / Rose Petal - Floral and rose-y, with an astringent quality to it.
Overall, a very strong showing from the legendary
pâtissier
--the macarons all came out well-textured and robustly-flavored--though I'm not sure if they're really head and shoulders above everything else out there, local favorite 'Lette for example. I do need to try me some Pierre Hermé...