Charcoal Venice (Los Angeles, CA)
Charcoal Venice Restaurant
425 Washington Blvd, Marina Del Rey, CA 90292
310.751.6794
www.charcoalvenice.com
Wed 12/30/2015, 08:00p-10:40p

Josiah Citrin
's been busy as of late. In addition to debuting Dave's Doghouse at Staples Center (in partnership with cousin Dave Cheren) and shuttering
Lemon Moon
, he dropped the long-awaited Charcoal on us on December 1st. This is the Chef's neighborhood-y sort of restaurant, one centered on comfort cuisine prepared over live fire. Running the kitchen here on a day-to-day basis is CdC Joseph Johnson, a CSCA grad ('12) who was previously a sous at Melisse. Meanwhile, GM duties are handled by Boston native Jake Tringali.

Charcoal takes over the former home of Macchi's Bistro. The space is on the casual side, with lots of wood and an almost old school family restaurant type feel.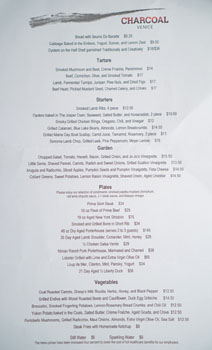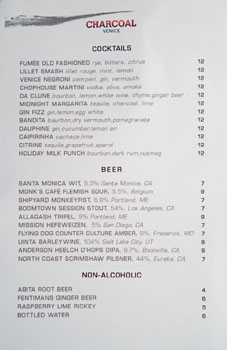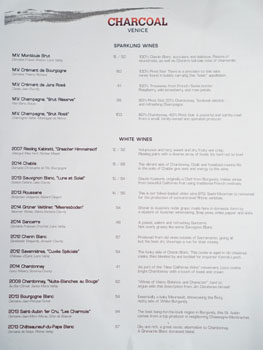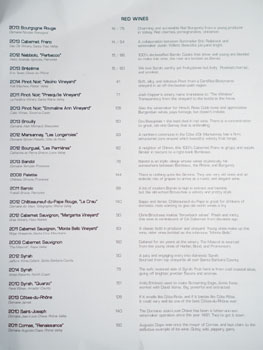 As for the menu, you get the advertised flame-kissed meats, joined by appropriate starters and veggies. Drink-wise, there's a dozen classically-inspired cocktails, ten craft beers, and a list of about three dozen Cal-French wines. Corkage is $35 a bottle, though it can be waived for each bottle purchased at the restaurant (they failed to do this, however). Click for larger versions.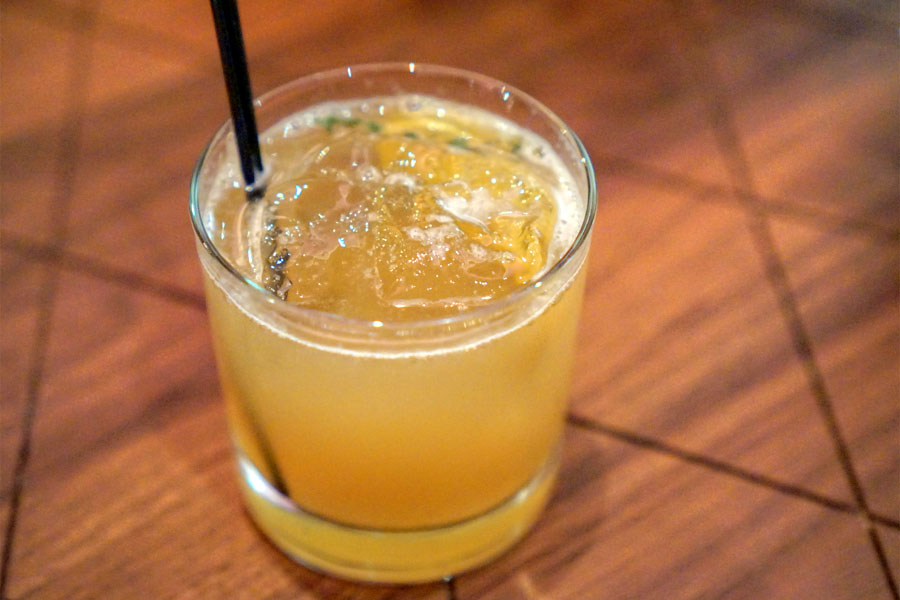 Da Clune [$12.00]
| bourbon, lemon, white wine, thyme, ginger beer
We got a couple cocktails to begin, and liked both. The first came together well, the bourbon meshing with tart lemon while the white wine provided a slight sweetness and a vinous finish to the drink. Nice pricks of zestiness from the ginger, too.
Cabbage Baked in the Embers, Yogurt, Sumac, and Lemon Zest [$9.50]
Cabbage displayed a contrast of light, vegetal flavors against the potent, astringent char present, the yogurt imparting creaminess and tartness to the mix. A good way to start.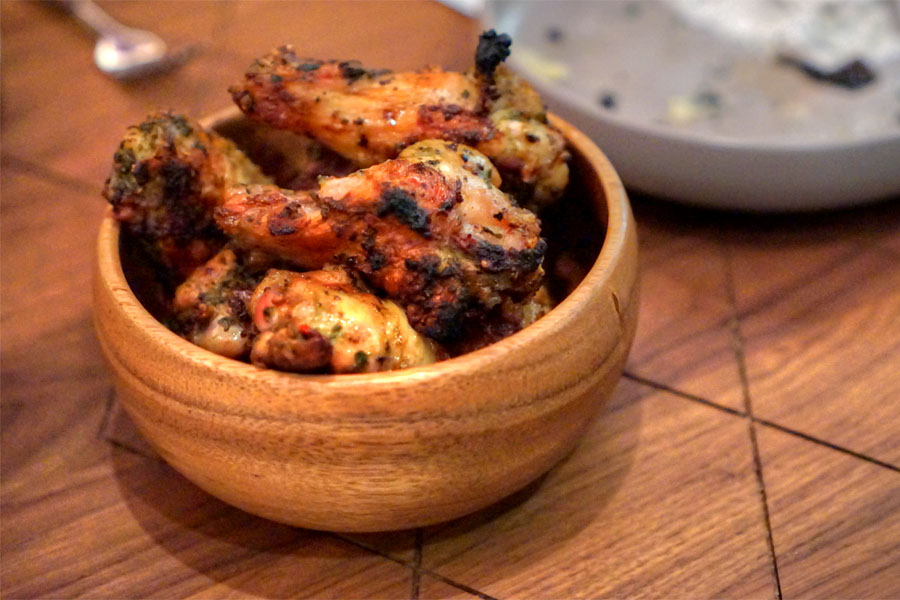 Smoky Grilled Chicken Wings, Oregano, Chili, and Vinegar [$12.00]
Wings were superb, coming out super flavorful and beautifully charred--a joy to eat.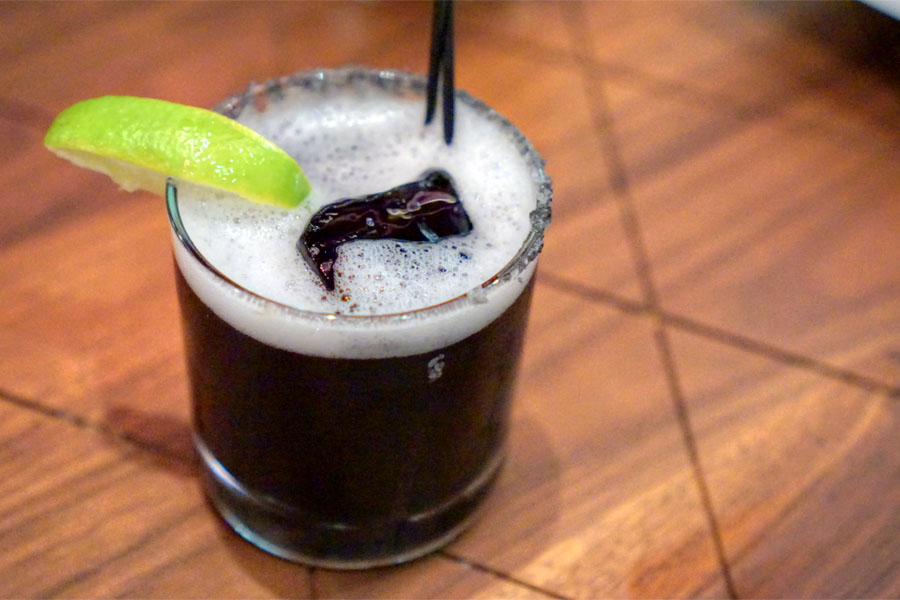 Midnight Margarita [$12.00]
| tequila, charcoal, lime
A take on the classic margarita was also successful, with the traditional interplay of tart, boozy flavors well-matched to the slight smoke and bitter complexity from the charcoal.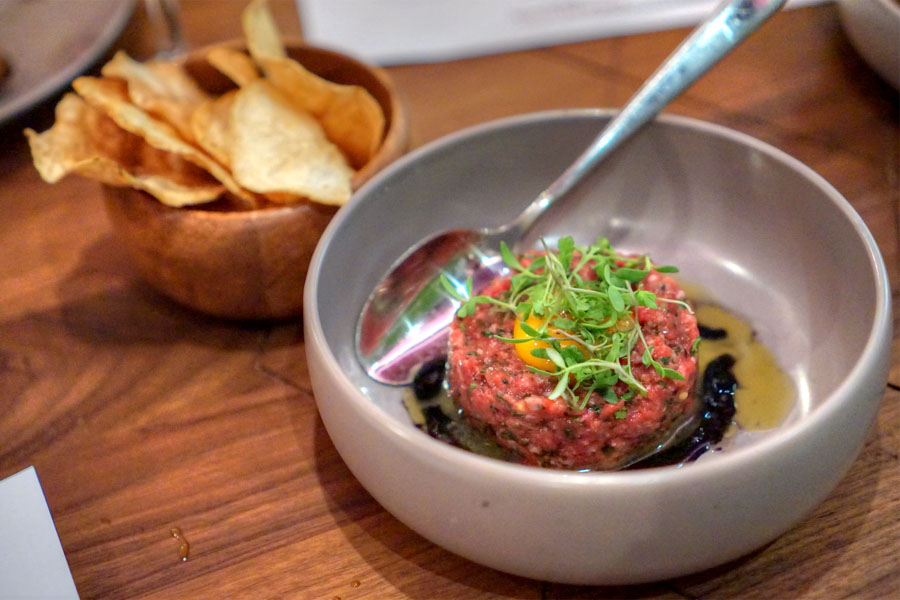 Beef Heart, Pickled Mustard Seed, Charred Celery, and Chives [$17.00]
Beef heart was exceedingly fine-grained, and conveyed a surprisingly restrained flavor profile that made sense with the herby, mustard-y notes at play. It worked out pretty well, but the included chips lacked that crunch I was looking for.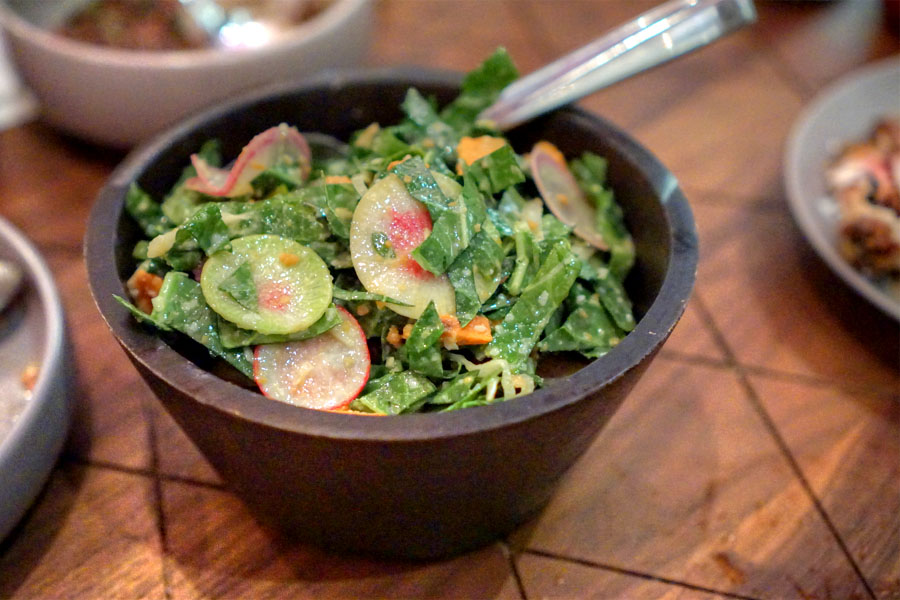 Collard Greens, Sweet Potatoes, Lemon Raisin Vinaigrette, Shaved Onion, Aged Cheddar [$14.50]
Collards came out raw, so they lacked the earthiness and depth you typically get from a slow-cooked preparation. Even so, they did have that bitterness that you want, set against the sweet potato while cheddar added a bit of punch.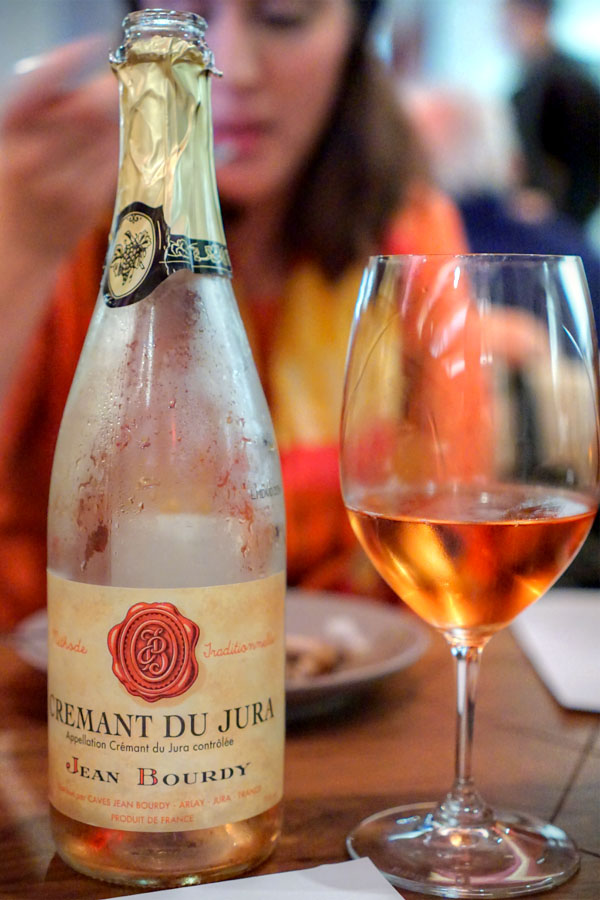 We moved on to a sparkler, the
M.V. Crémant de Jura Rosé, Caves Jean Bourdy [$41]
, made from 100% Trousseau. I found it a fairly easy-drinking wine, with lots of fruity, floral, strawberry aromas, while the palate went drier, tarter, with a noticeable mineral component.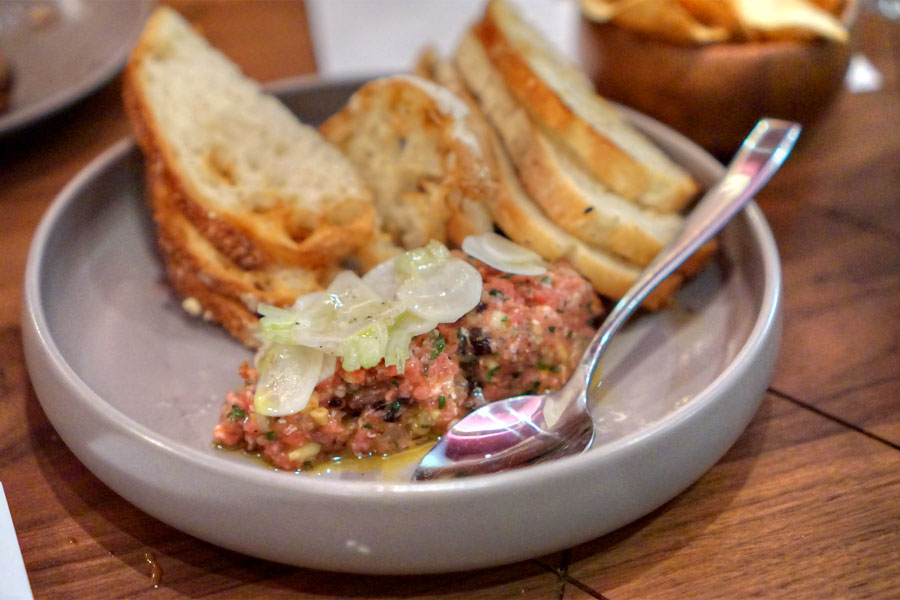 Lamb, Fermented Turnips, Juniper, Pine Nuts, and Dried Figs [$17.00]
The lamb tartare was more interesting. The meat was somewhat more substantial to the bite, and paired well with the pine nuts while turnips served as a welcomed counterpoint. Great crunch on the included toast, too.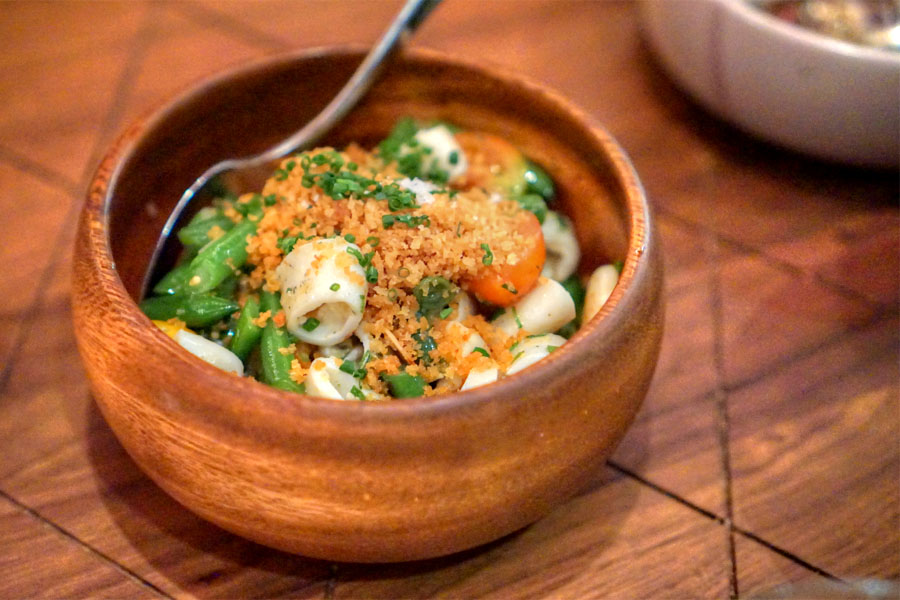 Grilled Calamari, Blue Lake Beans, Almonds, Lemon Breadcrumbs [$14.50]
Squid came out tender, though I was looking for more smoke, more char. Nice breadcrumbs here, but a bit restrained overall.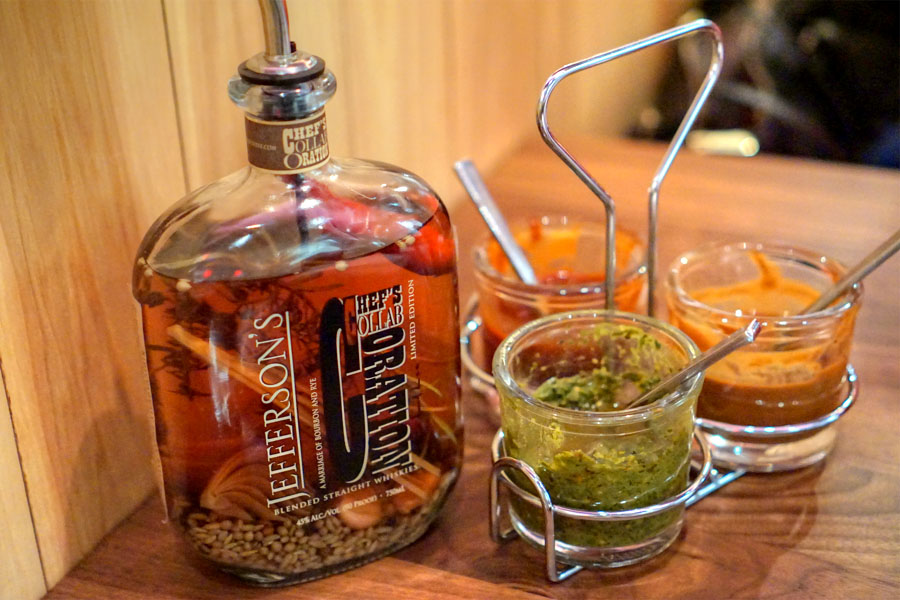 I'm a proponent of meat being able to stand by itself, but don't mind a sauce on occasion. At Charcoal there were four at the table: a Basque-inspired herbed vinegar (in the whiskey bottle), a smoked paprika-mustard chimichurri, a red wine-chipotle barbeque sauce, and the housemade J.1. steak sauce.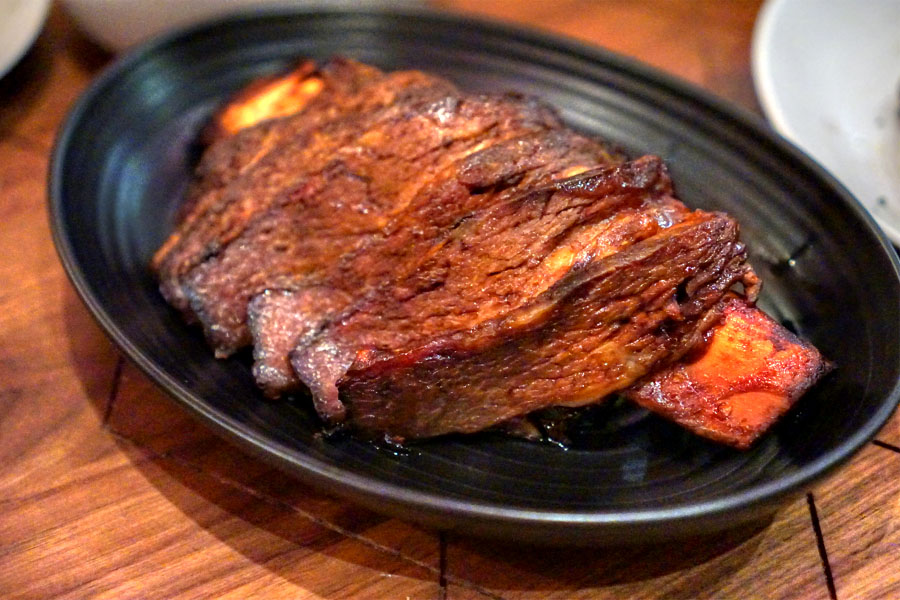 Smoked and Grilled Bone in Short Rib [$34.00]
At this point we got into the meats. The first was the short rib, a falling-apart tender preparation that showcased all the deep, beefy flavors that you'd want, joined by proper hits of sweetness, smoke, fat, and char. Very nice.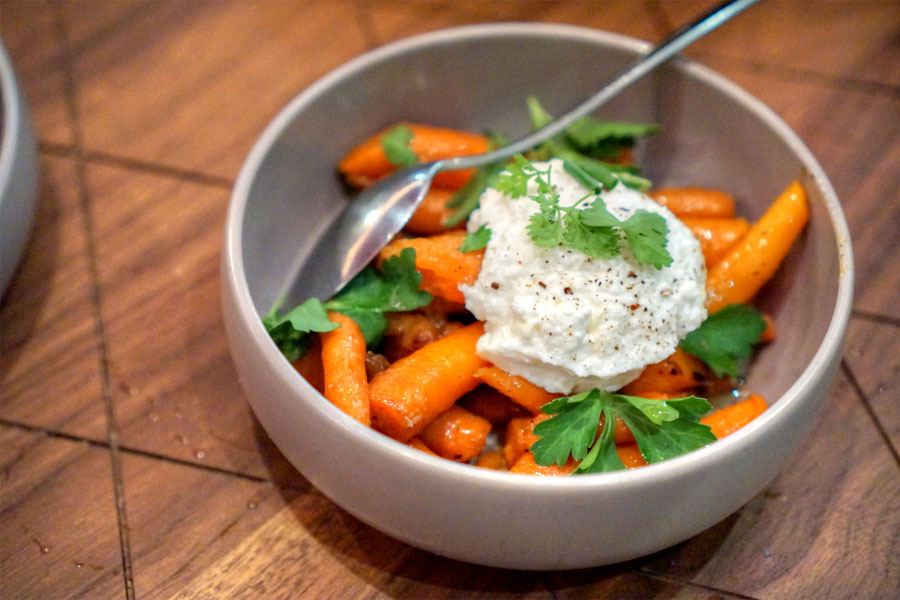 Coal Roasted Carrots, Sheep's Milk Ricotta, Herbs, Honey, and Black Pepper [$12.50]
Carrots were properly sweet and well spiced, and worked well with the lushness of that ricotta. However, I wanted more texturally, and the smoke level to be kicked up.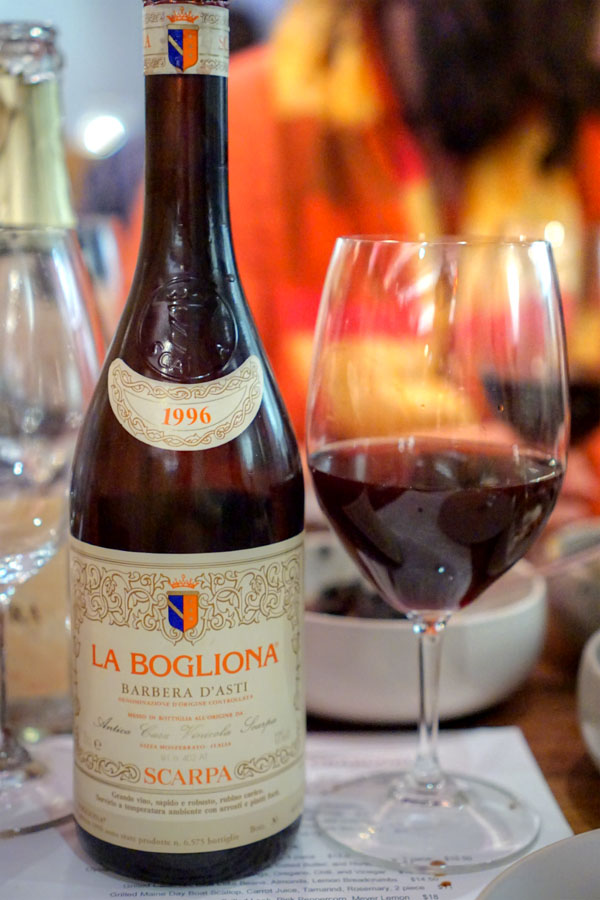 Here we had the
1996 Scarpa Barbera d'Asti La Bogliona
, which one of my dining companions had brought. At first blush I found this inky, smoky, almost musty on the nose, with a lean, tart palate with slight fruit and a bit of dustiness. We found that the wine really opened up with some time in the glass, nevertheless.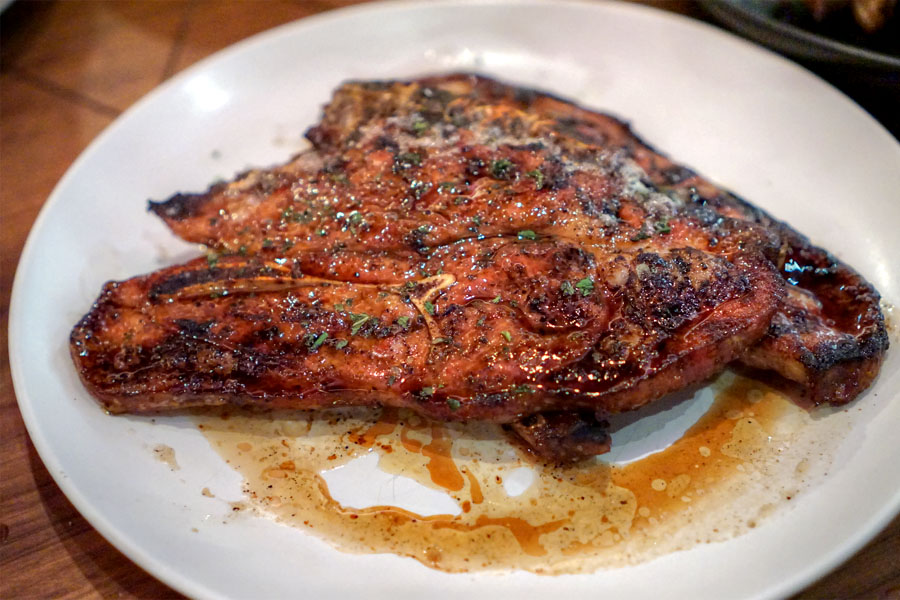 35 Day Aged Lamb Shoulder, Coriander, Mint, Honey [$28.00]
The shoulder was the heftiest cut of the evening, arriving super fatty, super flavorful, with boatloads of lamb-y savor tempered only slightly by a sprinkling of coriander.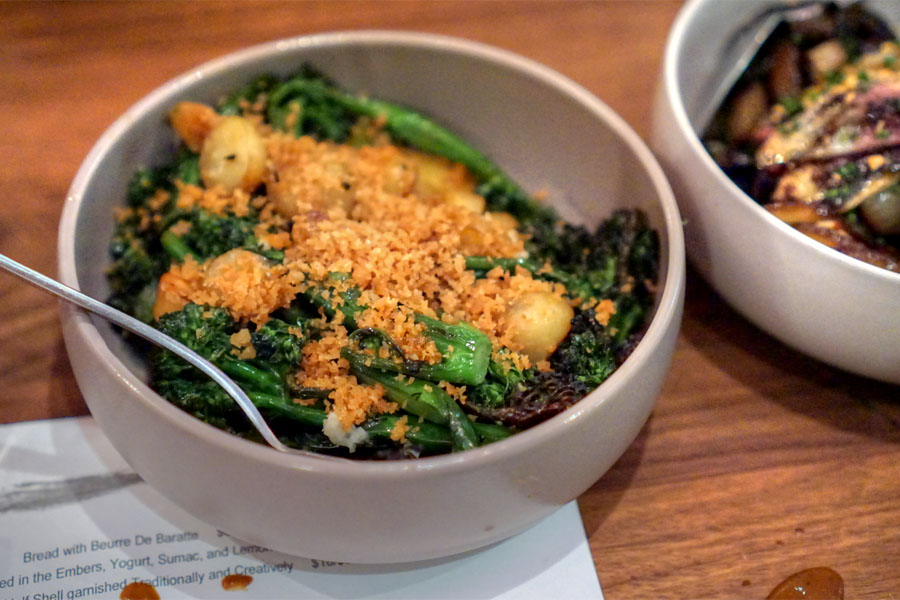 Broccolini, Smoked Fingerling Potatoes, Lemon-Rosemary Bread Crumbs, and Chili Oil [$12.50]
Broccolini came out bitter and crunchy, with a subtle spice and a great accent from the zippy breadcrumbs.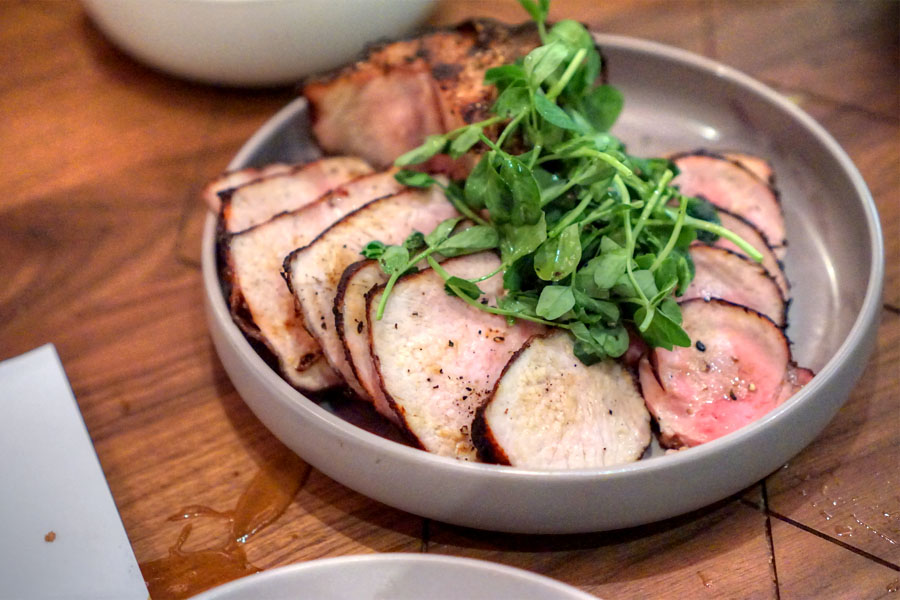 Niman Ranch Pork Porterhouse, Marinated and Charred [$38.00]
The pork was my favorite of the meats, with a superb charring and richness that matched beautifully with the zesty greens on top. Loved the rare cook on the tenderloin, though some of the loin slices were dry-ish in spots.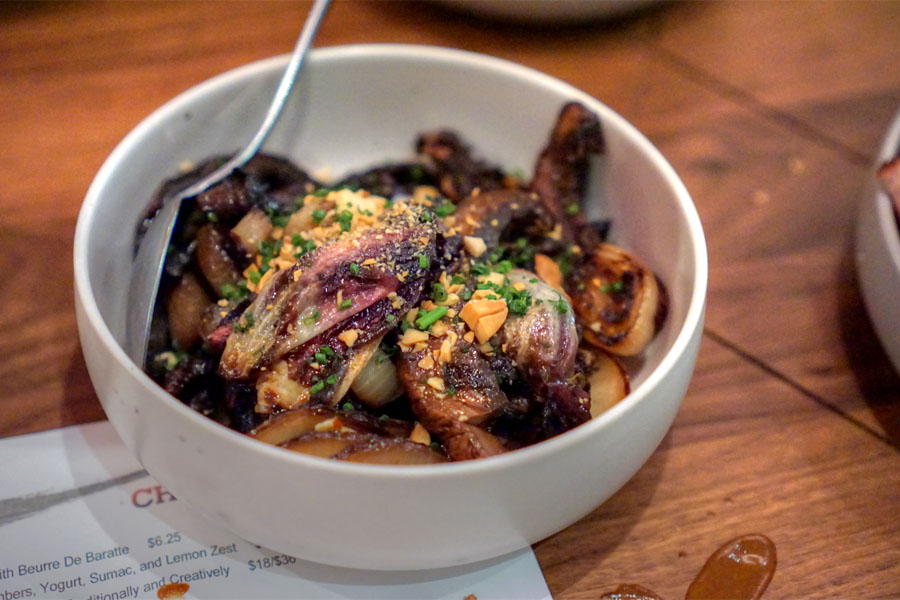 Portobello Mushrooms, Grilled Radicchio, Maui Onions, Almonds, Extra Virgin Olive Oil, Sea Salt [$12.50]
Mushrooms came out earthy and smoky, with the astringency from the radicchio key.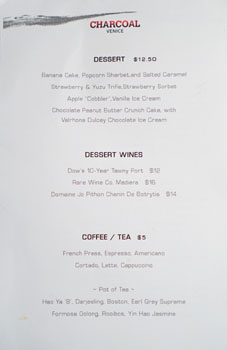 For the sweet stuff, you get a small array of updated classics, appropriate given the concept. Click for a larger version.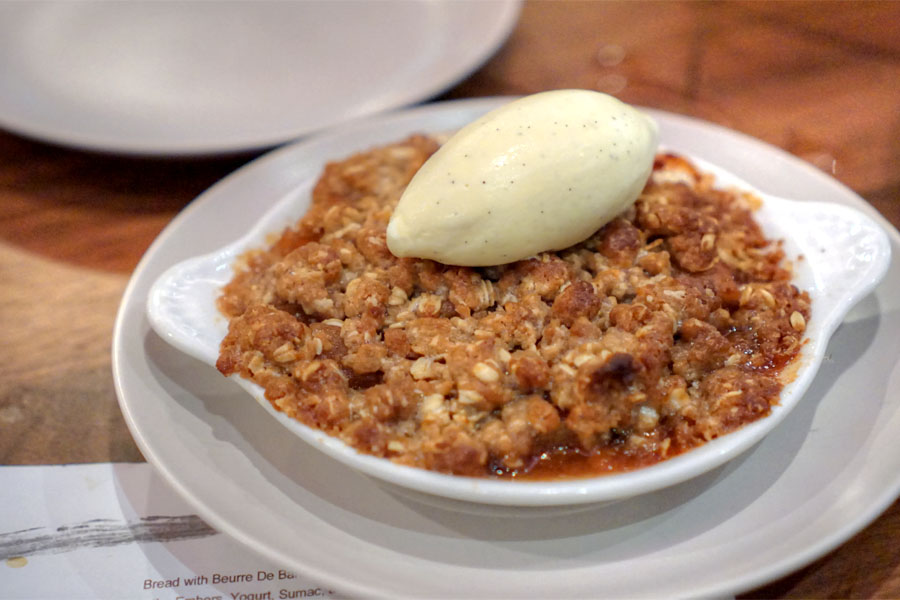 Apple "Cobbler", Vanilla Ice Cream [$12.50]
Rich apple flavor and just the right amount of sweet spice made Charcoal's take on the cobbler a winner. Yum.
Chocolate Peanut Butter Crunch Cake, with Valrhona Dulcey Chocolate Ice Cream [$12.50]
The cake also delivered, with lovely chocolate-y flavors perfectly matched with peanut butter. Excellent textures to boot.
The food met the mark for the most part, really making use of the advertised live fire cooking to serve up some satisfying, well-charred cuts of meat. I think the mains definitely shined here, so I'd actually like to see some of that robustness, that smoke, that char imbued more into some of the supporting dishes as well.