Cafe Birdie (Los Angeles, CA)
Cafe Birdie Restaurant
5631 N Figueroa St, Los Angeles, CA 90042
323.739.6928
www.cafebirdiela.com
Thu 11/17/2016, 07:55p-09:50p

One of the most notable Highland Park openings of the year has to be that of Cafe Birdie, which bowed on September 20th. The place is the work of Friends & Family Hospitality's Wade McElroy and Russell Malixi, the guys behind
Horse Thief BBQ
. For this casual-ish spot, they've partnered up with Chef Joey Booterbaugh, who formerly cooked at
The Hungry Cat
and Culver City's
East Borough
.

Cafe Birdie's situated at the address of the former Yoona Fashion, which happens to be just a couple doors down from Fashion 21 (the original outpost of the multibillion dollar fast fashion chain Forever 21). The 1920s era building has been spruced up by Sally Breer of
ETC.etera
, and has a sort of bistro-y vibe.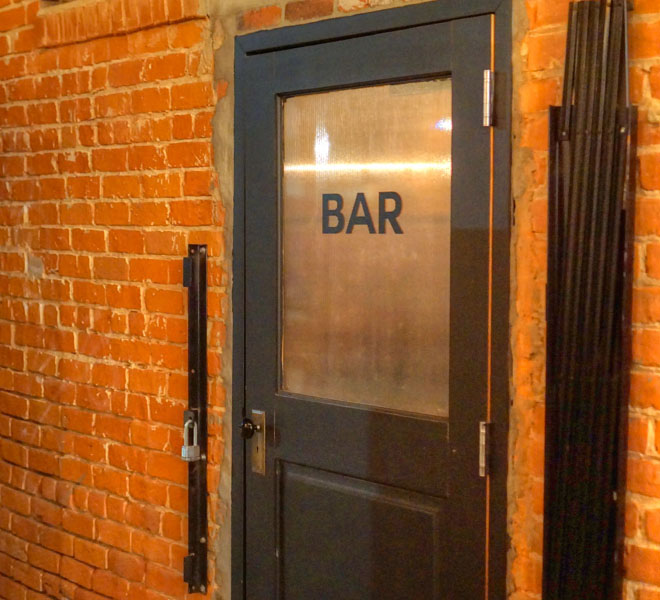 You'll find cozy outdoor seating in the back, as well as the entrance to the place's Good Housekeeping "speakeasy."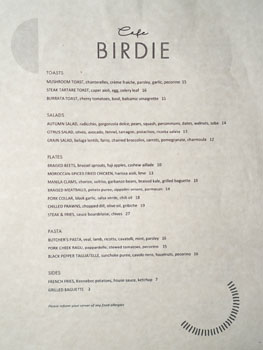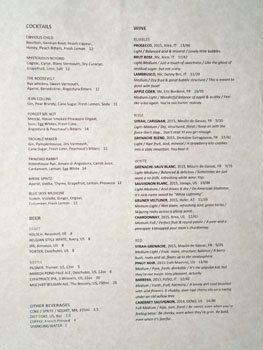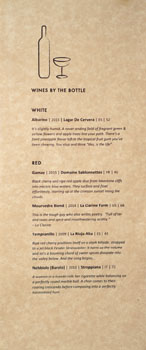 Menu-wise, you get pretty straightforward Cal-Med fare to go along with the
Courage & Craft
-created cocktail list. A handful of beers and a small wine list are also offered. Click for larger versions.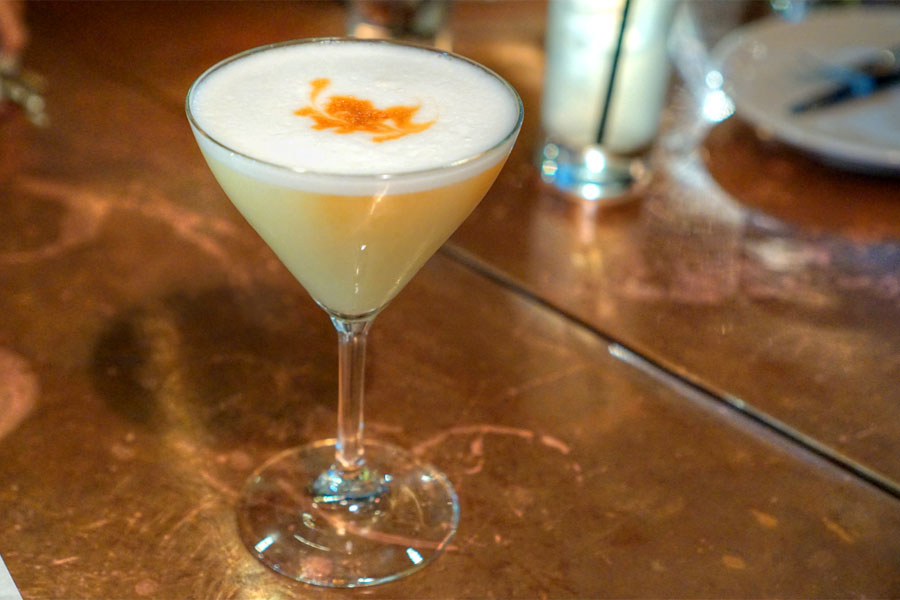 Forget Me Not [$14.00]
| Mezcal, House Smoked Pineapple Orgeat, Suze, Egg Whites, Fresh Lime, Angostura & Peychaud's Bitters
Given the cocktail-focused nature of this place, we made sure to try a number of 'em. My usual mezcal drink was a winner: smoke and spice on the nose, with a woody-to-tropical taste moderated by a touch of bitterness and the froth of egg white.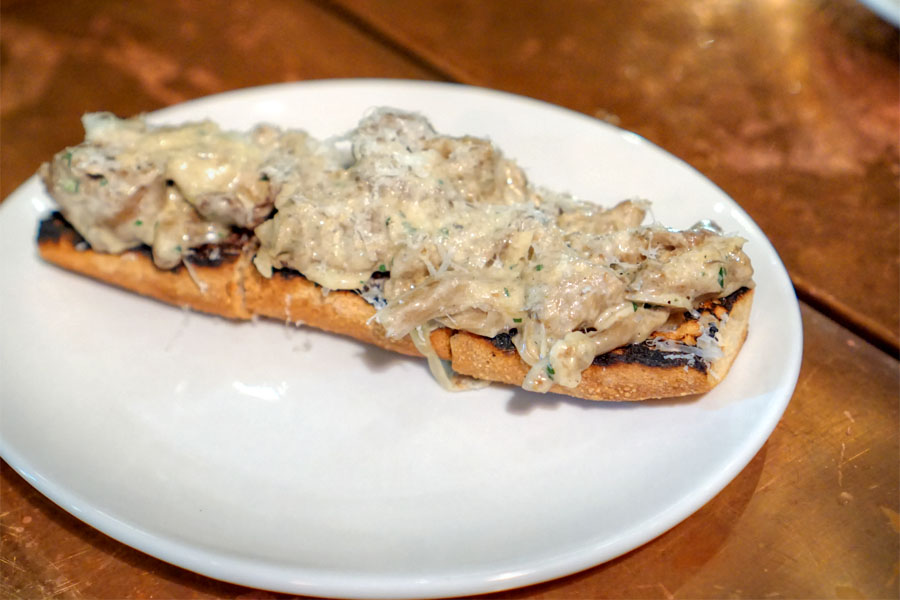 Mushroom Toast [$15.00]
| chanterelles, crème fraiche, parsley, garlic, pecorino
Mushrooms were woodsy yet lush, with a delightful herby accent, and paired easily with the smoky bread. One of my dining companions even commented that this would be great over pasta.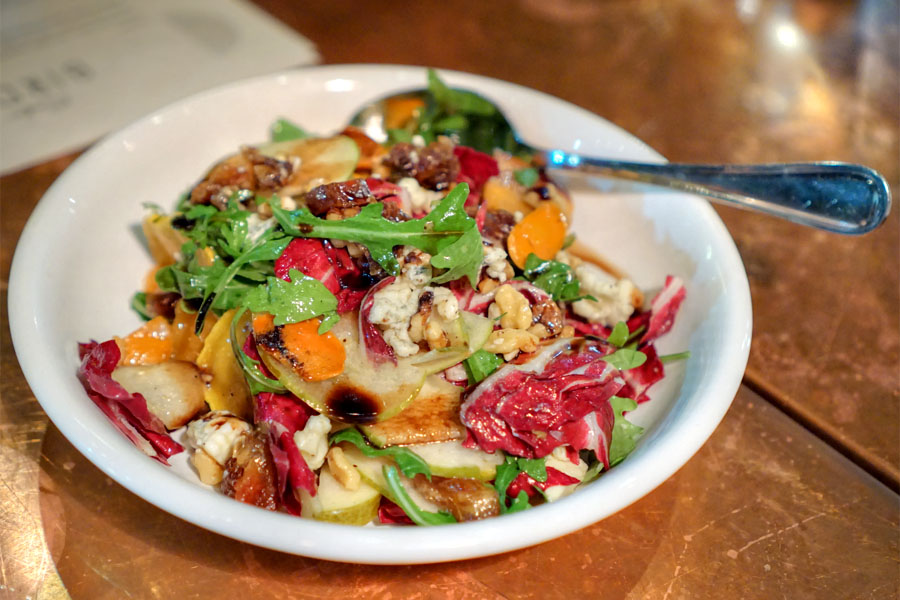 Autumn Salad [$14.00]
| radicchio, gorgonzola dolce, pears, squash, persimmons, dates, walnuts, saba
An autumnal salad made for a pleasant surprise. Some wonderfully nutty and fruity flavors here, evened out by the bitterness of the veggies while Gorgonzola added an undercurrent of funk.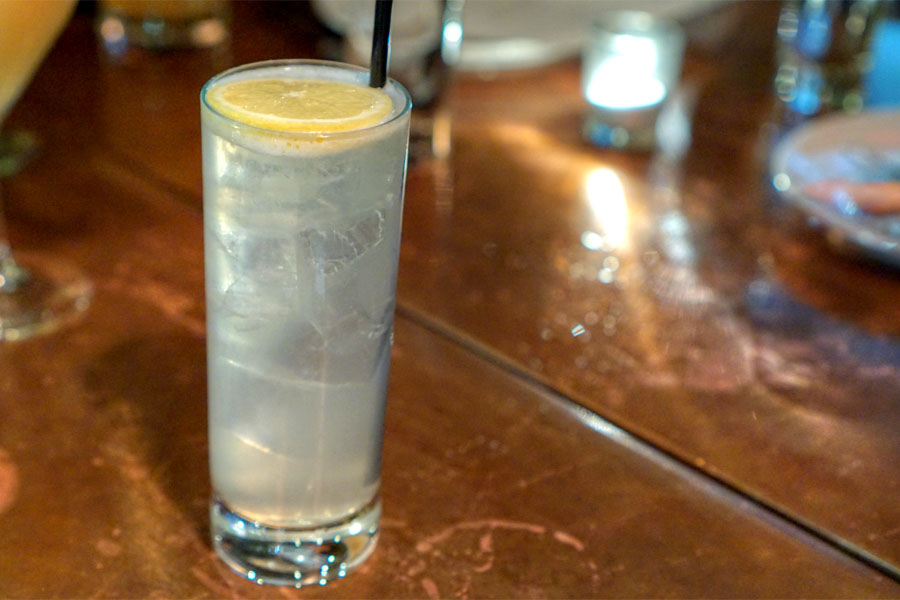 Jean Collins [$11.00]
| Gin, Pear Brandy, Cane Sugar, Fresh Lemon, Soda
This was our lightest cocktail of the night, with zesty pear flavors leading to a bitter-ish finish.
Moroccan-Spiced Fried Chicken [$13.00]
| harissa aioli, lime
Fried chicken arrived tender, moist, well-seasoned, and
sans
bone. Quite tasty alone, but perhaps a touch improved with a dab of aioli.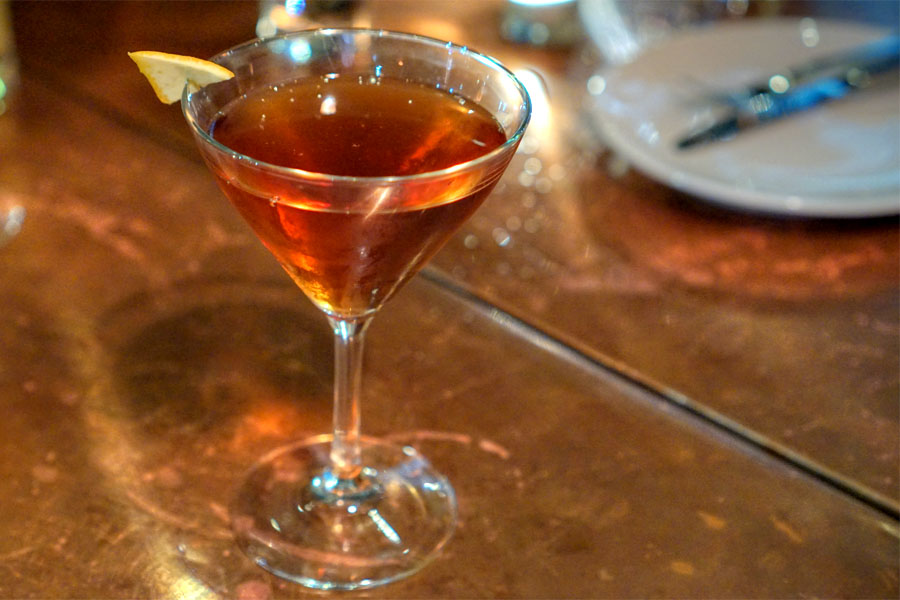 The Roosevelt [$12.00]
| Rye whiskey, Sweet Vermouth, Aperol, Benedictine, Angostura Bitters
This apparent Vieux Carré variation featured restrained aromas of dark fruit and rye spice, while its taste showed off more spice, herbs, and a lingering bittersweetness. One of my fellow drinkers did complain that the cocktail wasn't boozy enough though.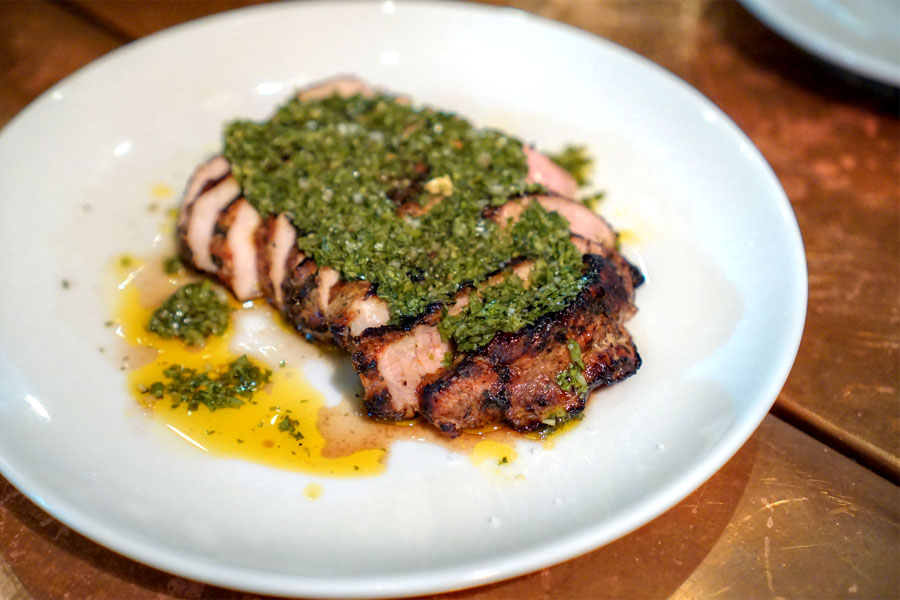 Pork Collar [$18.00]
| black garlic, salsa verde, chili oil
Not surprisingly, the collar was one of my favorites this evening. Think supple, juicy, flavorful, with a great smoky char and a well-placed zestiness from the salsa.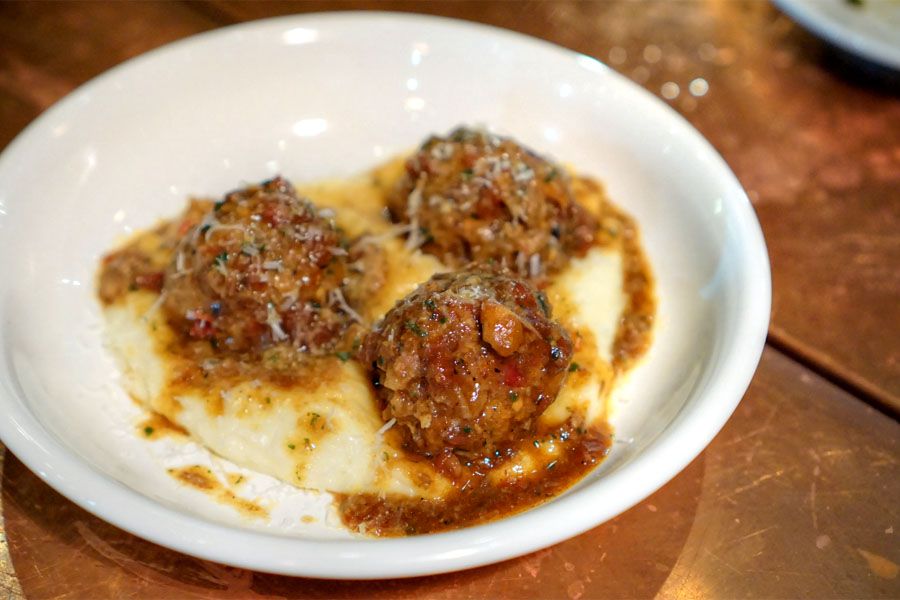 Braised Meatballs [$14.00]
| potato puree, cippolini onions, parmesan
Meatballs were super soft, super savory, with a homey sort of flavor profile that was nicely offset by the mashed potato.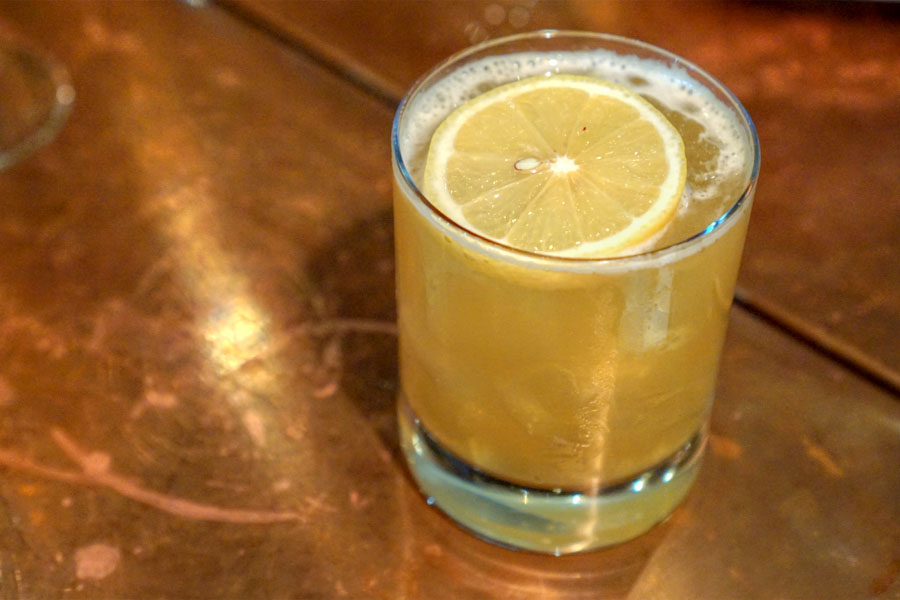 Obvious Child [$12.00]
| Bourbon, Gentian Root, Peach Liqueur, Honey, Peach Bitters, Fresh Lemon
The bourbon cocktail was light on the booze, but instead displayed a strong stone fruit presence leading to a countering bitterness on the close.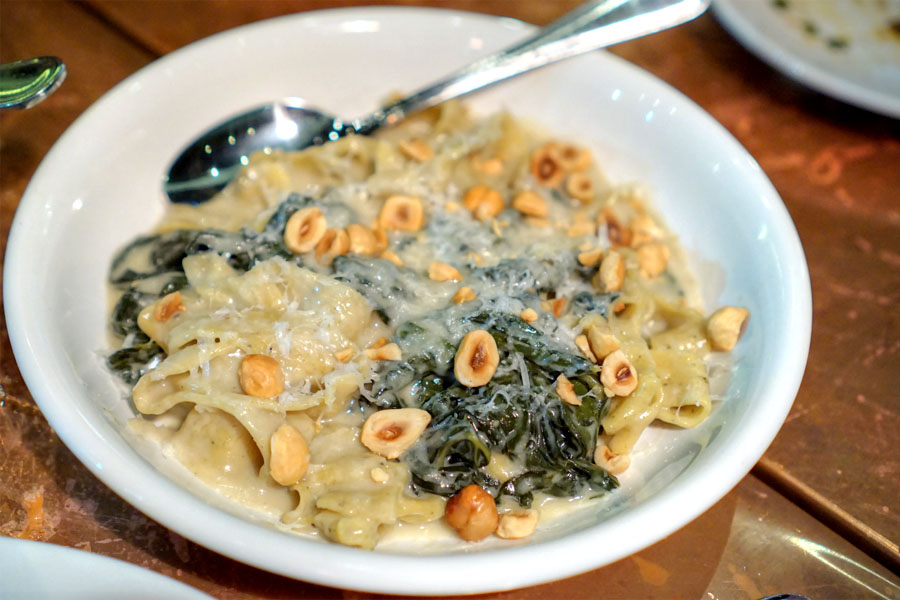 Black Pepper Tagliatelle [$16.00]
| sunchoke puree, cavolo nero, hazelnuts, pecorino
The tagliatelle ate cheesy and vegetal, with a nutty crunch, though several of us at the table thought that it was lacking "oomph," like a sort of brightness or acidity to lift it.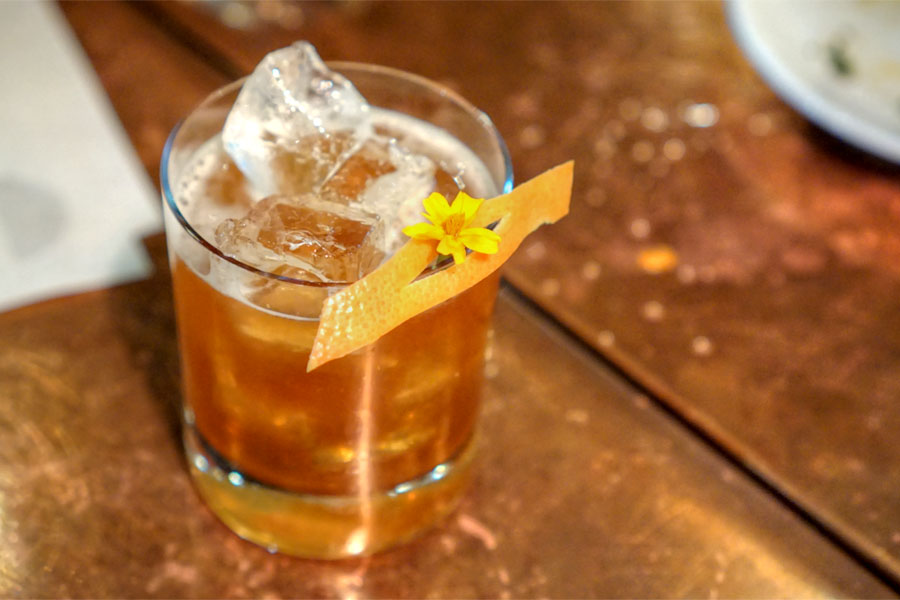 Mysterious Beyond [$12.00]
| Cognac, Cynar, Blanc Vermouth, Dry Curacao, Grapefruit, Lime, Salt
This was one of my favs tonight. I found it delightfully refreshing, but also bittersweet, herbal, and with an almost oxidative sort of edge.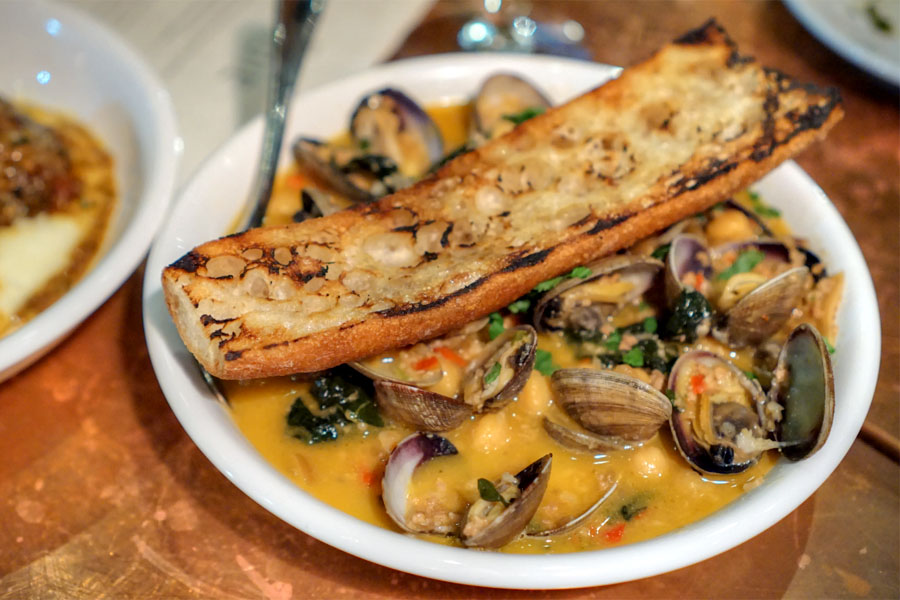 Manila Clams [$19.00]
| chorizo, sofrito, garbanzo beans, braised kale, grilled baguette
Clams were another standout thanks to their chorizo-fueled spice. I was also a fan of the garbanzos, and how they grounded the dish and provided texture. Great bitterness from the greens, too.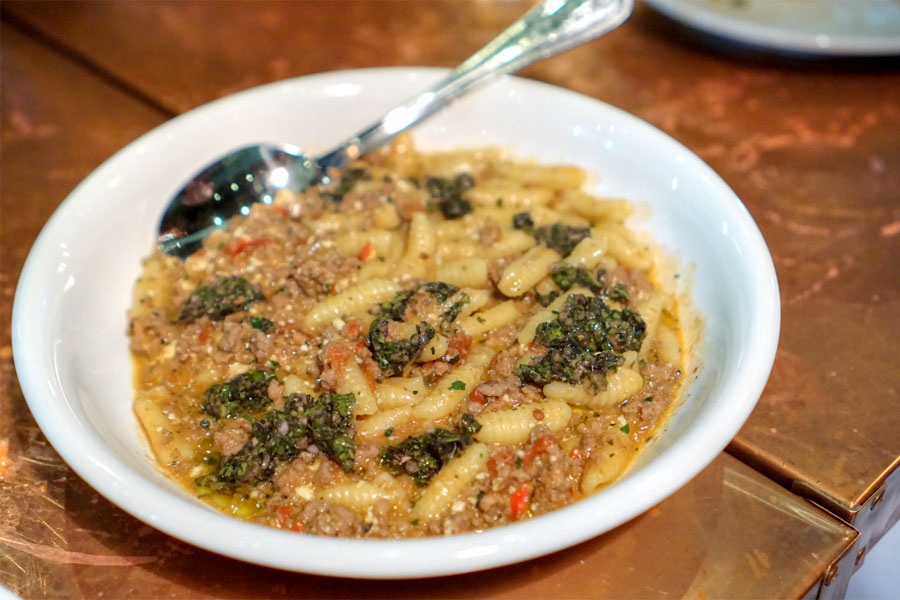 Butcher's Pasta [$16.00]
| veal, lamb, ricotta, cavatelli, mint, parsley
Shells of cavatelli were satisfying to the bite, working as an effective base for the robust flavors in the pasta. I appreciated the balancing astringency from the greenery as well.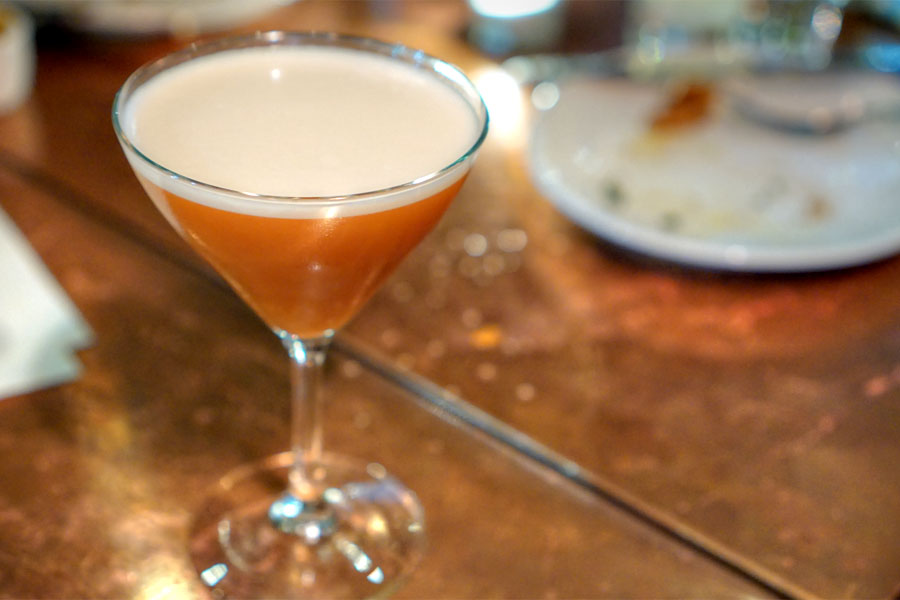 Trinidad Rabbit [$14.00]
| Rittenhouse Rye, Amaro di Angostura, Carrot Juice, Cardamom, Lemon, Egg White
Loads of sweet spice both in terms of aromas and taste, with the palate finishing with a touch of lingering bitterness and citrus.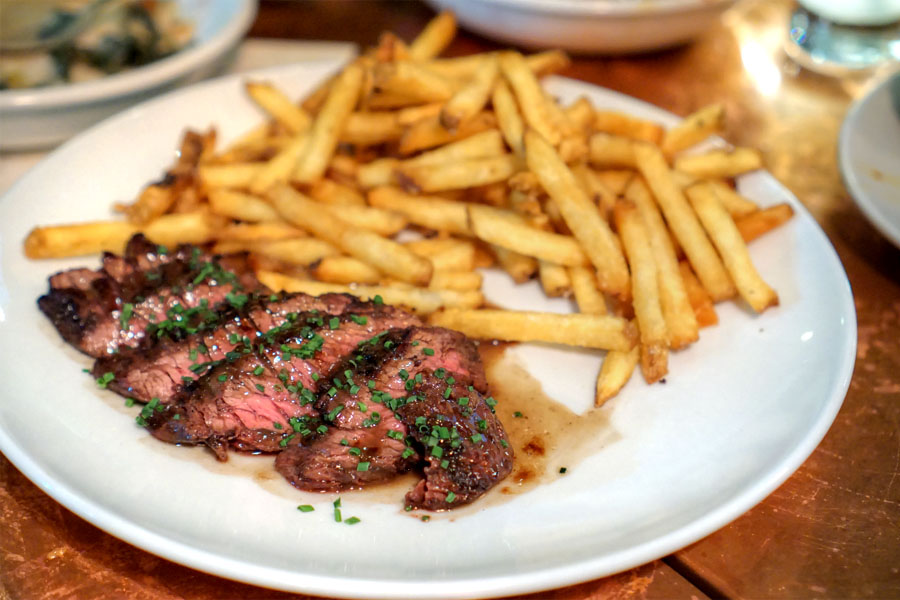 Steak & Fries [$27.00]
| sauce bordelaise, chives
Well-seared hanger steak made for a tender, flavorful rendition of the classic dish, though unfortunately the fries were definitely on the overly-firm side.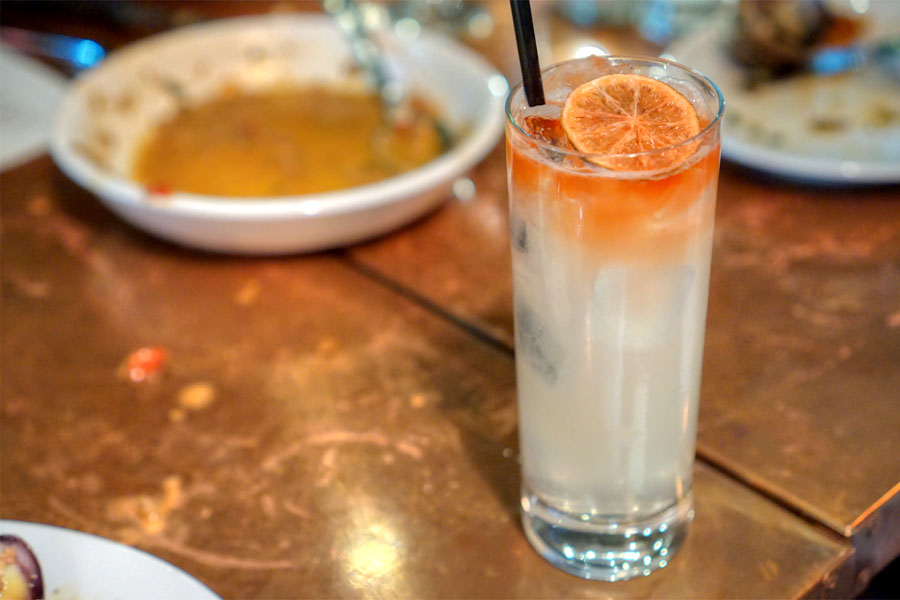 Trouble Maker [$11.00]
| Gin, Pamplemousse, Dry Vermouth, Cane Sugar, Fresh Lime, Peychaud's Bitters
Our final cocktail was on the easier-drinking side, conveying bittersweet, citrus, and spice notes with an overarching sourness.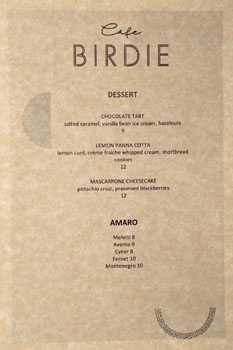 Desserts are expectedly uncomplicated. Click for a larger version.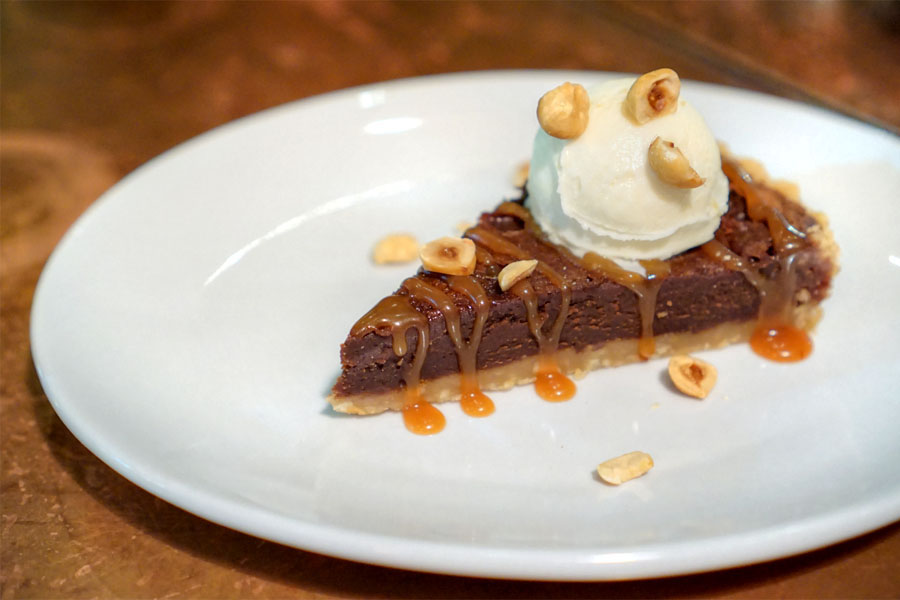 Chocolate Tart [$9.00]
| salted caramel, vanilla bean ice cream, hazelnuts
A chocolate tart was tasty, its classically sweet flavors augmented by nuances of coffee and smoke. Nice hit of saltiness from the hazelnuts, too.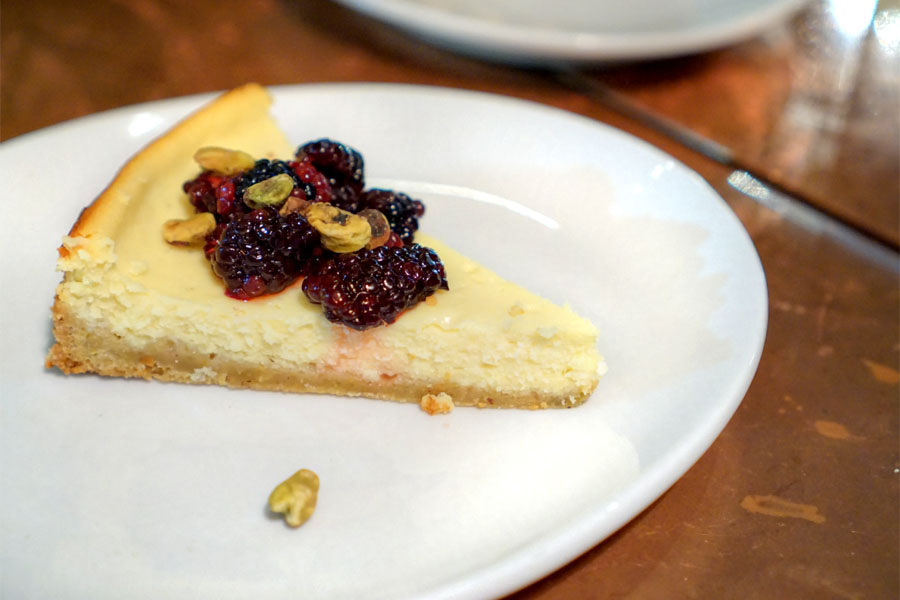 Mascarpone Cheesecake [$12.00]
| pistachio crust, preserved blackberries
We also enjoyed the cheesecake, a fairly traditional rendition with contrasting flavors from the tart fruit and nutty, sweet crust.
I think Malixi and McElroy were largely successful in creating a casual, neighborhood-y restaurant with a solid cocktail program. Birdie seems to fit the area well, and I'm sure a lot of locals have been wanting a place like this for a while. And regarding what's next for the team, the guys are teaming up with Chef Booterbaugh once again for Bar Angeles in Silver Lake, which should drop at the start of 2017.