Republique (Los Angeles, CA) [2]
République Restaurant
624 S La Brea Ave, Los Angeles, CA 90036
310.362.6115
www.republiquela.com
Thu 02/23/2017, 08:30p-12:50a

Since debuting over three years ago, Walter and Margarita Manzke's
République
has firmly established itself as one of the mainstays of the LA dining scene, known for its elevated bistro fare served in an iconic location. Even back in 2013, I was curious about the possibility of a tasting menu option here, which was initially teased to be coming soon in the back dining room. However, it was only relatively recently that I found out that said degustations were actually an option, and thus I figured that a revisit was in order.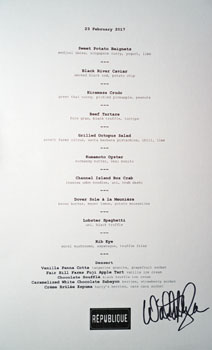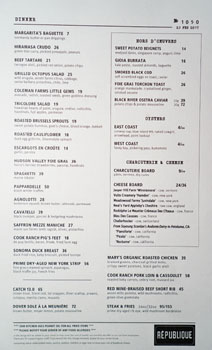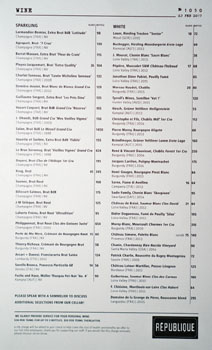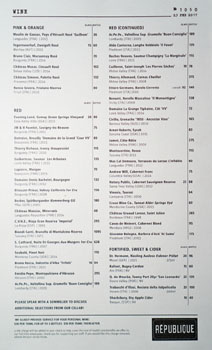 The evening's tasting menu is shown in the first photo above. Prices range from $160 to $300 a head, and we ended up going with a $200, 11-course option, set in the semi-private Alcove dining room. I've also included the regular menu for reference, as well as the wine, cocktail, and beer selections. Note that the wine list only represents a small fraction of the restaurant's total collection, which is now managed by
Spago
alum and new Wine Director Maria Garcia (who replaces the longstanding Taylor Parsons). Click for larger versions.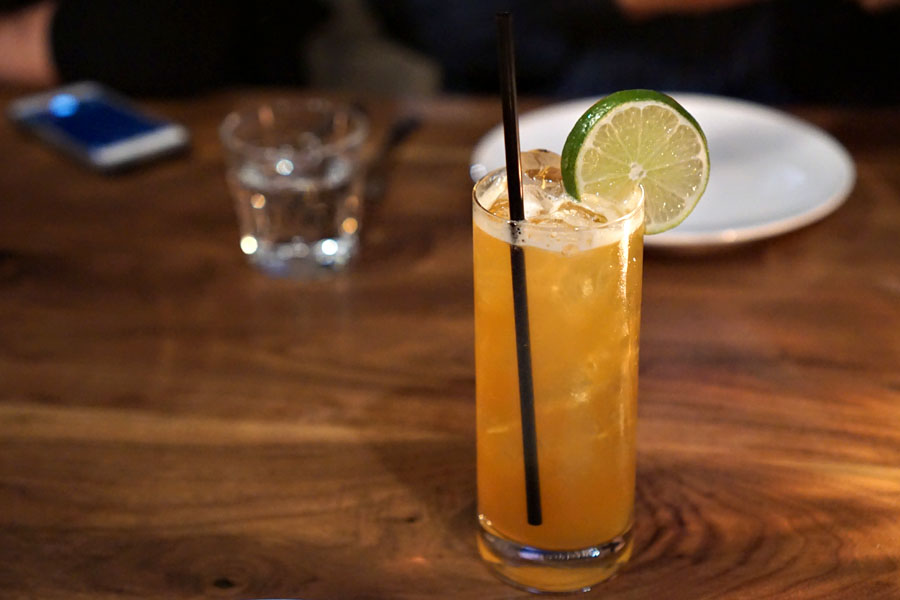 Industry Collins [$14.00]
| fernet, green chartreuse, lime, soda
Drink-wise, we ended up starting with a selection of most every cocktail on the list. First was this refreshing number, one that showed off the bittersweet, herbal nature of the Chartreuse before finishing strong with the licorice-tinged kick of fernet.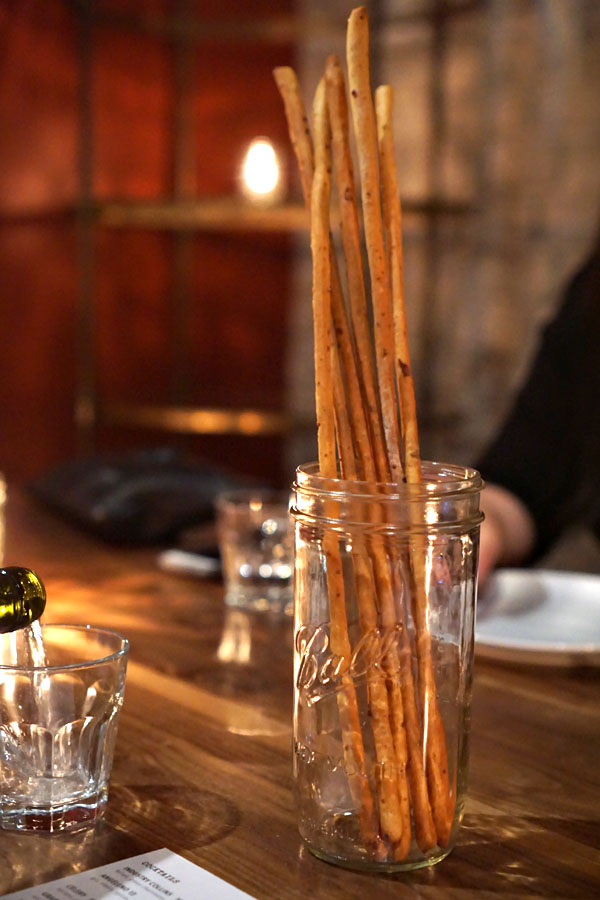 The
grissini
were among the lengthiest and crunchiest I've encountered, and strangely addictive with their lingering, caraway-like spiciness.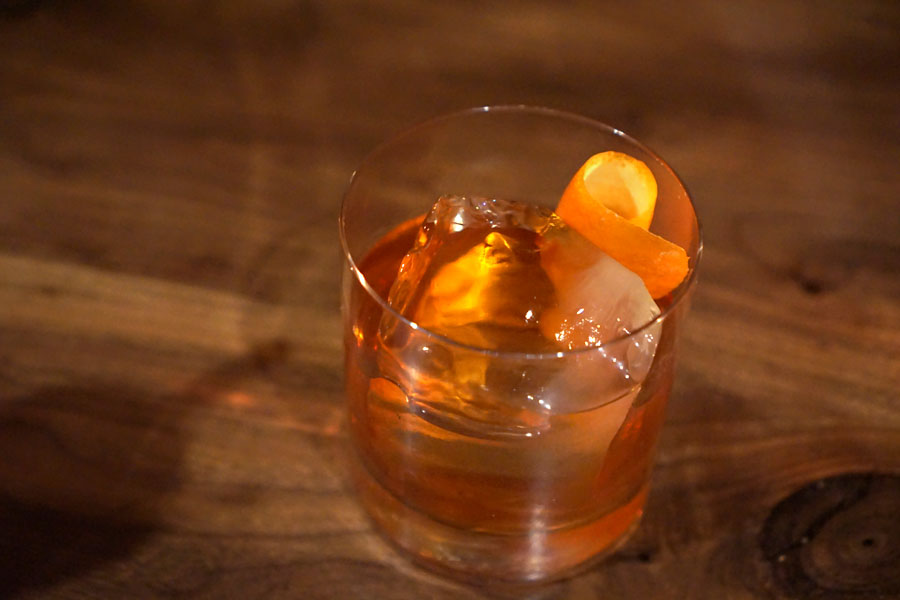 House Old Fashioned [$15.00]
| bourbon, angostura, orange
Republique's version of the very first cocktail certainly worked for us. Great nose filled with citrus and some sweet, almost caramel-like notes. Taste-wise, we got sweetness and spice backed by the requisite bitterness and booze.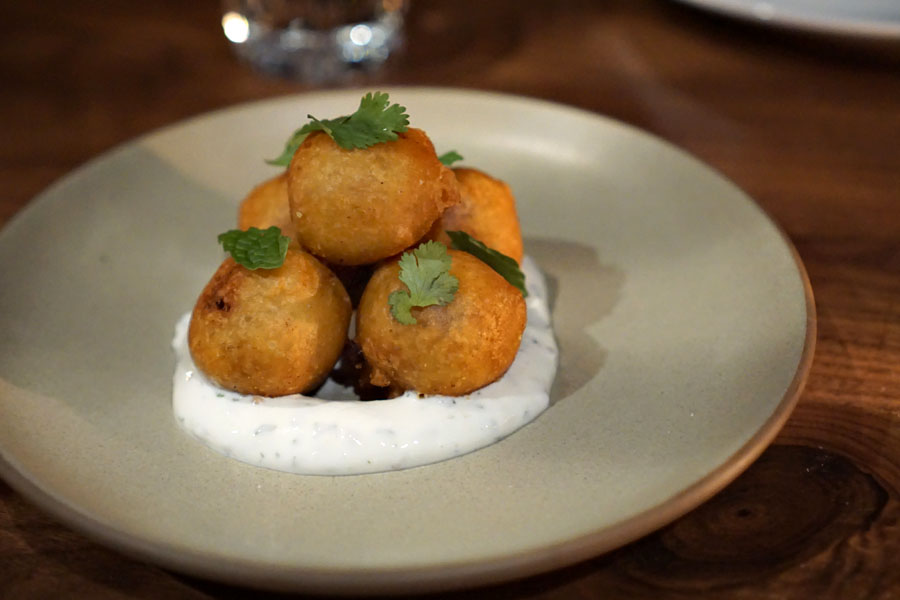 1: Sweet Potato Beignets
| medjool dates, singapore curry, yogurt, lime
Beignets made for our first proper bites of the meal. I found them homey and hearty, with plenty of Southeast Asian spice up front leading to the sweetness of the dates on the back end. Yogurt, meanwhile, provided a lightness to the dish.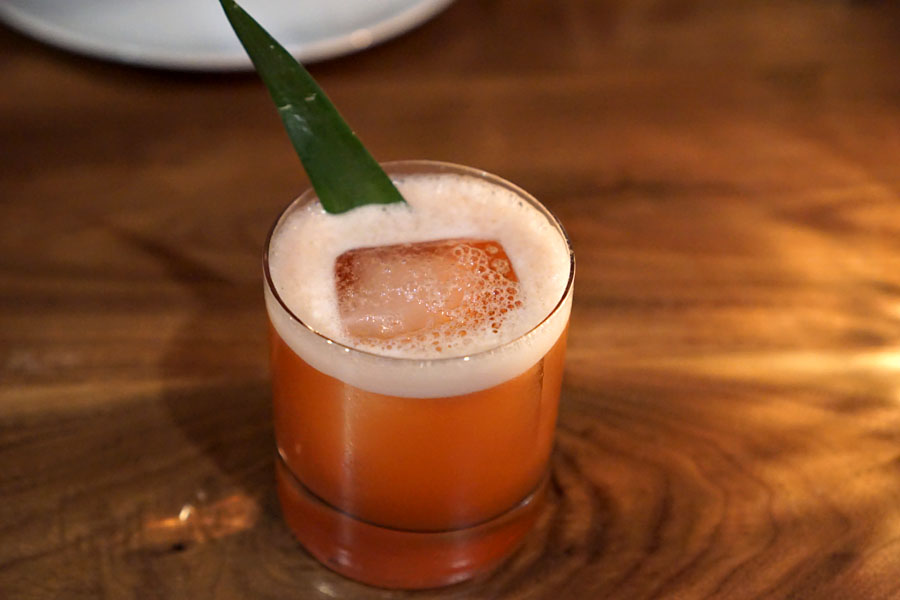 Jungle Bird [$14.00]
| house rum blend, campari, pineapple, lime
This tiki-ish cocktail was certainly on the viscous side, and showed off plenty of sweet spice and dark, tropical fruit, along with a touch of countering smoke and a bitterness from the Campari.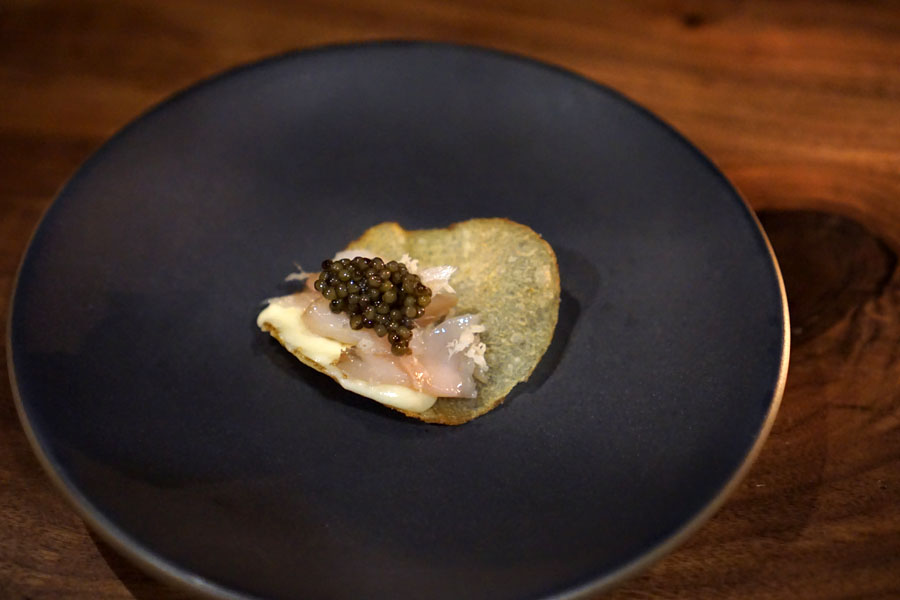 2: Black River Caviar
| smoked black cod, potato chip
A canapé featuring Ossetra caviar was superb with its balance of salty and creamy flavors, crunch, and lingering smoke from the cod. I wanted to eat about nine more of these.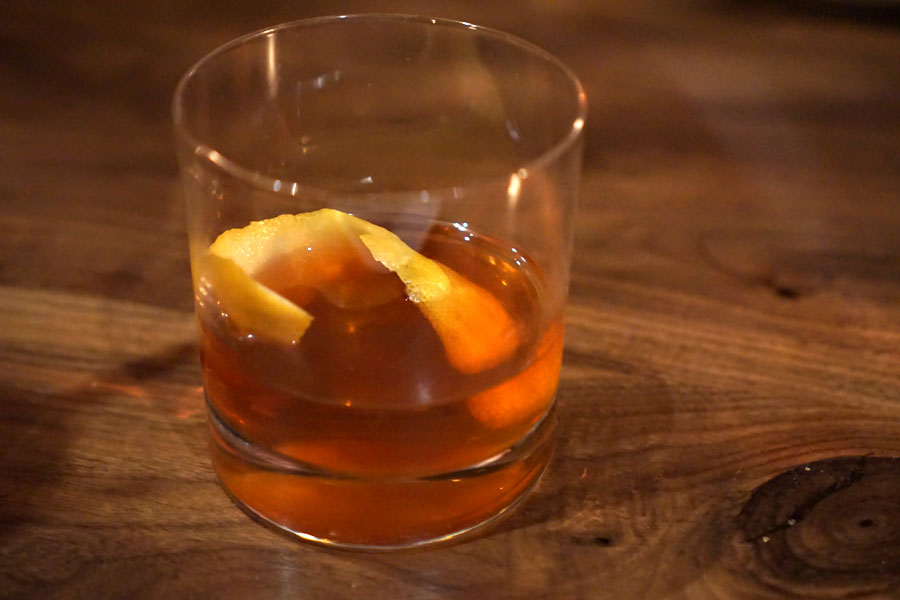 Sazerac [$15.00]
| rye, cognac, absinthe, bitters
The Sazerac was one of our favorites tonight. Fantastic nose filled with citrus, herbs, and the zip of absinthe. The palate was round, soft, with a distinct bitterness to pair with the weightiness of the spirits.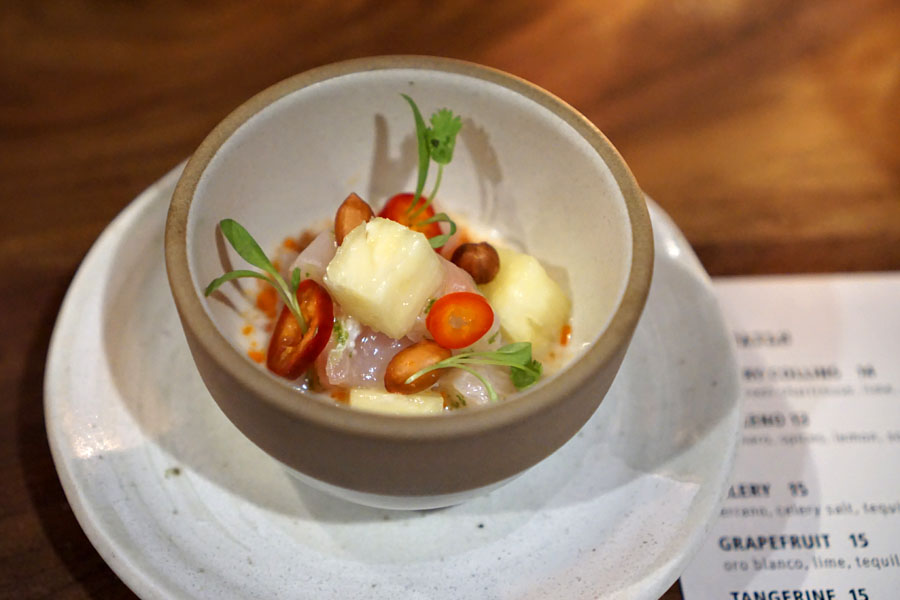 3: Hiramasa Crudo
| green thai curry, pickled pineapple, peanuts
Yellowtail amberjack made for an excellent crudo. The clean cuts of fish paired swimmingly with cubes of tart pineapple, crunchy peanut, and the slow, sweet burn of the curry and Fresno peppers.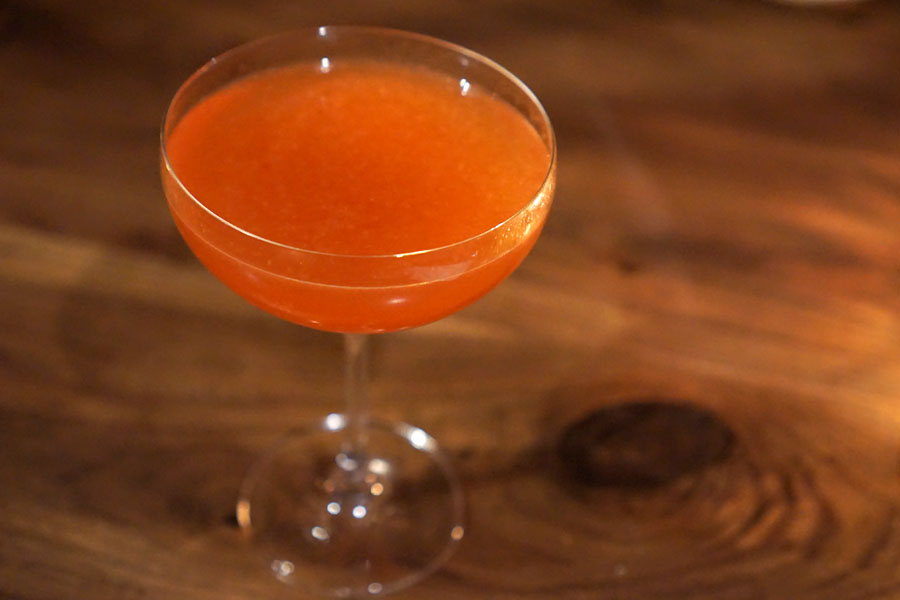 Tangerine [$15.00]
| lemon, cacao, campari, mezcal
This tangerine-focused cocktail gave up a citrusy sweetness augmented by notes of chocolate, while a foundation of smoky mezcal provided a necessary counterpoint. The finish, meanwhile, went surprisingly candied in nature.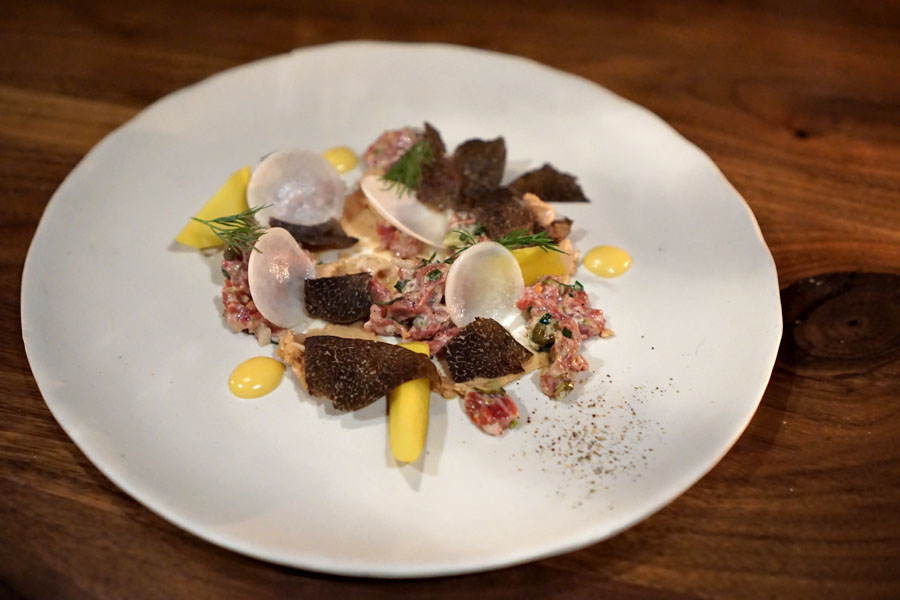 4: Beef Tartare
| foie gras, black truffle, turnips
Manzke's take on tartare was undoubtedly a table favorite. The richness of the foie meshed beautifully with springy cuts of beef, while heady aromas of truffle enveloped the entire dish. This was certainly luxurious, but it never felt excessive thanks to the crunch of the turnips and the tangy, mustard-y notes present. One of the top tartars I've had I'd say.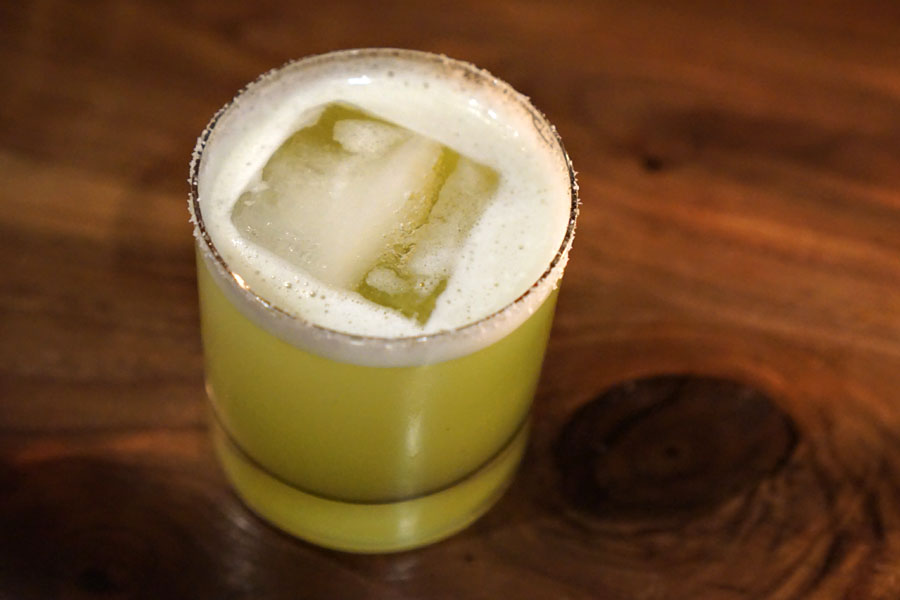 Celery [$15.00]
| serrano, celery salt, tequila
This next cocktail was likened to a mash-up of a Bloody Mary and a margarita. Think strong, spicy, salty flavors with a vegetal bent, all layered over a base of tequila.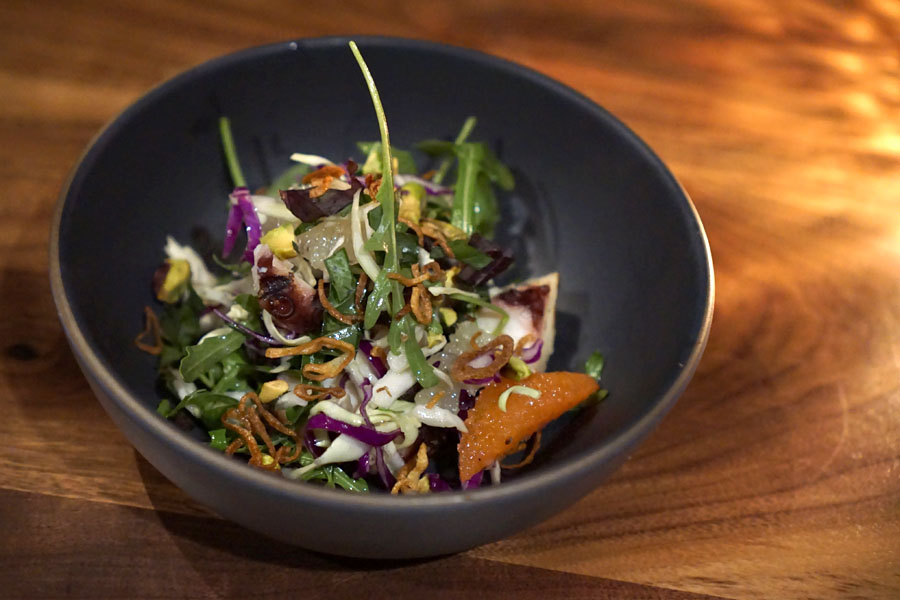 5: Grilled Octopus Salad
| arnett farms citrus, santa barbara pistachios, chili, lime
This salad was another winner. The octo itself ate very tender, and paired flawlessly with an almost fish sauce-like piquancy from the chili-lime vin and the savoriness of those shallots. Meanwhile, arugula brought a necessary bitterness to the dish, and I appreciated the tartness from the citrus as well. Great textural element from the pistachios to boot.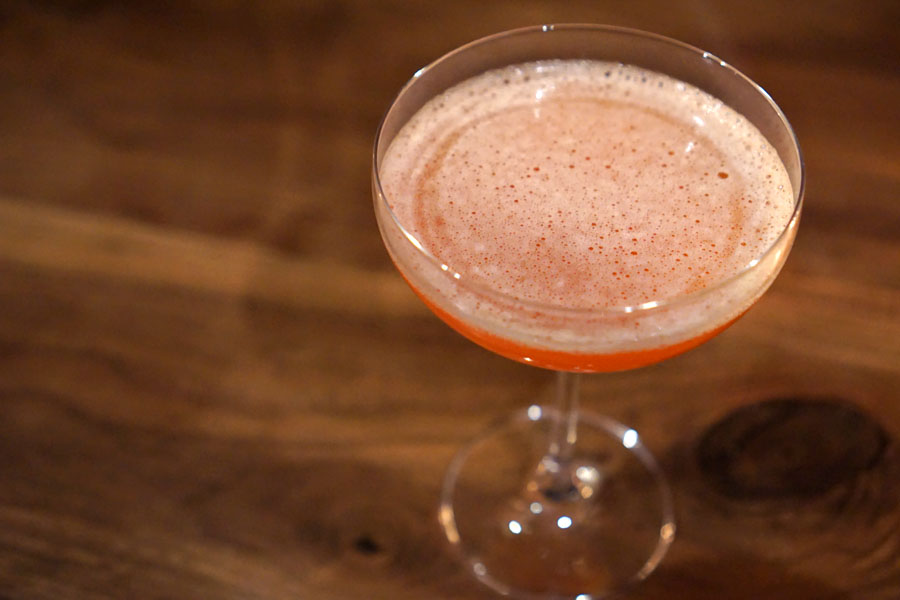 Paper Plane [$15.00]
| bourbon, aperol, nonino, lemon
Our final cocktail was this modern classic from none other than Sam Ross. Here, the Aperol definitely shined, as did the bitter, herbal taste of the amaro, both elements balanced by tart lemon and soft notes of bourbon.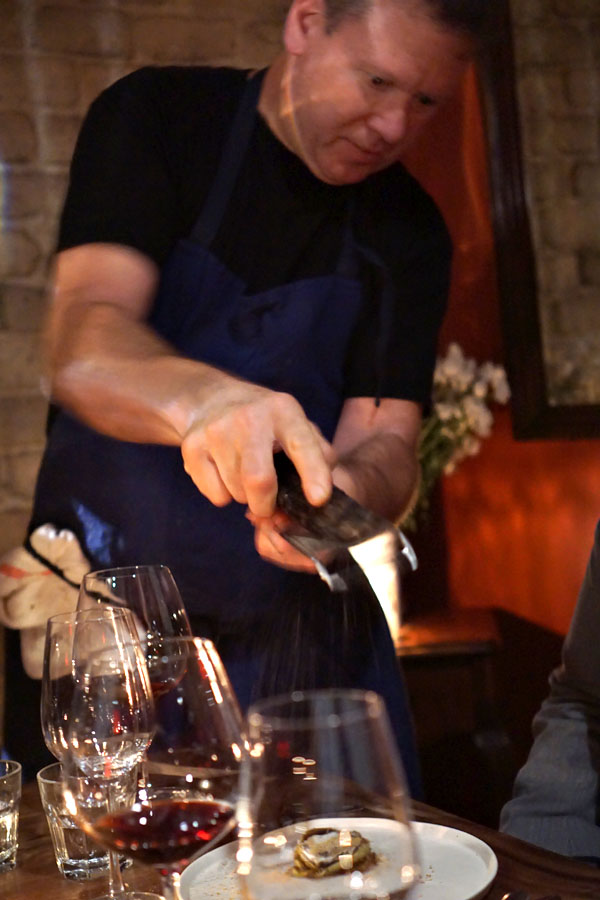 Chef Walter Manzke himself, shaving away for our next course.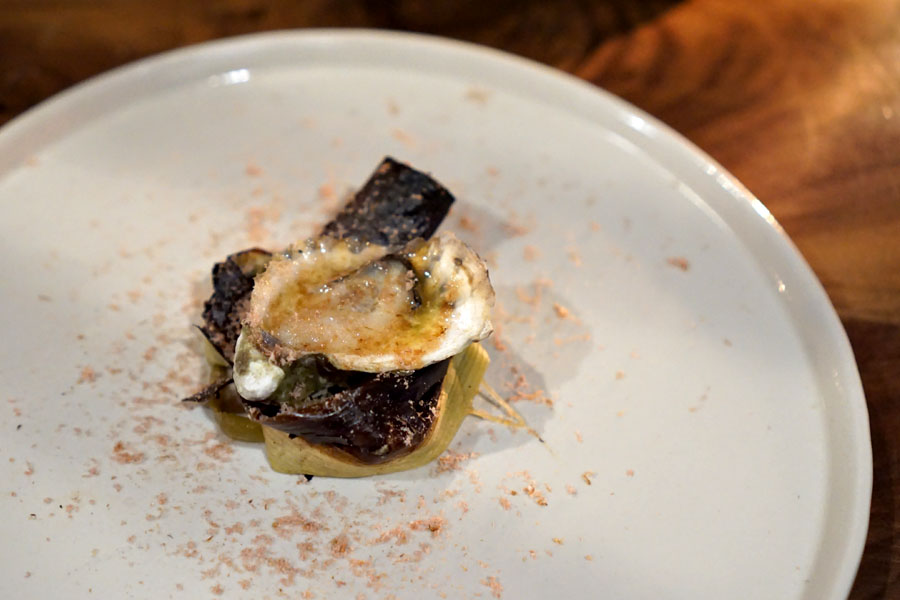 6: Kumamoto Oyster
| normandy butter, veal bonito
A lone Kumamoto was done justice here, its brine bouncing back and forth with the richness of the
beurre
in wonderful fashion. Finishing things off was that "bonito," a play on
katsuobushi
involving smoked and dehydrated veal tenderloin. It had a beef jerky-esque character to it that definitely added a salty exclamation point to the oyster.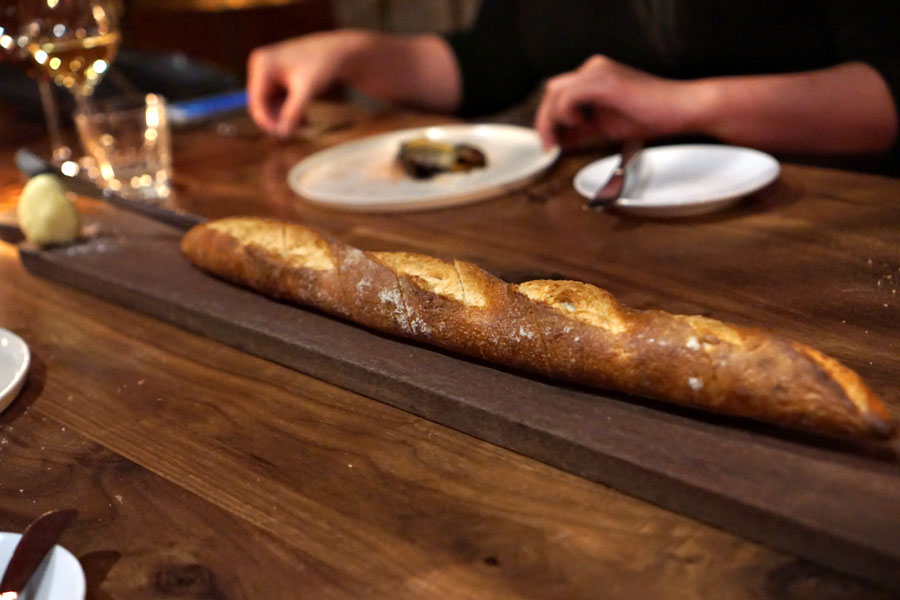 Accompanying the previous course was a fantastically warm, crusty baguette, matched with a perfect salty-sweet butter.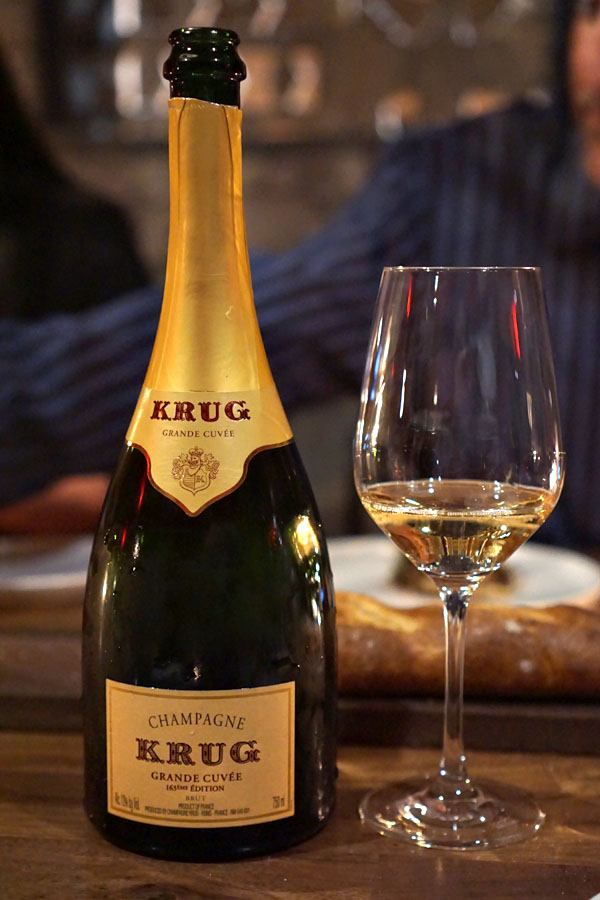 We'd brought along a bottle of
NV Krug Champagne Brut Grande Cuvée 163eme Édition
to drink (corkage was $30), a relatively new bottling disgorged at the end of 2014 and featuring a dozen vintages from 1990 to 2007. The nose was what you'd expect, bringing tart apple and plenty of toast. Taste-wise, I got more of that signature Krug breadiness, tart citrus, and minerality, all in a crisp, fresh, very young-drinking package.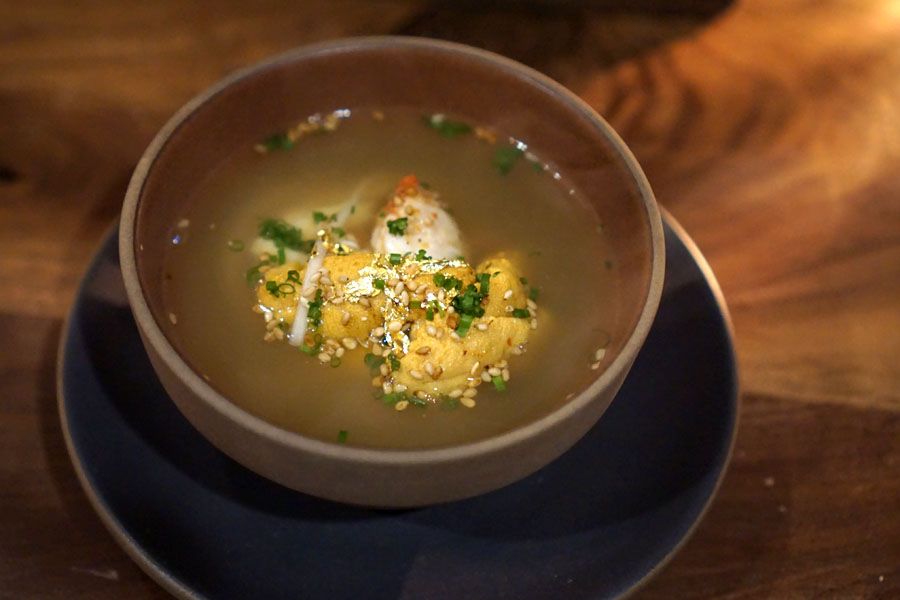 7: Channel Island Box Crab
| inaniwa udon noodles, uni, crab dashi
This was another standout for us. I loved the intensely briny bouquet of the course, which must've been the result of the crab bone dashi used. It led to a marriage of sweet crab and even sweeter urchin that was evened out by a persistent bitterness and the nuttiness of the sesame, all while thin strands of udon provided some textural variation. Manzke was quick to point out that the box crab (which I'd never tried before) was provided by
Dock to Dish
, an organization that connects local fishermen to member restaurants, whichi then receive regular deliveries of wild-caught seafood. Here in Southern California, the effort was spearheaded by none other than
Michael Cimarusti
.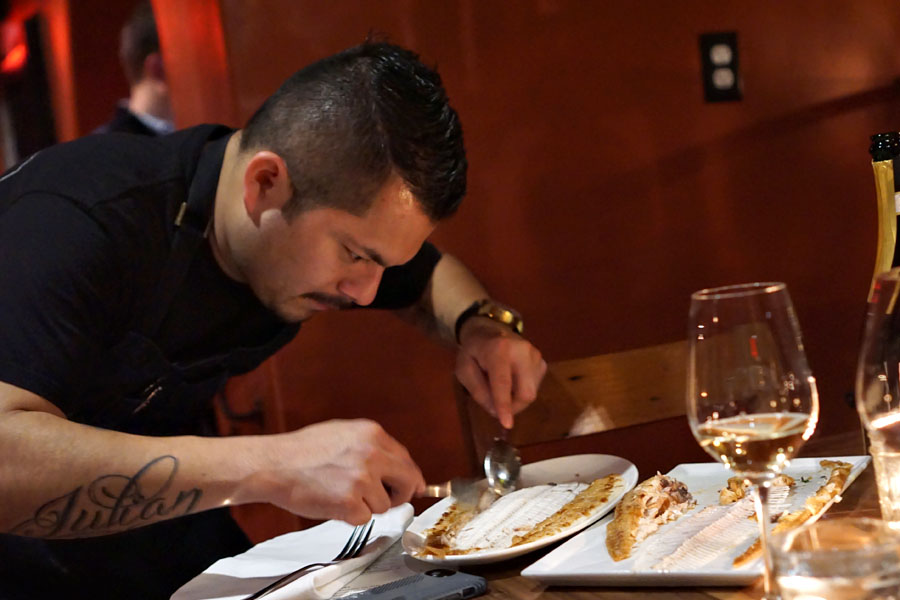 Our next course was plated tableside, which was a nice touch and something you don't encounter all too often these days.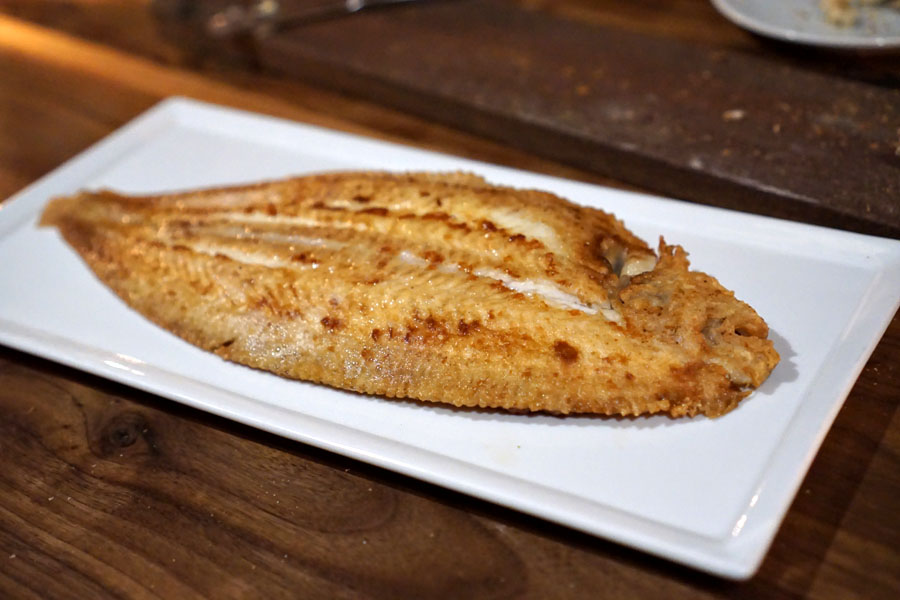 8: Dover Sole à la Meunière
| brown butter, meyer lemon, potato mousseline
Here we had an utterly classic rendition of sole meunière. The fish itself was pretty much flawless, arriving at the table wonderfully moist and tender, with a delicate flavor that really worked as a stage for the butteriness of the accompanying sauce.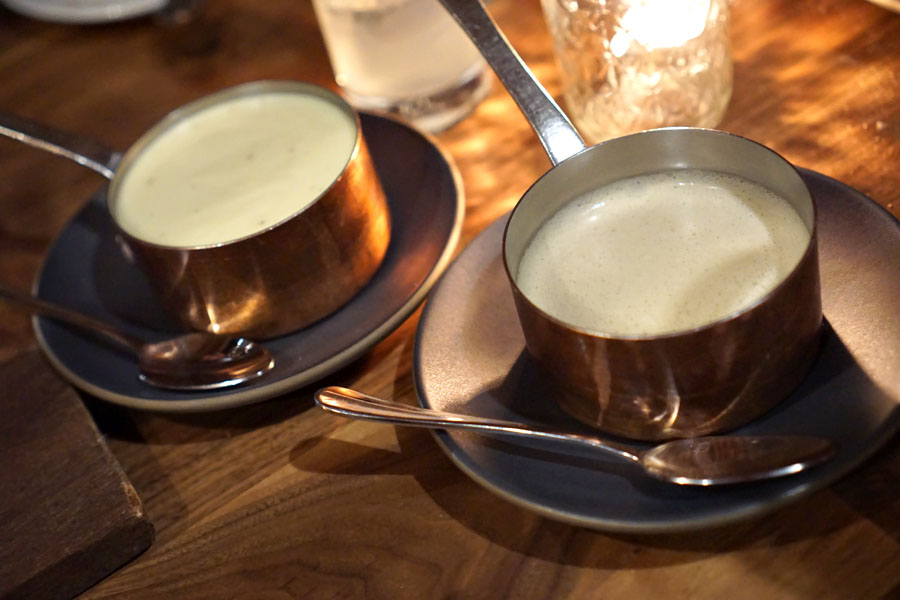 In addition to the
beurre noisette
, the sole came with quite possibly the creamiest, most luxurious rendition of mashed potatoes I've ever had.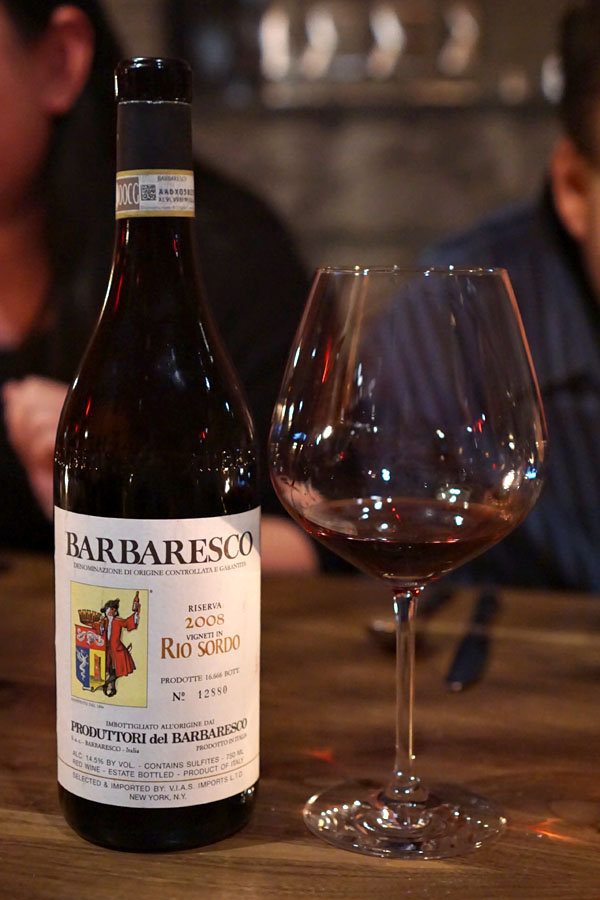 One of my dining companions had initially wanted a Nebbiolo off the wine list, but Garcia expertly recommended the off-menu
2008 Produttori del Barbaresco Barbaresco Riserva Rio Sordo [$165]
in its stead. I was taken aback at how explosive the nose was, filled with huge, perfume-y notes of strawberry and a trace of spice. In terms of the palate, the fruit seemed a bit more restrained, and thus we got some peppery, tannic elements that were proudly on display. A great choice.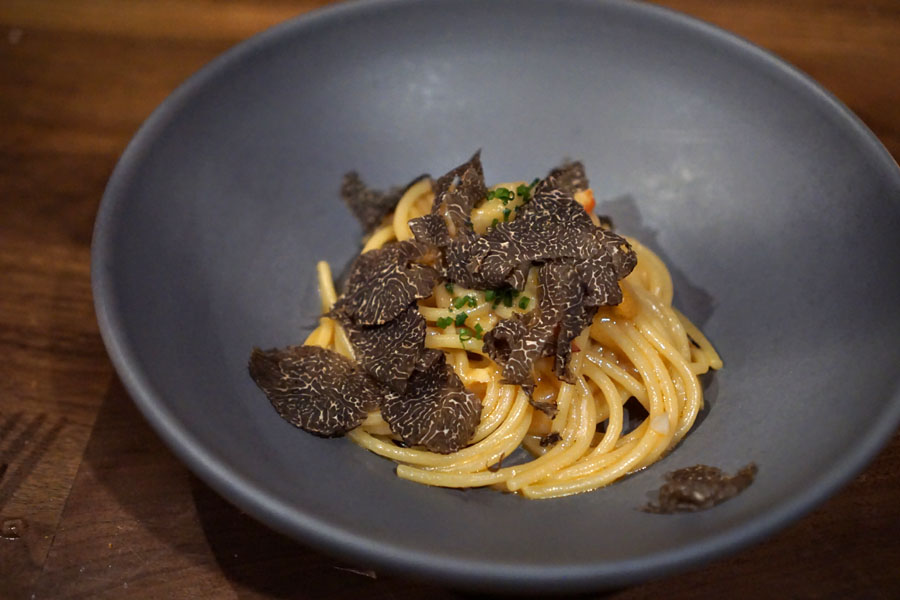 9: Lobster Spaghetti
| uni, black truffle
The night's pasta course was pretty stupendous. The sweet brine of the roe definitely heightened the already luxurious nature of the lobster, while truffles added an unmistakable muskiness. We can't forget about the spaghetti either, and its perfectly textured strands that formed a fitting base to the dish. I wanted a bigger bowl of the stuff.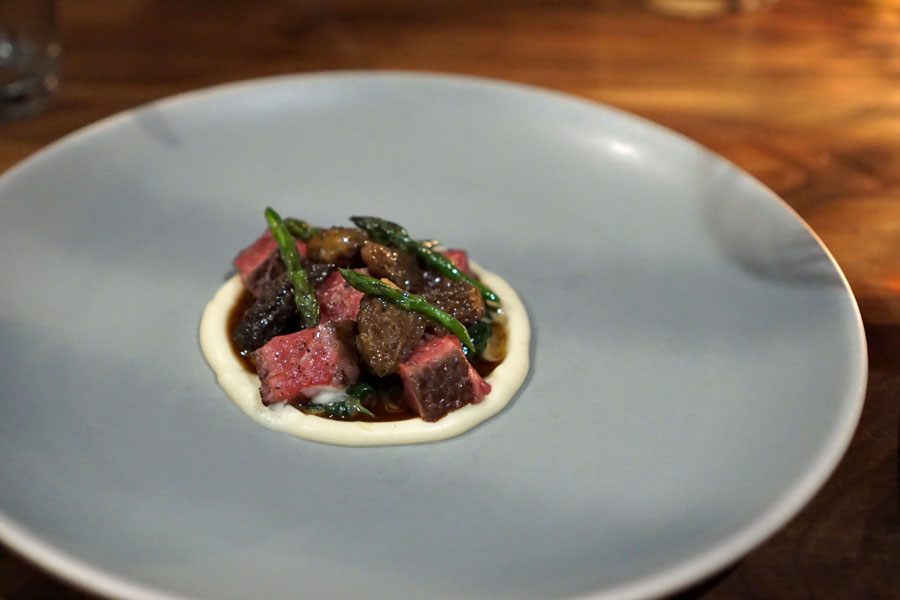 10: Rib Eye
| morel mushrooms, asparagus, truffle fries
Our final savory comprised a dry-aged ribeye. I found it some of the most flavorful steak I've had in recent times, and that's without the extra earthiness imparted by those morels. Asparagus, meanwhile, provided a bitterness that was crucial in maintaining balance in the course.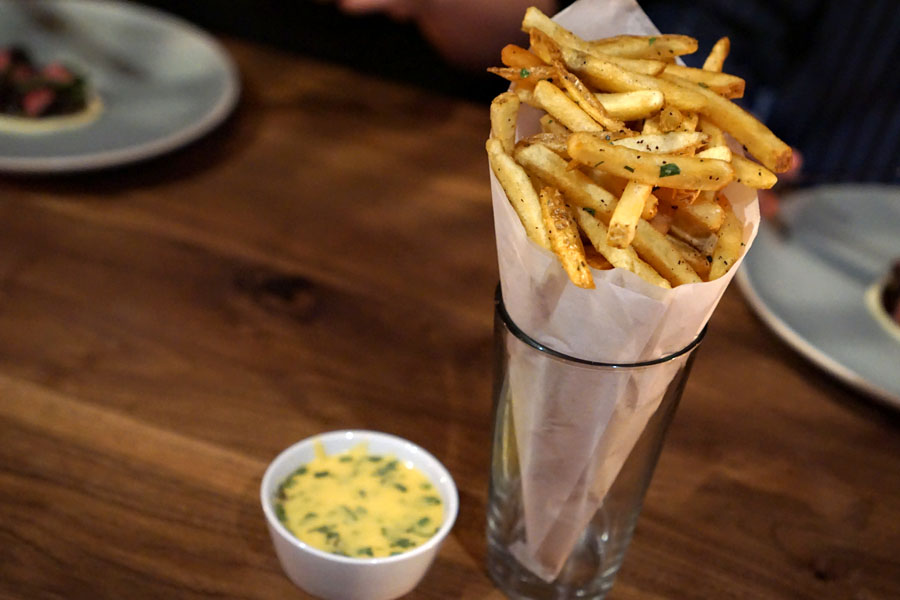 Frites
were a natural accoutrement to the beef, and were super crispy (triple-fried apparently), with an herby taste accented by just a whisper of truffle. Good either with or without the included béarnaise.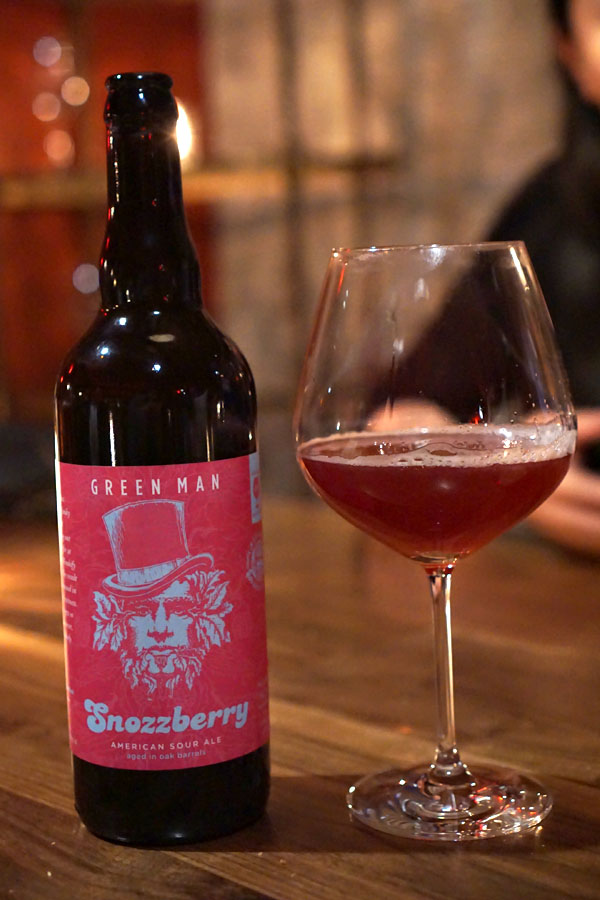 Our final beverage was the
2016 Green Man Snozzberry
, a fruited, sour, lambic-inspired blonde wheat ale fermented with wild yeast and aged in French oak for 18 months. Appealing aromas of jammy-yet-tart red fruit paired with a smidge of lactic funk. The palate continued on with the tartness, but also conveyed a mixture of raspberry and strawberry flavors intertwined with more funk and some oak.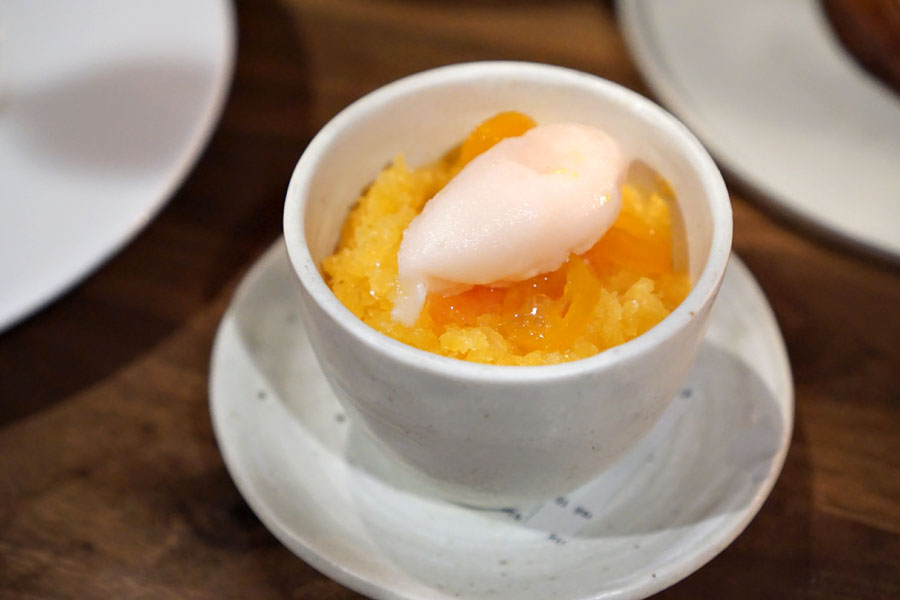 11a: Vanilla Panna Cotta
| tangerine granite, grapefruit sorbet
Time for a parade of Marge's desserts. In our first, super bright, tangy, almost bracing elements of citrus worked as a counterpoint to the comparatively mild, yet very vanilla-focused panna cotta.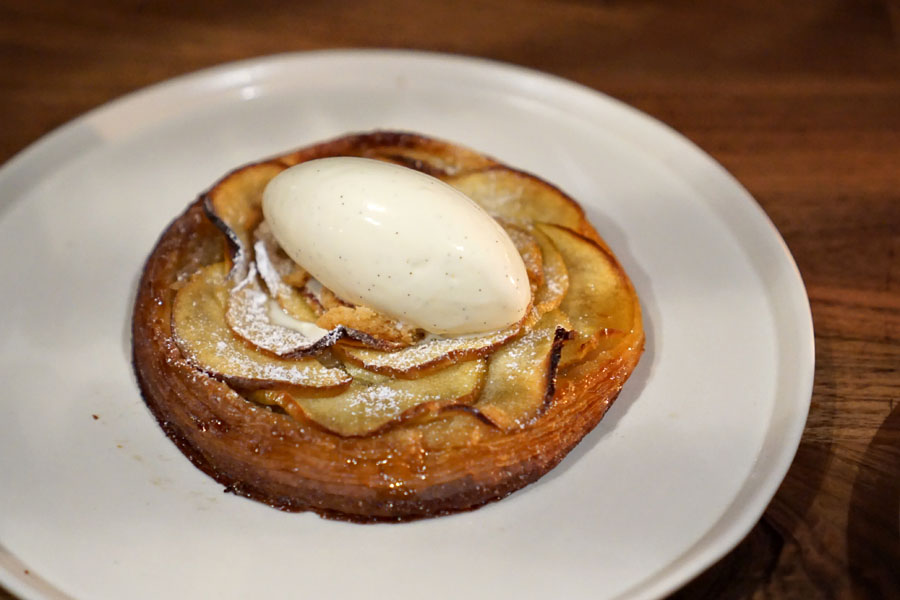 11b: Fair Hill Farms Fuji Apple Tart
| vanilla ice cream
This tart was on point to be sure. I really got the essence of the actual apple here, and loved the flaky, crisp pastry utilized. At the same time, vanilla ice cream served as the perfect finisher.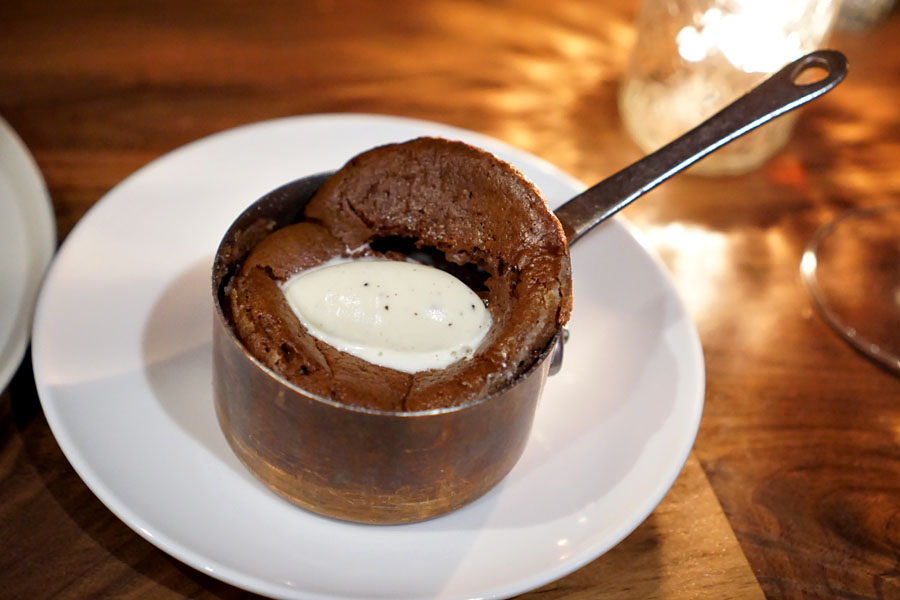 11c: Chocolate Soufflé
| black truffle ice cream
A chocolate soufflé was archetypal, and had all the decadence, all the heft you'd expect, lightened up just enough by the ice cream and its whiff of black truffle.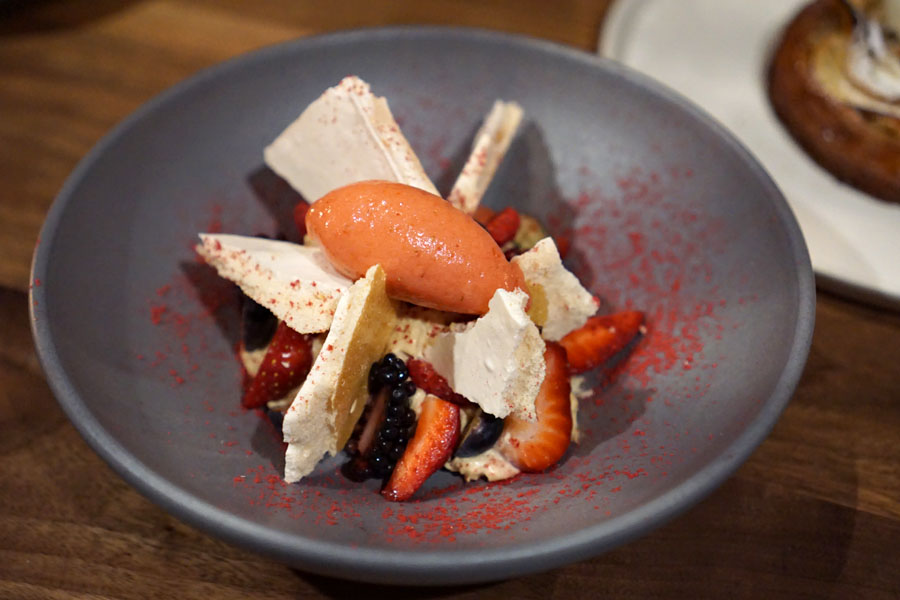 11d: Caramelized White Chocolate Sabayon
| berries, strawberry sorbet
A rich white chocolate custard set the stage for the liberal application of tart berry fruit, while meringues made for some interesting textural play.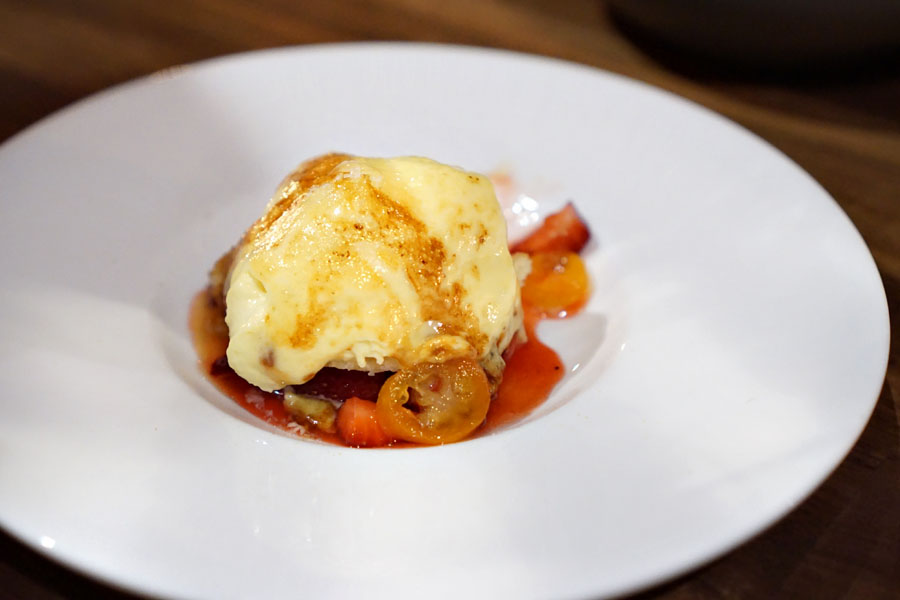 11e: Crème Brûlée Espuma
| harry's berries, cara cara sorbet
We ended with perhaps the most unconventional of the desserts. Big fan of the sponge cake here, and how that worked to offset the super focused berry flavors present. Also key was that espuma, which sort of brought all the elements together.
Hats off to Manzke and the team. The cooking tonight was hard to find fault with, and seemed to elevate République's already finessed cuisine even more. Dishes were simultaneously modern yet classic, and showcased plenty of confidence. Service, now helmed by GM Melissa Koujakian (also replacing Parsons), was also spot on: efficient, exacting, but never stuffy. Everything considered, one of the most well-executed dining experiences I've had in a while.