Manuela (Los Angeles, CA)
Manuela Restaurant
907 E 3rd St, Los Angeles, CA 90013
323.849.0480
www.manuela-la.com
Thu 03/17/2017, 08:10p-10:45p

Manuela's one of the most important debuts to hit the Arts District in a while. The restaurant resides within the Hauser Wirth & Schimmel gallery, a venture between Hauser & Wirth (founded in 1992 by Iwan and Manuela Wirth and Ursula Hauser) and former MOCA curator Paul Schimmel (who actually left the partnership in February). It opened at the start of October last year, first for brunch/lunch, then for dinner a few weeks later, and is helmed by Executive Chef/Partner Wes Whitsell, who aims to present cooking inspired by his early years spent in rural Texas.
About the Chef
: A native Texan, Whitsell grew up on a farm in Princeton (a small town about 40 miles northeast of Dallas), where his family grew, fished, and hunted much of their food. He didn't go to culinary school, but did attend Sam Houston State University, graduating with a degree in psychology. During this period, he also played baseball, worked in the kitchen at a local bar, and studied abroad in Copenhagen, where he often prepared meals for his fellow students. Confident in his abilities, after college Whitsell decided to cook for a living and eventually relocated to LA, met Travis Lett, and helped open
Gjelina
in 2008. From there, he moved to Atwater's beloved
Canelé
, then to New York. In NYC, he worked at The Little Owl for a bit, then became a private chef (even cooking for Diddy at one point).
In January 2013, Whitsell returned to Southern California and took the Executive Chef position at Blair's, an Italian joint in Silver Lake. That gig only lasted until May though, and he soon found himself at Osteria La Buca, which is where he first met Paul Schimmel, who was looking for a chef for his upcoming Arts District gallery. In May 2014, after finding himself lacking in inspiration, Whitsell left LA once again for Manhattan. He first landed at Il Buco Alimentari e Vineria, where he
staged
under Justin Smillie and met his current sous. While cooking a charity dinner at Soho House, he found out that they were looking for a new chef. He became that new chef, and started there that June. During his tenure at Soho, he reconnected with Schimmel, who introduced him to the Wirths. They hit it off, and Whitsell was subsequently offered a partnership at Manuela.
Rounding out the kitchen crew here are CdC Christian Truong (Hyde Sunset with Chris Crary, Wilshire with
Nyesha Arrington
) and Sous Chef Edwin Chu (who last worked in NYC), while the FOH is run by GM Amanda Craig and AGM Opal Juneau.

Manuela occupies about 5,000 square-feet of the arts complex, which was formerly home to flour producer Globe Mills. The restaurant was penned by
M Winter Design
(Gjusta, The Lincoln, Melrose Umbrella Company) and has a largely rustic, homey vibe, though with some sophistication (and plenty of original artwork adorning the walls). Of note are the indoor-outdoor marble bar, the eight seats at the kitchen counter, and the comfortable patio out front. Total capacity is around 140, and there's also a 10-seater private dining room off to the side.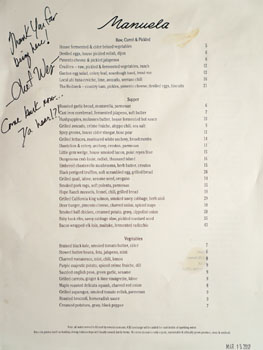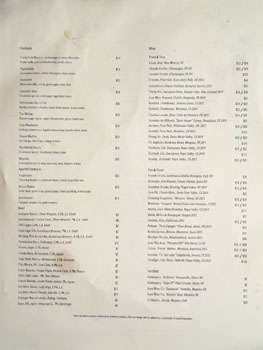 Whitsell's menu is a lengthy number, and features a Southern-meets-Californian sort of bent. There seems to be a particular focus on veggies, which makes sense given that the restaurant sports its own on-site garden (and chicken coop, no less). In addition to the à la carte selections, there's also the option of a tasting menu at the kitchen counter, and you'll also find separate lunch and brunch menus. To drink, Beverage Director Niki Kotantoulas (Tenants of the Trees, Laurel Hardware) has about a dozen cocktails of varied types, six local beers on tap and more in bottles, as well as a compact, not-too-pricey wine list with stuff from all over. Click for larger versions.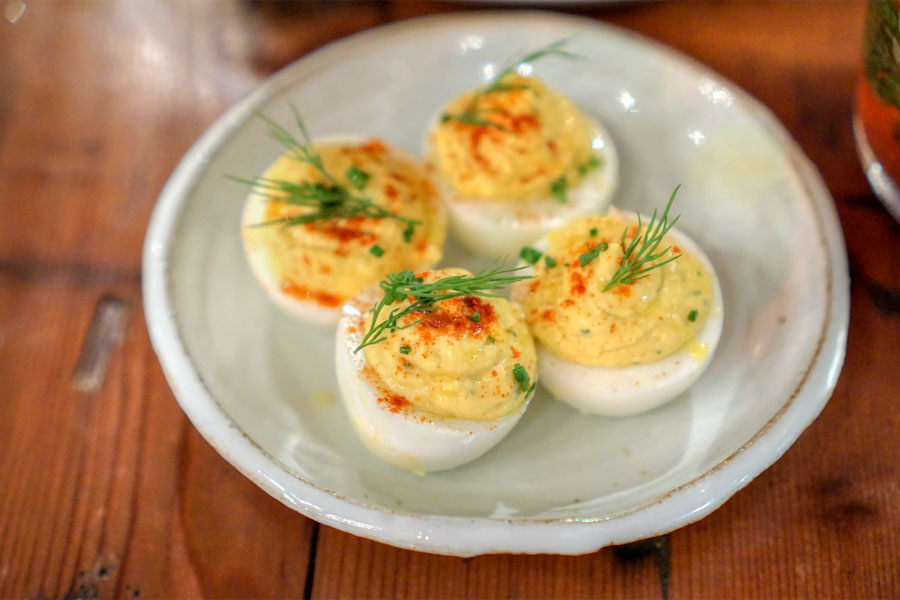 Deviled eggs, house pickled relish, dijon [$6.00]
I'm a sucker for deviled eggs (well, most egg-y things in general), so this was an obvious choice to start with. It was a prime example of the Southern staple, creamy at its core, but with a great zip from the mustard that was amped up even further by the relish, which also contributed some crunch to the dish.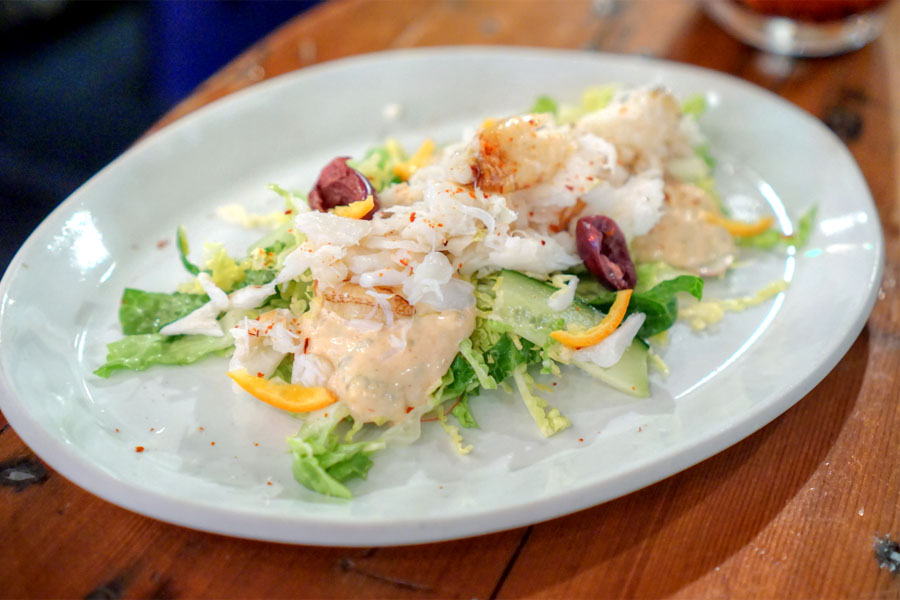 Dungeness crab louie, radish, thousand island [$16.00]
Whitsell's take on the iconic Crab Louie was a favorite of mine. The sweet, ocean-y flavors of the Dungeness really shined here, paired with the brightness and crunch of the greenery while the Thousand Island added a tart, creamy element that tied everything together.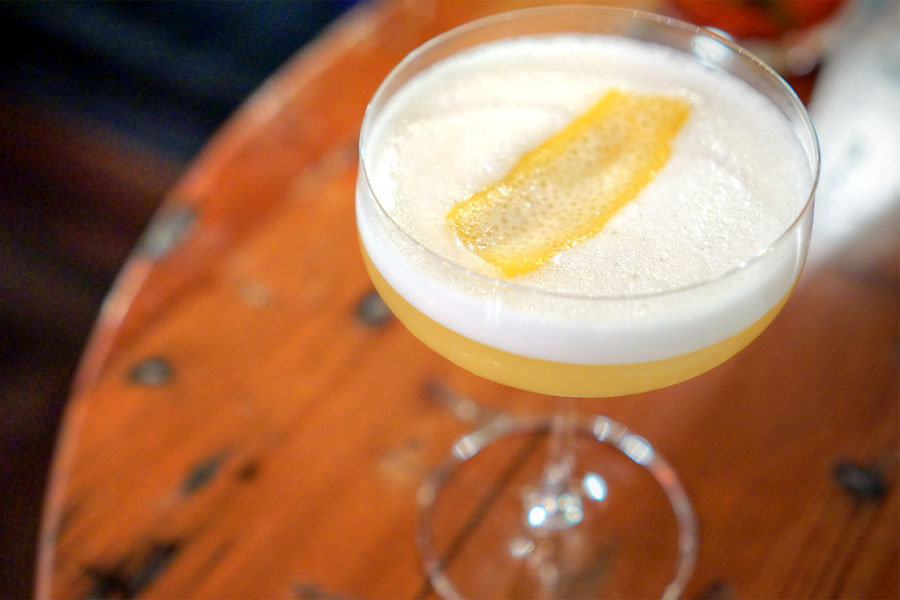 Bitter Flower [$13.00]
| Lillet blanc, grand hops, grand poppy, Gruet sparkling, lemon sugar
We made sure to sample a few cocktails tonight of course. Our first drank light and refreshing, and made for a wonderful aperitif. Sweet but never cloying, and with a balance of bitter, floral, herbal, and citric elements, there was a lot going on, but it all meshed beautifully.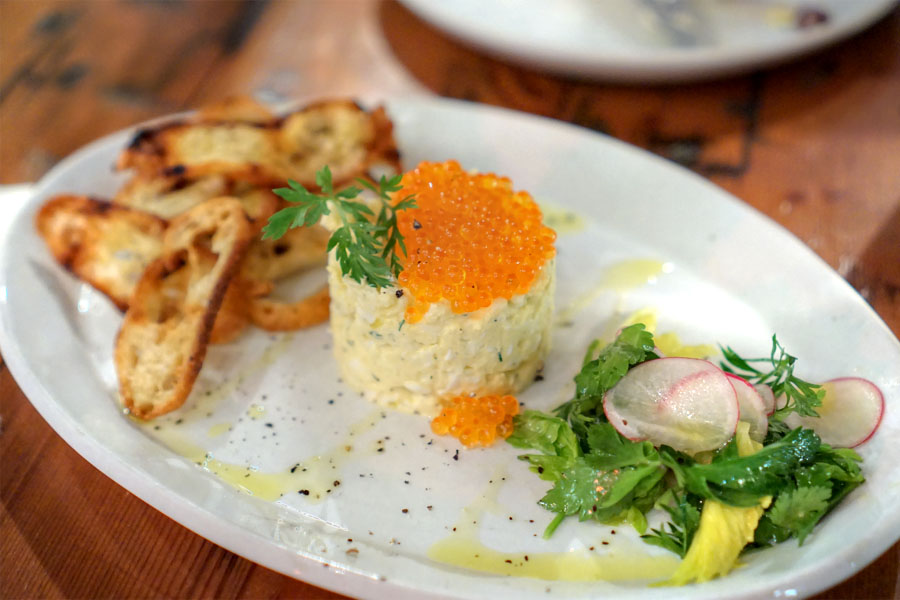 Garden egg salad, celery leaf, sourdough toast, trout roe [$12.00]
Given my aforementioned penchant for eggs, this was also a must-try for me. The egg salad itself ate fairly traditionally, but the key was the additional salinity from the roe, and how that worked with the zestiness of the celery and toasty crunch of the sourdough. Taken all together--very satisfying.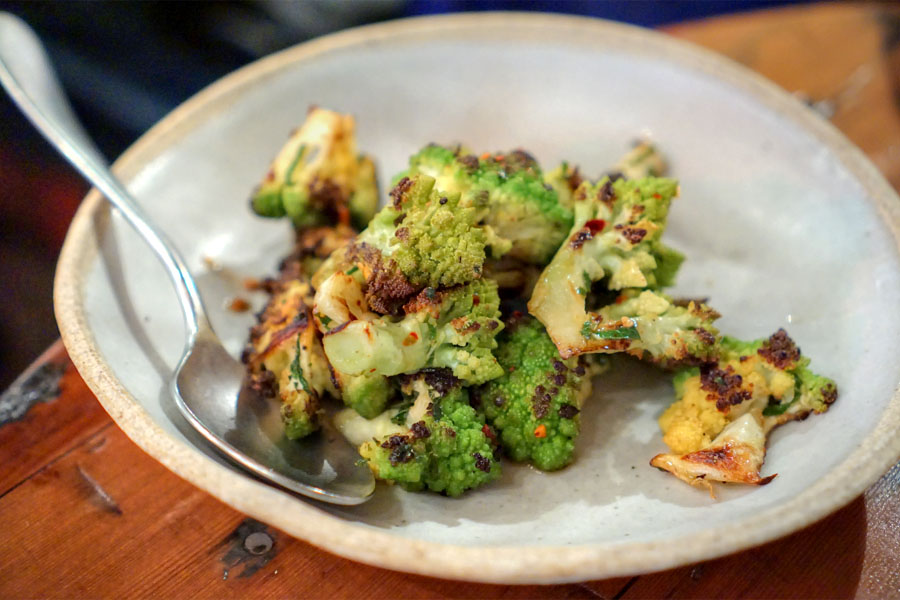 Charred romanesco, mint, chili, lemon [$8.00]
Florets of Romanesco showed off a gratifying bite, as well as a smart back-and-forth between tart lemon, the heat of the chili, and bitter char.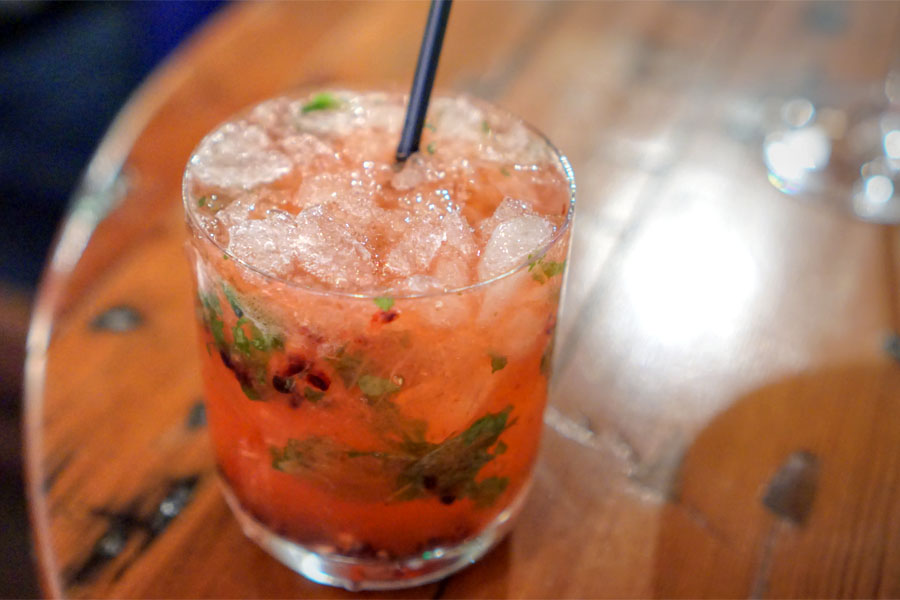 Blackberry Smash [$14.00]
| El silencio mezcal, blackberry, lemon, mint
This blackberry version of a Smash ended up being rather easy-drinking for a mezcal cocktail. I got almost juicy notes of berry, accented by mint and backed by just enough smoke for some heft.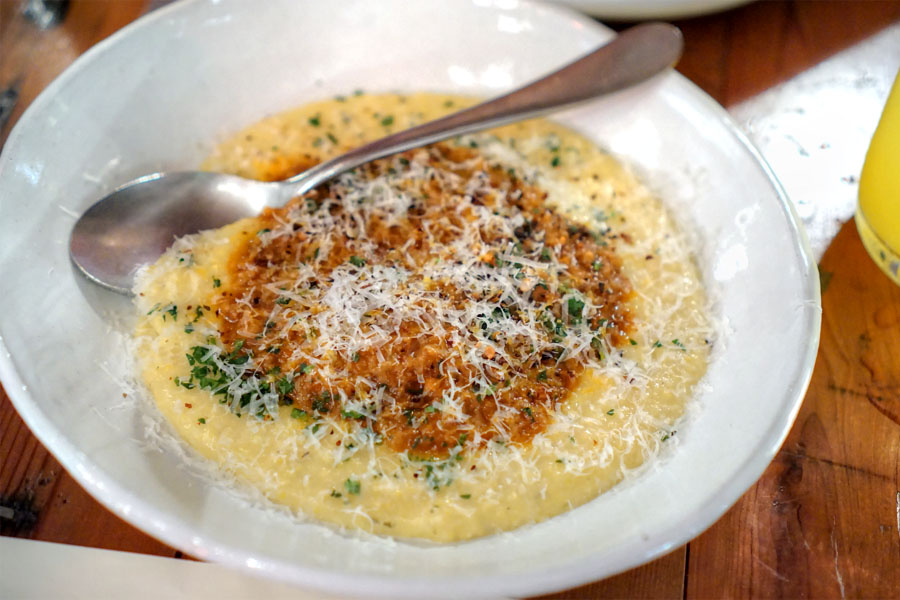 Smoked pork ragu, soft polenta, parmesan [$15.00]
Think homey, cozy, rich flavors of pork, but tempered by the semi-fluffy polenta while Parm imparted an additional hit of salt to the mix.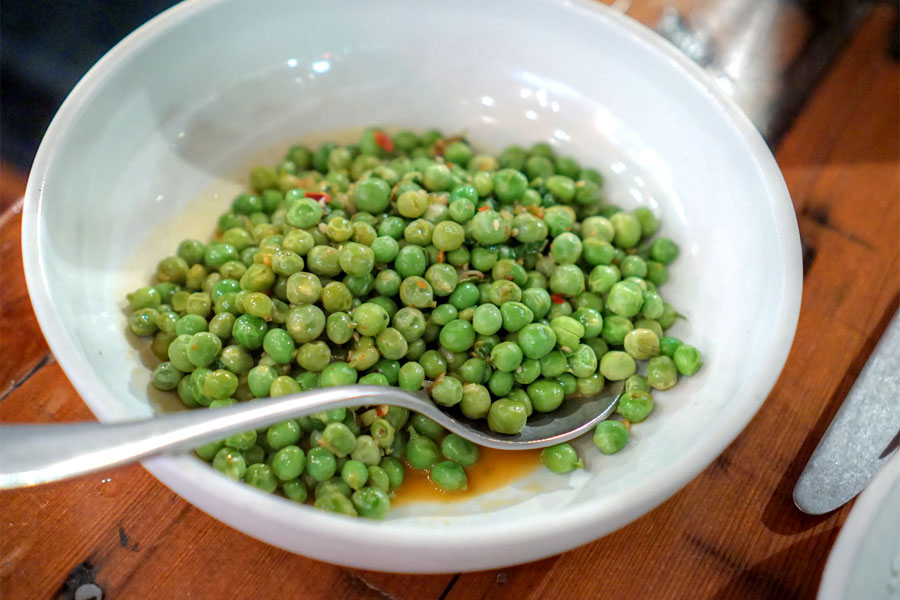 Sautéed english peas, green garlic, sesame [$9.00]
Peas came out just firm enough, with their bright, clean flavors complemented by the right amount of piquancy and spice.
Nightshade [$14.00]
| Ixa tequila, tomato, yellow bell pepper, heat, lemon
Here, the cocktail's vegetal, lemony character and long-lasting burn made sense over its base of tequila.
Cast iron cornbread, fermented jalapeno, soft butter [$7.00]
Cornbread was pretty much spot on with its sweet-savory interplay and hint of heat. Even better with a dab of that soft, sugary butter.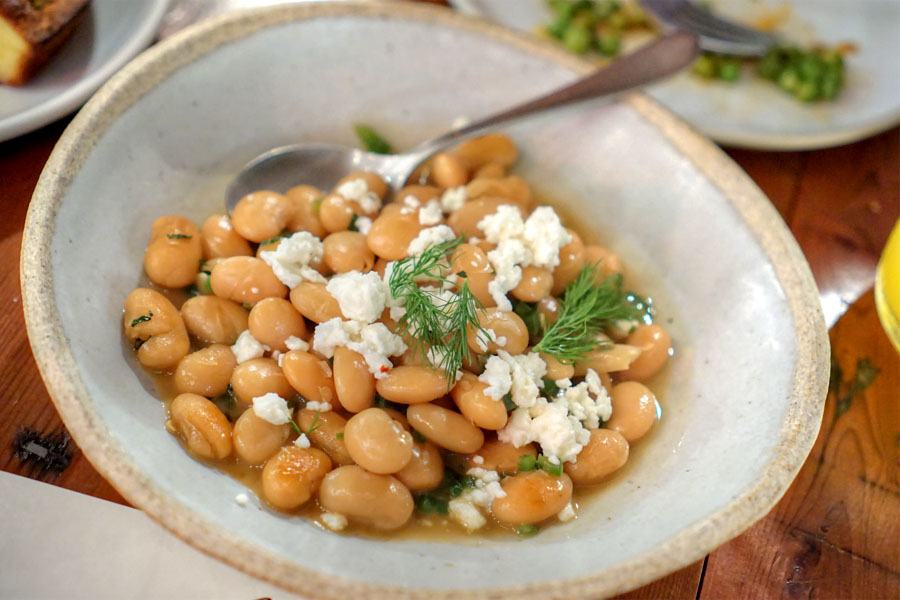 Stewed butter beans, feta, jalapeno, mint [$6.00]
Beans made for a hearty, heavy dish, but one lifted up by the fennel and mint, as well as the sharp tanginess of the cheese.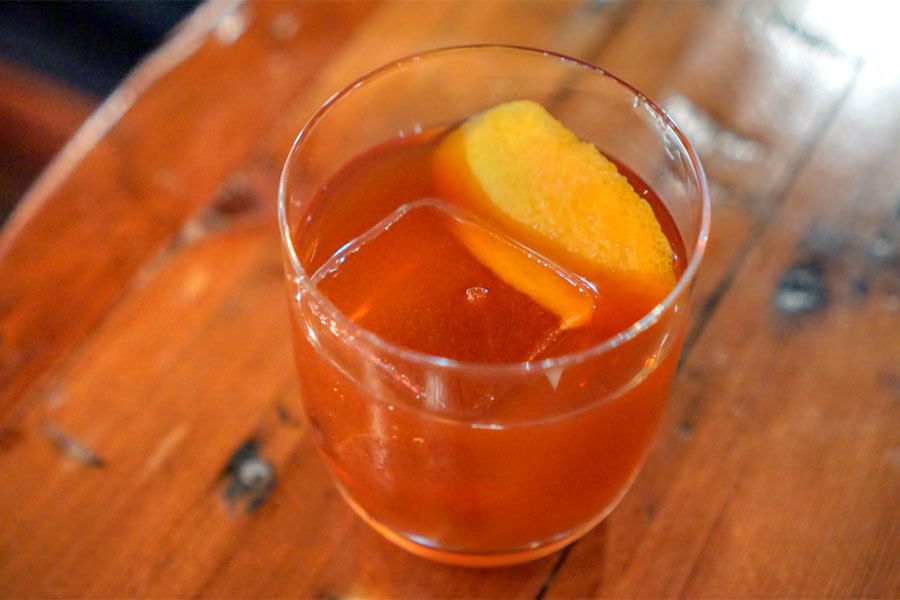 Islay Manhattan [$16.00]
| Ardbeg corryvreckan, bigallet china china, luxardo cherry syrup
Our final cocktail was a fun riff on the Manhattan, and definitely the booziest of the bunch. The peatiness of the whisky really shined here, and worked hand-in-hand with the sugariness of Luxardo while the China-China contributed some wonderful aromatic qualities.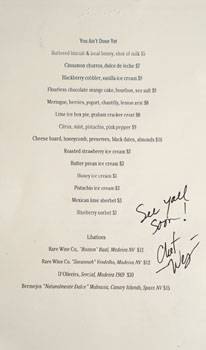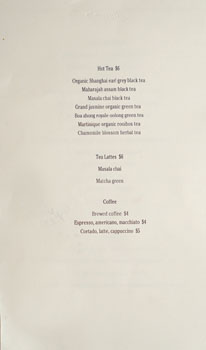 Desserts are theme-appropriate, and come to us from Pastry Chef Stephanie Calderon (who worked at Wilshire with Truong). Click for larger versions.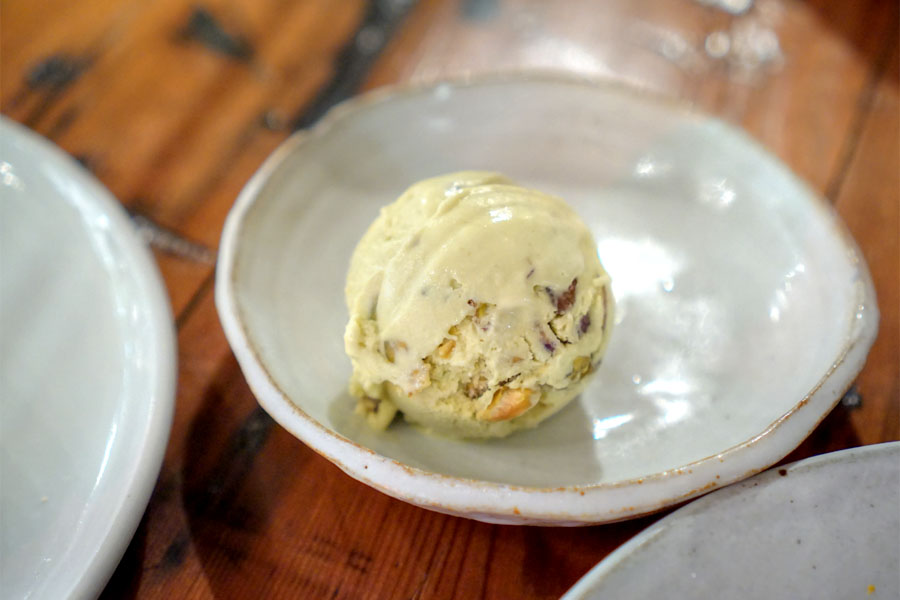 Pistachio ice cream [$3.00]
Pistachio's probably one of my favorite ice creams flavors, and the version we had tonight stood out with its restrained, yet true-to-life flavors. I liked all the little bits of nut in there as well.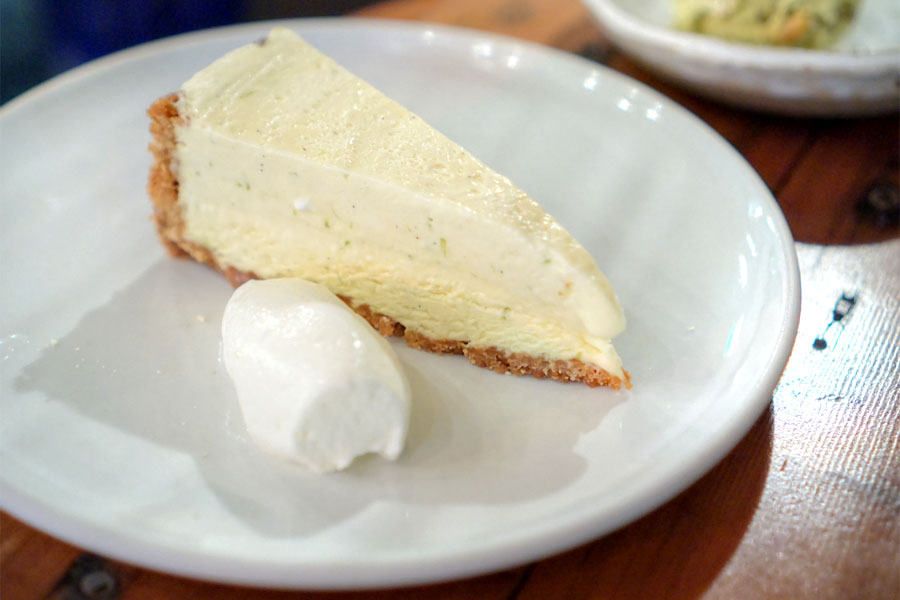 Lime ice box pie, graham cracker crust [$8.00]
A take on a classic American pie married a tart, creamy lime filling with a tough, sugary crust.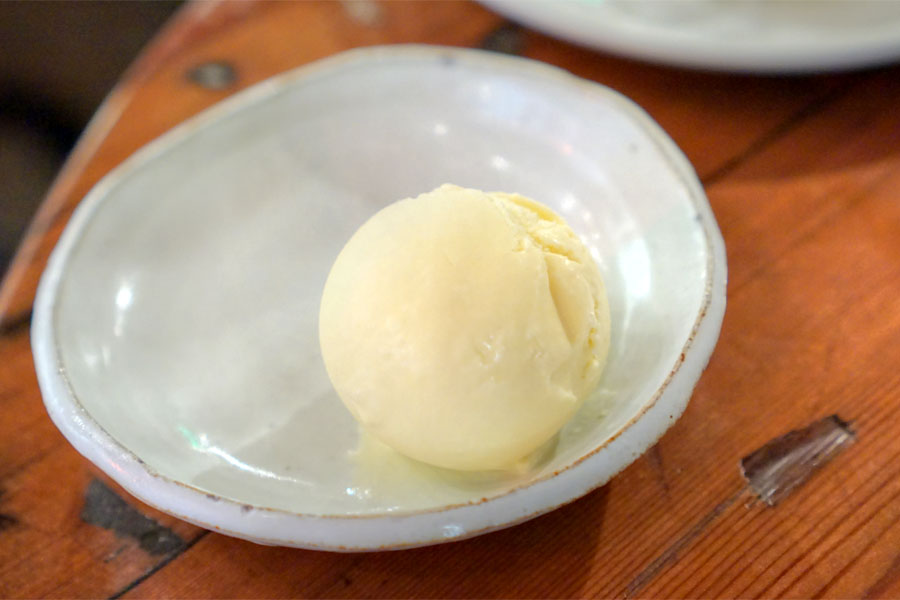 Honey ice cream [$3.00]
Our second scoop of ice cream featured focused, finessed flavors of honey in a silky package.
Meringue, berries, yogurt, chantilly, lemon zest [$8.00]
In my favorite of the desserts, flavors of tart berry worked as a natural pairing to the lushness of Chantilly cream. Meringues, meanwhile, added a moderating element and some textural variation.
Whitsell's cooking has a bit of a fun, endearing quality to it, and sort of exemplifies what I'll call "Cal-Southern" cuisine. Not too many people are doing this type of cooking around these parts, with the closest probably being Brian Dunsmoor at
Hatchet Hall
I'd say. Cocktails were also worthwhile, and service was on point too, so overall a very lovely time here at Manuela.