The Venue (Los Angeles, CA)
The Venue Restaurant & Karaoke Bar
3470 Wilshire Blvd, Los Angeles, CA 90010
213.221.1251
www.thevenuela.com
Wed 03/08/2017, 07:00p-11:25p

LA's newest subterranean restaurant-slash-lounge-slash-
noraebang
opened on January 26th in the heart of Koreatown. Named, somewhat generically, The Venue (though I suppose that might be better than the working name, The Heaven Lounge), the place is accessed by a bouncer-guarded stairwell off of Irolo Street. It's the brainchild of Seana Kang, owner of the nearby Star Karaoke. Kang has installed Kayson Chong as Executive Chef, while Devon Espinosa and Dario Dell'Anno (we last saw the duo at
Sawyer
) were brought on as opening Beverage Director and GM, respectively.
About the Chef
: Chong was born and raised in LA, and spent part of his childhood in K-town during the '70s. His mother helped him gain an appreciation for food, as did episodes of the original
Iron Chef
. After graduating from North High School in Torrance, he eventually wound up at the California Culinary Academy in San Francisco, where he received his degree in 2002. Following, Chong joined the team at
Wolfgang Puck
's Postrio at the Prescott Hotel, then relocated to Las Vegas in 2003 to cook at
Julian Serrano
's
Picasso
at Bellagio. He returned to the Southland in 2008 to help open Laurent Tourondel's BLT Steak on the Sunset Strip, which is where he met mentor Noah Rosen (who ended up being let go that November).
After that firing, Chong cooked at
XIV
by
Michael Mina
, as well as at Santa Monica's Hotel Shangri-La, where Rosen also wound up. He then transitioned to IDG's Boa Steakhouse, and helped debut the restaurant's new location at 9200 West Sunset as executive sous chef. In November 2010, Chong became CdC at Go Burger in Hollywood, a concept from his old boss Laurent Tourondel. He stayed until February 2012, when he became Corporate Chef for 3 Square Café & Röckenwagner Bakery in Venice, and also started freelance consulting. The gig lasted until March 2014. At that point, he took on the head chef position at In Yo Grill, a burger joint located within the confines of Houston Hospitality's No Vacancy. Meanwhile, in May that year, Chong also launched Mainland Poke as founding partner and chef.

The Venue takes over a space that was supposedly used for storage units previously. It sports a dark, semi-lounge-y aesthetic with plenty of brassy accents. In addition, you'll also find 13
noraebang
rooms that are nicer than most in K-town.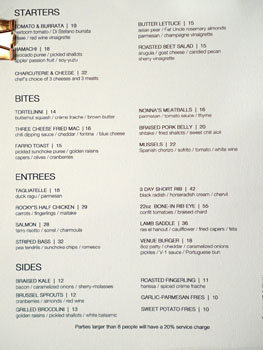 Menu-wise, Chong's got an approachable, Cal Cuisine-y, somewhat internationally-influenced menu that's interesting enough without scaring away the karaoke crowd. There's also an abbreviated late night bites selection as well. To imbibe, Espinosa has eight cocktails on offer, a few beers, and a wine list that's pretty reasonably-priced except for the baller bottles of Champagne (a nod to the place's clientele I'm sure). Corkage is $35 a pop, though it was waived this evening. Click for larger versions.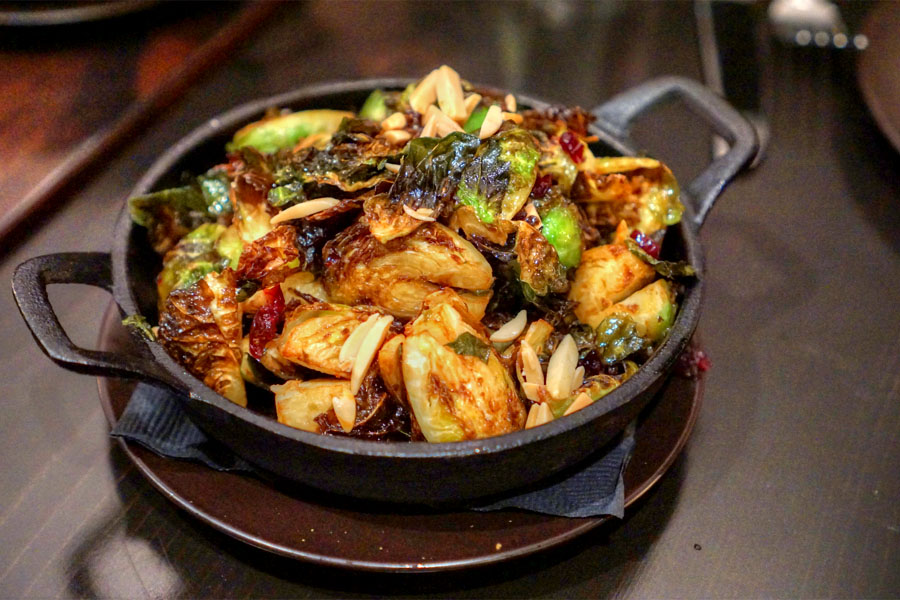 Brussel Sprouts [$12.00]
| cranberries / almonds / red wine
Of course I had to get the Brussels, and Chong did not disappoint. Great bite, bitterness, and char here, with the almonds providing an additional nutty crunch.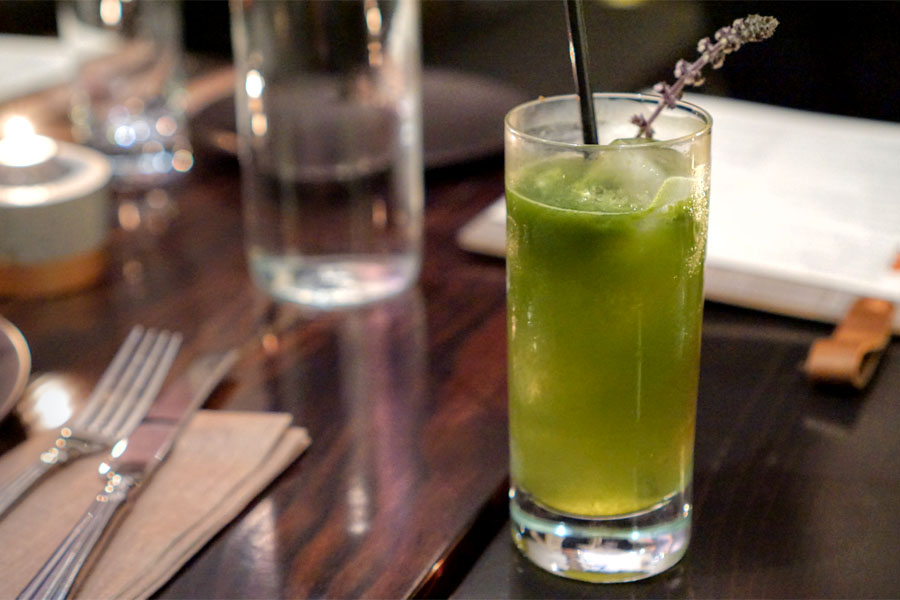 Serrano Y Los Dinos [$12.00]
| serrano infused altos blanco / thai-basil & mint syrup / lime / grapefruit Mixwell soda
We made sure to try all of Espinosa's cocktails this evening, and this was arguably the most challenging of them all due to its vegetal nature, palpable kick of heat, and somewhat savory finish.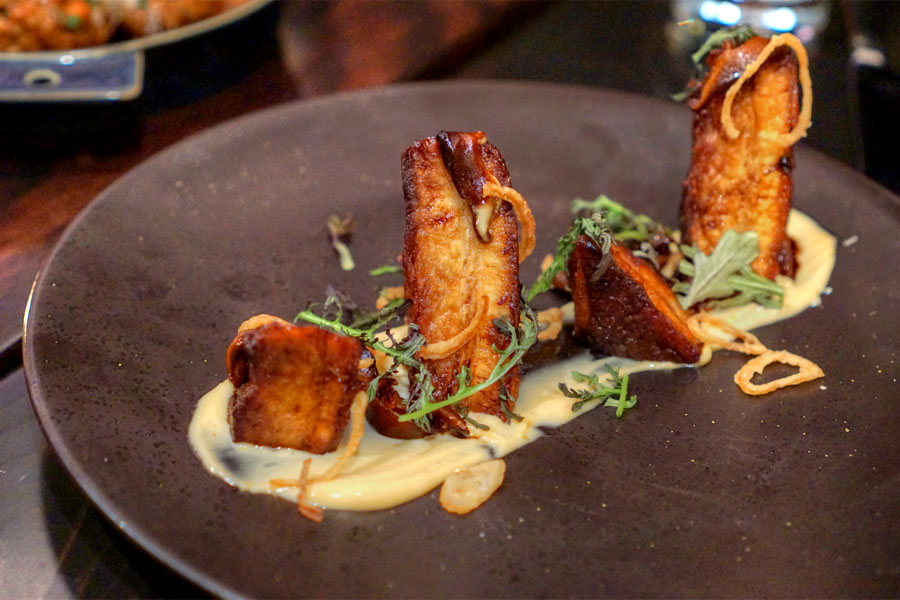 Braised Pork Belly [$20.00]
| shitake / fried shallots / sweet chili aioli
Pork belly showed off proper crispness, and came loaded with all the rich, fatty flavors I wanted, with the aioli serving as a bit of a counterbalance to it all.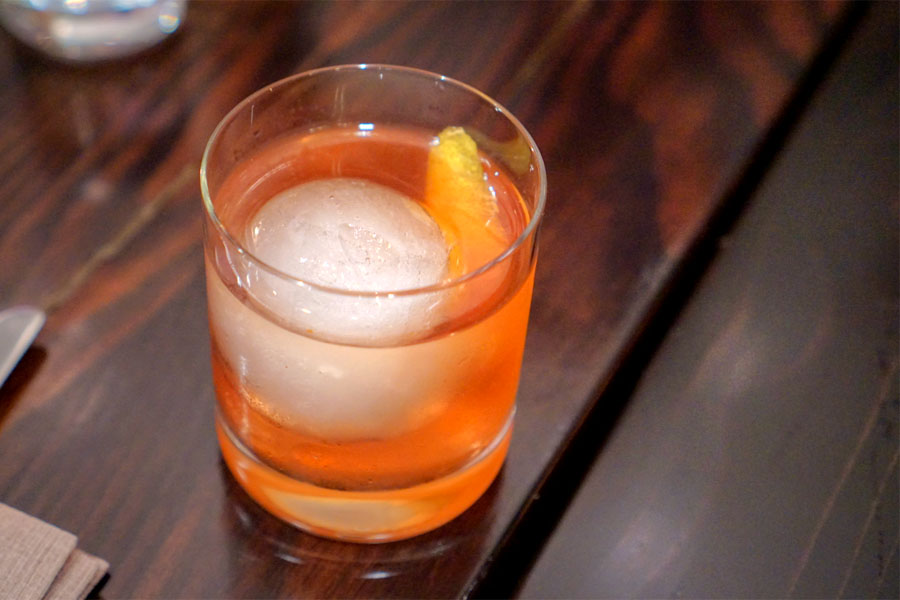 Stop Screaming [$14.00]
| old overholt rye / cured plum / spiced pear / plum bitters
This was one of the boozier cocktails we sampled. Appealing nose filled with citrus and bittersweet notes. The taste went similarly bittersweet, but with a good amount of sugary spice layered over the heft of the whiskey.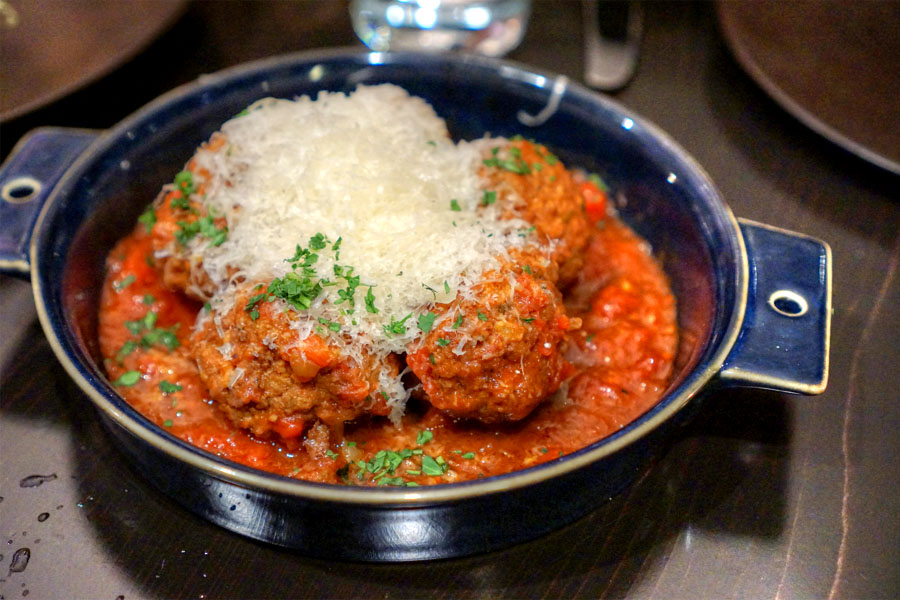 Nonna's Meatballs [$16.00]
| parmesan / tomato sauce / thyme
Meatballs were a touch dry, though they were spot on taste-wise. Think classic, homey, comforting flavors, set against the tanginess of the accompanying tomato sauce.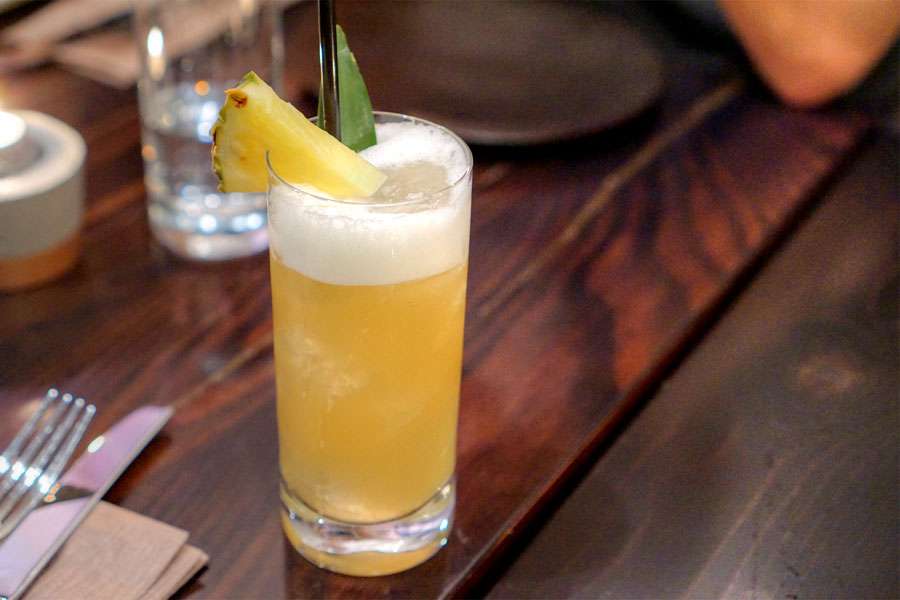 La La Land [$12.00]
| chicory smoked bacardi superior / giffard banana / pineapple / lime
I've not seen
La La Land
yet, so I'm not sure if this next cocktail was inspired by the film. But in any case, it worked. I got a nice smokiness from the chicory, which did a good job evening out the sweetness of the banana and pineapple combo.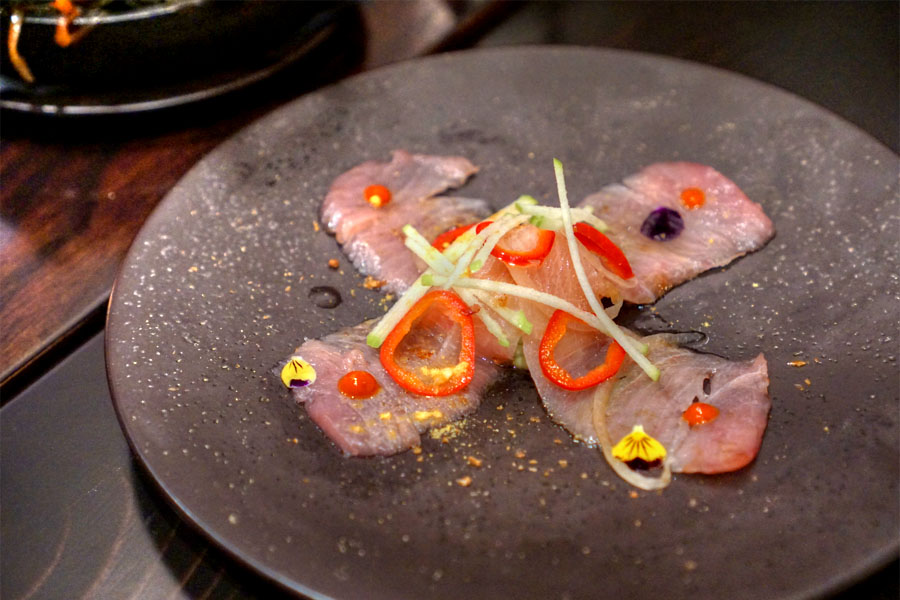 Hamachi [$18.00]
| avocado puree / pickled shallots / apple / passion fruit / soy-yuzu
Soft slices of yellowtail came out fatty and full of brine, making sense with the savory-tart nature of the soy and yuzu. Offsetting the fish were juliennes of juicy apple, crunchy shallot, and the lingering heat of the peppers.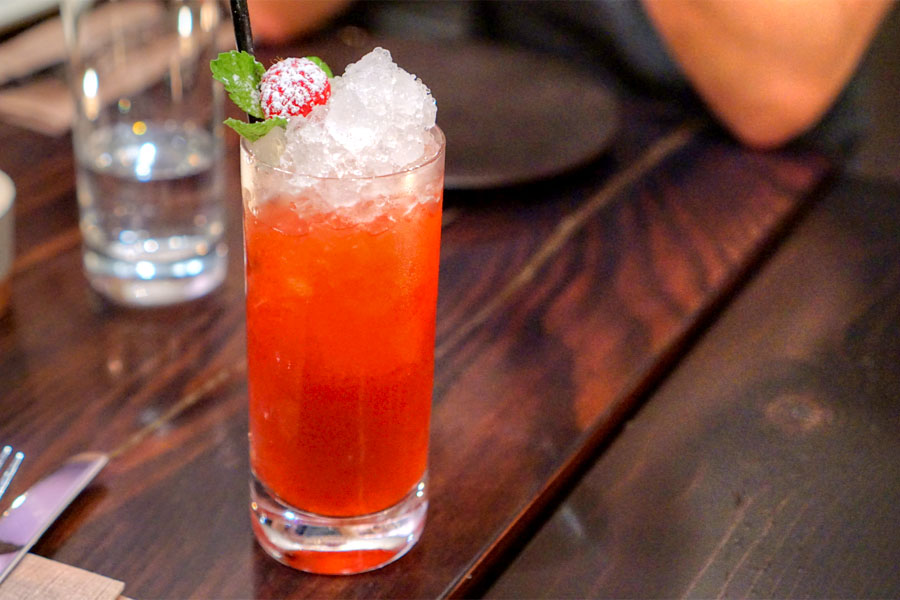 Mic Drop [$13.00]
| new amsterdam gin / raspberry / bonal gentiane-quina / fresh lime
Here we had what was probably the easiest-drinking cocktail of the evening, one that went over really well with a fellow diner who isn't into boozy drinks: big notes of raspberry and a bit of lime, with an additional bittersweet complexity from the Bonal.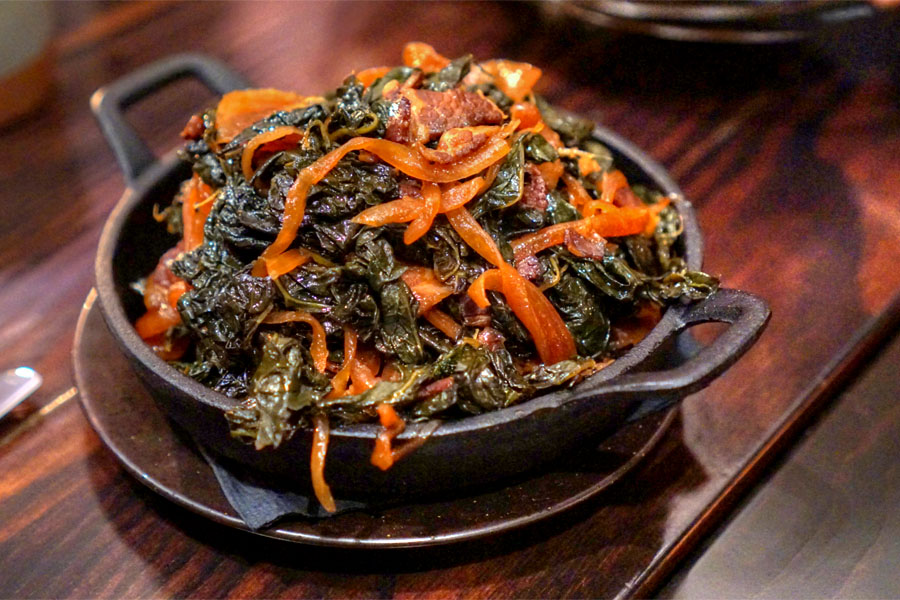 Braised Kale [$12.00]
| bacon / caramelized onions / sherry-molasses
A mound of braised kale had an almost barbecue-like sugariness that cut the inherent bitterness of the vegetable.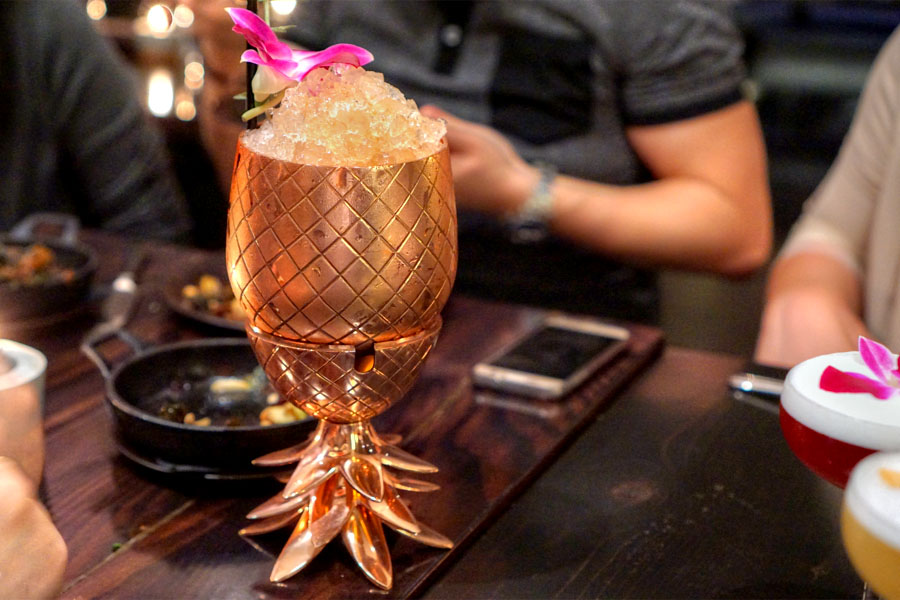 Seana [$16.00]
| elyx / yellow chartreuse / eucalyptus / lemon / passion fruit / angostura bitters
Named after The Venue's owner, the most visually-impressive cocktail we had came in one of those copper pineapple tumblers that are all the rage these days. This one drank super fruity, super tropical, with nary a trace of the vodka and hints of herb and spice for balance.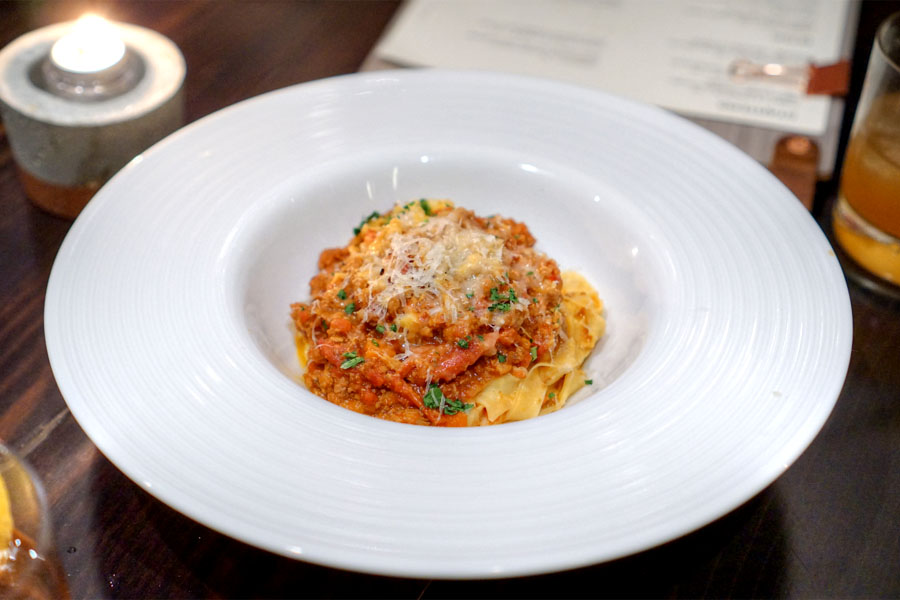 Tagliatelle [$18.00]
| duck ragu / parmesan
A duck-based ragù hit the spot with its deep, meaty flavors, offset a tad by the tanginess of tomato. Unfortunately the noodles ate too soft, and could've definitely stood to be firmer, rougher.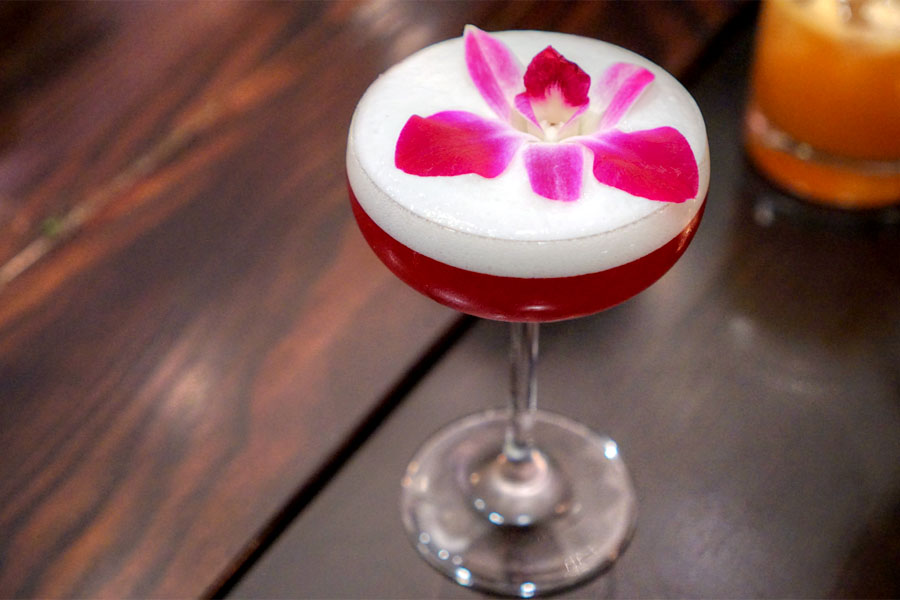 Across The Line [$13.00]
| altos reposado / pomegranate hibiscus / rhubarb bitters / elderflower foam
The Venue is situated basically across the street from
The Line
hotel, so this cocktail may or may not be a reference to that. I found this one quite sweetly floral, but with just a smidge of astringency to serve as a counterpoint. Nice textural element from the foam, too.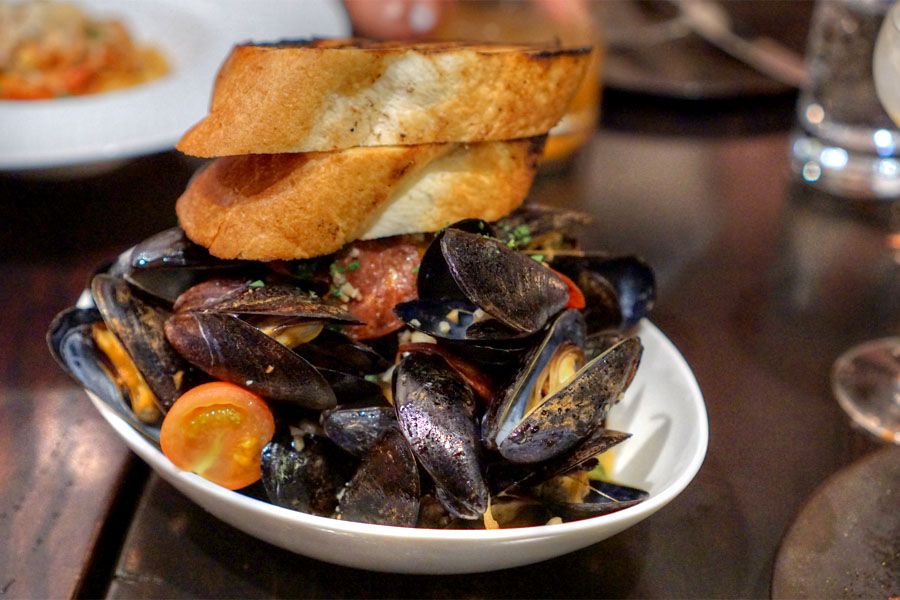 Mussels [$22.00]
| Spanish chorizo / sofrito / tomato / white wine
The mussels were a standout, and really highlighted the piquancy of the advertised chorizo and tomato. The charred bread, meanwhile, worked as vessel with which to soak up the remaining liquid.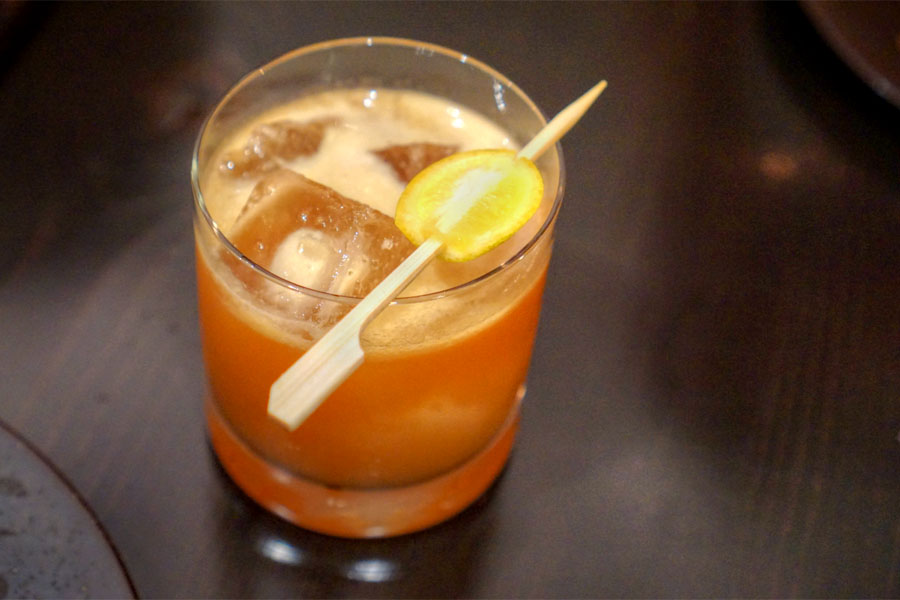 Whiskey Houston [$14.00]
| jameson caskmate / clover honey / lemon / kumquat
This pun-y, Penicillin-like cocktail drank surprisingly mild and soft, conveying strong notes of lemon and a distinct spice character.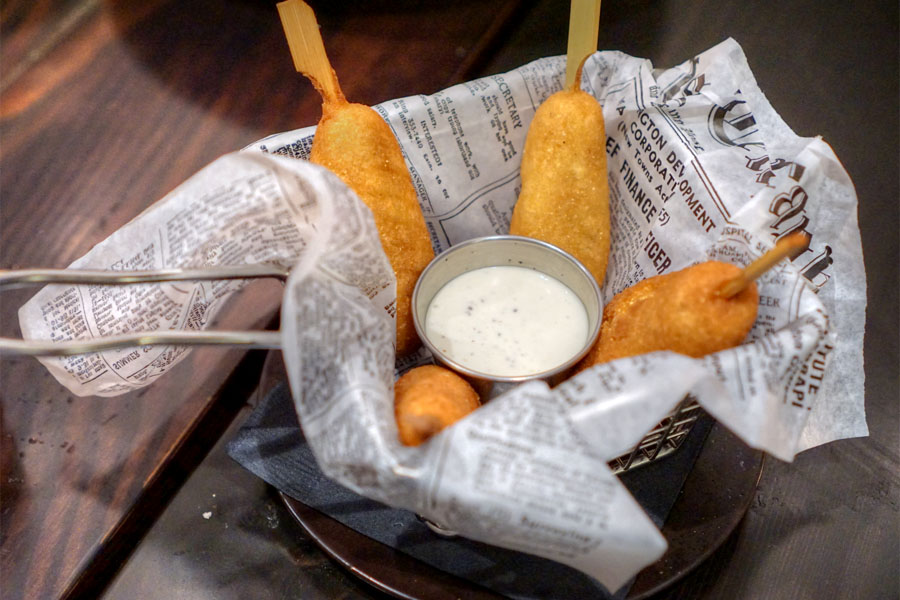 Lobster Corn Dogs [$20.00]
| dijonnaise
Coming off of the late night menu, the corn dogs were probably better than most, though I will have to say that I'm not a fan of corn dogs in general. I definitely tasted the sweetness of the lobster here, and the cornmeal outer layer was lighter, more delicate than usual, but still with some grit.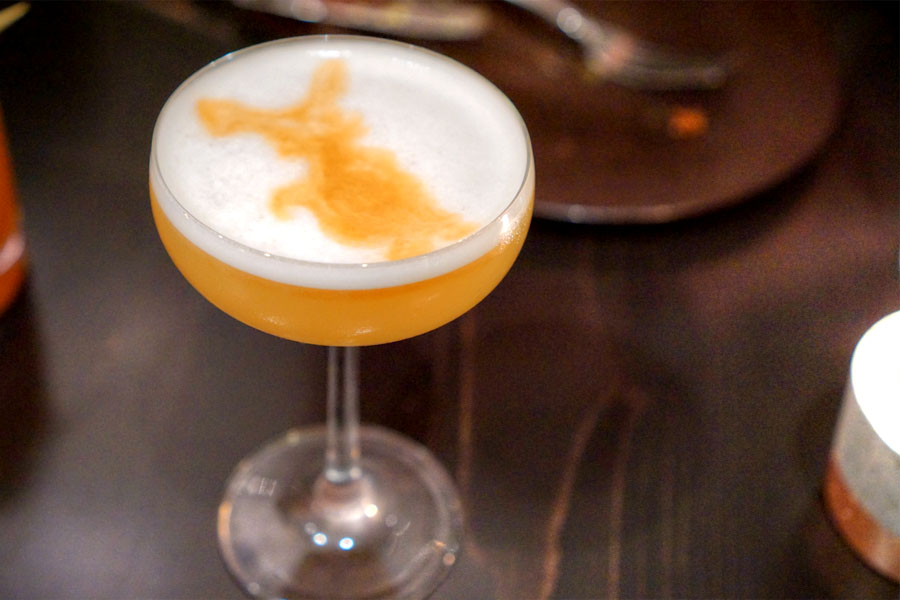 Back Room [$13.00]
| dewars scotch / chamomile / lemon / creole bitters
Our final cocktail showcased a lovely baking spice element (from the bitters I imagine) along with a floral character courtesy of chamomile, with lemon serving as an accent.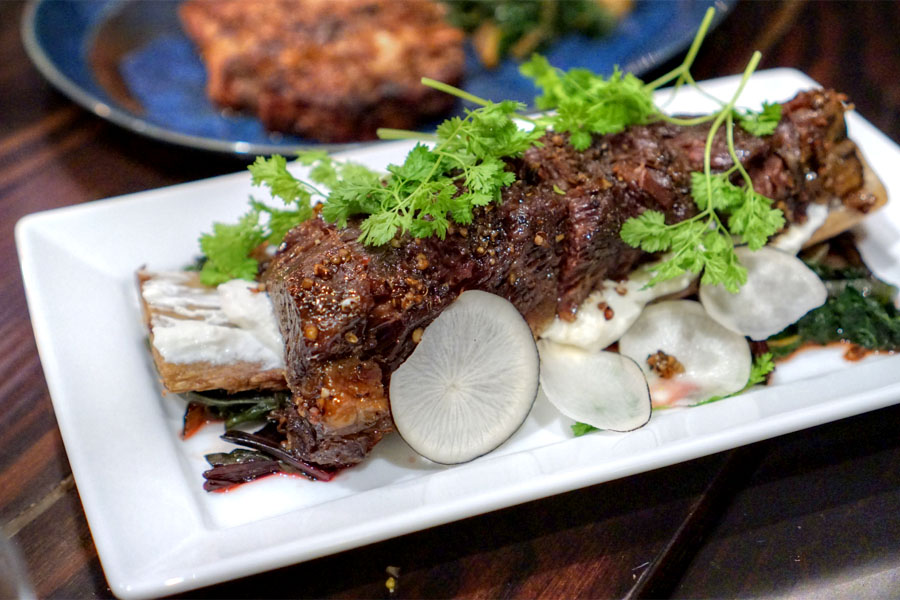 3 Day Short Rib [$42.00]
| black radish / horseradish cream / chervil
Short rib was perhaps a touch less tender than it could've been, but still ate well. Its unabashedly beefy flavors certainly satisfied, and married effortlessly with the zing of horseradish and astringency of radish.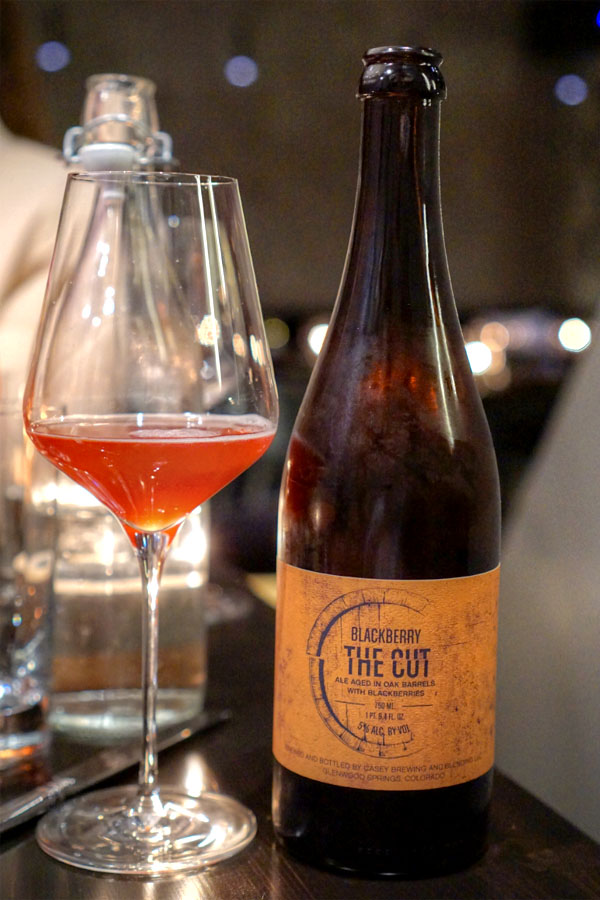 With the cocktails done with, we opened up a bottle we'd brought: the
2016 Casey The Cut: Blackberry
, a sour ale aged in oak with Triple Crown blackberries. Crisp, dry, tart nose filled with fruit and funk. I found the palate very refreshing, bright, with the berry taking a backseat to lots of barnyard and sourness. Very nice.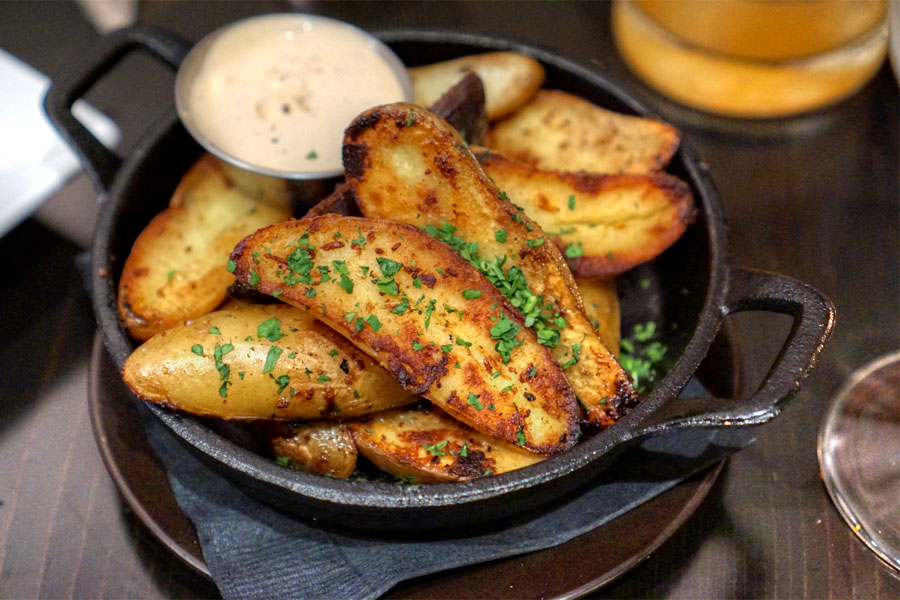 Roasted Fingerling [$11.00]
| harissa / spiced crème fraiche
Potatoes were strongly herby, while the harissa contributed an astringency that was countered by the lushness of that crème fraîche.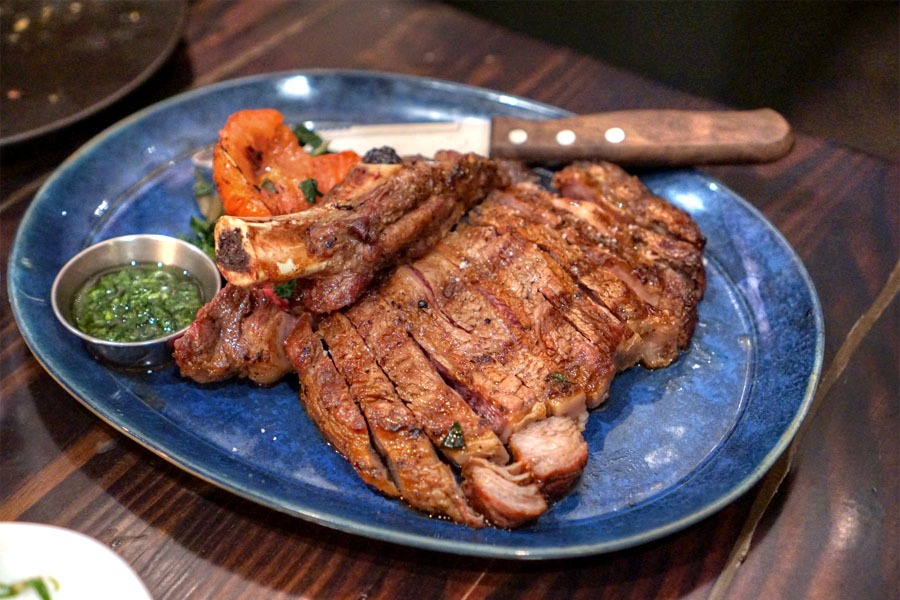 22oz Bone-In Rib Eye [$55.00]
| confit tomatoes / braised chard
The ribeye was another favorite. I got a great tenderness and juiciness here, along with a much-appreciated sear and bountiful amounts of steak-y goodness. Very tasty, and even better with a dab of that chimichurri-ish sauce on the side.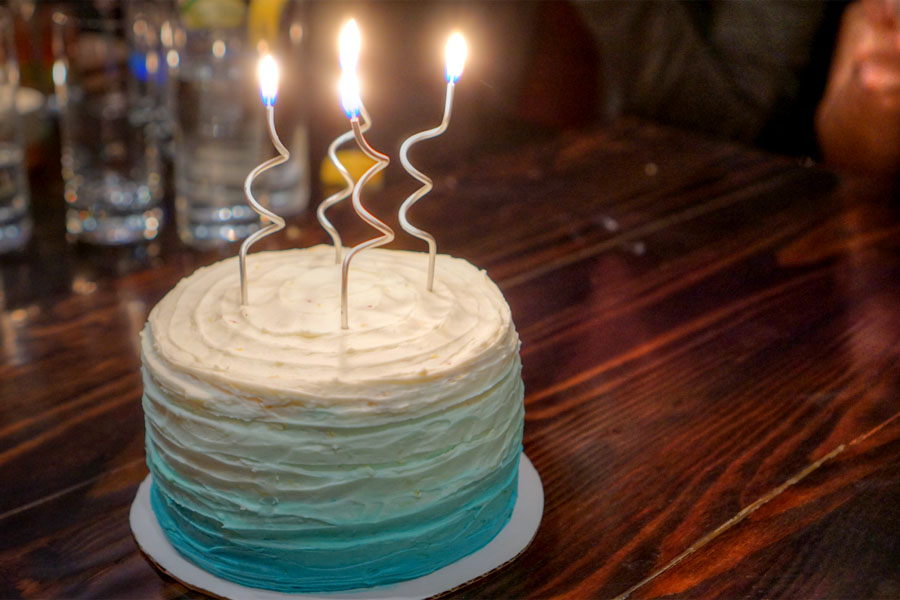 Since we were here for a birthday, we had to have a cake. Tonight's was actually made by a fellow diner, and featured sweet-tart flavors of Earl Grey, blueberry, and lemon. Note also the neat ombré effect of the frosting.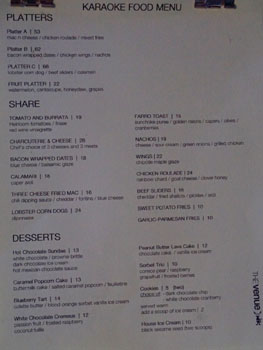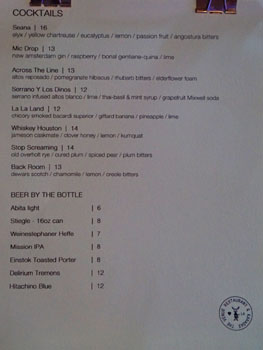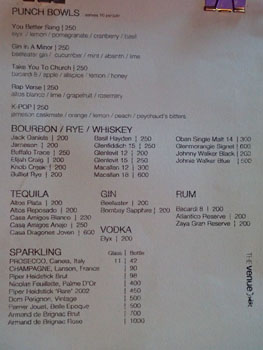 After enjoying the cake, we opted to enjoy a round of
noraebang
. Patrons who head straight to singing have a snackier selection of food to choose from, including a foursome of multi-level platters. The beer and cocktail selection is identical, but you also get the option of bottle service, along with punch bowls and those pricey Champagnes. Click for larger versions.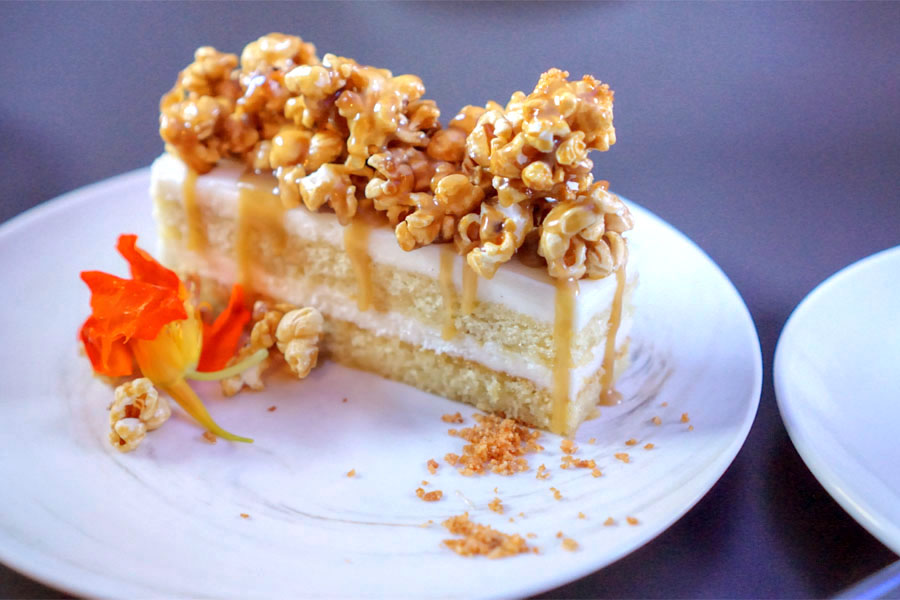 Caramel Popcorn Cake [$13.00]
| buttermilk cake / salted caramel popcorn / feuilletine
This was a pleasant surprise. I really got the caramel-y aspect here from the popcorn, which meshed beautifully with the comparatively mild cake. Nice textural contrast, too.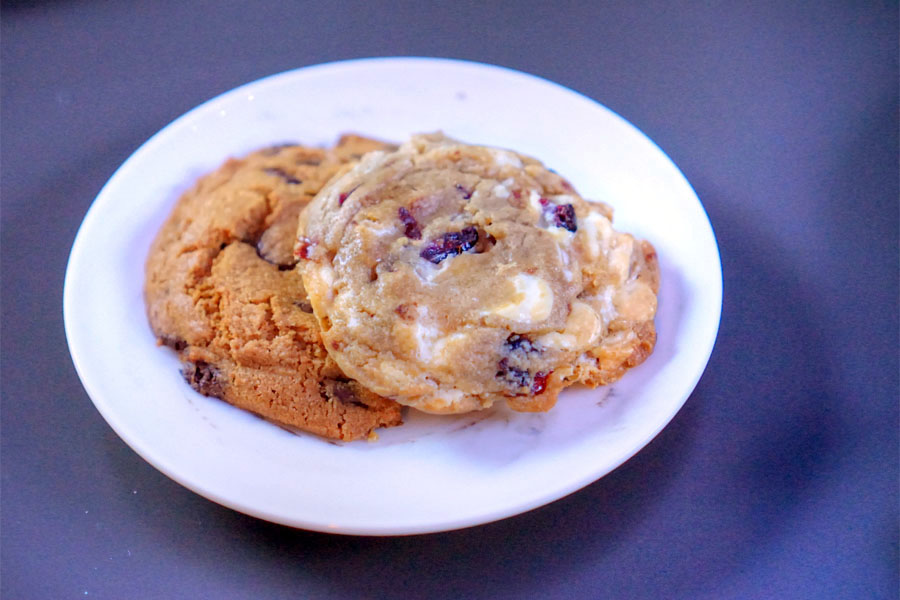 Cookies [$8.00]
| dark chocolate chip / white chocolate cranberry / served warm
Cookies were pretty much par for the course.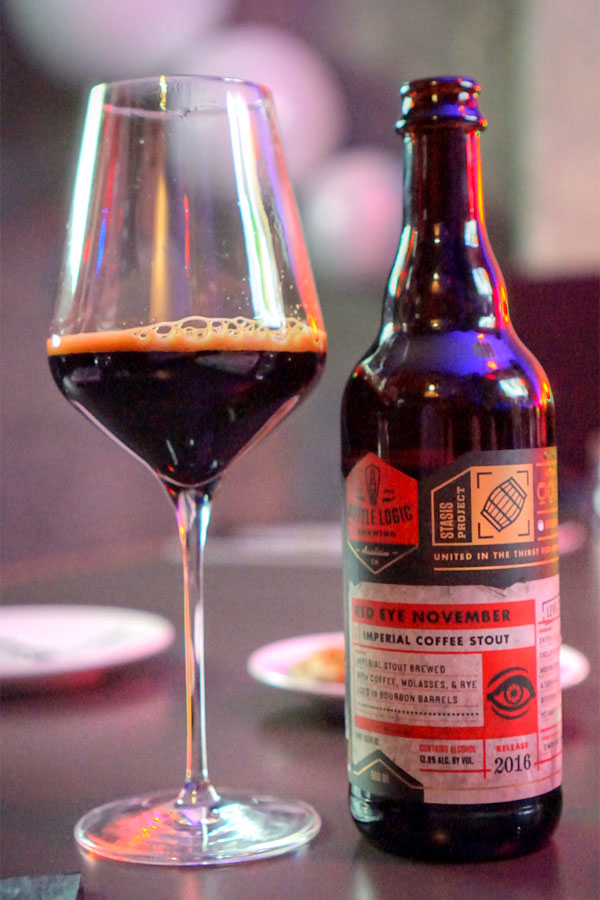 Our second beer was the
2016 Bottle Logic Red Eye November
, a bourbon barrel-aged imperial stout brewed with molasses, rye, and Brazil Oberon and Sumatran coffee from Mostra. Inviting aromas of sweet malt and roasty coffee. Taste-wise, I found more malt, chocolate, dark fruit, and an unmistakable rye spice, though surprisingly little coffee.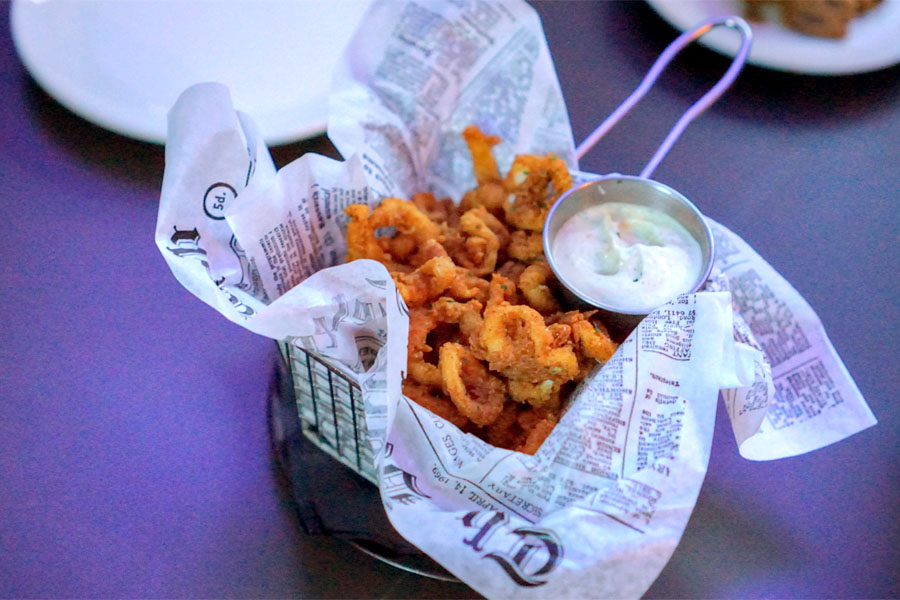 Calamari [$18.00]
| caper aioli
For some reason we ended up going back to savories. The squid was aggressively-seasoned, which works well when you're boozing, though the aioli did smooth things out a tad.
There's not much out there that's quite like The Venue. It's a lounge-y sort of space, but the food's actually pretty legit, with Chong's cooking touching upon some familiar themes. And not surprisingly, Espinosa's cocktail program is worth checking out as well. As for the karaoke side of things, it was surprisingly affordable (we were expecting something closer to Break Room 86 pricing). Our room was $40 an hour, and nicer than most in K-Town, so we may have to add this place to our
noraebang
rotation.