Rossoblu (Los Angeles, CA)
Rossoblu Restaurant
1124 San Julian St, Los Angeles, CA 90015
213.749.1099
www.rossoblula.com
Wed 06/28/2017, 07:55p-10:50p
Rossoblu's a place that I'd been awaiting for a while now. The Downtown restaurant bowed on May 17th, and comes to us from none other than Steve Samson and Dina Pepito Samson (both of
Sotto
fame). As a child, the Chef often spent summers in Bologna with his mother's family, and soon fell in love with the region's food. Thus, Rossoblu (the nickname of Bologna F.C. 1909, his favorite football club) pays homage to the culinary traditions of Emilia-Romagna, but filtered through Samson's experiences here in Los Angeles.

Rossoblu resides in the Fashion District's City Market South development, which I hear was previously the site of LA's original wholesale produce market. The space was revamped by
Marwan Al-Sayed
and
J.P. Guiseppi
, and features a sort of Italy-meets-Downtown industrial aesthetic. Note the very open kitchen, replete with its wood-fired grill, black marble bar, and huge oven hood. There's even a mural by local artist
Cyrcle
. You might want to see if you can make your way into the basement as well, since that's where the pasta workshop, butcher box, and wine cellar-slash-private dining room are located.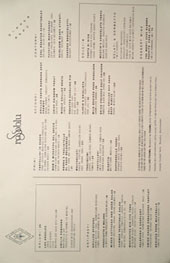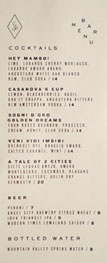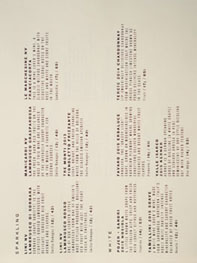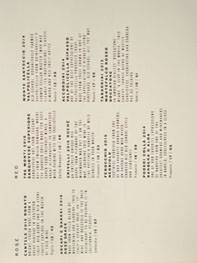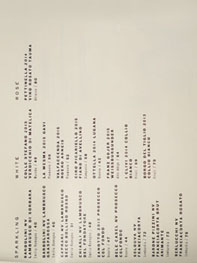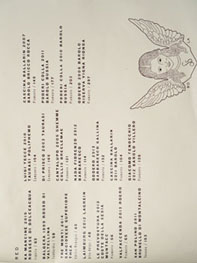 Menu-wise, the Chef's in-house
salumi
program (created with the help of Blackberry Farm's Michael Sullivan) is highlighted, and there's a definite focus on housemade pastas. You also get a nice cross section of starters and main courses, a number of which make use of that aforementioned grill. In terms of beverages, there's a smattering of beer, not to mention a small cocktail list by Brynn Smith, who started out at
Rivera
under
Julian Cox
and who's been at Sotto since day one. For wine, you get an a compact, value-focused, all-Italian list with a particular focus on the sparkling stuff, courtesy of Wine Directors Christine Veys and Jeremy Parzen, as well as Sommelier Skylar Hughes. Corkage is $30, limit two, but is waived for each bottle purchased from the list, which I always like to see. Click for larger versions.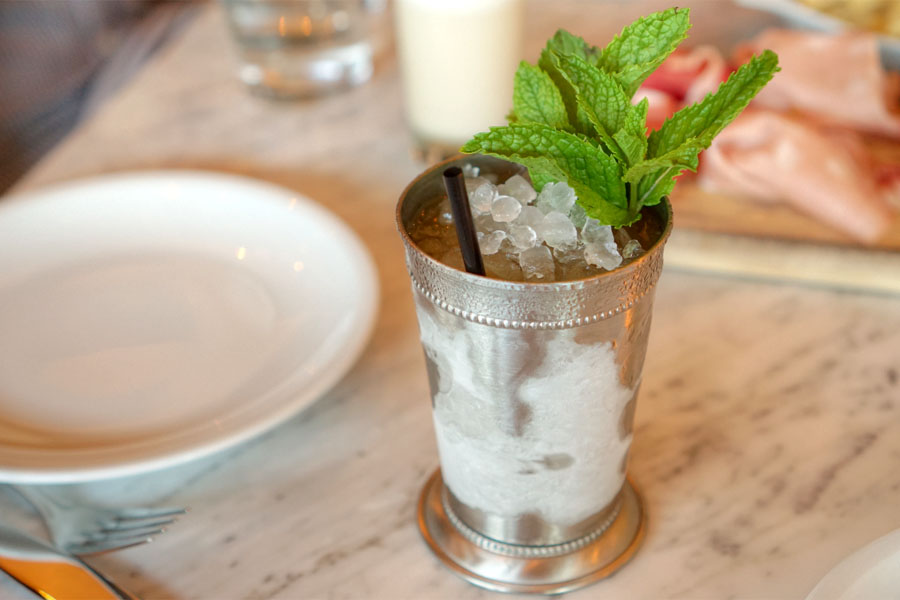 Veni Vidi Imbibi [$14.00]
| overholt rye, braulio amaro, salted caramel, mint
Given that there were only five cocktails available, we went ahead and got them all. Our first showed off a bittersweet, herbal bite at first from the amaro. This was followed by the interaction between the salted caramel and rye, which actually made surprising sense.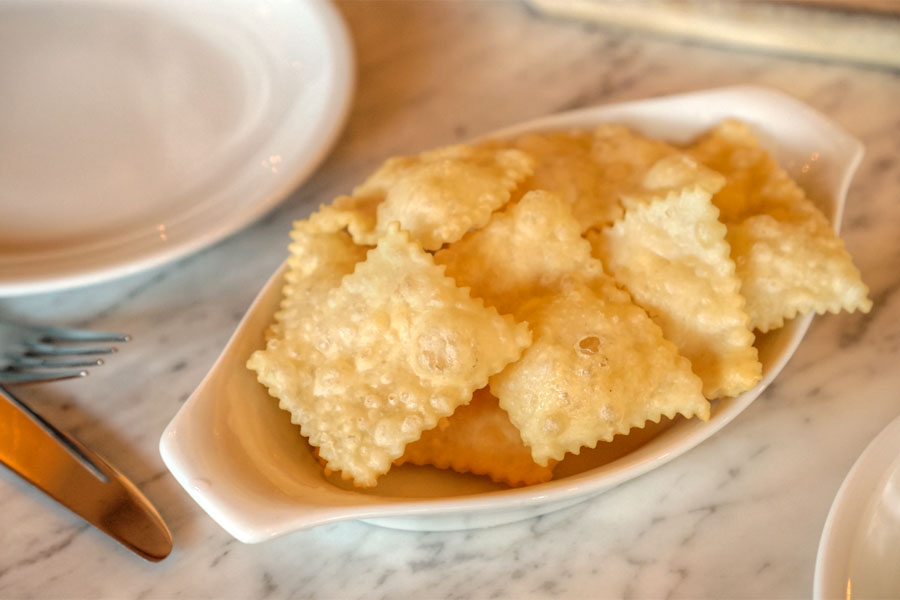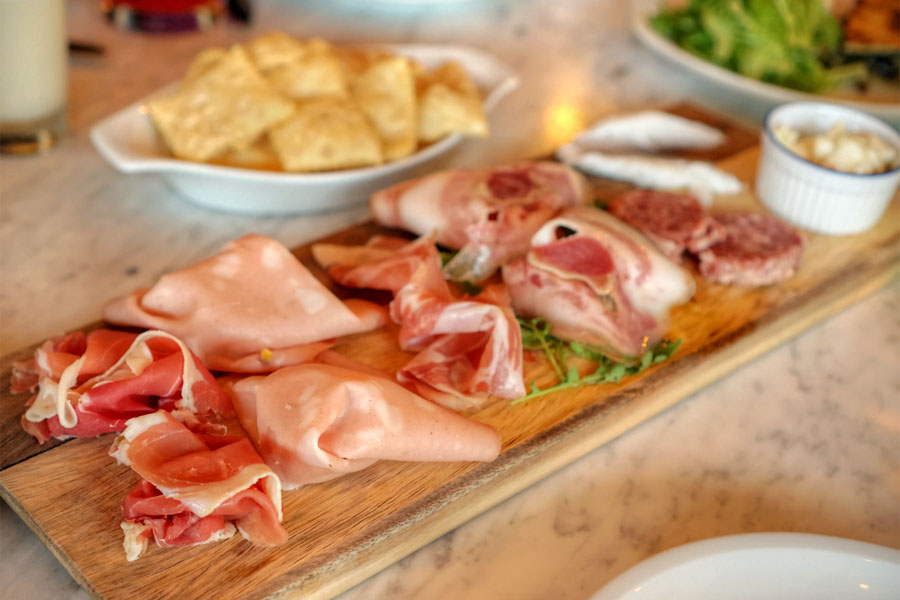 Salumi [$25.00]
| lonza, sotto cenere, testa, whipped dry aged beef tallow, mortadella dop, prosciutto di parma (30 months), served with squacquerone and crescentine fritte
Naturally, we had to start with the cured meats. Going left to right:
prosciutto di parma: Nutty, waxy, slick, with a particularly developed taste--a model of what prosciutto should be.
mortadella dop: Bologna's famed sausage didn't disappoint with its classic, cozy flavors and superb mouthfeel.
testa: Shavings of coppa di testa were fatty and slippery, with a characteristically rich taste.
sotto cenere Literally "under ash," this was beautifully textured, with a light spice.
lonza: Stout cylinders of lonza were gritty, rustic, and super flavorful.
whipped dry aged beef tallow: As decadent as you'd expect, and beautifully perked up by hits of salt and a persistent herbiness. Fantastic.
The board was accompanied by
squacquerone
, a soft, almost squeaky cow's milk cheese, along with crisp, airy fried pastry puffs. This was one of the tastiest charcuterie selections I've had in a while, so make sure to give it a shot.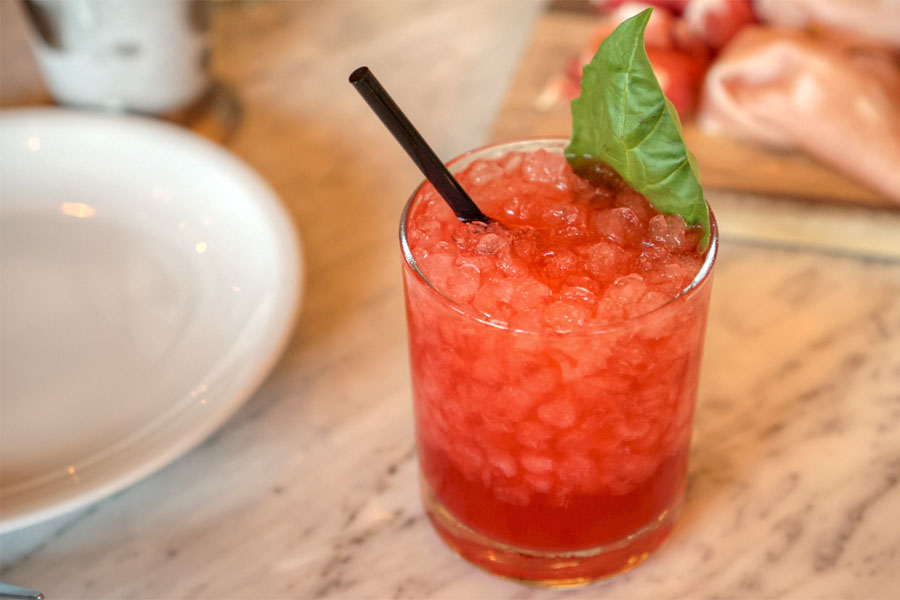 Casanova's Cup [$14.00]
| lemon, blackberries, basil, gra'it grappa, angostura bitters, new amsterdam vodka
This next cocktail went down easy, with light, fruity flavors backed by just enough boozy complexity.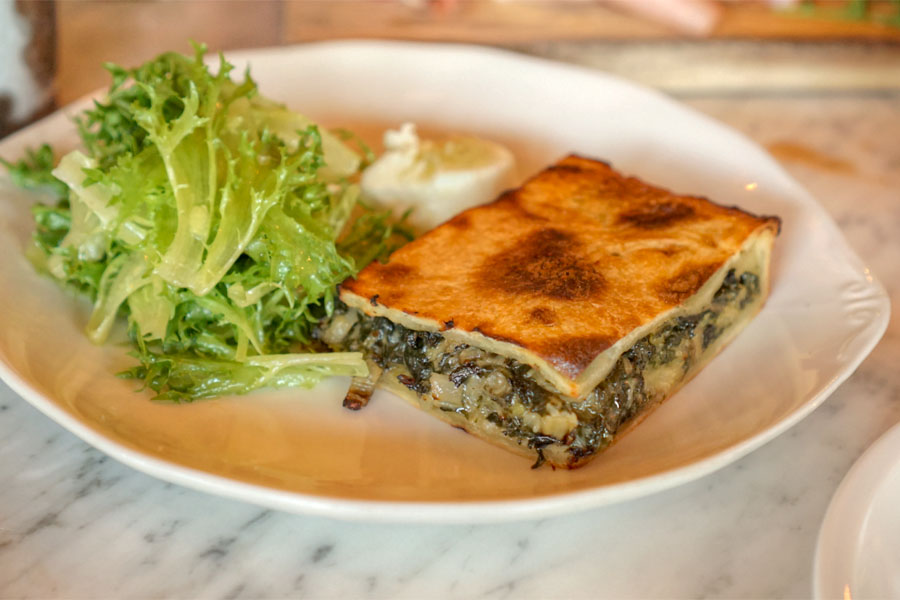 Swiss Chard Erbazzone Tartlet [$12.00]
| stracchino, chicory salad
The
erbazzone
was a standout. I loved its semi-flaky crust, while a filling of bitter chard played against the cheese in wonderfully effective fashion. Excellent brightness from the frisée on the side, too.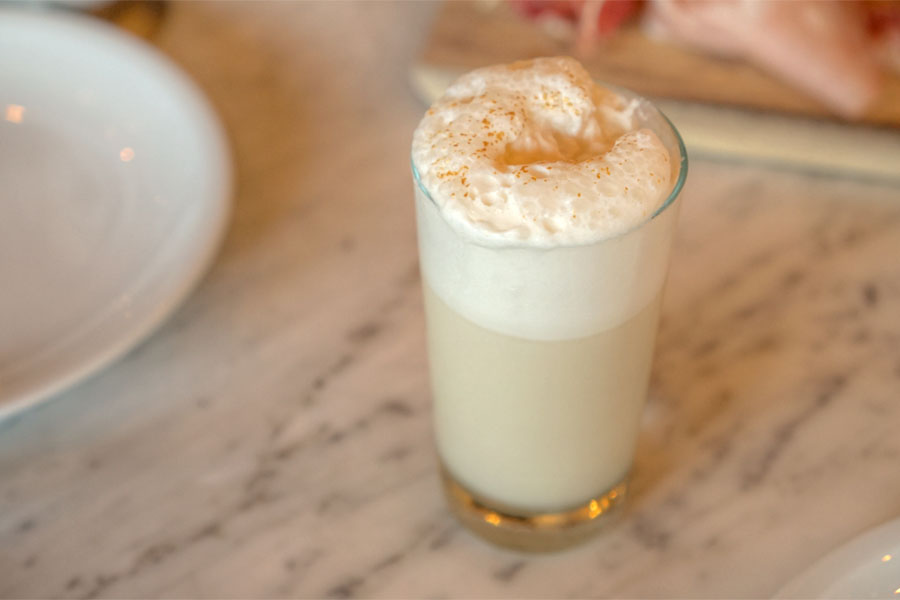 Sogni d'Oro Golden Dreams [$14.00]
| four roses bourbon, prosecco, cream, honey, club soda
This cocktail was a fun one. Think sweet and honeyed, but not overwhelmingly so, with lots of cream in your grill and a just a smidge of booziness underneath.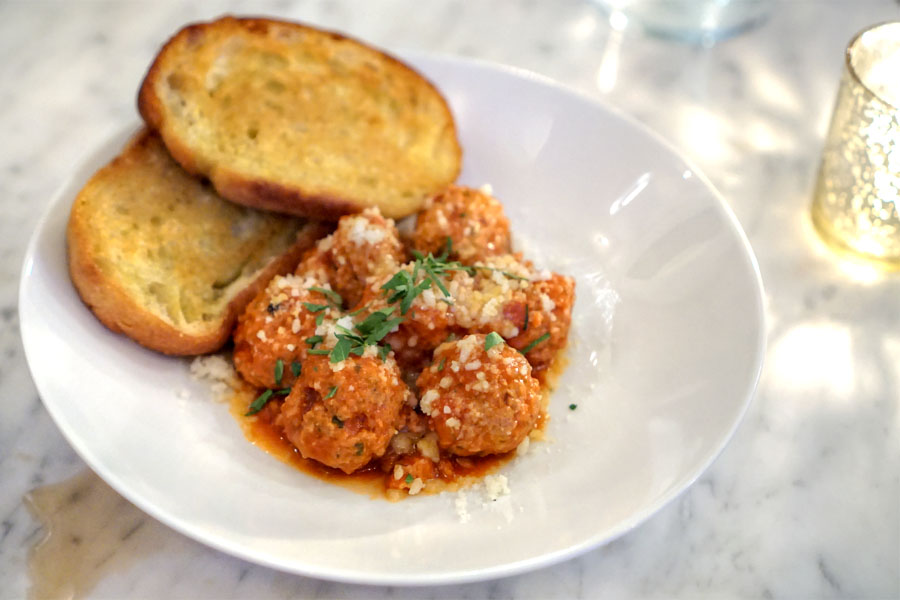 Braised Pork Meatballs [$12.00]
| tomato, grilled polenta bread
Meatballs are just something I always have to order. Here, I got some really homey, classic flavors in a gritty, rough-hewn package. Great toast on the side to boot.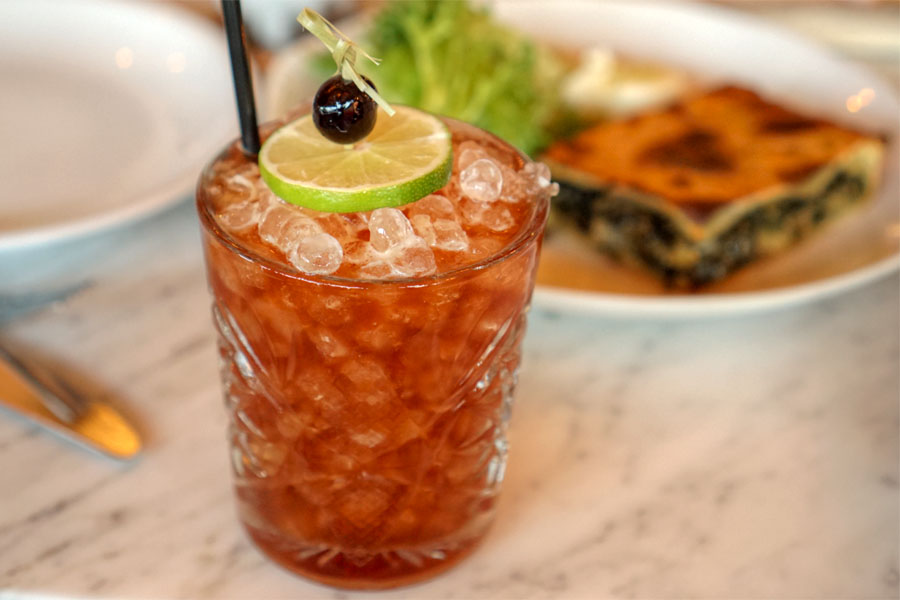 Hey Mambo! [$14.00]
| lime, luxardo cherry morlacco, luxardo amaro abano, angostura white oak blanco rum, club soda
This ended up being my favorite of the cocktails. Lovely dark fruit flavors, offset by tart, bitter notes and a touch of herbaceousness.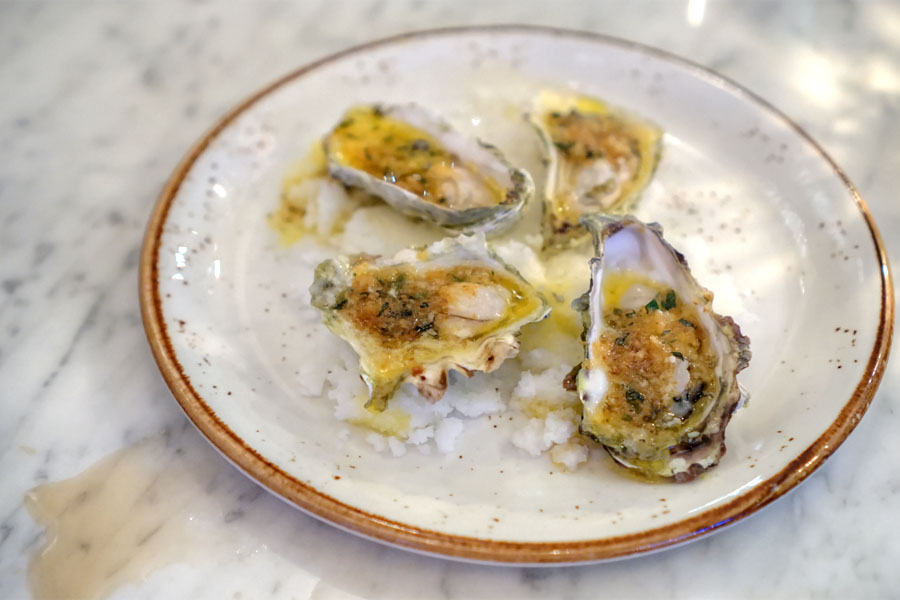 Grilled Oysters [$3.00/each]
| brown butter, sage, parmigiano reggiano, lemon, bread crumbs
A complementary serving of
ostriche
was enjoyable. There was a lot going on--the cheese, the richness of the butter, the greens--but the actual oyster still shined.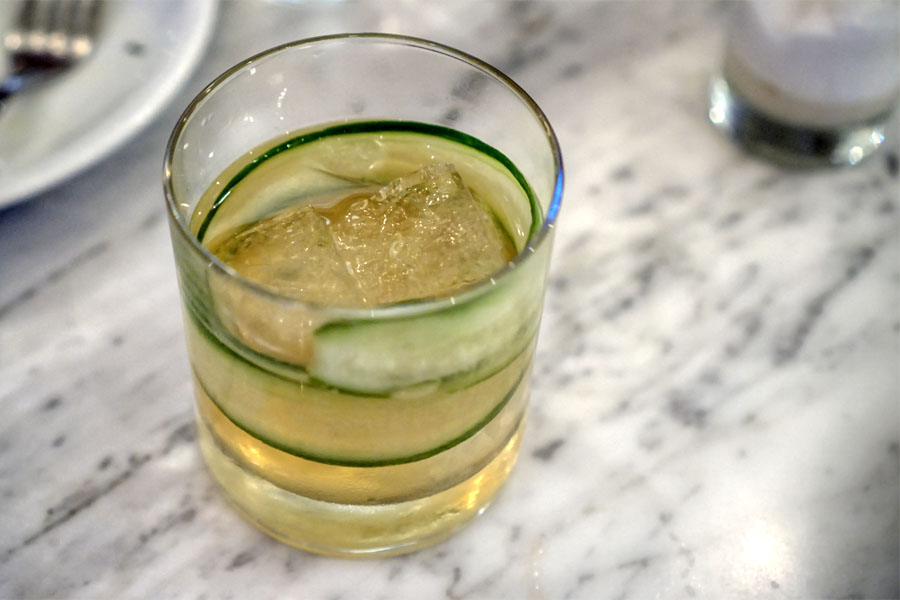 A Tale of 2 Cities [$20.00]
| siete leguas anejo, amaro montenegro, cucumber, reagans orange bitters, dolin dry vermouth
Our final cocktail was a doozy. The nose was fairly benign, with light fruit and lots of cucumber. Taste-wise, things were much more intense. The boozy, woody, vegetal nature of tequila went back and forth with the vermouth, and the two seemed to amplify each other. Fortunately though, the cucumber did provide a bit of a moderating effect.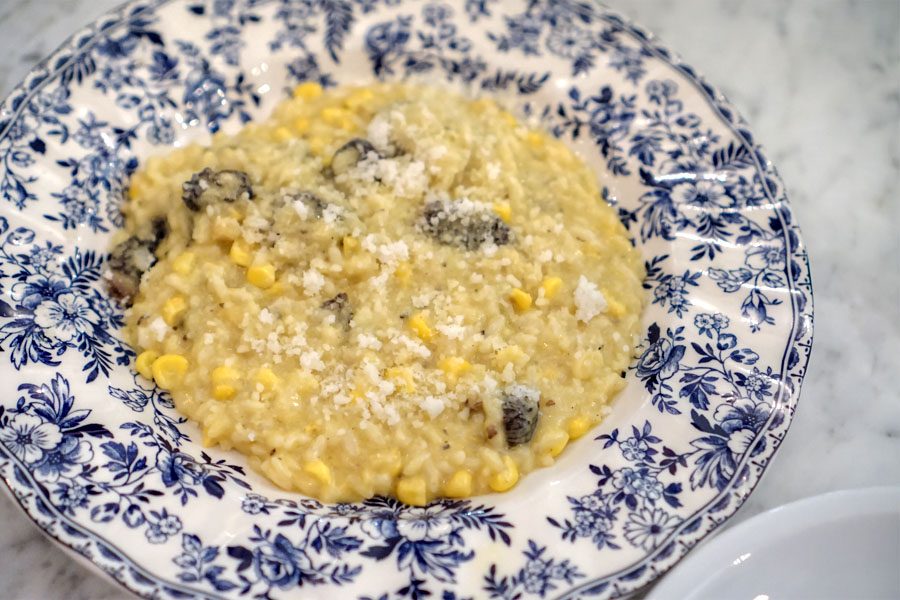 Risotto [$25.00]
| white corn, morels
The risotto was well-textured, with the rice coming out just firm enough. Flavors, meanwhile, highlighted the sweetness of the corn. The morels provided an earthiness to balance out said sweetness, though I would've liked to have tasted even more from them.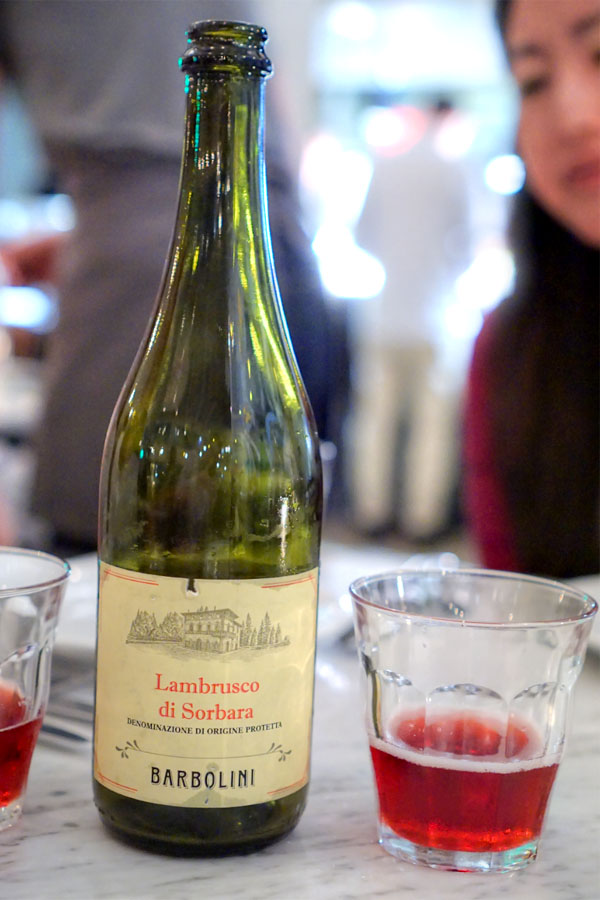 Given that the wine list has an emphasis on Lambrusco, we decided to go with a bottle of the
Barbolini NV Lambrusco di Sorbara [$40]
. Bouquet was rife with rich, tart fruit all over the place. Meanwhile, the taste went in a dry but grapey direction, with just a hint of heat. Very gluggable.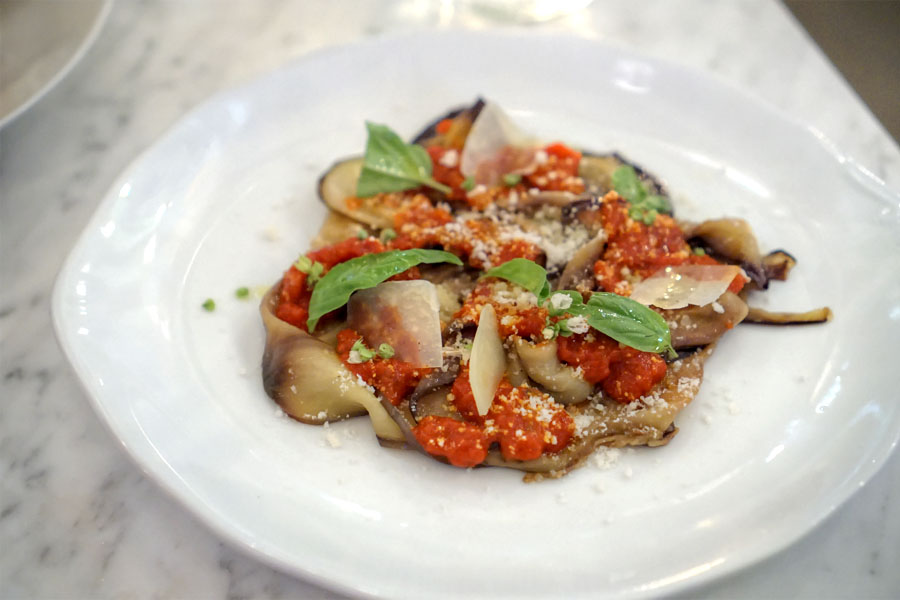 Valbruna's Eggplant [$12.00]
| tomato sugo, parmigiano reggiano, basil
The kitchen then sent out one of the better eggplant preps I've had recently. The key for me was the not-too-soft texture of the vegetable, and flavor-wise, the tomato sauce definitely worked, as did the aromatics of the basil, especially.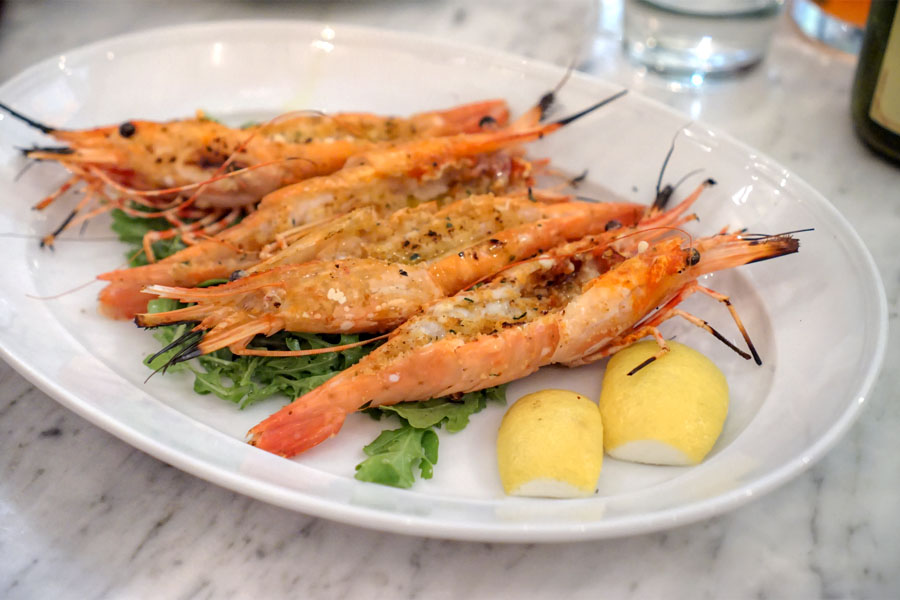 Grilled Santa Barbara Spot Prawns [$14.00/each]
| bread crumbs, parsley, romagnola olive oil
Along with the eggplant came the prawns. I really liked the cook on these, which was on the rare side, giving the crustaceans a sort of creamy-yet-crisp consistency. Their sweetness and brine was well conveyed as well, and I particularly liked 'em with a squirt of lemon.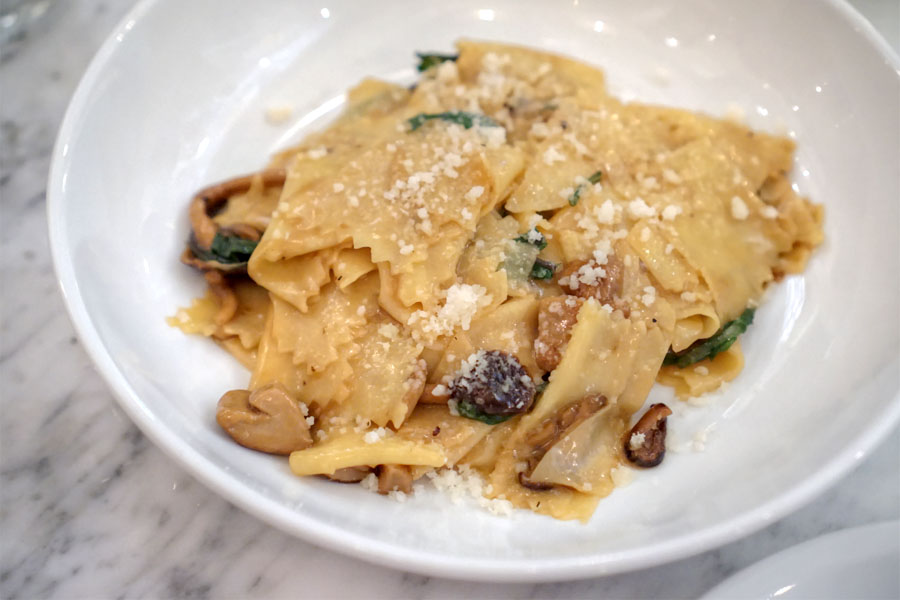 Maltagliati [$22.00]
| porcini, pioppini, dandelion greens, sage, grana, saba
Our lone pasta dish hit the mark. There was a lovely marriage between the woodsy 'shrooms and bitter greens, while the
maltagliati
itself ate slick and just slightly firm. Yum.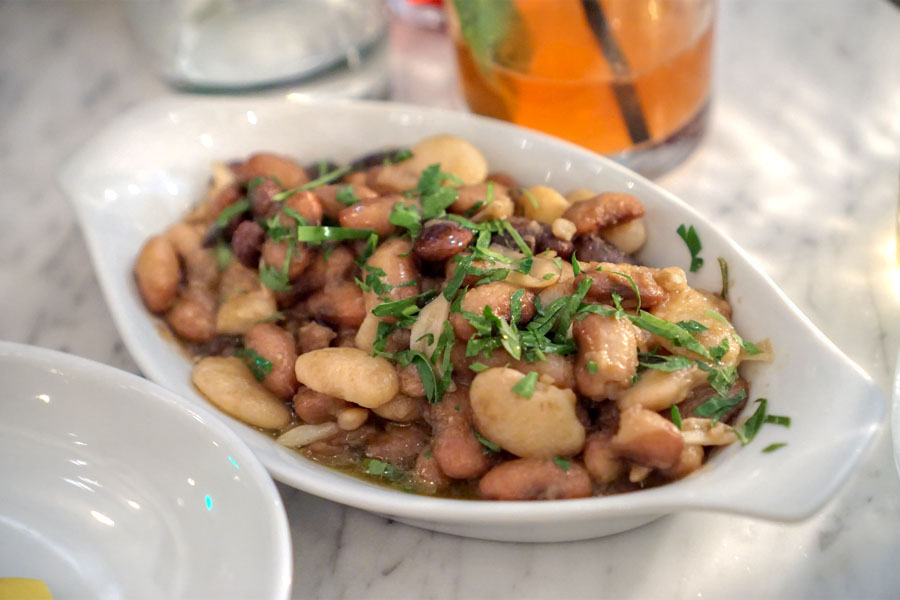 Heirloom Beans Stufati [$9.00]
| garlic, rosemary
A bean stew delivered, and I particularly enjoyed the strong sense of rosemary present.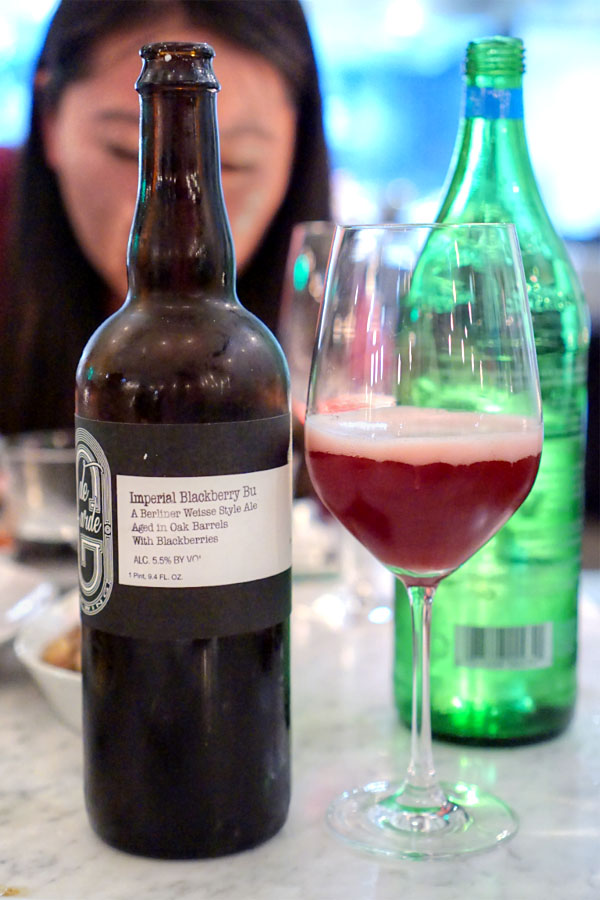 I opened a bottle that I had with me, the
2015 de Garde Imperial Blackberry Bu Weisse
, a Berliner Weisse aged in red wine barrels with Oregon blackberries. Appealing nose teeming with tart, funky dark fruit. On the palate I got oaky and barnyard-y qualities joined by more acidic berry, along with some lactic character as the beer warmed. Delish.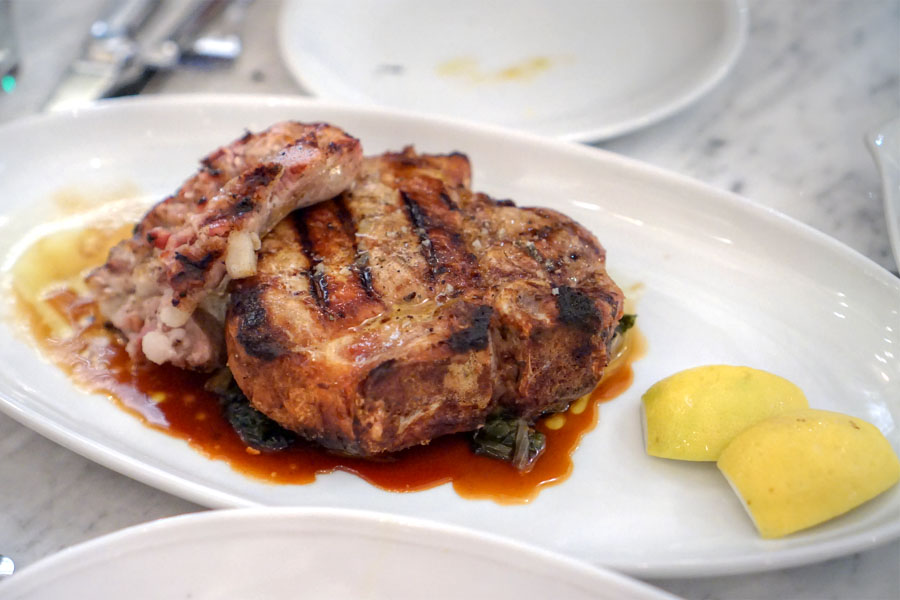 Ilario's Grigliata [$46.00]
| house sausage, pork porterhouse, pork jus
This sort of mixed grill was easily the most substantial dish of the night. The porterhouse came out brimming with all the richness and intensity that you'd expect, along with a healthy dose of smoke and char. It was one of the tastiest cuts of pork I've had, though it was also a tad tougher than I would've liked. Meanwhile, the included sausage was delicious, with an even more in-your-face porkiness than the chop, and kept me going back for more.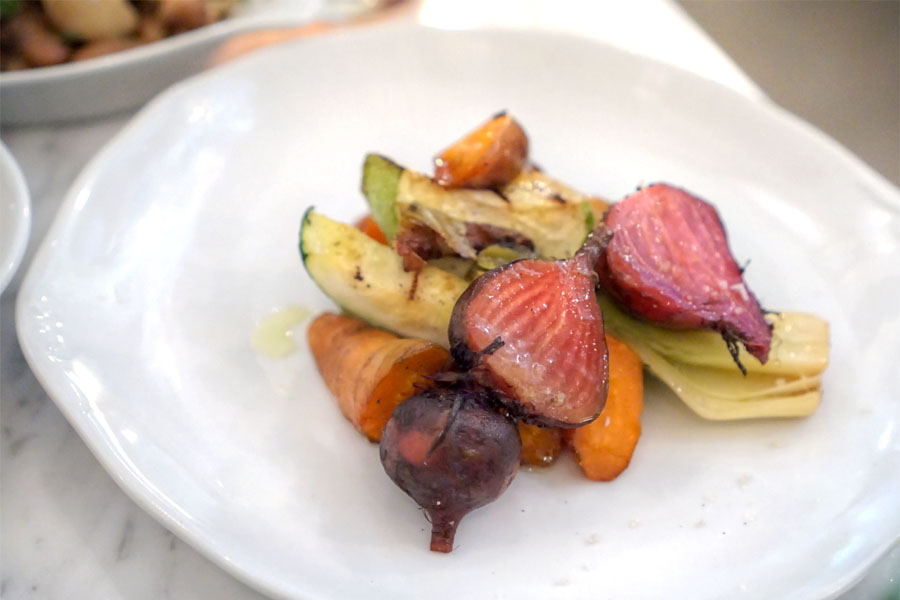 Coal Roasted Vegetables [$11.00]
| sea salt, olive oil
Veggies were on point, with just a kiss of smoke to go along with their natural flavors.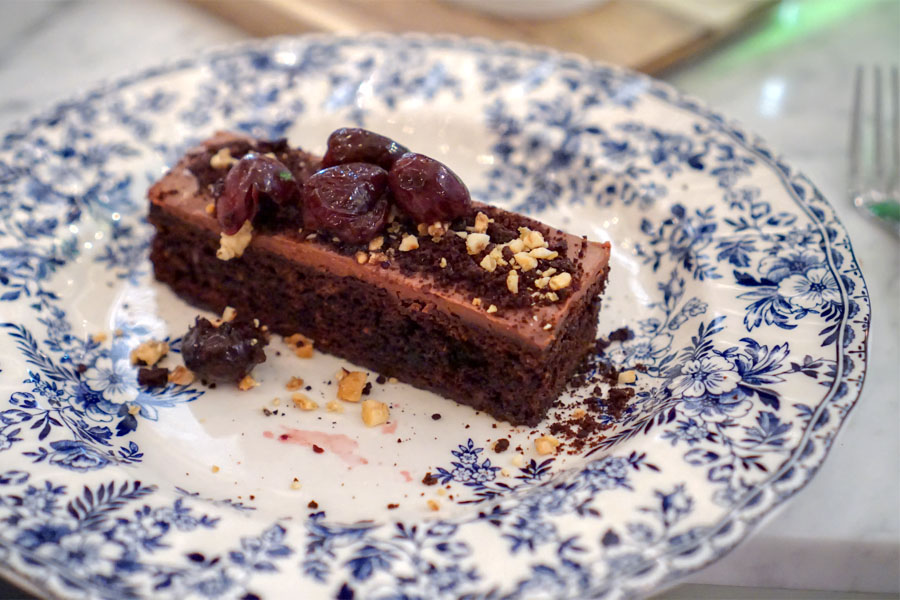 Westin's Chocolate Torta [$8.00]
| manjari mousse, roasted cherries, candid hazelnuts
Dessert time. Given that there were only three, we ended up getting 'em all. The torte ate well, giving up plenty of sumptuous, chocolatey notes that paired well with the hazelnuts and sweet-n-tart cherries.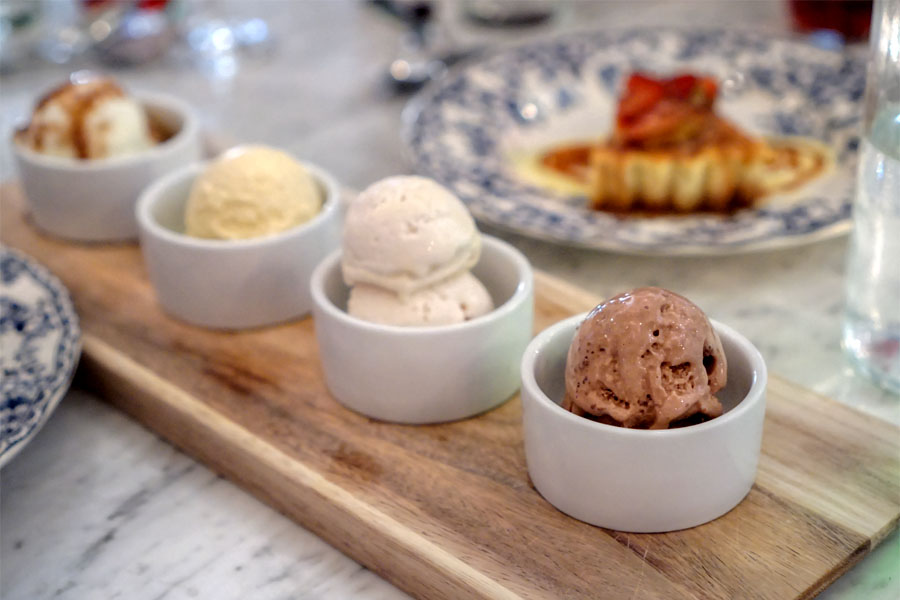 Gelati & Sorbetto [$6.00/2 scoops]
fior di latte with aged balsamic: Ridiculously rich and lactic and cheesy, with an extra punch of flavor from the balsamic.
kumquat creamsicle: It really did taste like a Creamsicle!
nectarine mascarpone: This really captured the essence of the fruit, and paired it smartly with lush mascarpone.
chocolate cognescenti espresso: Very roasty coffee notes evened out by the sweetness of chocolate.
melon sorbetto w/ sweet evaporated milk: Super bright, true-to-life melon flavors here. Note that this one isn't pictured above.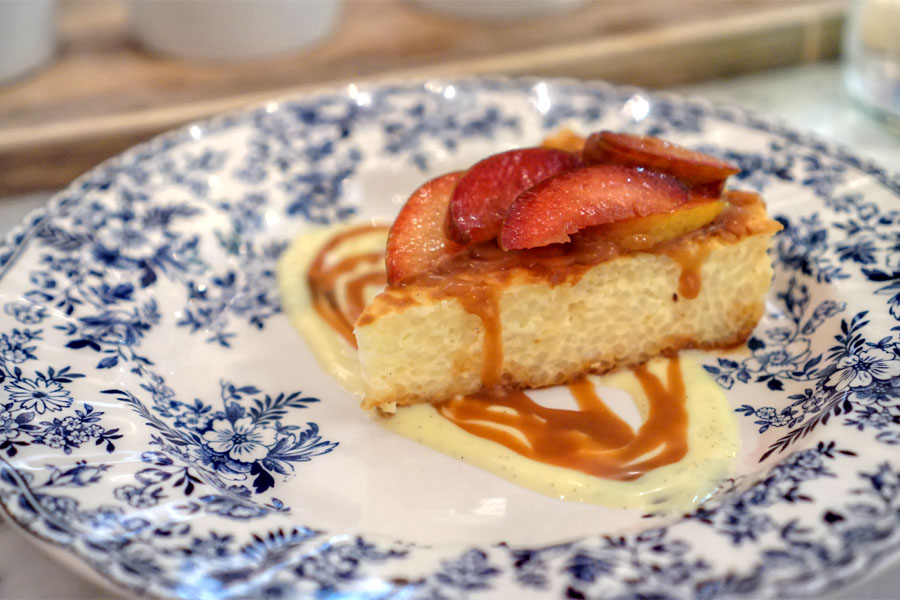 Torta di Riso [$8.00]
| caramel baked rice pudding, ivoire crema, dapper dandy pluots
I'm generally not a huge fan of rice pudding, but really enjoyed this take thanks to its firm, substantial texture. Great complement in the form of that caramel, and I liked the tanginess of those pluots as well.
Chalk up Rossoblu as another score for Los Angeles' Italian cuisine scene. I appreciated Samson's regional focus, especially since food from Emilia-Romagna isn't super prevalent in the City. This really is a fitting complement, and contrast to Sotto. There's quite a bit to explore on the menu, and I do feel like I didn't really get to give the pastas a proper go, so perhaps I need to return for that.